1.
It's probably worth recalling, if we're going to discuss the politics of the Clinton impeachment, why it was so unpopular & yet why its political impact was muted enough to remain disputed to this day.
2.
The Reagan years really did shift the country to the right across the board, as was obvious at the time & supported by lots of data, albeit not as much as conservative triumphalists of the time believed or wanted.
3.
Republican leadership was *much* more trusted on foreign affairs by the end of the Cold War than Democratic leadership. But people still voted for divided government. Ds had held the House since Eisenhower's first time, retook the Senate in 1986 in a bunch of close races.
4.
Reagan's outcomes (winning the Cold War, end of stagflation, stock market boom) justified that; but it also helped that the Boomers, a huge liberal youth cohort, were hitting their mid-30s, settling down when Reagan arrived.
5.
So the era of foreign crises is over & the economy is slumping, voters decide to take a flier on a Southern D with no foreign policy background, some nods to not being a Mondale/Dukakis liberal. He hugely overreaches, GOP wins a House/Senate/GOVs/Mayors landslide in 1993-94.
6.
Newt, in turn, overplays his hand in the 1995 shutdown, but on the whole, both parties prove they can work together despite all of it. Big raft of bipartisan legislation in 1996.
7.
Meanwhile, with divided govt having traded places at the federal level, Republicans are enjoying a boom at the state/local level, guys like Rudy & Riordan cleaning up cities that'd been thought ungovernable. Economy booms. Crime drops. World seems at peace.
8.
A common thread in all this is personal responsibility: lower taxes, locking up more criminals, resisting big collectivist programs. But voter cohorts like the Boomers are still products of 60s libertinism. They're not woke on sexual harassment. Hardline SoCons spook them.
9.
1996 election, things are good, divided govt seems to be working, GOP picks a dry old war hero with little exciting to say on domestic politics. Turnout is REALLY low - only in 1864 & 1996 was turnout less than 95% of the prior election, & 1864 half the states had seceded.
10.
Low turnout means a lot of people are unbothered by the status quo. The voters who do show up easily re-elect Clinton, albeit with a plurality, but retain a GOP Congress, which gains 2 Senate seats. Message is basically "you guys go work together some more."
11.
This happens DESPITE the Starr investigation & several other ongoing major probes of Clinton Admin corruption as well as probes, lawsuits over pre-Admin Clinton sexual harassment & corruption back in Arkansas. Dole asks "where's the outrage?" Nothing matters.
12.
Clinton in 1996 still had a big working-class advantage, both white working class & non-white. He wins Florida, Louisiana, Arkansas, Missouri, Kentucky, Tennesee, West Virginia.
13.
So what happens? 1998 is dominated by the Lewinsky story, which grows out of pre-existing lawsuits & investigations but gets launched to orbit by new media (eg Drudge). Clinton lies to the voters, lies under oath, lies to everyone, gets caught.
14.
But Starr has to work in the dark: the Independent Counsel can't command the media like Clinton. Sure, he can leak stuff, but it's not a close competition. And Starr has no background as a prosecutor.
15.
Starr Report drops like a bomb in September 1998. None of this is actually just private conduct: sexual harassment of an Arkansas subordinate, affair in the Oval Office with an intern, lying in civil lawsuits & grand jury, obstructing justice.
16.
BUT it still feels to a lot of people like a story about sex; current mores on sexual harassment were not what they are now, in spite of the Thomas-Hill hearings (where polls during/after hearings showed large public majorities believed Thomas).
17.
Impeachment almost totally derails the 1996 dynamic of bipartisanship. 1998-99 legislative calendars much more modest after a 1997 compromise to cut the capital gains tax. Economy is in overdrive.
18.
Clinton throws some missiles at Saddam & bin Laden on days he needs a distraction (day of his grand jury testimony, day of impeachment vote), but country's at peace. Voters think it's nuts to tear the government in half over all this.
19.
BUT they also think Clinton is by this point an incurably reckless sex maniac who would lie to them about anything. They're happy with the job he's doing but a whole lot of people are sick of explaining blow jobs to their kids.
20.
1998 midterms, with impeachment in the air, are a big disappointment to GOP by midterm standards, but also a stalemate: GOP loses just 4 House seats, no change in Senate majority. On top of this, scandal forces out both Newt & his replacement, Bob Livingston.
21.
Livingston lasts all of 48 hours; Republicans throw him under the bus just as they are voting for impeachment. Democrats as a whole rally in tribal fashion around Clinton.
22.
While the Senate votes 55-45 to acquit Clinton on the perjury charge, there's 50 votes to remove him from office for obstruction.
washingtonpost.com/wp-srv/politic…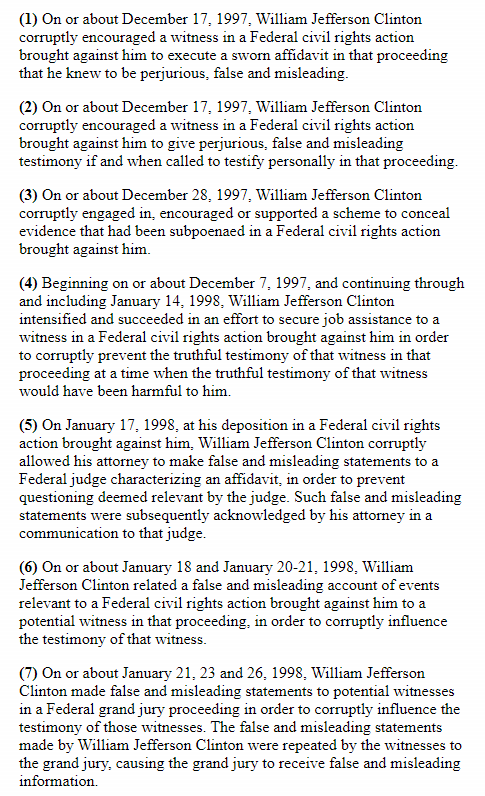 23.
Clinton partisans do jigs over him getting off scot-free. Democrats nominate his VP, who had led the pep rally on the WH lawn. GOP nominates GW Bush, who evokes a cleaner, grownup White House but also (unlike McCain, his primary foe) conspicuously stayed out of impeachment.
24.
In 2000, following the traditional post-incumbent dynamic but helped along by the drag of the scandal itself, Bush beats Gore, creating the red-blue map we know today by a big swing in socially conservative states.
25.
Scandal puts Gore in a lose-lose: voters are tired of the stink, but it makes him gunshy about embracing Clinton, & he picks a running mate who had been one of Clinton's harshest critics. (Bush picks Cheney, who'd also stayed out of impeachment fights).
26.
Win for GOP, right? But not so fast. House majority erodes by another 2 seats in 2000, Dems pick up 4 Senate seats so that a single defection could - and does - strip Republicans of the majority. Only in 2002, post-9/11, does the Congressional GOP turn the page.
27.
If you weren't there, it's easy to forget how much of Bush's 2000 campaign - "compassionate conservatism," stresses on his bipartisan record in Texas - was running against the GOP Congress, just as his evocations of the dignity of the WH ran against Slick Willie.
28.
It's perilous to overdraw conclusions from 1998-99: the party electorates are much more polarized now. Nobody thinks in terms of the kinds of bipartisan stuff that got done between 1995 & 2004.
29.
But what we know is that Clinton's impeachment damaged & degraded both sides, Clinton & his team over the scandal, Congressional Republicans over their response; the voters hated it & turned to somebody who stayed out of the whole mess.
30.
In 2020, staying out is not an option. Trump's up for re-election. Biden is part of the scandal. Warren, Sanders, & Harris would all have to vote on removing Trump from office. Even if the same pox-on-both-sides attitude emerges again, there's no obvious place for it to go.