First off, I want to apologize to the group of
@LibertyU
students who were going to meet me at 7am for prayer tomorrow outside the library.
This is a crucial moment in history, & what you do with it matters--so I hope you will still come & seek divine wisdom to be faithful in it.
Tonight after the
@JOHNNYSWIM
show, 3 armed
@LibertyU
police officers (& I think 2 not in uniform)came & escorted me out of their green room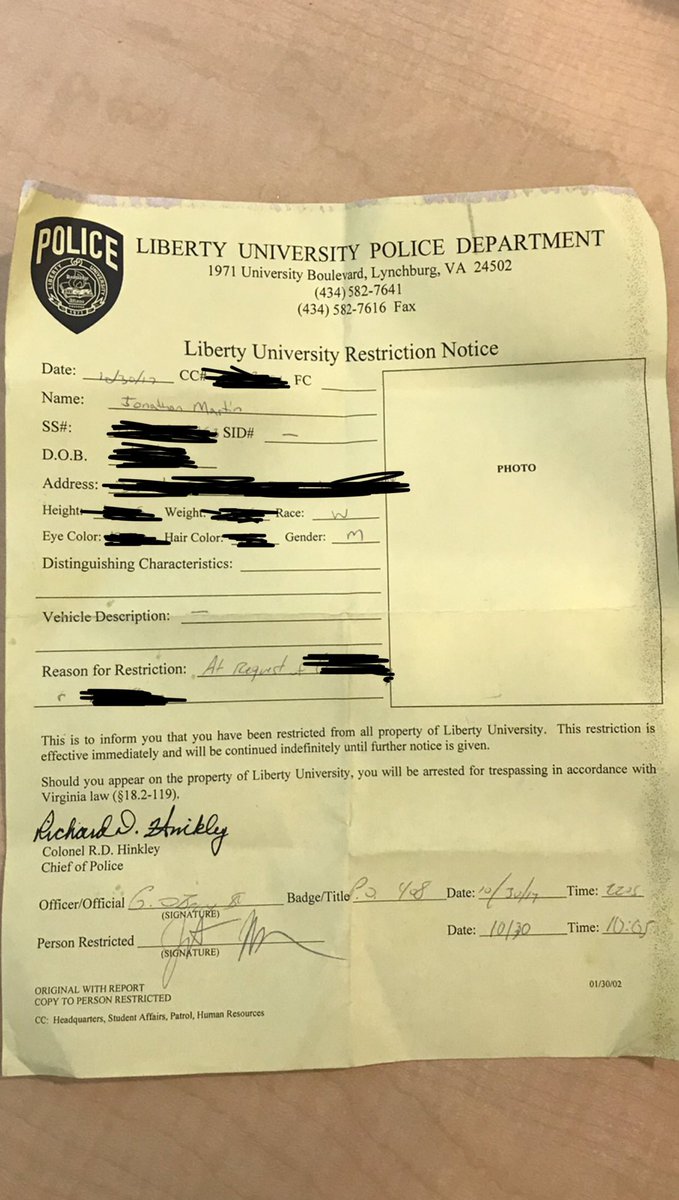 They served me papers & took my picture, told me I would be immediately arrested if I ever stepped foot on
@LibertyU
property again.
This was evidently in response to my strong criticism of @JerryFallwellJr's alignment not only with the darkest contours of Trumpism, but
I was openly considering some sort of future action oriented around prayer & repentance, but came this time only for the show & for...
a time of prayer tomorrow morning to seek divine guidance as to what faithful, humble-but-clear Christian resistance might look like.
What does it mean for a college administration to be this afraid of free speech? What precisely is @JerryFallwellJr afraid of?
.
@JerryFalwellJr
openly encourages students to carry weapons, but is afraid of public prayer from Christians who openly embrace nonviolence.
This confirms what I've heard repeatedly of the authoritarianism of Falwell from
from students & faculty
@LibertyU
:
Like the president for whom he serves as a full-time apologist, Falwell does not easily tolerate robust dissent.
One might rightly ask what sort of Christianity Falwell represents, or what it has to do with "liberty."
I encourage those students who rightly discern his syncretistic blend of nationalism & Christianity to still come & pray in the morning at 7
The power of God's Spirit inside of you is greater than the forces that conspire against your faithful witness.
After that, if any students want to meet for further prayer & conversation, I will be in the lobby at the Lynchburg Fairfield Inn at 8am.
This is a heavy moment in history. Sons & daughters of the church, those of us who have gone before you have overwhelmingly lost the plot.
I am sorry for the ways in which we have failed you (& by we I do include "me"). We need your voice, your wisdom, your courage, now.
It seems much of evangelical faith in America has been hijacked, doesn't it? But the future is worth fighting for, friends. Press on.