In a clip taken from a documentary set to be broadcast on
@CBS
/
@CBSNews
,
#Parkland
school shooting survivor,
@DavidHogg
, admits he went back to the school after the shooting. "I got my camera, & got on my bike, & rode as fast as I could - 3 miles from my house - to the school."
In this
@NYMag
article (
nymag.com/daily/intellig…
) published 16 days following the tragedy, it reports
@davidhogg111
went home after the shooting & returned to school - against his parents' wishes - for "B-roll."
The article says nothing about interviews being conducted at night.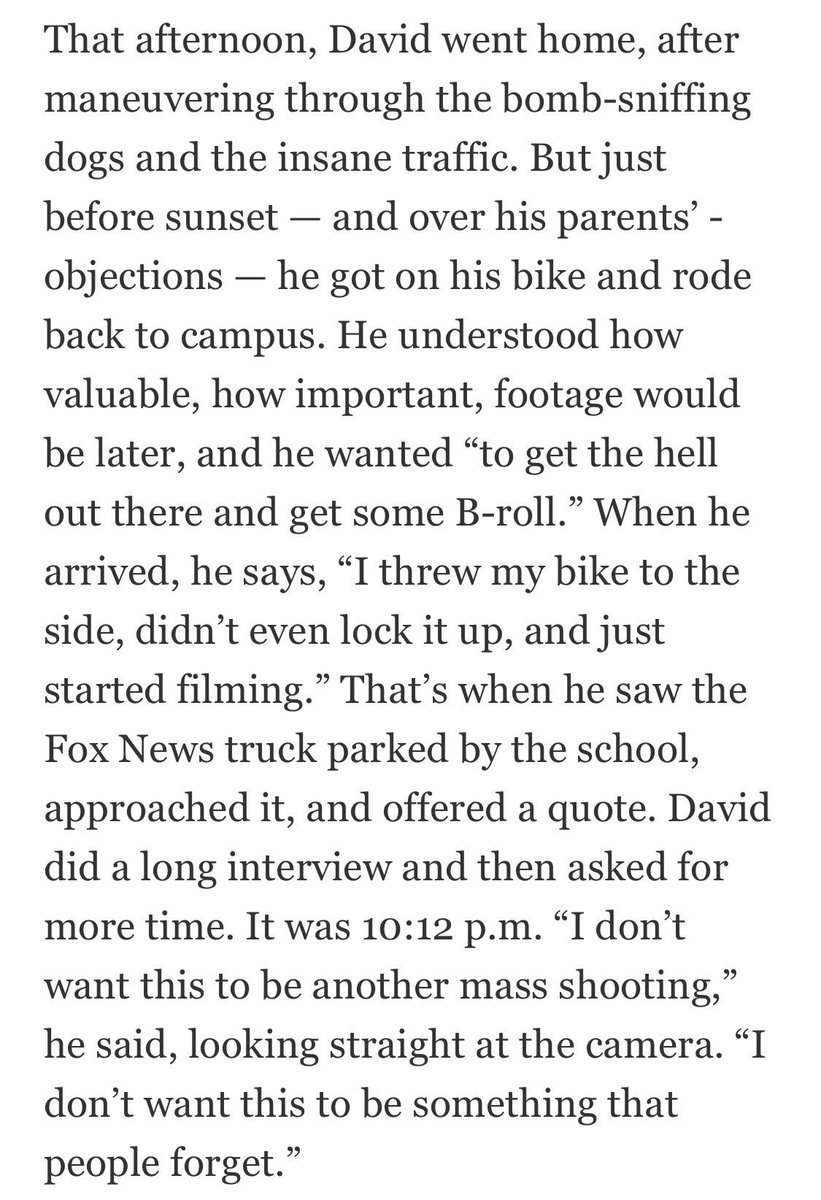 I still have questions...

Why'd Hogg attempt to coax a student he interviewed into saying "we need diversity" — during the shooting?

Why was the 2nd interview audio only?

"at 9:32" AM or PM?

Why'd we only start hearing Hogg returned to the school at night — AFTER this thread?
And are there more interviews conducted by David Hogg - the day of the shooting - that we haven't seen?
And what kind of parents are the Hoggs?

Their daughter and son just survived a mass shooting at their school and they actually felt okay letting one of their surviving children return to the scene of the tragedy to grab B-roll and conduct interviews?

That is not normal at all.
People accuse
@davidhogg111
of not being at school during the shooting, which is untrue. However, I find it strange Hogg actively recorded interviews *during* the shooting, but claims he left the school afterwards to get his camera to record interviews. Didn't he already have it?
There are some significant inconsistencies in the reporting of David Hogg's whereabouts the day of the shooting. Significant enough that they shouldn't be ignored.
Some media outlets falsely reported David Hogg wasn't at school during the shooting, but their mistake shouldn't overshadow inconsistencies in reporting of Hogg's whereabouts.
@voxdotcom
was 1st to report Hogg returned to the school &, like
@NYMag
, never mentions more interviews.

Considering all of the evidence presented in this thread, I've assembled a timeline and list of questions the inconsistencies in reporting have presented. This is not a conspiracy, nor is it
#fakenews
.
@davidhogg111
and the media that's elevated him have some questions to answer.