Cox served as a director of Noble Energy, Inc. for more than two decades. Page is an energy industry analyst.
Cox has been a member of the Council on Foreign Relations since 1993. 
Page served a fellowship at the CFR.
Page is the founder and managing partner of Global Energy Capital, a private equity firm that invests in big energy projects and sits at the intersection of Wall Street and Big Oil. He was the executive in charge of dealing with Russian energy investments
In the MI6 agent Christopher Steele dossier it claims Page may have been offered a brokerage fee — if U.S. economic sanctions toward Russia were lifted — for what became the December sale of a 19.5 percent stake in Russian state-owned oil company Rosneft.
Going back...
As an undergraduate student at the U.S.Naval Academy, Page penned a 1993 senior honors thesis titled, "Balancing Congressional Needs for classified Information: A case study of the Strategic Defense Initiative."

Page also worked as a research fellow for the House Armed Services Committee from September 1992 to May 1993. He worked on behalf of U.S Rep. Les Aspin the future Secretary of Defense for Bill Clinton.
During the transition period between the George H.W. Bush presidency and the Bill Clinton presidency, Page worked on the Clinton transition team. After graduating from the Naval Academy, Page worked on nuclear affairs and international policy at the Pentagon.
In 2000, Page moved into investment banking, getting a job at Merrill Lynch's capital-markets group in London. After impressing a colleague with his relationship with Victor Pinchuk, a Ukrainian billionaire, Page was sent to help open the firm's Moscow office in 2004.
Victor Pinchuk is the son-in-law of  former pro-Russian Ukrainian President and longtime Communist Party boss, Leonid Kuchma.
Pinchuk was also a big donor to Democratic Party Presidential candidate Hillary Clinton's Clinton Foundation.
From to the Wall Street Journal:

Between 2009 and 2013, including when Mrs. Clinton was secretary of state, the Clinton Foundation received at least $8.6 million from the Victor Pinchuk Foundation.
Douglas Schoen CF, lobbied for Pinchuk after connecting the Ukrainian mogul with the Clinton Foundation. Pinchuk had been asked by Viktor Yanukovych, the president of Ukraine, to relay to her some of his diplomatic interests in deepening ties to the rest of Europe.
Back to the dossier mentioning Page's involvement in the Rosneft deal that he NEVER completed. Instead Glencore, one of the largest trading companies in the world bought the 19.5% stake in Rosneft.
Glencore was founded by a gentleman named MARK RICH.
Mark Rich broke the sanctions against Iraq. He was under legal threat for a long time. On the LAST day of Bill Clinton's administration, 2001, he gives him a pardon. He was funding the Clinton Library, before they had the Clinton Foundation. [pay to play]
Now Papadopoulos...
And how Noble Energy connects him & Page through Ed Cox/Noble Energy.


Work in progress. Trying to tie this all together.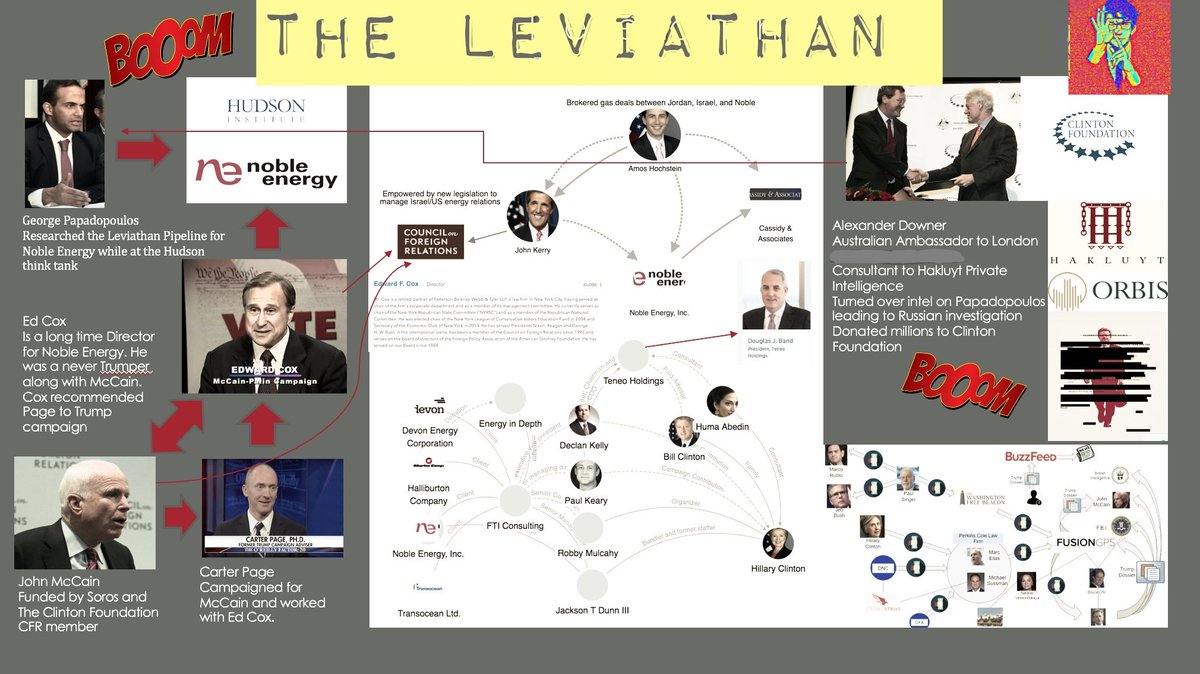 Downer, Misfud via Assange...

Another outstanding dig. Hakluyt donations to HRC and more connections with Papadopoulos etc. From the mind of a genious..
@rising_serpent
CIA whistleblower Kevin Shipp shining light on this as well.


This could be interesting...


Mi6
Steele
ORBIS
DOSSIER
RUSSIAN COLLUSION


London Bridges
Strzok involved with Papadopoulos and Downer?
👇👇👇

Also the relationship with Ed Cox and the Clinton's is beyond Noble Energy....