Mark Leonard of Constellation took a simple idea, took it seriously, built methodically, and created an empire. And he seems to have done it with humility and kindness.
Side note: It's fun to watch
@trengriffin
annotate someone's career.
25iq.com/2018/04/07/bus…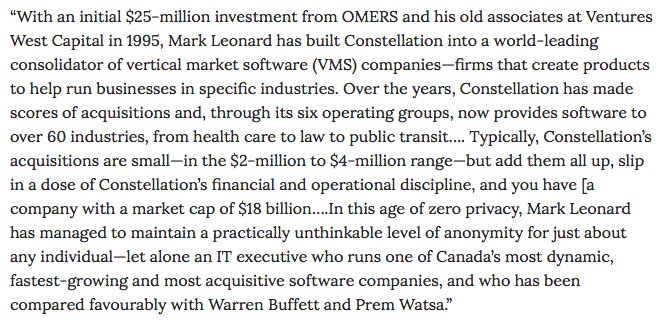 Easy to theorize about buying when there's "blood in the streets," but almost impossible to do so in practice. Access to patient, aligned capital is a prerequisite, which is exceedingly rare. Having the guts is another thing entirely. Can't know until you've done it.


Good businesses, especially good small businesses, tend to maintain a reasonably consistent ROIC. Bad businesses don't.
But magnitude is also important. Great businesses have the ability to reinvest capital at a high ROIC, which is a rare amongst smaller companies.


Highly under-appreciated aspect of company leadership is managing capital, and as Thorndike says, "There are no courses on capital allocation." Vast majority of small, private companies, cash flow leaks into suboptimal working capital and capital expenditure practices.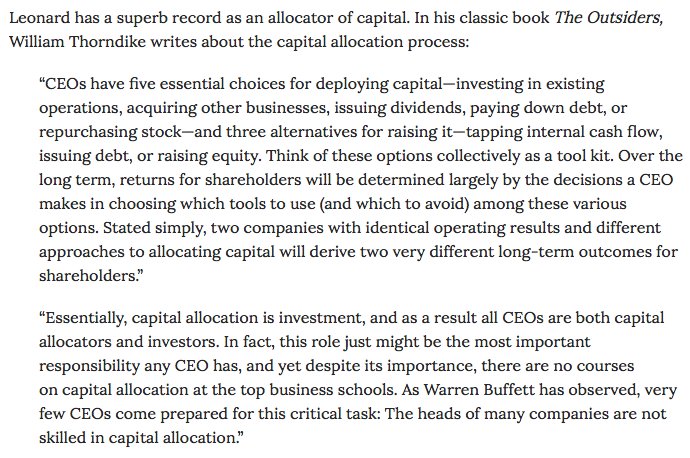 "The first rule of fishing is: fish where the fish are...Some places have lots of fish and you don't have to be that good of a fisherman to do well. Other places are so heavily fished that no matter how good a fisherman you are, you aren't going to do very well." - Munger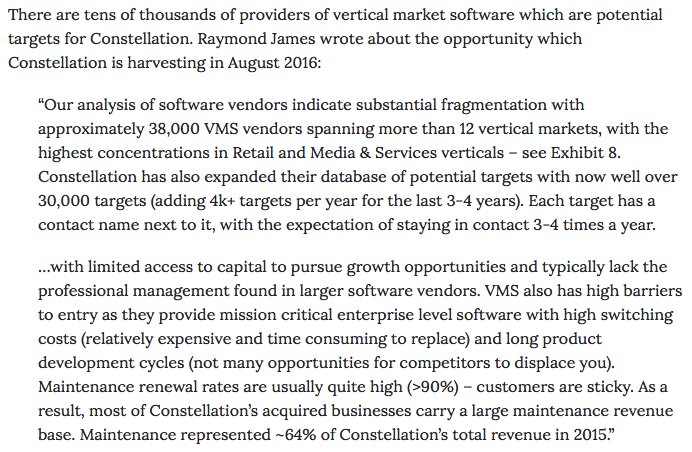 Unless you have a sales/deal pipeline, nothing else about your business matters. Building one requires consistent, patient effort over time, which few are willing to do. What Constellation closes this year was the result of their work 3-5 years ago.


In an acquisitive business, both sides of the house matter. New deals set opportunity cost and organic growth generates an increasing return/cash. Without the first, capital allocation goes south and upside greatly diminishes. Without organic growth, you've bought a leaky bucket.


It's crucial to carefully consider what to centralize because no choice is without opportunity costs. Centralize and responsibility is shifted, diminishing scalability.
Constellation doesn't operate, but tries to be helpful. Requires a leadership team open to assistance.


A maddening part of an acquisitive business is extreme variability. The feasts quickly turn gluttonous then poisonous and the famines can last years. Both kill the organization differently.


[Continued] A slew of opportunities requires infrastructure, which is costly to build and maintain. Without it and you'll have terrible outcomes. With it and lean times are a bonfire of cash.
Selection bias is powerful. It's hard to overstate how important it is to buy from owners who care, think long-term, and have built the business brick-by-brick over decades. Because of demographic changes, the rate at which these gems become available is accelerating.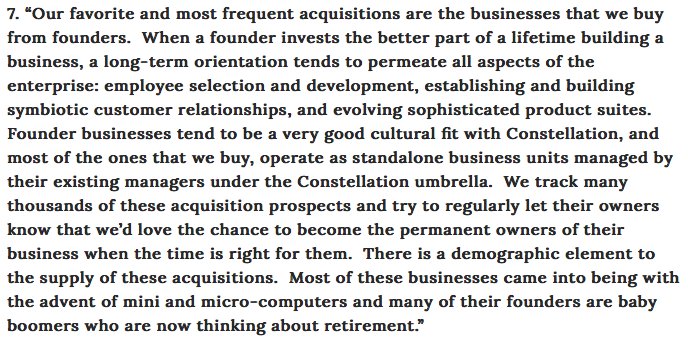 Great deals can be distressed, but come with the challenges of cultural issues, a lack of past reinvestment, and mercenary leadership. They must be treated differently. To "turn" a turn-around requires heavy post-close involvement and radical change.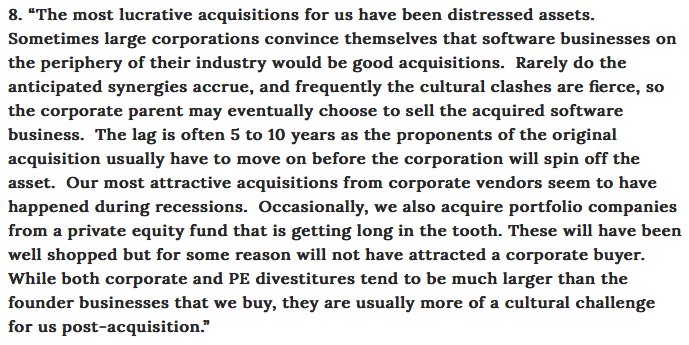 Easy to gloss over the chasm between PE vs. long-term hold. One rewards dramatic changes, cost-cutting, and "flogging." One rewards a patience, reinvestment, and meaningful relationships. Yet, both can produce fantastic financial rewards, with very different mentalities.


Amen —> "It takes both work and time to get the right shareholders. Shareholders who do not trust and share the same approach to investment as management can be a big source of problems for a management team." -
@trengriffin
Operating a business seems simple and easy if you've never done it. In reality it's a daily knife fight for survival. Operators deserve every bit of the applause.
/fin