COHEN received from TRUMP or acquired himself $1.24 million during the last 90 days of the 2016 election—only $130,000 of which went to DANIELS.
The STEELE dossier says (1) COHEN was running TRUMP-Russia coordination, and (2) the operation COHEN was running paid off the hackers.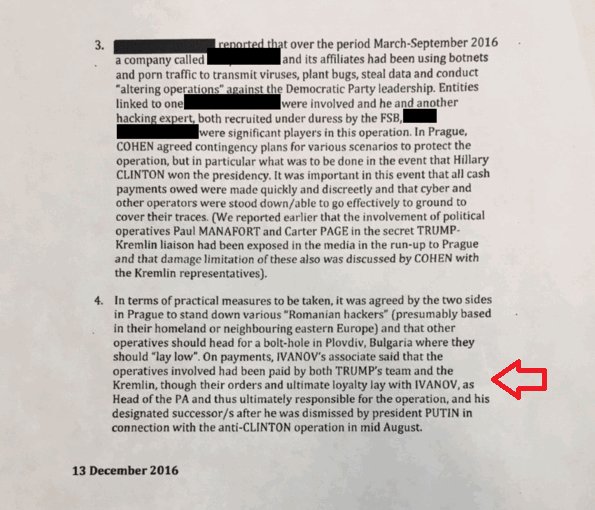 2/
I don't know what to do with this information—but I know GIULIANI says COHEN had no campaign role, and I know COHEN suddenly had $1.24 million in his pocket in late 2016. And some of it was earmarked by TRUMP to pay off DANIELS. What if the rest of it was *also* to help TRUMP?
3/
A recent report says COHEN did in fact go to Prague—which, if true, means both he and TRUMP lied to the nation about that trip repeatedly. That'd certainly explain why COHEN offered only an incomplete alibi and never showed anyone his passport, though he waved it around a lot.
4/
The STEELE dossier says Cohen went to Prague sometime in August/September 2016. COHEN has an alibi for only a few days within that window. COHEN claims he couldn't have been to Prague because he doesn't have a Prague stamp in his passport. But you can go to Prague without one.
5/
It's believed COHEN was in a nation from which you can travel to Prague with no stamp in the exact time-frame the STEELE dossier alleges he went there.
The only person to (allegedly) examine COHEN's passport for evidence of a Prague trip was TRUMP. Who claimed it looked fine.
6/
COHEN brought his passport on-air with HANNITY, who was secretly COHEN's client—a fact only disclosed when a federal court ordered it disclosed. Suspiciously, HANNITY never looked at the passport or asked detailed questions about its content, despite COHEN using it as a prop.
7/
If, *as the media says*, COHEN went to Prague and not only lied about it but used TRUMP and HANNITY to cover it up; and if, *as the media says*, COHEN got an unexplained $1.11 million from TRUMP and elsewhere in late 2016; STEELE's dossier may very well be *accurate* on COHEN.
8/
Another thing the media says is COHEN is in legal jeopardy for his business practices—and MUELLER will use any indictments against COHEN for such practices to force him to cooperate in the Russia probe. If that's so—and if COHEN did what STEELE said—TRUMP faces a dire endgame.
9/
TRUMP inexplicably gave COHEN $470,000 on a $130,000 bill. TRUMP is known to wildly *underpay* rather than *overpay* subordinates. These facts have led to speculation COHEN used the rest of the money for something else. But COHEN also had $774,000 more:
thehill.com/homenews/news/…
10/
What COHEN taking out so much money in the last 90 days of the campaign suggests is he had *massive clandestine expenditures* which *weren't* being paid for by clients of his—alleged—law practice and which could *not* come directly from TRUMP. That fits STEELE's dossier. /end
PS/ The now-acknowledged DANIELS payoff confirms that COHEN was the "fixer" TRUMP turned to when he had to secretly pay someone who could blackmail him over conduct that could destroy him professionally. So payoffs to hackers would fit *perfectly* into COHEN's *established role*.
UPDATE1/ A reader reminds me that—4 months after the Prague allegation was published—COHEN finally *did* let media see his passport. It *confirmed* that COHEN was in a nation you can travel to Prague to with no stamp—Italy—between July 9 and July 17, 2016.
buzzfeed.com/anthonycormier…
UPDATE2/ At two points in the STEELE dossier, the timing of COHEN's alleged Prague trip is mentioned: one says August 2016, another August/September 2016. COHEN's documented alibi only accounts for his whereabouts from August 23 to August 29, 2016. So 54 days are unaccounted for.
UPDATE3/ It's certain that the man STEELE says preceded COHEN as Trump's designated Russia fixer, MANAFORT, had *many* passports. So COHEN would've needed multiple passports also. McClatchy reports COHEN went to Prague via Germany in August/September 2016.
mcclatchydc.com/news/politics-…
UPDATE4/ The unanswered questions about the $1.11 million "extra" COHEN got from TRUMP and loans have nothing to do with whether COHEN went to Prague in August/September 2016, or instead met Russians (like Papadopoulos did) in Italy. The question is whether he was paying hackers.
UPDATE5/ We know PAPADOPOULOS says every 2016 trip he took was authorized by TRUMP's campaign, meaning he was sent to Italy in March '16—where a Kremlin agent conveniently found him. We know thereafter he told TRUMP's campaign the Kremlin wanted to keep meeting in neutral cities.
UPDATE6/ So we don't know if COHEN paid hackers—but we know he was TRUMP's secret bagman; he mysteriously received enough money to do it; Kremlin sources say he did; McClatchy says he went to Prague and lied about it; and Italy—his July 2016 trip—is a Kremlin-okayed neutral site.
UPDATE7/ If you read the STEELE dossier, it says (pg. 18) the conversation about COHEN and Prague was between a Kremlin official and a compatriot—which, because of its sensitivity, was deliberately "cryptic." That's the reason the possible time-frame for Prague was rather long...
UPDATE8/ ...and why I'm not convinced COHEN's nine-day July '16 Italy trip should be seen as outside that window. COHEN was obsessed with TRUMP's '16 run and in some ways central to it; Italy was a known Kremlin meet site; why would COHEN disappear on vacation there mid-campaign?
UPDATE9/ The '16 Republican National Convention—we now know a flurry of TRUMP-Russia meetings and actions taken to benefit Putin—went from July 18 to 21, 2016. Are you telling me TRUMP's *right-hand man* went AWOL *on vacation* for the 9 days *just before* the Convention started?
UPDATE10/ Don't be surprised if we learn COHEN's Italy trip involved clandestine TRUMP-Russia meetings. A man like TRUMP doesn't let his fixer disappear on vacation for the nine days *immediately preceding* the biggest moment in his life—that'd be out of character for *both* men.
PS/ Keep this calendar of consecutive days in your head:

JULY 7-8: PAGE goes to Moscow and meets Kremlin officials. He later lies about it.

JULY 9-17: COHEN—Trump's fixer—goes on "vacation" to a known Kremlin meet-up nation.

JULY 18-21: The 2016 Republican National Convention.