This study is yet another one in a growing list demonstrating that dysplastic nevi are NOT obligate precursor lesions for melanoma. Let me give you a brief history/discussion of the 40 year old controversy.
A thread/
#Tweetorial
👇🏾👇🏾👇🏾
The term clinically atypical nevus (CAN) describes the clinical appearance of a mole on visual examination, while dysplastic nevus (DN) refers to the histopathological features of the lesion.
So technically, you can't label something as a dysplastic nevus WITHOUT actually having biopsied it and looked at it under the microscope. On the skin they should be referred to simply as an atypical nevus.
The debate regarding management of clinically atypical nevi/dysplastic nevi (CAN/DN) is contentious, due to the lack of concrete evidence regarding whether CAN/DN represent either precursor lesions or simply markers of increased melanoma risk.
This uncertainty has led to many providers recommending more focused clinical surveillance, biopsies and subsequent excisions, without clear evidence of improved melanoma outcomes.
After biopsy of these DN, some dermatologists recommend patients undergo a second procedure (surgical re-excision) to remove margins around these DNs out of fear that they may develop into melanoma if left alone.
How did we get here? For historical context, the term DN originated in the 1970s in reference to atypical lesions that developed in patient kindreds with high incidences of familial melanoma. More here:
ncbi.nlm.nih.gov/pmc/articles/P…
These findings, derived from a high-risk population, were then applied imperfectly to the general population.
To date, most clinical and pathologic studies have failed to conclusively identify dysplastic nevi as distinct precursor lesions of melanoma in the general population. This current study by Kim et al is yet ANOTHER one hinting at this.
In the only systematic review of the subject, my group showed that the risk of melanoma occurring at the site of a DN that was observed versus surgically re-excised was likely no different and extremely low <0.5%
onlinelibrary.wiley.com/doi/abs/10
.
Additionally, there is little evidence that having one or a few dysplastic nevi confers increased melanoma risk.
The only verified indicators of increased risk of melanoma associated with dysplastic nevi are having very high numbers of nevi (>100) and/or very large nevi (>15mm in diameter). More here:
ncbi.nlm.nih.gov/pubmed/15617989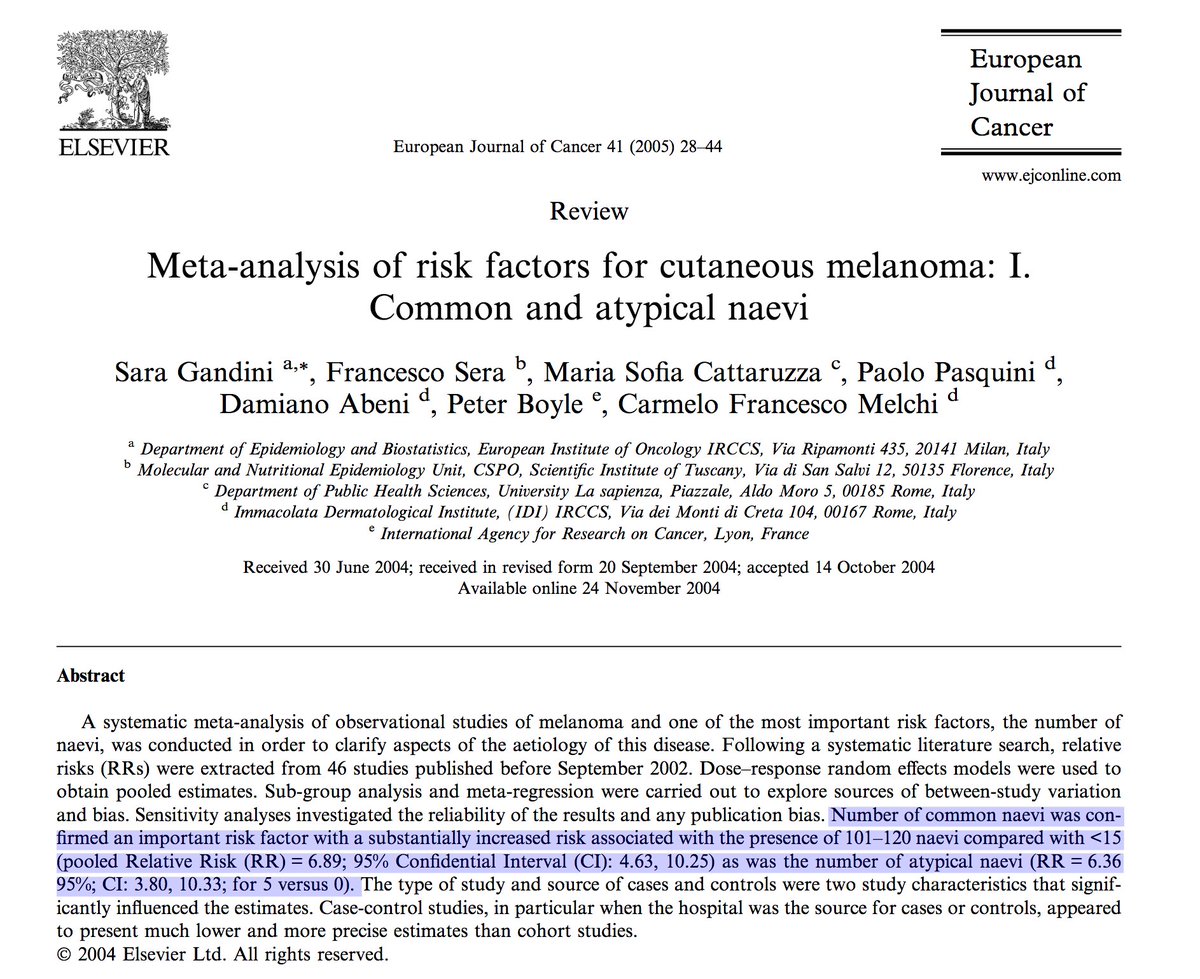 By the way, this risk factor is WAY WAY stronger than sun exposure. More here:
ncbi.nlm.nih.gov/pubmed/15617990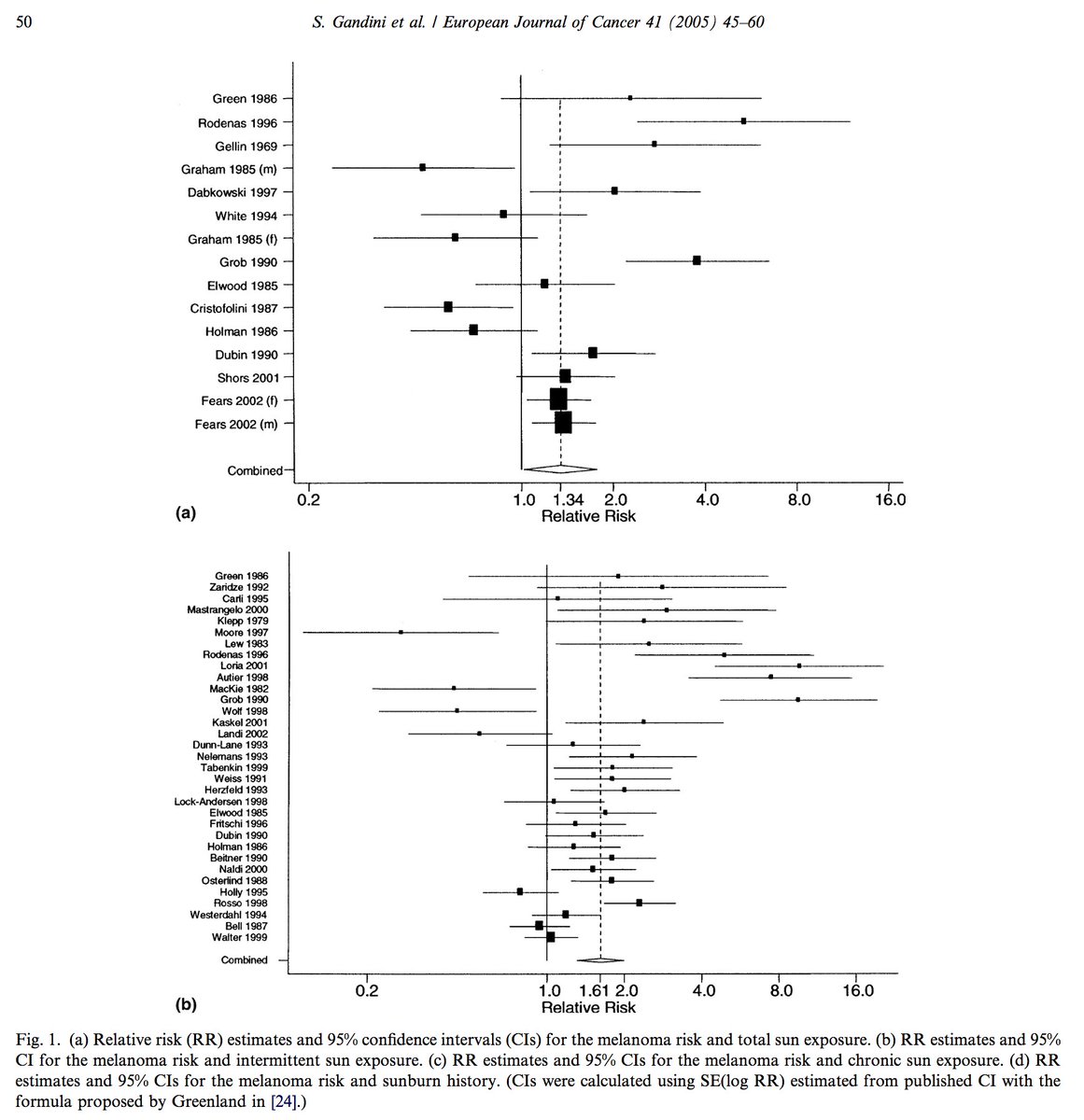 For the past 25 years MANY dermatologists and dermatopathologists have been calling for the abandonment of the term dysplastic nevus because it implies a precursors status, which DNs are not.
To make matters even more complex, dermatopathologists often grade the atypia of DNs into mild, moderate, severe, or some variation of it. The interobserver histopathologic agreement in grading is POOR. More here:
bmj.com/content/357/bm…
This may prompt therapeutic excision of low-grade dysplastic nevi even with clear margins
All of this increases cost and puts patients at risk for overtreatment, overdiagnosis and adverse effects such as infection, scarring, and associated psychological distress. With an uncertain benefit.
Over the past few years there has become increasing recognition that more conservative observation, rather than excision, may be more appropriate, but variation likely remains.
There is growing consensus that at least "mildly" and "moderately" dysplastic nevi can just be clinically observed without surgical re-excision. The Kim et al study adds to that justification.
Management of CAN/DN is among the more common aspects of a dermatology practice. I say this often, but is quite remarkable that there aren't any high-quality studies to address this.
Granted these studies are hard to do and melanoma event rates are probably very low requiring large populations followed for many years.
We can't even do a large population based study of this problem because there are no ICD-9/10 code of this condition. Maybe natural language processing will help with this problem. More here:
ncbi.nlm.nih.gov/pubmed/29094145
I'm glad that Kim et al with the help of the Pigmented Lesion Subcommittee, Melanoma Prevention Working Group did this important but difficult work.