Here now at location of attack on Jazmine Headley, who had her 1 y/o yanked violently from her hands. Presser with ED of my org,
@BklynDefender
, & Brooklyn Borough President. Tons of press. Overheard down street: "Oh my god! Where was security in all of this?" Complicit.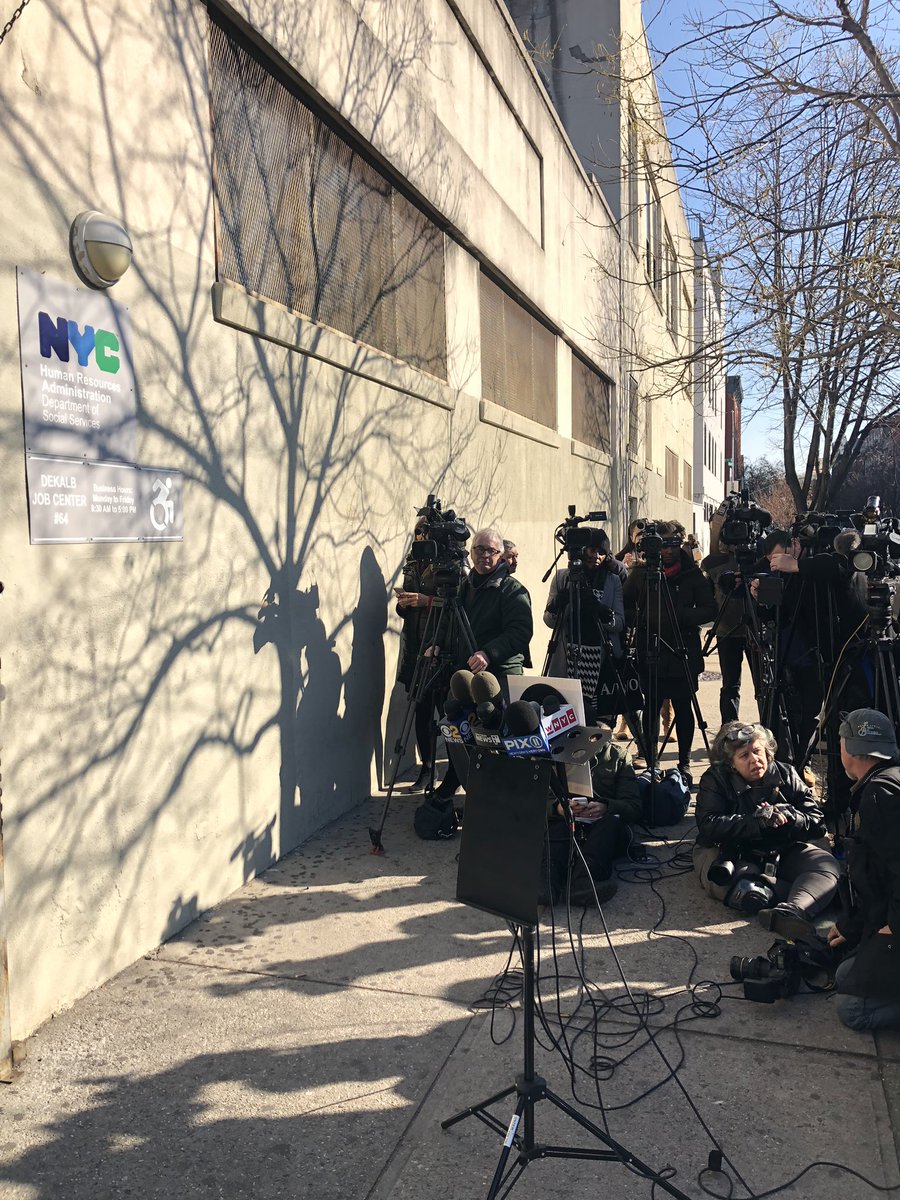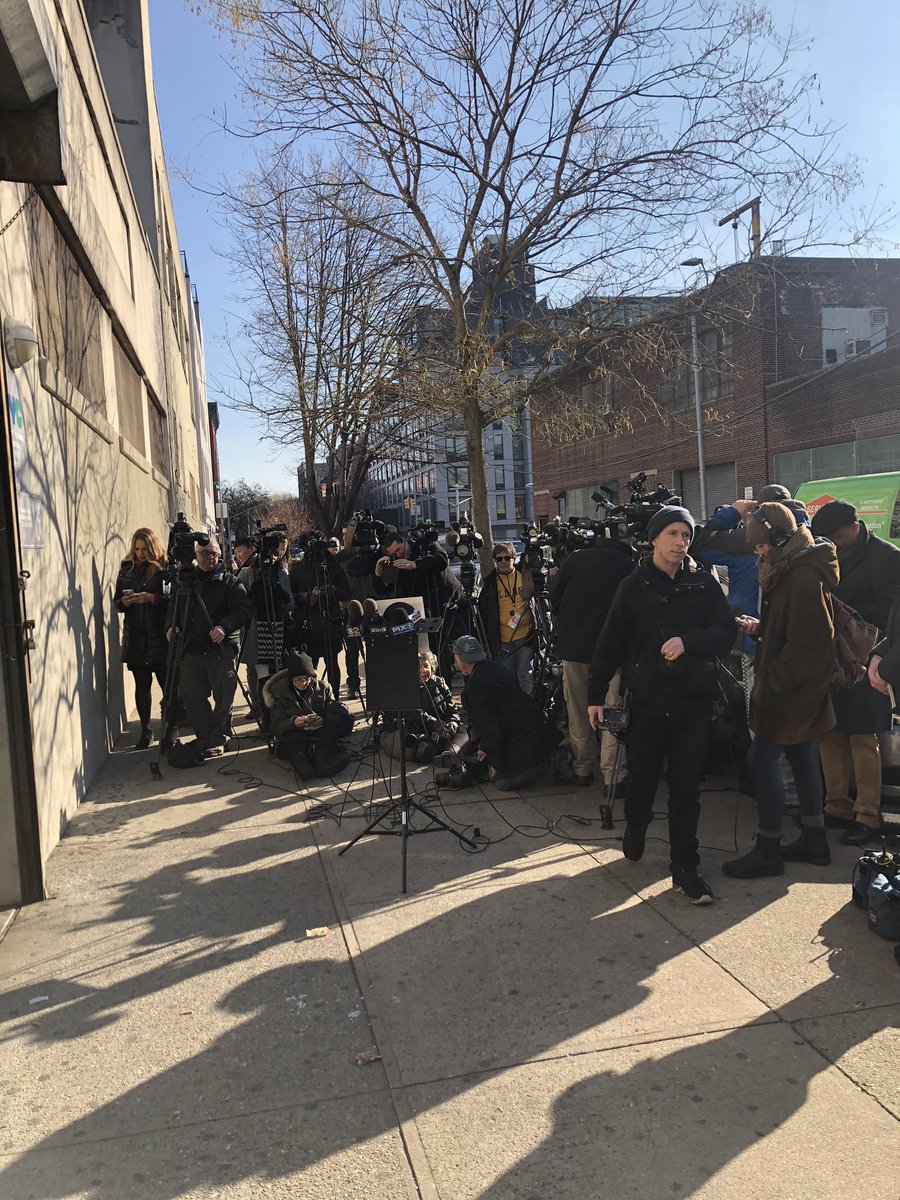 "Snatching children from the arms of a mother are the actions of Border Patrol. It's wrong on the border. It's wrong here in NYC."
"If the NYPD can't deescalate a situation with a mother sitting on the ground with her 1 year old, NYPD is doing something very wrong. This is a blemish on New York City."
"This woman was in crisis. She had to take a day off of work because her benefits were shut off unexpectedly. Had to take her 1 y/o bc of lack of child care. Instead of helping alleviate a crisis, police only escalating."
Important to note: "Calling the police in the first place, however, was escalation in and of itself. They should never have been called."
This "call-the-police mentality" happens in city agencies and schools all the time. And once they're called, they have a one-solution focus: ARREST.
Current situation: She's still in Rikers. Charged with obstruction of governmental administration, resisting arrest, & *endangering the welfare of her child.* NYPD arrested, Brooklyn DA charged AND requested an order of protection blocking *this mom* from contact w/ her son.
What needs to happen:
-Charges must be dropped by
@BrooklynDA
.
-Order of protection must be lifted.
-She must be exonerated by ACS.
-Officer conduct must be investigated.
-Larger NYPD deescalation practices & policies (assuming they exist) must be reviewed.
-Mom & son reunited.
To clarify again - Ms. Headley is currently on Rikers bc of a "fugitive warrant" for a minor misdemeanor in NJ.
The critical point that our ED of
@BklynDefender
keeps making. Expressing gratitude to the courageous bystanders who took video. If they hadn't, the police story would have been completely different.
More updates as I learn them: She was waiting for 4 hours from 9am. No places to sit. Had her 1 year old. That's why she sat on ground. Instead of setting up a folding chair, security guards from a company with *multiple complaints* called 911.
Even if Brooklyn DA drops case and removes order of protection, ACS is still involved, which would lead to unnecessary intrusion, home visits, listing on their registry.
Right now the 1 y/o is with Ms. Headly's mother. But her mother needs to go to work tomorrow. So 1 y/o will go the great-grandma. This is unsustainable. Outrageous. She needs to be reunited immediately.
Strong by NYC Council Speaker: "This incident reflects a range of problems w/ our system, which too often criminalizes poverty, disproportionately punishes petty behavior, & reactively separates parents from kids w/o considering the lasting damage."
council.nyc.gov/press/2018/12/…
More from
@CoreyinNYC
: "None of this would have happened had HRA security officers handled situation appropriately from the outset. We also have to ask why the Brooklyn District Attorney's office sought a full stay-away order of protection for the child & a judge granted it."
Statement from
@BklynDefender
ED Lisa Schreibersdorf: "We are appalled by the abuse that our client Ms. Headley suffered at the hands of the NYPD, and we question why police were ever involved."
UPDATE: HRA security officers who called police placed on leave. No word yet from the NYPD about what they'll do about the officers who attacked Ms. Headley, violently grabbed her 1 y/o, & threatened to tase bystanders.
UPDATE: NYPD Commissioner statement. Opens strong. Then defends officers entering a "chaotic situation." Still investigating. No amount of chaos (there wasn't any - that's hyperbole) justifies attacking a mother & ripping her 1 year old from her arms.
UPDATE: Statement from progressive caucus of NYC City Council: "There is no excuse for the behavior of officers arresting Headley and prying her 1-year old son from her hands."
nycprogressives.com/2018/12/10/pro…
As of 10pm, December 10— Ms. Headley is still on Rikers Island.
This is fourth night she'll be sitting on Rikers. Away from her infant. She's never been to Rikers before.
Why still on Rikers? A missed court date in NJ for a minor misdemeanor. NJ wants to pick her up. So NY judge remanded her without bail. She could go on her own. NJ could have driven & picked her up days ago. Next court date: Thursday. Even then, no guarantee NJ'll be there.
It costs $1750 to arrest a person. It costs $741 per night to incarcerate a person on Rikers. By her Thursday court date, her arrest & incarceration will have cost taxpayers $6200.
Somehow missed this wholly inadequate "statement" by the Mayor. He's so disturbed by the video, he's going to just let the two agencies responsible for this ongoing horror show investigate themselves.
Good morning / started a new thread here: