You haven't heard the last of the Amaechi 'tapes'. We are dealing with Principalities & Powers, who'll go to any lengths to fight dirty.
1.
One of the fraudulently edited clips:
2.
The original clip below. See how they edited out the 'Corruption' context
Let me summarize it for you. You can confirm what I'm saying in the audio clips above: the published one (taken from the
@PremiumTimesng
website / YouTube), and the original clip.
You be the judge, and check out the subtle, fraudulent, but professionally done edits yourself.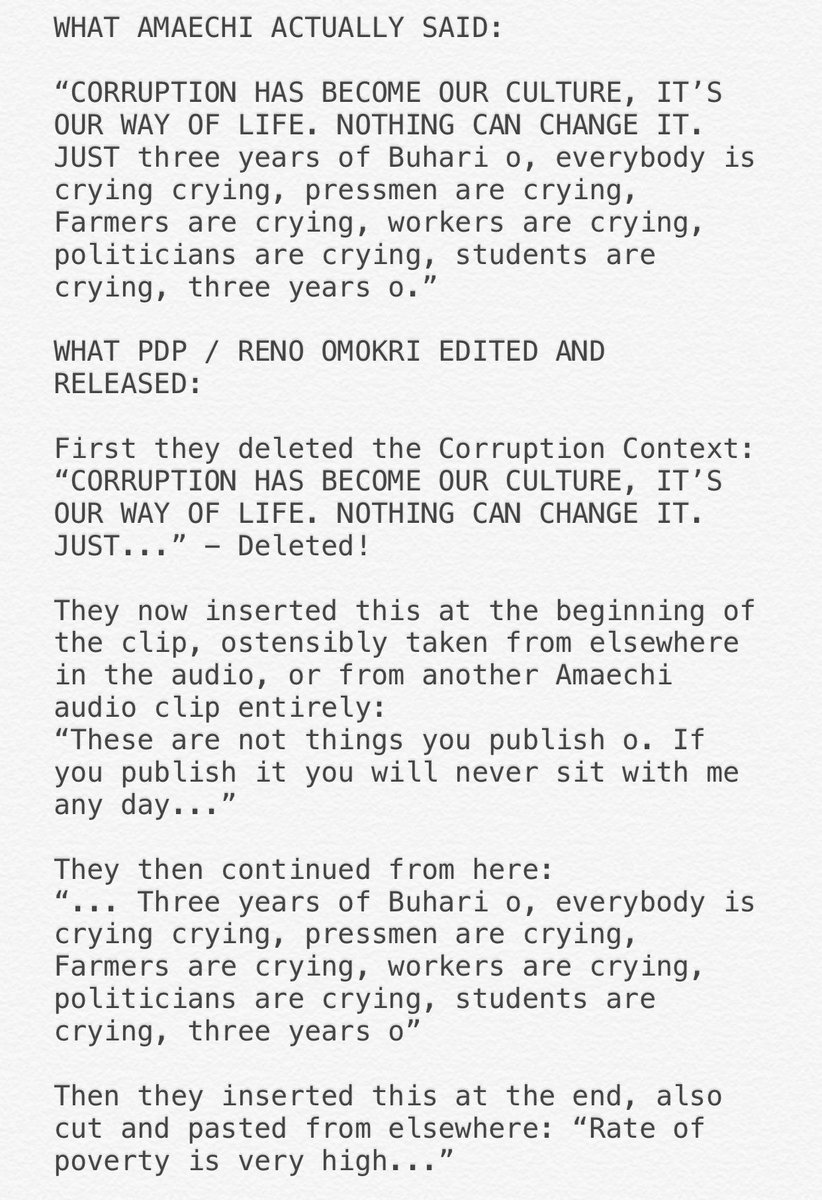 All over the clips are SUBTLE alterations like this, intended to change context. Cut out a few clarifying words here; join two unrelated bits very cleanly & professionally to alter the meaning/context

It's actually very depressing - that anyone would go to these devious lengths.
I keep telling you guys - This
@RenoOmokri
you people are playing with is a criminal genius. Dude is immortalized in the
@FT
for this same kind of fraudulent, malicious behavior. The target at the time was suspended CBN Gov Lamido Sanusi (March 2014):
google.com/amp/s/amp.ft.c…
Yesterday the target of Reno's smear campaign was SLS. Today its Amaechi. Tomorrow it will be another victim of his choosing, maybe YOU. Might not be a politician or public figure.
It was once an innocent American woman, whose son's identity Reno stole:
premiumtimesng.com/news/top-news/…
I'm actually convinced that some of the insertions made into the Amaechi Tapes consist of phrases taken from completely different Amaechi contexts / settings (diff place diff time). I don't have the time or resources to be analyzing these clips extensively, but I'm convinced.
Audio is extremely easy to edit/distort.

Take this simple example:

What I said:

"I told Akin one thing, that [Will, his aide, the one that drives a Benz, you know him,] he's a thief."

Cut out bit in brackets

What you have left:

"I told Akin one thing, that he's a thief."
Stay Woke people. We are in Election Season. Cambridge Analytica may be dead, but its spirit is very much alive, even in Nigeria!

And people like Reno and the PDP are very much around, plotting and implementing elaborate smear and disinformation campaigns.
I hope the media houses who have all run with the audio clips they were sent by Reno will take the time to subject the clips to (forensic) examination: you will find multiple evidence of alterations: cuts, insertions etc:
@daily_trust
@thecableng
@PremiumTimesng
@MobilePunch
etc
And this one is for
@Chxta
, self-acclaimed fence-sitter (and nemesis of Second Niger Bridge), who ignores my playful jabs about the Bridge but shows up on my TL to try and defend altered audio tapes.
Here's why I believe(d) the first 6-second Clip Reno posted was from 2014: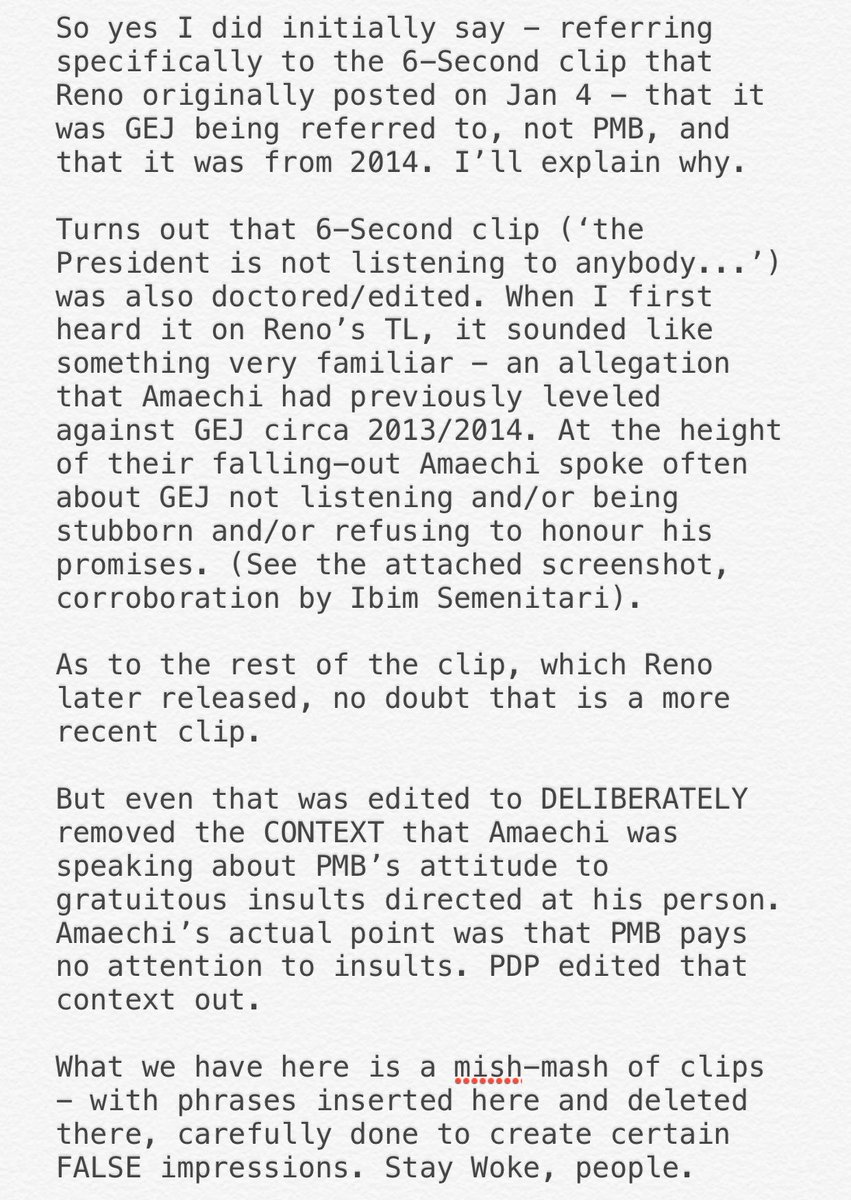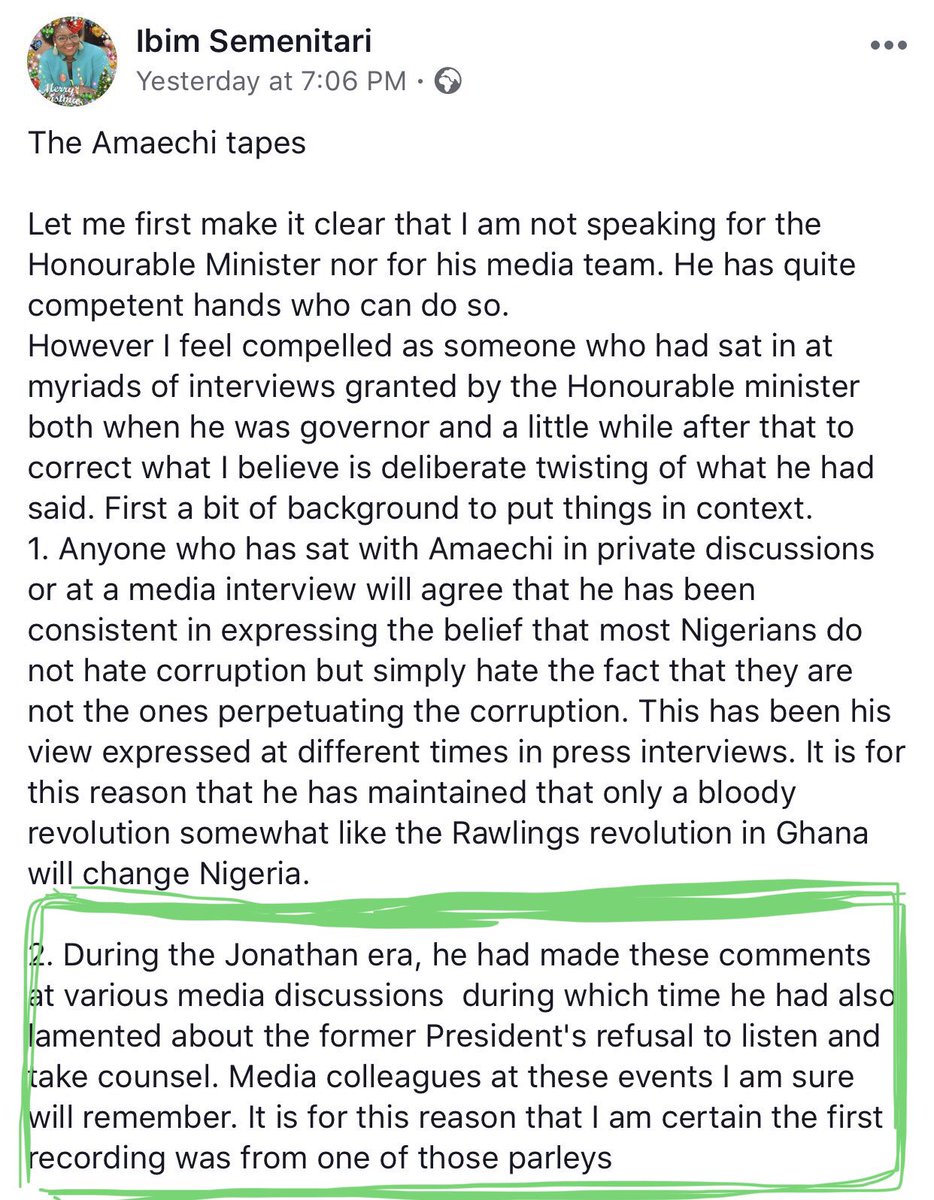 And for everyone who thinks this is about 'defending Amaechi' - nah. He's a veteran of political battles, doesn't need my defence.

For me this is simply about spotting & highlighting a shameful disinformation campaign led by a guy with a long history of crafting smear campaigns.