We made the submissions for both back in 2008 and their assessments by the Threatened Species Scientific Committee began in 2008 and 2009 respectively. After years of workshops, expert research etc. the TSSC delivered the advice that both should be listed as Critically Endangered
This advice was delivered to then Environment Minister
@Mark_Butler_MP
in 2013, and to his credit he acted on the TSSC's advice and made the listings.
@Nat_Irrigators
, led at the time by
@tomchesson01
(former adviser to Nat Shadow Water Security Minister John Cobb) weren't happy
Kept the papers from the fallout - front page in both
@theweeklytimes
and
@thelandnews
. "Murray River Wrapped in Red Tape by Government's Defiant Final Act" / "Sly Act: Farmer Fury Over New Rules for Macquarie Marshes". Interesting ways to portray a thorough scientific process...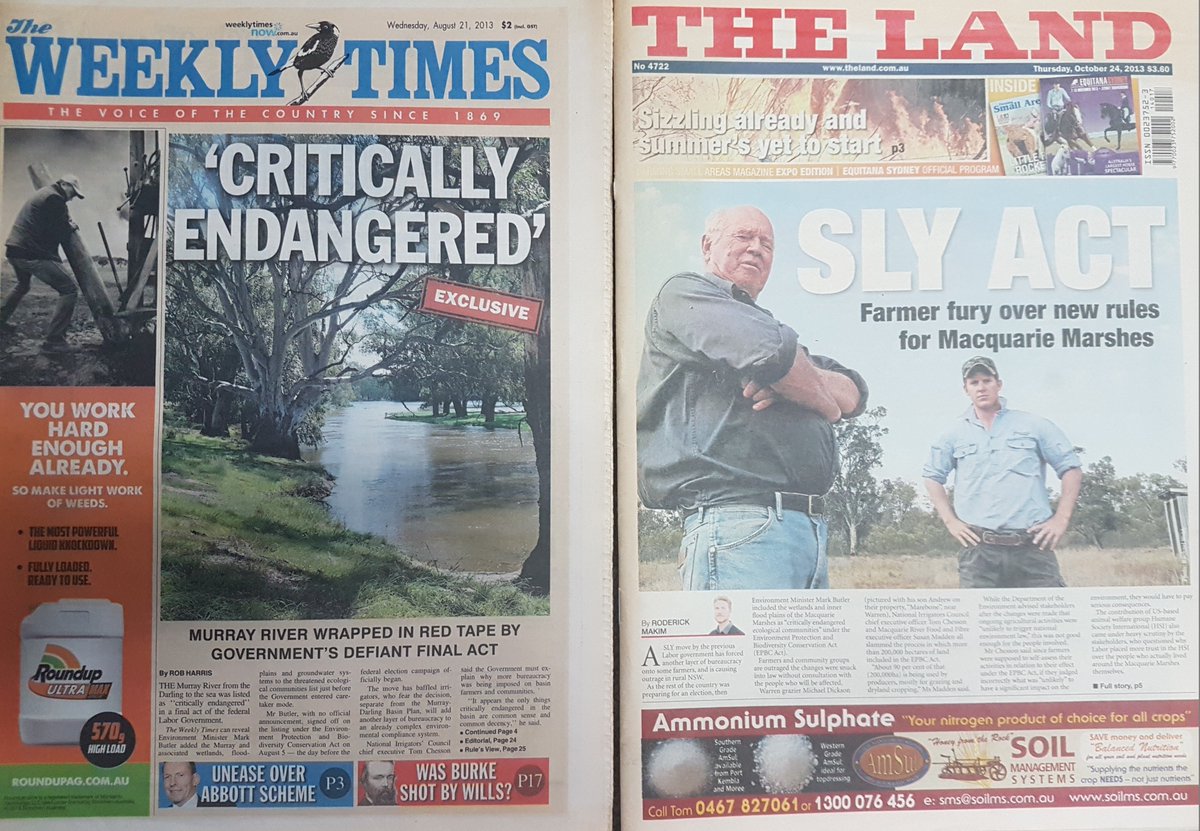 The problem was in the timing. Threatened Ecological Communities are disallowable instruments under national environment law and can be overturned within 15 sitting days. It had never happened before, but the timing of the 2013 election w/ pressure from peak groups meant it could
A 2013 op-ed by former
@hsi_australia
Director Michael Kennedy: "If Environment Minister Greg Hunt is unable to resist pressure from the likes of Barnaby Joyce to disavow environmental protections, the Murray-Darling river system will be in for rough time"
abc.net.au/news/2013-10-2…
Sadly our efforts to save the listings weren't enough, and in December 2013 as one of his first acts as Minister,
@GregHuntMP
disallowed the Critically Endangered listings of both the
#MurrayDarling
and
#MacquarieMarshes
. The first and only ecological communities to be disallowed
It's not definite that the listings would have prevented the horrific scenes we've seen in the last week or so, but there's no doubt removing the protections has played a part. They would have assisted
#environmental
flow allocation and placed greater scrutiny on major extraction
Watching it happen after so much work (by us, the TSSC, Dept etc.) with the fate of these vital systems at stake was infuriating. Power brokers and decision makers went out of their way to overturn a scientific finding that the river was Critically Endangered, and now here we are