Here is my view -
1.
After 52W low it bounced back on 30Jan with good vol & bullish candle
2.
Next day it closed abv EMA21 but small candle
3.
1st Feb is made a weak Doji (possibly profit booking by people who got stuck from higher levels)
4.
Today profit booking continued but all selling is absorbed by the smart money around 453-455 levels.
Note: Bulls candles with high volumes, bear candles with relatively low volumes shows buying pressure
It might consolidate in range of 460-480 before making an upmove. Safe buy could be above 483 for 500-520-540 levels. 500 is immediately supply zone so it will halt there before moving further up. Today bears were trapped & there may be a reason behind.

View negated below 460
How many of you were able to pick low risk entry in
#TATASTEEL
today? It behaved exactly the way written above. Pullback to 460 zone was done yesterday & after that no look back. Typical text book
#priceaction
pullback after heavy volume daily bar from the lows. 500CE got double!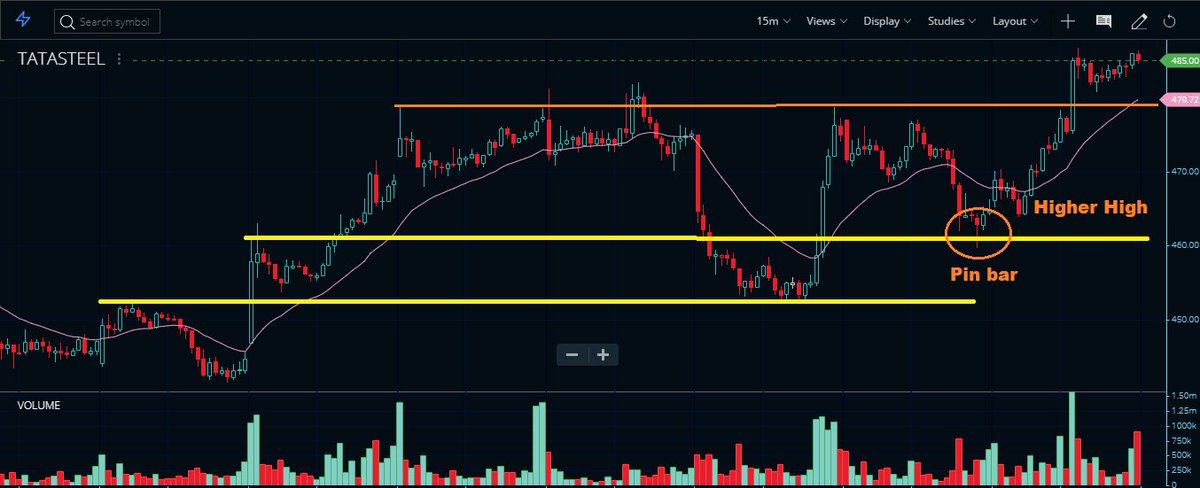 This is a perfect example of supply & demand zones concept which I shared with you all. Simple things work really well. All you need to do is - PRACTICE & PATIENCE to wait for trades in your zone & then based enter based on price action reversal candlesticks & ride. Simple!
#Tatasteel
continued its upside & in today's volatile market as well it rose & made a high of 491.4 and closed towards the high.