Well this is a fascinating confounding variable to find in the full report of Finland's
#BasicIncome
experiment. Apparently the treatment group was not equal to the control group and in fact received a total of $1898 less, and yet they were still happier!
julkaisut.valtioneuvosto.fi/bitstream/hand…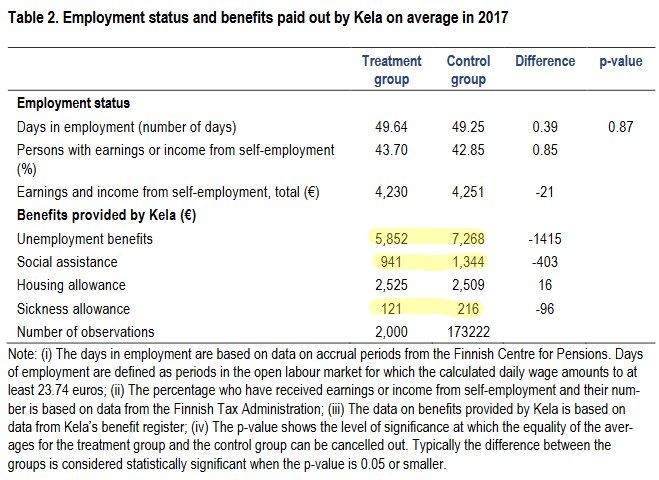 I think the fact that there's a virtual equivalence as far as employment rates go, despite a 17% reduction in overall benefits paid out, in combination with 16% increase in people feeling they have good health, and a 32% reduction in stress, shows that $1 in UBI > $1 in welfare.
Additionally, the words "volunteer" and "unpaid" appear zero times in the report. Researchers in Finland don't appear to have attempted to measure the degree to which people provided basic income may pursue unpaid work vs job opportunities at greater rates than the control group.
Trust overall was enhanced. Among the unemployed in Finland, trust in others is lower than the population as a whole, but being provided
#BasicIncome
instead of standard unemployment benefits appears to have increased trust in other people, the legal system, and even politicians.


Okay, I finally finished reading and analyzing the entirety of the report and this thread will now end. If you read this entire thread, you now have a pretty clear picture of the results and you're far better off than anyone who hasn't read the report and has only read summaries.
Next, I will write this up into my own article to add some more sanity into the shit that's already out there and I expect to be out there in even larger piles soon. Please use what you've learned here to help inform the online discussions you see. Misinformation will be rampant.