Q&A session Jim Baker is asked abt the greatest NS threat.
"I'm tremendously worried abt [Russian cyber] w the 2020 election... our systems are highly vulnerable... there's 8,800 jurisdictions. There's a lot of attack surface."
1/
"The bad guys don't have to go after all of it (election systems). They have to pick these precincts in those states that will flip the election. That's what I worry about." — Jim Baker
@thejimbaker
they did it in 2016. Trumps vote % increased based on precinct size Look👇🏽

2/
Trumps vote % increases as precinct size goes up again & again. This is only possible by manipulation.
@thejimbaker
See this excellent thread & url link to the evidence. Thank you for speaking up. Please do what you can
@FBI
w this information

3/
You see here
@thejimbaker
if you sort this county in random order it flatlines as it should. BUT if you sort it by the size of the precinct the "manipulation" is revealed.

4/
Add in another type of vote manipulation in Florida that appears to be flipping votes. 1.8k Democrats vote for Dems in the 2016 Primary in Liberty County FL, BUT come the General election Democrats only get 600 votes 🔥
8/
Florida, Election Day.
2/3
of the votes were in (early voting). HRC's lead was insurmountable.
9/
Robeson County, NC is 70% minority. 72% of votes in the Primary were for Democrats, yet Trump won the General.
11/
It only took manipulating the vote count in Milwaukee to take POTUS & the Senate seat in Wisconsin in 2016.
#VerifiableElections
#PaperBallots
13/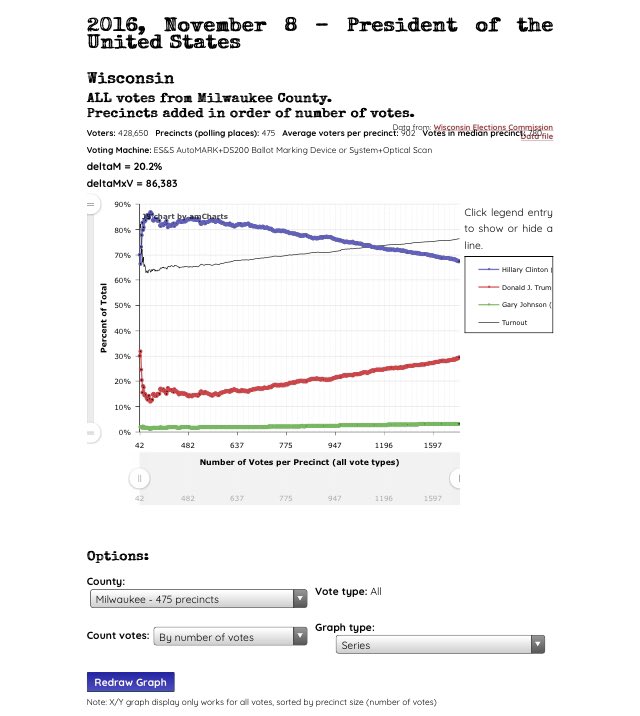 Will the FBI ever tell us what happened with the 2016 election results?
@thejimbaker
do they even know? Please share
votesleuth.org
work with
@FBI
15/
END