The SJW move:

Step 1: Lie about the conduct of others.
Step 2: Claim total moral superiority because you are "better than" the sort of person who would do the thing you dishonestly made up in step 1.
Step 3: Tell the other person, and everyone, about your own moral superiority.
This article by two professors explains a great deal about "social justice." For example, why SJWs 𝙣𝙚𝙫𝙚𝙧 talk about 𝙘𝙡𝙖𝙨𝙨. The reason is simple: socjus is a 𝙘𝙡𝙖𝙨𝙨 𝙙𝙞𝙨𝙩𝙞𝙣𝙘𝙩𝙞𝙤𝙣 𝙟𝙪𝙨𝙩𝙞𝙛𝙞𝙘𝙖𝙩𝙞𝙤𝙣 𝙣𝙖𝙧𝙧𝙖𝙩𝙞𝙫𝙚.
quillette.com/2018/09/21/the…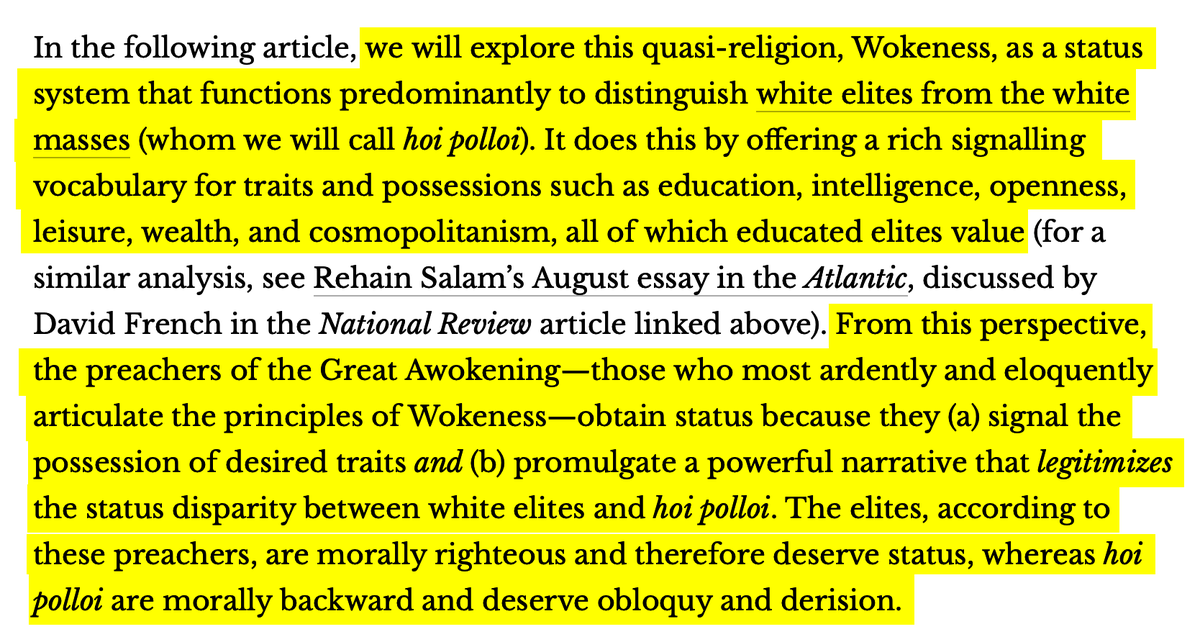 Social Justice primarily exists as a status signaling system meant to 𝙟𝙪𝙨𝙩𝙞𝙛𝙮 the privilege of mostly white, urban elites.

SocJus rails against "privilege" in the abstract, but it exists to justify class privileges.
An obvious example of this was Hillary Clinton's dismissal of half of Americans as "a basket of deplorables."

Hard to get more elitist than that. Nor did she even bother to campaign in "deplorable" states.
You 𝙝𝙖𝙫𝙚 𝙩𝙤 understand this about human behavior. Very few people believe what they say the believe or believe what they say. To have a real regard for truth requires 𝙚𝙩𝙝𝙞𝙘𝙖𝙡 𝙩𝙧𝙖𝙞𝙣𝙞𝙣𝙜.

And it is far, far easier to claim virtue than to practice virtue.
You are a degenerate living in a large coastal city. At some level you know you are degenerate, but still want to feel justified in your lifestyle and feel superior to "ordinary" people living in unimportant "flyover" states.

How do you do it?

Become a social justice cultist.
Why do you think "social justice" is virtually irresistible to Silicon valley, San Fransisco area tech types?

How are they, in regards to their moral character?

San Francisco's streets are literally full of shit and used needles. 🤷🏻‍♀️