This is sort of a crazy chart from
@OregonDEQ
that can be summed up as "detached housing seems to be bad for the environment by every metric we could think of"
oregon.gov/deq/FilterDocs…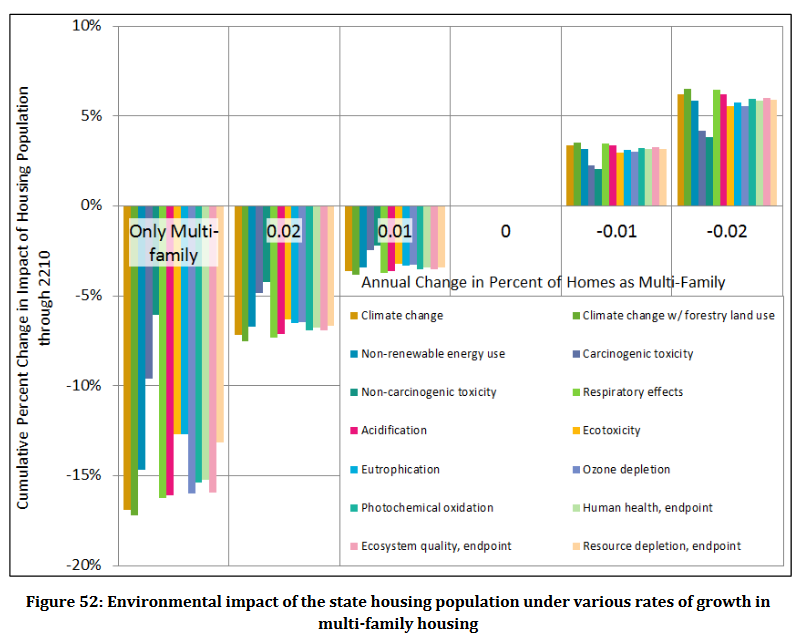 @OregonDEQ
Seriously, I do not currently expect to start wearing a button that says "lawns cause cancer" but there you have it
Glad the chart above, about the environmental impacts of attached vs detached housing, has gotten some attention so I'm going to expand on one of these bars: the one labeled "climate change."
As
@MadelineKovacs
often says, housing policy IS climate policy. Here's how much it is:
@MadelineKovacs
Start by imagining two city blocks of 18 homes each.
On one, three old homes are torn down and replaced by three 3,400-square-foot homes. This is perfectly legal just about everywhere! Let's call this the McMansion Block.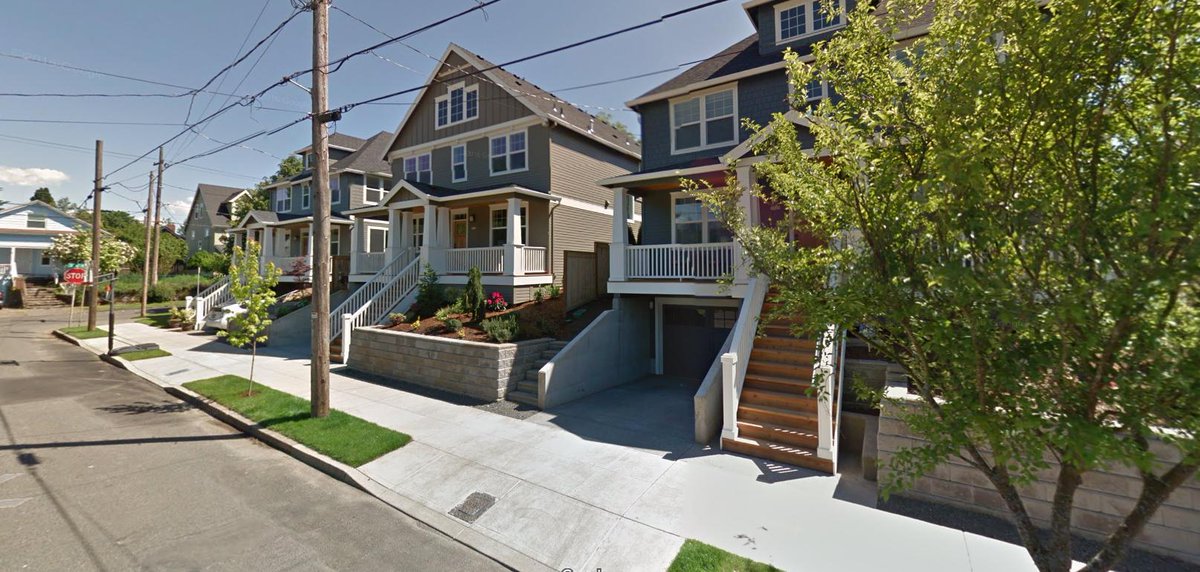 @MadelineKovacs
On the other, we do something currently illegal (but would be legalized by a bill in Oregon's legislature, HB 2001): we replace the three old homes with a fourplex, a duplex, and a triplex, respectively.
Let's call this the Plex Block.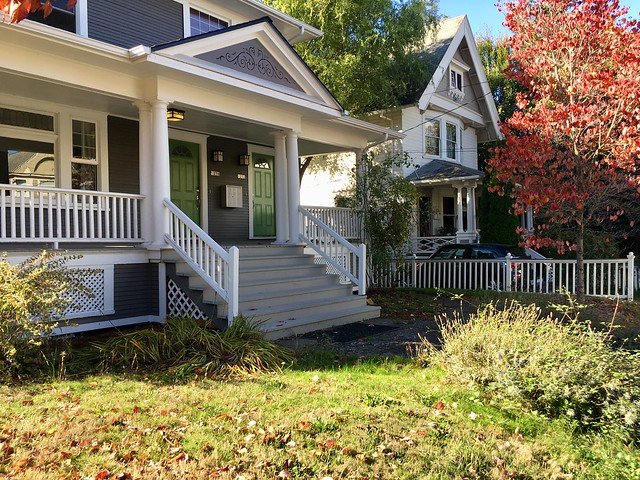 Let's also suppose that, due to new local caps on total building size, each home in the fourplex is 1,000 sqft; each home in the triplex is 1,150 sqft; and each home in the duplex is 1,500 sqft.
This sliding scale of building size is a Portland idea.
sightline.org/2018/12/07/por…
On McMansion Block, about $2 million has been spent on new construction, but the number of homes on the block hasn't changed.

On Plex Block, it's more like $2.1 million on construction, but the block just added six more, smaller homes.

Now let's look at the climate impact.
In this scenario, we haven't put a price on carbon. The local power company hasn't shut off its methane plant.

Without changing ANY OTHER BEHAVIORS AT ALL, we cut carbon emissions per household on this block by 20%.

All it took was letting 9 households live where they want.
How is this possible?

The short answer is that keeping a bunch of big, usually-empty rooms warm in the winter and cool in the summer burns a truly massive amount of carbon.


Big homes are a massive problem for human civilization. But whatcha gonna do, ban them?

Well, I have friends who think so! But my point here is that we could get MASSIVE climate benefits just by letting folks live in smaller homes if they want to.
(Side note: small detached houses are almost as good as small attached ones. So what's stopping people from just building small?

The price of urban land. You may want a tiny house but the land price is based on the McMansion you don't want.

Answer: let little homes team up.)
We need to improve home energy efficiency real soon now. Re-legalizing plexes helps a lot.
"No other sector offers a higher potential for a single source of reduction than residential efficiency." That's
@NRDC
, they know this shit.
nrdc.org/experts/khalil…
"A typically sized new single-family home built to industry standards is responsible for nearly 60 percent more emissions than a home approximately half its size."
That's my colleague
@MadDogMarge
, whose series last year I'm leaning on heavily here.
sightline.org/2018/06/04/the…
Because the numbers are hard to pin down, I'm not even talking here about the transportation-related climate benefits of letting people live where they prefer. But those are huge too. More from
@MadDogMarge
:
sightline.org/2018/07/18/sma…
"'Infill' housing - built in urban areas, near transit, jobs and services - can reduce greenhouse gas pollution more effectively than any other option."
nytimes.com/2019/03/25/opi…
That's
@dan_kammen
&
@Scott_Wiener
summarizing Kammen's research. Includes both transpo & HVAC.
OK folks, action item: Remember the Plex Block, which cut housing emissions 20% without anyone doing anything they didn't already want to?

Oregon is ON THE VERGE of becoming the first US state to make this sort of block legal in larger urban areas statewide.
The bill is HB 2001. Vote could go either way. But if you are an Oregonian and can write or call your state senator on this right now it might well make the difference.
oregonlegislature.gov/FindYourLegisl…
There's a hearing Tuesday. Talk to my colleague
@MadelineKovacs
if you want to come.
Of course, the climate is just one of many, many reasons to strike down local bans on smaller, cheaper homes.
Doing this is good. It won't solve anywhere close to everything. But this is one of the ones we want to be able to tell the kids about someday.
sightline.org/2019/04/09/res…
Correction to this tweet: it should have said we cut *housing-related* emissions per household 20%. Other emissions also need to be cut!

Sorry about that.