In this thread & post from last fall, I wrote about how unbelievably stupid it would be to spend $168 million on 5 new parking garages along TriMet's next rail line (2x the dedicated funding for affordable housing)

Today's thread & post bear good news!


My post was harsh; when it came out, it got a lot of pushback from
@trimet
on various grounds. One of their main substantive points was that a 5-garage scenario was unlikely. (Cool, I replied, but there it is in the documents...)
Now they may be delivering on that implication.
Here's the latest: For most park-and-rides, TriMet staffers are now pushing for surface lots ($18k/space and you can put buildings there later) rather than garages ($52k/space). Would save many millions.
sightline.org/2019/05/07/gre…
Free parking near rail scrambles our social-justice compasses. Seems...good?
But here's the thing: equitable mobility requires QUALITY TRANSIT - not offering free parking to 2,000 car-owning downtown workers in the hope that some of them might be poor.
sightline.org/2019/05/07/gre…
In 2016,
@kcmetrobus
ran some numbers on park-and-rides & concluded that bus lanes & signals create 3x more riders per dollar than free park-and-rides.
Because they make transit competitive w/ driving in ways other than free parking.
sightline.org/wp-content/upl…
@kcmetrobus
Every dollar of transit funding not spent maximizing transit ridership is ... well, the forecast for Friday says 89 degrees. It's early May.
☀️☀️😓☀️
Here's a nice graphic by
@metrolosangeles
on life-cycle greenhouse emissions from various ways to get to rail stations.
TriMet staffers are citing it, a very good sign!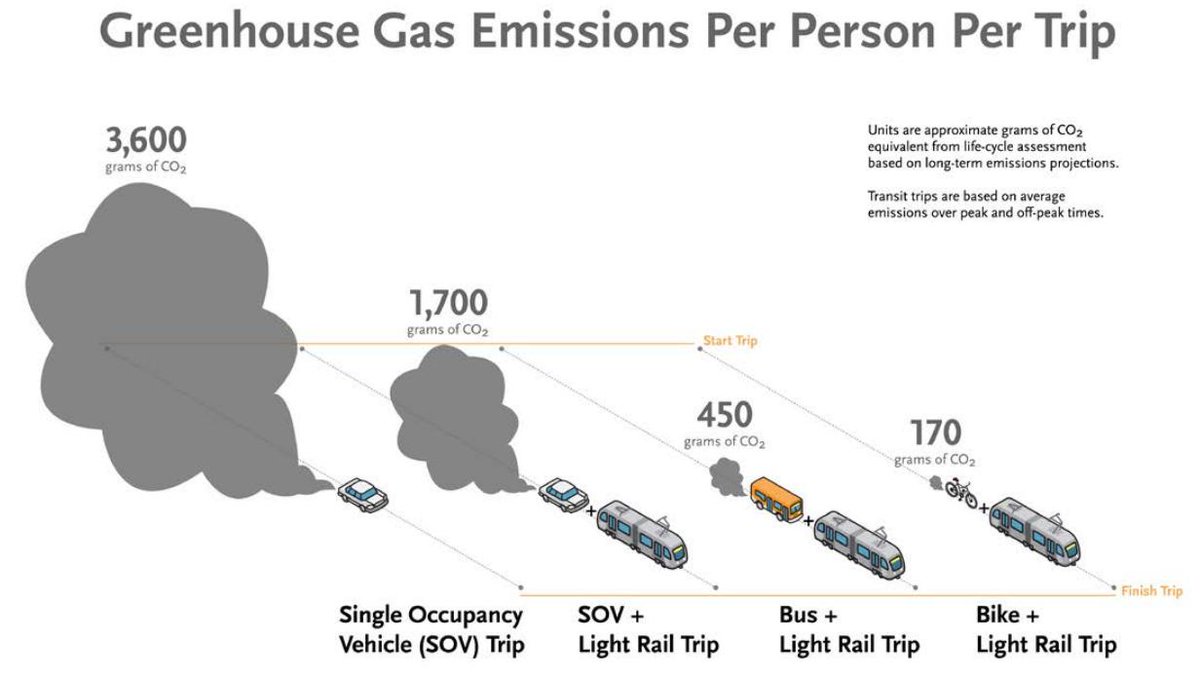 OK, and here's the turn in this thread: TriMet staff may get this. But they're not the de facto decision-makers on how these tens of millions of transit dollars get spent.
A handful of elected officials, more than half from suburban jurisdictions, are.
trimet.org/swcorridor/pdf…
Last night, that group of officials (TriMet's steering committee on its SW Corridor rail line) heard TriMet staff's initial case against overbuilding parking. Slides:
trimet.org/swcorridor/pdf…
Next month, June 10, they're expected to go into depth. July: decision.
Park-and-rides are politically appealing, especially to people who can't imagine themselves personally riding transit.

Most people just don't do the math: even a thousand cars pulling off I-5 a few miles further south than otherwise is just not gonna transform any lives.
If in the next month those officials hear from even a large handful of constituents that $100m would be better spent on
☑️ hundreds of affordable homes
☑️ hundreds of miles of protected bike lanes
☑️ dozens of bus lanes and signals

,,,that could make a big difference. /end
The fact that so many people can't see themselves riding transit is a choice we continue to make by not changing things like this
small correction! the may meeting was postponed until next week.