When lawtwitter goes down nostalgia lane for "told you so" opportunities, they go back to June 6. We go back to April 19, the day the lawsuit was filed. We can go back before then, but April 19 is when the online conversation got into the legal weeds.


The Dark Ages of KickVic began when Vic was reinvited to Kamehacon on March 22. The con was April 12-14. The lawsuit was filed April 19. Akiva Cohen brought lawtwitter in on June 5 and Greg Doucette started organizing their interest in the case on June 6.


The top comment on that thread is from
@duopierce
. We had plans to meet up with a bunch of other friends for KamehaCon. We were not happy about this news at all. I canceled my panel and didn't go to the con, but we still met up.
But notice SGSAMI here talking about Chris Sabat.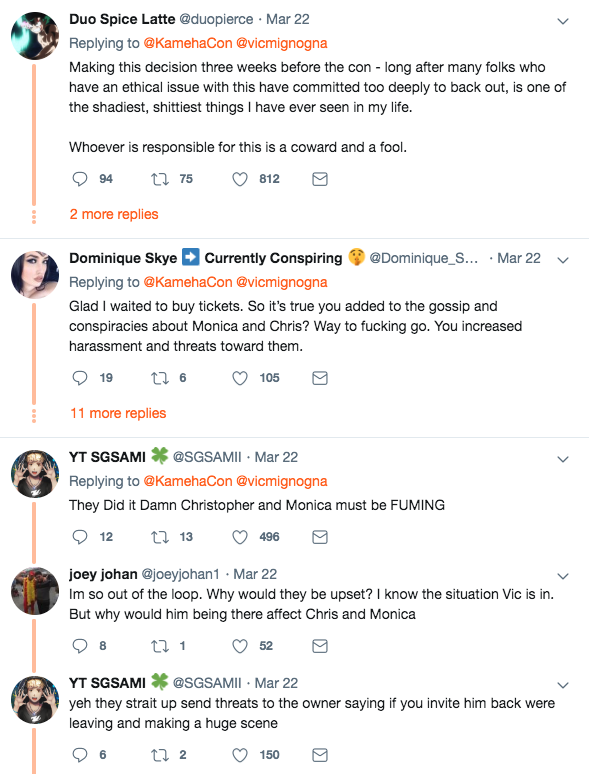 There was only so much we could say to them. We were like "but that's not how it works" and they kept giving us Nick's garbage legal conspiracy theories. I just went through my tweets through the end of April and there wasn't much else. What could we say?


This was Percy's first big "win"! No confidentiality gained them precisely nothing. All of their smear campaign bullshit was completely irrelevant to the lawsuit. Nick could have put it all online; it served no purpose whatsoever in Huber's affidavit.


This is near the end of the dark days. May 26. Monica and Jamie both got harassed at cons that weekend. Naturally, ISWV conflated the stories about those incidents and came up with some wild conspiracy theories, as they do.


Since there wasn't really much we could say to these people, the Dark Ages were largely a time of blocking & ignoring. Sometimes preemptive blocking. I spent a lot of time going through other people's threads about Vic and blocking trolls in the comments.


I have some friends who employed similar methods, but I didn't really have the energy for all that. It was enough work going through the comments on their threads. (I would block folks who liked shitty comments, too.)


Everything I have heard about KamehaCon 2020 is that it is shaping up to be VicCon 2020. But this time they won't have the benefit of all those KickVic folks who were already committed with nonrefundable flights and rooms by the time they reinvited Vic.


Some won't, because they see it as their best opportunity to make money. I'm just not sure KamehaCon 3 will be nearly as lucrative for them as previous KamehaCons. And anyone who is friendly with Monica, Sabat etc. is probably going to get harassed.


No idea. Might be the same guy who was running it before. (Not Danny. The other guy.)


I suspect they won't announce him until the last minute. They are probably hoping they can sell a bunch of tickets to folks who would have no idea that the main DB cast won't be there until it's too late.


That tweet was to Ron, so it resulted in the infamous "piece of shit" TDMA letter. 🤣


I won't name the person who sent it to me, but I sent that bit I cropped to Dom, and she posted it on Twitter. Then Shane followed up with the whole page, and eventually the whole letter. I assume he got it from Ron—Nick had already leaked his "TI" texts.


Not sure if Percy ever bothered, but Nick did.

"The TDMA requires defamatory statements to be identified with particularity. If you fail to identify them sufficiently, you can lose the claim."


I dropped screenshots of Nick's argument on Akiva's June 5 thread so that the interested lawyers would know precisely what they were dealing with. Nick's days as the only lawyer in the room were numbered. He sure did love swinging that authority around.


I don't know the legal requirements to establish that Nick was "acting as Vic's legal counsel" but these logs definitely confirm what we already suspected: Nick was actively involved in—perhaps in control of—developing the legal strategy for this lawsuit.


It's here in text form if you don't feel like watching the stream. (I didn't. I always prefer text.) Apparently Nick thought there was a chance that the revisions to the TCPA might help Vic's case, so they considered nonsuiting to refile in September.


Good to know. I did watch the beginning of it, so I assume it has something to do with the screenshots he got sent from KF. (Pro tip: if you're reading things like that aloud, there's really no reason not to censor it. idk why you wouldn't.)


All the lawyers seem to agree that it establishes the attorney-client relationship, so it would seem that the most important remaining question is whether it's possible to authenticate this Discord leak. I suspect it would be incredibly difficult.


I don't know. Nick apparently didn't really know, either. He was just looking into it and wanted opinions on how it would play among fans if they nonsuited.


Seems like a long shot but 🙏

Might be more worth Vic's effort for a malpractice suit than the current defendants' effort for the sanctions hearing, but what do I know