WHY
@ATIKU
's VICTORY AT THE SUPREME COURT IS A DONE DEAL [Part 3]
#Justice4Atiku
In 2017, Mary Odili JSC, Sidi Bage JSC retd & Co & in 2018, Ejembi Eko JSC, & John Inyang Okoro JSC & Co passed a Landmark supreme court judgment on FALSE DECLARATION IN INEC FORM
#CF001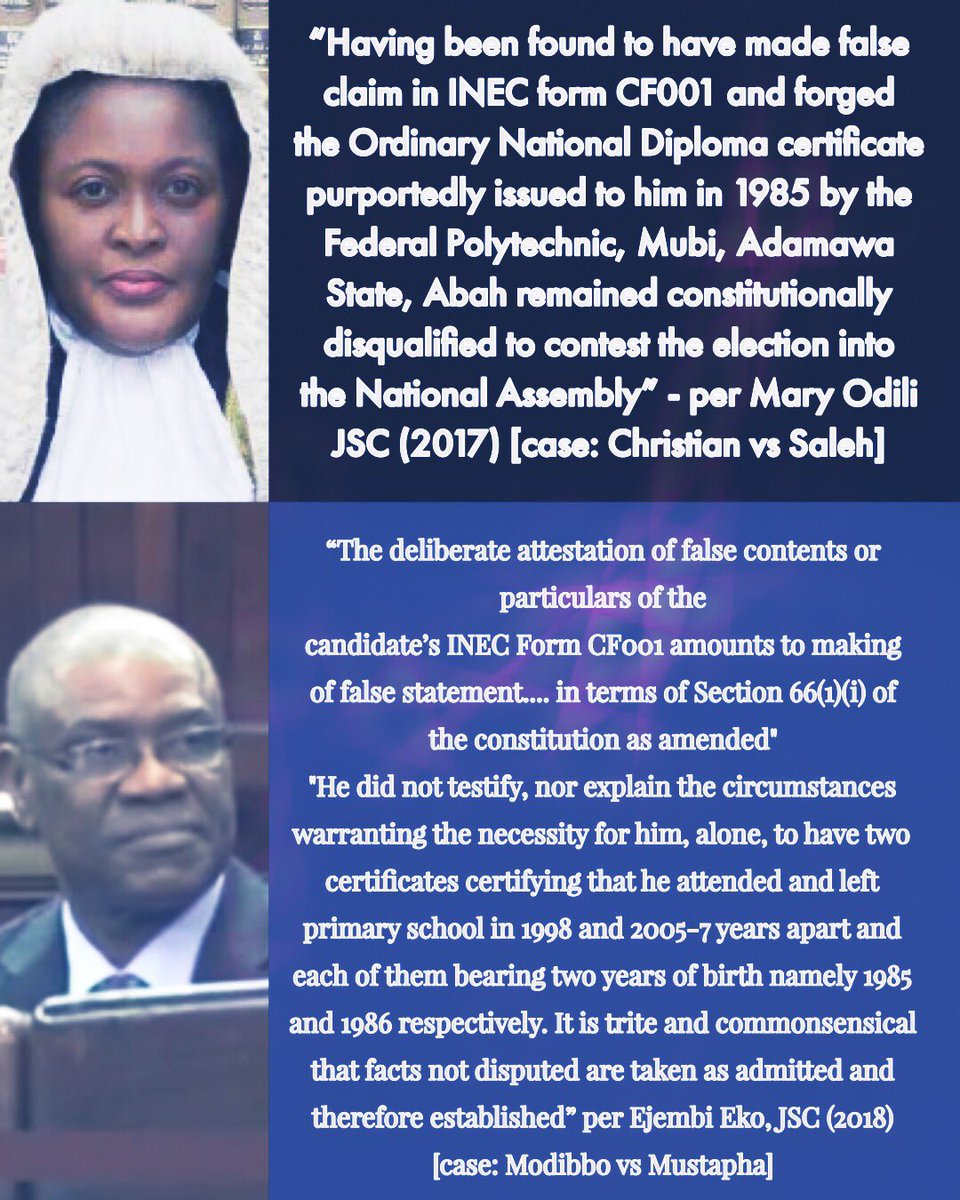 There are 6 subjects in one & 8 subjects in another all in the same exams & sitting. No explanation was given either in writing or in Oral for these differences. This is exactly what led to Modibbo's disqualification in the case of Modibbo vs Mustapha in July 2019 by the SCN
Modibbo failed to explain why two of his primary school certificates bear two different date of birth. For failing to do that, Ejembi Eko JSC didn't waste time to fire him. To make
#Buhari
's matter worse,
#WAEC
rejected his computer village
#Cambridge
documents in the open court
Again, the results smuggled into
#PEPT
through d back door doesn't bear the name of the president, which he wrote by his own hands.
#Muhammadu_Buhari
can never & will never be the same as
#Mohamed_Buhari
even in the Arab world.
#Mohammed
is not even an abbreviation for
#Muhammadu
Again, there's NO
#Affidavit
to proof change of name or that in the past, he was known as Mohamed. It is trite that:
"A document is d best evidence of its content & that its contents cannot be controverted by oral testimony of witnesses" ref = SKY BANK & ANOR v AKINPELU (2010).
The strongest trap was
#Buhari
's false statement on oath that his nonexistent certificates were with the military. A statement the army unequivocally denied in a world press conference. This will lead to a massive knocked out punch at the
@SupremeCourtNg
. No doubt about it