What the hell *is* this event that might pop off tomorrow? Here's the tl;dr from
@IwriteOK
's newest article for
@bellingcat
, which I'll be discussing and linking to later in this thread.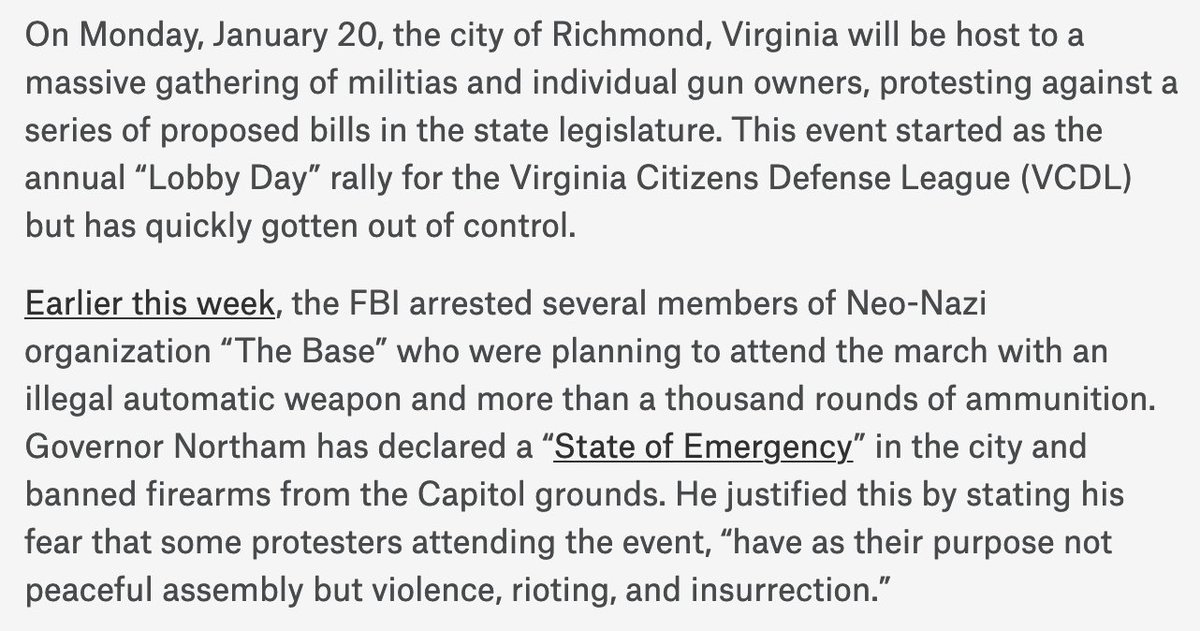 The broad right wing militia/patriot movement, particularly in the United States, is the conjoined twin brother of the white nationalist movement. That doesn't mean they have the same ideas about race. This article provides some important background.
itsgoingdown.org/ammon-bundy-th…
One of the ways the patriot movement broadly overlaps with white nationalism (and Evangelicalism for that matter) is anticipating apocalyptic violence. They plan for a period of massive conflict wherein prepared and willing men will get a chance to purge their homelands.
This crowd is waiting for some event to spark the violence so they can do as they please. For this crowd every time an incident like this or Bundy Ranch happens, it's a chance to spark the "boog." Another recent chance documented here:
bit.ly/2tBpMmZ
The broader purpose of these events is to intimidate whoever these groups say is the 'other' and get whatever it is these groups want. In this case obviously starting with politicians that want to pass gun control legislation.
They're open and explicit about their goals and what they are willing to do.
Organizing these kind of violent rallies goes well beyond the "boogaloo" crowd as well––this is the MO of the broader far-right protest scene; They show up to places like Portland and Berkeley to intimidate and hurt people and get away with it.
But not all of these groups were chomping at the bit anymore when seven members of the Base, a neo-Nazi terrorist organization, were arrested this past week.
dailykos.com/stories/2020/1…
I won't share the channels I read this on, but a lot of the accelerationists and boogaloo types started telling people not to go, that the event is going to be a "setup." Not every fascist group is thinking this way, however.
Conspiracy king Alex Jones, after platforming Identity Evropa and an open anti-Semite on his show in the last year, is in attendance after embracing white nationalism's 2017 posterboy Richard Spencer this last week.
I hate to share this but I think it's necessary to drive the point home: Alex Jones is openly embracing white nationalism after flirting with it for years. "Skull mask mode" refers to the skull masks Atomwaffen and the Base are often pictured wearing.
Jones's entourage for Virginia right now are the Proud Boys, the infamous "Western Chauvinist" fraternity/fight club with numerous ties to white nationalism. Their current chairman also attended Unite the Right in Charlottesville.
Despite the Base arrests, there's a lot of chatter around the possibility of a mass shooting still happening tomorrow. Fascists are openly plotting in their safe spaces to make it happen as I write this.
CW: ableist slurs. Someone claiming to be a Richmond police officer gave detailed answers on a 4chan thread about the police presence at the event, including claiming there will be 6-700 officers, "uber tac" cops will be "hidden away."
bellingcat.com/news/2020/01/1…


There is so much more to this story. I highly recommend looking through
@GoadGatsby
's excellent thread here for a lot of primary sources and coverage of the lead-up to this event.
Those who plan on following along online, please be aware there's going to be a lot of disinformation being spread, particularly by fake Antifa accounts run by fascists.
@AntifaChecker
is a decent resource for checking who's really who.
In the bio of the fake antifa account in this screenshot is one of the hashtags that'll probably be used to spread disinformation. Watch out.
I'm setting my alarm for 4:45 PST. Hopefully I'll be up before anything major happens. I have a list of accounts I'll be following and will try to do a thread to monitor what's going on, keep track and try to make sense of it as it happens. Everyone please stay safe.
Also, here's more on the disinfo being set up for the morning. Keep an eye out.
UPDATE: Here's the current account set up for disinfo. Last one was already taken down