Let's know our "Pancha Bhootas"
PurushaSuktham of RigVeda talks about the Pancha Bhootas.
Each finger of our hand is related one of the Pancha Bhootas.
@ReclaimTemples
@punarutthana
@LostTemple7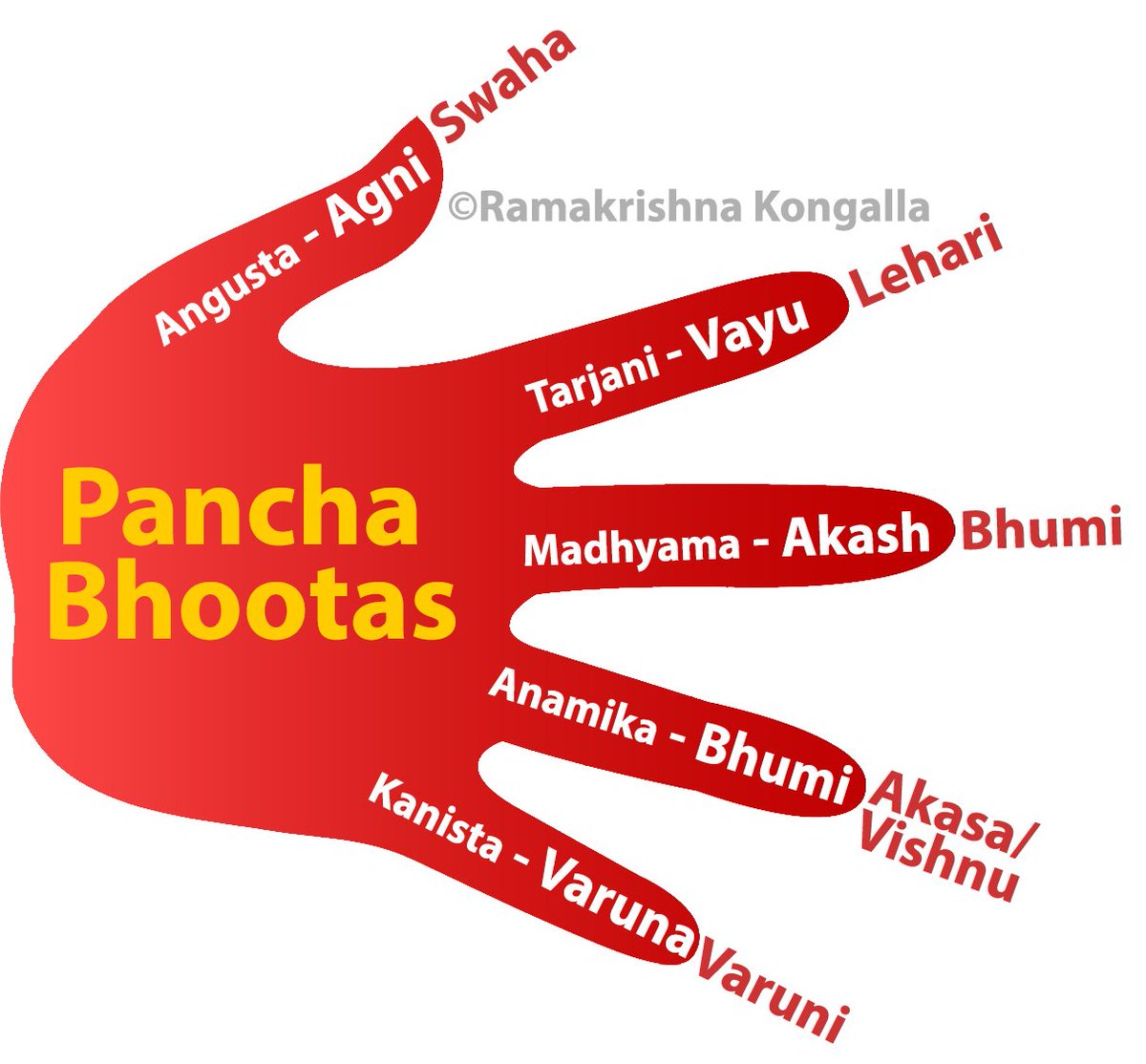 1.Angushta (Thumb Finger) – Agni (Fire), his consort is Swaha. Panchendriya associated is Aksha (Eye – Sight)

2.Tarjani (Index Finger) – Vayu (Air), his consort is Lehari. Panchendriya associated is Charman (Skin – Touch)
3.Madhyama (Middle Finger) – Akash (Sky), his consort is Bhumi. Panchendriya associated is Karn (Ear – Sound)

4.Anamika (Ring finger) – Bhumi (Earth), her consort is Akash/Vishnu. Panchendriya associated is Nasi (Nose – Smell)
5.Kanista (Little Finger) – Varuna (Water), his consort is Varuni. Panchendriya associated is Jihva (Tongue – Taste)

Whats surprising is, of all the Pancha Bhootas there is only one feminine – Bhumi.
How beautifully & Logically the five Senses are linked to Pancha Bootas like you can feel air through skin, You can Taste water through Tongue, you can smell Earth through Nose, you can feel Sky only through Ears and Fire through eyes.
The ring finger that is connected to heart through VenaCava vein is associated with Bhumi, the only living planet in our solar system and Important of all Agni is associated with the important finger Thumb.
Just sit, think and wonder how beautifully they have constructed all this in an organised manner thousands of years ago.

-Jai Bharath-