Let us know our – AUM (OM)
Written around 800 BCE, one of the largest & Oldest, Chandogya Upanishad in its first few verses clearly explains the "AUM" as follows:
@ReclaimTemples
@punarutthana
@LostTemple7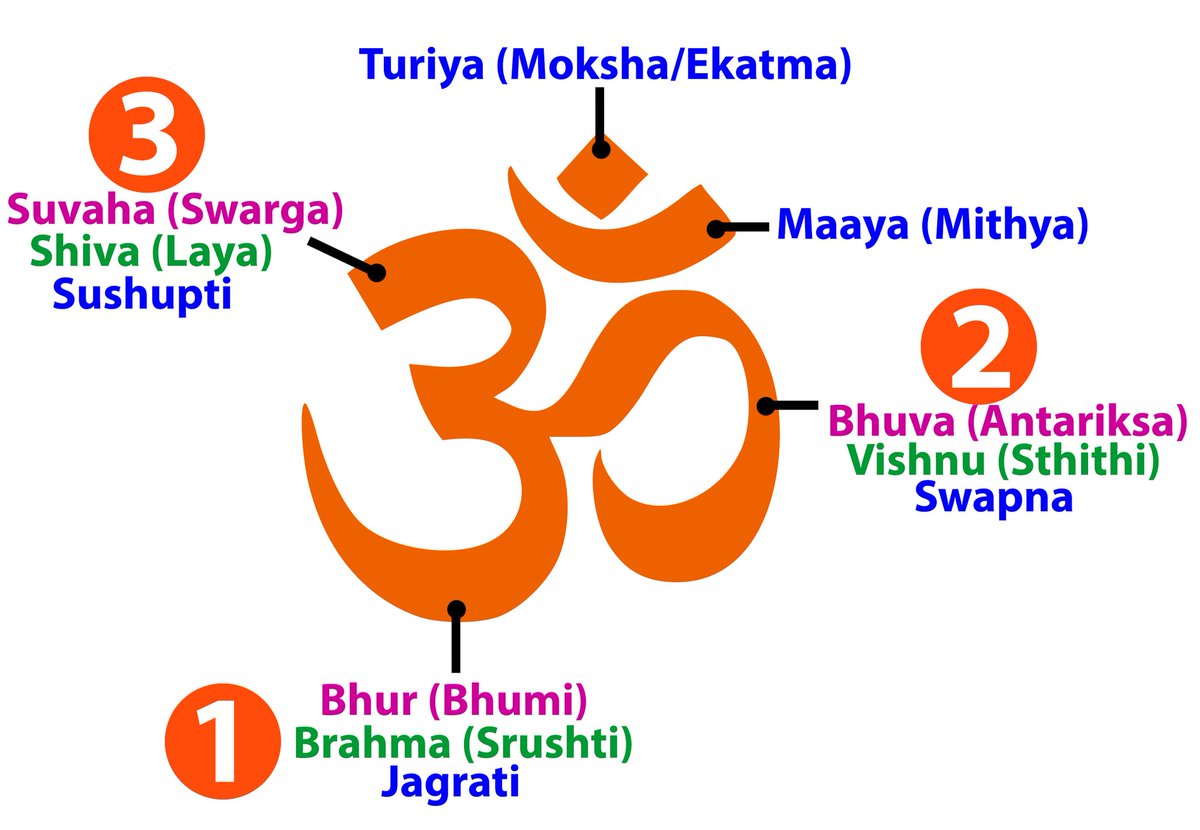 Om is the Brahma Itself.

If u recite AUM = Worshipping of Brahma.

Reciting of OM is called as "UdGeetha".

UdGeetha is the worship of Shrushti (Creation)

(1.1.1)
All (Living & Non-Living) come out of Earth (Bhumi) = Srushti = Brahma

All (Living & Non-Living) are sustained by Earth = Sthithi = Vishnu

All (Living & Non-Living) dissolve into Earth = Laya = Mahesha
Water is essence of Earth (1),

Plants are essence of Water(2),

Human Beings are essence of Plants(3),

Speech is essence of Human Beings(4),

RigVeda is essence of Speech (5),

SamaVeda is essence of RigVeda (6),

UdGeetha is the essence of SamaVeda(7).

UdGeetha is "8th".
UdGeetha (8) is given 8th position, the Highest Status. (1.1.2 & 1.1.3)

Just Imagine 2800 years ago,
how beautifully they have described the "Essence of life on Earth" & explained the science in simple manner.
Another Interpretation:

There are 4 States of Consciousness – "Chetana" as per 8.7 to 8.12 of Chandogya Upanishad:

1)Jagrati – Awake

2)Swapna - Dream

3)Sushupti – Asleep

4)Moksha – Beyond Asleep = Attainment of something that's not usual in our life.
Just look how beautifully they have attributed whole "Philosophy of Sanatana Dharma" in this "Ekaksharam"

(Om iti Ekaksharam - Amritabindu Upanishad)
Initial Verses of Mandukya Upanishad 3 to 6 says:
1)A = Jagrati = Awake
2)U = Swapna = Dream
3)M = Sushupti = Asleep
4)without Element = Ekatma = Being with one self/Unifying with Brahma = Moksha.
*
For info on Great Indian Temples
instagram.com/tourism_teache…