W.e.f 1.10.2020 these disclosure details will be required in new format -
1.
Name & type of security
2.
Credit Ratings
3.
Name of the rating agency
4.
Maturity date
5.
Settlement date
6.
Interest accrued & yield

(2)
7.
Information like rating of the security at the time of transaction, whether the security is listed, put/call option date, yield at which the security was traded, type of trade (inter scheme transfer/primary/secondary market, etc.)

(3)
Details of schemes transaction on a daily basis with a time lag of 15 days. To be presented in a comparable, downloadable & machine-readable format. (enclosed)
#DebtFunds
to disclose portfolio on fortnightly basis within 5 days of every fortnight effectively from 1.10.2020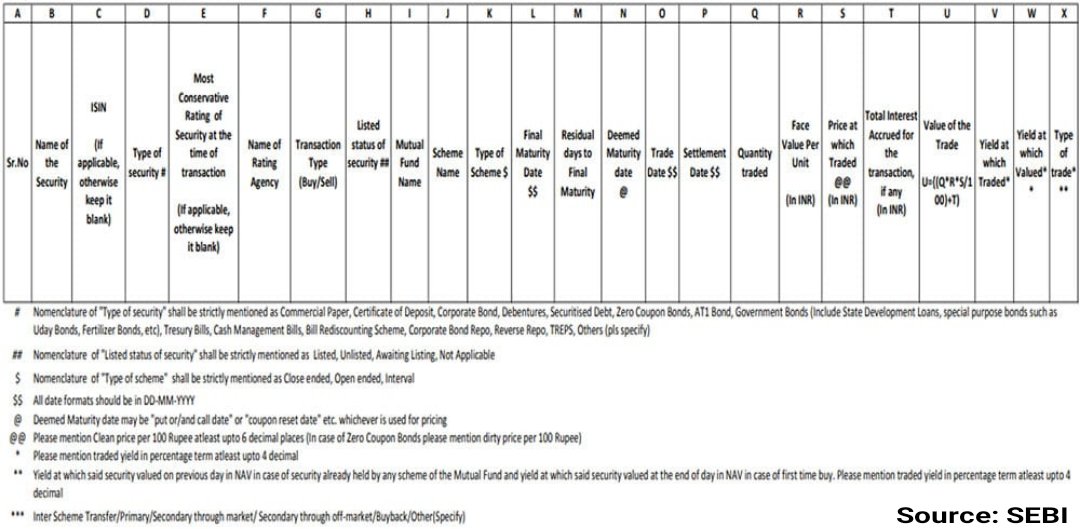 The norm for mandatory fortnightly disclosure will have made the
#investors
&
#IFIs
aware about the pressure & the necessary preemptive action can be taken by them.
These would give a better sense of the risk factor & will enable to make an informed
#investment
decision.
(5)
This may also prevent
#funds
from taking higher credit risk through short-term transactions in a bid to earn high yield.
It would help to watch out for early warning signs & save
#investors
from any potential risk the fund could be exposing them to. (6)
@cafemutual
@bsindia