1.
Recently there has been some discussion about the role of social class and Labour support in
#GE2017
. This chart below busts some myths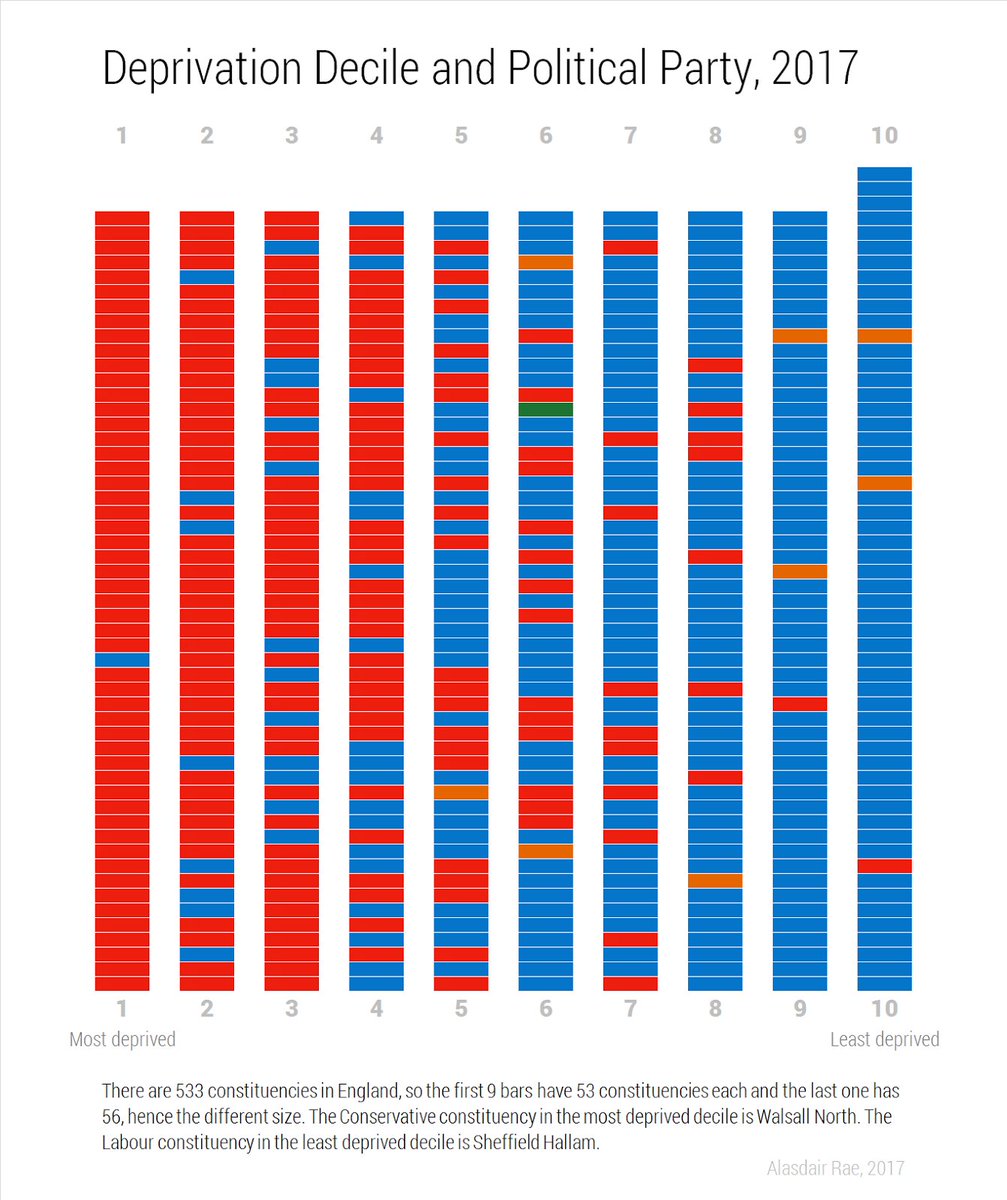 2.
Chart measures each constituency in England by deprivation and divides them into deciles. Clear correlation: More deprived = More Labour
3.
As I noted before, an EU referendum chart wouldn't look at all like this. But how to show it?
4.
Well.... I only went and did it, the absolute madman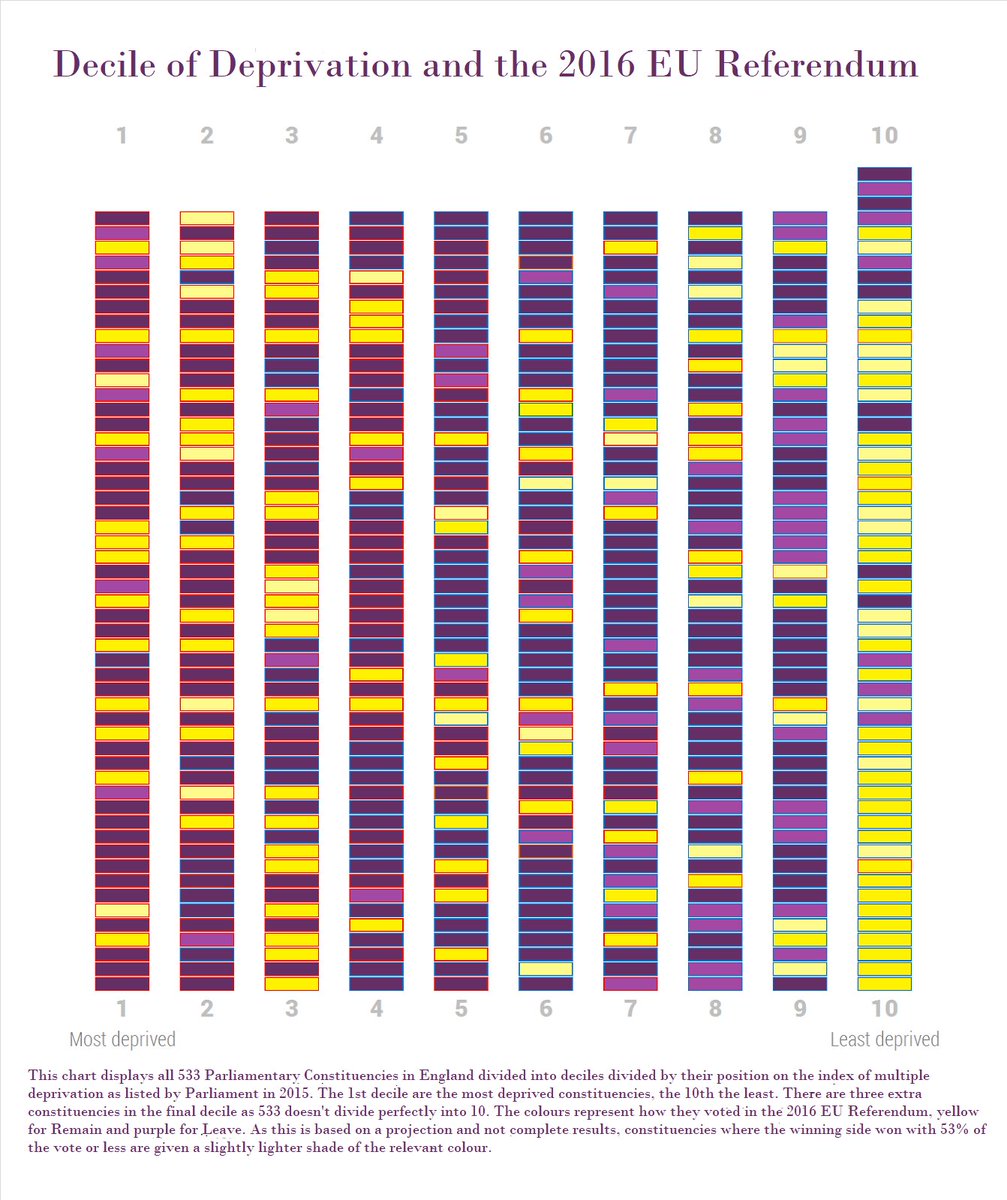 5.
I used
@chrishanretty
constituency result projections for this, and as you can see it doesn't really fit... the discourse.
6.
Now as these are projections there may be errors, so I gave anywhere where victory less than <53% a lighter shade of the relevant colour
8.
I'll leave you to decide what it means, but some comments of things I found while researching this
9.
Pretty clear that once you get past the wealthiest constituencies there is no real correlation between Vote and deprivation
10.
Even then it's not perfect. There's a 68% Leave voting seat in the least deprived decile: Rayleigh and Wickford in South Essex.
11.
Deprivation doesn't clearly correlate with strength for Remain either. There are eight >60% Remain seats in most deprived decile.
12.
Meanwhile in the least deprived decile there aren't that many with Remain >60% despite the big splodge of Yellow.
13.
I'll add for point eleven that two of those eight are in very white working class Liverpool. What happened there?
14.
From 8th Decile and below there are very few Remain seats which are also safe Tory, and those exceptions are mostly in London
15.
The most deprived Tory 2017 - Remain seat? The Cities of London and Westminster in the fifth decile.
16.
That fact alone should alert us to some of the limits of this analysis.
17.
Although part of the reason for this is the Remain seats outside the top two deciles, the Tories did absolutely terribly in at
#GE2017
18.
Their most deprived seat Remain before the election? Brighton Kemptown. Which ummm....
19.
In the upper deciles there are few Labour seats, mostly Remain ones and many of them 2017 gains but...
20.
The ones that did vote leave strongly did see big swings to the Tories (NE Derbyshire, Penistone and Stockbridge...)
21.
Note in the 9th Decile, how much light purple there is. Shows that many of these places were very close.
22.
Which leads me to the conclusion that it was not the North, the Left Behinds or anything like that which lost the referendum.
23.
It was the Home Counties and the prosperous agricultural districts
24.
"Why did Aylesbury vote Leave?" should be asked a lot more than why did, say, Stoke
25.
Had Remain done even a bit better in these places, the left behinds would not have mattered.
26.
So can a journalist please travel the Home Counties looking for Leavers, please?
27.
This chart was format was created by
@undertheraedar
, I thank him for it and I hope he doesn't mind me using it.