1/
Here are some details about David Smith and Sinclair Broadcasting worth bearing in mind as you're reading about the company.
2/
These details come from a legal fight in the 2000s when a Sinclair political reporter went public with criticism that an anti-John Kerry set to be aired by Sinclair was "biased political propaganda."
3/
In a deposition, a separate Sinclair employee—a producer—gave a glimpse of the political bias inside Sinclair, sometimes coming from David Smith. I'll share some details. You can full read the deposition here:
documentcloud.org/documents/4053…
4/
This producer said that David Smith, then Sinclair's top exec, had a real affinity for Rush Limbaugh. Smith allegedly urged the producer to listen to Rush. Rush, Smith said, "really gets it."
Smith didn't urge the producer to read left-leaning sites.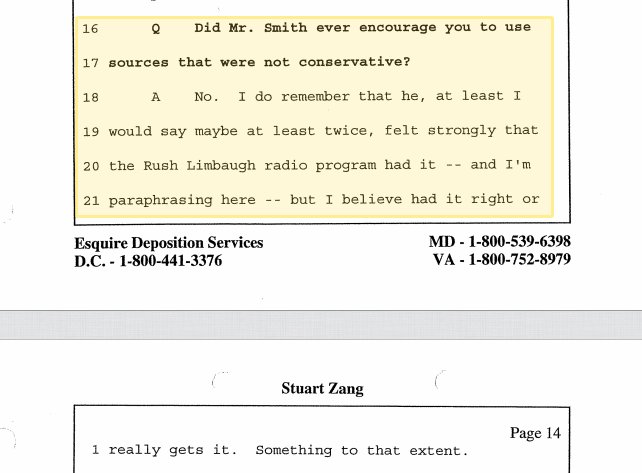 5/
The producer says he was told to read three books when he arrived at Sinclair: "Slander" by Ann Coulter, "Bias" by Fox talking head Bernard Goldberg, and a third whose title includes the line "How Crusading for Diversity Has Corrupted American Journalism."

6/
The producer described Sinclair's company culture, circa the early to mid 2000s, as "highly suspicious of people...who were not of their belief system."

7/
Here's a really juicy detail: The producer says in the deposition that his boss, a Sinclair exec and pundit named Mark Hyman, had the producer make an "homage" video/roast tape for then-Maryland Gov. Bob Ehrlich (a Republican).

8/
In other words, Sinclair allegedly used one of its employees to produce—using company equipment and on company time—an "homage" of sorts for a politician to be used at a political event!
9/
And according to the producer, Sinclair's Mark Hyman asked to given every copy of this homage/roast tape to benefit MD Gov. Ehrlich because Hyman "was concerned that it not be distributed for wide use."
I wonder why...

10/
The producer also said he was asked about his own political leanings in his job interview.
One Q: whether he thought Jesse Jackson "was a uniter or a divider."
Another: if you had to tell three people to shut up, who would they be?
Another: his opinions of Rush Limbaugh

11/
One final thought: If you're wondering why anchors at Sinclair stations aren't speaking up, think about Sinclair's legal battle with Jon Leiberman, the political reporter who criticized Sinclair's planned anti-Kerry movie in 2004.
12/
Sinclair terminated Leiberman for breach of contract for speaking out. It sued him. AND it fought him over unemployment benefits after he left.
You can perhaps understand why current anchors are hesitant to speak out.
documentcloud.org/documents/4053…

14/
I exchanged a handful of emails with David Smith himself, now the executive chairman of Sinclair. His views of the media, undistilled:
motherjones.com/politics/2017/…
15/
And lastly, an anonymous and veteran Sinclair journalist gave me a glimpse into their mindset as Sinclair becomes more and more pro-Trump:
motherjones.com/politics/2017/…