1/
If Henry is killed, his death can be traced to a quiet moment in the fall of 2016 when he decided to spill what he knew about MS-13.
Police were desperate for informants. Henry gave them a way in. Now he is marked for death:
propub.li/2pVD4G5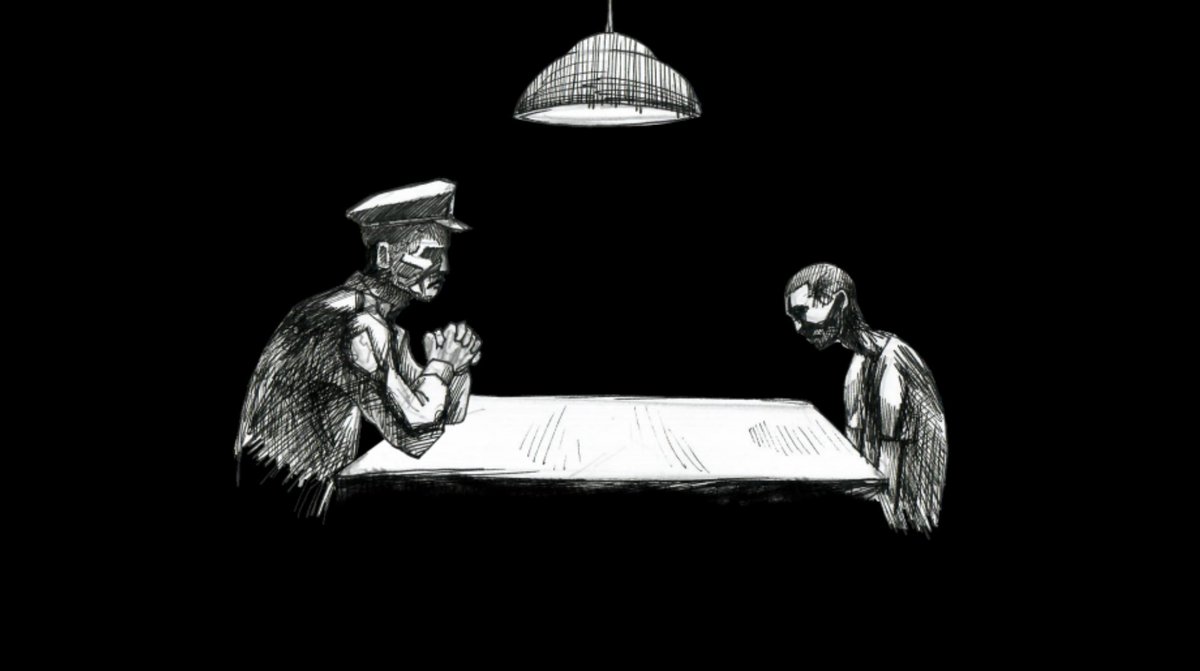 2/
Henry joined MS-13 when he was just a child.
They beat him for 13 seconds — an initiation ritual — and asked him to choose a gang name. He settled on Triste, the Spanish word for "sad."
3/
By the age of 12, it was time to complete the final initiation rite — a murder.
The gang leader, El Destroyer, showed Henry where to cut: first the throat, then across the stomach.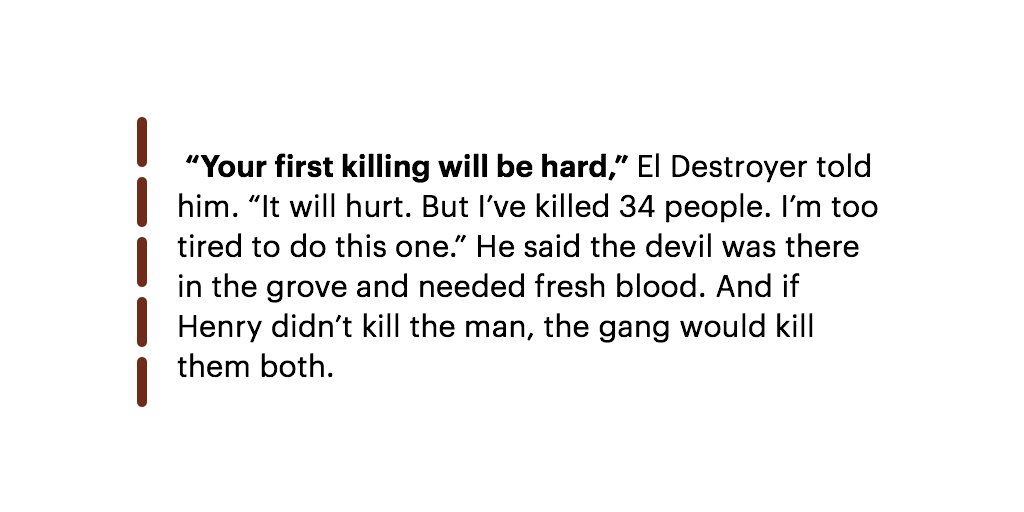 4/
By the time he turned 15, Henry had witnessed more than a dozen murders. Then he got a call from a stranger. The voice on the phone told him that if he did not leave the country within 24 hours, he would be disappeared — along with his grandparents.
5/
To protect his family, Henry set out that night to join his mother and father on Long Island.
Before he left, his grandfather made him promise he would use the new start to break with the gang.
6/
Henry entered the U.S. legally, turning himself over at the border and pleading for asylum.
Some 200,000 unaccompanied children from Central America have shown up at the U.S. border since 2013, and 8,000 have continued on to Long Island.
7/
In the fall of 2014, Henry enrolled at Brentwood High. He loved every minute of his freshman year but feared MS-13 would soon find him no matter where he moved. He was right. They did….
8/
In El Salvador, cutting ties with the gang would have landed Henry on a kill list.
But in the suburbs of Long Island, MS-13 had softened its rules. After school, Henry found more than a dozen boys waiting for him in the woods. They beat him for 13 seconds.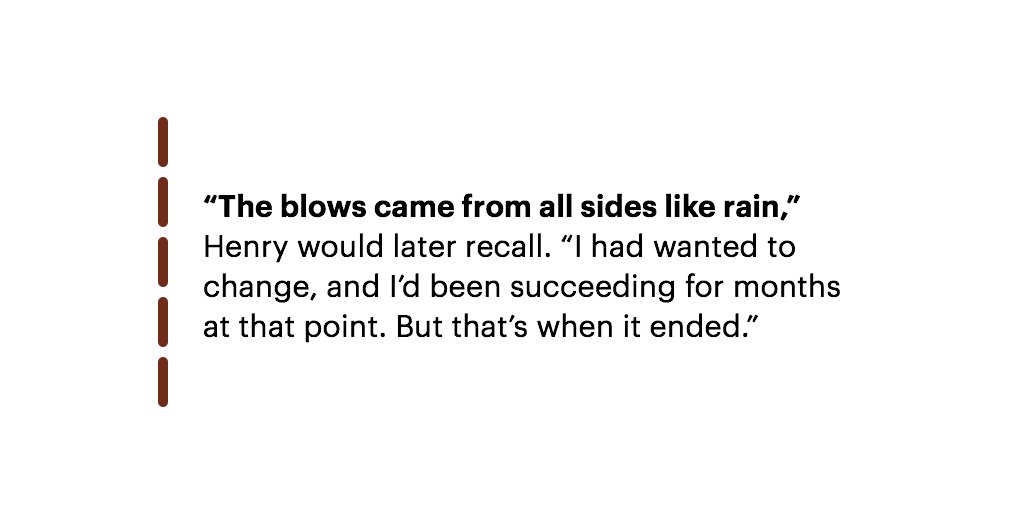 9/
Henry joined in the fistfights with rivals & sold marijuana, but he didn't want to participate in another murder.
In El Salvador, violence seemed necessary for survival. In Brentwood, MS-13 was like any other bunch of bored & anxious teenagers at school, only with machetes.
10/
MS-13 has killed 25 people on Long Island since 2016.
The exploding violence in the suburbs was mostly aimed at kids who were flirting with gang life.
Henry had enough:
11/
He decided to help the FBI's Long Island Gang Task Force arrest fellow MS-13 members.
Under normal circumstances, Henry's choice would have been his salvation. He shared all he knew with a Suffolk County homicide detective:
12/
Despite Henry's cooperation with law enforcement, the evidence about MS-13 he gave was used against him.
The police turned him over to ICE: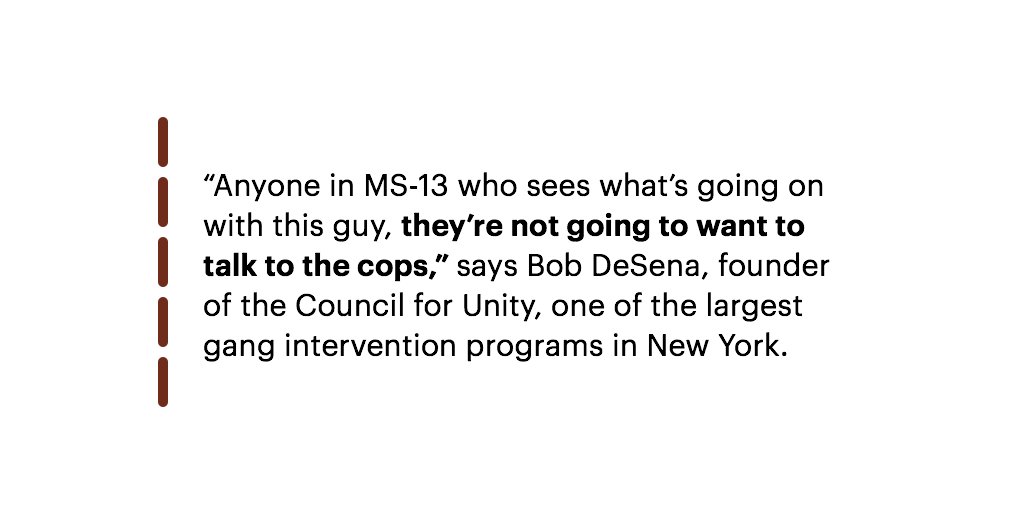 13/
Last year, under Trump, ICE arrested nearly four times as many suspected MS-13 members as it did in 2016.
Henry has been awaiting his final deportation hearing for eight months.
Locked up with the same gang members he informed on.
14/
Long Island has been the epicenter of the new initiative, called Operation Matador. Trump and Attorney General Jeff Sessions both delivered major speeches in front of the Suffolk police last year and congratulated them on embracing the administration's strategy.
15/
Henry is out of options.
As a last hope, he agreed to meet with
@hannahdreier
and shared years of texts & Facebook conversations.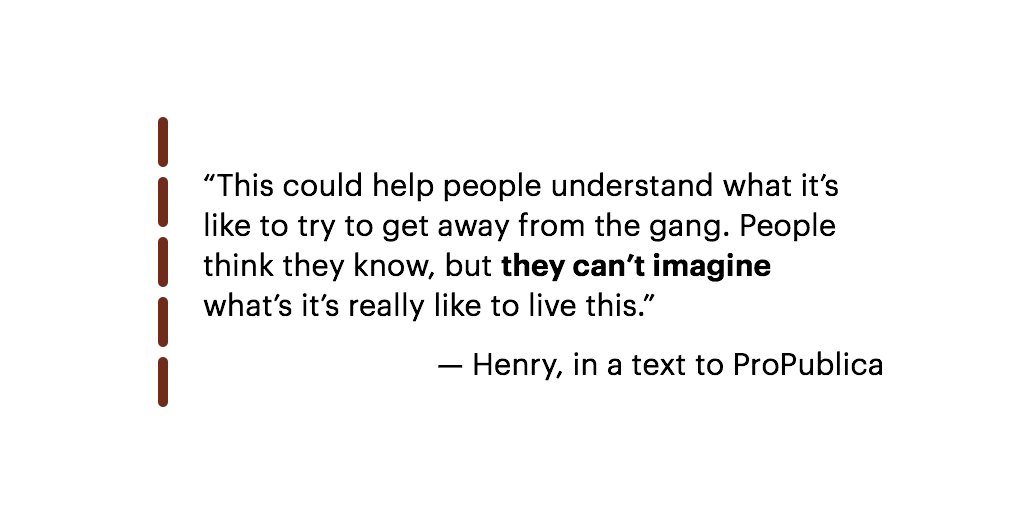 16/
His final hearing is Thursday, April 5. Unless authorities give him a visa, he will be deported to El Salvador where he faces almost certain death:
propub.li/2pVD4G5