Looking forward to full day of
#ProfDev
@IUPUI
.
#TheBigWahooie
For Those Who Teach is all about
#ActiveLearning
and engaging students. This BIG event is in place of spring retreats we often have for various programs related to student success. I'll keep you posted all day long!
#SuperAdvocate
@katethedwall
is in the house!
"We love our careers. The results are amazing!"
Combination event in support of the Institute for Engaged Learning. That's why it's
#TheBigWahooie
!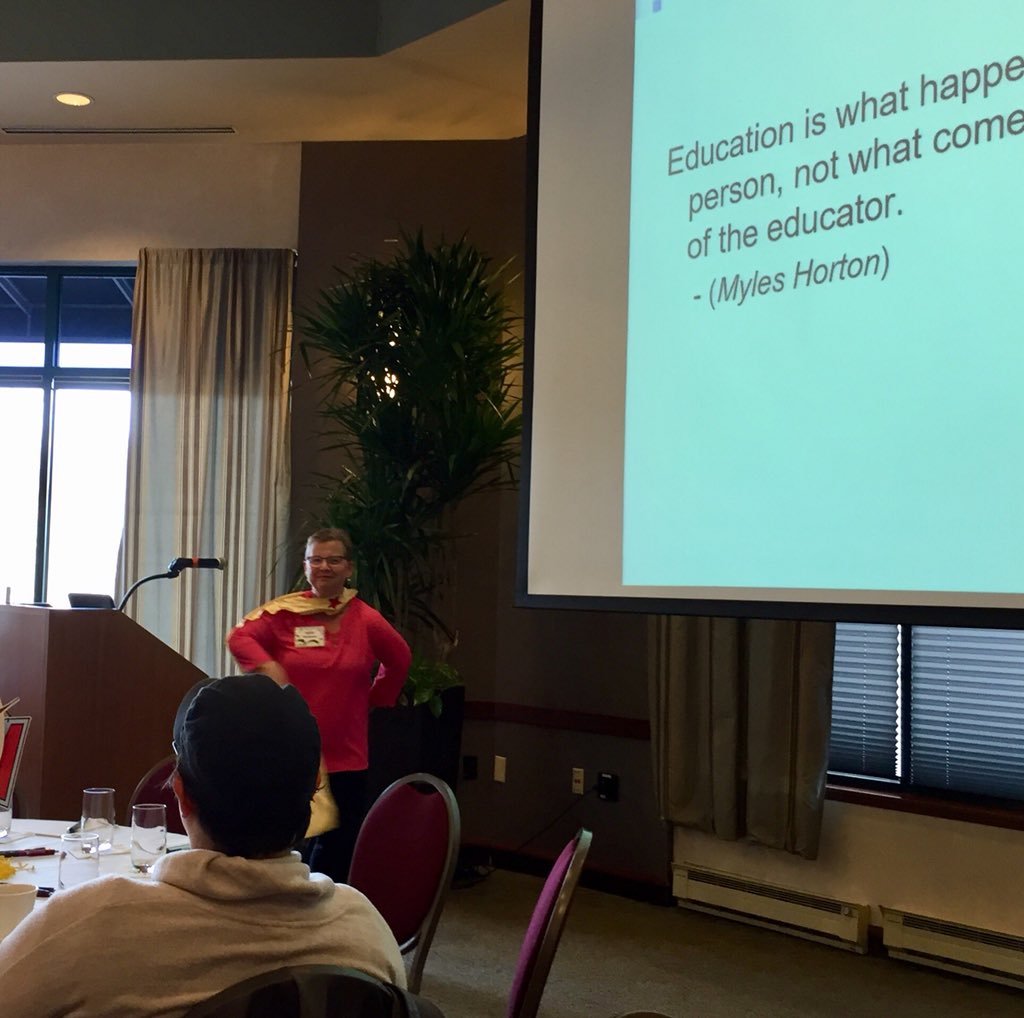 Michael Prince of Bucknell University with keynote.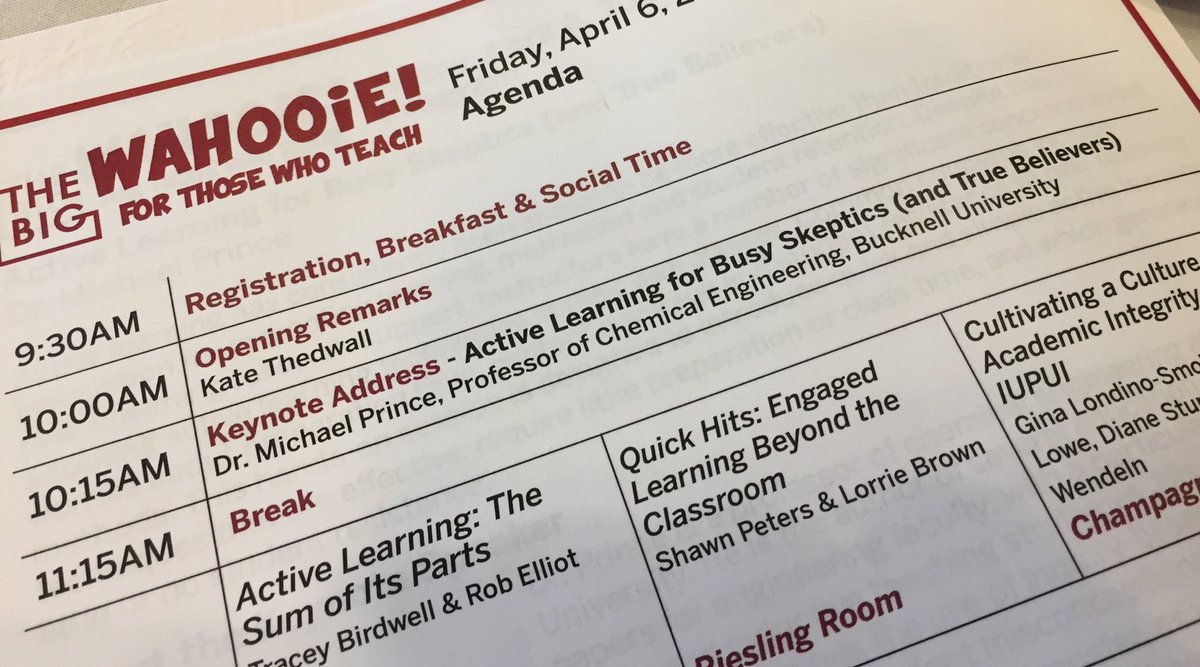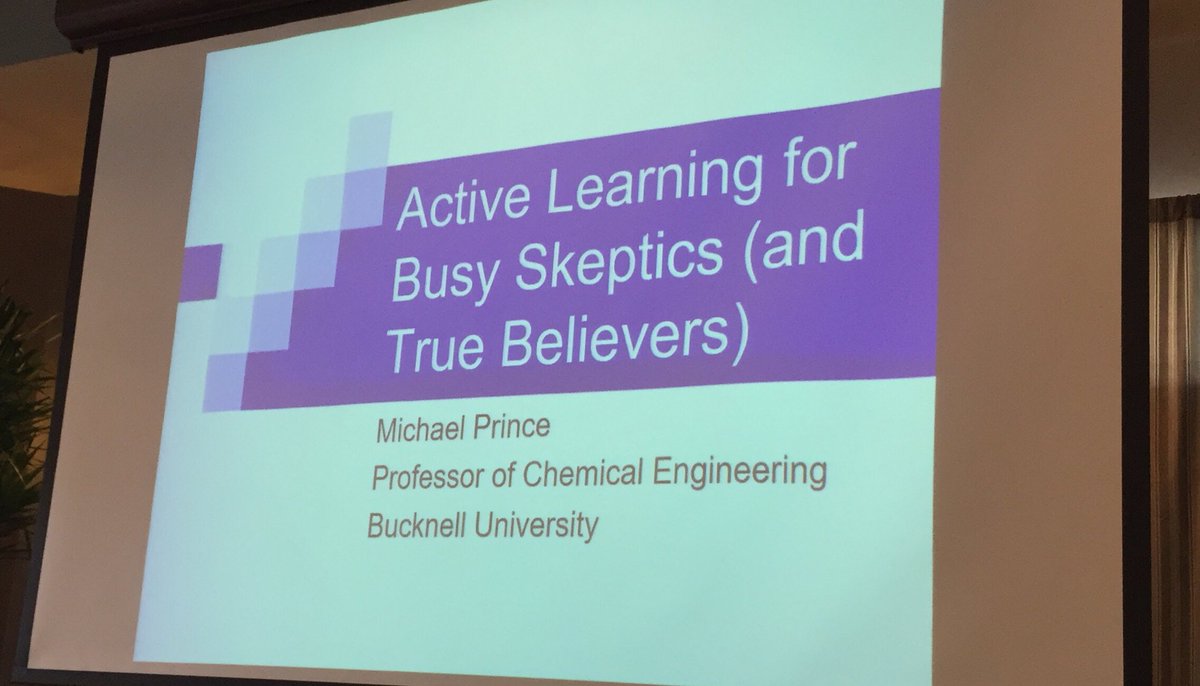 #ActiveLearning
is a continuum! Range of things you can do. Need to find the right sort of active learning that works in your context. A hammer is not always better than a screwdriver—it depends on what you are trying to do!
Time to brainstorm benefits of
#ActiveLearning
vs. costs or concerns.
Dang! He's having us *do* active learning during his keynote lecture!
All teaching strategies have problems. Nothing is perfect. Lecturing has problems. Active learning has problems. Think of benefits.
Physics study by R. Hake:
#ActiveLearning
twice as effective as lecturing. Even bad implementations of active learning are as good as lecturing.
What leads to learning?

Seeing?
Doing?

These by themselves don't result in learning. Missing component?

Reflection. Engagement.
"Lots of laboratories that are *hands on* but NOT *heads on.*"

Michael Prince
Simple activities:

*clarify lecture notes (stop talking at them)
*one minute paper (muddiest point)
*brainstorm answers to open-ended problem
*summarize big ideas from last X minutes
*generate test question from lecture material
*non-rhetorical questions (work on this problem)
Common mistakes with
#ActiveLearning
:
*Always* calling on volunteers.
*Waiting for everyone to finish. Wasted time for many students. Point is thinking about question ... not the answer!
*Trivial activities.
Common faculty concerns:

Prep time? Doesn't have to be a lot. Some things do, lots of things can do with little or no extra prep time. Ex: minute paper.

Can I still cover the syllabus? Effectiveness of teaching is not what we cover, it's what they learn. 2 activities, not 20!
Michael Prince: Perceived barriers.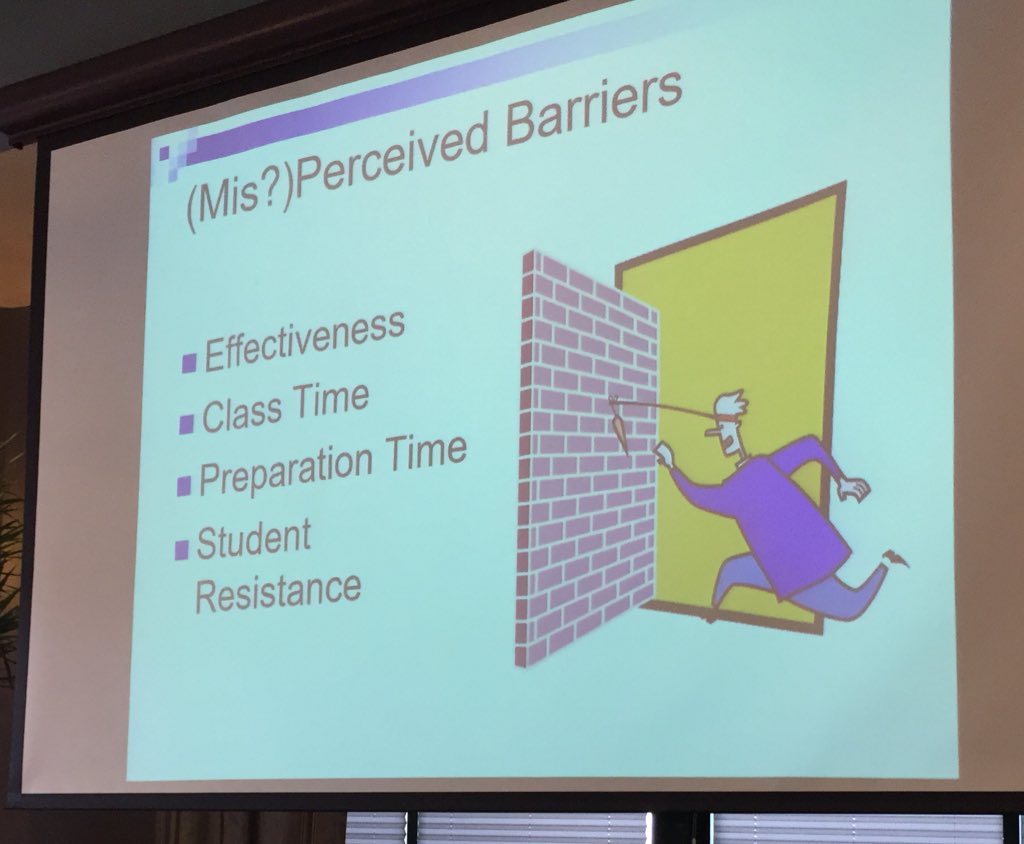 We have flawed model for change.
Emotion vs. Logic
We think, especially in
#STEM
, that we are data-driven. We are not! Change is more emotional than we would like to admit.
Michael Prince from Bucknell University wrapping up at
#TheBigWahooie
.
#ActiveLearning
talk by someone who models it, but also gives a pretty good lecture with bits of active learning sprinkled in! Encourages us to do it too!Can be small changes!