Damon gets the sudden urge to check to phone and demands Katherine give it back to him. YESSS READ YOUR DAMN MESSAGES. Its like he got this feeling something wasn't right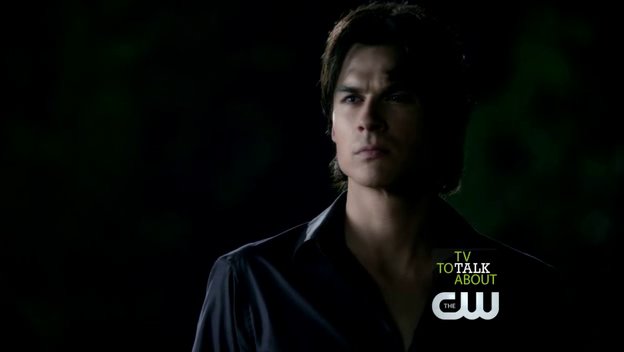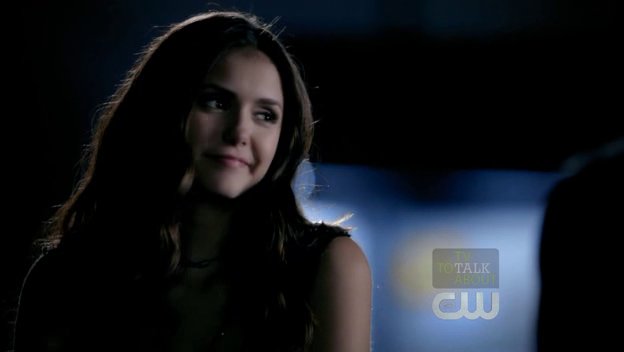 "You are going to get yourself killed. The Damon I remember wouldn't have been that stupid."
"I wouldn't have done it for you."
AAGSHD he will risk to life for Elena. We all been knew. But truthfully, he would have for Kat too. He did and he died in 1864.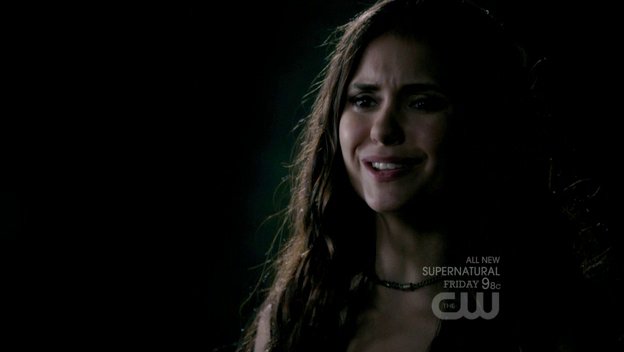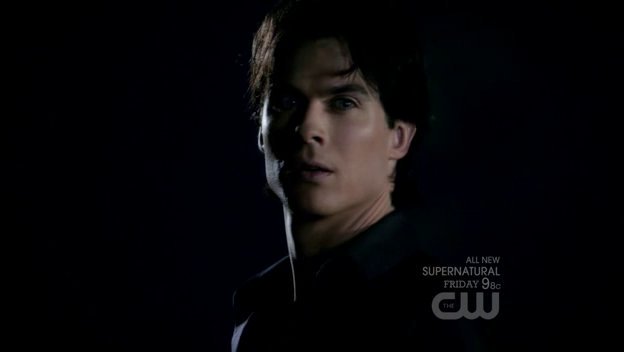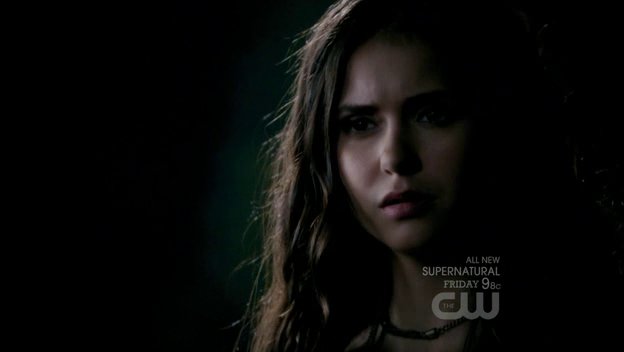 He wouldn't do it for Katherine NOW, obviously.
Bonnie will of course not suck at CPR. Matt sees Vicki and she asks him to give a message to Bonnie.
Bonnie girl, don't mess with Vicki demons ok?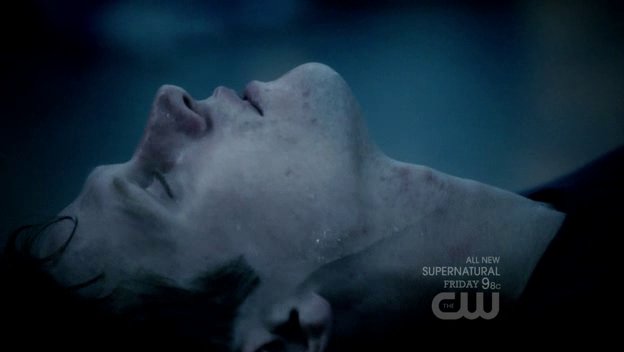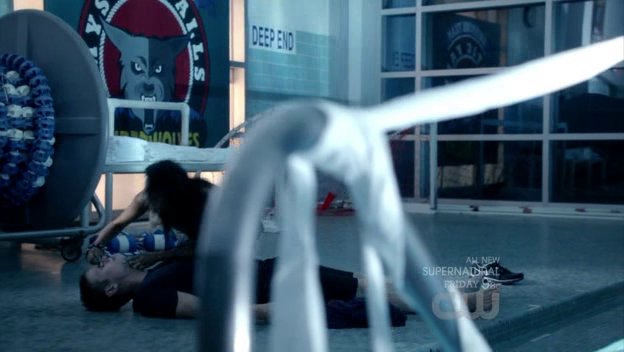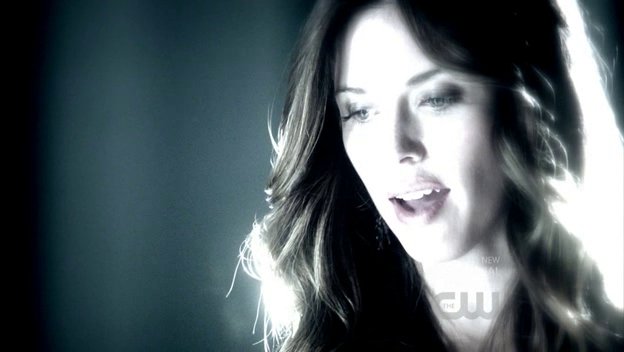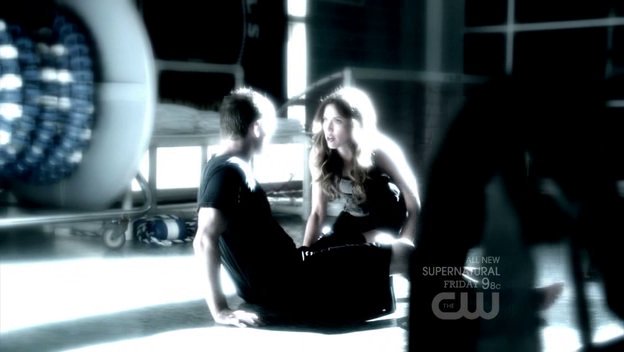 Matt is okay. Shocker. 😞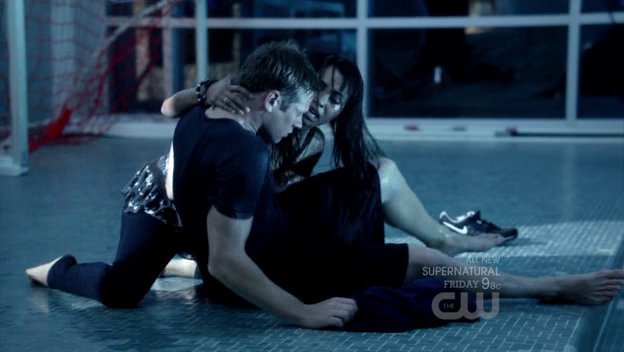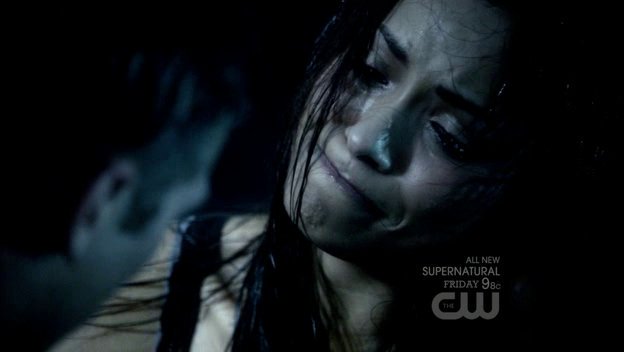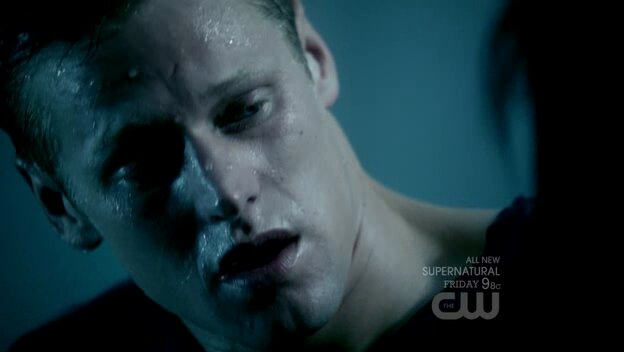 SHIT WHERE DID THE TIME GO? Stefan paces up and down while Elena tells him to try and resist the compulsion, but he can't. He is a ripper. "I listen to the words that come out of your mouth and all I hear is the sound of your heart pumping blood from your body." SHIT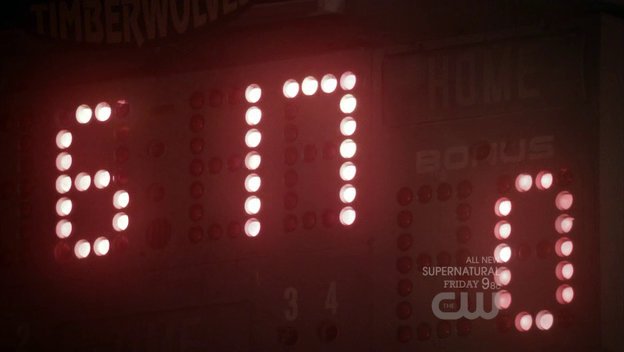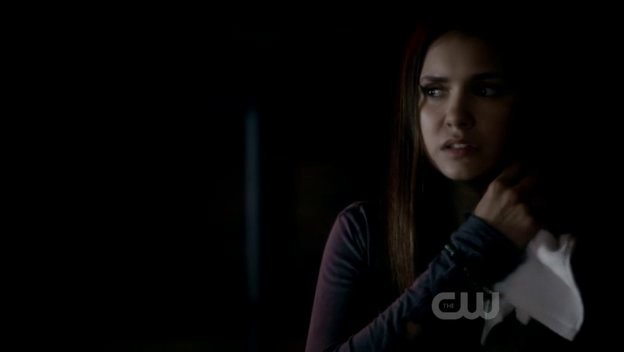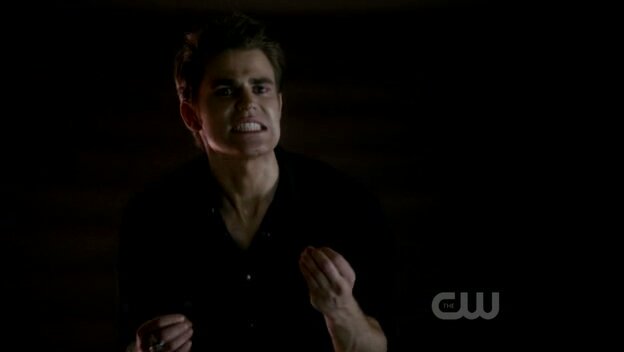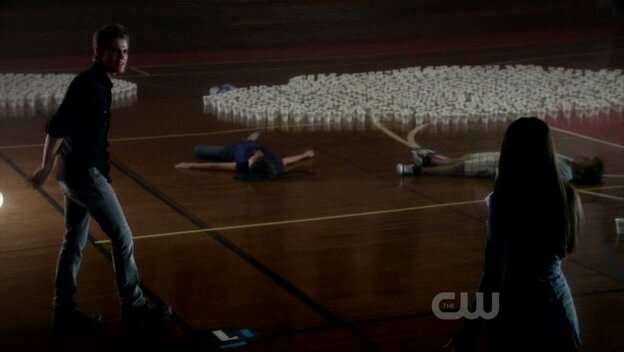 Stefan is just giving up but she still urges him to fight because he owes her that much.
"You are right. I owe you everything. Because through all of this, you are the one thing that has kept ne from giving up. From turning it all off."
Awww okay that's sad.😣
And see,emotions on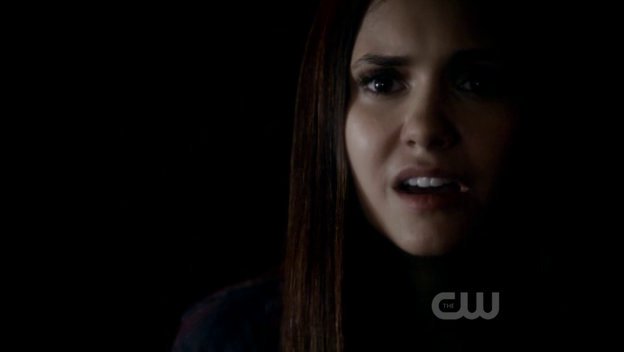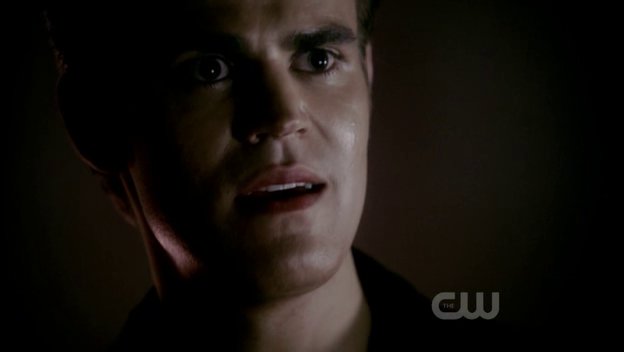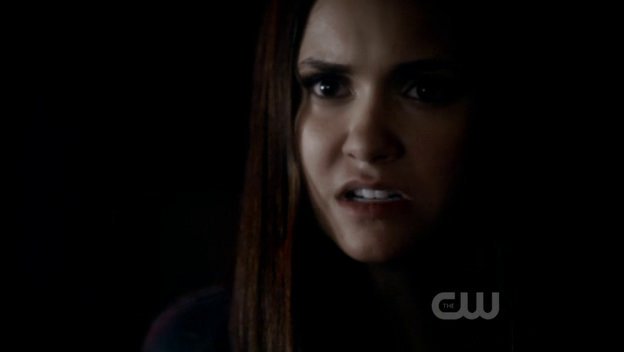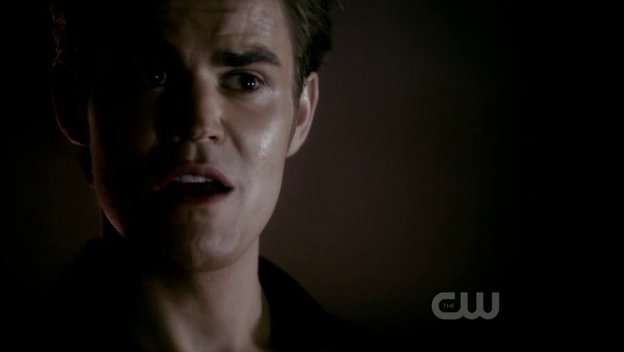 Rebekah just sits there casually, not giving a flying fuck while Tyler wakes up and Caroline brings him up to speed. With 3 minutes remaining? Bye Tyler. Bonnie chose Matt 😩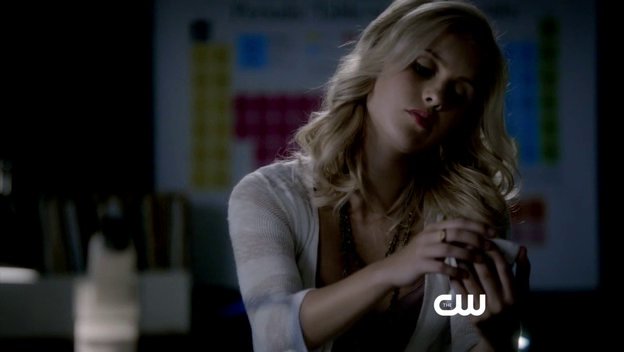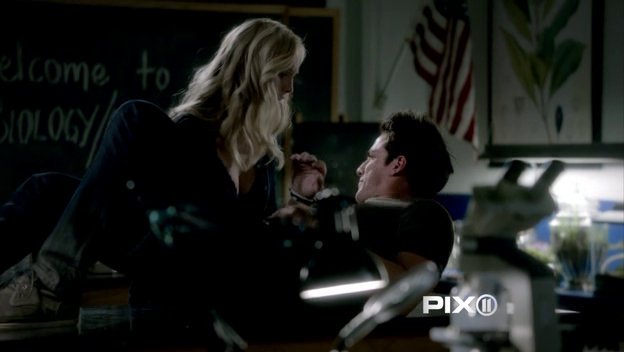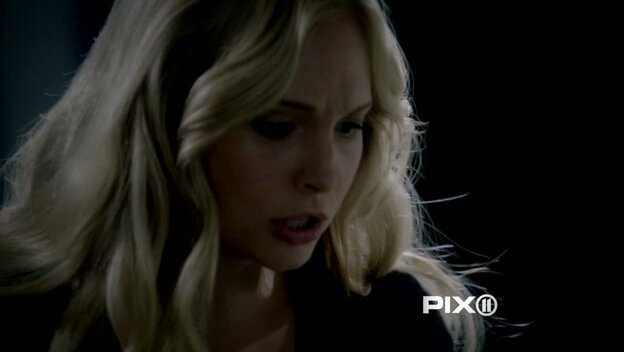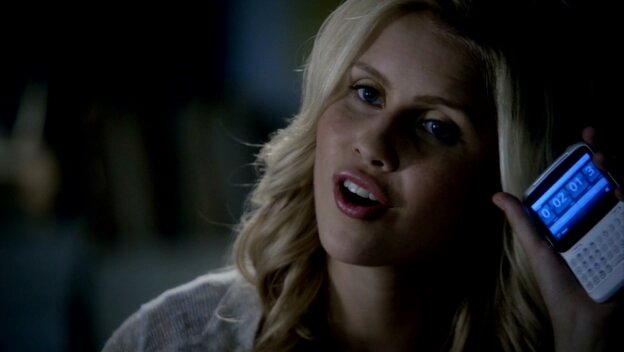 So Vicki told Matt what we all knew. The damn hybrids can't transition, because Elena is still alive. And of course Klaus hears this little snippet and of course; "Given the choice, doppelganger or hybrid, I go hybrid everytime." 💀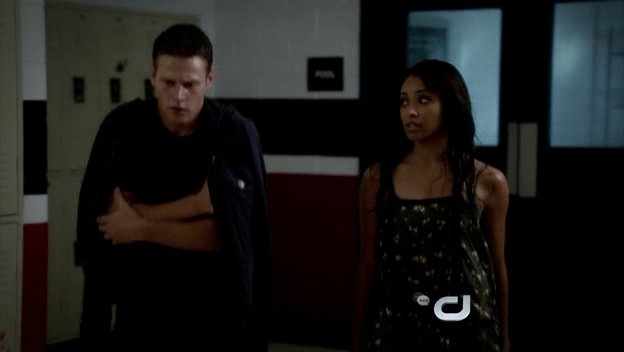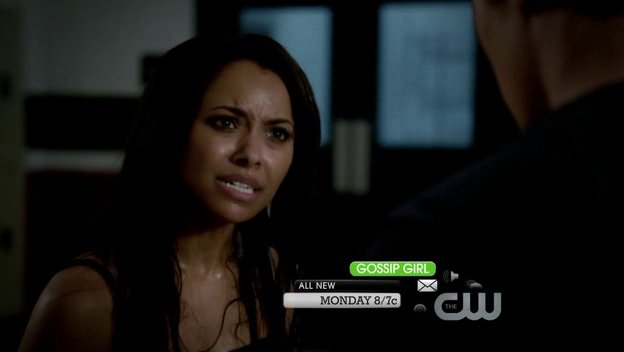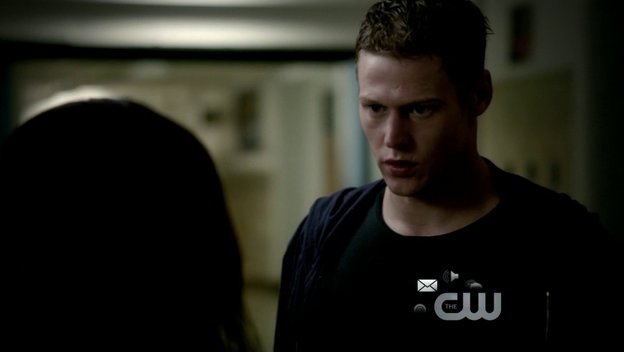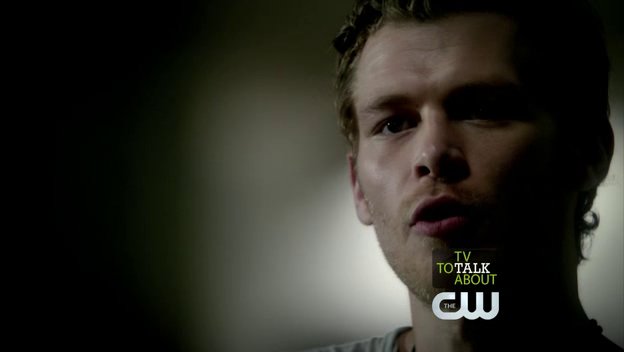 16 seconds... this is giving me anxiety 😣😣😣
I am actually scared of Stefan again. S1 war flashbacks when I was fearing for Elena's safety around him
OOHHH SHIIIT STEFAN NOOO I CAN'T WATCH. HE LUNGES FOR HER BUT STOP HIMSELF. ELENA RUN OMGGG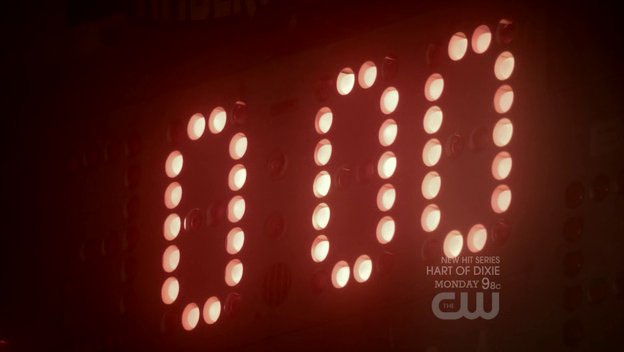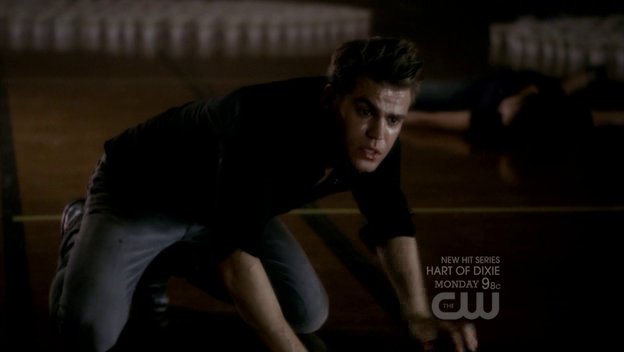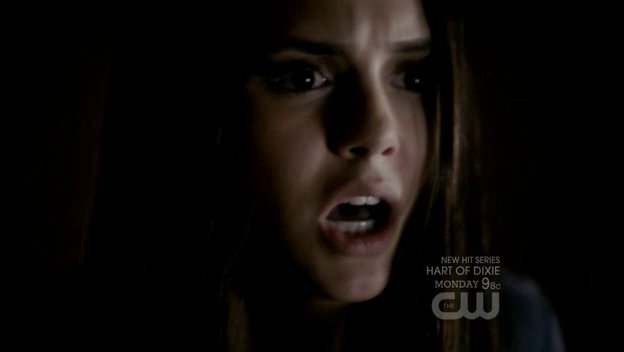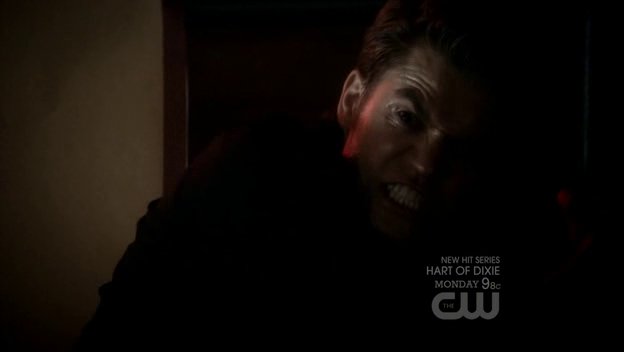 Run Elena. Stefan has vamp speed but he is slowing himself by running into lockers. ELENA DON'T FUCKING STOP OMG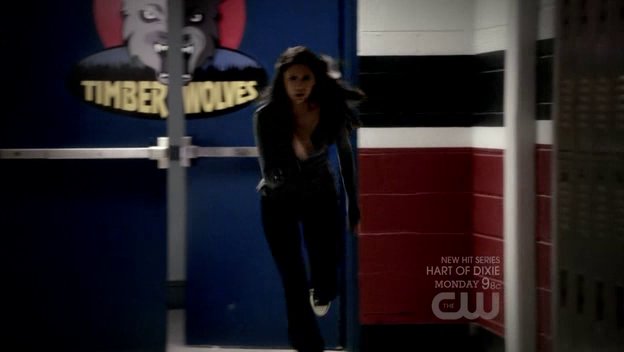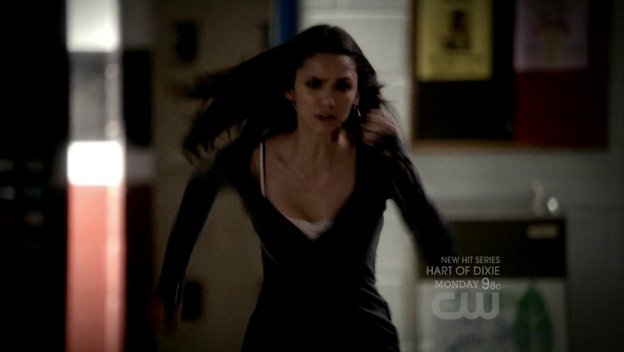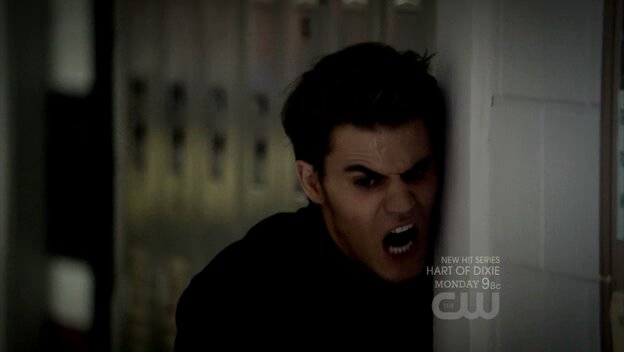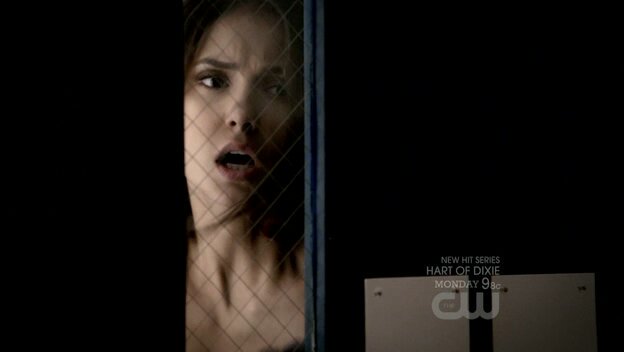 SHIT SHIT 1000 X SHIT. Not again. 😣😣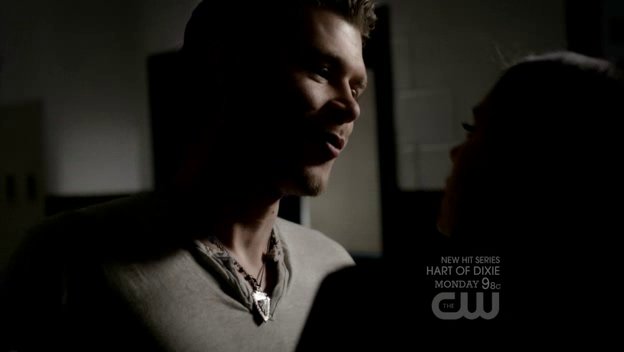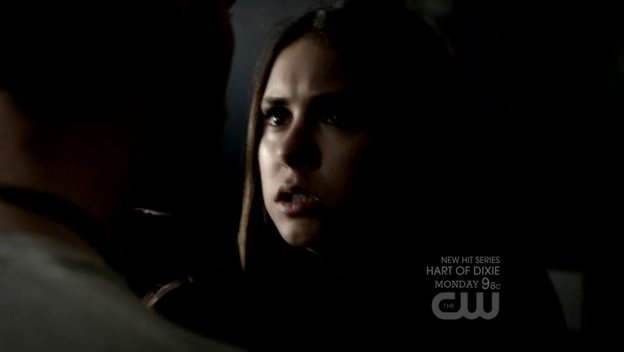 Stefan? OMG IS HE GOING TO TRY TO KILL HIMSELF?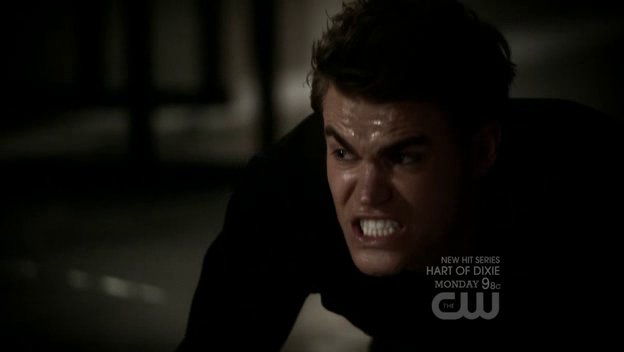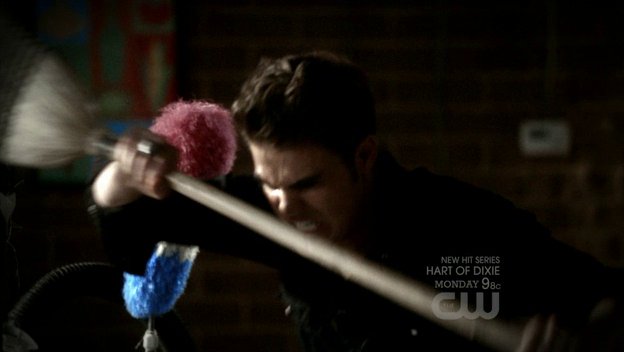 Be stabbed himself in the stomach. Phew.Klaus drags Elena in.
"I have never seen something like this before.The only thing stronger than your craving for blood,is your love for this one girl."
Klaus clearly doesn't know love. You are suppose to love your partner more than food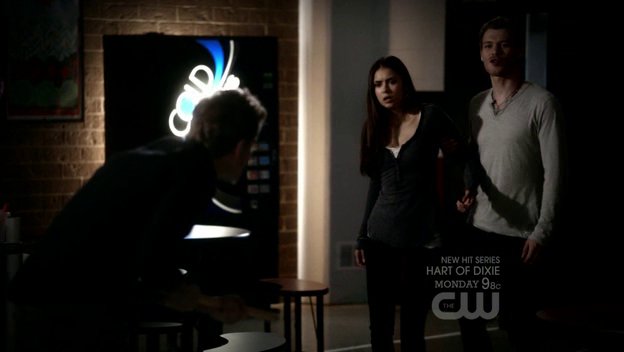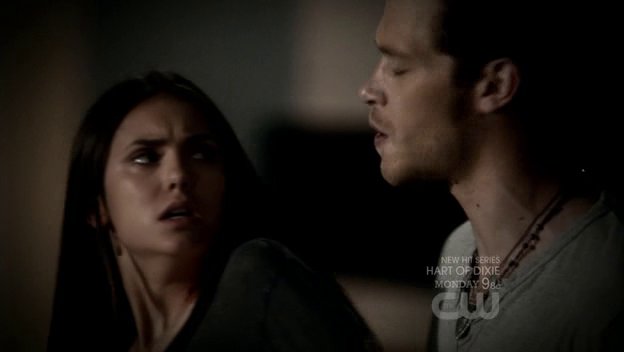 But yes, he is a ripper and I get it. Stefan really does love Elena a hell of a lot.
NOOO KAUS ORDERS HIM TO TURN OFF HIS EMOTIONS
YESS STEFAN FIGHT! HE PUSHED HIM AWAY OMG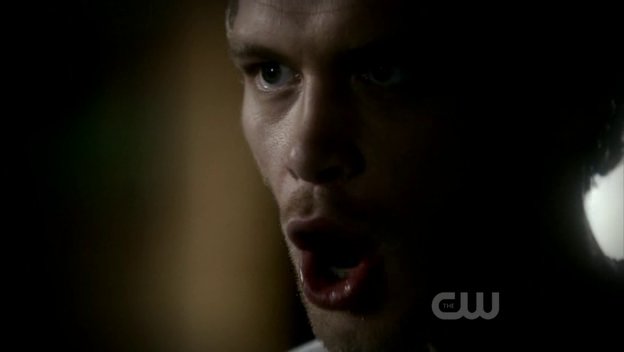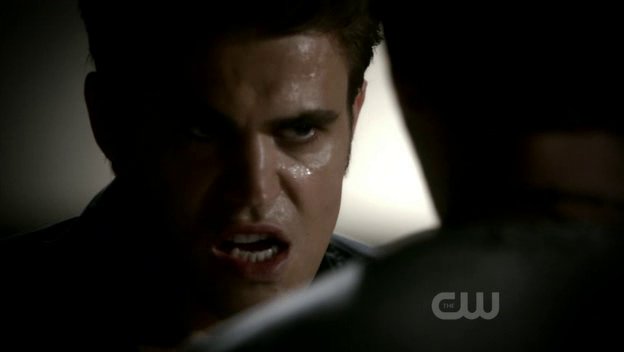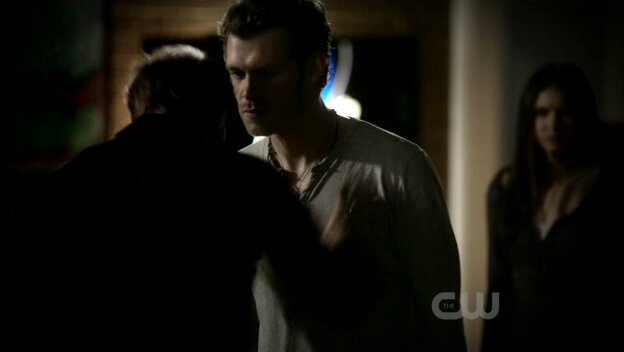 FUCKKKK NOOOOO
"TURN IT OFF!!!"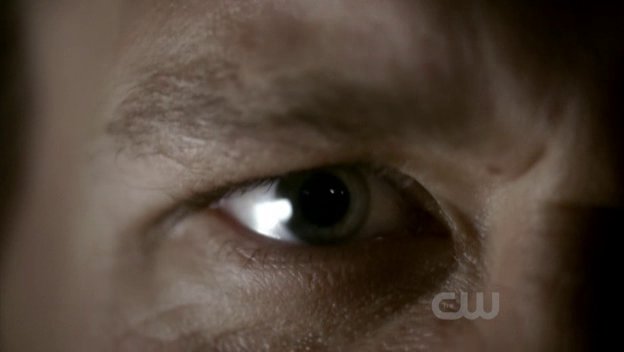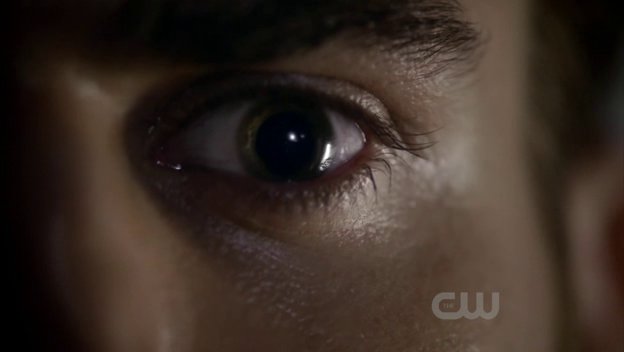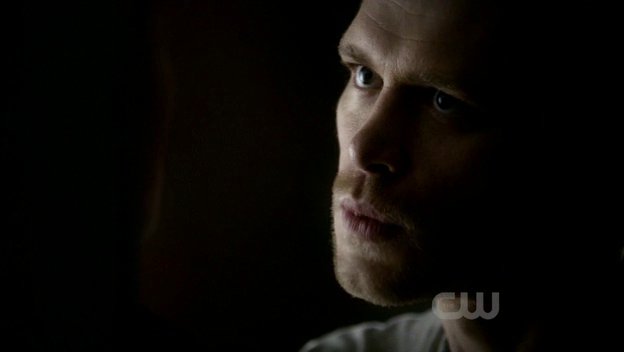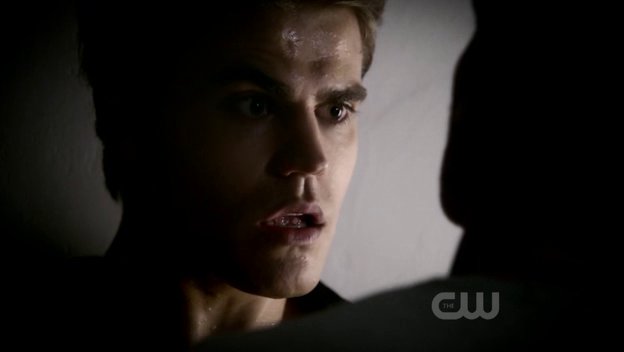 OMG look at his face. Klaus broke Stefan. Klaus fucking broke Stefan and this is the first time Stelena has ever left me shook. This scene is powerful. Fuck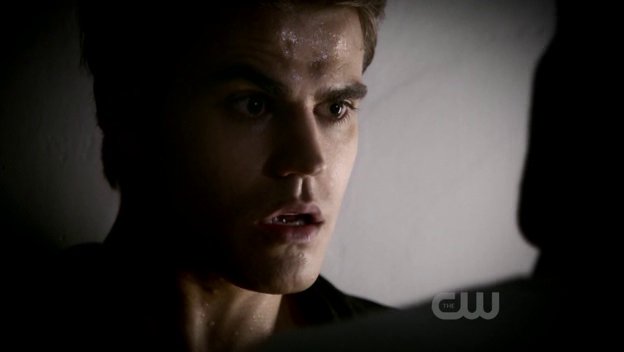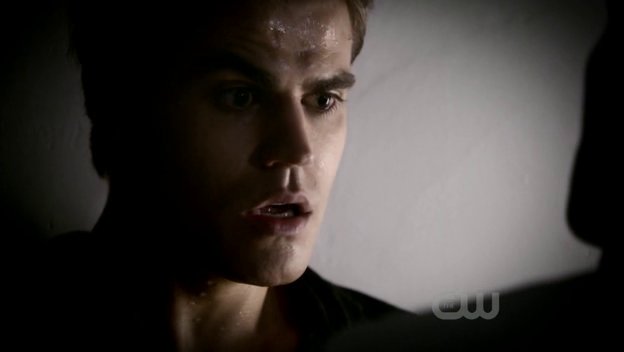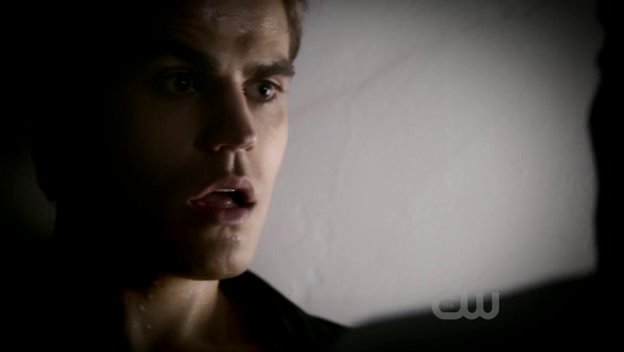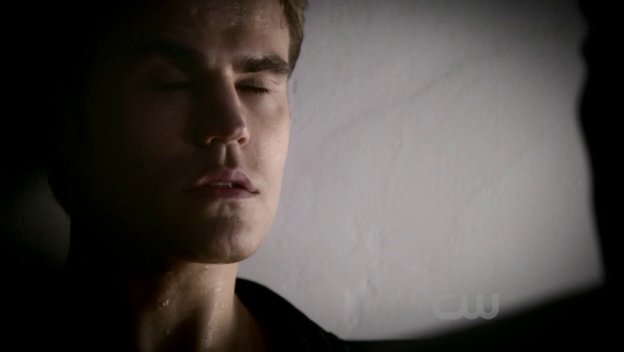 "What did you do?"
"I fixed him."
FUCK YOU OMG HE WASN'T BROKEN YOU BROKE HIM OMGGG UGH.
BREATHE DEEPLY AND TRY NOT TO TWEET MEAN THINGS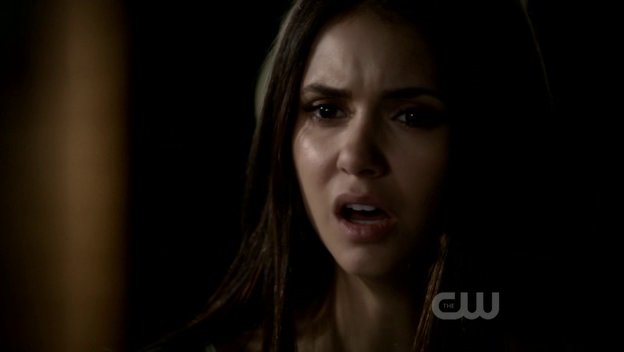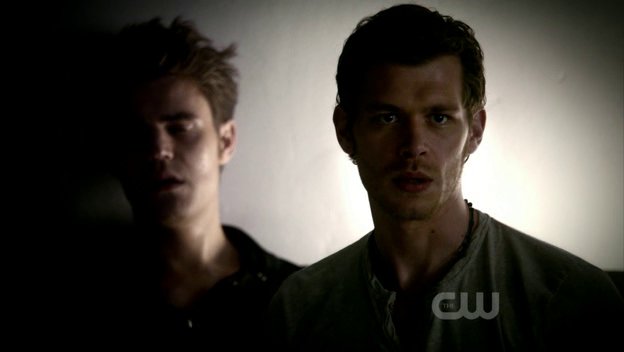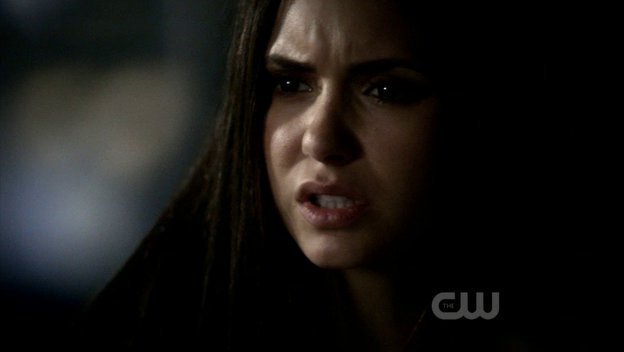 NO STEFAN PLEASE OMFG HSBSBSNSNS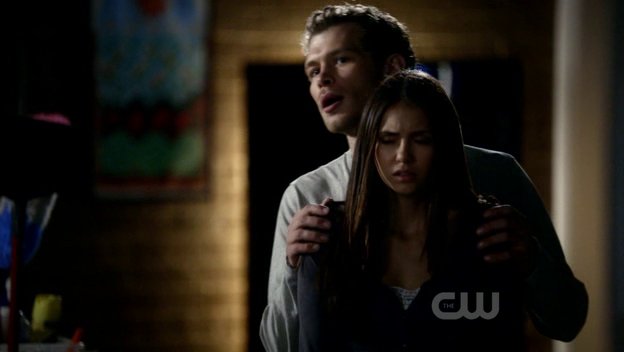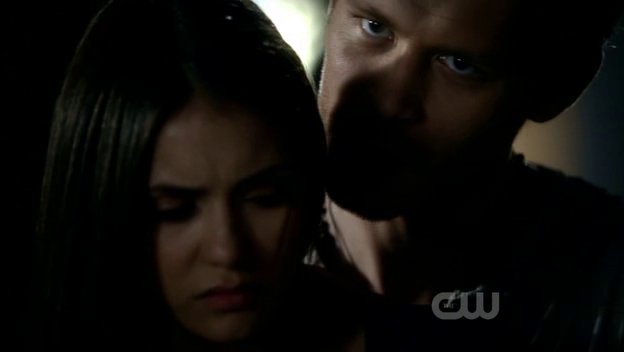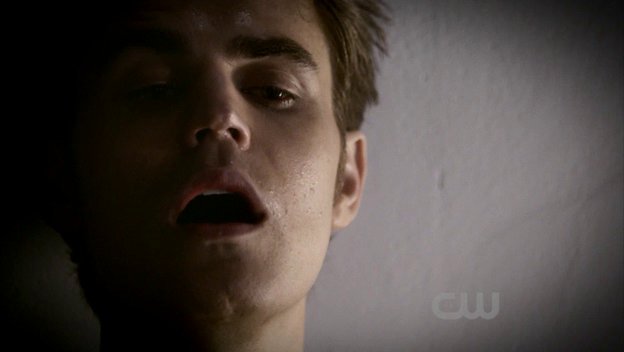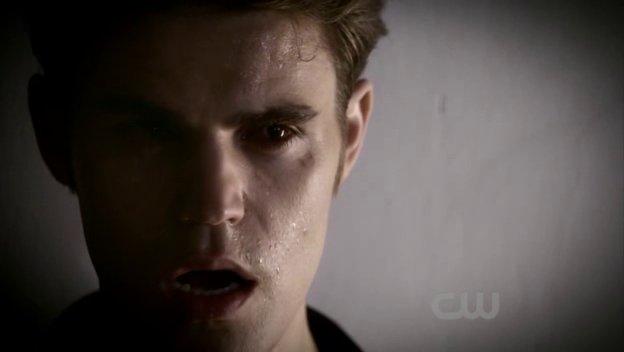 WHERE IS DAMON WHERE IS DAMON WHERE IS DAMON WHERE IS DAMON ???
OMGGGGG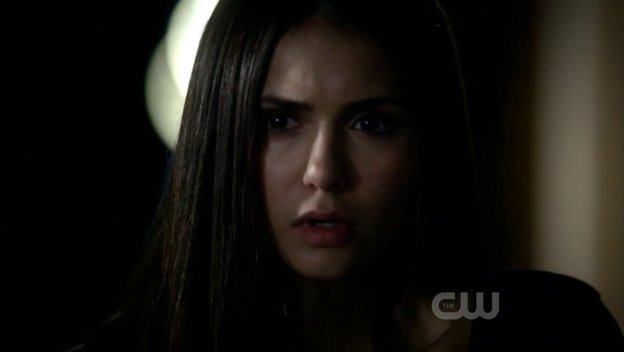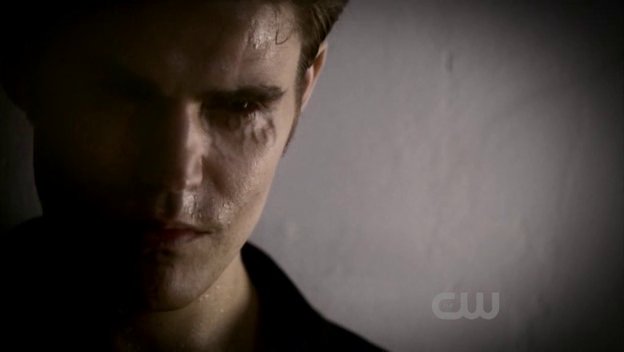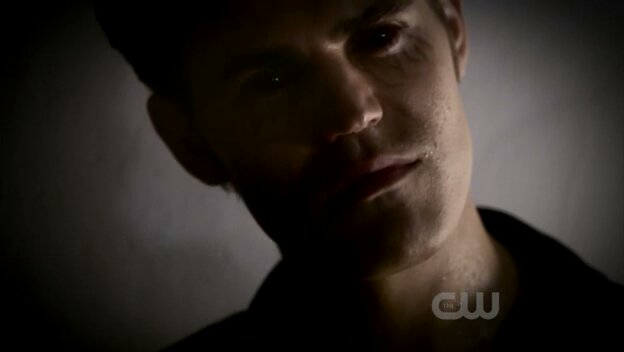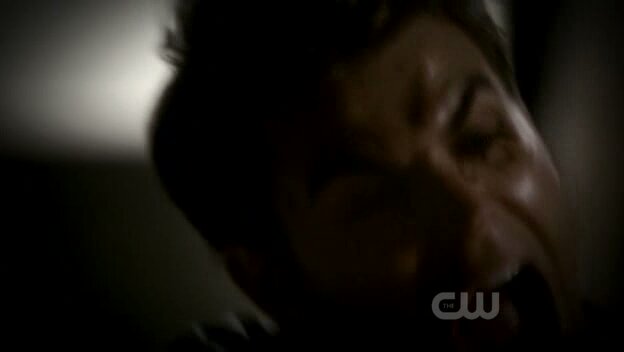 Klaus wants Tyler to drink Elena's blood? The Original witch said that Elena should die so he thinks it's the opposite. 👀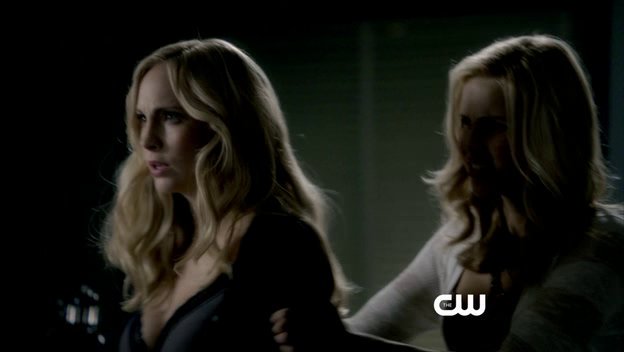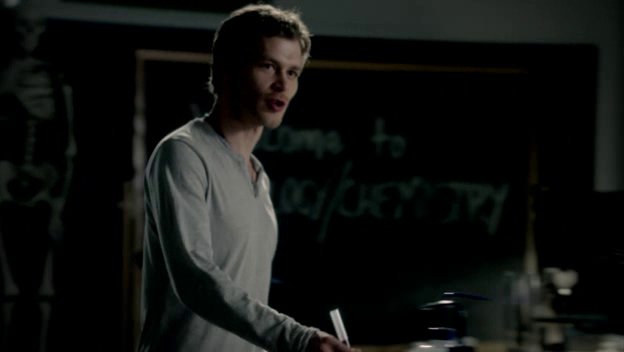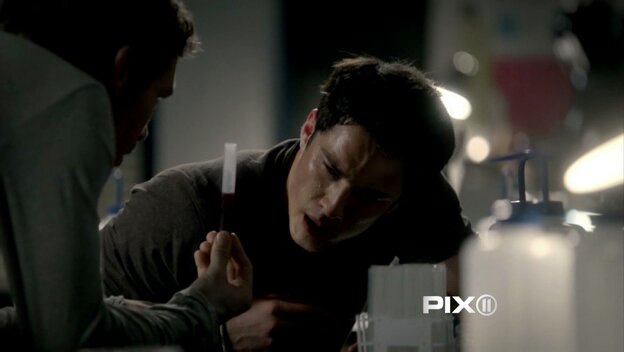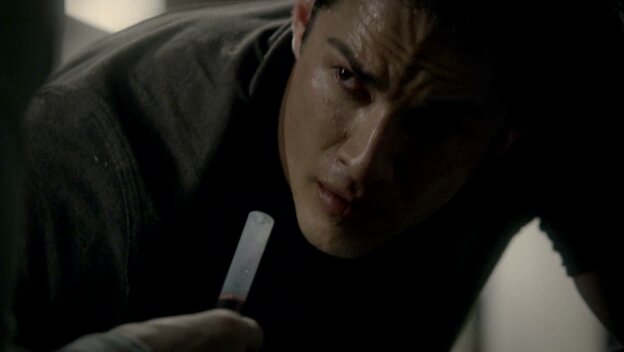 Tyler starts thrashing violently while Rebekah holds down Caroline. I wonder if all the screaming Klaus causes keeps him up at night? Judging from the smirk on his face, thats a no.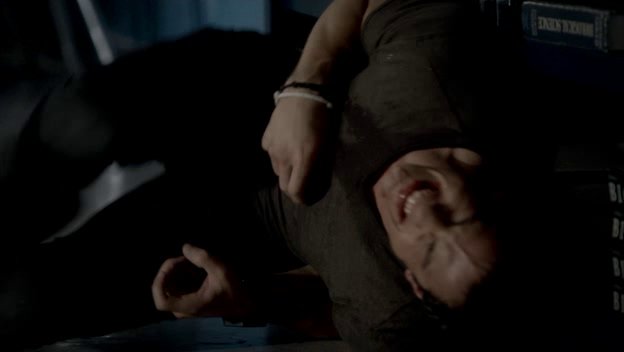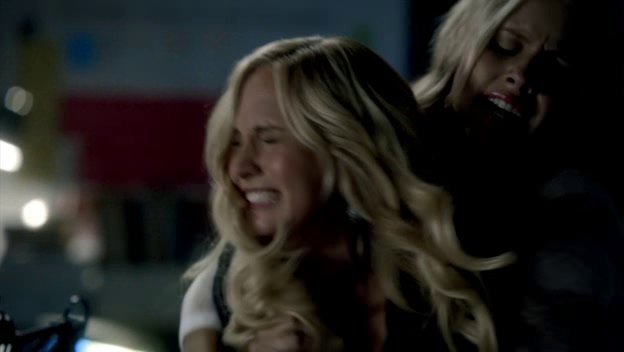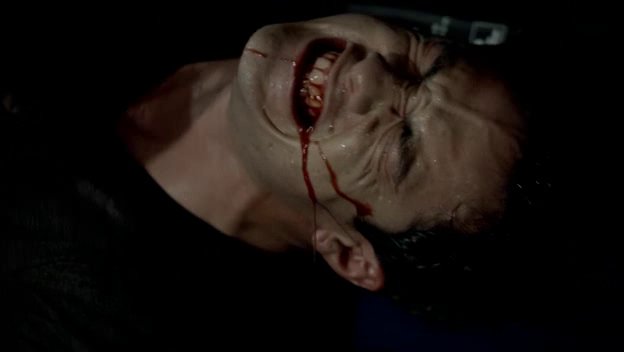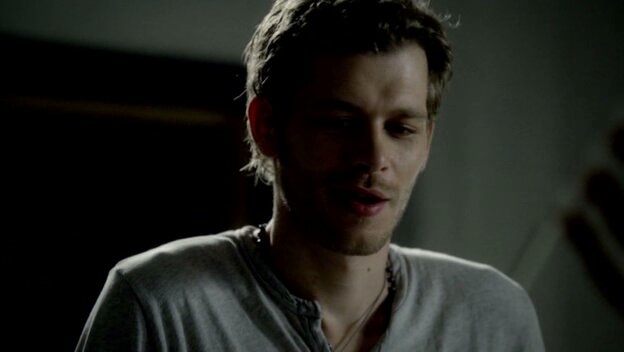 And why WHY is making fucking hybrids SOOO damn important?
It worked...👀
ARE YOU HAPPY NOW? OF COURSE YOU ARE. YOU WIN WHILE EVERYONE ELSE GETS THEIR LIVES DESTROYED 💀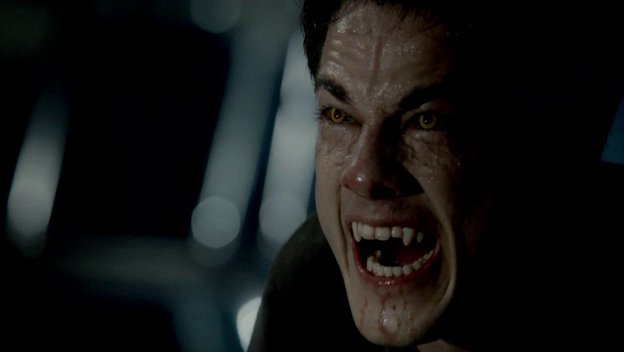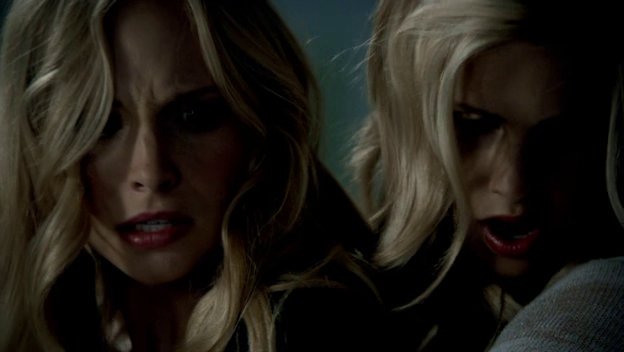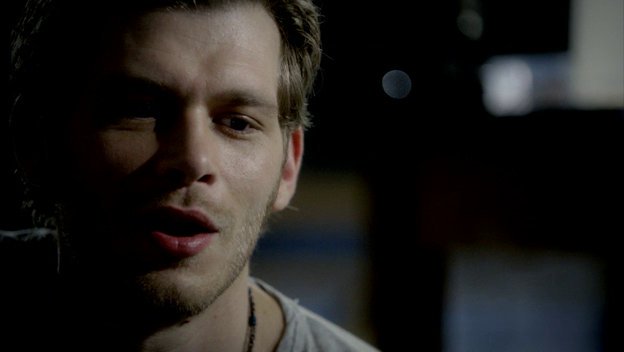 Elena is alive and in the hospital but Klaus is making a nurse squeeze every drop of blood from her that they can. Elena is being so mistreated in this episode. Beaten, bitten, dragged around and now tapped from her blood OMG 💀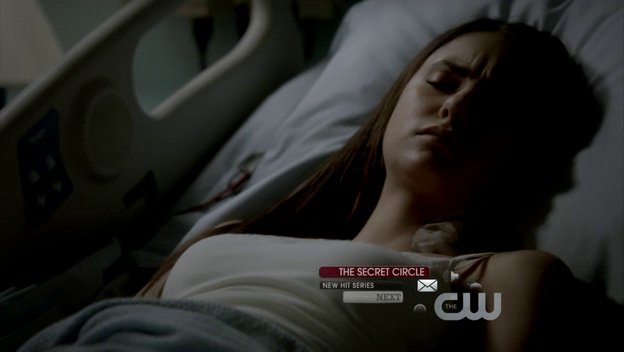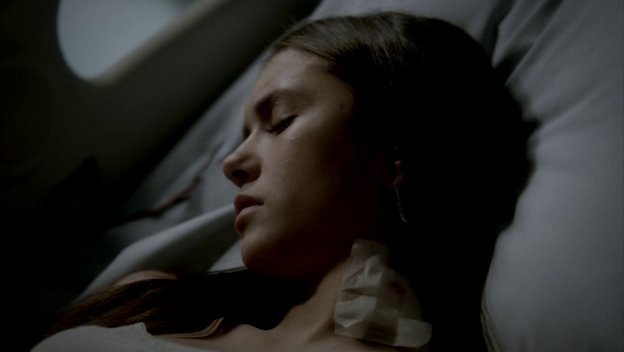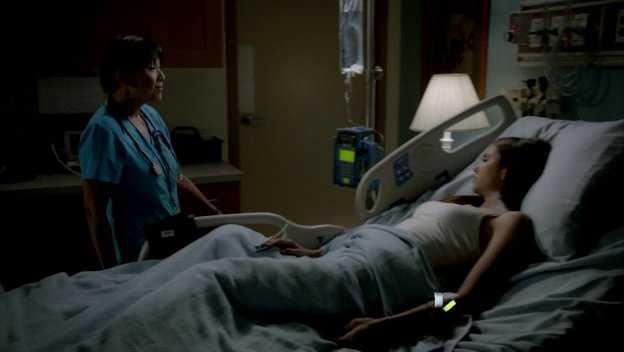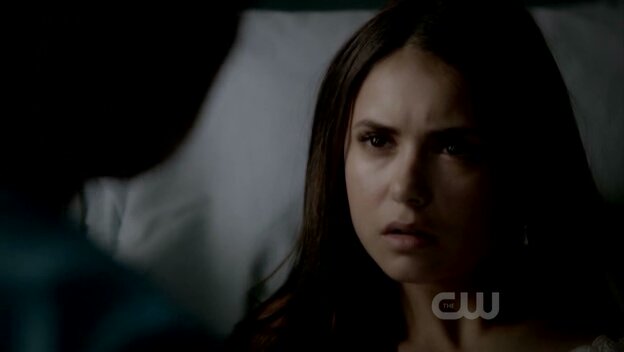 So Klaus knew to a the opposite of what te Original witch said, because she hated him and tried to make him fail. Elena being alive was actually a lucky shot for him. I wonder why this original witch hated him so much. Did he butcher someone she loved too?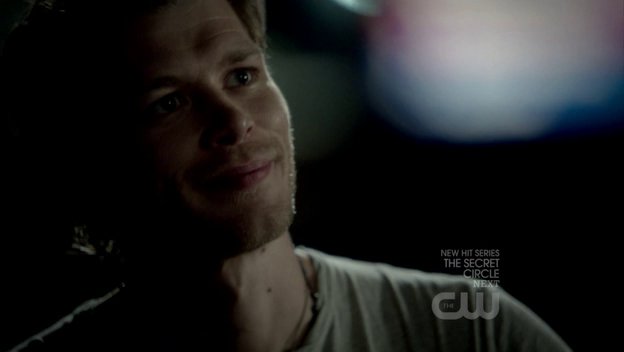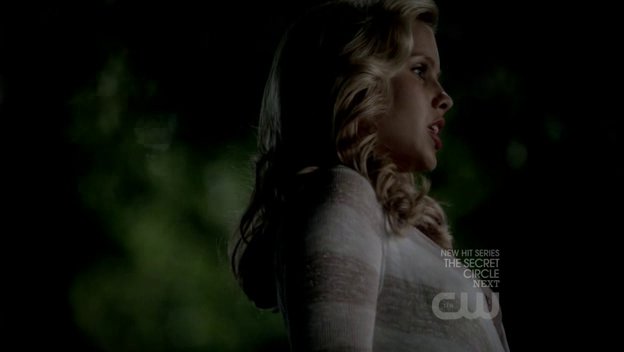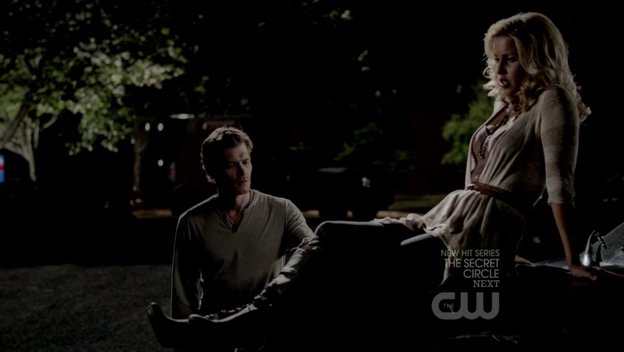 And how does Vicki even know the original witch? Anna said she was all alone on the other side. Vicki has company?
She did it so he would be alone.
"Leaving me alone for all time."
"Is that what this is about? Your obsession with hybrids? You just don't want to be alone?"
THE FUCK? GO OUT AND MAKE FRIENDS. Now he looks like he wants to cry and goes all pity face. You have your sister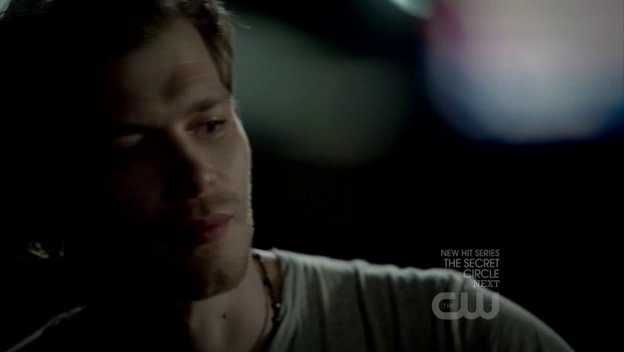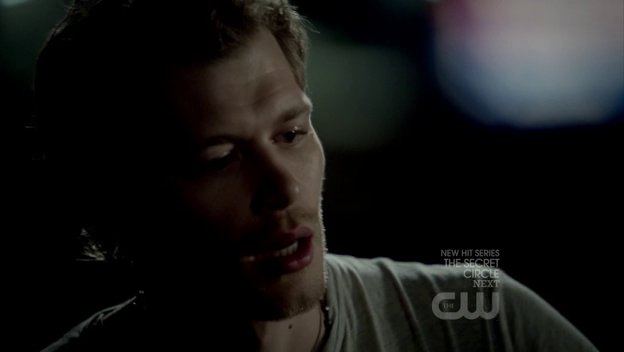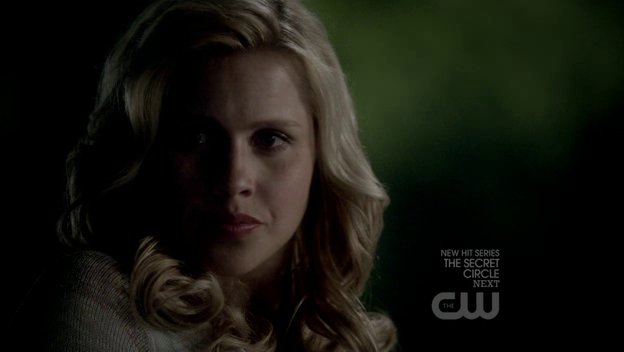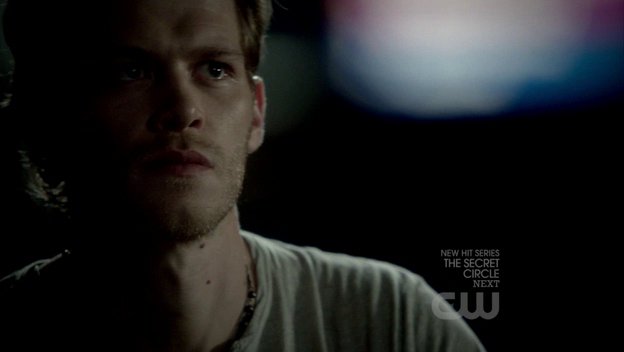 I get not wanting to be alone in the world, but it's his own fault. He daggered his siblings and look what he does to people. He can be charming if he wants. Make friends like a normal person. You can't build yourself friends. Does this guy have such a low self esteem?
Oh he is going to go get "his girl" and "his hybrid" then leave town. So Elena and Tyler are posessions now? Naw, your tears mean nothing to me at this point. 💀
DAMON HAS OMG DAMON IS BACK TO SAVE ELENA THANK GOOOOD.
"Where is she?"
"Elena? She is making a donation to a greater cause. Can't let you interfere mate."
"You will have to kill me."
AVSHD Damon has no fear he just wants to save Elena. My brave son 😢😢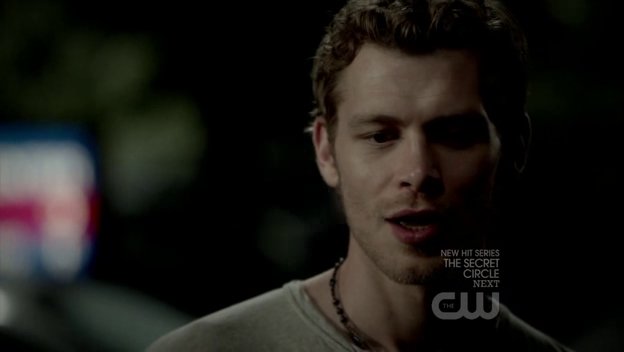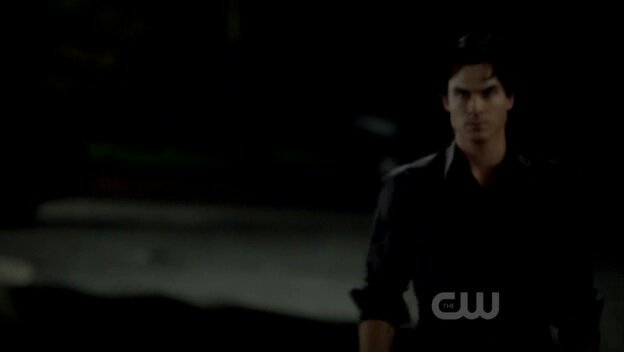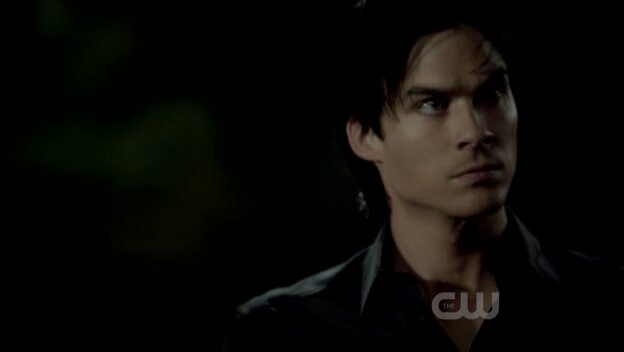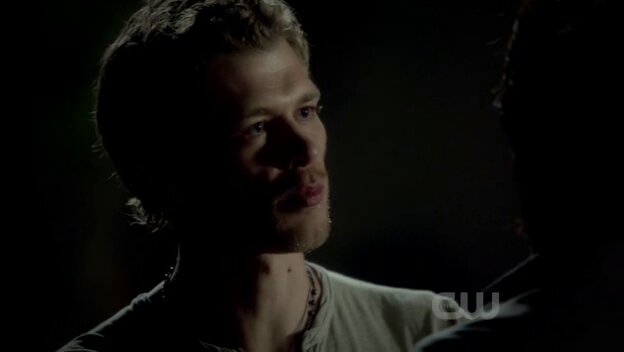 KLAUS WAS GOING TO KILL DAMON 😱💀
"Don't you want to know about Michael?"
OMG look at the genuine terror flash across Klaus' face. Michael must be more terrible than I thought. He fucking fled 👀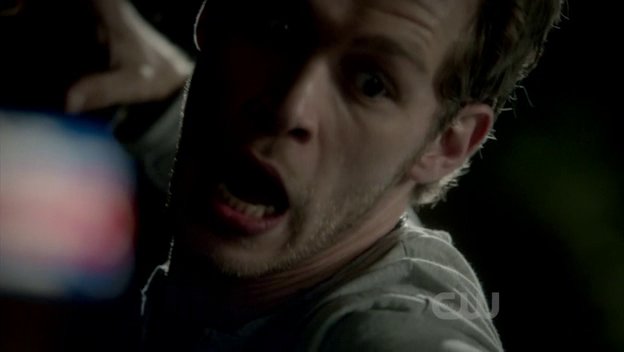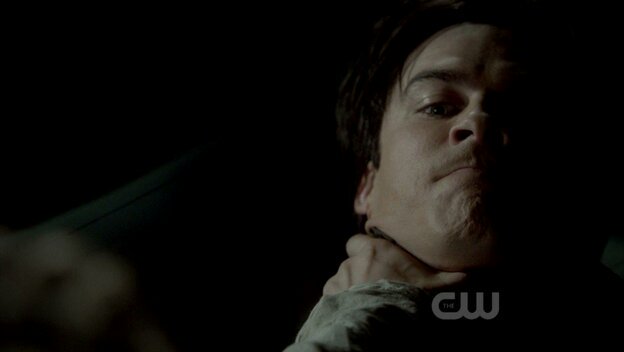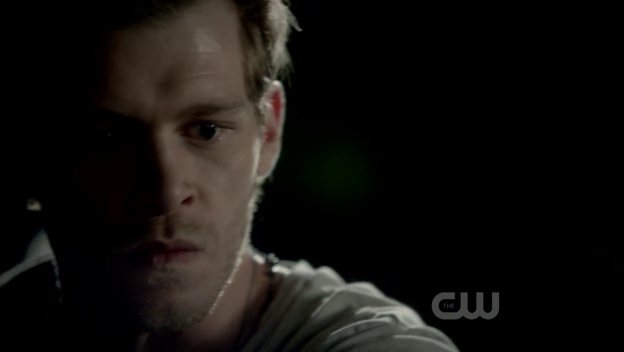 How to scare the boogeyman...mention the badder boogeyman...
Damon is looking for Elena 😢
Go save her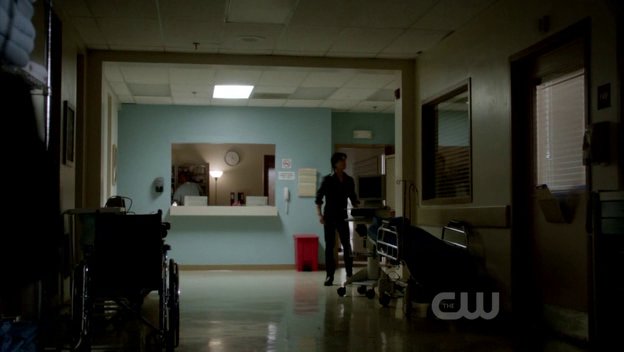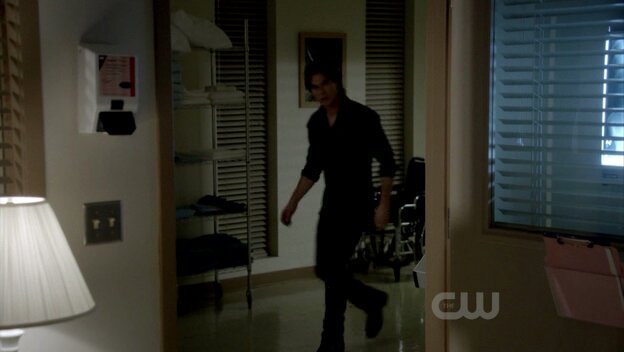 FINALLY. ELENA WILL BE OKAY NOW. PHEW I CAN BREATHE AGAIN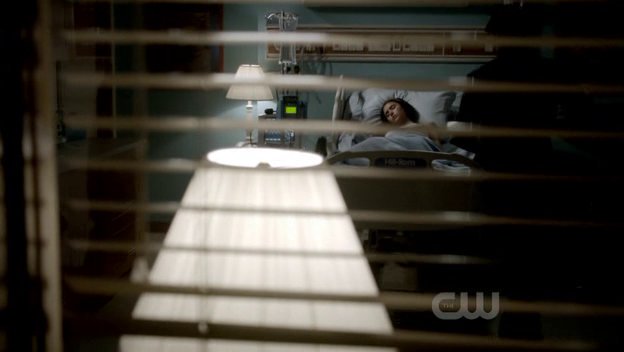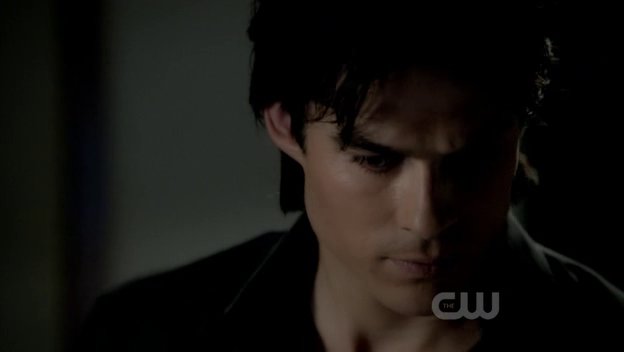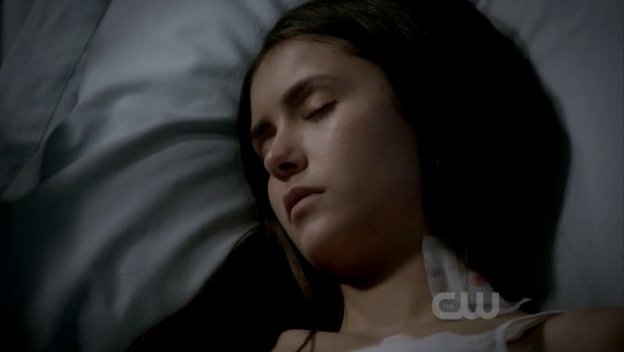 AND JUST LIKE THAT I CAN'T BREATHE AGAIN FUCKK HE IS SO SOFT WITH HER. 😍😍😍😍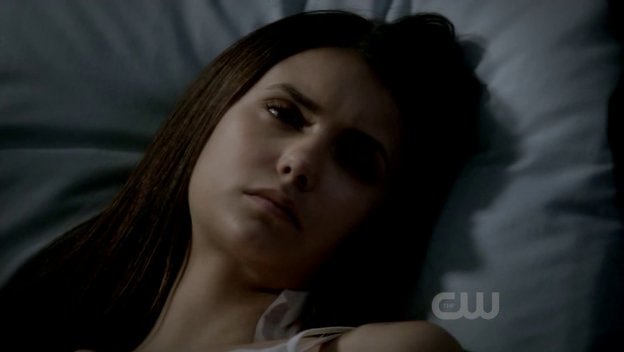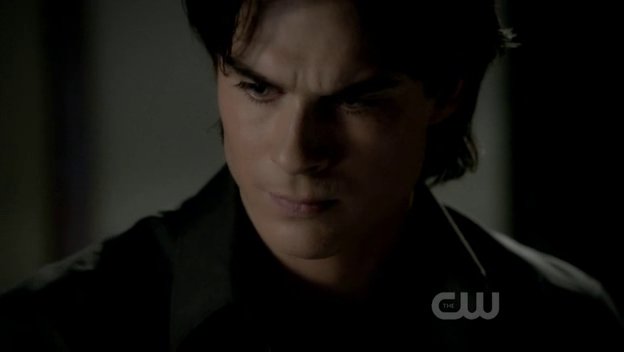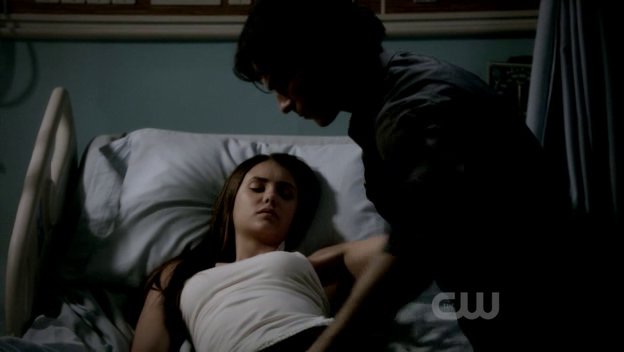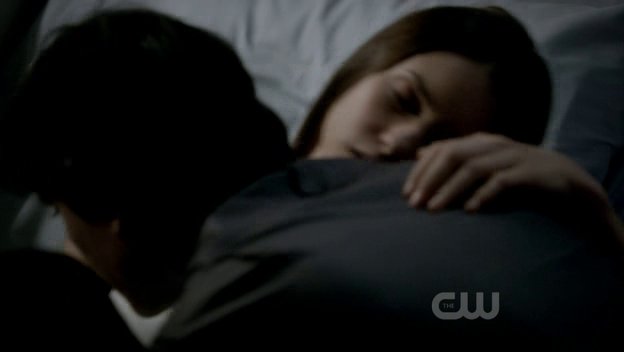 HER HERO. OMGGGG I LOVE THEM SO MUCH. LOOK AT HIM CARRY HER AWAY TO SAFETY. DAMON YOU ARE HER HERO. DON'T LET ANYONE TELL YOU OTHERWISE 😢😢😍😍😍😍😍😍 I CAN'T BREATHE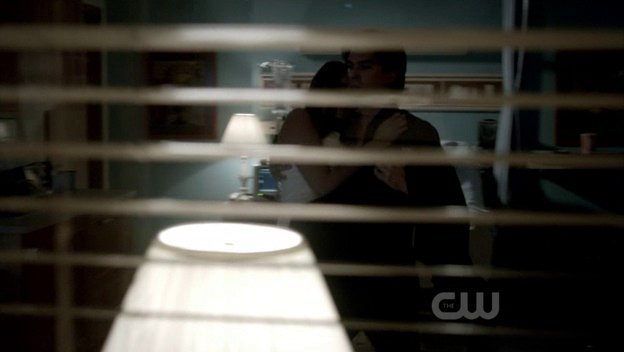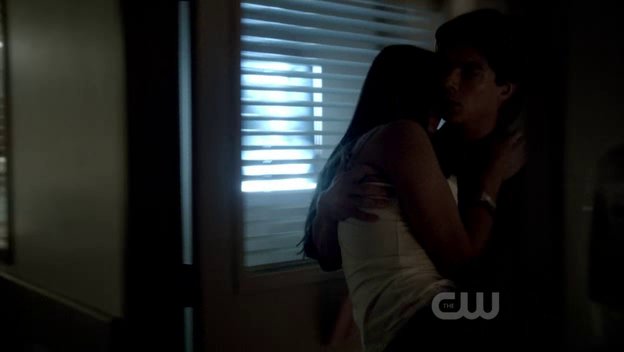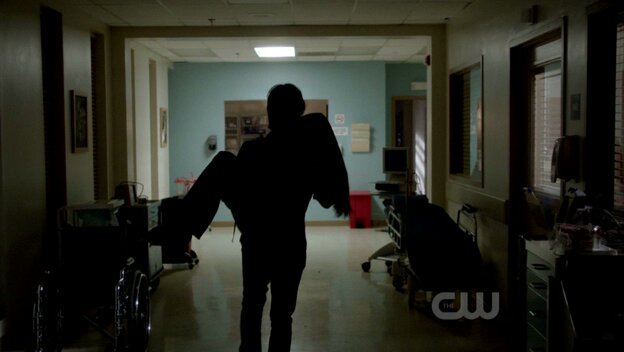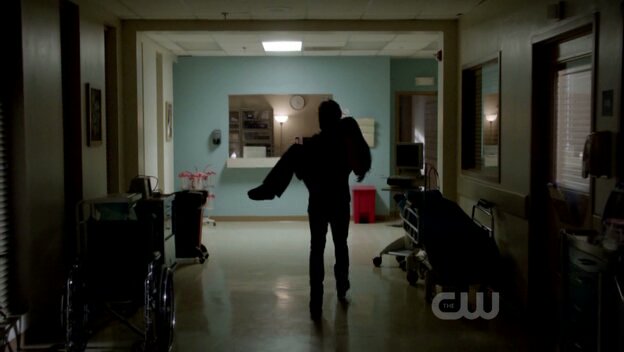 Tyler is feeling great, but Caroline is worried...and so am I. This isn't the end. Klaus will be back for "his hybrid" and "his girl." 💀
Glad Tyler is okay though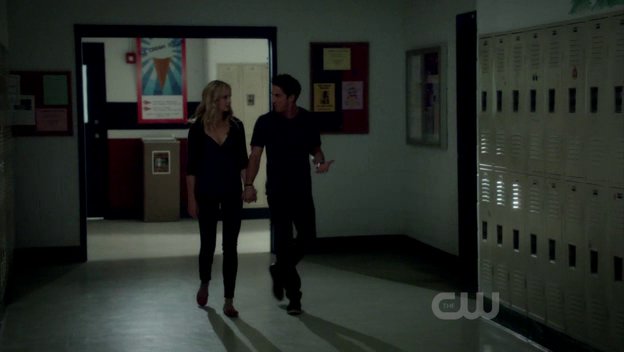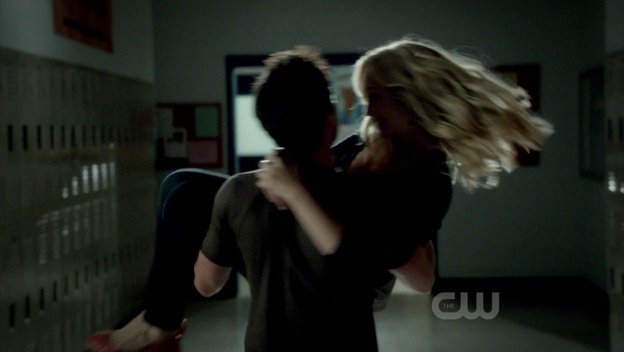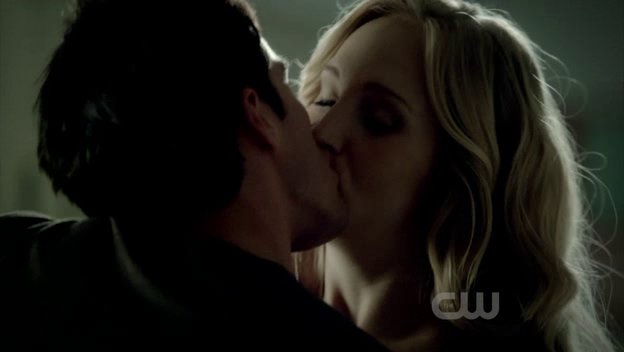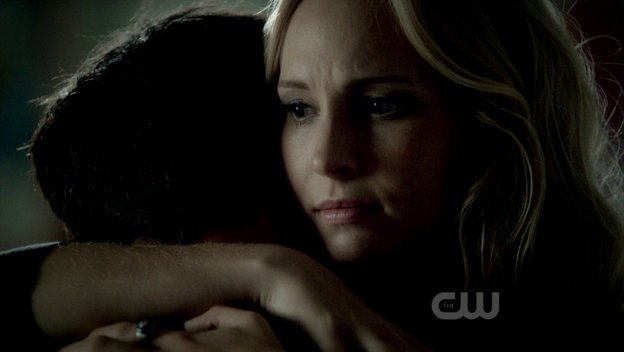 Bonnie is giving Matt the don't do su*cide speech and tells him that he is the only one of them that gets to live a normal life.
Okay wait, so Matt can see Vicki now? CPR WAS the human equivalent of a 100 dead witches bringing you back to life??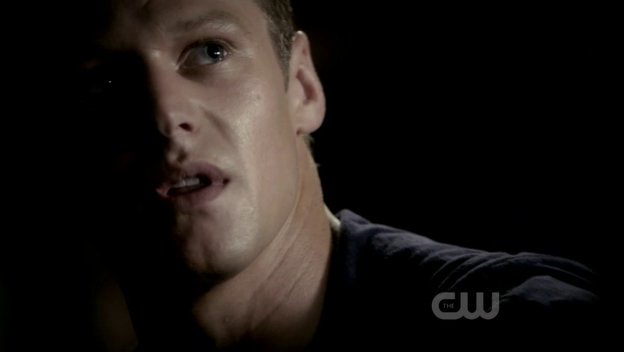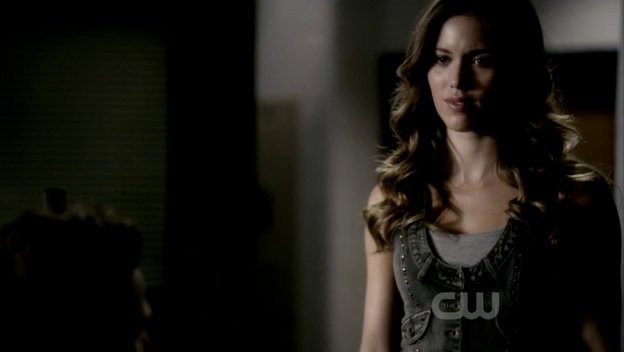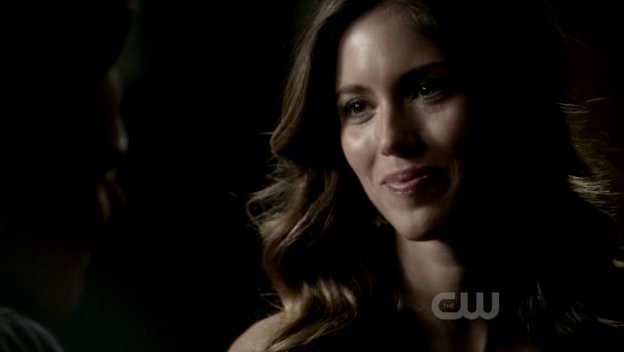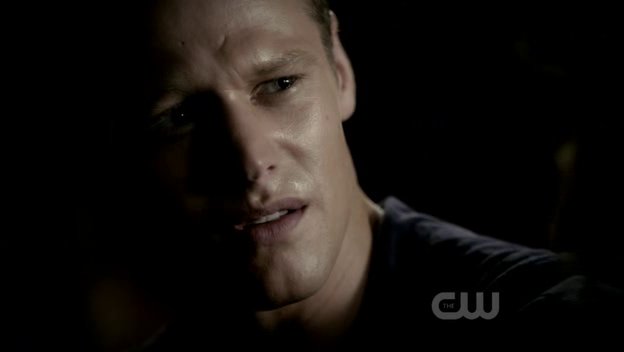 See Damon gave her some Bourbon and speaks so softly to her. She has been through so much.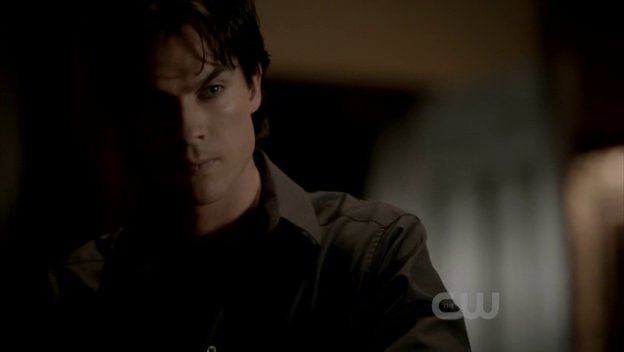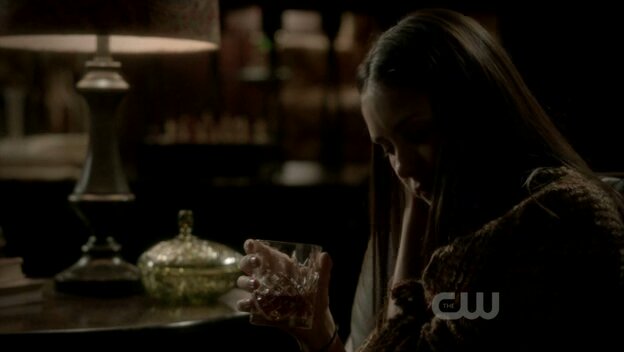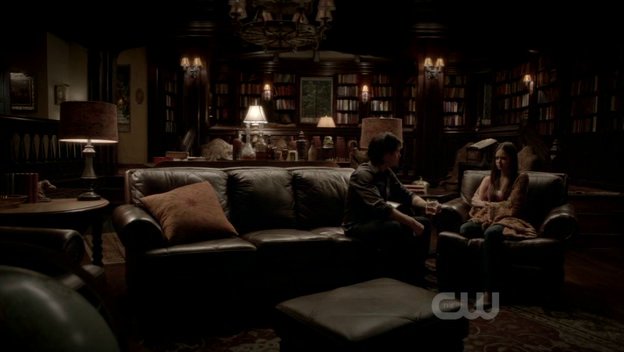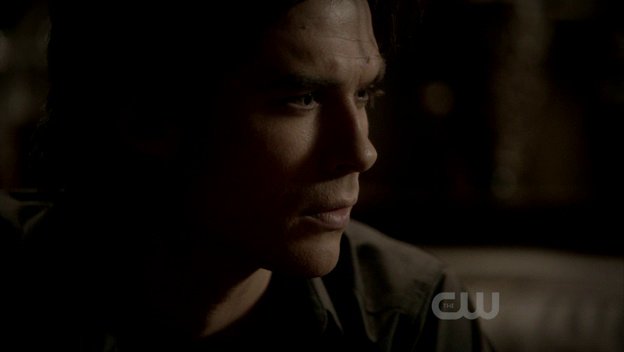 He offers to compel the bad memories away, the memory of Stefan biting her, but she wants to keep it. All of it. She is so strong I am so proud. 😢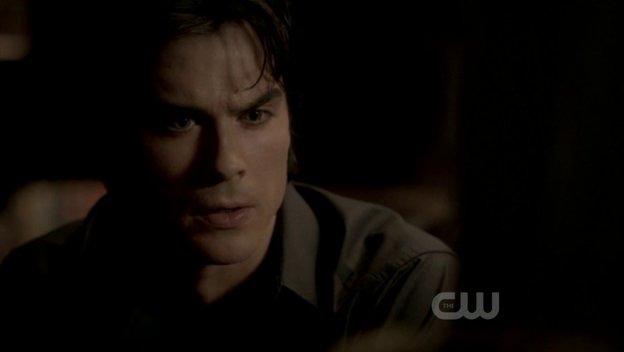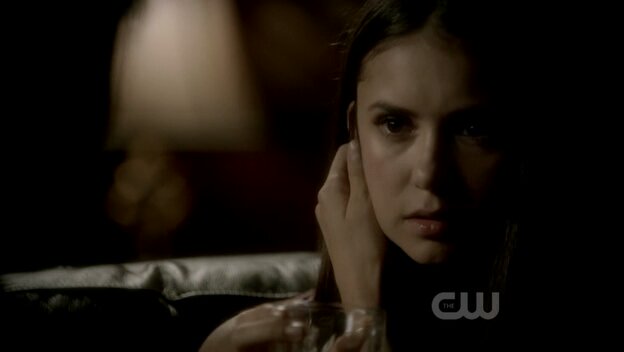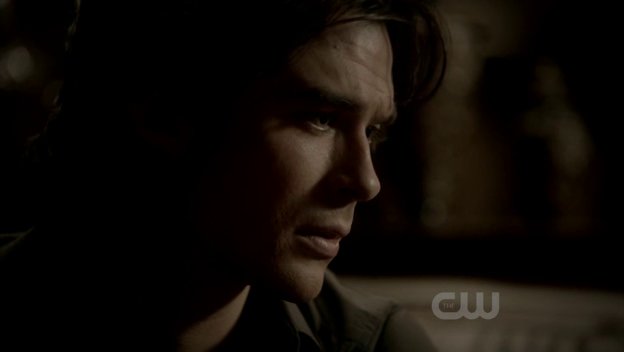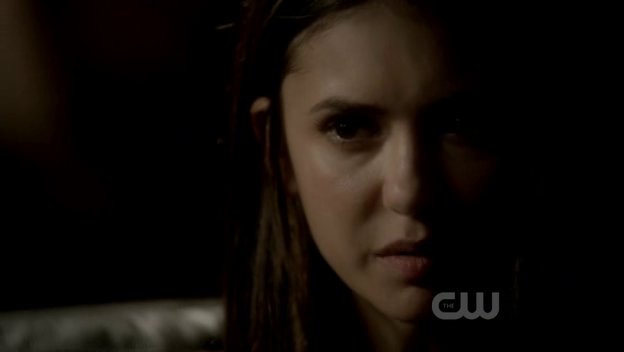 HE GAVE HER BACK HER NECKLACE AGAIN LOOK HOW SOFT I IS BEING OMGGG I AM ON TBE FLOOR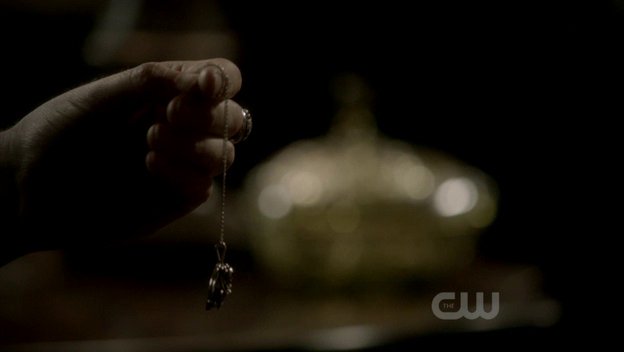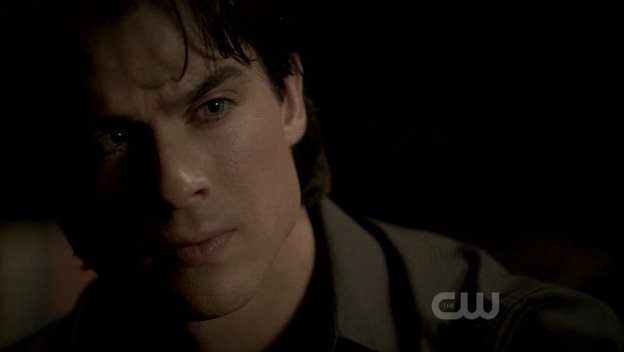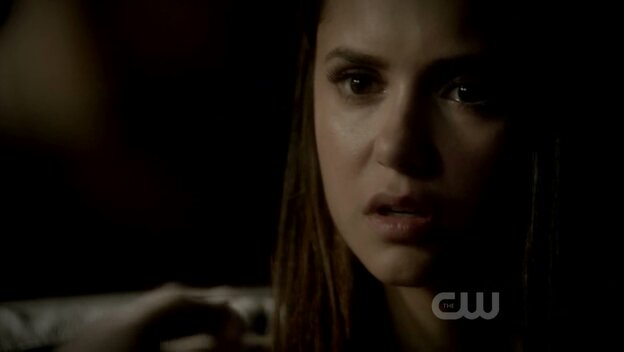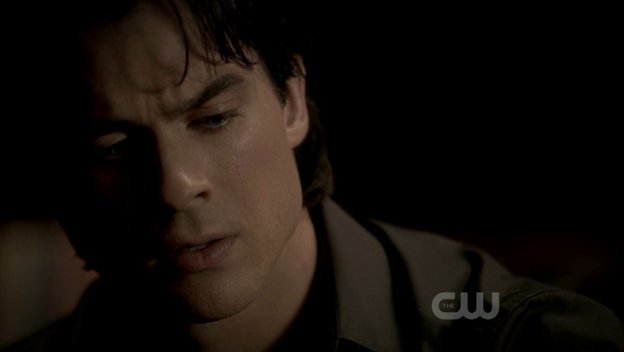 "Where were you Damon?"
AGSGSHDJDDNNNF HE SQUEEZED HER LEG
FUCKKKK I AM DYINGGGH 😭😭😭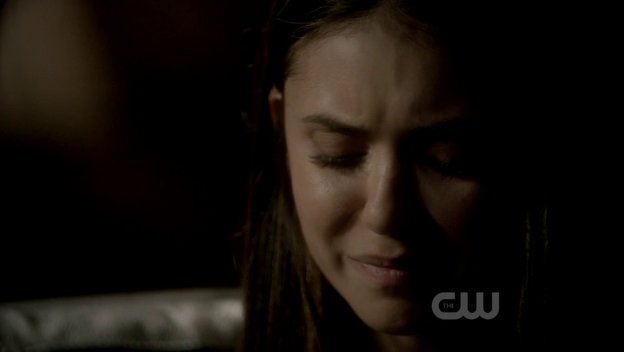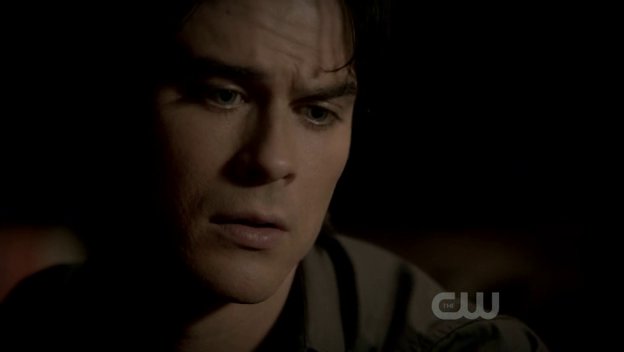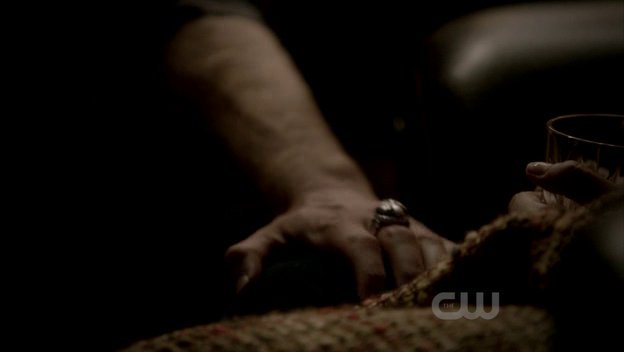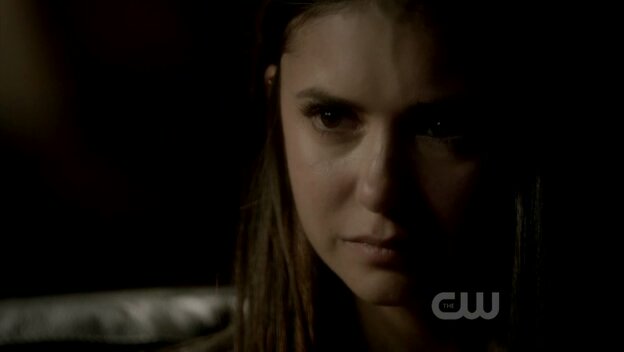 "I promise you. I will never leave you again."
I CAN'T BREATHE OMG THIS KNOCKED THE STELENA SCENE OUT OF THE WATER. LOOK AT THEIR FACES. THEIR SOFT UNDERSTANDING. HER SLIGHT SMILE. THE CONNECTION.
I CAN'T WITH THEM 😍😍😭😭😍😍😍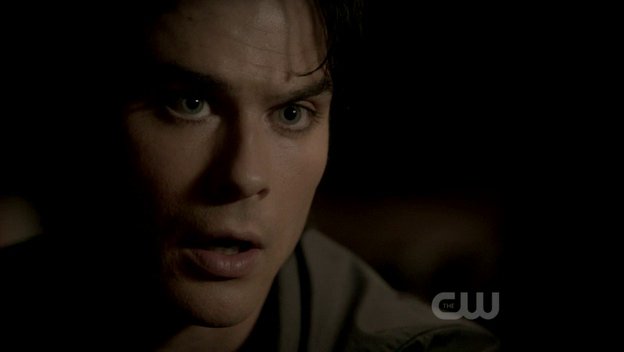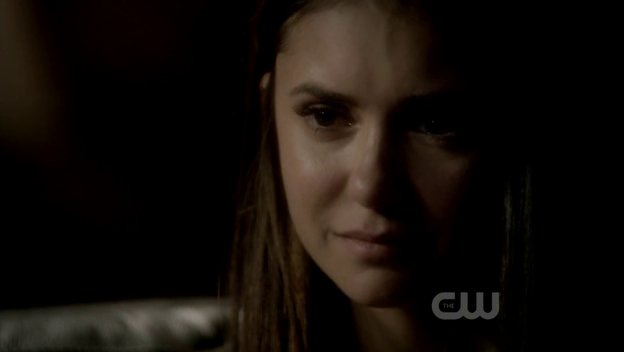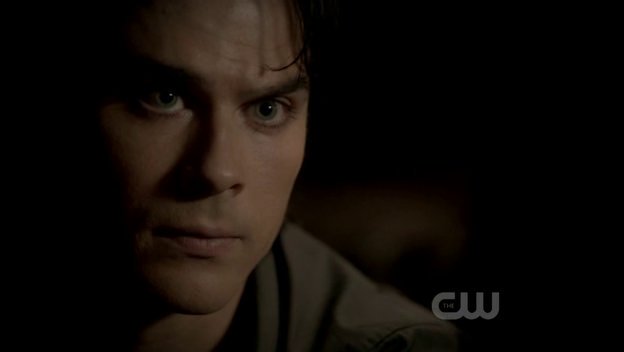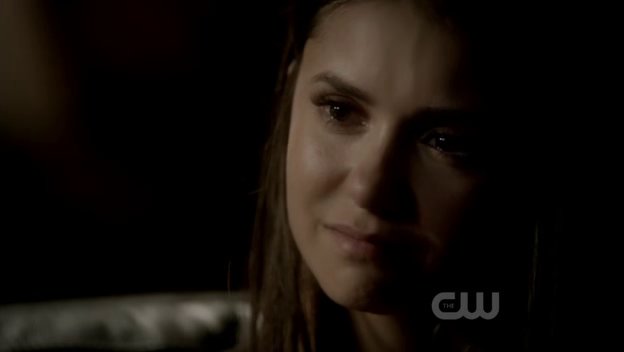 Stefan is back?? Glad you are back and away from Klaus, but you cockblocked my very emotional DE scene 😩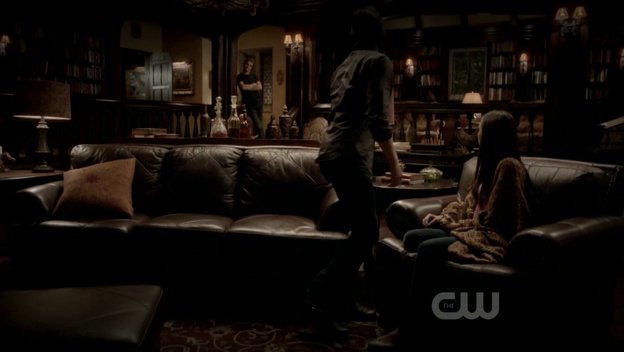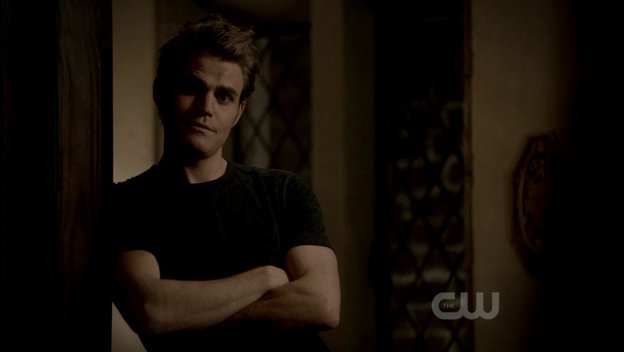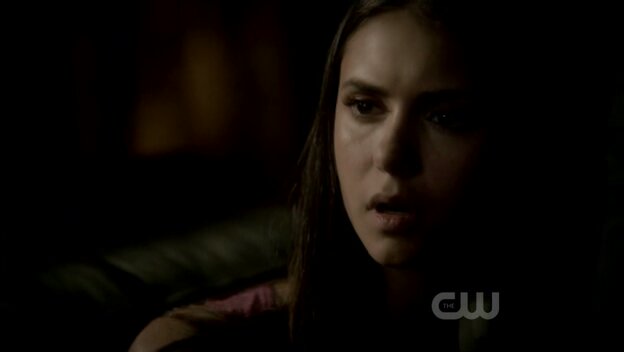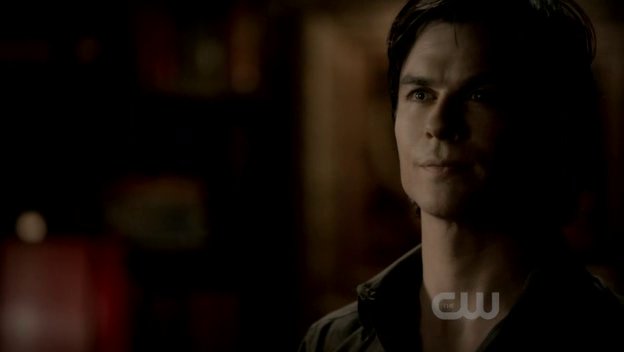 Klaus left him behind to look after Elena while he is gone. Oh shiiiit this is tinkered with Stefan. Emotionless ripper...
"By all means, carry on."
Delena share a look that pretty much says WTF? ?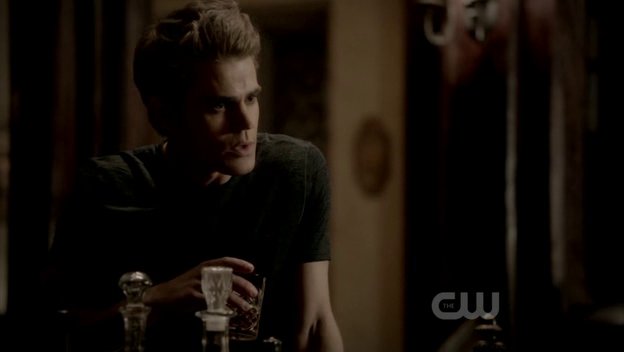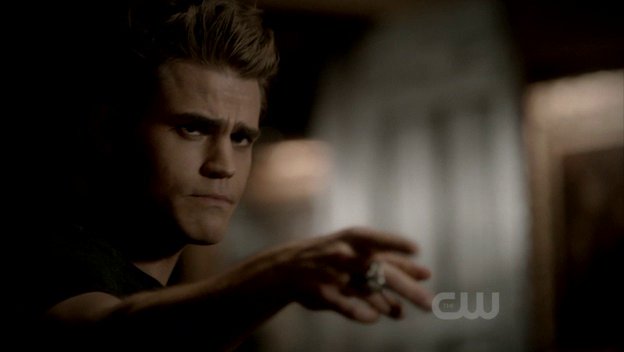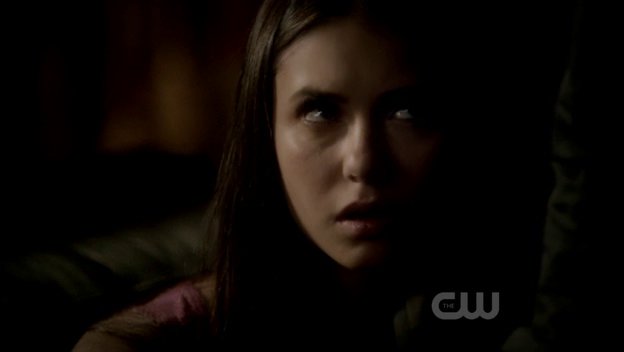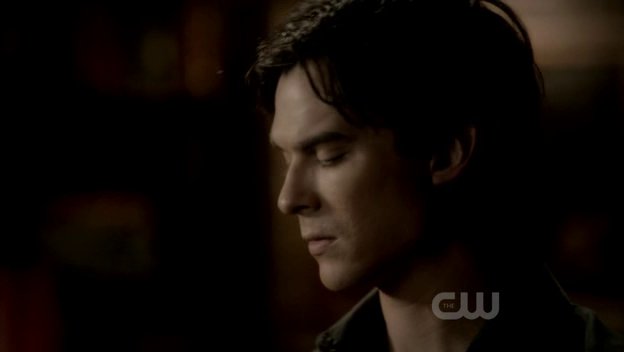 How are yet going to fix this?? It was a struggle in S1 to get him back and he wasn't as far gone as this.
Okay...so Katherine and Jeremy are on Michael duty. This is ceewoy as fuck and the background music is making the hairs raise on the nape of my neck...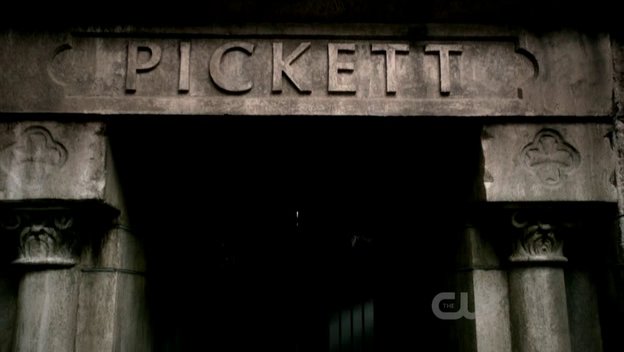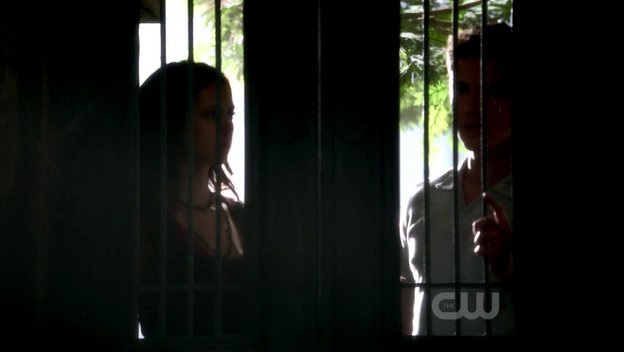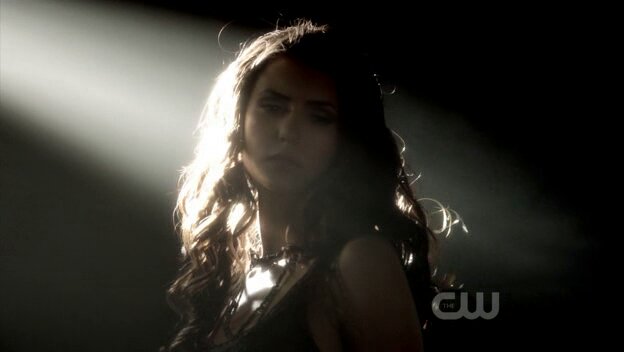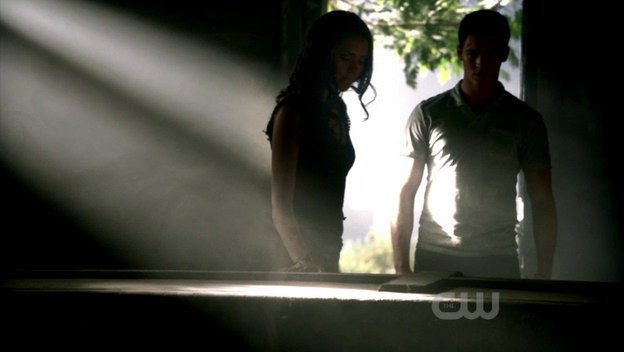 SHIT I JUMPED. HE OPENED HIS EYES 😱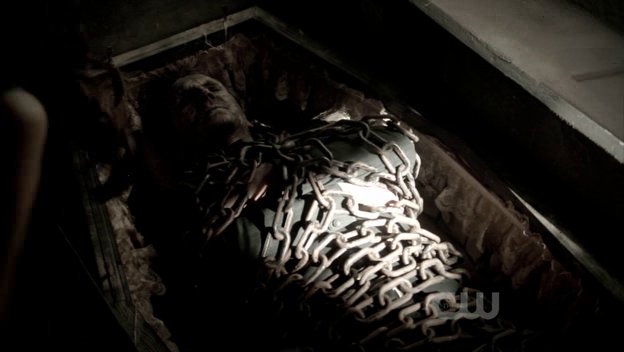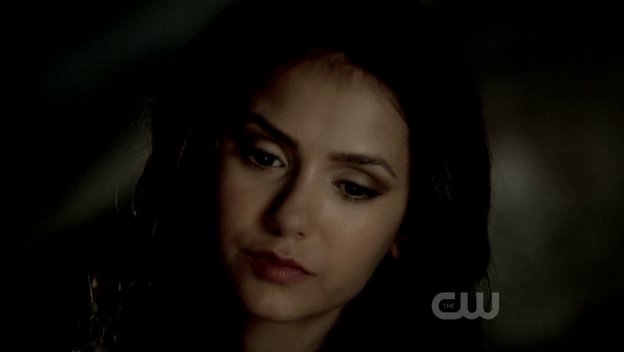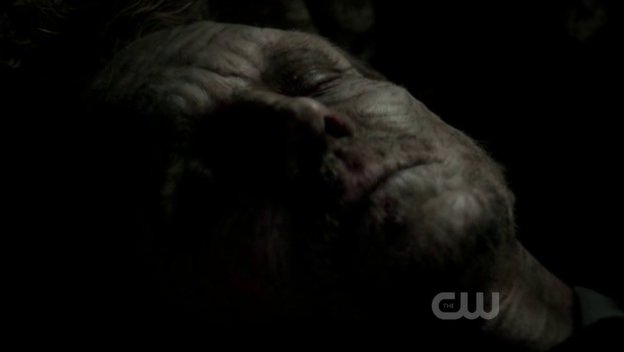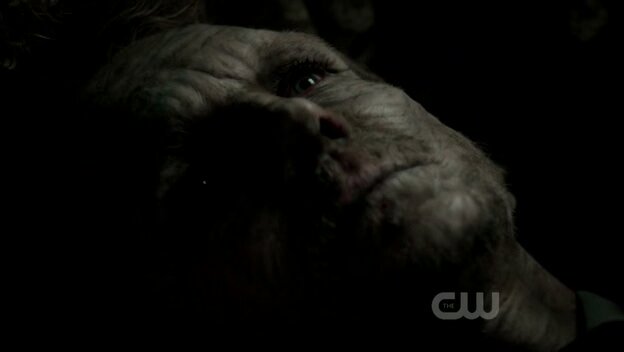 OMG I AM TIRED. What an episode. I agree, storyline wise this was one of the best ones so far. And my beautiful DE scenes 😍😍
Even Stelena had their first truly powerful scene. And I am okay with Forwood now. Klaus can eat dust for all I care. Go make friends.
03x06 "Smells like teen spirit"
lmao awkward title.
Aww my poor baby girl can't sleep. But yikes she gets up early. I am not a morning person. Yet Elena managed to drag herself out of bed. She lost a lot of blood though. She should take the day off 😩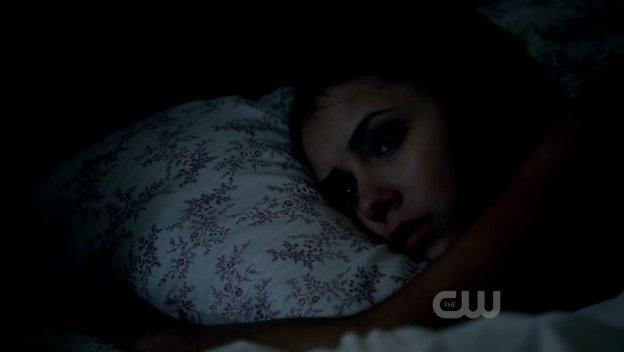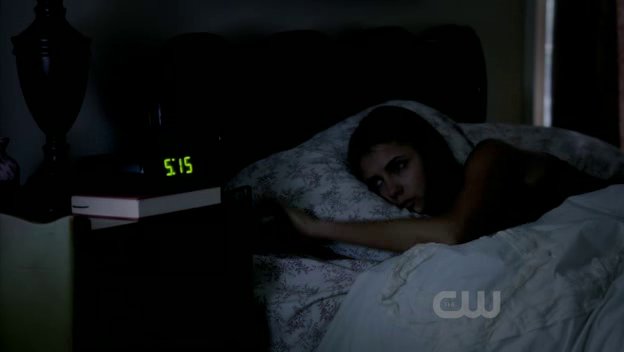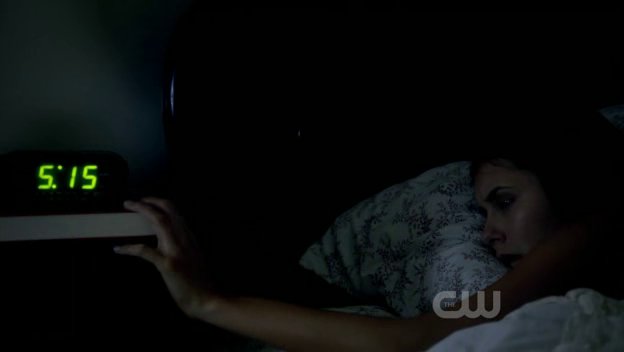 She still has the bite marks. Shiiit. And she is covering them with concealer. This is what a woman in an abusive relationship does and it makes me feel so sorry for her. I know it wasn't Stefan's fault, but when will she realise he is bad for her?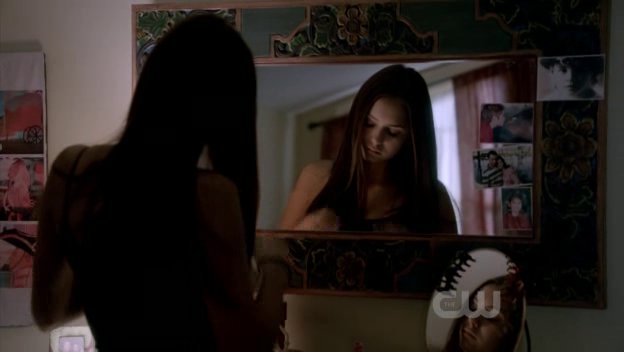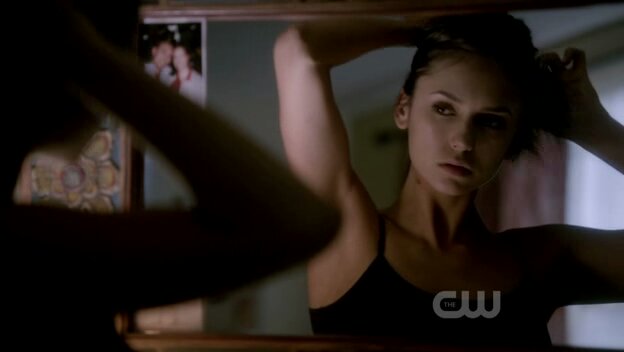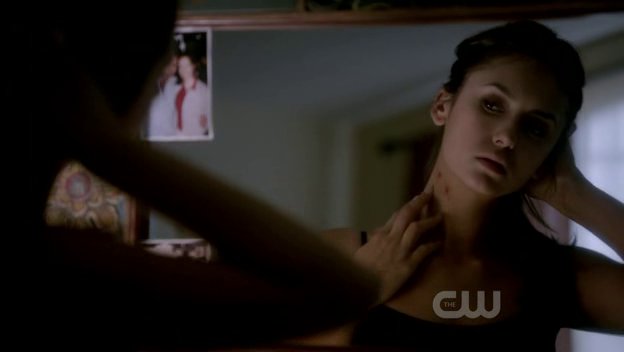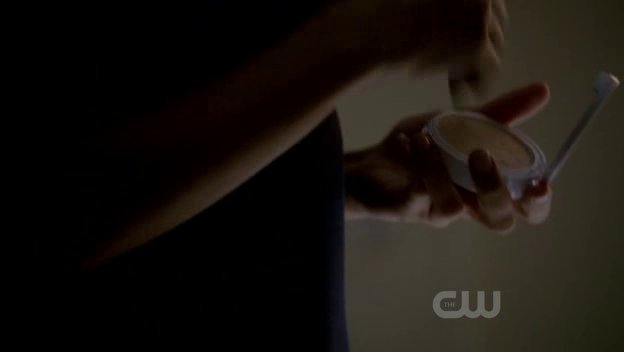 Alaric is training Elena but she isn't strong enough yet for the gadget to work. It's about time someone trained her. She needs to have a bit of a fighting chance against Klaus and Stefan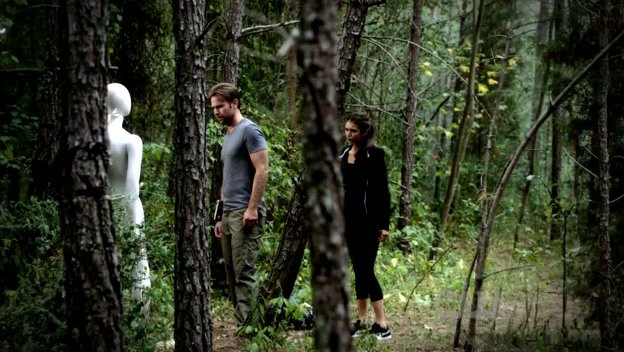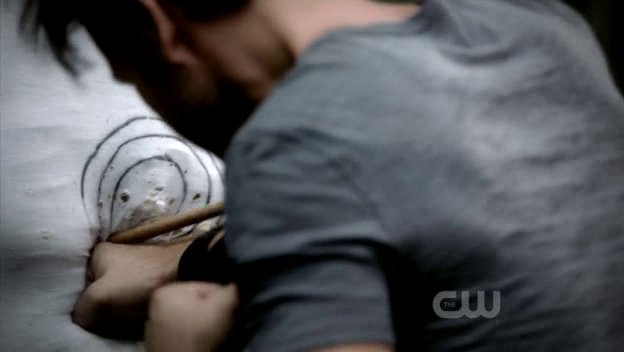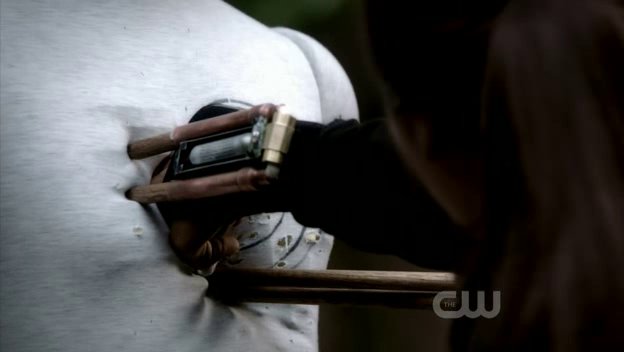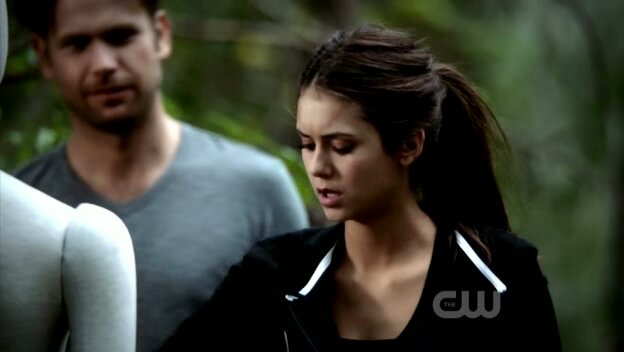 Alaric is in a bit of a mood though. I hope he doesn't turn all anti vampire now.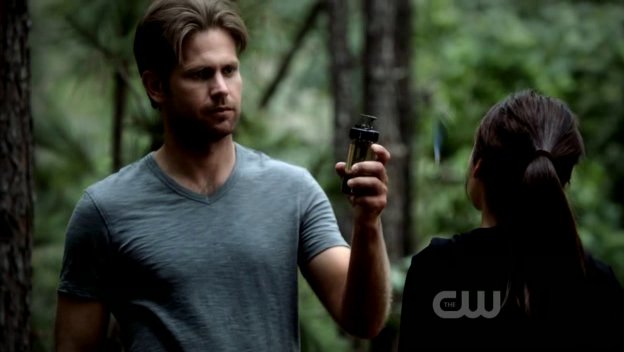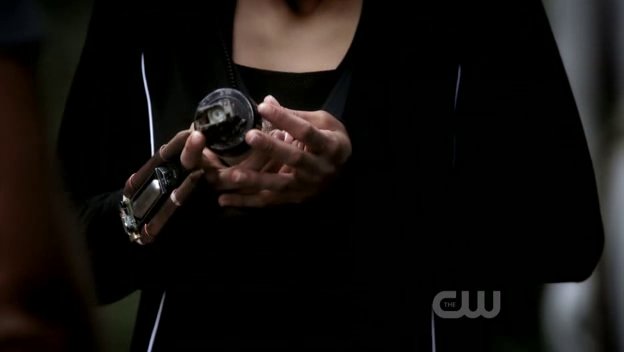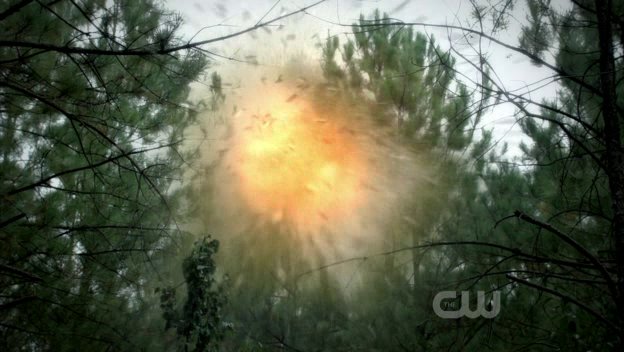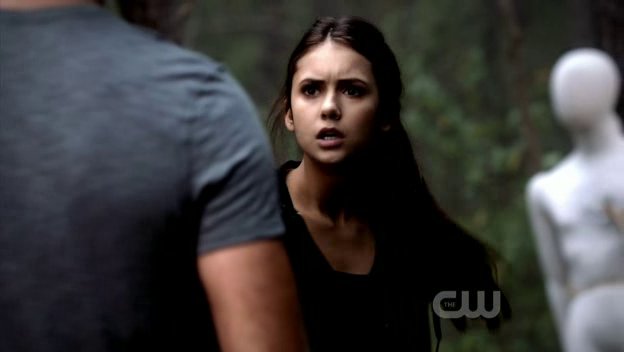 "But you think that I am crazy? To believe that I can protect myself from a vampire who flipped his switch on humanity?"
"I think you found a way to get out of bed this morning. And that makes you the strongest person I know."
Awww yes my girl is strong as hell and tough as nails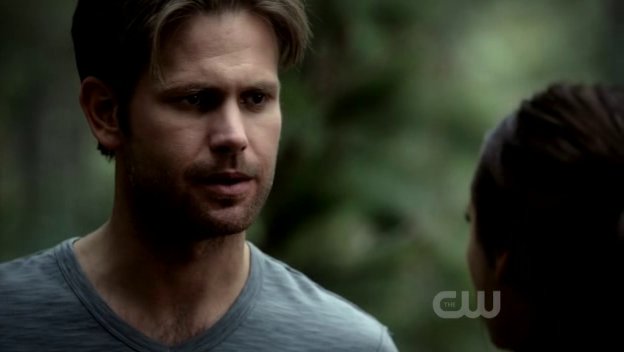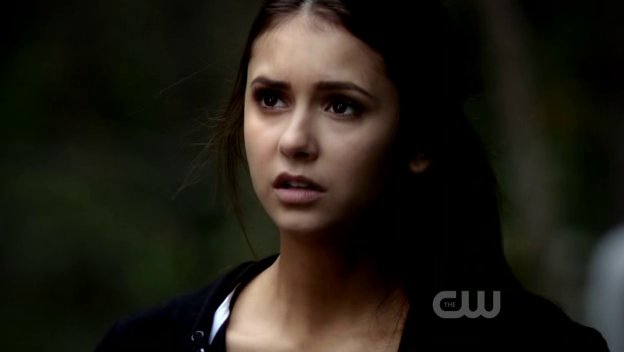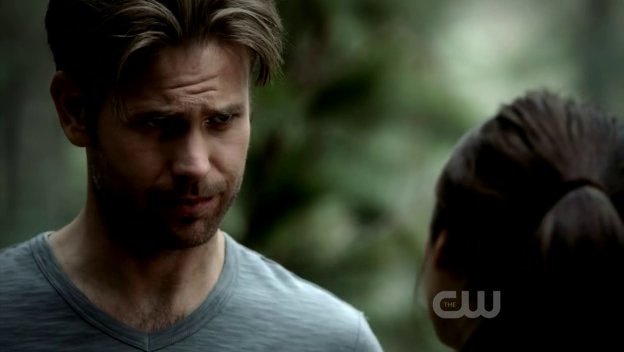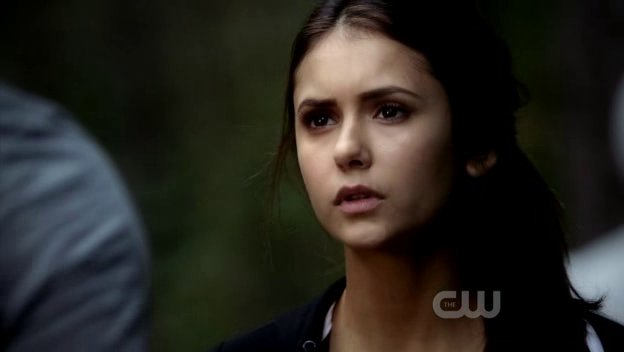 I love this shot. Powerful queen. 👑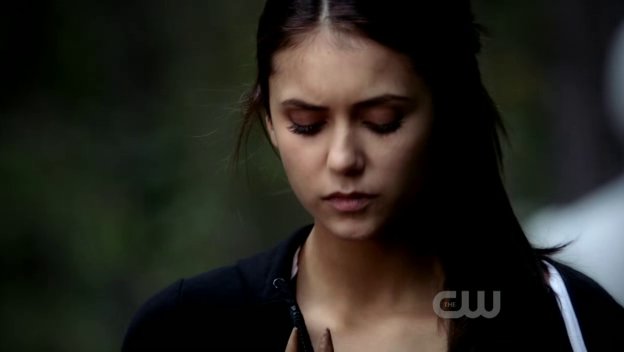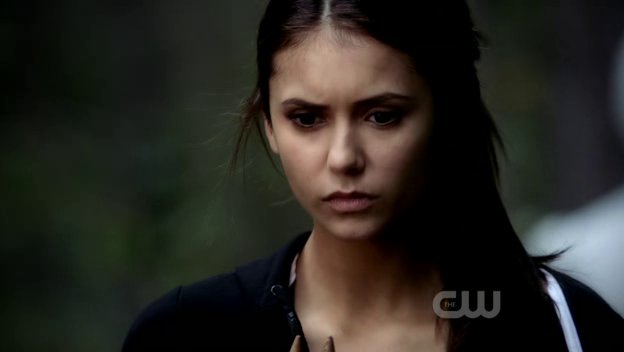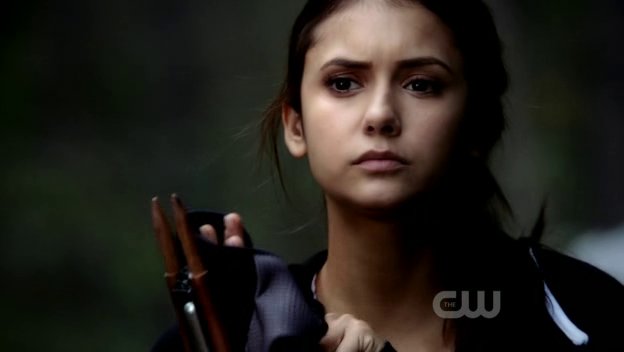 My girls are seniors! I love how positive Caroline is and how she is still trying to make more mundane, human things count. Also, the 3rd and 4th shot reminds me of Mean Girls 🙊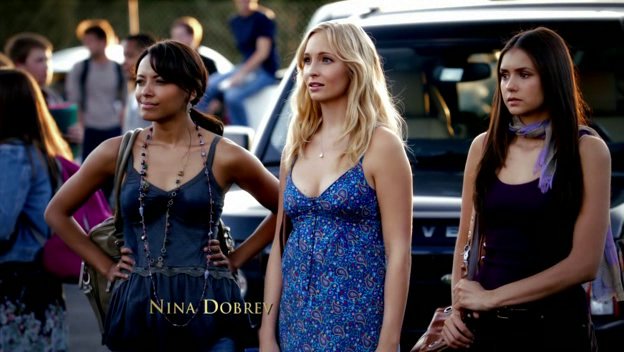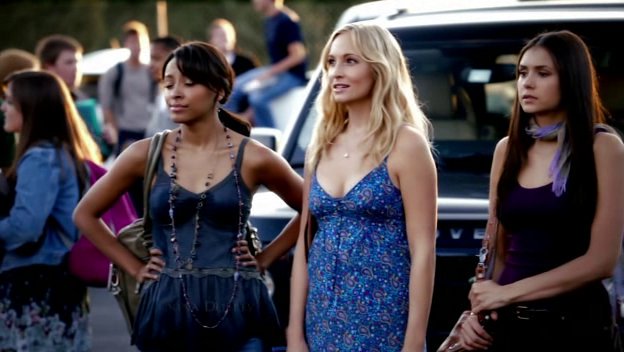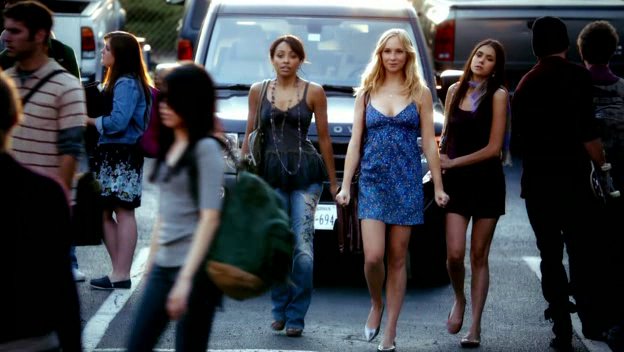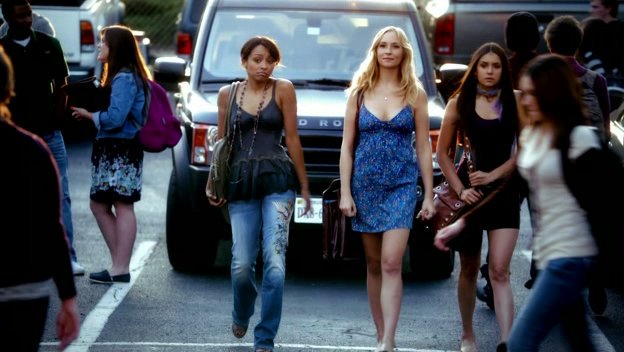 Stelena met a year ago. Today would have been their anniversary. Well, they technically did jump into dating but be on up so much...when does the actual counting start?
Anyway, Elena says "new year, new life." Does that mean new boyfriend? As in Damon? 😜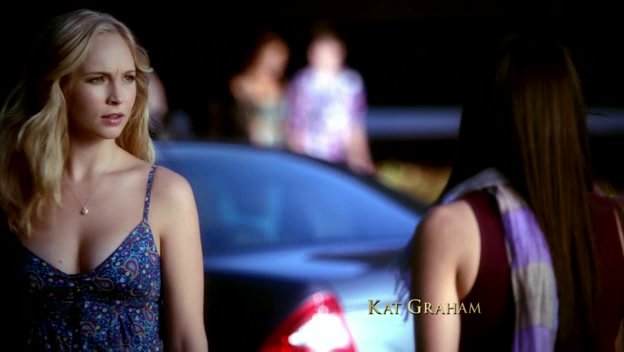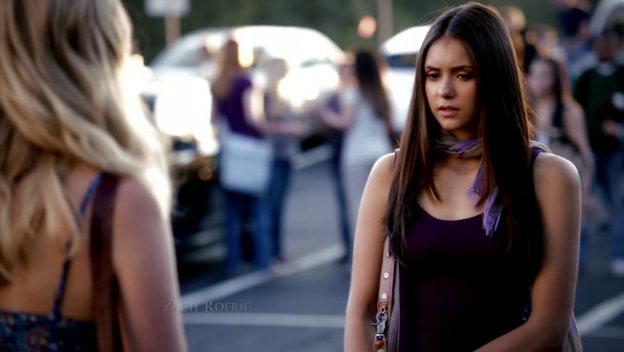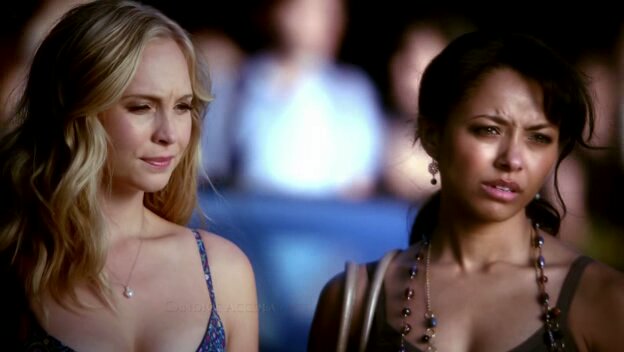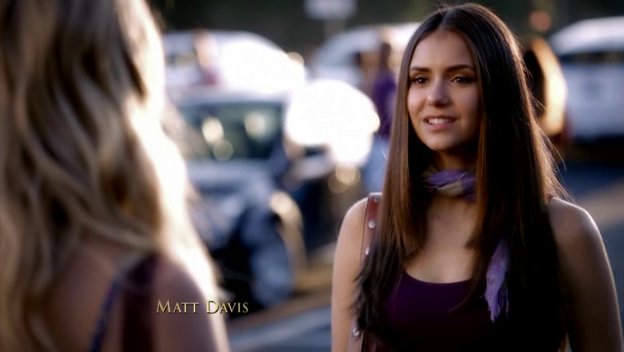 Seriously though, the episode barely started and there are 2 metaphors for how over Stelena is.
First the covering up of the bite with makeup. (Again, not his fault, but still.)
And now. "I have to put it (Stefan?) behind me. New year, me life."
....Not a fan of Ripper Stefan.
AVSHDND Damon going off about a Persian rug lmao. My son is homely 😜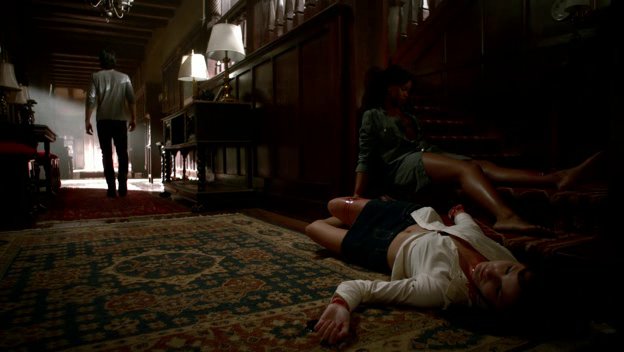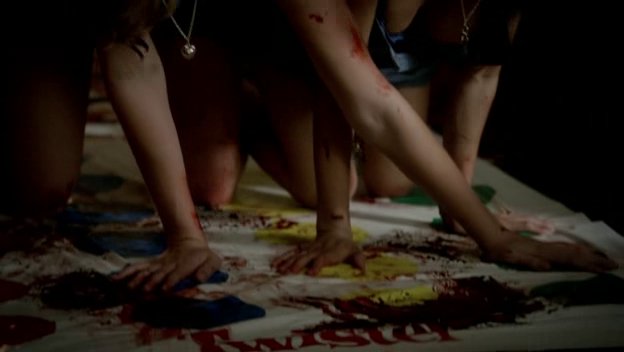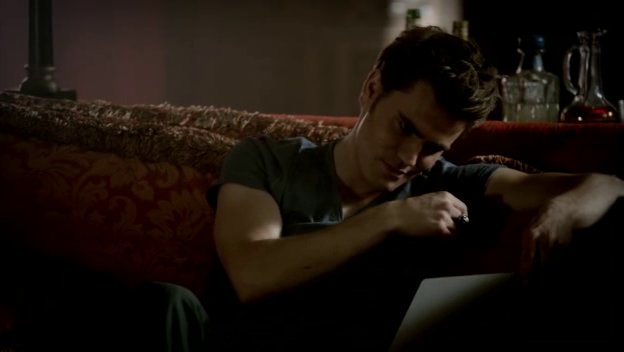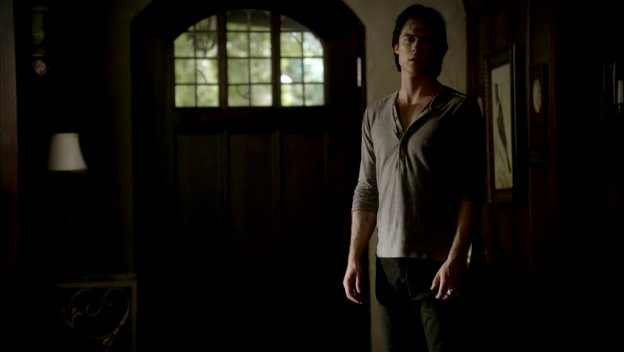 Damon does not approve. And neither do I. This is a complete turn around from S1 though. Not that Damon did...this.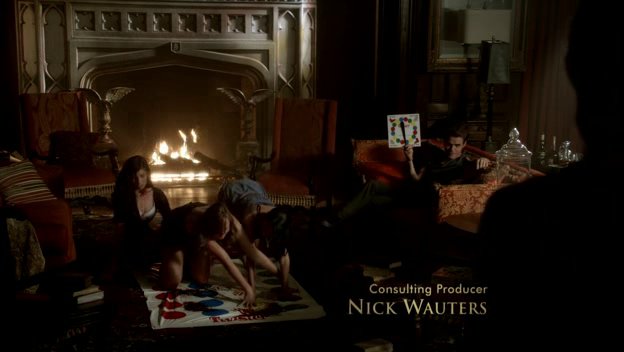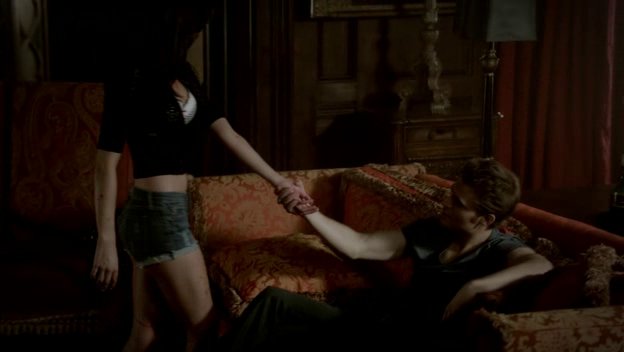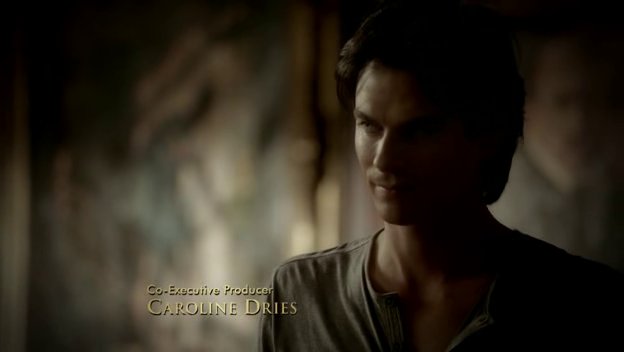 Rebekah? OMG Klaus actually left her behind when he thought Mikael was coming? Didn't he stake her before because "she couldn't stay behind. It's to dangerous?"
Yeah that was bullshit. He just didn't want her to leave with Stefan. Here is the proof.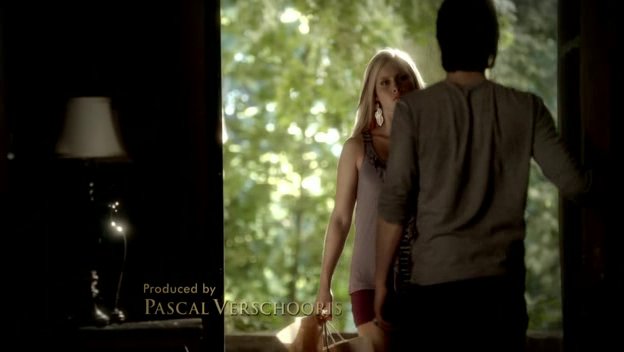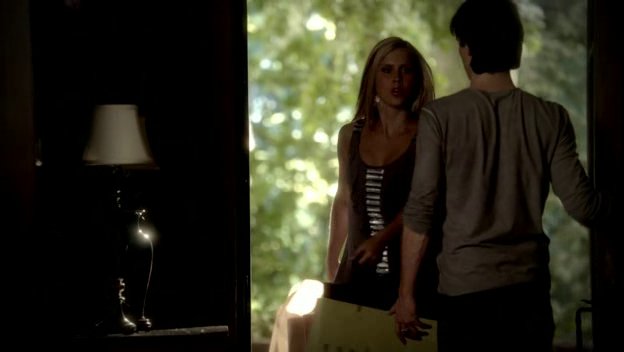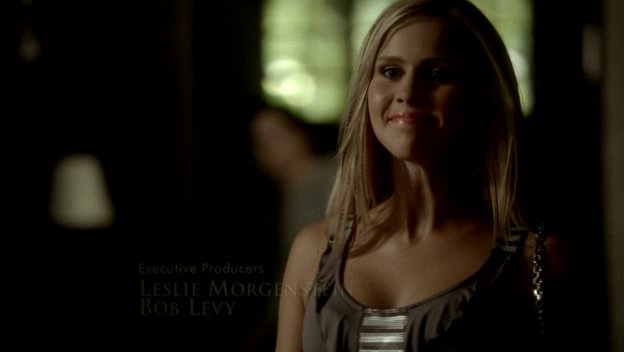 "Which one is my room?"
"You are not staying here."
"Rude. Both of you. I will see to it myself."
"Well I guess she is staying then."
LMAOOOO OMG SHE IS SO COMICAL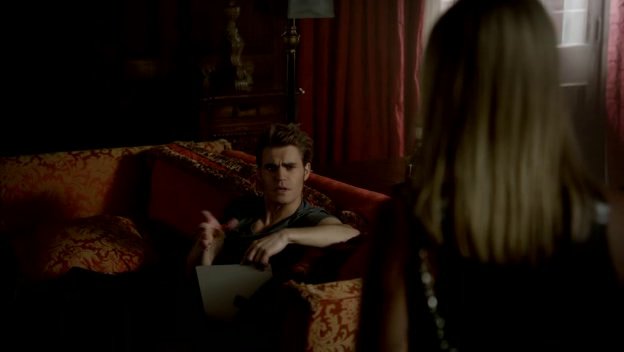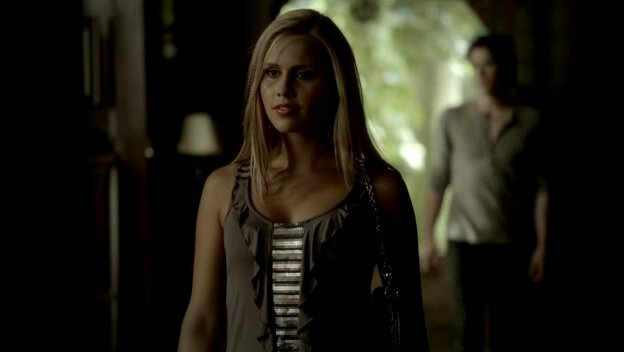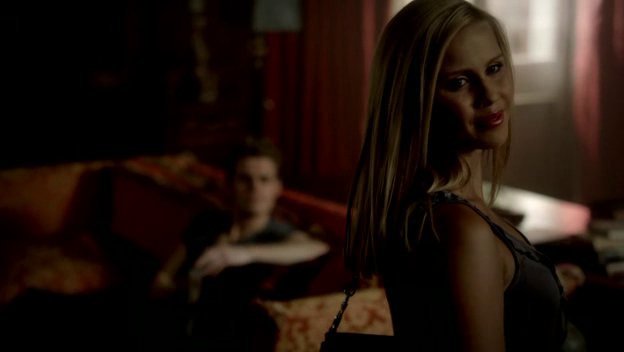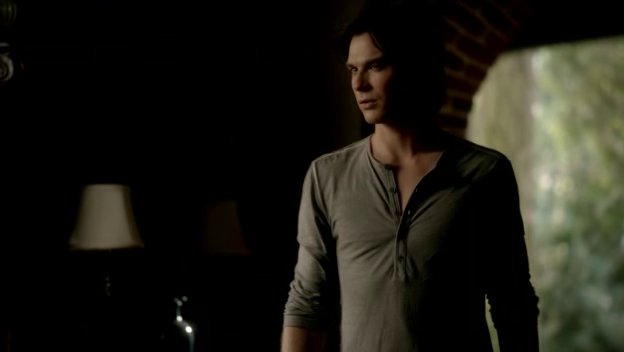 I kinda like Rebekah when she is not trying to rip Elena's head off. She is interesting and amusing.
Ans despite her being so old and powerful, she has an endearing vulnerability to her. I am going to try and sweep 03x05's bratty behaviour under the rug and see if she gets better.
Jeremy is getting his ass handed to him by Bonnie, in a very polite way. She isn't in the mood to talk and reminds him that he CHOOSES to let Vicki and Anna in. Yeah...I would leave his ass, not kick it.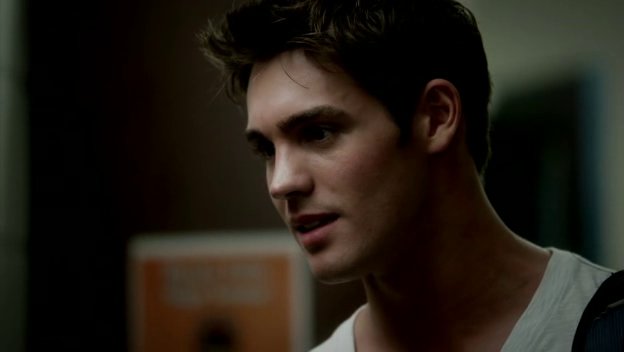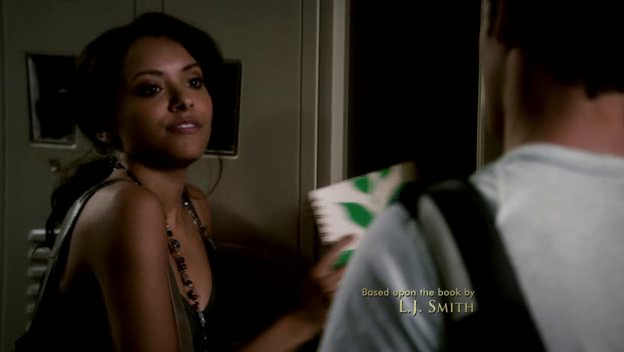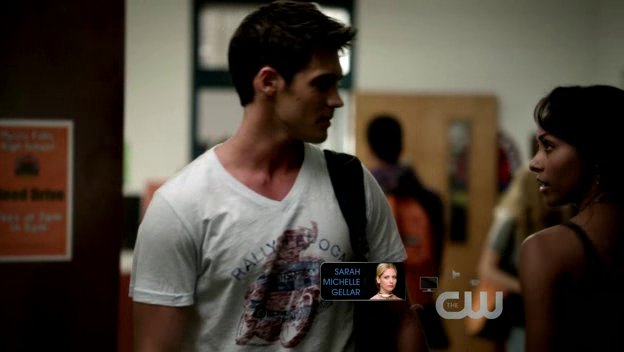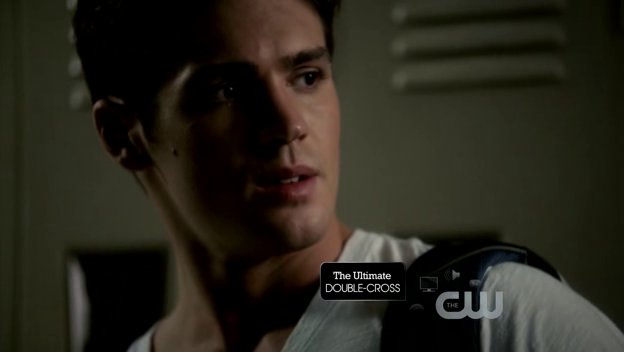 The first person ever, who gets a weird, happy smile on their face when they see their dead, ghost sister.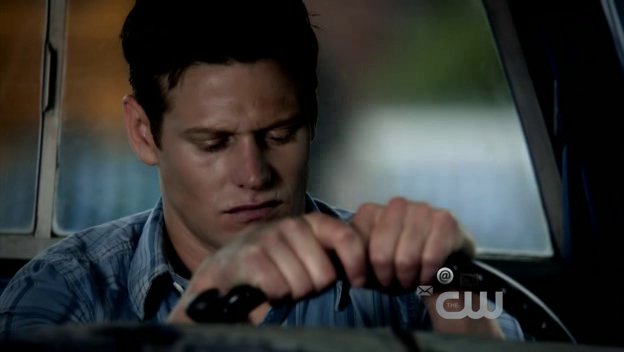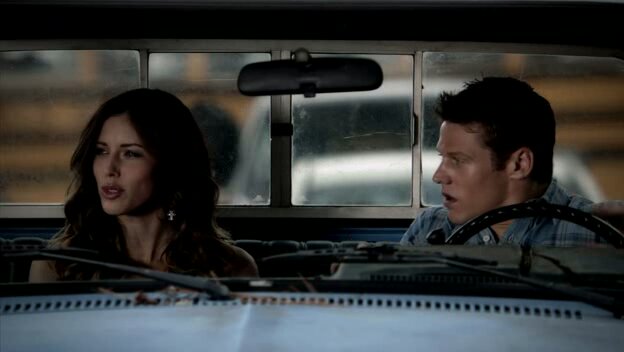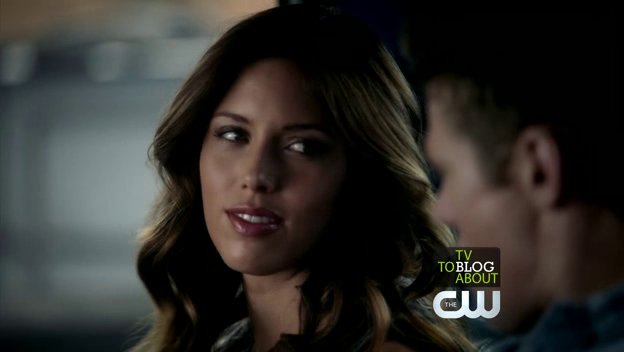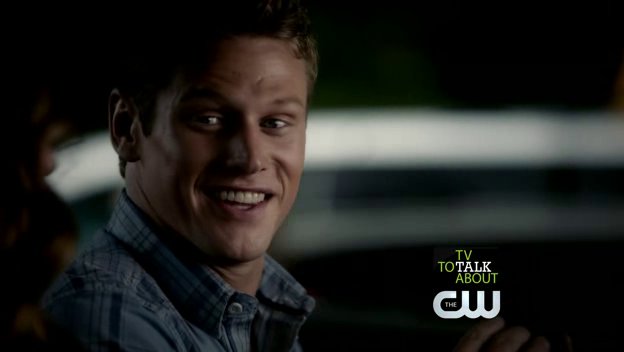 "What if I told you there was a way you could help me come back?"
I FUCKING KNEW IT. SHE WANTS HIS BODY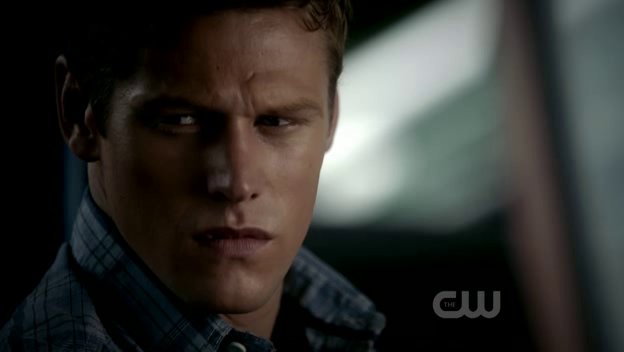 Seriously Tyler? I wanted to hear Vicki's pitch on how great it would be and how much fun Matt will have once she posesses his body. Hybridism is treating Tyler well. He seems genuinely happy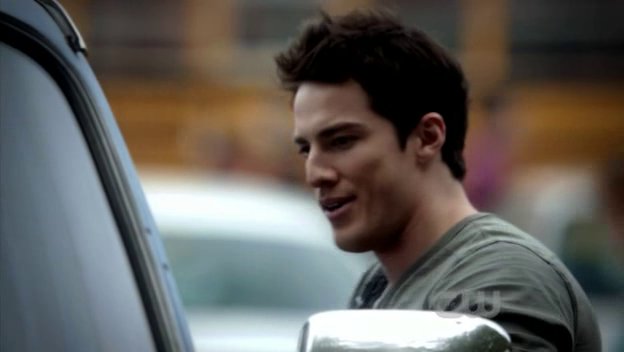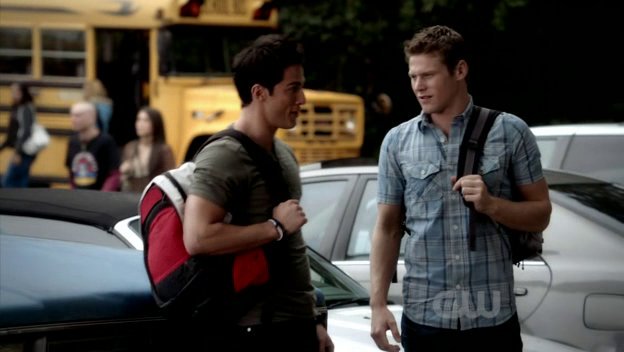 Lmao Katherine is trying to feed Mikael a rat. 😂😂
"MICAEL WAKE UP!" I love frustrated Katherine.
But his eyes opens at the and of the last episode?
Damon calls and persuaded her to try again.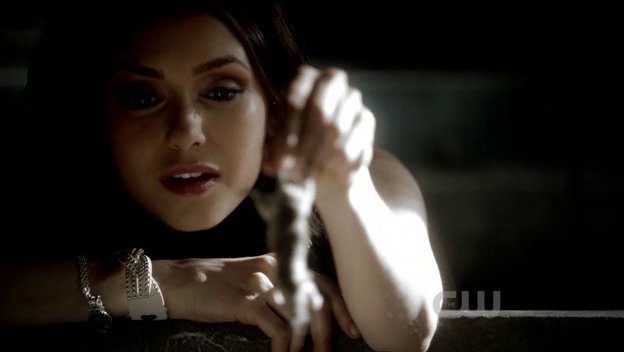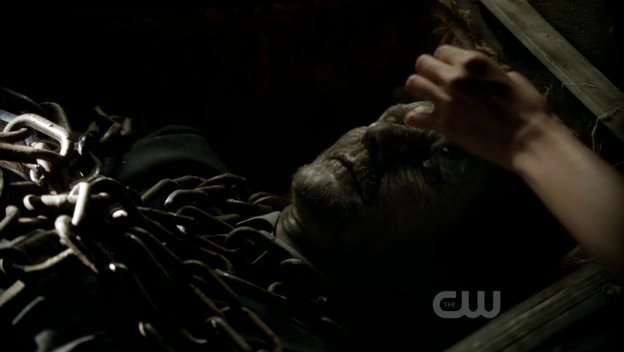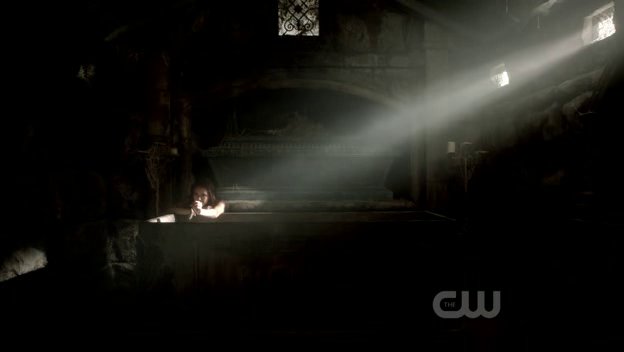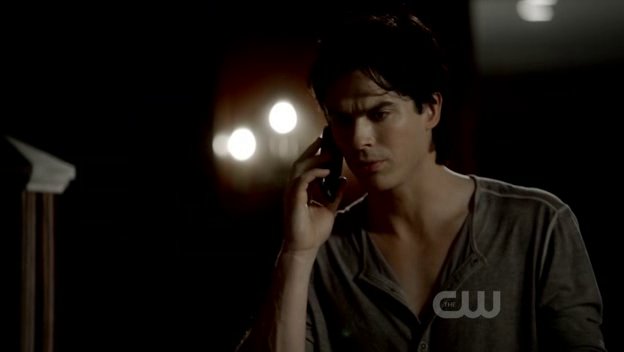 Eh...dude, bad timing...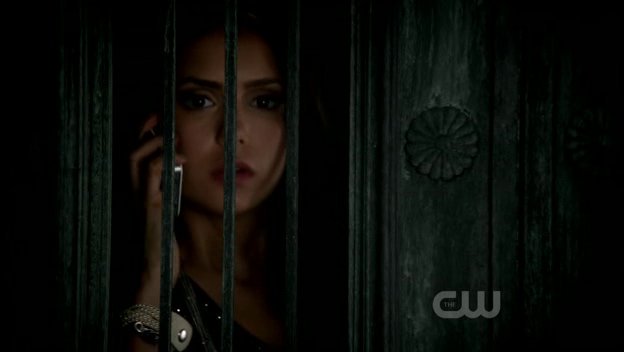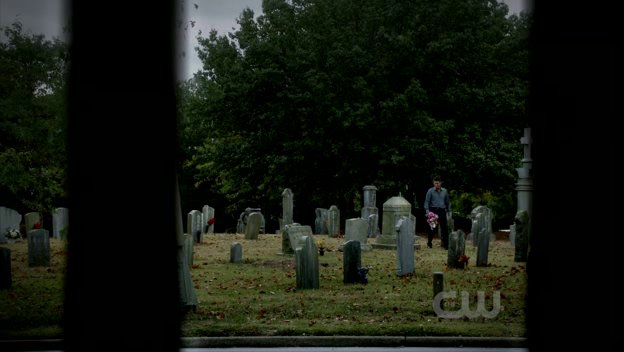 Damon calls Elena to warn her that "Barbie Klaus" (OMFG 😂😂 ) is staying at the house.
"She is stranded. Aparantly Klaus left her in the dust after I name dropped, Mikael."
Lol Elena is not pleased.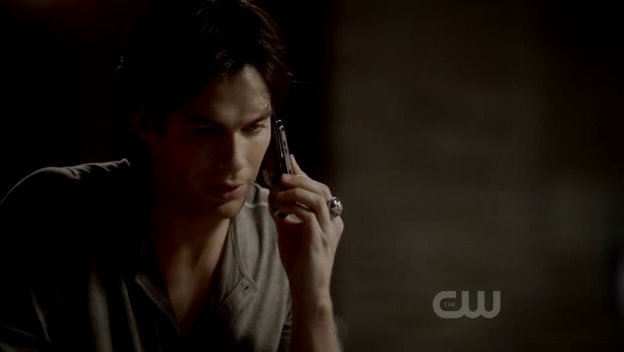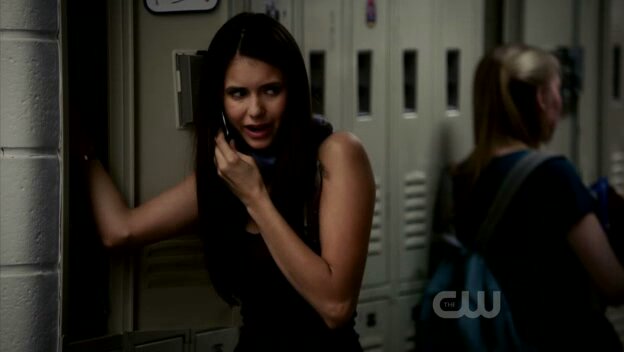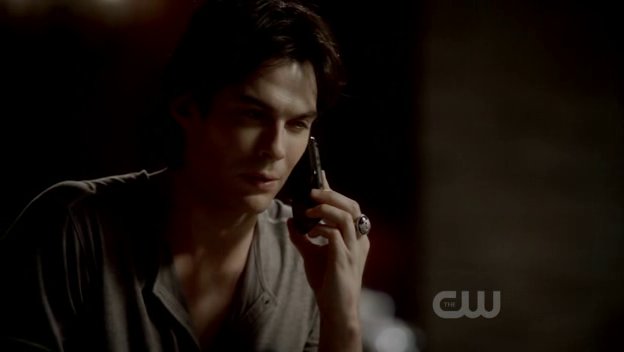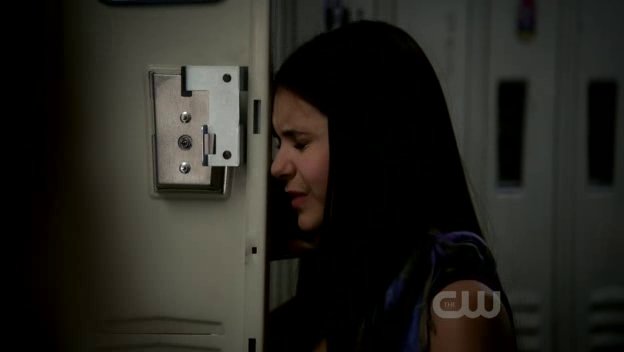 LMAOOOOO LOL OMGGGG LOOK AT HER FACE I AM ON THE FLOOR 😂😂
Elena wants to know about Stefan, but Damon wants to protect her from the gory details.
"Come on Damon. I can handle it. What?"
"Is that the bell? Oh ring ring, dont wanna be late."
😂😂😂😂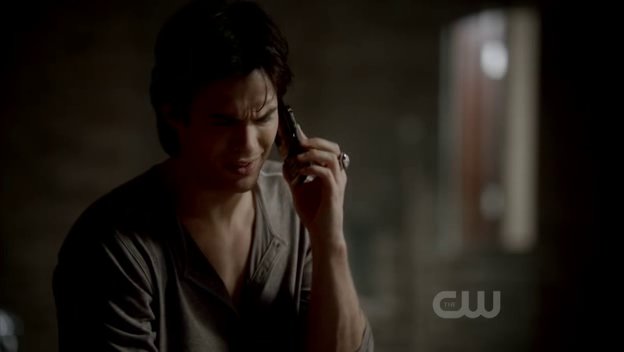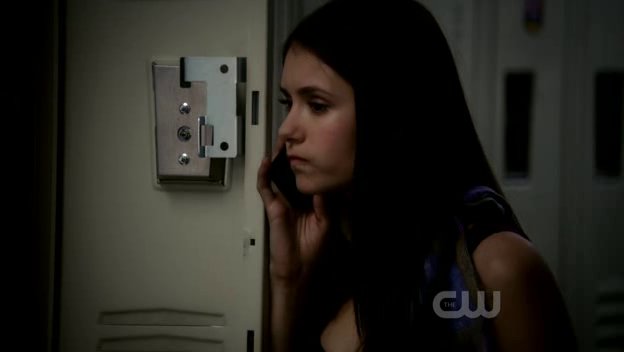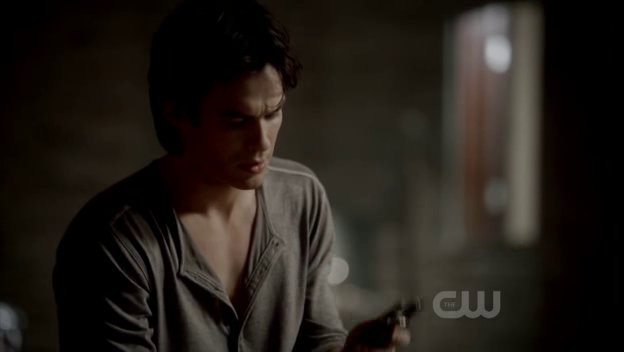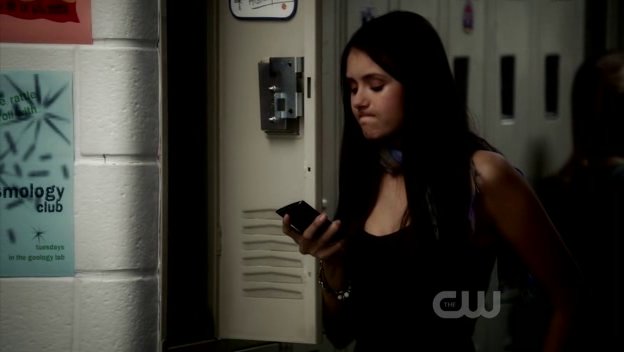 Caroline tries to convince Elena to go to the bonfire event and she agrees. Aww, my girl really is trying to move on and move forward.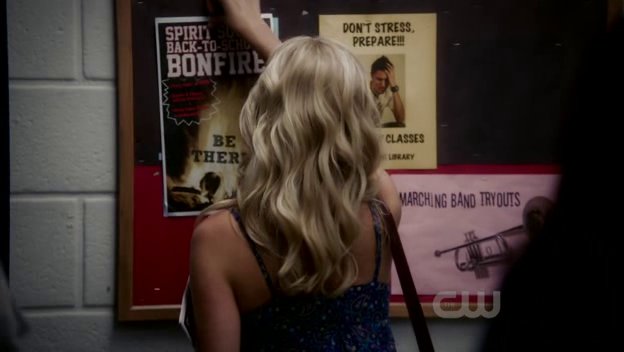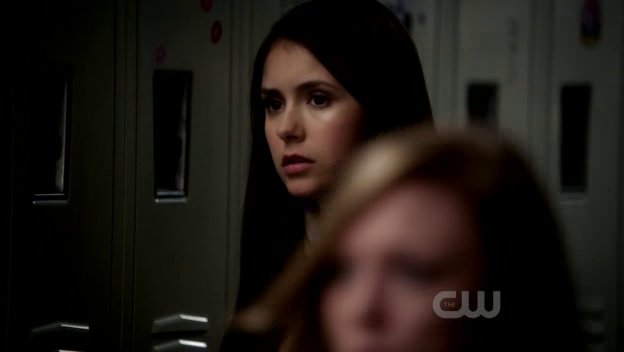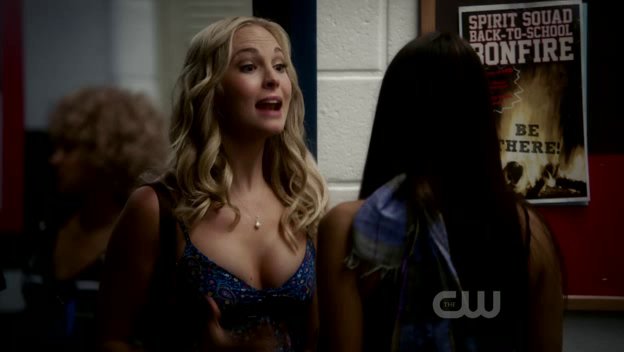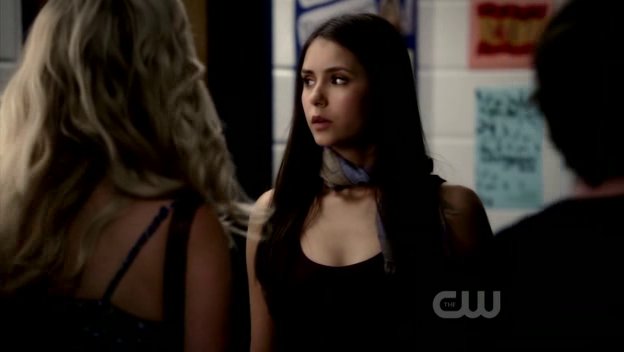 Tyler swoops in to kiss Caroline and SHE TOUCHES HER LIP AND ELENA NOTICES BLOOD ON HIM OMFG DID BE BITE CAROLINE?
ISTG IF HE BIT HER 💀💀💀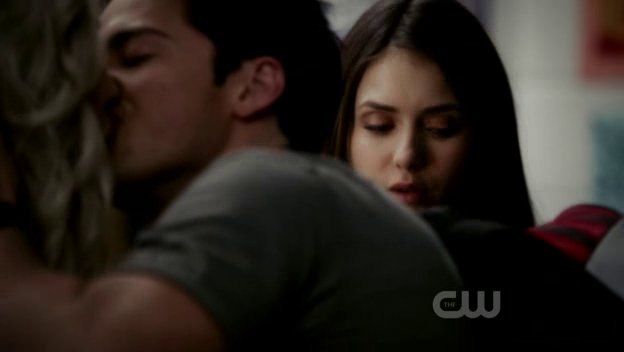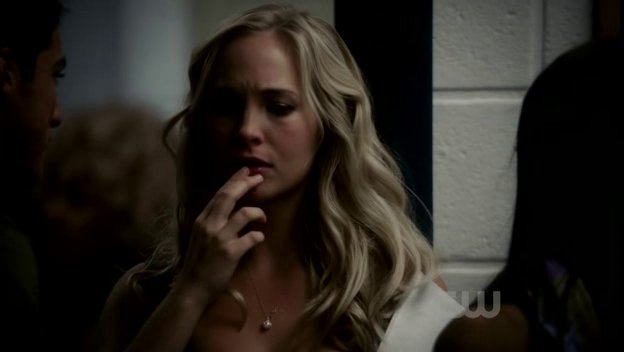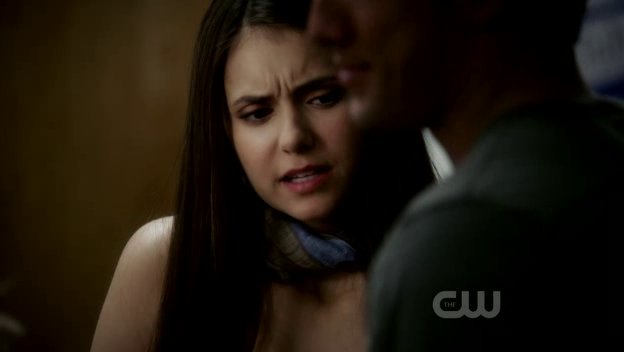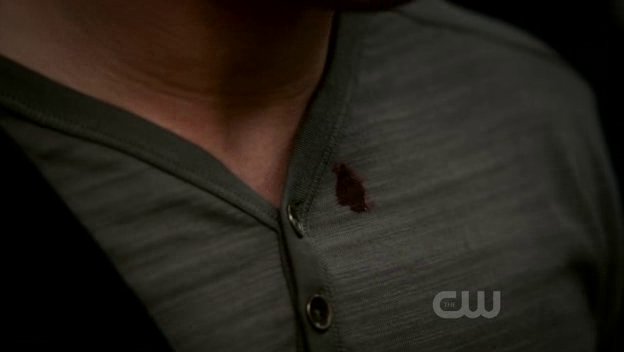 Okay phew he didn't bite her. I was just getying to an okay spot with Forwood, but now I remwmbered that everytime they kiss, I have to worry about Tyler's fucking teeth. If he butes her though, I am out. This ship is dead to me.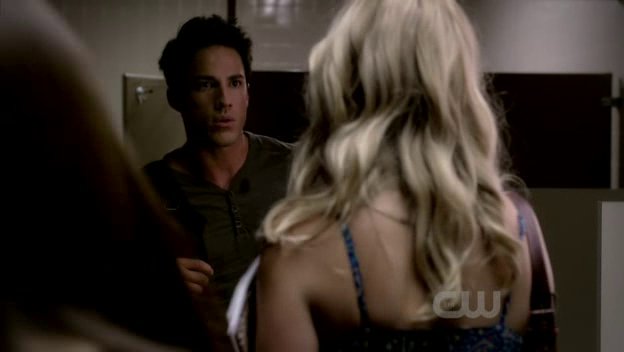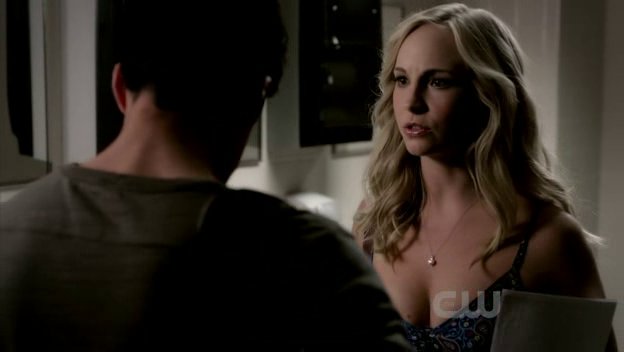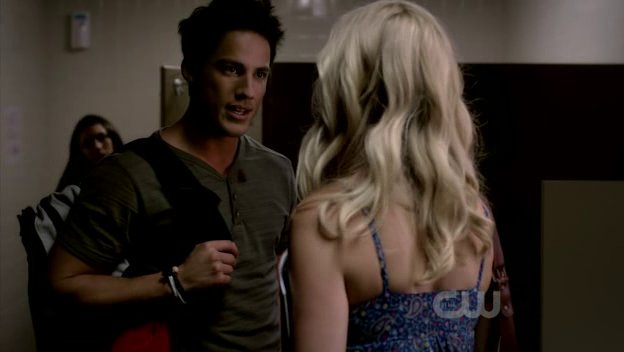 Rebekah gave him a bloodbag. Apparantly Klaus told her to watch over his "asset." He js anused by this. And neither Caroline, or I, understand why.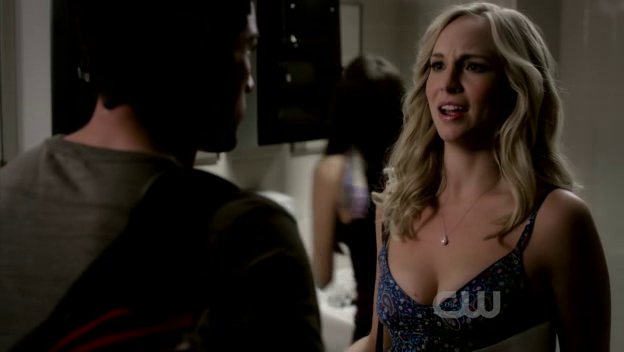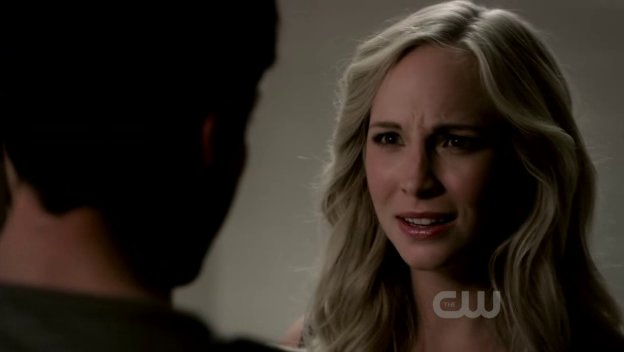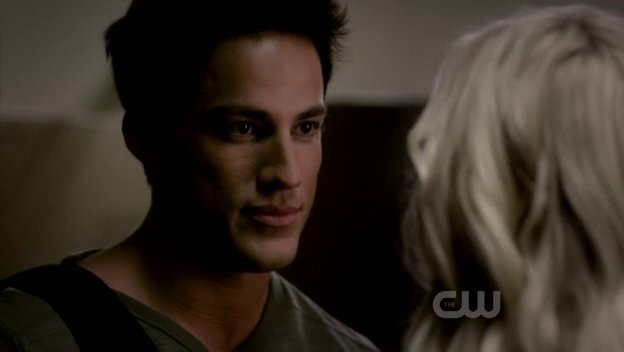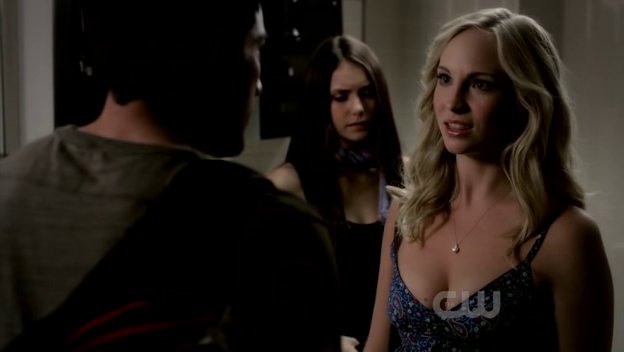 Okay, this was so staged.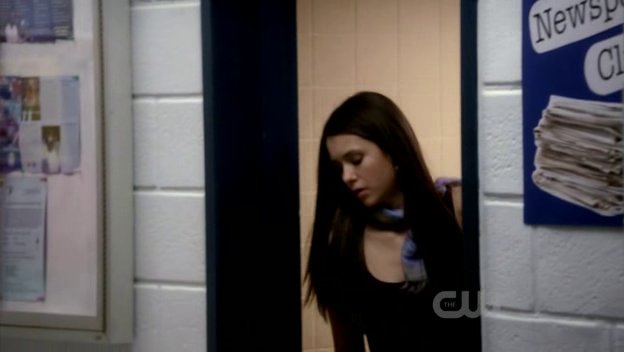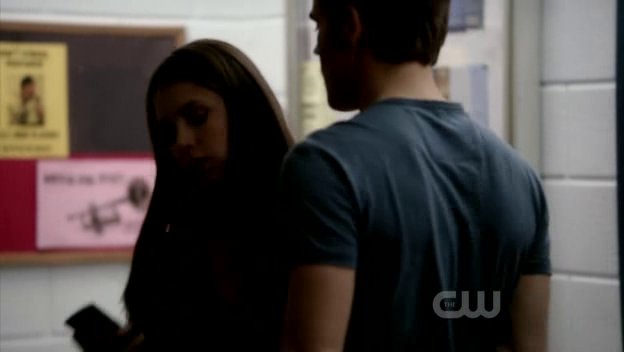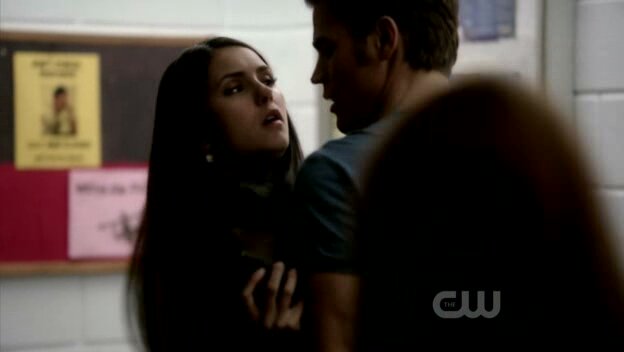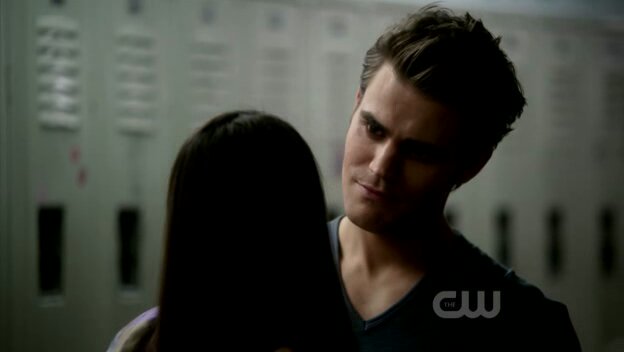 Elena isn't happy to see Stefan. Her memories of him buying her, I still fresh. She just wants to go.
HEY KEEP YOUR PAWS OFF HER 💀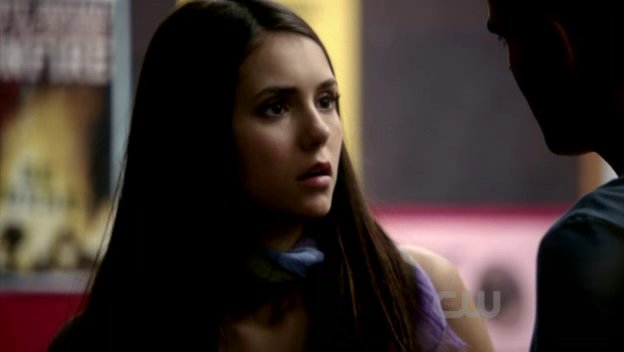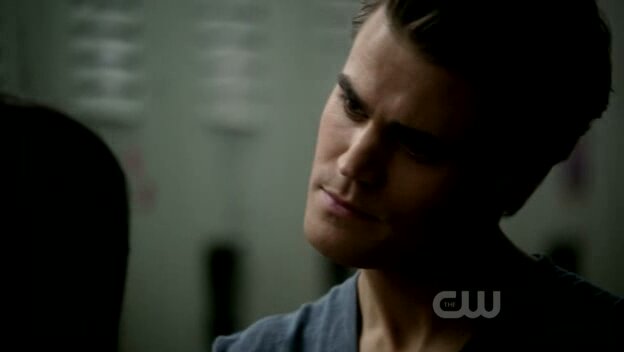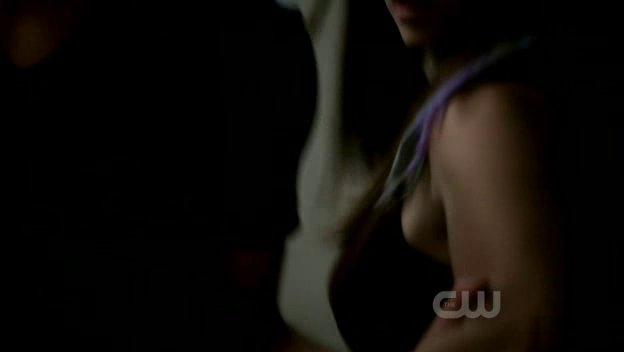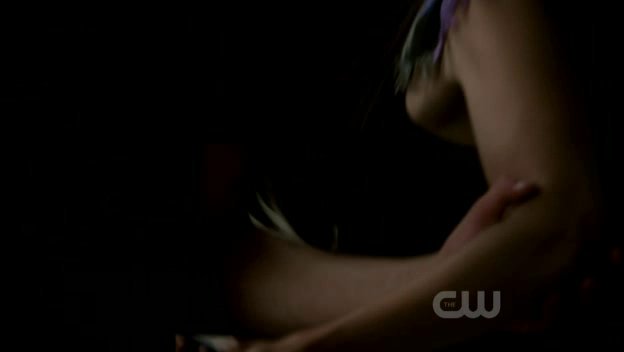 "Let go of me, Stefan. I said let go."
"Let her go!" Yay Alaric. Get him away from her.
OMG apparantly ripper Stefan assaults teachers out in the open. 👀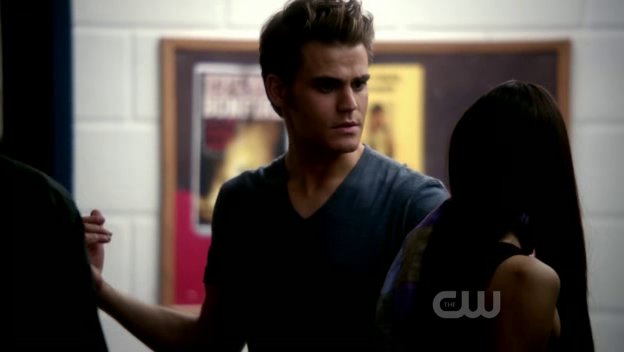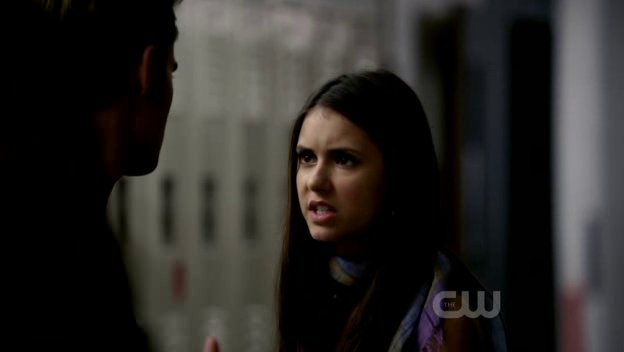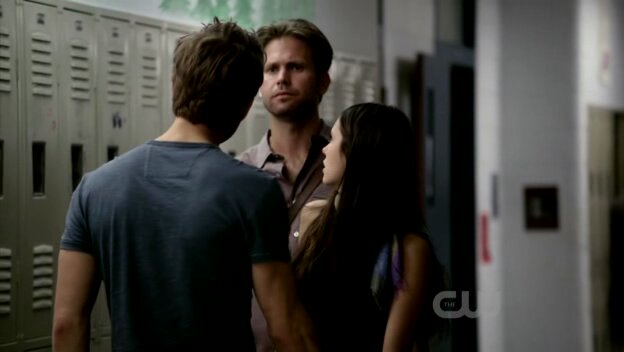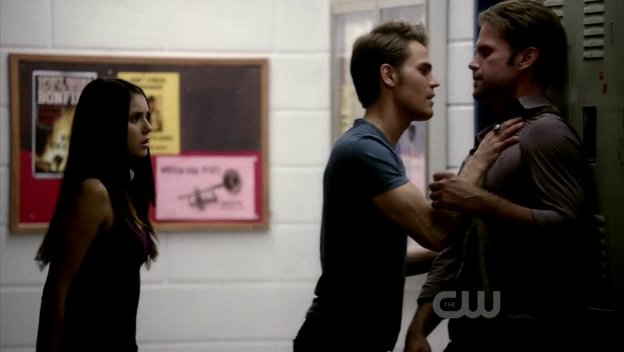 Again...not Stefan's fault...his emotions are off and that seems to turn vampires into spiteful douchebags, but this stuff is going to leave a lasting impact on Elena. Even if he does get fixed...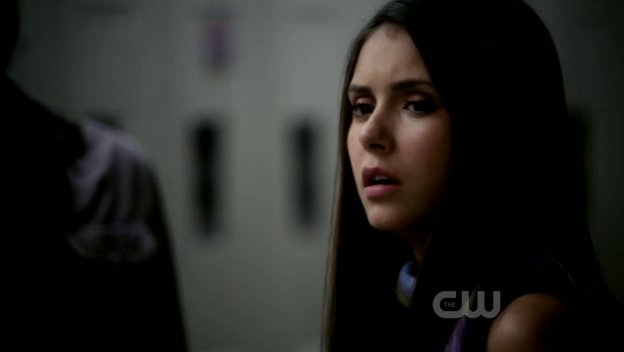 Stefan chases a guy out of "his seat" so he can sit next to Elena. Which is totally unnecessary. He is trying to upset her.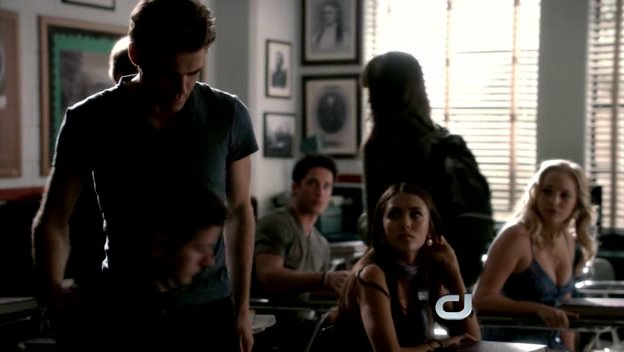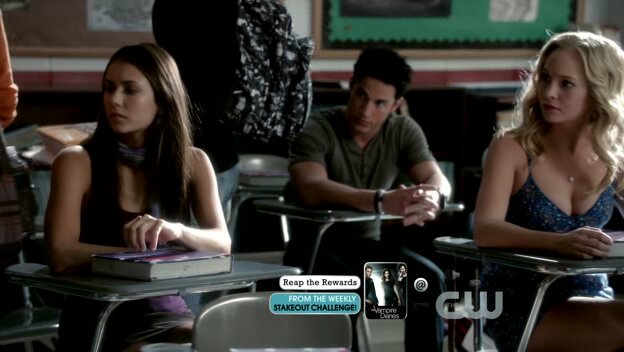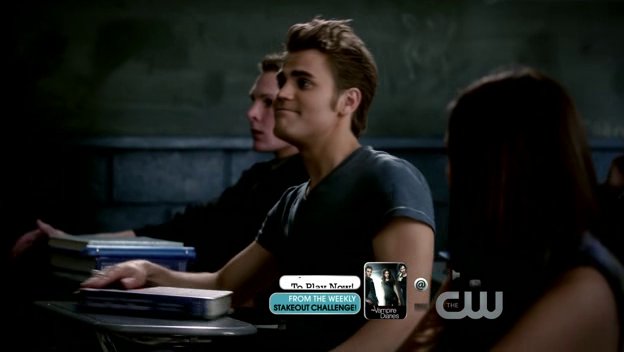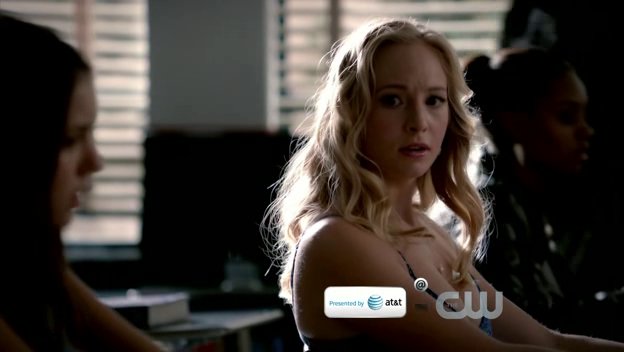 Okay, so Rebekah joined Team Timberwolves too. Why? To watch over Tyler, the other "asset"??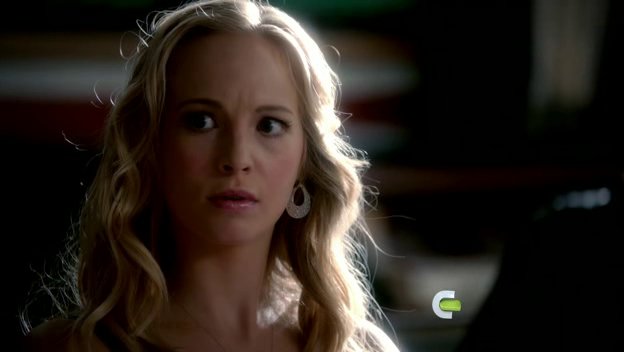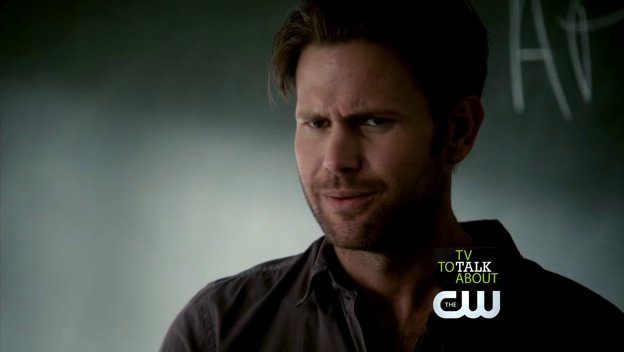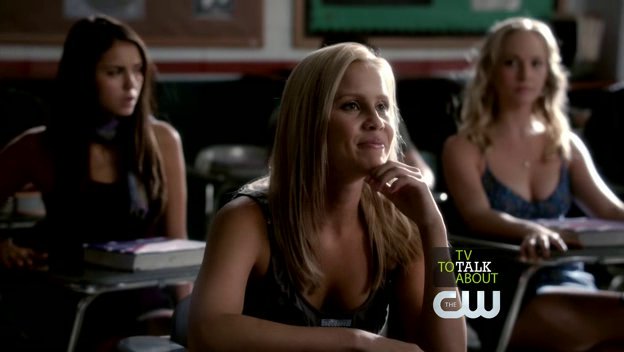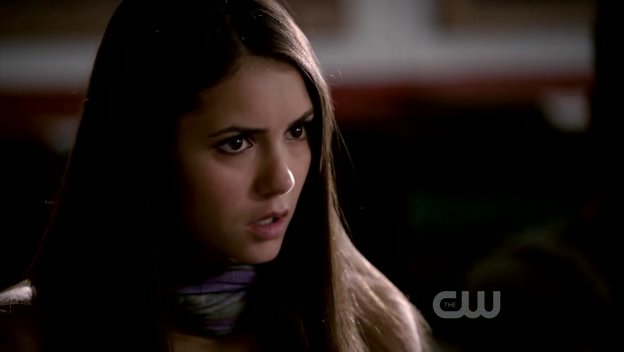 Vicki tells Matt that there is a witch on the other side, that can do a spell to push her through and she will be free, not linked to Matt anymore. Jeremy overheard and told Anna.
It sounds like dark magic bullshit to me...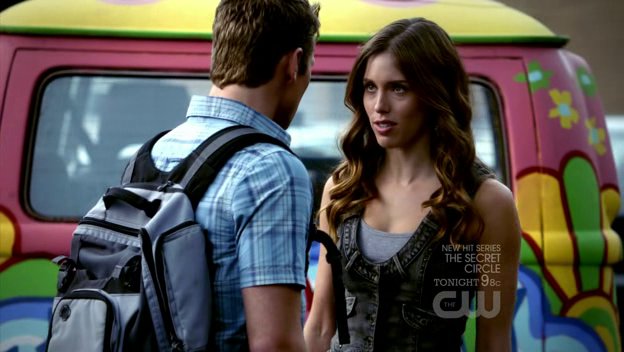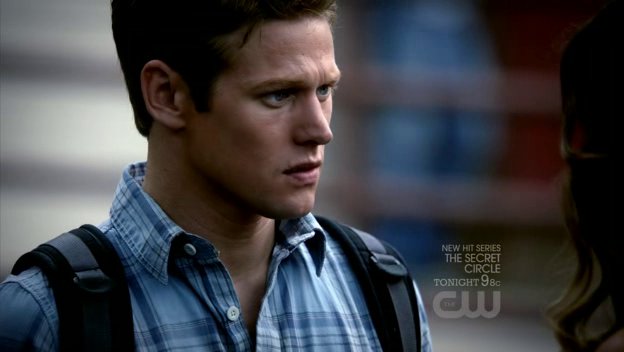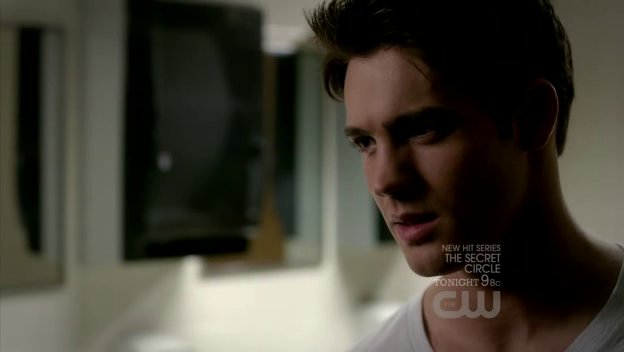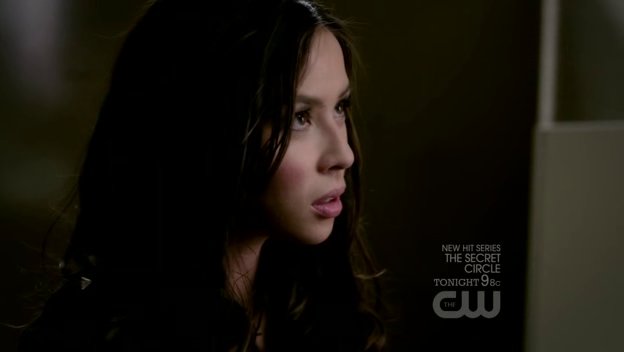 Anna tells Jeremy that there will be a price. Vicki can't just upset the balance of nature like that without a steep price. But Vicki turns on the waterworks and Matt falls for it, agreeing to do whatever she needs. Ugh IDIOT. 😩 Why would some witch on the otherside help?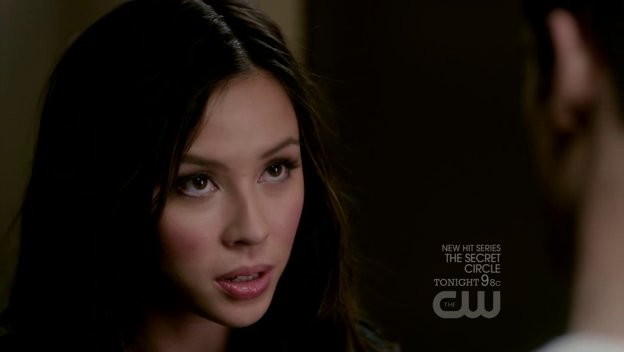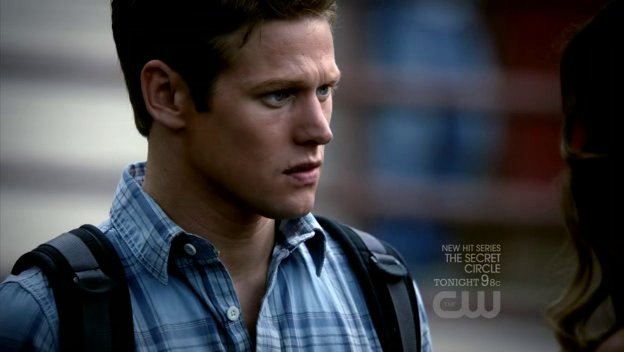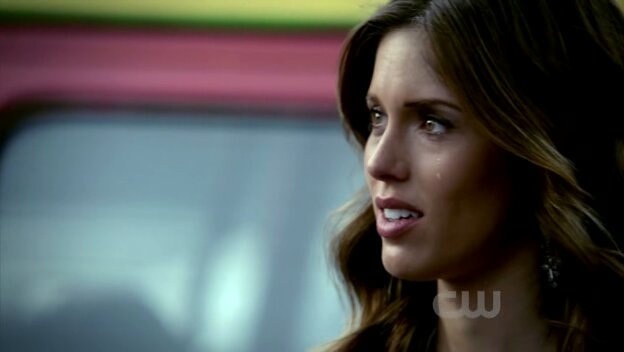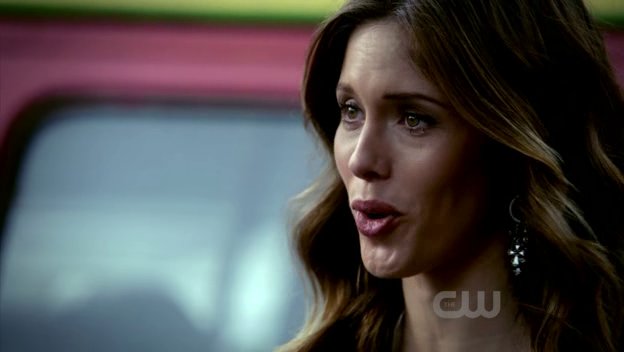 Season 1 flashbacks. Lol. Rebekah are someone so a spot would be open on th cheerleading squad. Caroline is NOT impressed.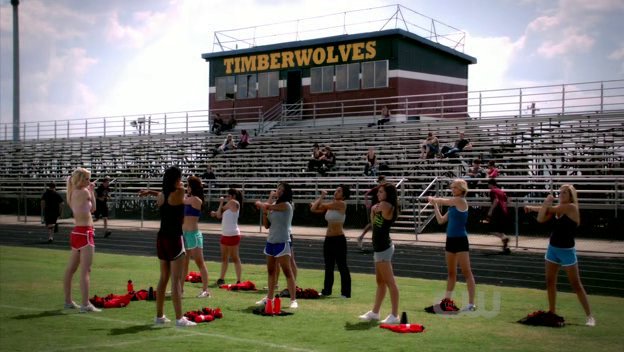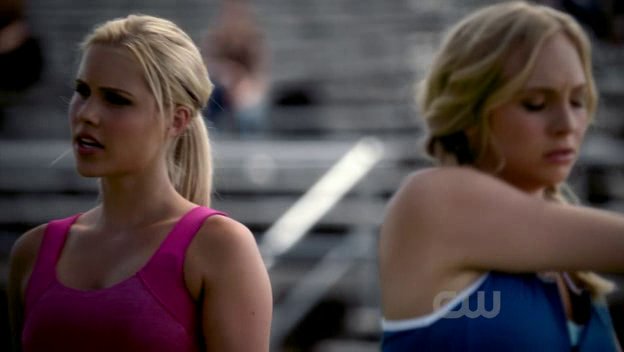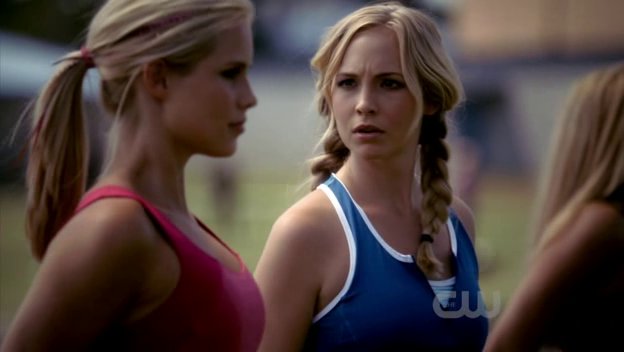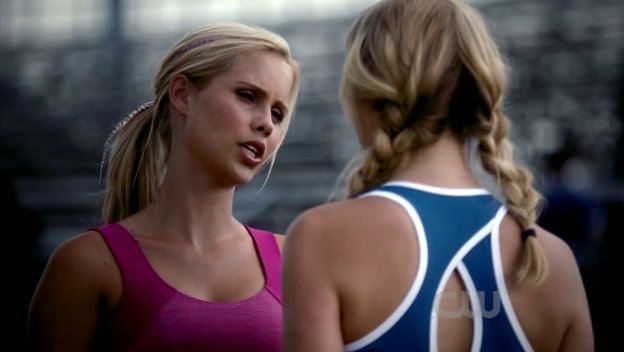 "You can't just come in here and infiltrate our lives."
"I am only interested in yours. Your spunk, your popularity...maybe even your boyfriend."
Why do I feel like Rebekah is desperate for a glorious highschool experience and thus, wants to steal Caroline's?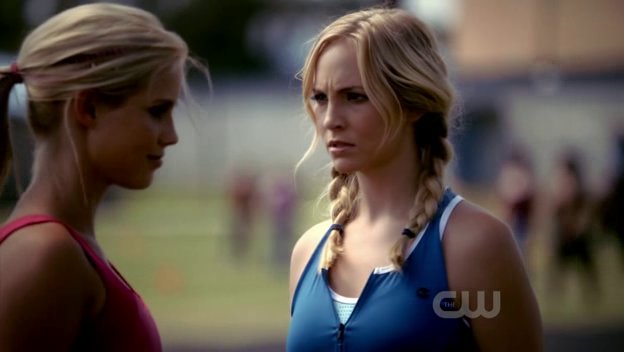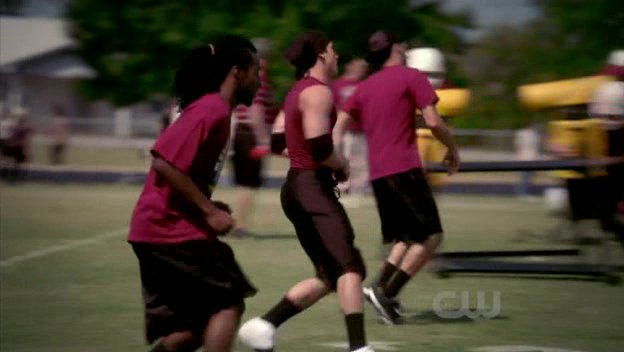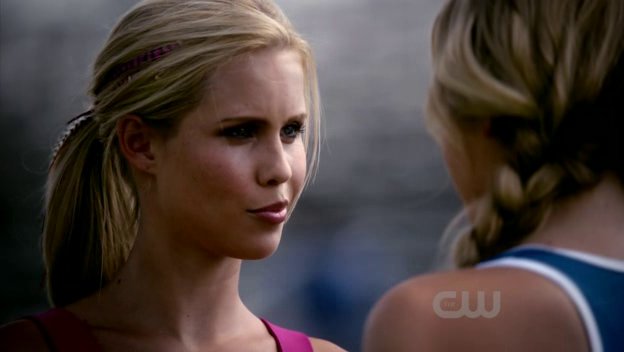 Okay... Tyler is a little high on his new powers...he compels the coach to let them go early. Is he going to spiral?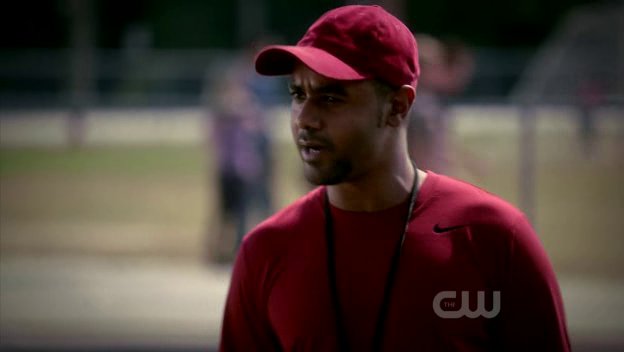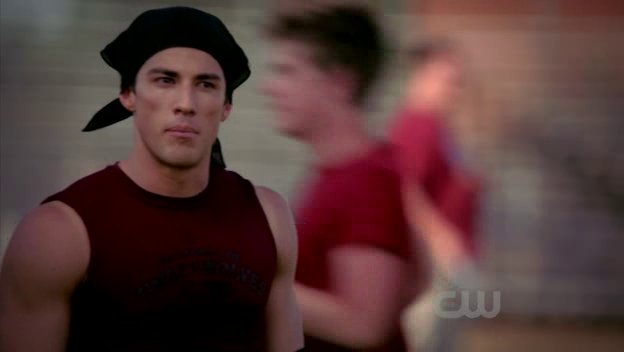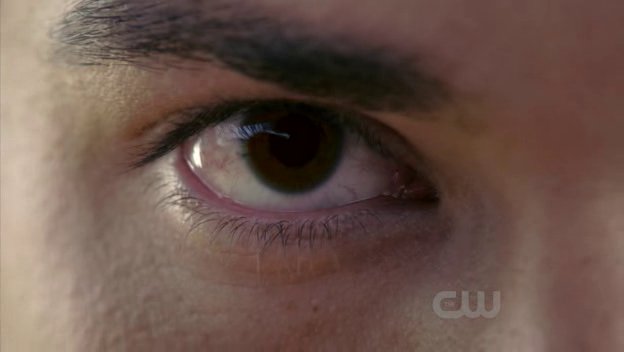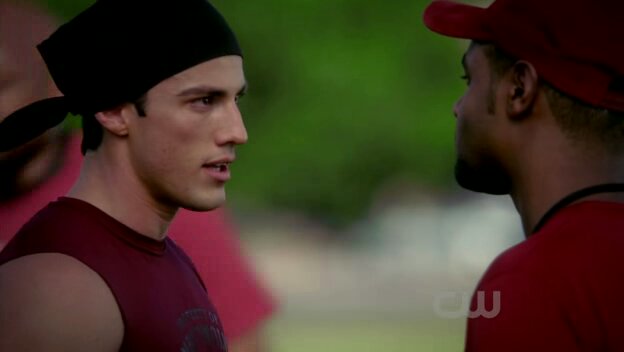 Caroline confronts Tyler and and be insults her.
"You got to be a little more subtle, Tyler."
"Coming from the queen of subtlety?"
Excuse me?
He is acting like S1 Tyler...that's not good. good even says that Klaus has given him a gift by making him a hybrid. WTF??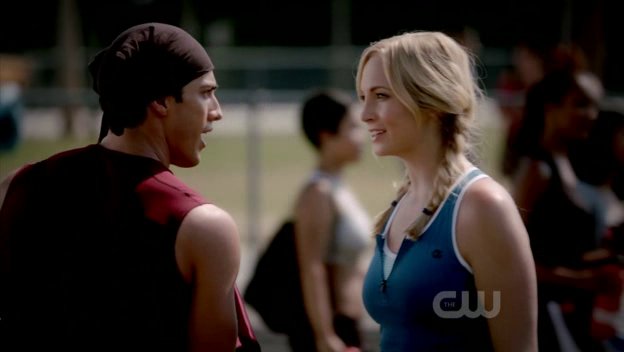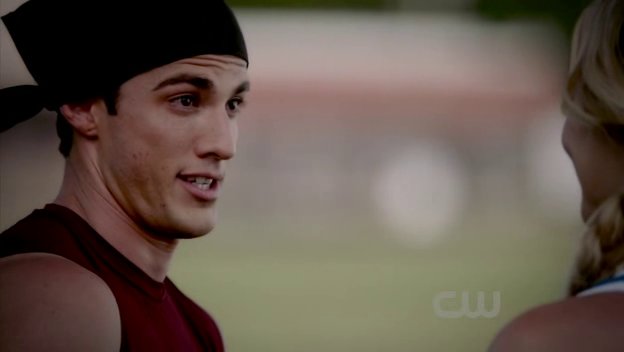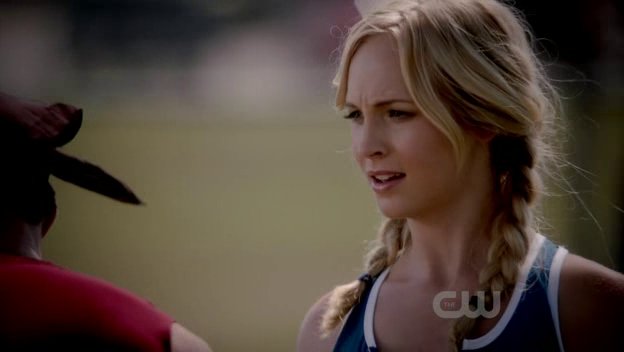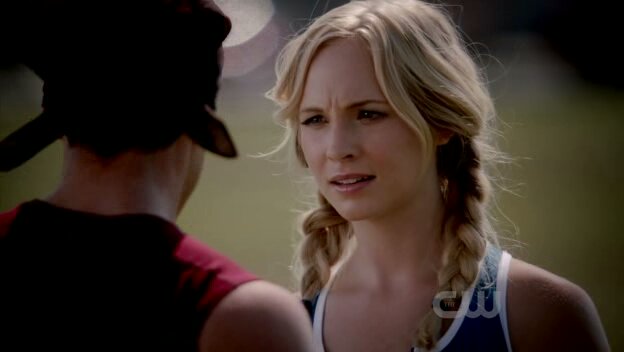 Wowww Rebekah has moves. 👀
I would break in places I can't mention on Twitter. But she is doing everything in her power to piss off Caroline.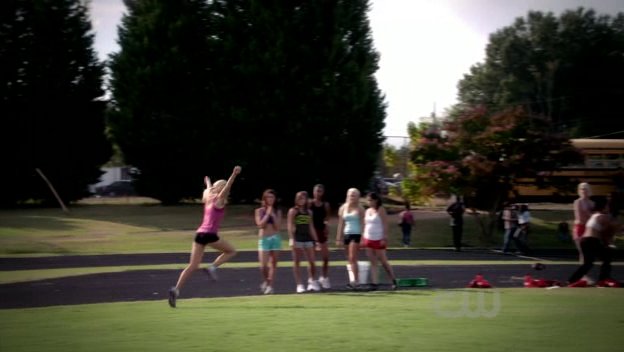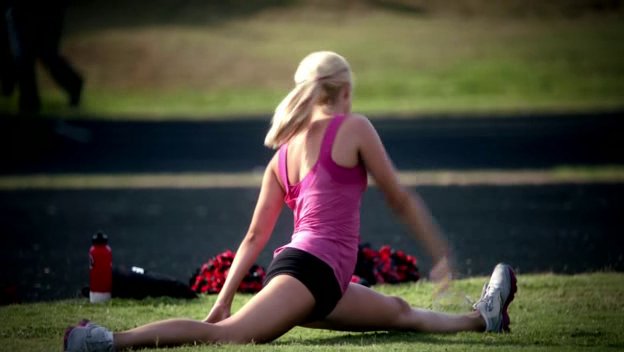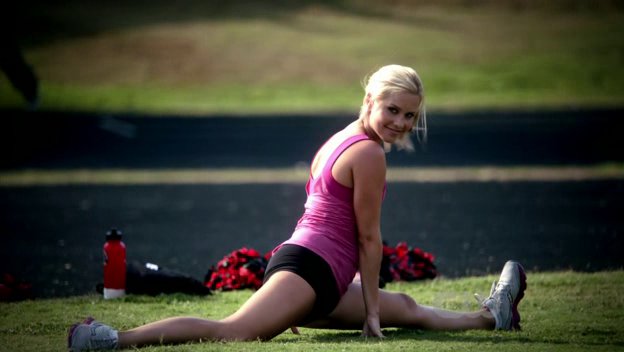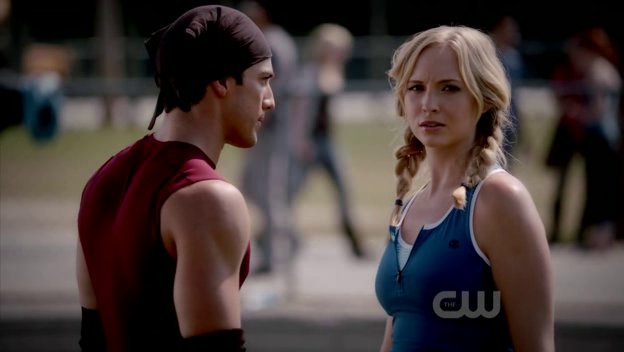 OHHH SHIIITT lol. Mean Girls, The Vampire Diaries edition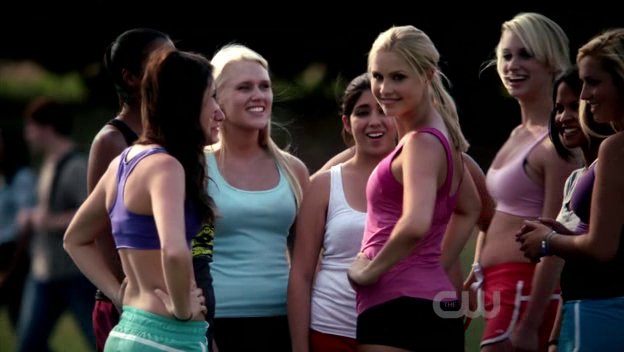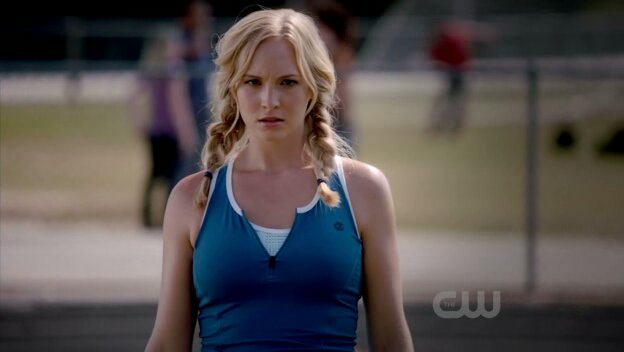 Can he not leave her alone to breathe for one second? Why is he making it his own personal mission to make her miserable?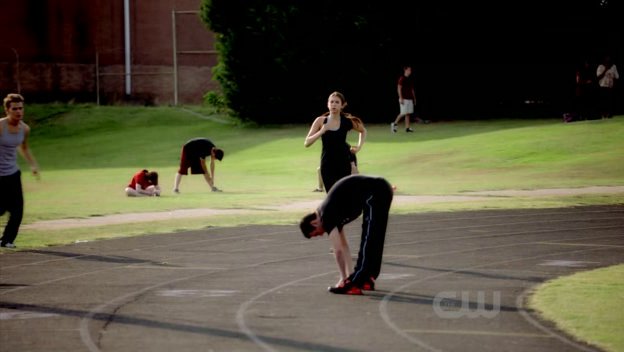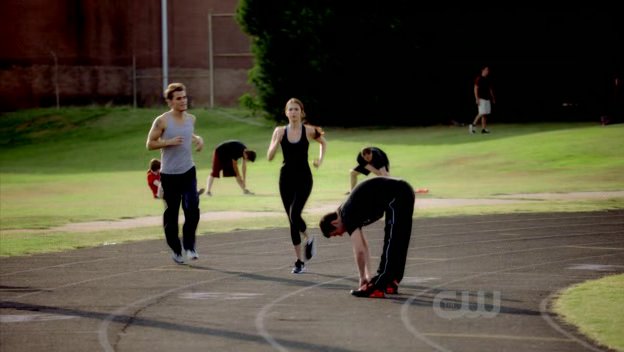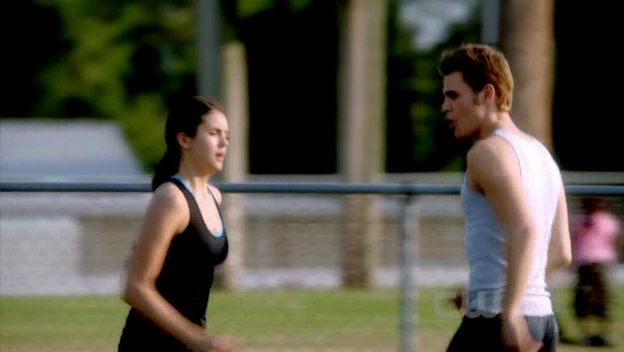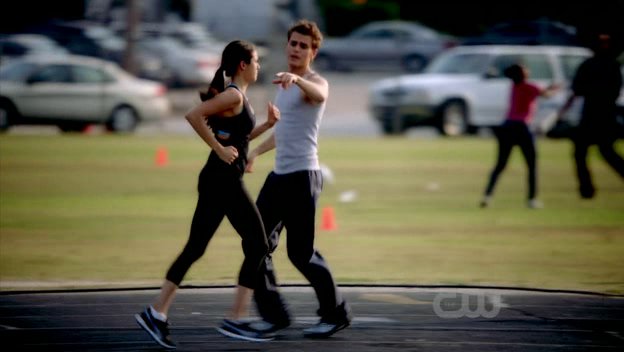 Elena and this guy bumps into eachother and Stefan pushes him over. "Watch it dick!"
"Who are you?" Elena is appalled.
I got to say, ripper Stefan is interesting, but I want old Stefan back.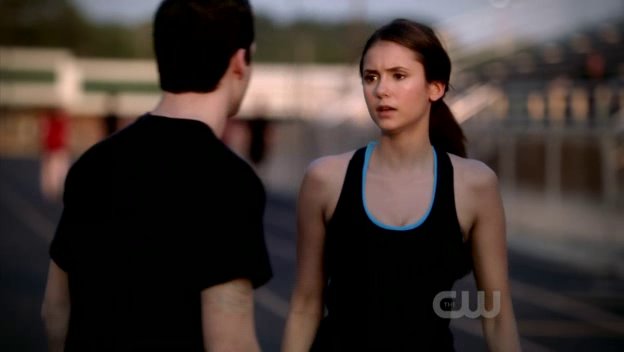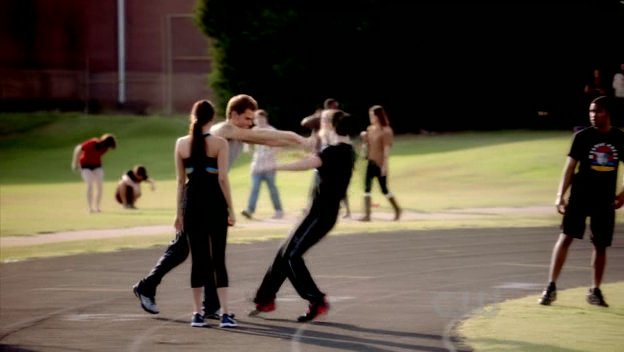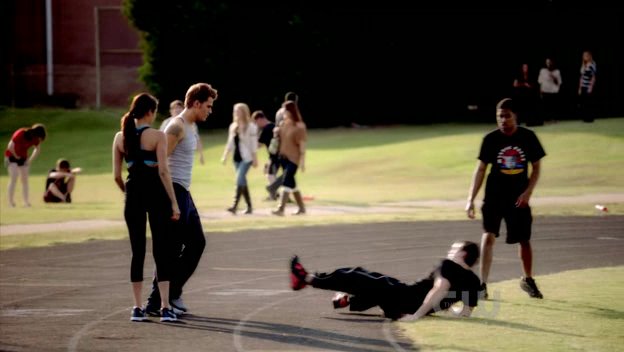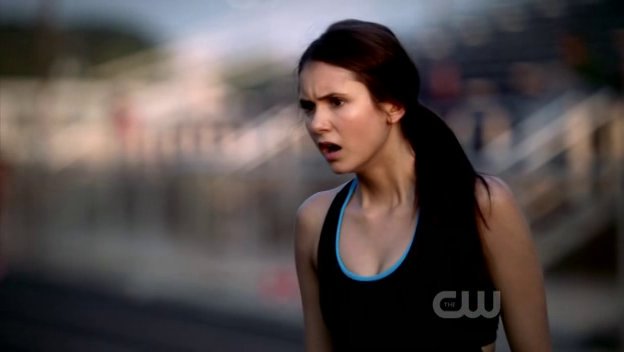 "I am the guy that has been assigned to protect the human bloodbag."
YOU DID NOT JUST CALL MY GIRL THAT. 💀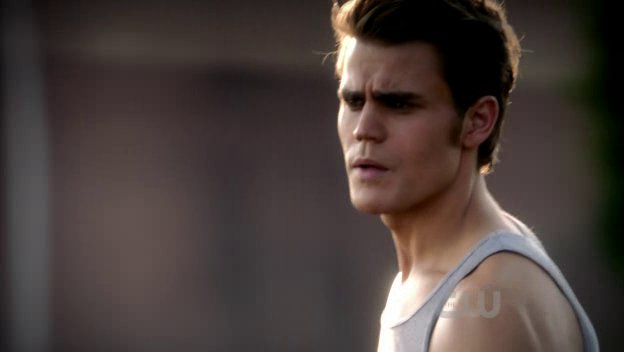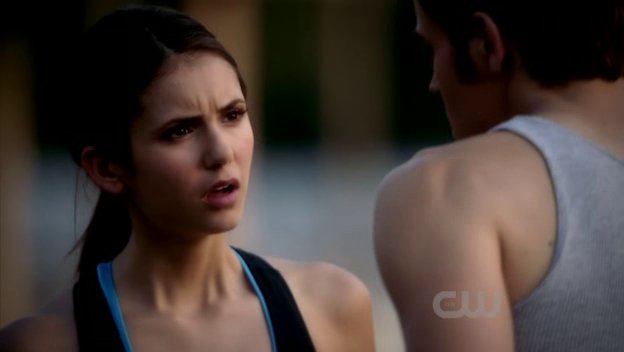 Katherine have Mikael some human blood and that seemed to do the trick, except he doesn't want it and tells her to get it away from him. He is starving. Can he really afford to be a picky eater?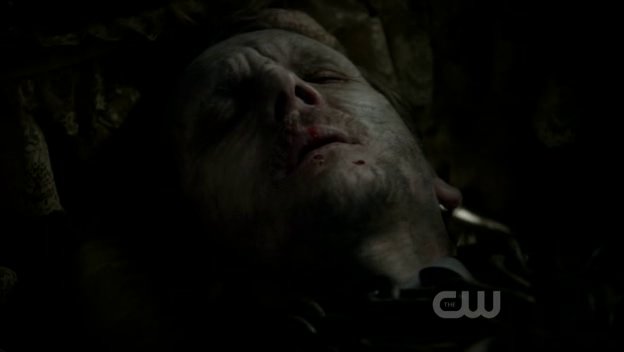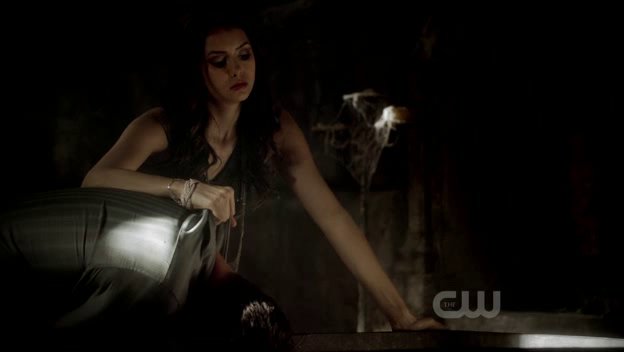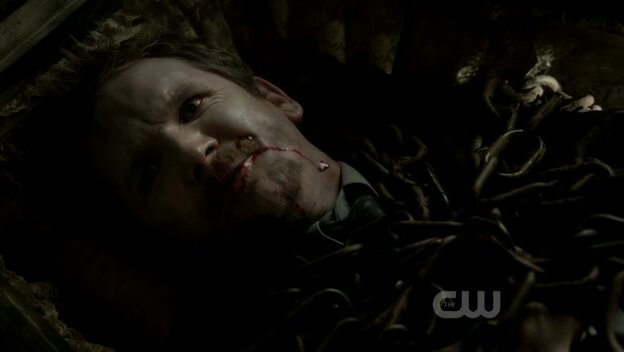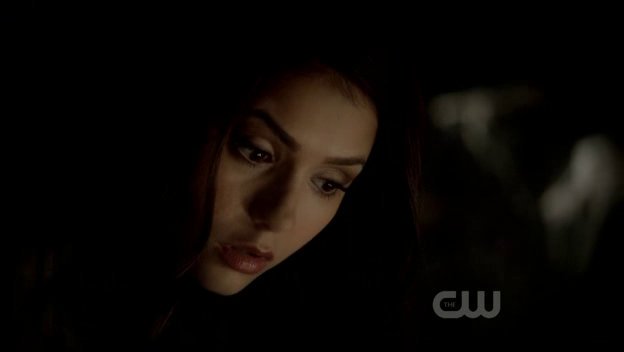 My baby girl is still at it.
Lmao Damon can be such a pest. 😂 "What are you doing?"
"Helping you out. Come on, Buffy."
HE CALLED HER BUFFY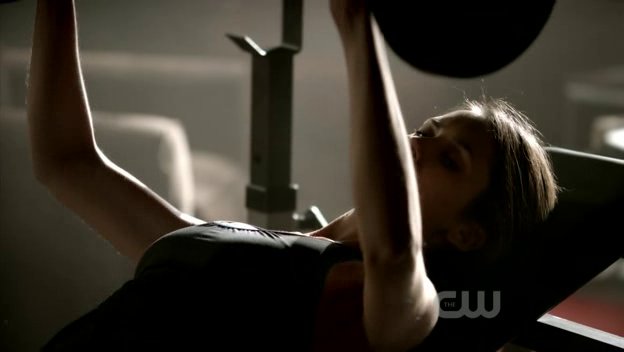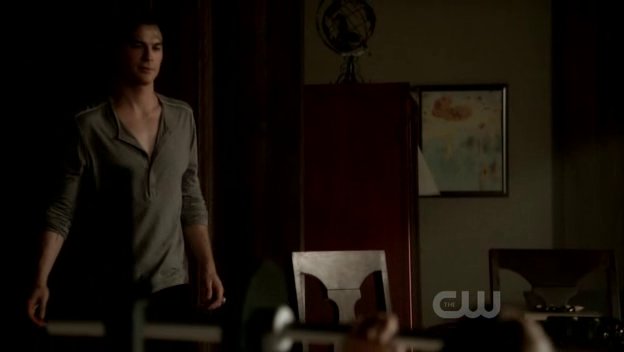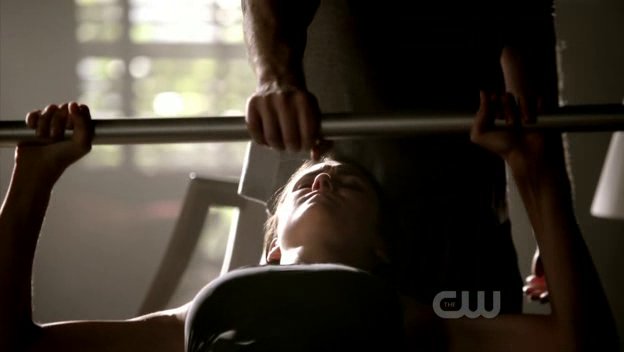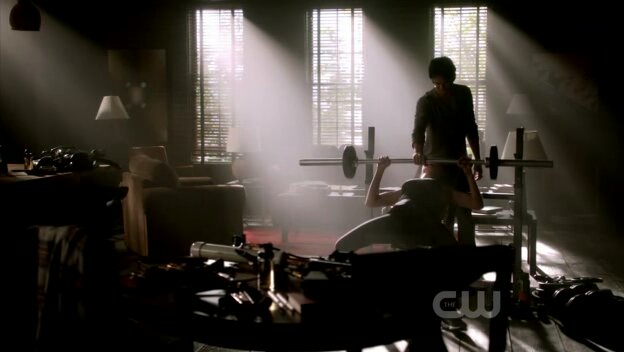 "What's your plan, oh warrior princess?"
AAHDJDJFNFNF WARRIOR PRINCESS. THIS ONE IS MY FAV OVER BUFFY. THEY MADE WARRIOR PRINCESS CANON 😍😍😍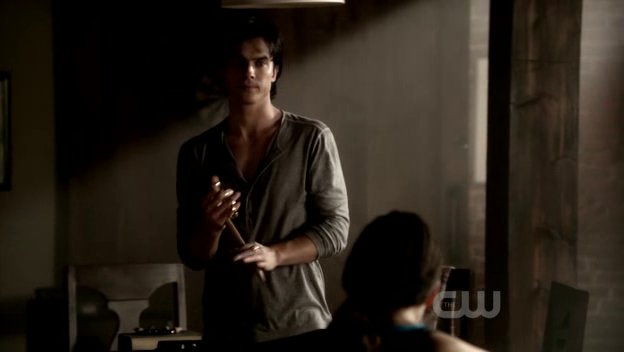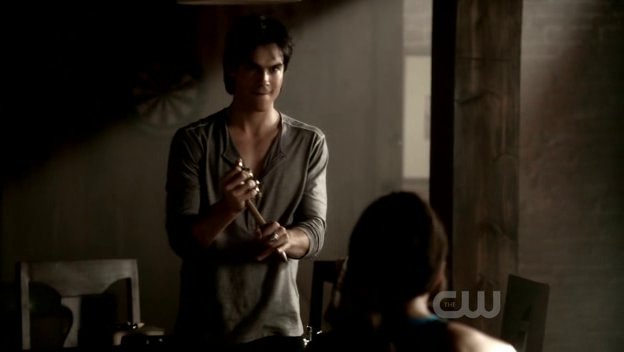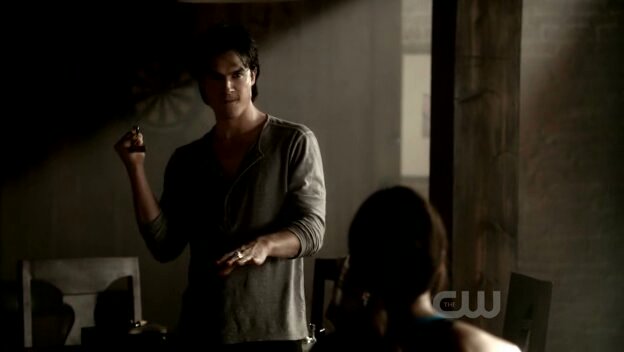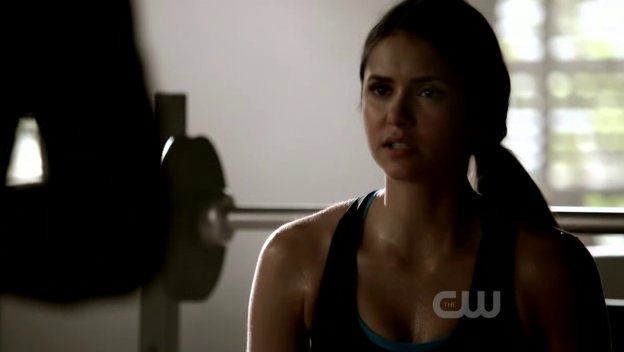 Look at him staring at her though. And Elena, loosening her hair to look so pretty for him.
Anyway, she wants to pick Stefan up until Mikael comes and kills Klaus and Stefan is compulsion free. Not a bad idea.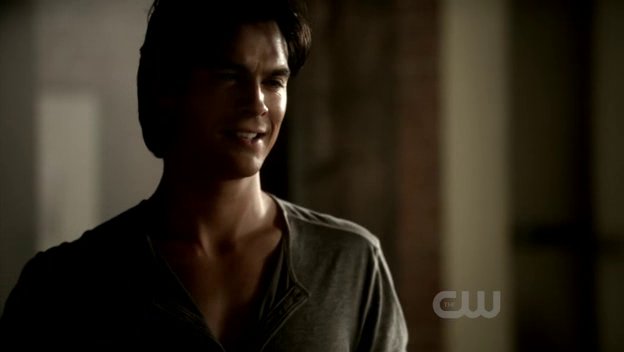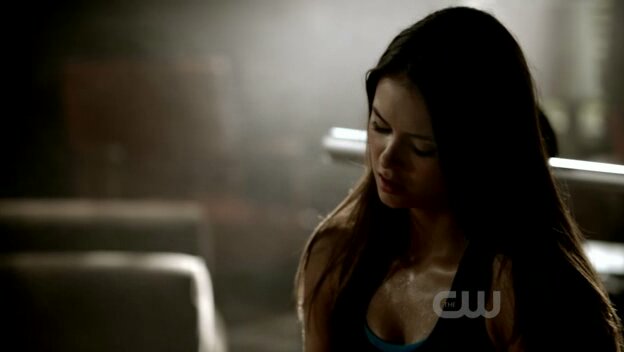 "Then do it for me."
Elena knows those words holds all the power. My son is so whipped. I can't 😢😍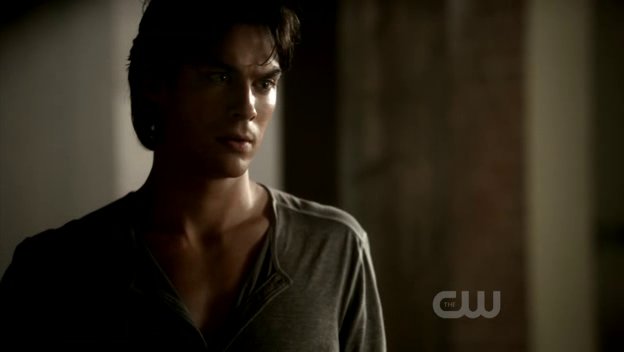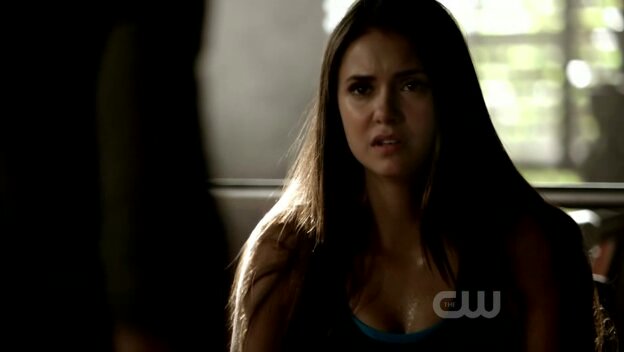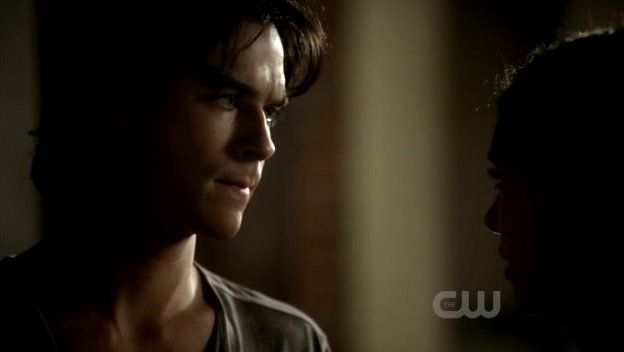 OH HELLO. WHAT IS THIS?? 😱😍😍😍😍 HE PUT HER HAND ON HIS FUCKING HEART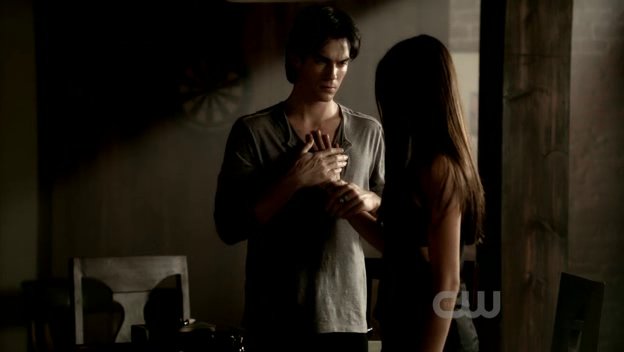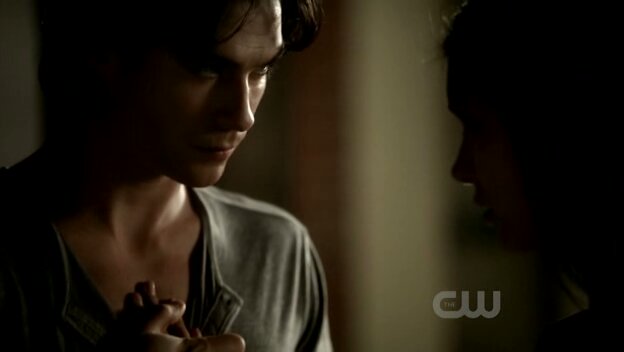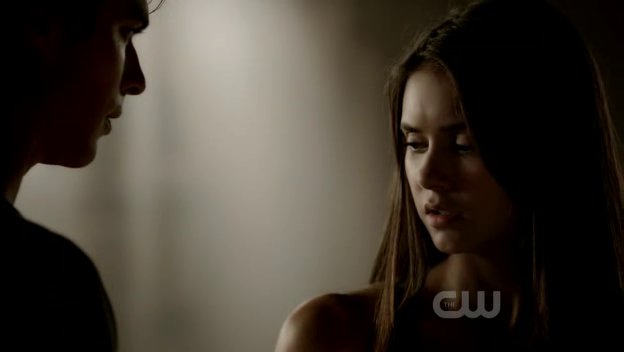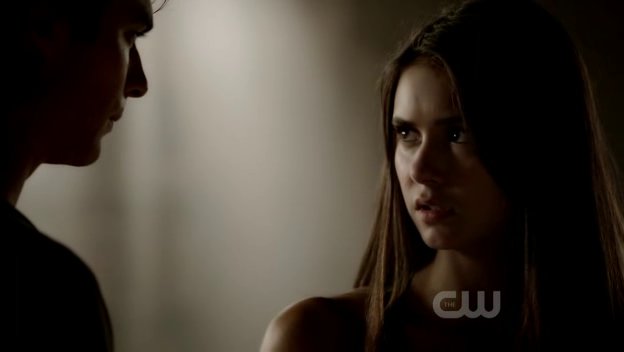 OMFFFFGGG THIS IS SO HOT. Elena is so turned on she is melting at his touch 😍😍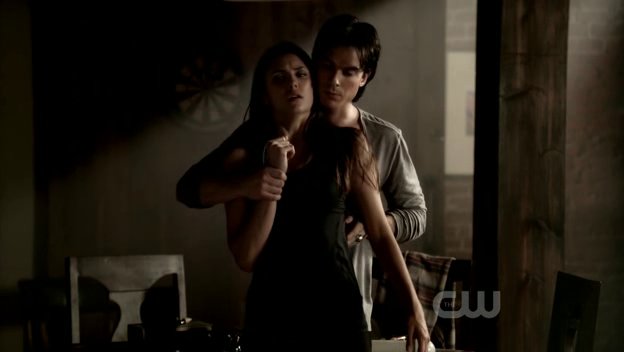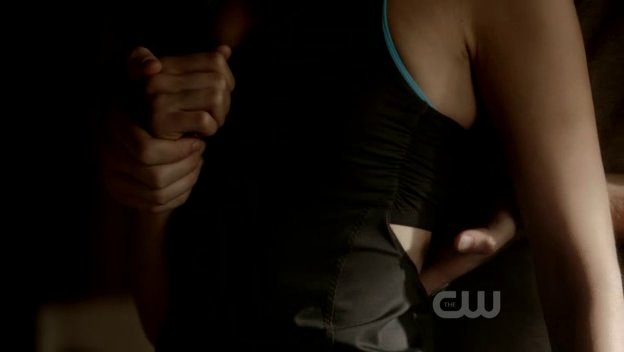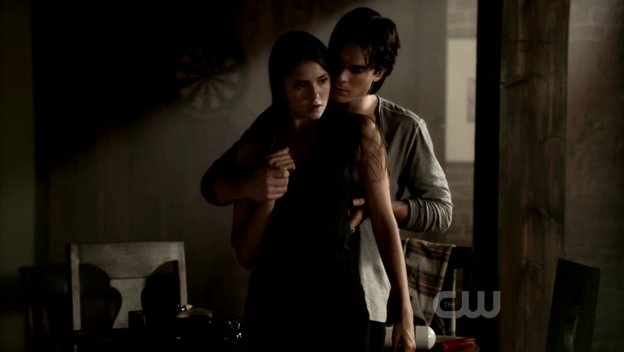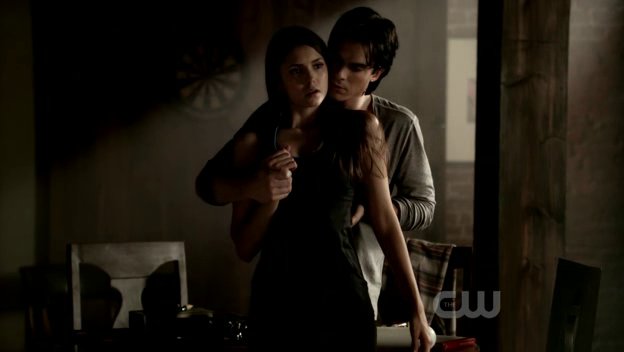 "That's your way to a vampire 's heart." SHE ALREADY HAD THE WAY TO YOUR HEART OMGGG I CAN'T BREATHE. Elena looks like she is going to get an big O right there on the spot. Imagine if they ever have sex. It's gonna be wild. This chemistry OMG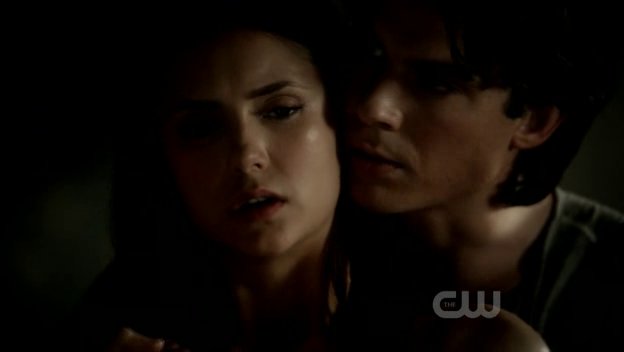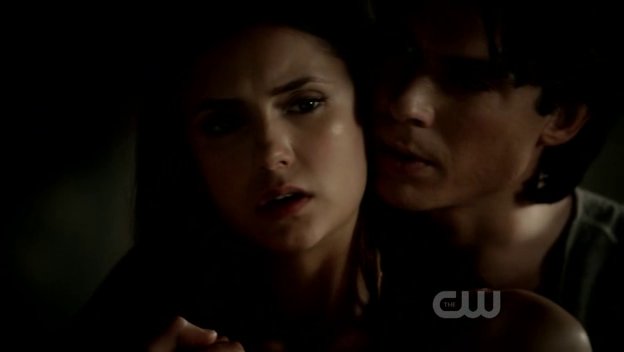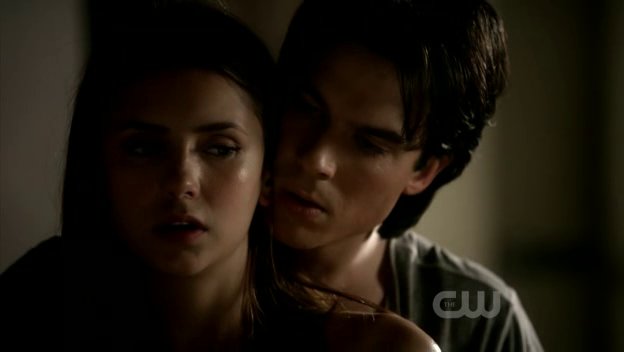 She is loosing herself to him and means back when he breaks contact. Elena, sweetie. You want him so bad your toes are curling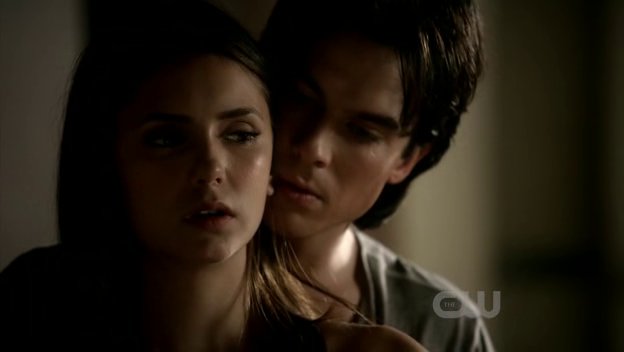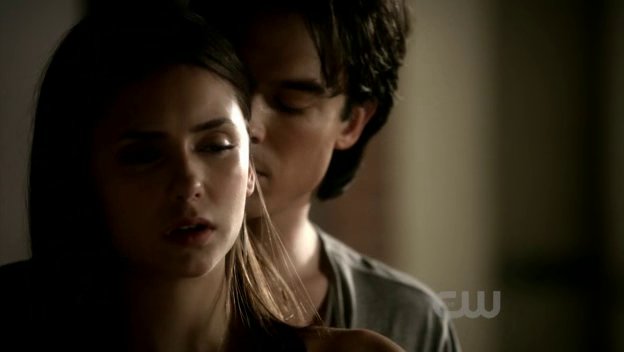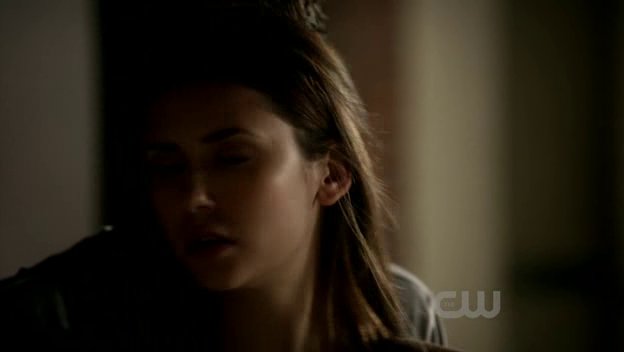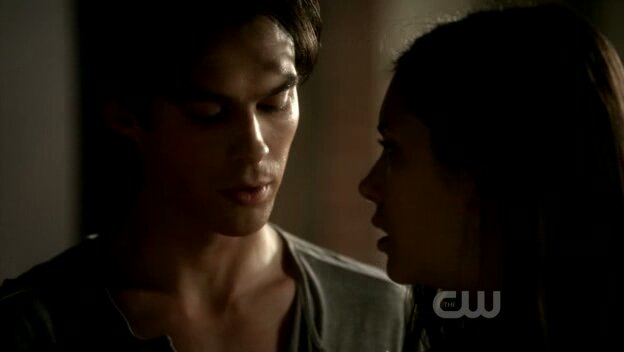 The lip look again. I bet Elena can draw Damon's lips by now. From memory. 🔥🔥🔥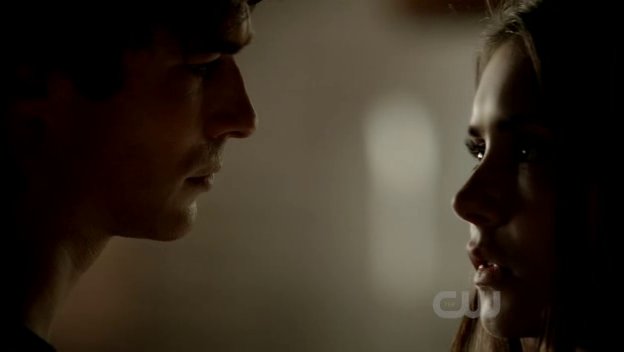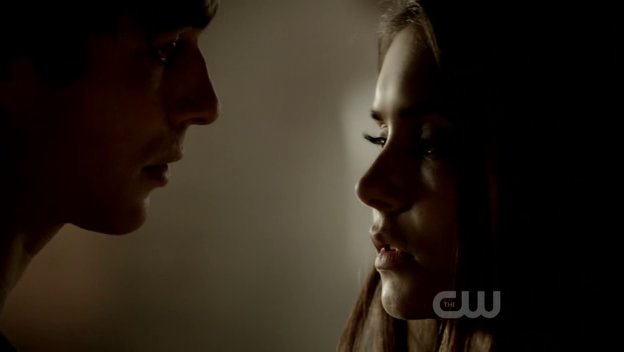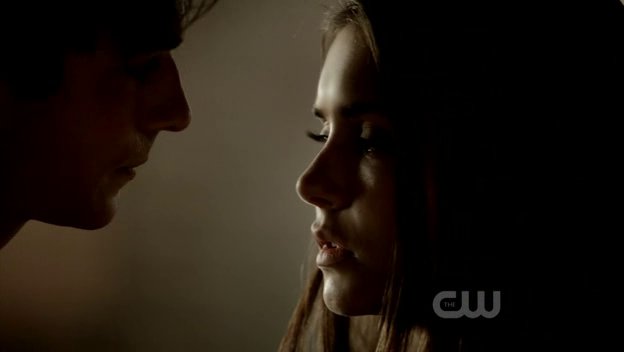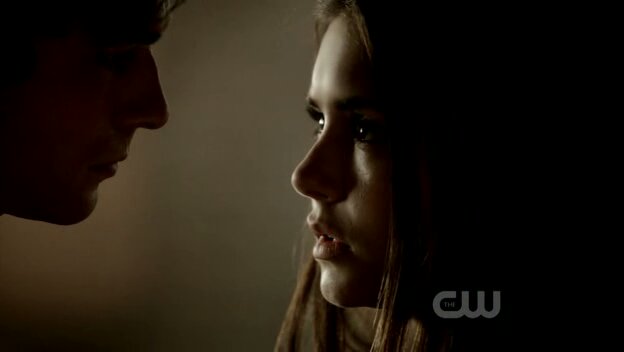 "I will do whatever it is you need me to do Elena. No one is going to hurt you. Especially my brother."
Her heavy breathing though OMG.
I am so turned on by this. I need some water. Phew
The gang is making plans for the intrapment. Damon suggests Bonnie, but Elena wants to keep Bonnie out of it because she I scared Stefan may hurt her. Bonnie can drop a vampire with a look. Everyone is coddeling her to much. But Elena is a good friend.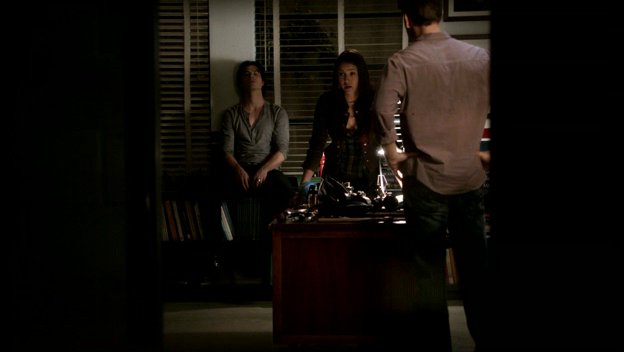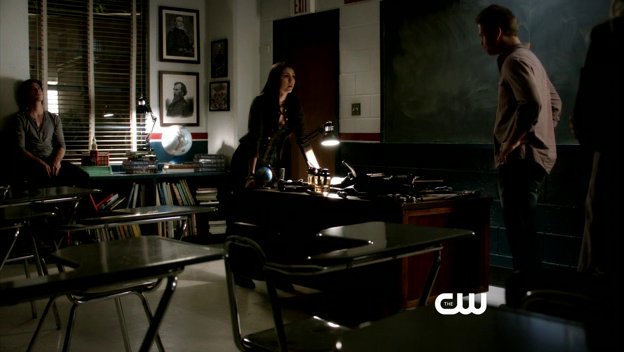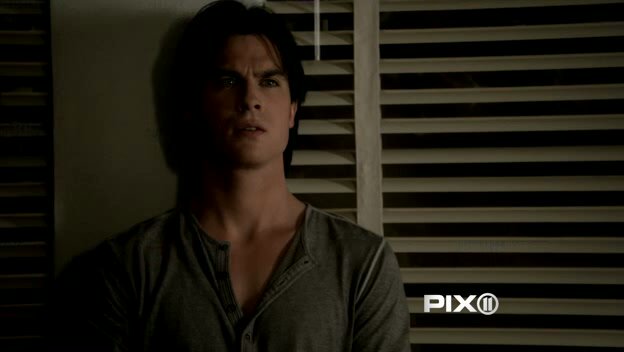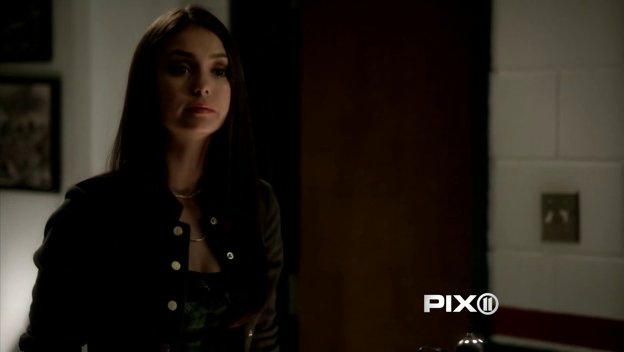 Tyler is behaving so fucking strangely. He cares what is in Klaus's best interest? Over the group's? WTF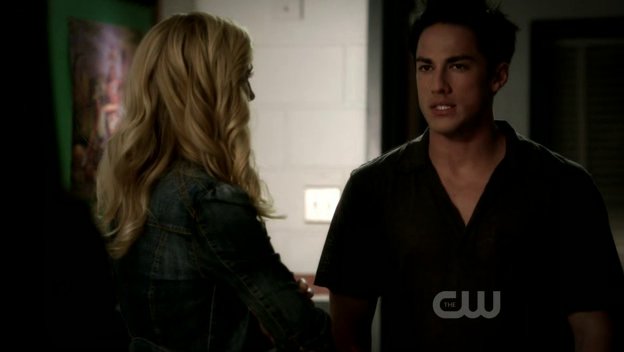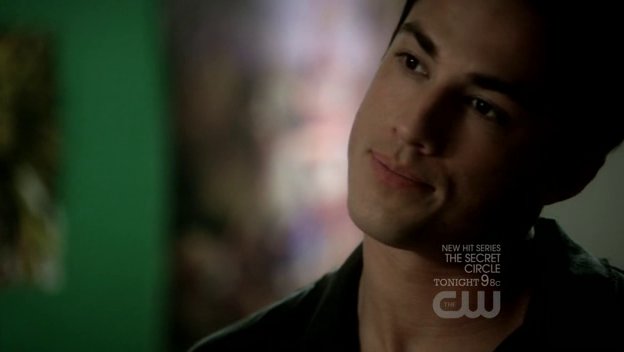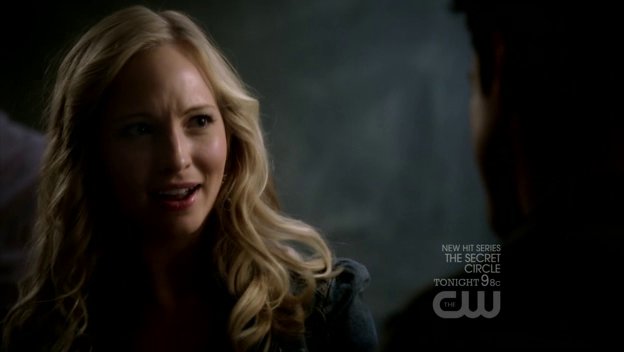 As usual, Damon has the answer. He vervains Tyler and says that he is sired. Klaus's blood made him, so now he is his loyal servant? Okay this is a mess.😨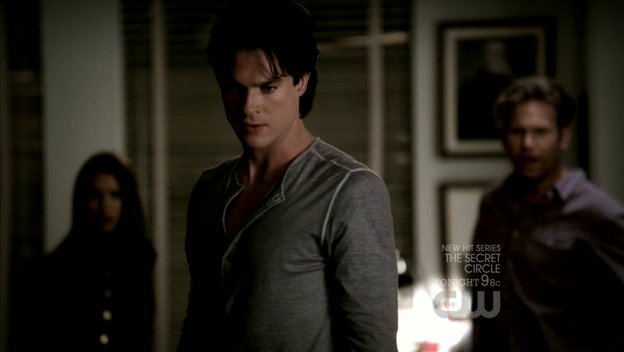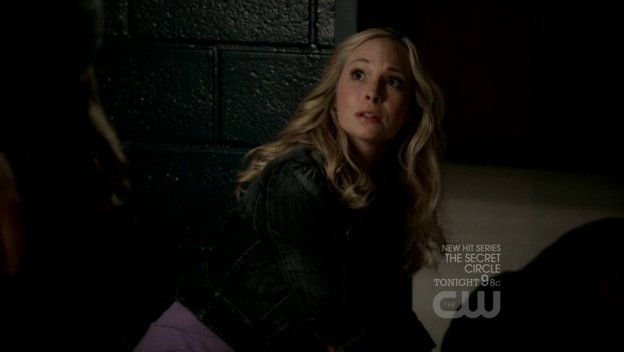 "Elena, hi! What are you doing?"
"I am having fun, Stefan. Do you have a problem with that?"
"Allright, take it easy. We both know you are kinda of light weight."
"Really? You think I am going to let a blood addict tell me how to drink?" Lmaoo go girl. Set his ass straight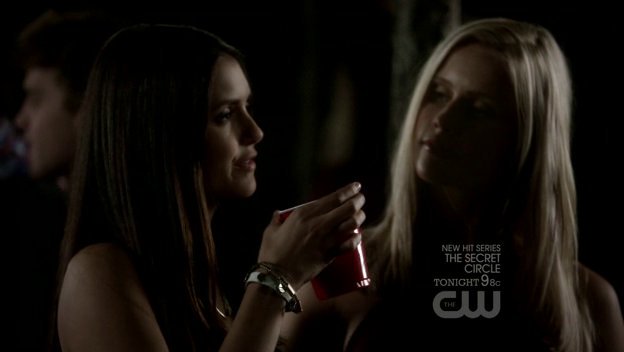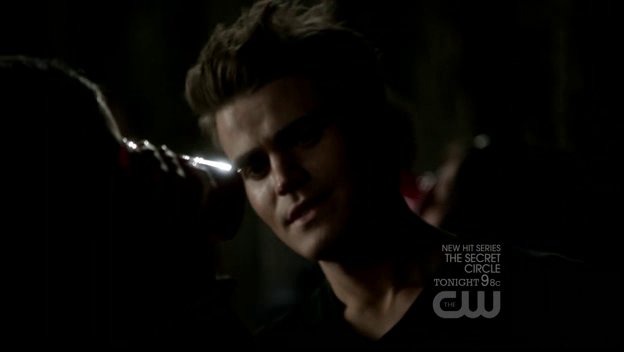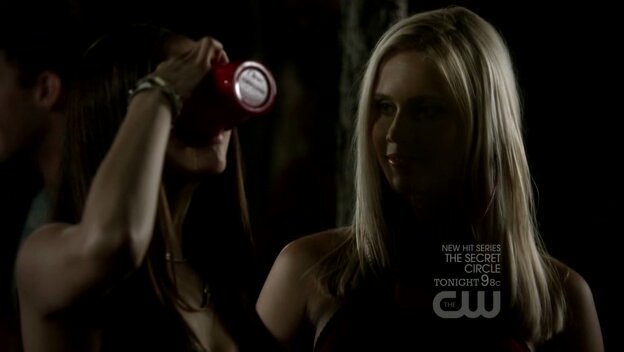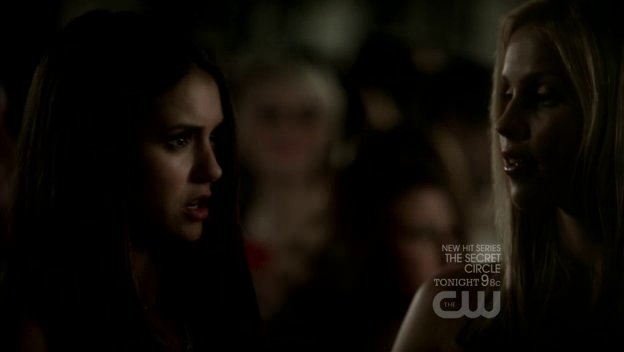 Matt did some dark, blood magic shit and Vicki is back. Hmm...why do I have a realllky had feeling about this?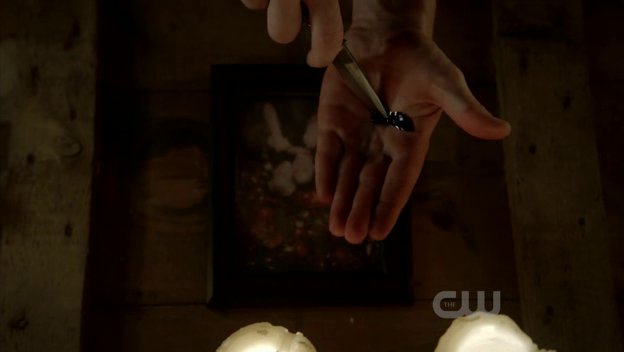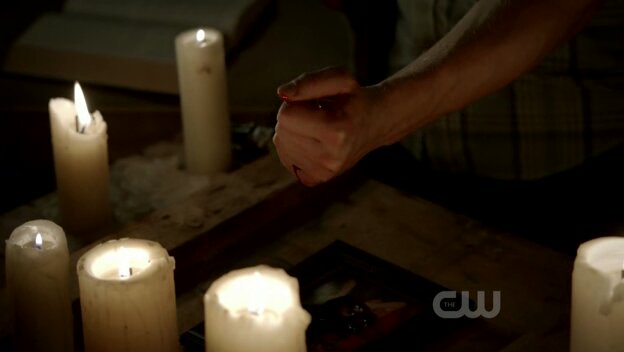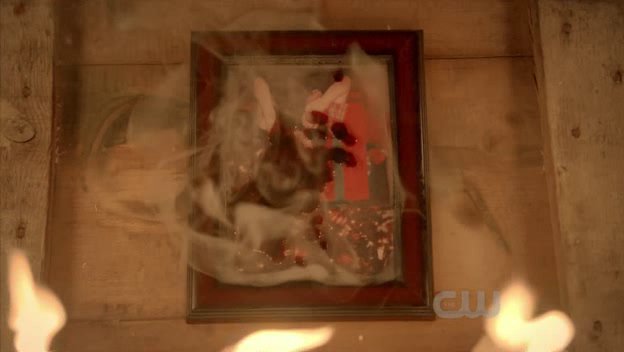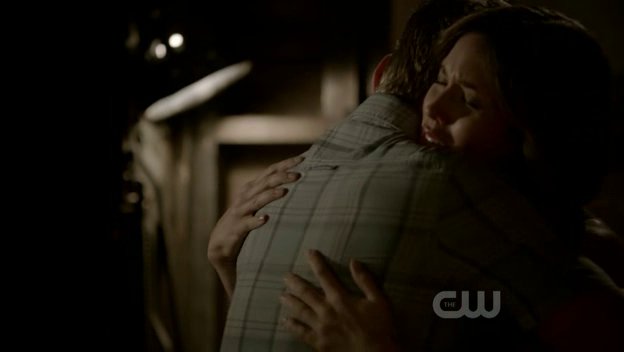 Bonnie is so pissed that Jeremy is talking to Anna again. But to be fair, he had to this time. Bonnie storms off to stop Matt from bringing Vicki back but that ship has sailed.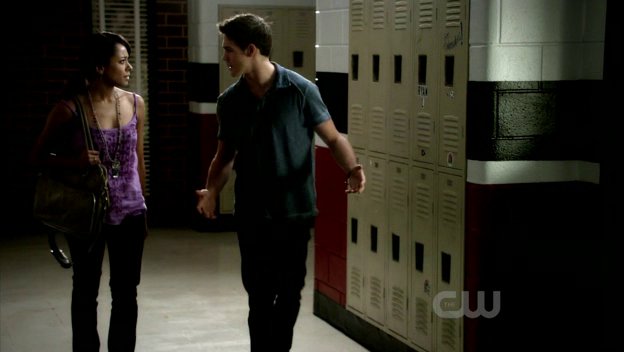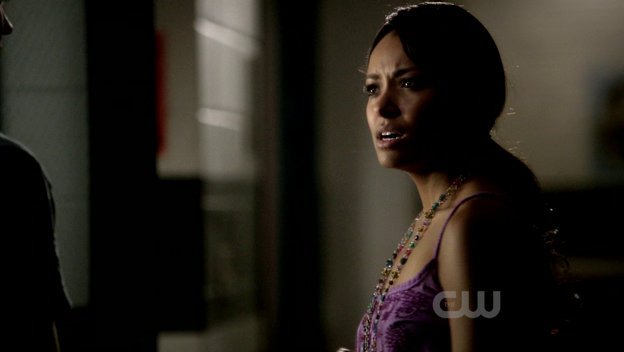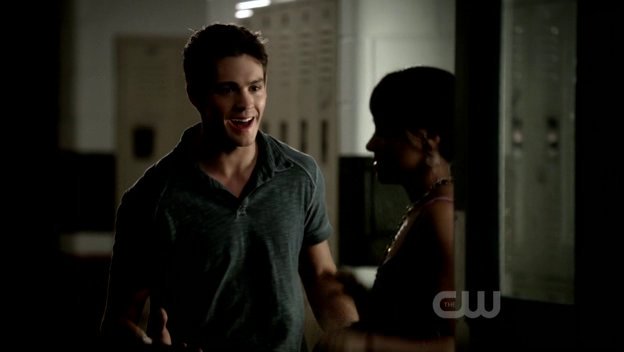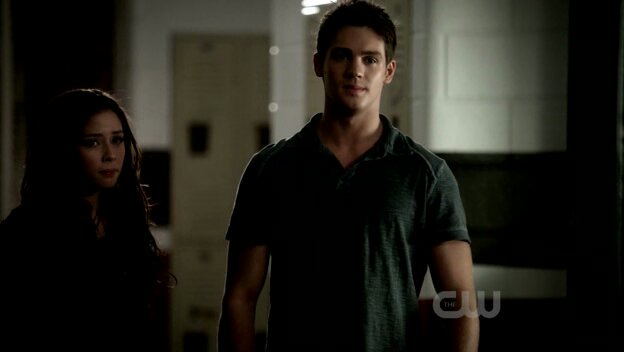 Vicki can feel everything. So she is "alive" now? But ahhh here it comes. She made a deal with that witch on the otherside to "restore the balance" Then she can stay. Balance of what? Her being there at all is UPSETTING the balance of nature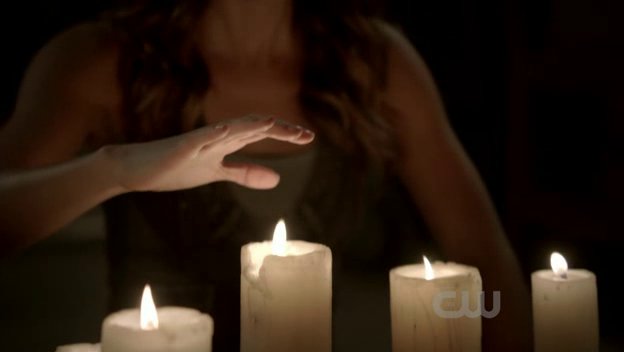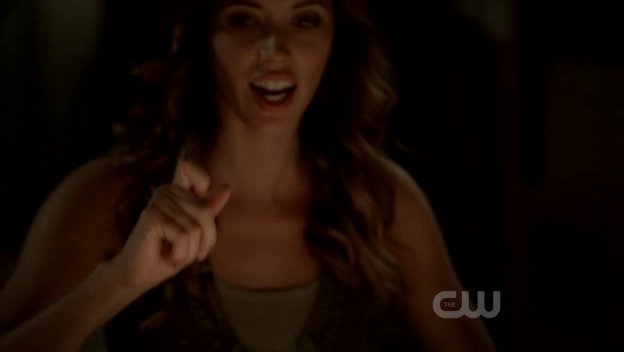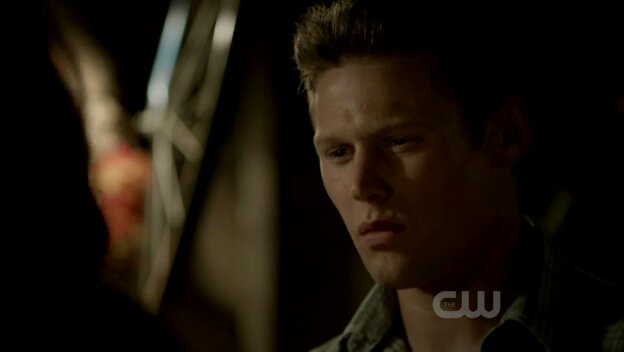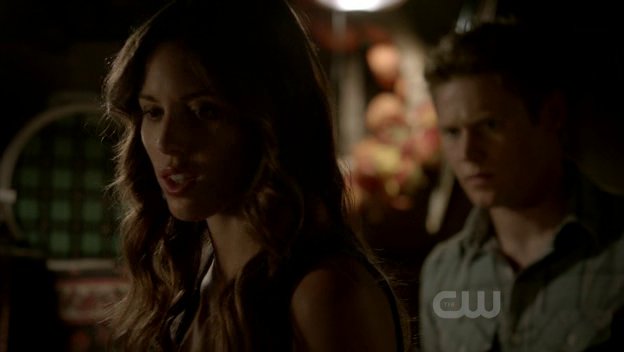 THAT BITCH. SHE WANTS TO KILL ELENA AND KNOCKS OUT MATT. NOW A DEAD WITCH WANTS ELENA DEAD TOO. SHE CAN'T CATCH A FUCKING BREAK. VICKI BETTER GO BACK WHERE SHE CAME FROM REAL FAST 💀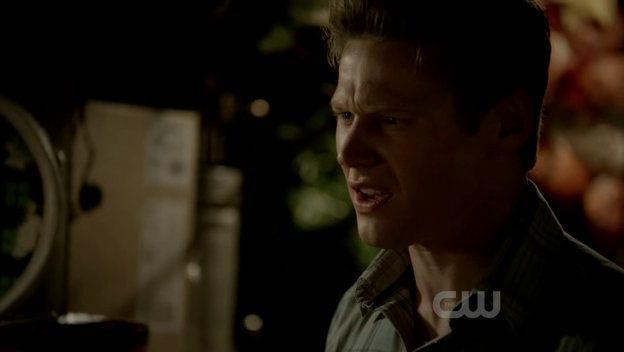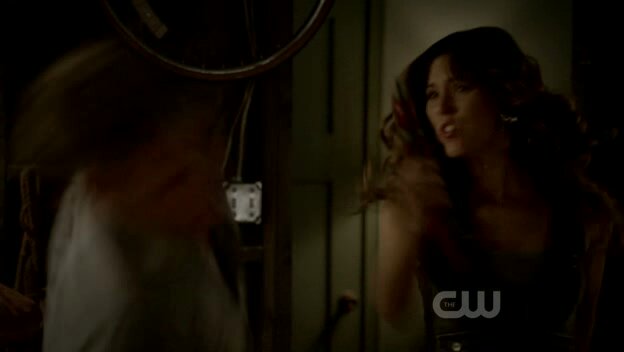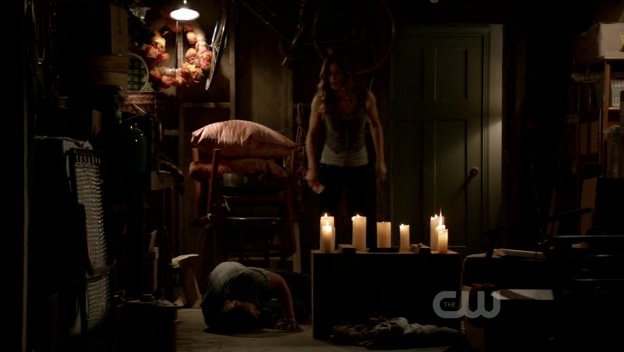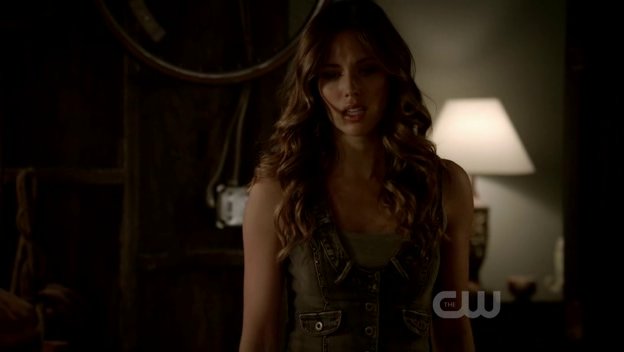 Damon, turning his flirt on with Rebekah. He looks so sexy though. Who wouldn't fall for it?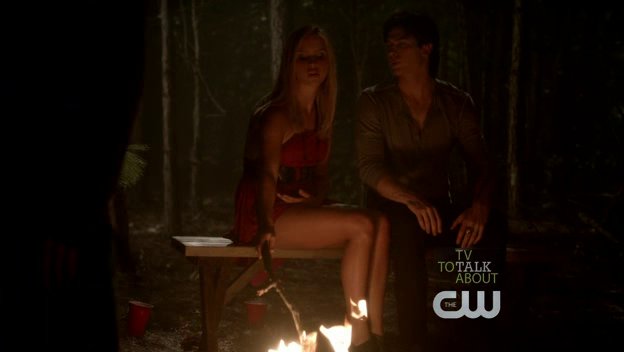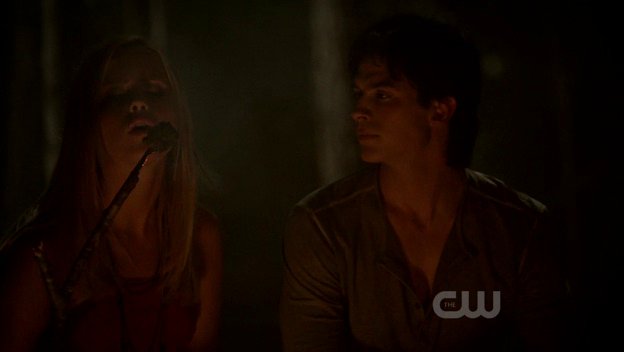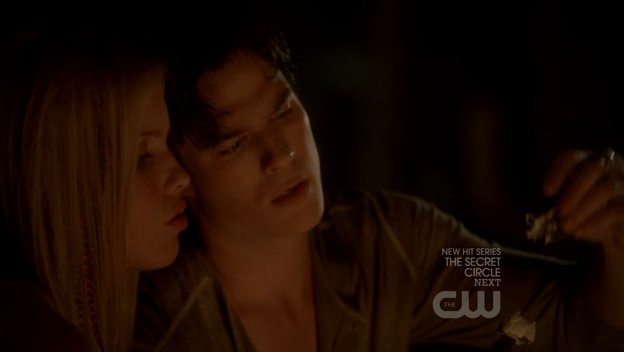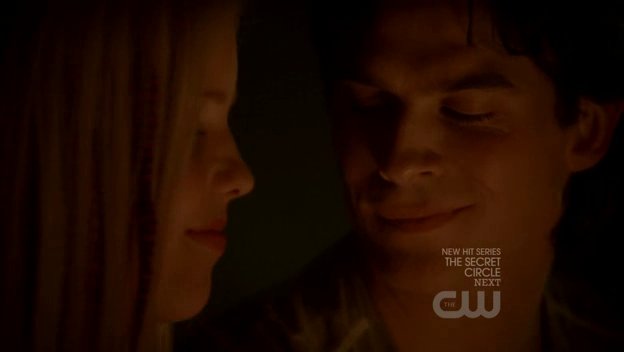 LMAOOOO Elena is so jealous, she doesn't even notice Stefan coming up behind her.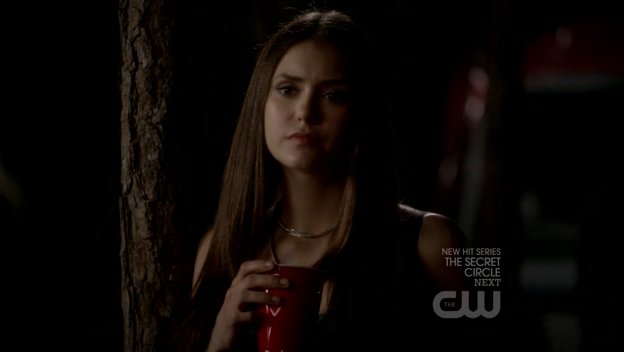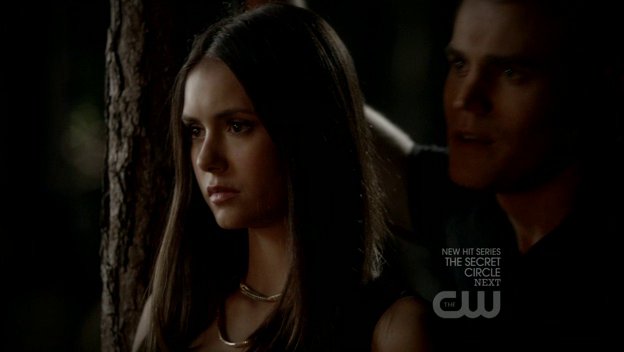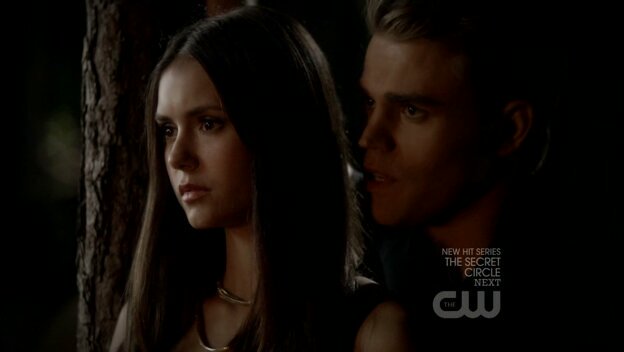 Matt calls Bonnie, since it took Vicki to nearly bash in his skull, for him to realize he did something moronic. Vicki is at the bonfire. Bitch....
"Why are you being nice to me? You hate me. You should be mean."
Why does she think Damon hates her? He met her that morning. OMG she isn't dumb though and knows he is distracting her. OUCH FUCK.
"Bitch." Hahaha I still think she is cool.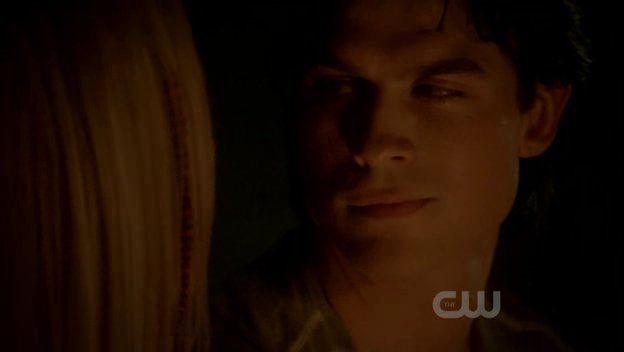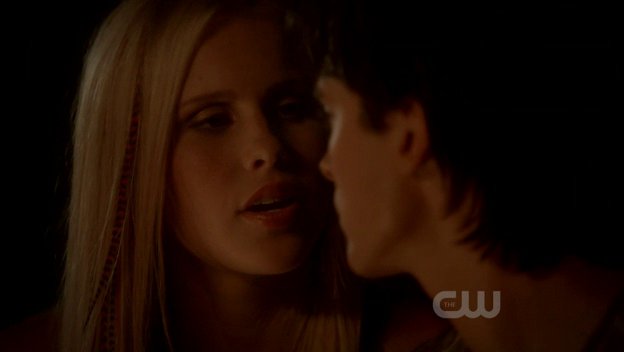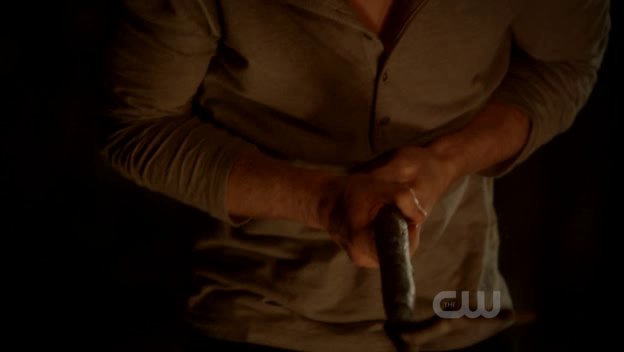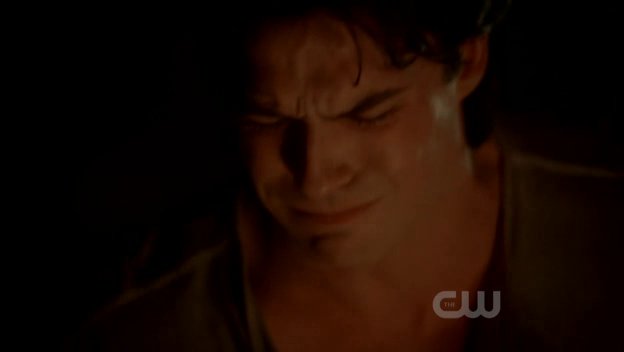 Caroline tells Tyler that he is sired and I protests by saying no one controls him. She then points out that he is acting like his old self. Pre werewolf douche who she would never be friends with. I detect no lies here...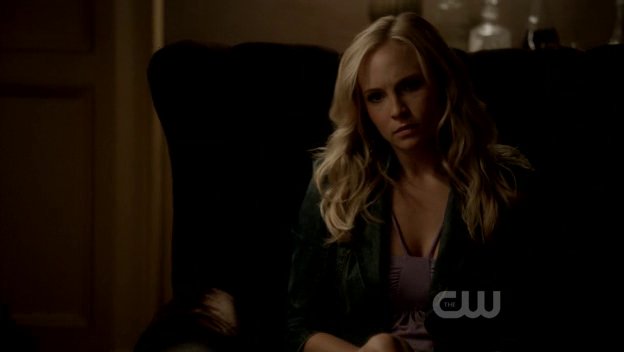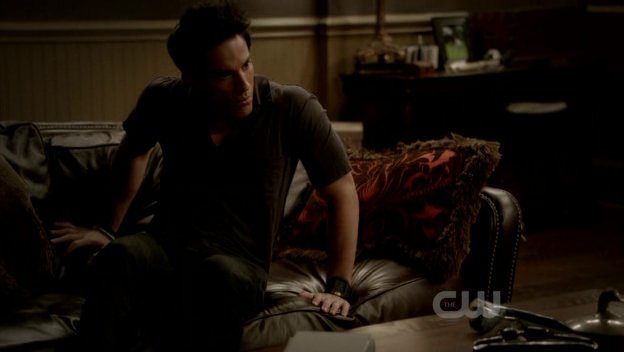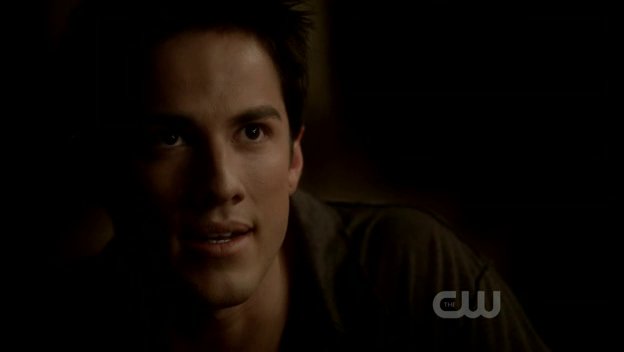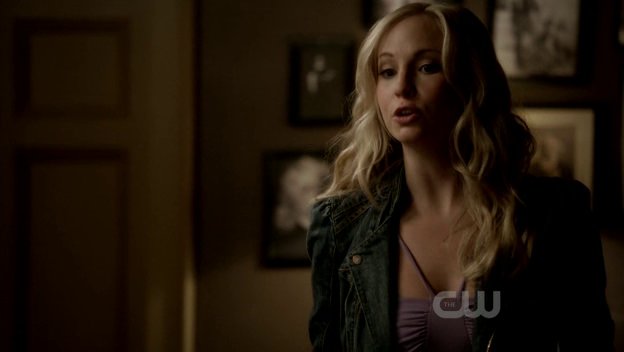 Tyler panics, hearing that and stop her from leaving.
"Just...don't hate me. Everything I like about me, is you."
Awwww that's so sweeet. sweeewt just won me over again to give him another shot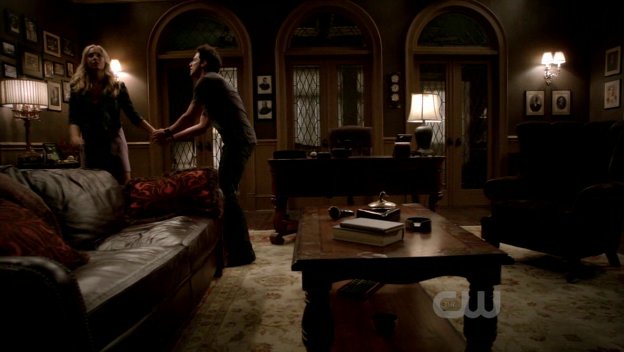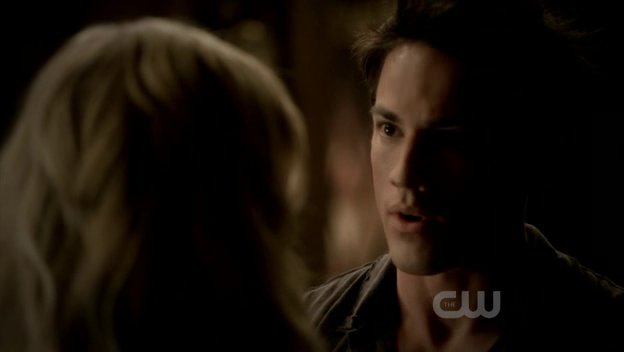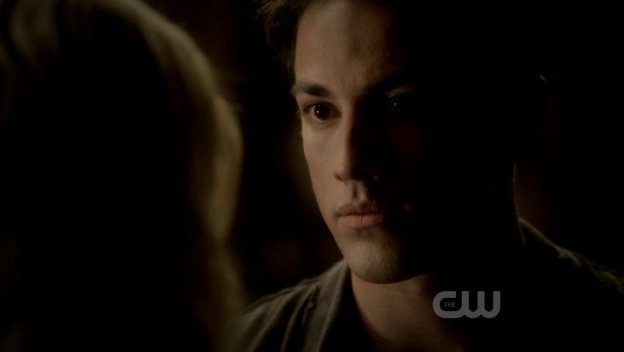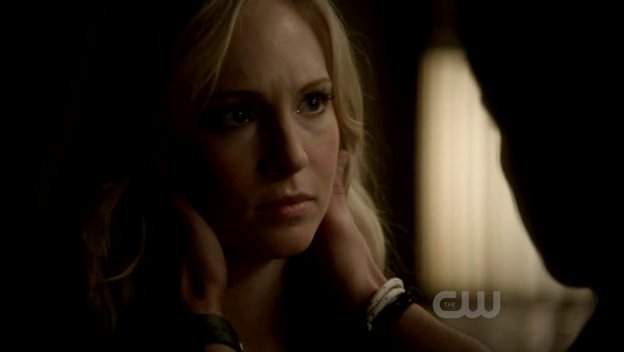 Is this part of the plan? I just Elena getting back at Stefan by trying to annoy him as much as he annoyed her at school?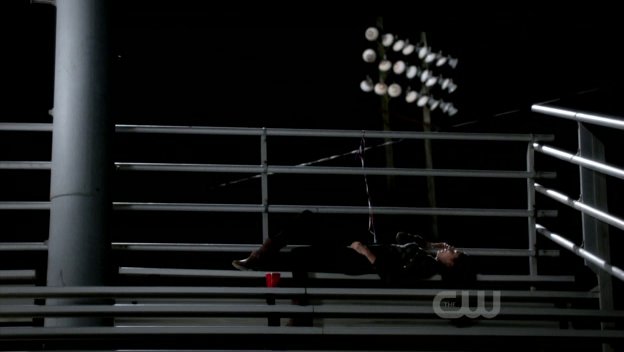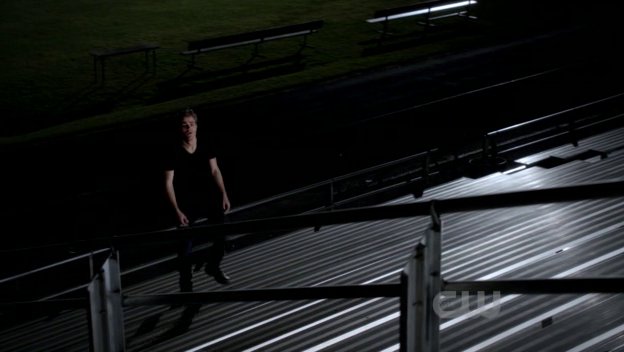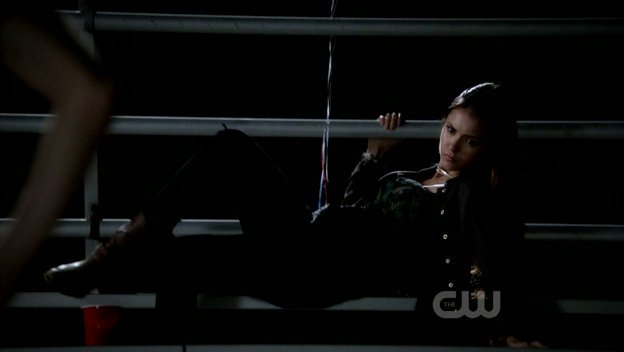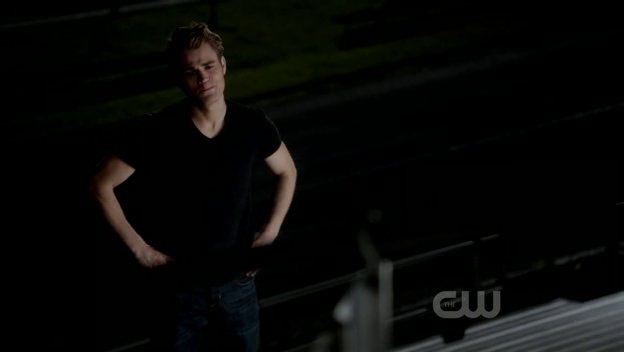 Lmaoooo taste of your own medicine Stefan. Haha he looks so annoyed 😂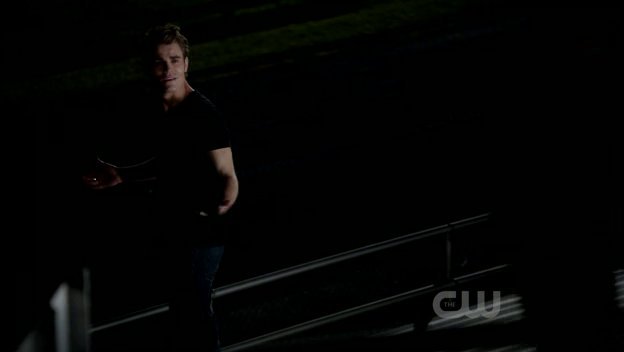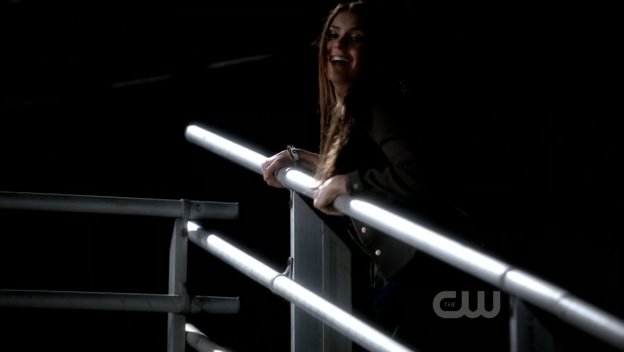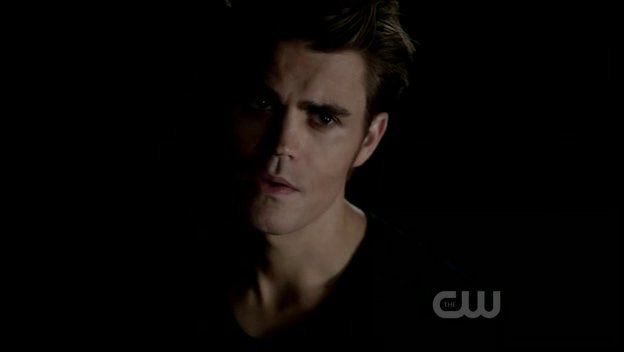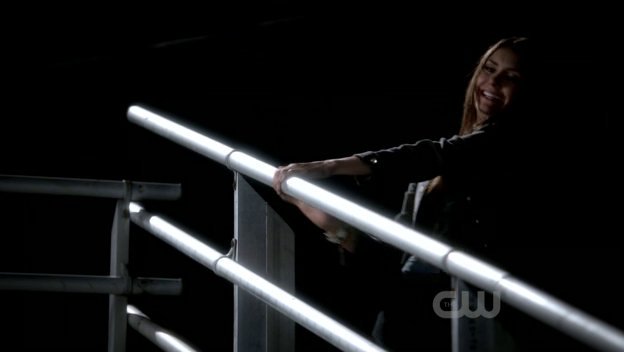 OH SHIT SHE REALLY FELL...into his arms. "I knew you would catch me." Sweetie, that's that's game of chicken I wouldn't have played. They share a momwnt though and this SE scene actually has a little spark of chemistry, not going to lie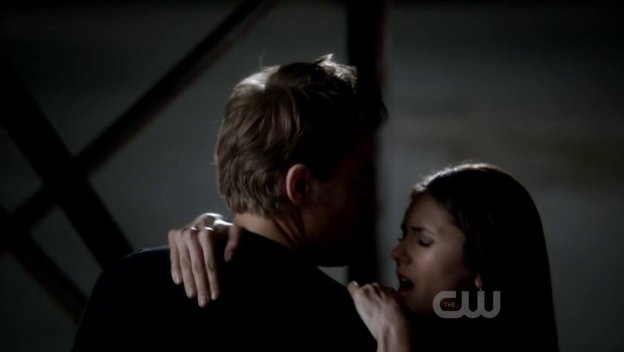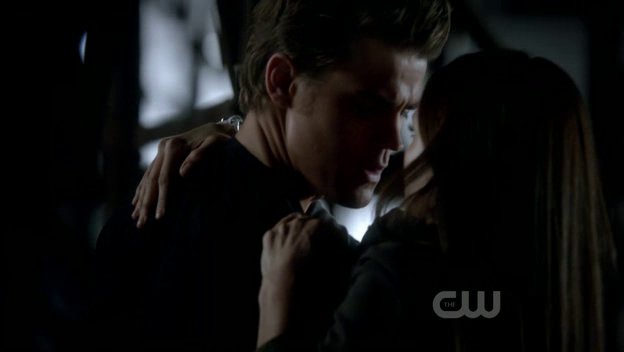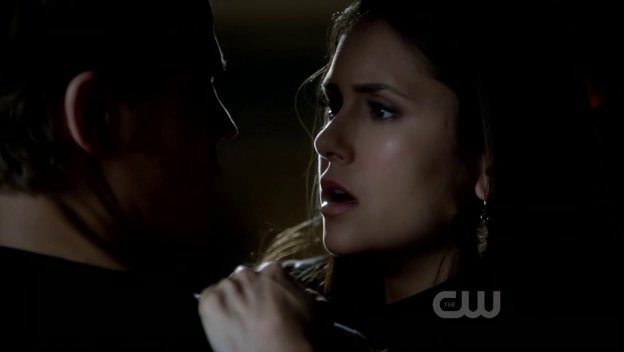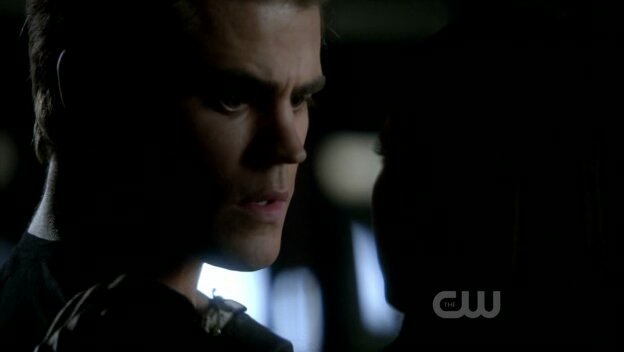 Alaric shoots him down. Thank fuck. I was actually worried they may kiss. Elena is a bit drunk for real, but smug that her plan work. Great job sweetie. You deserve a pat on the back.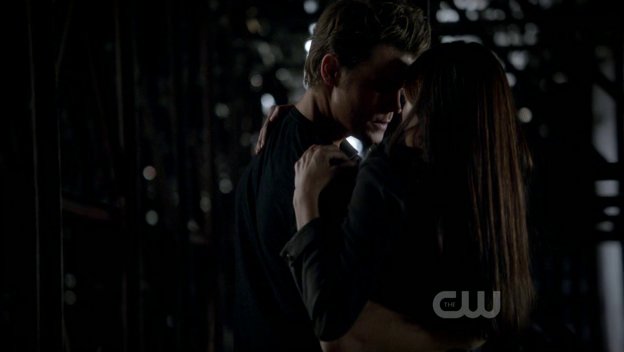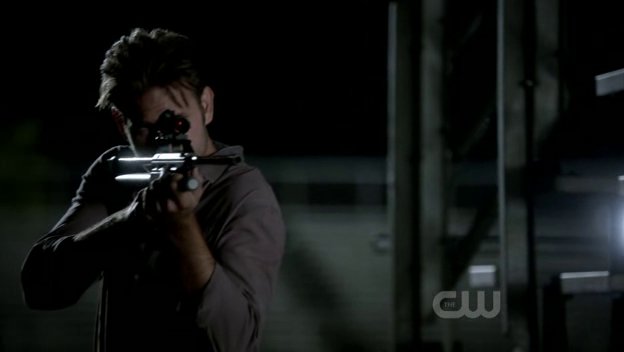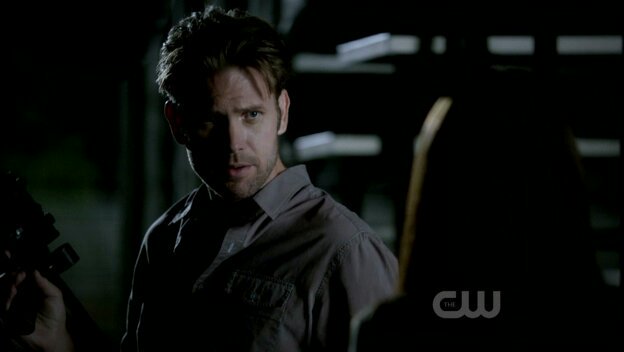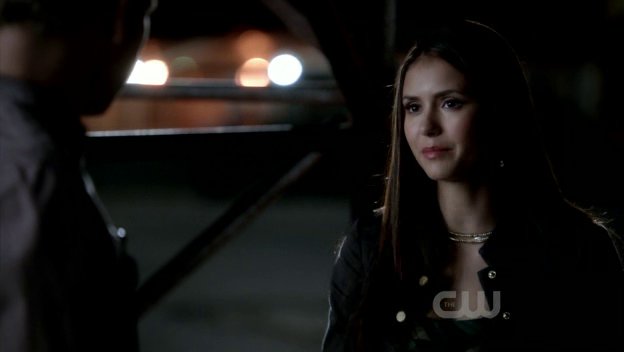 Vicki watches as Elena and Rick out Stefan in the trunk. Bobbi wants Matt to tell her exactly what he did, so she can reverse it and send Vicki back.
OH SHIT FIRE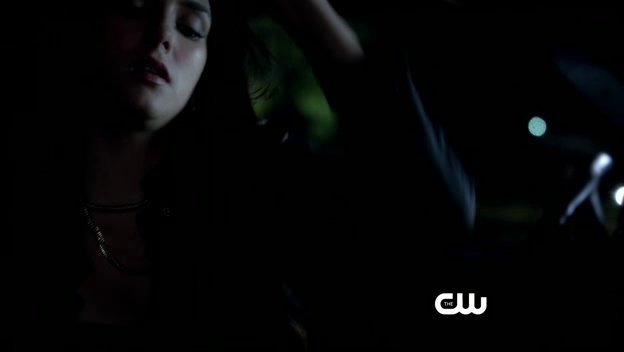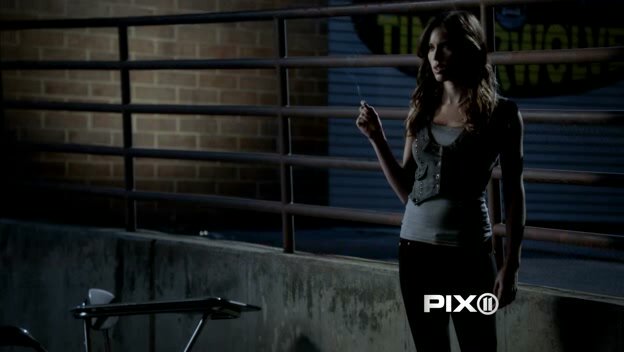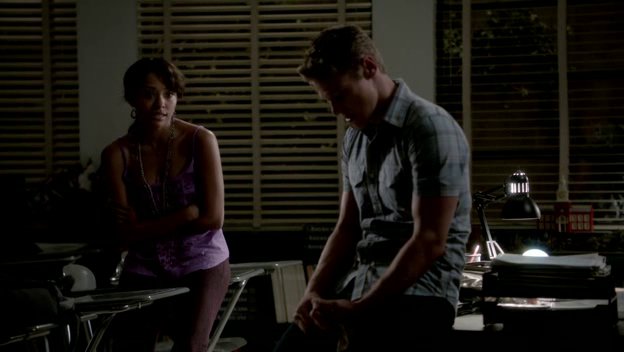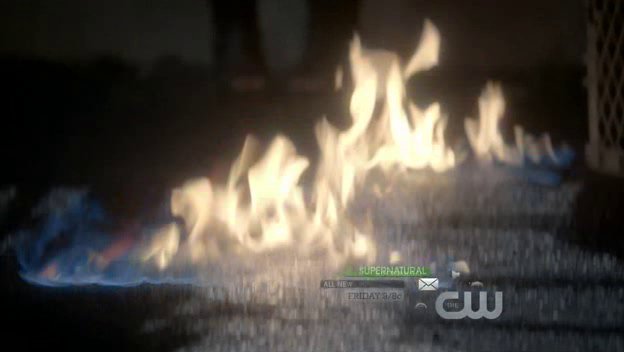 *Bonnie. Apologies, sweetie
VICKI YOU RAT. SHE IS PREVENTING THE DOOR FROM OPENING. "I am sorry, Elena."
SORRY MY ASS OMG YOU BITCH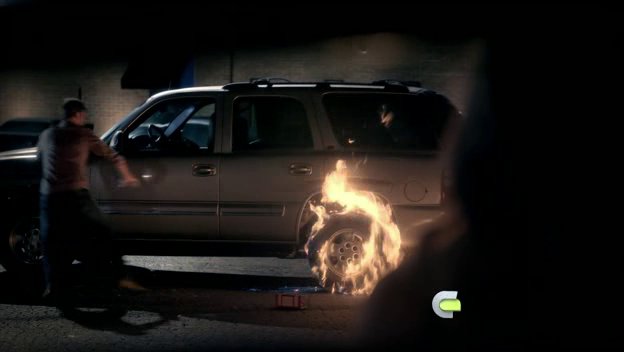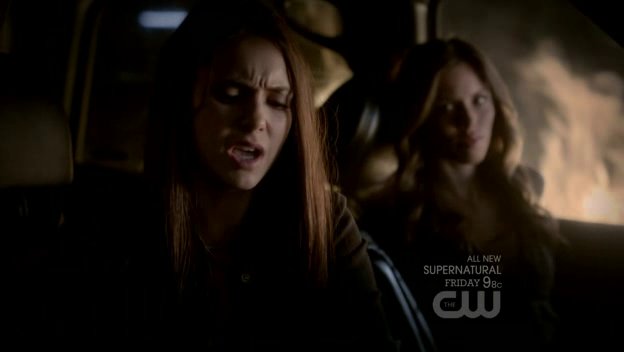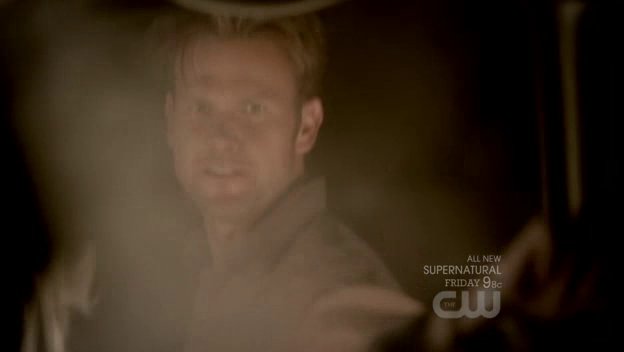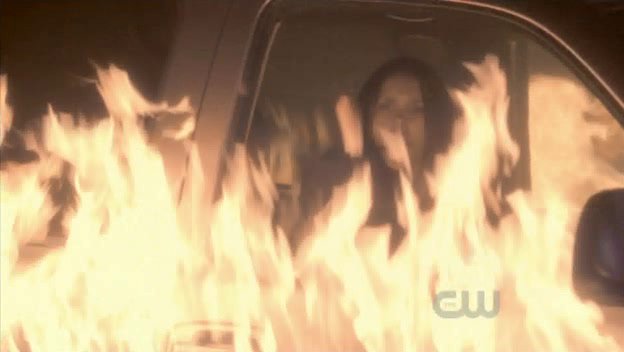 Bonnie starts the spell. Vicki grabs Elena by the foot and tries to keep her from getting out but suddenly she is with Matt and Bonnie. You failed, bitch 💀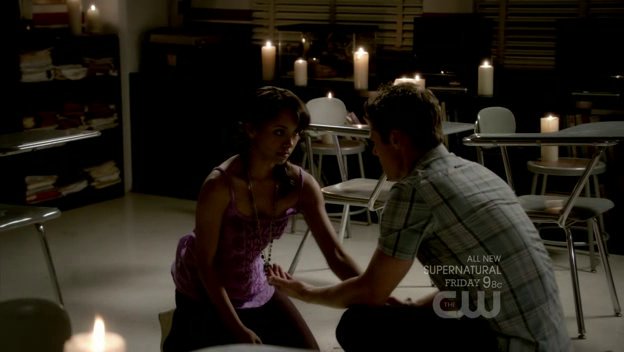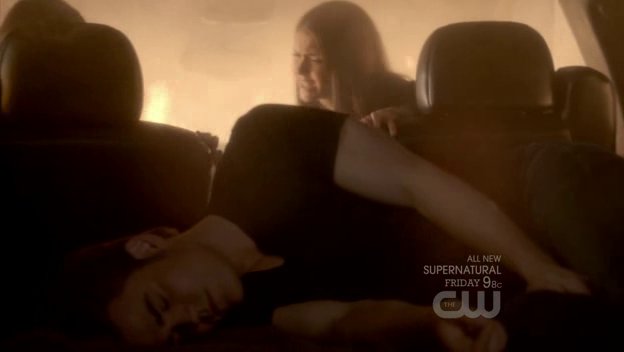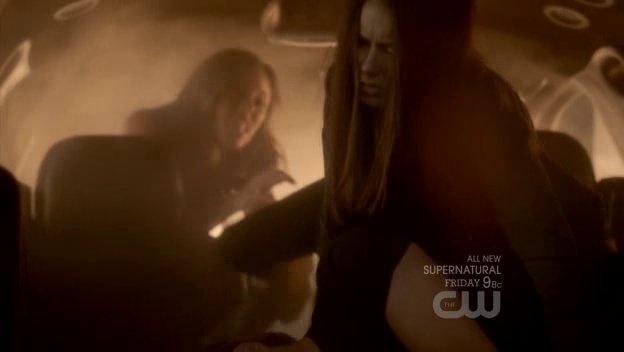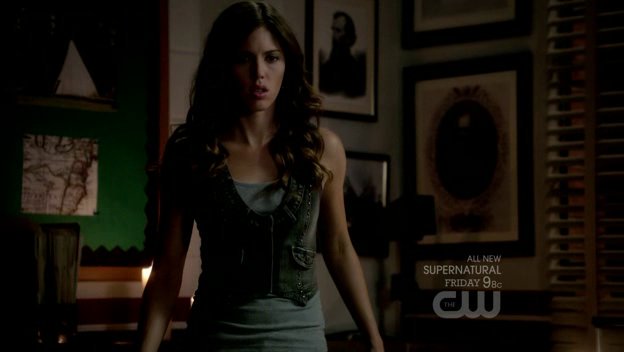 Your tears mean nothing Vicki. Goodbye and good riddance. Matt finaly let her go and she is gone.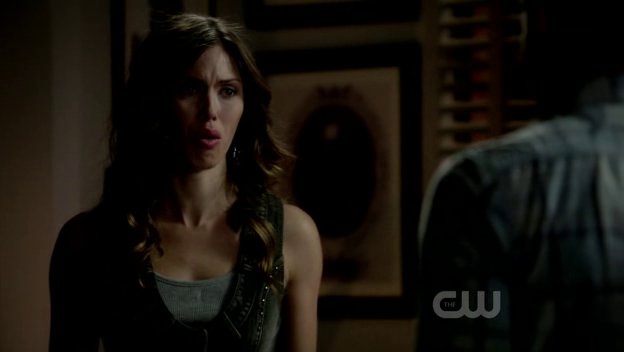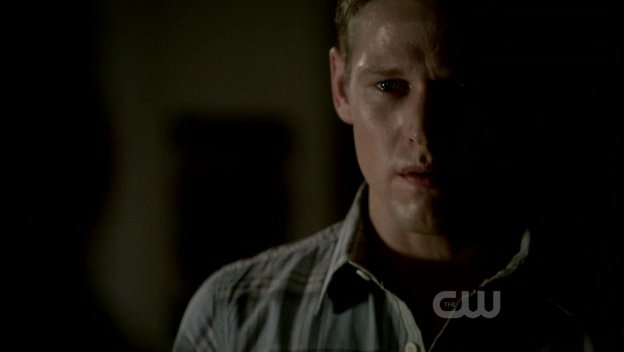 FUCKKKK RUNNNN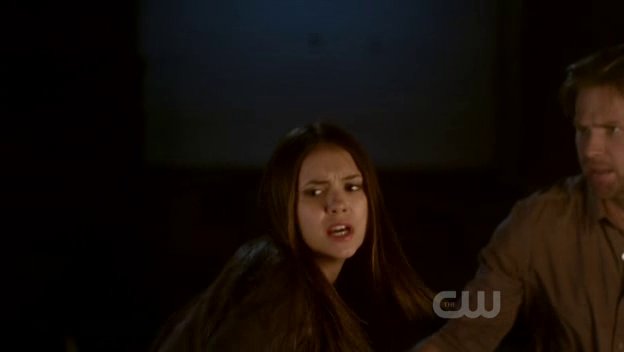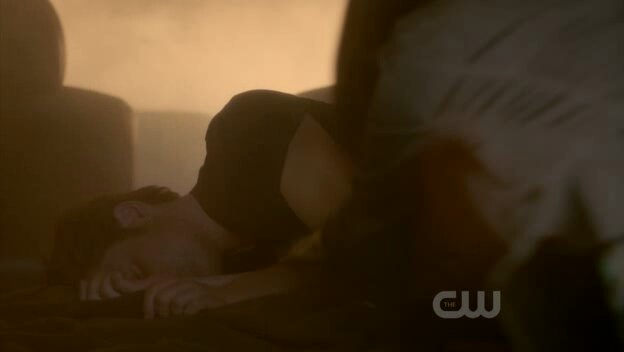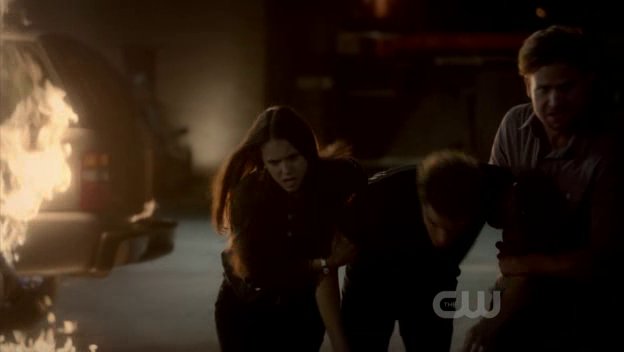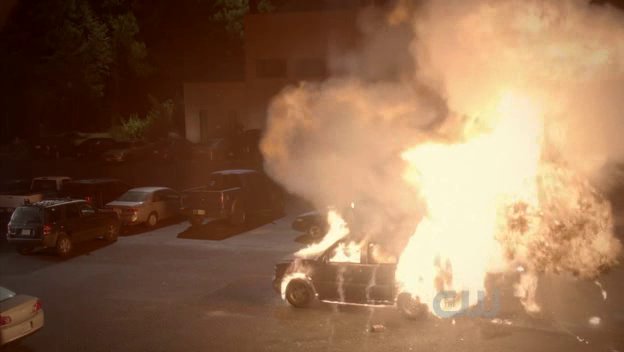 My girl got hurt. 😢 But I will take that scratch anytime over the alternative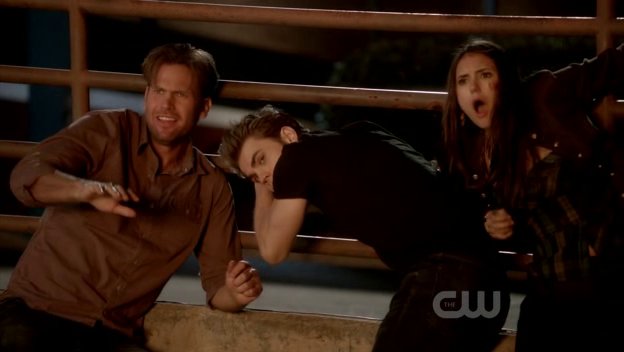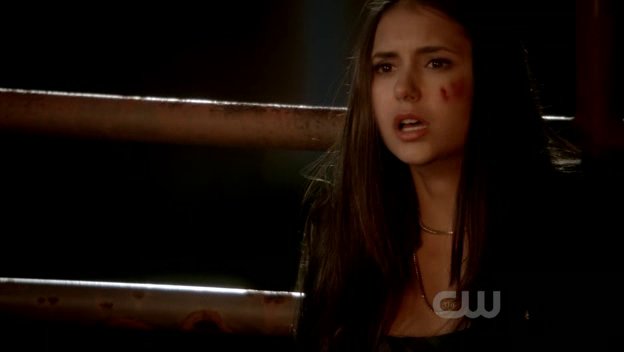 DAMON IS APPLYING FIRST AID. HE IS SO SOFT OMG. LOOK AT THEM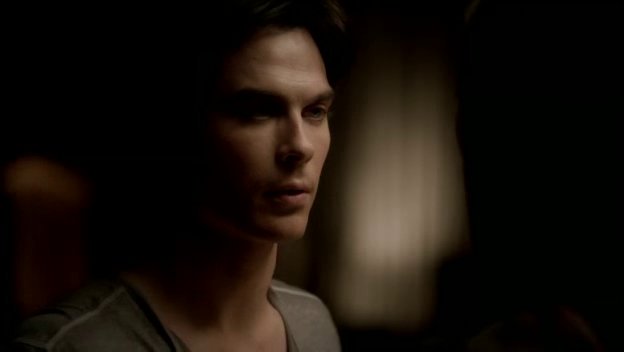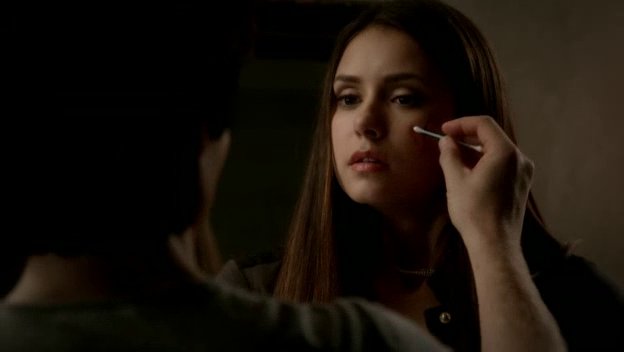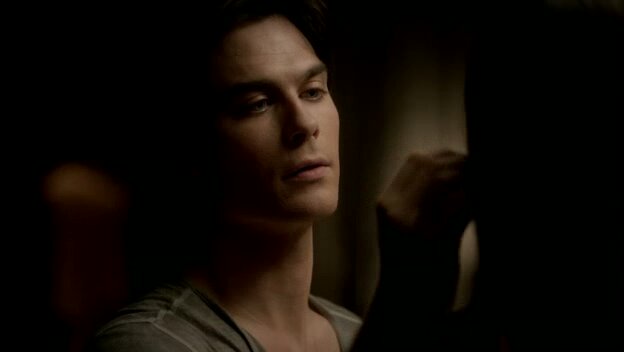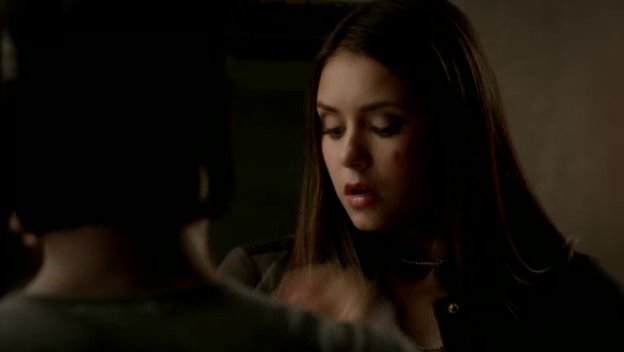 Elena really is so jealous about Rebekah, she just had to bring it up. Hehe.
" I thought you were to drunk to notice."
"I was taking most of it."
"So was I."
Wow. Those looks. 😍😍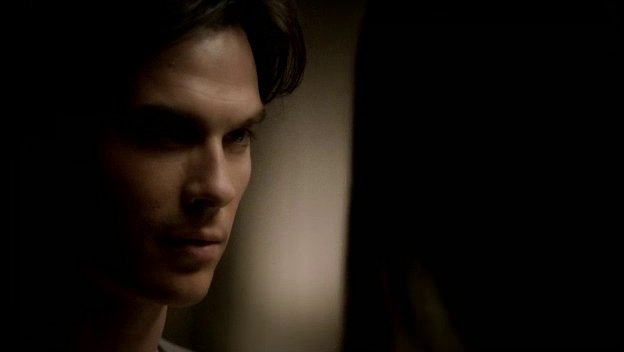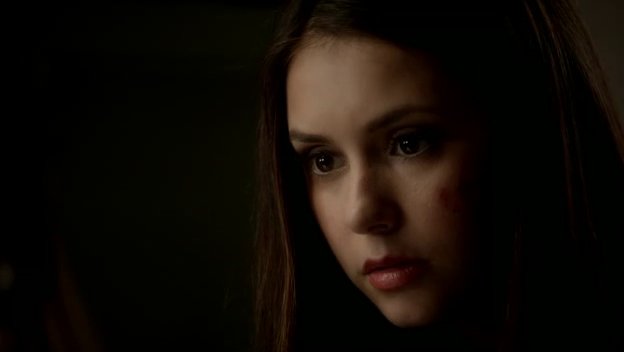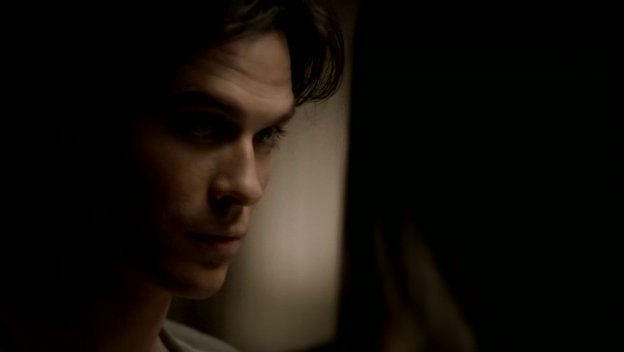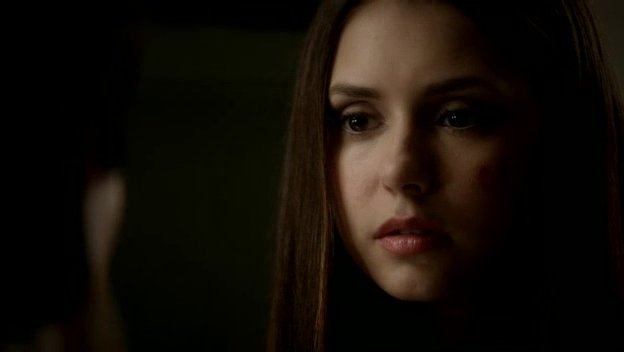 Is it just me, or does Elena seem a little annoyed that try for cockblocked? Lol. She does look back at him though. 😍😍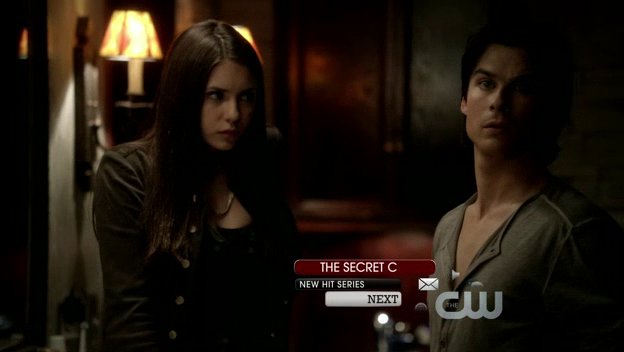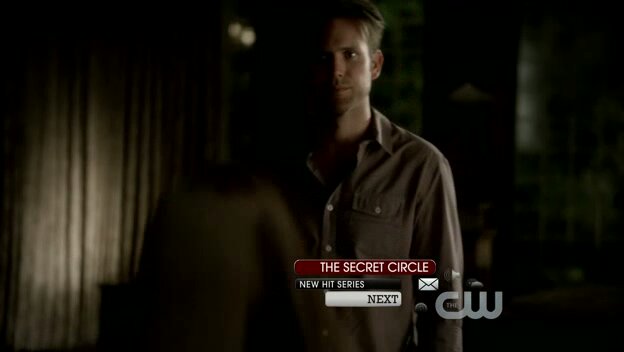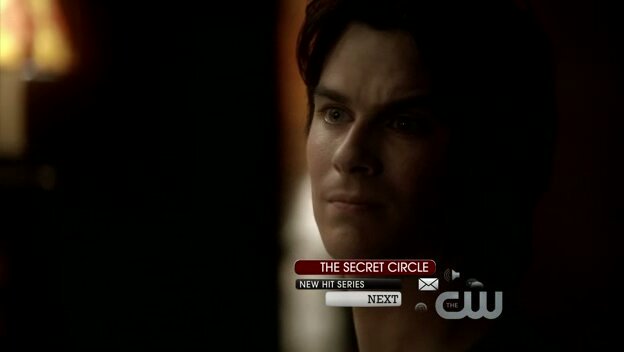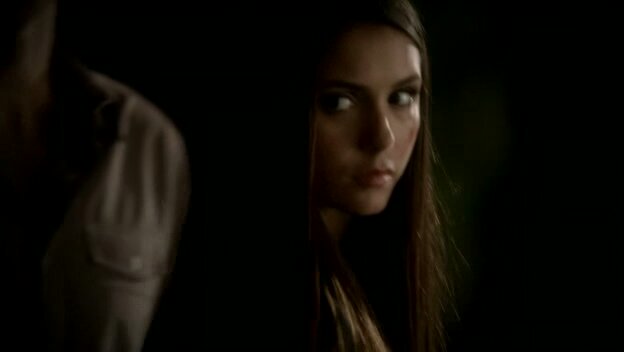 Okay, so Forwood is good again. I need Tyler to stay away from douchebag road. Caroline deserves some happiness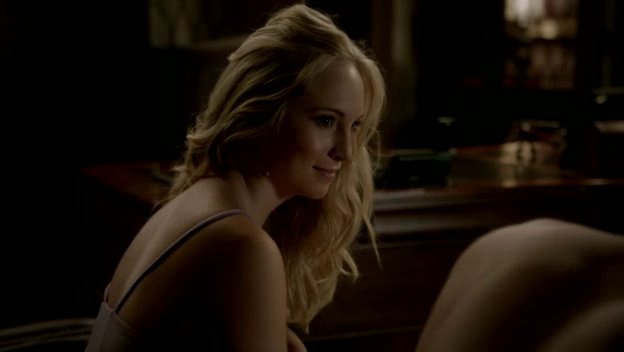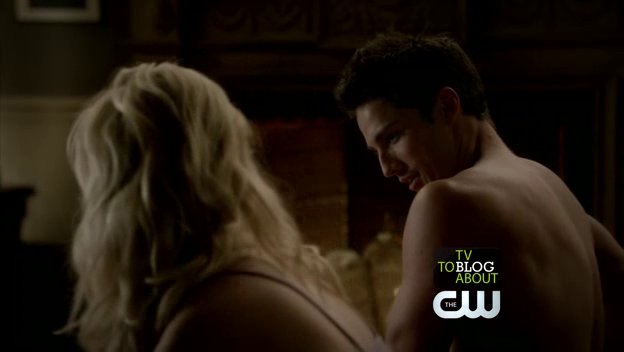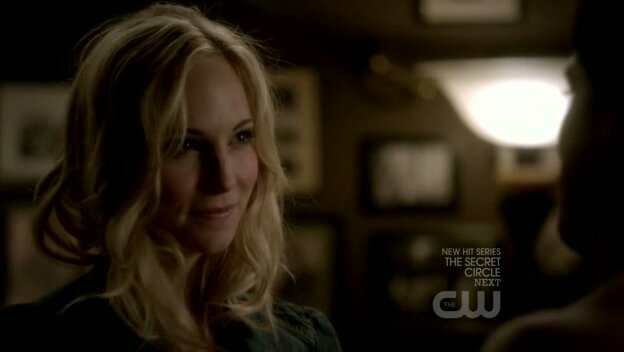 What is Rebekah doing there? And why is she so he'll bent on taking everything from Caroline? She is fucking gorgeous, she can get any man she wants.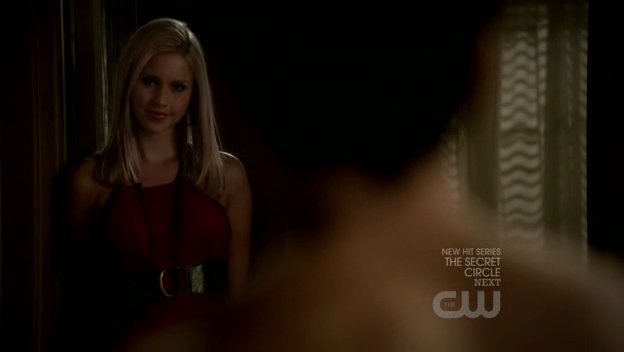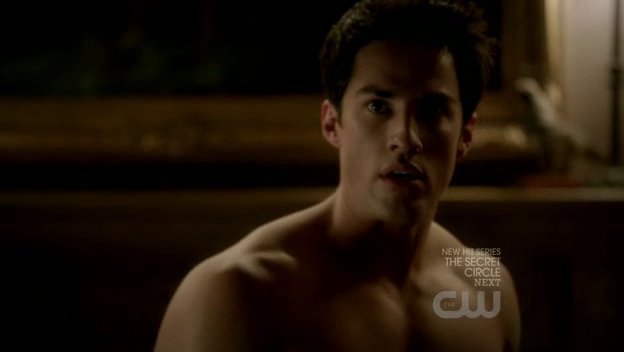 Why Rebekah? Why??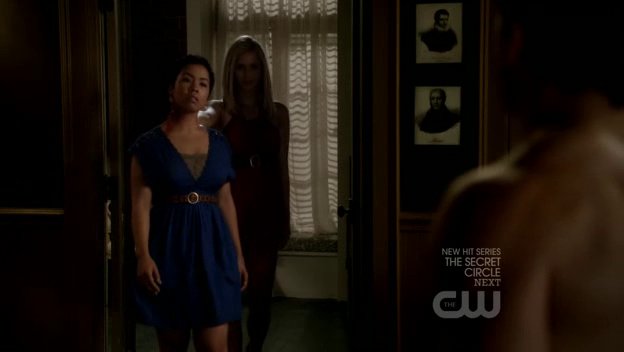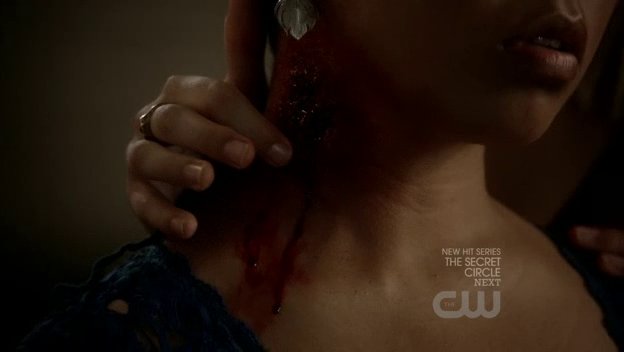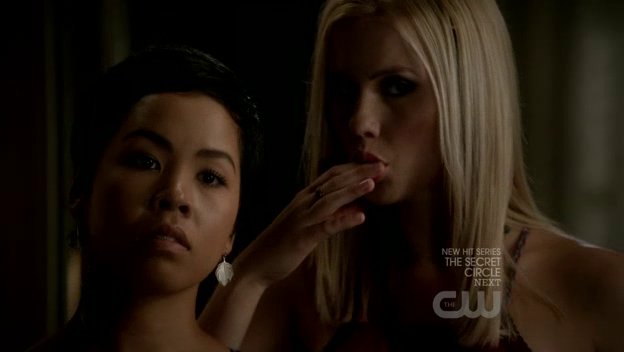 SHIT NOOO MIKAEL IS EATING KATHERINE. FUCKK NOO OMG
HE DOESN'T EAT LIVING THINGS. SHIT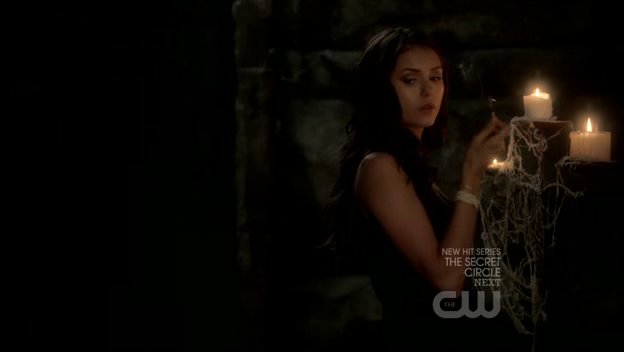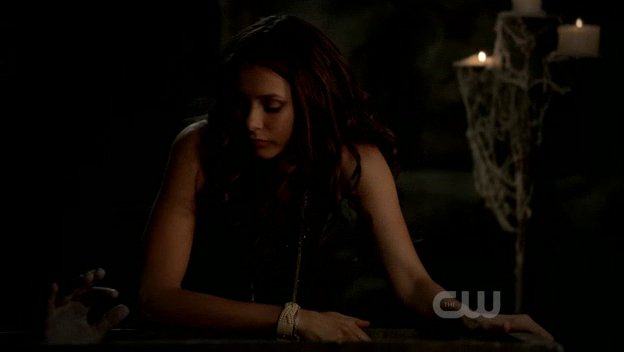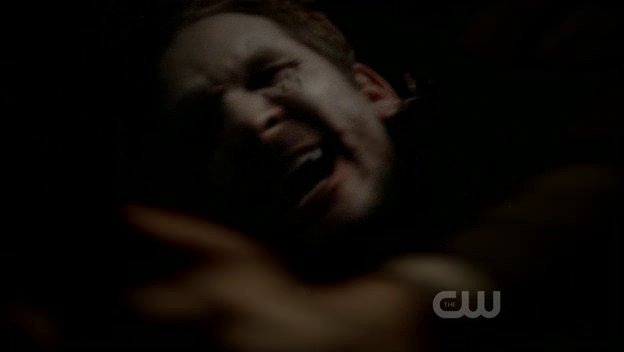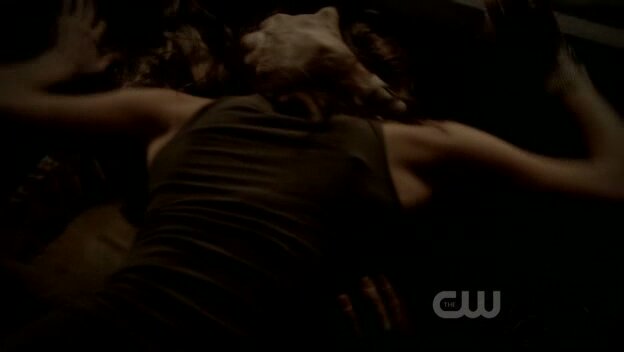 Katherine better not be dead though. She can't go like that.
"It's okay if you want to be friends with Damon again."
"I don't."
"I think he kinda misses you."
Yes please, can the bromance get back on track again???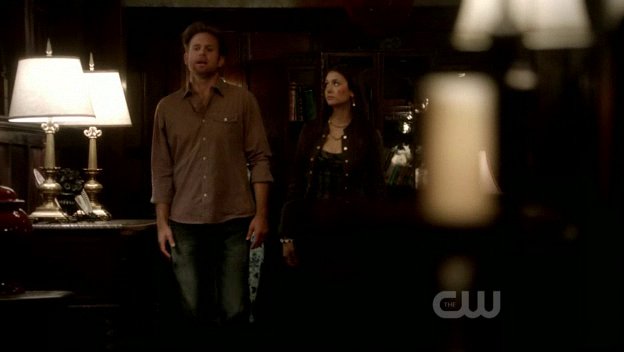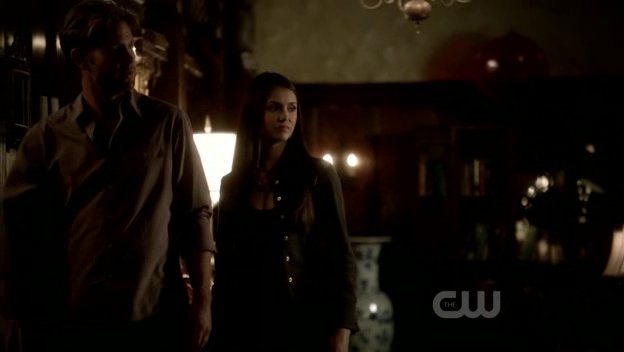 Stefan says they are better off having him around because he will always protect Elena. That's good and all...but he won't protect her from Klaus. The one she actually needs protection from...
Stefan wants to know why Elena saved him. Um, because she is a good person. And she still cares about you. She is obviously in love with both brothers, but staying loyal to Stefan, even though he broke up with her. She says she atill has hope for his humanity. So do I.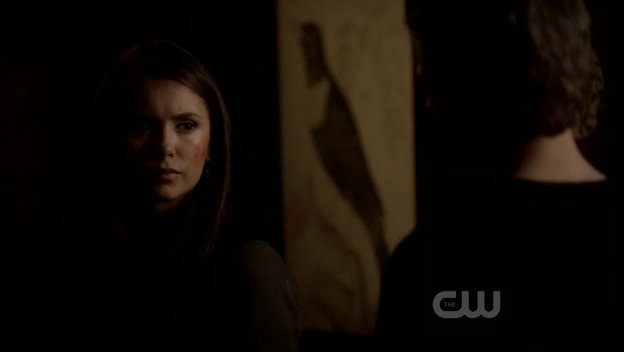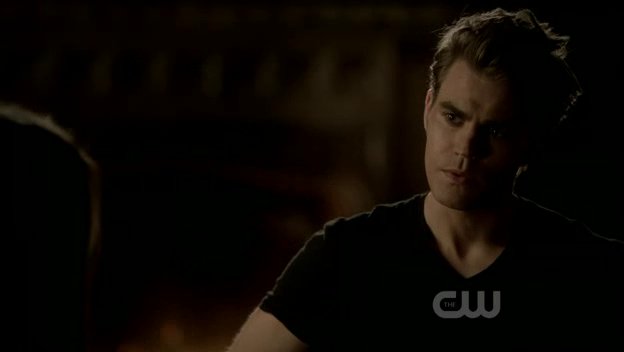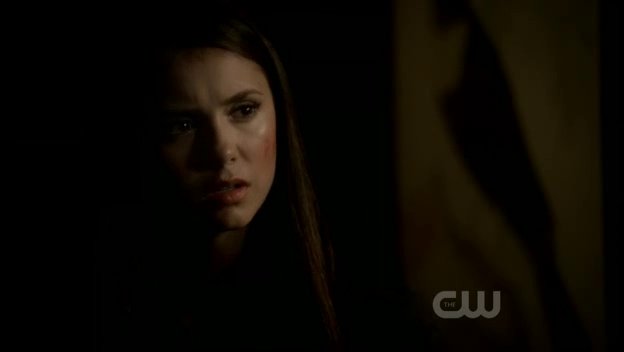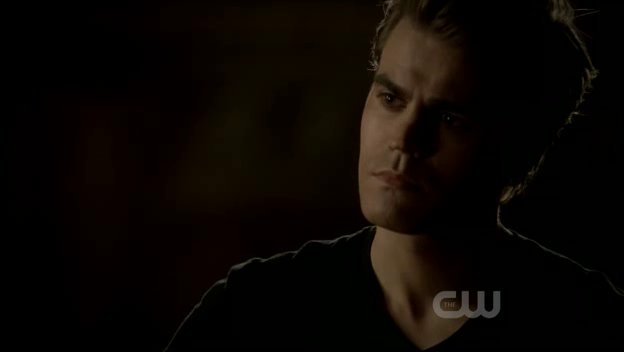 "Do you have any idea how pathetic that makes you?"
"No Stefan. It makes me strong."
HAHAHA GO ELENA. She can use that now. 😂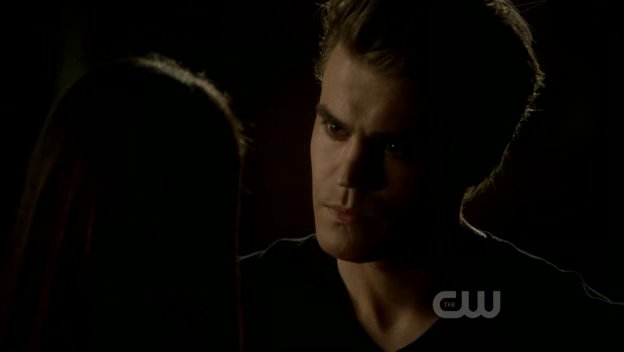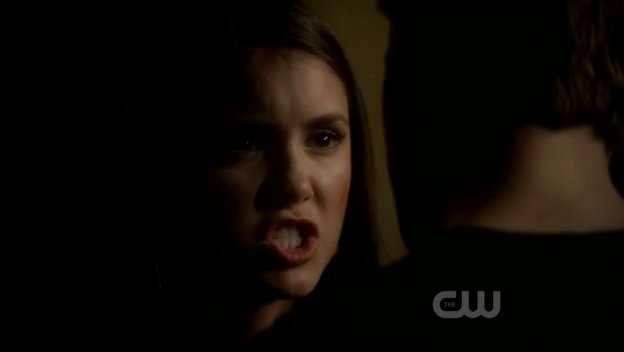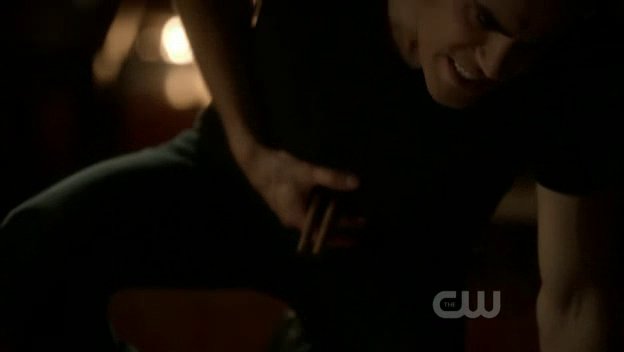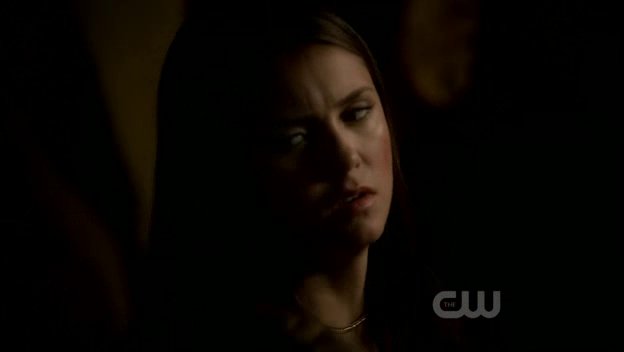 Look at proud step dad 😂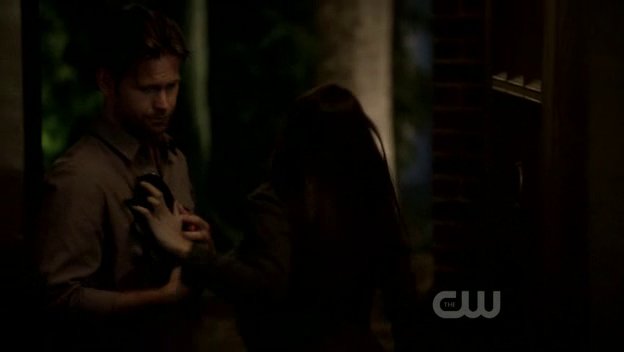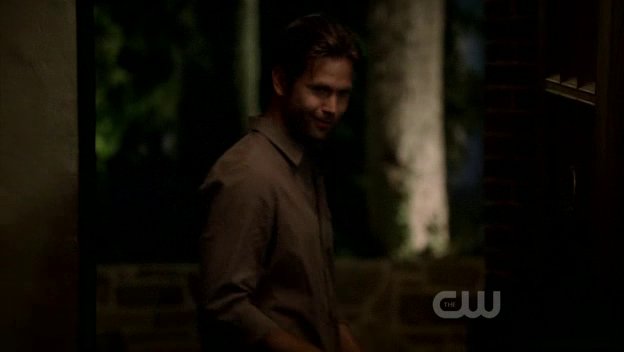 JEREMY AND ANNA CAN TOUCH OMFGGGG 😍😍😍😍 I don't even care about the how.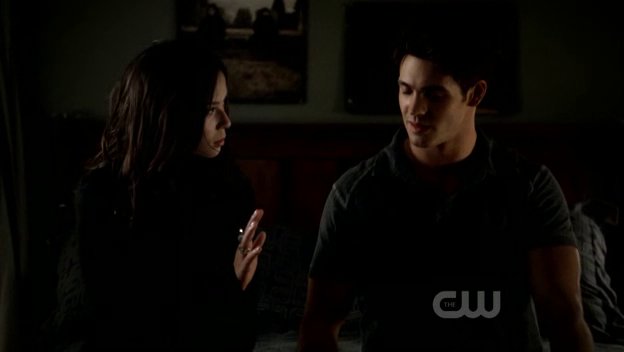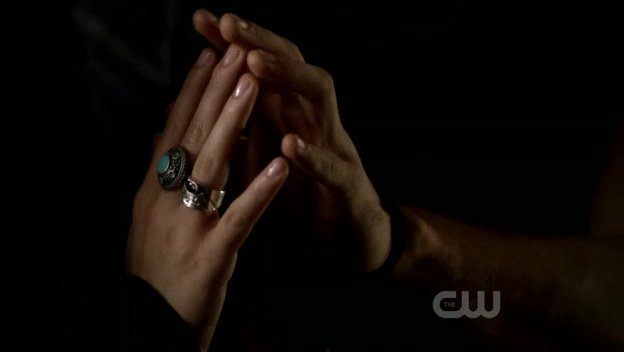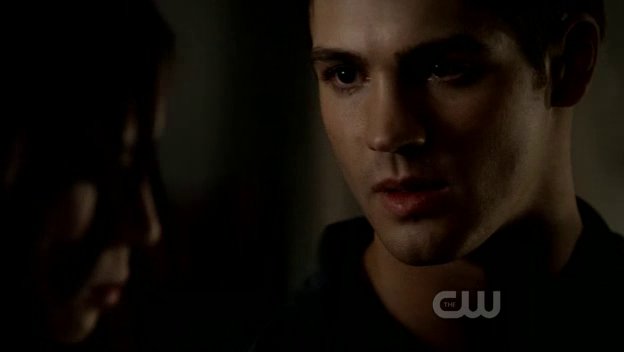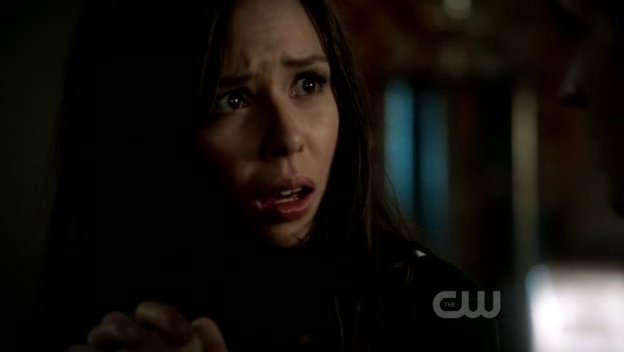 Damon and his Persian rug. Lol.
Who is messing up his house though?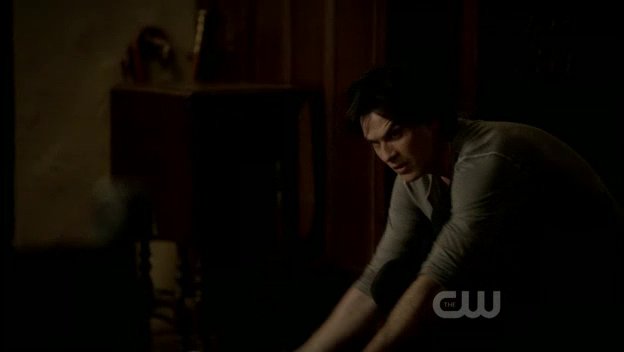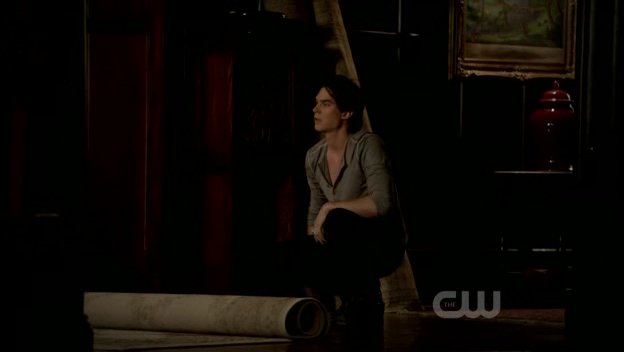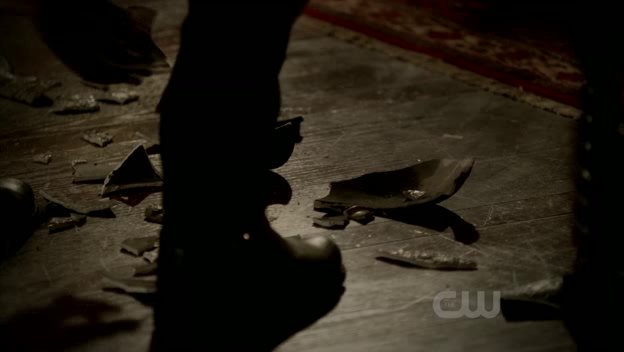 OH SHIT MASON?WTF. HE SENT DAMON FLYING. WTF IS GOING ON??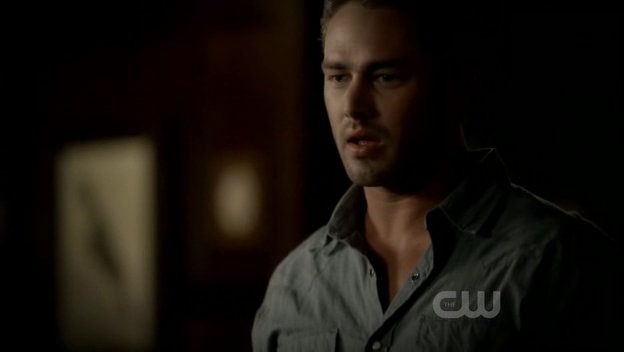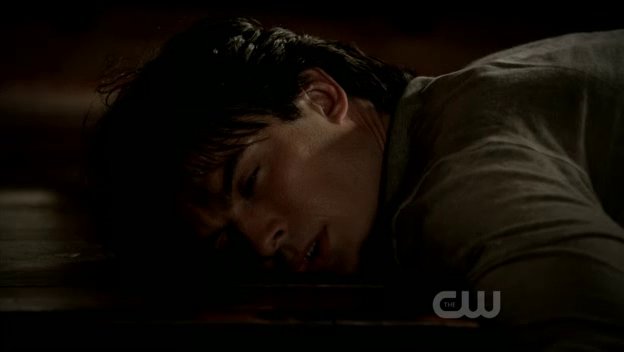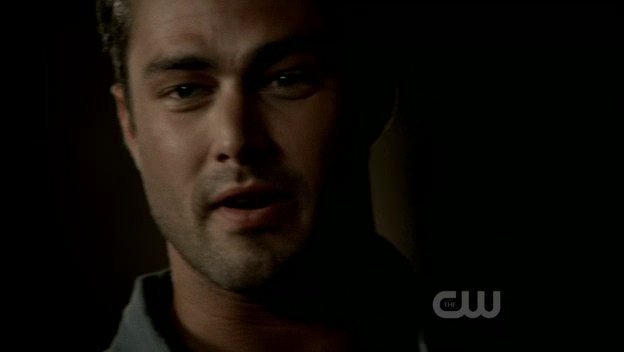 Why can ghosts interact how? Whats happening? ?
Good episode. Loved it. Every minute 😍
03x07 "Ghost world."
Well, the world is suddenly full of ghosts who can touch you, so why not?
SHIIIIT Mason is doing to Damon...what was done to him. And he looks real vengeful. People you kill are suppose to stay dead, damnit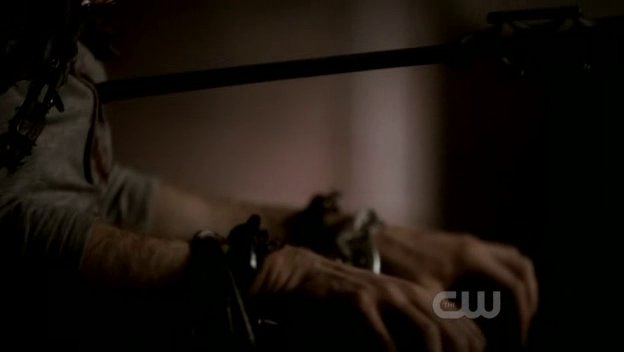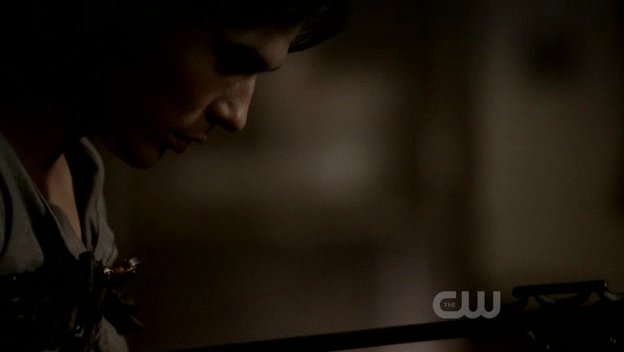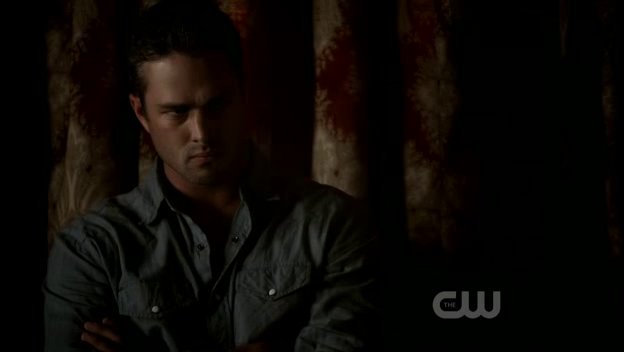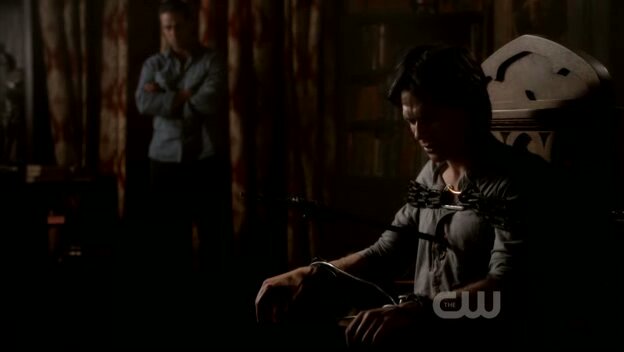 Why do they always go for the rings? 😐 Damon can't see Mason. Because he isn't thinking about him? He thinks ripper Stefan did it. Well, he didn't, but he is getting his share of shits and giggles out of it. OMG he only freed him halfway 😐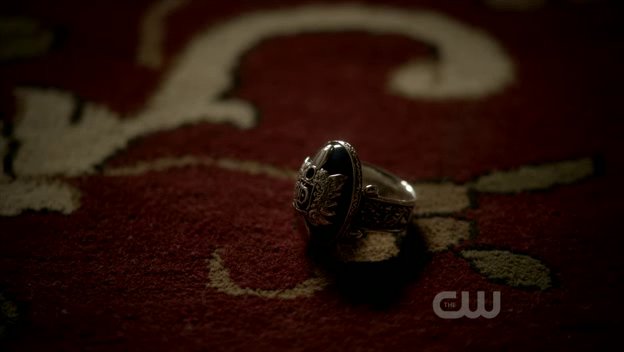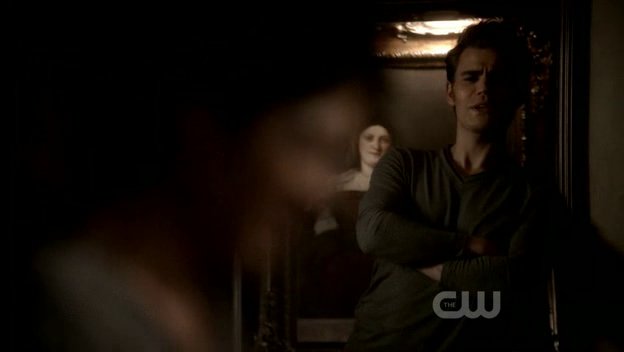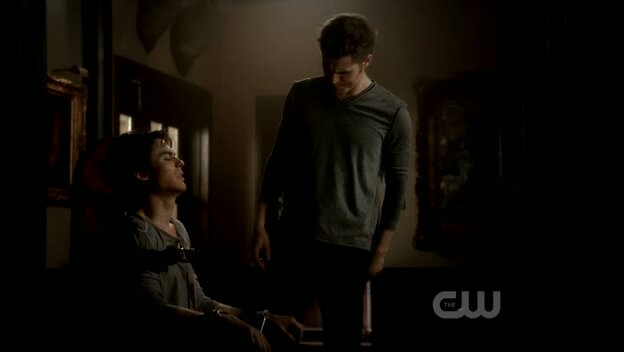 MASON YOU SON OF A BITCH. 😐
I know he has every right to be pissed off but dont hurt my son.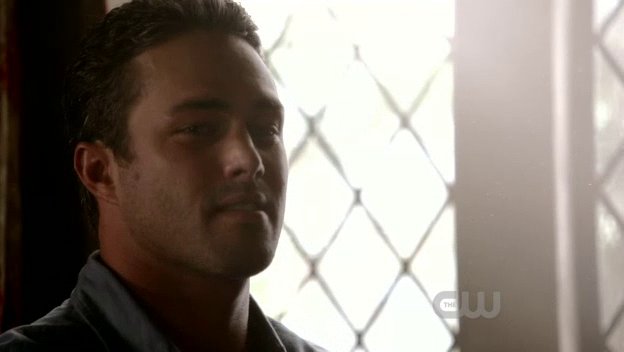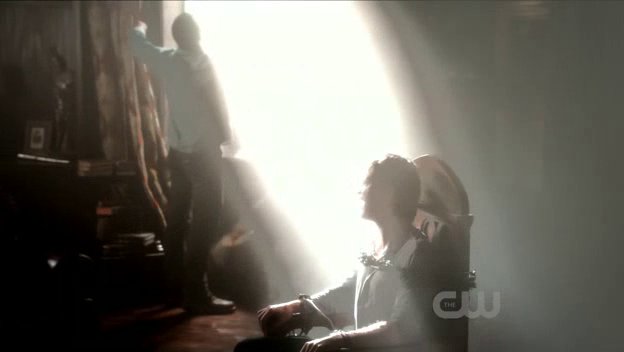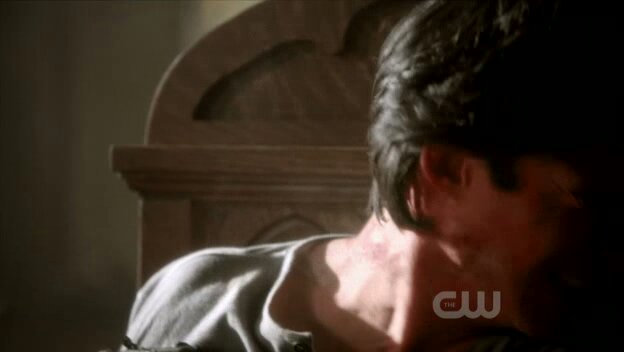 Another town event. Not even surprised anymore.
Jeremy is laughing and holding hands with Anna. They are acting like boyfriend and girlfriend again and it's so cute. Elena can't see Anna and asks Jeremy why he is laughing. No Elena, he does not have an imaginary friend. ...Not technically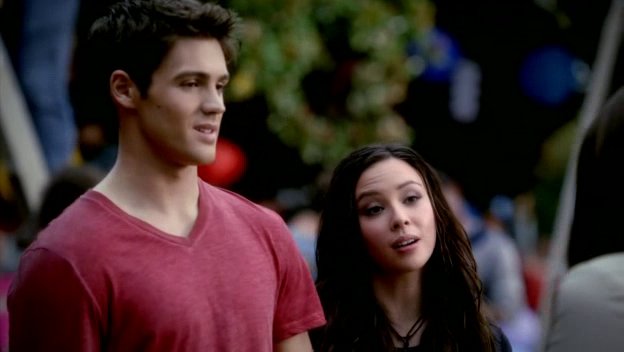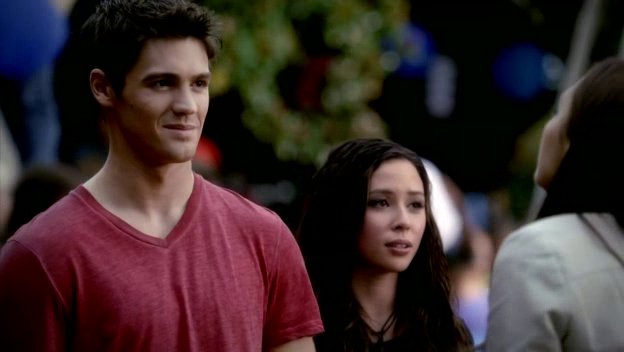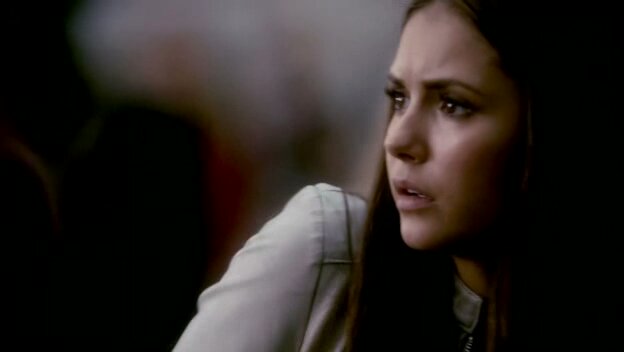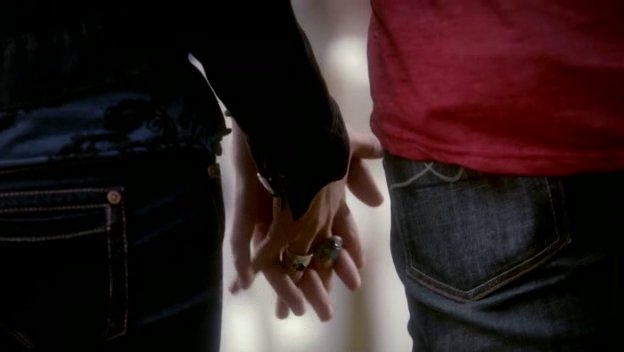 Caroline and Bonnie talk about Jeremy and Anna. Bonnie isn't okay with him seeing her. I wonder how she will feel of she knows they are holding hands? Anyway, she doesn't deserve this and Caroline agreed that she shouldn't have to put up with it.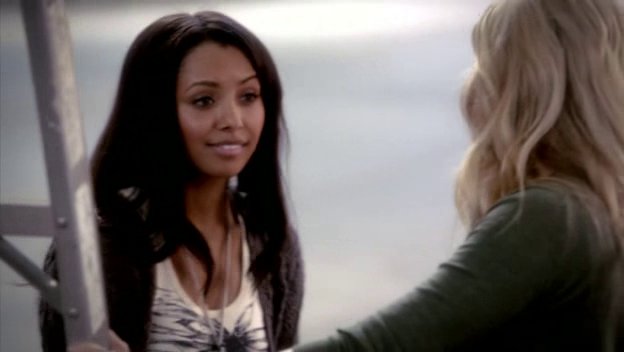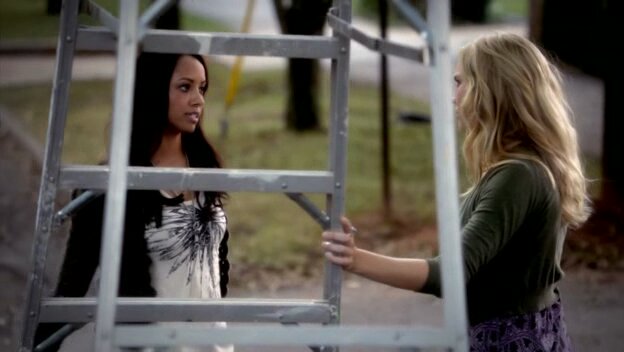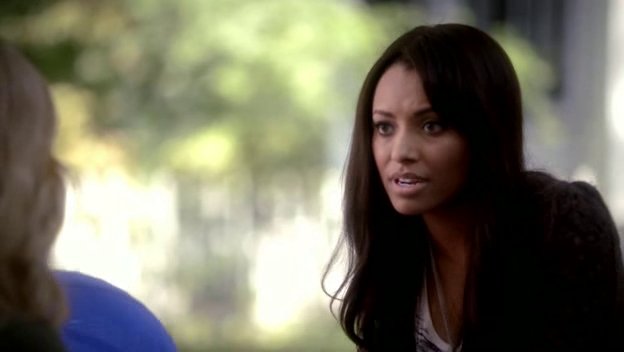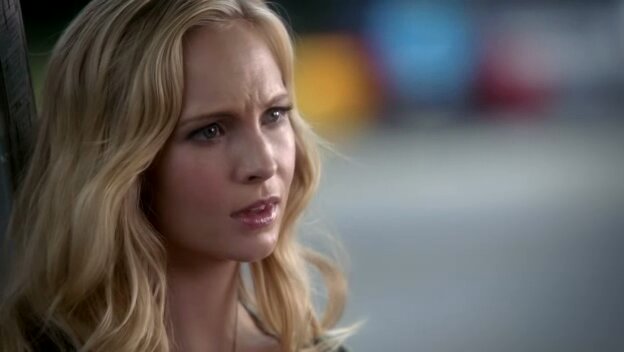 Look at Caroline learning about selfworth in a relationship. Her character keeps growing and I love that. Hopefully she will now extend this sentiment to her own relationships.
Damon pulls up to inform Bonnie that something went wrong with her spell to send Vicki back. One pest is gone, but another is here now. He figured out it was Mason harassing him. "When I kill someone, they are suppose to stay dead."
Lmaoo my sentiments exactly.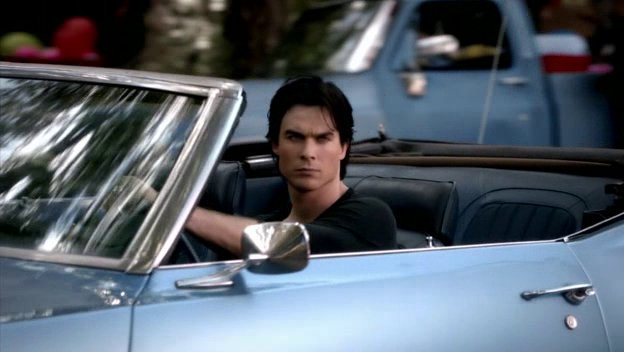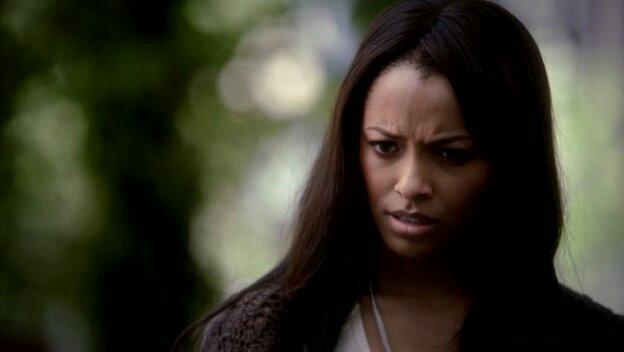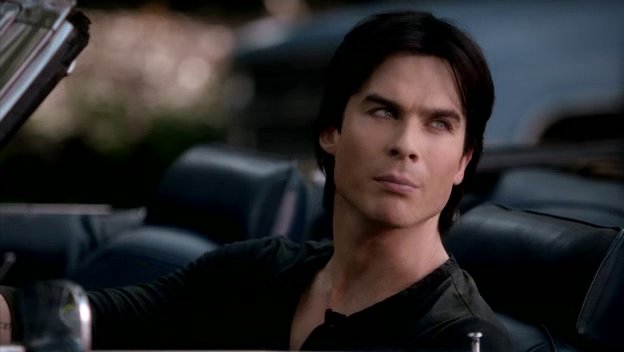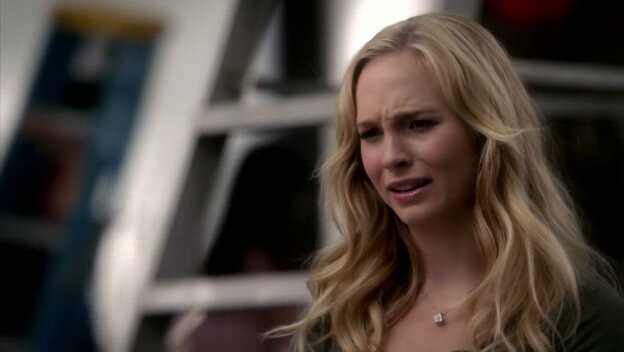 Elena wants Jeremy to contact Lexi, so she can ask her for pointers on how to bring Stefan back. Alaric thinks it's a bad idea and Jeremy explain a bit more about the other side to them.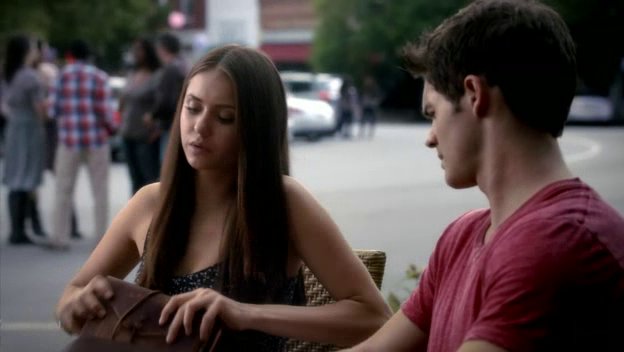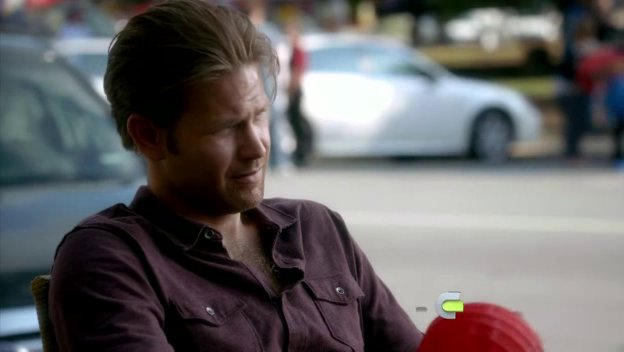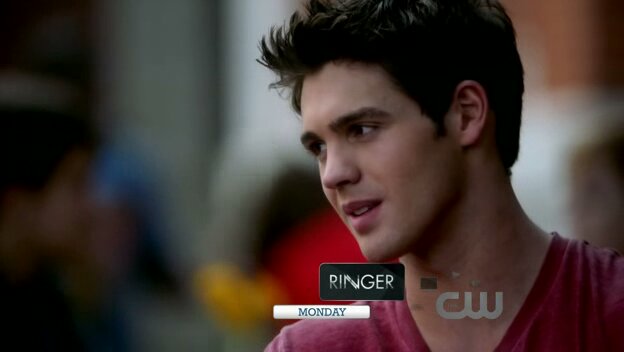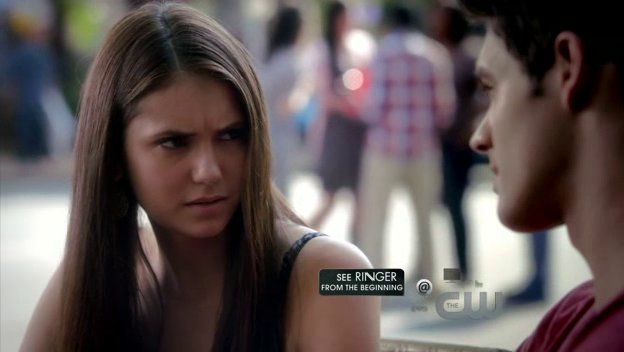 Matt says that he hasn't seen Vicki since sending her away. Caroline points out to Bonnie how Matt is a stronger man since he could do what Jeremy can't. Um...Anna isn't trying to kill people. It's much easier to not want a crazy pyromaniac ghost around than an innocent one.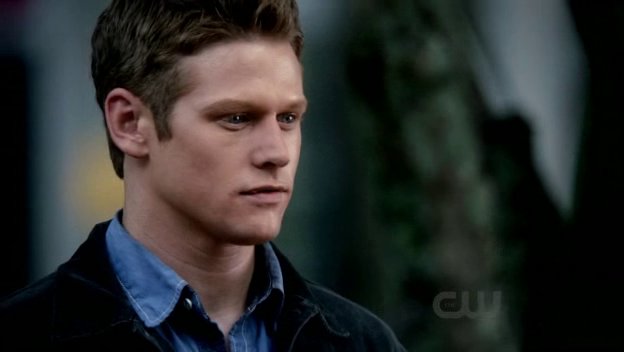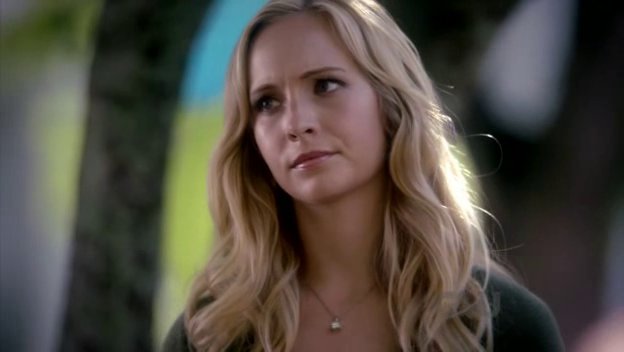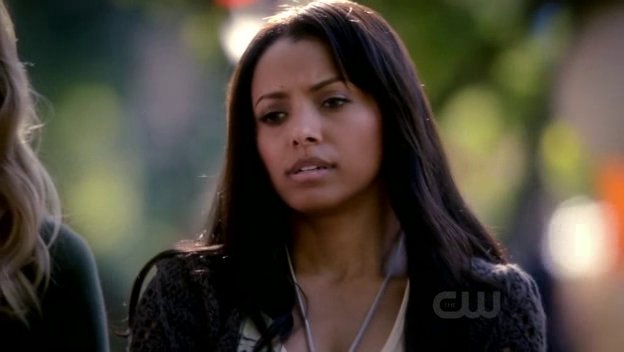 Shit. Bonnie's spell book is being all creepy, yet helpful and reveals a spell to reveal ghosts.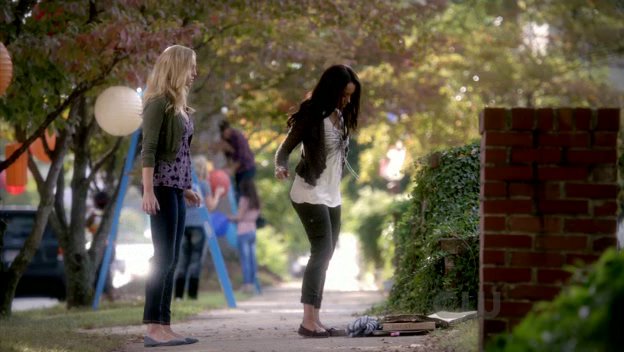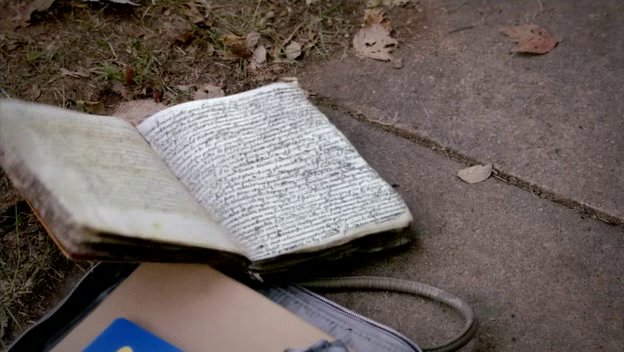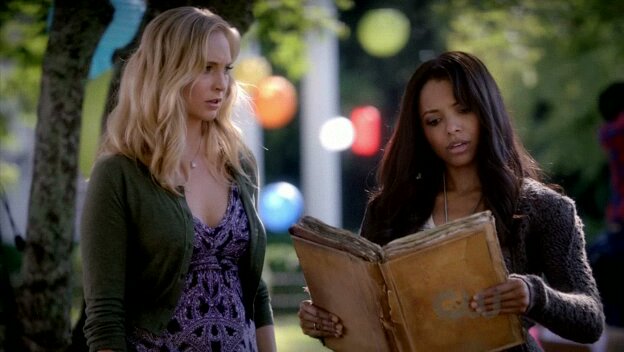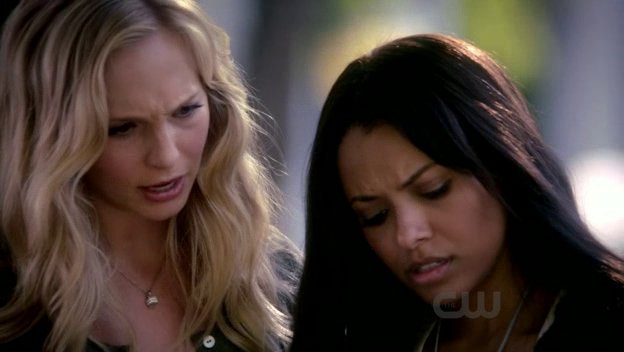 Anna says that not all dead vampires go to the other side. Some find peace. So the other side is like some purgatory for vampires with unfinished business? I am guessing about 90% go there then.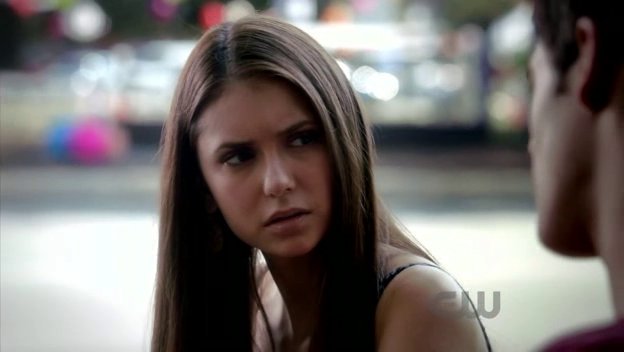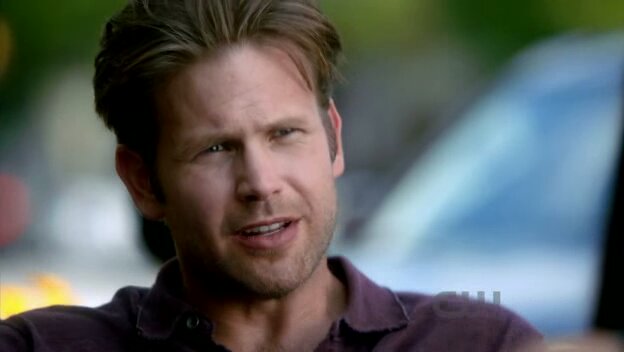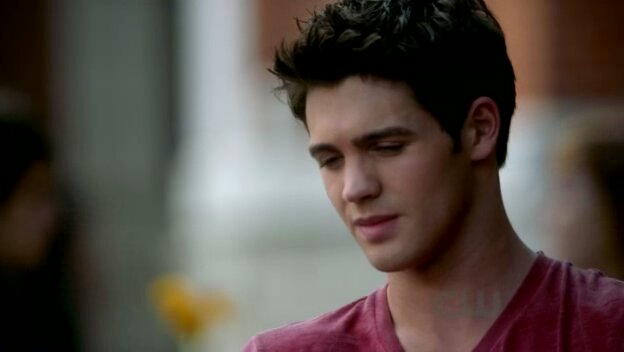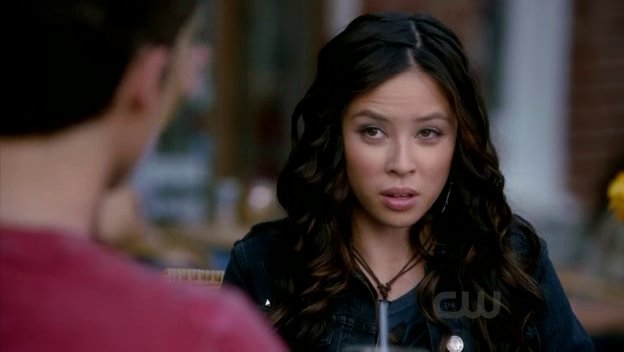 Stefan joins them once Jeremy leaves and is acting like a dick again, leaving Elena more determined than ever to find Lexi and get her help. She is so loyal. I think I would have ditched Stefan by this point.Earlier than this actually. A relationship shouldn't be this hard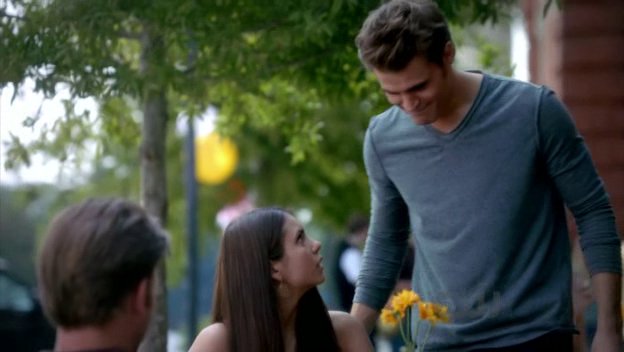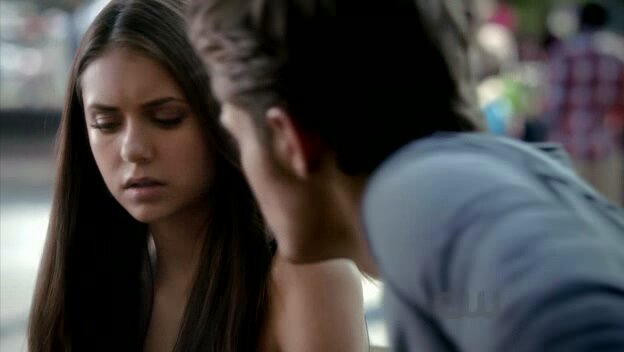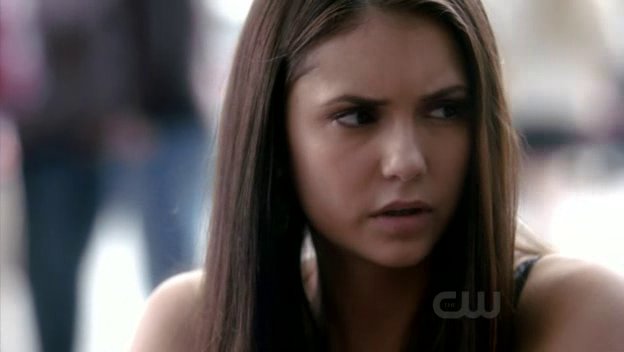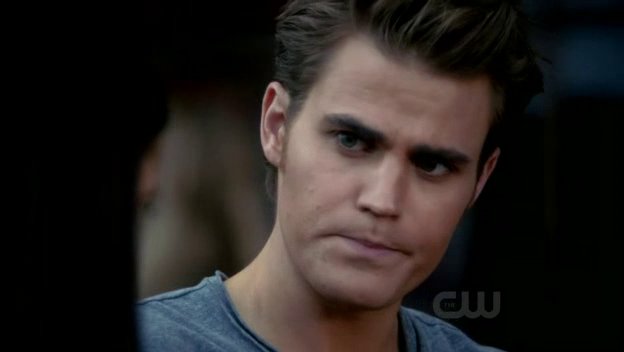 Carole a and Bonnie go to the old house in which the witches were burnt. Careful Caroline, those crones hate vampires and would love to set you on fire. 😨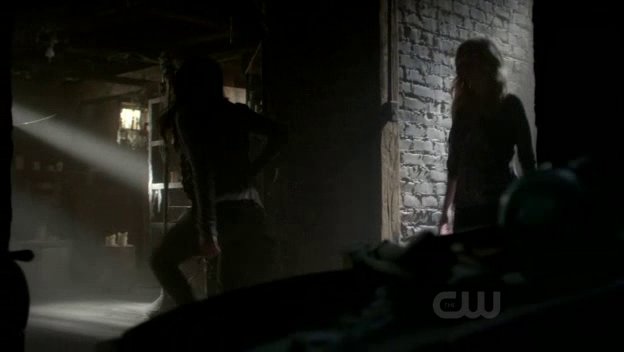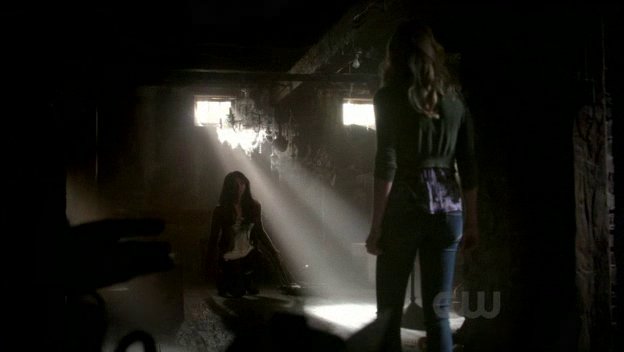 "There is no chance it's haunted by the 100 dead witches, who were horrifically burnt to death in this very spot, is there?"
"They are not here anymore. They made it clear they were never coming back."
"Right...hey, ...pinkyswear?"
Lmfaooo Caroline is me though 😂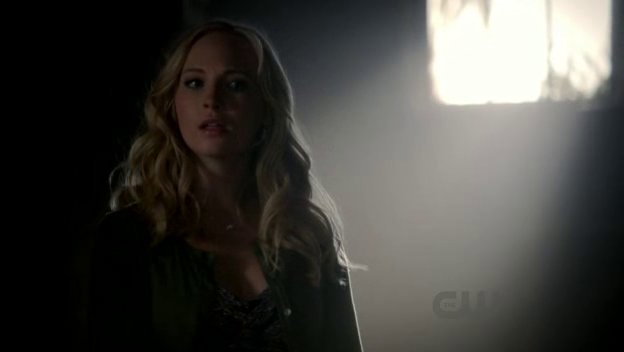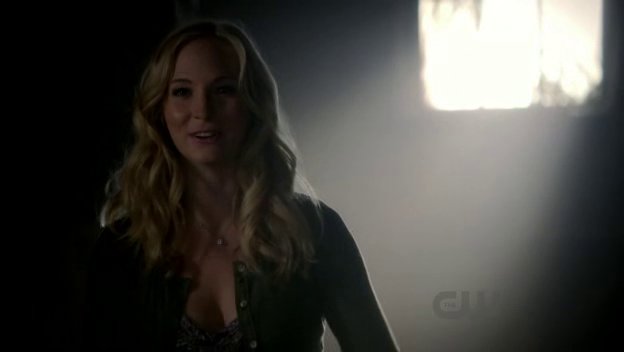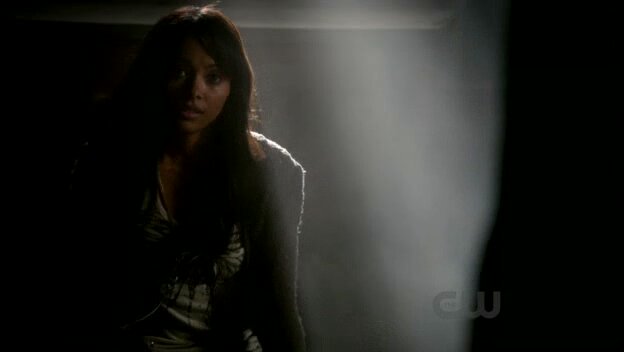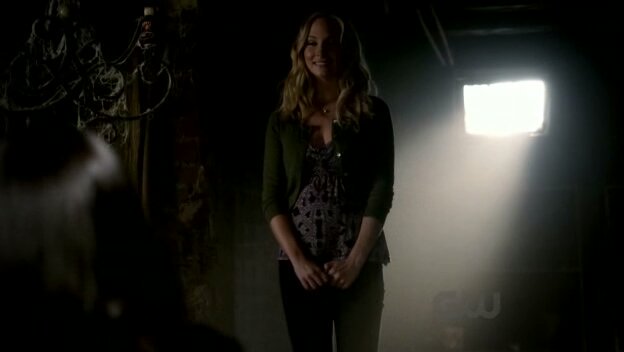 Anna promised Jeremy that she isn't using any magic to interact. She just doesn't want Elena to know about her because she is Bonnie's friend and won't like it.
OMGGGG Jeremy kissed her. I LOVE THEM TOGETHER 😢😢😍😍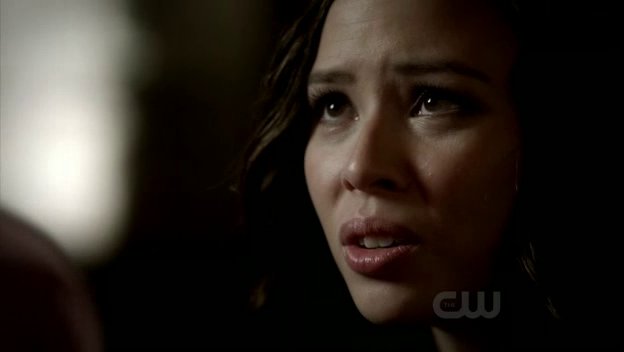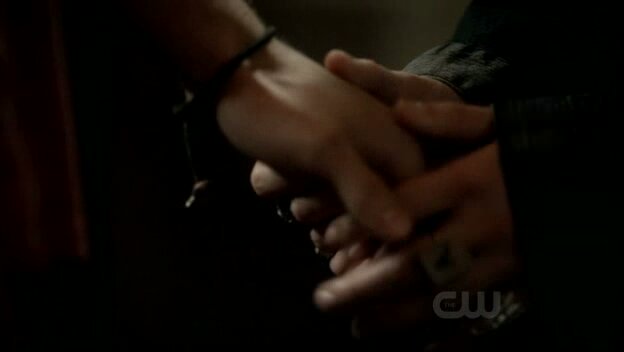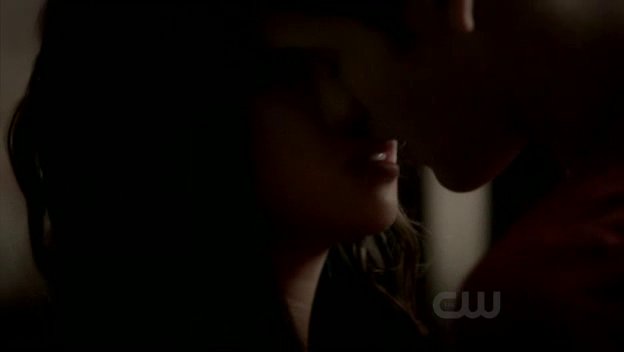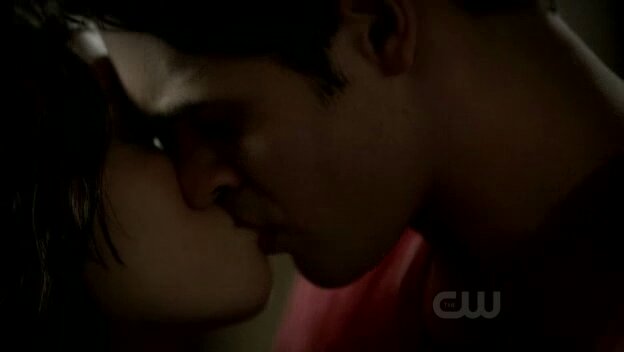 But I have shipped Anna and Jeremy since season 1 okay 😣
Lmaoo Caroline is scared shitless 😂 I really don't blame her at all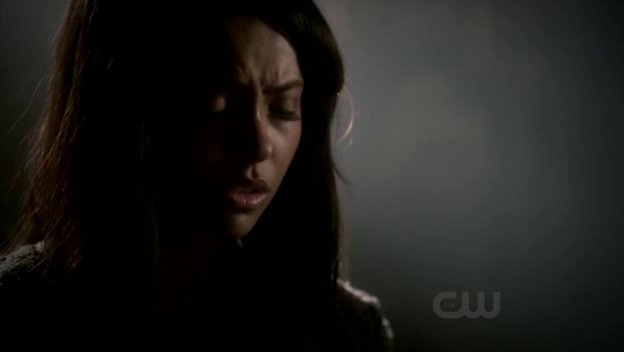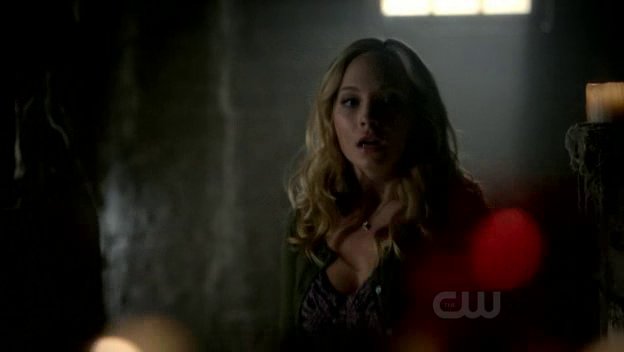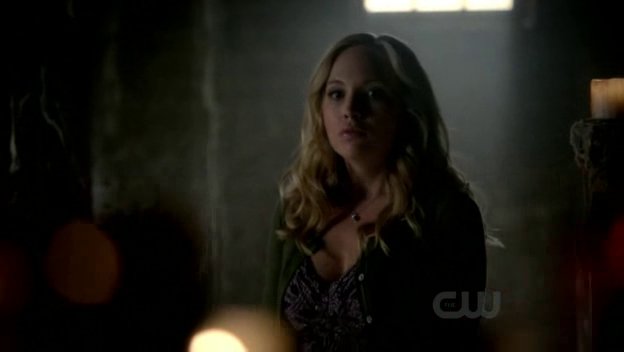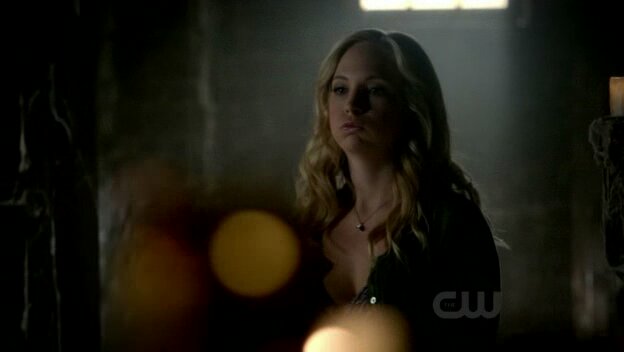 Alaric is still mad at Damon. This is 4 episodes later. Why do the characters in this show, take FOREVER to forgive Damon for something? 😩
"We are not a team. You tried to kill me. We are not friends. I don't like you anymore."
Ouch 😢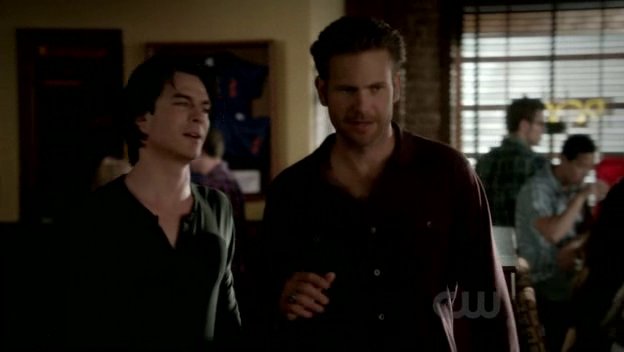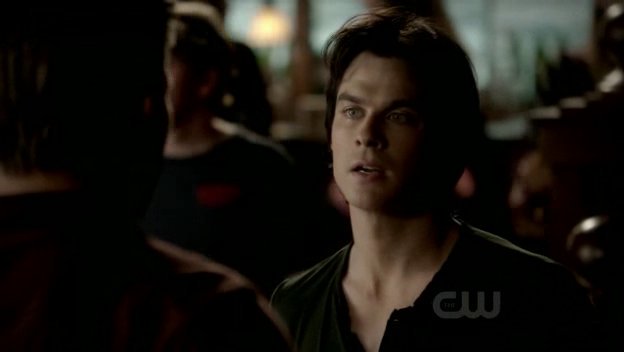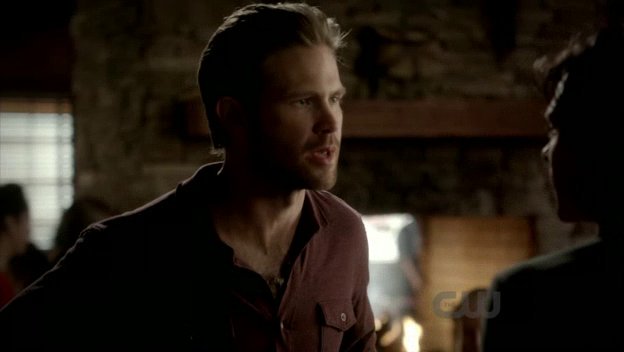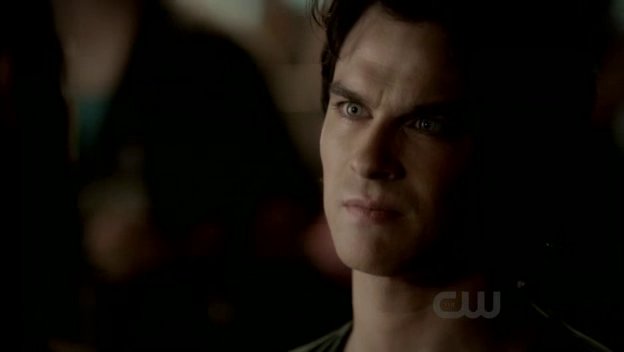 Get over it dude. It's not like you stayed dead or had any permanent damage. He made you take a little nap after you were being annoying. He shouldn't have done it, but seriously, get over it. 😒
Bonnie does her thing and awww it's grams. And Caroline can see her too. It's good to see her again. 😢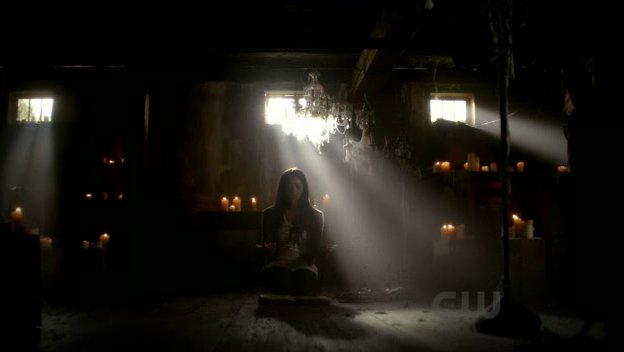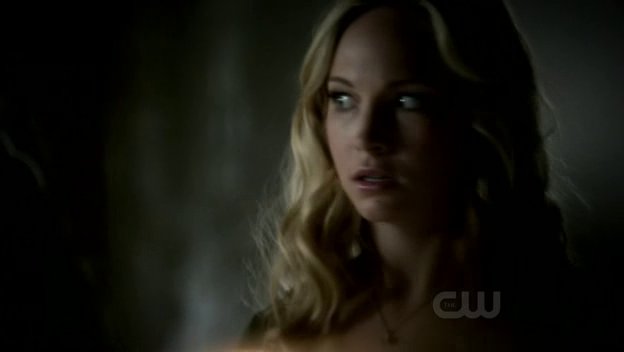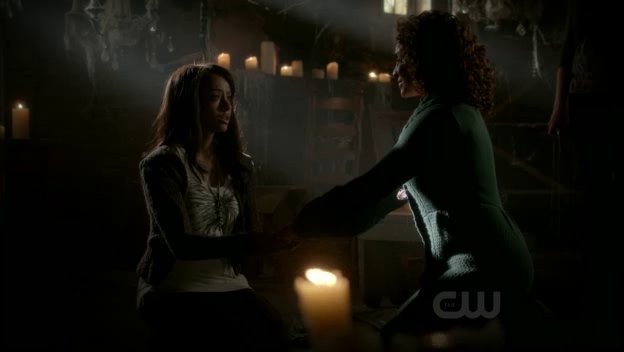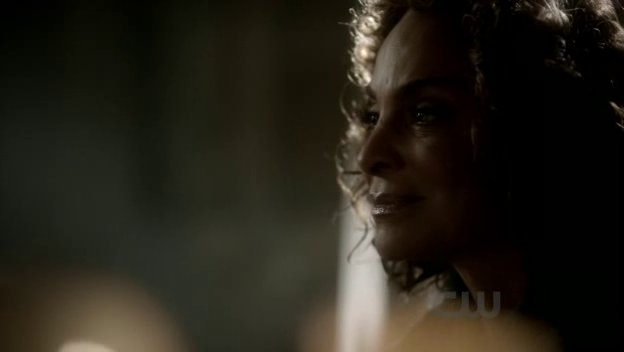 Elena walks in on Jeremy and Anna in the (woman's?) bathroom. Lmao. Why is Jeremy in the ladies loo?
Elena can see Anna. I think that's good. Imagine if she walked in on Jeremy kissing...air? 😂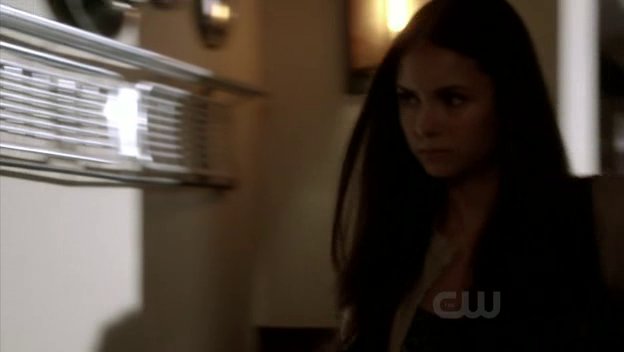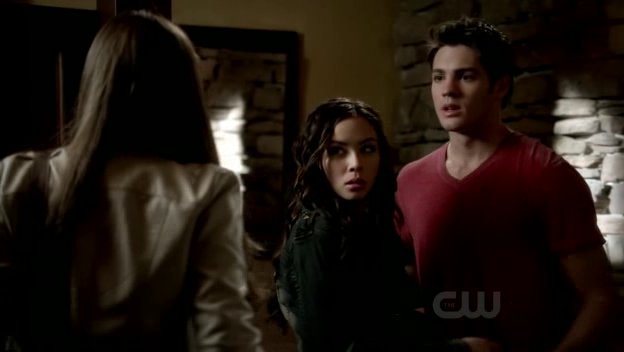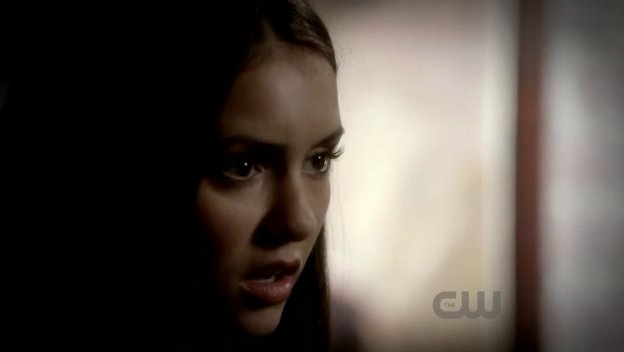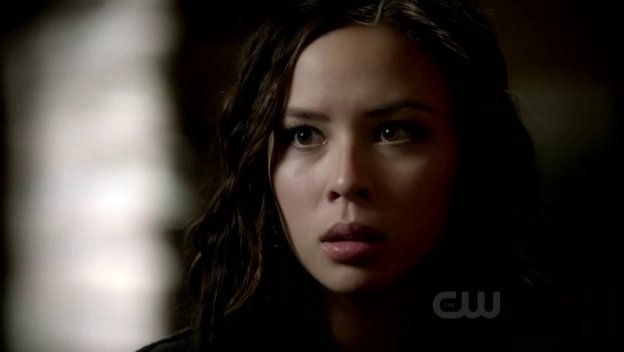 YAY LEXI IS BACK! Now go fix Stefan please. Having him act this way isn't fun anymore.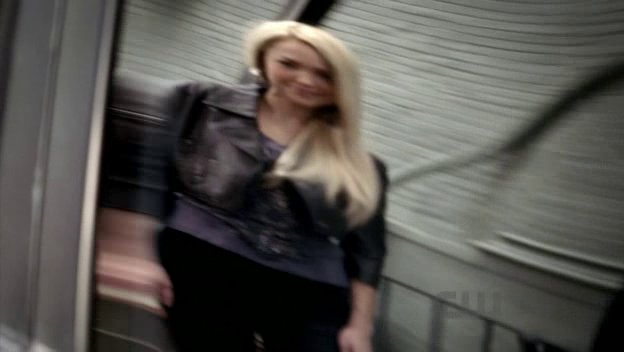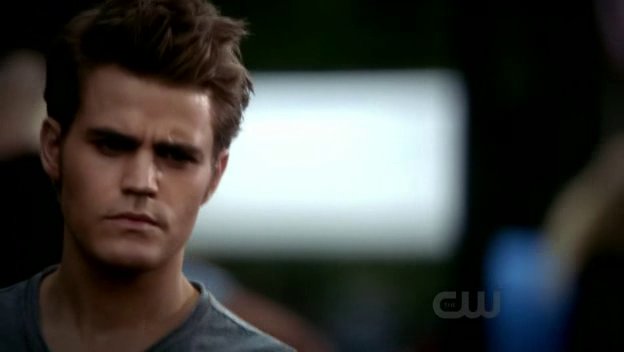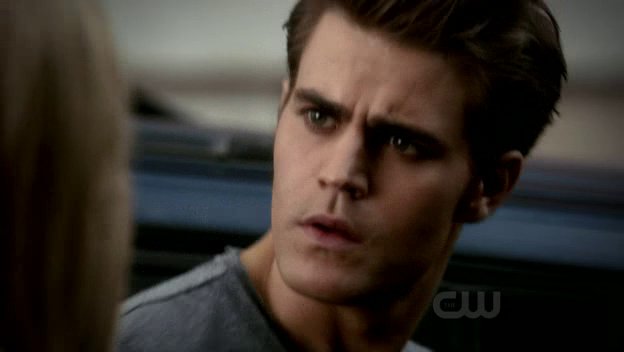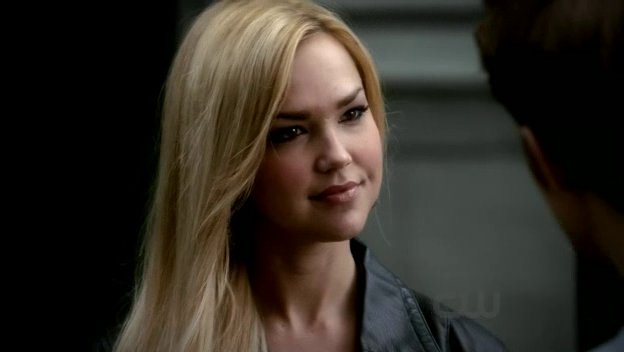 Damon and Alaric are having a bromance quarrel, yet still sit next to eachother. I think despite Rick's protests, they are still very much friends. Friends who can see Mason as he smashes a glass into Damon's head. 💀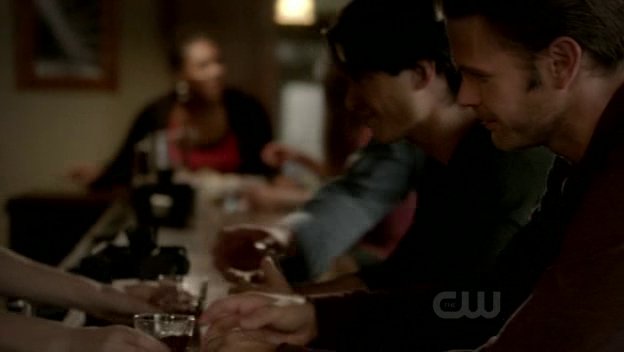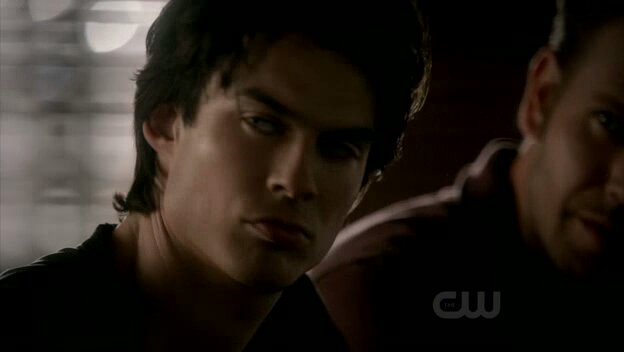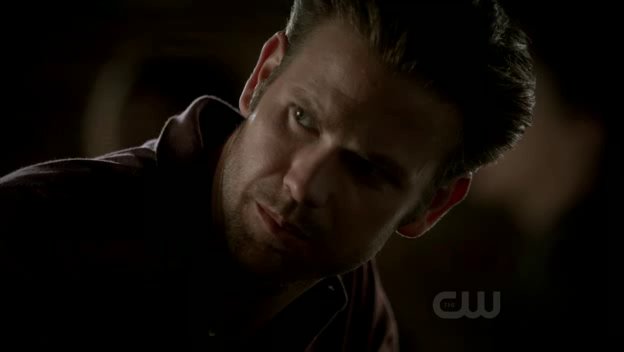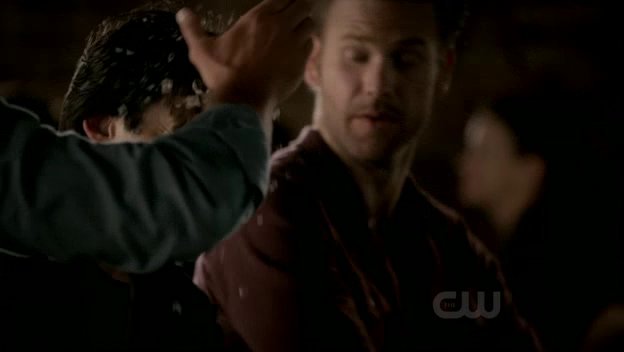 Stefan looks really scared. He wants Lexi to go away and leave him alone. Does he like being the way he is? Can he even like? That's fear on to face though. So some emotions can still filter through if provoked?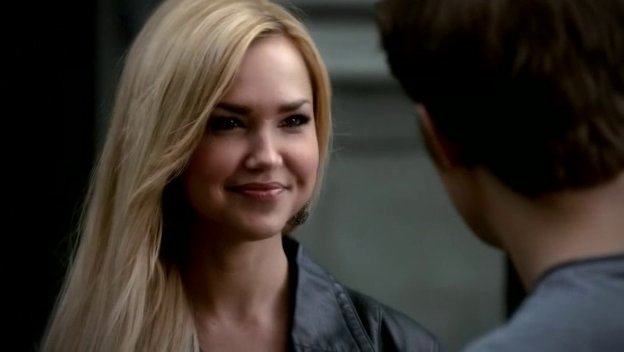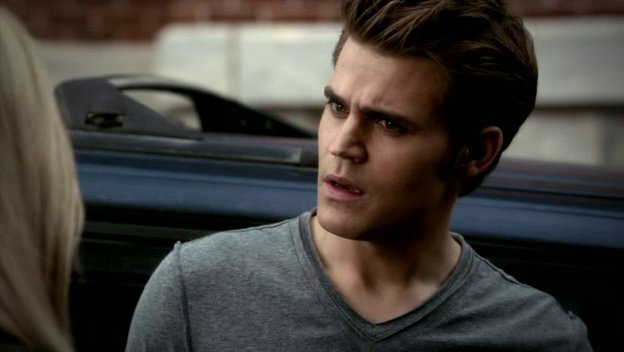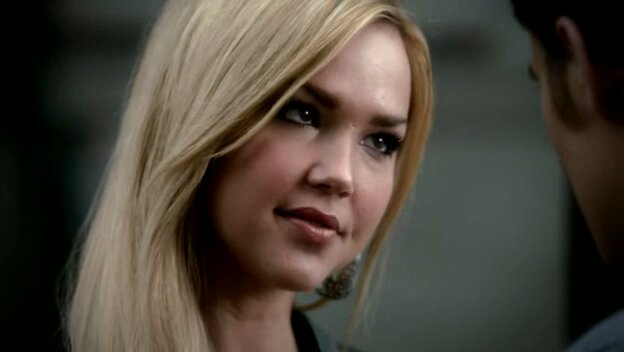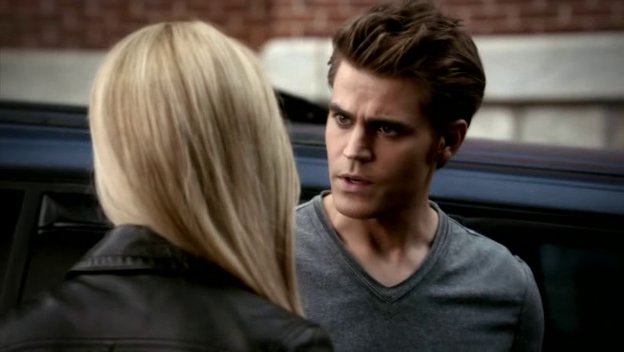 SHIT. OKAY. I get why year filtered through. Lexi is a badass. Phew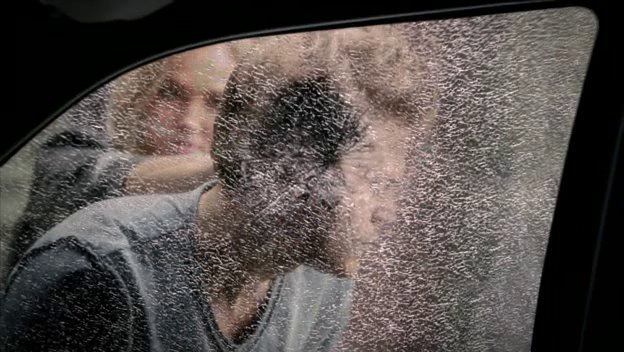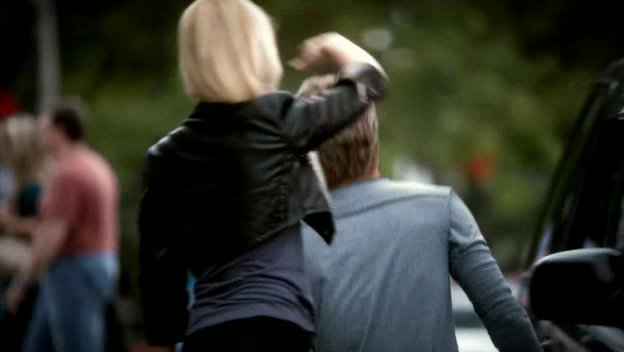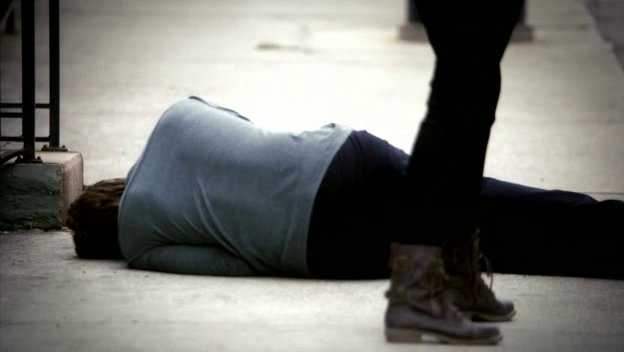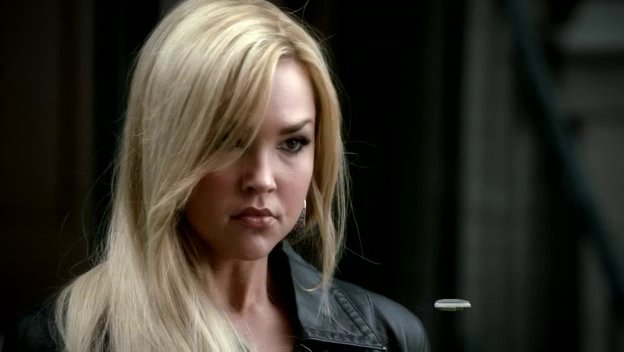 Bonnie messed up so bad when she brought Jeremy back. The old witch on the other side took advantage and when Vicki was sent back, cracked open the door between the other side and the world of the living. SHIIIT. This bitch witch who sent Vicki to kill Elena. 💀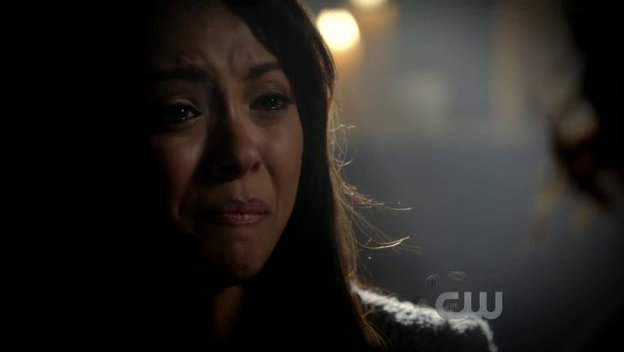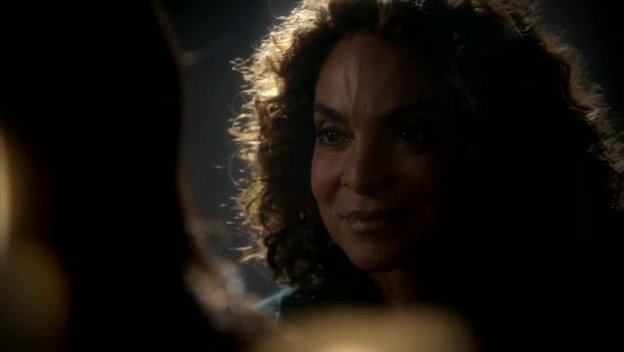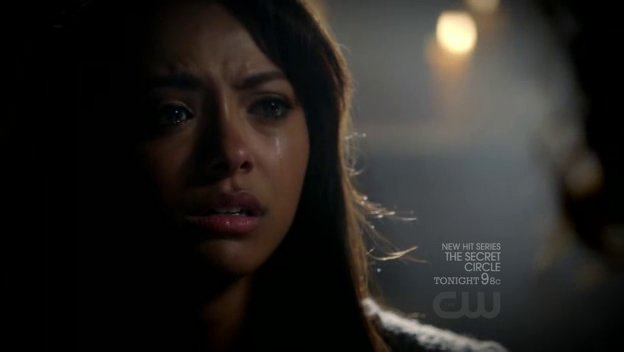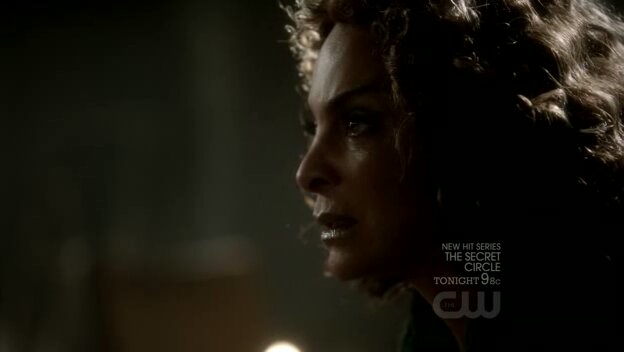 Elena is so pissed off at Jeremy for cheating on Bonnie. Caroline telks her that th witche's foothold to the living side, is her talisman. The necklace has to be destroyed.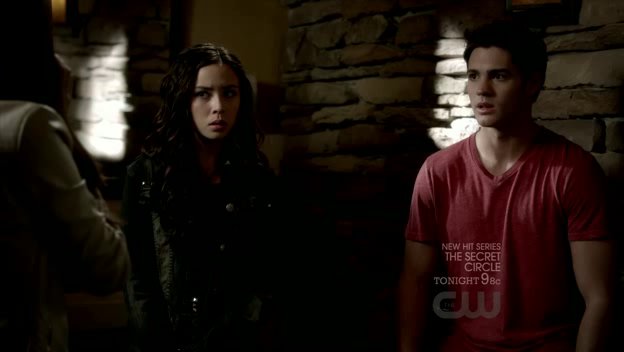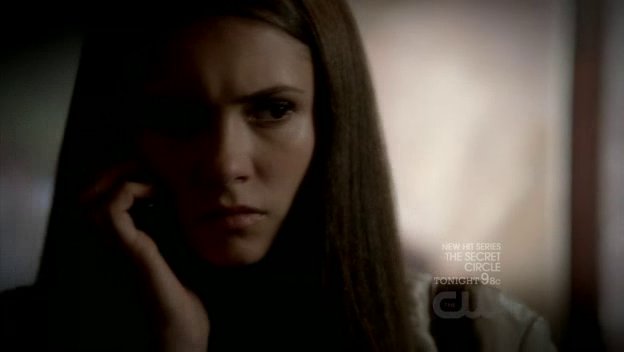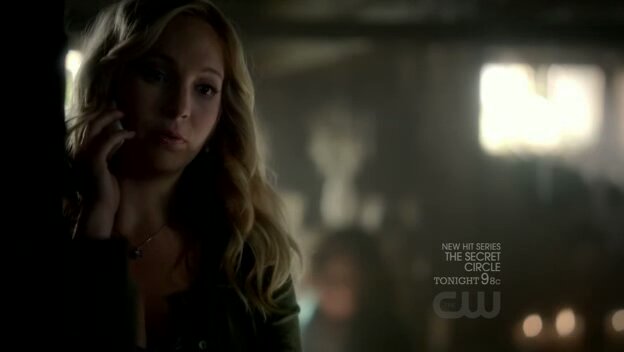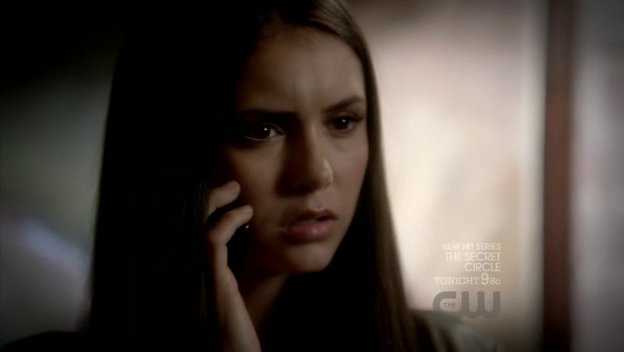 "You need to disappear or evaporate, or whatever it is that you ghosts do."
"Hey, it's not her fault."
"You are right. It's yours."
Hey Elena, no need to be so cold and rude to Anna. 😐
I like that Elena is defending Bonnie against her brother and all but Anna has feelings too.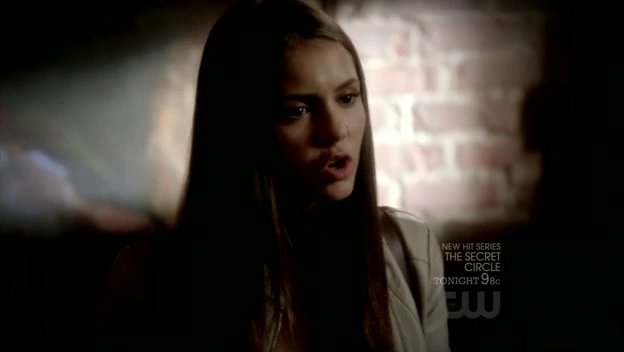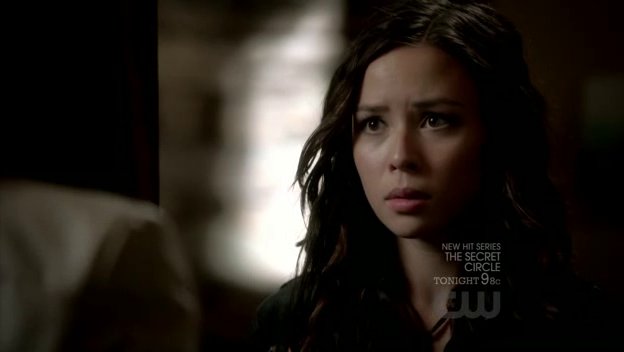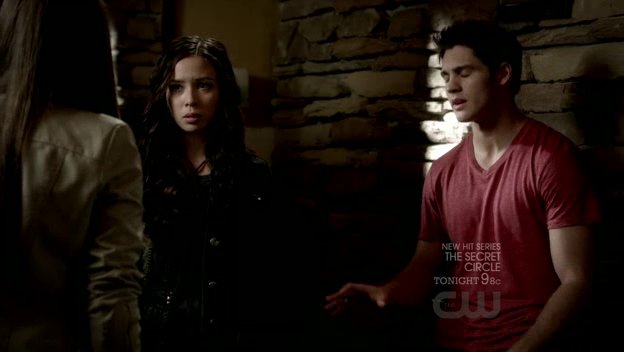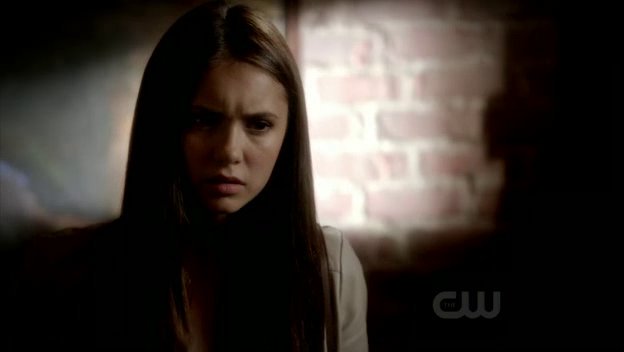 This is the first time I have ever seen Elena be totally rude and uncompassionate towards somebody. I get that she is protective of her brother. And I get that she is loyal to Bonnie. But I didn't like it. She is still my baby girl though and I still love her to bits.
It's actually impressive that in 3 seasons, this was the first thing Elena did that I didn't like.
Lexi grabs Elena and is ready to start project Fix Stefan Salvatore. They better hurry, before they loose their chance.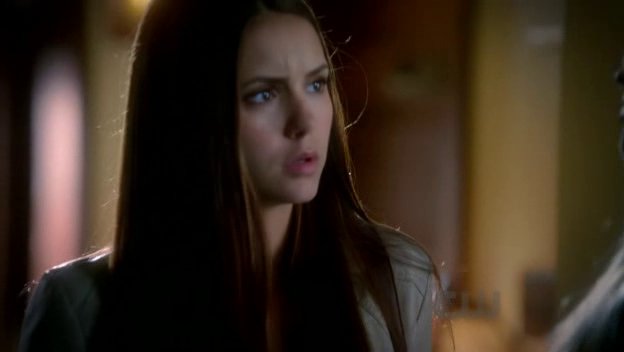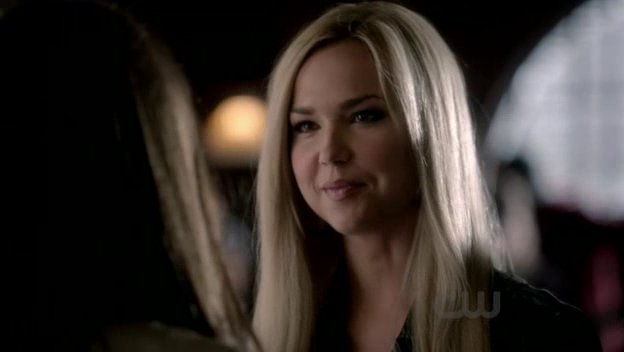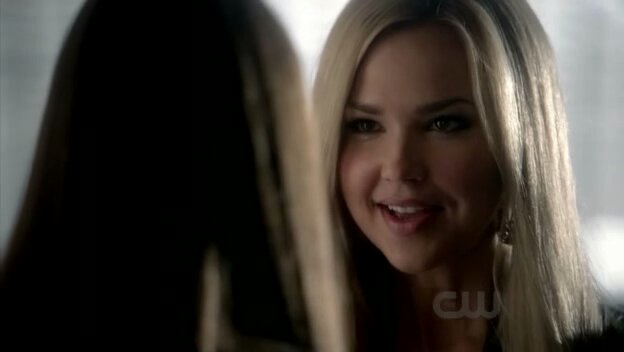 So Damon has Elena's necklace. Lol. So much for it being a symbol of Stelena's love or whatever. She isn't even wearing it anymore.
Mason may know of a weapon to kill Klaus. All be wants from Damon, is an apology. Rick snorts with laughter. Damon doesn't do apologies...only to Elena.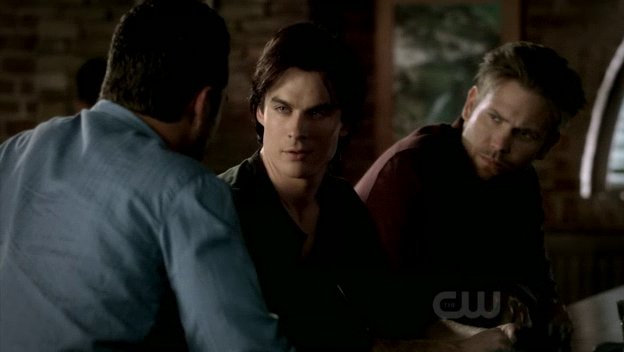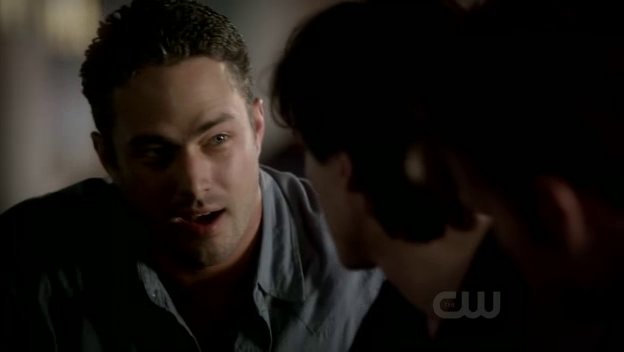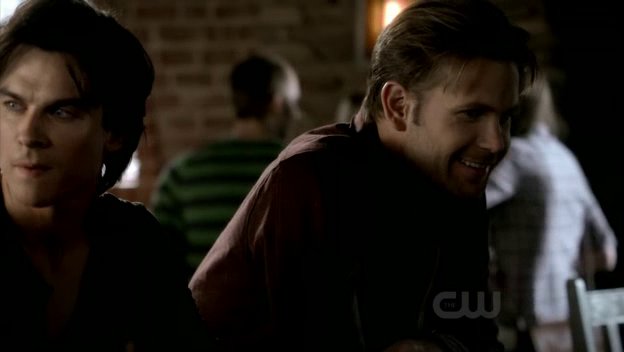 "You are right. I didn't have to kill you. I do a lot of things I don't have to do."
"That's good enough.:
LMAOOO THAT HALF BAKED APOLOGY WAS ENOUGH BECAUSE MASON KNEW THAT'S AS GOOD AS HE IS GONNA GET. I AM ON THE FLOOR 😂😂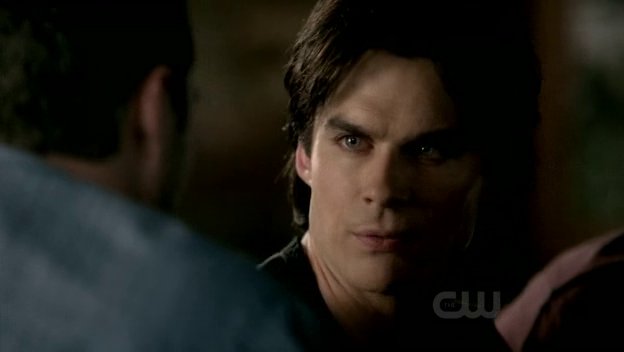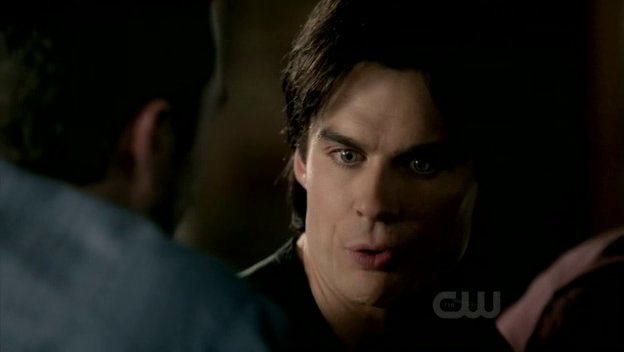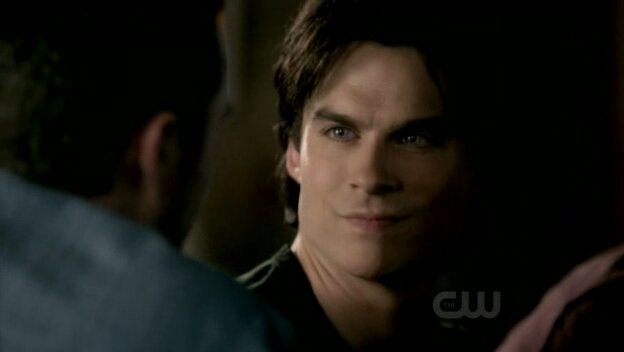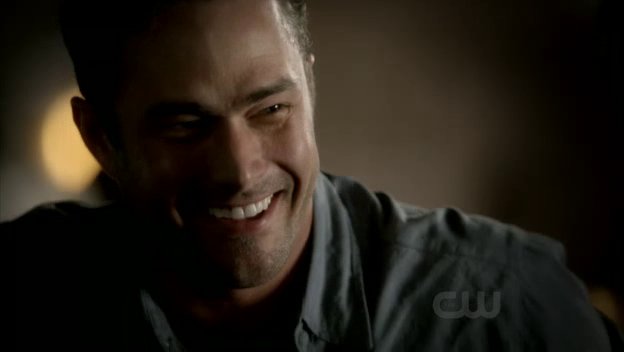 Stopping here for the night ✌
Isn't this where Bill held and tortured Caroline? 👀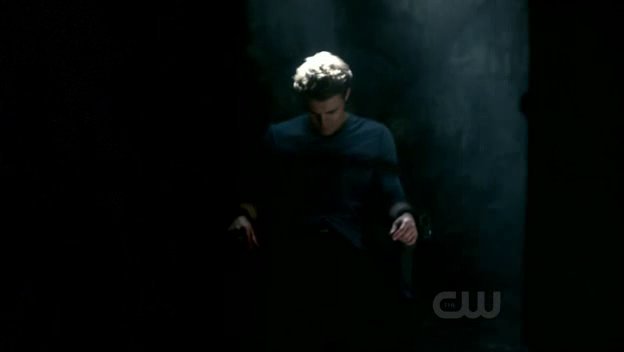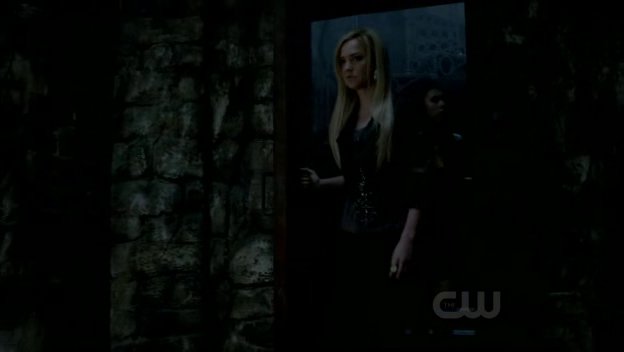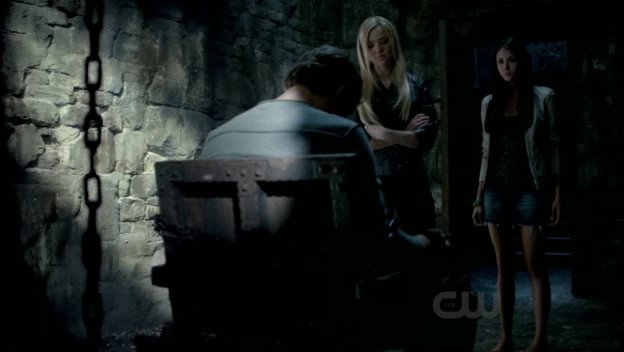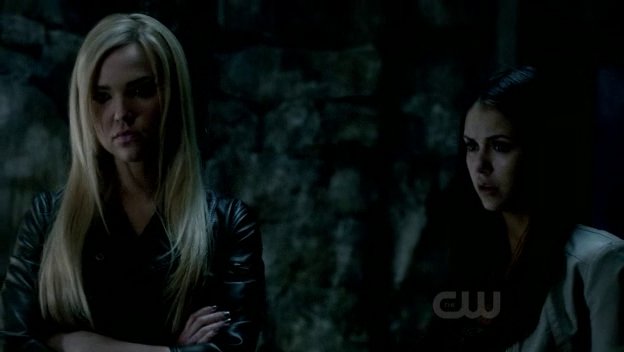 Lmao. Stefan, asking Elena for help,...isn't going to help. Maybe you shouldn't have pushed her as far as you did. But this version of you, has got to go.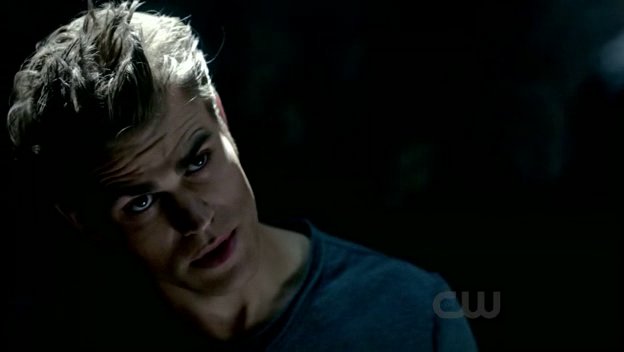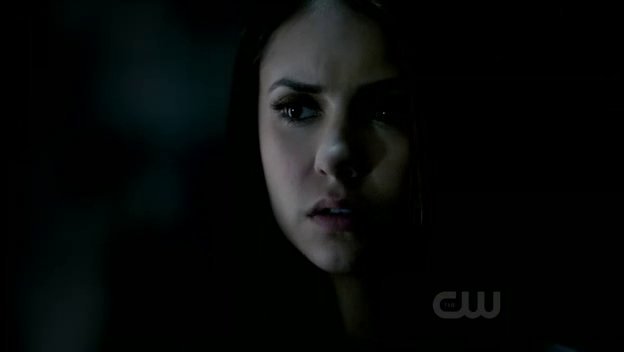 SHIIIT....Lexi is going into his head, making him think he is dessicating. That's her method for driving out the bloodlust. She was right. This isn't pretty at all.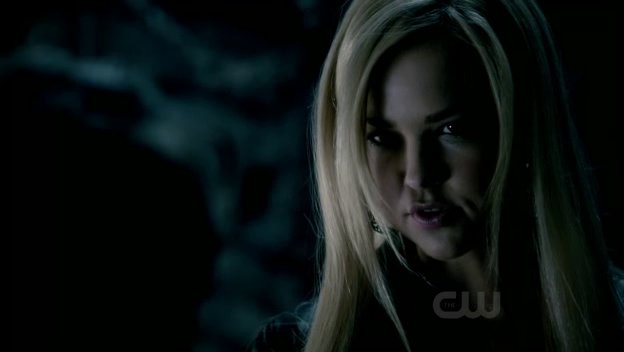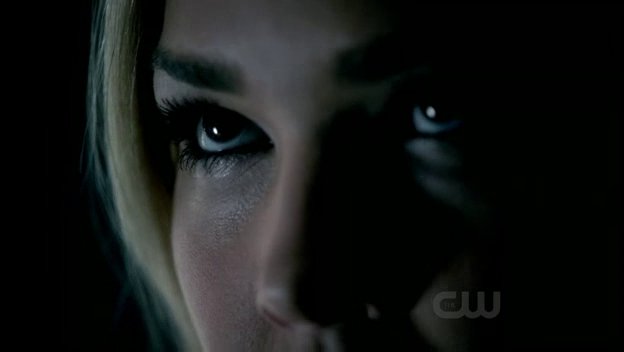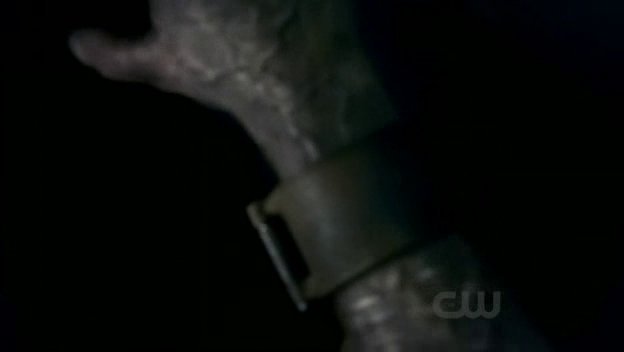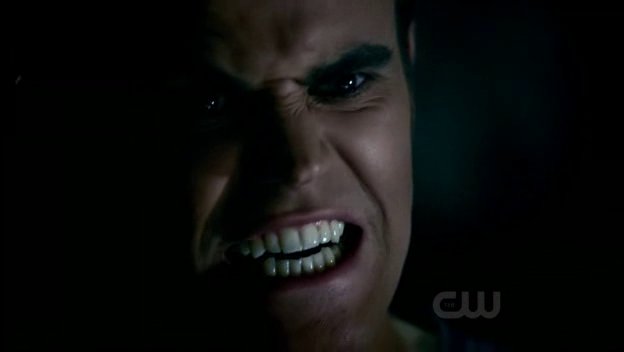 I don't trust Mason. I am so scared he is leading Damon into a trap. Nothing can kill an Original, but now suddenly he knows of a secret weapon stashed away behind a wall in some cave?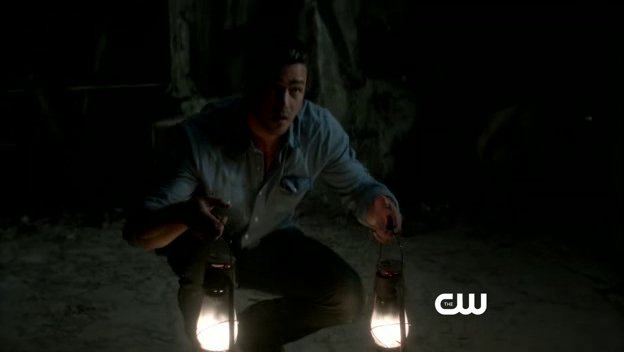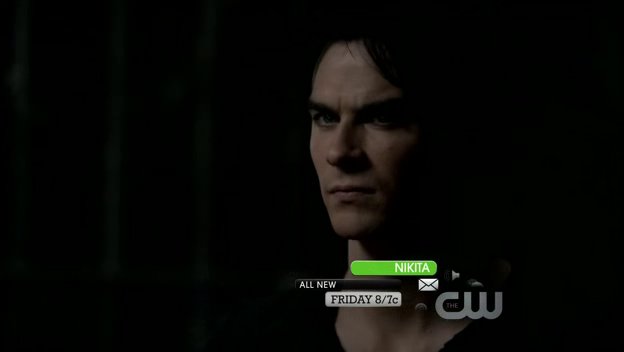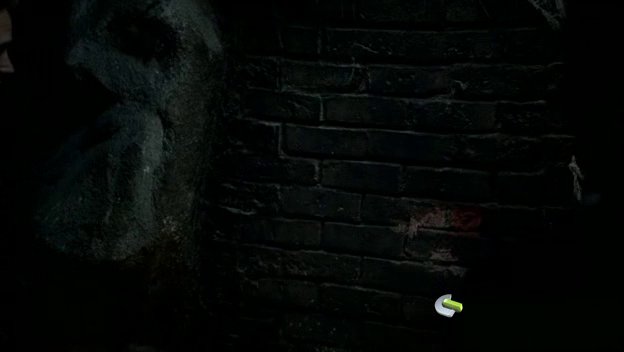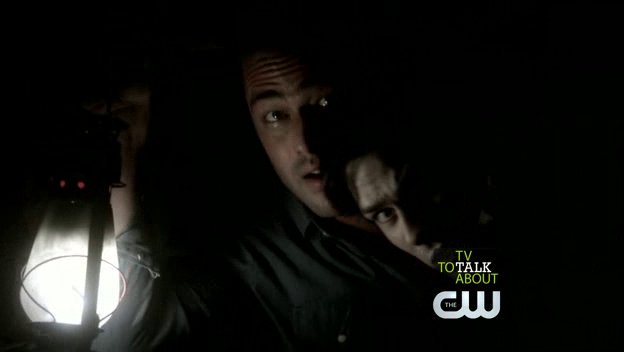 Lexi is making Stefan halusinate being without blood for 2 years. Elena looks like she is about to freak out because Stefan is looking pretty ferile right about now. 👀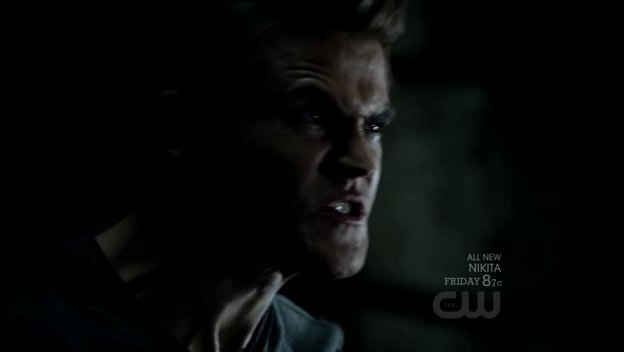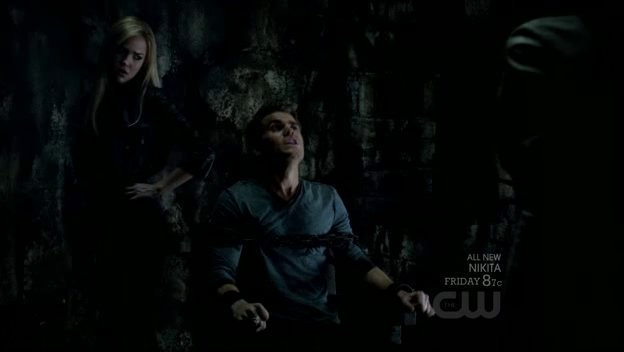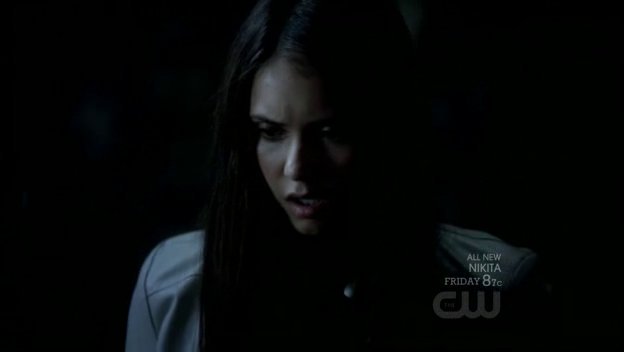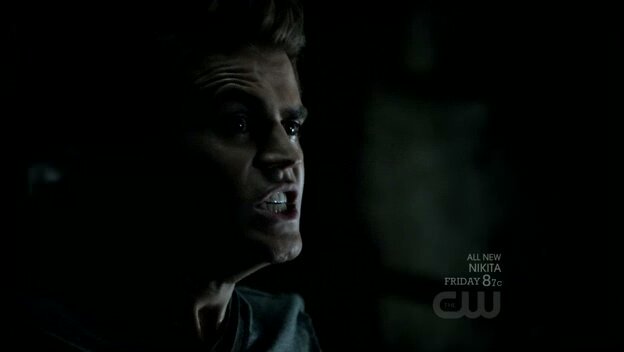 "Did I ever tell you, that I am glad you are dead?"
"Aww, I missed you too, friend."
Lmaooo Lexi has no chill 😎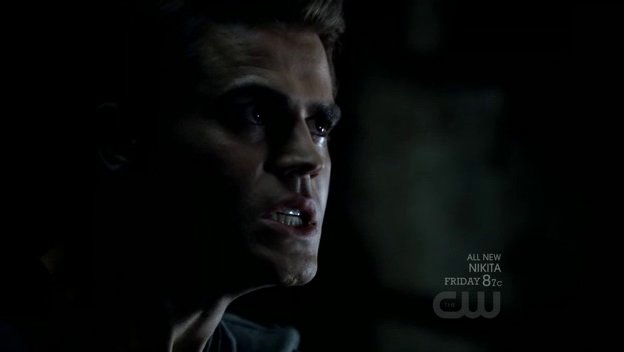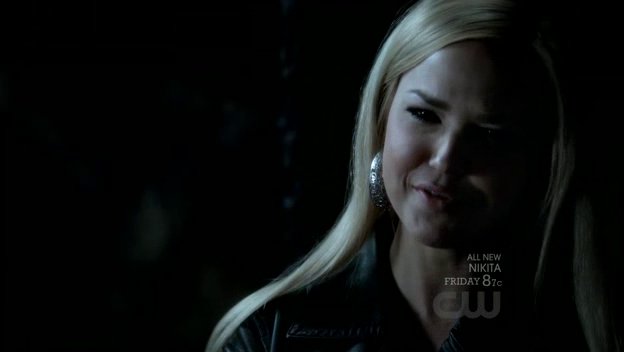 Caroline calls Elena. She and Bonnie can't find the necklace where Damon said it should be and Elena asks them to hold off on destroying it for a while, so that Lexi can fix Stefan. Caroline lets slip about boyfriend dramas and Bonnie catches that plural.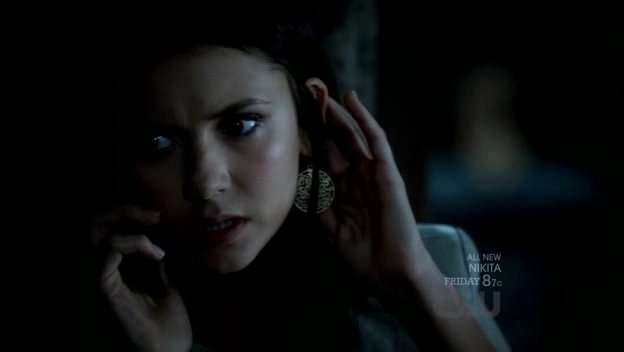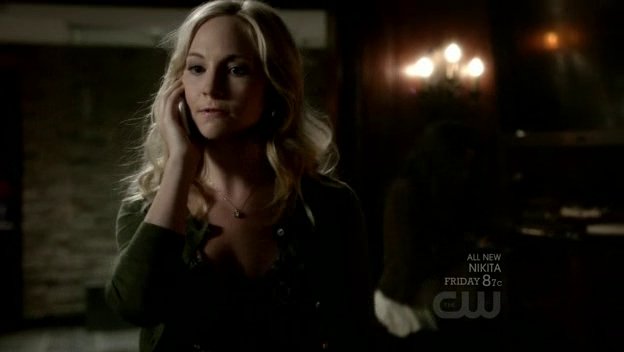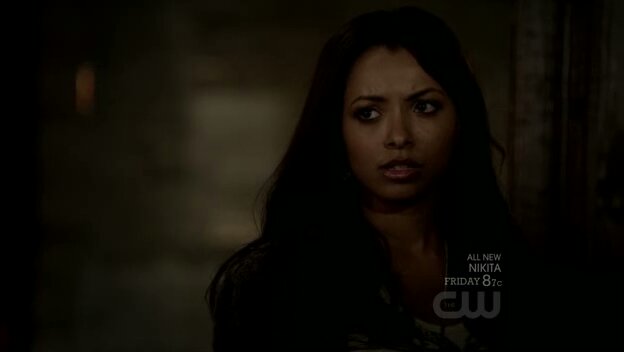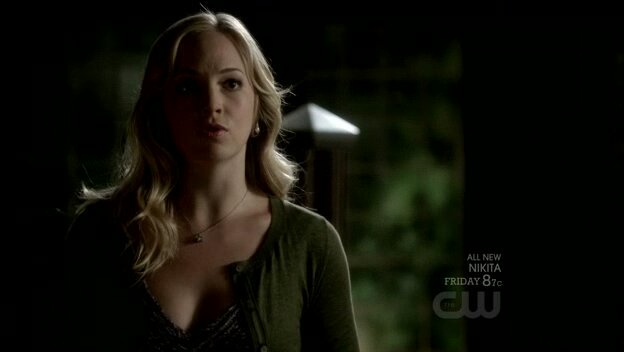 Caroline really can't keep a secret and tells Bonnie that Jeremy and Anna kissed. Poor Bonnie. But she needed to know. 😩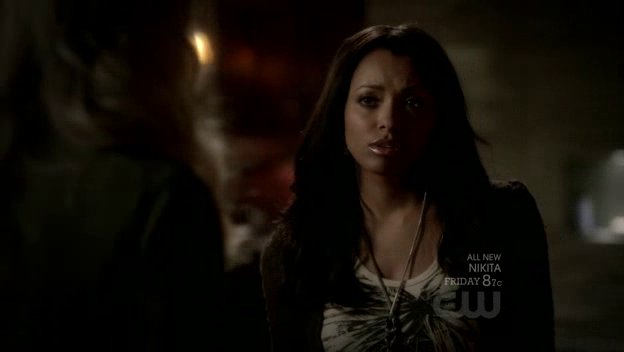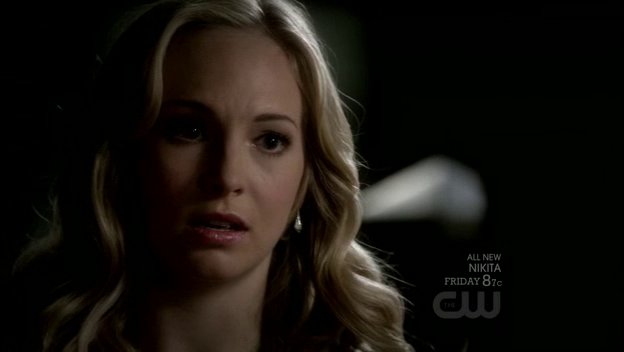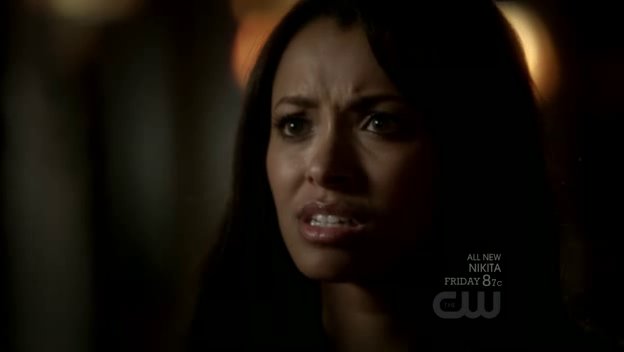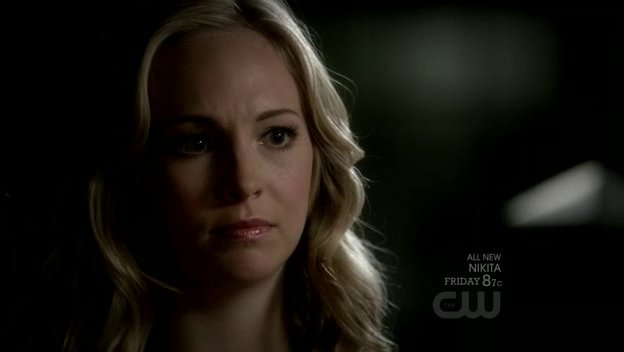 Jeremy is looking for Anna and accidentally bumped into the vampire guy from S1 who kidnapped Stefan. The tomb vampire whose name I am spacing on how...
This can't be good...
Frederick. Thanks, Anna.
Ah shit. The tomb vampires are back to finish their unfinished business with the founders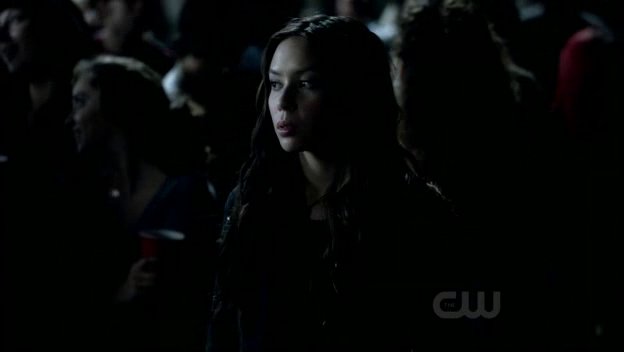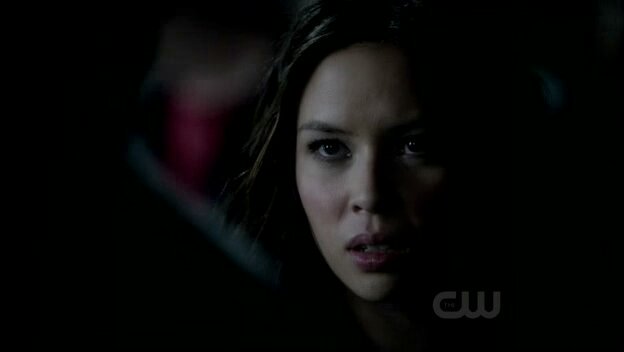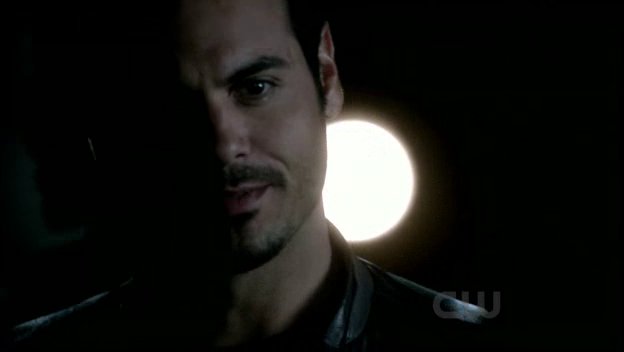 1 Founding family member down...I would run if my last name was Gilbert. Jeremy, take the hint okay?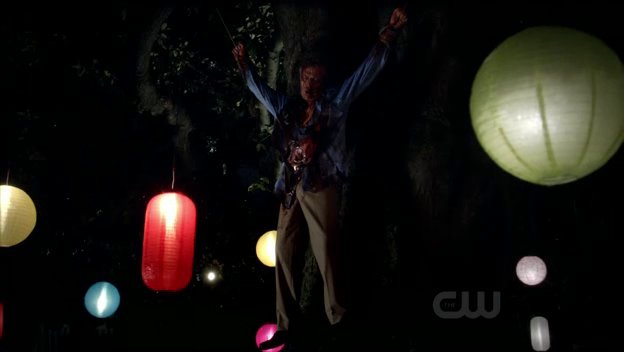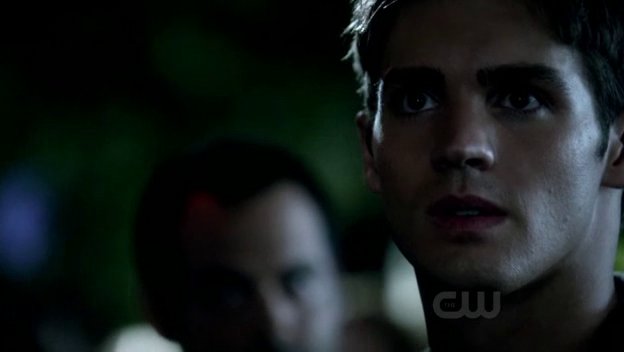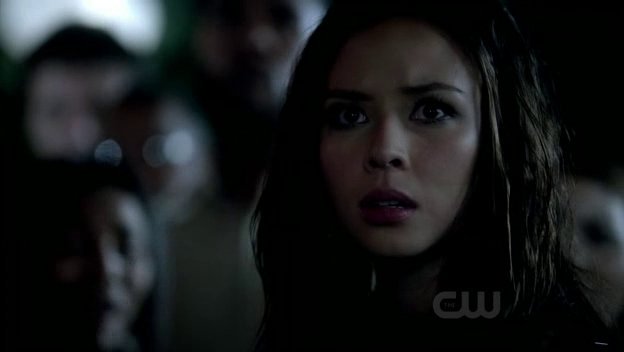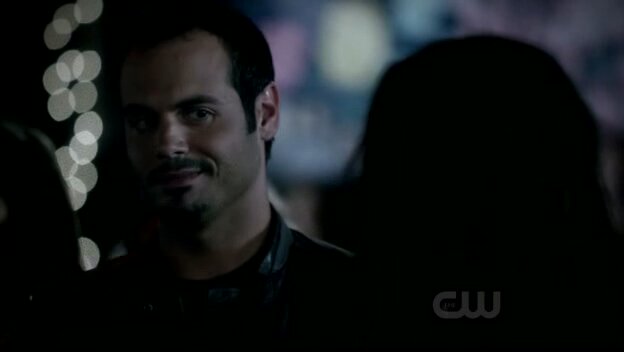 Stefan looks like shit and is trying to get Elena to help him again, but she is trying to block him out. Stay strong, baby girl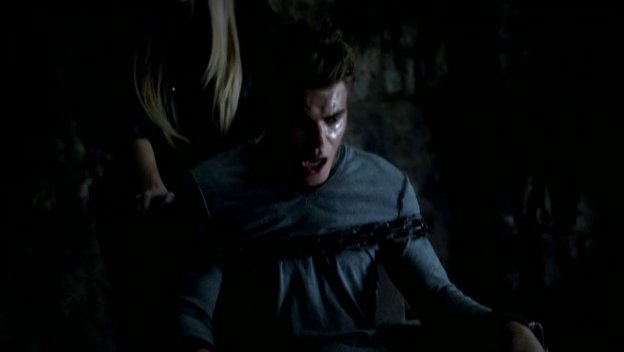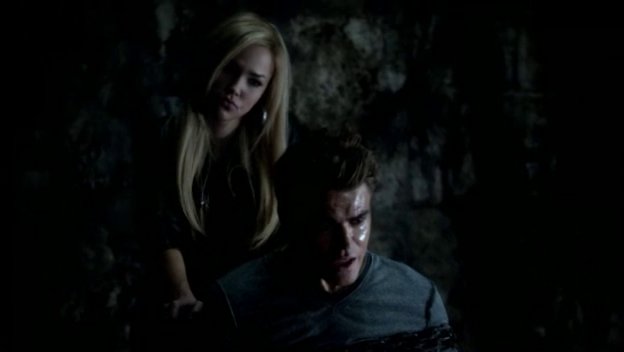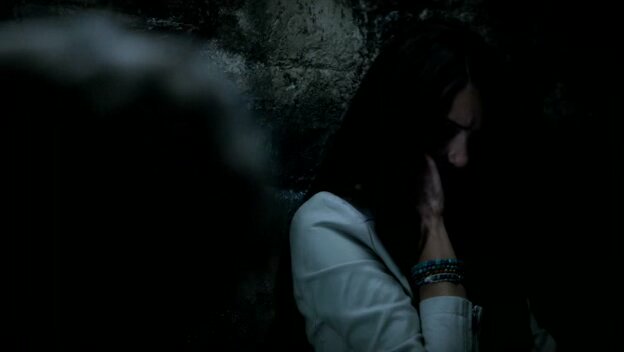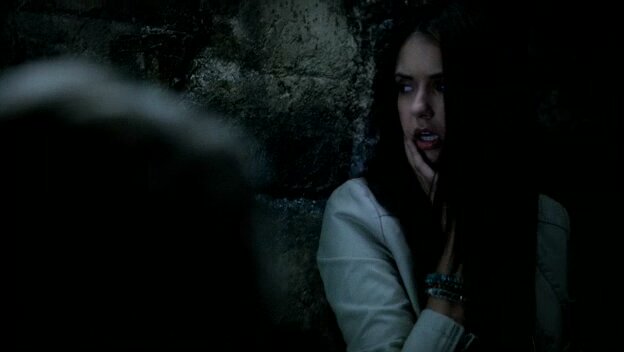 Wow, he is really giving it his all. He is begging. And when that didn't work; "I love you, Elena. I love you so much."
The actor, Paul, is really doing a good job in this scene. I ALMOST feel sorry for Stefan. But I know he is lying.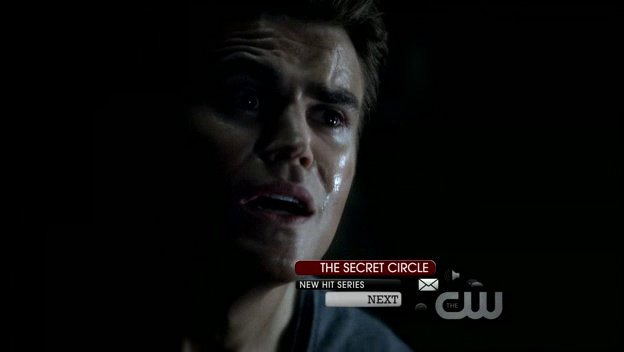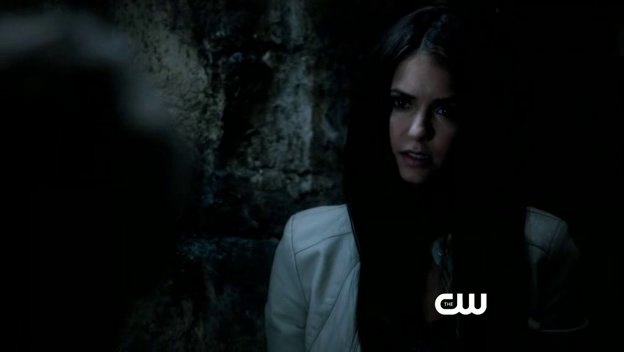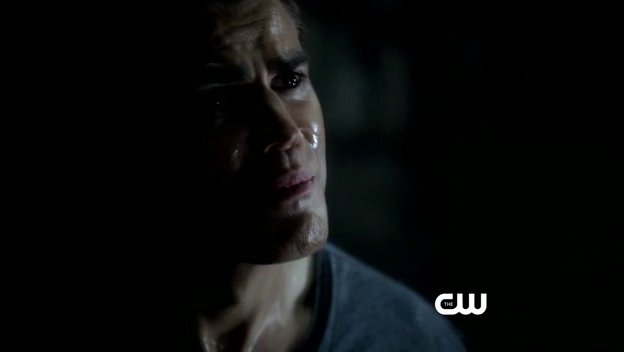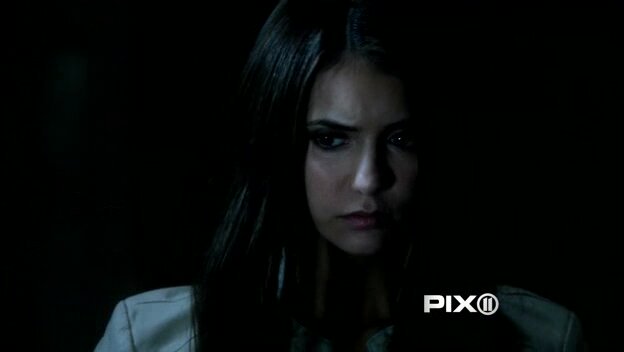 Jip, there it is. Him turning on her when she doesn't fall for his trick.
"You know what? I don't want your help anyway. I wish I'd never met you. Every moment that I have spent with you, has been a complete and total waste."
Elena should be saying this to him though. 😒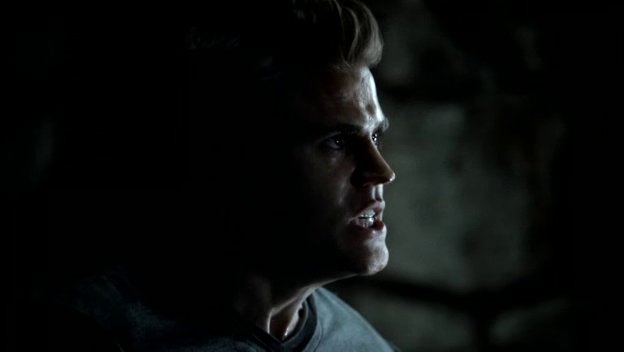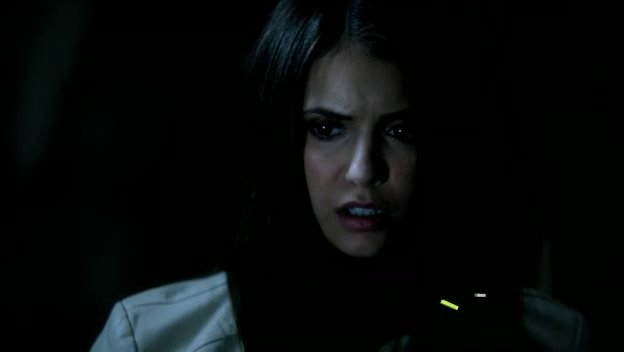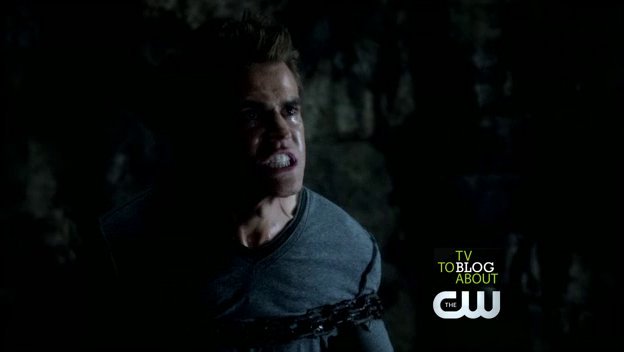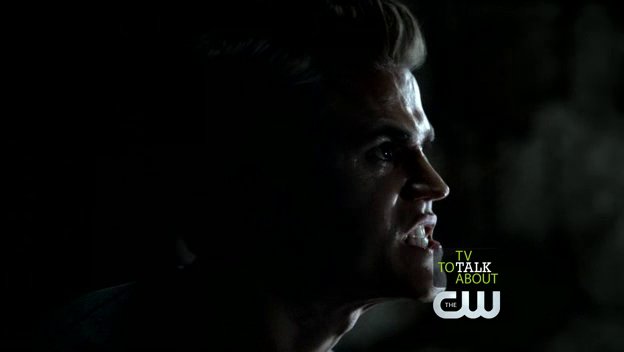 Stefan has entered the grunting phase, which is as hilarious as it is terrifying and he threatens to rip Lexi apart, who starts staking him in the arms with wood. This is where things get to much for poor Elena and she leaves.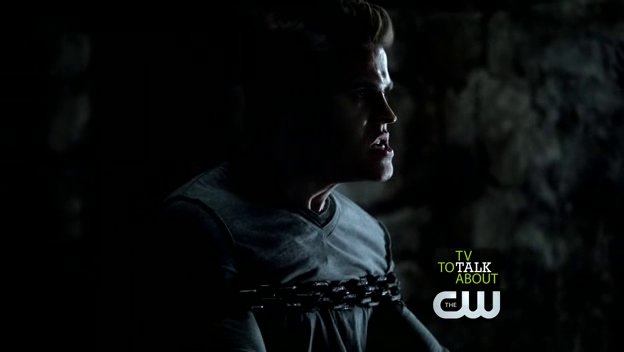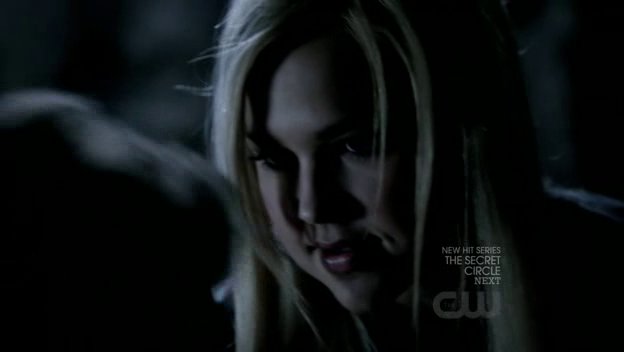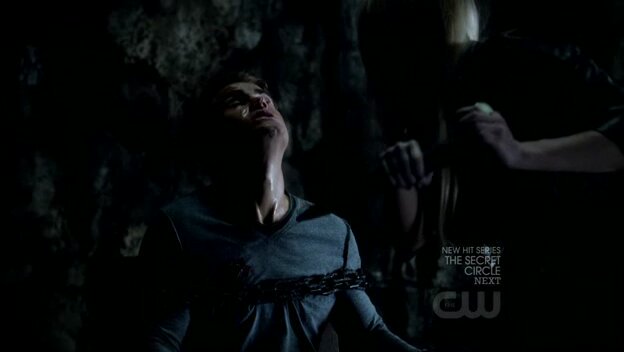 Elena steps outside to take a breather and sees the scene in the town square. Yeah, Stefan is definitely being tortured in the same spot Caroline was. 👀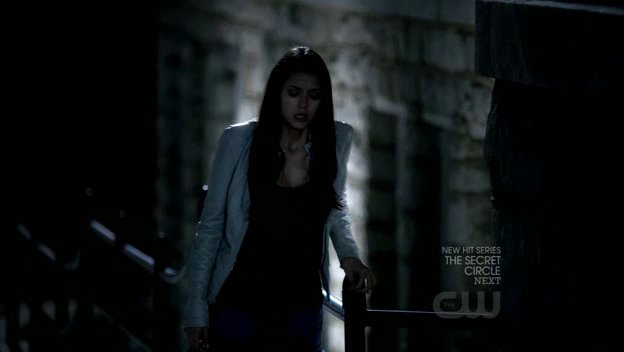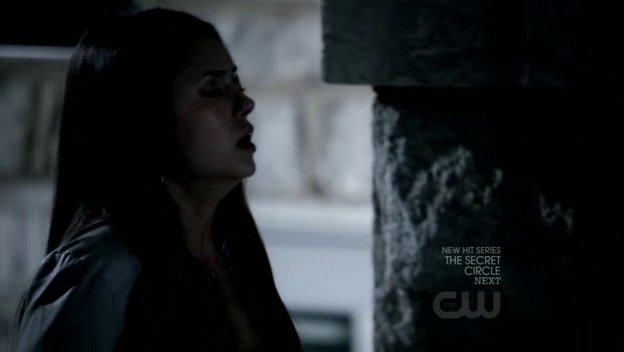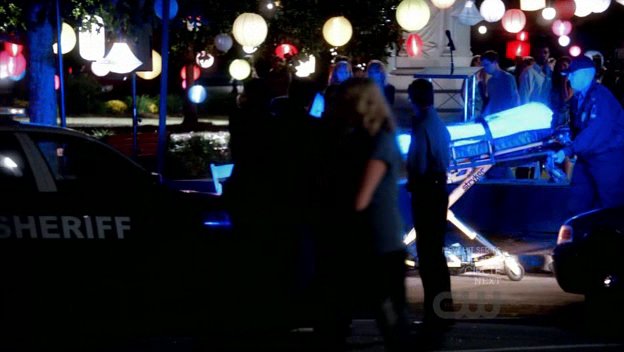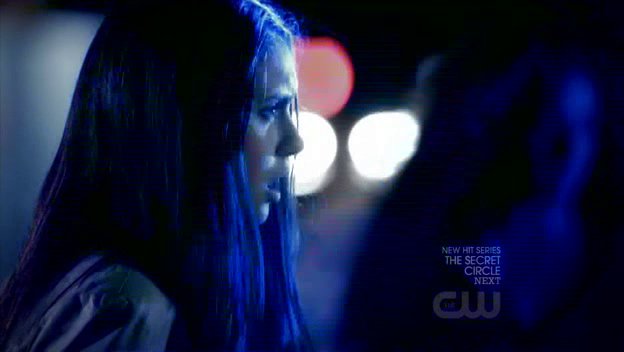 Airline and Bonnie are making a mess of Damon's bedroom and bathroom. Caroline even looked in the soap tray 😂 I don't think Damon will be hiding anything there again.
Jeremy calls and tells them about the tomb vampires and she tells him someone took the necklace.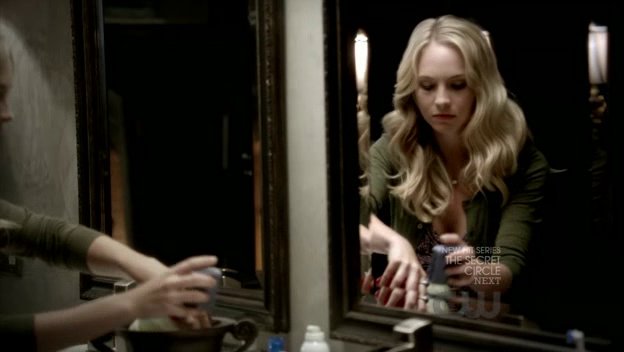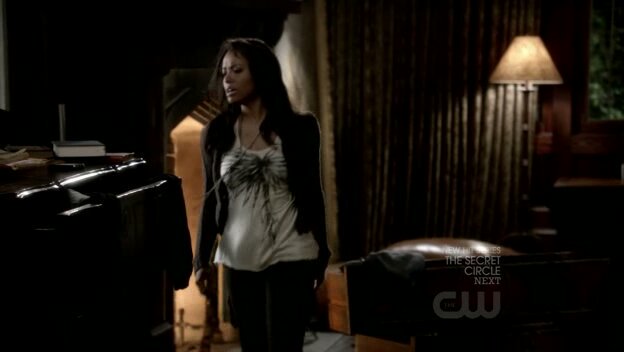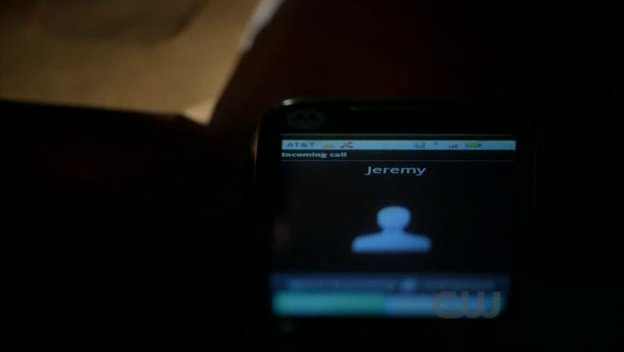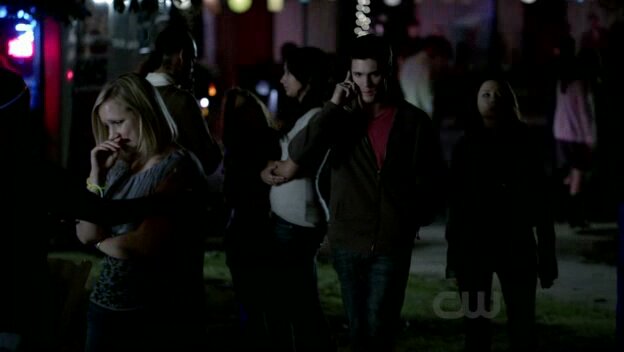 Airline? OMG. 🙈
*Caroline
Yeah of course, blame Anna. 😑😐
She said she didn't take it before vanishing.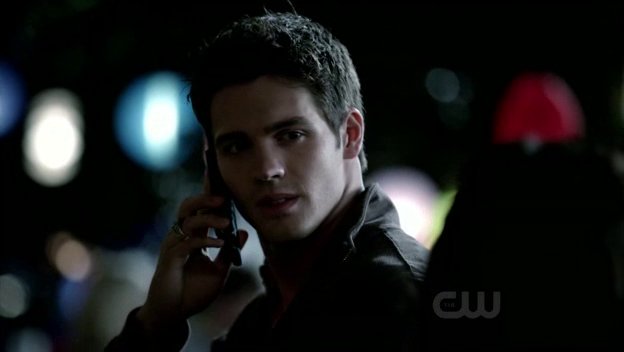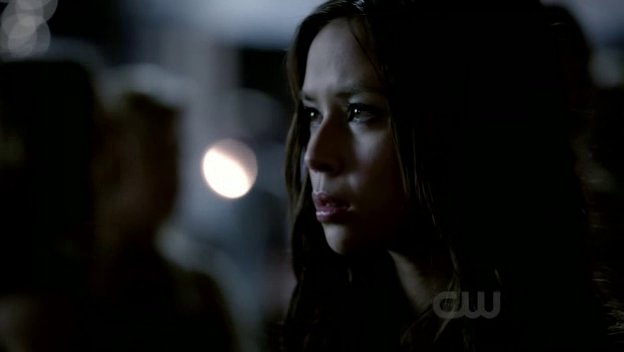 Mason says I knows Damon will do anything for Stefan, but Damon isn't sure Mason's motives are pure. Me either.
"You have trust issues." Um. ..only an idiot wouldn't in this scenario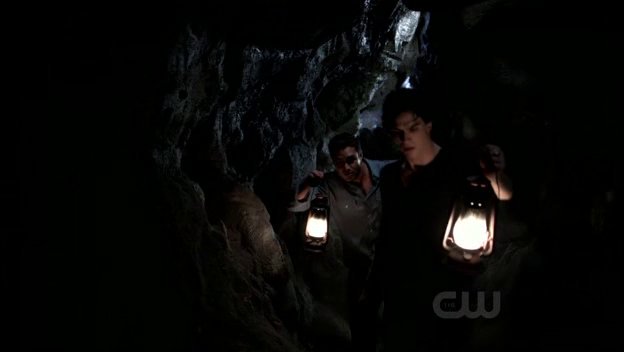 SHUT I FUCKING KNEW IT! IT'S A TRAP. WOKDEN STAKES LACED WITH VERVAIN TRAP DAMON AND MASON FUCKING VANISHED. 💀
Trust issues my ass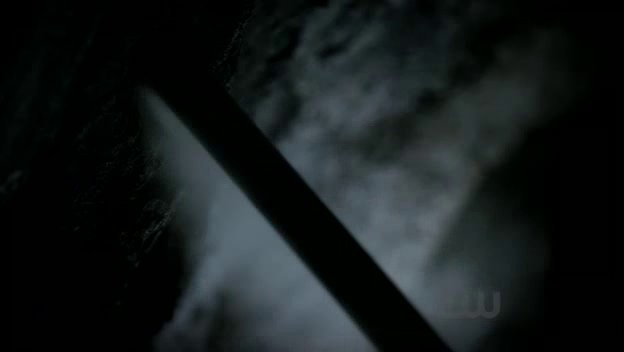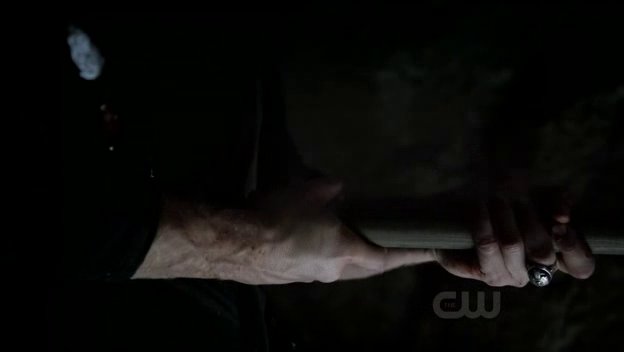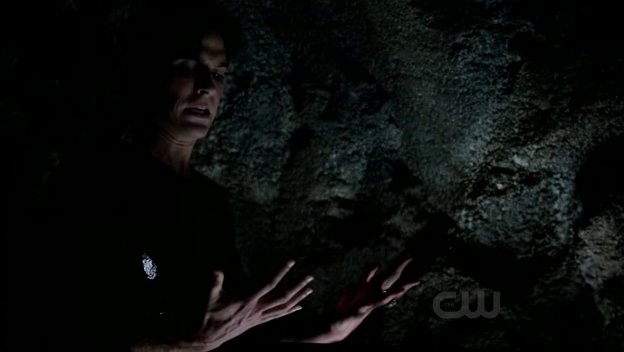 Jeremy tells Elena that he loves Anna. He can touch her and kiss her. "I love her. I have always loved her." OMGGG my heart 😢
"But it's not real."
Seriously Elena? It's real to him and to Anna. 😒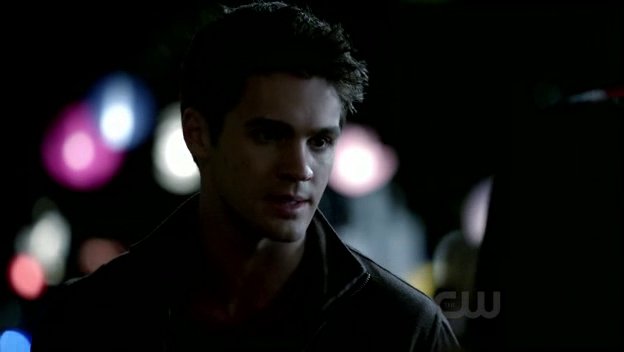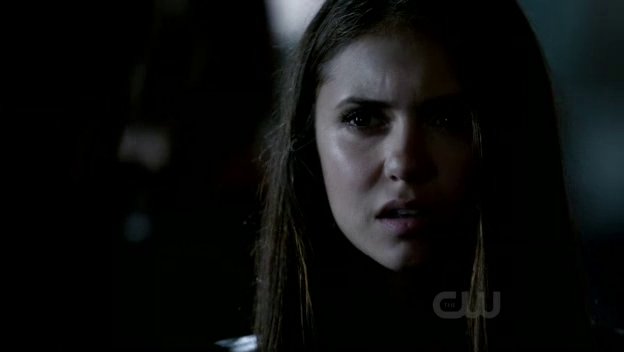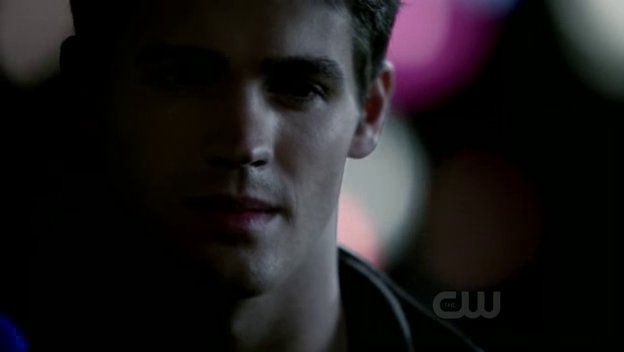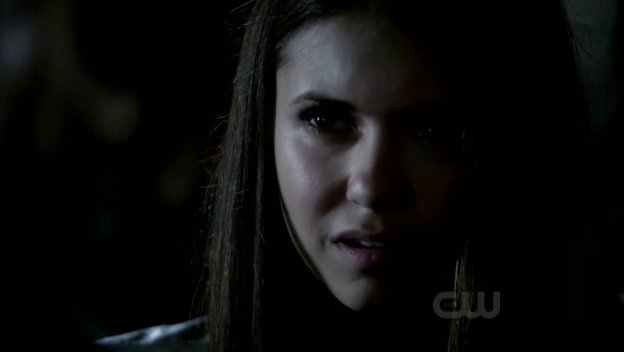 "She is dead. Gone. Everything tht you are holding on to, is in the past, Jer. Are you going to love a ghost for the rest of your life?"
Okay first, that's that's little hypocritical. How can she say that to him when an an doing the EXACT same thing with Stefan? Clinging (..)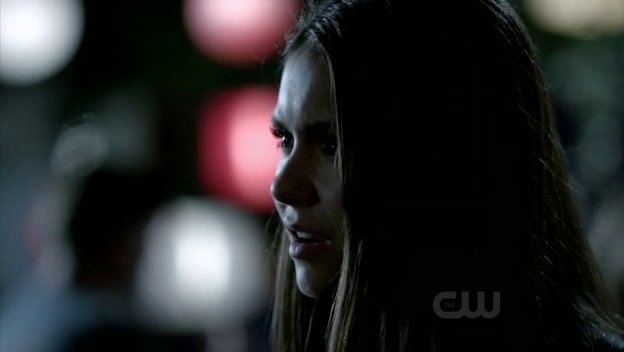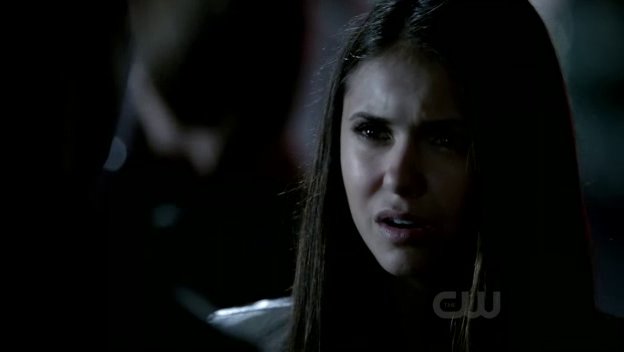 to the past memories they had, meanwhile their relationship is dead. Deader than Anna. She is loving the ghost of who Stefan was.
Secondly, Anna and Jeremy can talk and see, and feel eachother. That's enough.
"He is at the beginning of his life, Anna. You are only holding him back. And you know that."
AGSHDH I am so pissed right now. Elena, sweetie, I love you, you are my girl, but I don't like you right now.😐 You are at the beginning of YOUR life and Stefan is holding YOU back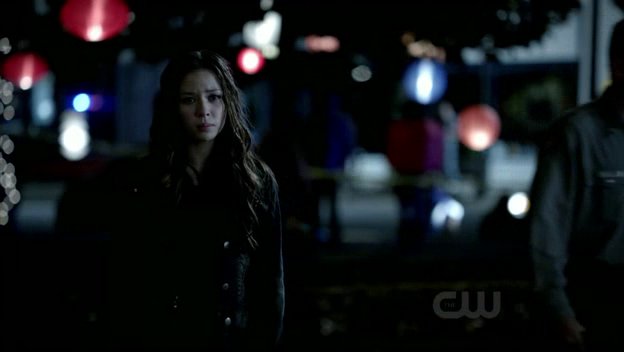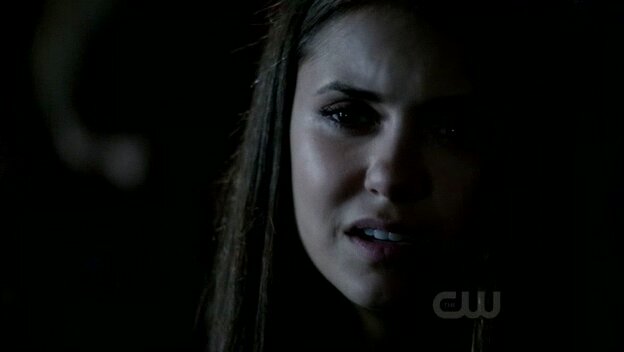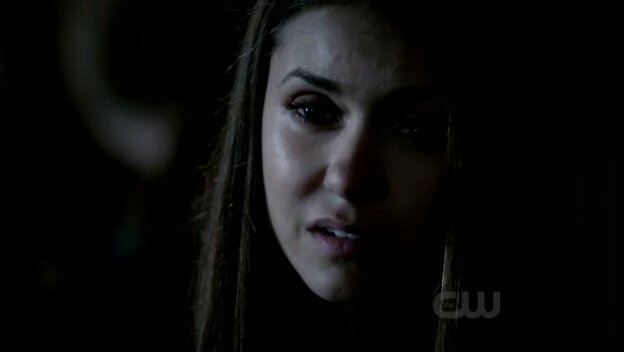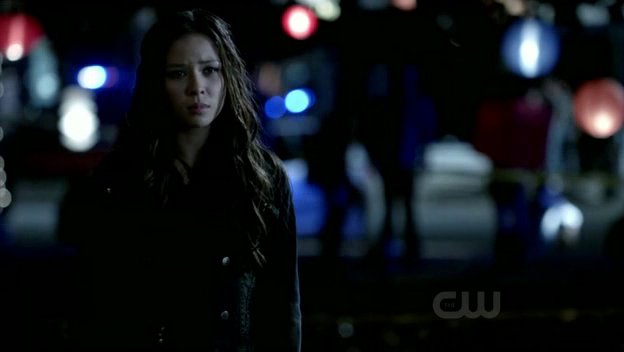 Ah damn, Anna did take the necklace. But she is giving it back. 😢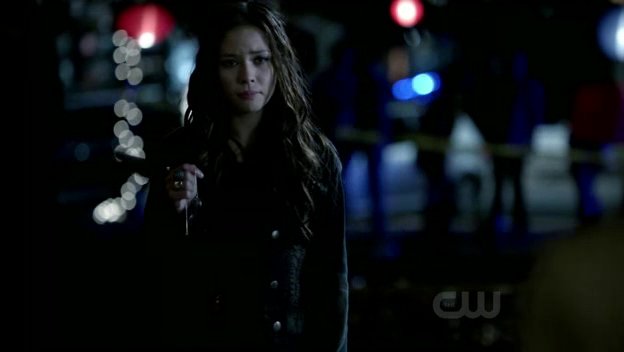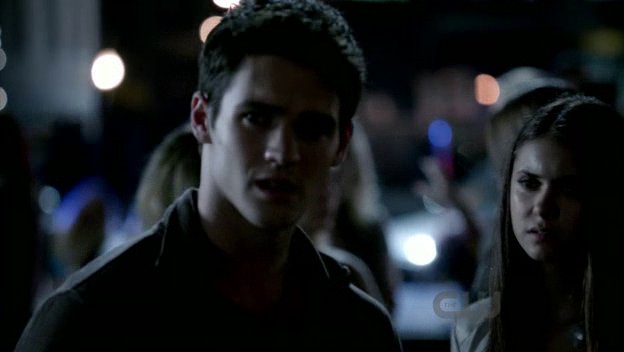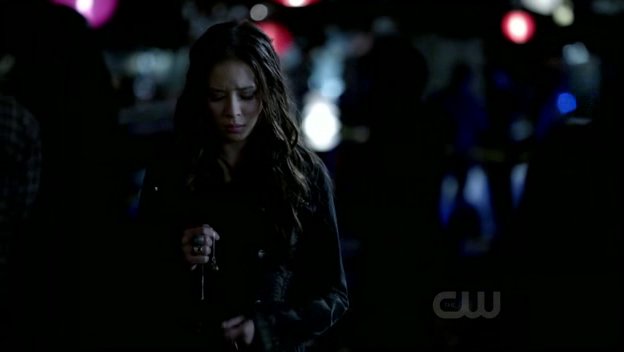 OMG okay, Mason came back and helps Damon. He says he doesnt want revenge, but redemption. On the otherside you get to think and he regrets his decisions. He wants to prevent Tyler from getting hurt.
Okay fine, I believe him now.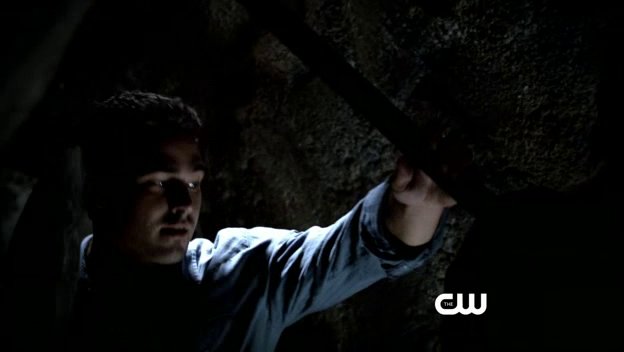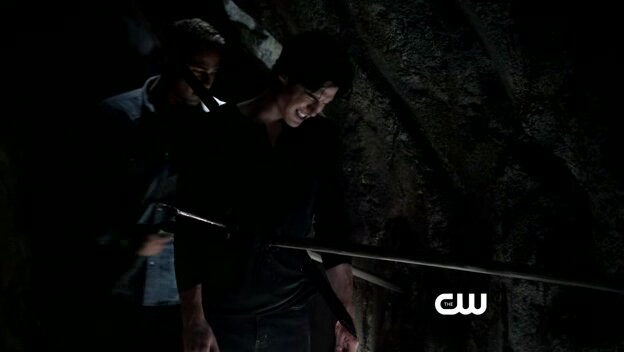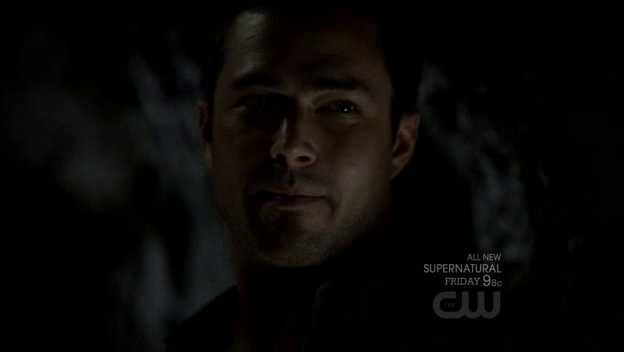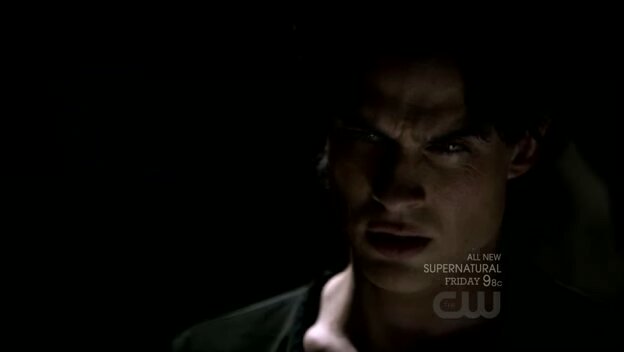 Caroline spots Tyler's mom as she is about to be ghost bait and tells Bonnie to leave her so she can help. That's big of her, after what Carol did to her.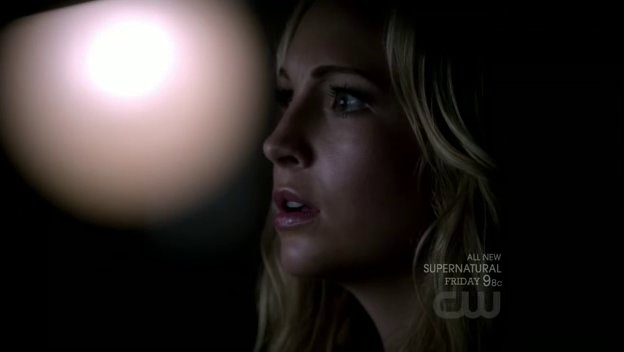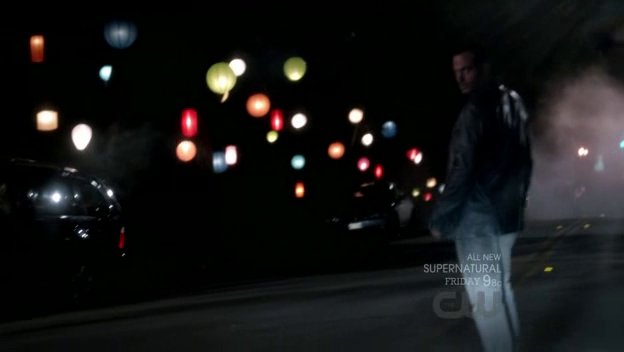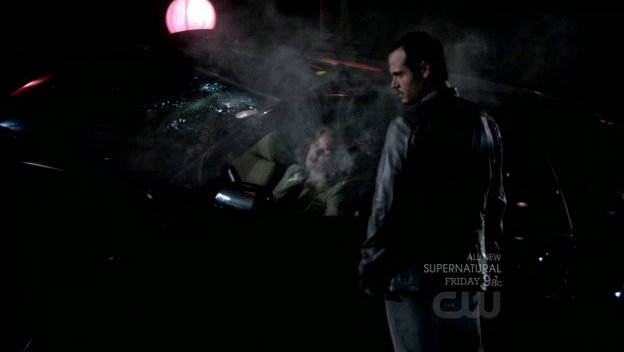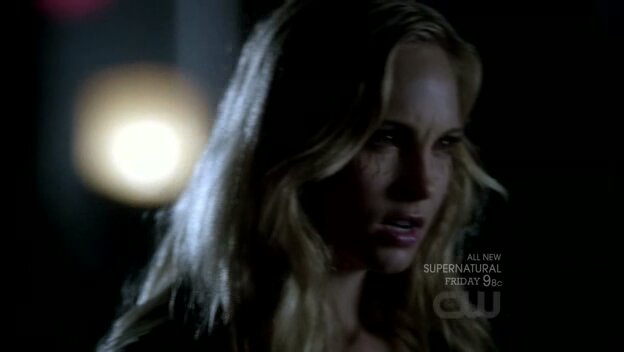 Anna says that she took the necklace, to buy her time to go her mom. She has no idea if Pearl has found peace, or if she is still there. OMGGG I HOPE SHE FINDS HER MOM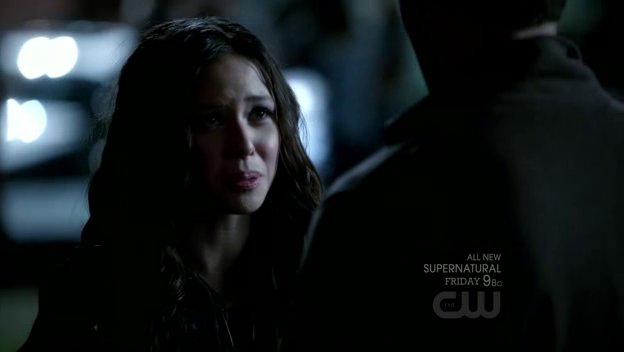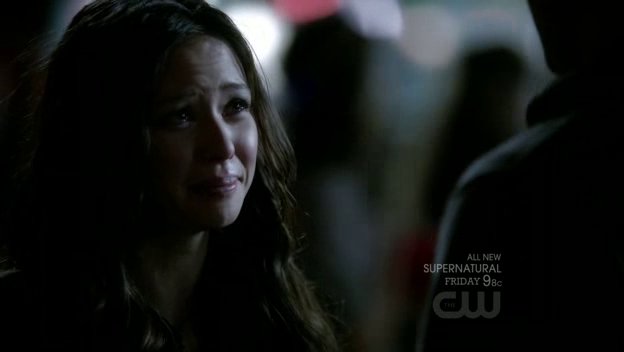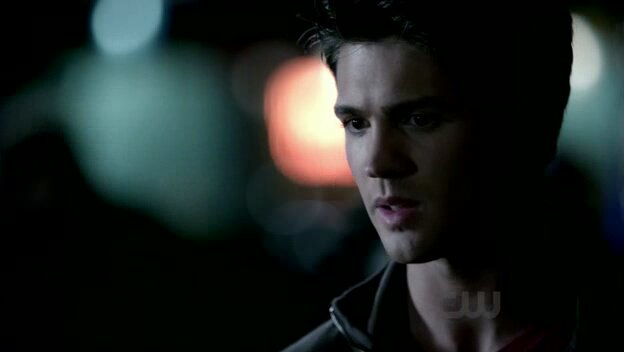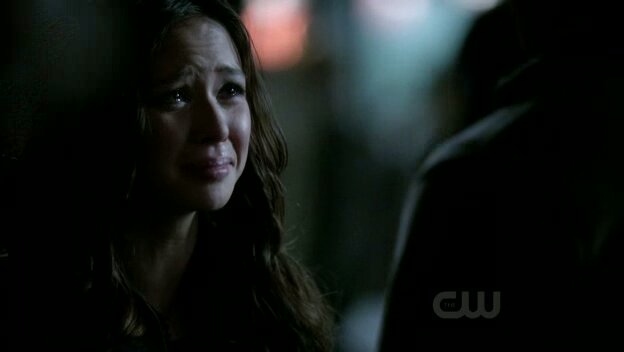 She gives Jeremy the necklace and he promises that she won't have to be alone. He will still talk to her after this is over. You better stick to that promise, Jeremy.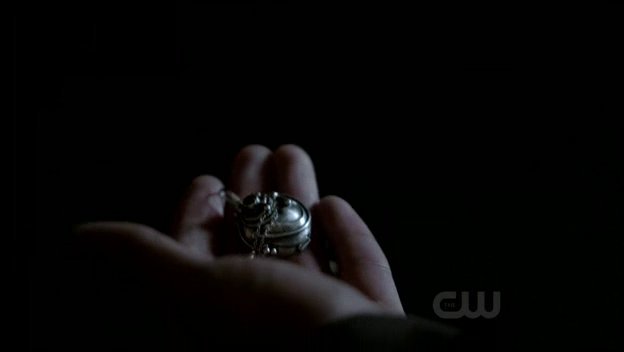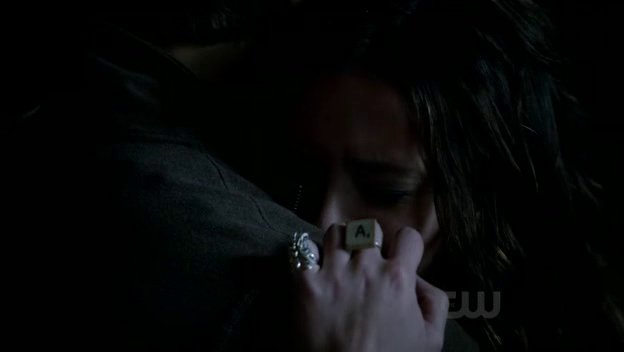 Elena tells Lexi that she I running out of time, so she tries to use the necklace as a way to break through to Stefan. But nothing. "You found it during your darkest time. You as that it represented hope."
"Ironic that it's about to get blown to pieces."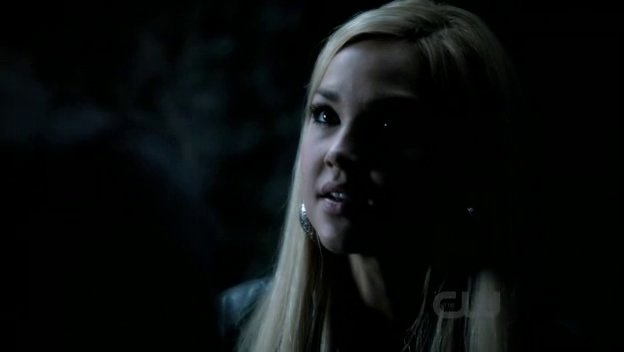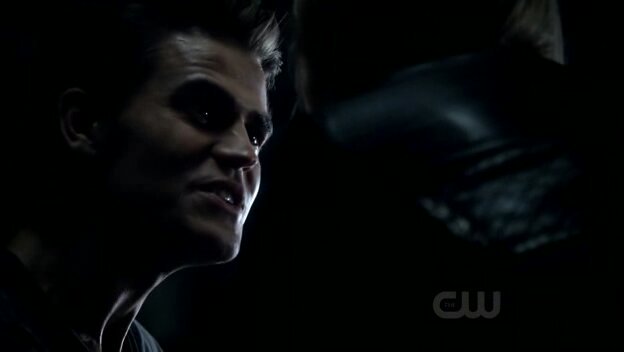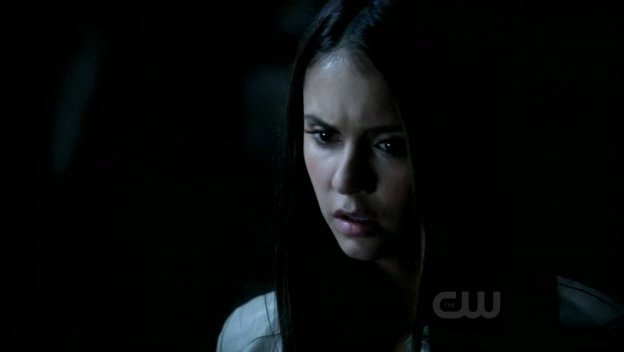 That necklace really doesn't mean anything for Stelena anymore. That's been established more than once this season.
Damon can't go deeper into the cave. It's like a spell is preventing him, so Mason goes on his own. And I am totally okay with that 👌
Jeremy brings a very pissed Bonnie the necklace. She wirelessly takes it from him and throws it in the fire. I am kinda sorry to see it go. It's been aboard of Elena since S1, but it has to be done.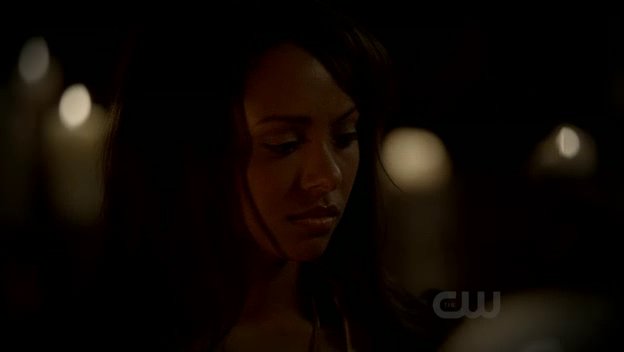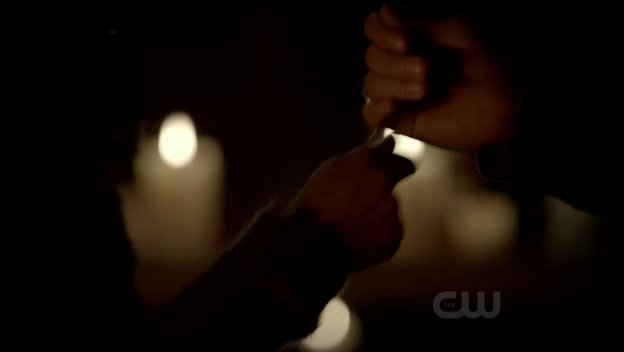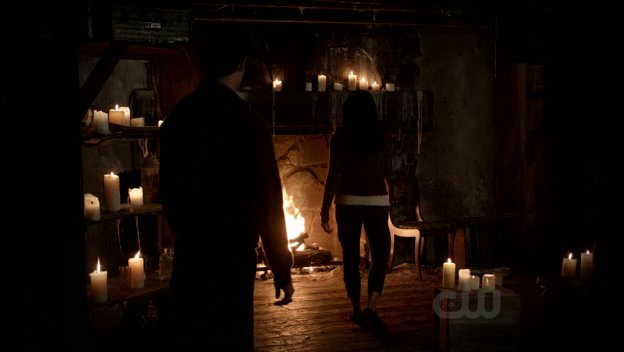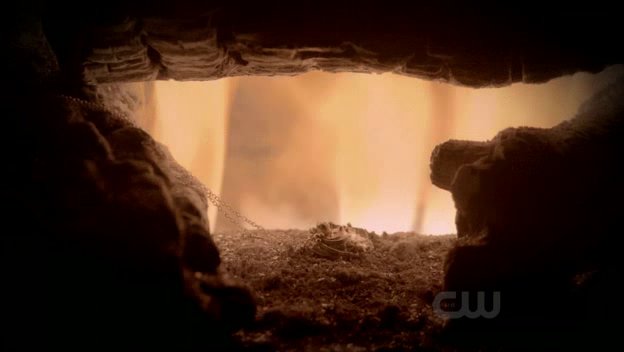 Aww, grams is helping her. 😢 I wish grams wasn't dead though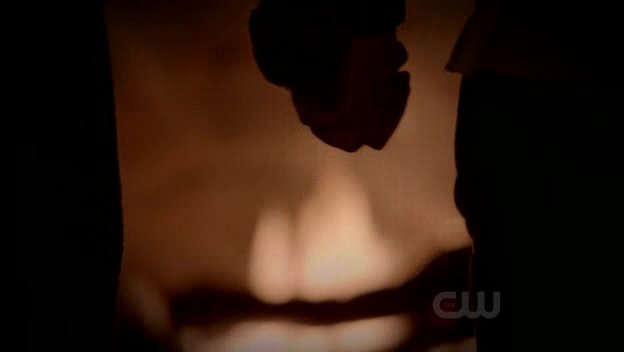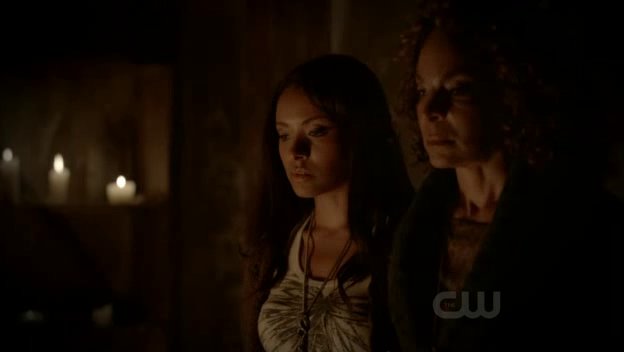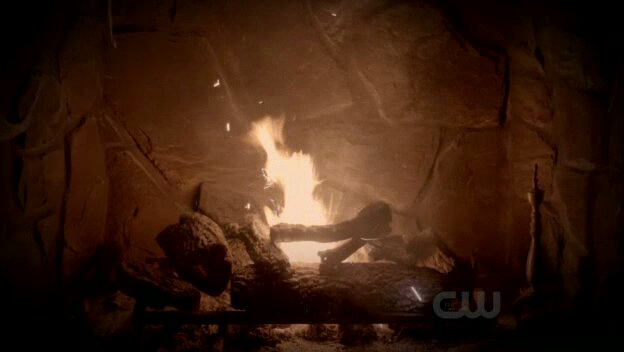 Carol is watching Caroline be a total badass and kick some ghost butt. I hope you are grateful.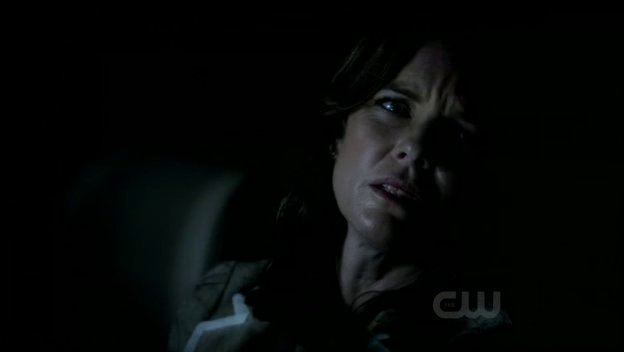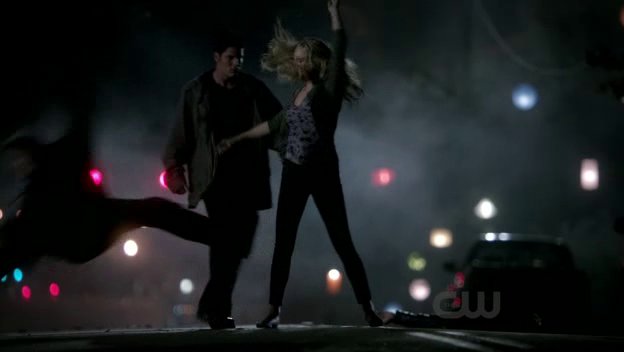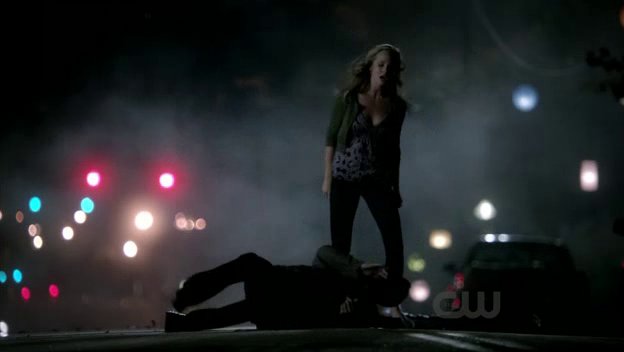 Gone are the tomb vampires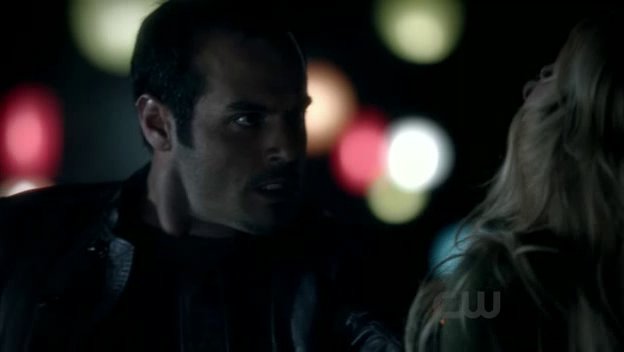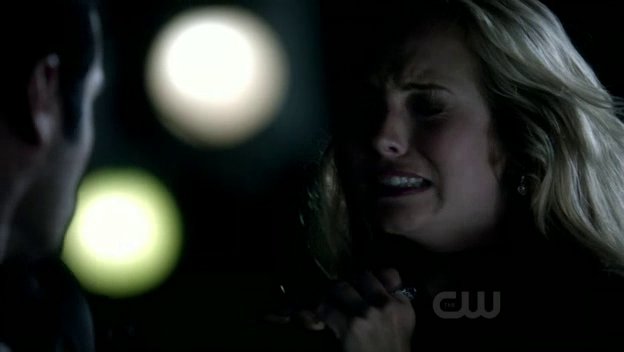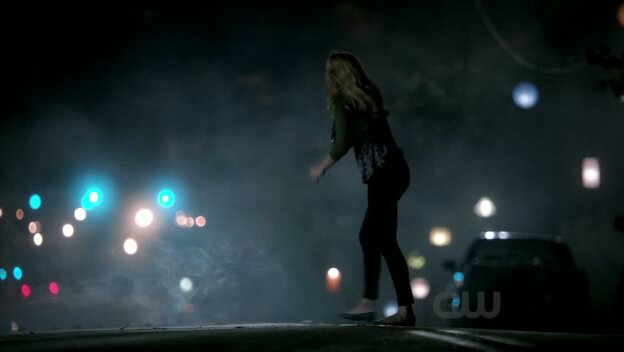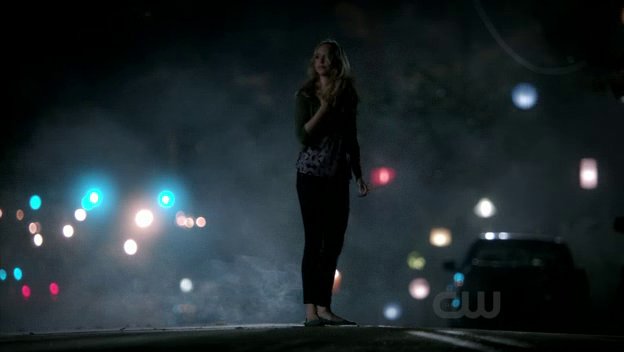 Ah damn. There goes Mason before I can tell Damon how to kill fucking Klaus. 😩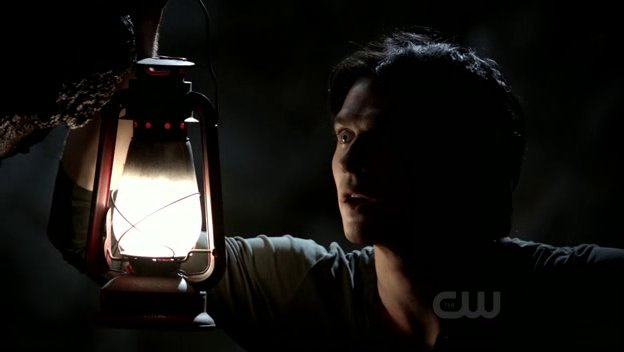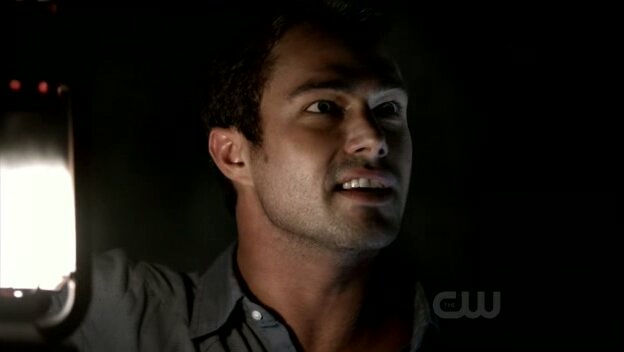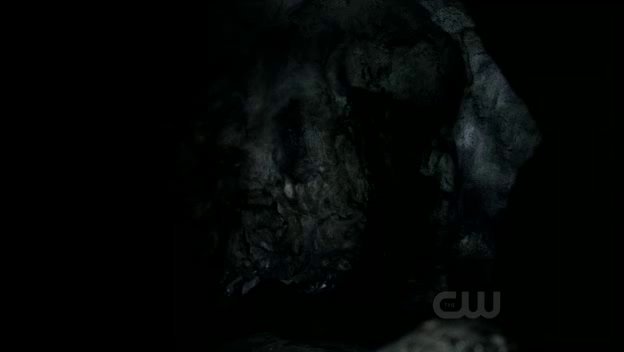 Aww noo. Bye Lexi. Elena says she knows what to do now and that Lexi can be free.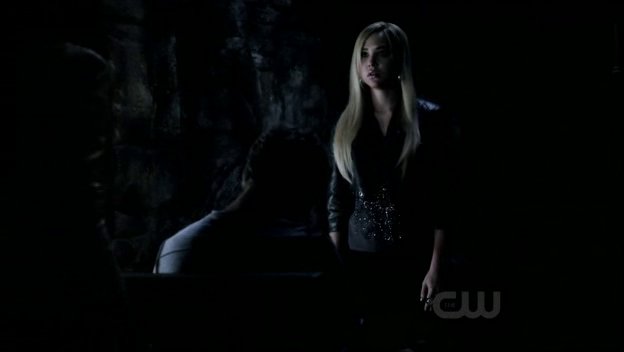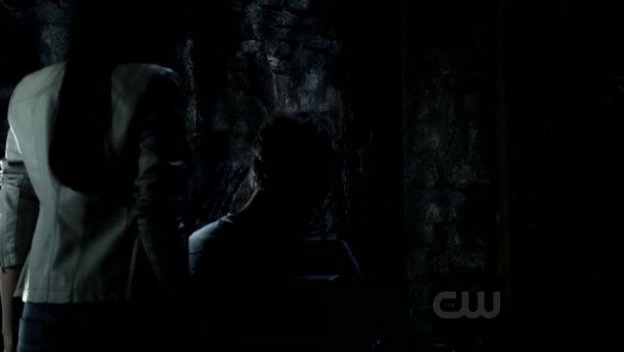 PEARL! ANNA FOUND HER MOM OH THANK GOOOOD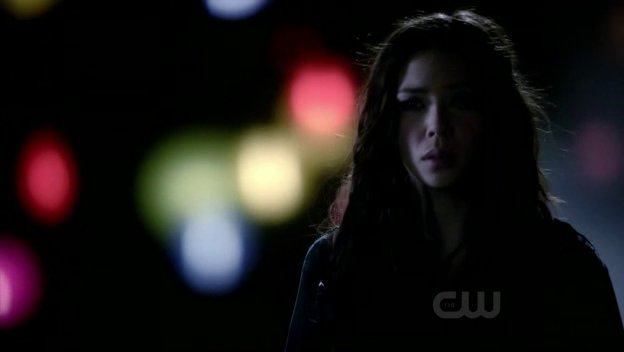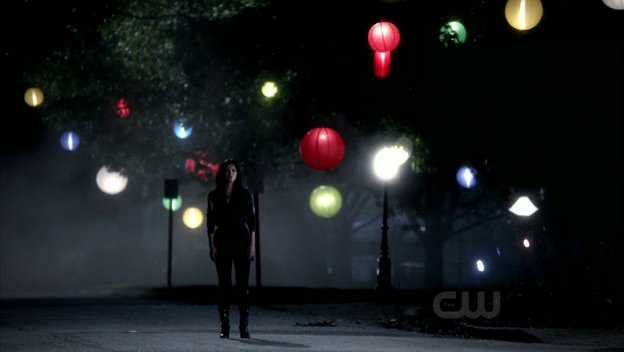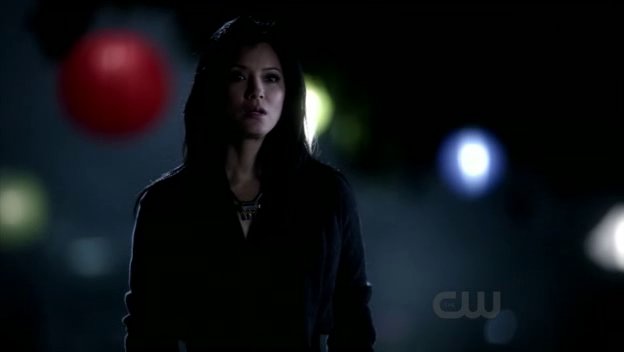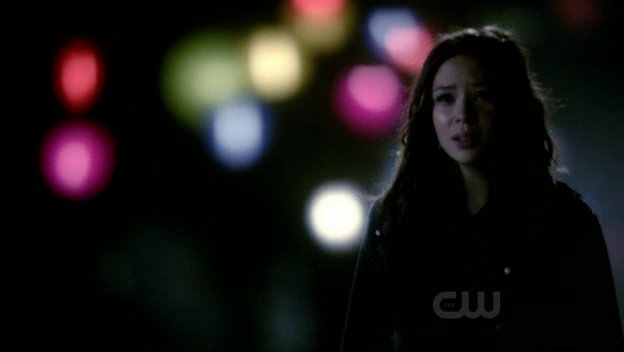 I AM CRYING OMG 😢😢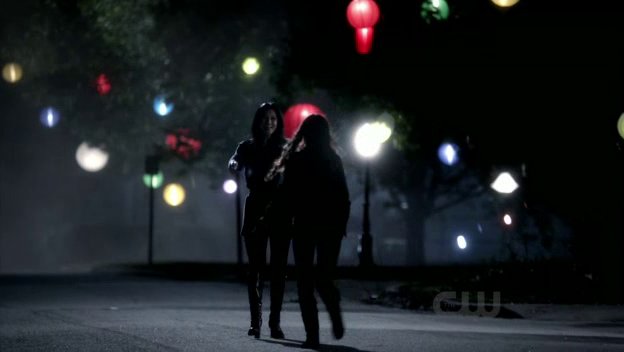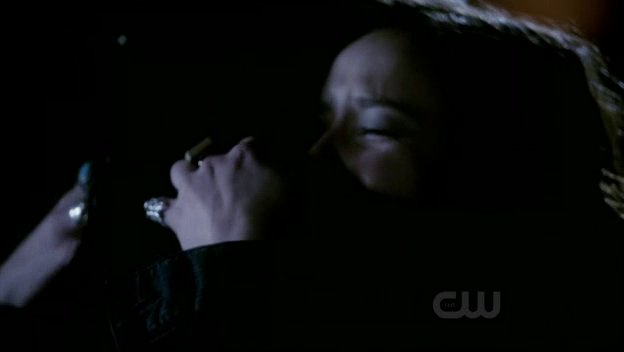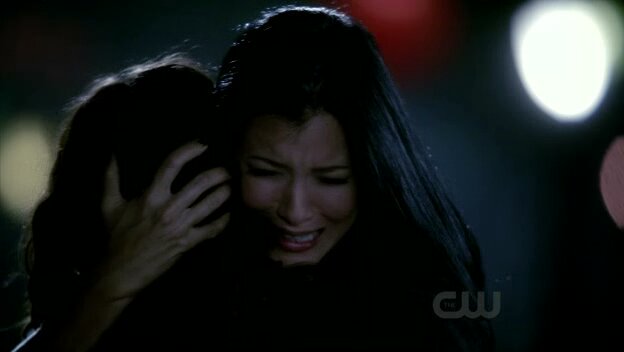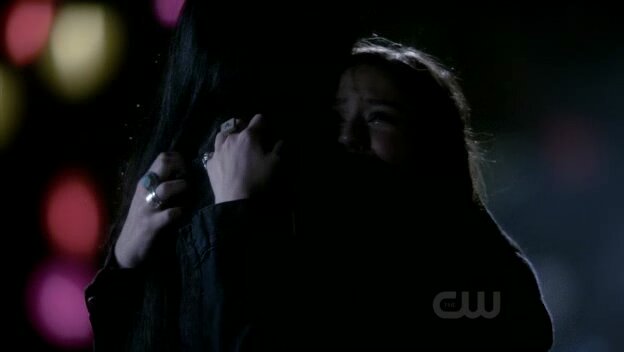 Gone. I hope they found peace together. 😢😢😢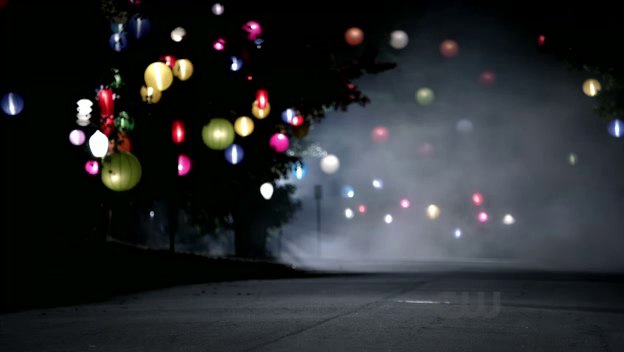 "You are stronger than all of this. I am so proud of you." Aww, bye grams. 😢 Poor Bonnie.
Sweetie, you are strong and deserve more love and a better boyfriend.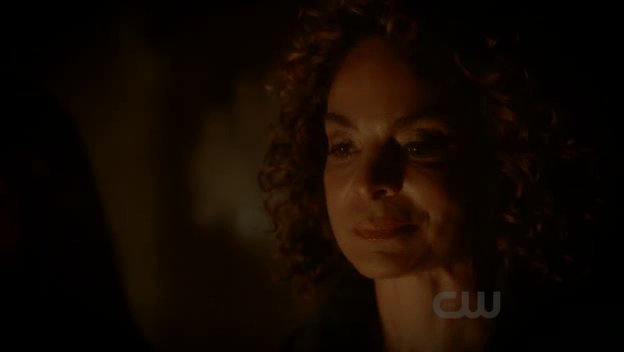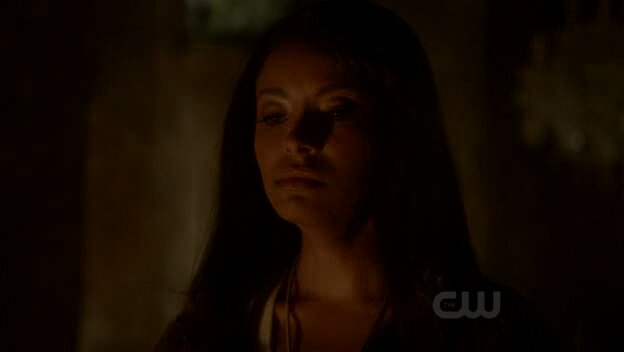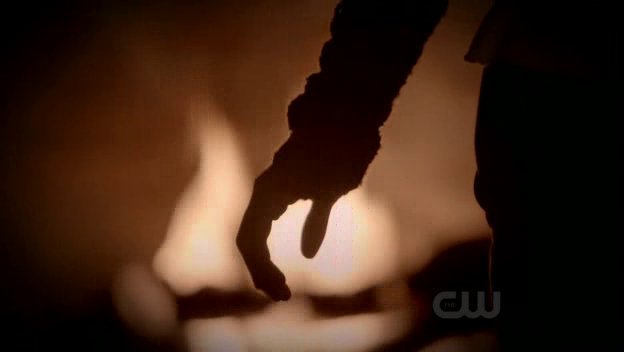 Damon called Alaric to take a look.
"Ok are here. About time."
"You didn't have anyone else to call?"
"No, actually, I don't. Because I need a non vampire to get in the cave and other than Elena, you are pretty much the only one I trust."
AGSHDND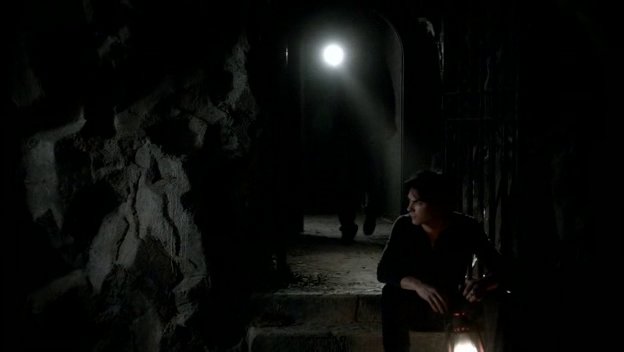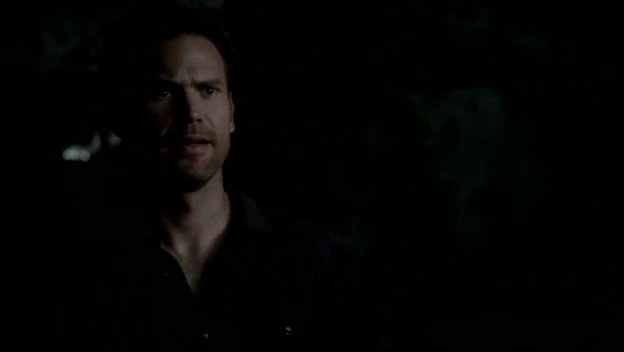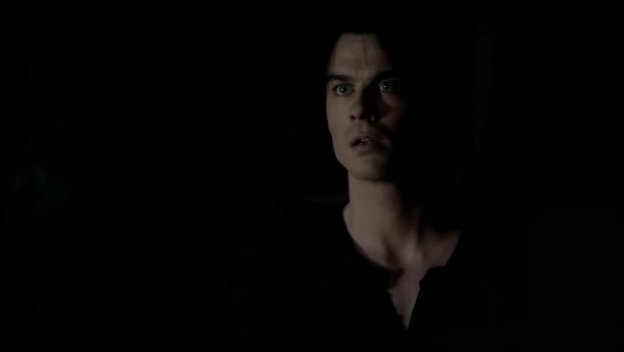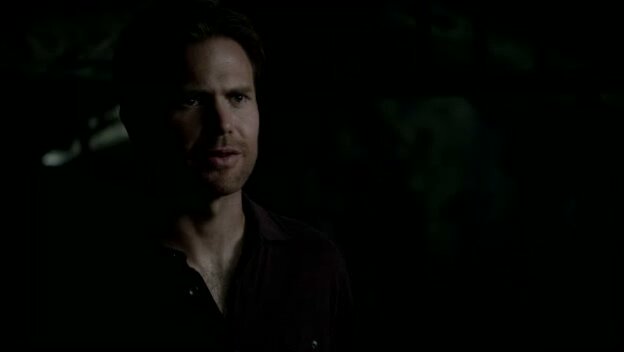 LMFAOOOO HE DID NOT JUST 😂😂 "Sometimes, I do things that I don't have to do."
"You are going to recycle that same crap ass apology you have Mason Lockwood?"
Alaric can't help but smile OMG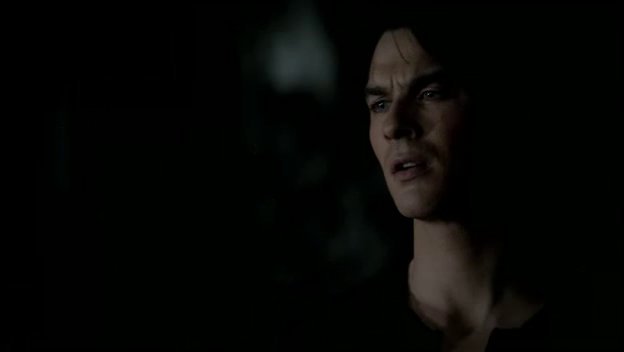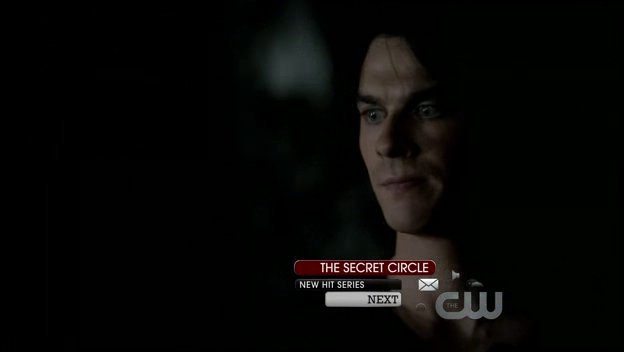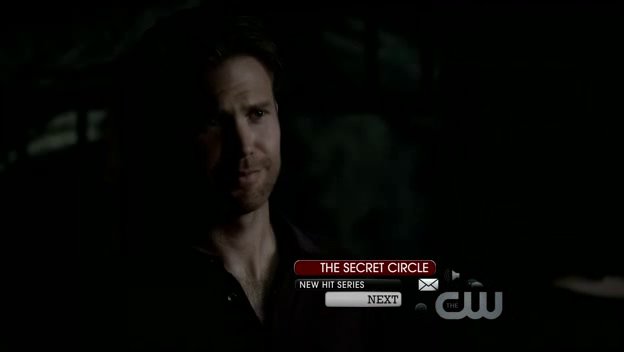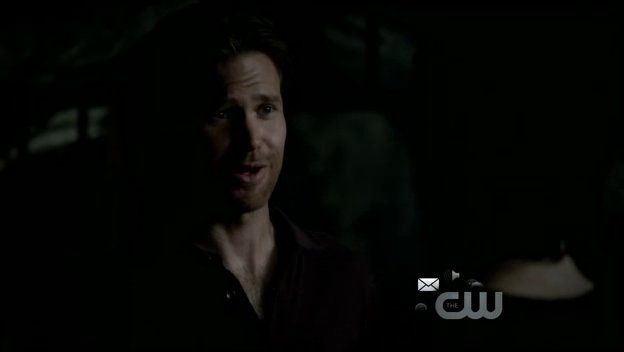 "Yeah well, I didn't mean it with him."
THEY FINALY MADE UP. I HAVE MY BROMANCE BACK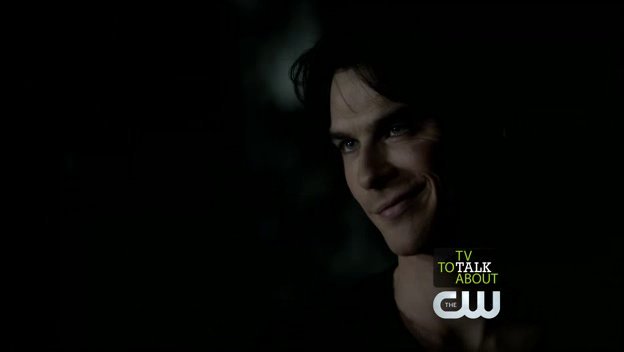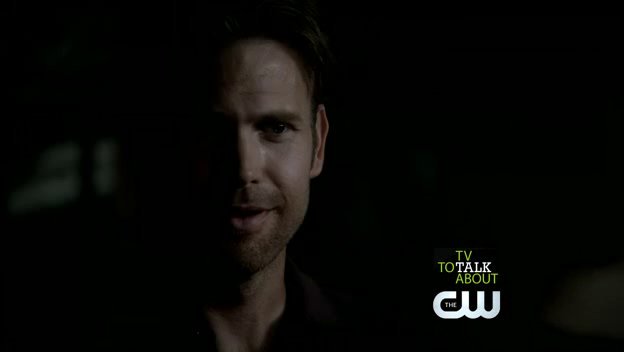 Stefan is taunting Elena again, but she says she isn't going to stay with him. She is going home to her brother, and to be there for Bonnie.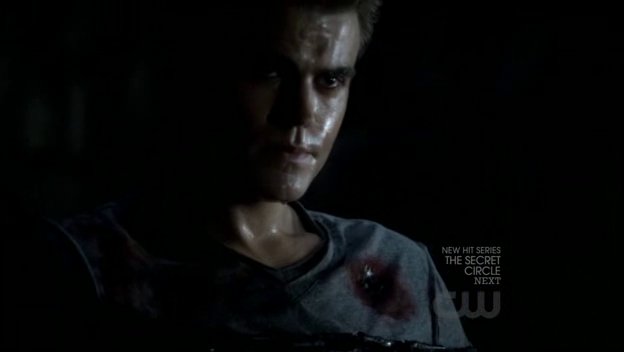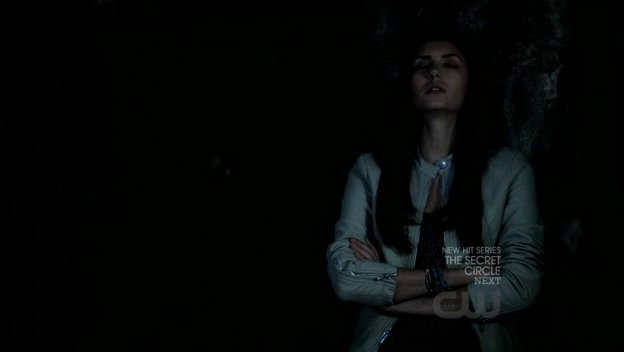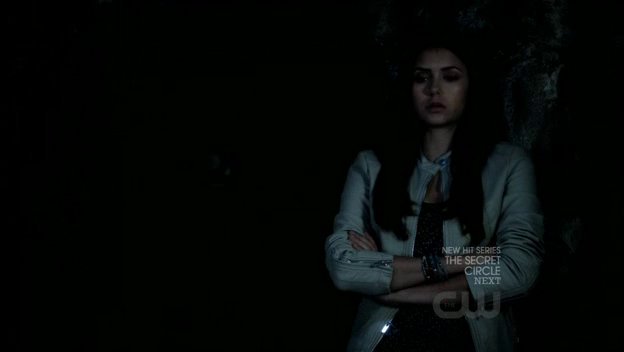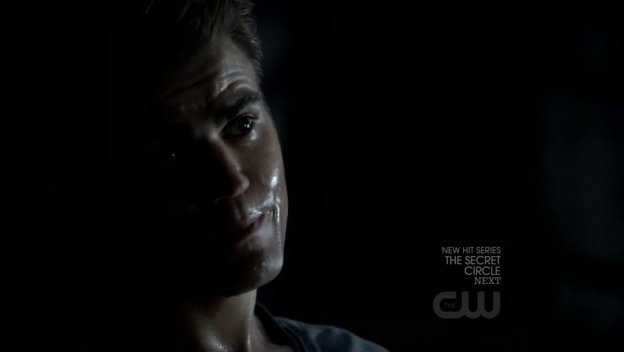 Now he accuses her of giving up.
"I haven't given up, Stefan. I still have hope."
She urges him to fight. To feel. Anything.
"Feel something. Anything, Stefan. Because if you don't, you are going to lose me forever. I won't love love ghost for the rest of my life."
YESS SWEETIE!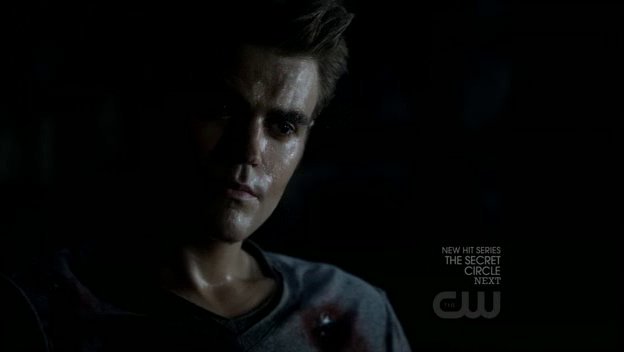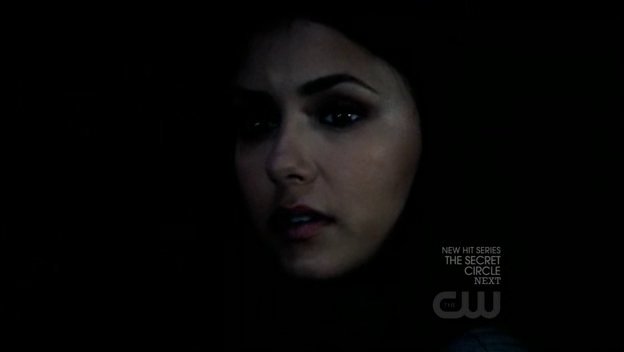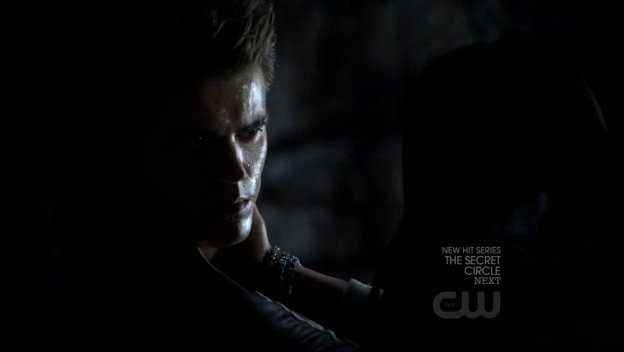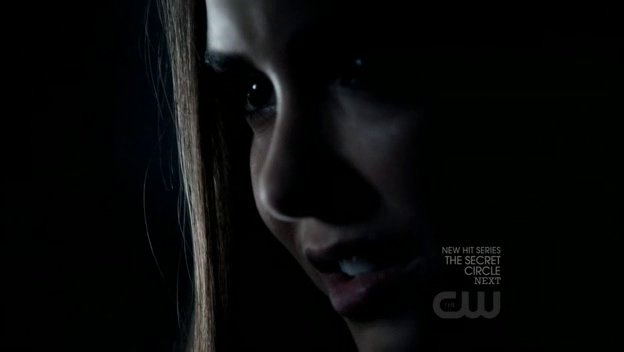 Elena took her own advice that she had given Jeremy. I am less pissed at her now
Jeremy wants to explain to Bonnie. Explain what? You cheated. You love someone else. There is nothing to explain.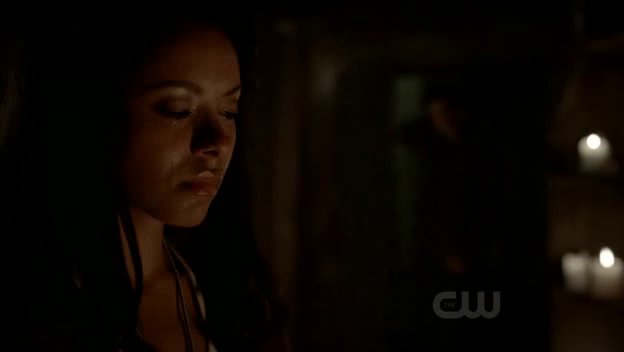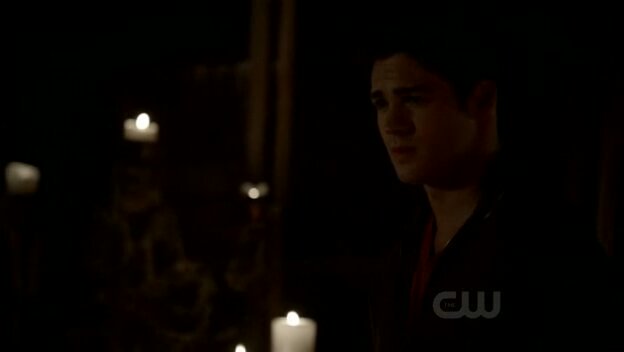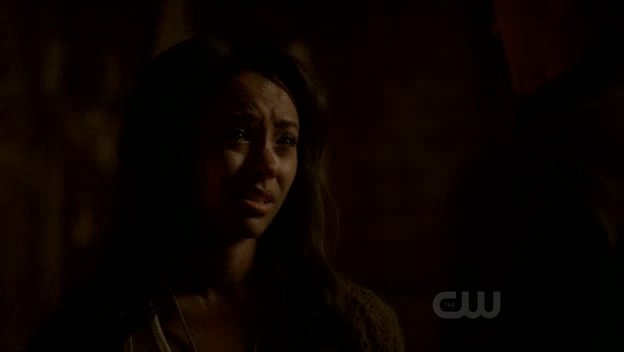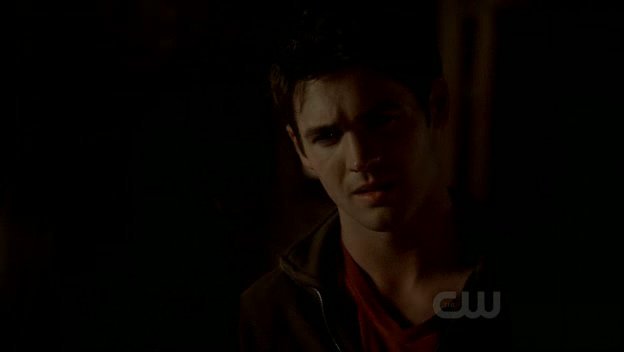 "You know what you owe me? The respect of me not listening to you explain yourself."
Tell him, Bonnie. 👏👏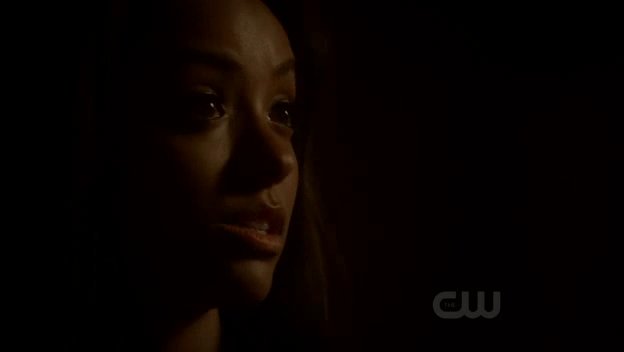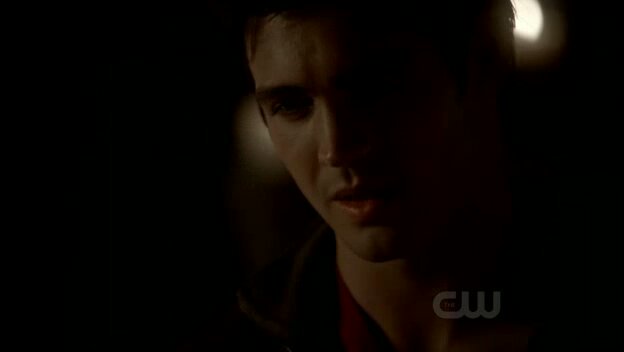 OH SHIT. THE NECKLACE IS BACK. WTF? ??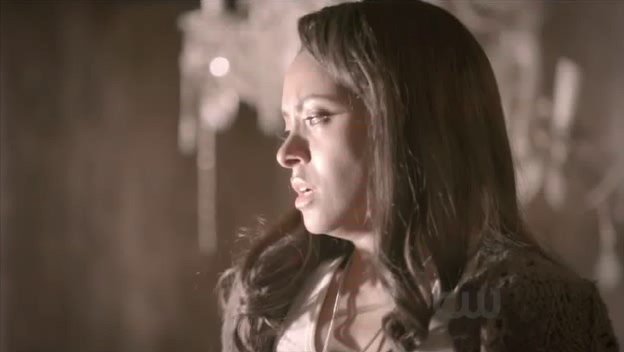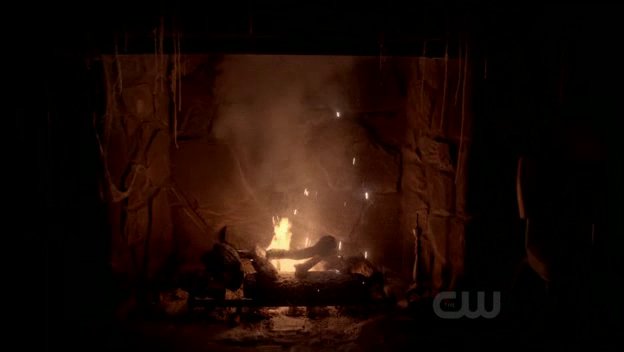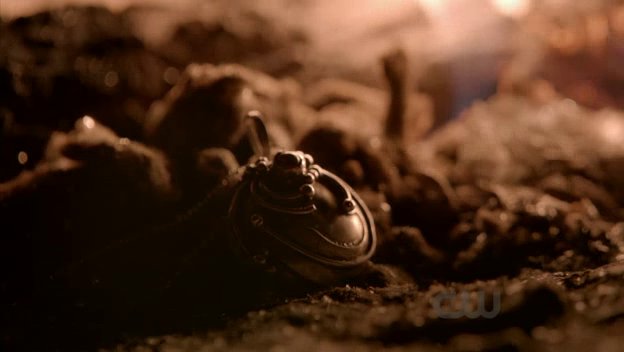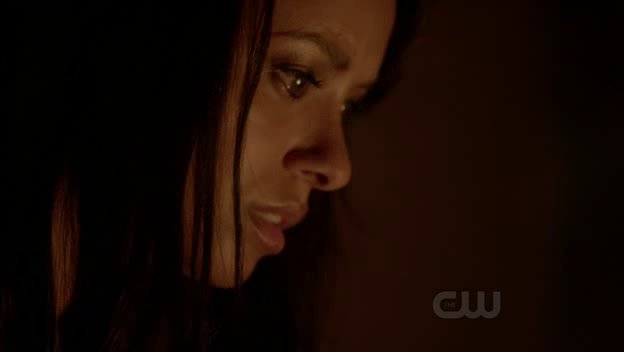 The weapon to destroy Klaus with, is...a bunch of drawings???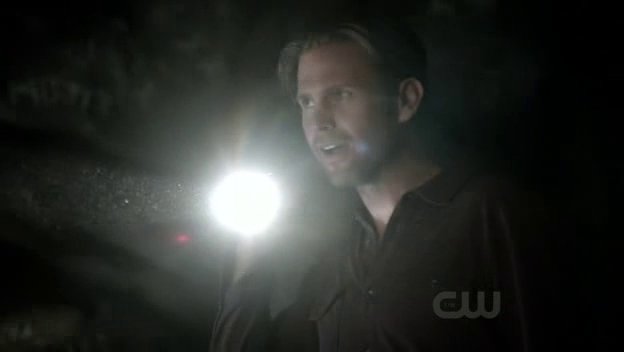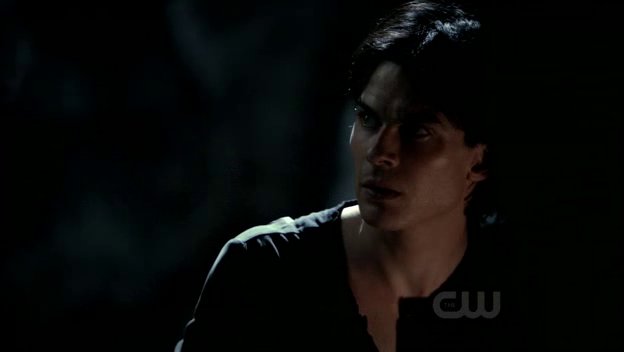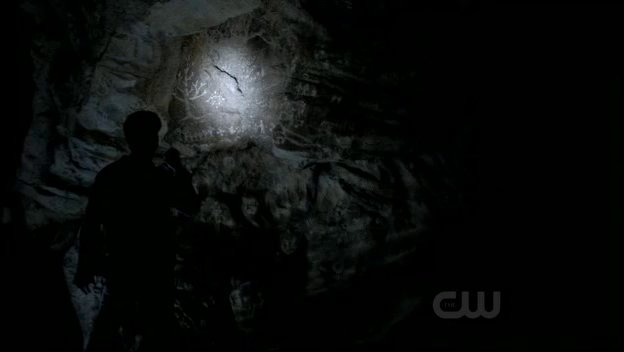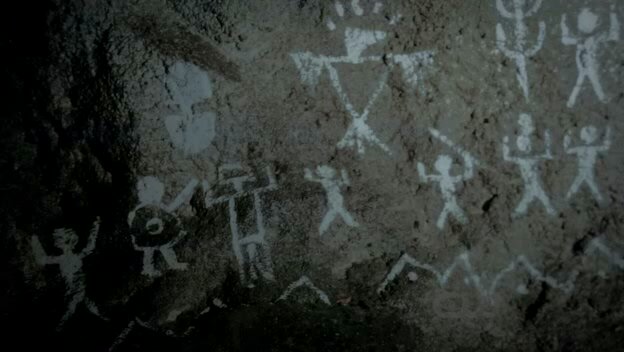 Emotional episode here at the end. 😢
03x08 "Ordinary People"
Hmmm okay. Except, no one in this show is ordinary in any way. 😜
Elena is totally okay with following Rick into the dark tunnels until he mentions bats lmao.
"Careful where you shine that thing. Bats hate the light."
"Wait what?"
Lmaooo same sweetie, same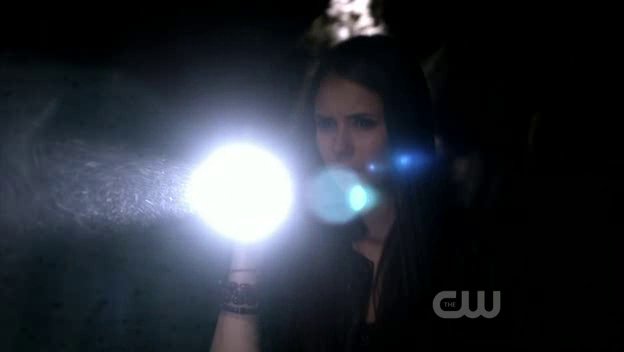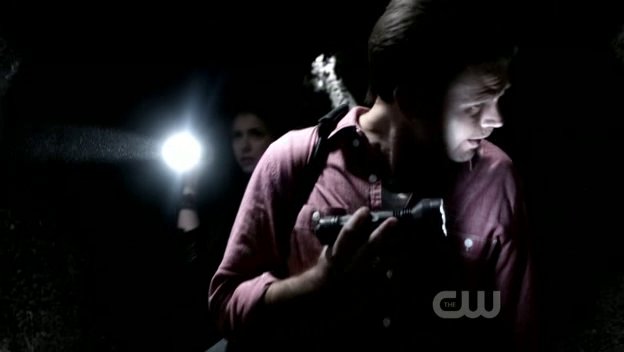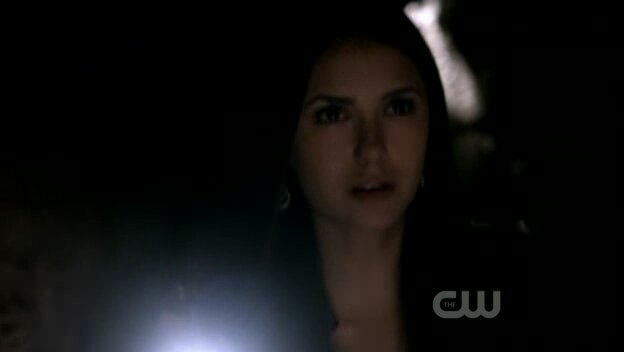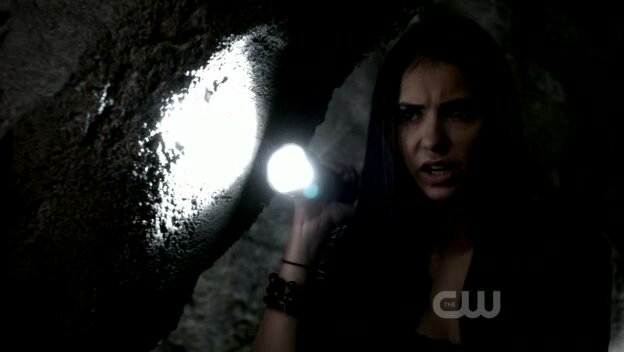 LMAOOO DAMON OMG. He is such a pest 😂😂😂 He scares Elena and she hits him in retalliation.
"Scaredy cat."
I love them so much 😍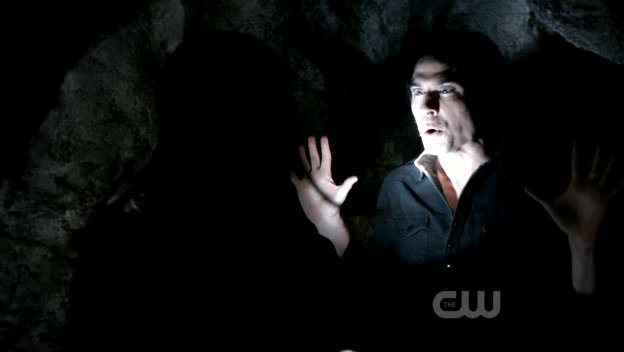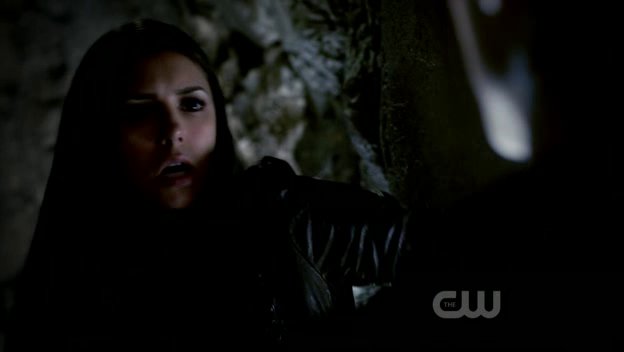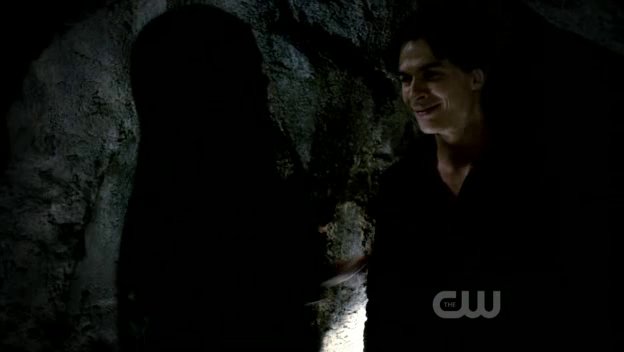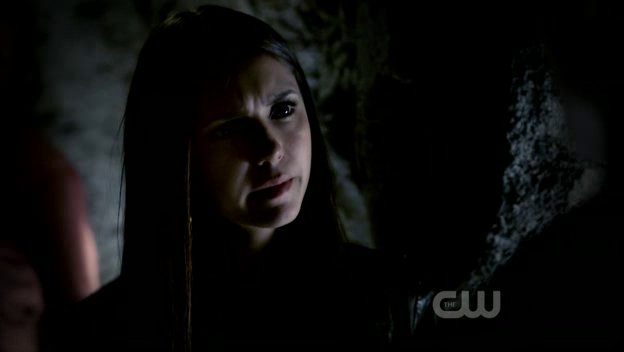 Moon cycle and wolf. So the werewolves did this?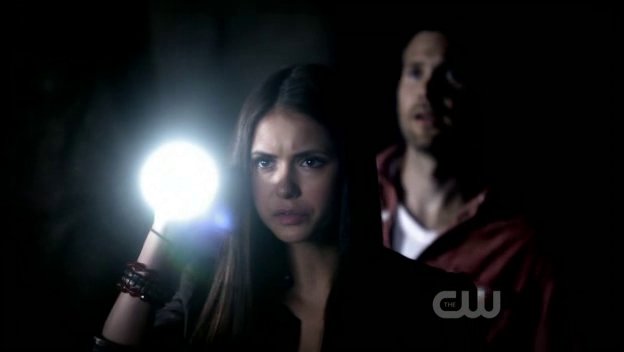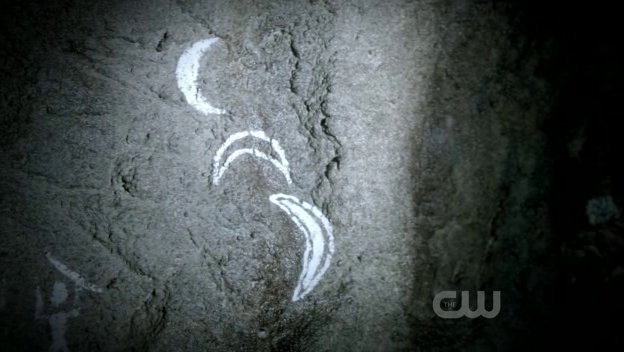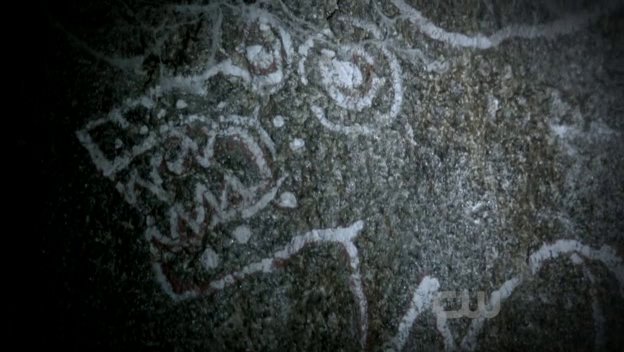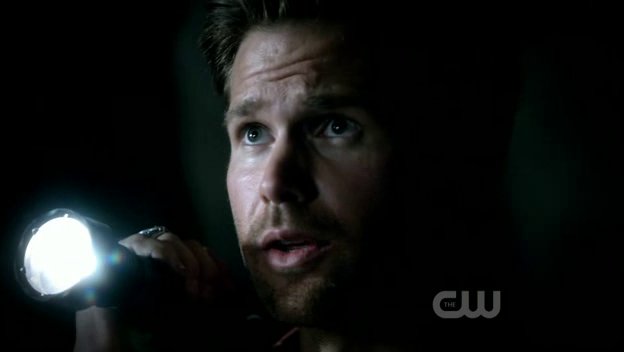 WTFFF
Niklaus
Elijah
Rebekah
In Viking script. This is sooo cool. If this is actual Viking script, I want to learn it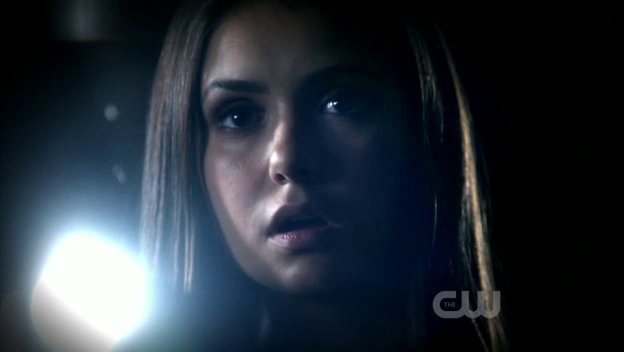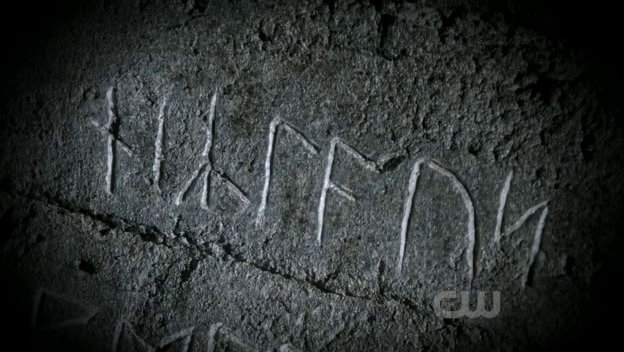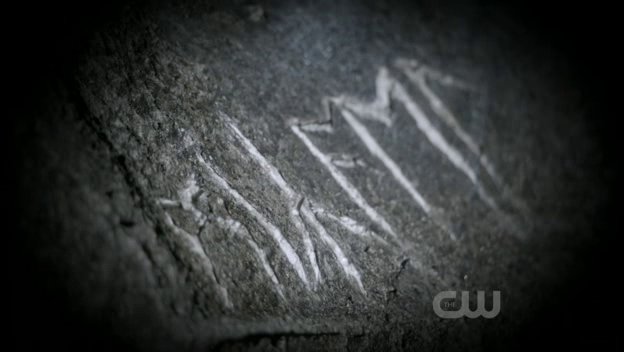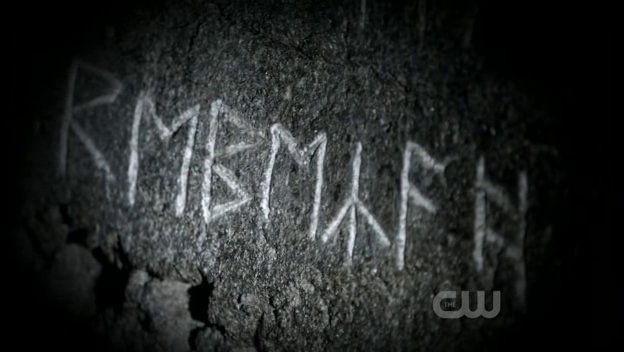 But what does Klaus ans his family have to do with werewolves??
OMGGG look at them!! Wow they rwally are old as fuck to have lived during these times. 👀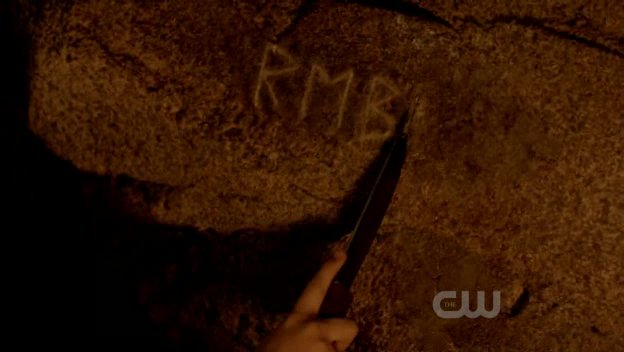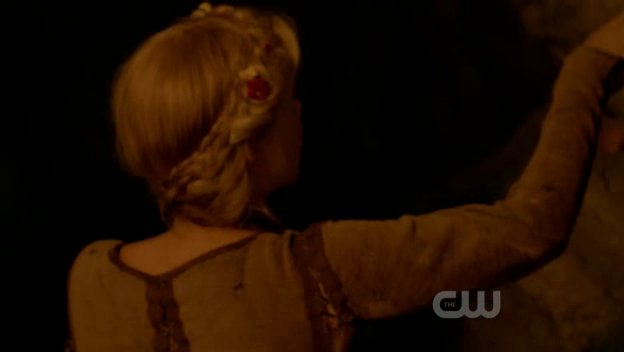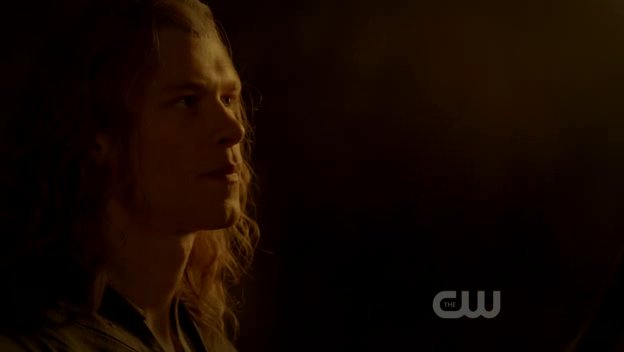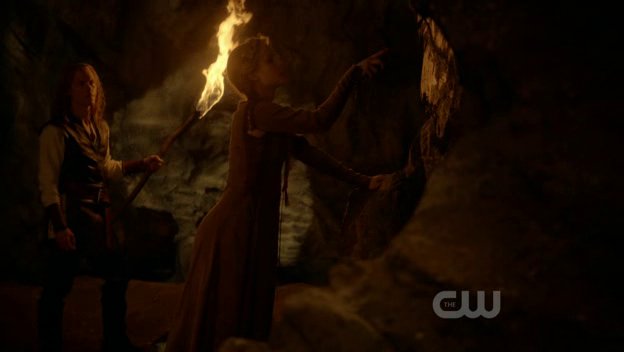 Klaus doesn't want her to use a knife because he is scared their father will find out. But Rebekah says he only finds out because Klaus rats her out. I like her fire. She was never 1 to follow rules, was she?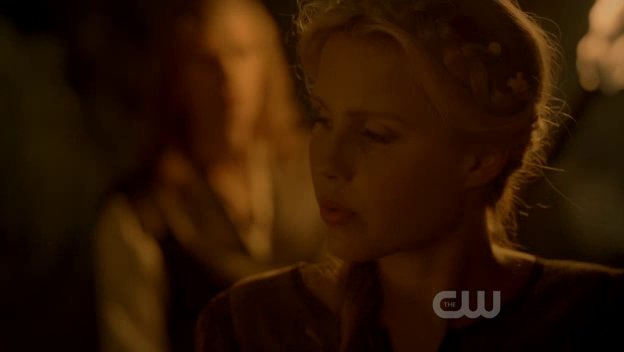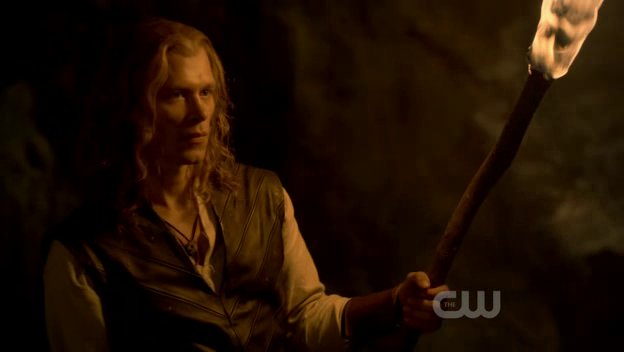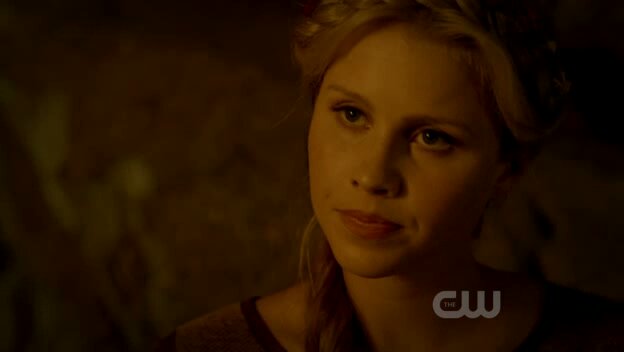 "He frightens me."
"He frightens us all. That's why we stick together as 1. Always and forever."
They are really going to give Klaus the abusive dad story, aren't they?
I like the always and forever part.
Klaus seems different though. Meeker...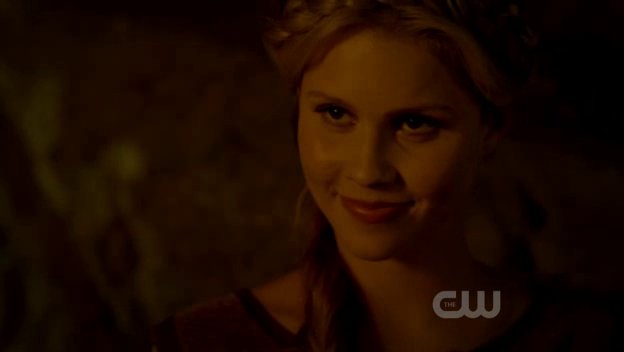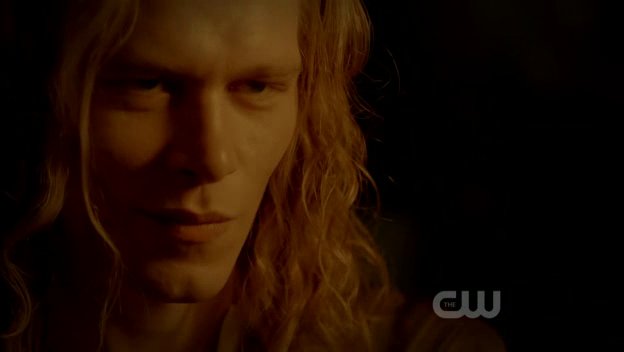 Haha Rebekah gets him with the knife when he makes the sexist comment about leaving knives to the men. I love her okay? 😂
Wait, he isn't healing.
ARE THEY HUMAN HERE??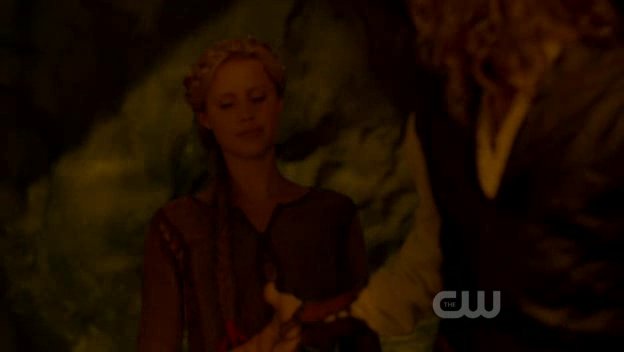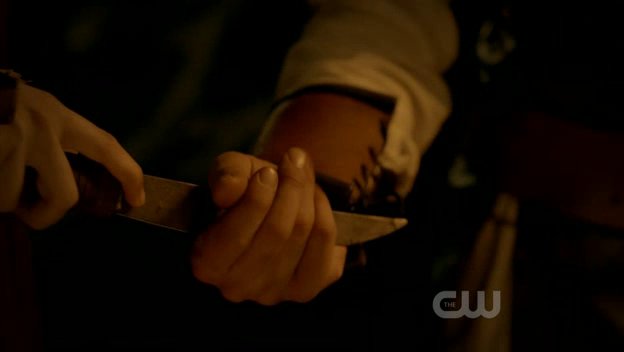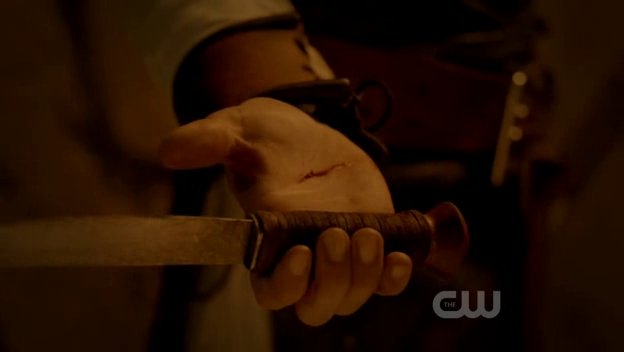 MIKAEL IS KLAUS AND REBEKAH'S FATHER. 😱 OMGGG okay. The vampire hunter is "papa original." Well this family gets more messed up by the second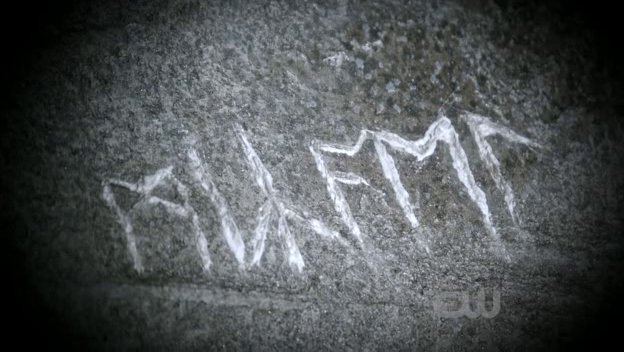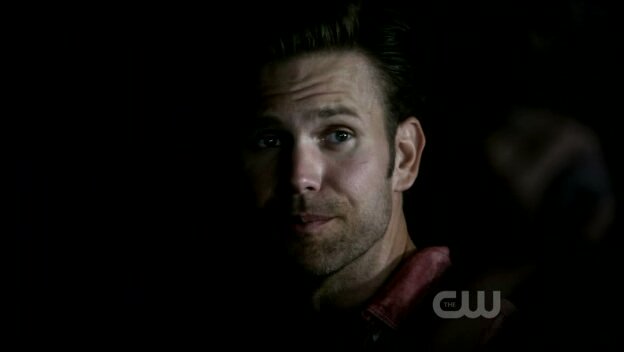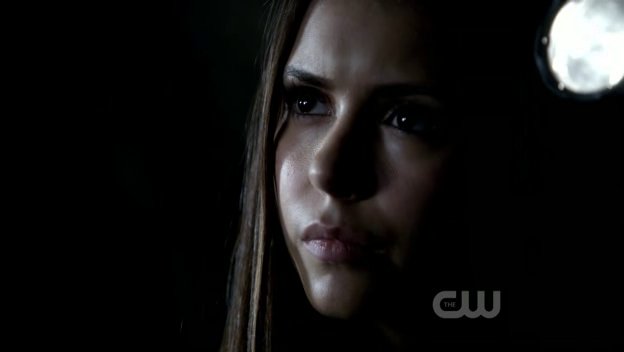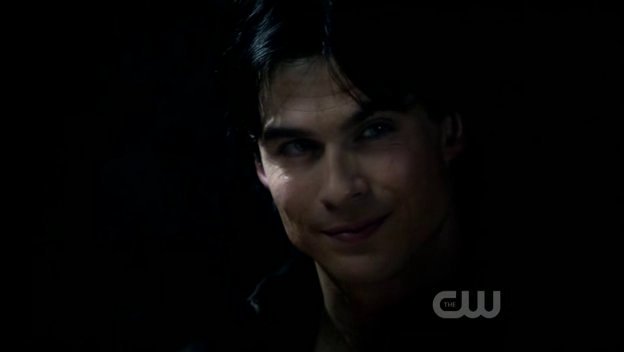 Alaric takes a bunch of photos which I am pretty sure he will be able to sell for a pretty buck. 💰💸
But more importantly, now Damon can see them too.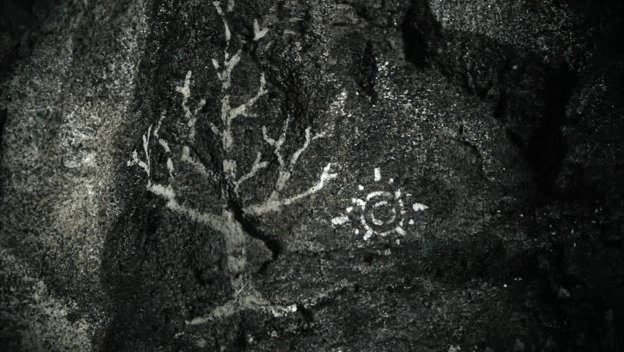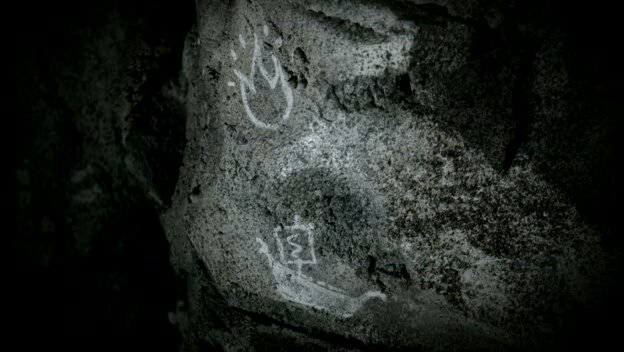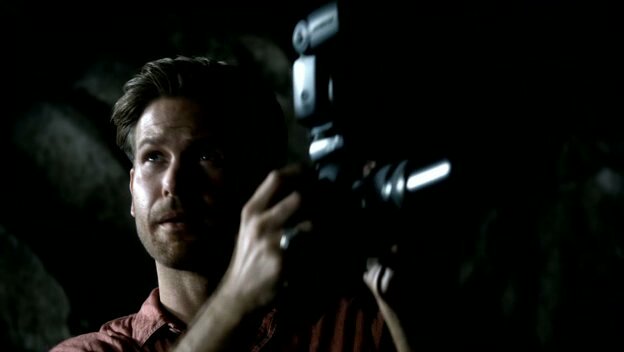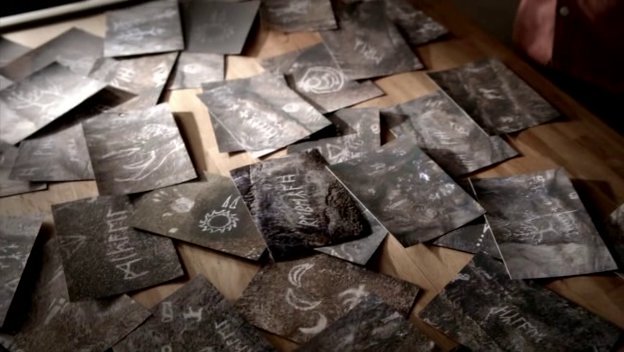 Not that he is looking... Alaric says the drawings tell a story. But I am more interested in what's happening behind him right now. 😂👀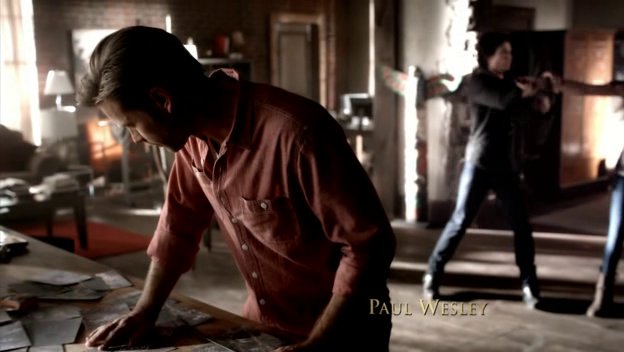 THEY ARE FAKE FIGHTING. CAN THESE TWO GET ANY CUTER OR ANYMORE OBVIOUS??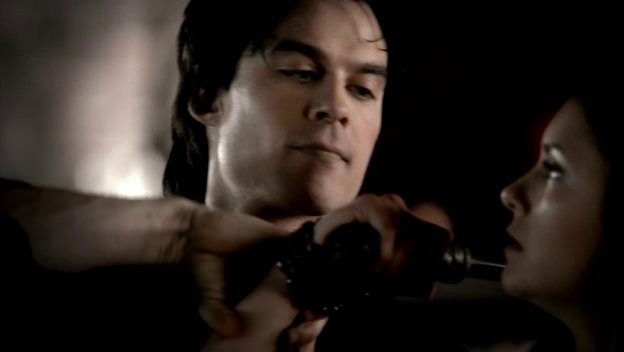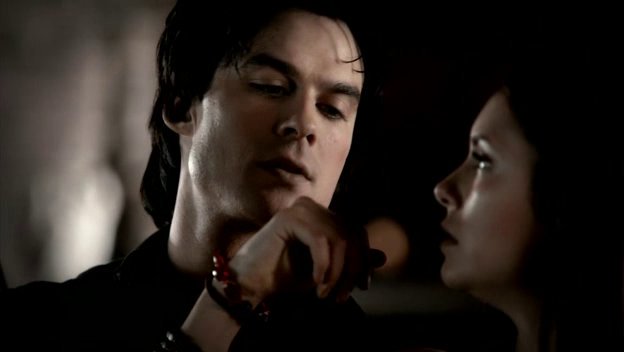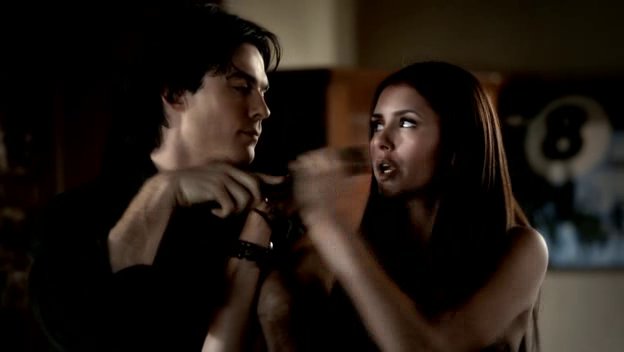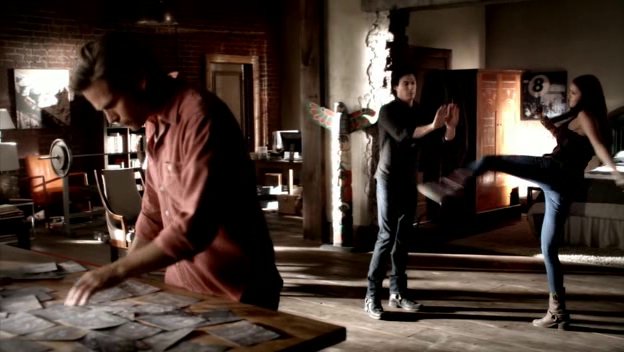 "Bang, you are dead."
Elena pushes him off and how to stand by Rick. Was that to close, Elena? Getting to hot being that close? I don't blame you though 😍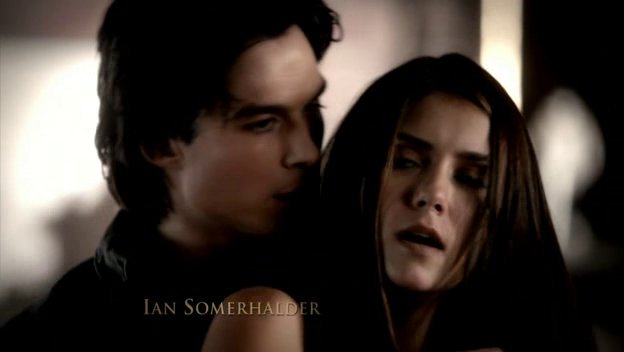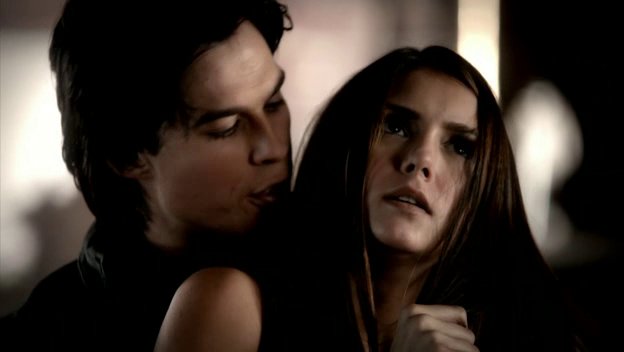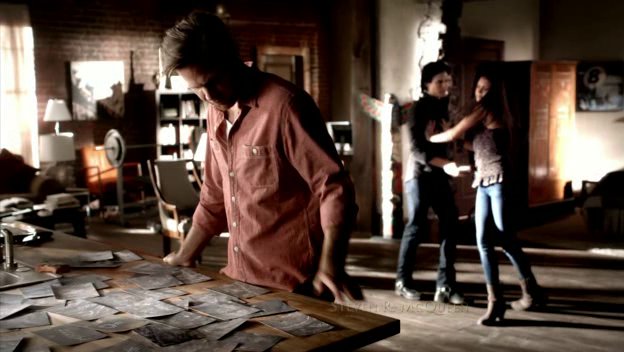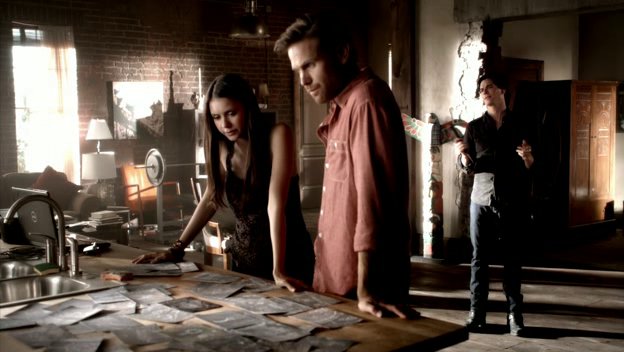 Elena sugest they go to the scource to get the full story. ....well...I don't think Rebekah is the sharing type.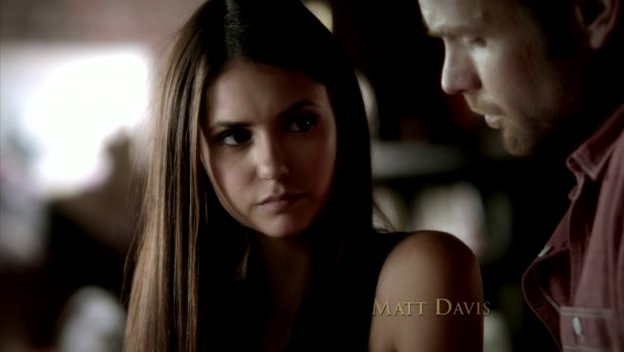 Rebekah is showing off her crazy athletic skills and lands right in front of Elena.
"You. Goodie."
"I was hoping we could talk."
"About what? Stefan? Don't worry, I am over him till he starts treating me better. Infact, you should probably take a page out of my book."
I agree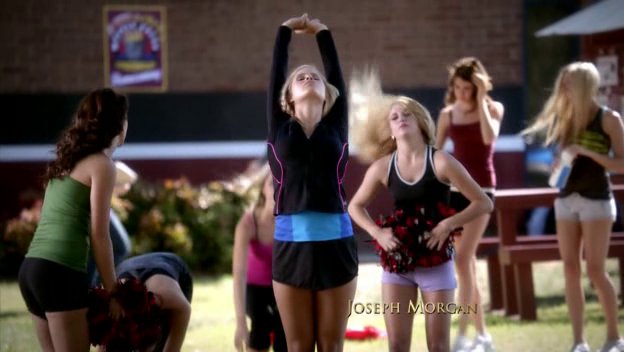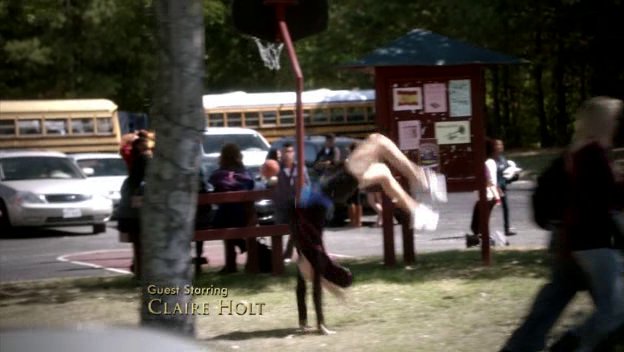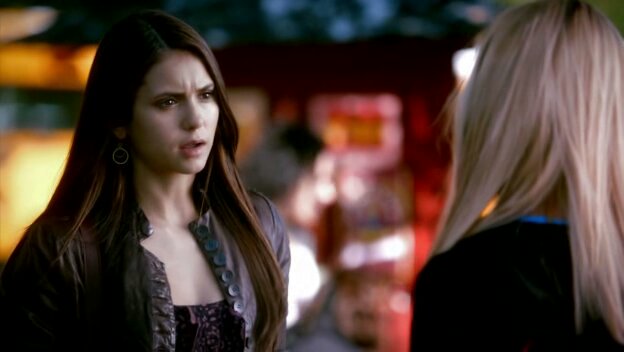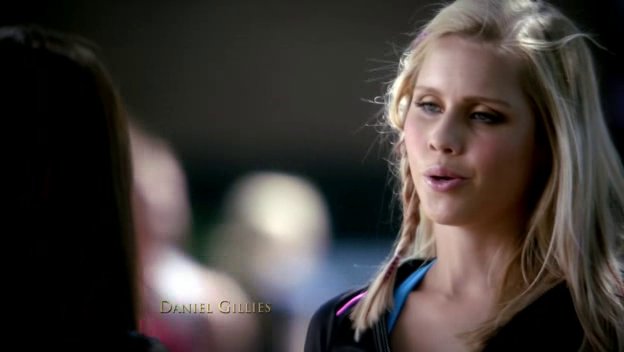 Elena asks Rebekah why she and Klaus spent a thousand years running from their own father. Rebekah doesn't want to talk but Elena says a will ask him after waking him then.
"If you wake Mikael, we are all doomed." She is shook. But that's not true. Only her and Klaus will be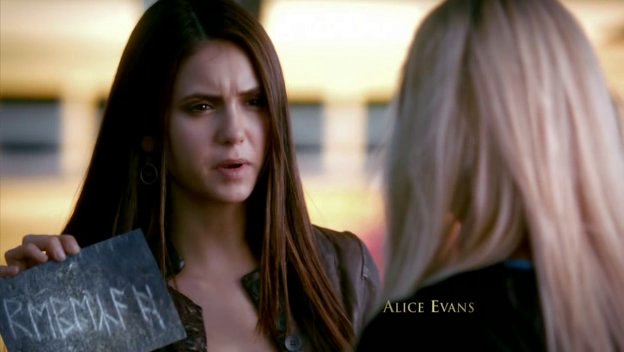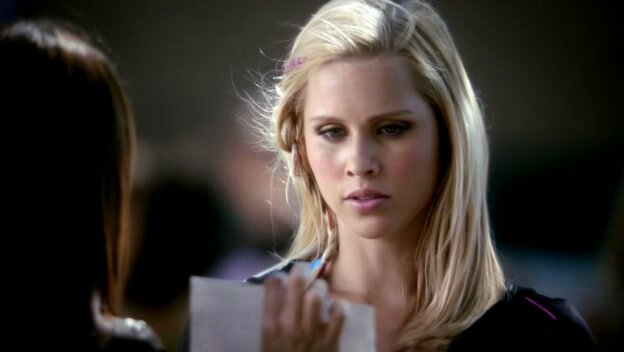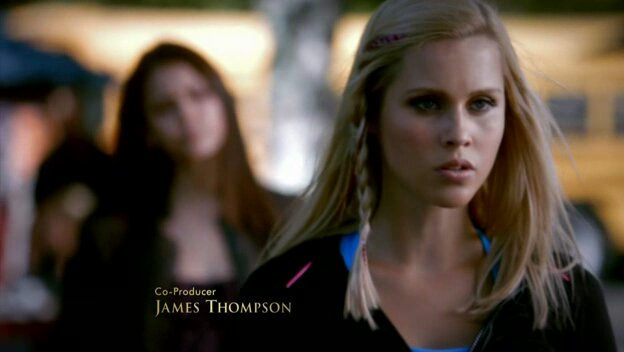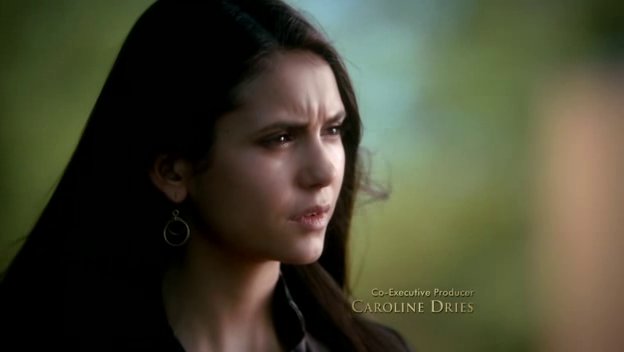 Rebekah runs to watch Elijah and Klaus fight. HSHSHD ELIJAH'S HAIR OMG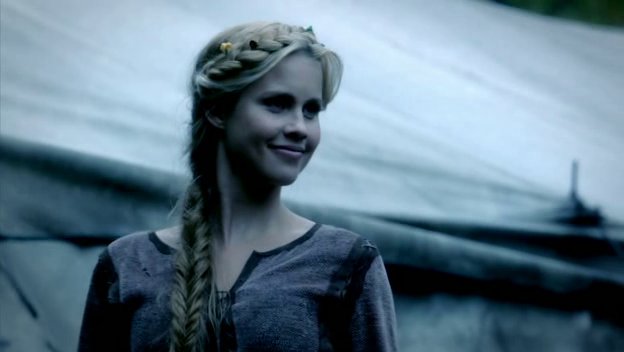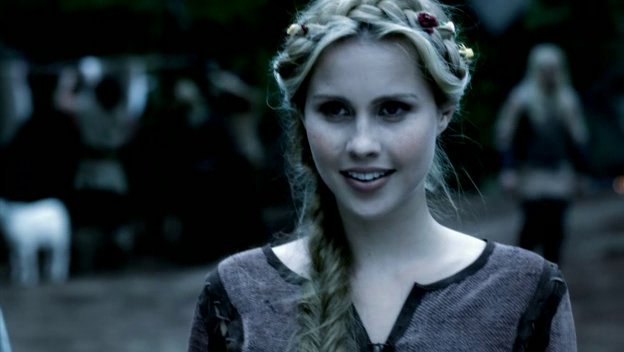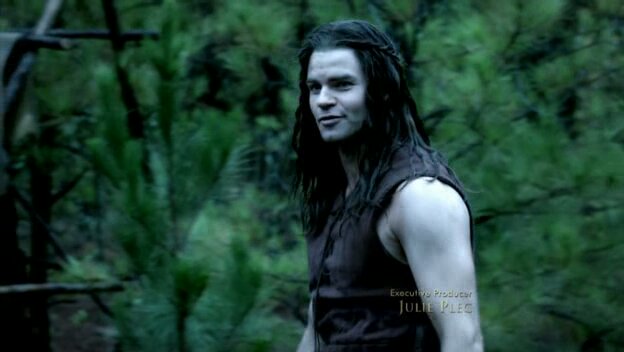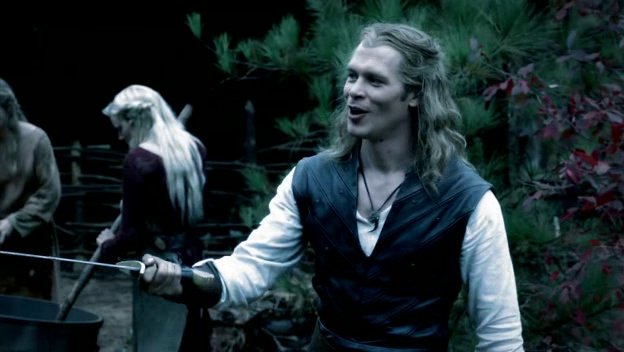 Look at them go and look at the muscles in Elijah's arms phew. Lol, Klaus cheated and cut OF Elijah's belt. But the fun ends when Mikael and I am guessing momma Original arrives? Mikael looks barely recognizable with that hair lol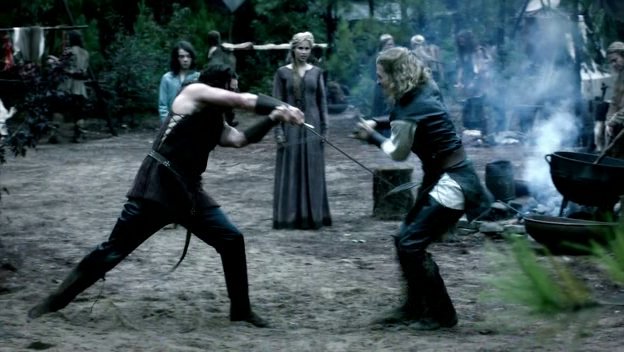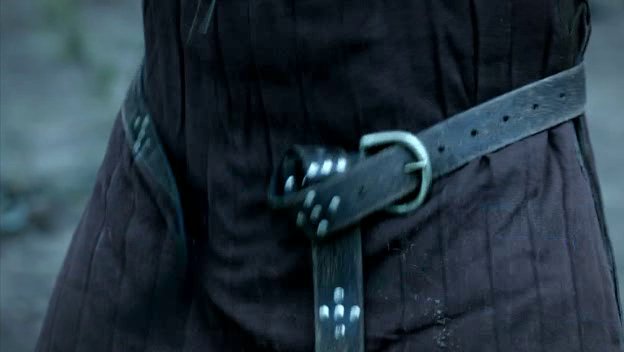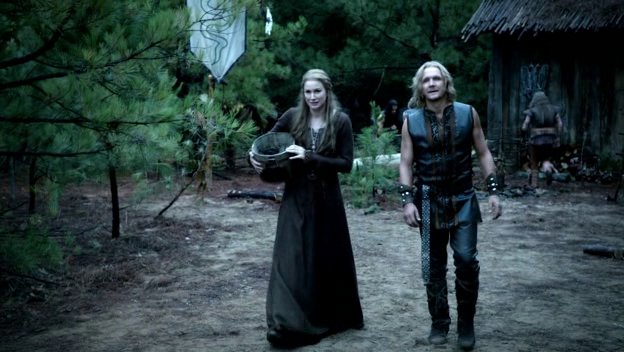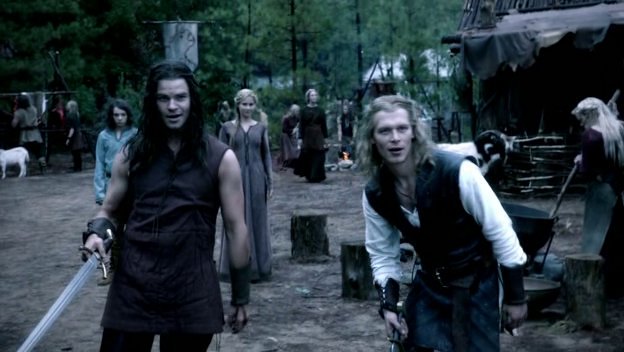 "Niklaus means well, Mikael."
Ohhh he doesn't see it that way. He starts telling about how fighting shouldn't be for fun and attacks Klaus. What an asshole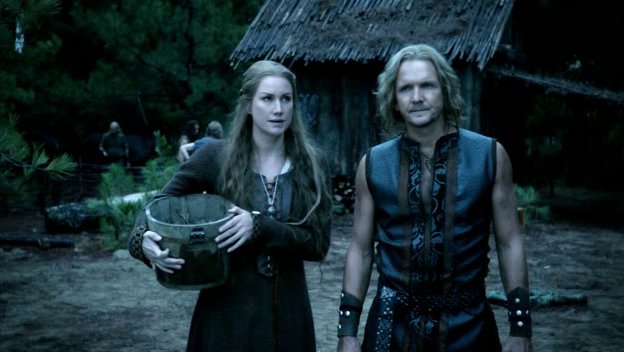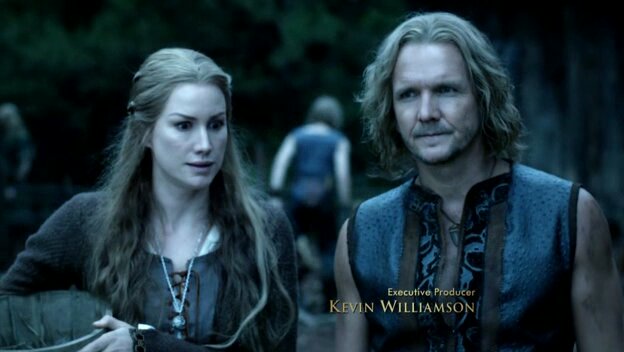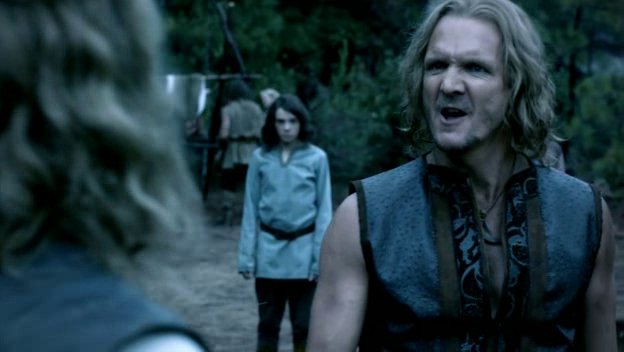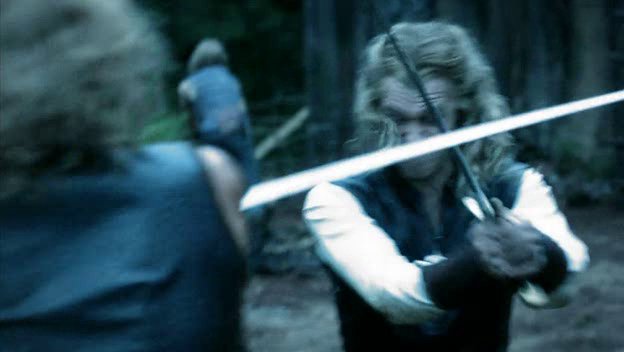 He is pretty insane. Violent, like some raging beast. He beats Klaus easily. Okay, clearly he is a abusive father. The way he acts and talks, calling him "boy" and humiliating him in front of everyone. 👀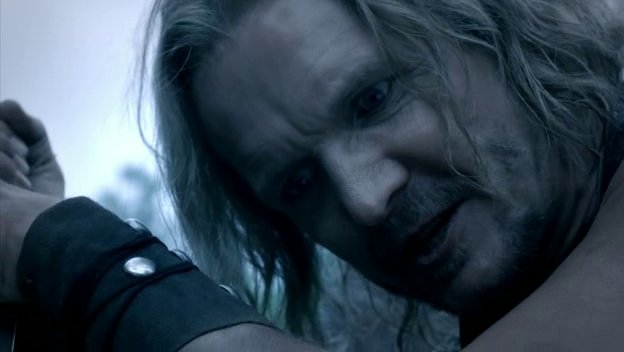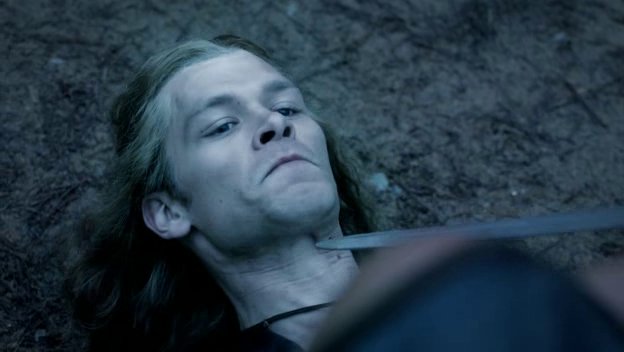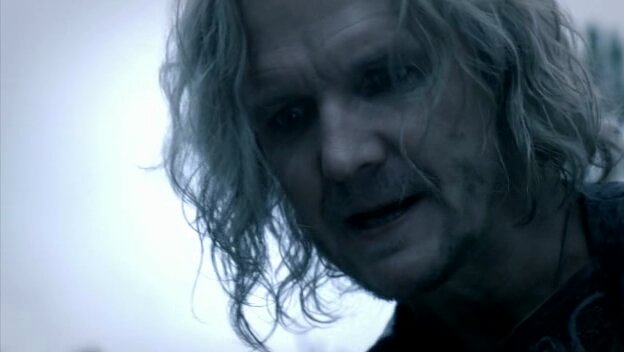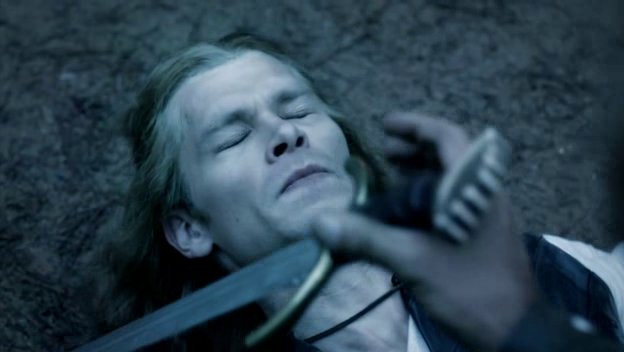 Elena tells Damon that Rebekah will come around, they just have to engage in a Mean Girls power struggle first.
"Make sure she doesn't power struggle you into a wheelchair."
He is always so worried about her.
Stefan still looks like crap though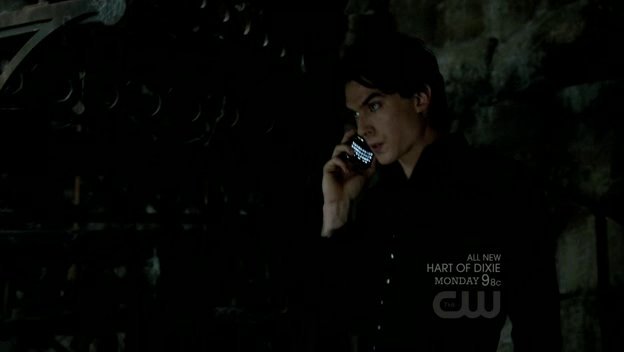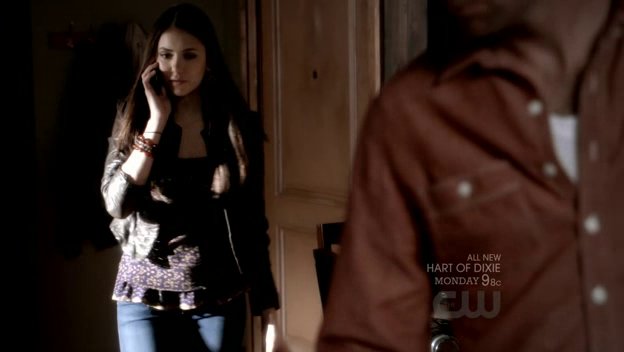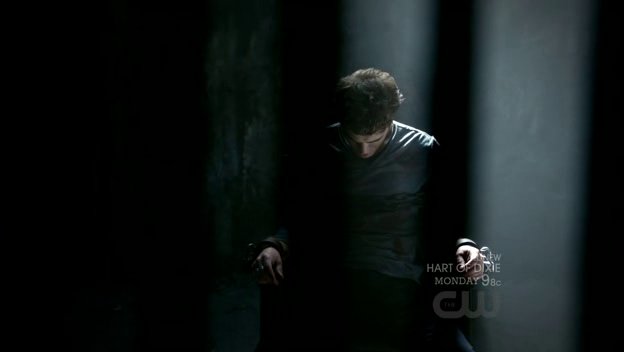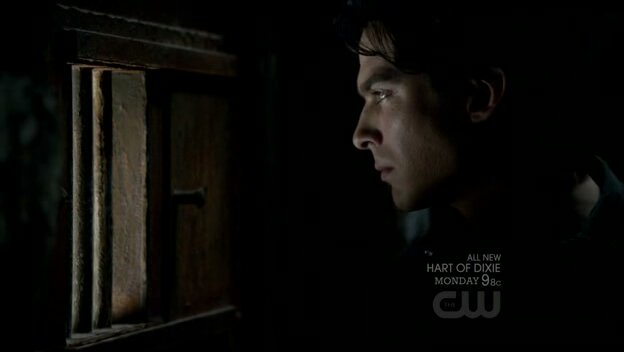 Elena was right. Rebekah wants to talk.
"She is a thousand year old vampire who joined the cheerleading squad. There is a whole different set of rules in play here, Rick."
Agreed. Rebekah still has the mentality of a highschool girl. She was daggered for many years though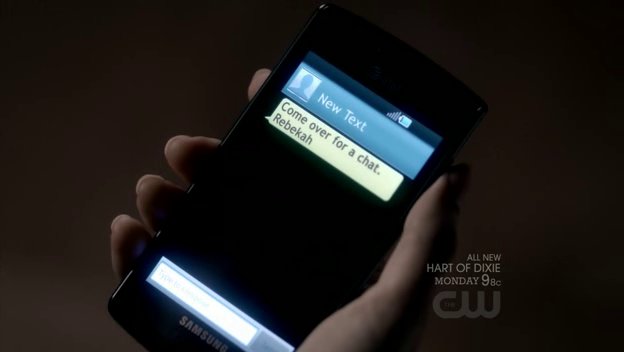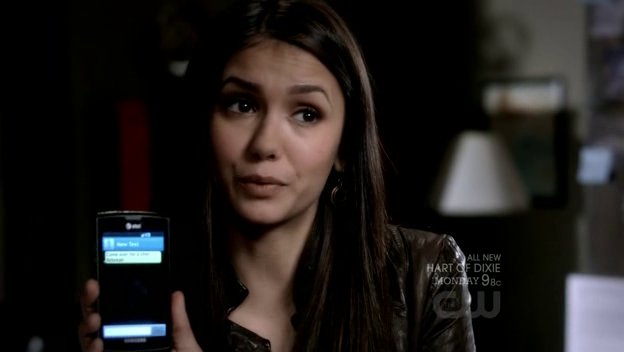 Maybe Klaus even daggered her before the insident in Chicago. Who knows?
I see Stefan is still acting like a douche. "We should all listen to Elena, right? I mean, her plans always work out so well."
Is that a diss at yourself for allowing Elena to sacrifice herself in S2?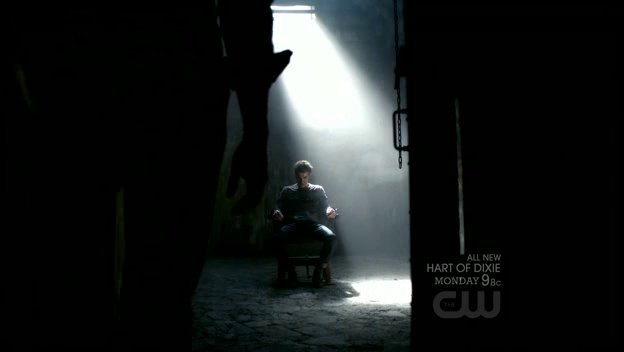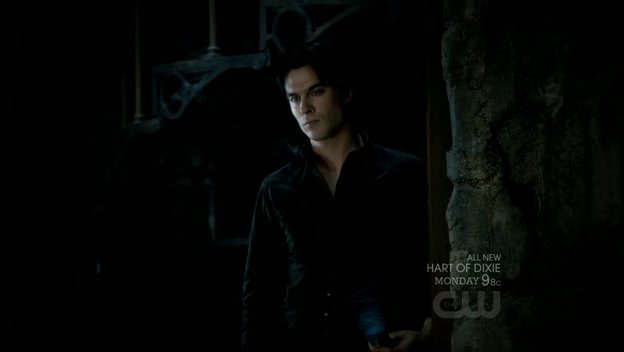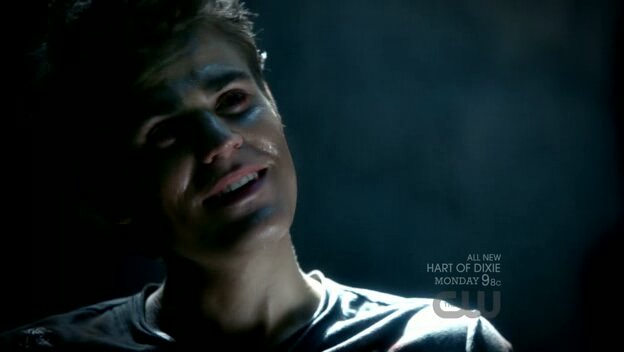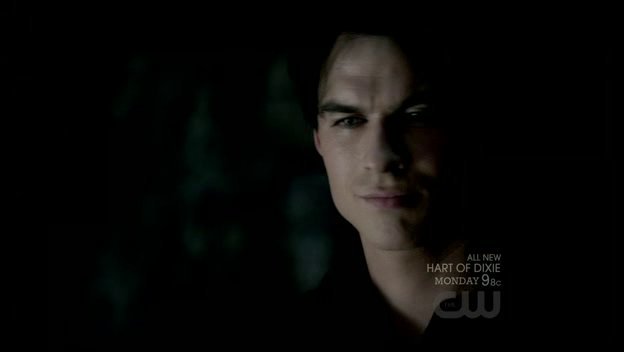 Damon realizes that Stefan has given up all hope and breaks his chains. DAMON WHAT THE HELL? ?
"Screw this Lexi plan. I think we can both use a drink."
WTF. ALL THAT PROGRESS FOR NOTHING? This is a bad idea. 😨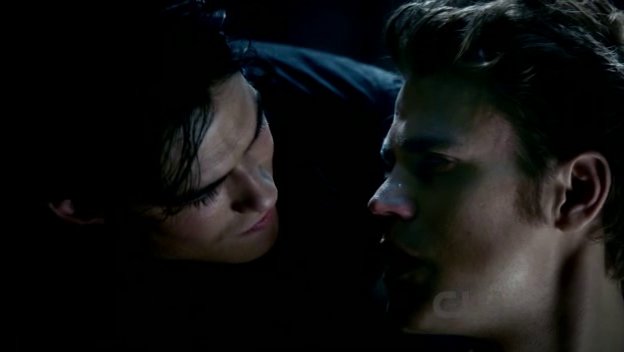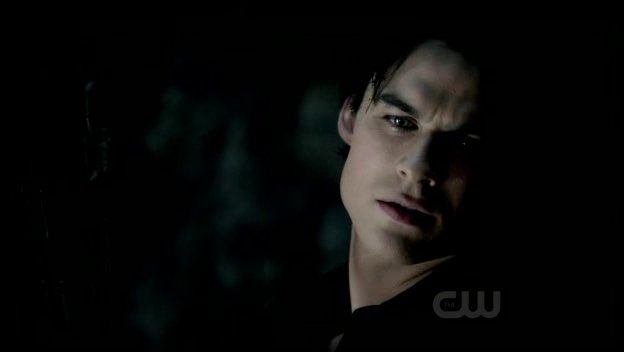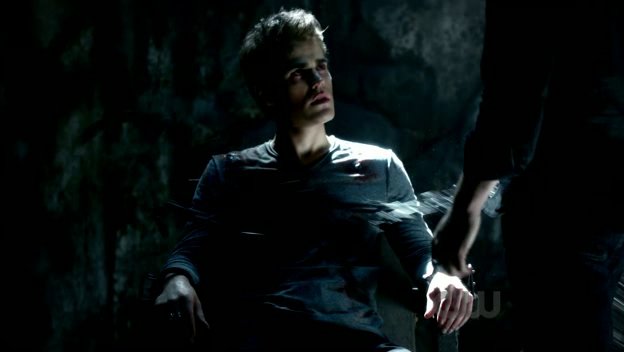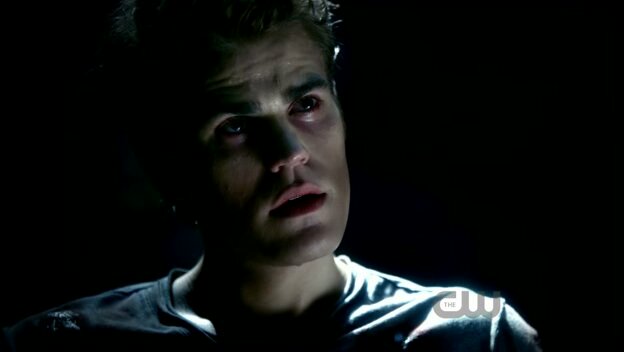 Well, not progress. His humanity is still off. So all that torture for nothing??
Elena arrives to find that Rebekah compelled herself a runway show. 👀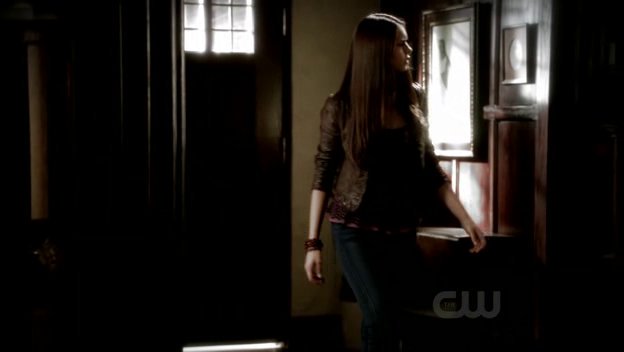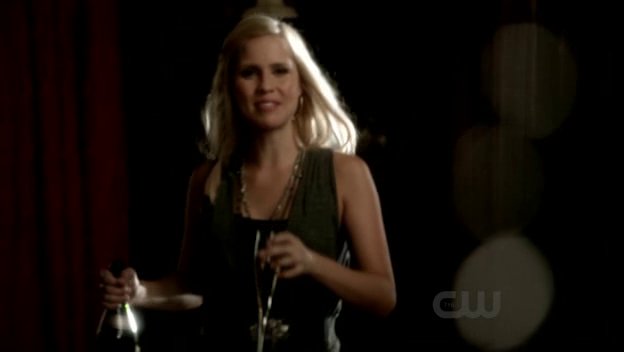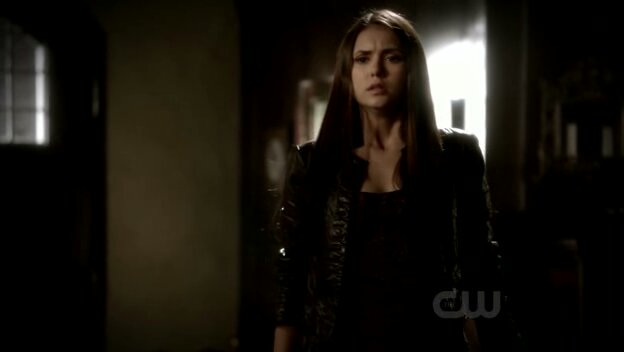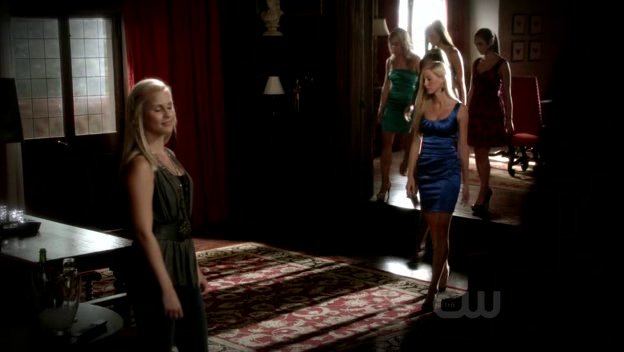 Can't she try to make a real friend instead? But like Klaus, I think she has self esteem issues deep down.
When Elena doesn't want to pick a dress, she threatens to kill one of the girls, so Elena goes with the red one. After compelling than away, she makes it clear to Elena that she is therw on her terms and will learn only what she deems fit.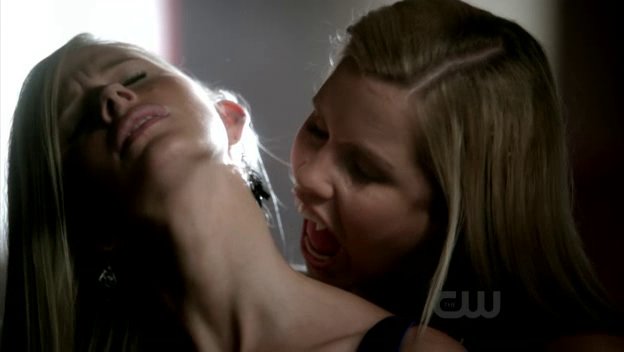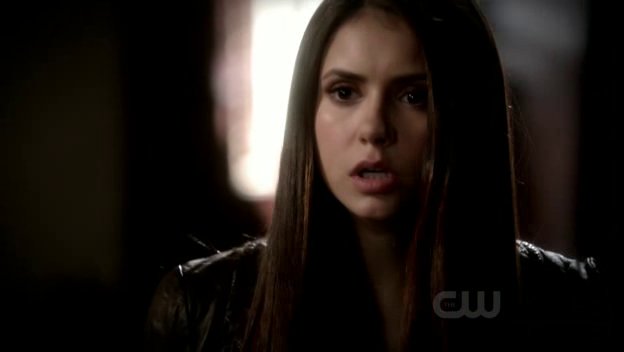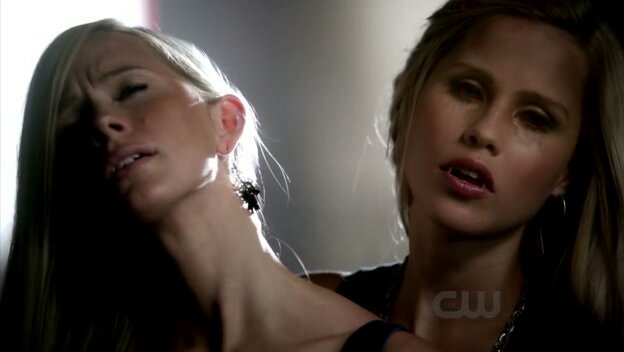 Okay Becks, you are in charge. Let us have the story then.
Bonnie brings the necklace and Alaric now knows that the symbol means "witch." The necklace is as old as the originals. Maybe even older, since it belonged to "the original witch"
Guys, dont give your girl 2nd hand jewelry. Just don't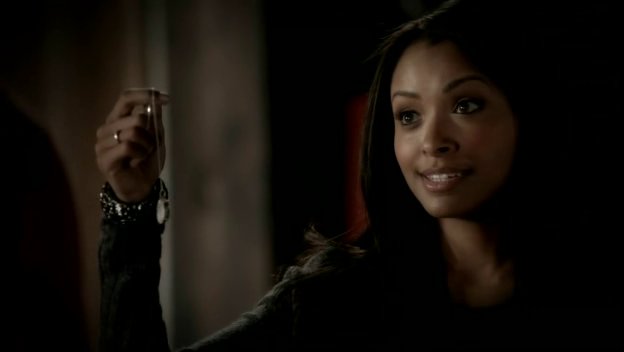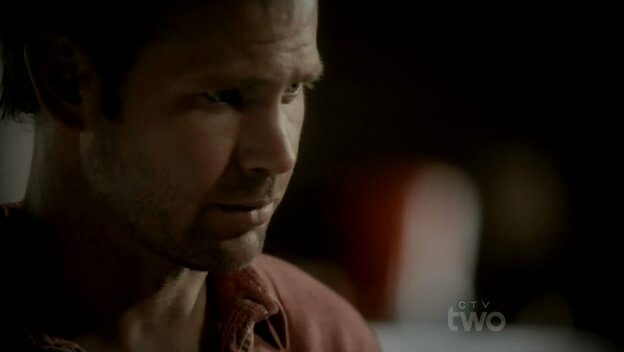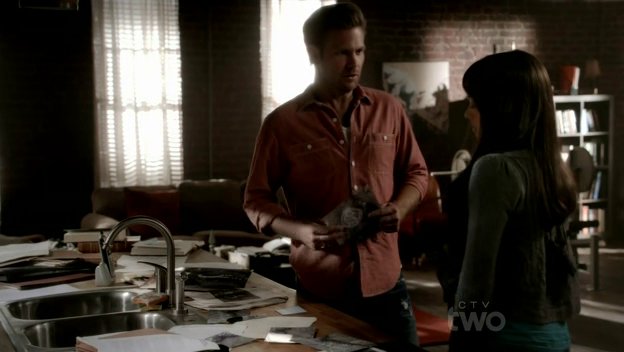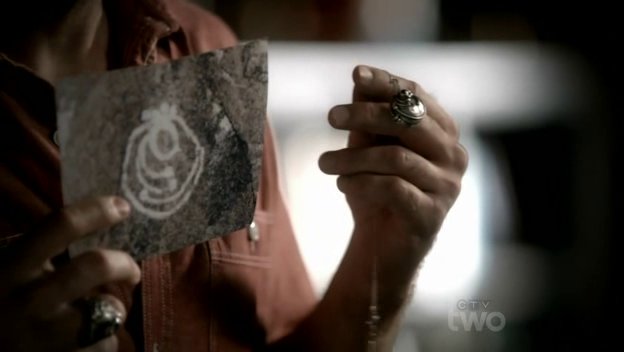 Rebekah really is dragging this out. She snoops through Stefan's things but Elena just isn't in the mood.
I get the idea Rebekah may even be a little lonely and this is her way of forcing Elena to spend time with her. Idk. Or she just hates her and wants to taunt her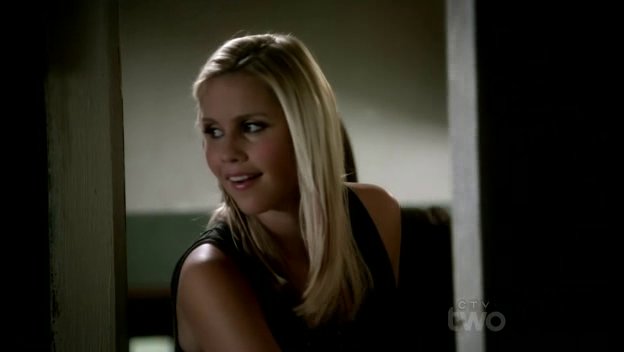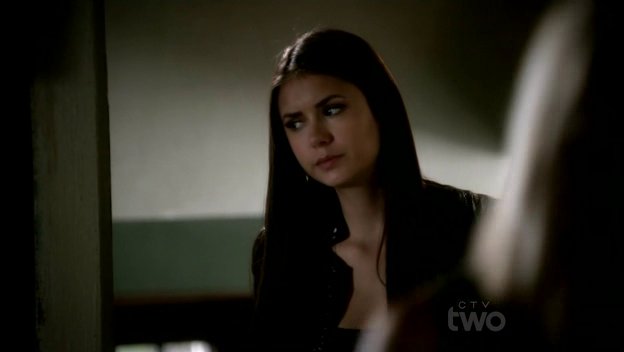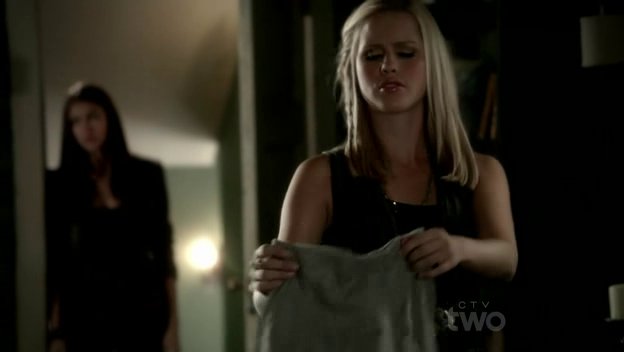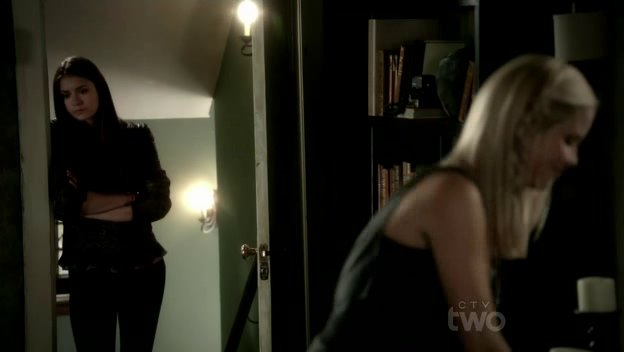 Can't these two just become friends? I will fucking love that.
Rebekah tells Elena about how they heard about a mystical land where people have speed and strength, and after losing a child to the plague, her family moved there and lived amongst werewolf neighbours for 20 years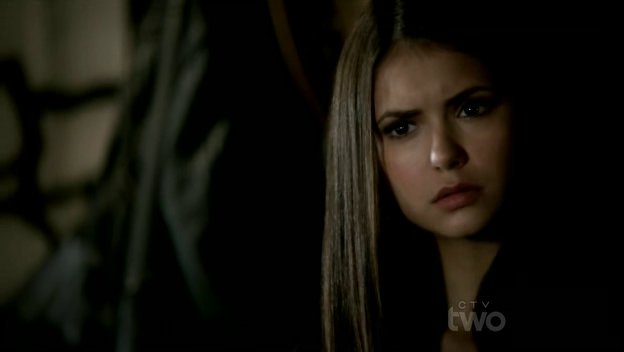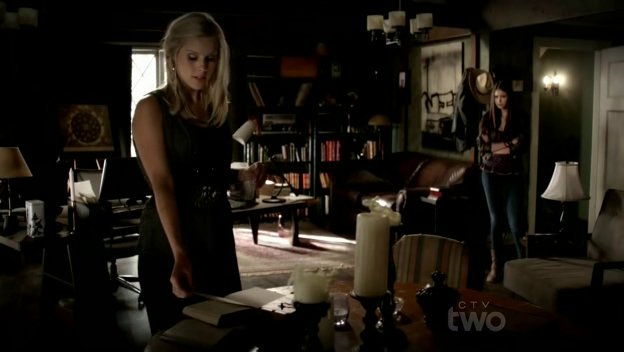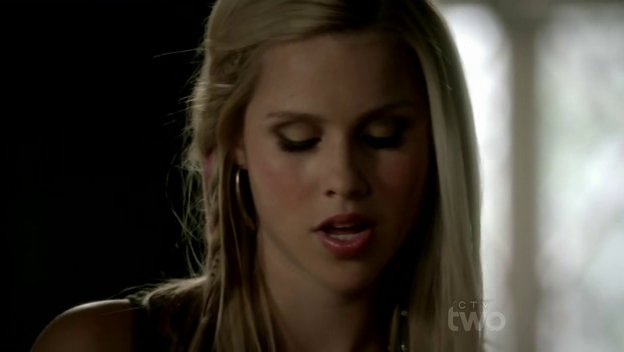 The necklace belonged to Ayana. So she was the original witch who places the curse on Klaus?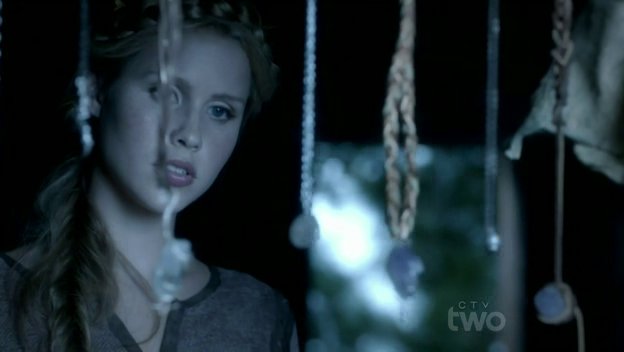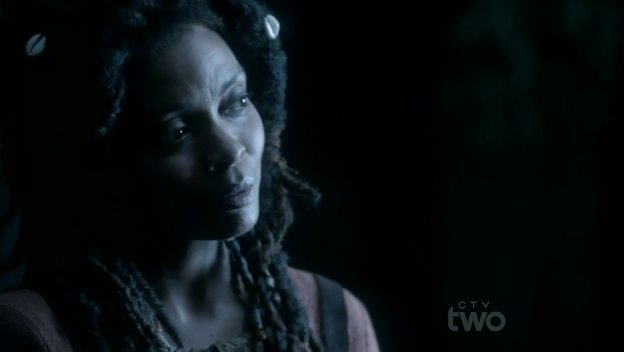 Oh shit. Klaus and the youngest brother had snuck out to watch the werewolves transform. It was forbidden and it cost the youngeat brother his life. Klaus is actually crying. Human Klaus was TOTALLY different.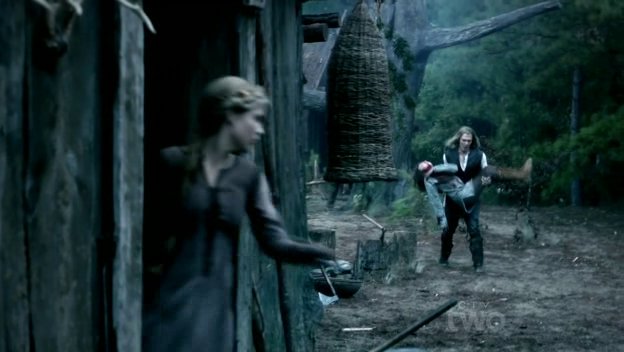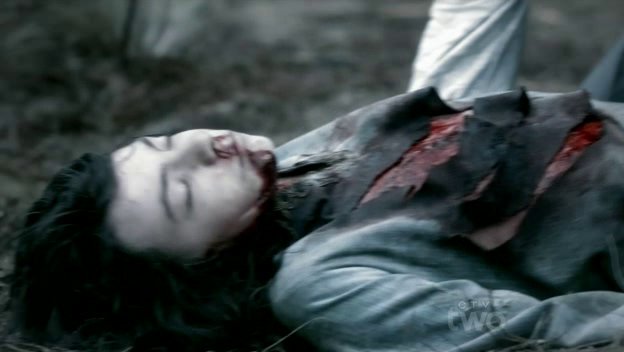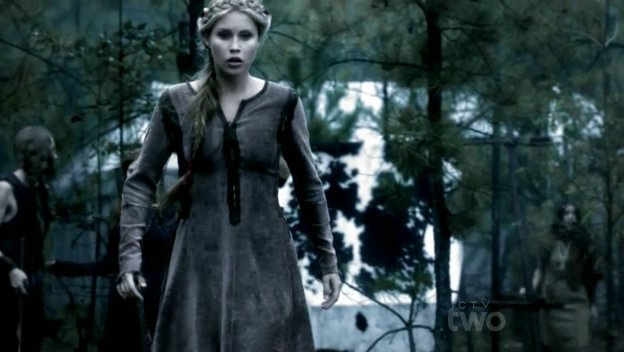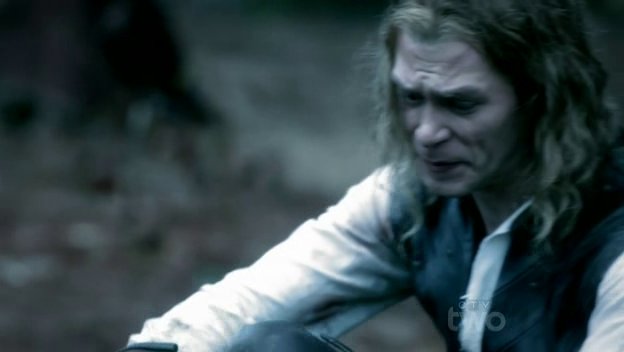 Their mother's name was Esther and asks the witch of the spirit can help them, but Ayana tells her there is nothing to be done. OMG poor himan Klaus had to live with that guilt. He was the older brother. He should have known better. Shame OMG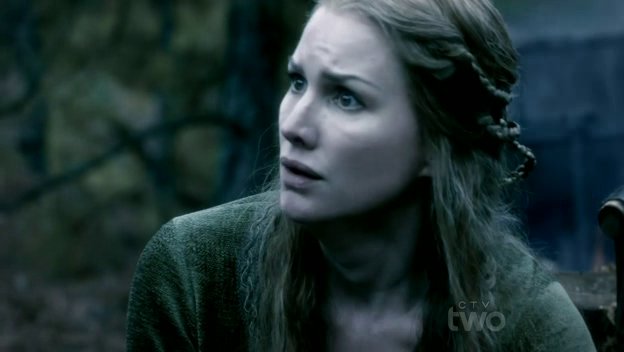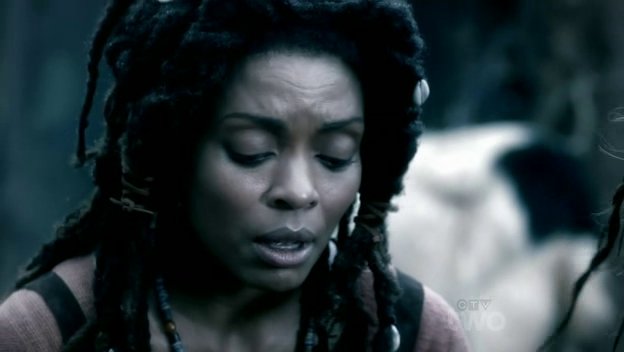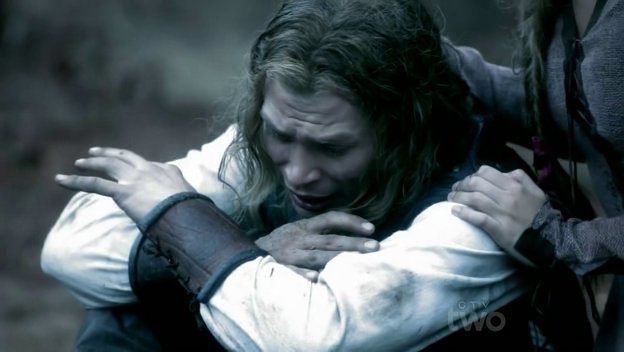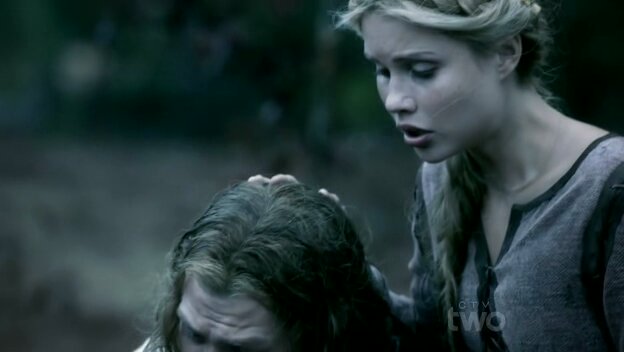 That was the end of the peace between the werewolves and their family. Okay, but can you two bond and become friends now? Elena is already looking at her with pity in her eyes.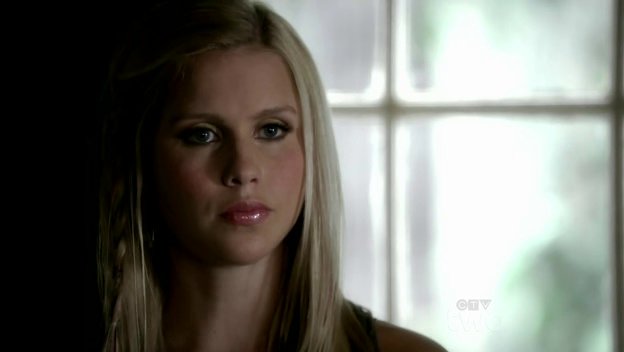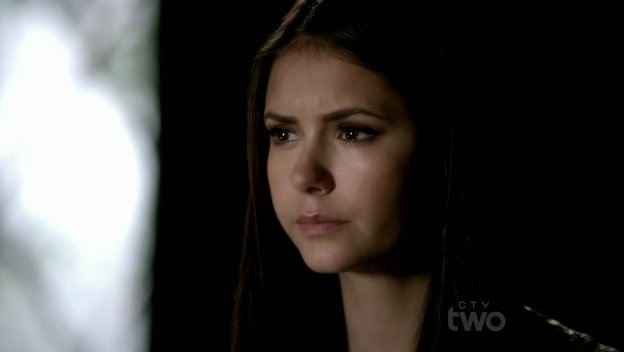 Elena's phone rings and Rebekah knows it is Damon checking up on her. Awww. OMFGGG Damon took Stefan to a bar. Elena heard Stefan's voice and she is not pleased.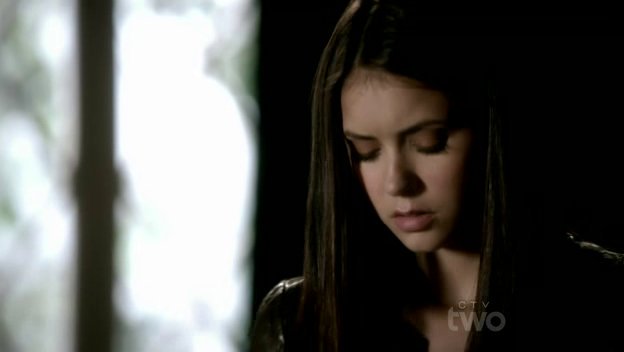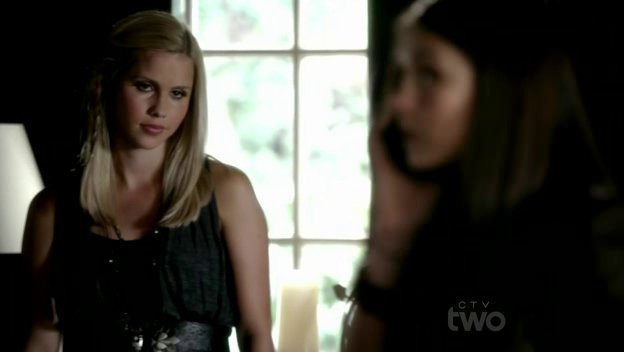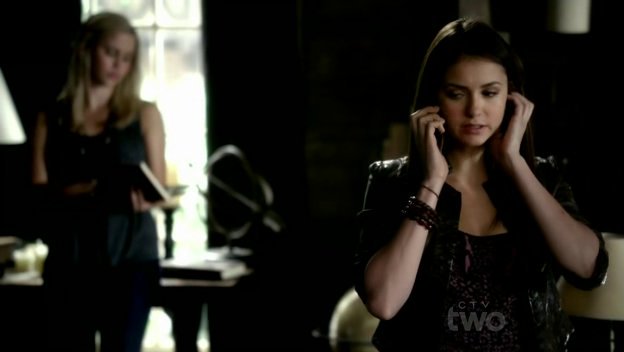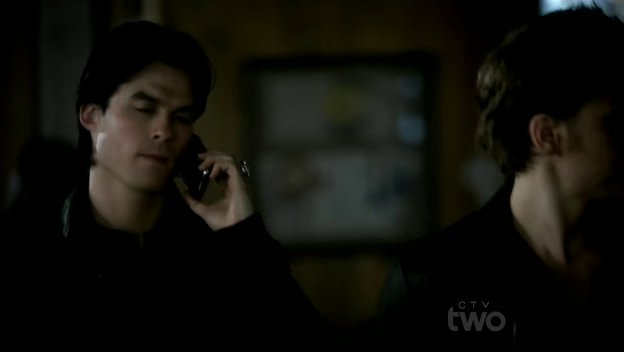 Damon is trying the nice, fun aporoach and lets Stefan drink from the bartender, while keeping watch. This method of helping Stefan is risky as hell. What if he just runs off? I hope it works though.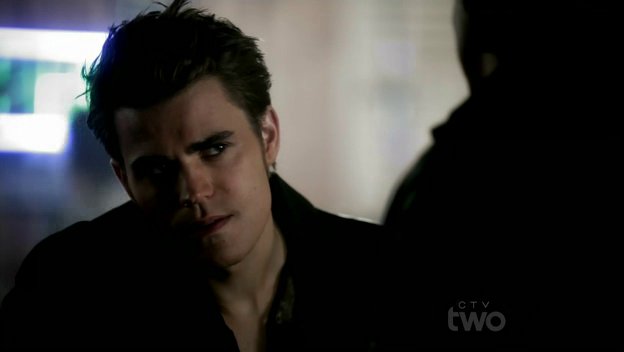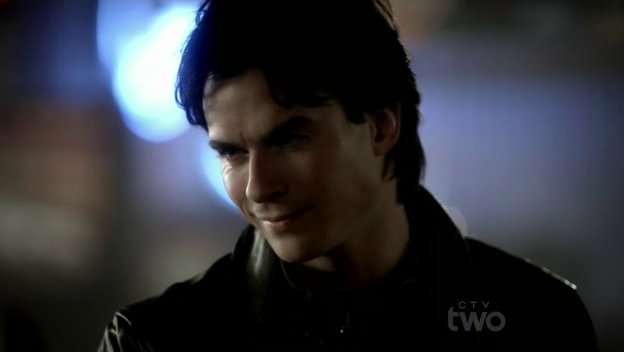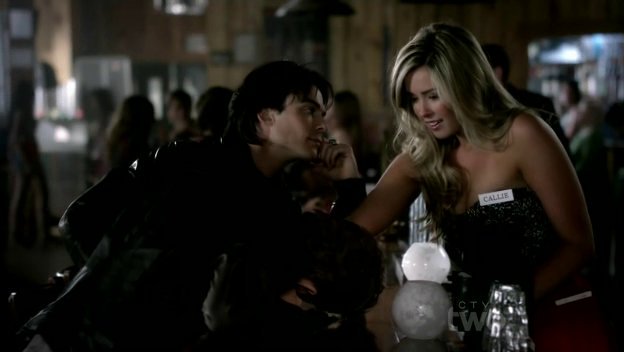 Well the bartender is still alive, after ripper Stefan drank from her. Damon tells him to stop being all or nothing extreme and they joke about the bunny diet. Maybe Damon can teach Stefan how to be a functional vampire afterall...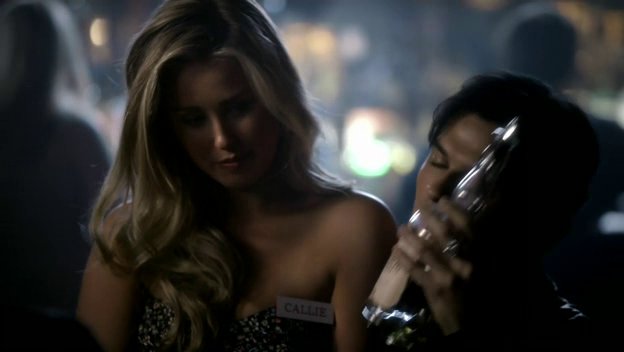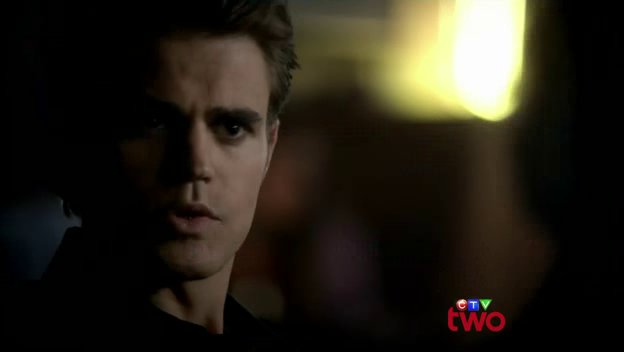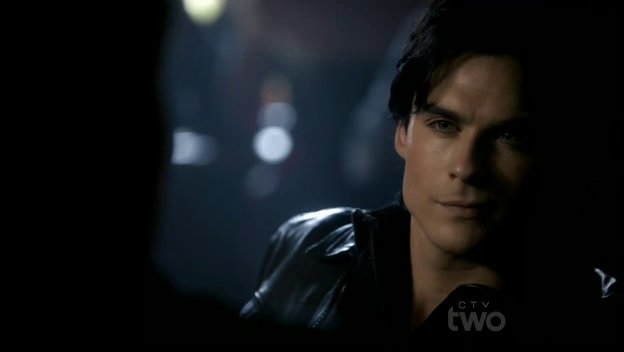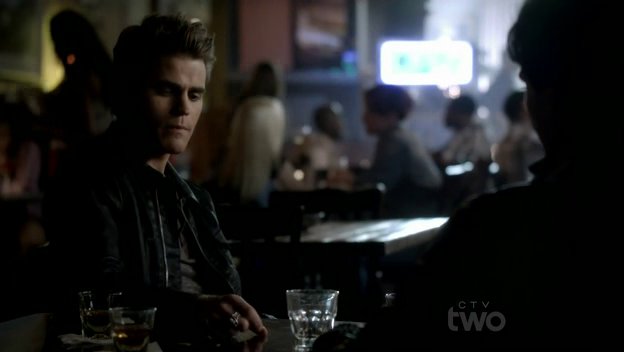 "Honestly, I don't get you two as a couple."
Me either, Rebekah. And not that platonic af looking photo again 😂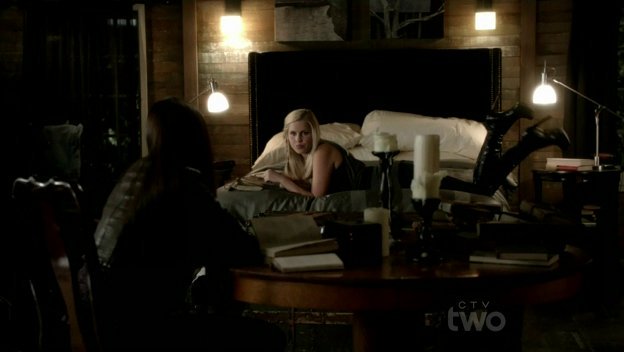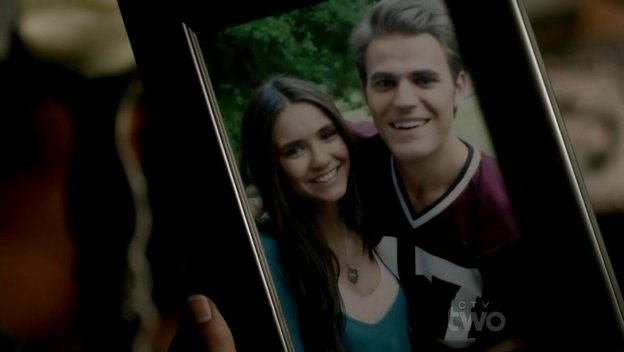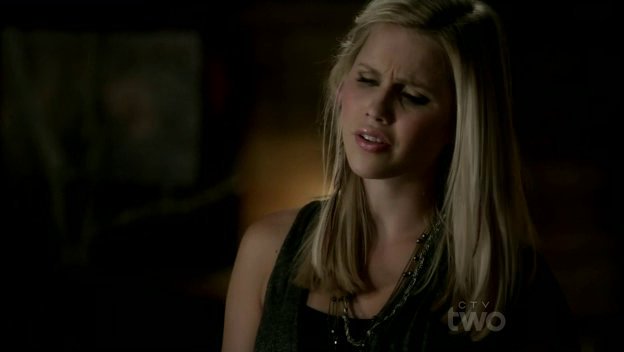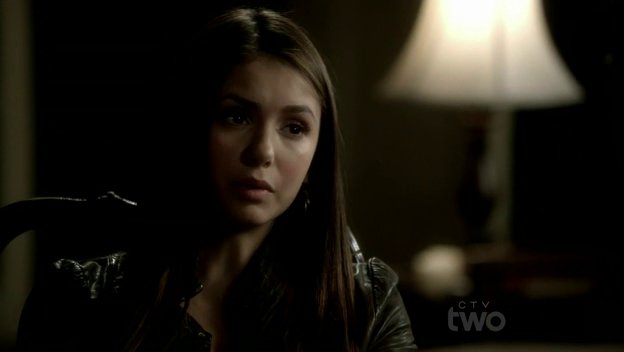 "We are a predatory species. We don't have time to care about humans and their silly little lives."
"Is that why you did that runway show earlier? Because you don't care about the homecoming dance?"
Elena calls Rebekah out and says she is going to leave, and it works.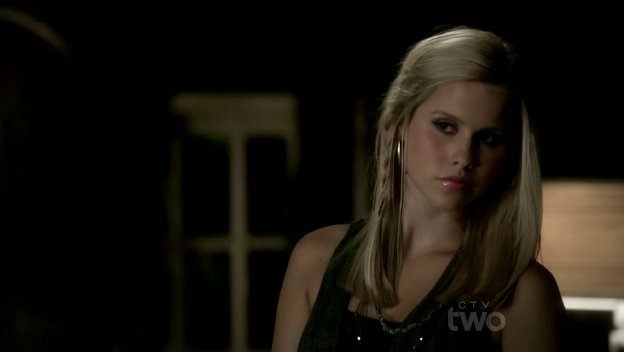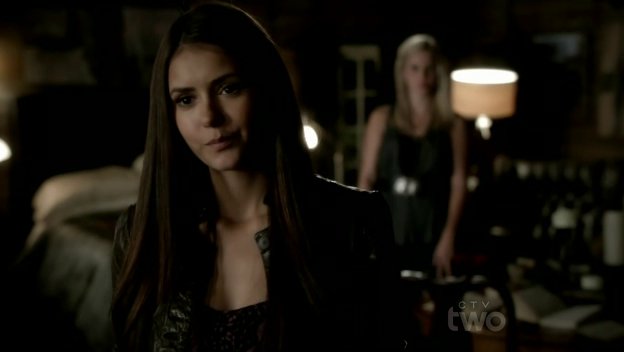 "I am going to leave."
"You haven't even heard half the story."
"And you are not going to tell it. You are just bored and looking for someone to push around. Find someone else to play with. Maybe you can compel yourself a friend."
"The necklace wasn't Stefan's to give."
Elena is smart and she reads Rebekah well.
The original witch also turned Klaus, Elijah and Rebekah into vampires 👀
Mikael and Esther are begging Ayana to help them before the next full moon, but she refuses, calling it a crime against nature. Rebekah heard this conversation. I bet Mikael forced her to change her mind. He is brutish enough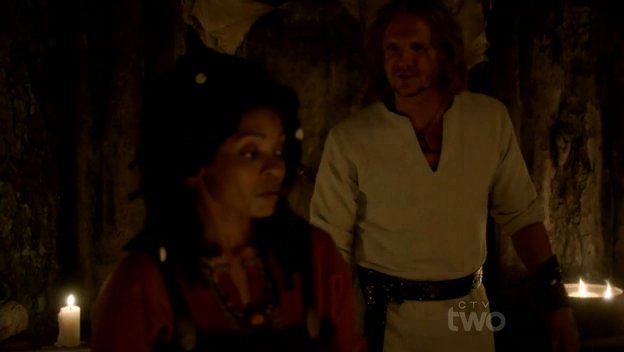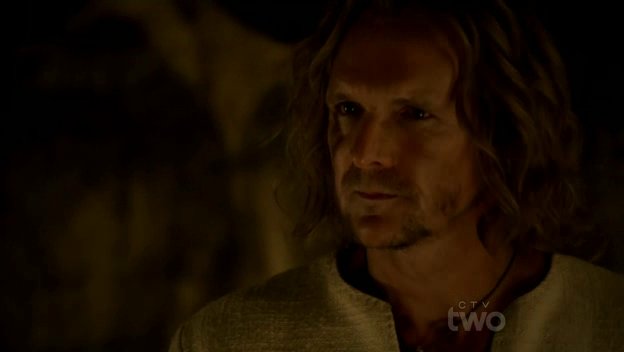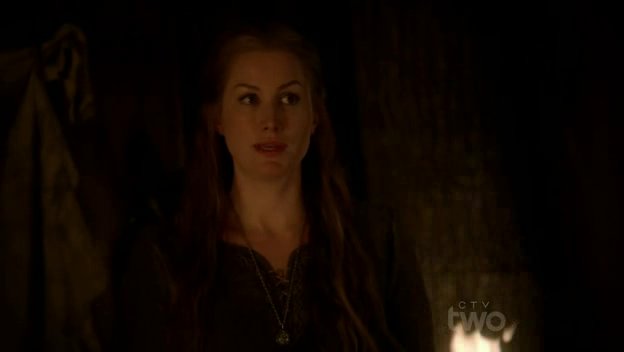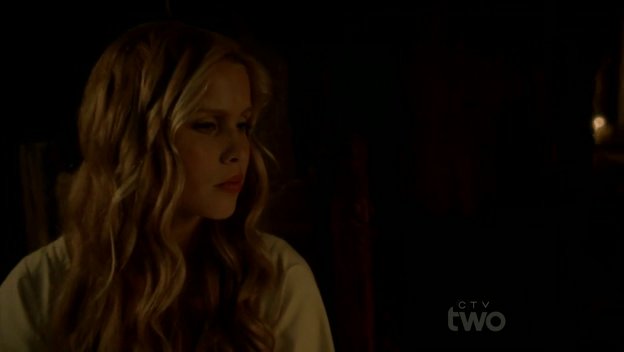 Rebekah knows by offering up that but of info, she has Elena interested again and talks her to come have a drink. Turns out vampirism was a form of protection from werewolves. A way to be better. Stronger, faster.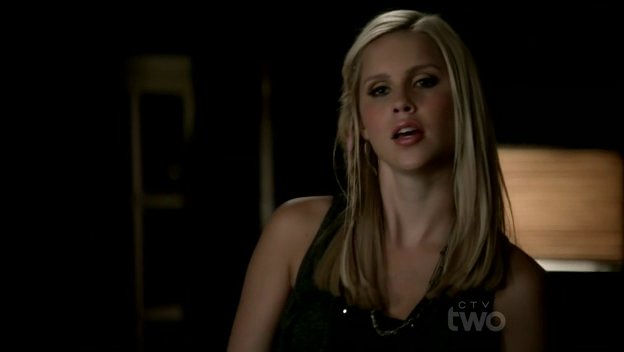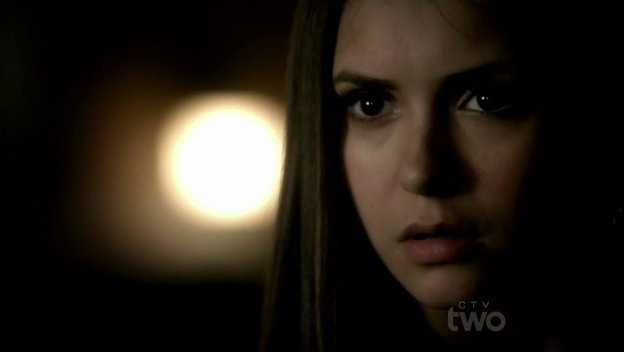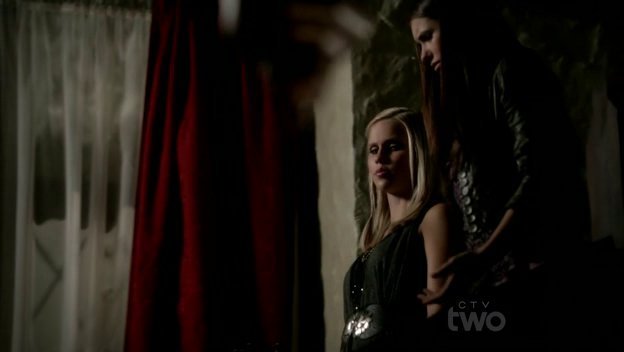 These two are nuts though. Instead of moving away, they want to magically enhance their family. Do a spell that hasn't been done before. Ayana says this is the makings of a plague and the spirits will turn on them. She will have no part in it. That's the wide choice.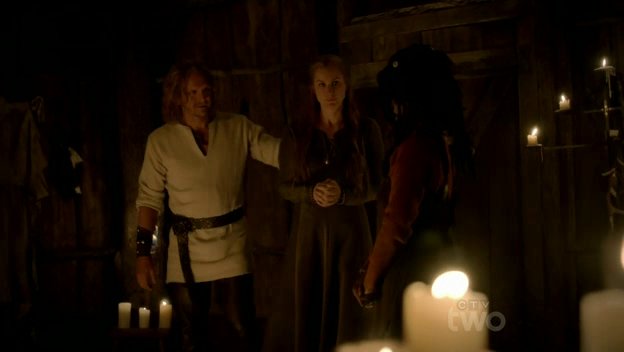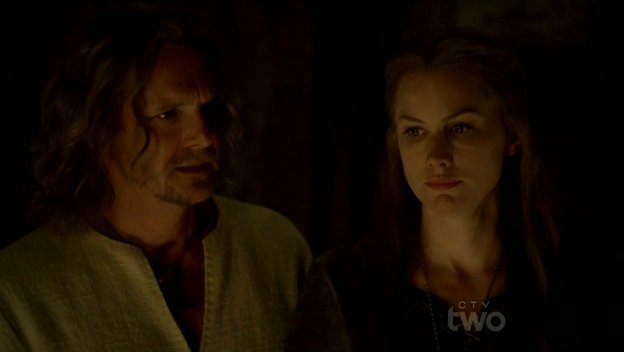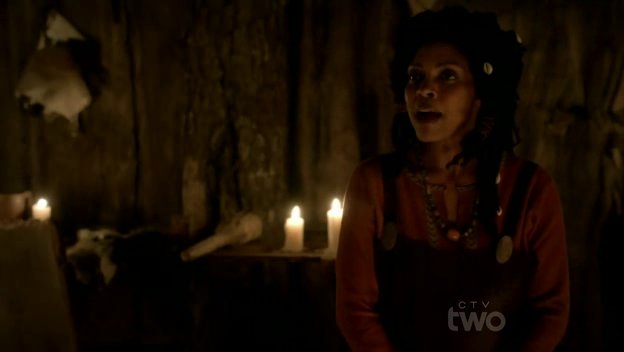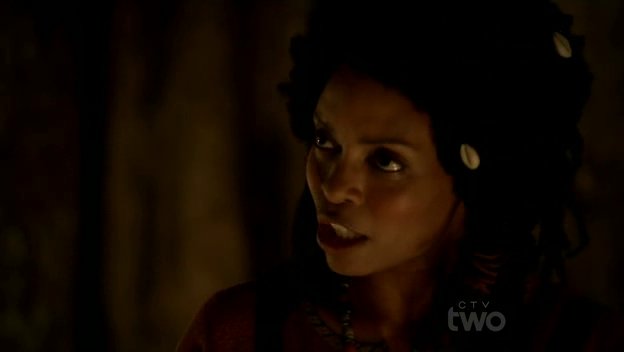 Not to mention, that for 20 years, there was peace between them and the werewolves until THEIR family decided to sneak out and an ACCIDENT happened. It's not lol the werewolves were hostile on purpose. Just stay indoors at night once a month. How hard can that be?
It's in her hands now? OMFGGG RATHER IS THE ORIGINAL WITCH FROM THE ORIGINAL FAMILY. THEIR OWN FUCKING MOTHER TURNED THEM INTO VAMPIRES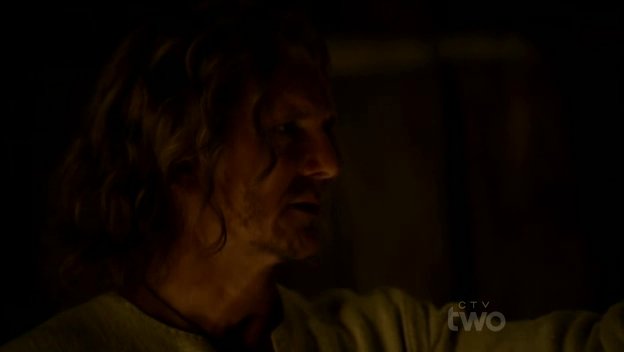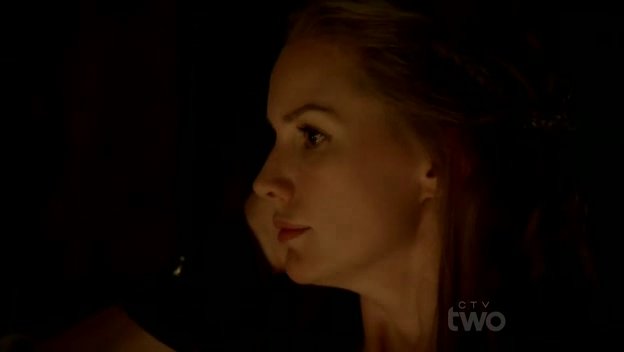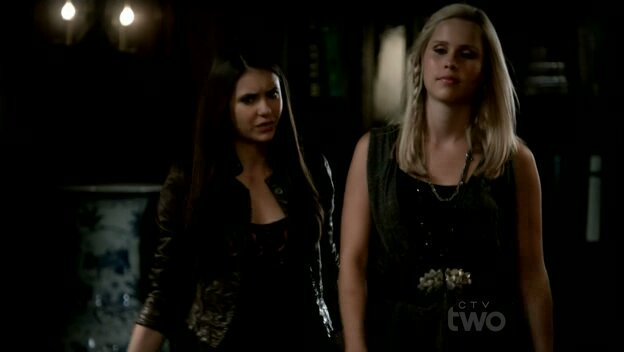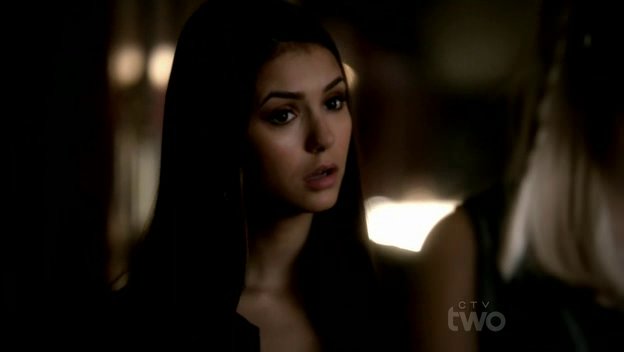 This episode keeps dropping bombs. 😨
But it's halfway and I have to stop here for the night 😩
Rebekah could have been a witch if her mother hadn't turned her. You can either be a servant of nature, or an abomination. Never both. But mommy dearest didn't use her new spell on herself. Only experimented on her children. 😒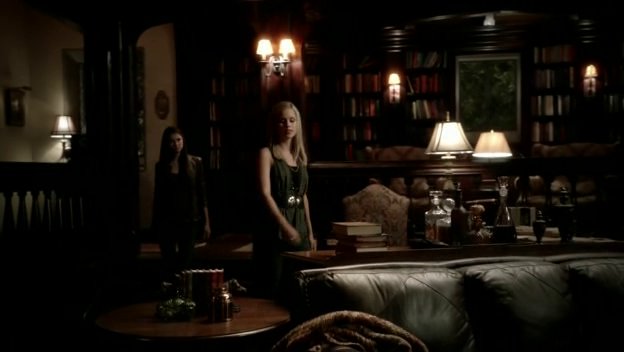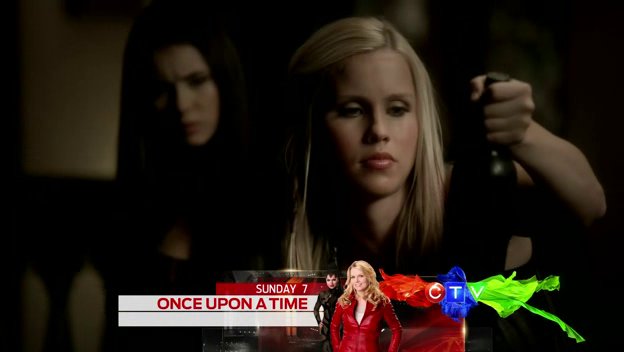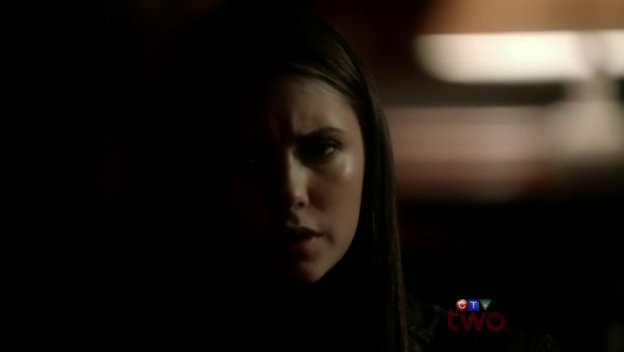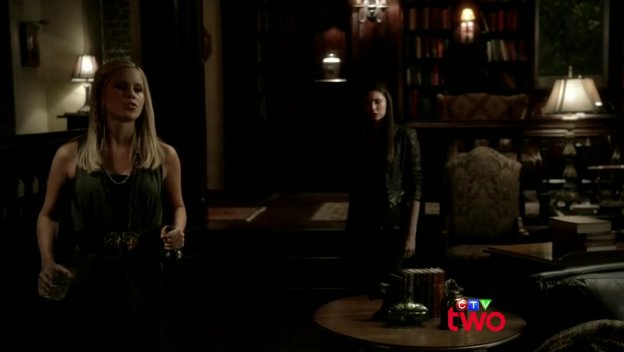 I wonder what Rebekah would have been like as a witch.
Mikael and Esther aren't winning parenting awards that's for sure. Mikael laced the wine with blood and then killed his own children. Drove his sword through their hearts.
"He wasn't delicate about it either."
That's enough to fuck up a child.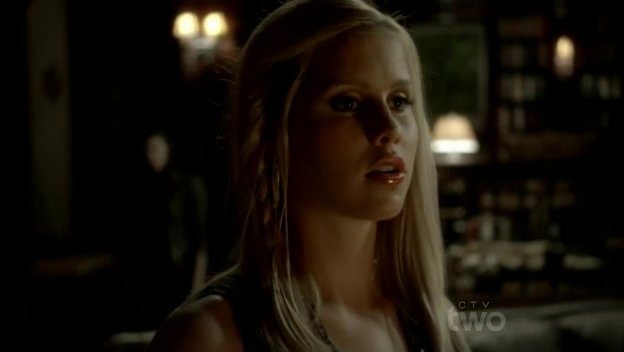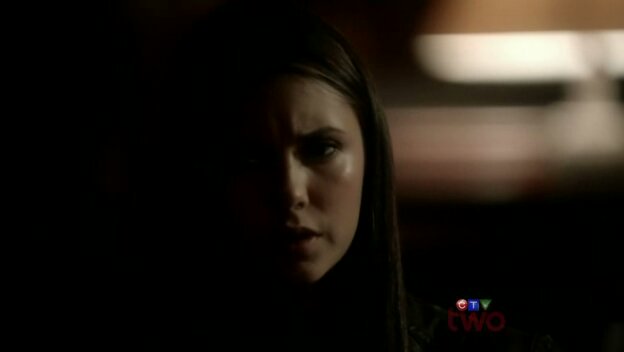 Mikael brings in someone to drink from. This is fucking brutal. Why is he truly doing this? And don't tell me he loves them because that is the biggest pile of bullshit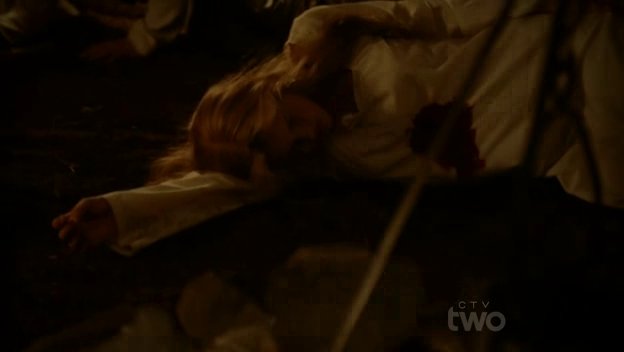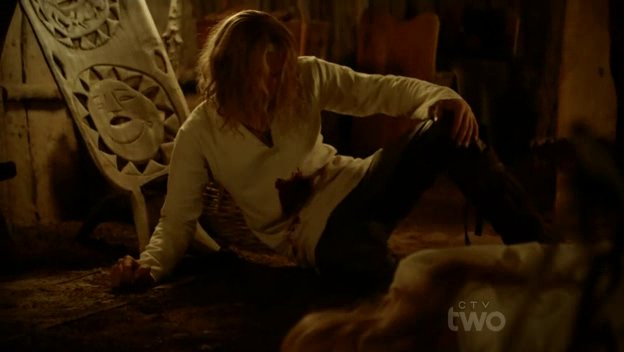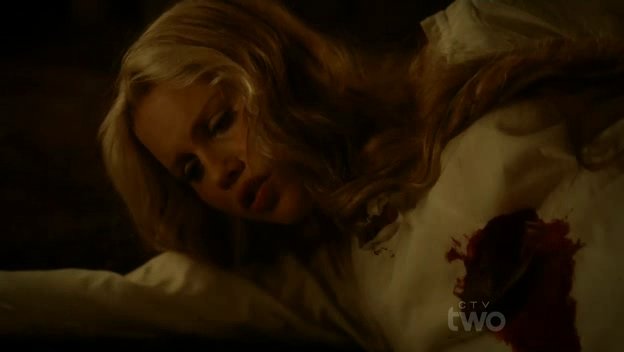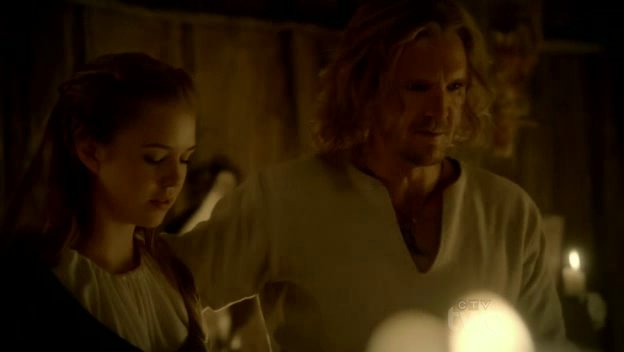 Aww Klaus tries to protect Rebekah but Mikael pushes him away and grabs her by the head, forcing her to drink. This reminds me of how Stefan forced Damon to drink. Only less violent.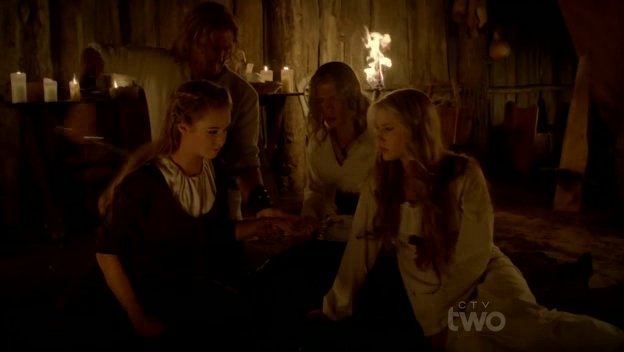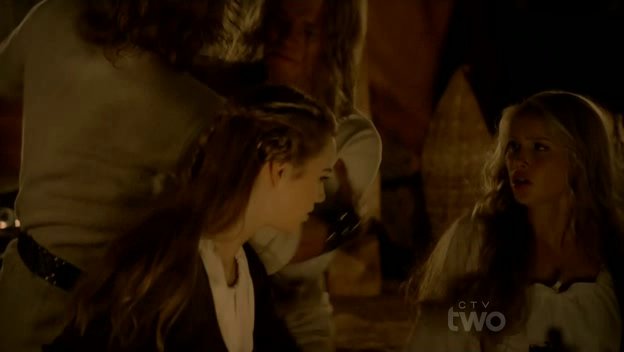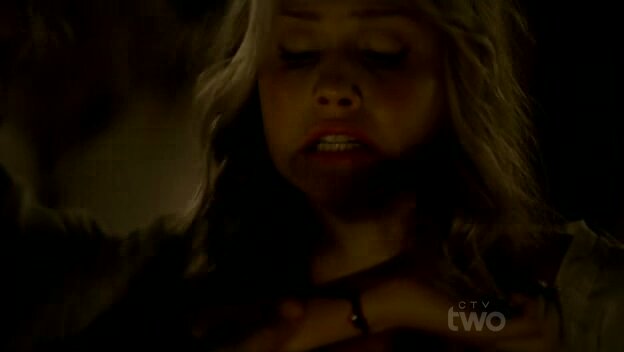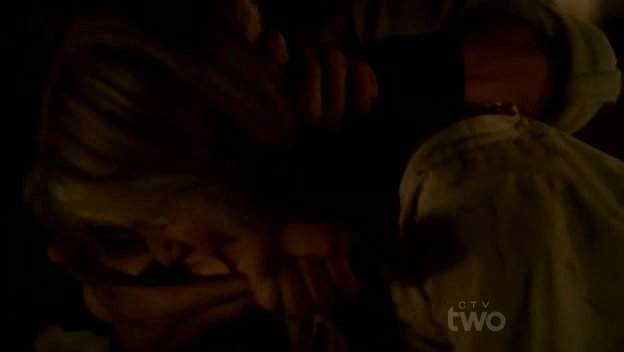 Consequence 1. The sun burns your skin off. But luckily mommy dearest did ONE good thing for her children and gave them daylight rings, after they were forced to stay indoors for weeks.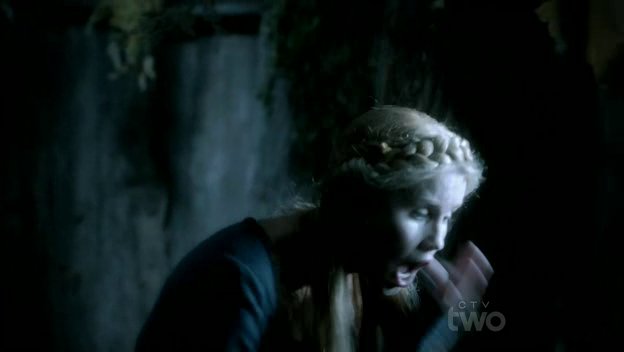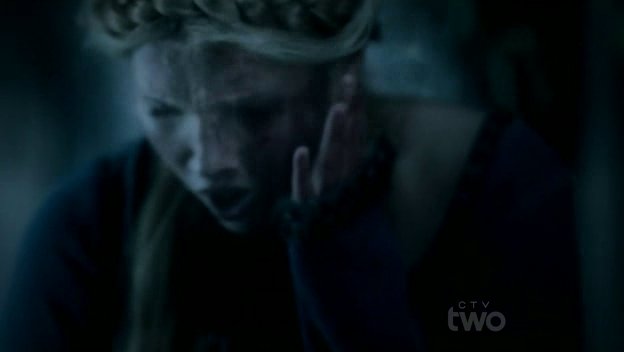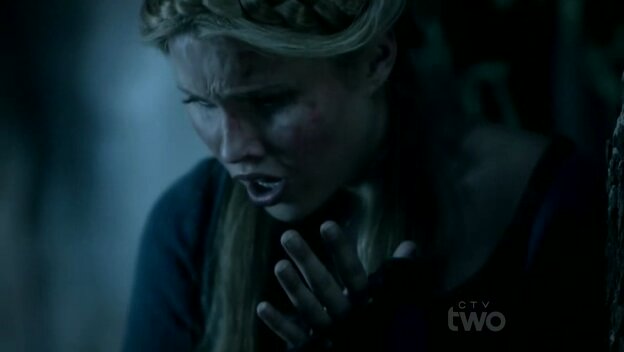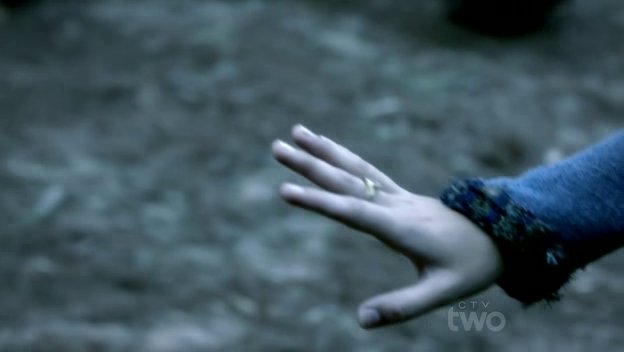 Consequence 2 The other villagers weren't to pleased about this and scared shitless.
Consequence 3 : The flowers at the base of the tree burned and prevented compulsion. Vervain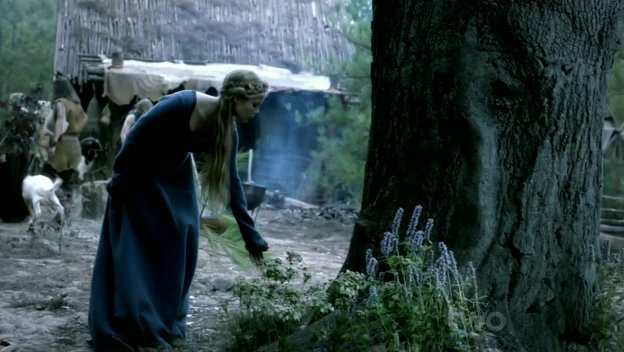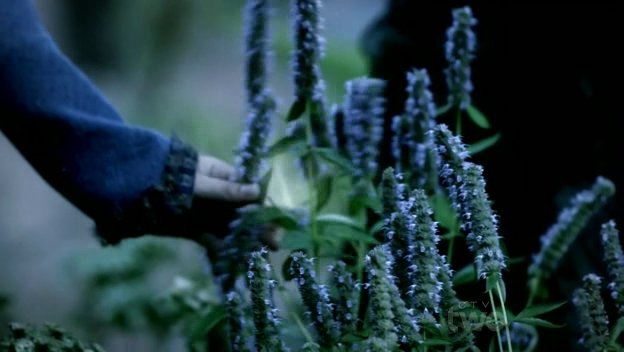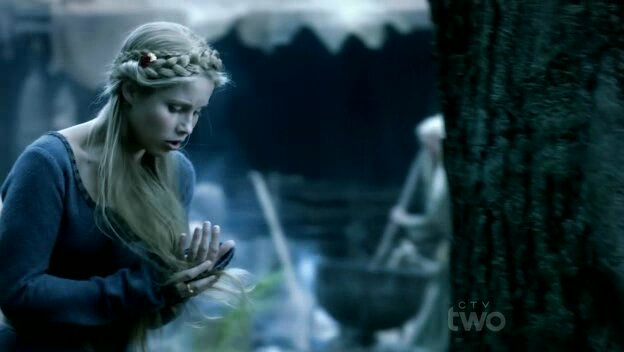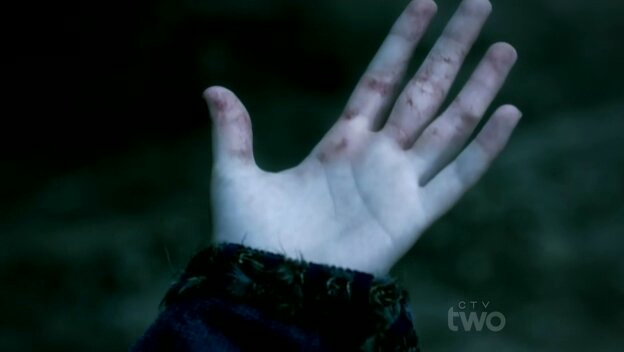 The white oak tree that have them life, could also take it away. Nature was fighting back really hard. So they burned the tree to the ground.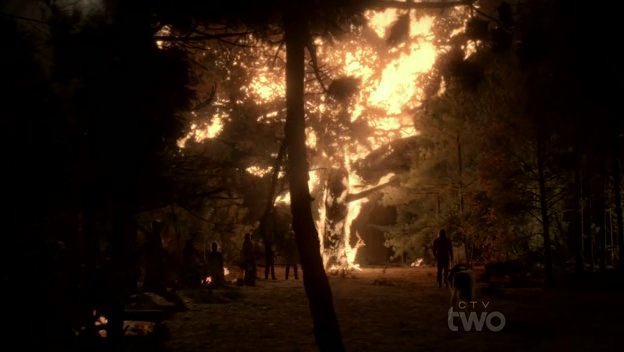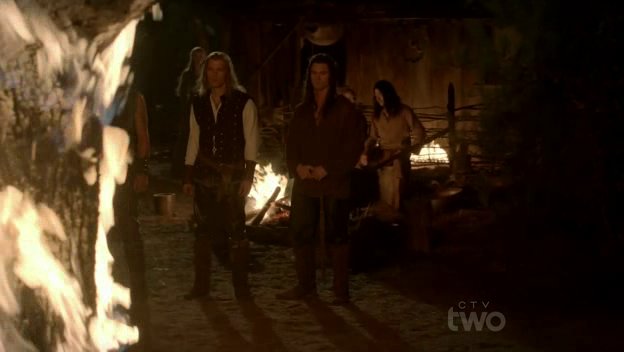 I think this unforseen consequence is by far the worst. They turned their children into blood sucking parasites that couldn't control themselves. Well done guys. That will show those werewolves 👌😒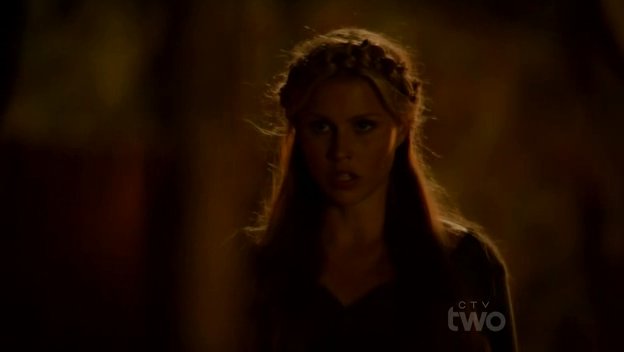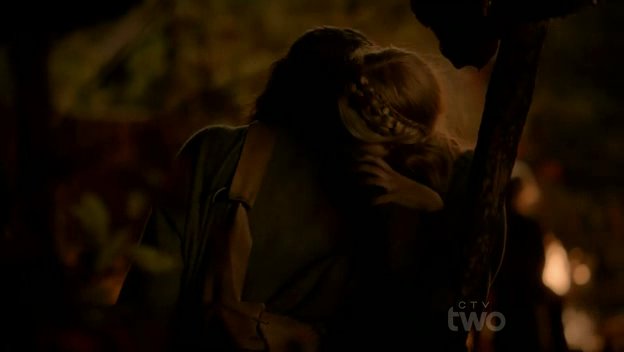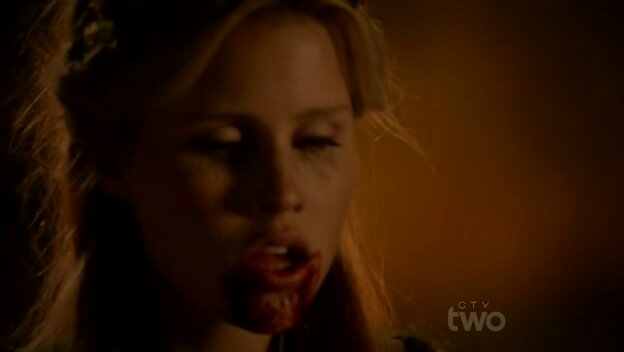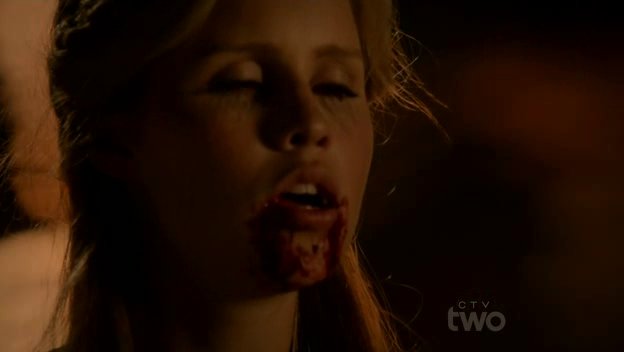 Lmaooo Damon dancing on the bar is sexy as hell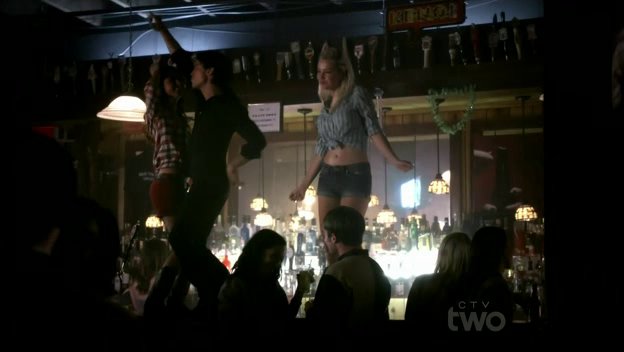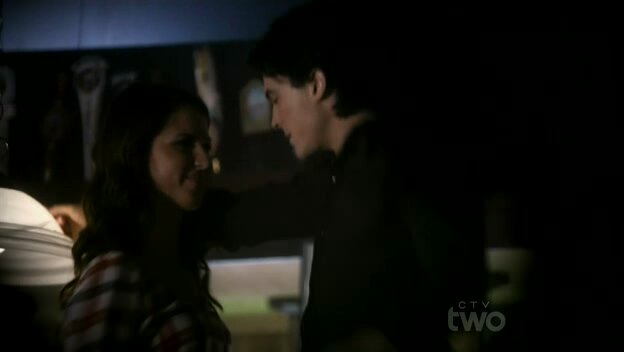 He is having fun, but still watches Stefan and prevents him from killing the bartender and compels away anybody who sees. I like that I can have fun and control himself. I am hoping this rubs off on Stefan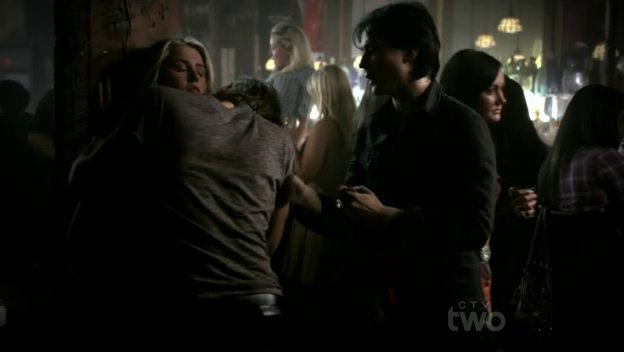 "Come on Damon. You know Elena is going to hate you for letting me out. And we both know that you care about what she thinks."
Why yes he does. 😍
Damon turns the topic around and wants Stefan to have hope. He wants him to get angry enough and fight back and not be Klaus' bitch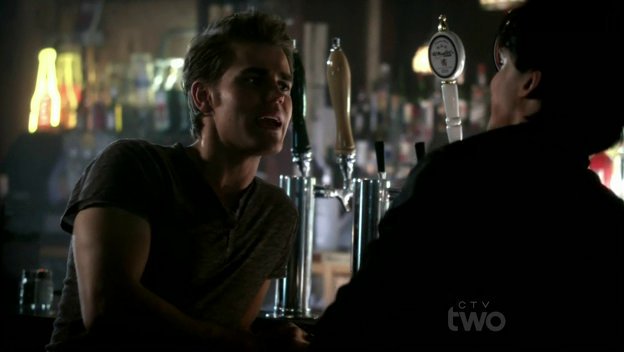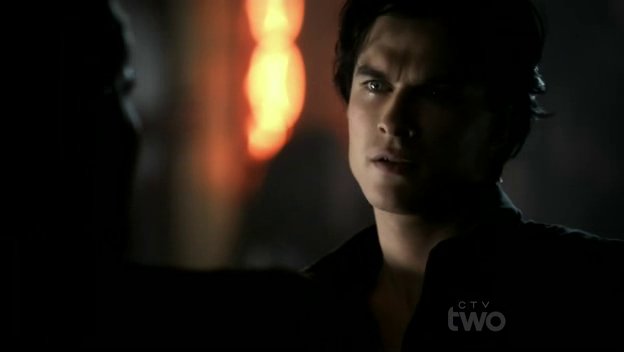 "Damon, he can't be killed."
"Maybe I can help with that."
Ugh Mikael. WHERE IS KATHEEINE?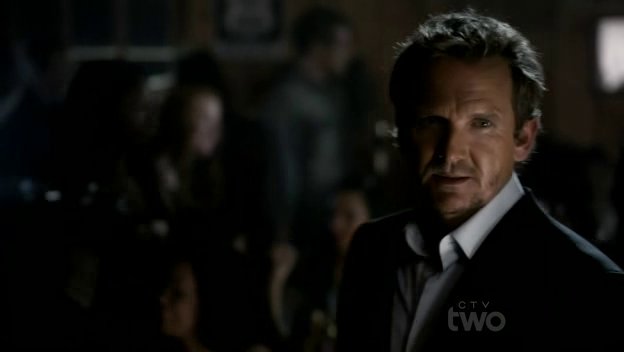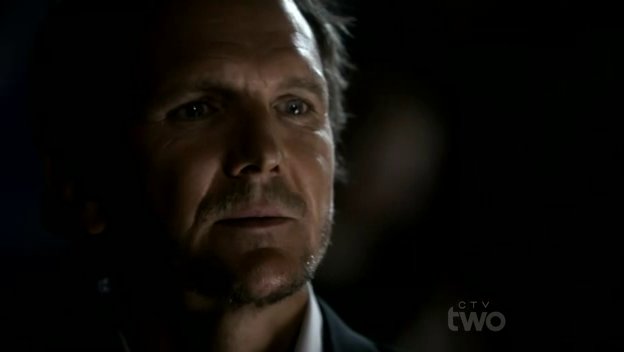 Rebekah tells Elena that Klaus triggered his werewolf gene after his first kill and became Mikael's "greatest shame."
So killing your children and doing experimental spells on them is nothing to be ashamed about? But your wife who had an affair years ago is just the worst ever?
And mommy dearest isn't any better. In order to please papa brute, she cursed Klaus to keep his werewolf side dormant ( more of a blessing than a curse but okay) AND TURNED HER BACK ON HIM.
I can't decide which parent I hate most.
Papa brute couldn't handle his ego being bruised and wiped out half the village before killing Rebekah's mom. He tore her heart from her chest. I think Mikael just became the most hated. Ester was a horrible mother and a coward, but he was just a fucking monster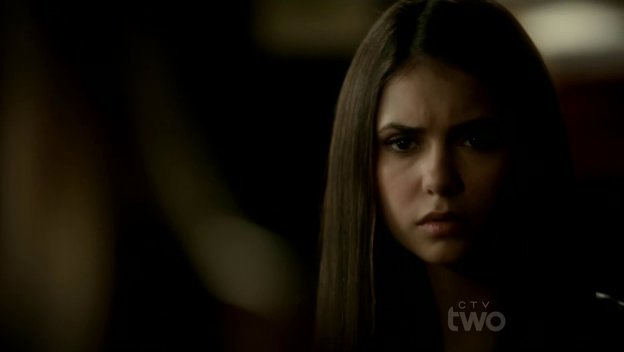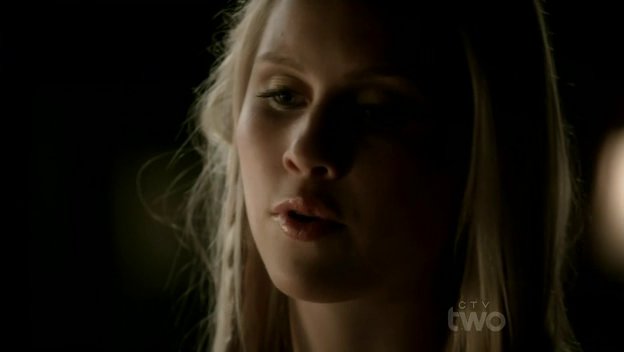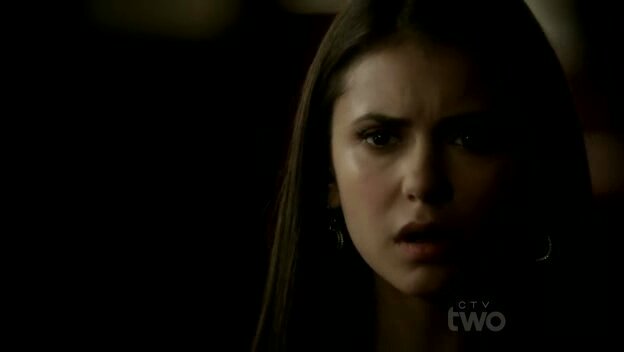 Poor Rebekah. She loved her mother. OMG I feel so bad for her.
"I know you think she hated you, Niklaus, but she did not. She was just afraid. I am sorry she turned her back on you. I will never do that."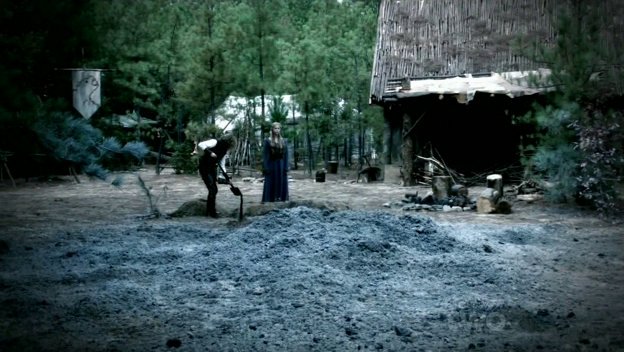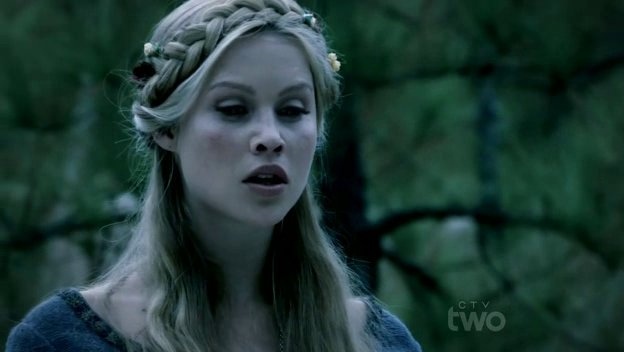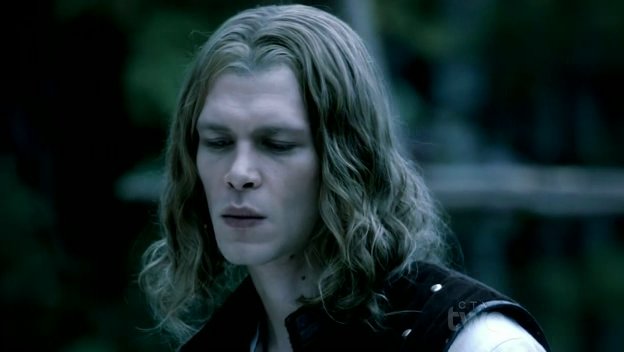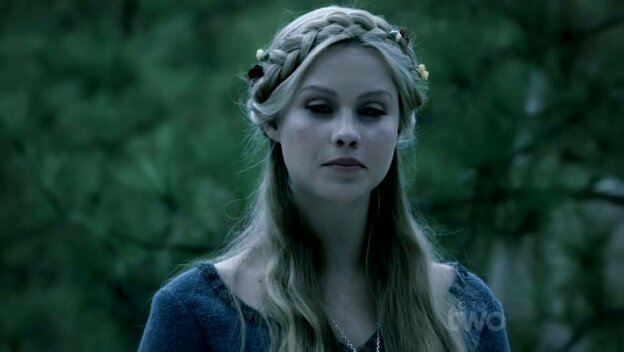 The family scatterd but these three remained. "We stick together as one. Always, and forever."
I HAVE CHILLS THAT'S SO BEAUTIFUL.
BUT THEN WHY DID KLAUS TURN ON THEM????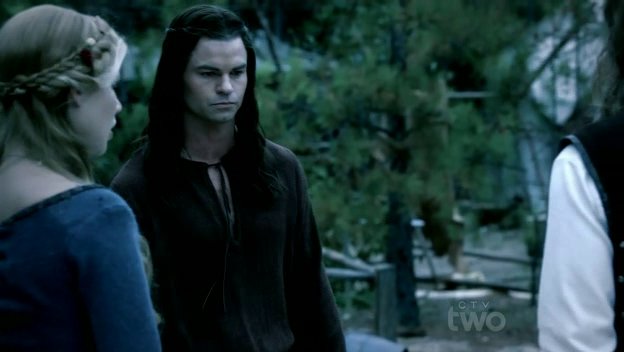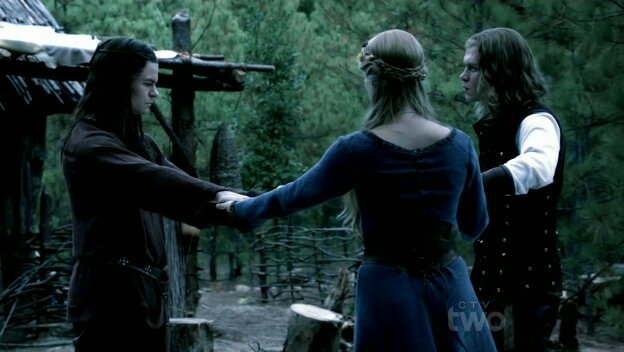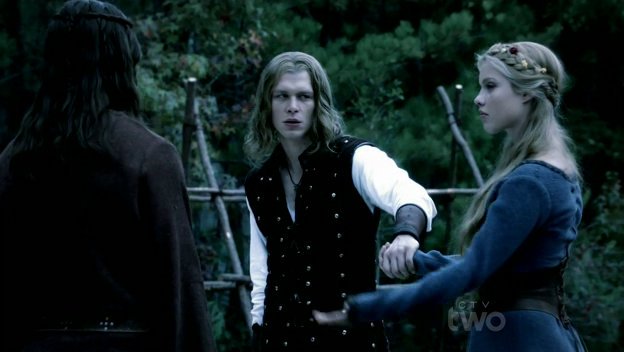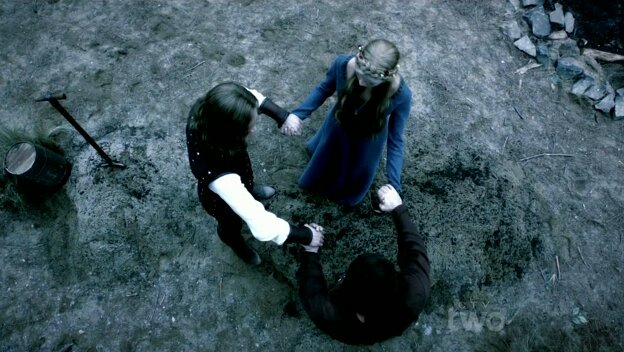 Breaking that damned curse became his obsession. So much so, that he turned on Elijah because of Katherine and he staked Rebekah when ahe wanted to leave with Stefan. They are immortal. He could have caught up with them at a later point. Always and forever doesnt mean (...)
that she swore off love. Or that she swore to be his lackey till the an of time. How did this beautiful sibling relationships get so twisted throughout the years?
"Always and forever. Even though he locked you in a coffin for 90 years?"
"We are vampires. Our emotions are heightened. I am stubborn, Elijah moral and Nik...Nik has no tollerance for those who disappoint him. Over a 1000 years as a family, we have all made that mistake (..)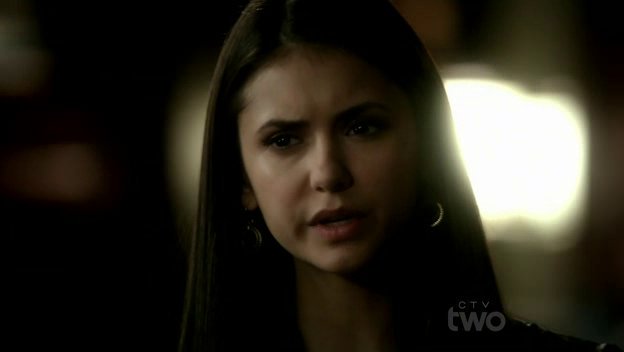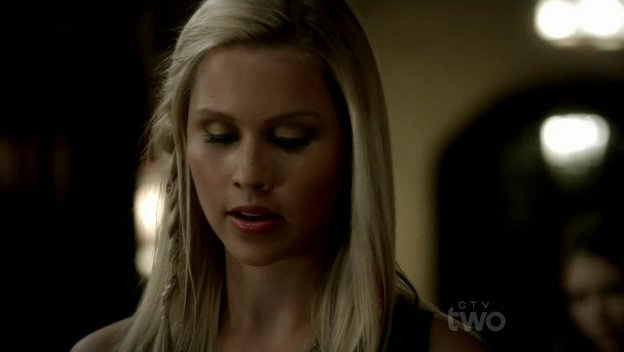 ...atleast once. I have made it several times."
Okay but that's no excuse. You are all still individuals. He can't just dagger a sibling when the mood strikes. So they just brush it off as oh well, we deserved it. We disappointed him. WTF?
"But you still love him?"
"He is my brother. And I am immortal. Should I spend an eternity alone instead?"
OMGG WELL THAT EXPLAINS IT. That's sad. But it explains it. Tolerate his behaviour because she doesn't want to be alone. Rebekah deserves better.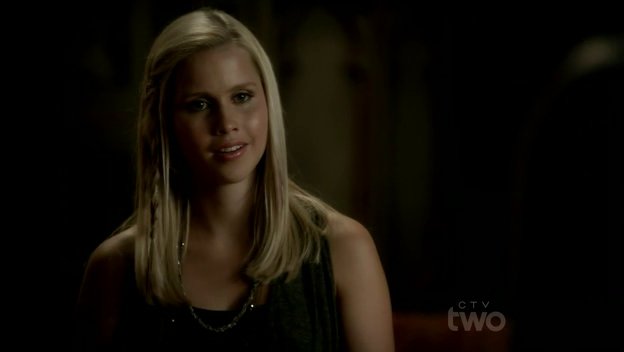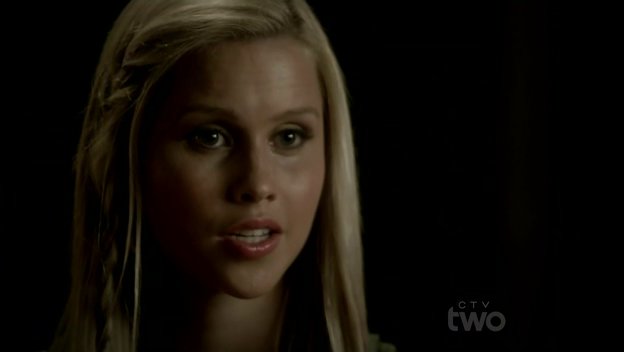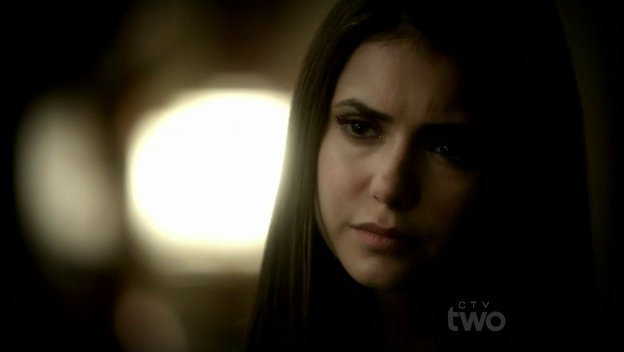 Rebekah gets emotional and orders Elena to leave. She is still loyal to Klaus and threatens to rip Elena apart if she comes after Klaus.
REBEKAH DESERVES BETTER. Klaus treats her like trash but there she goes, protecting him.
But don't threaten Elena, okay? You two were bonding a second ago. 😩
MIKAEL GET YOUR HAND OFF DAMON I DON'T LIKE YOU TOUCHING MY SON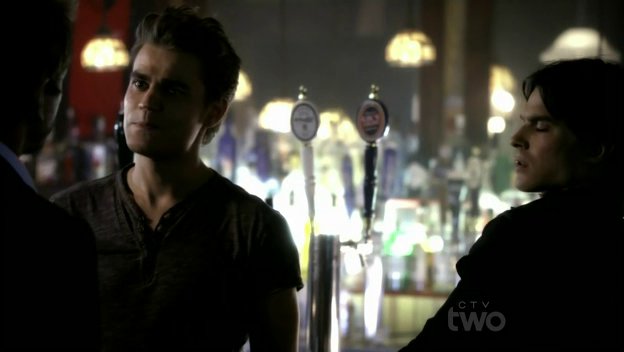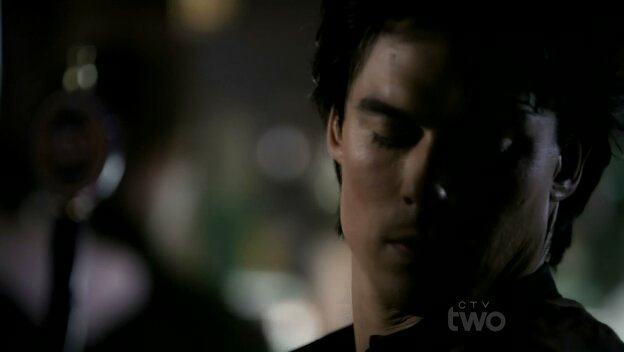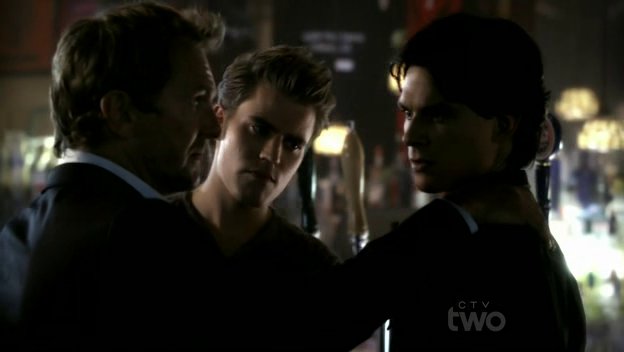 SHIT MIKAEL HAS DAMON'S HEART IN HIS HAND AND IS READY TO RIP IT OUT IF STEFAN DOESN'T TELL HIM WHERE KLAUS IS.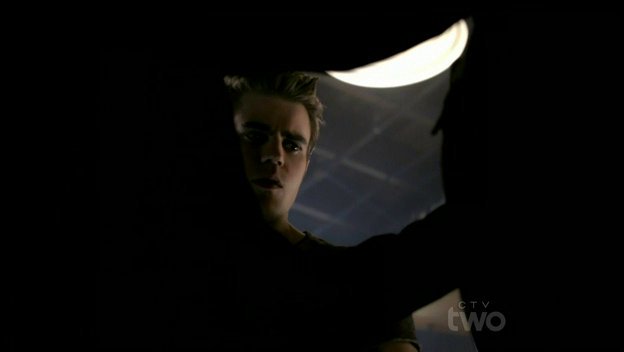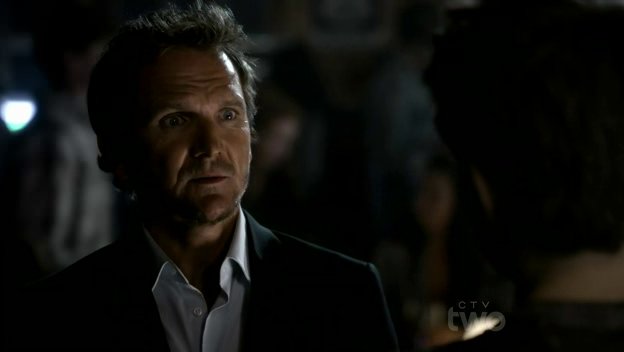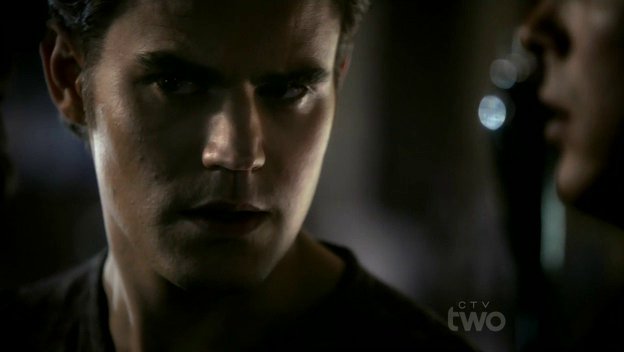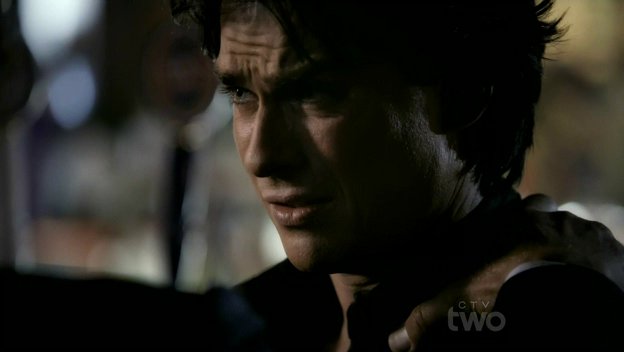 WAIT A SECOND. STEFAN'S EMOTIONS AREN'T OFF ANYMORE. HE IS SLOWLY GETTING THEM BACK. HE IS TEREIFIED FOR DAMON.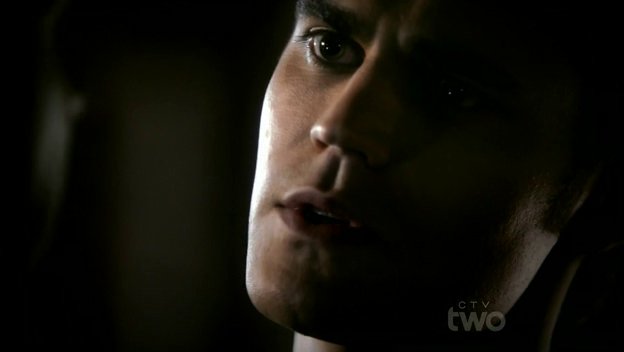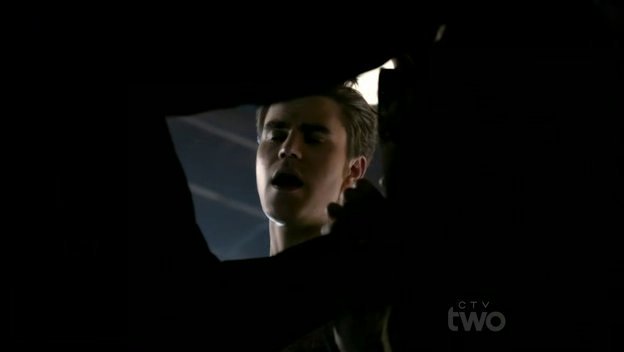 Stefan says he can lure Klaus back.
"Get Klaus back to Mystic Falls and I will gladly drive a stake through his heart. Fail, I will drive it through yours."
WAIT WHEN DID THAT BECOME THE DEAL???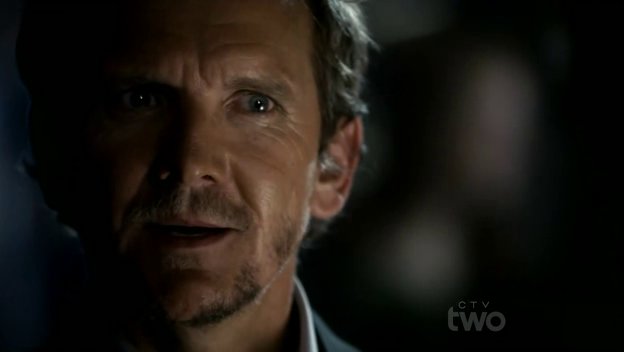 Stefan is definitely back. Those emotions are on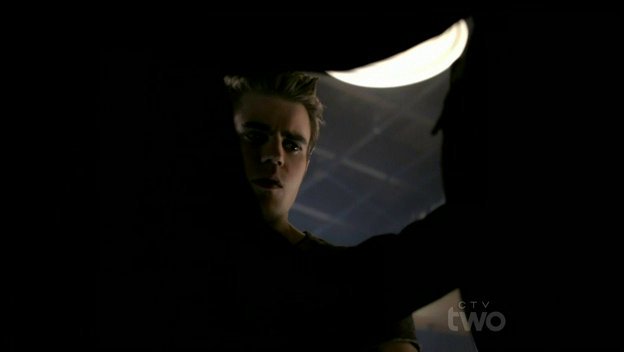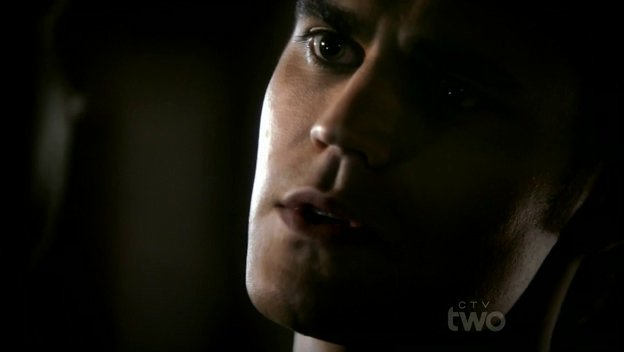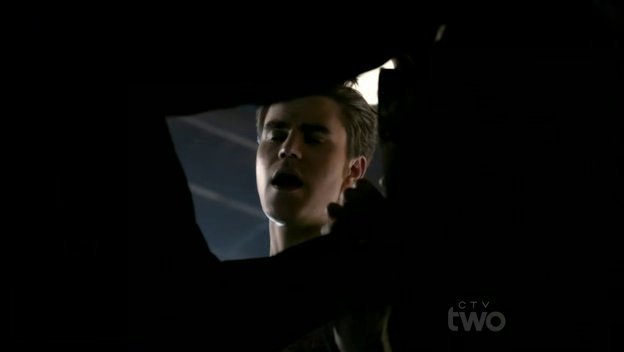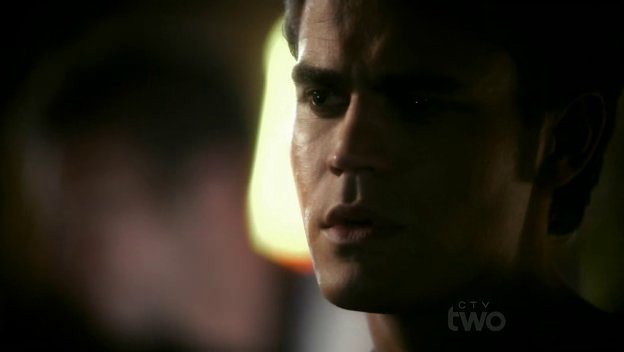 Alaric, Elena ans Bonnie are putting the puzzle pieces together. The witches' death is in the cave too.
This villagers really stayed behind to quickly draw this horrific tale before fleeing?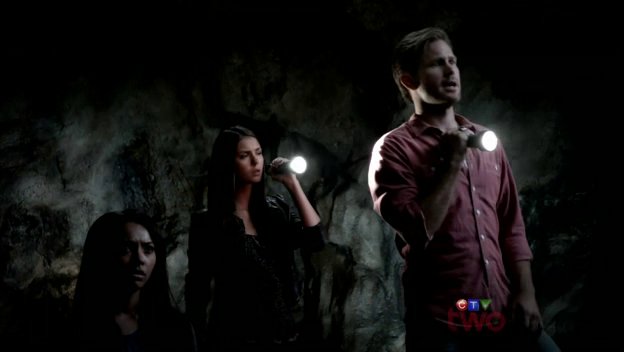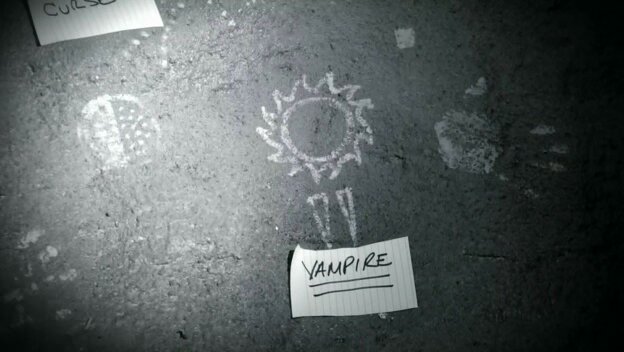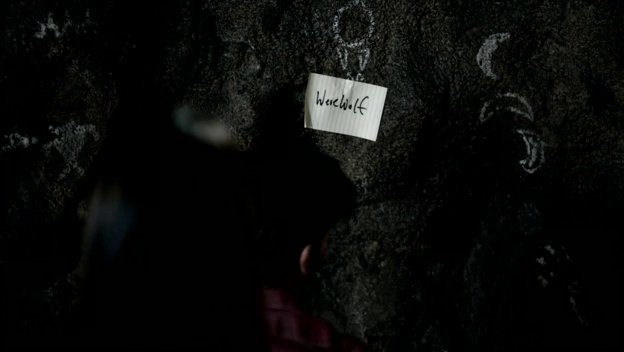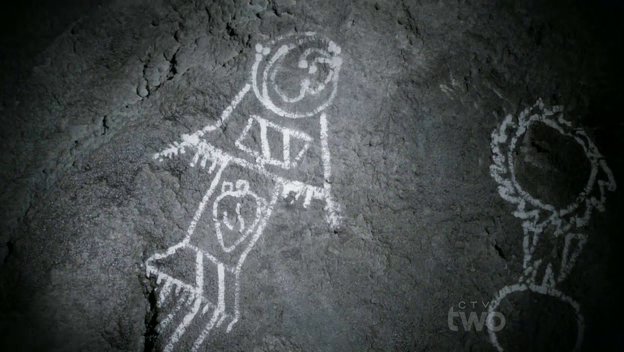 OOOOHHH SHIT.. . MIKAEL DIDN'T KILL ESTER. OHHH SHIIIT...PLEASE TELL ME I AM WRONG ABOUT WHO I THINK DID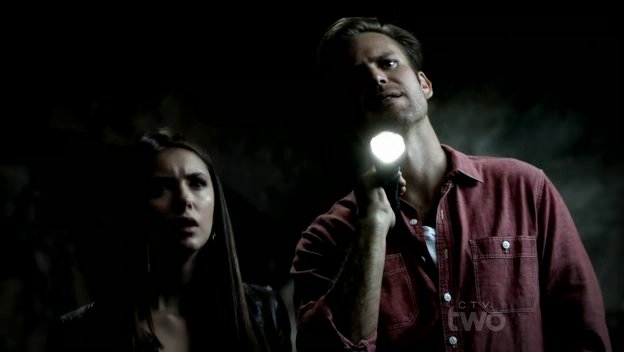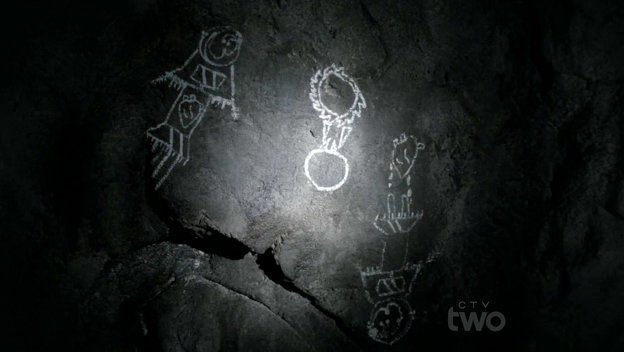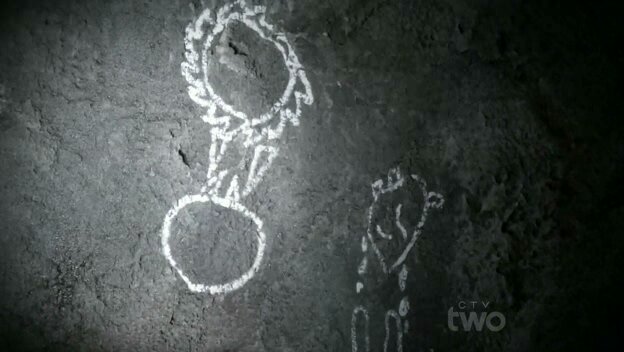 The hybrid killed the original witch. Klaus killed his own mother. OMFG THIS KEEPS GETTING WORSE.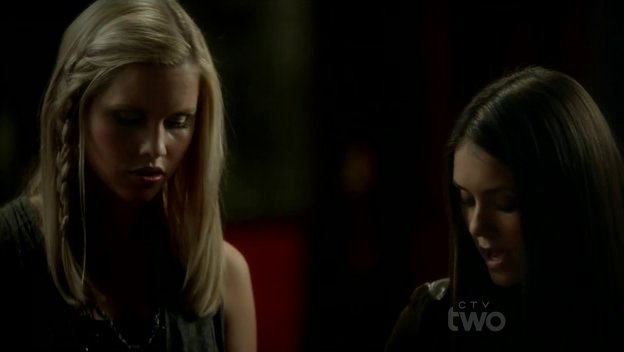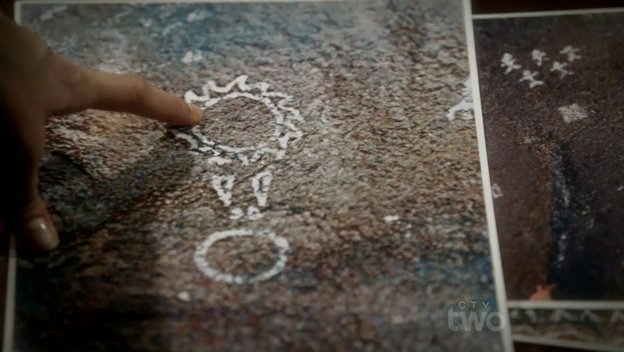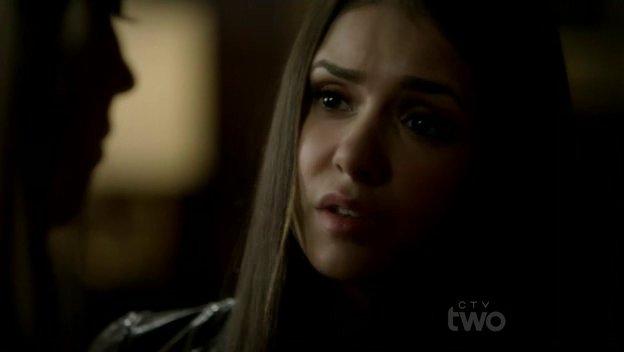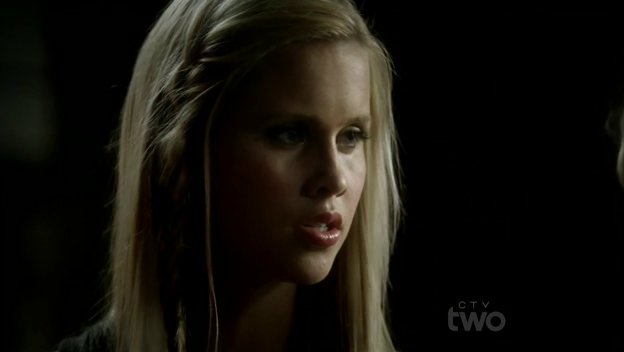 So when Klaus turned, the werewolf gene triggered his agression. His mother cursed and turned her back on him, so he killed her. And lied to Rebekah so he wouldn't lose her.
THIS IS SO FUCKED UP. THIS FAMILY IS SO FUCKED UP. OMG no wonder they have issues.
Rebekah burns the images. Oh sweetie, she doesn't want to believe it. "Why are you doing this to me? I have done nothing yo you."
Rebekah...remember 03x05? Sweetie...but okay.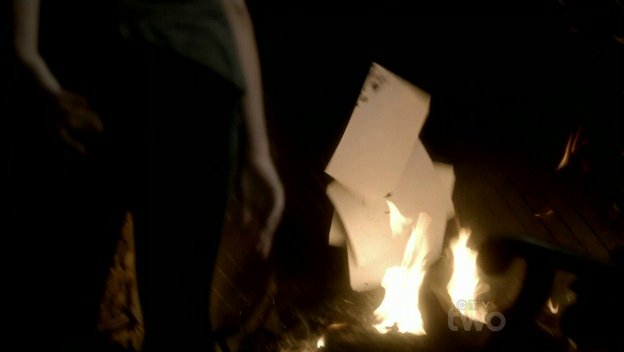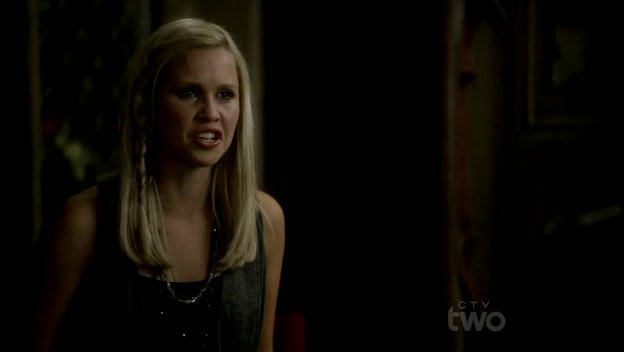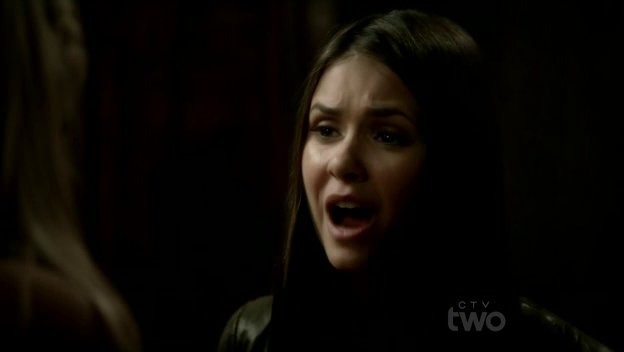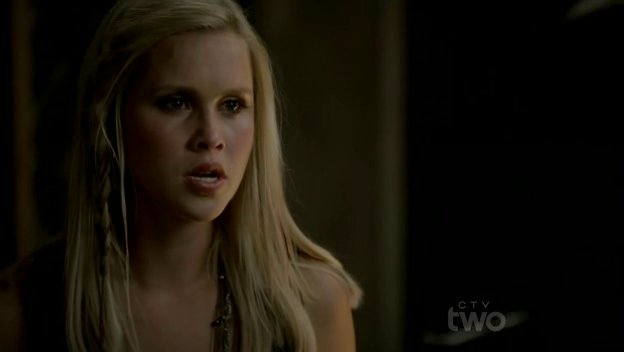 Elena is brave sticking around an emotional Rebekah though.
"Klaus killed your mother. He has a hold on you, on me, on everyone. He has for a 1000 years. We have to make it stop."
"SHUT UP JUST SHUT UP. NO MORE TALKING NOTHING!"
OMFGGG MY ANXIETY REBEKAH DON'T HURT HER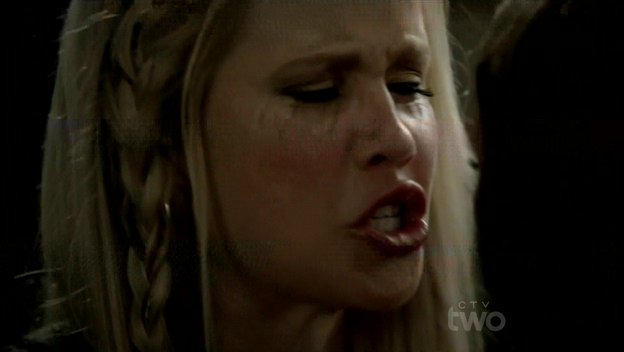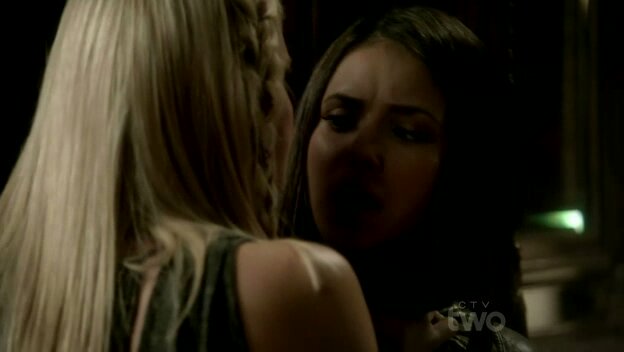 Rebekah lets go of Elena and I let out a fucking breath I didn't even know I was holding. She realises Elena is telling the truth.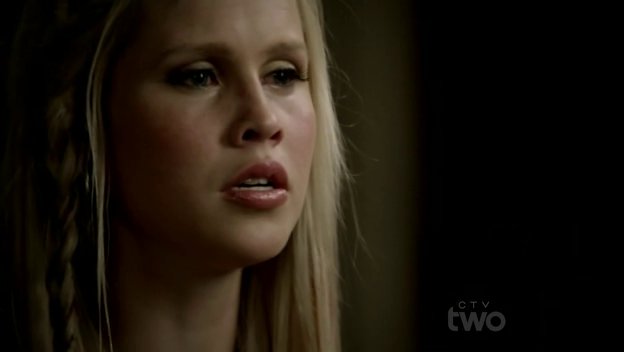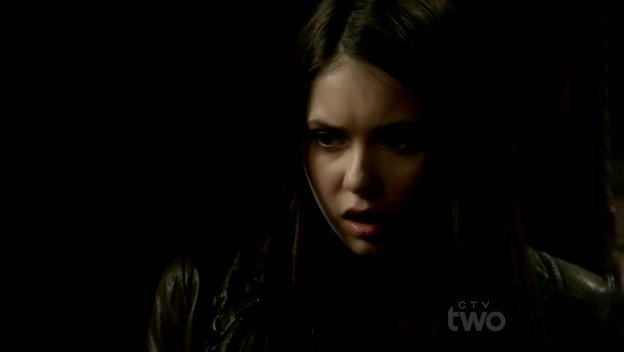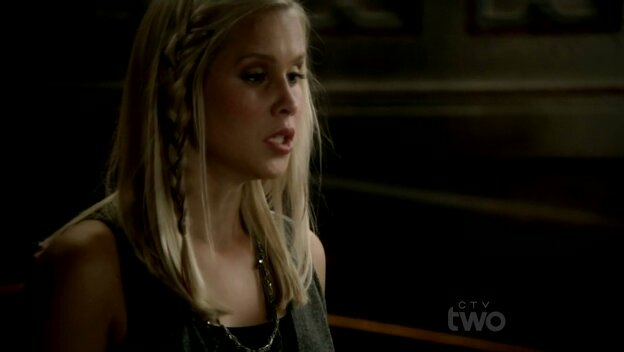 FUCKKK this is so sad. I feel so bad. Elena, I am scared of her now too, but please go give her a hug. Please? 😢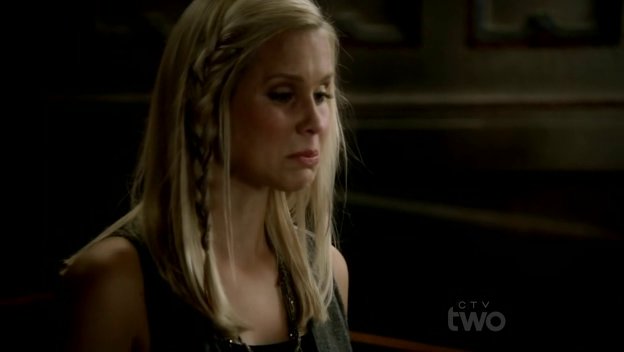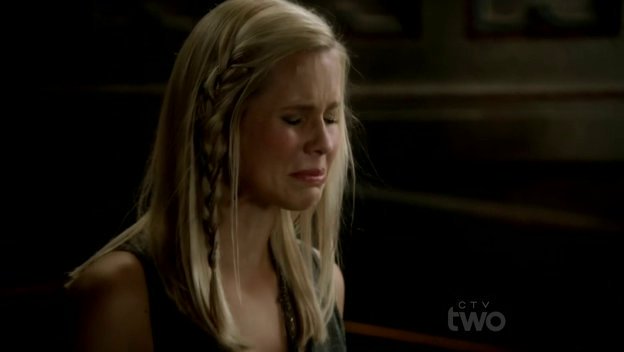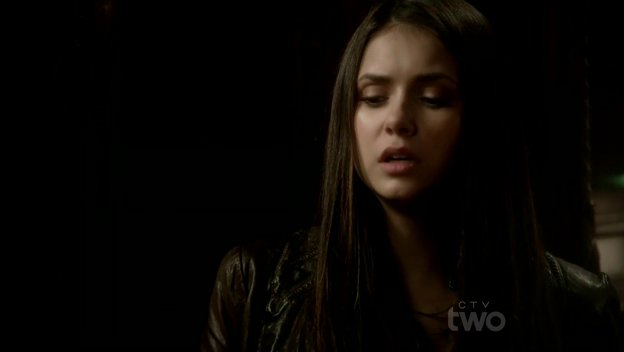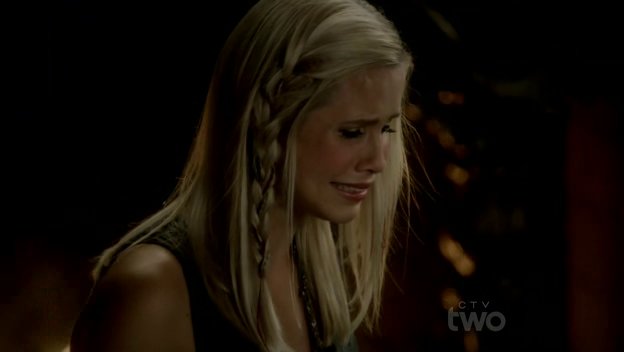 Damon is happy that Stefan got his breakthrough and his emotions are on, but looks like it's just negative ones. He says he did it for himself, not for Damon. 😩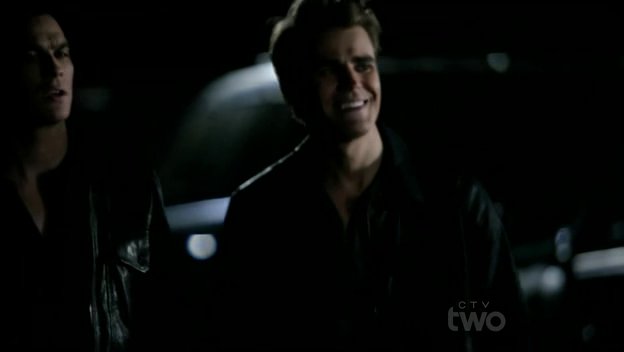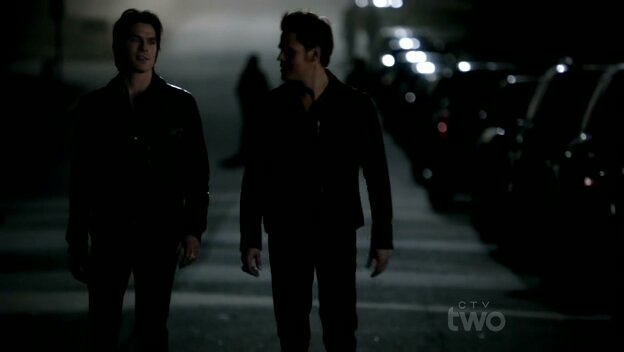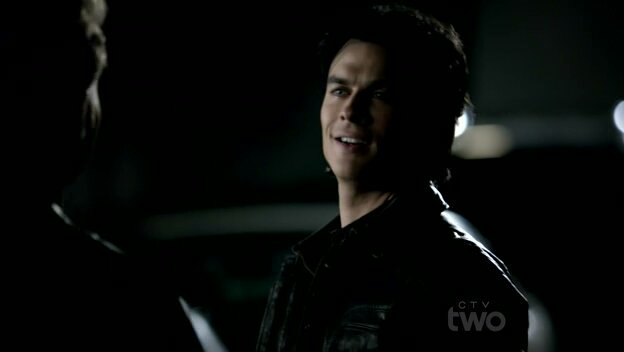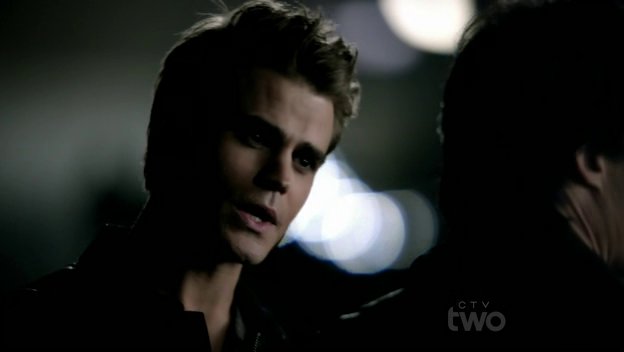 Great. Stefan goads him and Damon puncbes him. Stefan is deflecting though. His emotions are definitely on, but now it's just easier being a dick than to face them.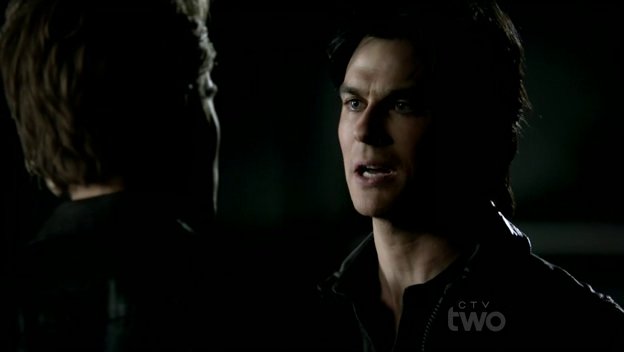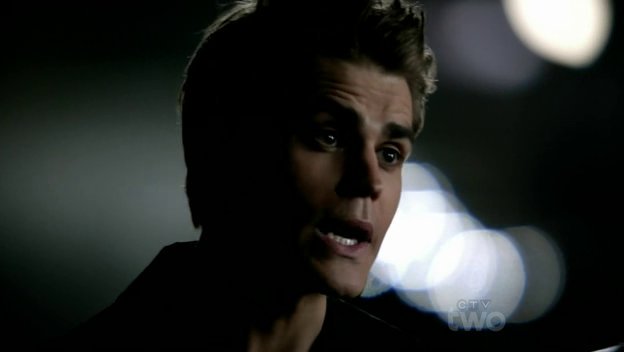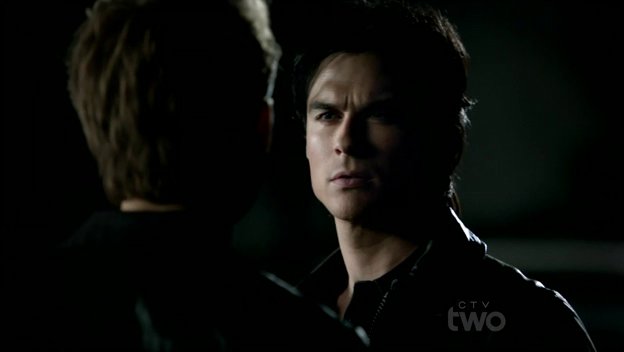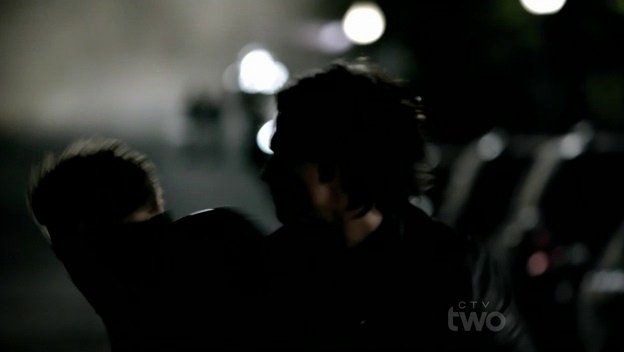 Happy to be punched and having your ass kicked? Yeah, you arent fooling me. You are deflecting and scared to face everything.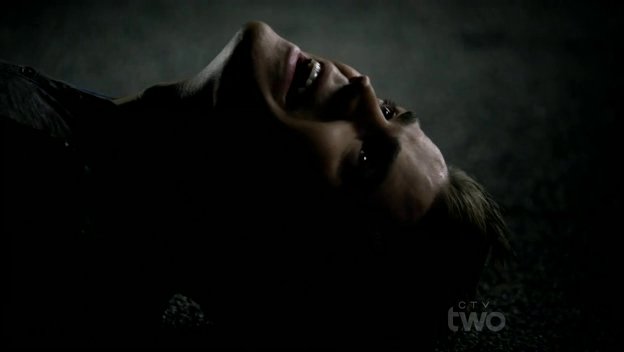 Okay but Rebekah is my new child along with Elena, Damon and Caroline and she needs to be protected.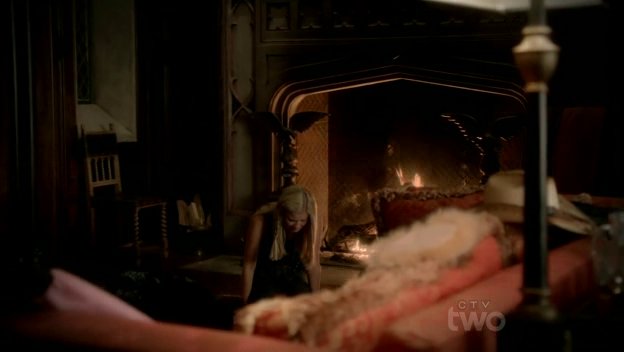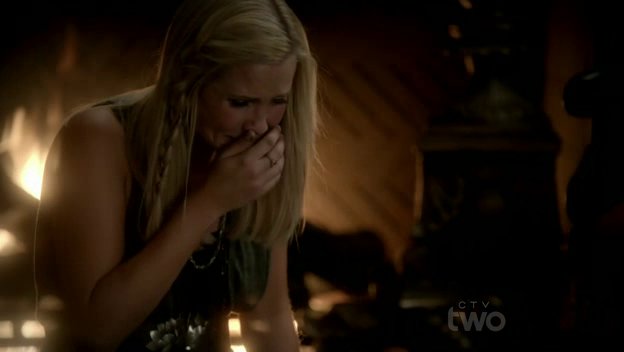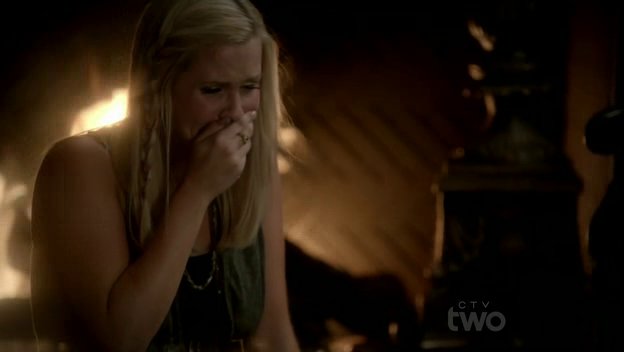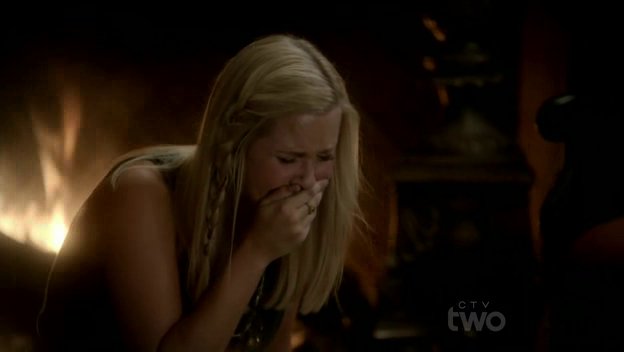 Damon is waiting on her bed. 😂😍
He is ready to hear Elena's rant about letting Stefan out, but points out that atleast he is on their side now and that Katherine came through with Mikael. Katherine better be alive but I am gonna enjoy this scene now and not worry about that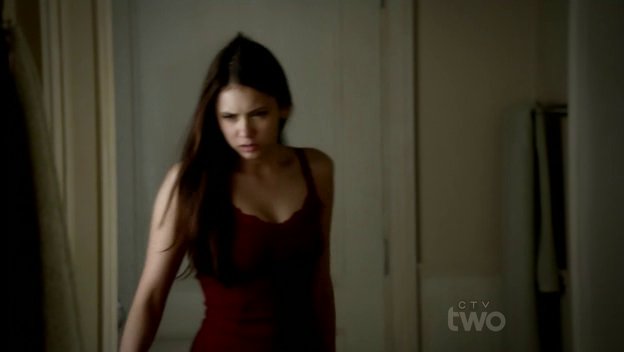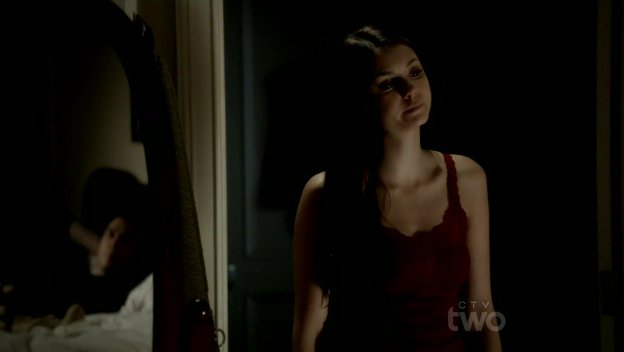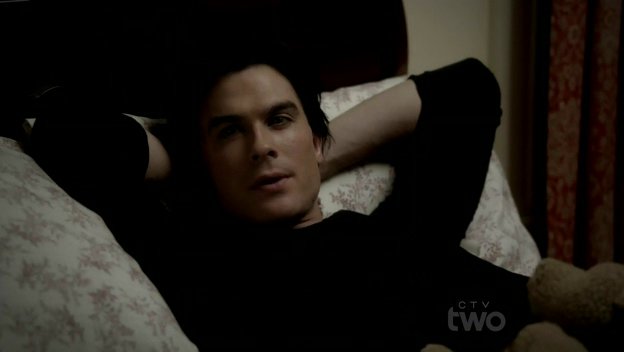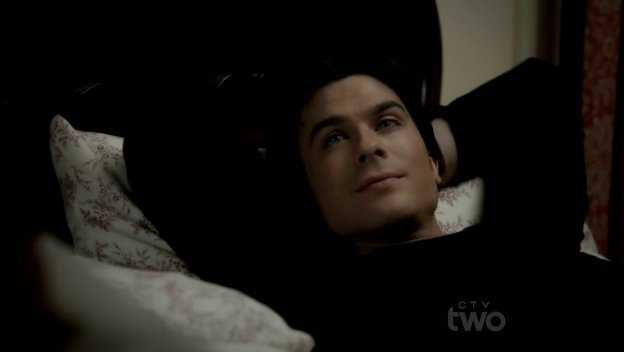 OMGGG SHE GETS IN NEXT TO HIM ON THE BED 😍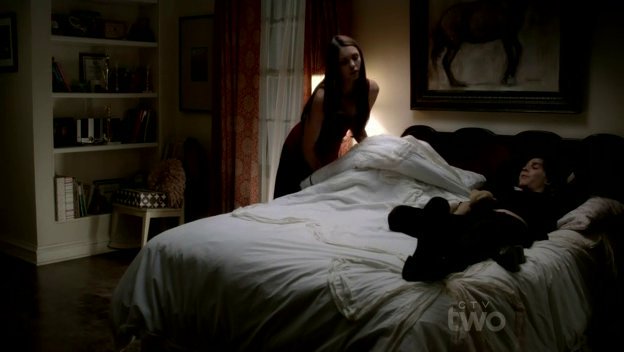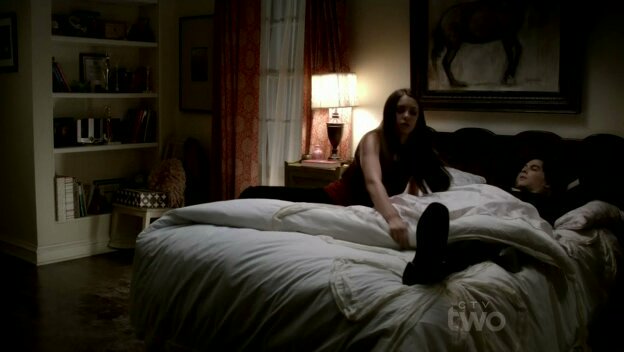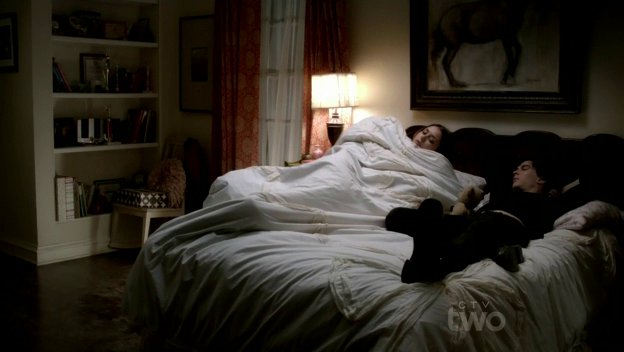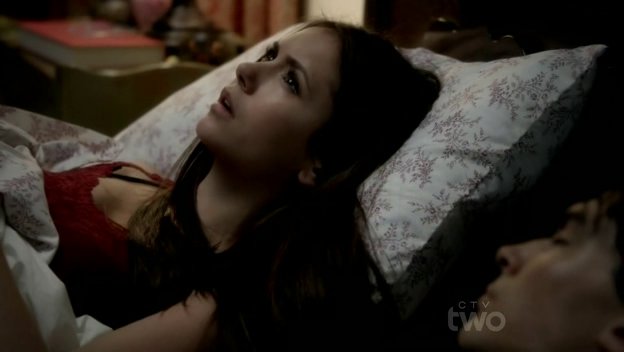 OKAY BUT THE AMOUNT OF TRUST. THE LEVEL OF INTIMACY. THEY ARE LIKE A MARRIED COUPLE.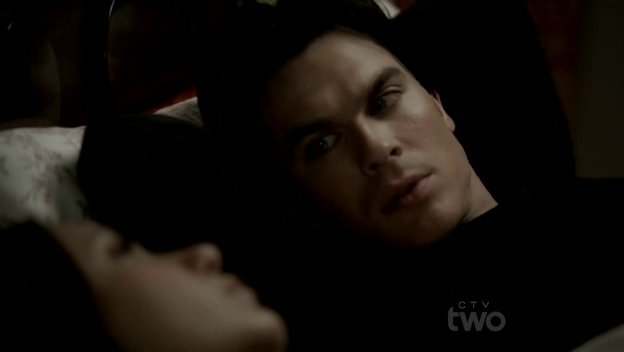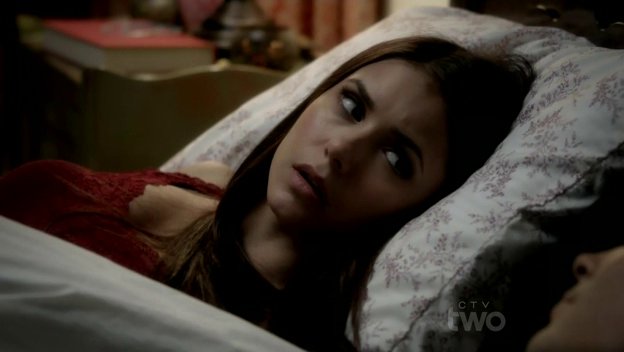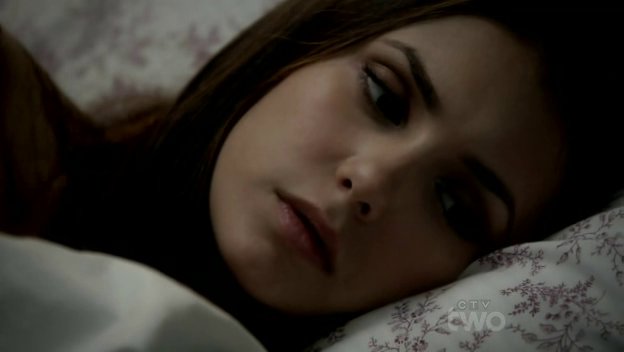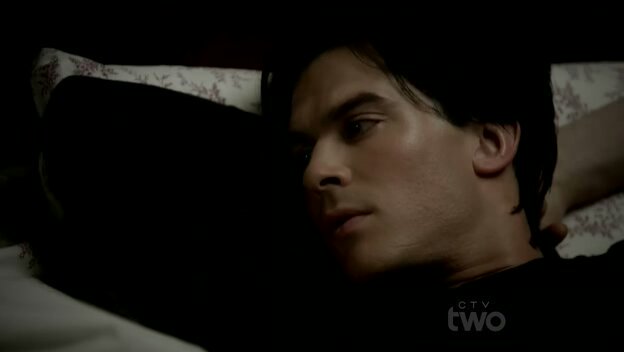 Elena says that Rebekah lost her mother to young and that she loves blindly and recklessly, even if it consumes her. That sounds a lot like another somebody I know.
HE MADE HER SMILE AND SHE TURNED OFF THE LIGHT.
Okay but seriously, this is deep shit. Just look at these two. I mean come on.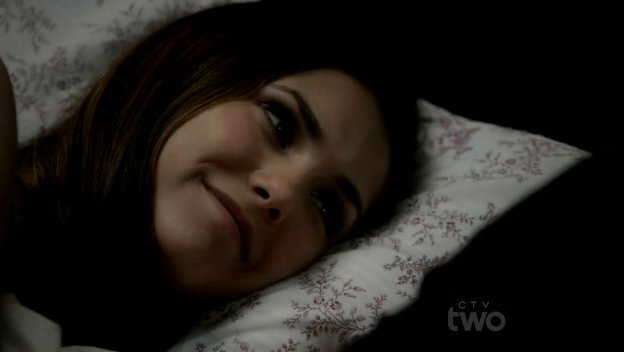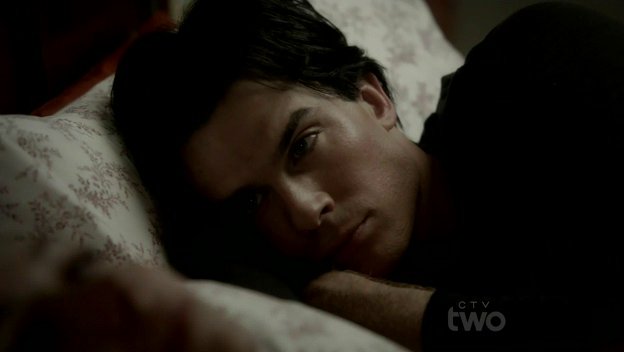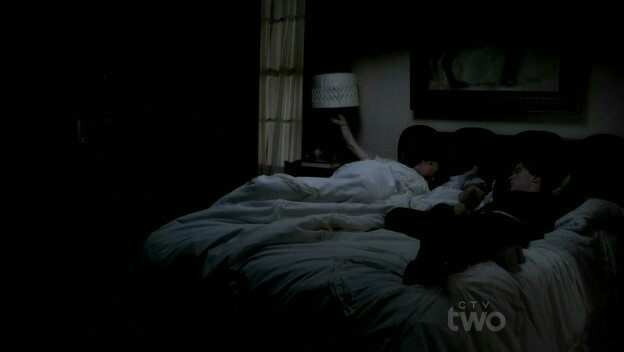 I DON'T EVEN CARE ABOUT THE DIALOGUE AT THIS POINT. I CAN'T FUCKING BREATHE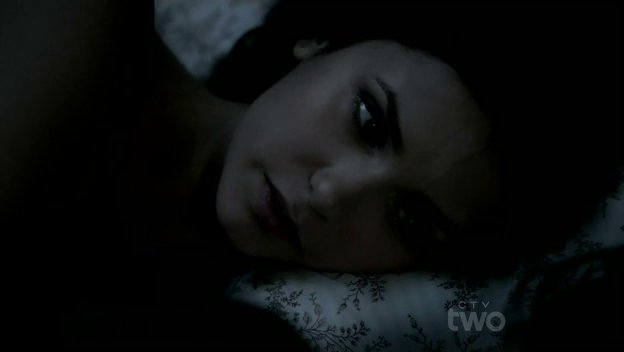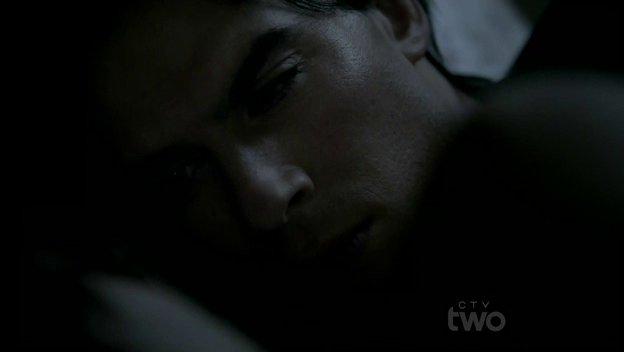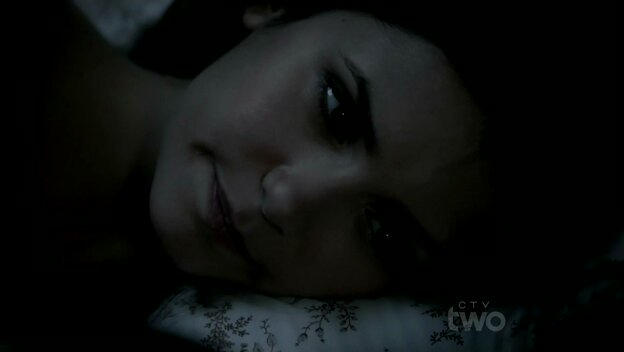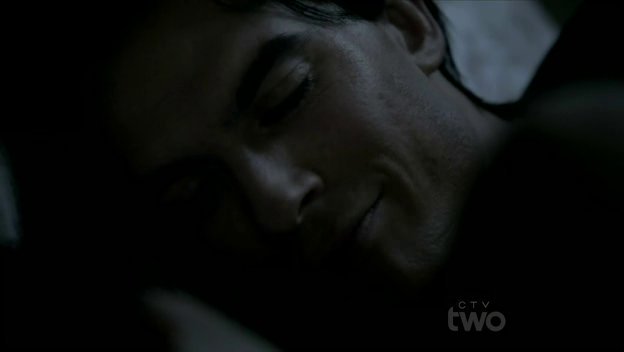 Elena says Stefan will be saved, not because he loves her, but because he loves Damon. She knows Stefan loves Damon more than her.
"Can I tell you the rest tomorrow?"
"Sure."
SO SOFT
SO SOFTTT
She falls asleep while he watches over her with love and this soft expression. I think I just died a little 😍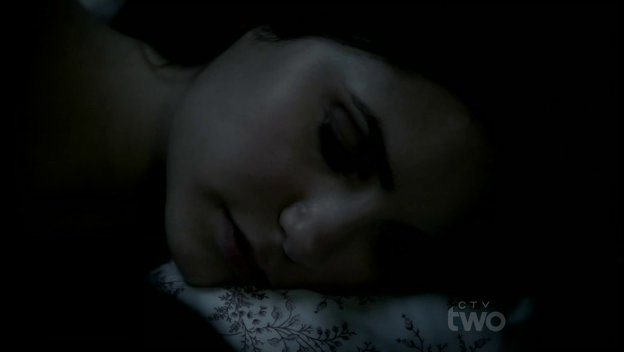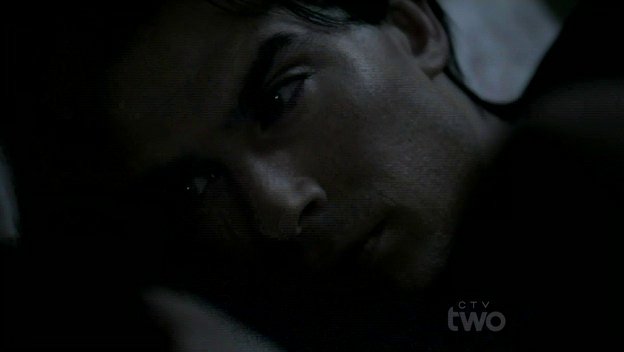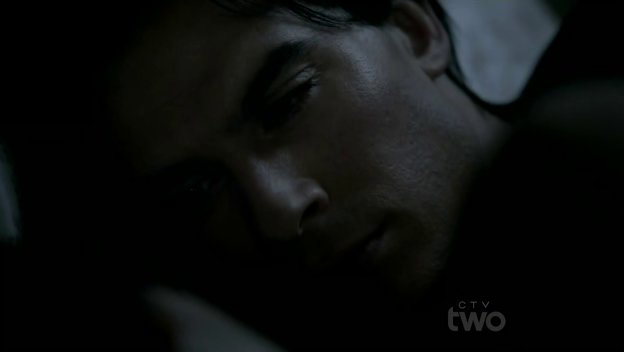 Their connection is everything. OTP fucking goals. And this episode was a bloody masterpiece 😍
Okay wait. Hold the fuck up. Mikael is dead? ??? Huh??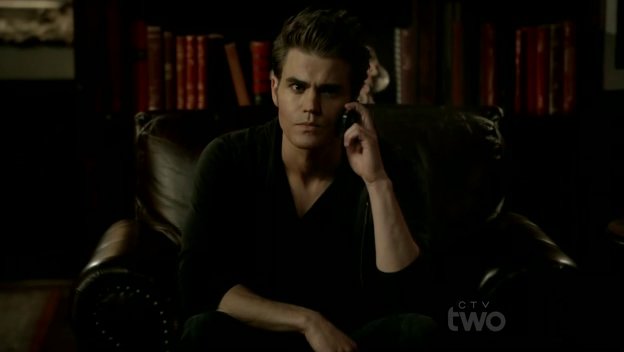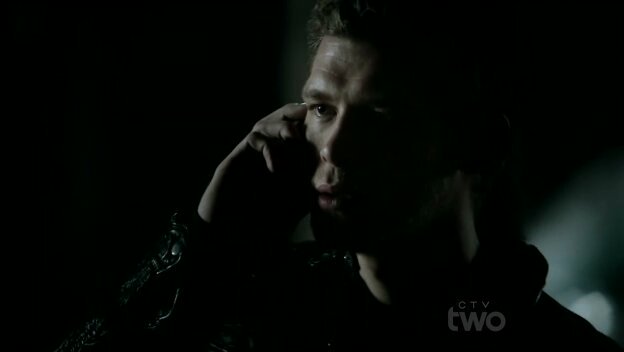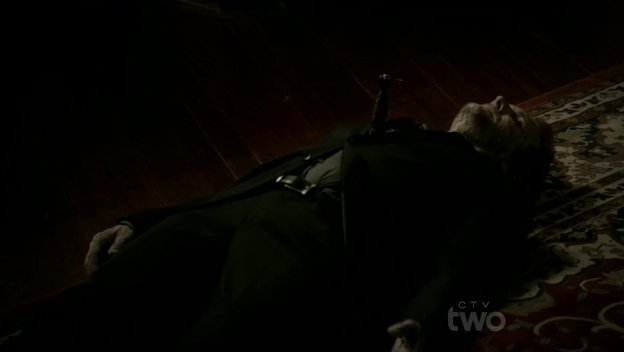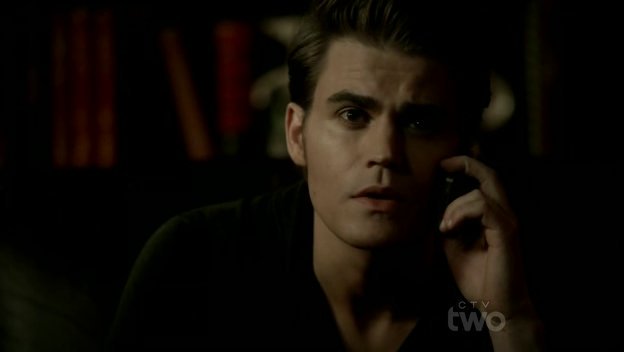 Okay its part of the plan. Phew, my children are smart. They are planning a work around for Stefan's issue too.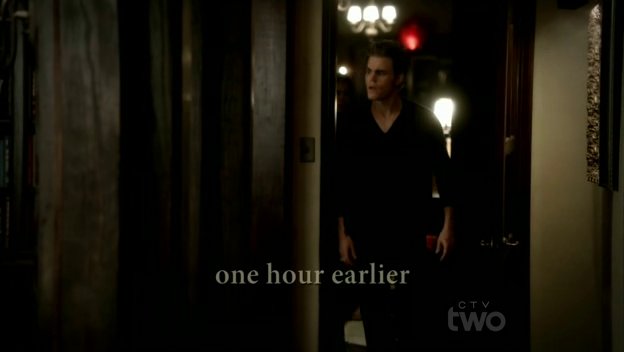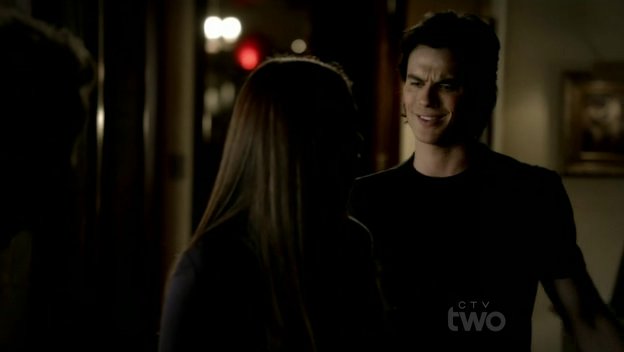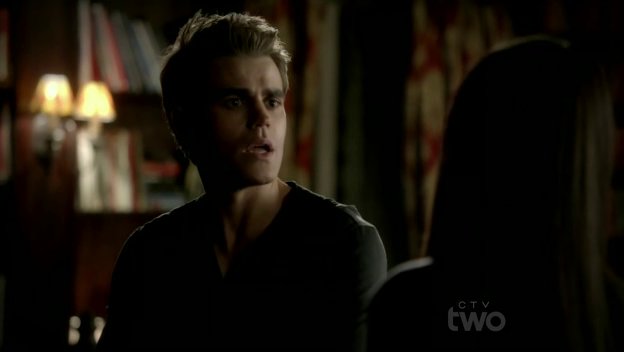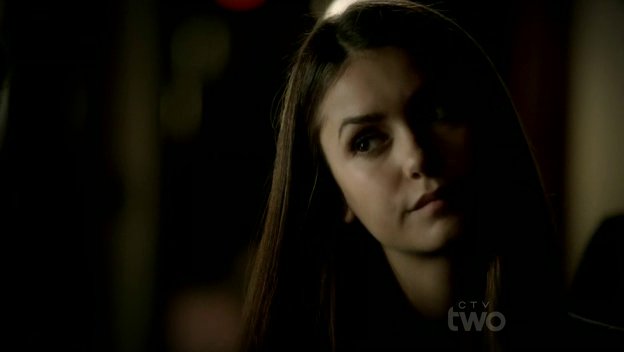 I don't like them working with Mikael though. And why is he being so sophisticated and calm? He was a temperamental brute in the flashback. Shouldn't vampirism have heightened that?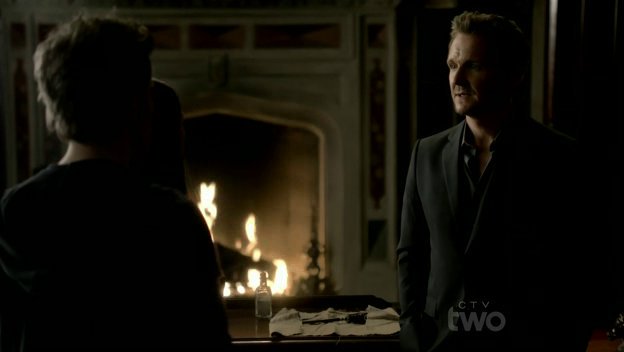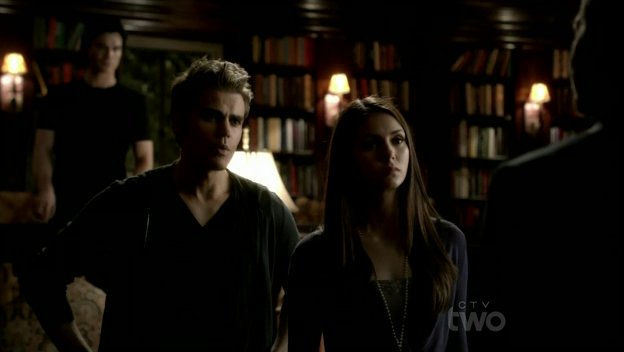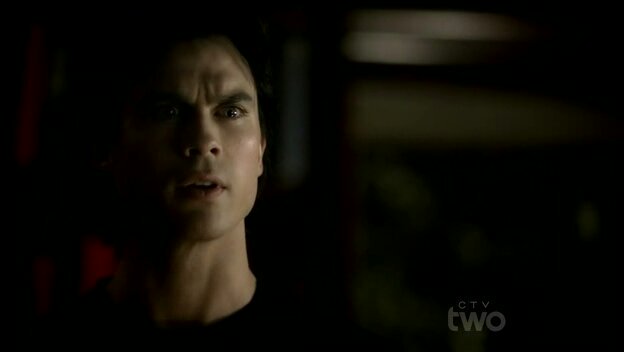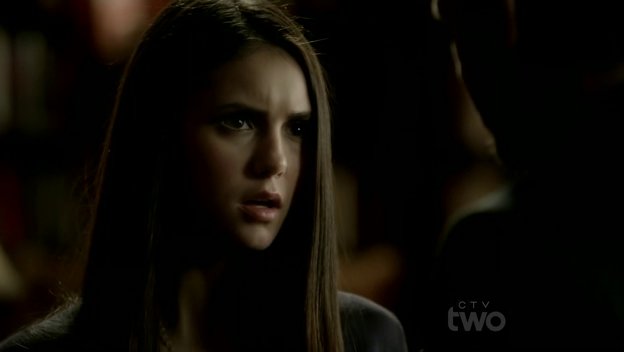 Stefan saw Elena dagger Mikael and Rebekah is team goodguys now (Yay!) She tells Klaus that he should come back and that Mikael is dead. He bought it. OOOOMMMGGG this is going to be a wild episode, isn't it? 👀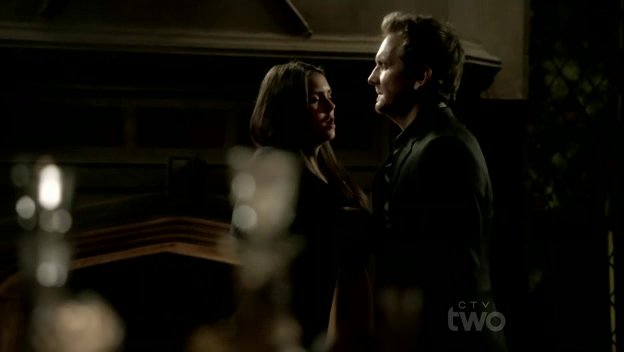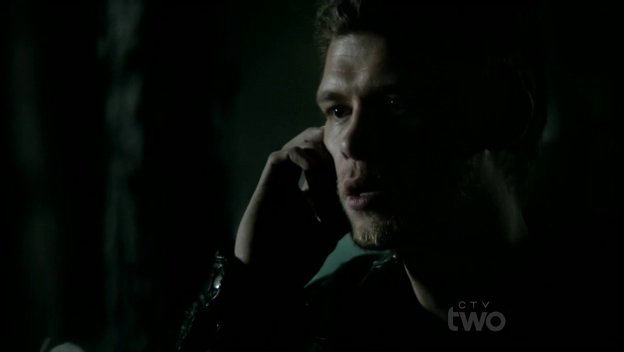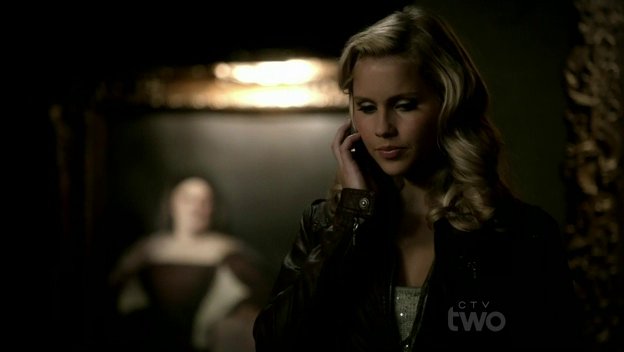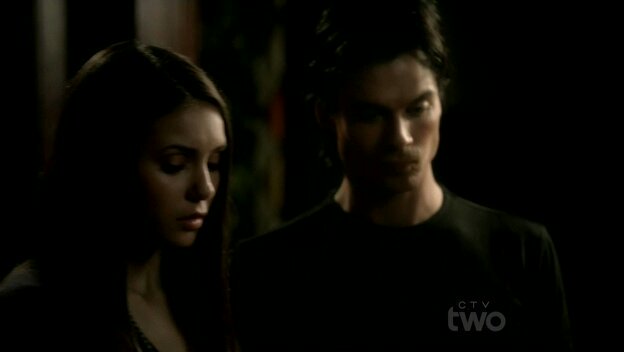 Elena got to dagger and undagger Elijah, now Mikael. Who is next? Klaus maybe?? But he has a spin off. So whatever they achieve, will be temporary. 😩
Lmao, doing her toenails like a unbothered boss. Mikael looks shook to see her though.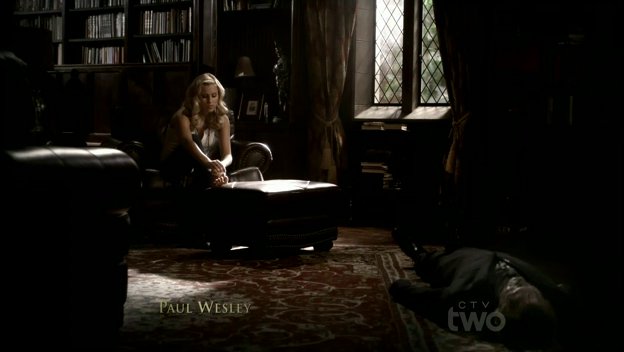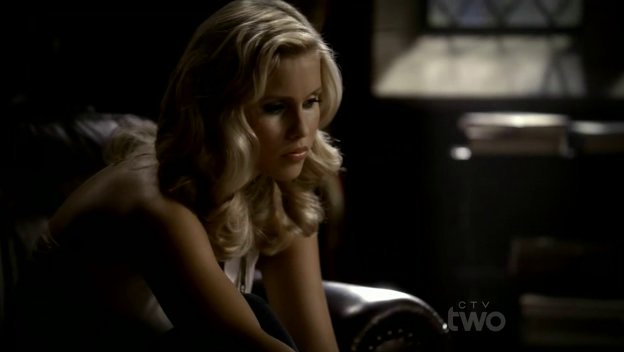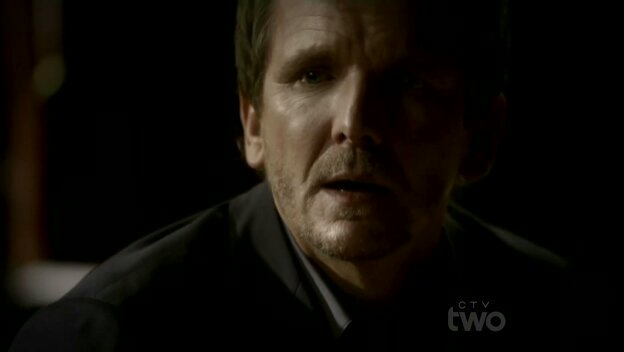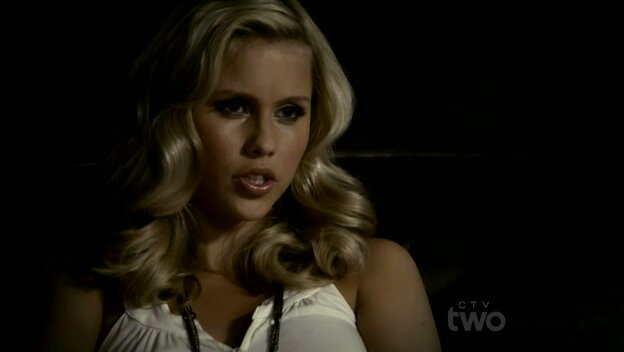 He says he was never after her. Just Klaus. So Rebekah has been running and fearing for her life for all these years? Geez would have been nice to know.
"Nik was not born a killer. None of us were. You did this to us when you turned us into vampires. You destroyed out family."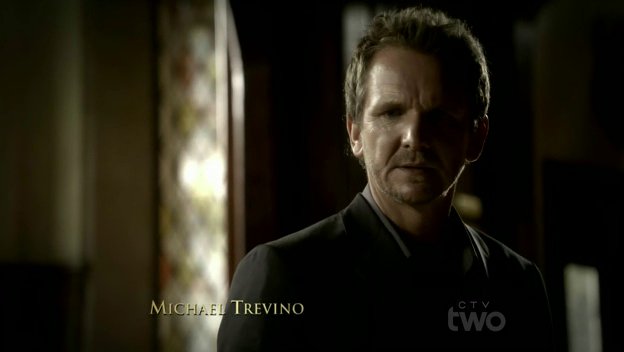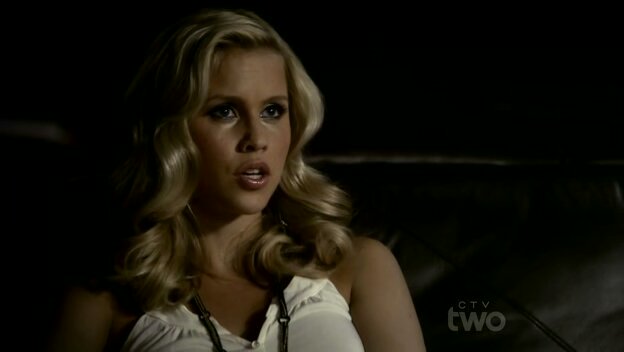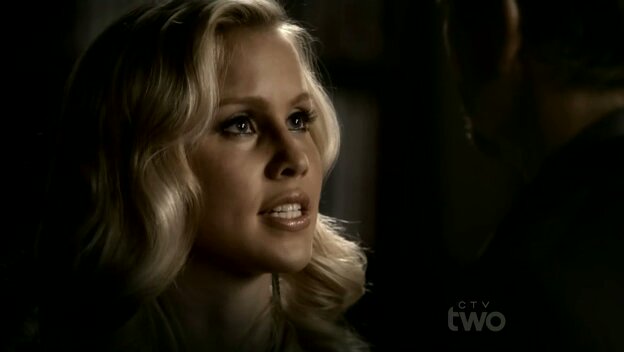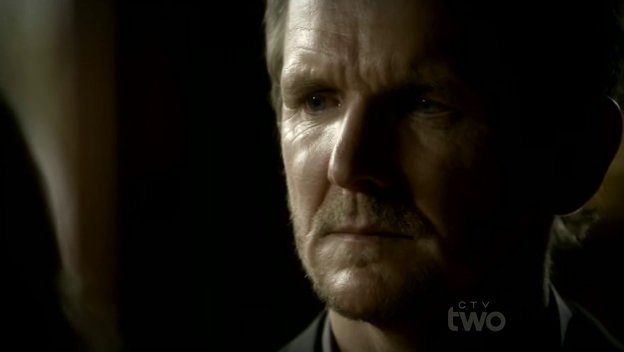 Why does it look like Mikael actually feels something for Rebekah? Do it's just Klaus he hates. He spent years tracking and hunting him like an animal, just because he wasn't his son? Thats just a whole lot of twisted
"I hate everything in my closet. I have nothing to wear to homecoming."
Elena is a big mood. Me before any event. But yikes that dress is hideous, she ain't lying. 😷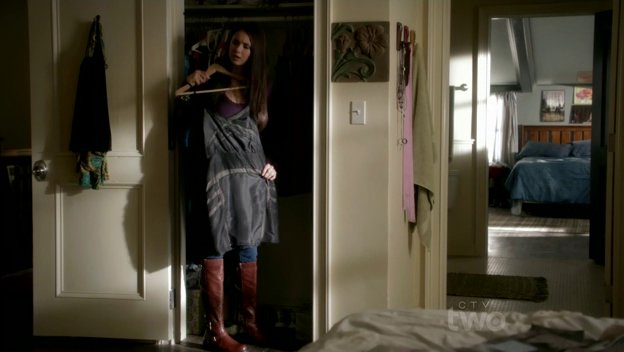 Aww poor Bonnie. She wants to skip homecoming because of Jeremy. Elena tells her she can talk to her about it because she is mad at Jeremy too, but Bonnie points out that its a different kind of mad and no, she can't talk about it with her. I get that. I wouldn't either.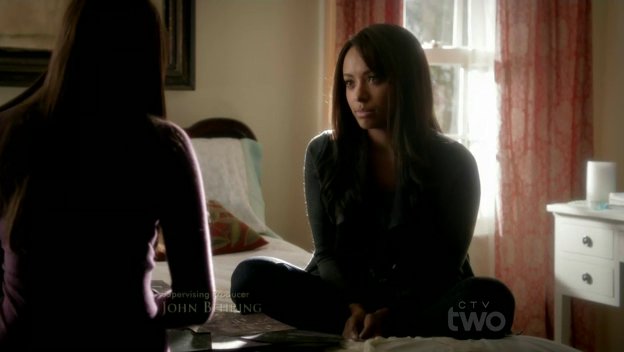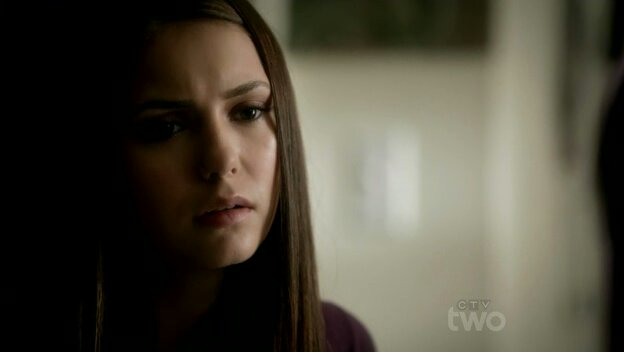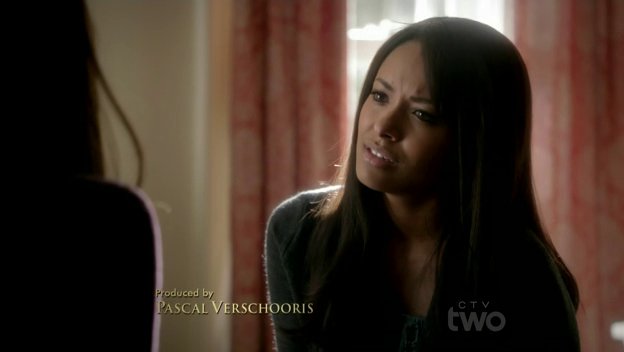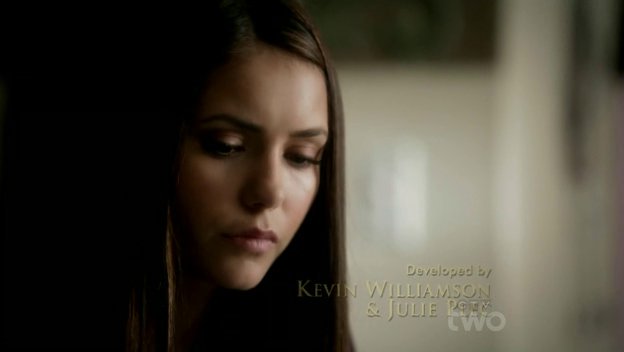 Why your sibling and best friend shouldn't date. It puts you in a hella awkward position if they break up. But Elena wants to be a good friend so bad. She is so sweet.
Wow. They aren't taking any chances with shortage of weapons 👀 Elena realized after her talk with Bonnie, that they can't trust Rebekah.She may be mad at Klaus, but he is still her brother. I agree. She has been to loyal,for too long. She is emotional now,but when it comes (..)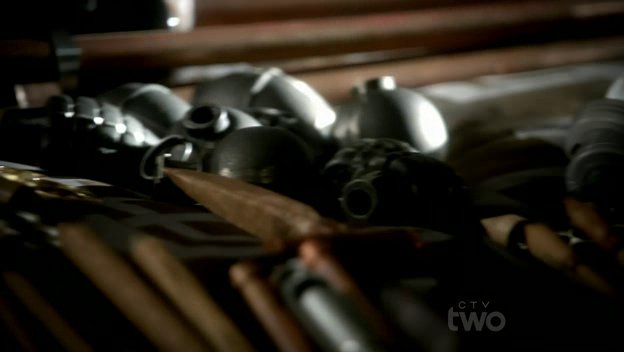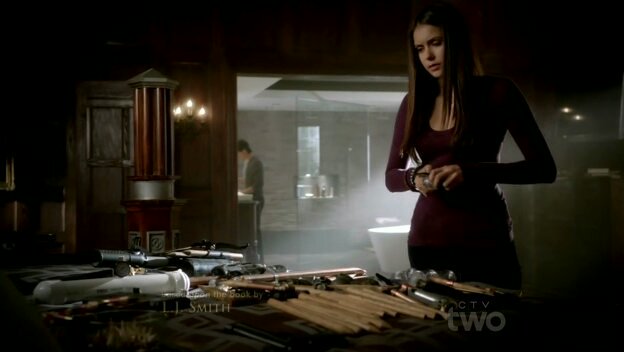 down to it, she will probably not be able to go through with it. But damnit, I liked the idea of "Barbie Klaus" on team Salvatore. 😩
Aww look at my babies being all married in Damon's bathroom. 😍 He tells her he has a plan b. My smart son. But Stefan comes to complain about a tie and they trust him as much as Rebekah, so no more plan B talk.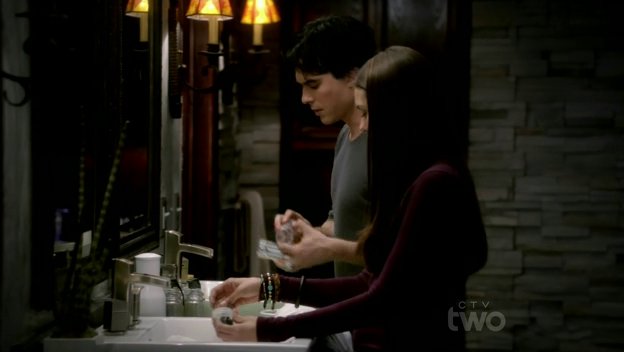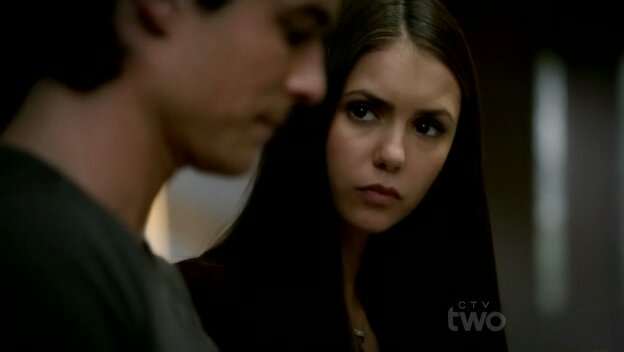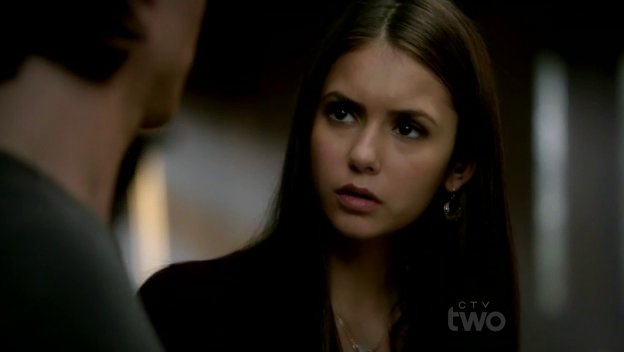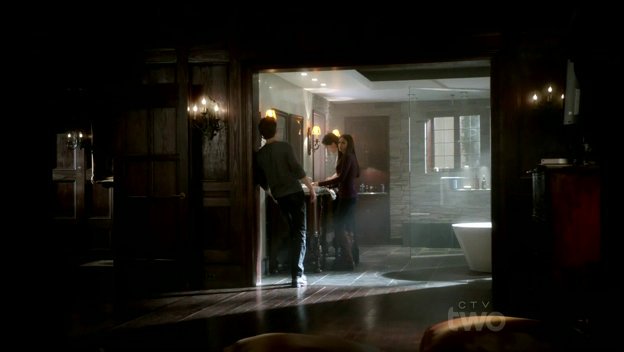 Elena is so annoyed with Stefan a can pop a vein.
"You could not go."
"I am compelled to protect you. And if I look at your track record at highschool dances, it's pretty tragic. With my luck, you will go get yourself murdered by the homecoming queen."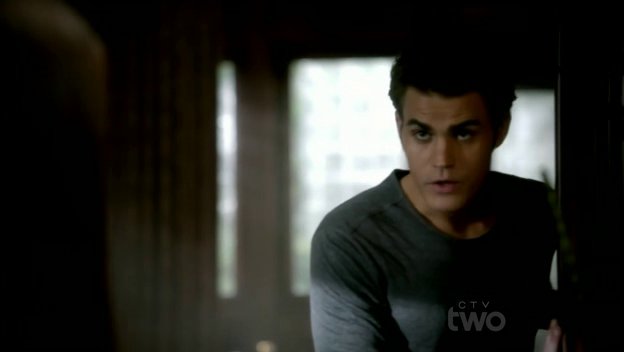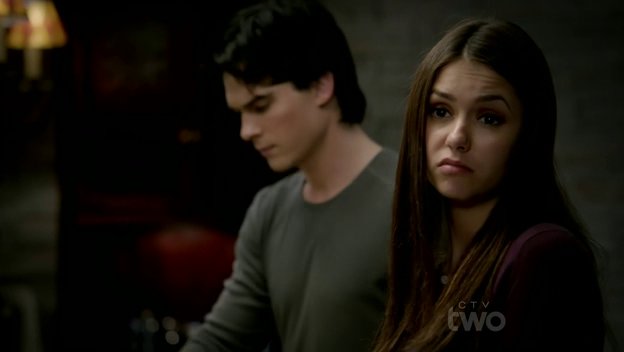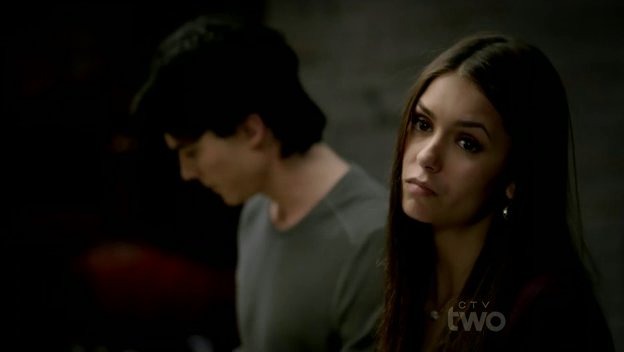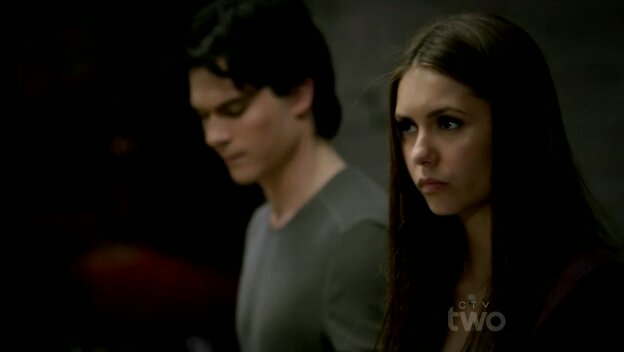 Damon sees Elena work with the grenade and gently takes it from her although she protests.
"Elena, if this thing blows up in our face, just remember that only one of us heals quickly."
He is so protective OMG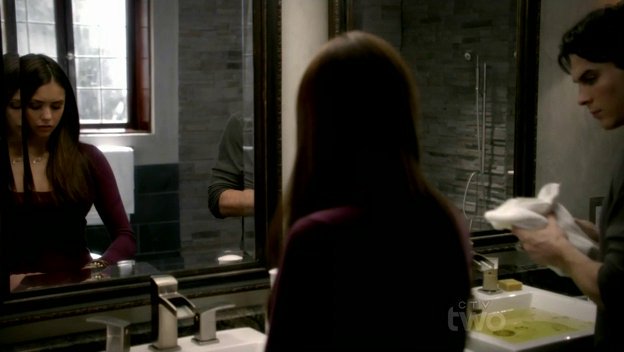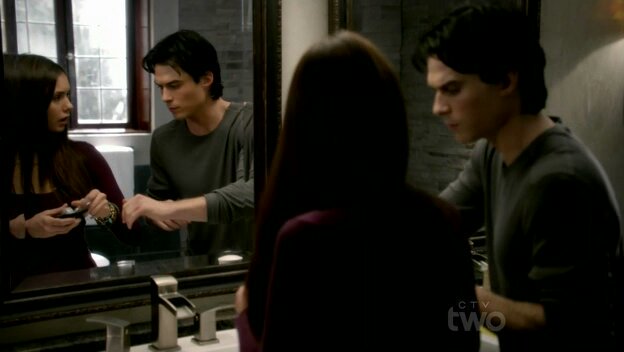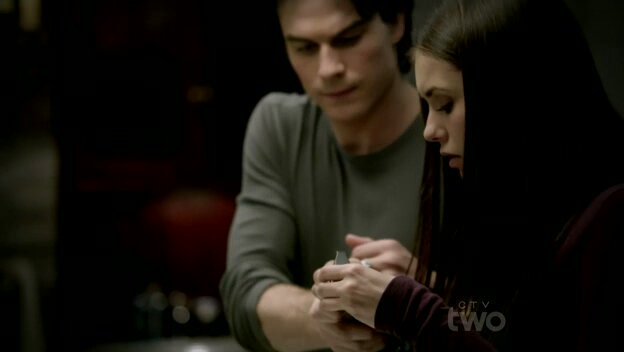 Stefan is like an annoying fly, buzzing in their ears. He also says that if he reflects on their plans in the past, Elena's humanity always screwed things up. Hold on just a damn second. I don't remember her screwing up any plan. You didn't make any back in S2....remember?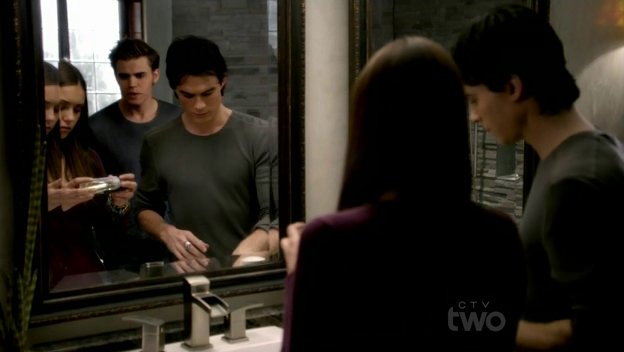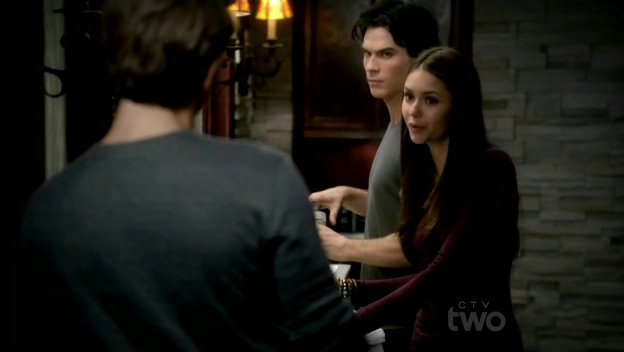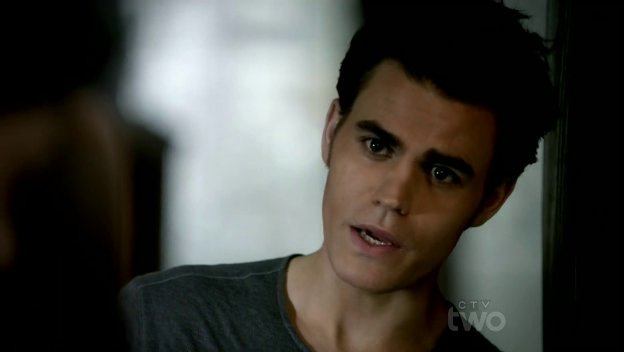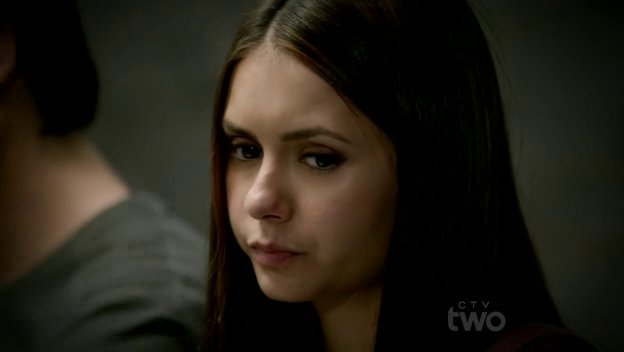 Tyler wants to feed on people, not from a bloodbag. He is so far up Klaus and Rebekah's influence... Caroline tells him to quit hanging out with "the evil bloodslut"
Ouch Care. But she was pulling a Regina George on her, so it's understandable that she dislikes her.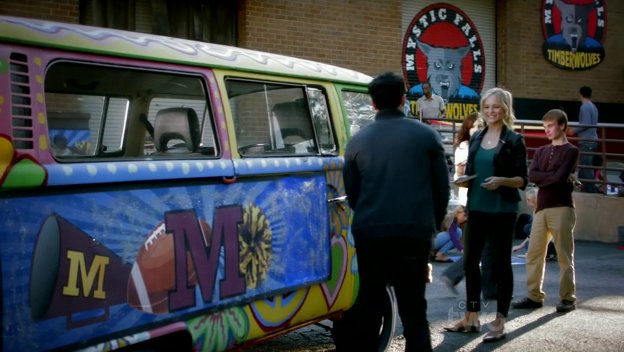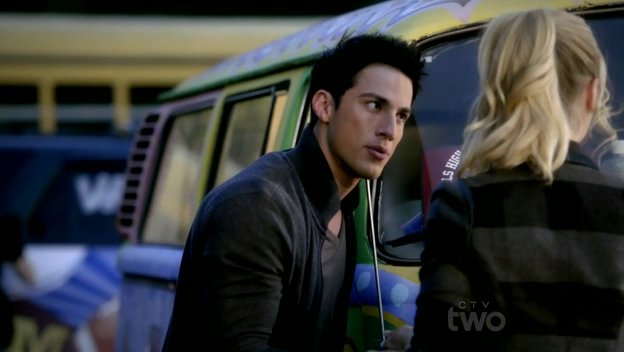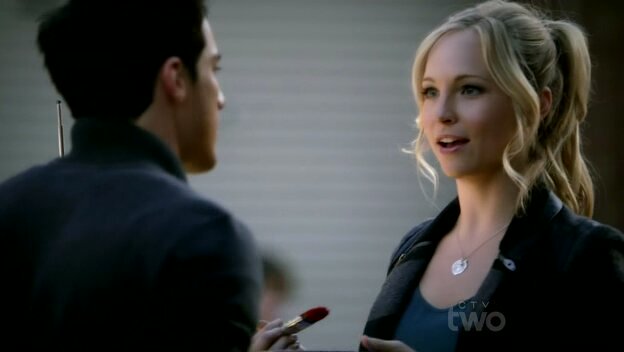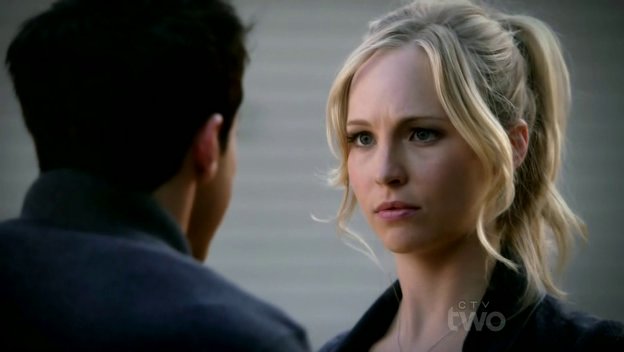 I just don't trust Tyler right now. He is like Klaus' evil little minion. 😐
Hahaha Tyler set Rebekah up with Matt for homecoming. Hopefully she kills him. 🙊 He says Rebekah is hot. NOT the right thing to say right now, Tyler. Caroline isn't pleased and thinks it's because he is sired.
"I am here, hanging streamers and I have glitter all over my hands. If I am sired to anybody, it's you."
Good, cute comeback Tyler....but I still don't trust you...😩
Rebekah chose the red one that Elena picked out. Aww my Relena friendship is starting 😃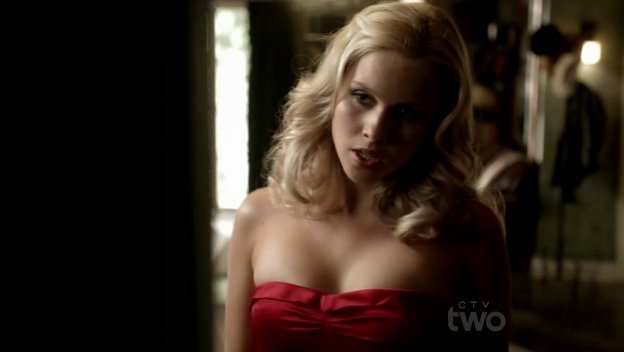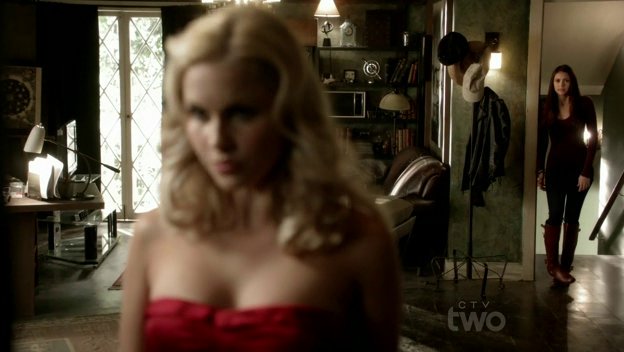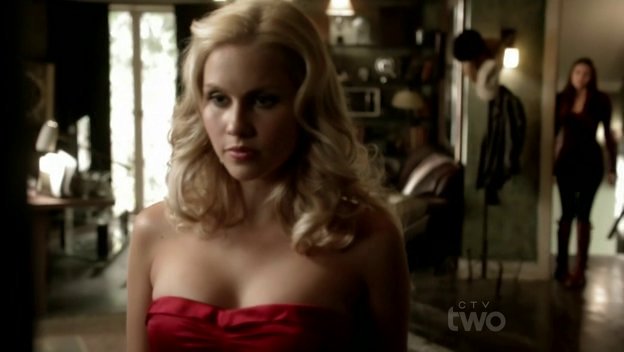 It will be Rebekah's first highschool dance and she is super excited and doesn't want to leave anything to chance. I hope she gets crowned homecoming queen 👑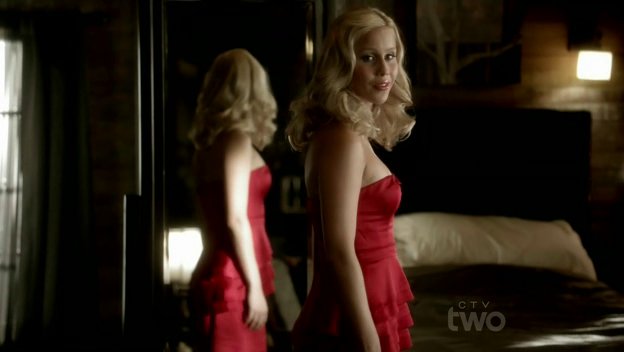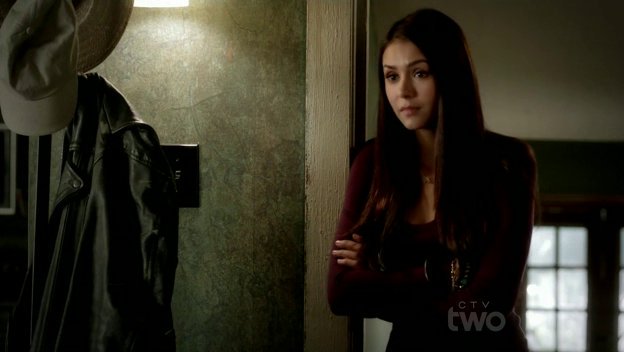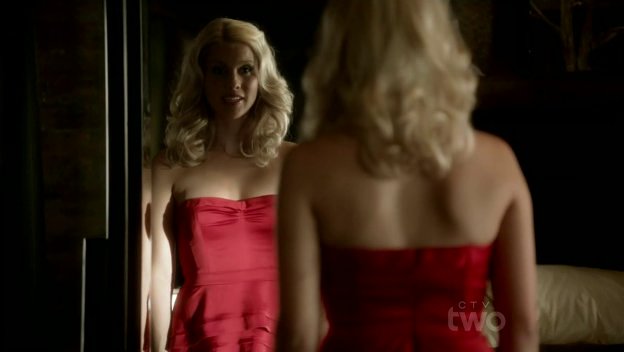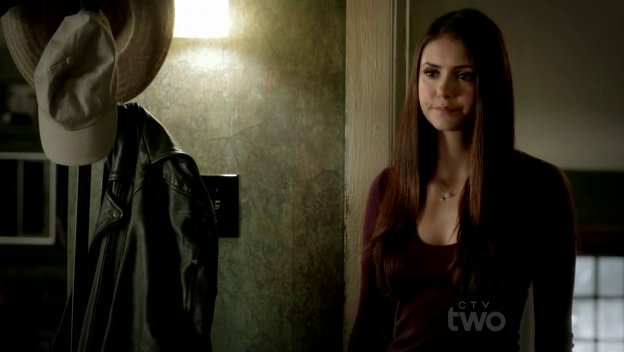 Rebekah is sad about Klaus, but doesn't want any details. She also warns Elena that Mikael is not a good person and can't be trusted. No one in her family can. ....
....She is going to back out at the last second isn't she? She is already crying...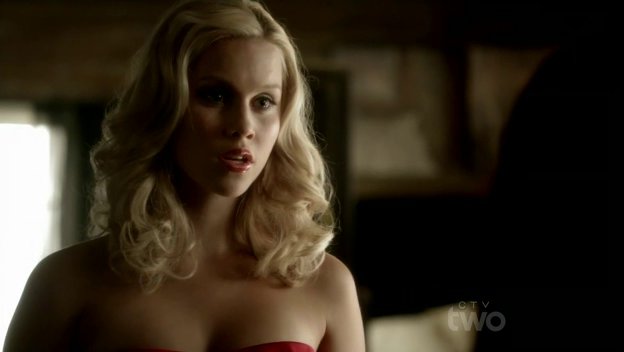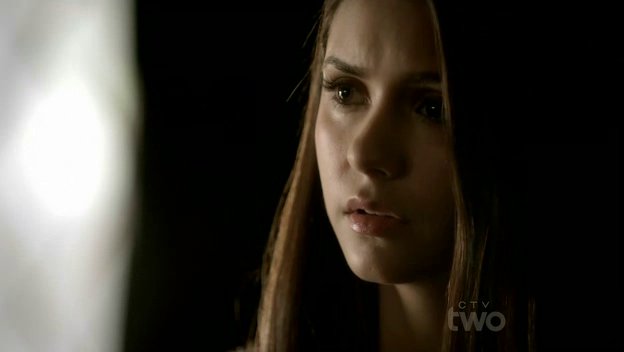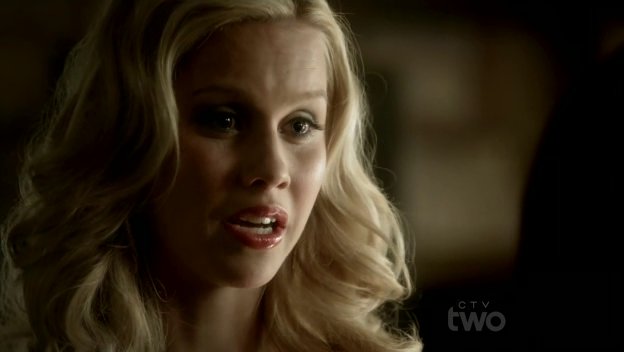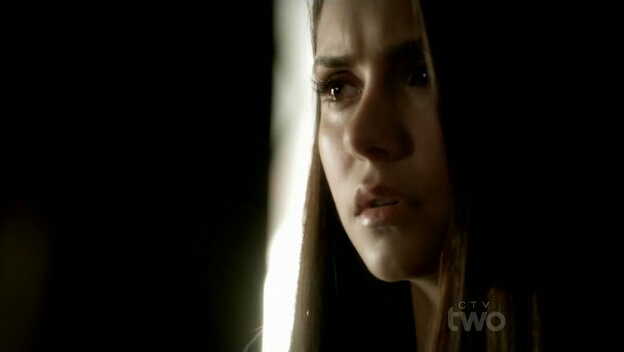 "How do I look?"
"You look amazing."
Awww she gave her her mother's necklace back. IT'S HAPPENING. I HAVE MY NEW FRIENDSHIP AND IT'S GONNA BE SO PRETTY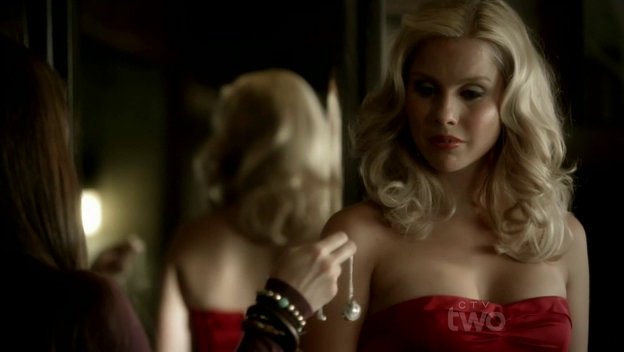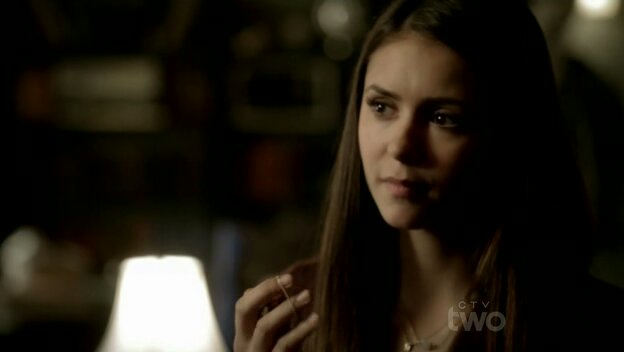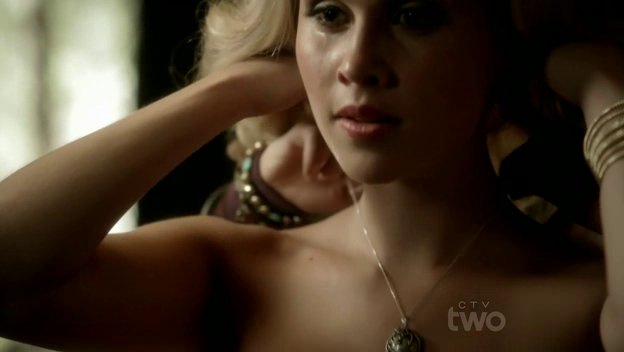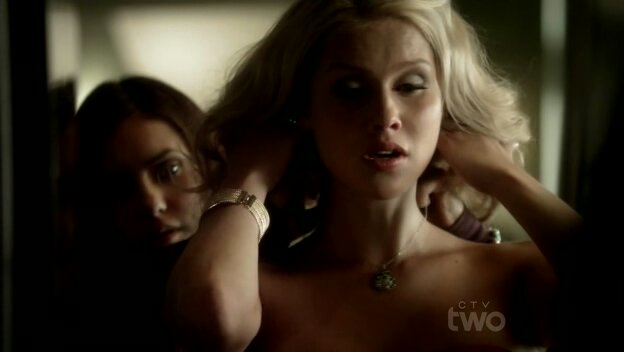 FUCK... IT'S DEAD. THE FRIENDSHIP JUST GOT DAGGERED. STABBED THROUGH THE BACK JUST GOT LITERAL. OMG ELENA. FUCK. 😩😩😩😣😣😣
"I am so sorry. But I can't leave anything to chance either."
Savage 😣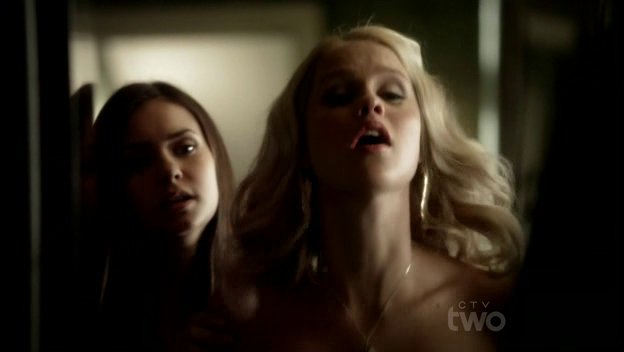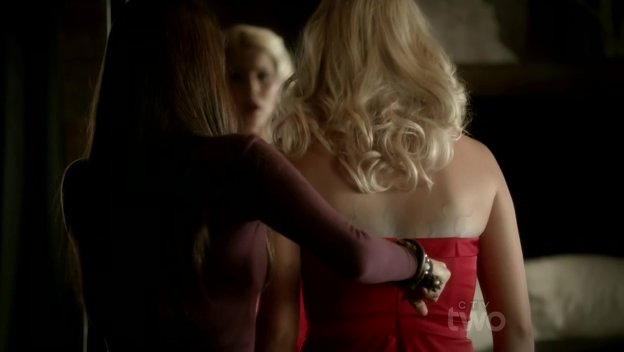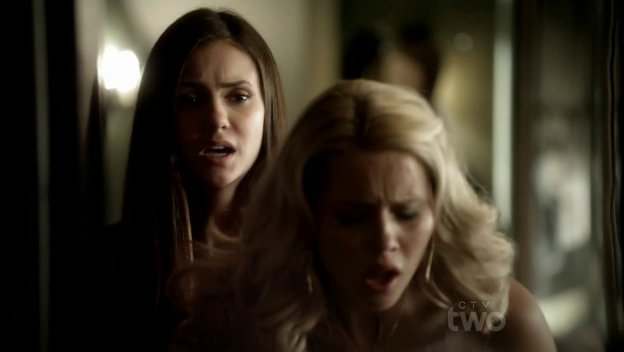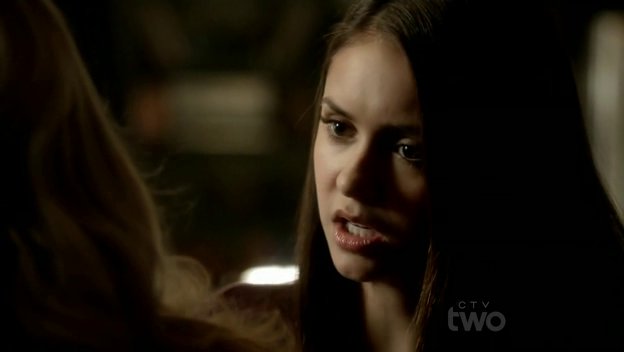 She feels super bad about it and so do I. OMG I have to process. 😟
Rebekah is going to MURDER her for this. There goes my fucking Relena friendship. 😣
But she was going to flake. Elena couldn't risk it. But that doesn't make it feel any better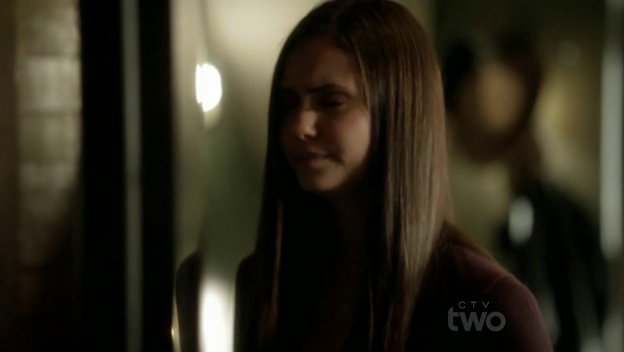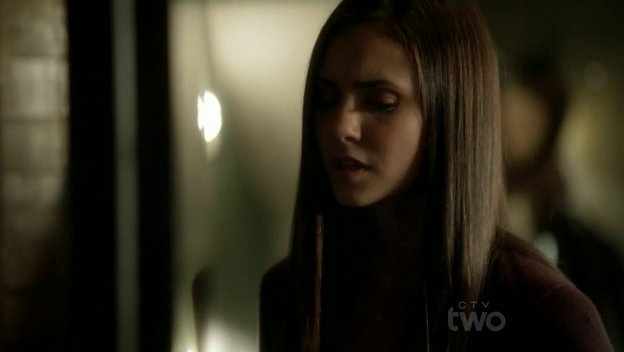 Elena watches Damon take care od Rebekah's body and it cascade looks like an is going to cry from guilt. It's okay, baby girl. It sucked, but it needed to be done.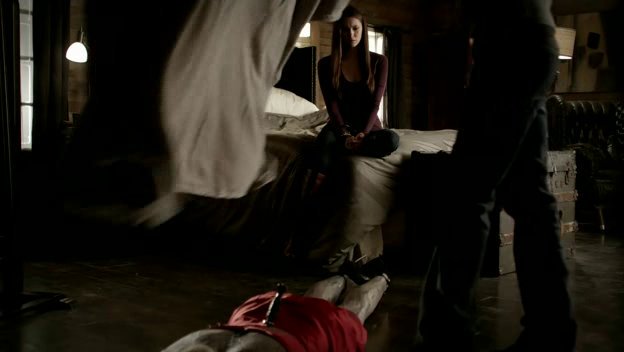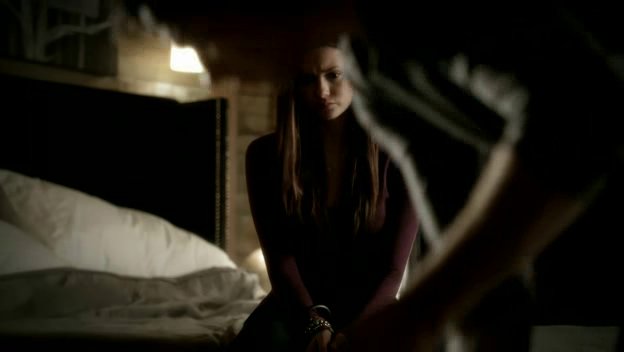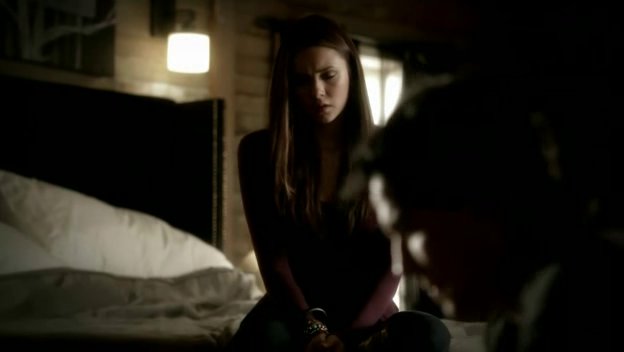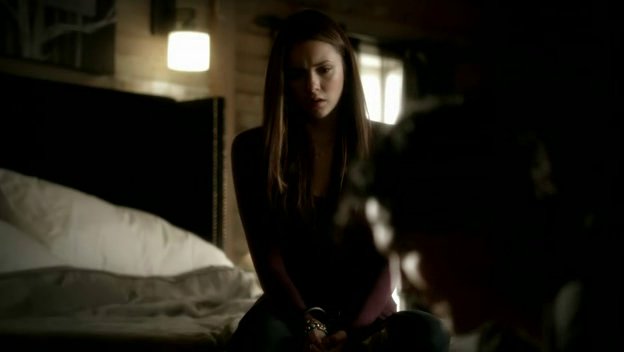 "It was very Katherine of you."
OUCH DAMON 😣
"Not the way to make me feel better about myself, Damon."
"It was a compliment,...sort of."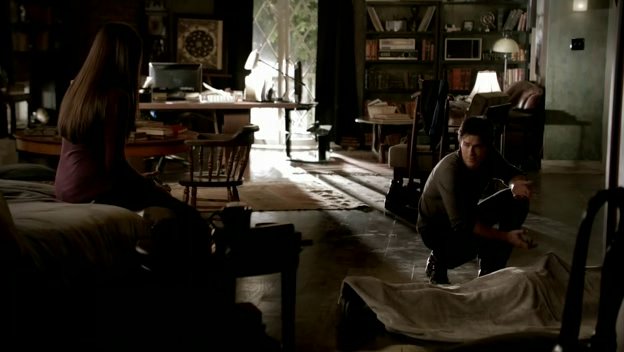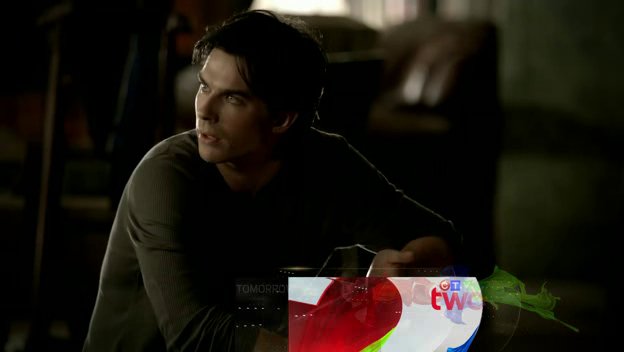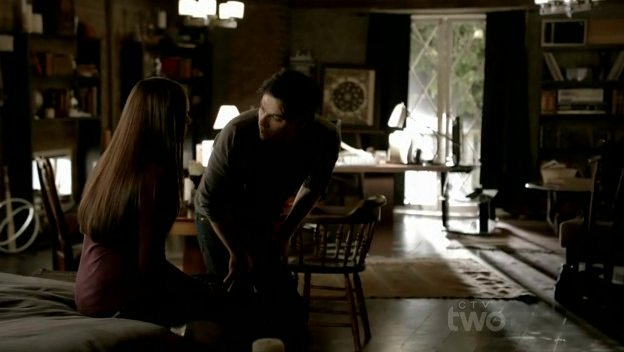 Damon I trying to make her feel better, but she thinks Stefan is right. She is going to screw everything up because she cares to much.
Okay but when has that happened? Elena has never fucked up a plan. It's always she, or Damon who MAKES them.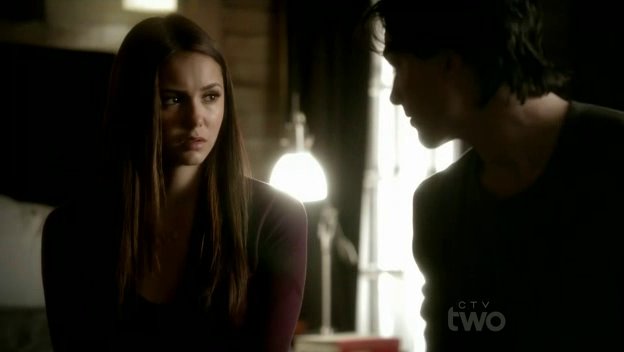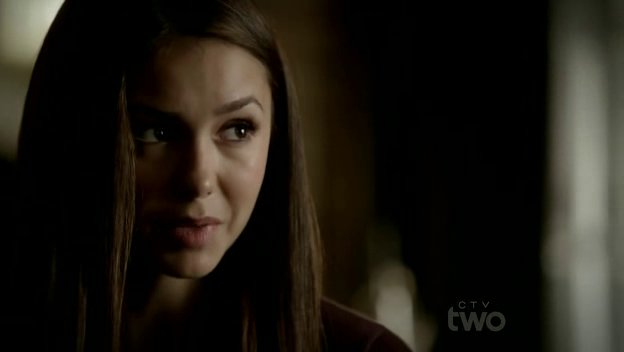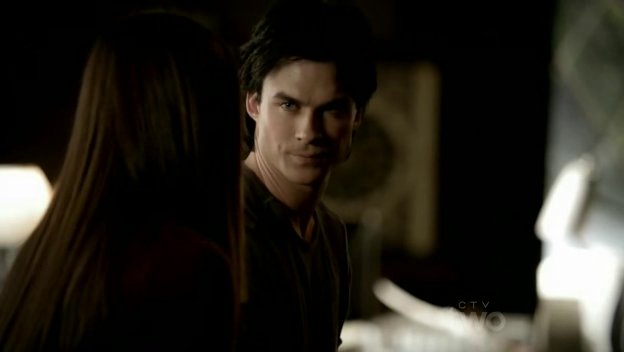 Damon is finally going to tell her what plan B is.
"Do you trust me?"
"Yes."
NO HESITATION. OH HOW FAR MY BABIES HAVE COME.
"Then you have nothing to worry about."
My son will always take care of things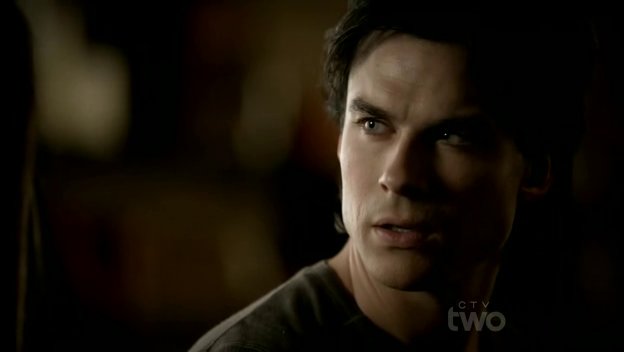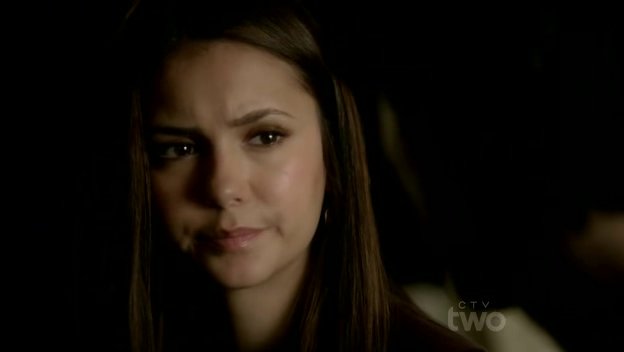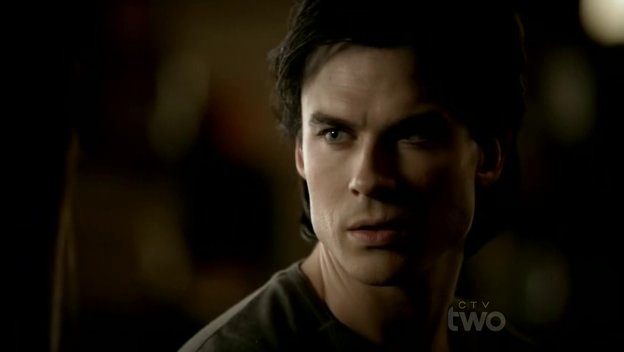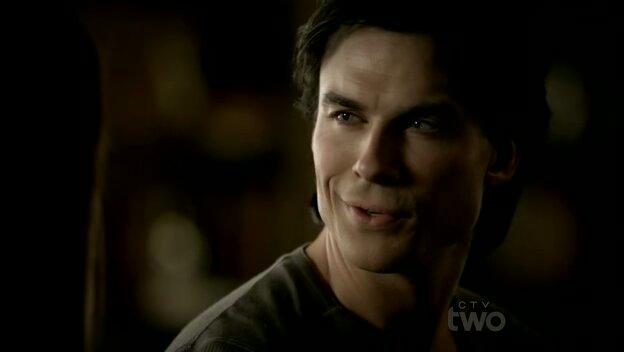 The gym is flooded and the dance cancelled. Does this mean their whole plan has been washed away?? 😱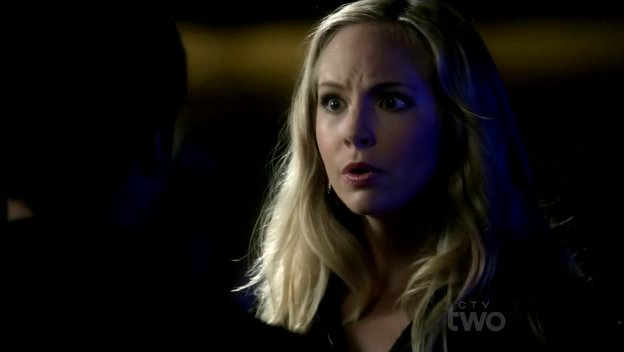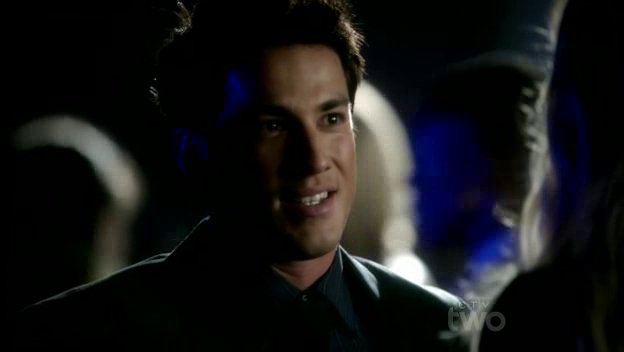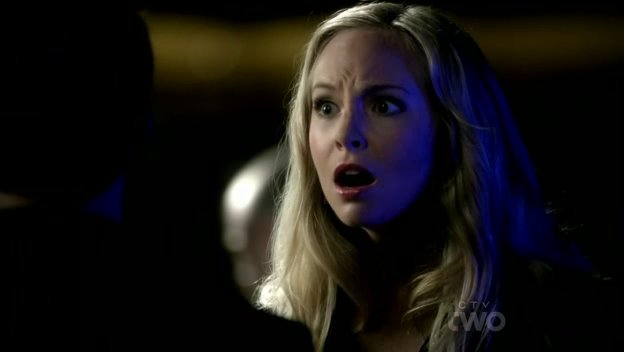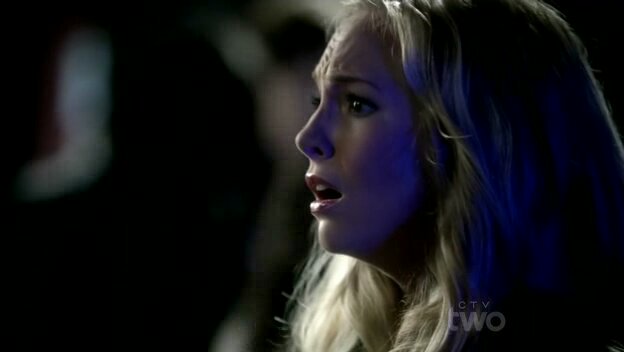 Please no. Rebekah did not just get stabbed through the back for nothing. 😐
Okay, so the party is moving to Tyler's house. Matt is dateless. Maybe Elena did Rebekah a favour afterall... but Ugh nooo now she is probably going to be the back up date she just mentioned. 😷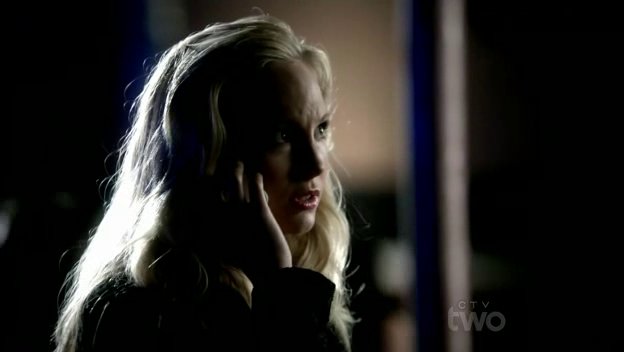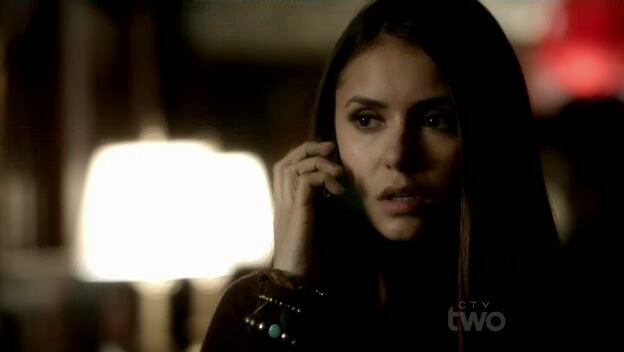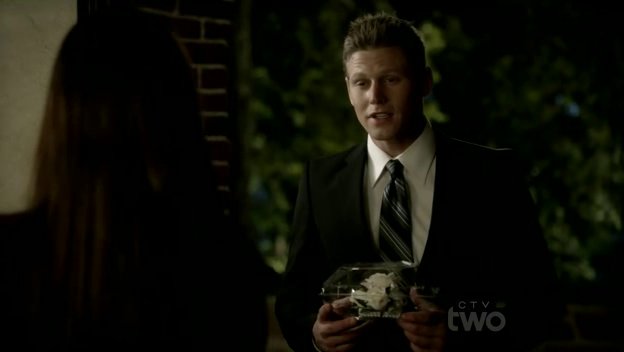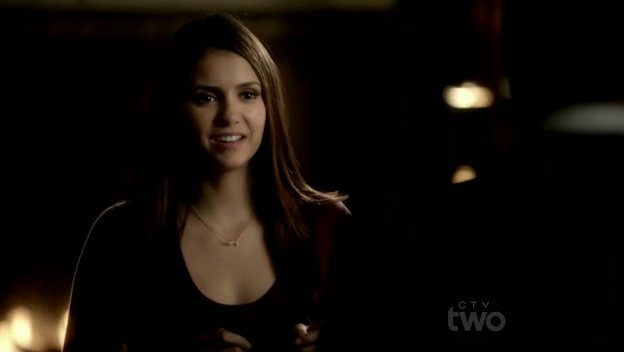 How the hell did Tyler arrange this in the span of minutes?? Band?Decorations on trees?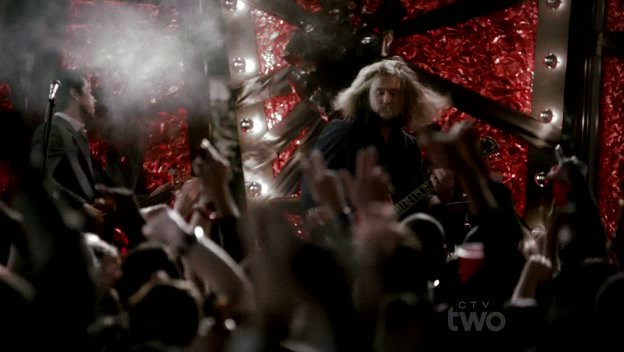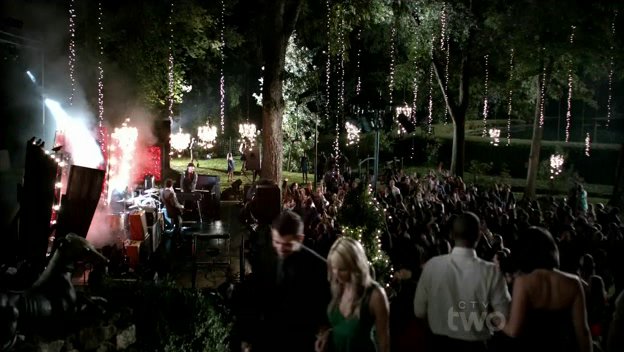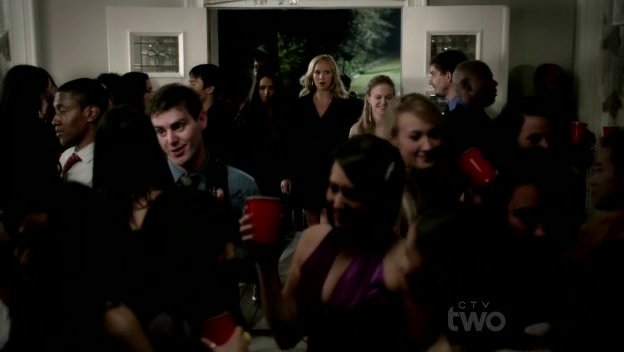 Okay, he didn't. Klaus did. And he is turning homecoming into a wake for Mikael 😂 OMG. Why do I think I somehow is to blame for the gym being underwater too? The sudden leaky roof?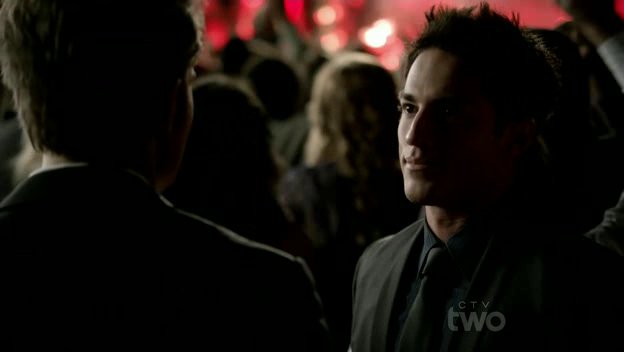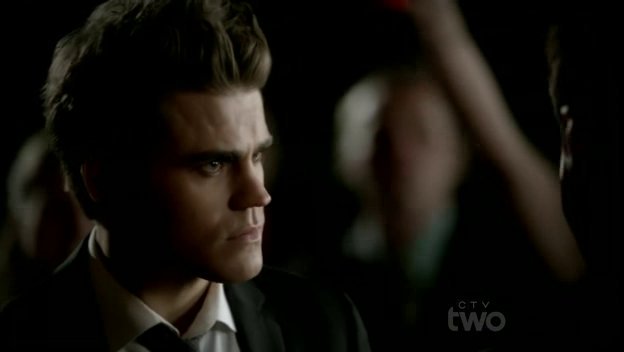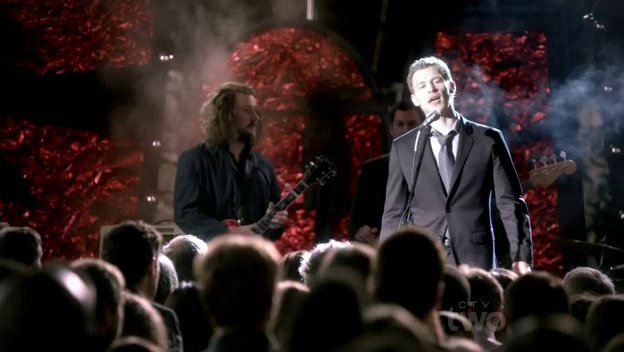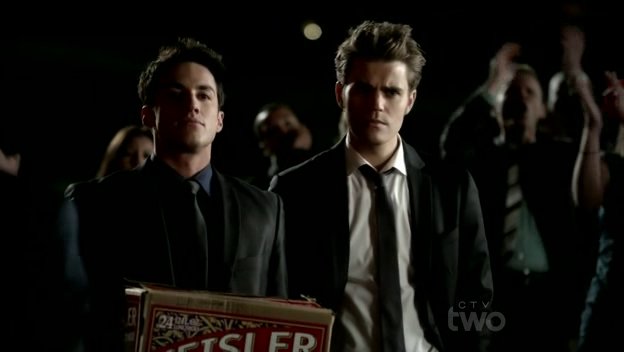 Ugh of course. Poor Elena is stuck with Matt. Why? What good is he going to be for their plan?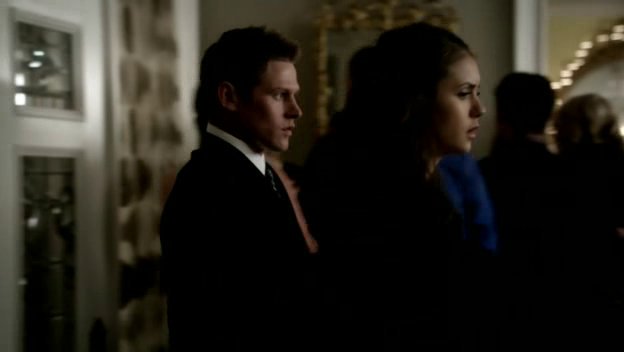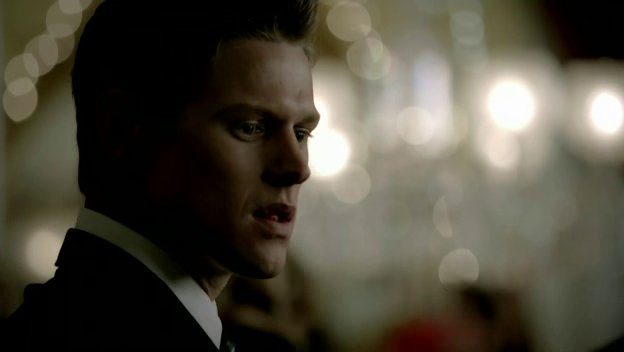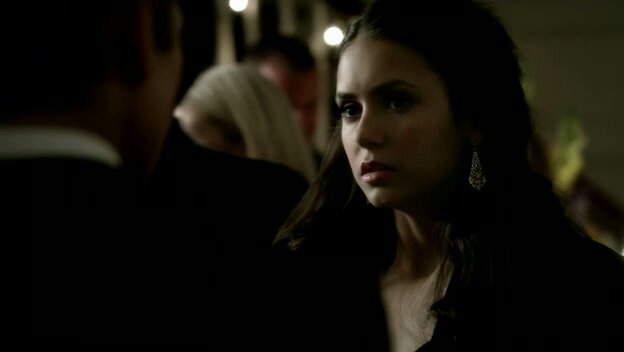 Caroline approaches and apparantly Matt is in on everything now and an isn't. "Act normal."
Okayyy...Elena is the one acting a little strange. To much duplicity to handle in one night?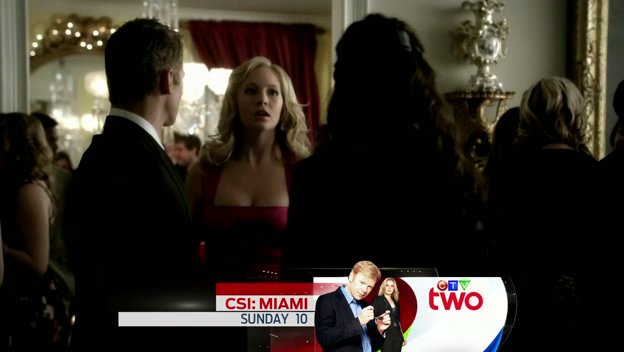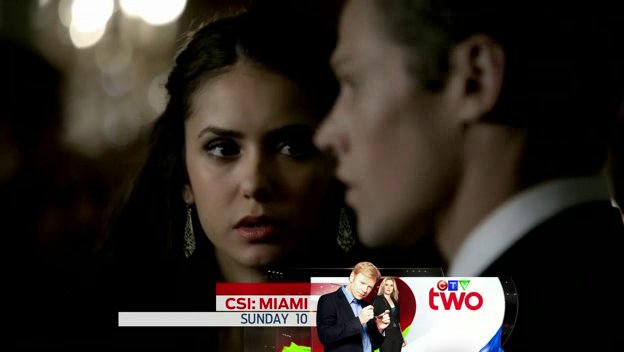 Elena is acting hella strange and flees from Caroline. She must be really scared she is going to fuck up this plan.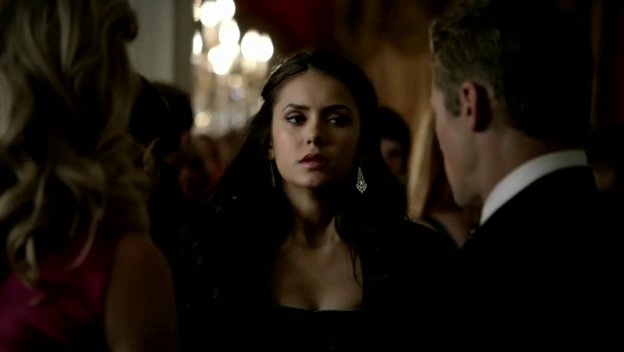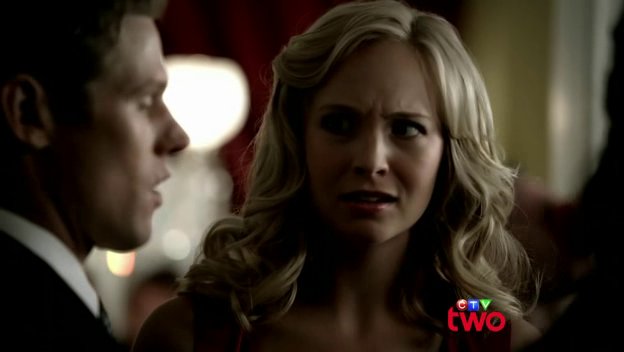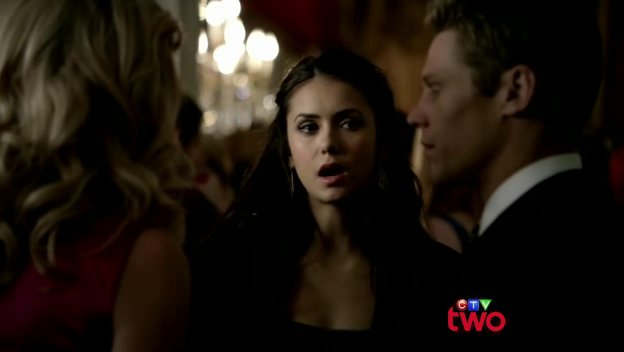 Matt flees too, leaving poor Caroline in the dark. Maybe they should tell her what's going on. Keeping people in the dark don't end well on this show.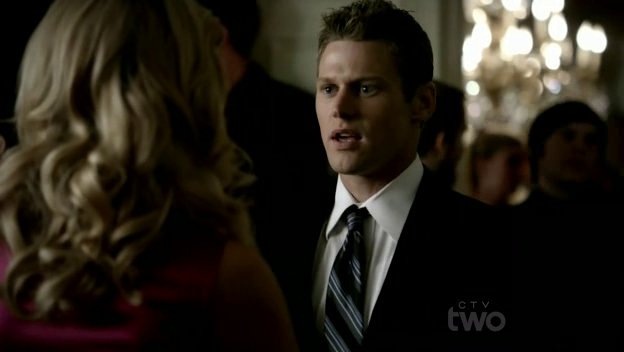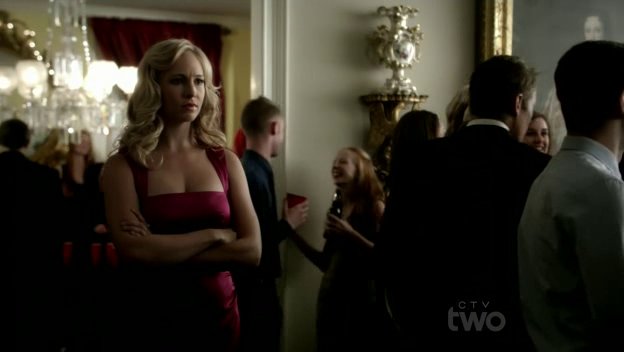 Got to stop here for tonight
Elena spots Klaus and Stefan talking and I think she is worried. "I have been planning my father's funeral for a thousand years. Granted, in no version of it, we're any of these people invited, but you get the idea."
Lmaoo okay.
Klaus wants to reunite his family now.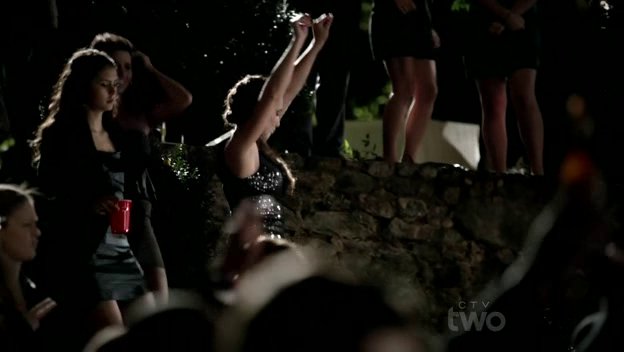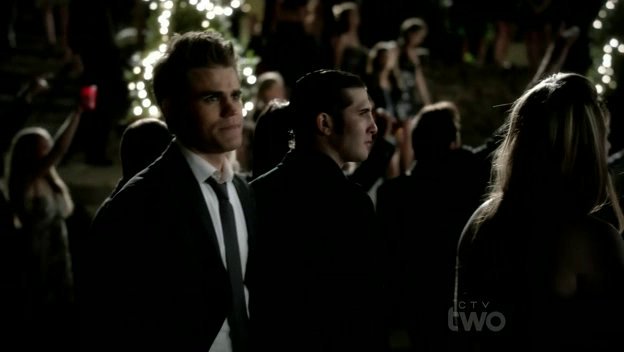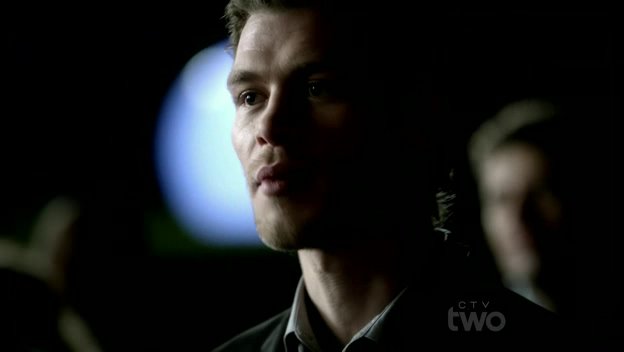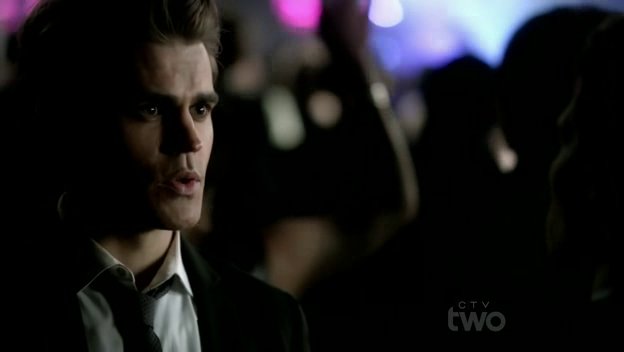 "Now what?"
"Now, I reunite my family."
"You mean the people you set arlund in caskets."
"None of that matters anymore. Mikael is gone. Bygones will be bygones."
...I don't think thats how it works, but please dont tell him that. For his family's sake...
Oh shit. Klaus wants to know where Rebekah is. Stefan doesn't know and he finds this suspicious AF. Crap. Don't tell me this thing is going to be the one thing that blows this while plan up. Rebekah's absense. ..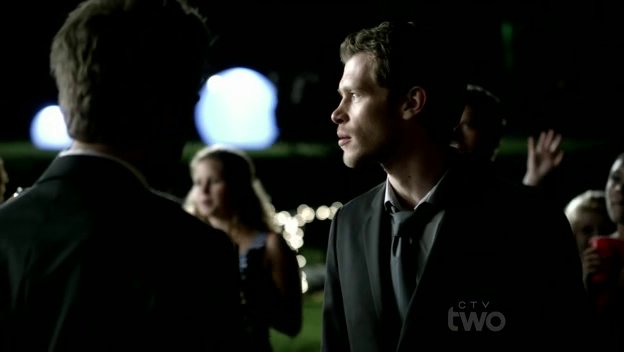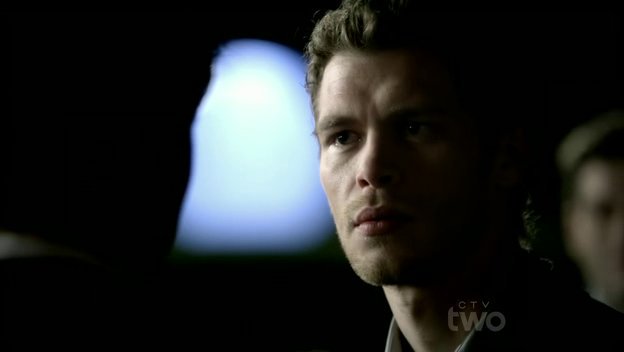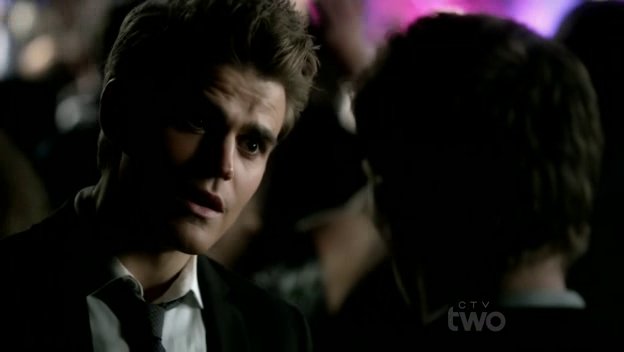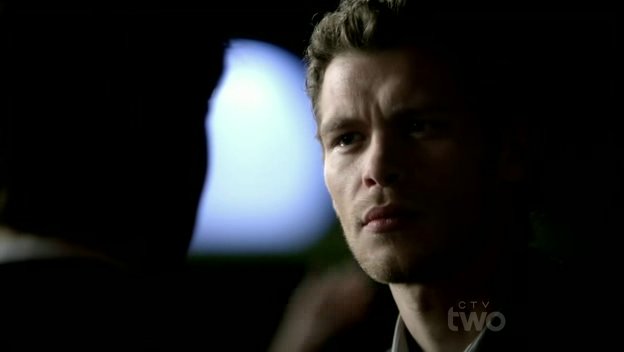 Mikael shows Damon the only weapon on the earth that can kill an original. It looks like a fancy wooden stake but I will take his word for it. He is quite posessive over it too.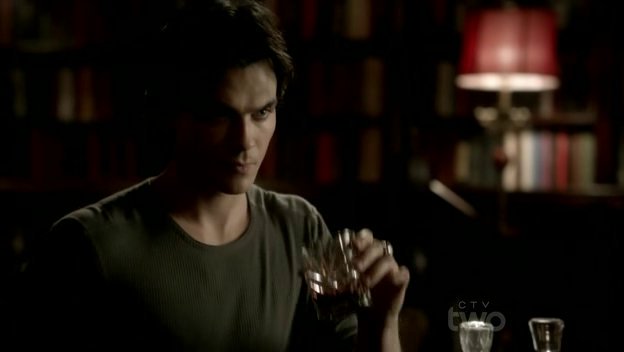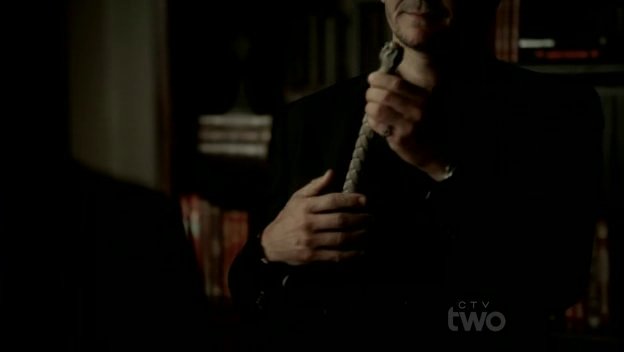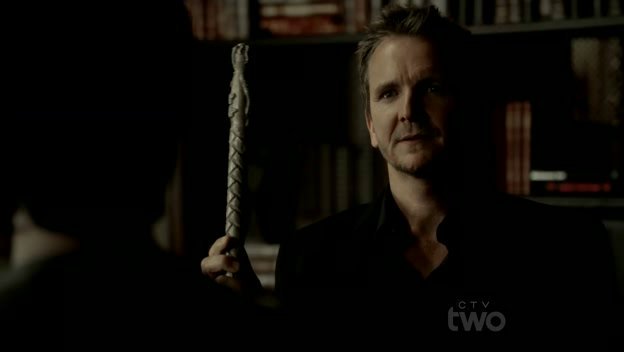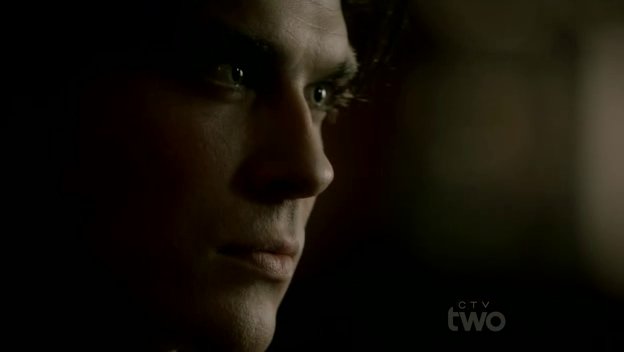 WTFFF Mikael takes a Stefan on the rocks and Damon is shook. This must be what cannibalism is like for them lol.
"You couldn't just snap his neck?"
So this is the plan B Damon told Elena about. Phase 1: take out Stefan.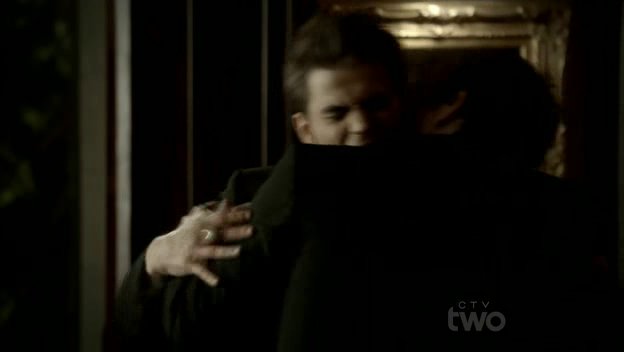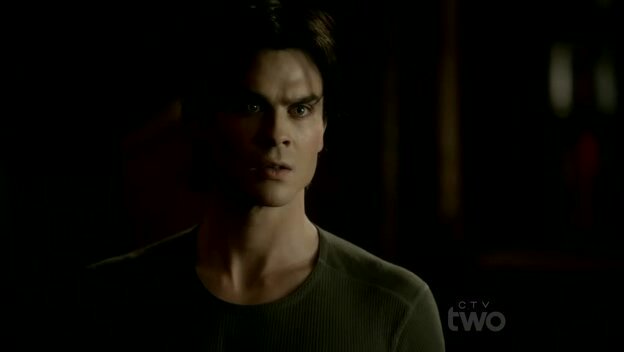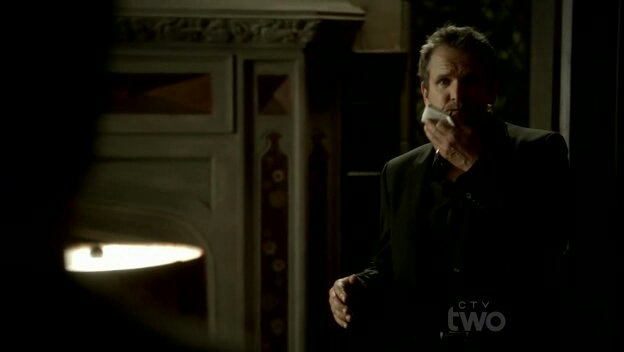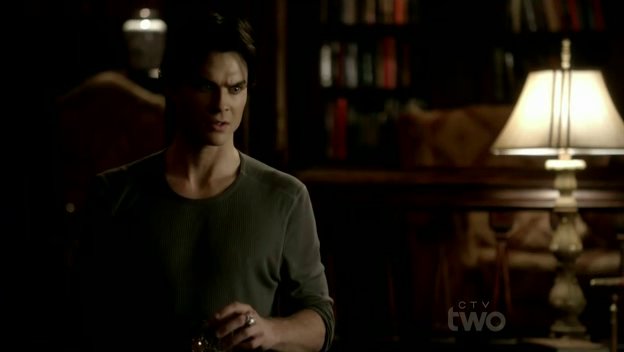 Well aren't these two cosy. 😐 This whole sirebond thing is messy af.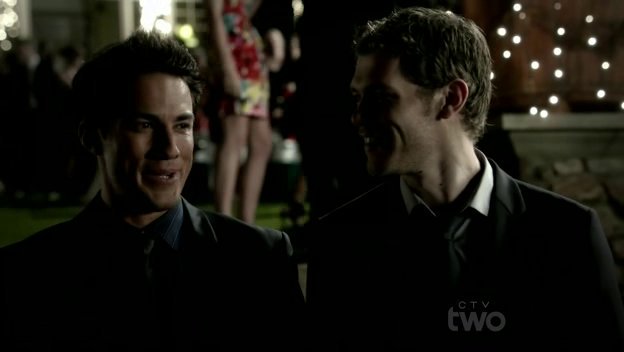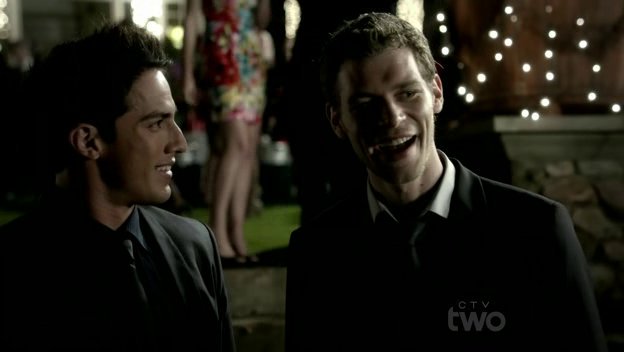 But Klaus can't end any conversation without a threat and the fact that Rebekah isn't there, has set off alarm bells in his head. He points to Bonnie, Elena and Caroline, then tells Tyler that all the randoms there, aren't actually random. They are his hybrids. So if anyone (..)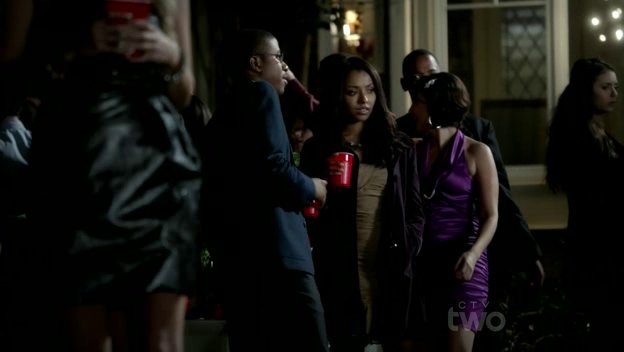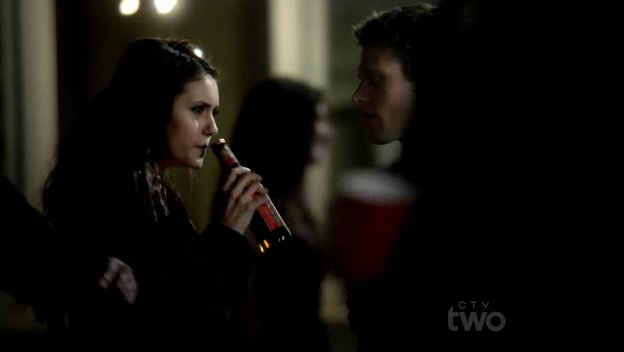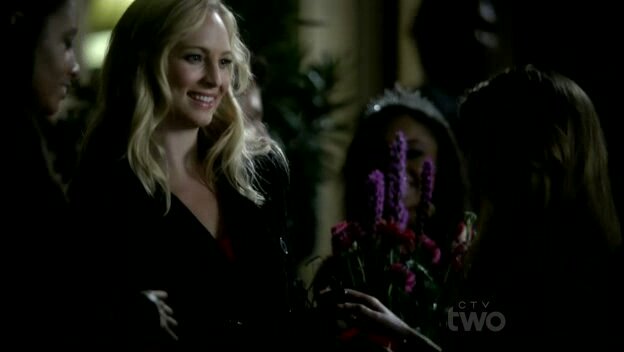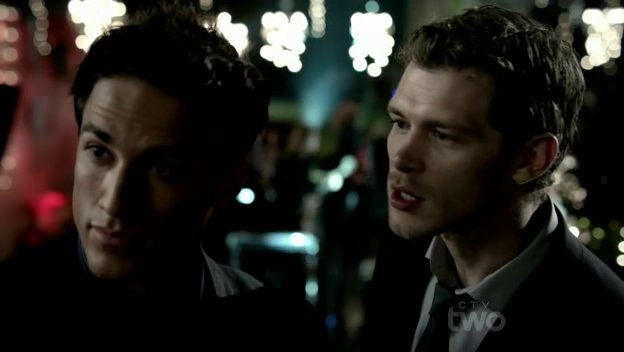 makes a move against him, they are all fucked. "Feel free to warn your friends."
Yeah...not all shits and giggles anymore, is it?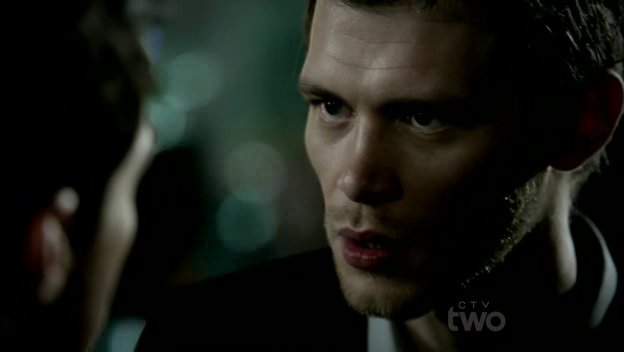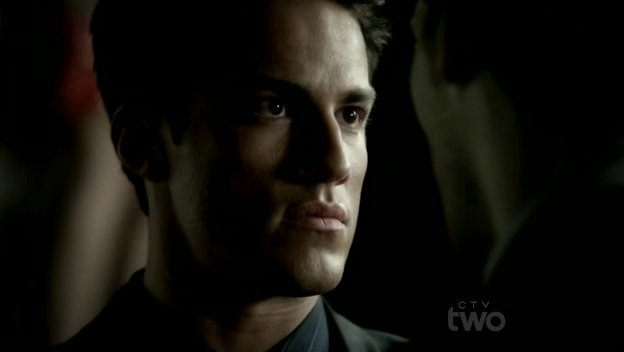 Tyler confronts Caroline but she doesn't know anything and points out the very truth. Even if she did know something, telling him, would be like telling Klaus. He can't be trusted, since he is team Hybrid. This is going to seriously hurt their relationship if it doesn't get fixed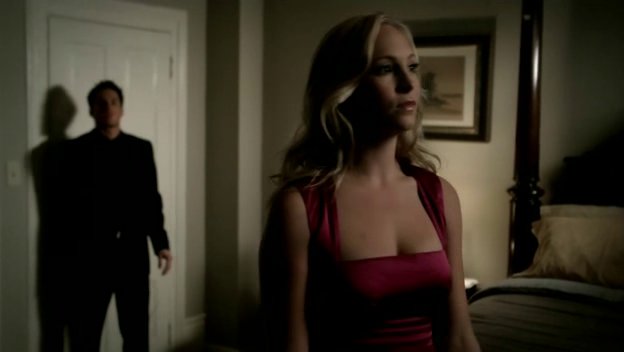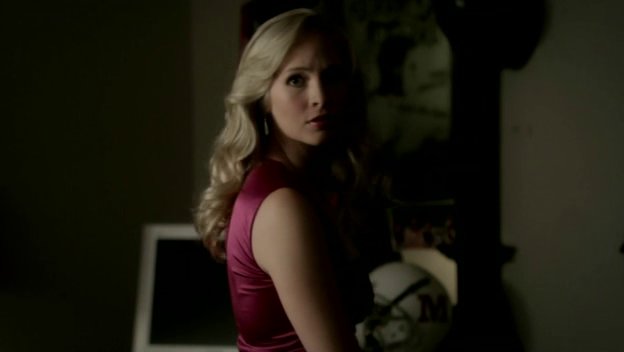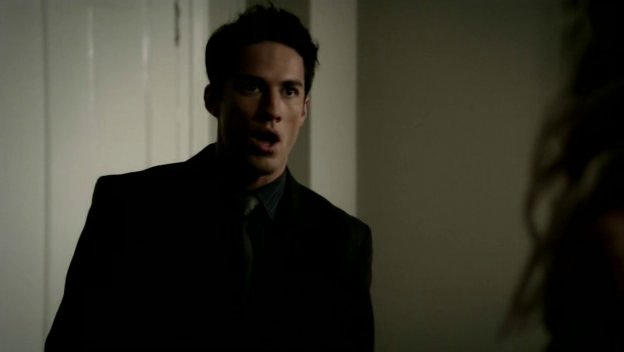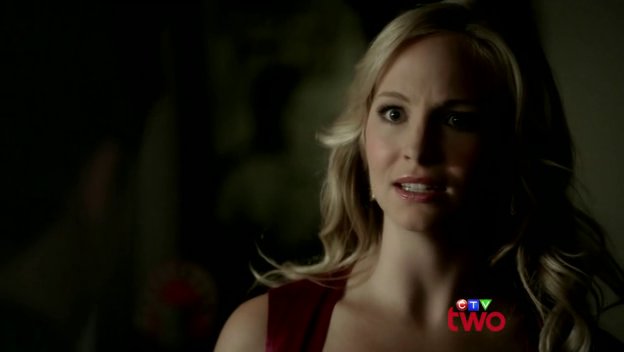 OMG TYLER. YOU BETTER HAVE VERVAINED HER WITH THE INTENTION TO KEEP HER SAFE, INSTEAD OF TRYING TO STOP HER FROM GOING AFTER KLAUS. 💀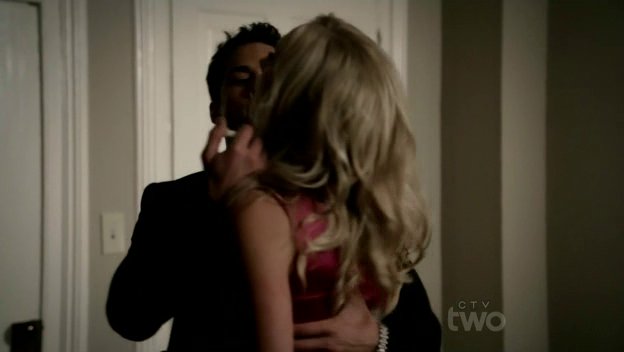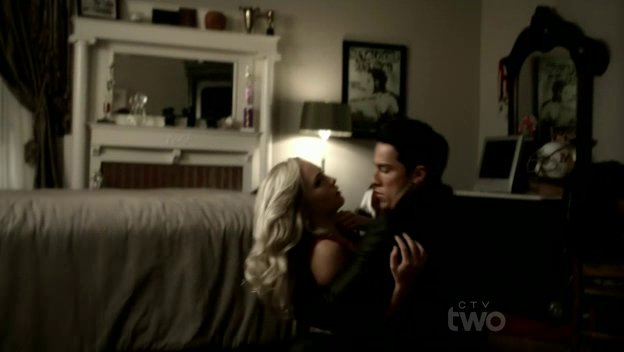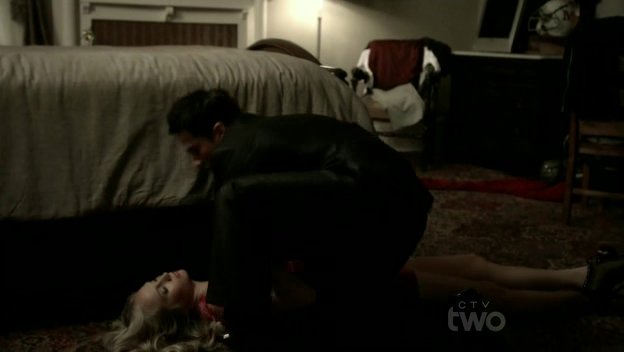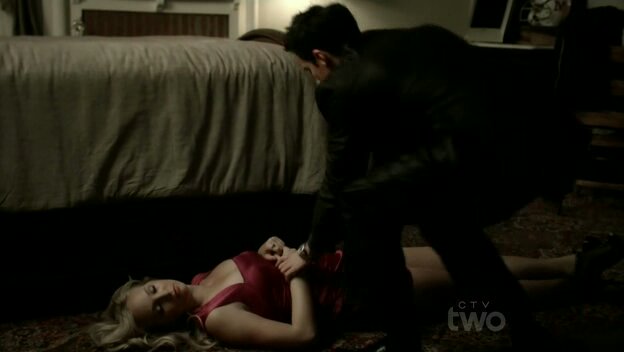 Caroline is going to be so pissed though.
Can you just leave Elena alone? Thanks. 💀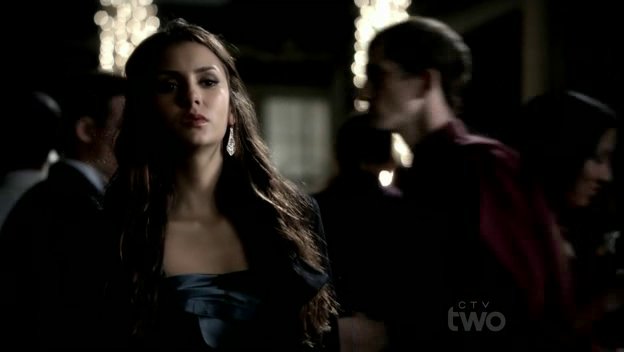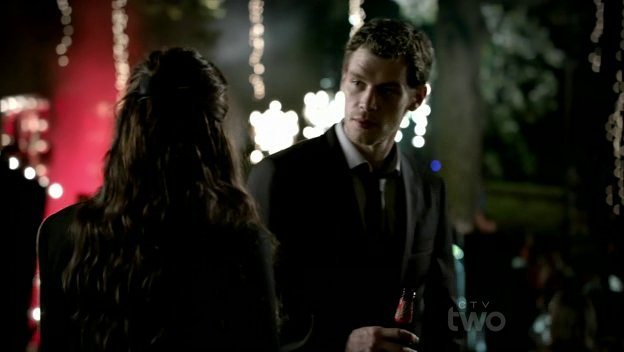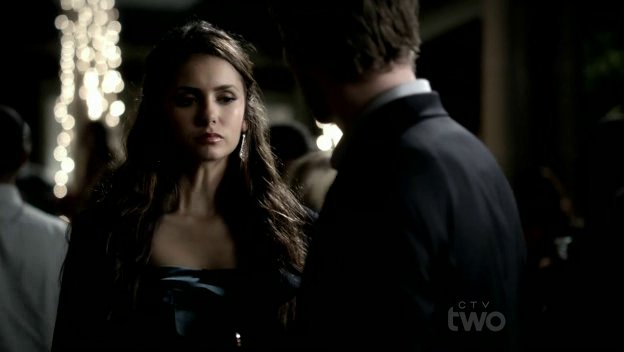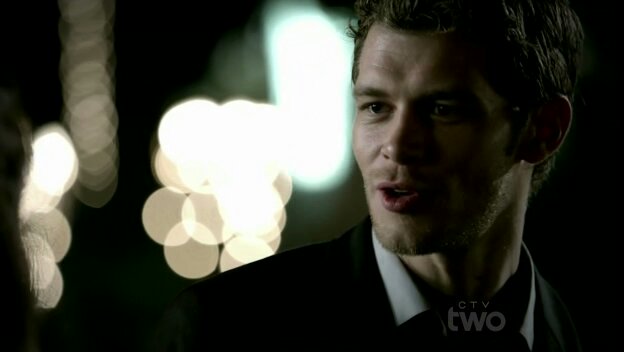 "You seem nervous."
"I am not nervous. I just don't like you." LMFAOOO snap girl.
Klaus warns her too. People have been after him for a thousand years. He is always 1 step ahead, but invites them give it their best shot.
CRAP crap crap. Anxiety is kicking in. 😨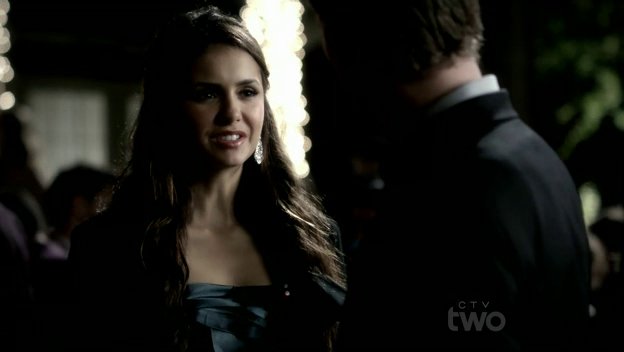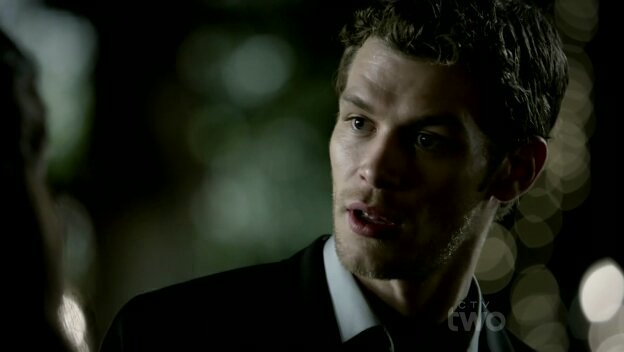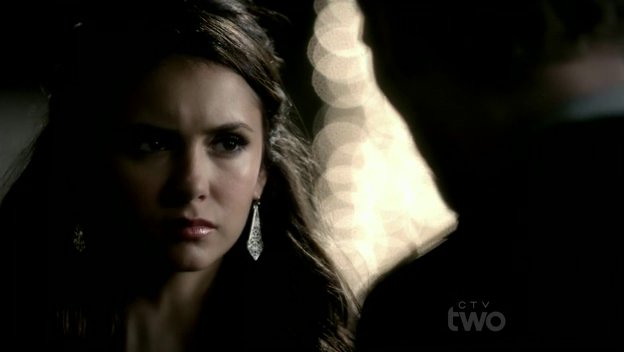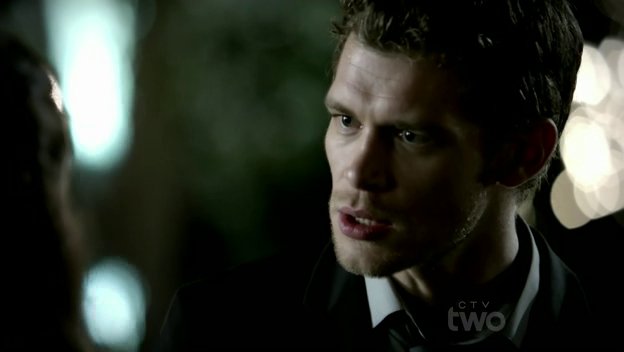 Okay so Tyler is fighting this sire thing the best he can. Atleast he has control over his emotions and he loves Caroline and wants Matt to take her home, to safety.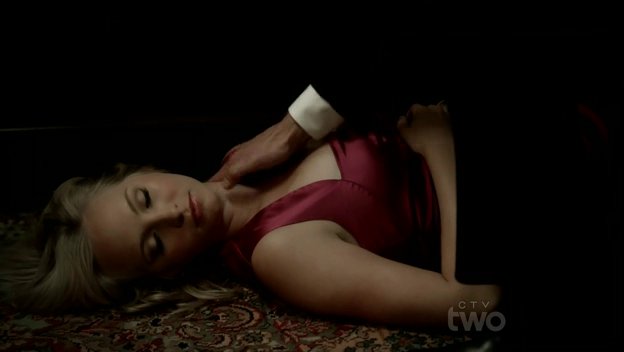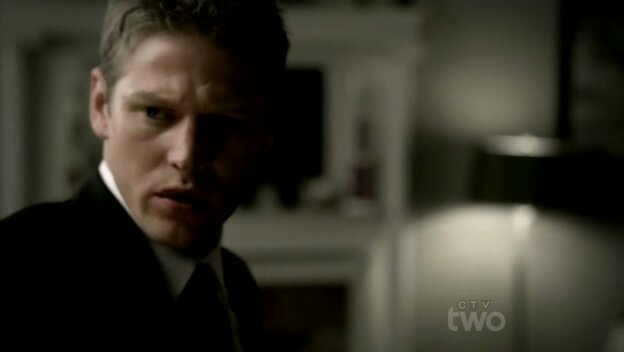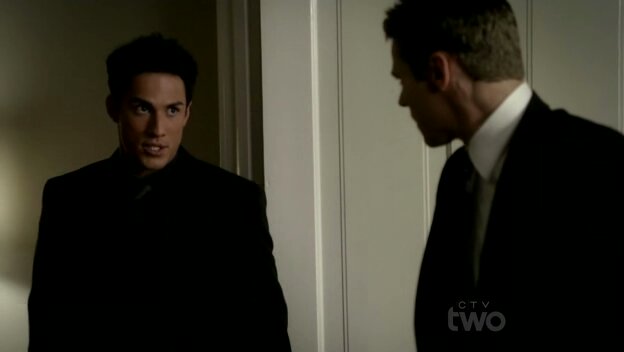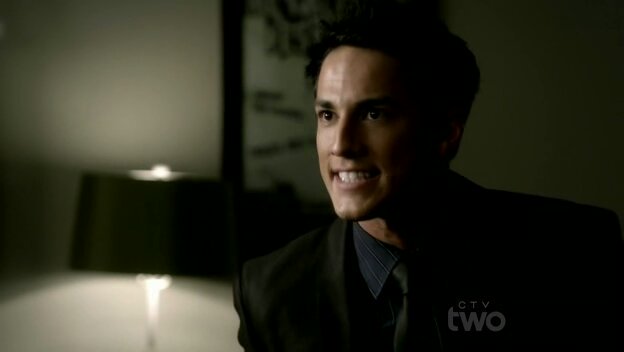 Phase 2 of plan B is to take out Tyler BUT TYLER'S FUCKING TEETH NEEDS TO BE PULLED. I HATE WHEN HE TRIES TO BITE SOMEONE 💀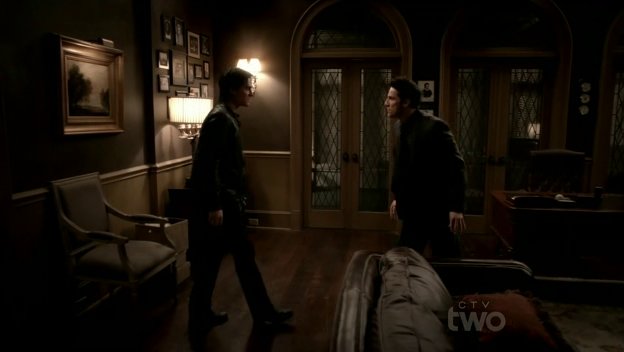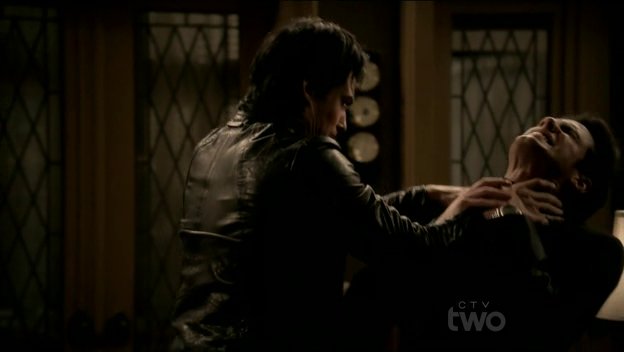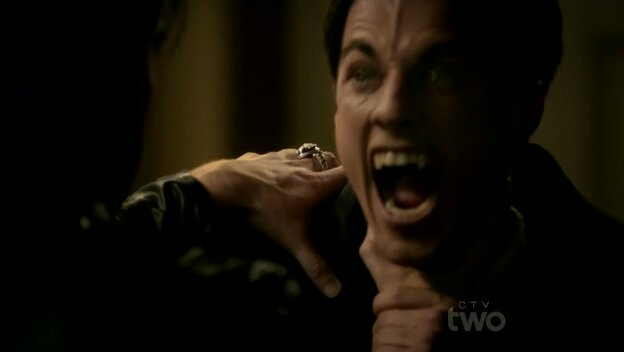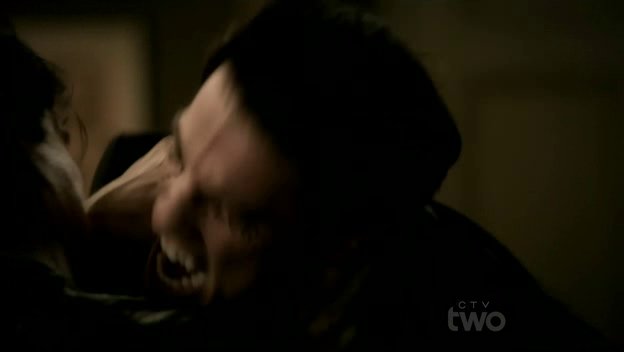 Thanks Bonnie! She drops Tyler. Damon has the stake. I was liking plan B so far, up until now. Is Damon going to do the staking? Why does he always get the most dangerous parts in ANY fucking plan??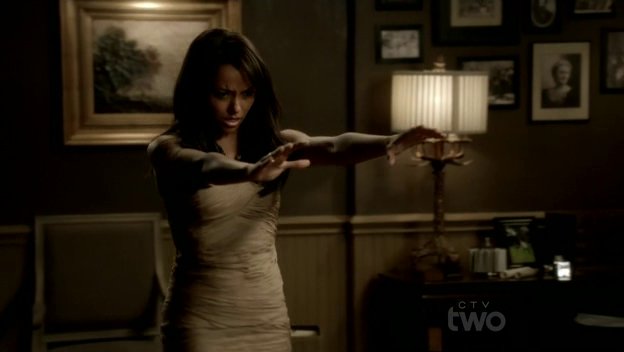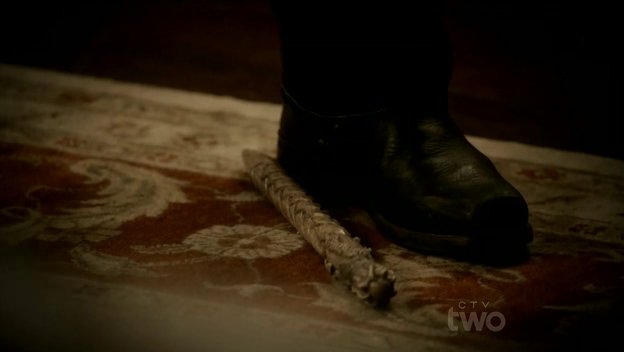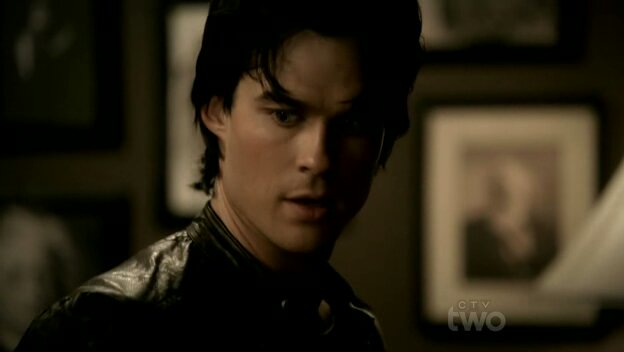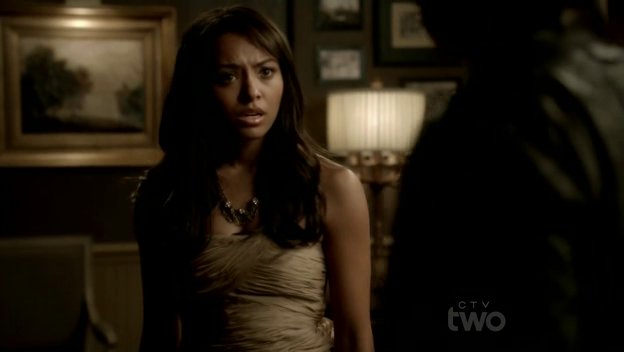 SHIT IS ABOUT TO GET VERRYYY REAL 👀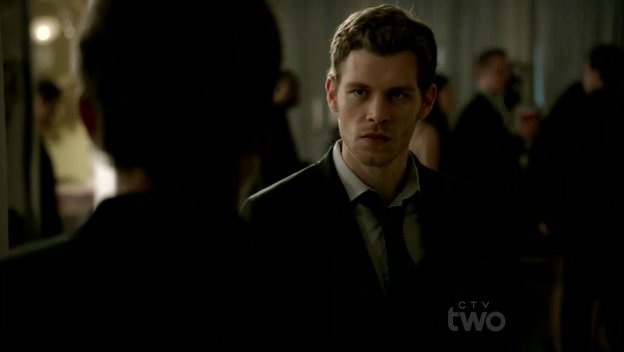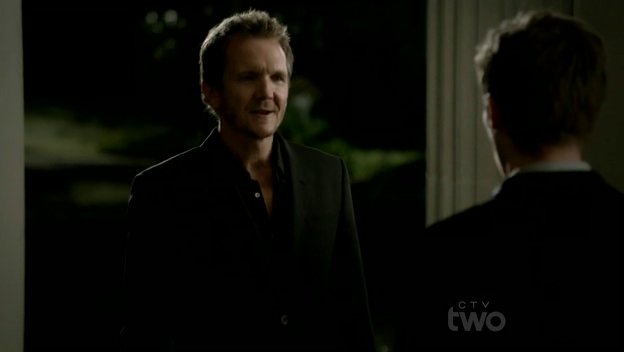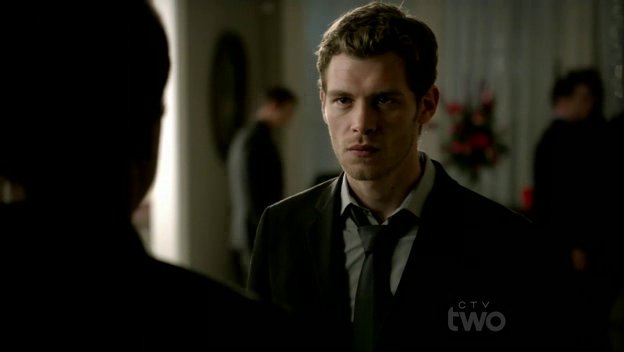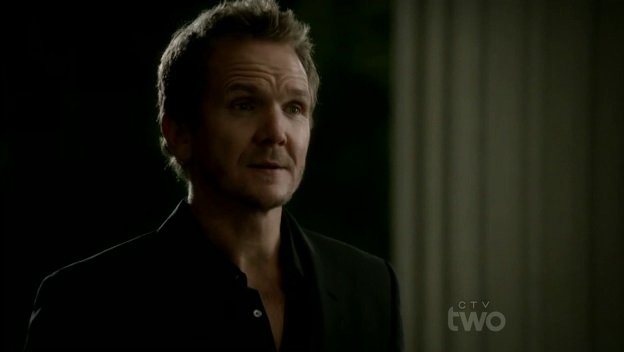 Klaus is trying to show off with his hybrids, but Mikael isn't phased.
"They can't kill me."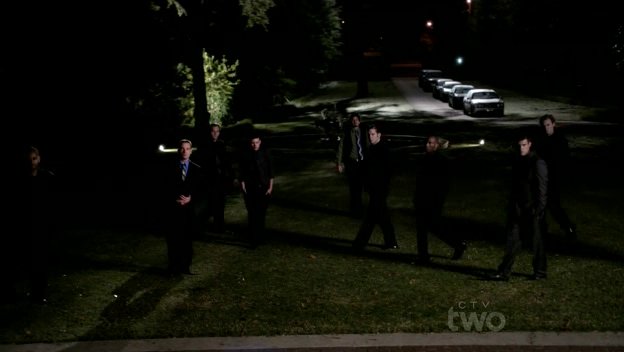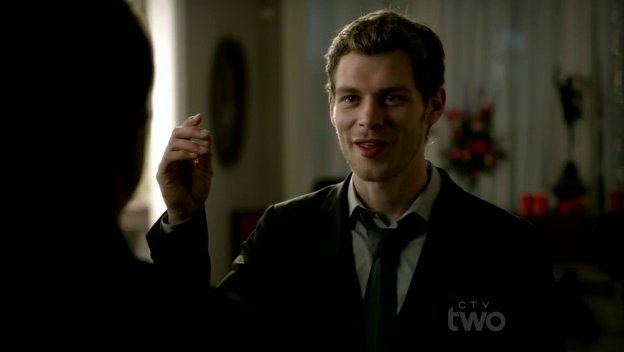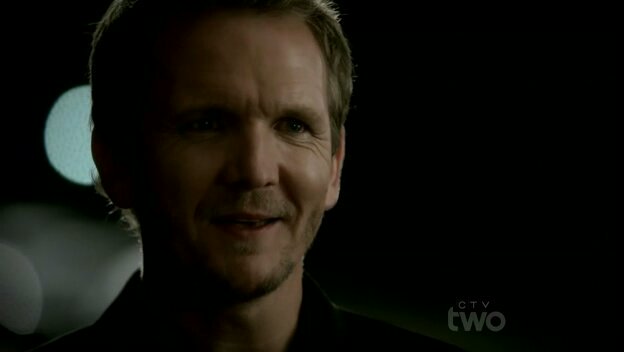 "Big, bad wolf. You haven't changed. Still hiding behind your playthings. Like a coward."
That's so damn demeaning. I am conflicted. I want Klaus out of their lives, but like this?... Mikael is a different kind of monster and I don't want to see him win. I hate abusive f*cktards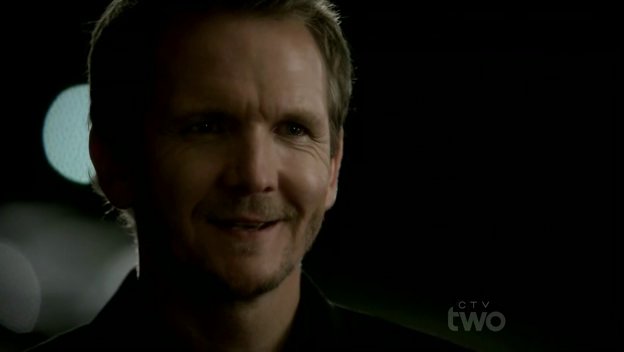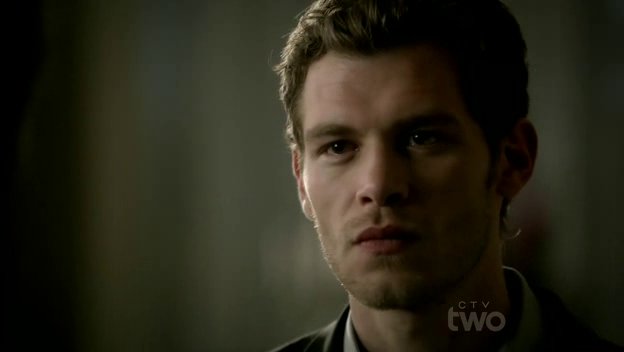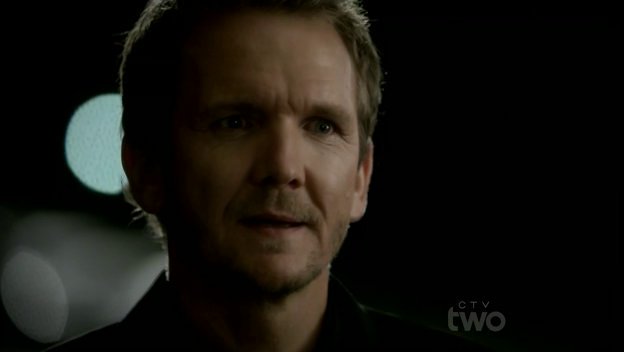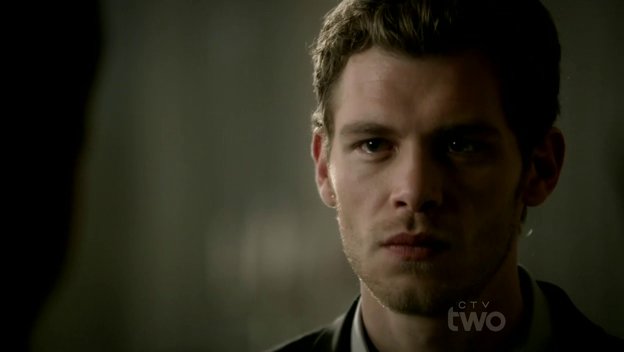 POP SHIIIT Mikael compelled the hybrids since they are part vampire.
....Okay...grabbing Elena is part of the plan. I don't like that.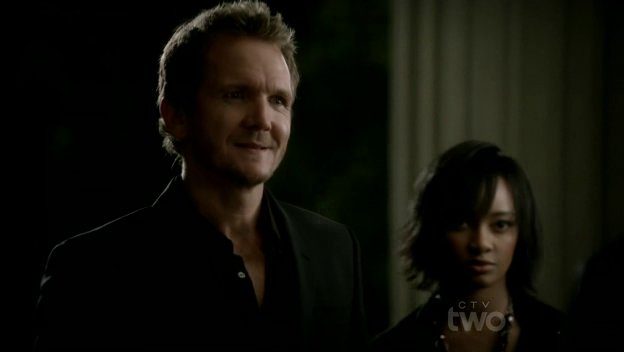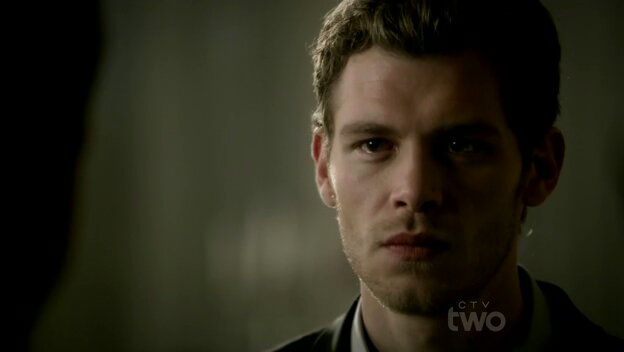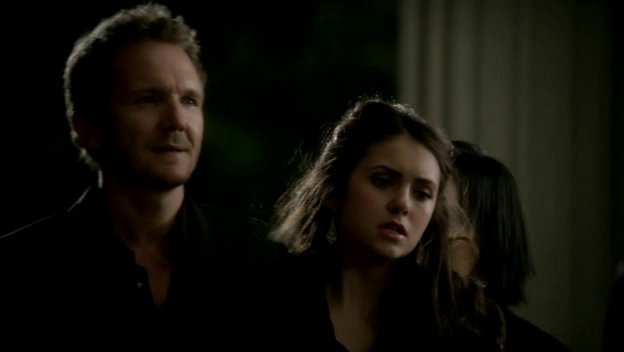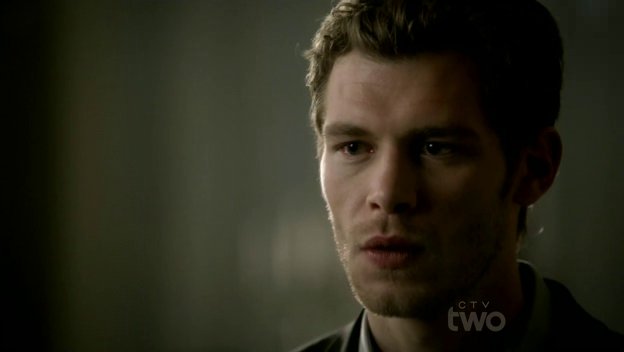 Mikael threatens to kill Elena if Klaus doesn't step out and face him, but Klaus is calling his bluff. Mikael is a big bully though and throwing insults around like daggers. I don't like Klaus, but OMG. I am a soft sucker but this is just cruel. 👀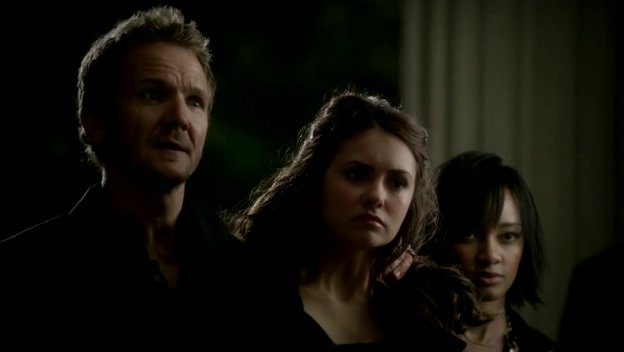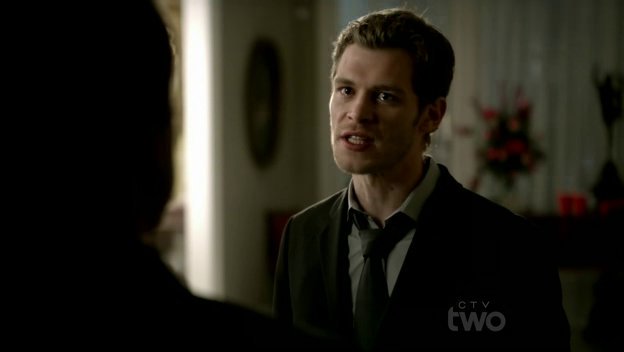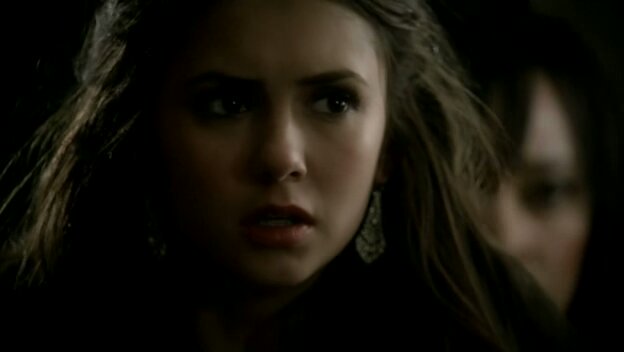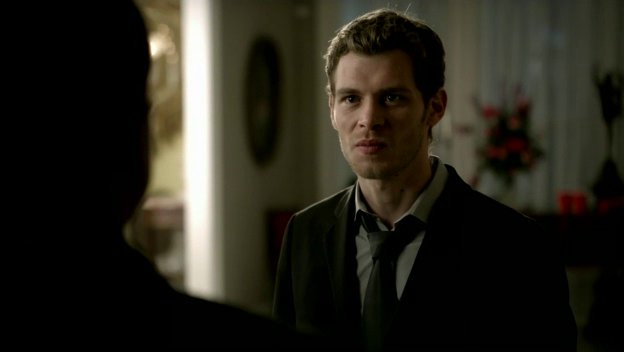 "Nobody cares about you anymore, BOY." He used that in the flashback too. UGH the way in which he says this. How can I root to this man? But I want Elena and Stefan free from Klaus. 😣
"What do you have other than those who are loyal to you falsely? No one. NO ONE."
"Come outside and face me you little coward." Klaus is crying OMG. Real tears. I.. I am stunned and I feel sympathy but...Ugh WTF watching this shouldn't be this hard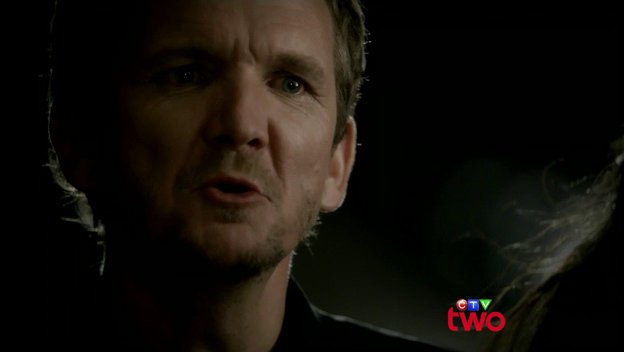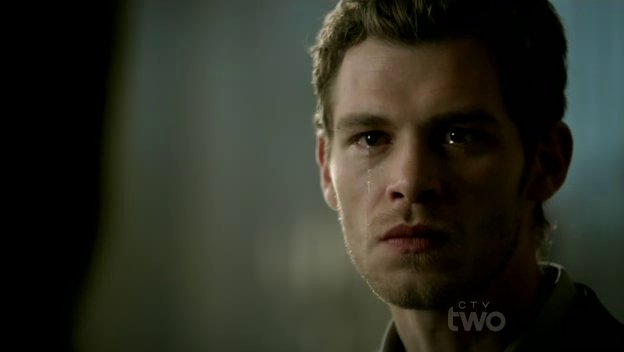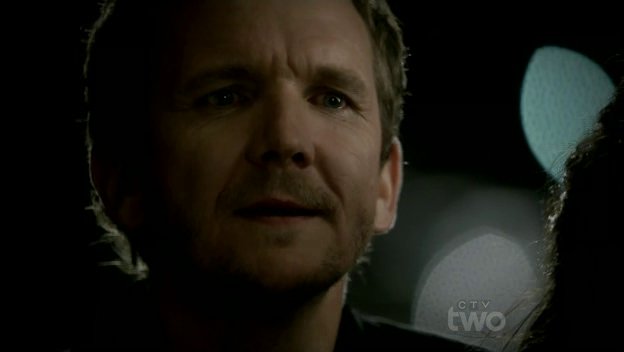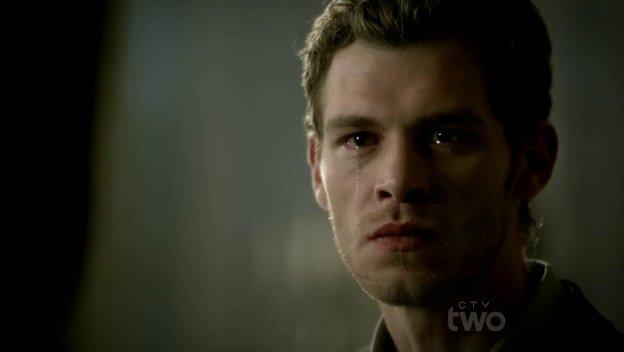 What is a broken man? This is a broken man. He is so fucked up. Mikael fucked him up so good, for so long, I don't think he can ever be fixed. These type of scars don't just go away.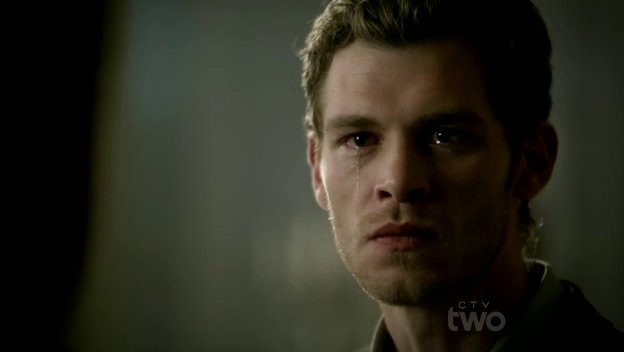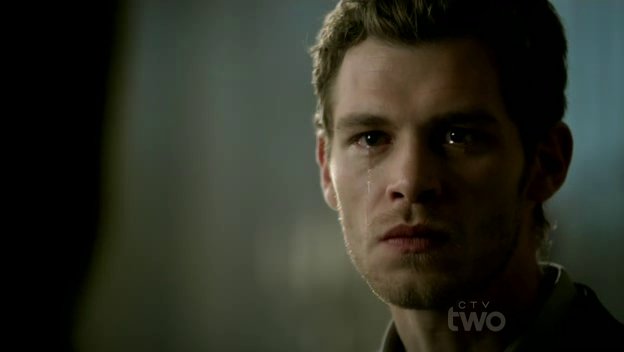 Still doesn't excuse his cruelty towards Jenna and Elena but I get it now. I understand where it comes from. Cruelty is all he knows. He grew up with it. Doesn't excuse it, but I get it.
FUCKK MIKAEL YOU BASTARD HE FUCKING STABBED ELENA. THAT WASN'T TH PLAN OMG KLAUS KILL HIM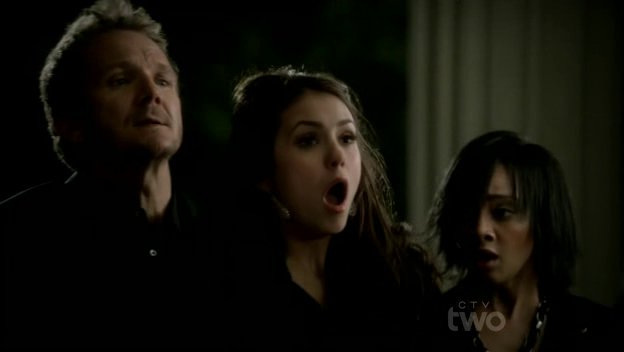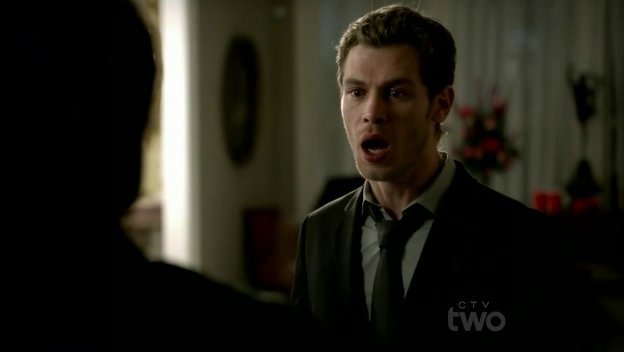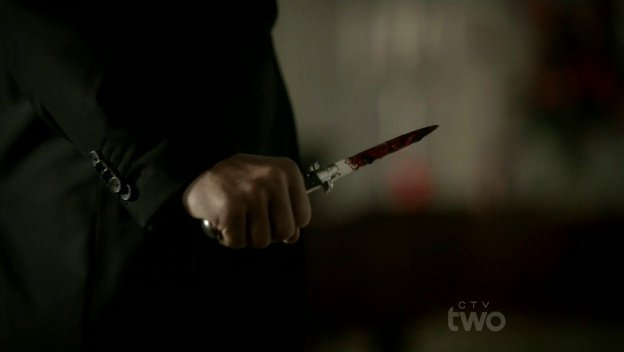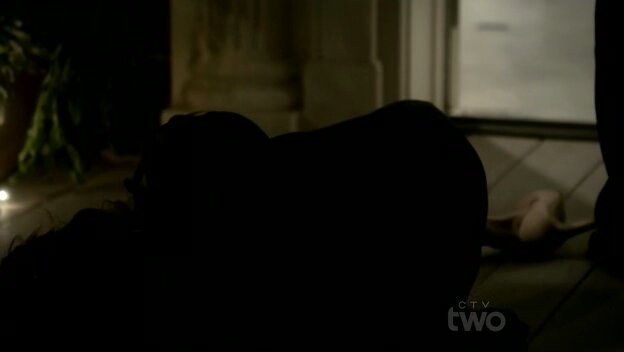 DAMON OMGGGGG I CAN'T WATCH. FORGET KLAUS. GO HEAL ELENA. FUCKKK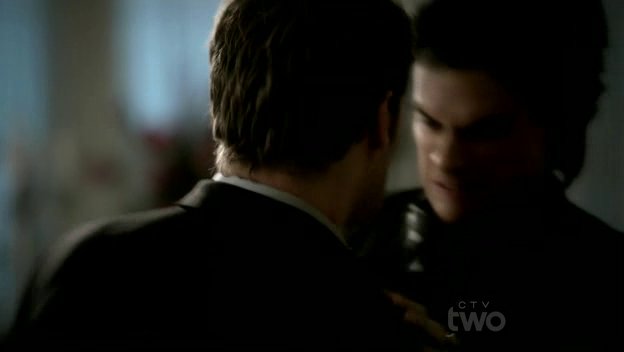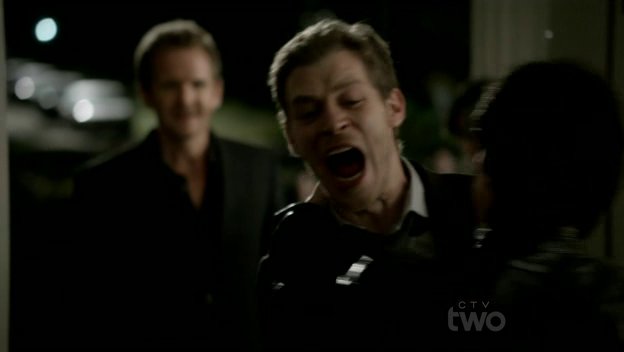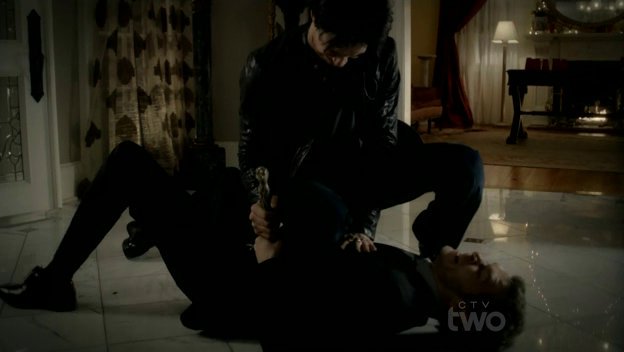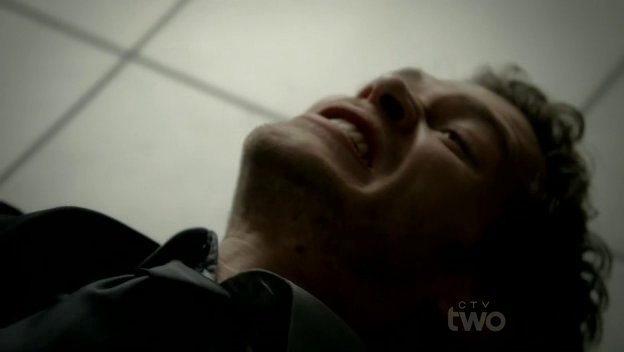 KATHERINE?? OMFGGG IT'S KATHERINE FUCKING PEARCE. HE IS ALIVE.
"Baboom."
OMG BADASS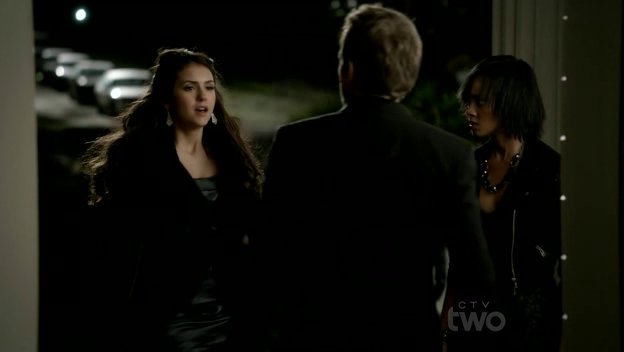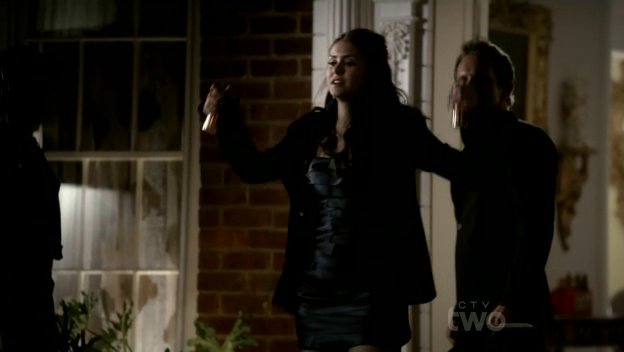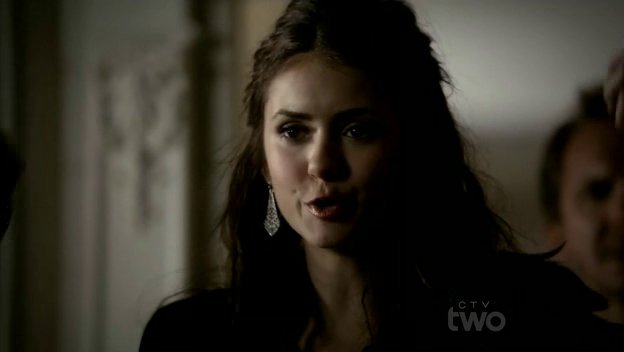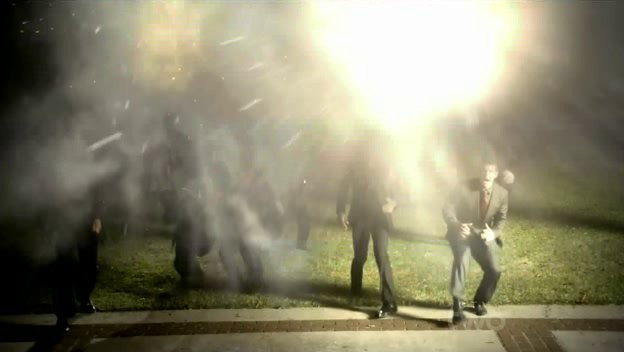 STEFAN?? WHAT THE HELL??? WTFFF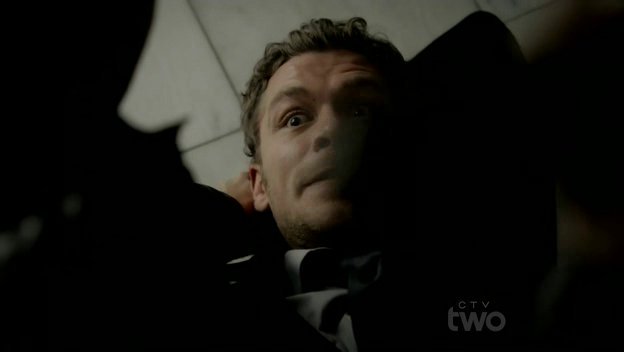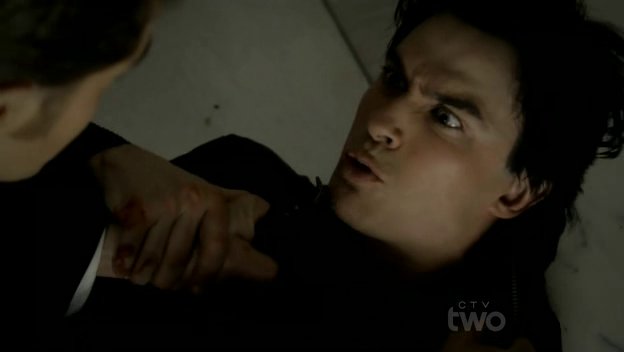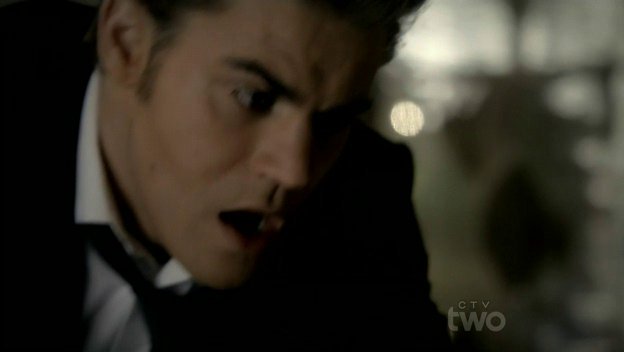 OHHHH SHITTTTTT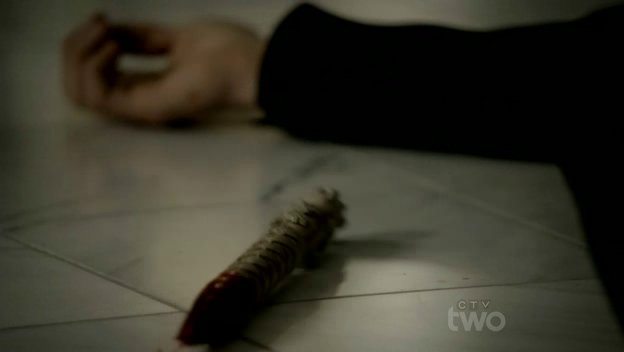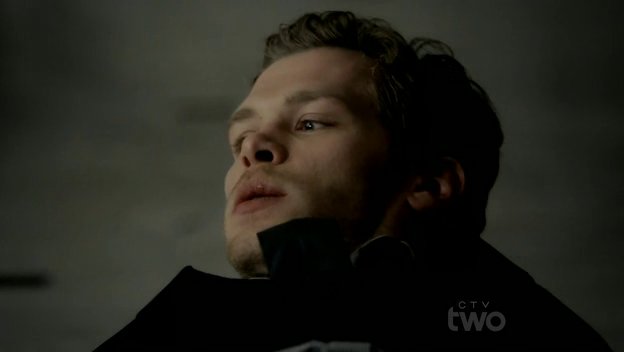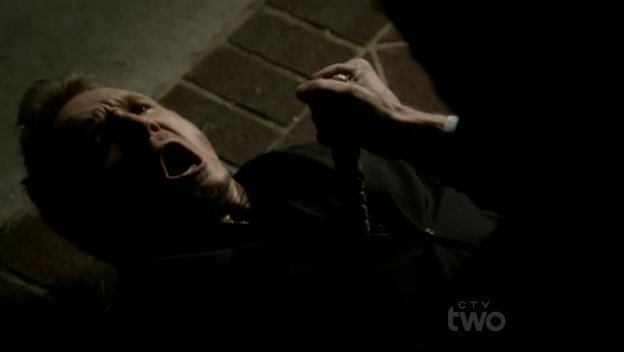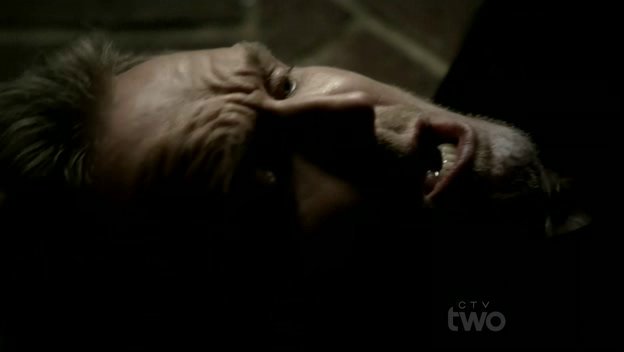 FUCKK KLAUS KILLED MIKAEL OMFG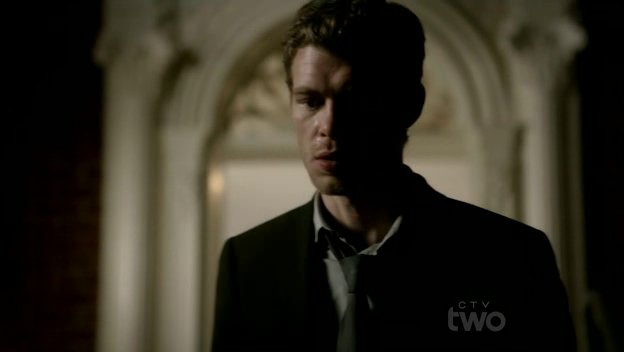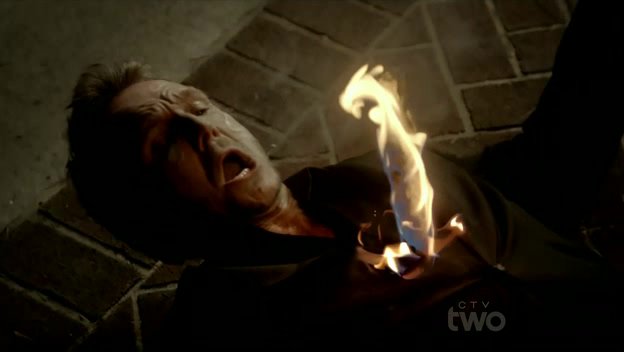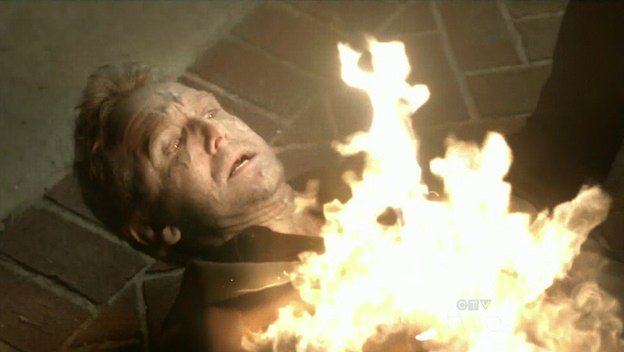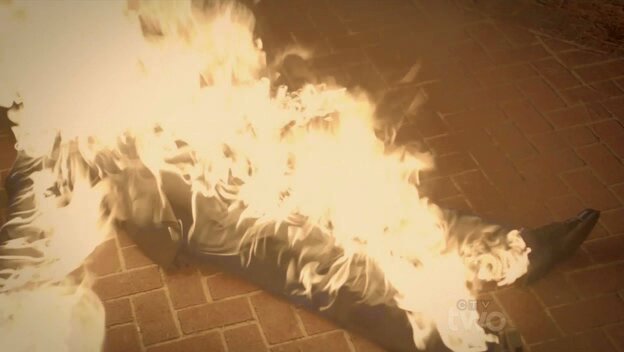 I am glad Mikael is dead but now they have no weapon against Klaus and Klaus is probably going to kill them all now and Elena will never be free. How did this all go so wrong??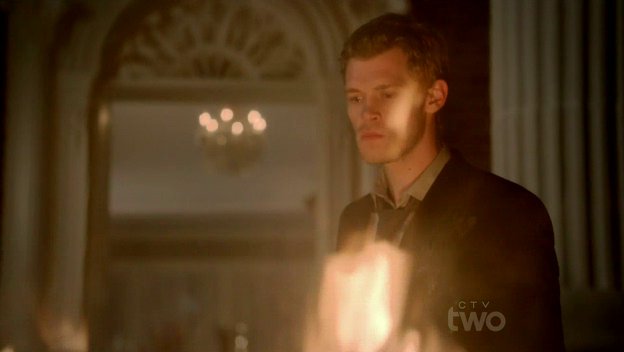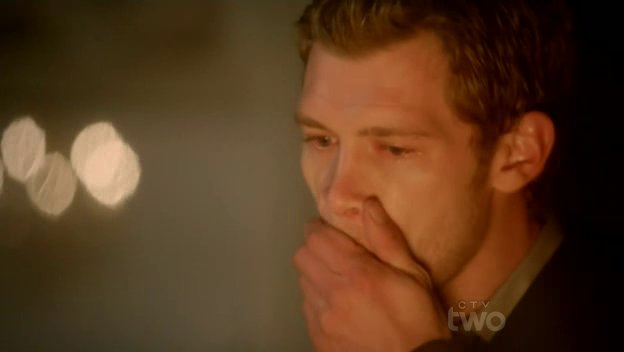 "What the hell did you do?"
Thats what I would like to know too. Stefan wanted him dead and he isn't sired. So what the fuck was this?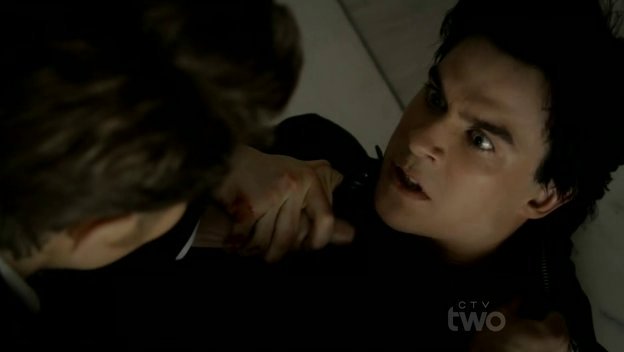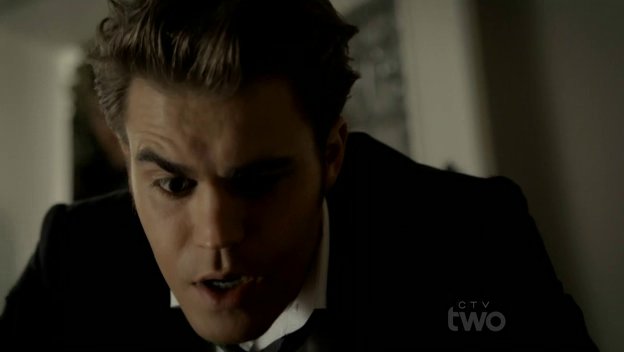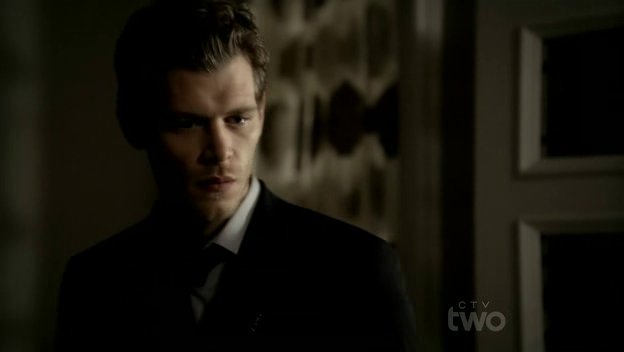 OMG Klaus freed Stefan from the compulsion. "Thankyou, my friend. You no longer have to do as I say."
Okay thats great. But what about Elena? You going to continue using her as a human bloodbag??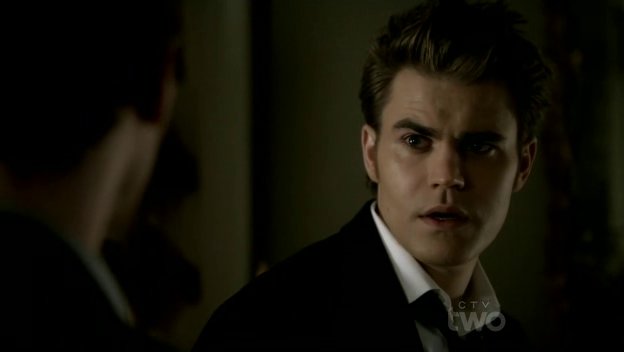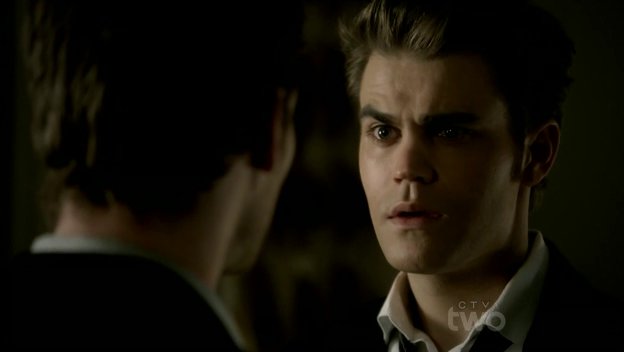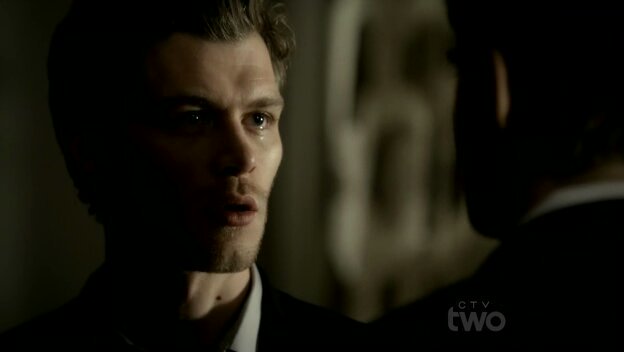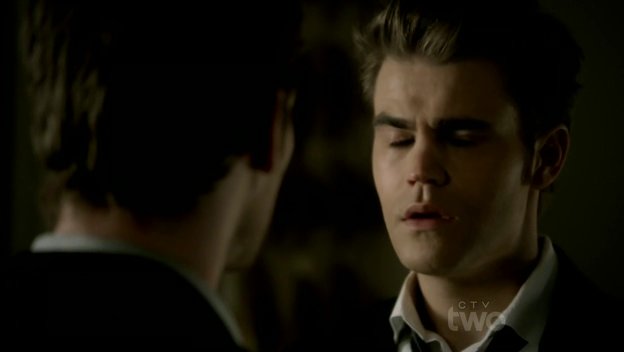 Caroline is pissed. I would be too.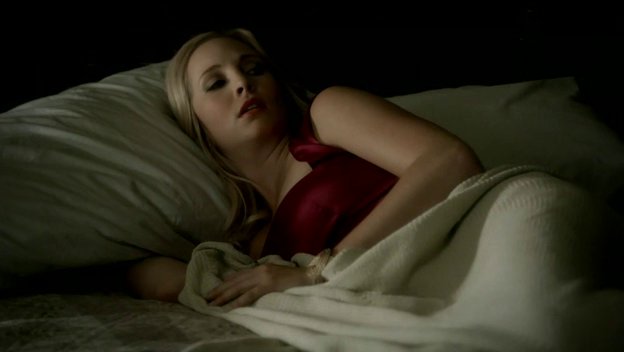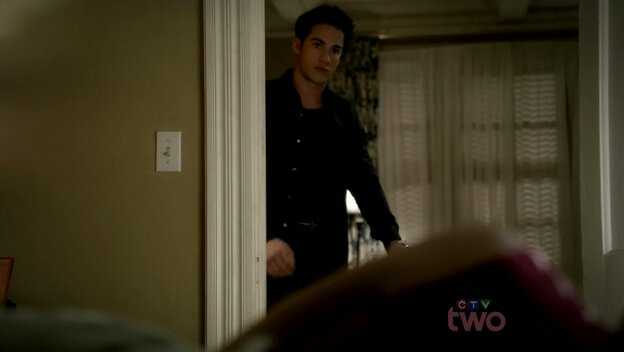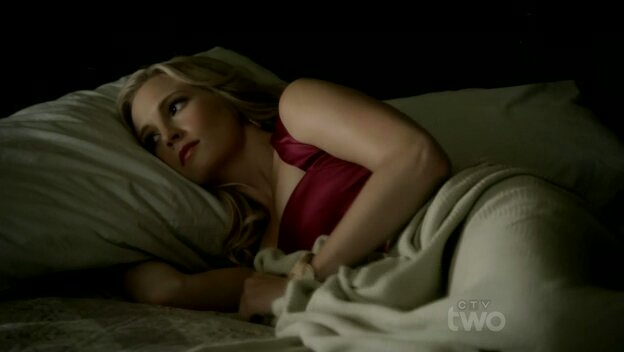 And here I the relationship trouble I predicted."How am I suppose to be with you when you are sired to him?"That's a good queation. What if Klaus wants Tyler to kill Caroline. Will he do it?Not that Klaus would want Caroline dead, but that's not the point. Tyler is OKAY with this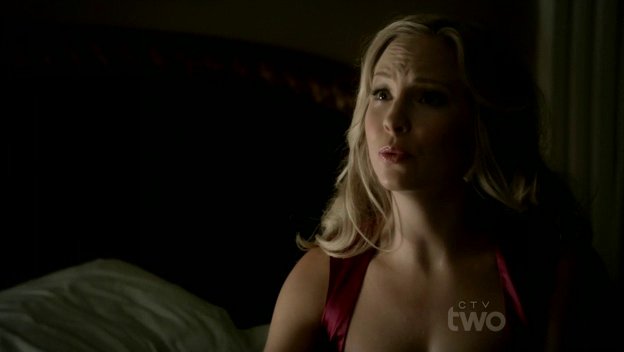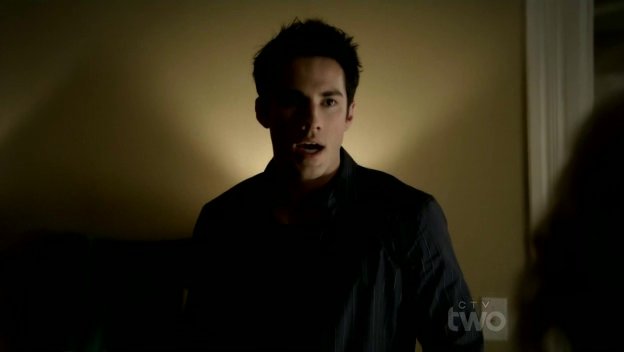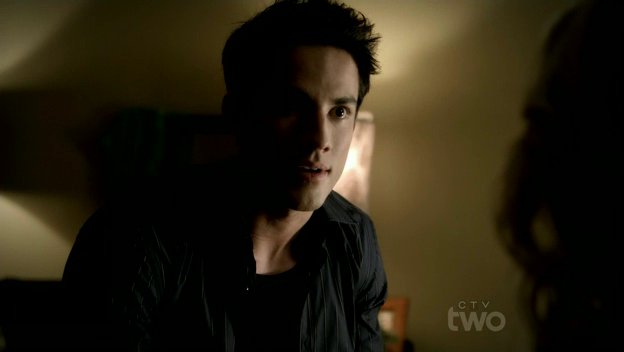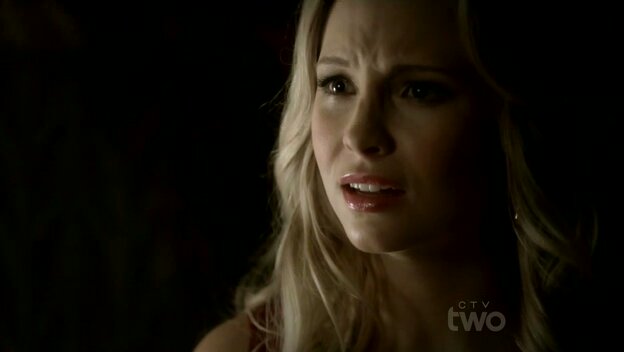 He is okay being Klaus' little bitch just because he doesn't have to turn unless he wants too. But be is an occupational hazard yo his lived ones now. Why does this come off as selfish to me?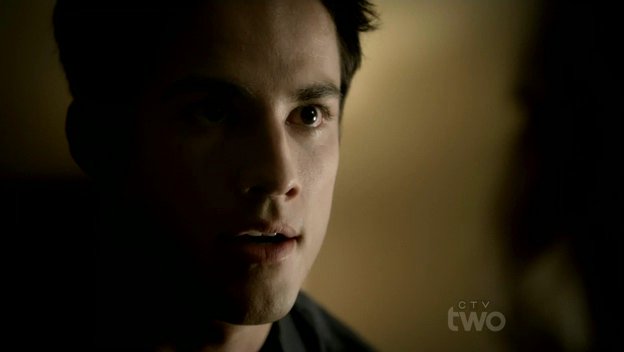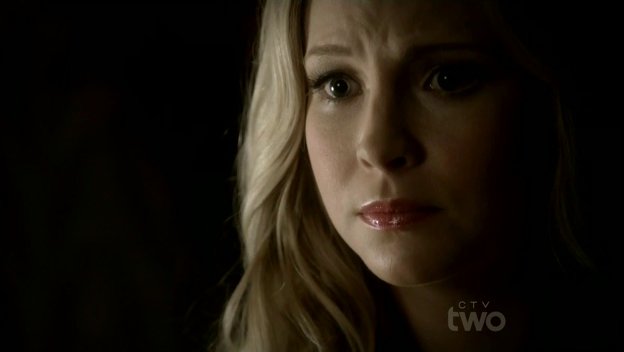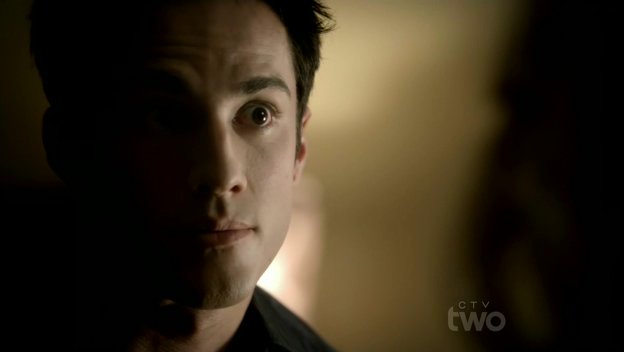 Tyler asks Caroline to not turn her back on him, but this is just to much for her to digest. If he wasn't so okay with this, I would feel so bad for him. But the fact that he is fun with it...nah. Just go be with Klaus then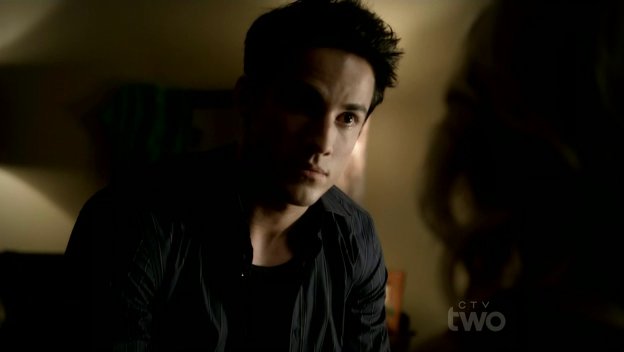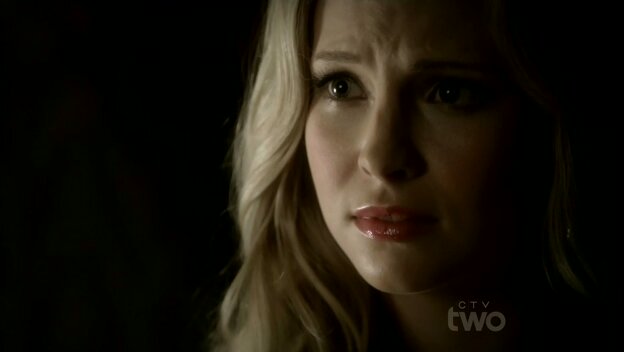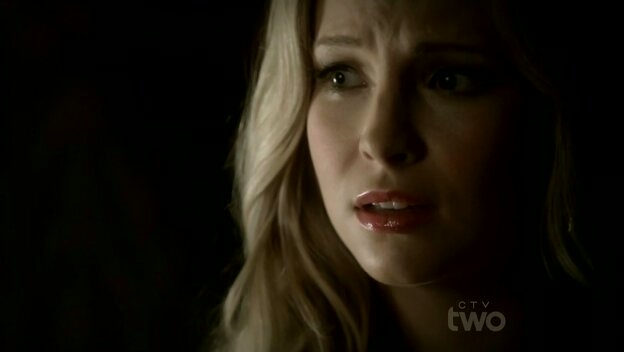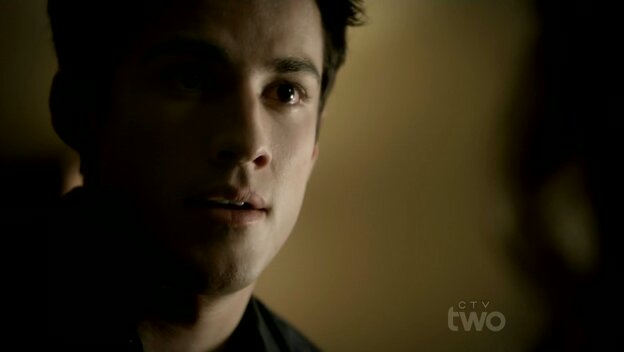 Caroline can't give him a straight answer and he gets all defensive and tries to make her feel bad, like she is the one doing something wrong. Then he leaves. Good. You are the wrong one here. Don't try to guilt trip her. 💀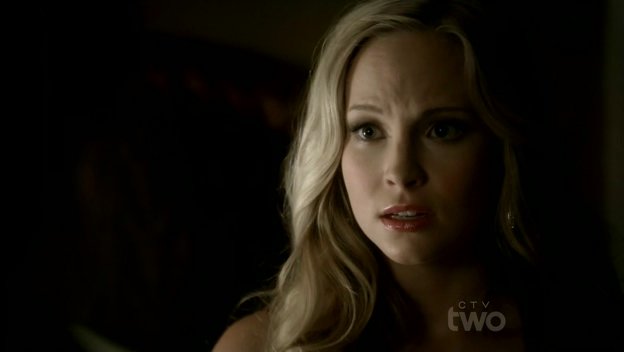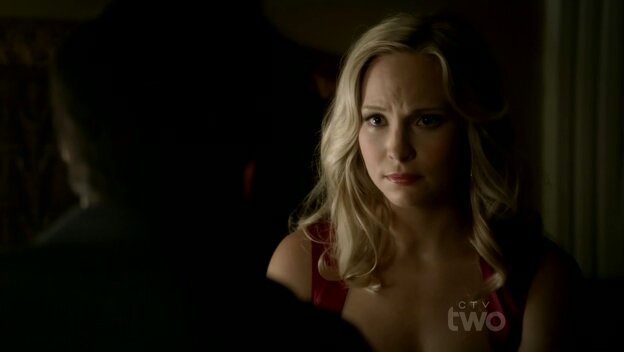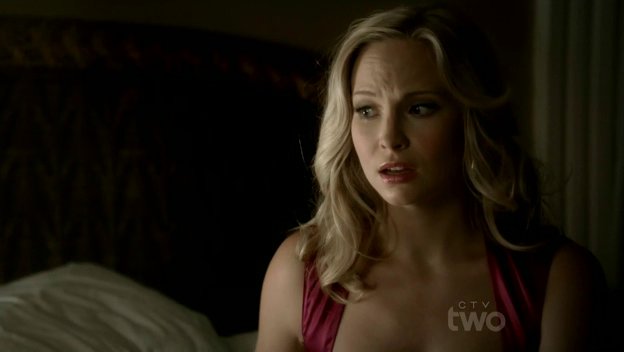 Poor Delena. They can't wrap their heads around the fact that the plan blew up in their faces. It was a really good plan though and they truly did think of everything. 😩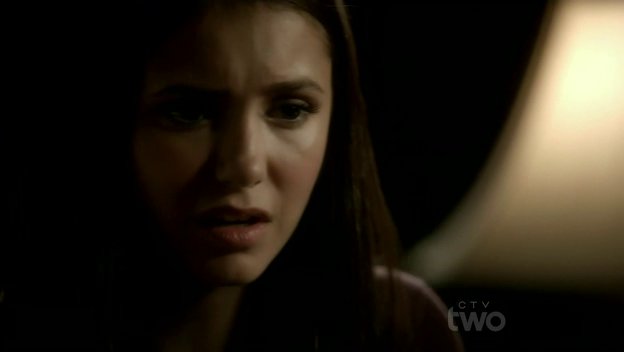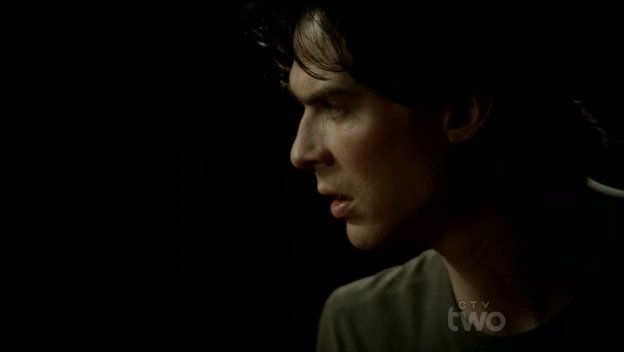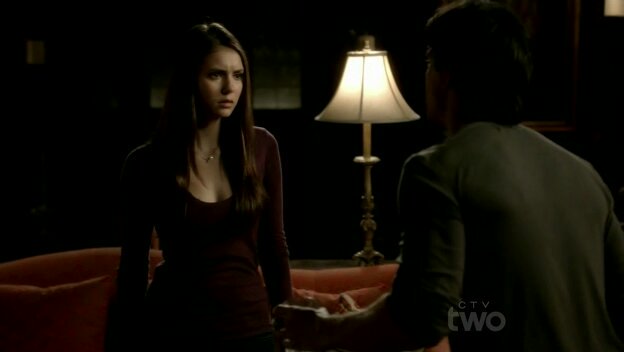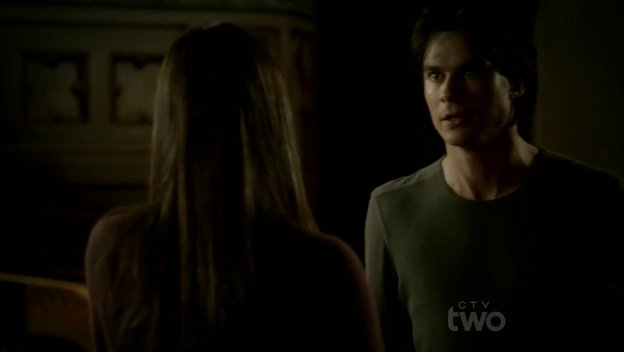 My poor son. He even brought in Katherine so Elena would be safe. Good thing he had, because Mikael went off script and Elena would have a hole in her back right now. Damon saved her unknowingly.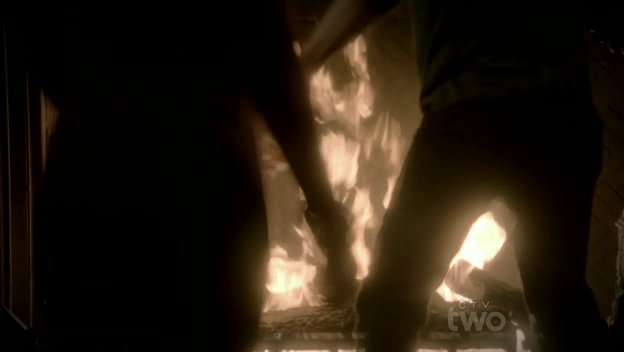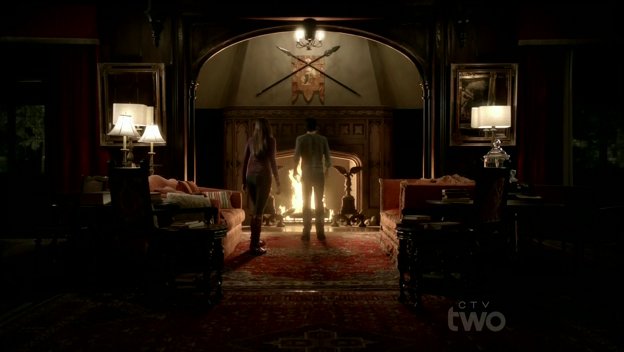 OMG Elena is trying to comfort Damon. She is touching his face. 😱😍😍😍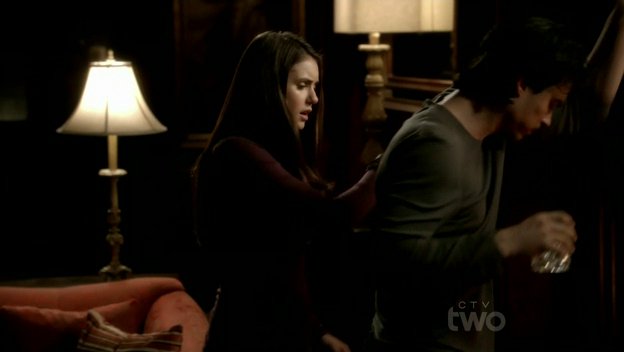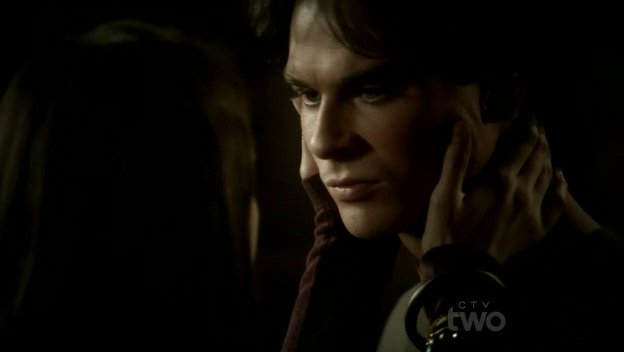 "We will survive this. We always survive." Yes you do baby girl. You will survive this together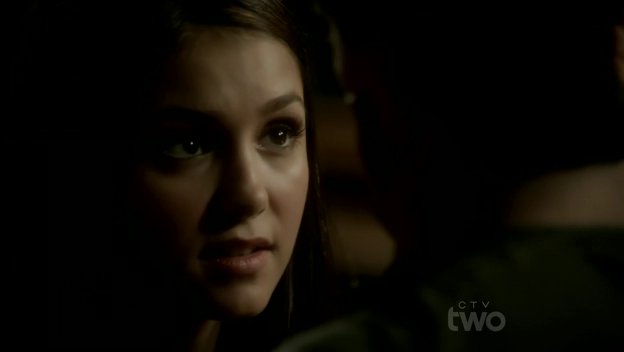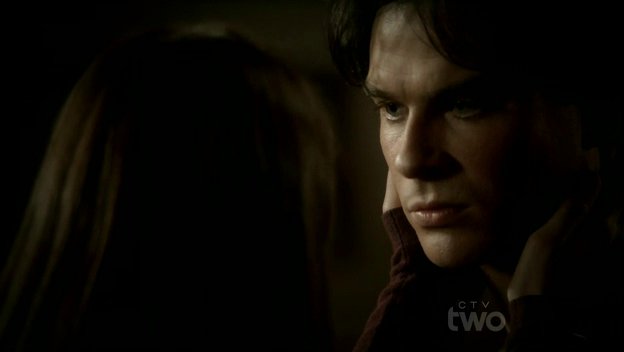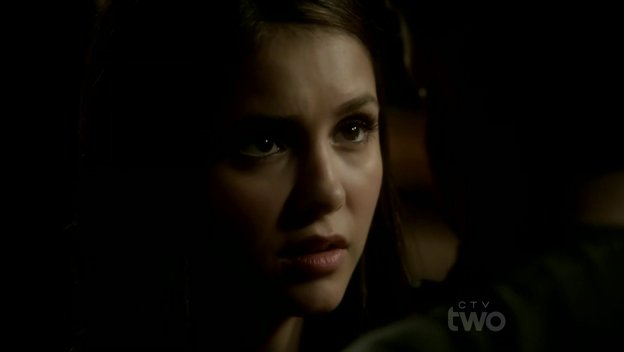 "Trust me."
She has this calming effect on him AGSHDBDNF the chemistry, the bond, the connection OMG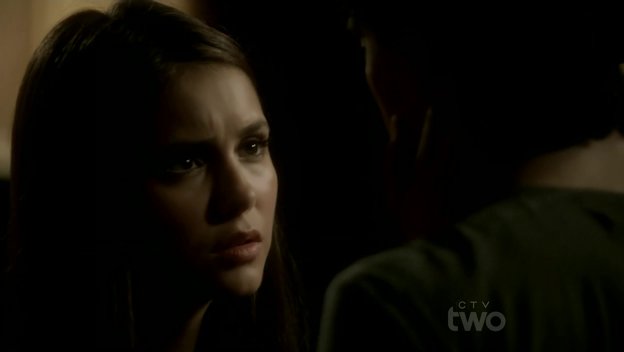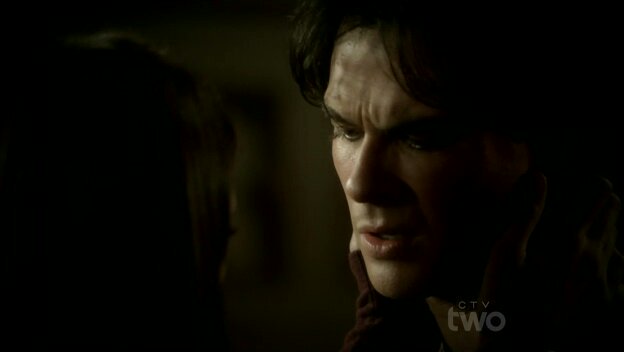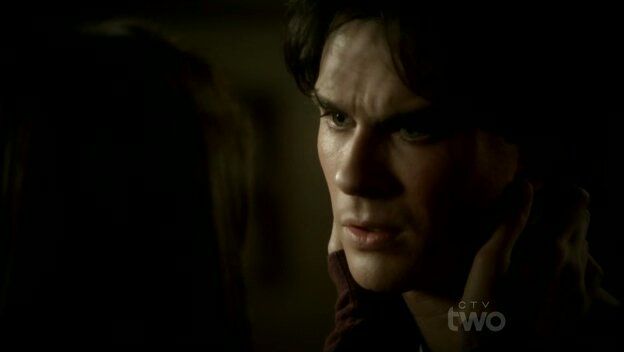 "We are never getting Stefan back. You know that, don't you?"
"Then we let him go. Okay? We will have to let him go."
AGSHD FUCKING FINALY. YES ELENA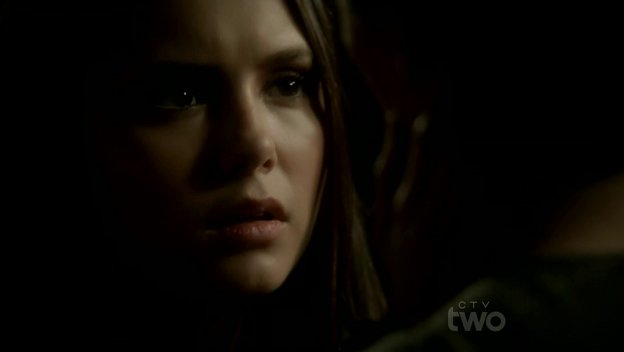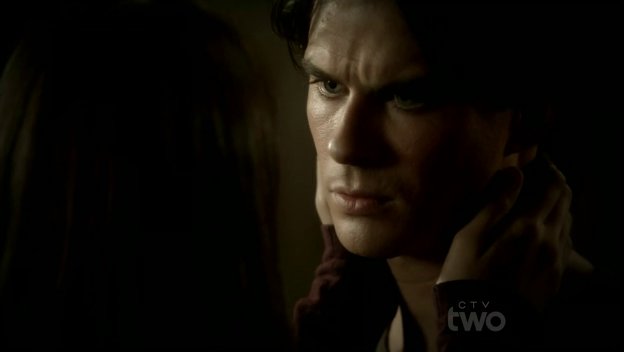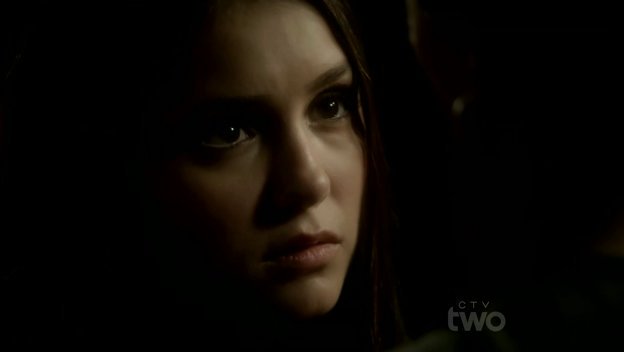 THO IS THE MOST BEAUTIFUL THING EVER. THIS SHOT WITH HER HANDS IN HIS FACE OMG I CAN'T BREATHE. I NEED THIS IN HQ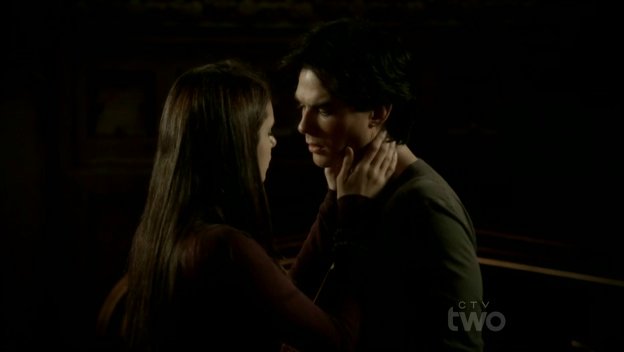 Damn fucking phone. It looked like that were about to kiss. Now Elena snapped out of it and is awkward about it. 😭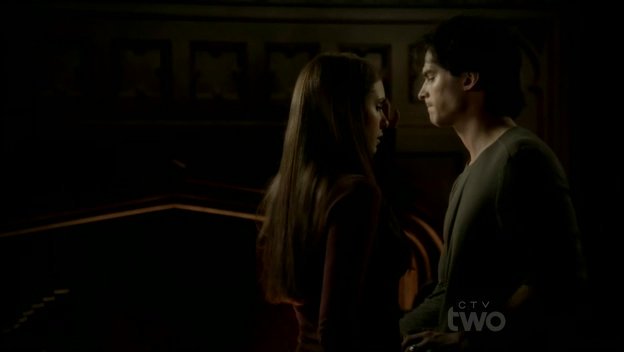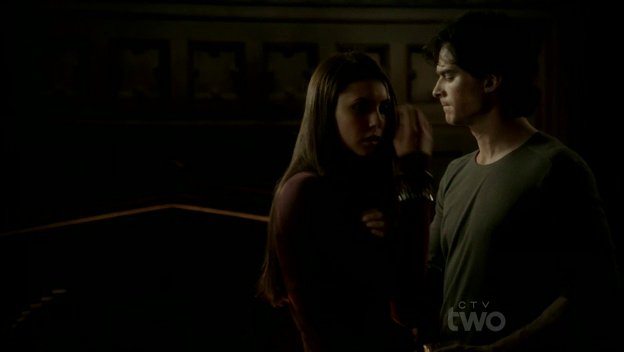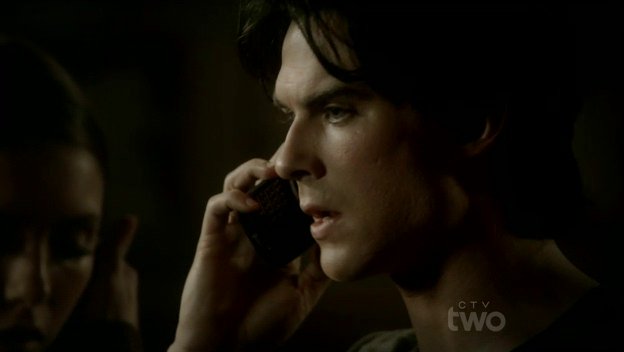 "You had a good plan, Damon. And that's high praise coming from me."
"Take care of yourself, Katherine."
I like that Katberinebis on their side atleast. Her good side is coming through more in this season.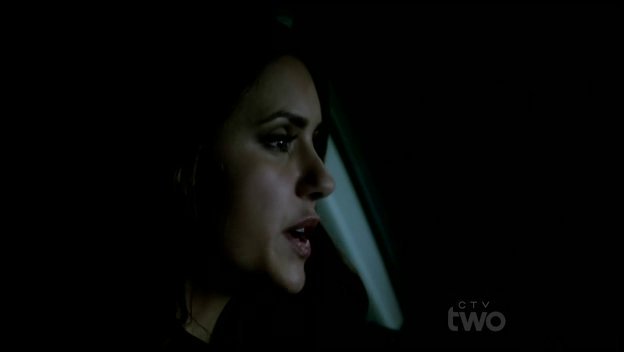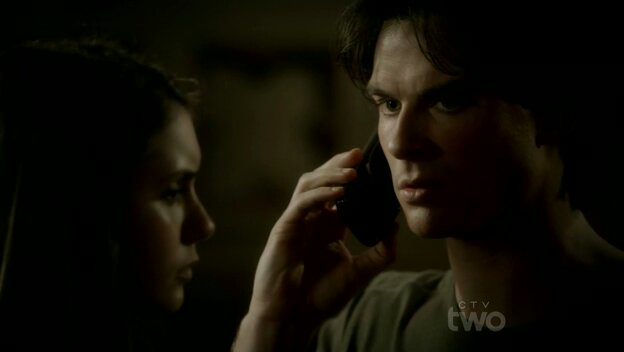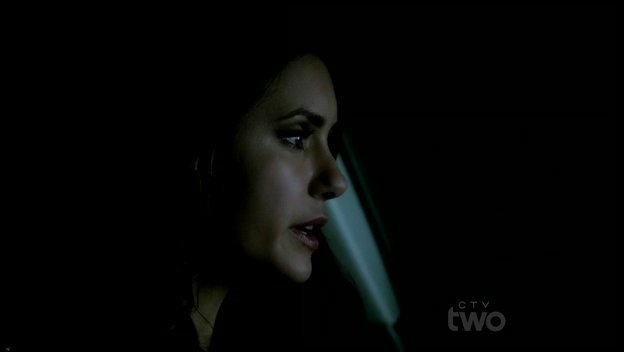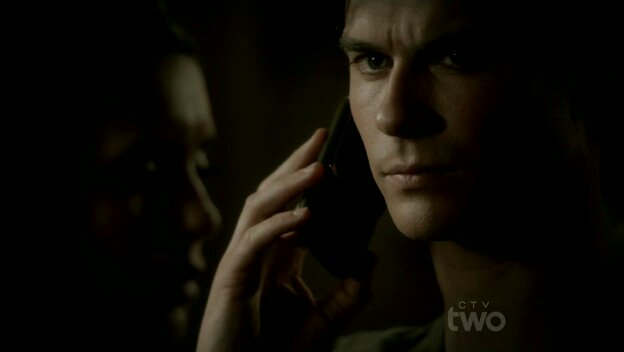 She watches him to make sure he is okay and I bet she is confused because she got really intimate and a kiss was not far off. They are really making me wait for it, aren't they? Angst at its finest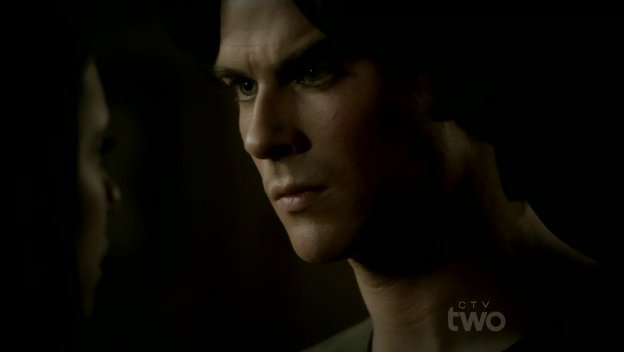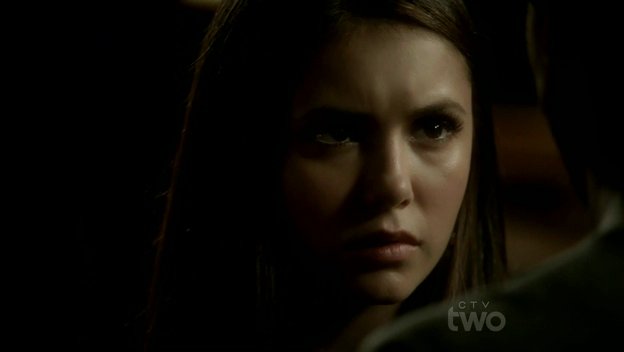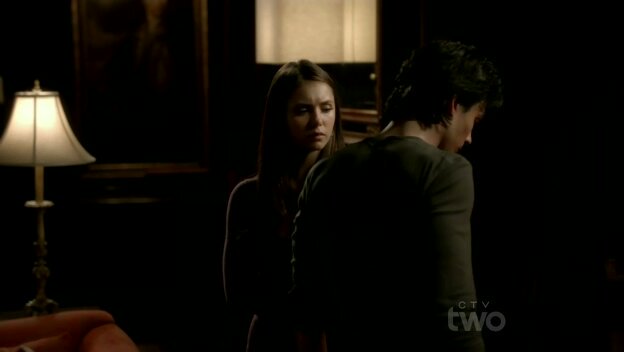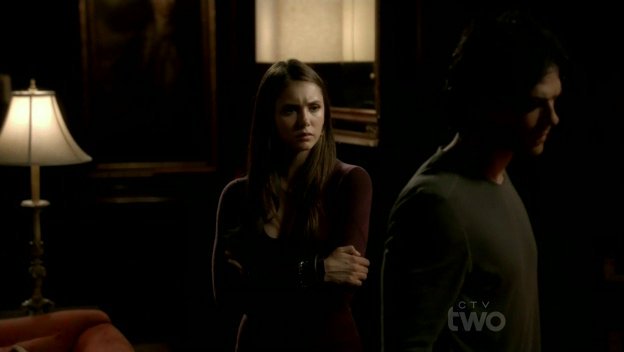 Okay hold up right here. WTF? Katherine, I was just talking about your good side. WTF is going on here? "He doesn't know where it all went wrong."
"He doesn't need to know."
YES HE DOES AND SO DO I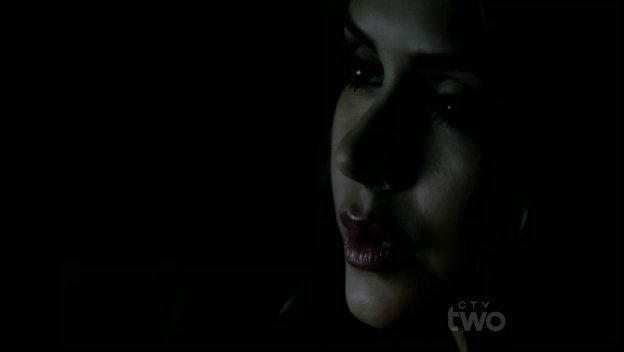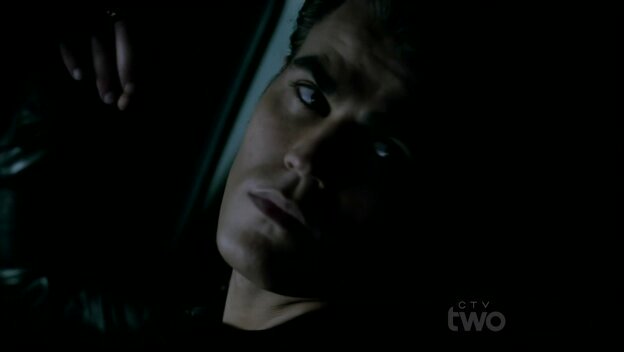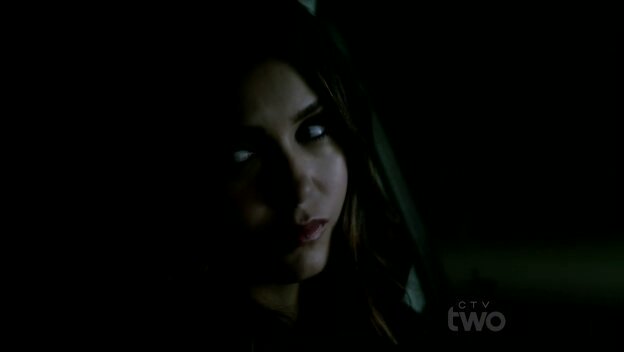 Okay, so Katherine gave him blood and got him up and running after Damon took him out of the equation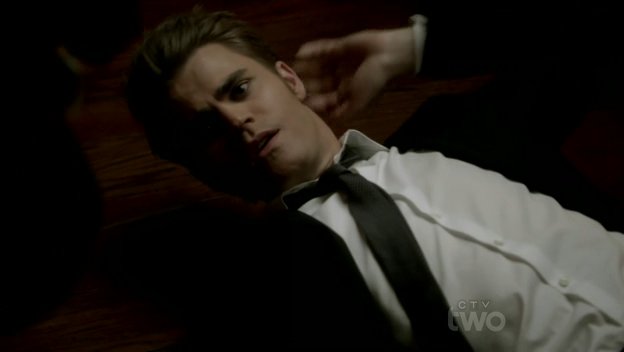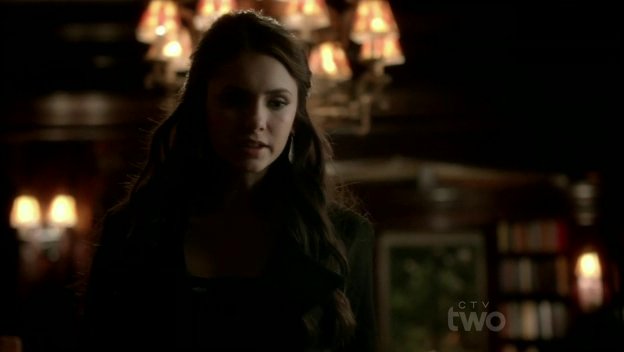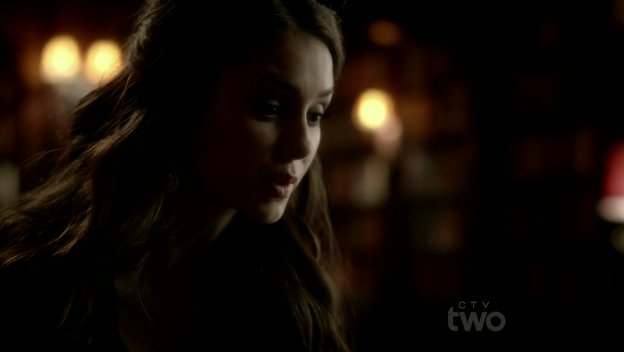 Oh shiiiit. Even in death, the hybrids had their orders. Klaus ordered them to kill Damon, should anything happen to him.
Katherine and Stefan spared Klaus to save Damon? AWWW OMGG I accept that reason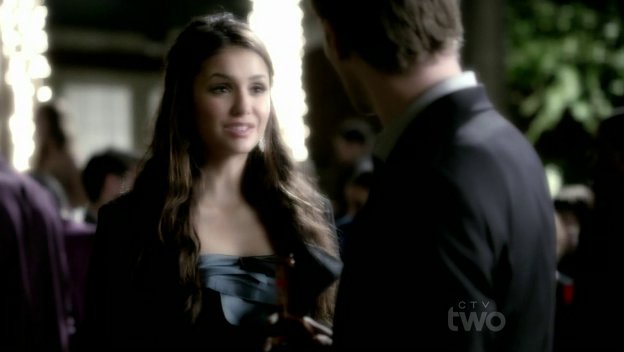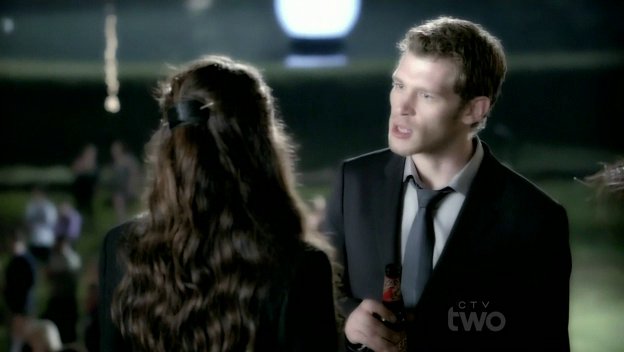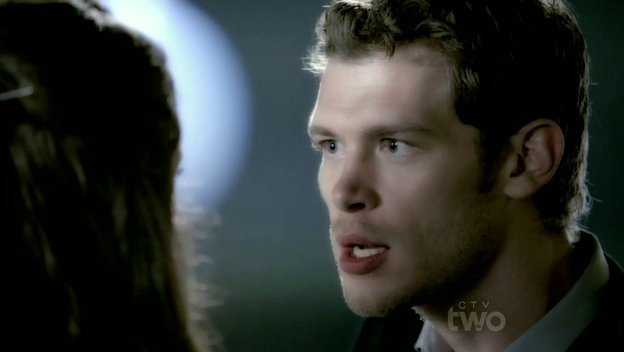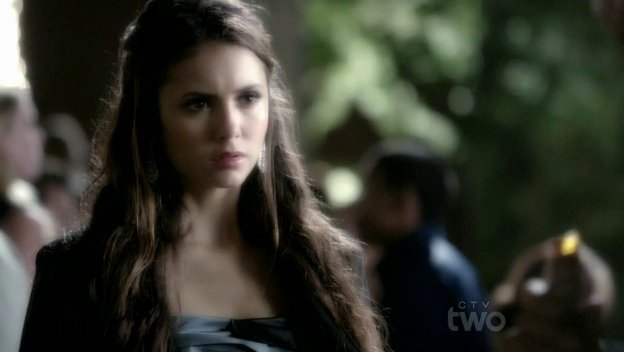 "Care, Stefan. Care enough to save Damon's life. Because I am going back to that party and I am seeing this plan through. Klaus will be killed. And we will have our freedom. But then Damon will be dead. Your brother will be dead, Stefan. Unless you care enough to do something."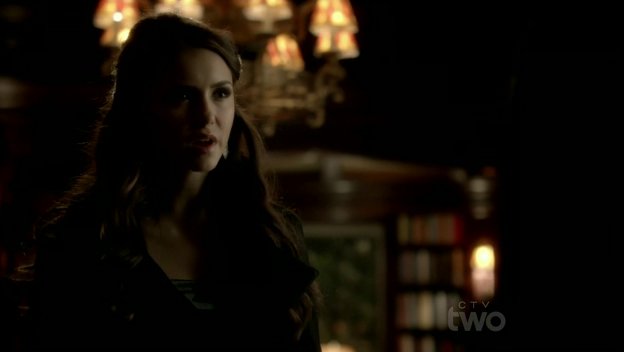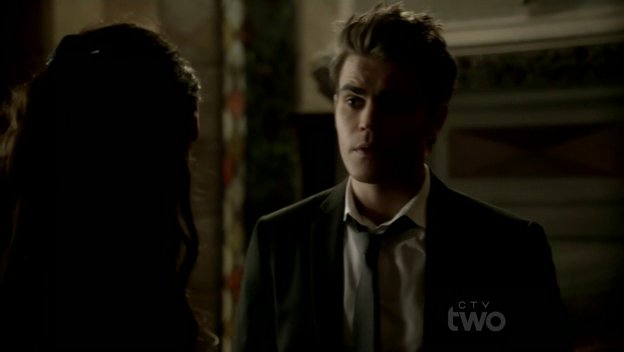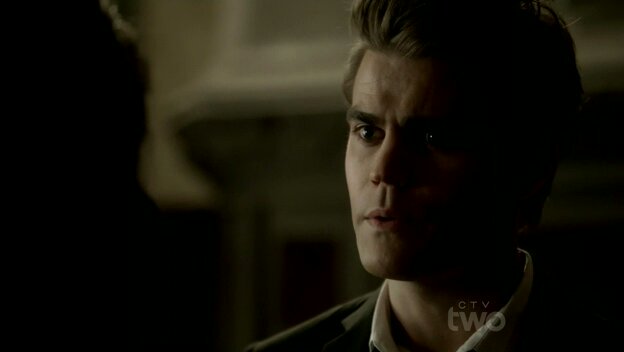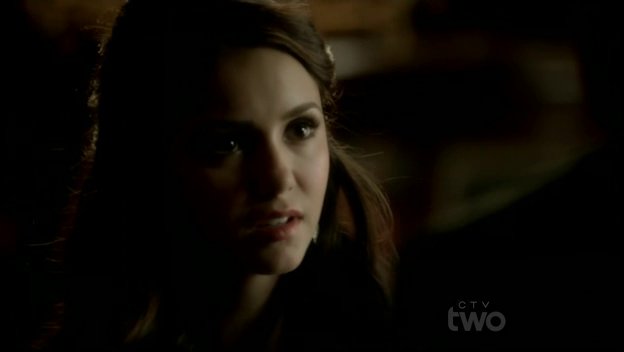 "You wanted Klaus dead for 500 years. Why would you risk all that just to save Damon's life?"
"I wasn't just trying to save Damon's life, Stefan. I was trying to save yours. Your humanity. Let's just say I like the old you better."
OMFG Katherine did something selfless for Stefan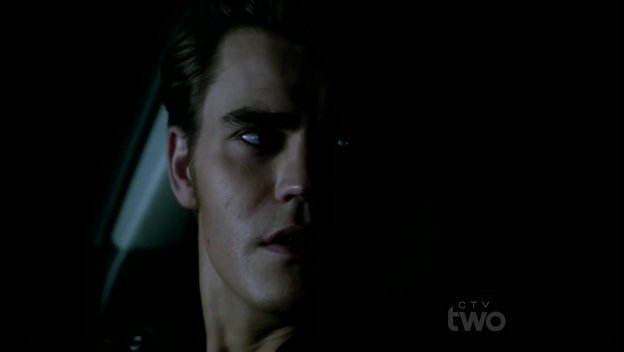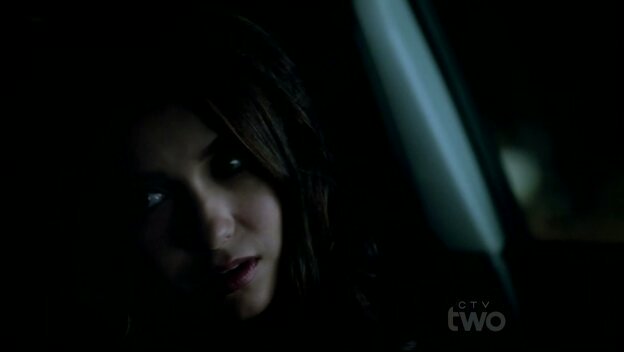 "Nah. Come on Katherine. You don't care about anybody but yourself. You never have."
"You and I both know that's not true. I loved you. I loved Damon too. Oh Katherine. You had a funny way of showing it. But thanks to this
"Humanity is a vampire 's greatest weakness. No matter how easy it is to turn it off, it just keeps trying to fight it's way back in. Sometimes I let it."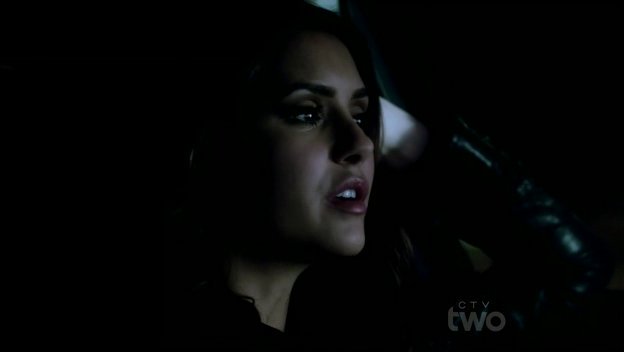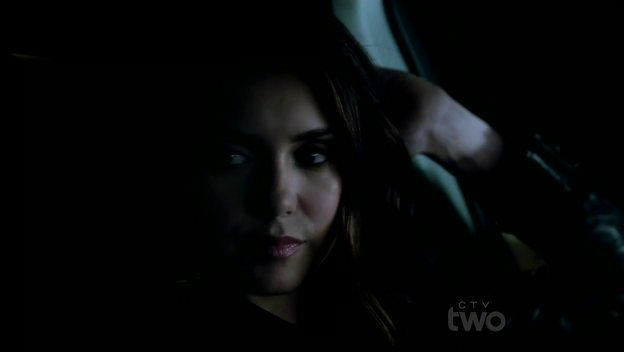 Stefan doesn't want to let everything in after everything he has done, but Katherine has a plan and she needs him to get mad.
Ohhh crap. This can't be good 👀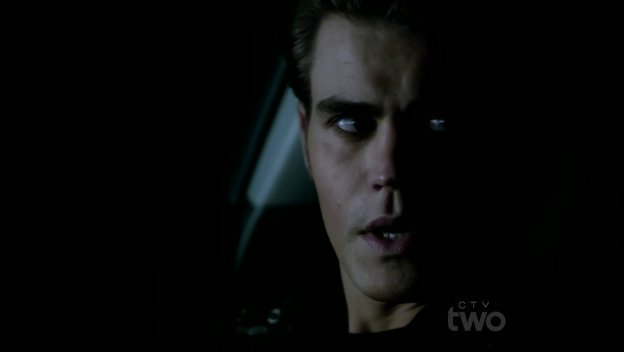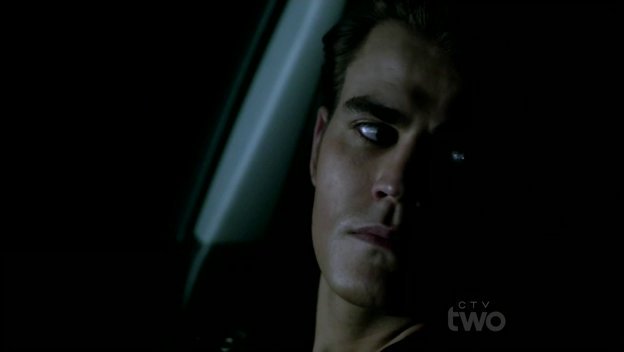 Aww my poor baby. Klaus is calling her. He wants to reunite the family. They are going to be pissed at him but okay. Let him believe they won't be. I want to see the others.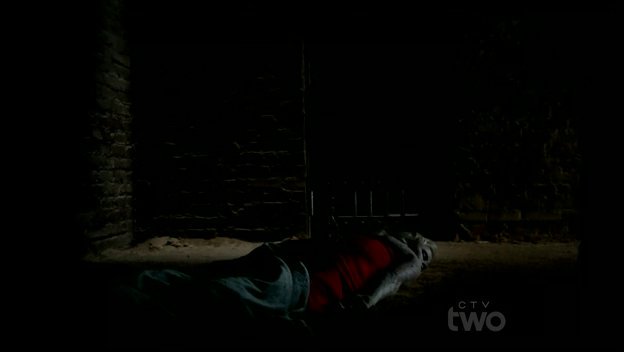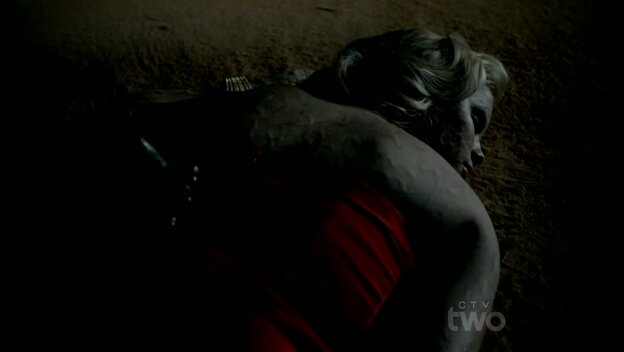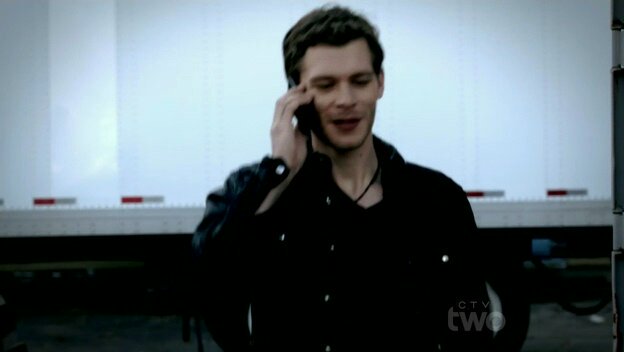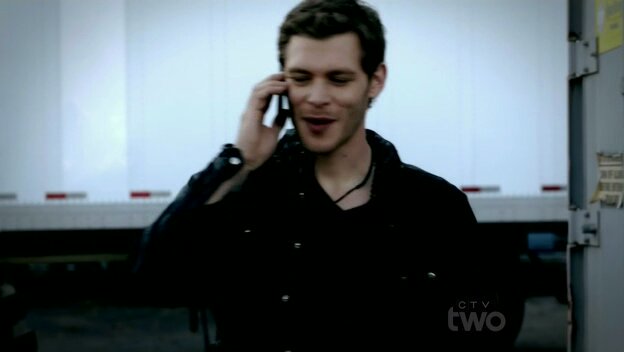 OH SHIT. Katherine is an evil genious. She told Stefan to take the coffins. OMG Klaus is pissed.
"I will kill everyone you ever met."
...Oh shit. Abort. This isn't such a good idea anymore. Revenge never ends well. 😱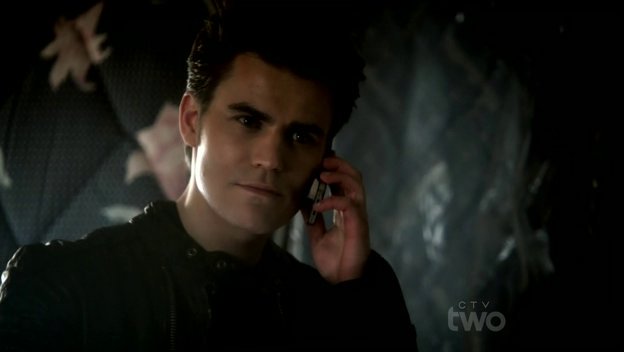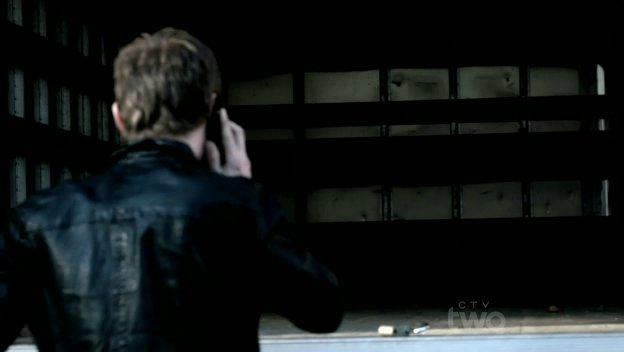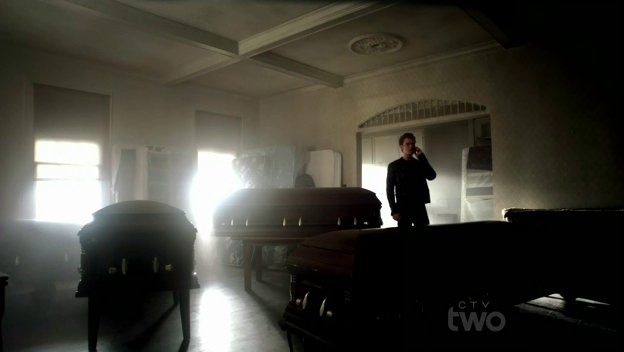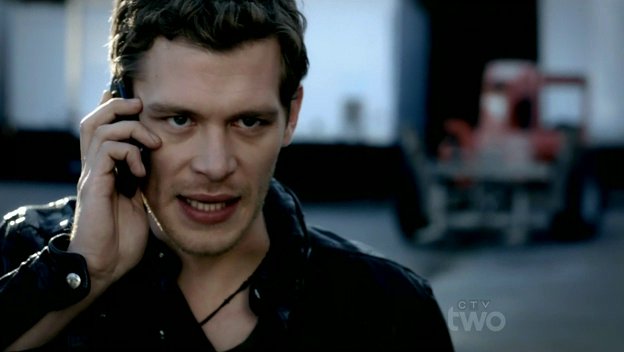 Phew. What an episode. I have to digest all the plot twists and Elena holding Damon's face and saying they have to let Stefan go. 😍
Mikael is dead. He got so much hype and went down so easily. I don't mind though.
03x10 "The New Deal."
Bring it on
I am excited. The episodes everyone hypes so much, usually leave me bald.
The recap with Klaus saying to Stefan "I will kill you, and everyone you have ever met." still scares the shit out of me 😨
What is Bonnie doing at the ex haunted house? I thought the witch spirits were gone.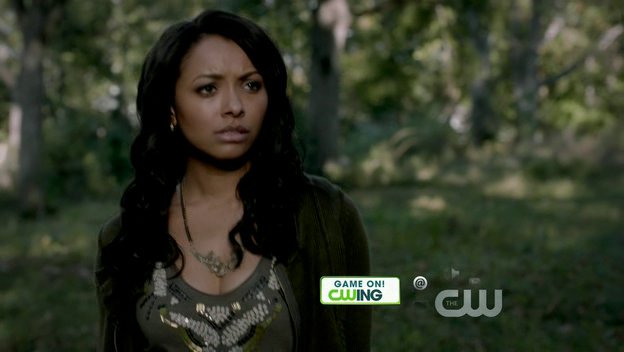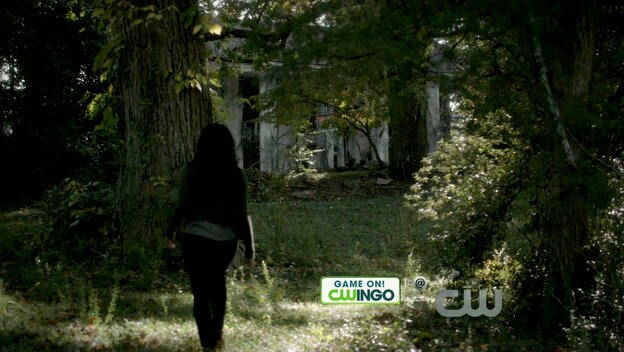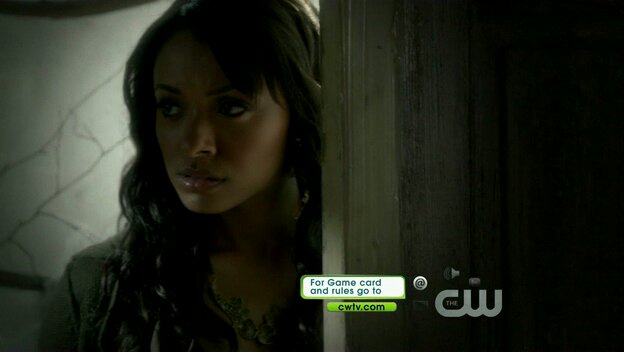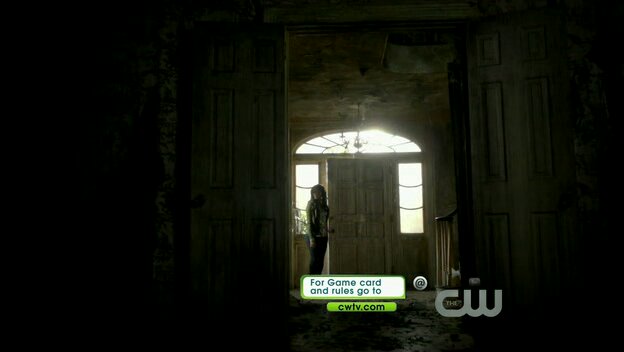 I hear those creeps...they are not gone. 😨
Bonnie found the coffins. Stefan legit hid them in the ex..well, not ex, STILL haunted house. The witches were just pissed at Bonnie before and giving her the silent treatment.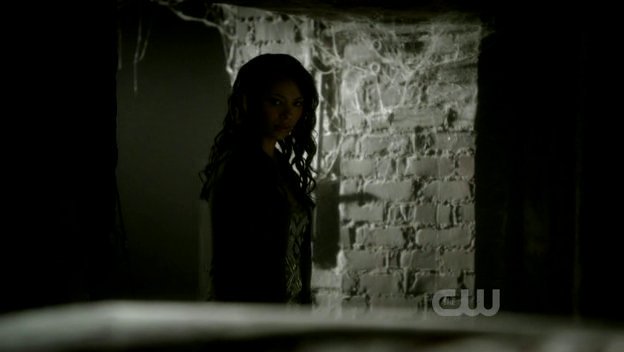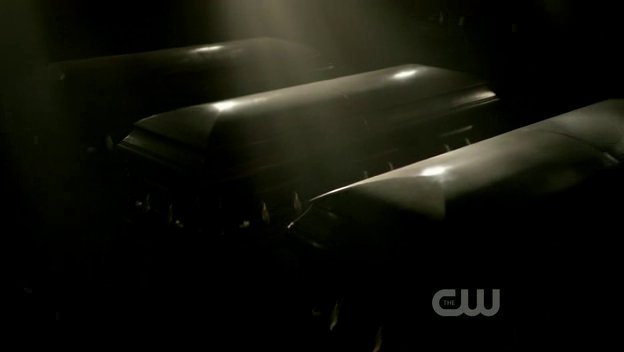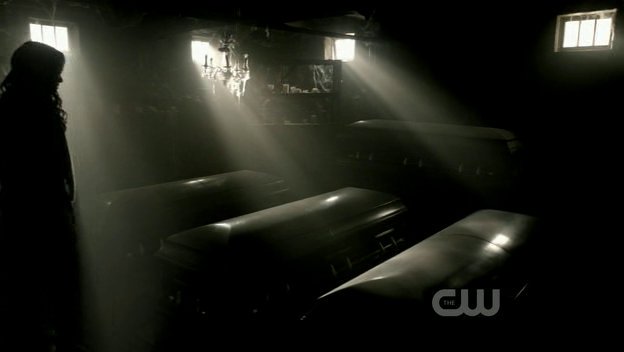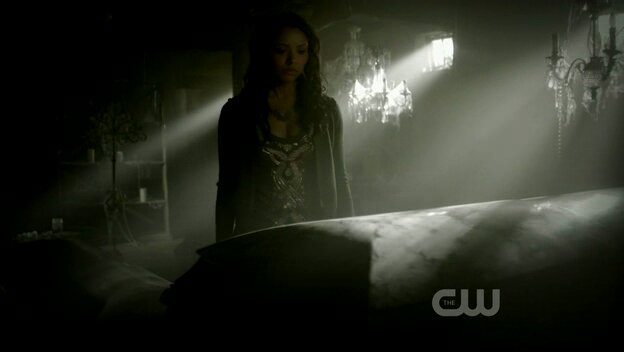 WTFFF???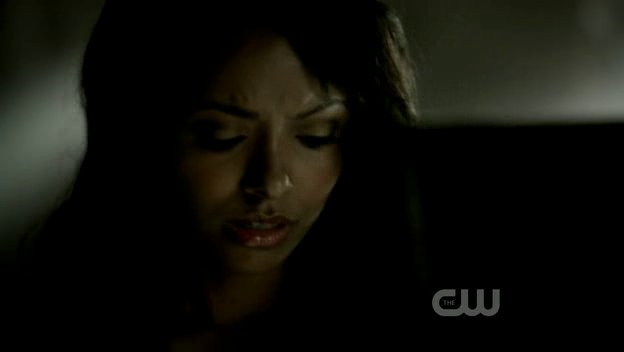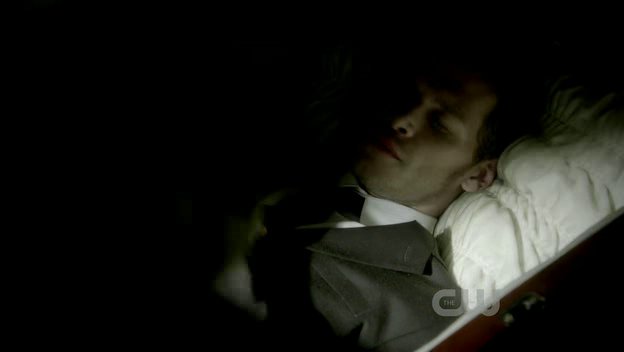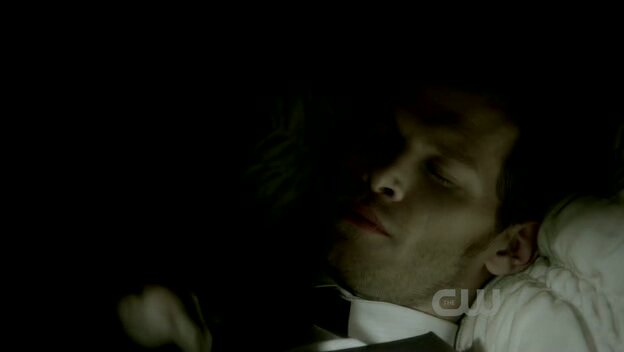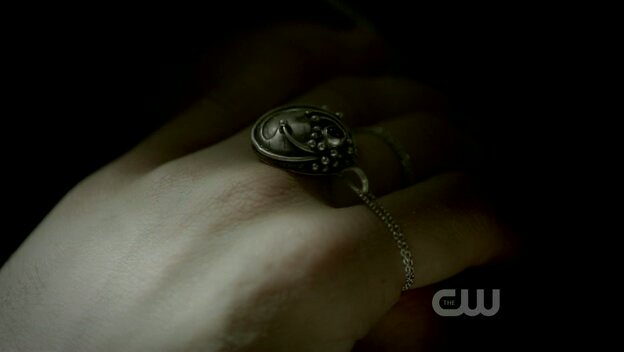 Oh Bonnie sweetie, that was a weird ass dream. But I think I know where Stefan hid those coffins now...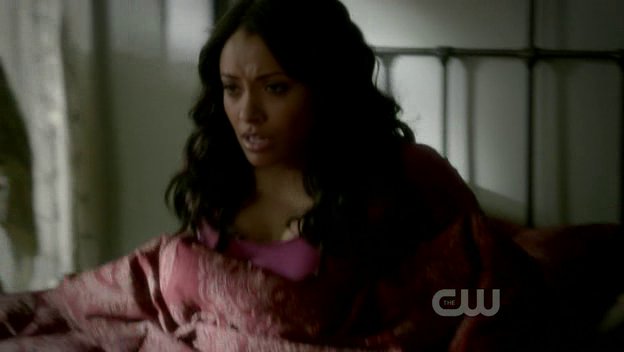 Look at my baby girl do what I am to lazy to do. She is training and getting stronger and faster. I love Damon's warrior princess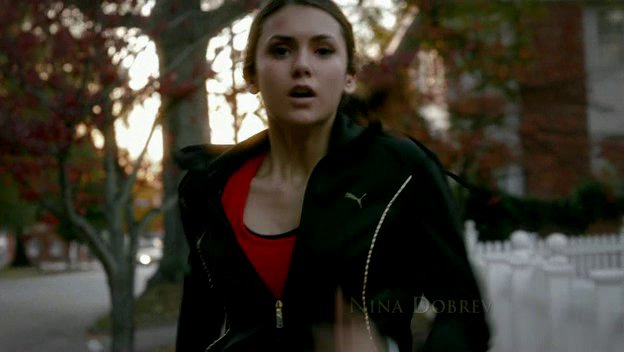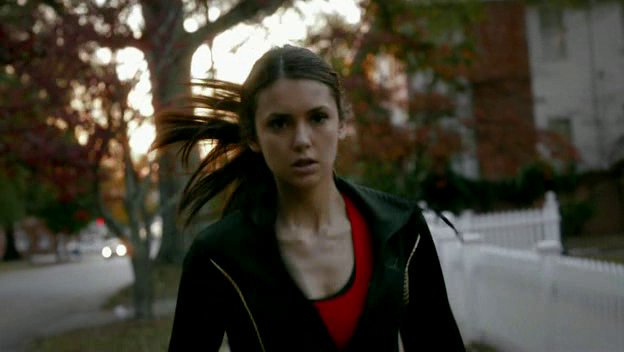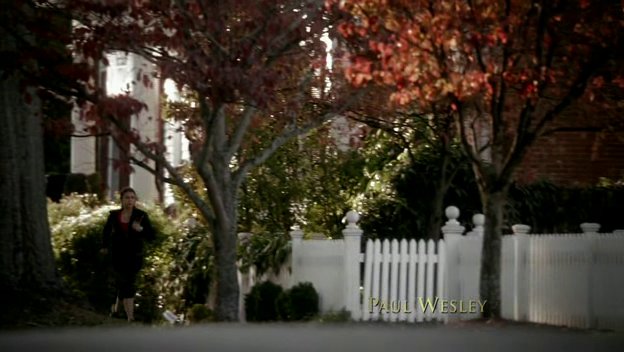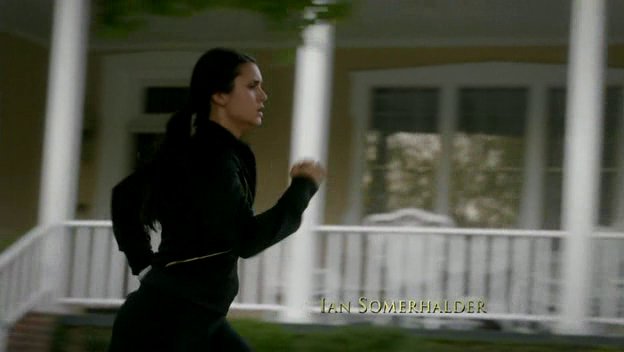 Who is the ransom guy in the hoodie? Is he chasing her? Can't she even go for a fucking run without having to fear for her life? 😨 RUN SWEETIE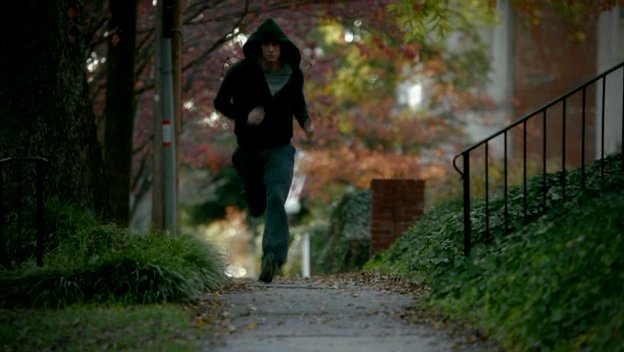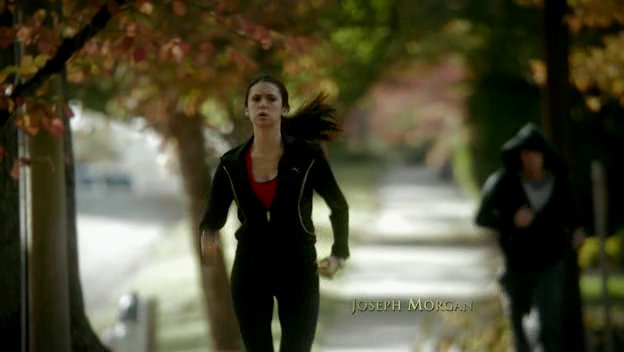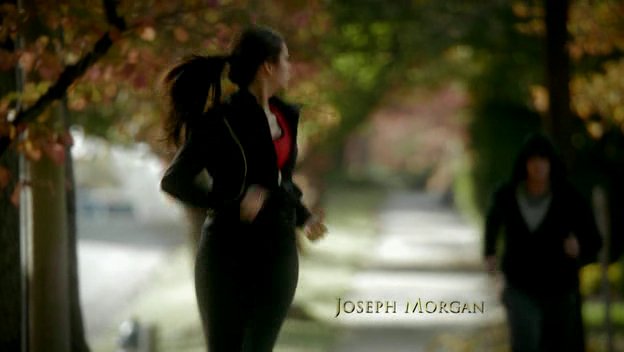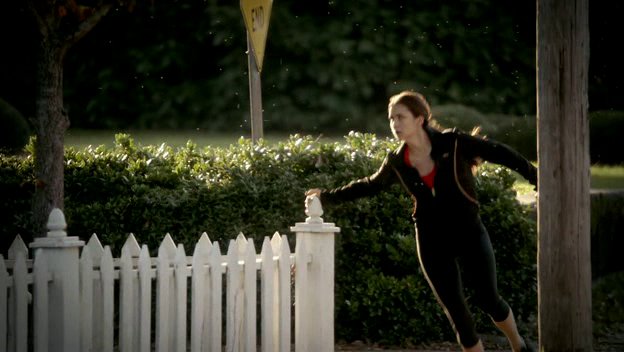 AAGAGSD Okay you lost him. But don't stand there looking back. Keep moving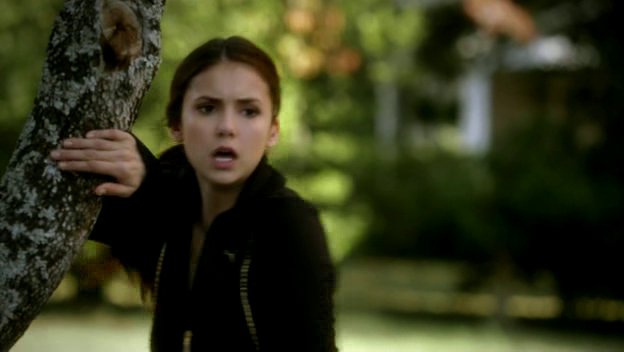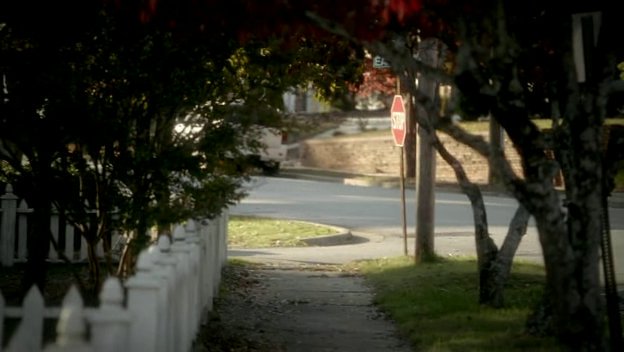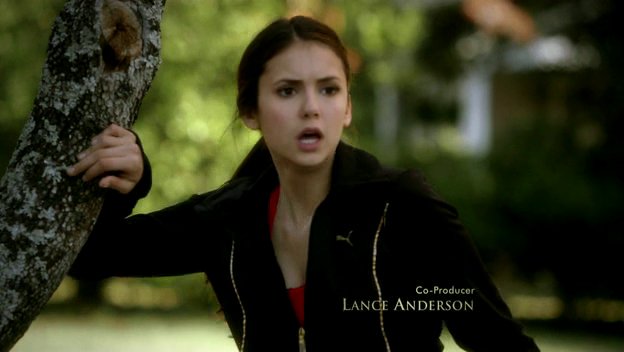 FUCCCKKK I JUMPED.
So wait...he wasn't chasing her?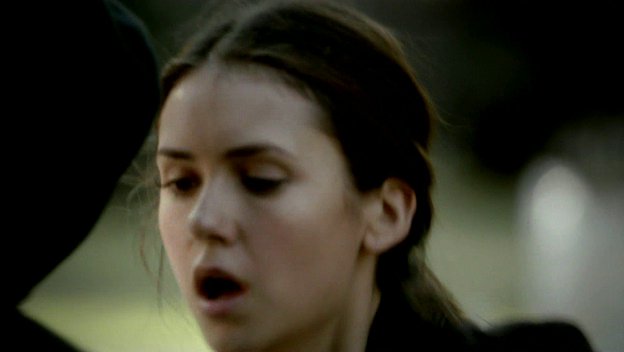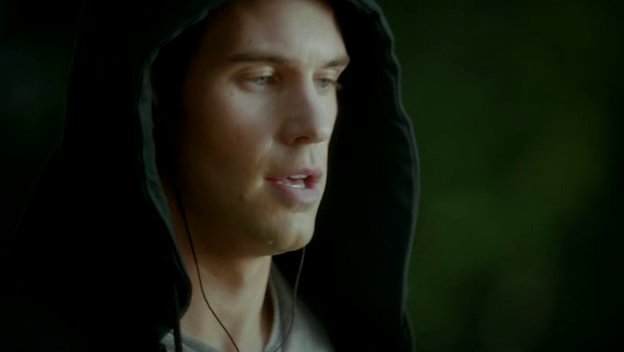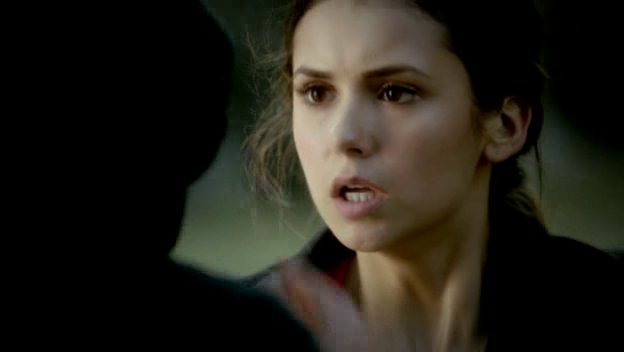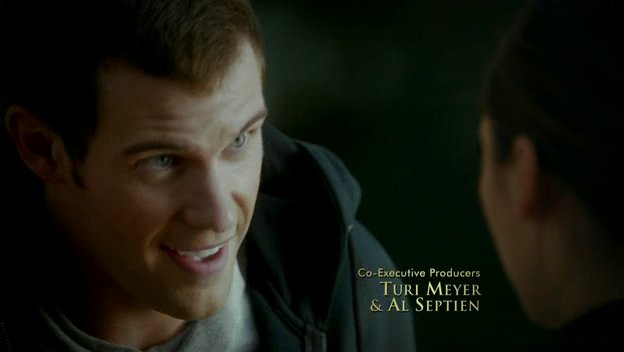 So both Elena and I misread that wrong? But...I could have sworn that was on purpose though. She outran him and he took a different route to bump into her. But what for? Sis, you and I are paranoid af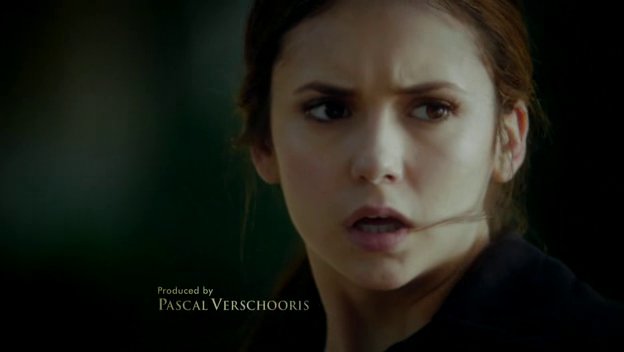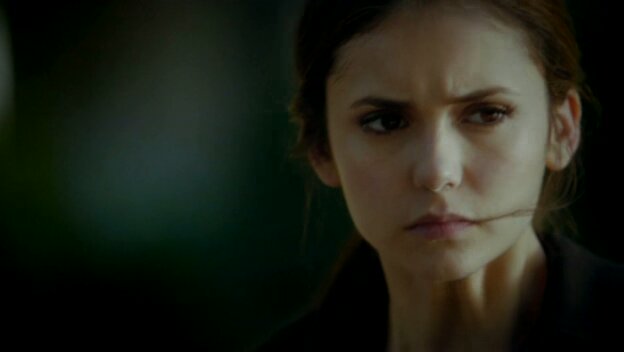 Aww poor Elena. She is a wreck and tells Bonnie how paranoid she is. Klaus is still out there and the fact that he hasn't made a move is freaking her out. Sweetie, Stefan is keeping him kinda busy right now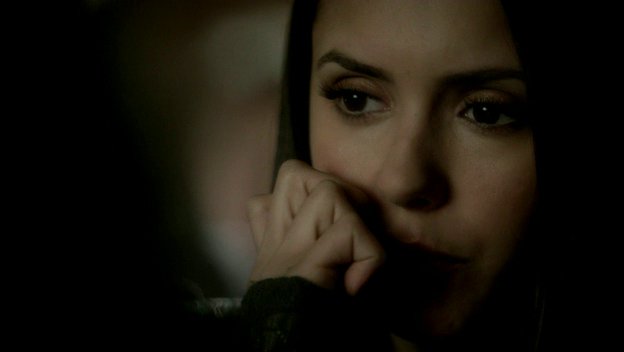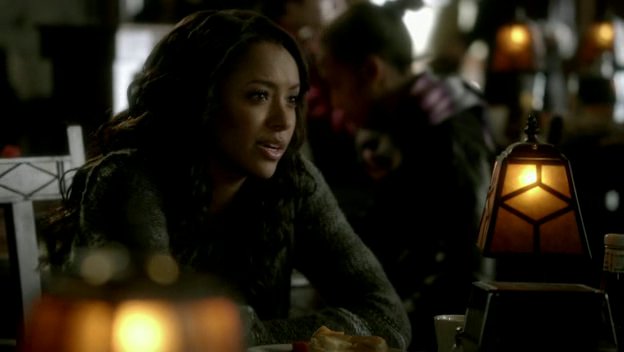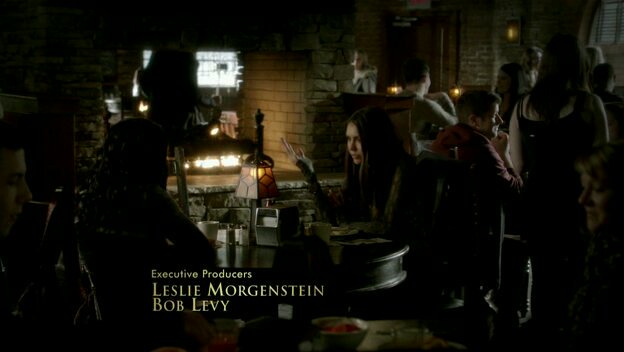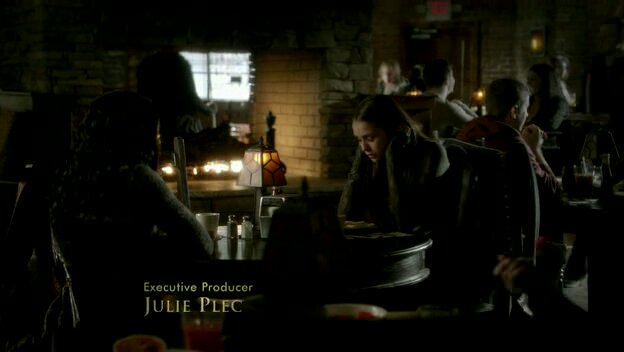 Bonnie tells Elena about the coffin dream she keeps getting on repeat and Elena is th only one smart enough to think it's a "witchy dream" but Bonnie dismisses it. Oi. *Facepalm. Aren't you the witch?
Elena tells Bonnie that Stefan betrayed them. She is FINALY done with him.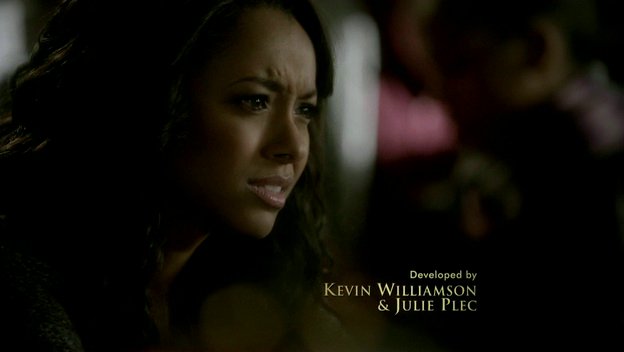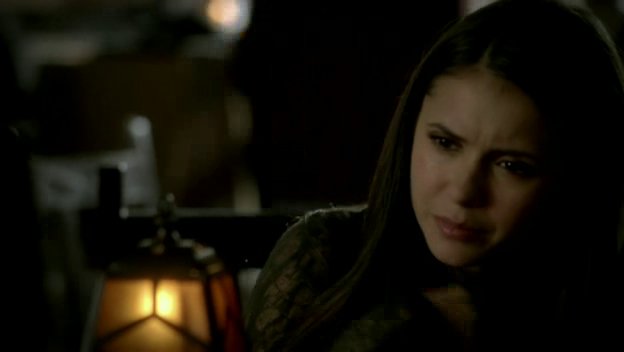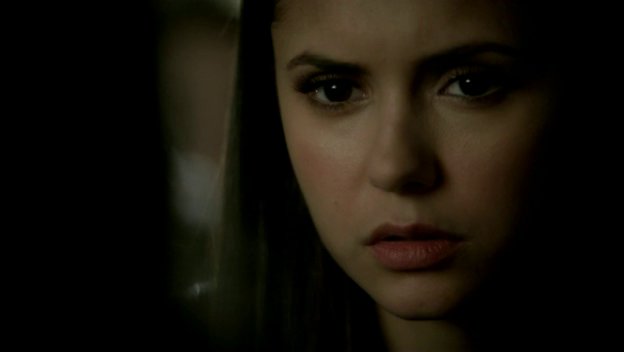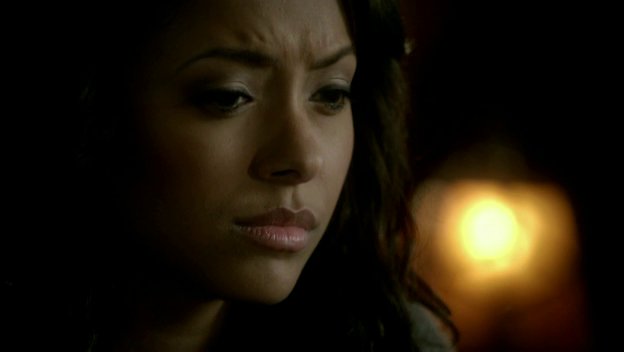 Oh yikes. Jeremy is spiralling again. Alaric shows Damon the midterm paper he copied of the internet and the waitress says he got fired last week. Jeremy just can't keep his shit together, can he?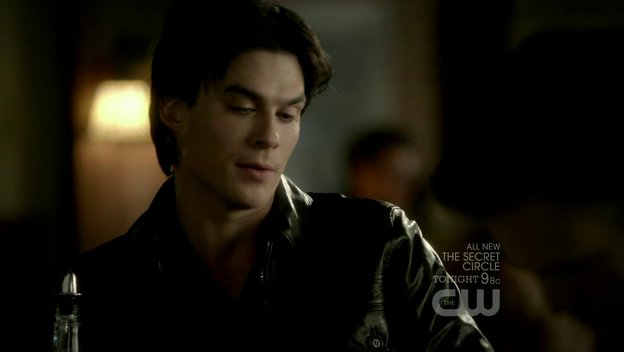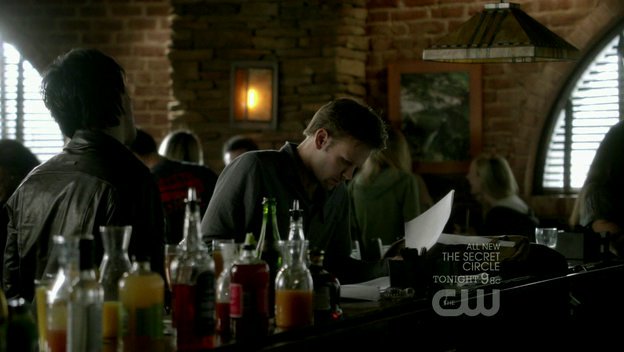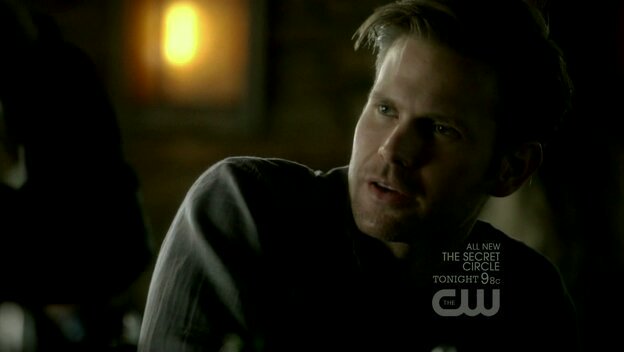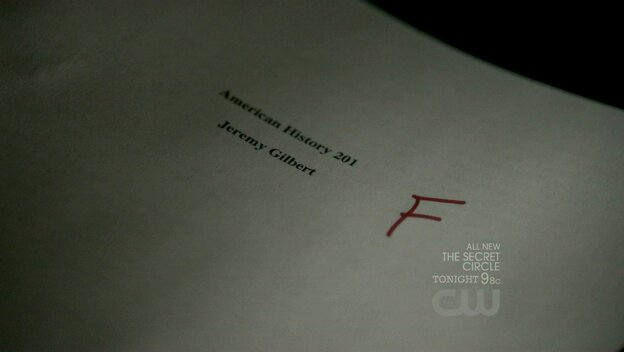 This is the last thing poor Elena needs right now 😩
You have got to be kidding me. They are "getting drunk and shooting stuff."
And Tyler just can't resist showing off his new hybrid status.
Atleast they are friends now, bonding over their girl troubles. Bonnie dumped Jeremy and Caroline is still pissed at Tyler.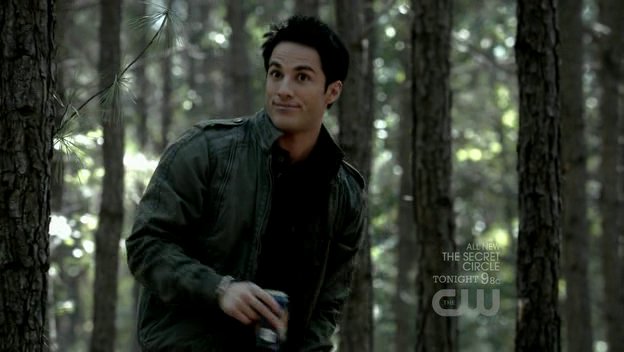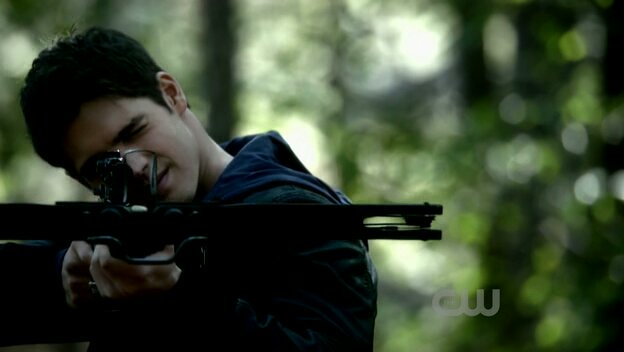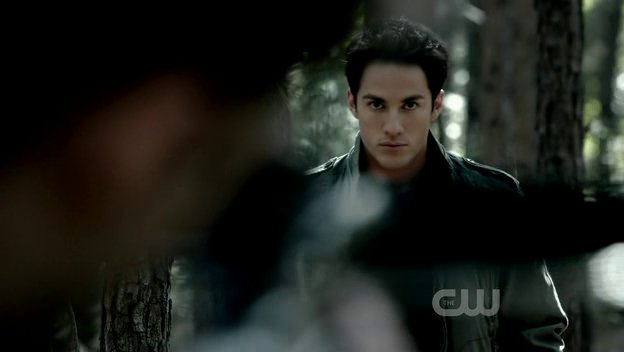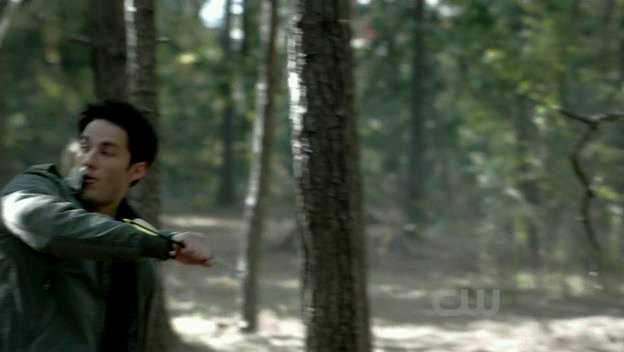 Is there anything my son isn't good at?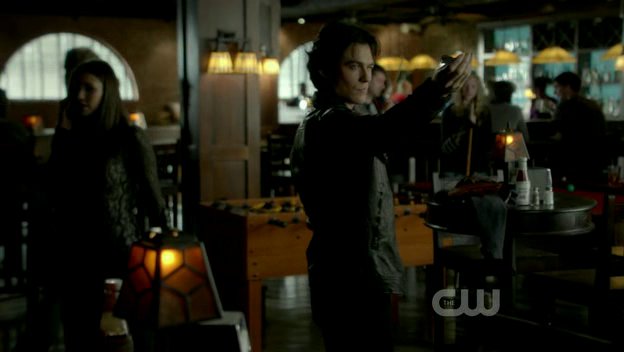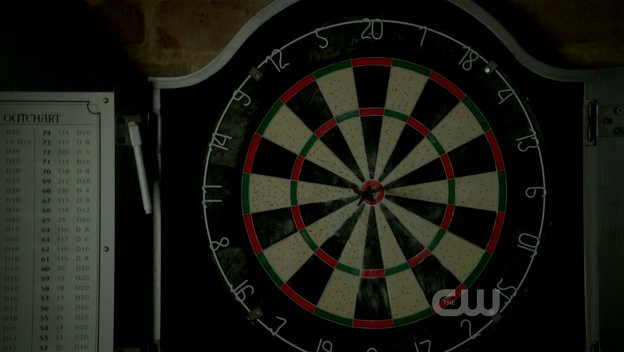 "He has lost everyone he cares about."
"Not everyone. He still has you."
I love that Damon values Elena so much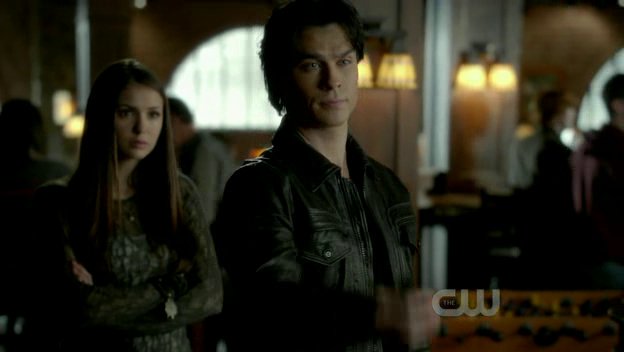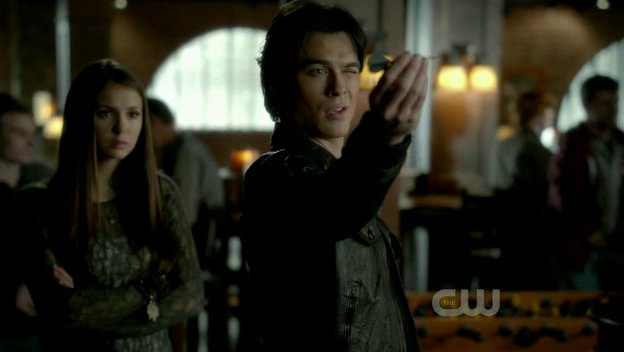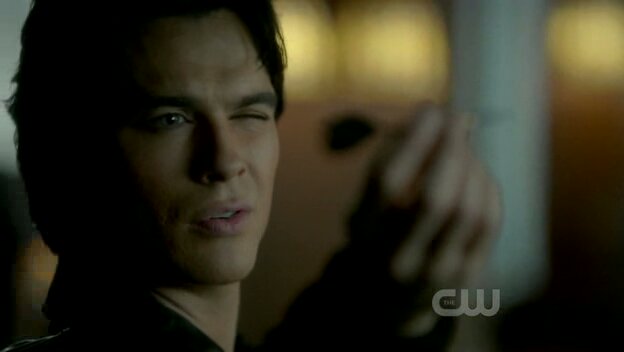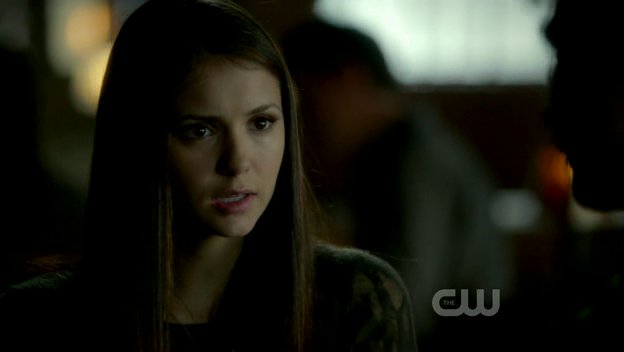 Elena notices that Damon is doing anlittle spiralling of his own. "Are you okay?"
She is the ONLY one on this entire show who has ever asked him that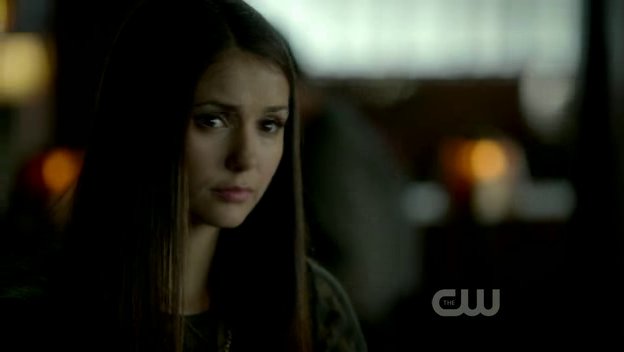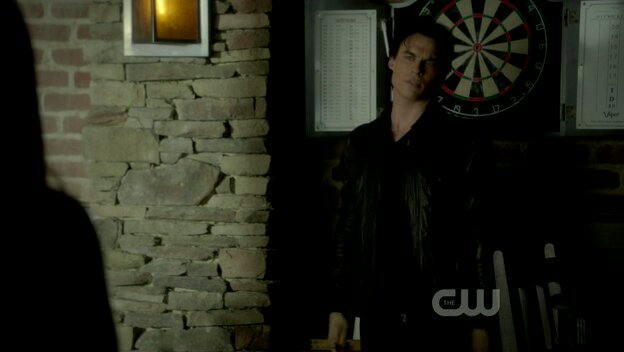 Look at my babies flirting in public now AGSHDJDND
"What makes you think I am not okay?"
"Well, you are a day drunk. Its not exactly your most attractive look."
"Oh? What is my most attractive look?"
"I am not saying that you have any attractive look."
AGSHD YOU KNOW HE DOES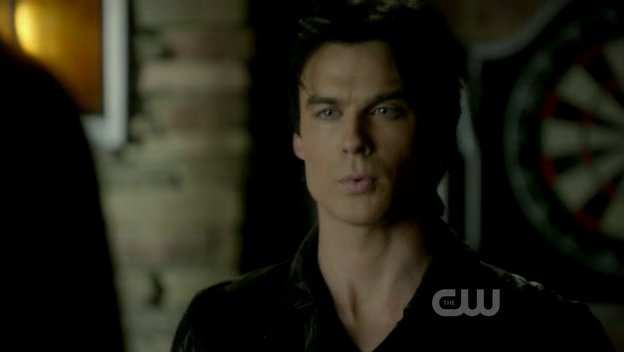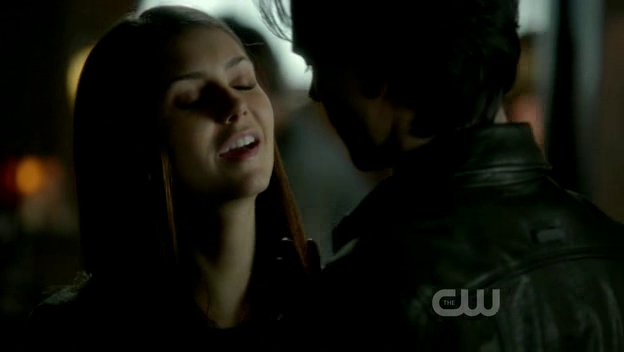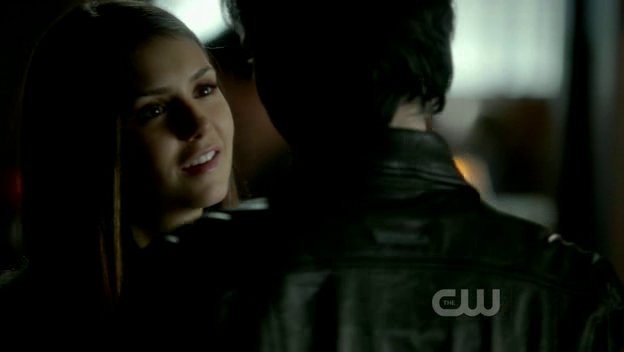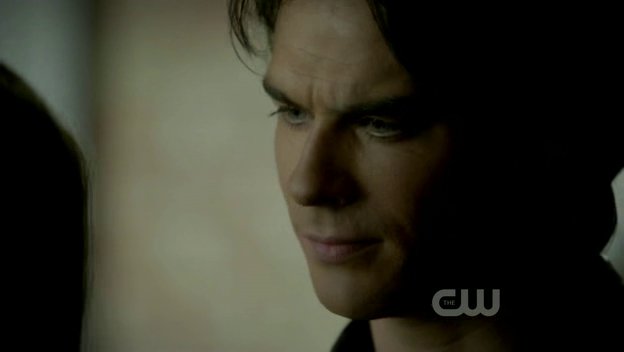 "I am just saying that this is my least favourite one."
"Noted. See if I can make any improvements."
My boy is so whipped he is making notes of Elena's preferences
FUCK KLAUS. YOUR YIMING SUCKS SO BAD RIGHT NOW. DELENA WERE FLIRTING. What do you want now? 😒
AHSBDB LOOK AT PROTECTIVE DAMON STEP INFRONT OF ELENA. HE FEARS NO HYBRID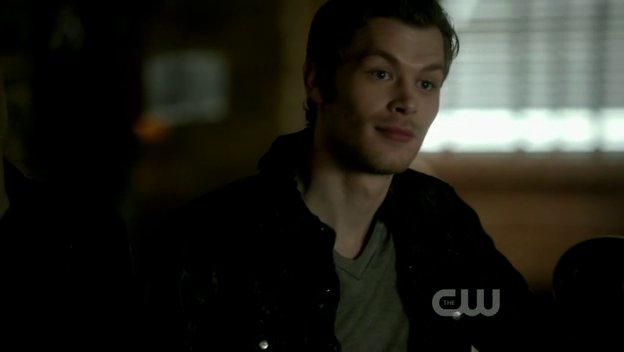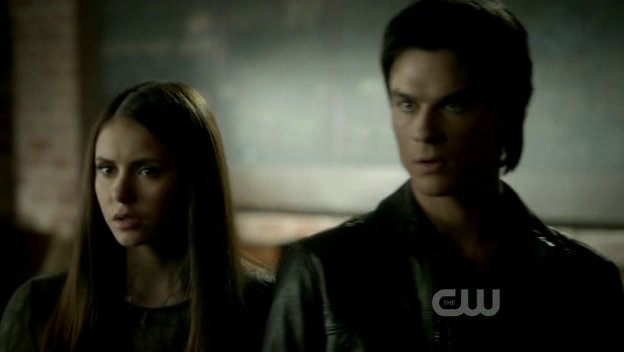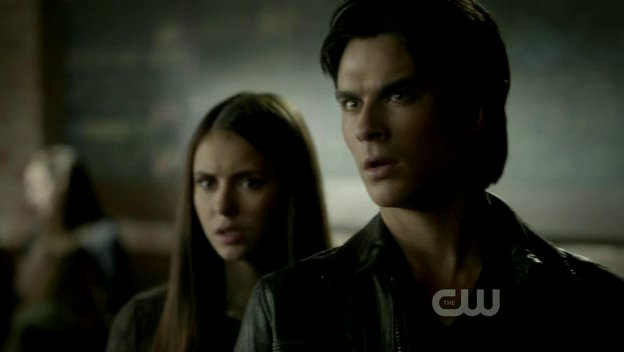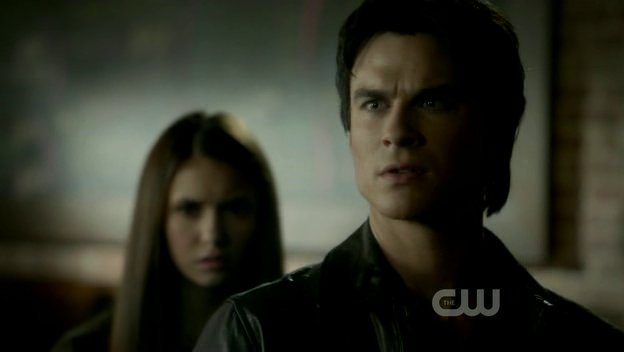 Hoodie guy? Elena, you and I were not paranoid. We may pat ourselves on the backs.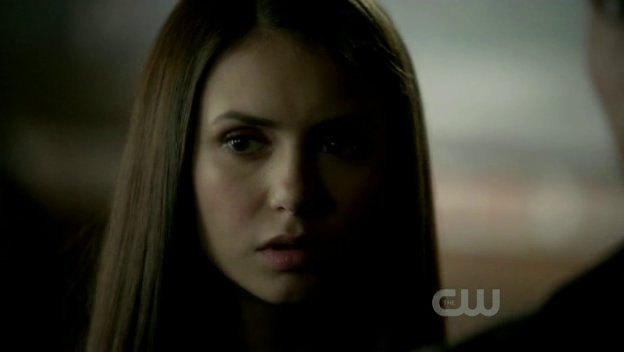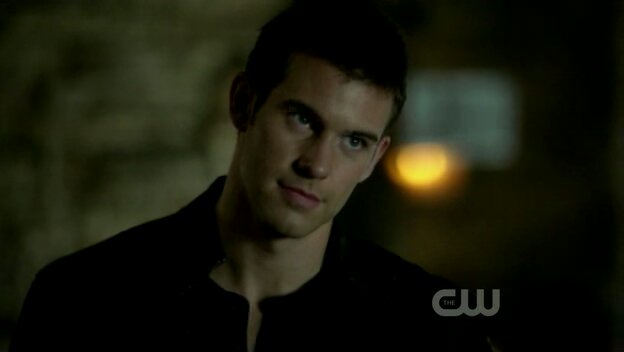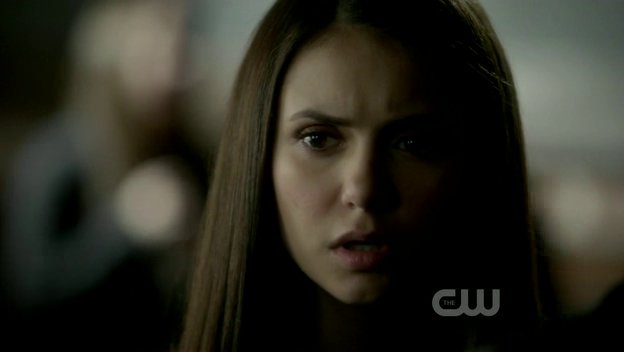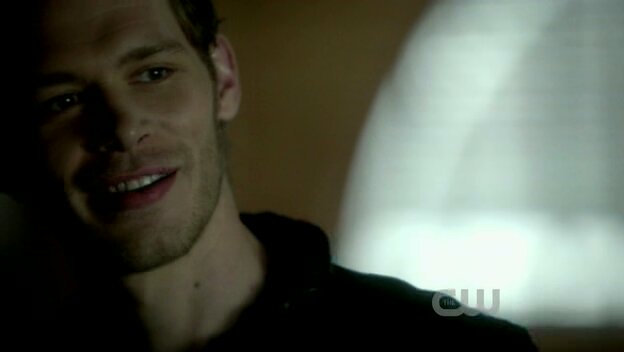 HE DOES IT AGAIN. Damon keeps blocking Klaus from Elena. He is shielding her from him. I am weak. 😢😍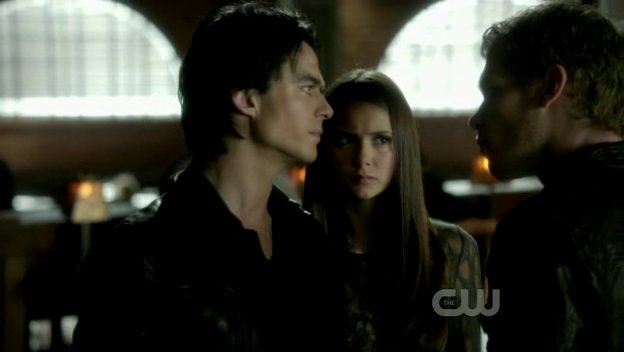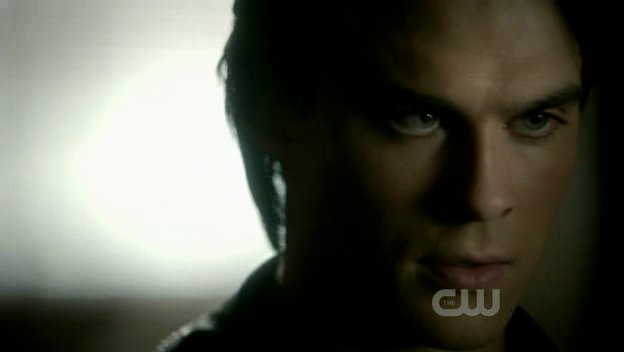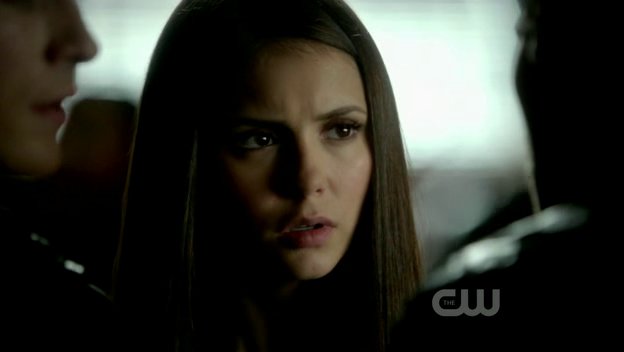 Klaus gives them his word, that if they behave, he won't bother them. Hmmm...we have all seen what your word means. Look at where Elijah is currently. But oh shit. He is making it their problem to find Stefan and get the coffins back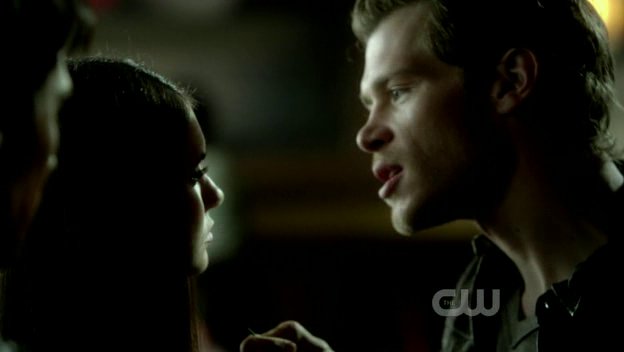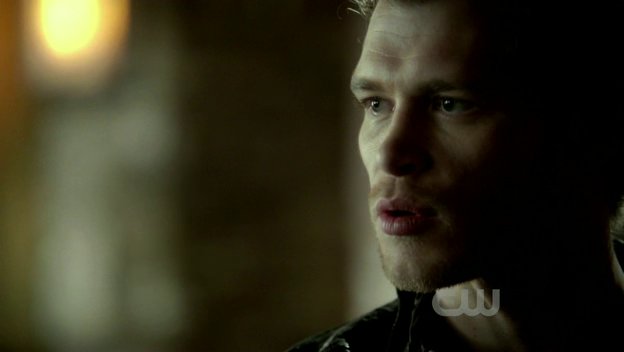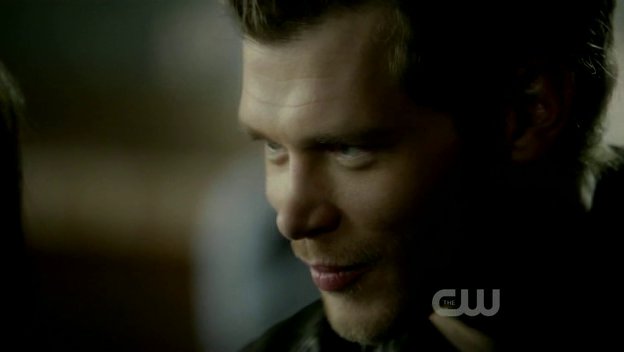 So if Elena makes monthly blood donations, Klaus will let her live her life? Is he being sincere?
But how the fuck can he hold them responsible for Stefan's coffin nabbing?
Bonnie is having the same dream again. Doesn't this get boring for her?
Okayyy this time the room is empty. No coffins
OH CRAP. Not a dream. Bonnie went to check out the house for real and Stefan is there.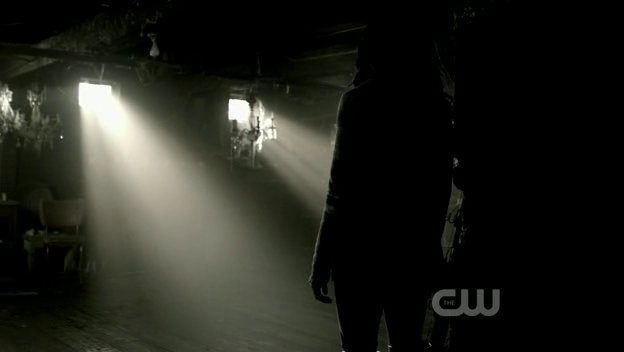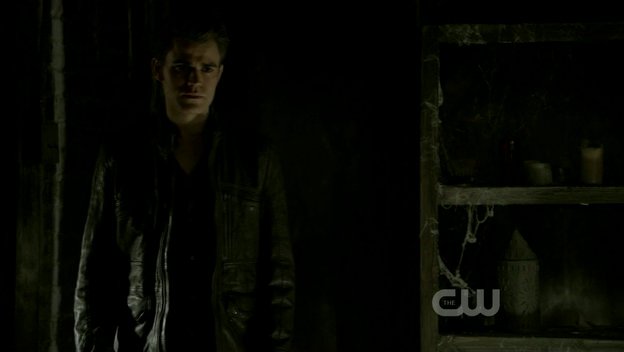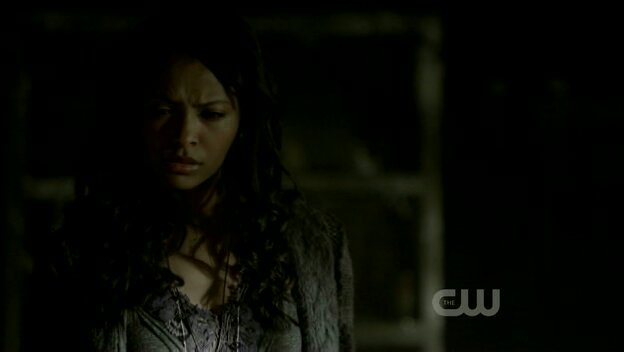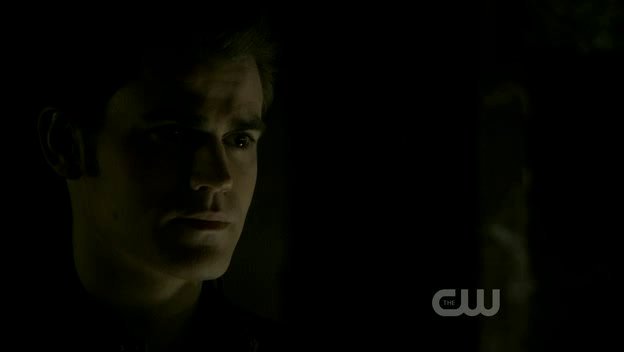 Stefan is NOT someone I want to be alone with in a dark room at this point in time. Emotions on or not. 👀 I just don't trust him and don't know what to expect from him anymore.
Stefan wants Bonnie to use magic and help him hide the coffins.She thinks it is a terrible idea that will only make Klaus angrier. You know...I liked the idea of revenge but now I don't think this is wise.
"I will kill everyone you have ever met." is kinda still ringing (..)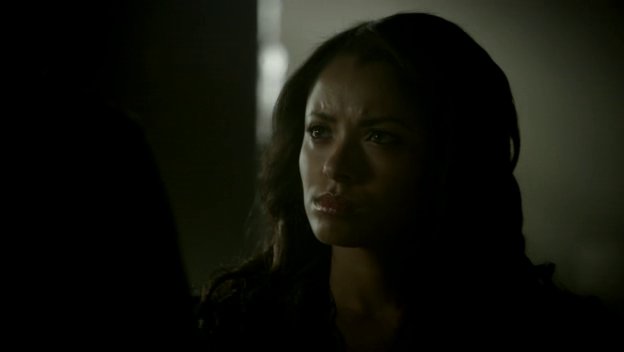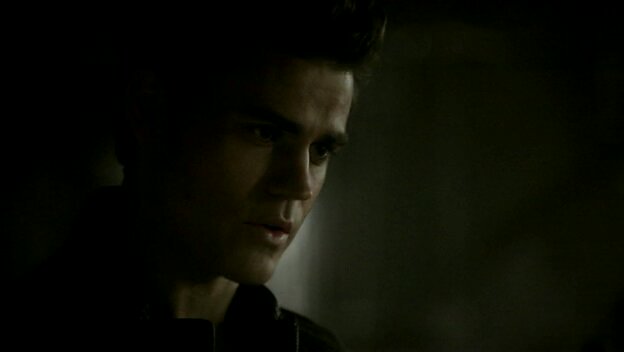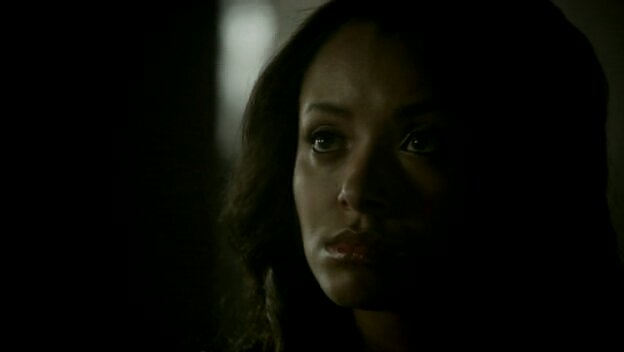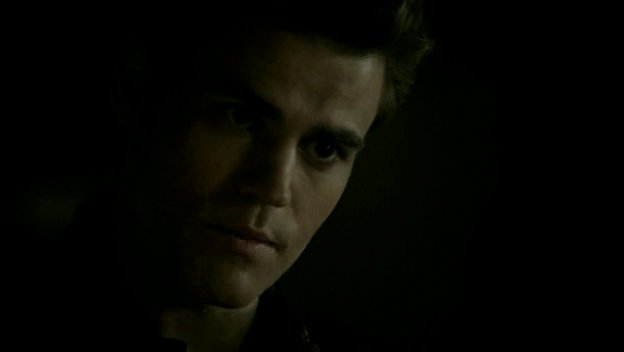 in my ears, plus Klaus actually finaly wants to WAKE his poor siblings, plus he said he would leave Delena to live their lives, if they gave him no problems. He can't be killed. So this seems to be the okay alternative. Revenge is to no gain now. It will only fuck things up
Jeremy is being an ass. Alaric and Elena are cooking but he wants to avoid them and get to Tyler. Neither Elena or Alaric wants him to hang with Tyler but he throws attitude about how she is the last one that can tell him who to hang out with. Look, with Anna, I agreed. She (..)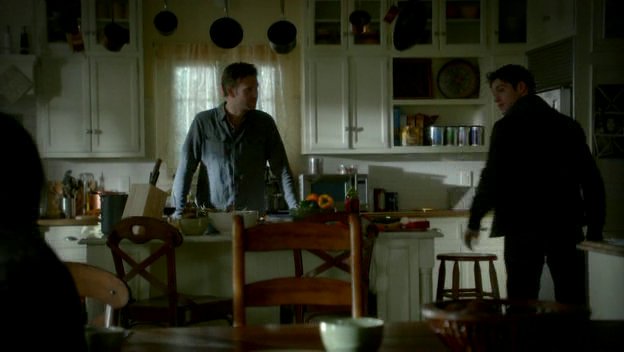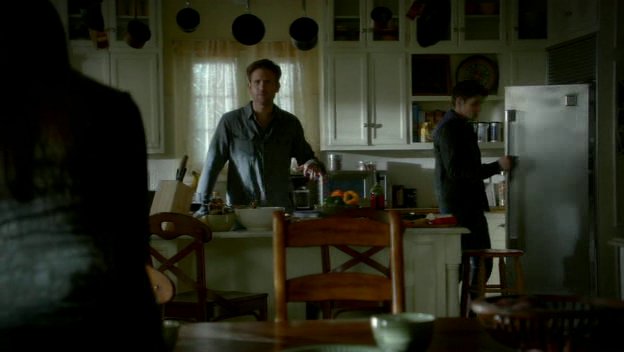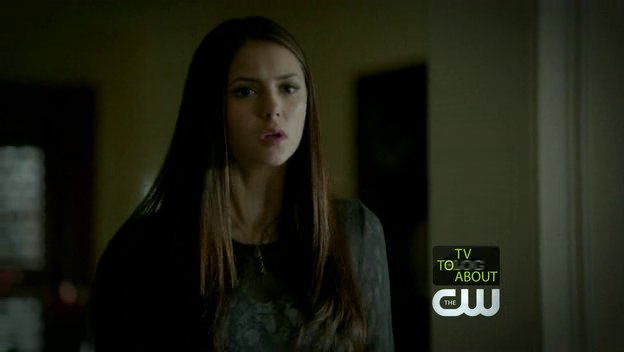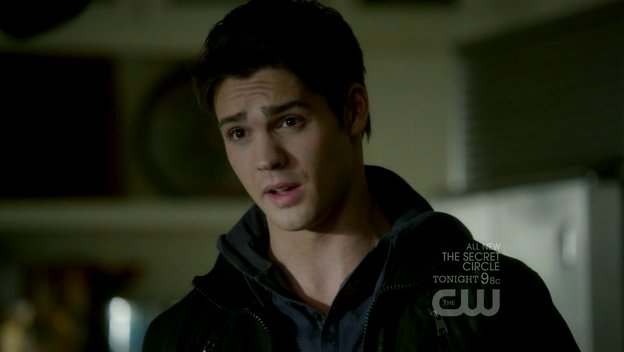 was harmless. But Tyler can't be trusted. He is loyal to Klaus, who is put there, actively making threats.
"Yo Tyler, come on in."
AGSBD JEREMY YOU F*CKTARD
YOU JUST BASICALLY LET KLAUS IN 💀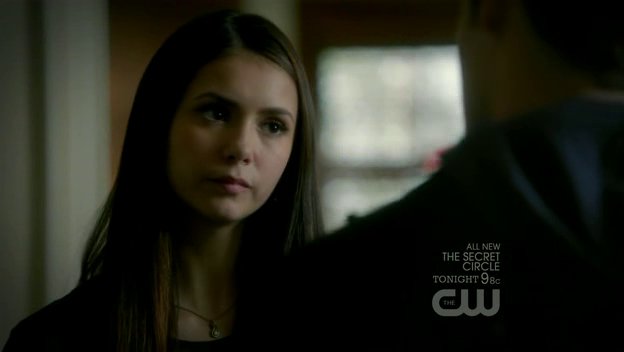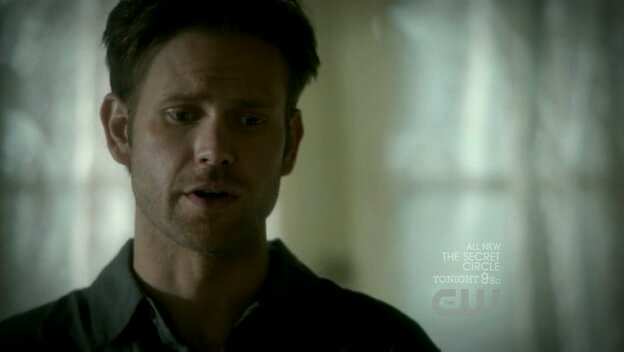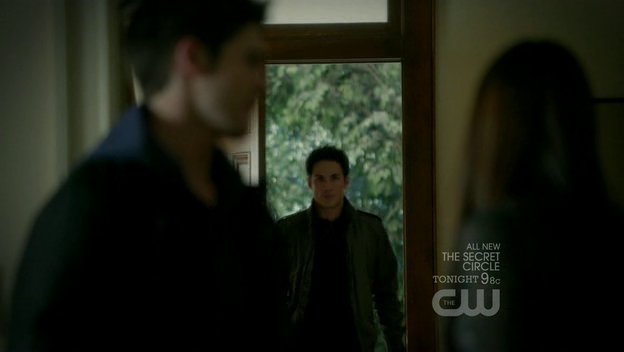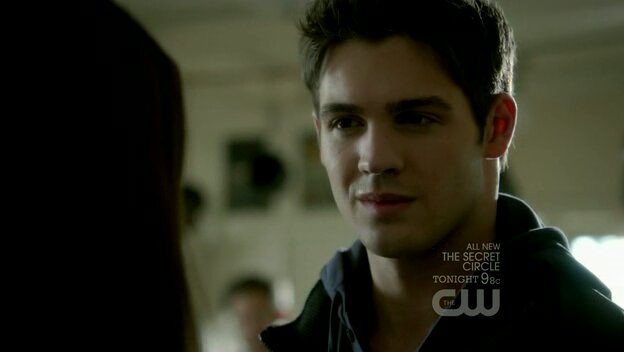 Damon, don't goad Klaus. Pleaseee 😩 "Who could have guessed your own brother would betray you?"
"Well, I did have a front row seat when your sister lied to you."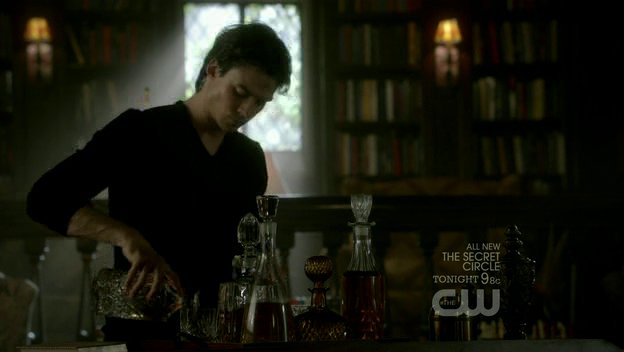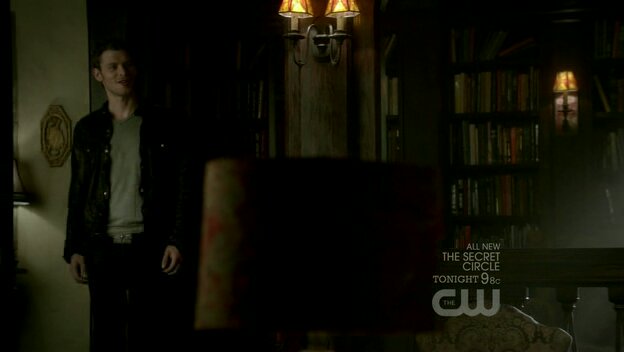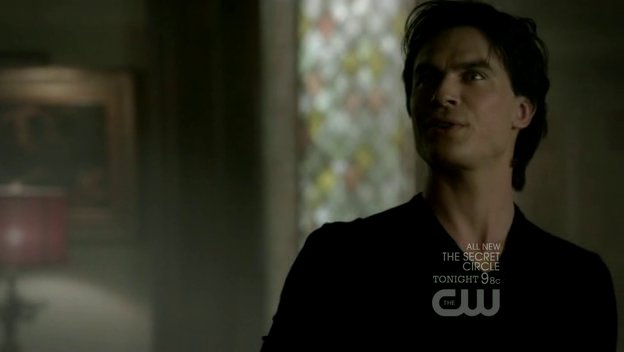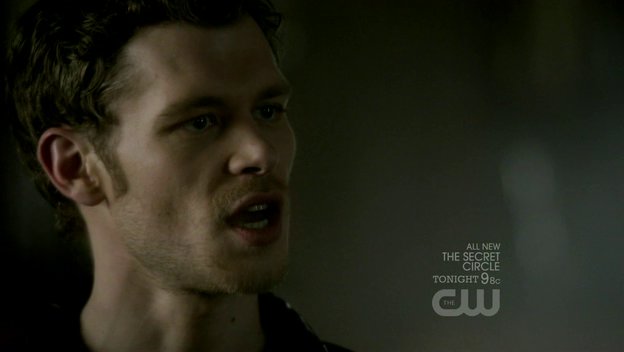 Alaric and Elena is not happy with having Tyler over.
"Tell me, Tyler. What is the sifference between being sired and compelled?"
"Compulsion, that's just mind control. Like hypnosis.Being sired, is..it's like faith. You do something because you believe it's the right thing."
Alaric and Elena puts him under crossfire and don't like the answers. Neither do I. Je will kill himself for Klaus. But somehow, he gets pissed at them and says that sound like Caroline. "I can still make my own decisions."
You sure? Doesn't sound like it.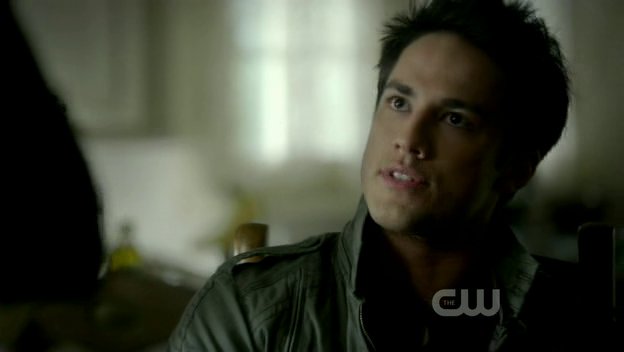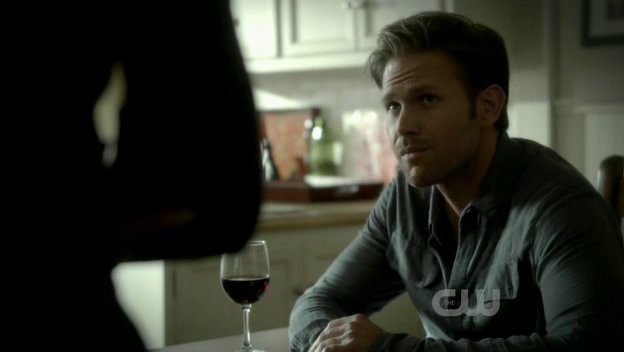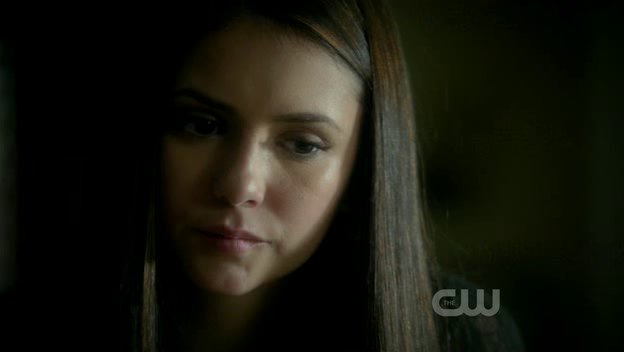 Damon please stop goading Klaus and take this seriously 😣
"Perhaps I wasn't clear enough when I told you to find Stefan. Oh well. It seems you people respond best to displays of violence."
OHHH SHIIIT WHO IS HE CALLING???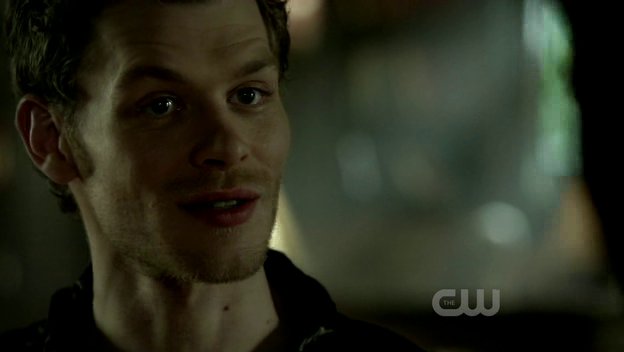 ...Jeremy is gone...and his ring is on the plate...WTF WHAT'S HAPPENING?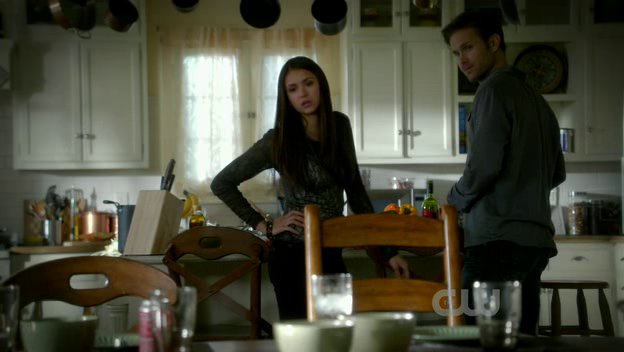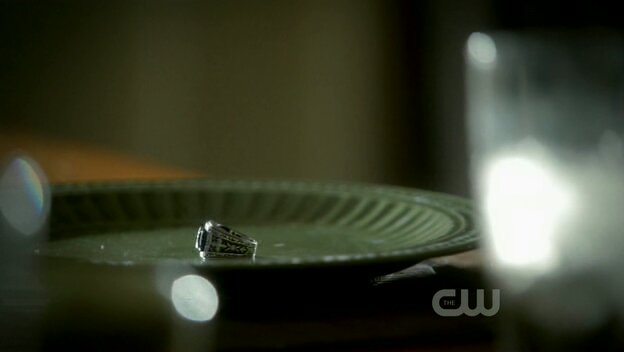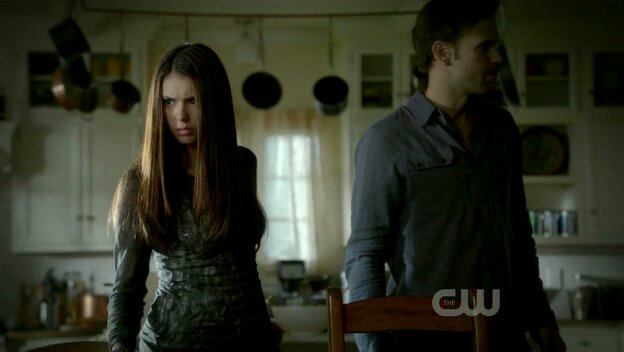 JEREMY MOVE YOU LITTLE SHIT OMGG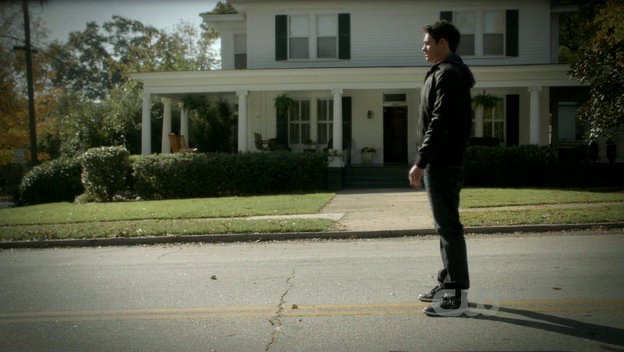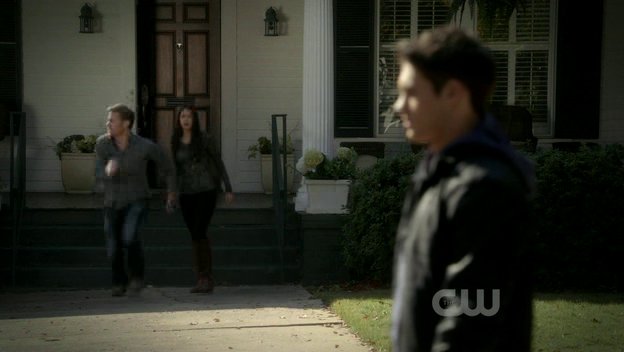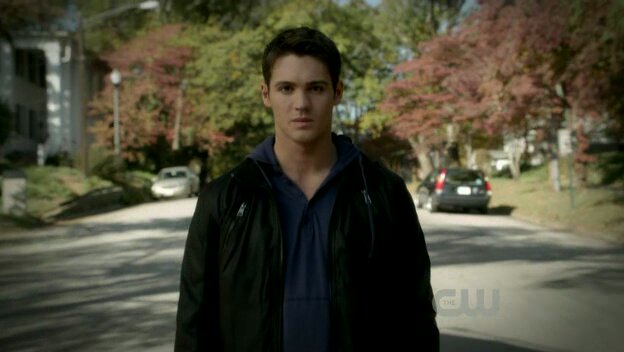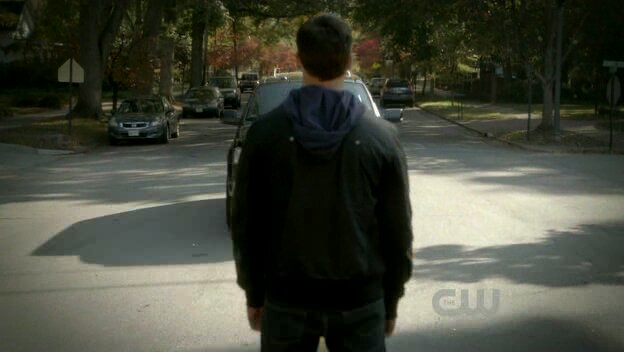 Alaric want flying OMFG he is definitely dead. Luckily he has the ring when though that thing is taking longer to work. Jeremy was compelled. 💀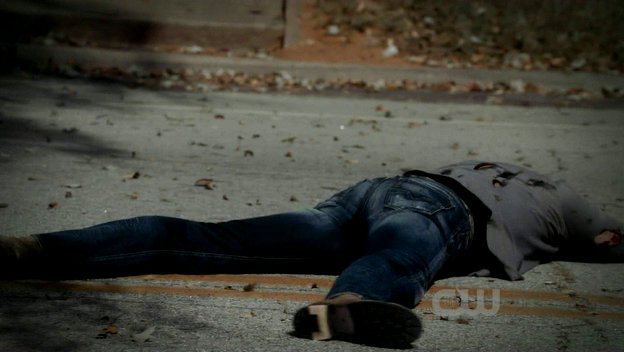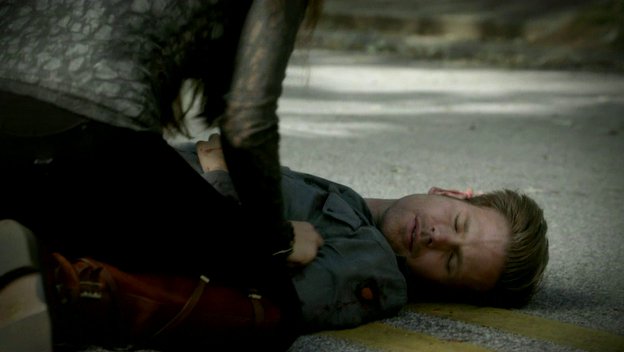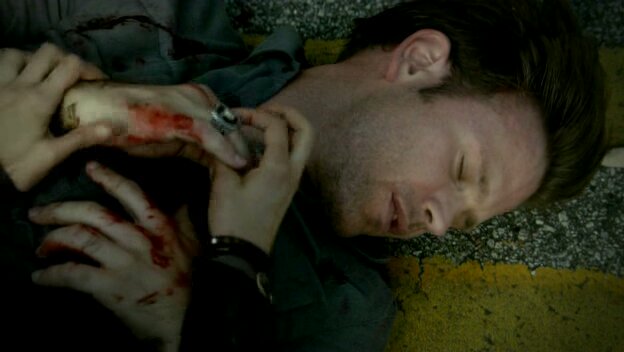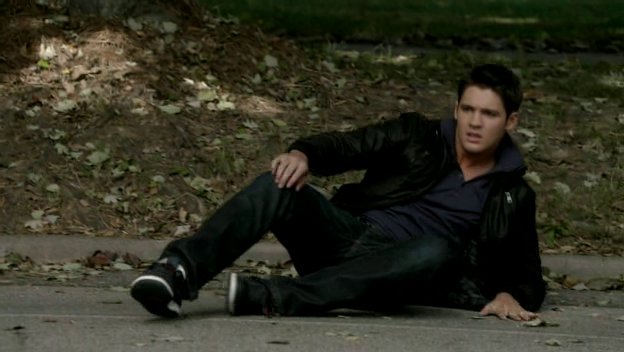 Tyker was working with Klaus. He compelled Jeremy. 💀
"Tony ran down Alaric instead of Jeremy, but apples, oranges. Message lands the same."
"You said you were sending them a warning."
"I did. An effective one. Elena's family suffers, a is motivated to get me what I want." 💀💀
Tyler really isn't the sharpest pencil in the box, is he? And Klaus needs to stop dragging Elena into his shit. 💀
Klaus tells him that human life is just a means to an end. A means to THEIR end.
NOW Tyler is getting why this is a problem. He was okay with it all but finally be is seeing the problem.
Damon arrives and instantly notices that Jeremy isn't wearing his vervain bracelet. My son misses nothing. And nice Tyler, nice. 💀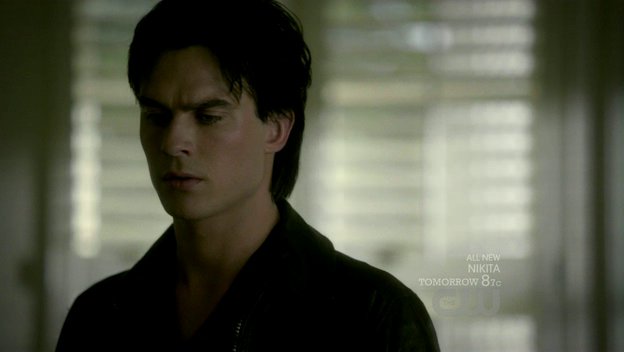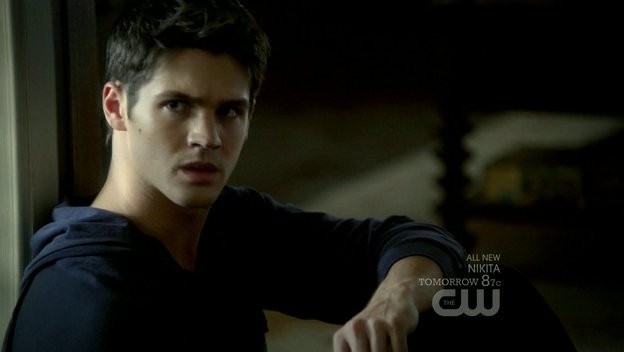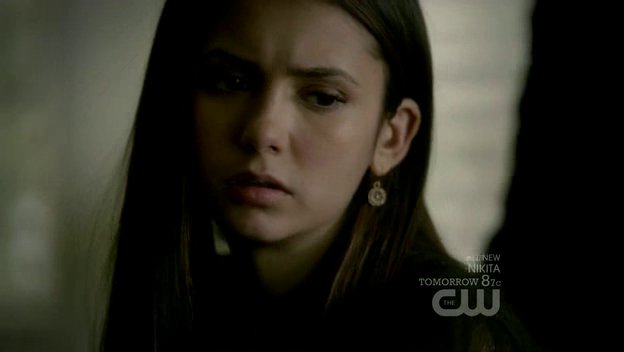 Elena wants to give Klaus Rebekah, but Damon is worried for her safety. "No, no. I know what you are thinking. The answer is no."
"If we give him Rebekah.."
"Then he undaggers her. First thing she does is kill you. Trying pan, fire. Not an option."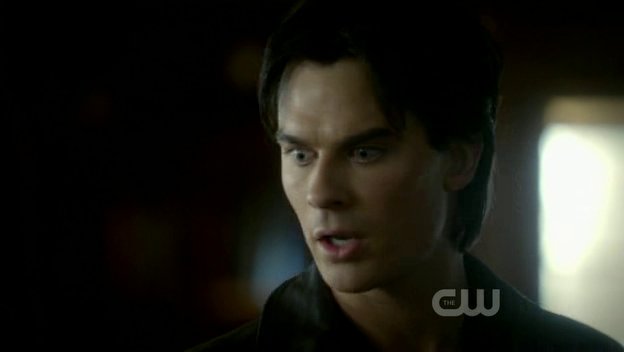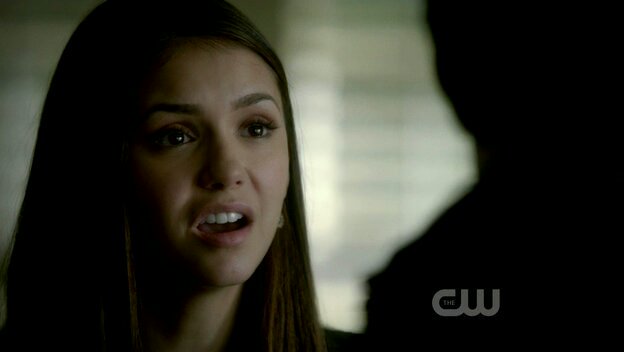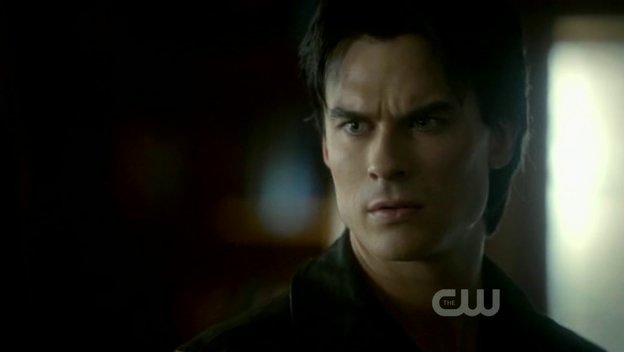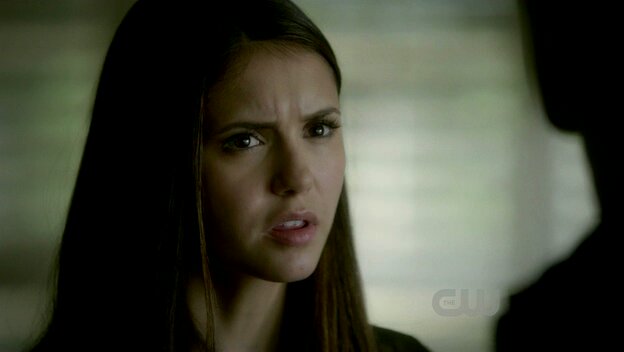 He is always looking out for Elena's best interests and I LOVE that. Elena remembers Bonnie's dream and figured oh she was dreaming about Klaus' family. I swear, the only ones with actual brains is Damon and Elena.
Elena calls Bonnie and tells her that her dream meant something and that they have to find Stefan. Bonnie is hesitant until she hear Klaus tried to kill Jeremy. I guess she still cares about him.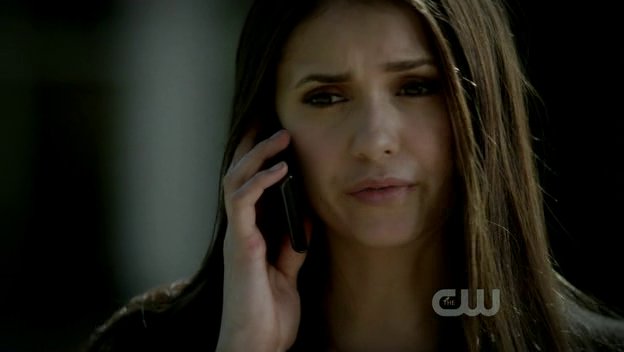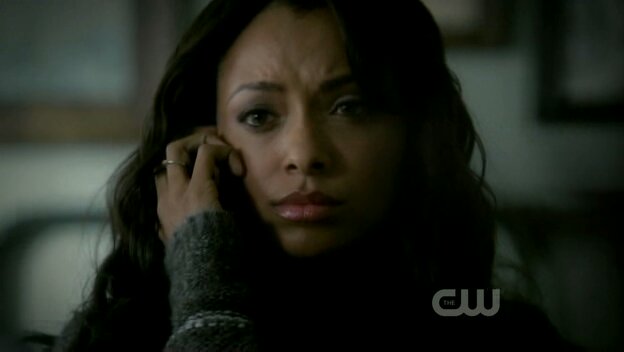 Delena : walk next to eachother
Me : AGSHDJFNFBF THEY ARE PERFECT 😍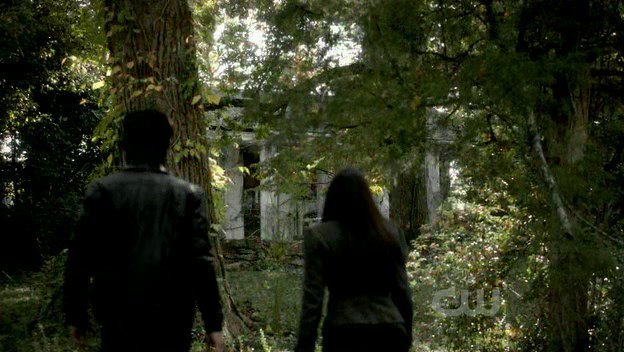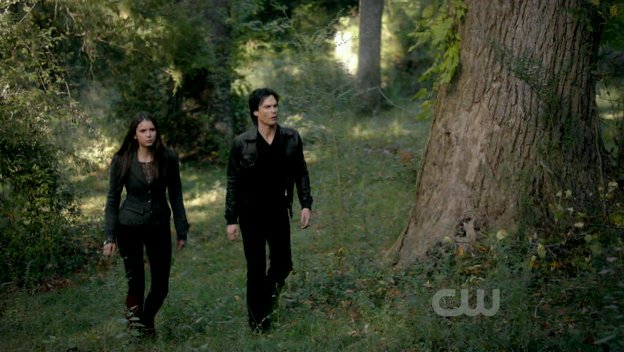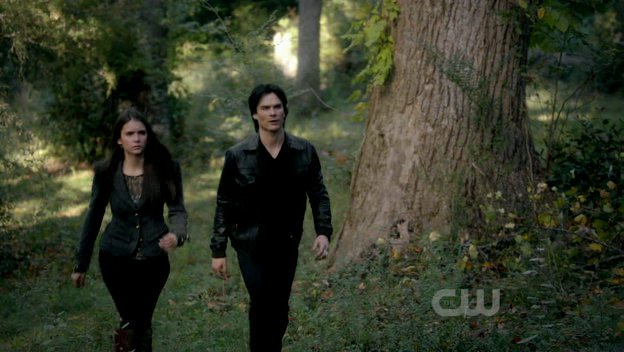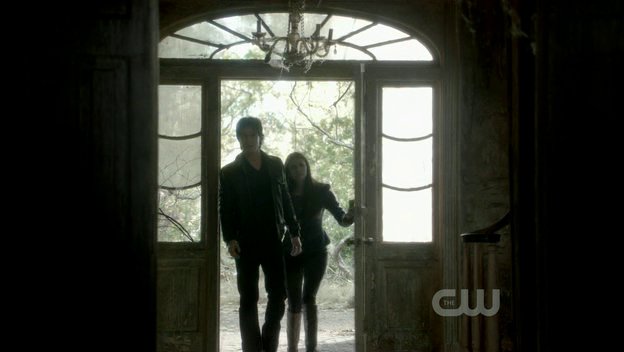 Damn those Damon hating witches. They won't let him inside but are okay with Stefan? The fuck?
I bet ripper Stefan killed much more during his binges than Damon ever has. Anyway, Elena go look for Stefan on her own.
"Stefan?"
"Go away."
Your emotions are on. Quit being an ass 😐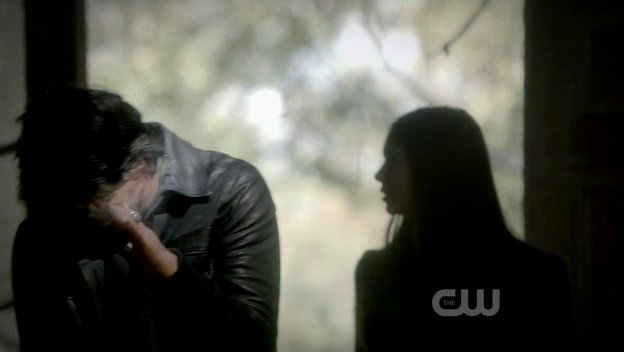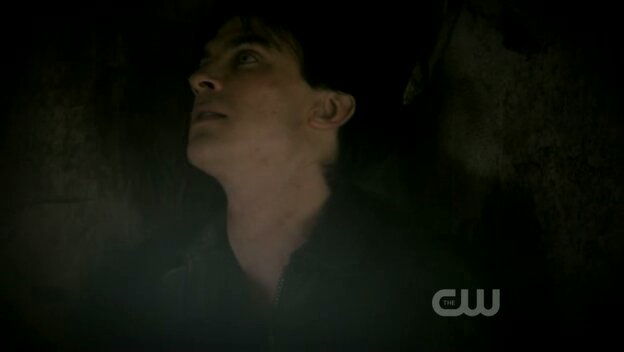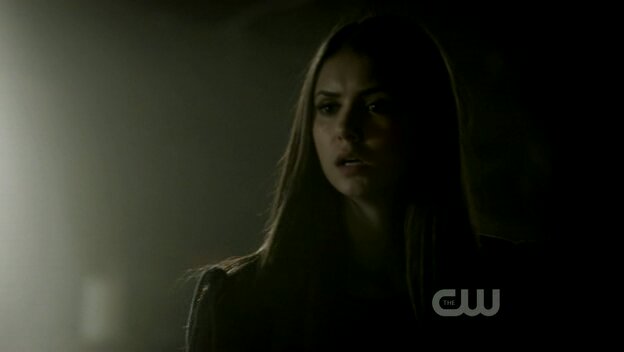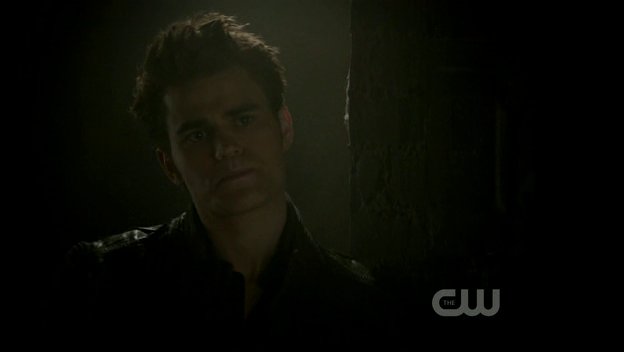 Stefan is being such a jerk. He is mad at Bonnie for telling Elena where he is and he doesn't give a damn that Klaus threatened Jeremy. He is being snotty with Elena.
"Elena, stop talking.I am not giving Klaus anything."
"Are you listening to me? He is going to kill Jeremy." (..)
"Not really my problem."
YOU SON OF A BITCH 💀
Elena looks so hurt. She can't believe what she is hearing.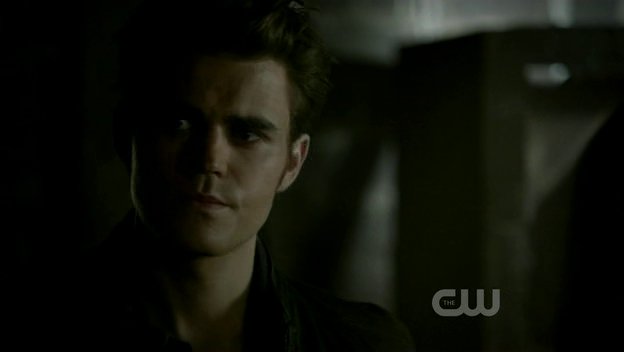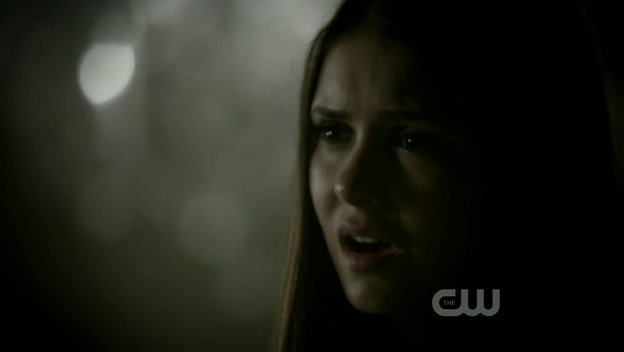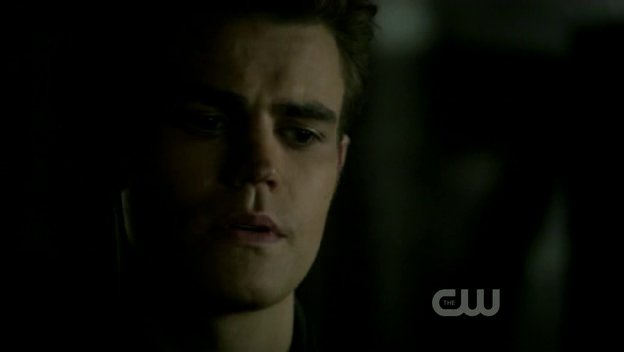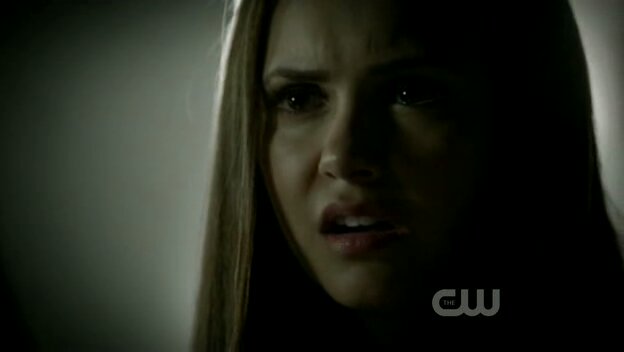 YES SLAP HIM RIGHT GIRL. "Then you can go to hell."
Stefan has no excuses anymore. He can't hide behind ripper or humanity off. So WTF is this asshole behaviour now?
THEIR HANDS 😍
Damon gives her the carkeys.
"You go deal with your brother. I will deal with mine."
They share another small moment OMG I love it.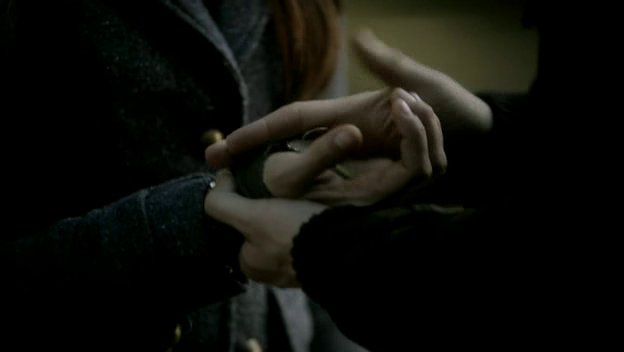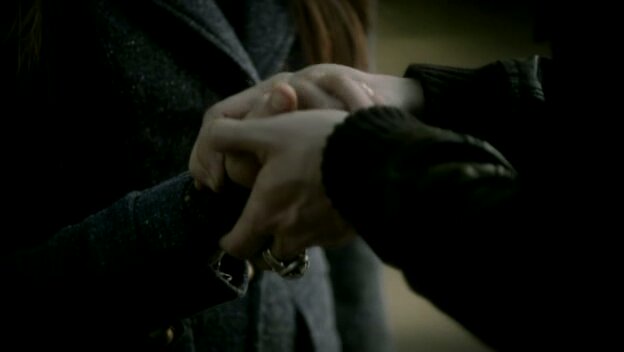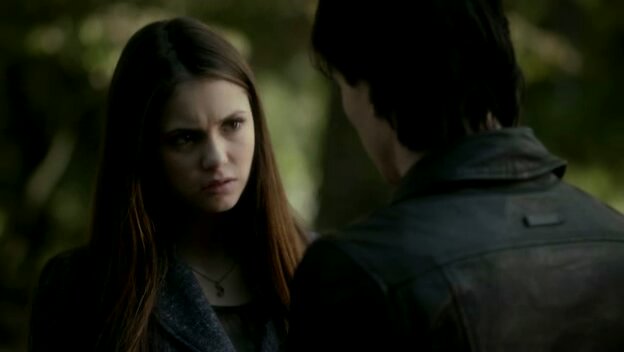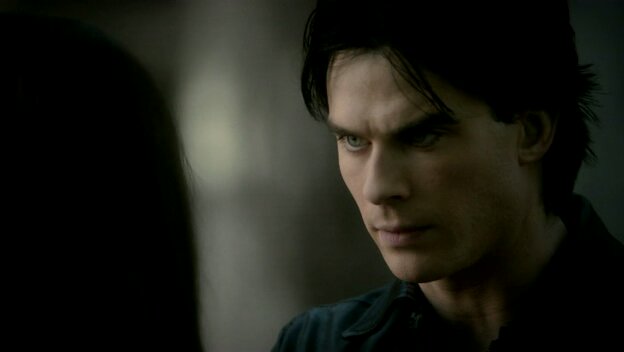 Wow. Damon gets all toastied and Stefan just smirks like it's the most amusing thing. The things Damon does for love though.
"Wow. That was impressive. But the coffins aren't here, so you can go away now."
I don't understand why we don't have normal Stefan back now.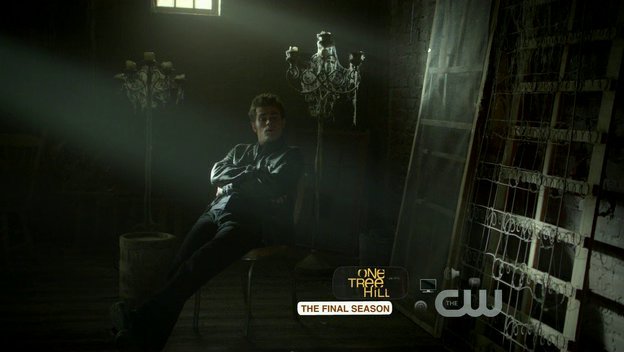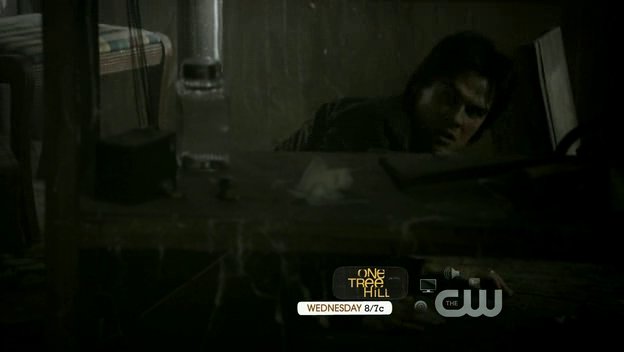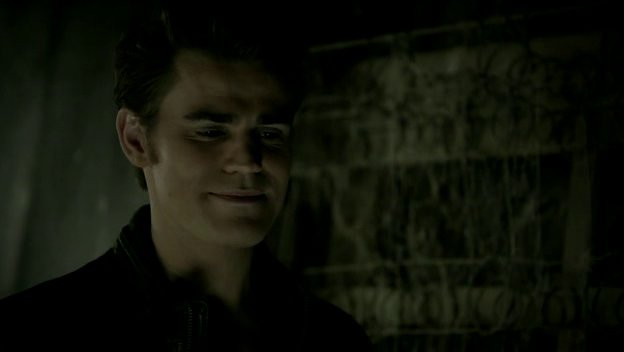 Yasss Damon drags him outside and forces the answers out of him. He knows now that Stefan saved Klaus, to save his life and he is not to thrilled about it.
"Piece by piece Klaus took everything from me. I am doing the same to him."
Revenge is never good Stefan. Not against (..)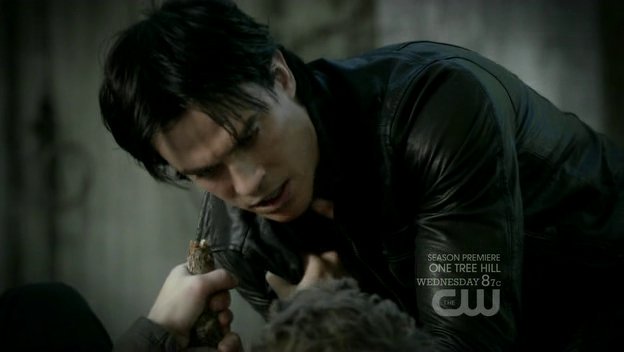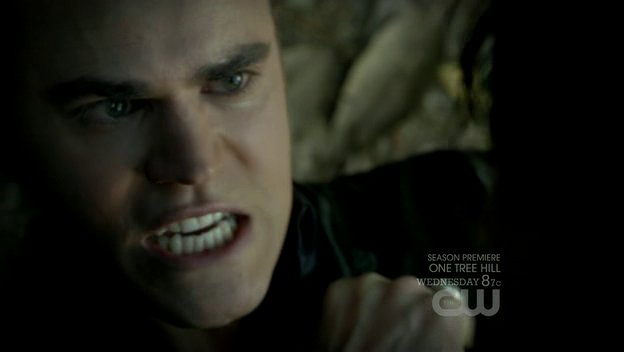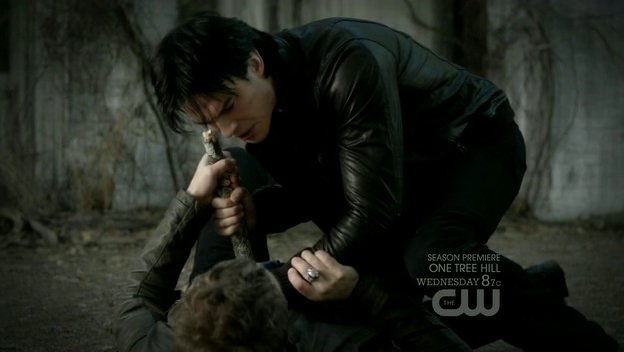 someone who can't be killed and someone who will literally kill everyone you have ever cared for.
Jeremy confronts Tyler with a crossbow. Tyler is STILL defending himself, but also warns Jeremy to go home and stay inside. Klaus is not done with them yet. No shit Sherlock 💀
Alaric is finaly awake. It's dark out. Just how many hours does the ring take to work now? Nah take that thing off. That was probably the last use
OMFGGGG THE RING'S MAGIC IS DEPLETED. ALARIC COUGHED UP BLOOD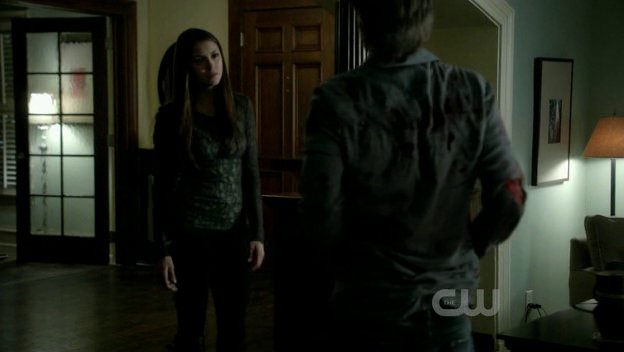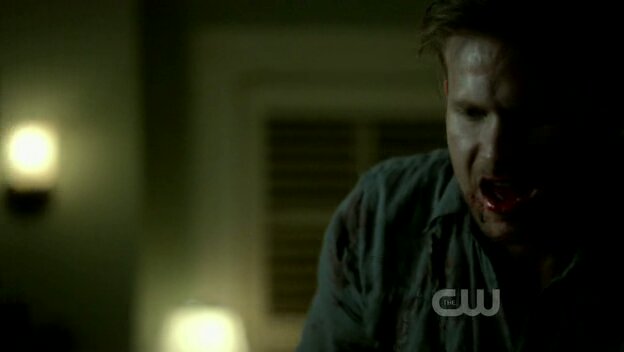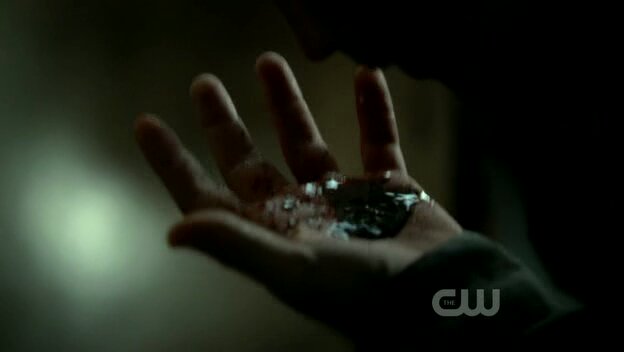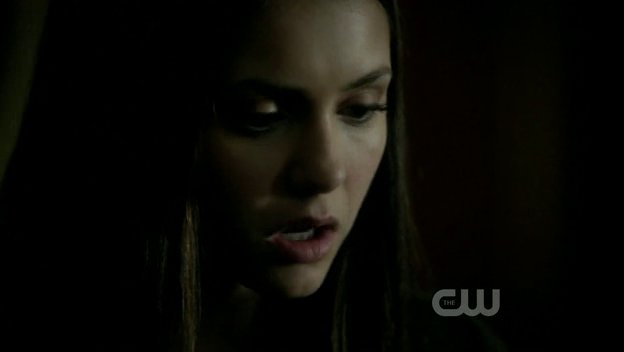 Elena called the paramedics. It looks like Alaric has internal bleeding. That ring did a half ass job 😟😟😨
KLAUS' MINION COMPELLED THE PARAMEDICS TO LEAVE. HSHDBD KLAUS DAMNIT. IT HAS BEEN ONE DAY. HOW THE FUCK CAN YOU GIVE DELENA ONE DAY TO DELIVER YOUR DAMN ASS COFFINS?
Nice shooting Jeremy 👌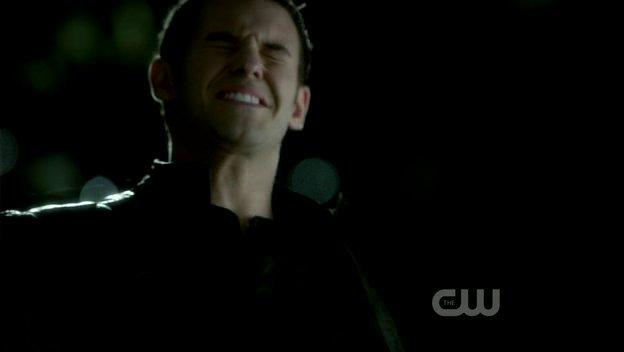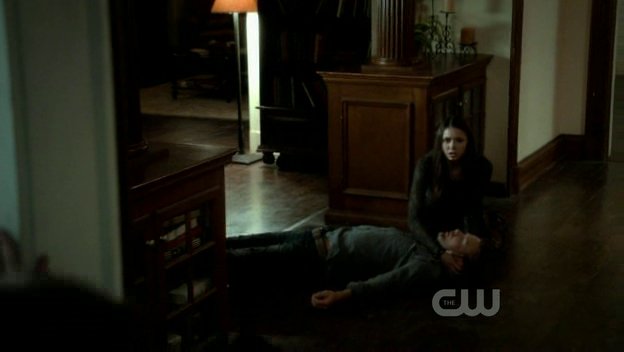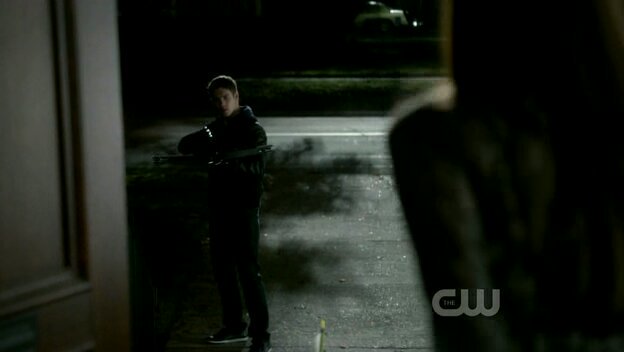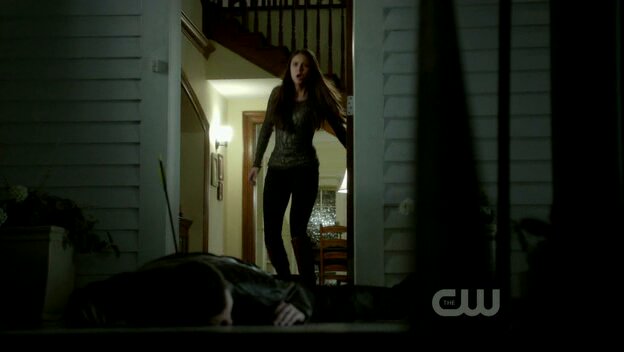 ...OMG ...savage... 👀
Nice beheading, Jer, ...um...very calmly done...perhaps a little to calmly? When did Jeremy turn into a cold blooded killer?
Glad he did it though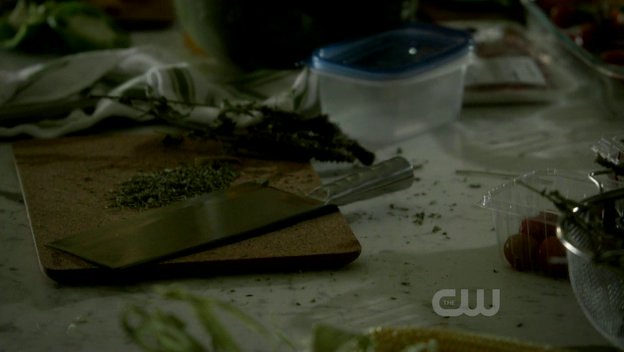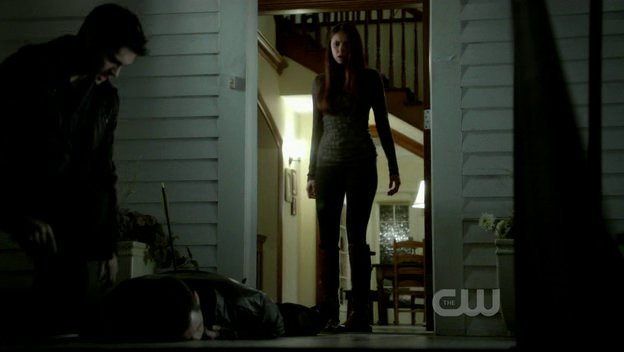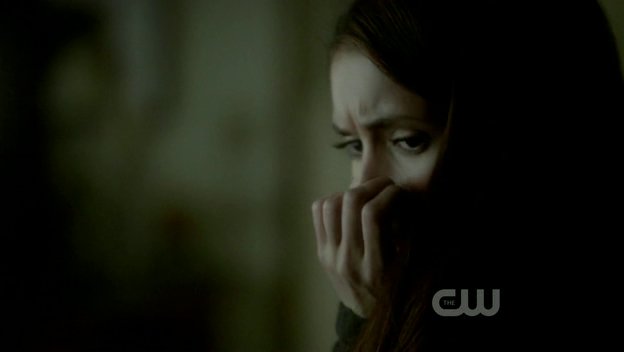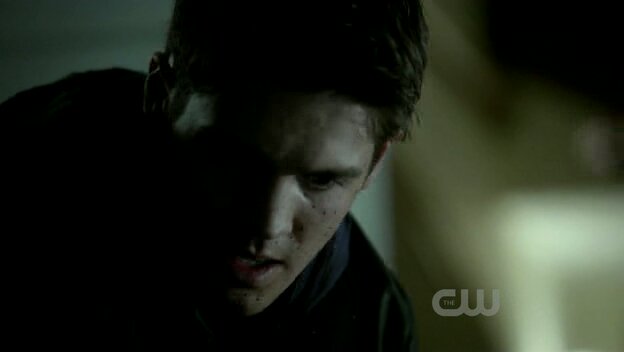 Damon wants to know why Stefan saved him but he is deflecting. Je finaly agreed to let Damon in on his plan against Klaus, but makes him promise not to tell Elena.
??? Like she can't be trusted??
"Have a look."
"What? Klaus is allergic to dust?"
Lmaooo.
"Look again."
So the coffins are there after all. And the flaky witch spirits are hiding them with a spell.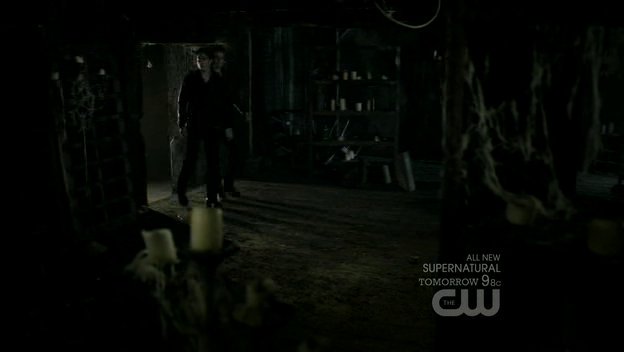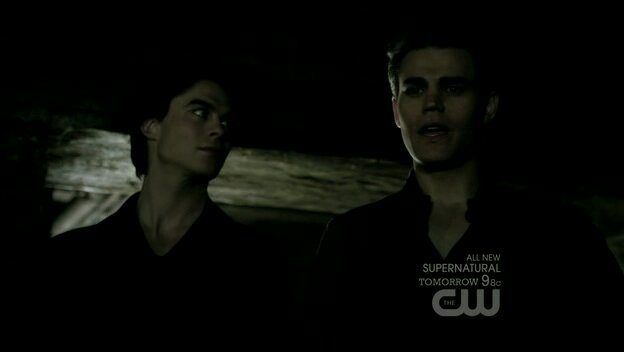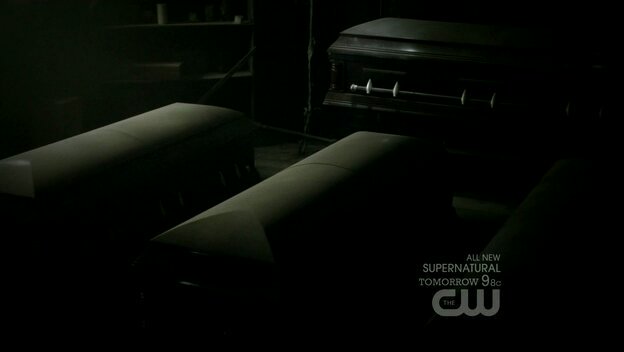 Okay, the ring finally came through and Alaric is fine. The doctor doesn't get it though. Nothing to see here, Dr Fell. Just move along, thanks
SHIT. I hate it when these two share a scene. I am scared. Now what?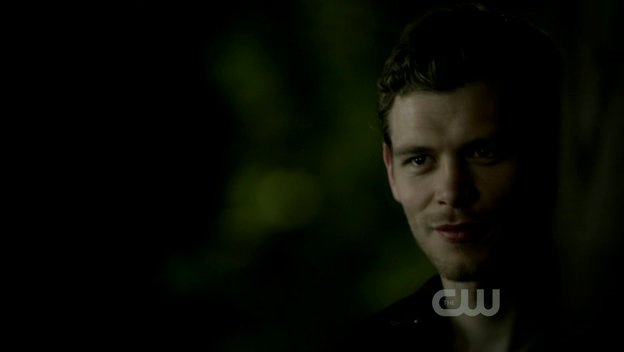 Klaus being a jackass to Elena and walking right "through" her. Nothing new I see. It is like he genuinely hates her for some reason. And it baffles my mind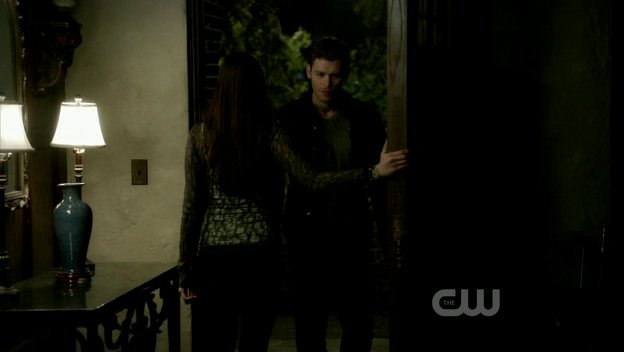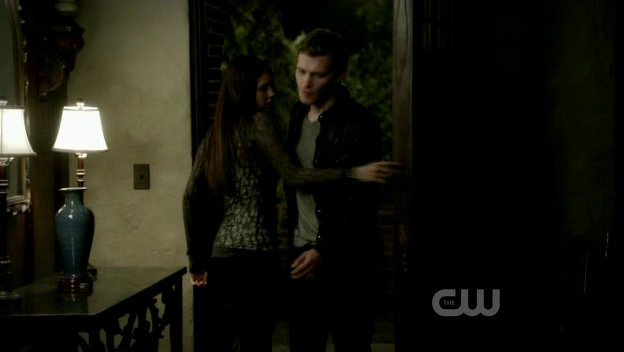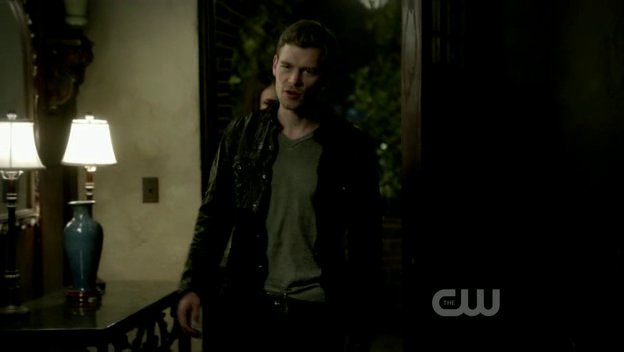 Elena made a deal with Klaus. Rebekah's life, for Jeremy's. When Stefan refused to him through, my baby girl got things done on her own. Klaus promises that Jeremy won't be harmed. Not that I trust his word, but I will take it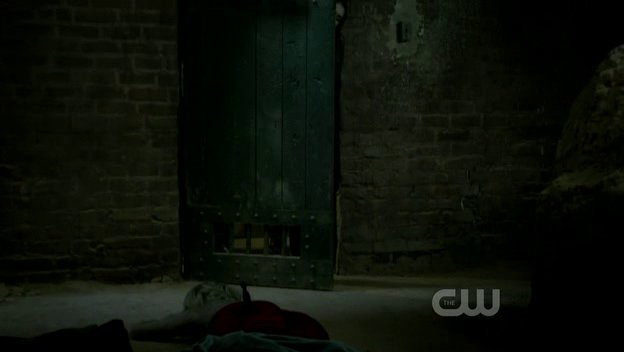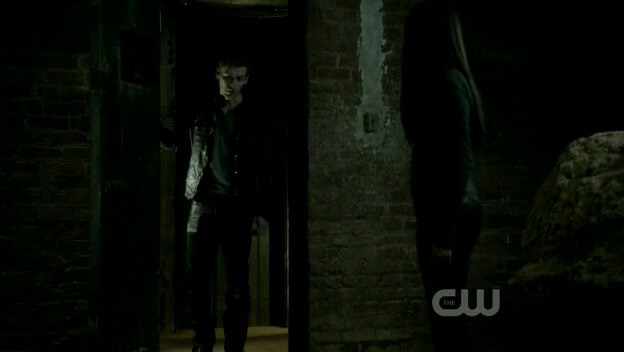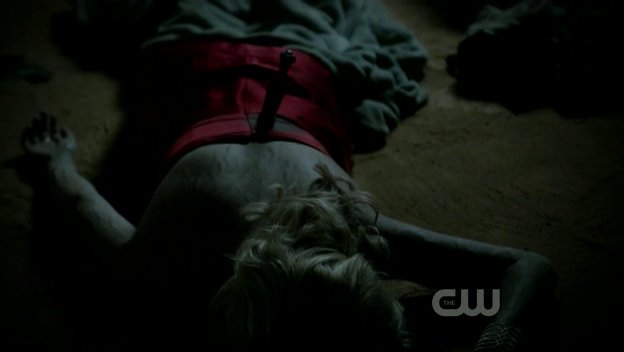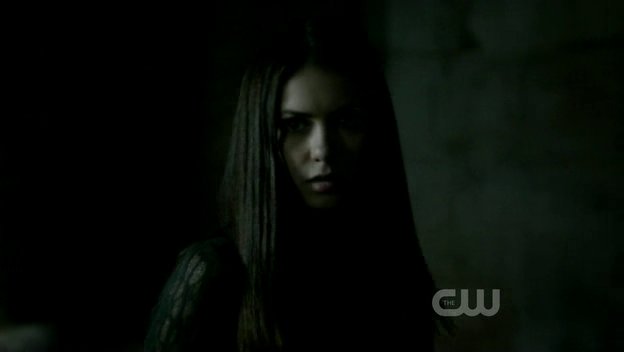 Elena warns Klaus that she is the one who daggered Rebekah and she will come after her.
" I can control Rebekah."
Yeah, this is the ONE time I won't object to that sentence being used.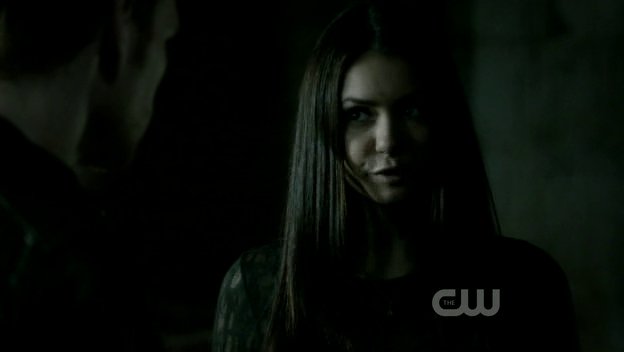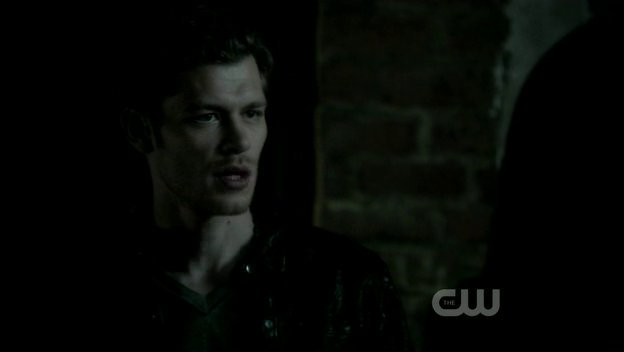 Klaus is threatening to kill someone else on Elena's list of loved ones. Bonnie, Caroline or Damon.
The threats are getting old, but I do appreciate that he knows Damon is on the loved ones list
"Its only a matter of time, before Stefan gives me what I want."
"He doesn't care about me anymore. You made sure of that. You turned him into a monster. Now he is your problem."
YOU TELL HIM GIRL.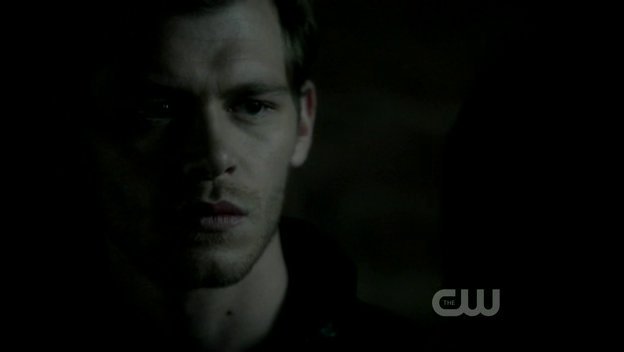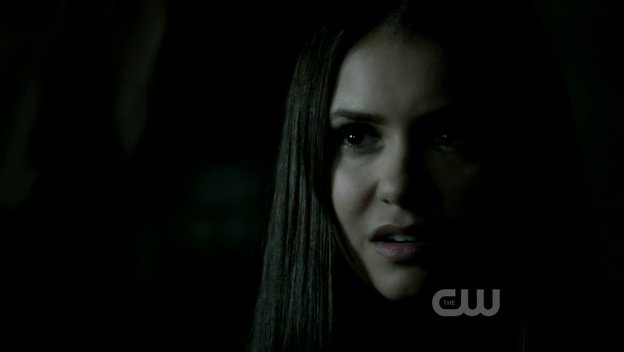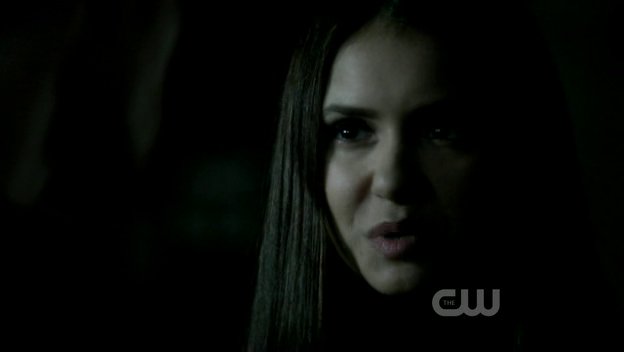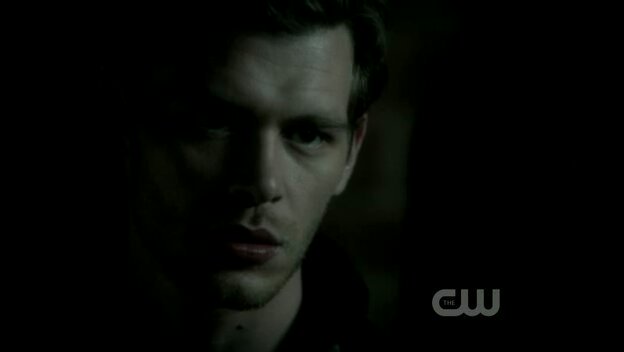 I love Elena's sass.
"Just so you know, I am not the only one she wants dead. She knows what you did yo your mother. She knows that you killed her. You can let yourself out."
AHSHD NO CHILL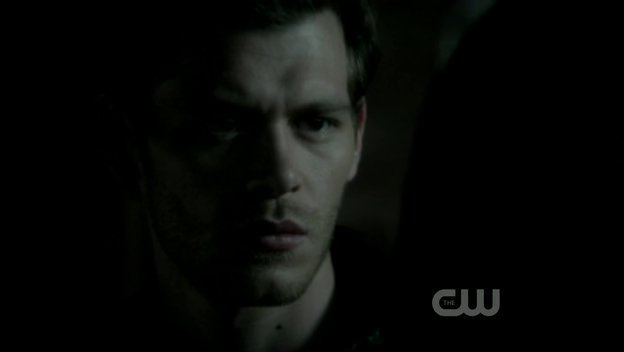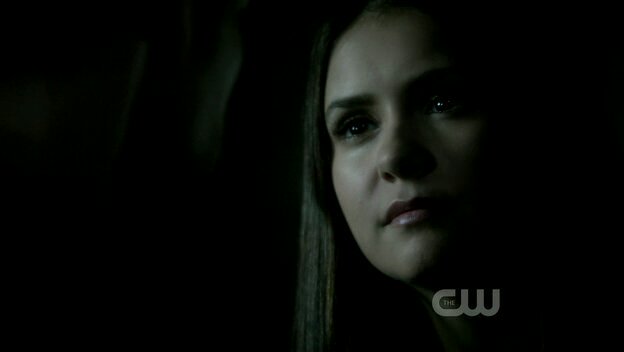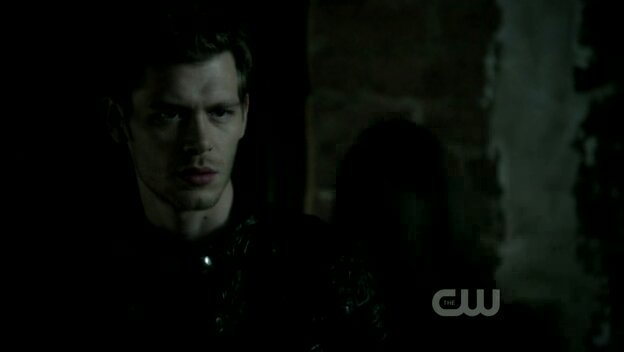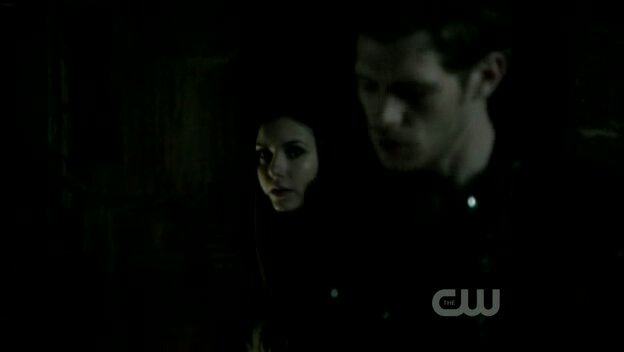 Alaric is concerned about the fact that Jeremy is so chilled out after everything. He is wayyy to calm, I agree.
Damon took care of everything. Je got rid I the body and have Rick some blood. He noticed Elena isn't doing so great and asks if she is okay. I LOVE HOW THEY CHECK ON EACHOTHER. They are eachother's support system now.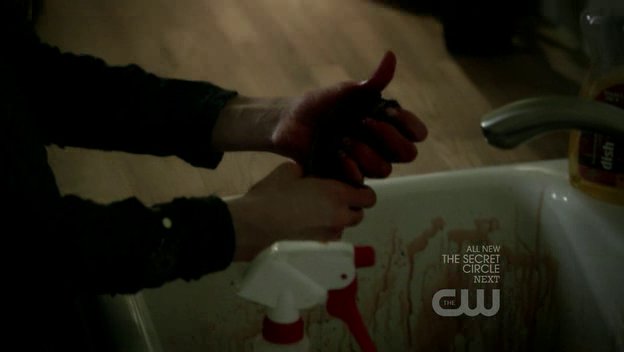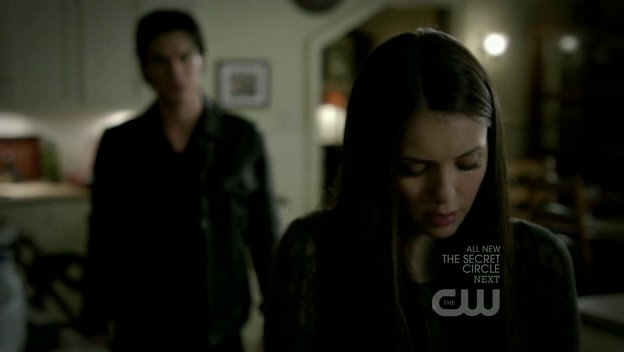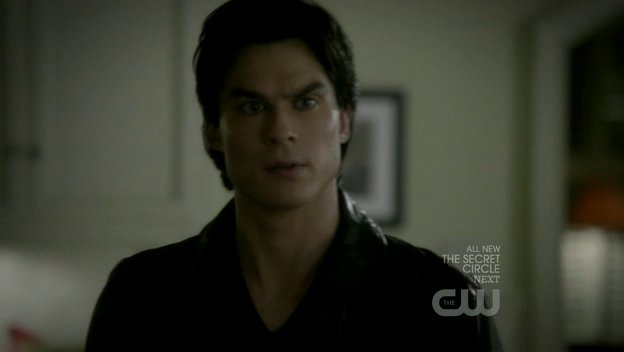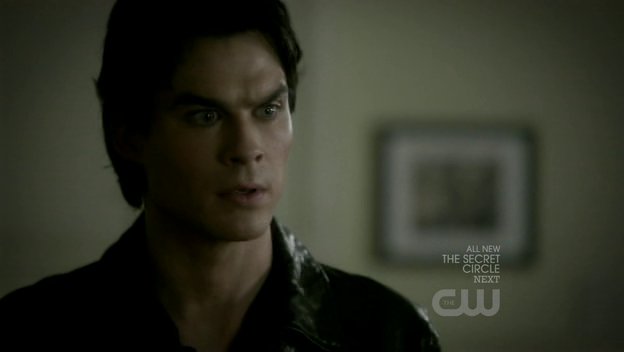 "Elena, look at me. It's going to be okay." He looks so soft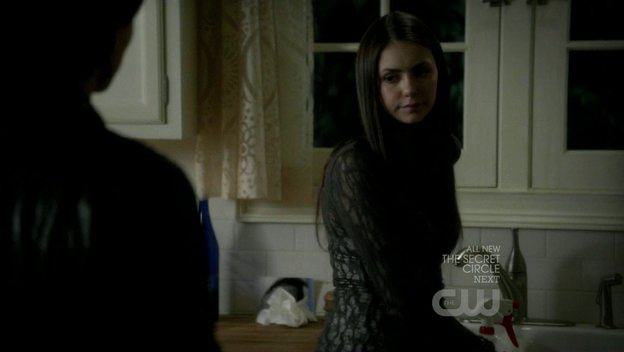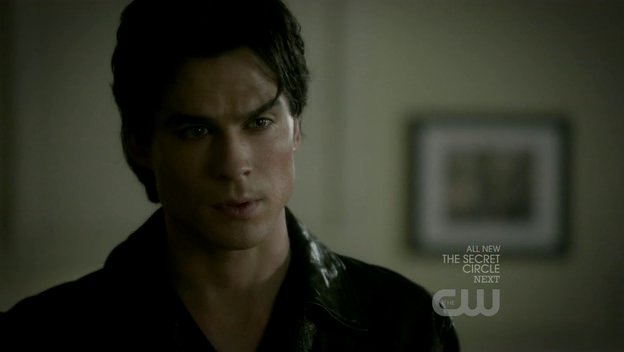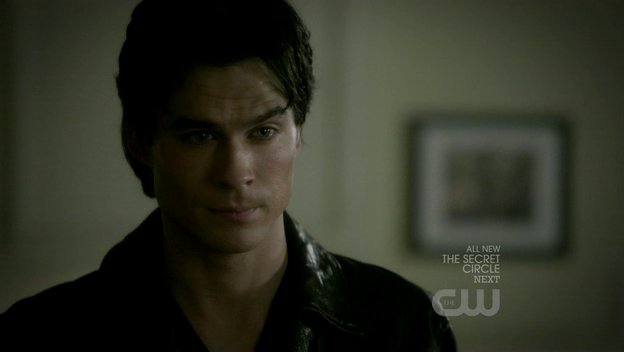 Damon isn't happy about Elena giving Rebekah to Klaus and is immediately concerned for her life.
Elena trusts Klaus will keep her in check but Damon doesn't.
"What other choice do I have? I don't trust Stefan."
Sigh. She should be able to at this point. I still don't understand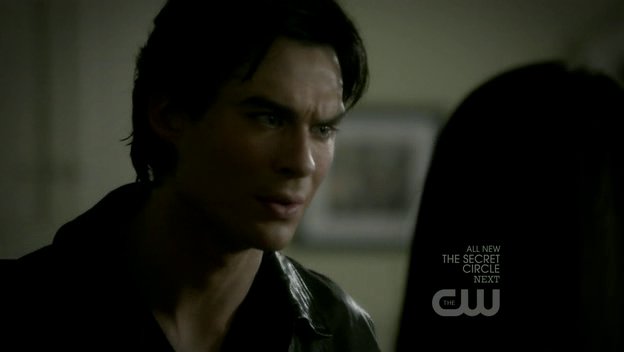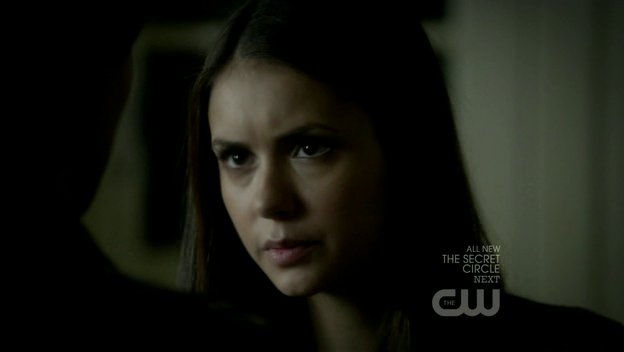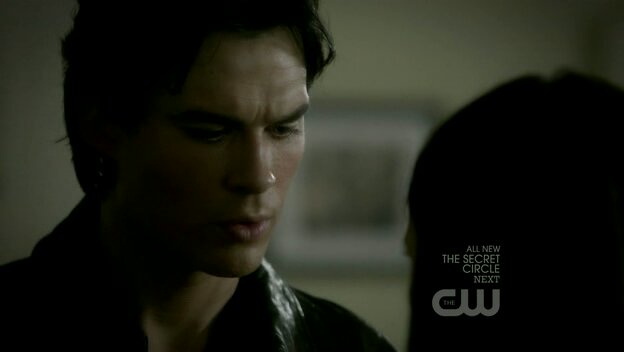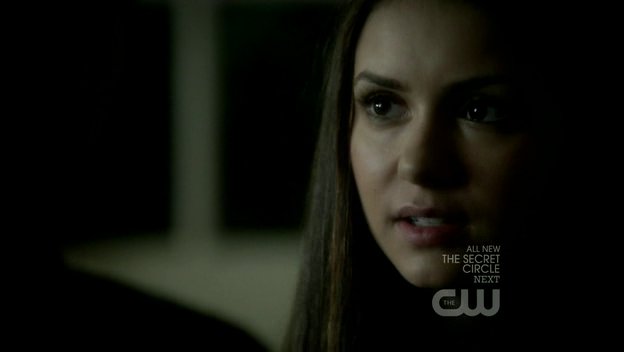 OMGGGG ELENA TURNS FROM DAMON AND HE GOES TO HER AND OMFG IT'S SO SOFT.
He promises that they will fix what is going on with Jeremy and TAKES HER FACE BETWEEN HIS HANDS.
WHAT IS THIS EPISODE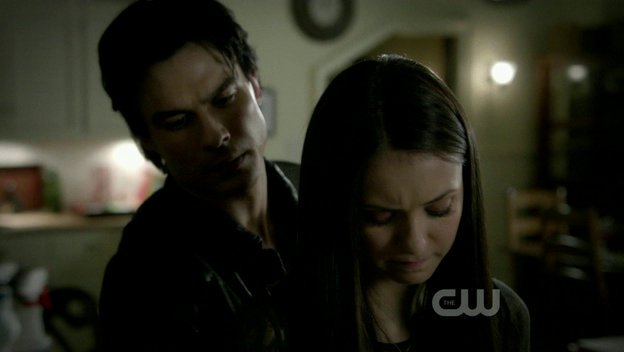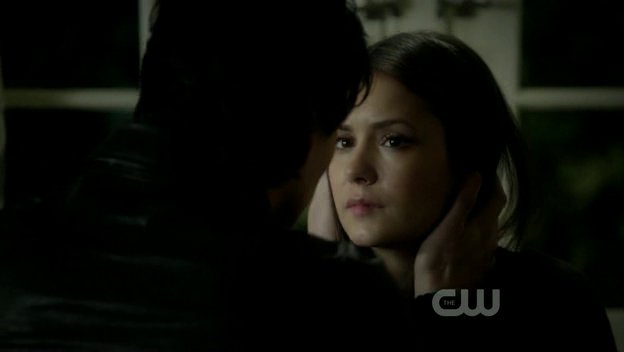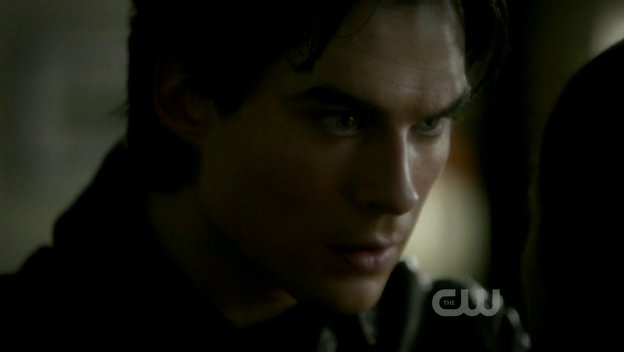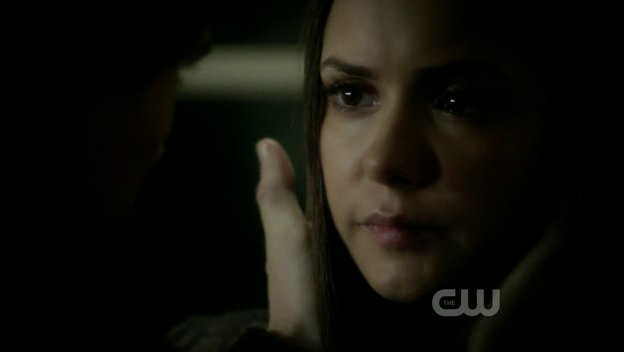 KLAUS WHYYY YOU F*CKTARD 💀
Fucking coward. He doesnt want to face Rebekah and daggers her instead. This is bullshit. Own up to what you did. How long are you going to keep her like this?? She will be pissed 100 years from now too. 💀💀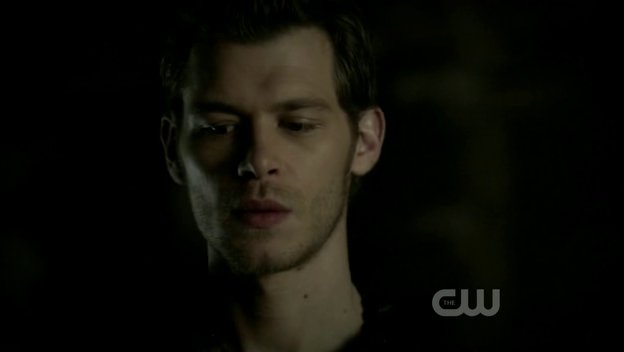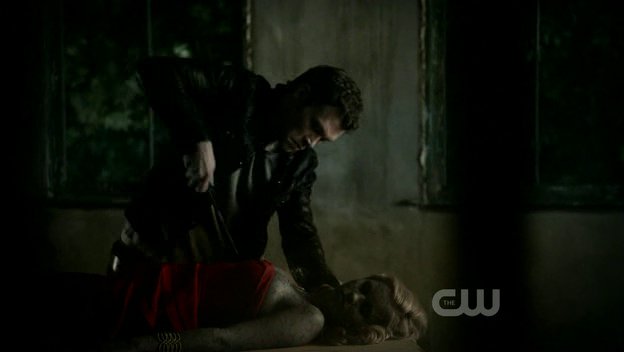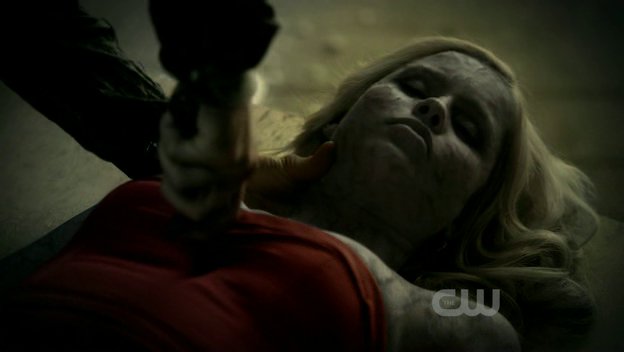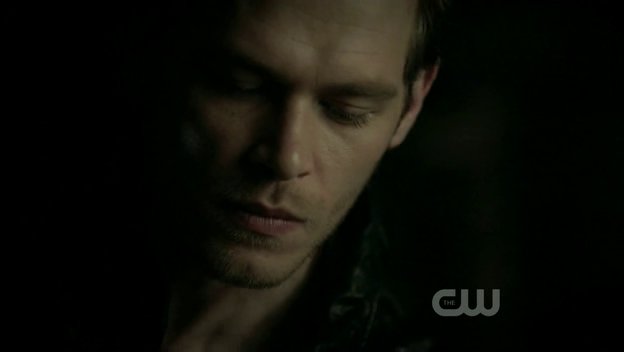 Poor Elena. She and Alaric let Damon compel Jeremy to leave town and lead a happy, normal life. Its for the best though.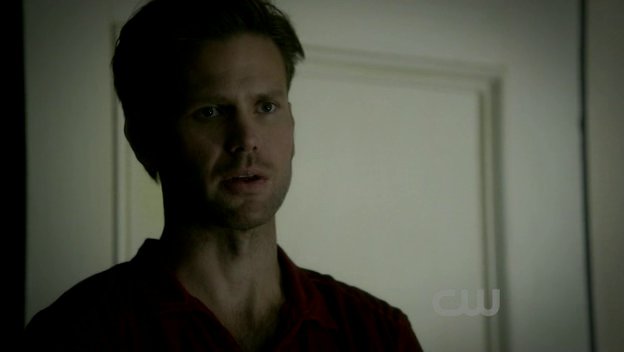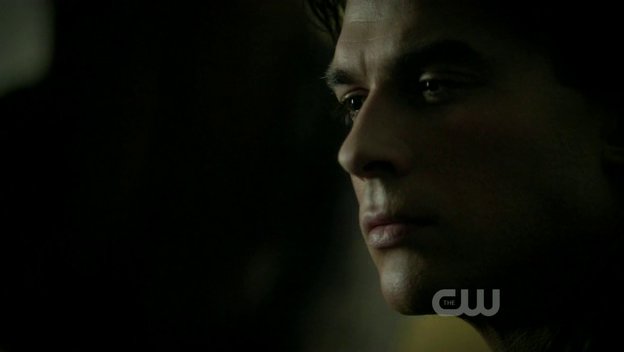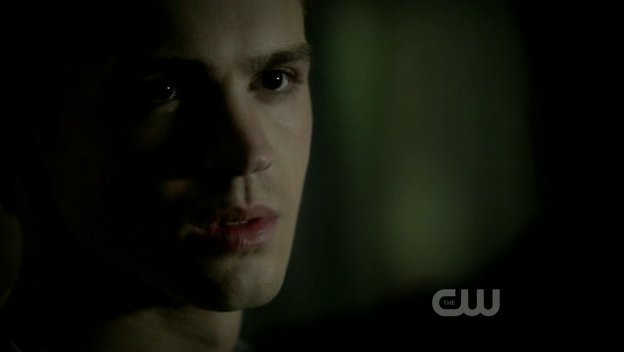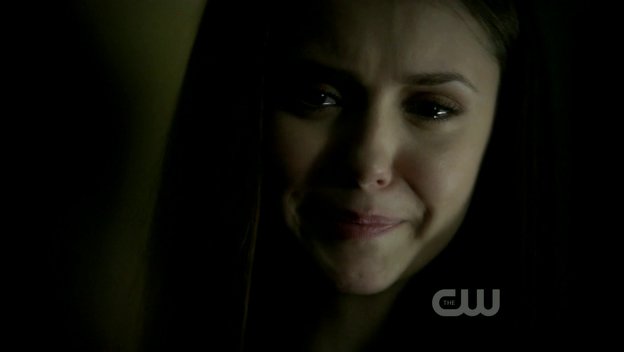 Now Klaus has taken her brother from her too. He just keeps taking and taking from Elena. Will this ever end? 💀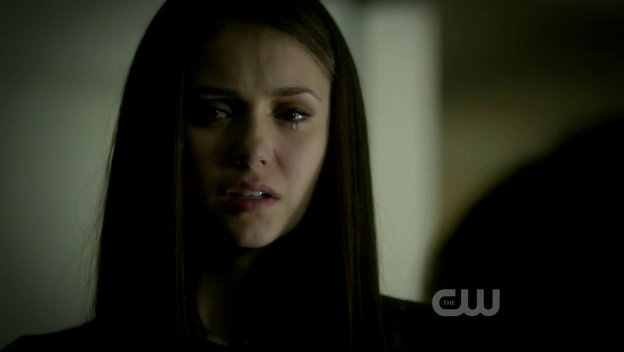 Okay, so one coffin is a special coffin. It won't open and Bonnie and the bunch of dead witches think there may be another weapon to kill Klaus inside. Seriously? He wouldn't cart around something that can kill him in a coffin?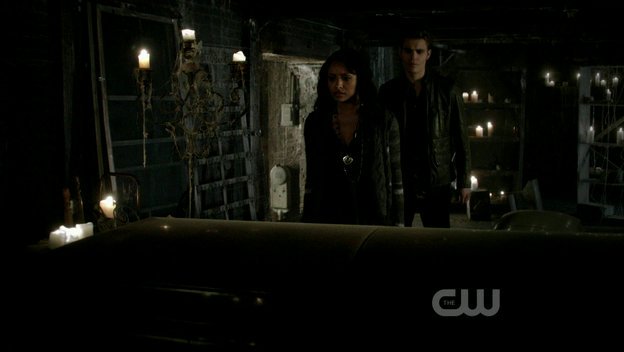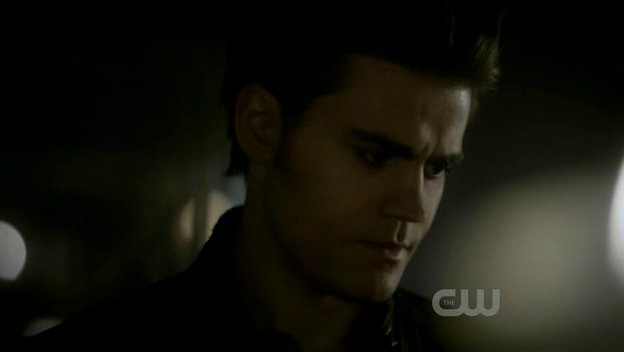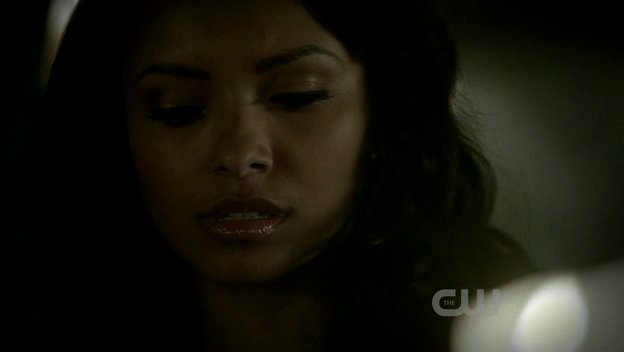 Elena is worried because it dosnt go down so well th last time she asked Damon to compel Jerwmy. But this him is different. He has his memories. Damon is trying to make her feel better. Just give her a hug please. She needs one 😩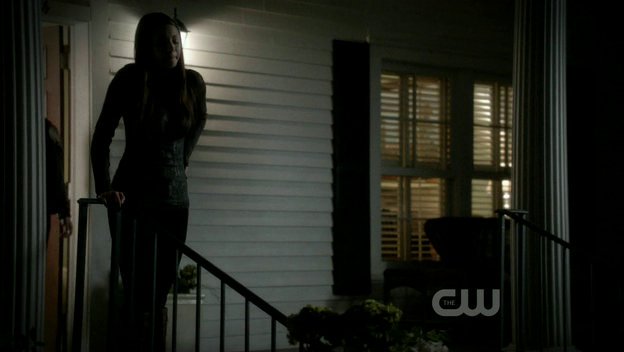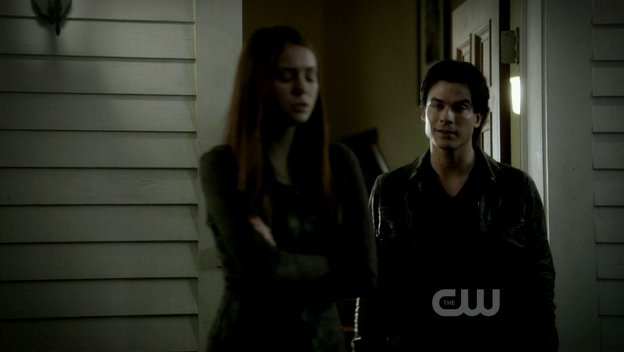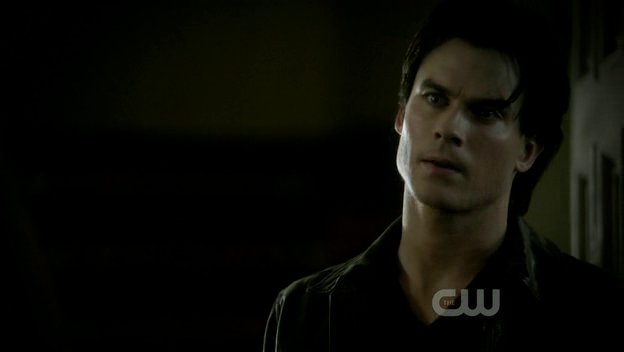 UGH MY HEART. LOOK AT THEM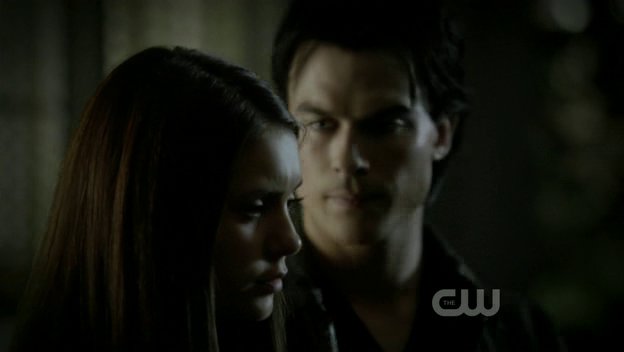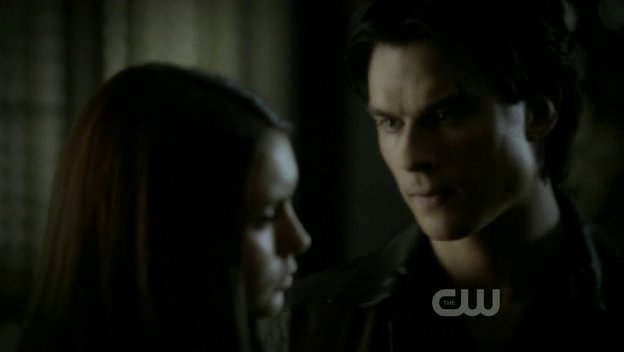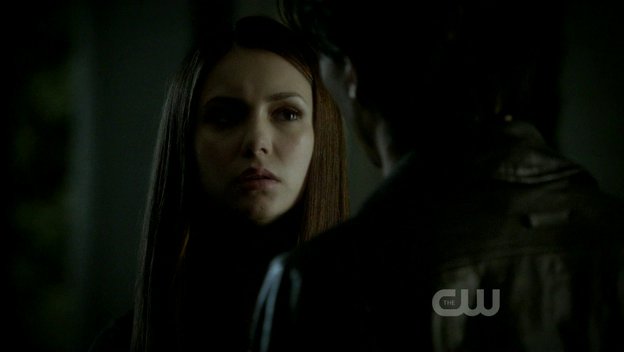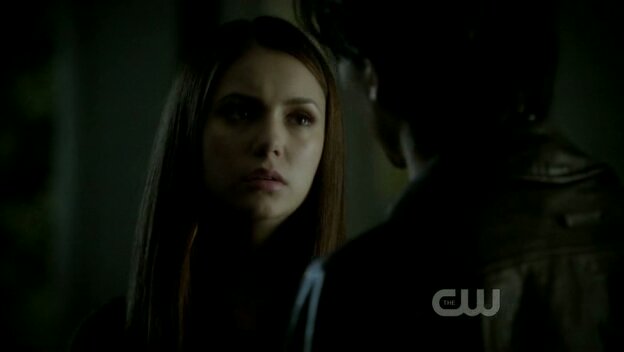 "He is so lucky to have you for a sister."
She looks at his lips. Again 😍
"Thankyou."
"No problem."
"Not just for this Damon. For everything. I don't know what I would would if you weren't here."
ASHDJFNFJFJF kiss him. Please. I am starved. Pleeease. Or hug. I will take a hug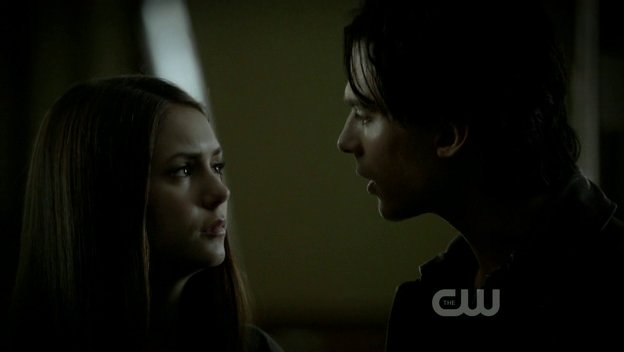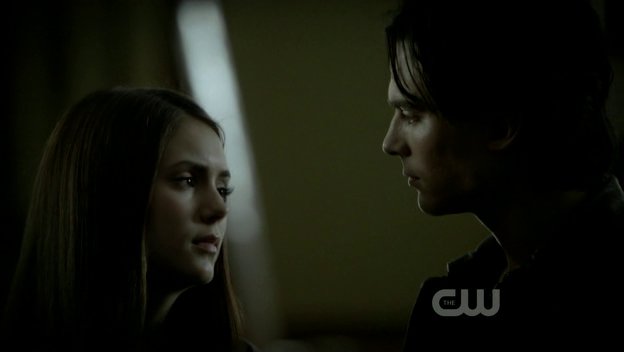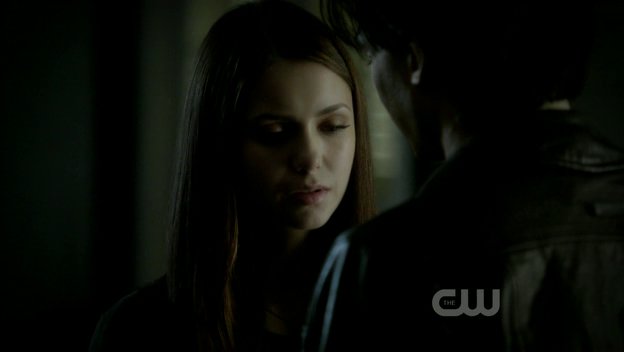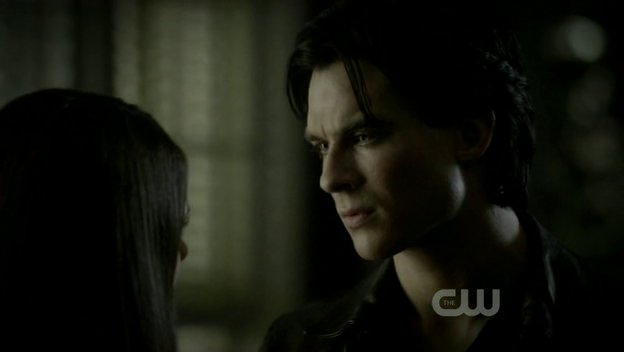 Please is shook by the fact that someone actually appreciates him and he looked at HER lips now. He has denied himself since he confessed and compelled her to forget.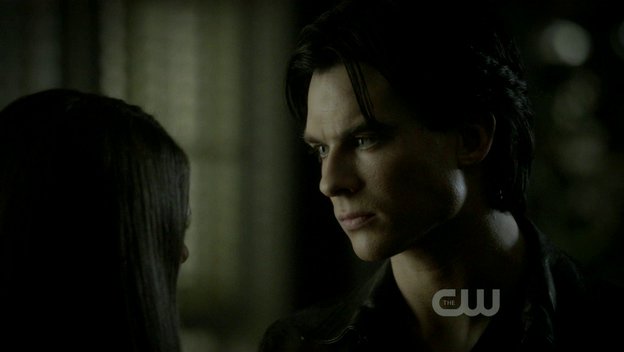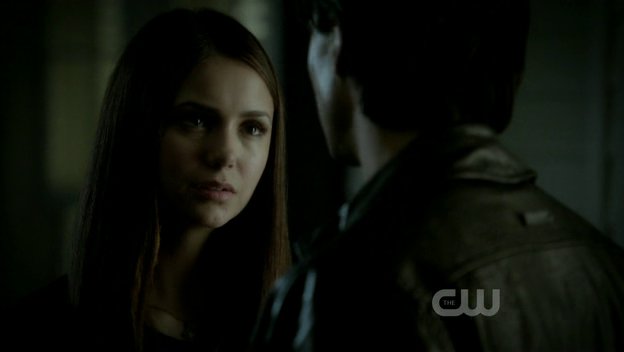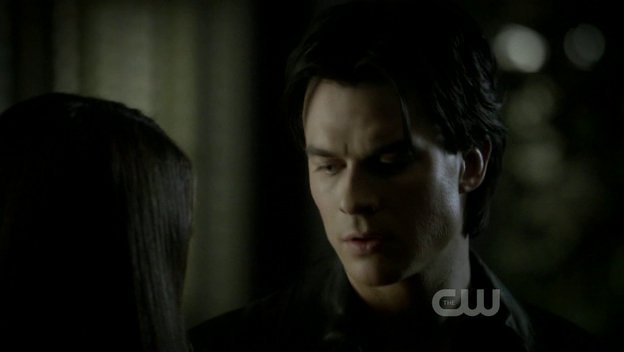 Ah damn. Damon does the honourable thing and tells Elena the truth about why Stefan saved Klaus.
Did he have to do that NOW? 😩
"It means I am an idiot. Because I thought, for one second, that I wouldnt have to feel guilty anymore."
"Wait, what at you talking about? Guilty for what?"
"For wanting what I want."
"Damon..."
"I know. Believe me, I get it. Brother's girl and all."
DEAD. I AM DYINGGGH OMGGG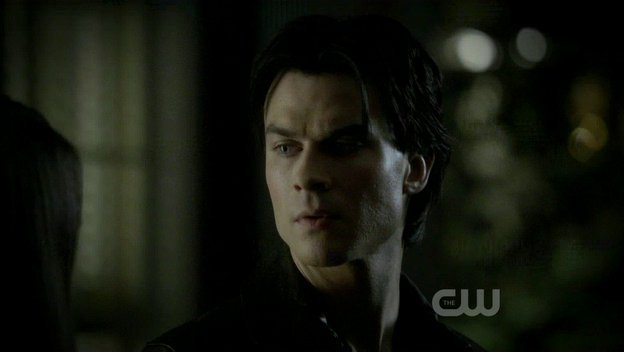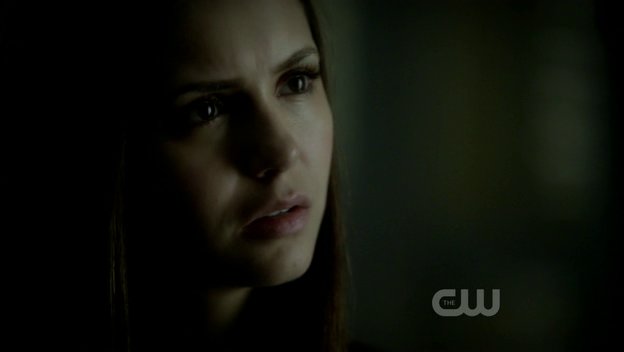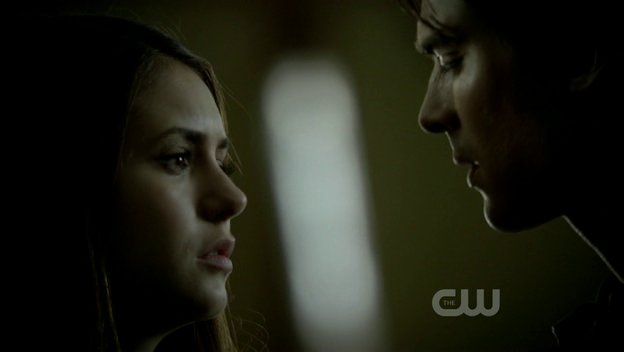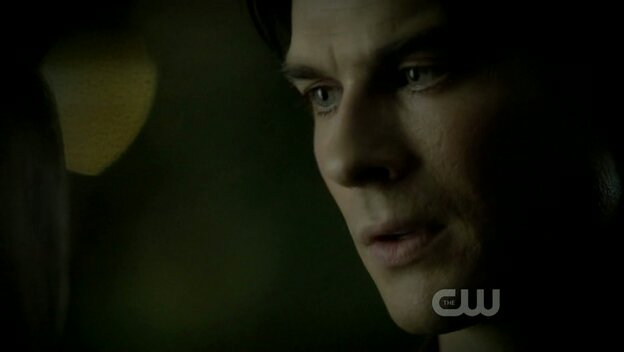 DAMON WANTS HER BUT HAS BEEN FEELING TO GUILTY. MY HEARTTT. BUT STEFAN BROKE UP WITH HER SHE ISN'T HIS GIRL ANYMORE. ELENA IS FUCKING SINGLE DAMON
THEY ARE KISSING HE WENT BACK AND KISSED HER OMFGGGG I AM YELLING DELENA ARE KISSING I THINK I AM DYINGGG
I AM ACTUALLY CRYING RIGHT NOW IT'S SO BEAUTIFUL I CAN'T BREATHE
HE IS LEAVING HER SHOOK ON THE PORTCH WITH SOFT GOODNIGHT I AM SWEATING AND I THINK BOTH ELENA AND I NEED A FUCKING COLD SHOWER TO CALM OURSELVES
Phew I am gonna rewatch that and screencap every fucking beautiful second
"If I am going to feel guilty about something, I am going to feel guilty about this."
I FEEL GUILTY ABOUT YELLING IN THE MIDDLE OF THE NIGHT BUT I ALSO DON'T GIVE A FUCK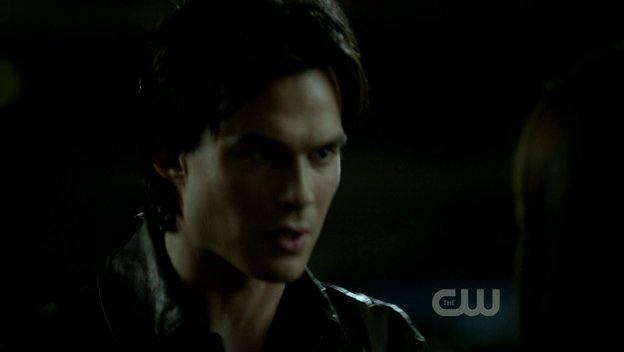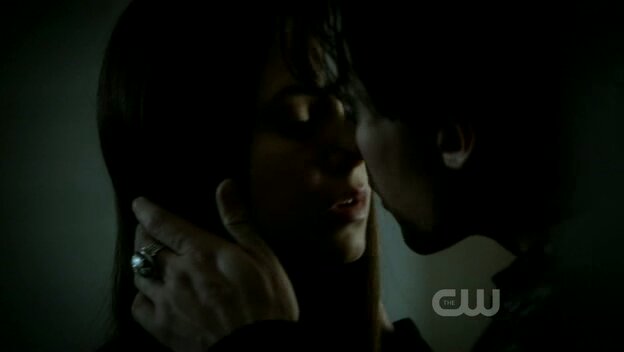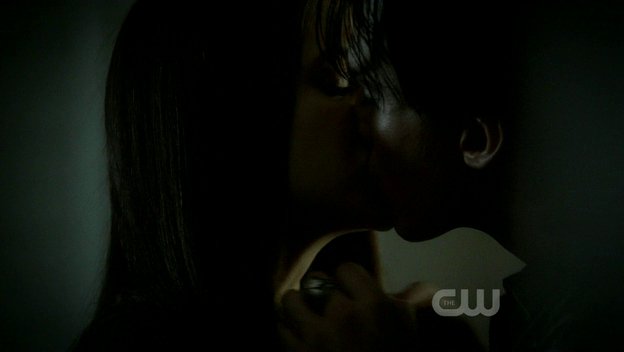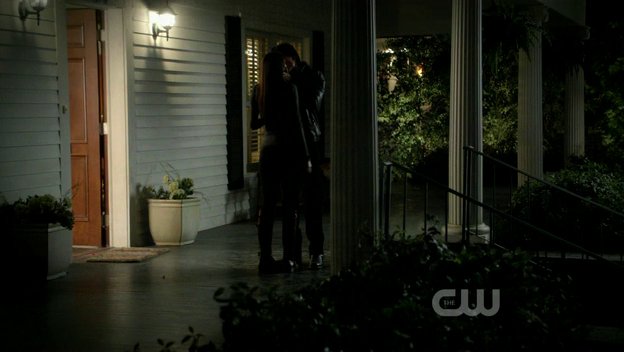 I STILL CAN'T BELIEVE IT FINALLY HAPPENED. I THOUGHT THE MOMENT WAS LOST. LOOK AT THEIR HANDS OH GOOOD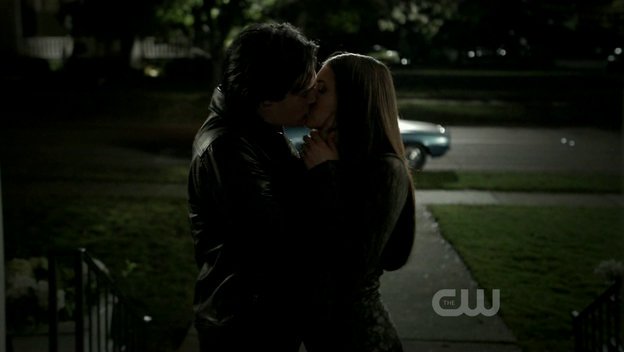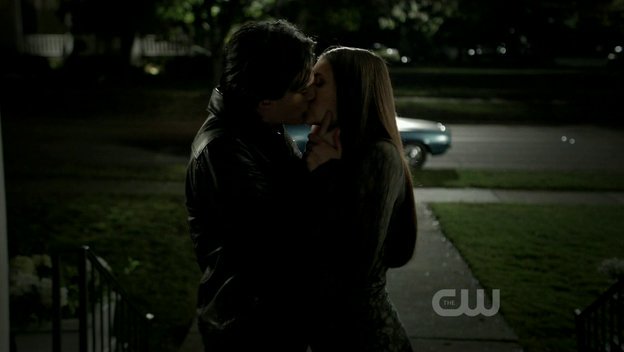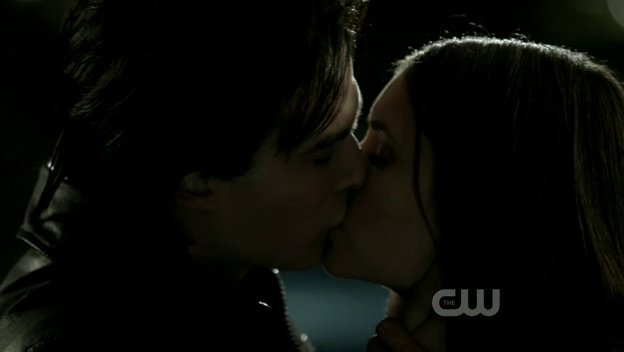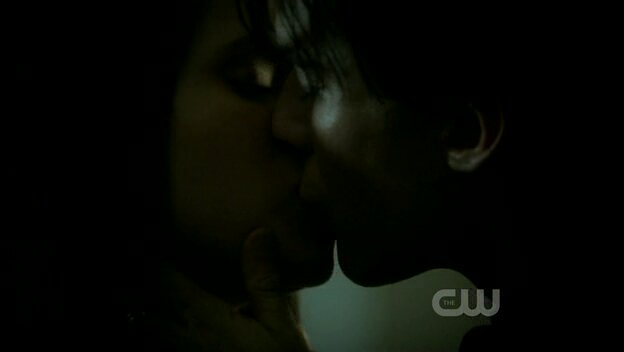 ART ART ART ART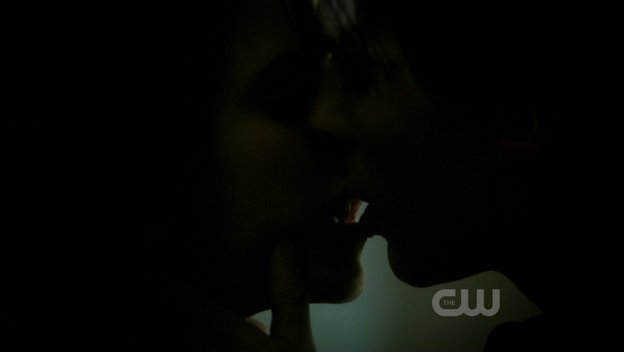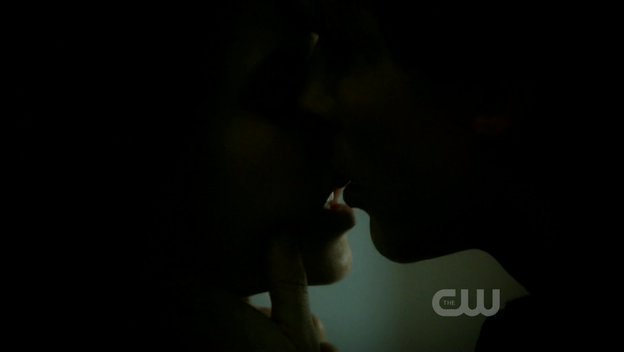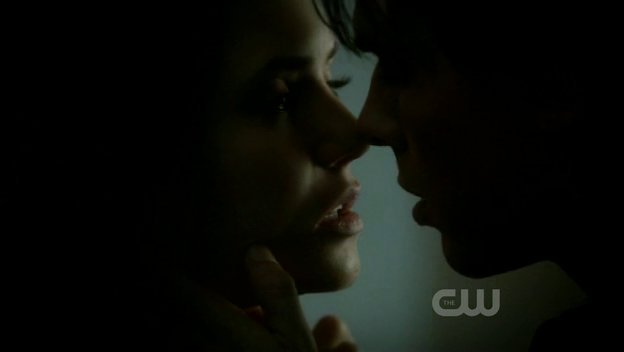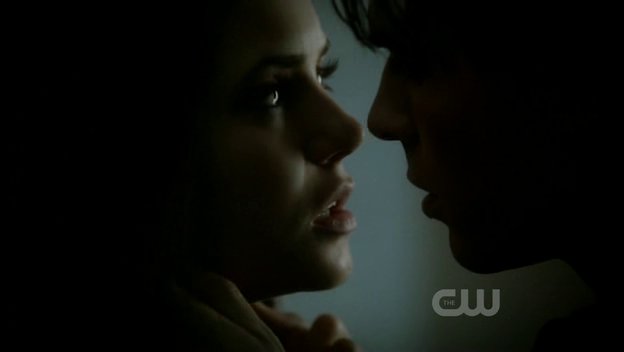 "Goodnight."
OMG SOFT AF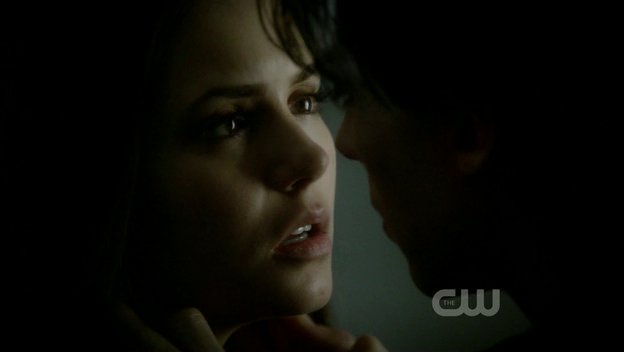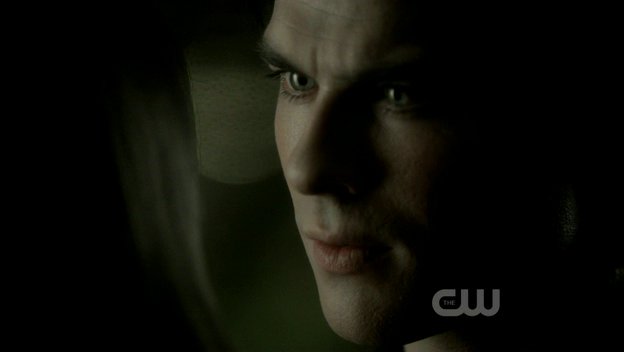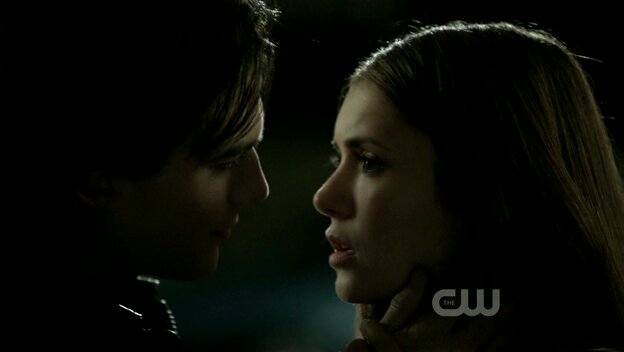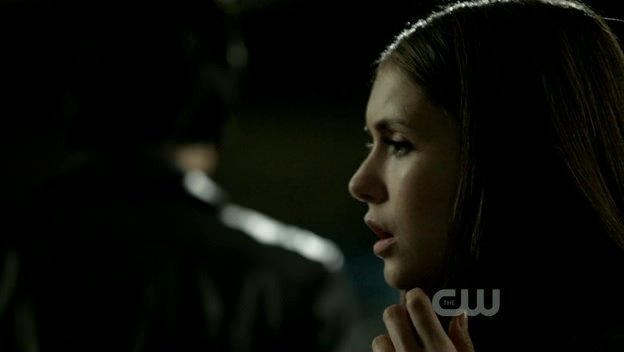 Elena, sweetie, remember to breathe. Breathing is a thing. Lmaooo I said to myself too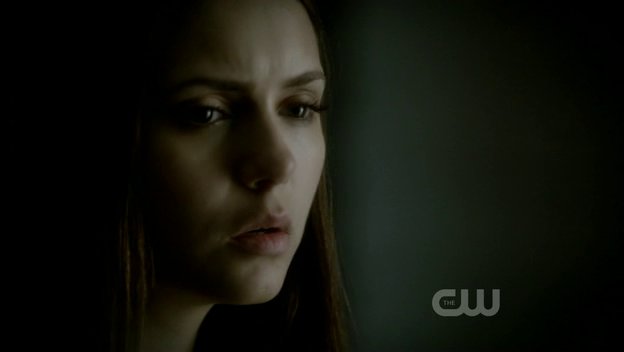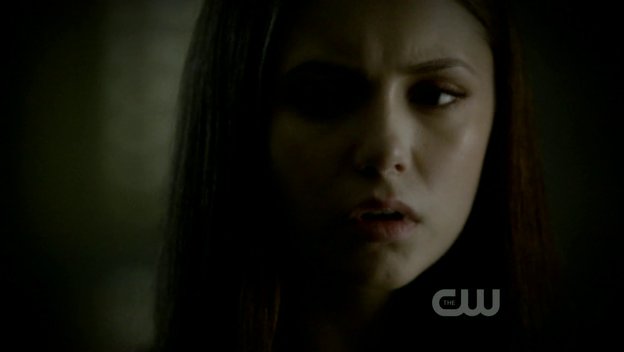 Phew. What an ending to an episode I AM SHOOK
STILL am not lying when I say I am sweating. My hands are wet, everything. I can take a photo but that just gross. Lmao. What is life
I am just sitting here with th biggest grin on my damn face. If these two ever have sex...my poor heart. 🙈
I am going to try and watch a part of 03x11 at work now.
If for some reason I just stop tweeting without notice, my boss probably caught me.
...please pray for me then...😫
LOOK AT HIS FACE. OMG HE COULDN'T BE HAPPIER.
Walking on sunshine 😂😂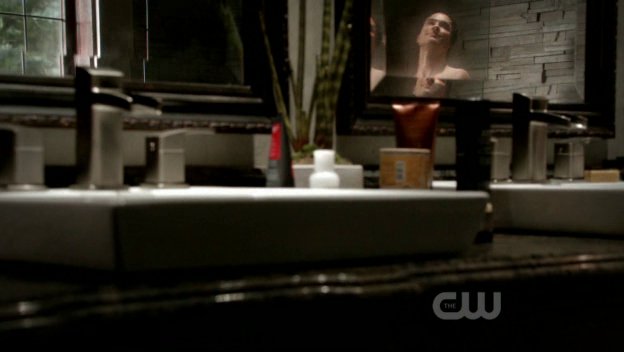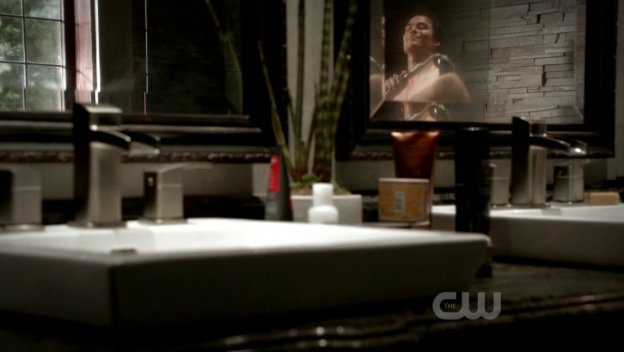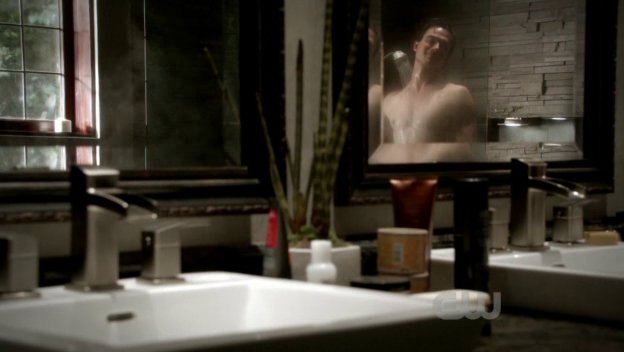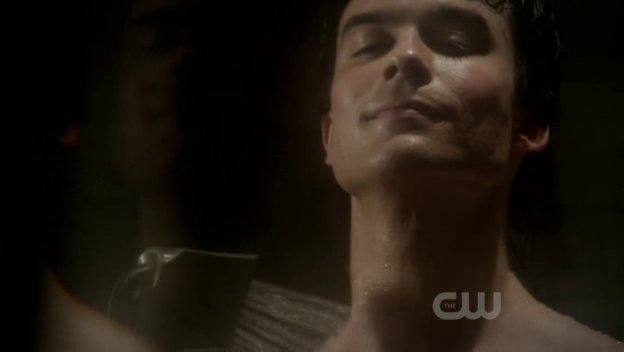 LMAOOO Elena, sweetie...that's not going to help.
If you Google :sexually frustrated, these images should pop up. 😂
Alaric asks if she is okay but she doesn't want to talk about it.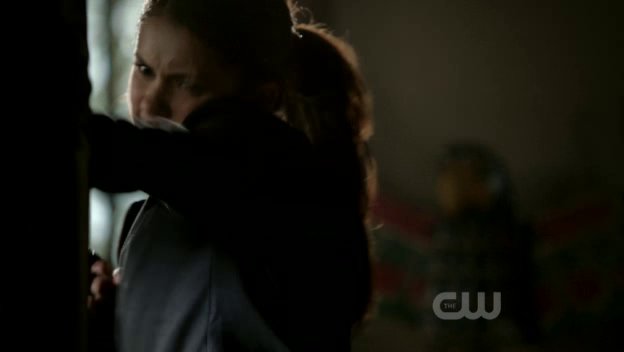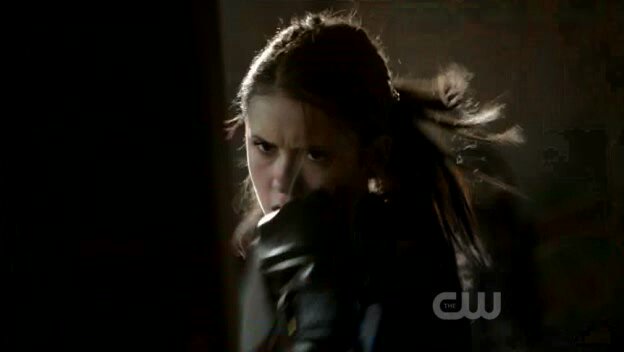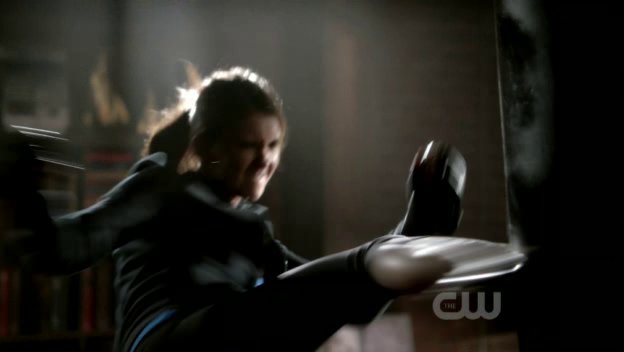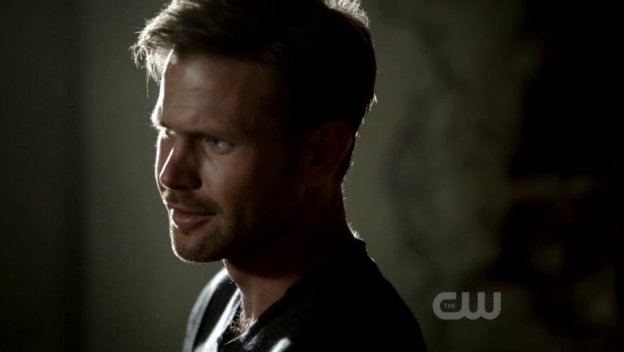 "Why are you all chipper?"
Hoho you have no idea 😂🙊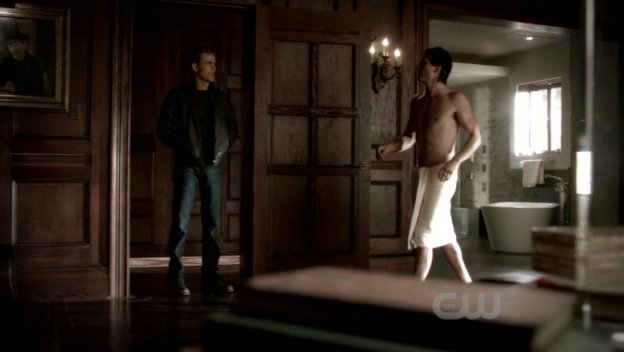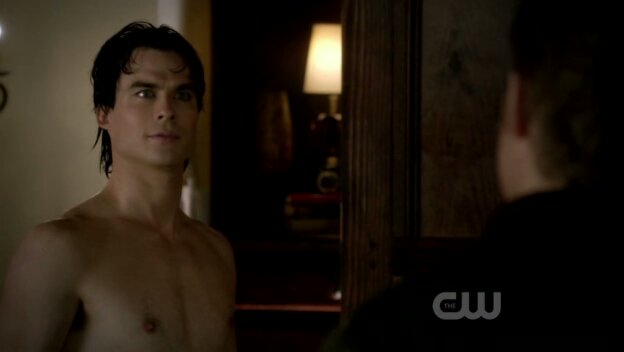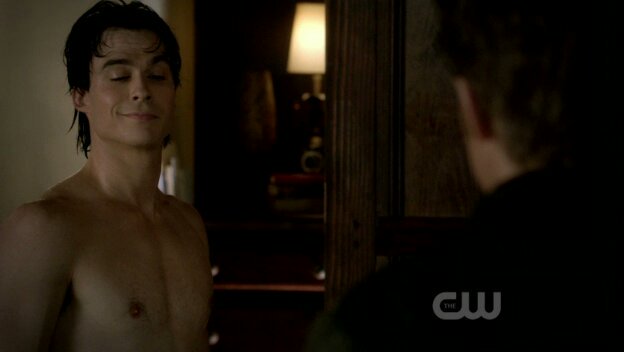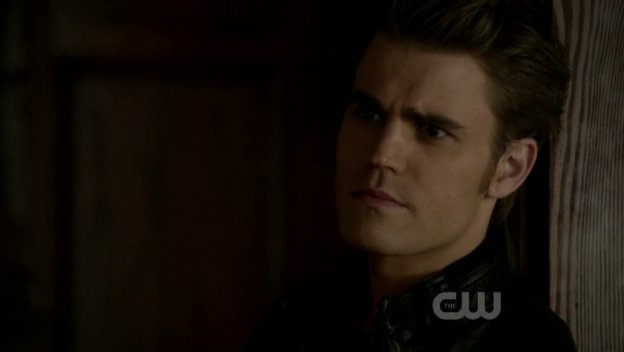 Alaric presses the issue a bit and Elena admits that she didn't really sleep that night.
Damon's kiss was THAT powerful. 😜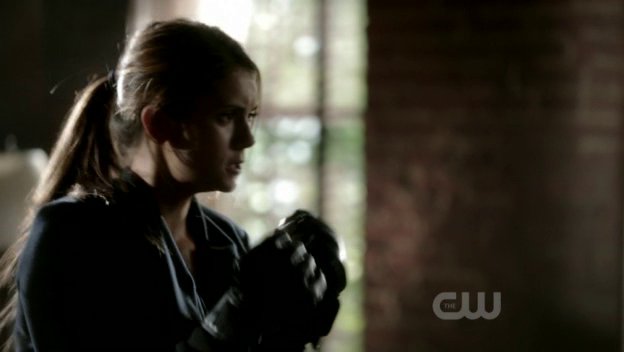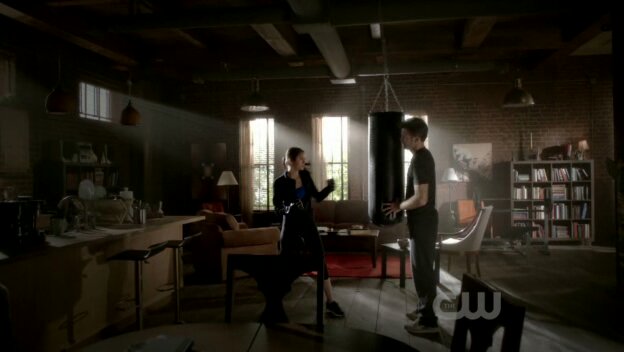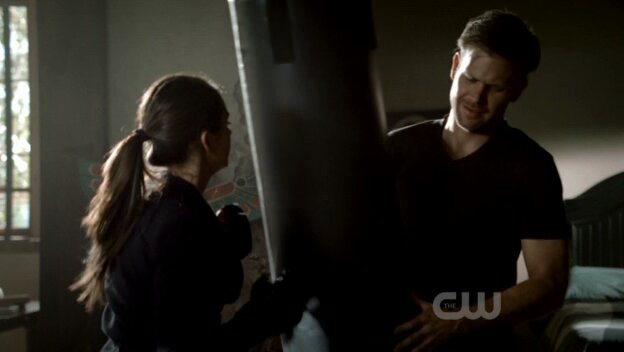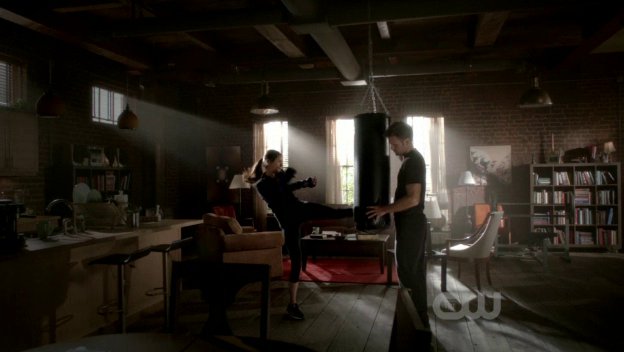 "Have you... talked to Damon today?"
"No. Why?"
"No reason."
THIS HAS ME IN STITCHES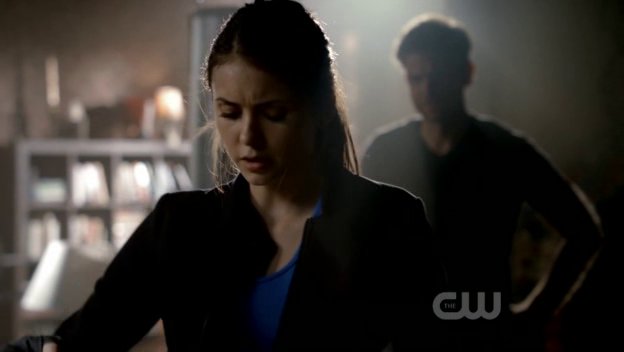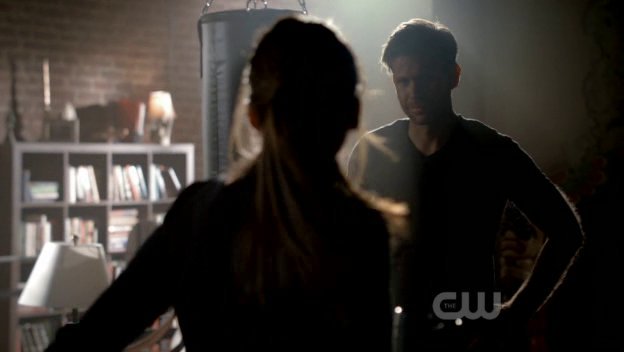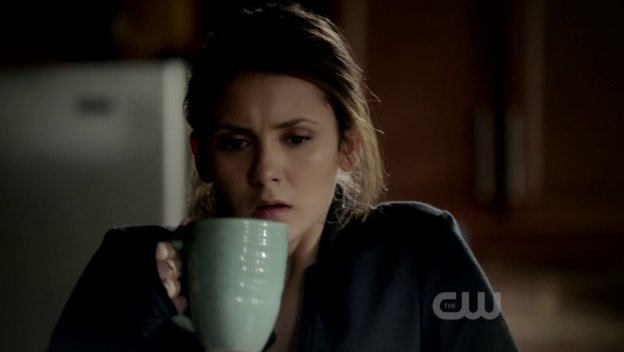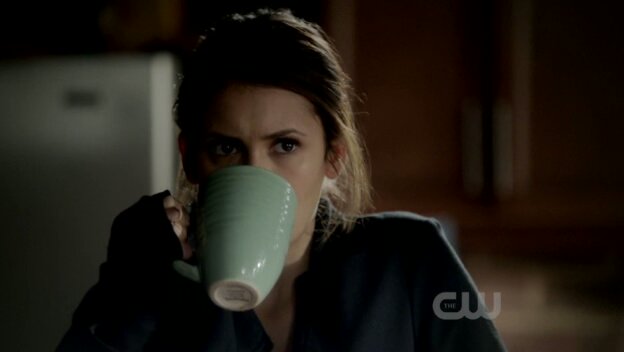 This is th type of development I appreciate and love. You can literally feel her frustration as she grows more and more attracted to him. Not a dumb kiss in episode 2 after knowing eachother a few hours.
Bonnie is taking HER frustrations out on coffins, screaming at them. "WHY WON'T YOU OPEN?"
The coffins got their feelings hurt and vanished. 🙊
Oh shit, someone is there with Bonnie
It's not these two...
Damon notices something is off and stops Stefan. Phew, my son's mind. Even with his head in the clouds, he is still an intellectual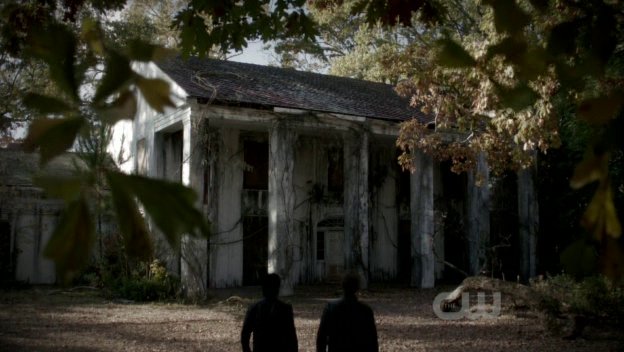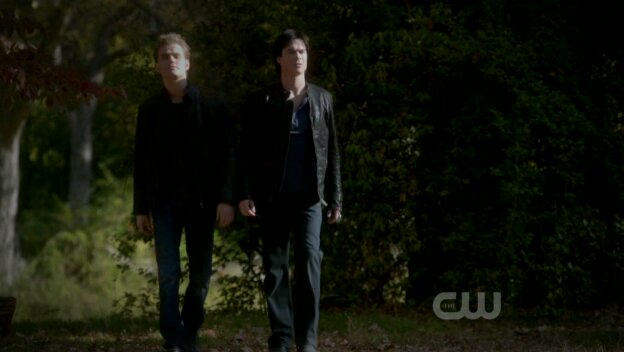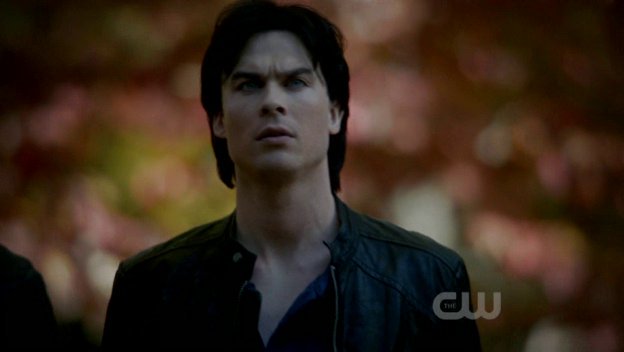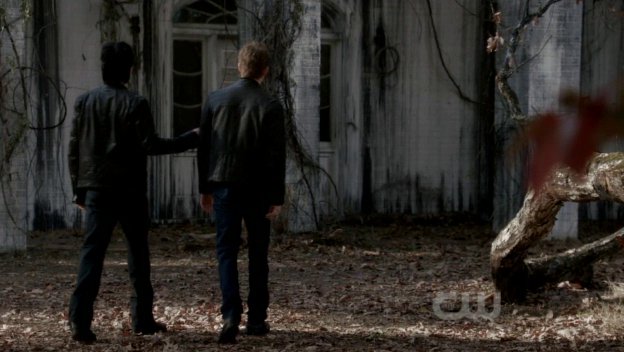 Intruder hybrid found and delt with. That was close though. Luckily the witches know when to hide those coffins.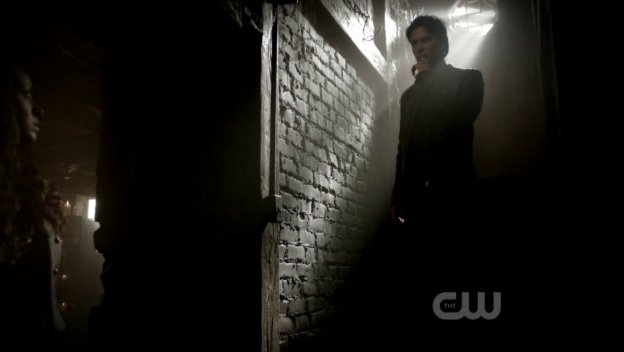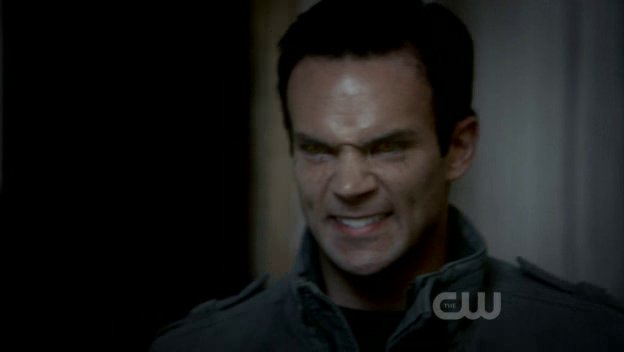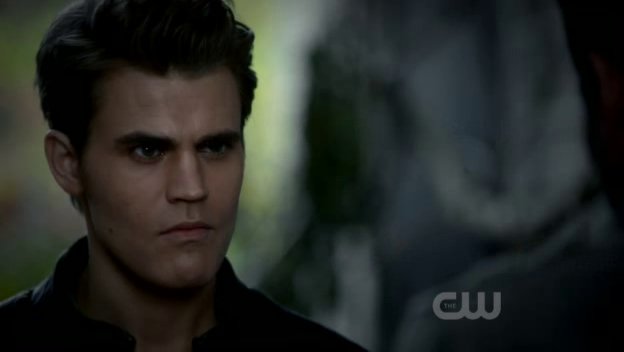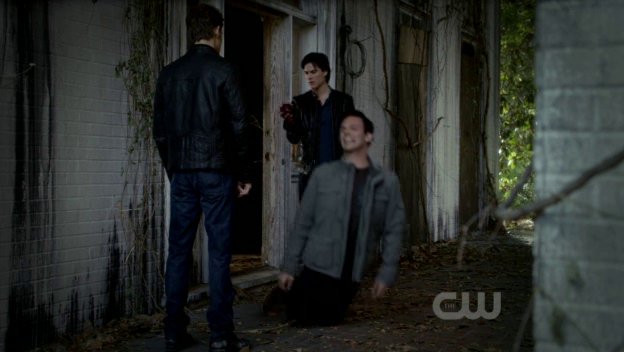 It's Caroline's birthday and Elena and Bonnie are decorating her locker. Aww that's so sweet.
I just realised that Caroline will forever be underage. She got turned at 17? That's a bummer. Could Katherine not hold off on being murdery till she was atleast 18?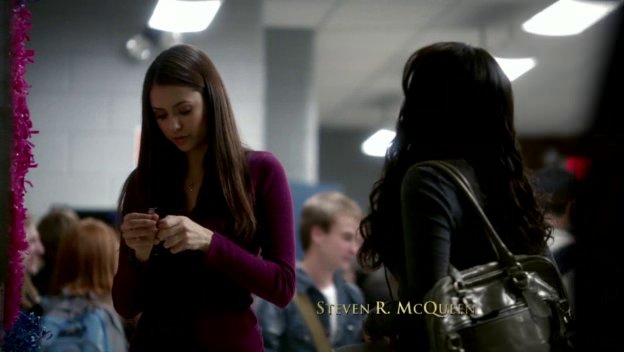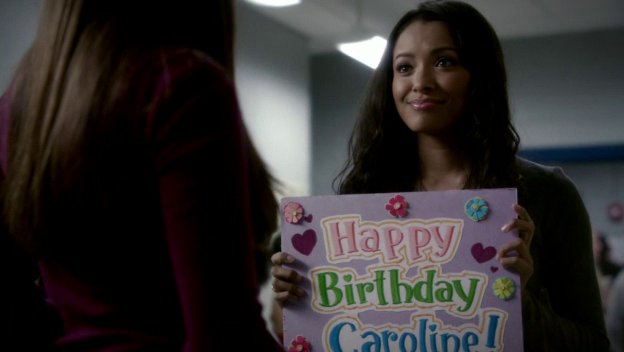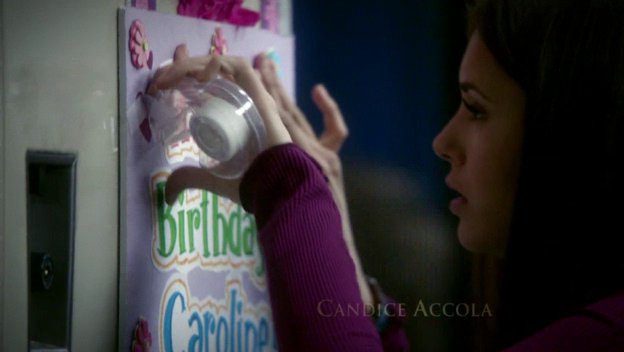 Elena tells Bonnie about asking Damon to compel Jeremy to leave yown and she isn't happy about it. Okay but you two broke up and you are done with him, so what's the problem?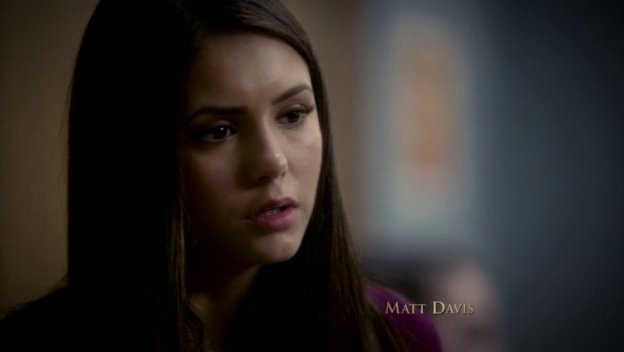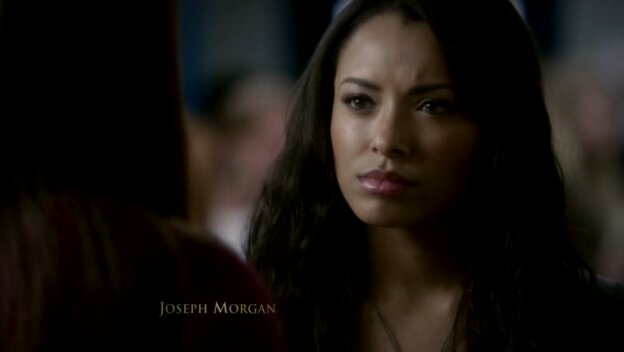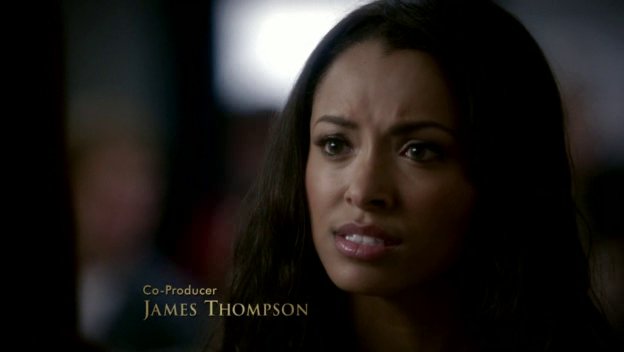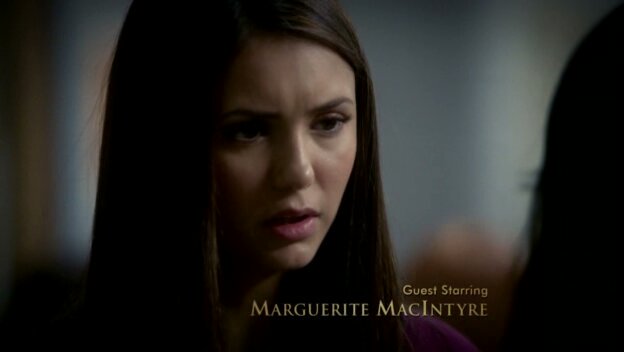 Damon suggests they lay low while trying to open the coffin but Stefan is fine playing defense. Usually tje roles are reversed and Stefan cautions Damon against doing things but now Damon wants him to be careful. Stefan wants to call Klaus's bluff and get his hybrids out of town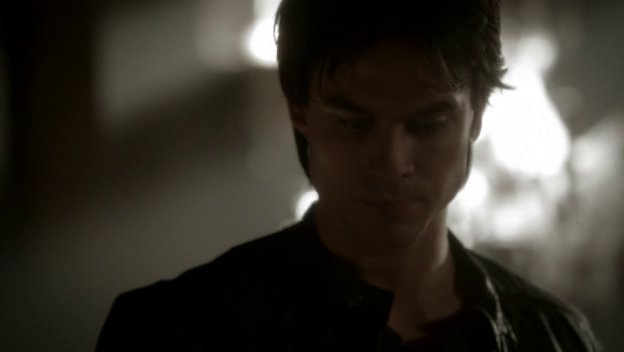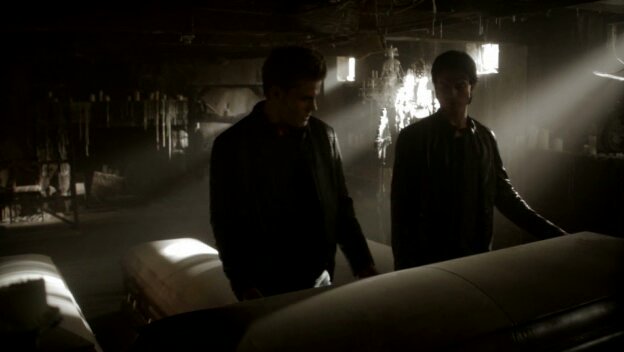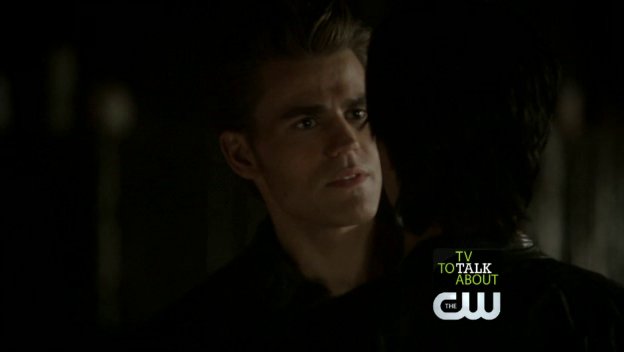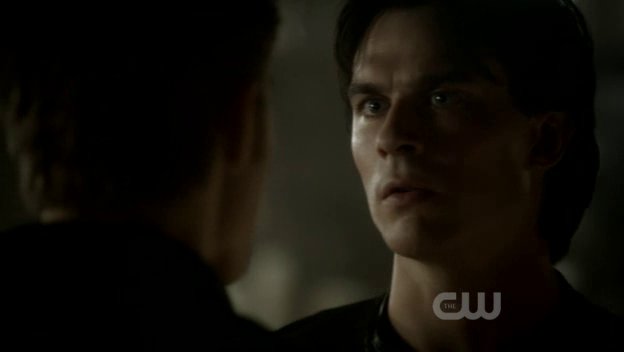 "I don't know Damon. There is only one way to find out. Call his bluff."
"Whooo woo they only way to call someone's bluff, Stefan, is to be willing to lose everything if you are wrong."
Stefan scares me like this. 😨
Bonnie goes to talk to Jeremy and says she was only hurt by what happened between him and Anna and she doesn't want him to leave town.
Wait what?? He CHEATED on her with a ghost and she wants him back??
The birthday girl arrives looking very sad and the reason for that sadness is right there, waiting for her. Just dont be mean on her birthday, okay Tyler?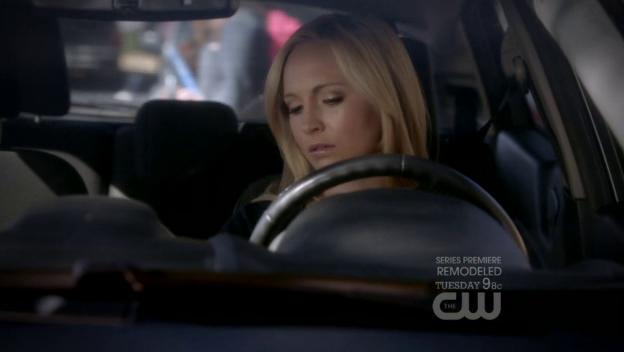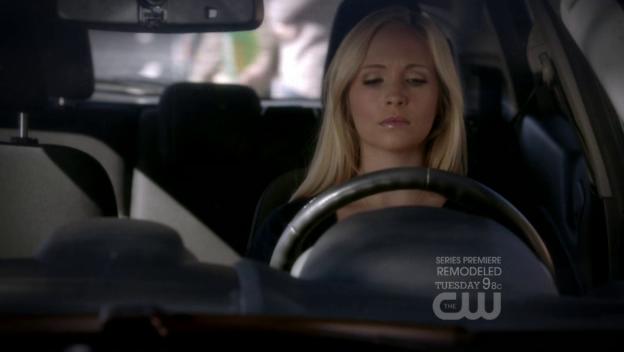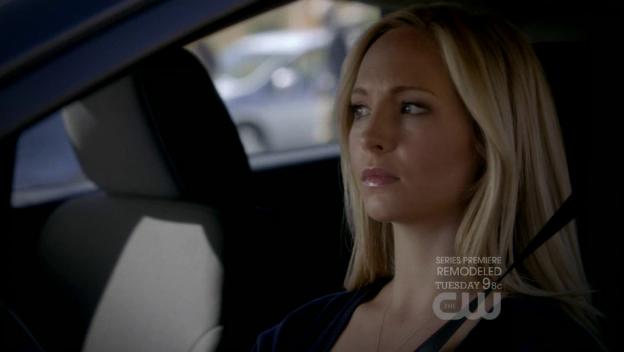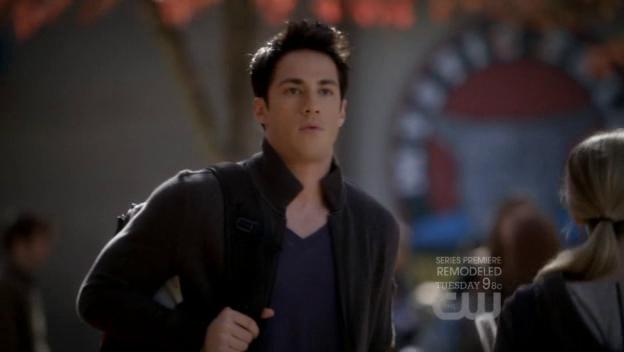 Aww okay. He u serstands why she cant be with him and acknowledges that he cant put her first. His loyalties lie with Klaus. So it I kind of a break up on her birthday, but he gives her a gift. This sirebond thing is shit. There has to be a way around it. 💀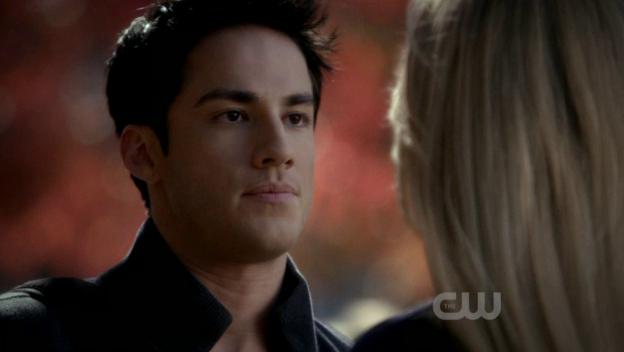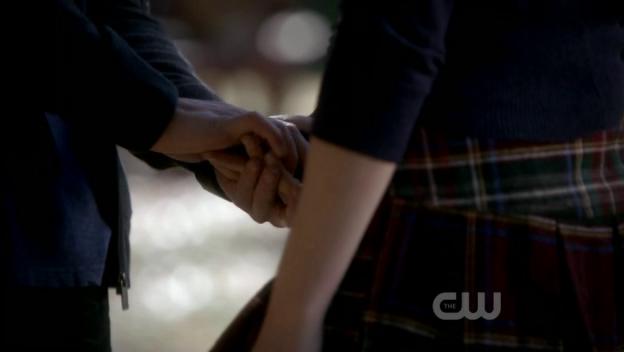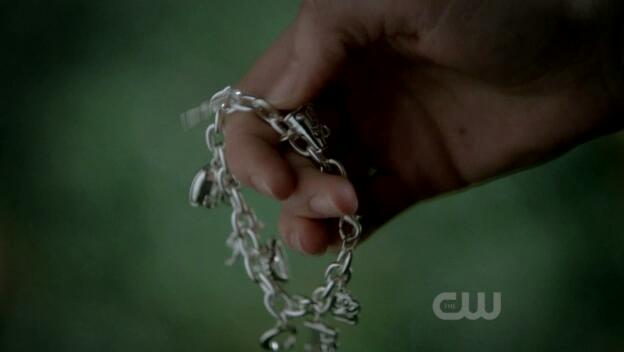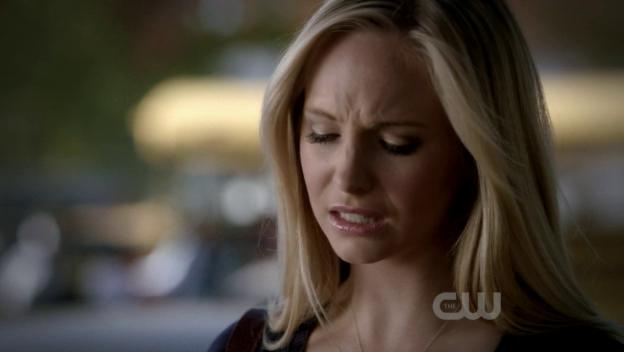 Seeing Klaus at Rebekah's coffin pisses me off. 💀
I still don't know what he thinks another 90 year nap will do. Anytime he wakes her, she is going to be pissed about him killing their mother. So the plan is to keep her "asleep" indefinitely?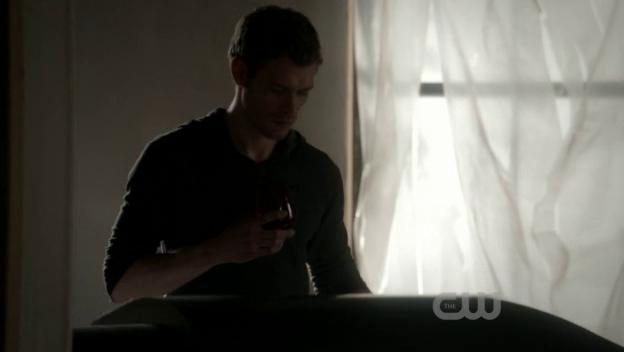 Stefan is walking on fucking thin ice. He threatens Klaus, makes demands and cuts off a hybrid's head. This is going to backfire. Klaus is going to go after Elena or Damon again and then I am going to be even more pissed. Give him the damn coffins back or atleast don't goad him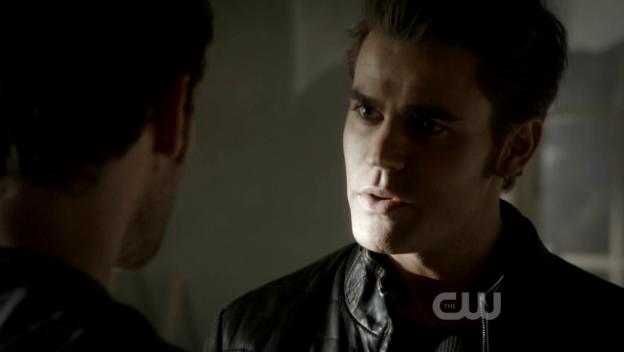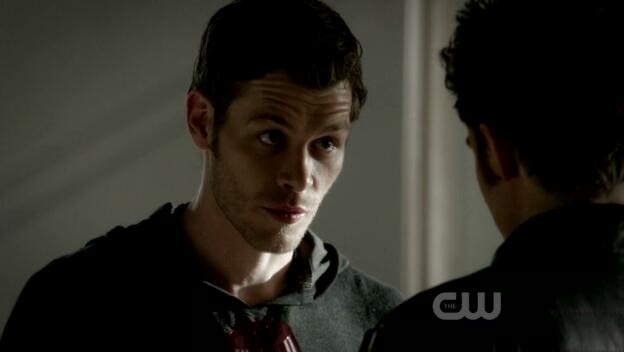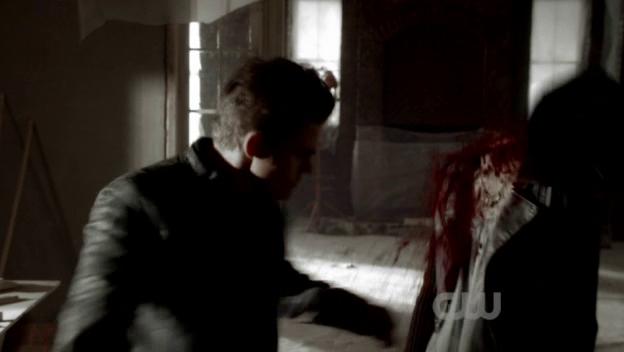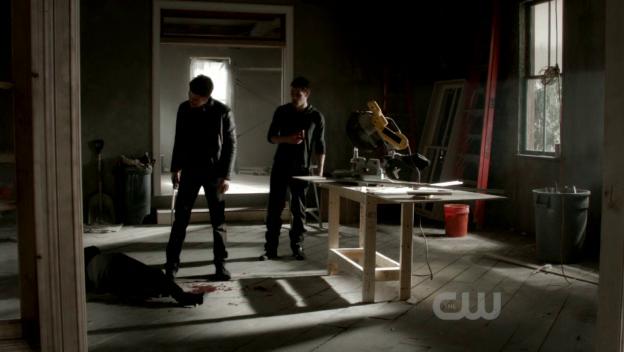 See that face there? Thats the "you just fucked up and I am gonna make you really sorry you fucked up, you just don't know it yet" face.
OMGGG Stefannn 😩😩😩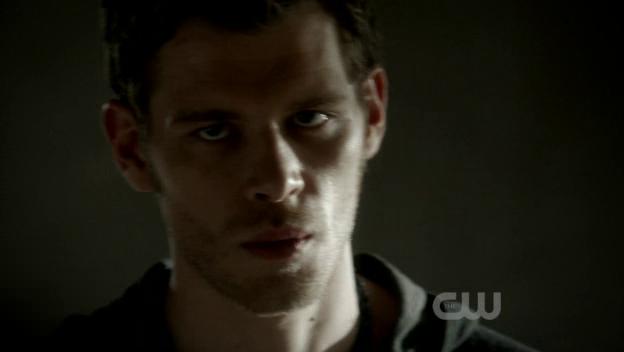 Stefan isn't thinking about the fact that Klaus will go after OTHER people to get to him. This revenge scheme has become dumb, way to risky, and selfish as hell.
And Stefan has his humanity on. That makes this even worse.
"SUPRIZEEE"
Caroline blew off school after her talk with Tyler and they took it to her house. Lmao.
My friend know better than to scare me like that. I don't handle surprizes like Caroline with a cute smile on my face 🙈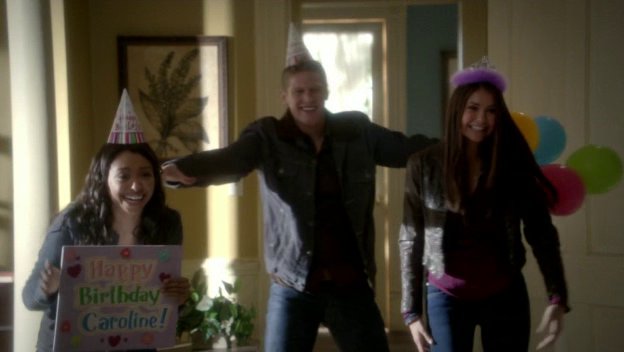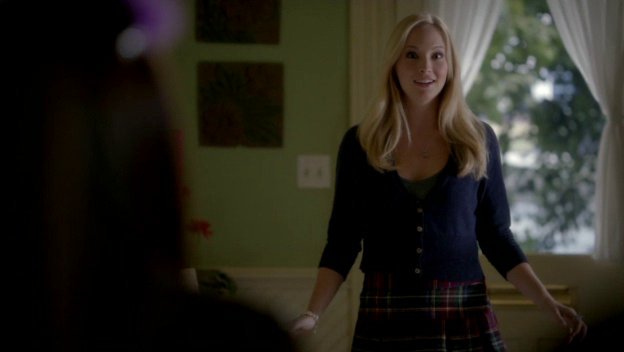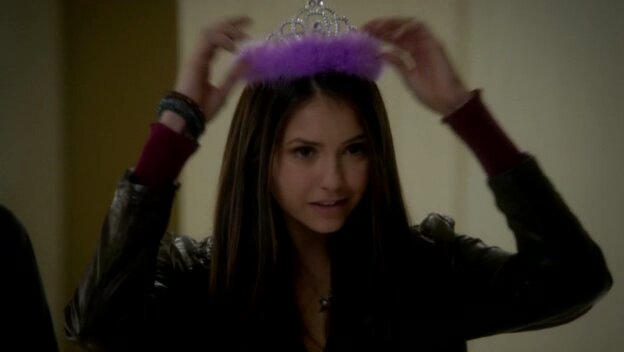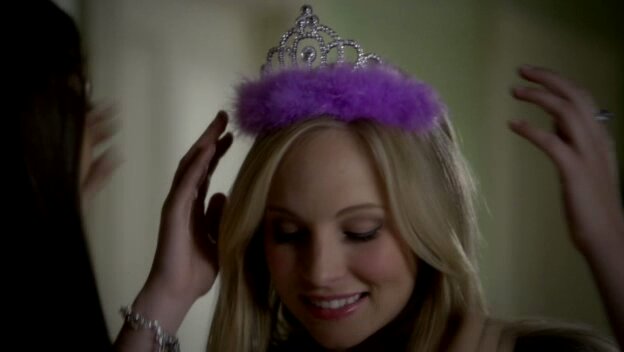 Everyone is really excited and wants to go party, but Caroline isn't feeling it. The only point of 17 is to get to 18 and she feels like she is stuck in the filler year. Her birthday now reminds her that she is technically dead. That's sad but kinda true 😩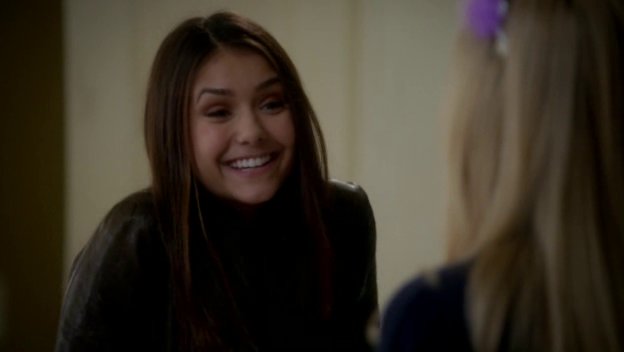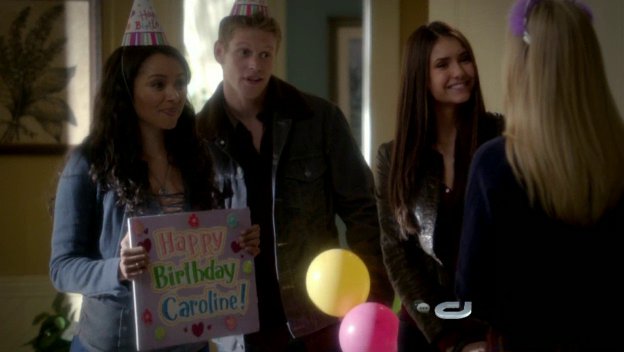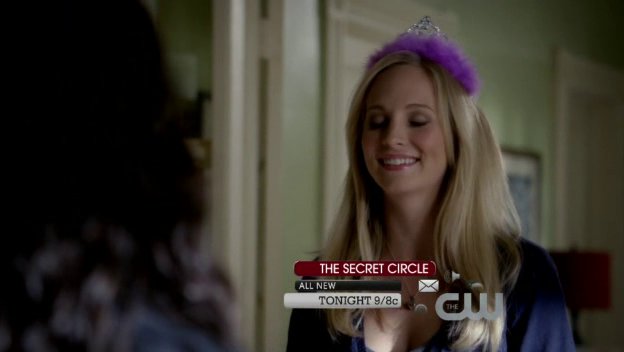 Well, it's better than getting turned on 70. There is that atleast 😜
"Stefan had two paths infront of him. He chose the one that made me angry."
WHAT DID I SAY. HERE IT COMES 💀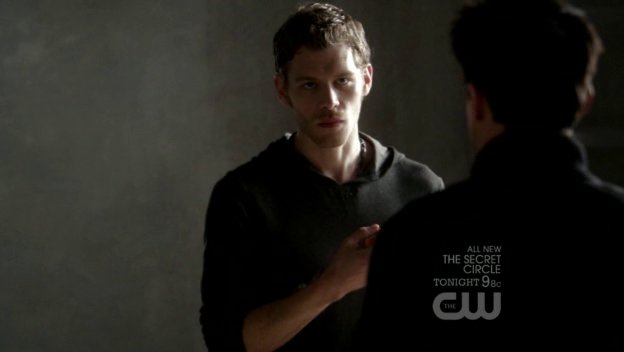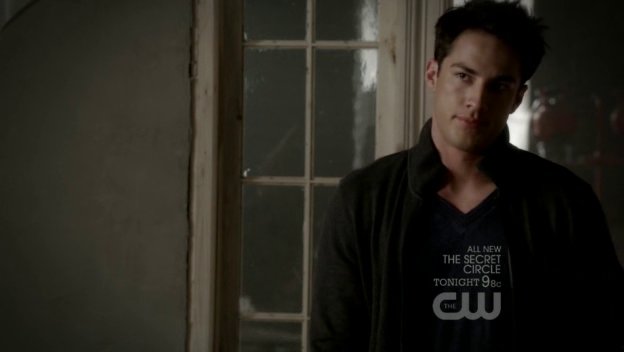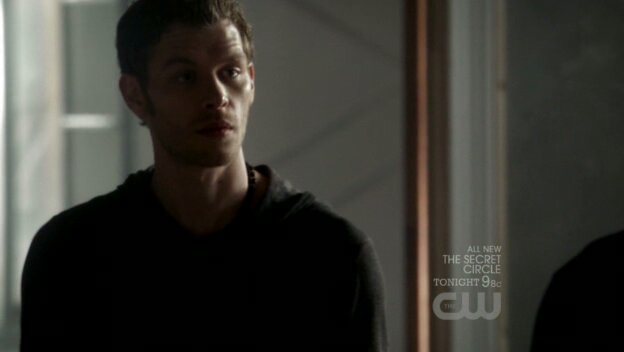 KLAUS TOLD TYLER TO BITE CAROLINE. WHAT THE FUCK IS WRONG WITH THIS F*CKTARD
TYLER ISTG....💀💀💀
Ok phew he manned up and said no. But what is wrong with fucking Klaus? How will giving a fatal werewolf bite to Caroline matter to Stefan right now? He doesn't even care about Jeremy anymore
"About your girlfriend... I am going to need you to bite her."
"What?"
"Don't make me repeat myself."
"A hybrid bite will kill a vampire."
"Yeah I know exactly what it will do. Stefan pushed me to far, so I am pushing back."
AGSHD 💀💀💀💀💀💀💀💀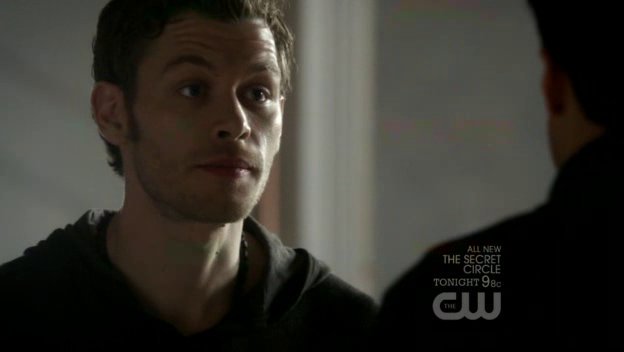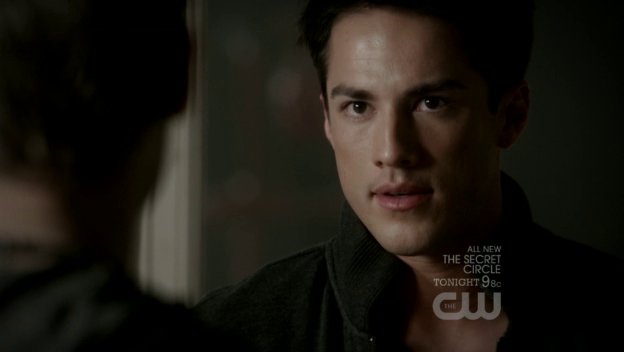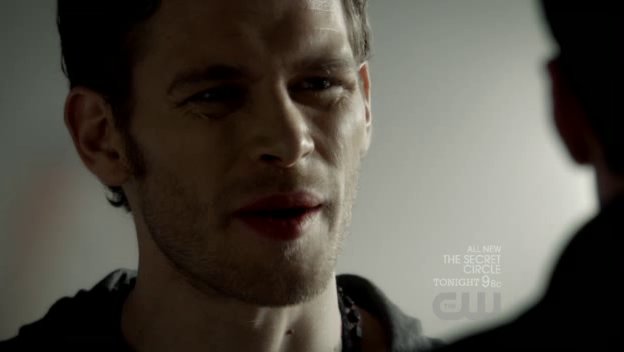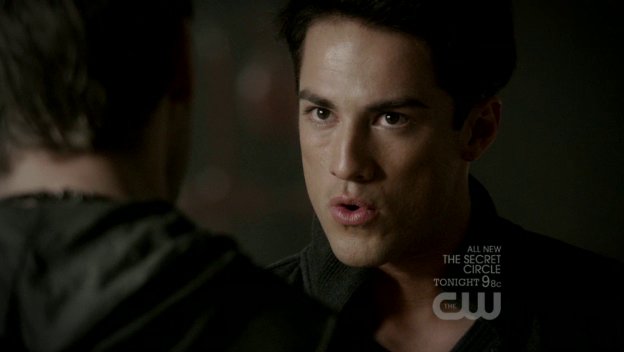 Damon vents to Rick about Stefan. "Which is a huge problem."
"Why?"
"Because I can't predict how far he is willing to go till somebody gets killed."
"Suddenly you care who loves or dies?"
"I have a small list."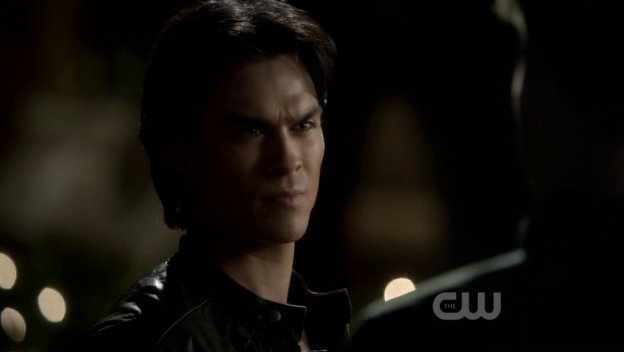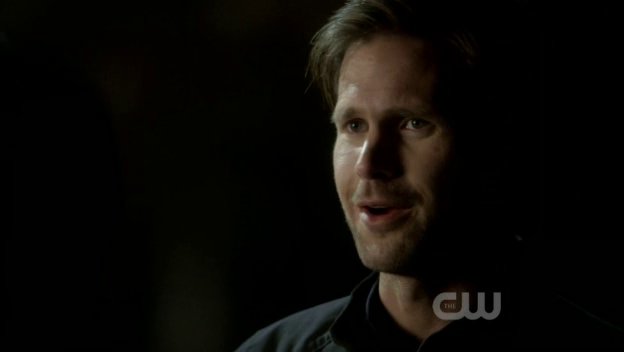 Okay 2 things
1.
Don't be an ass, Alaric.
2.
I love the fact that Damon has a list. He has an actual close group of people he cares about
Okay I am pausing here. This game of chicken I am playing with getting caught watching ends here for now 😜
Reallllyyy creepy place for a party, but Elena has a point when she says they should be giving Caroline a funeral. Say goodbye to her old life, so she can move on with the new one.
Everyone says something nice.
Matt: "Mean girl."
💀 Who invited dopey?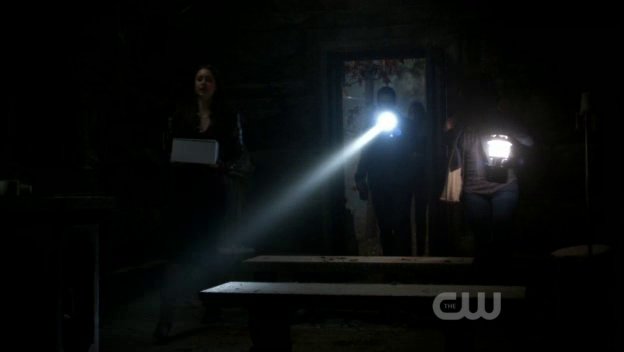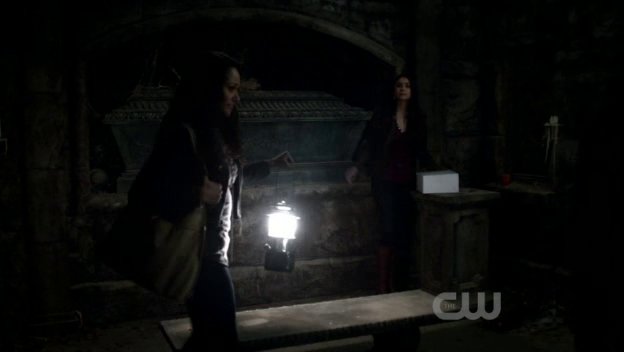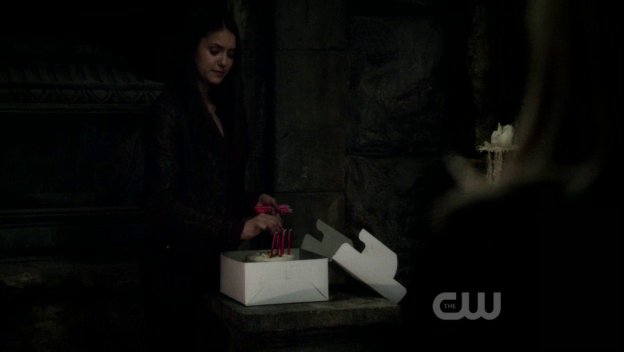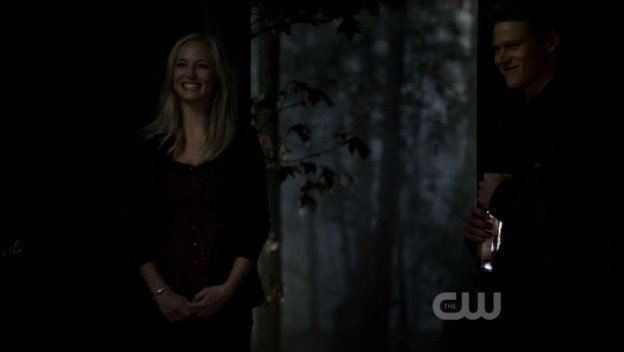 My babies. Aww this is a good thing Caroline.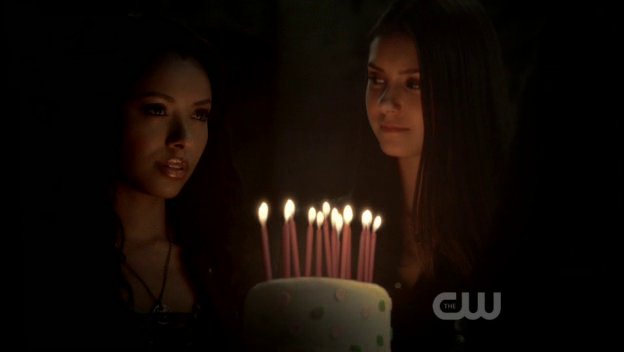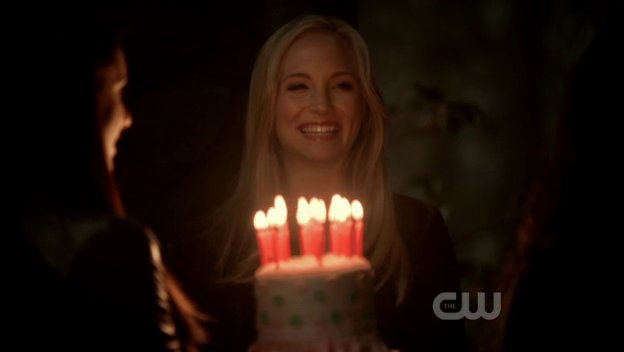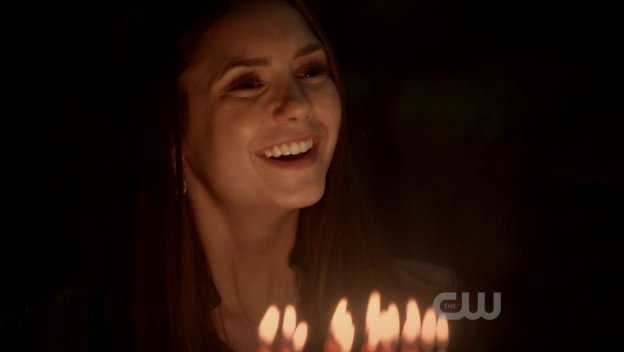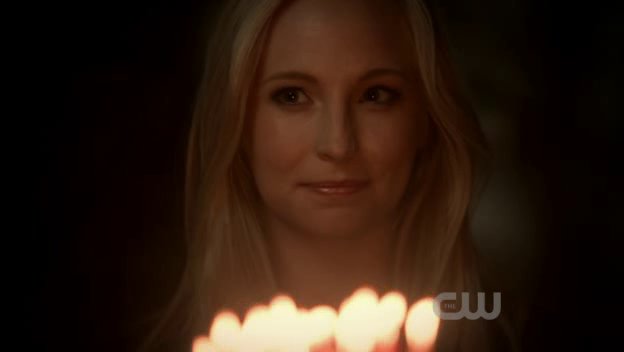 So Damon and Alaric are at an charity event to restore the bridge where Elena's parents had their accident. Alaric asks Damon if I had an idea what's up with Elena.
"Something is up with her, Elena. Something more than usual. You know what it is?"
(..)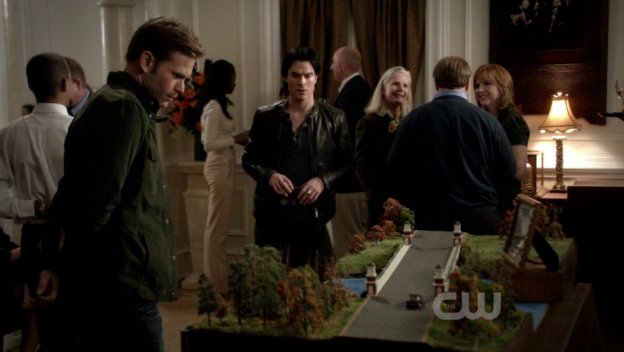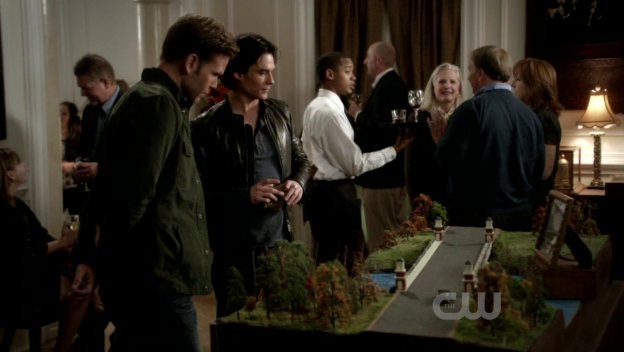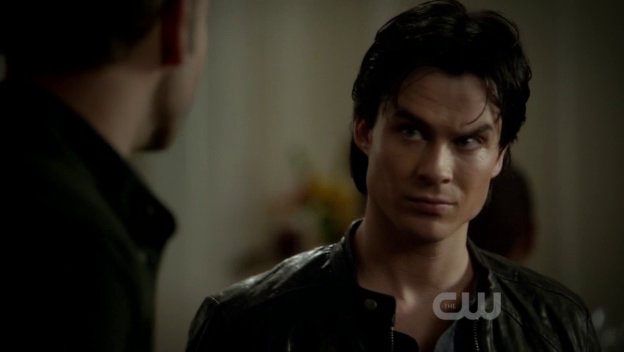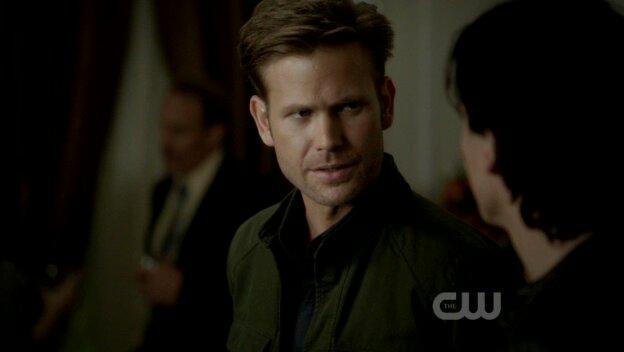 "I am sure it starts with a Stef and ends with an an."
Actually no, Damon. It starts with a Da and ends with a mon. 😜😜
He really has no clue how that kids affected her. Lol. My insecure, innocent son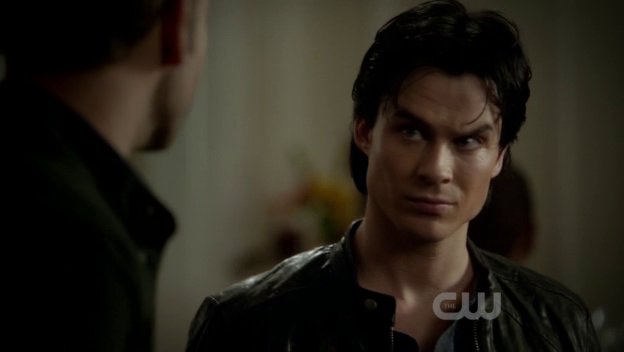 Dr nosey is back to engage in uncomfortable conversation with Alaric about his speedy healing.
Okay...She knows about vampires. Dr Fell. Founding family. Got it. 👌
She is very flirty with Alaric. Stay away from Jenna's boyfriend 💀
Idc is Jenna is dead. I don't want this 😐 Too soon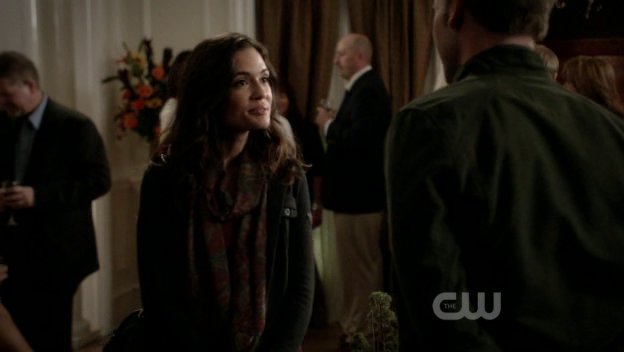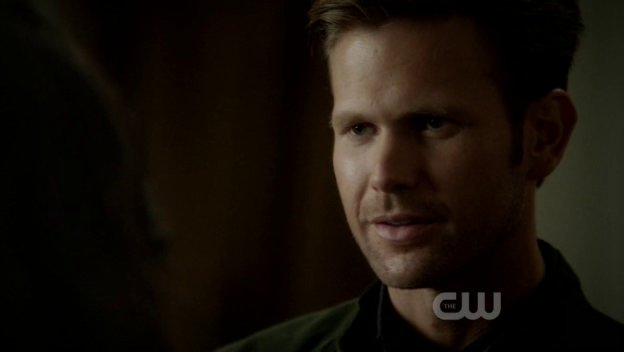 Damon's face when he see Klaus and cougar town Carol flirt LMAOOO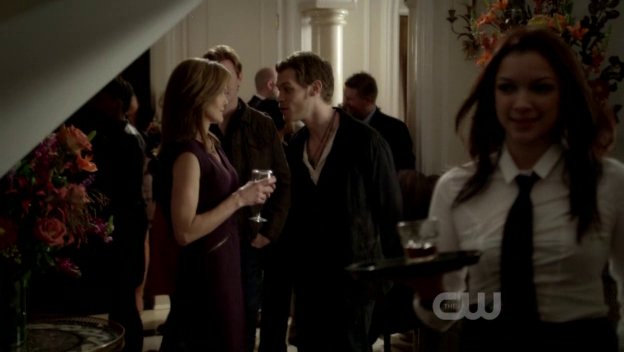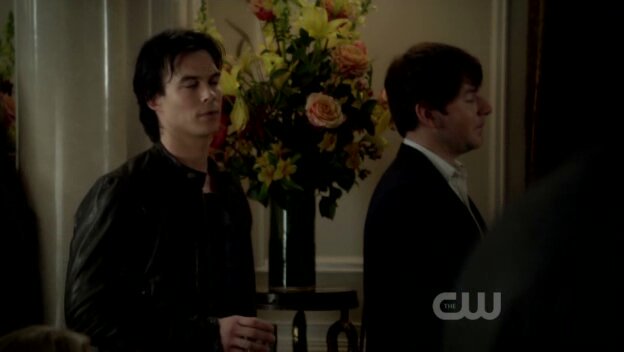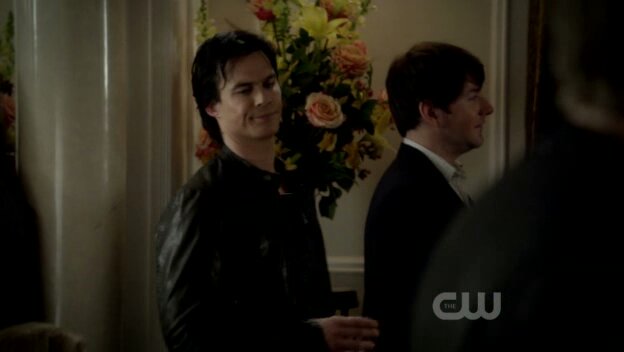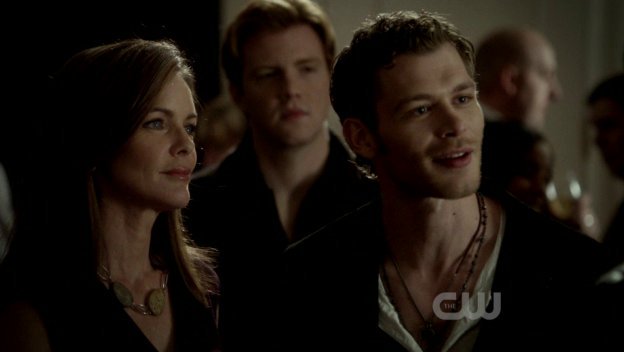 Okayy Stefan needs to give those coffins back asap. PlUs promises peace in exchange for the coffins. They leave his hybrids alone, I leaves them alone. That sounds good to me. Carol threatens taking council action against Stefan. Wow. We know which side mama cougar is on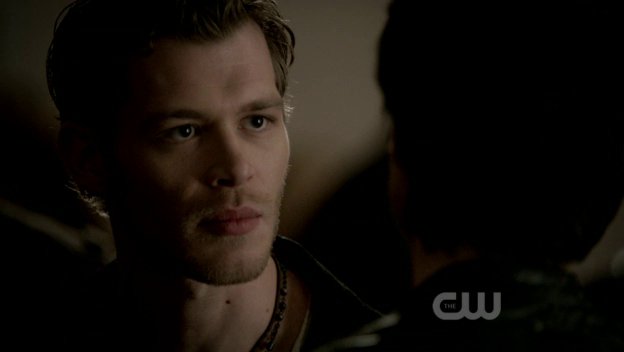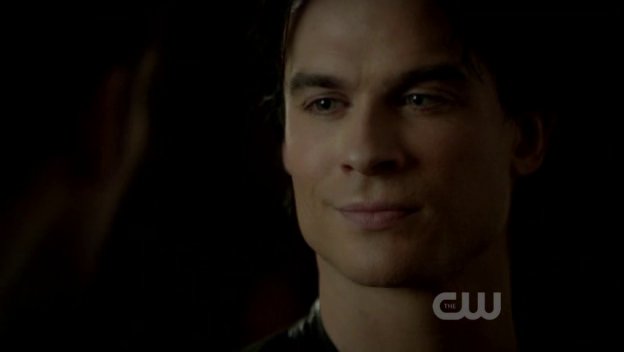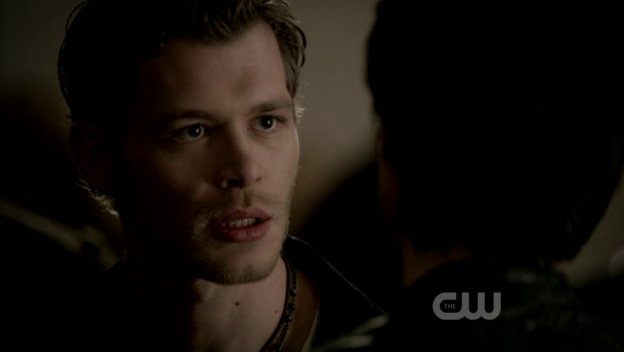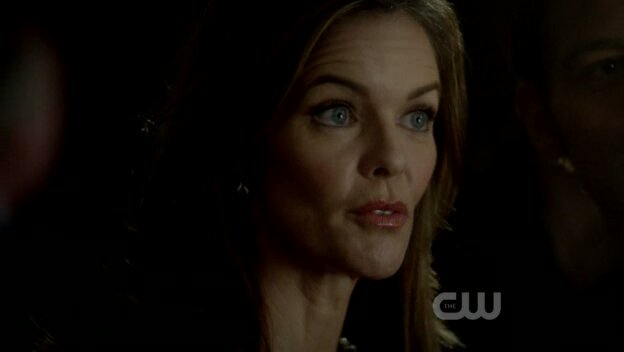 Wow. Bonnie is being such a bitch. This is Caroline's moment and she chooses now to top into Elena about Jeremy.
"You can't control what everyone does all the time."
Bitch, you guys broke up after he cheated on you. With a ghost. Have some fucking self respect.
Also,Alaric (..)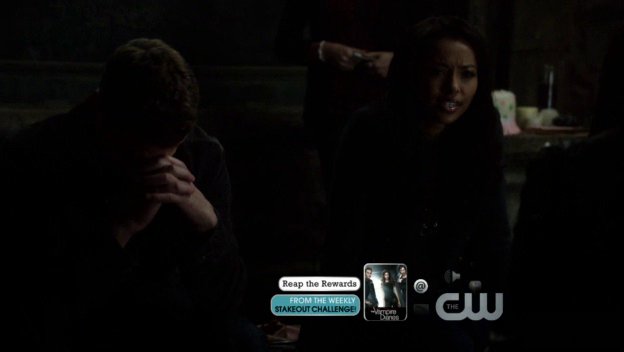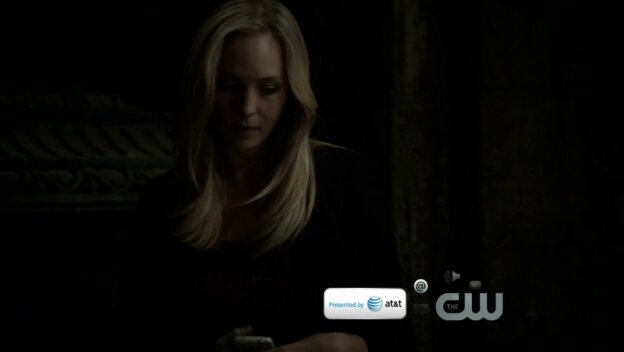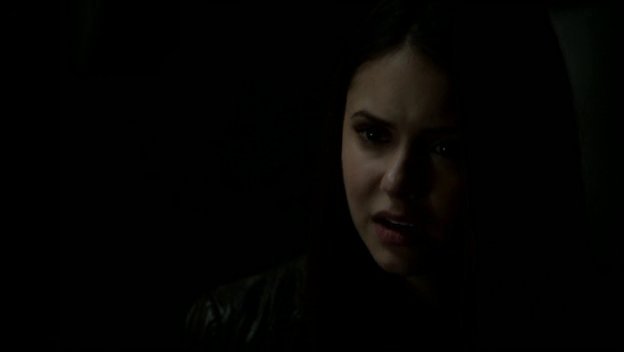 approved this. With Klaus VS Stefan going on right now, and after Jeremy was almost roadkill, it's best that he leaves town for a while.
But Bonnie has always had this thing where she makes everything about herself where Caroline is concerned. I remember when Caroline turned and Bonnie was pissed at Elena for spending more time with her. Now she ruins the birthday/funeral too. 😒
The rings don't work that well anymore. Look at what happened to Alaric last time. So Bonnie wants Jeremy to stay for selfish reasons. I don't even know if he wants her back. He has made no attempts. And she shouldn't WANT him back. Especially since he has made no attempts...
Aww my Damon and Liz friendship. Liz tells Damon that Stefan should stand down. EVERYONE thinks this revenge thing is dumb as hell.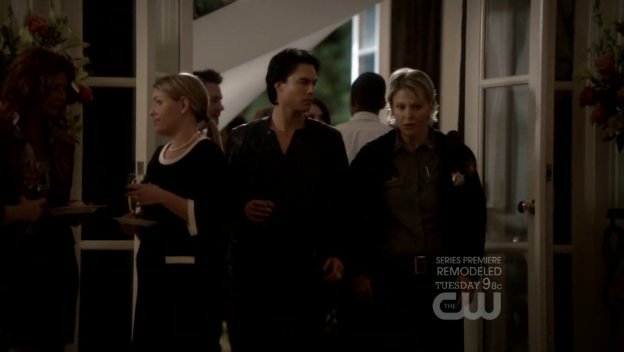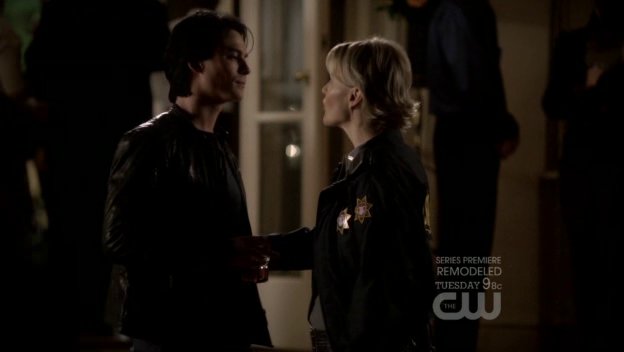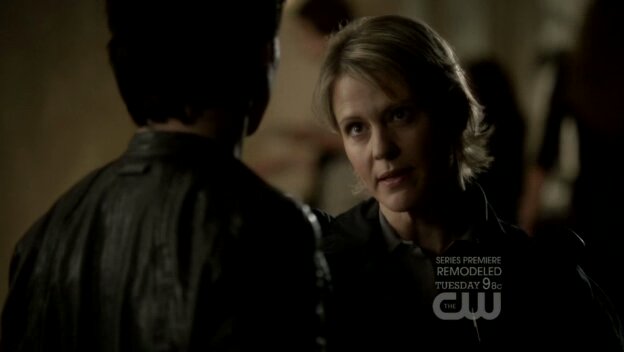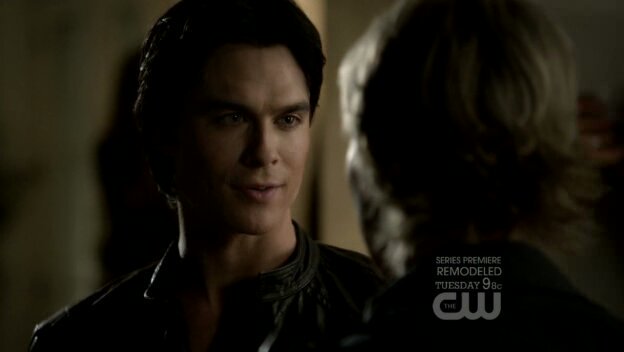 Alaric saves Dr Meredith Fell from a douchy guy, who lets it drop that she is somewhat of a psycho. I don't know why, but I don't trust her.
Douchy guy may be a right douchy guy
...Stefannnn whatever you are thinking....don't...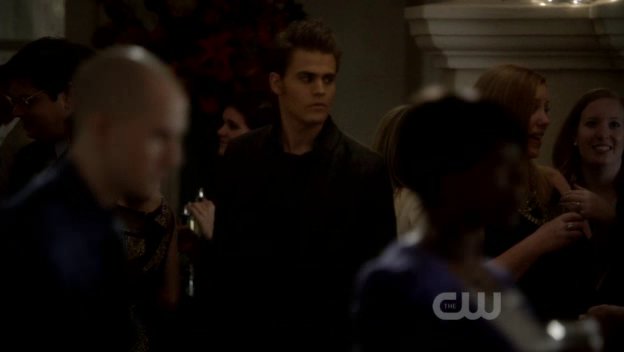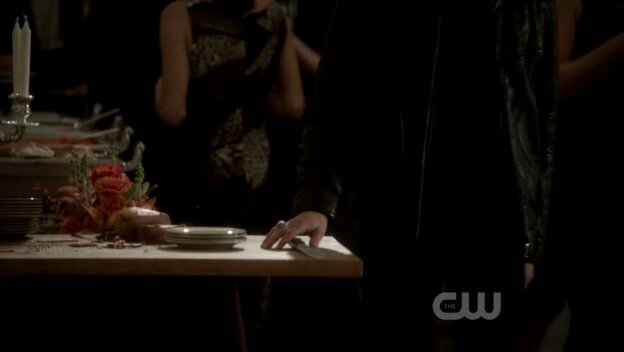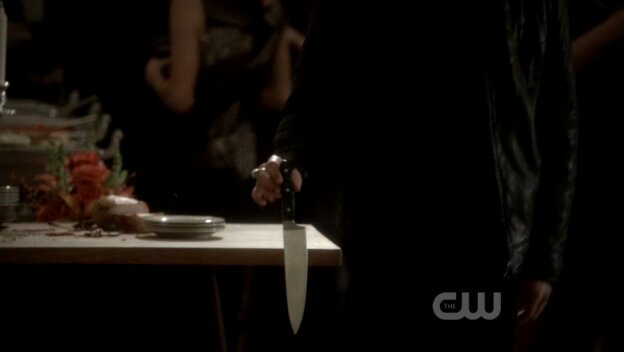 Stefan stabs a hybrid but Damon stops him before he can chop his head off. "And if you kill them, Klaus won't make 20 more? Have you forgotten about Elena's part in all this? Or do you not care if she is a human bloodbag for the rest of her life?" DAMONN 😢😍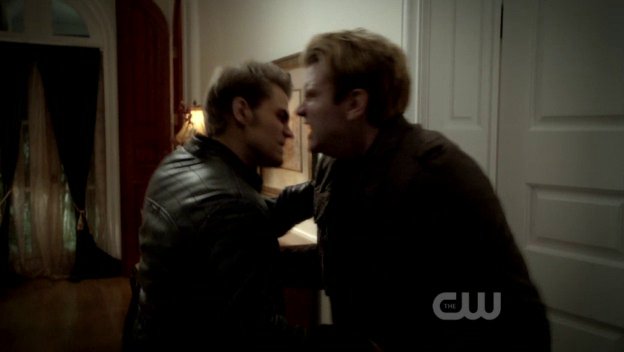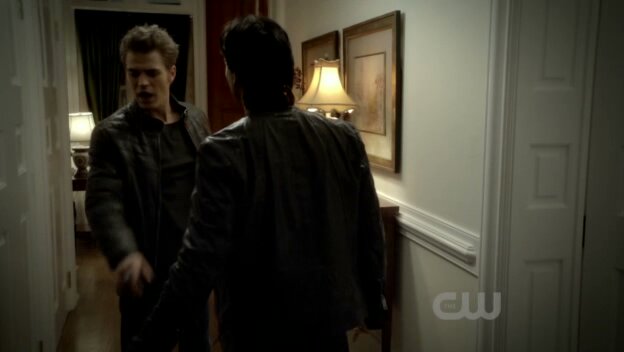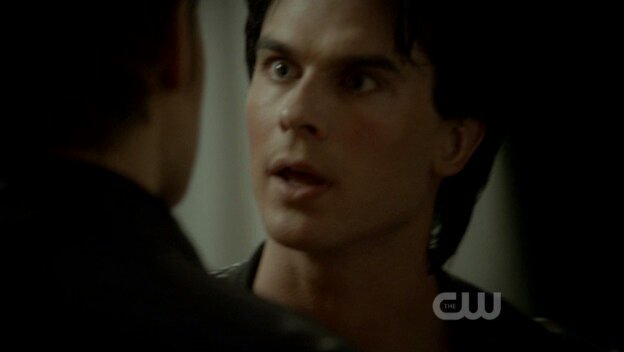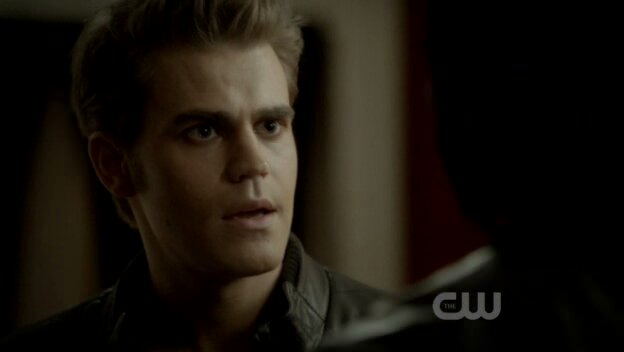 BITCH WHAT?? PROBLEM??
"Protecting Elena is your problem now. I am not compelled by Klaus to do that anymore."
WELL FUCK YOU 💀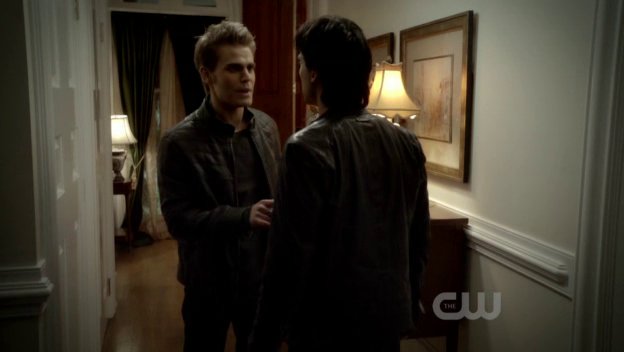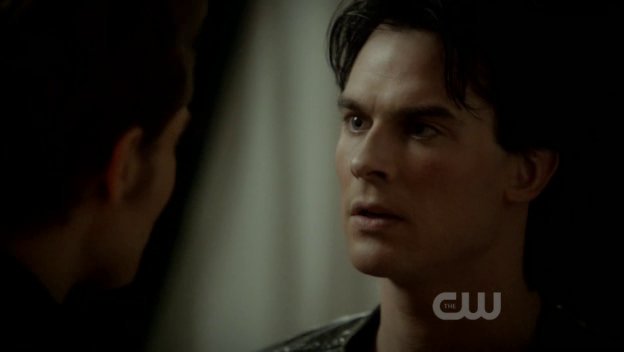 Ah CRAP. 😐💀 Tyler...ISTG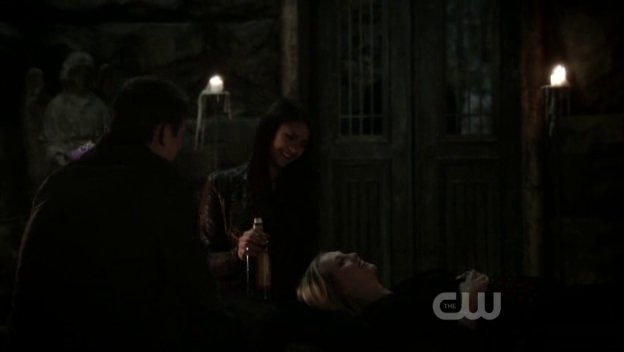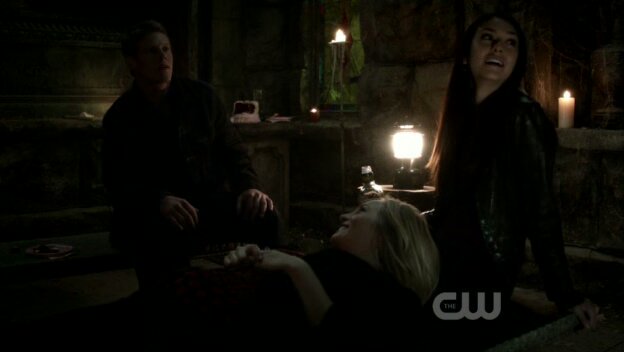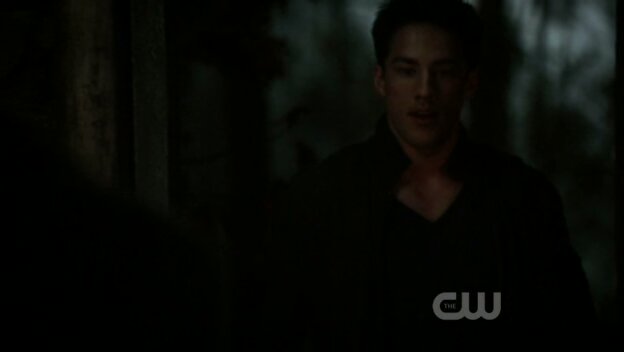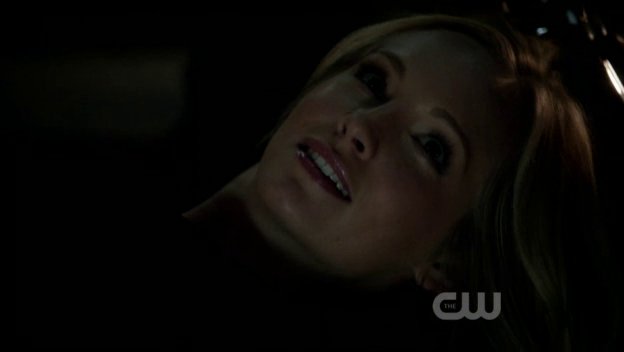 Tyler wants Caroline back and tells her he loves her and that Klaus can't control him. Not when it comes to her.
Tyler...Stay the fuck 10 steps back from my girl.
SHIIIT FUUCCKKK TYLER OMGGG HE VSHSHDHDBF HE BIT HER.
THAT'S IT. THIS FUCKING SHIP IS CANCELLED. TYLER CAN TAKE HIS HYBRID CANINES AND TAKE A HIKE. THEY HAVE BEEN A PAIN IN MY ASS SINCE S2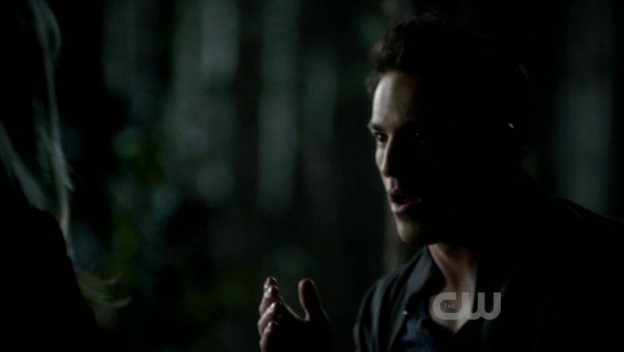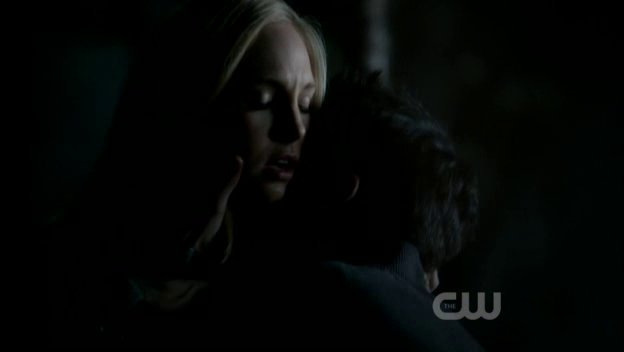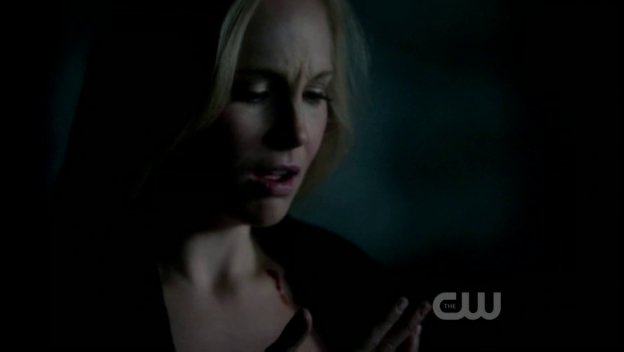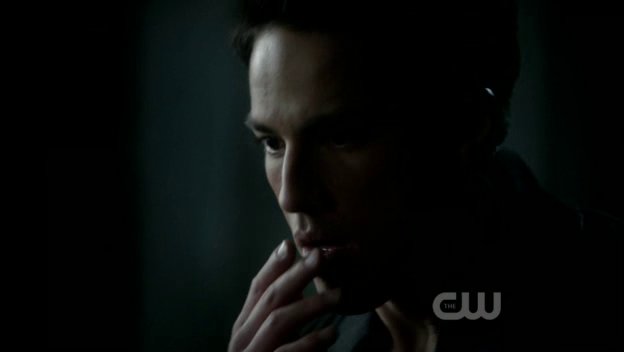 AND KLAUS CAN TAKE A HIKE RIGHT ALONG WITH HIM BECAUSE THIS IS HIS FUCKING FUALT
WHAT IN THE HELL? ????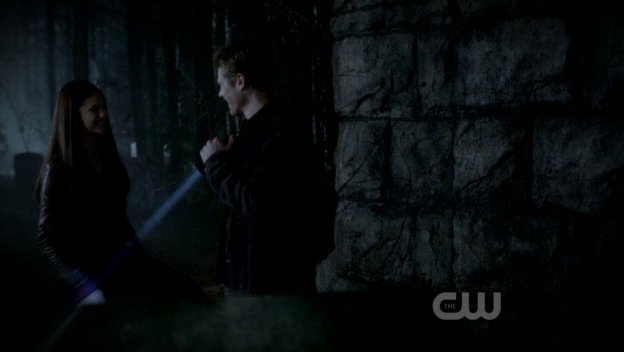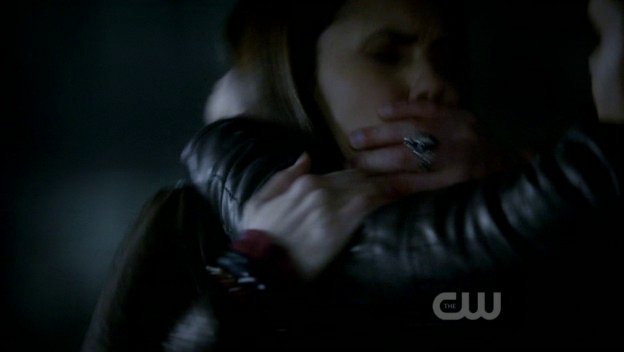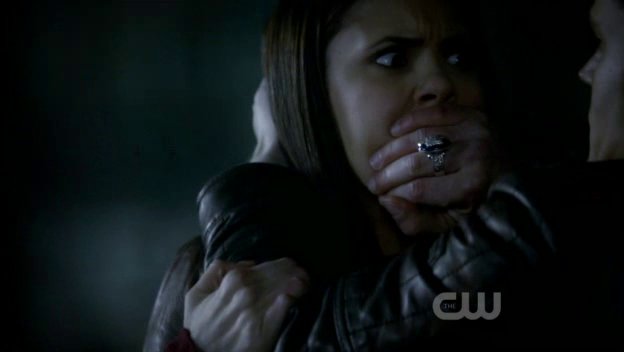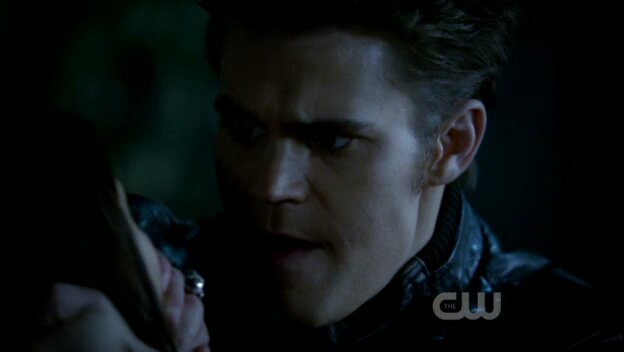 Stefan grabs Elena's phone. Damon looks worried as hell. So am I.
"Stefan, leave her out of this."
THE ASS THREW HER PHONE OUT THE WONDOW. WTF STEFAN? 😐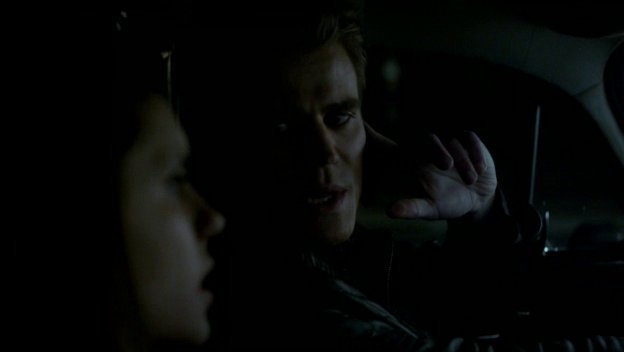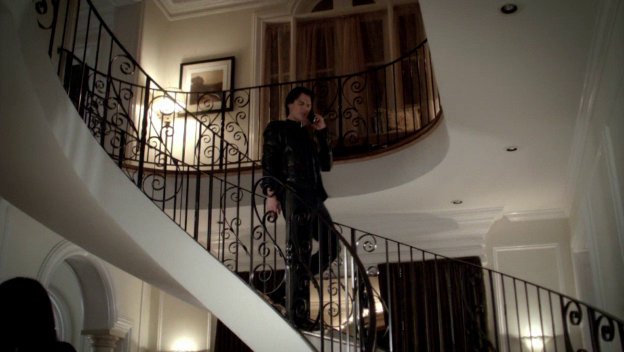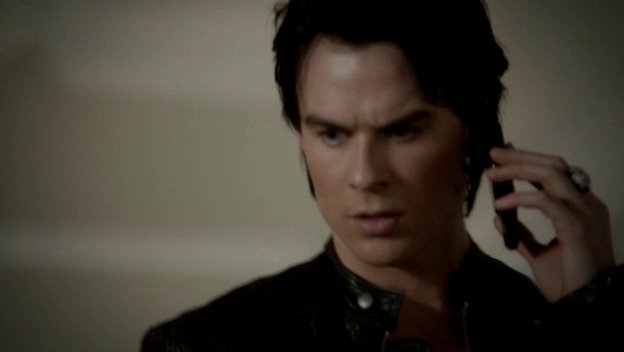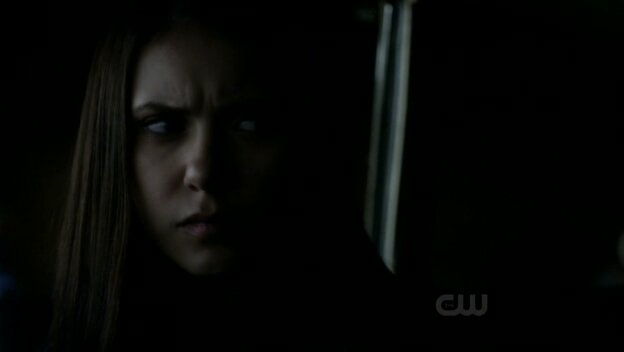 Damon is paniced and goes to Klaus to tell him about Stefan. Klaus is at ease because he believes the kind of love Stelena had never dies, so Elena will be safe. WAKE UP KLAUS. What do you know about love? Stefan is fucking nuts
NOT AGAIN NOT AGAIN. 😭 SOMEONE GO BLOODJACK FUCKING KLAUS 💀💀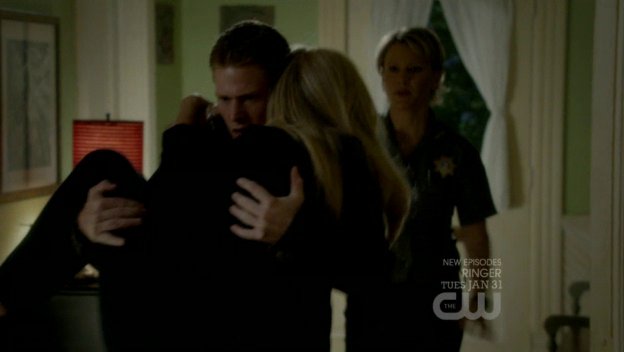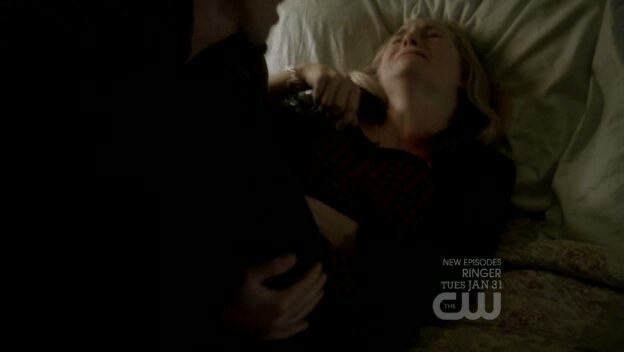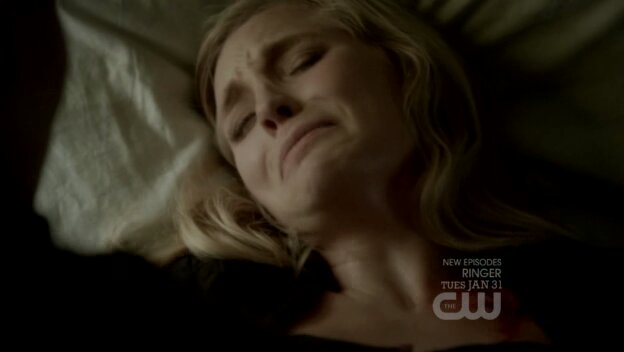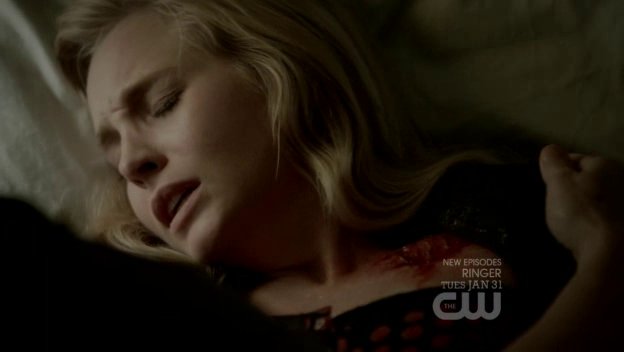 "Maybe I will just turn you into a vampire."
YOU DID NOT JUST...
"Okay, then I am going to drive your blood scource of Wickery bridge."
😱😱😱😱 STEFAN DON'T YOU FUCKING DARE
I CAN'T WATCH WHAT THE FUCK IS WRONG WITH STEFAN I CAN'T BLOODY DO THIS OMG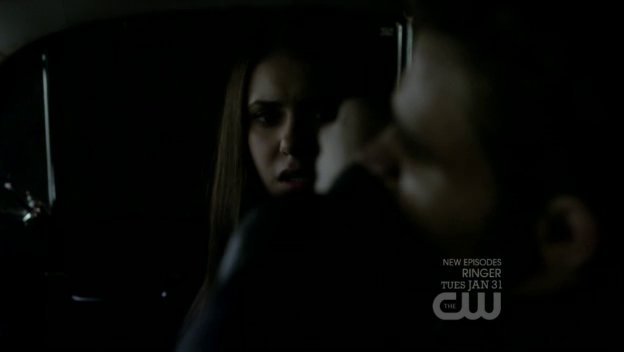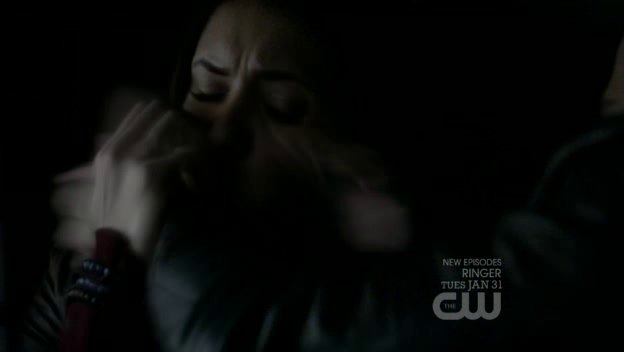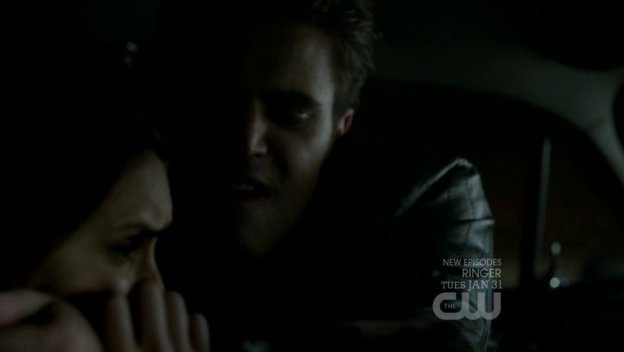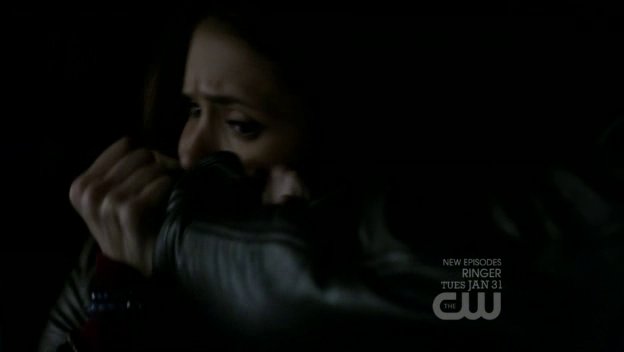 I AM CRYING THIS IS SO DISGUSTING OMFG. KLAUS BACKS DOWN AND STEFAN STOPS.
THEY RUINED STEFAN'S CHARACTER. OMG THIS IS FUCKING DESPICABLE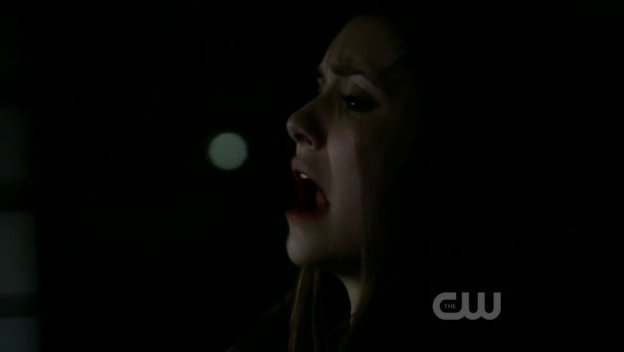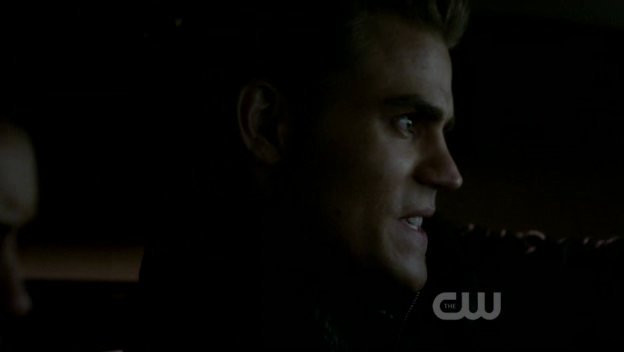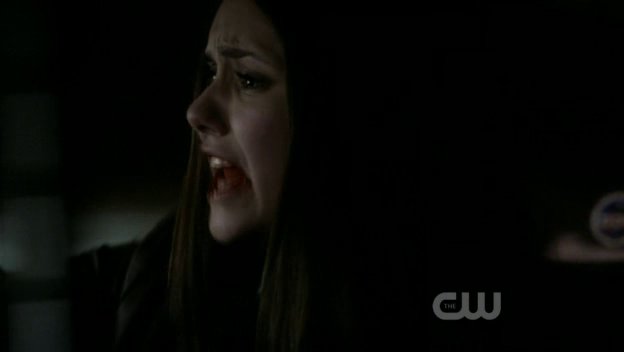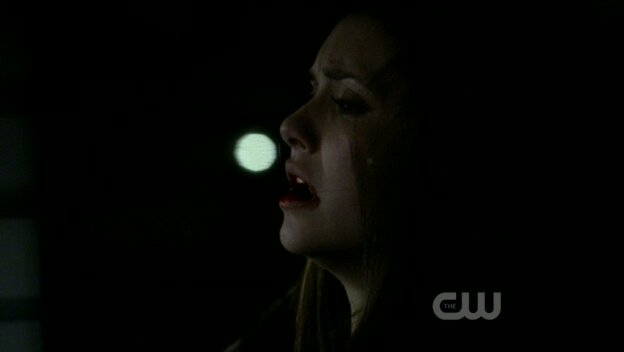 DON'T YOU DATE SCREAM AT HER YOU **** "Your fear sold it." Revenge. Well, enjoy your revenge. Hope it keeps you warm at night.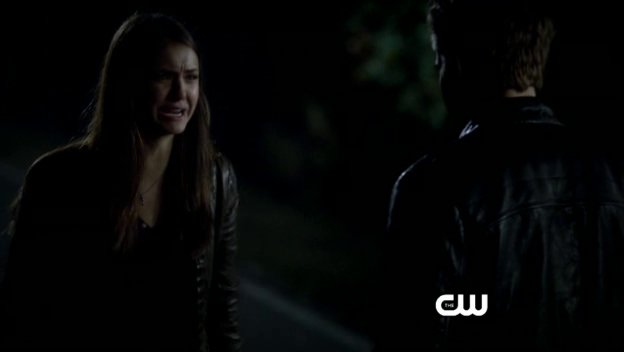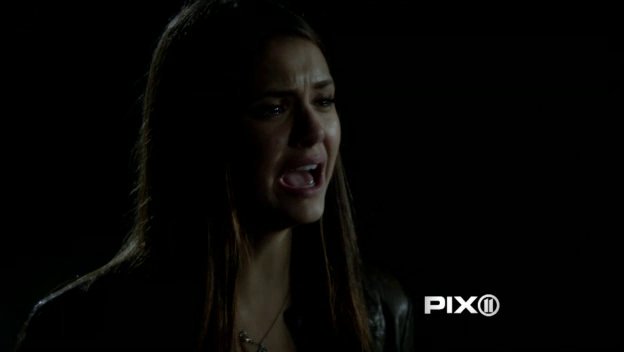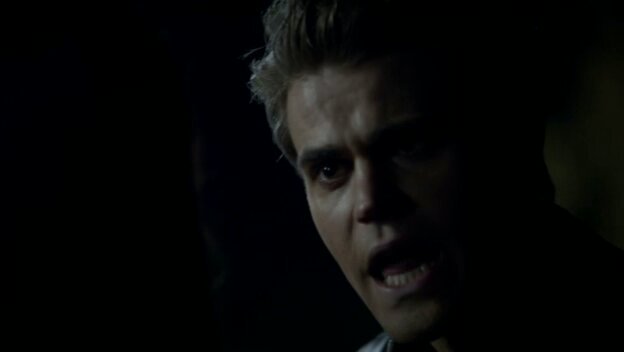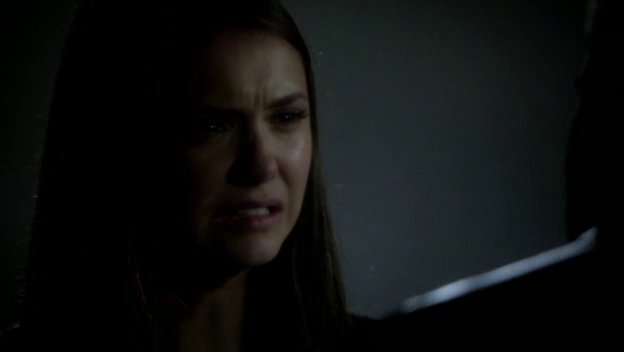 "After everything, that's what mattered? Destroying Klaus?"
My girl is a hurt OMG this was the deepest form OF betrayal. I can't even. His fucking emotions are on. Atleast he has the decency to look halfway guilty now 💀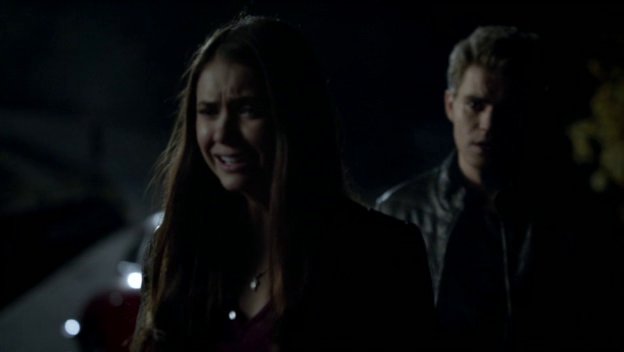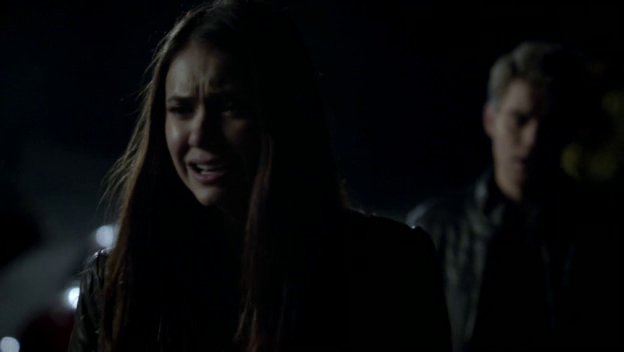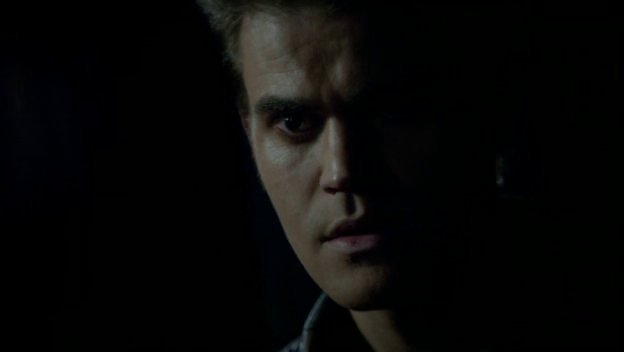 "Destroying Klaus is all I have left."
"YOU HAD ME!"
"I lost you the minute I left town with him. You just haven't let yourself admit that yet."
"Is that what you are doing? Trying to make me hate you?"
"I don't really care what you think about me anymore, Elena."
Well (..)
it's working. I can't stand his ass right now. And what a lame ass excuse OMG. Elena spent the entire summer looking for him. She went to Chicago, in the Smokey mountains. Even with humanity off she stood by you. Never ONCE did she give you any indication that things were (..)
hopeless. All you had yo do, was then your emotions back on and face them. Not hide behind revenge.
And so if he thinks Elena is lost to him, their relationship is doomed, then she is fair game? To torture? To just step away and not care anymore? I am so pissed right now
And he just leaves her on the side of the road, alone in the middle of the night, without a phone and drives off. I can't...I don't have more anger I think I am burning out 💀💀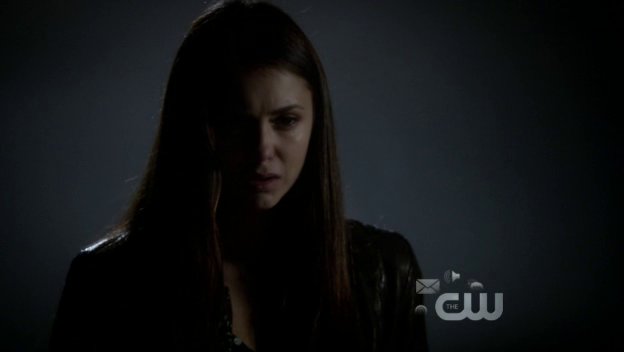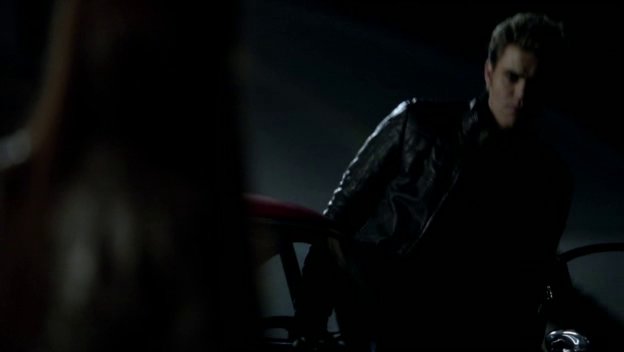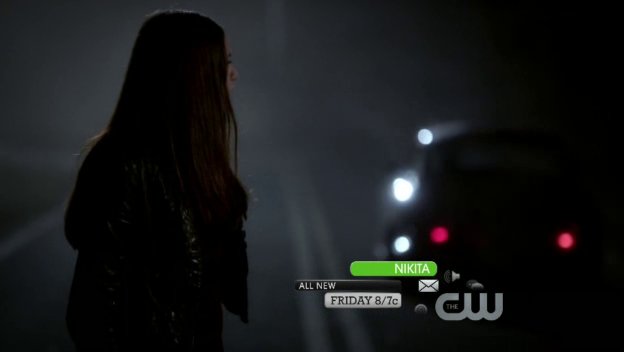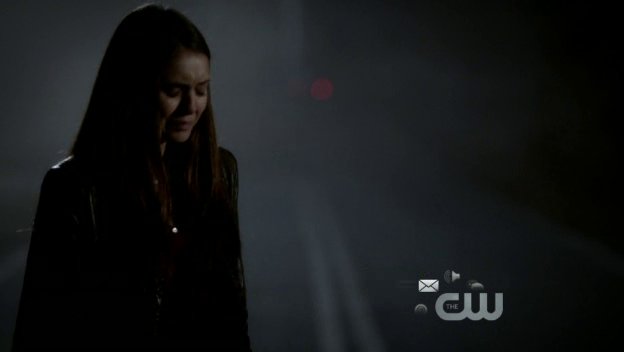 Matt, you idiot. We all know he made Tyler do it. He says he is here to help now . Let the man through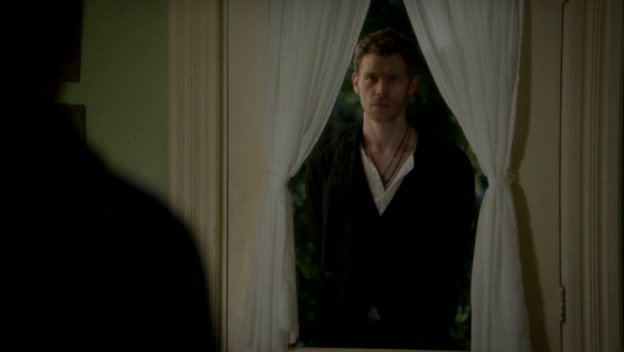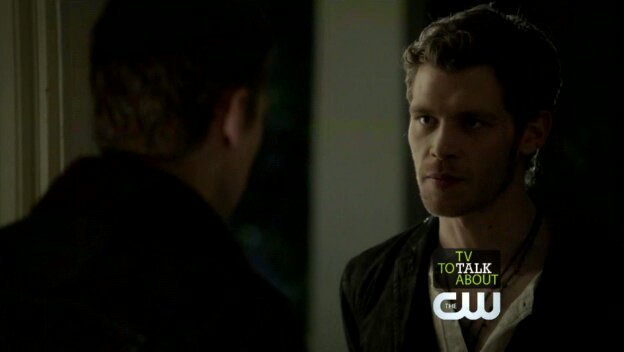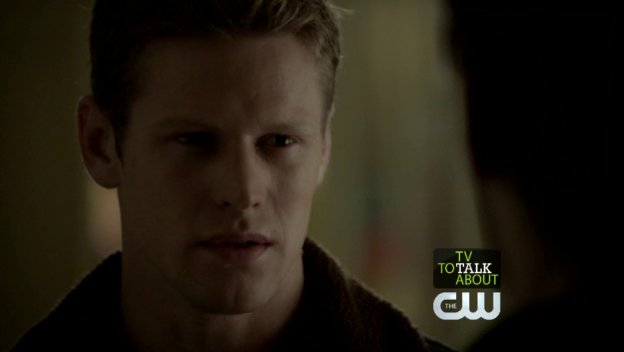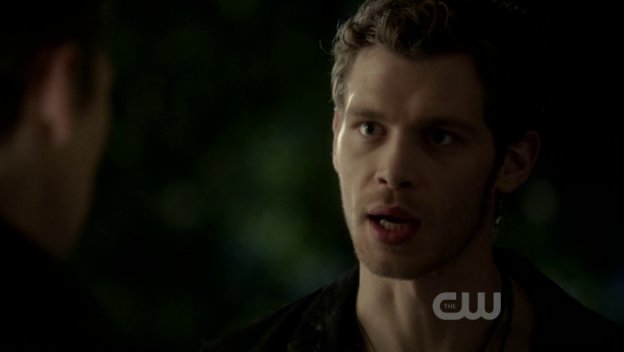 Wait...why IS he there to help?? Nevermind I don't give a fuck. Just help, ask questions later
Okay he says to Liz that all he wants, is her support. Okay okay just let him in already
"Are you going to kill me?"
"On your birthday? You really think that low of me?"
Well....you kinda put her there. ..So yeah...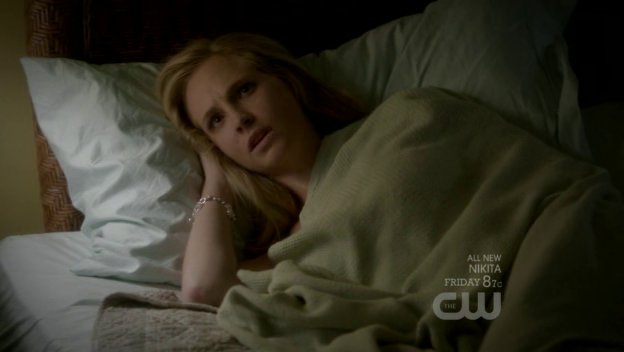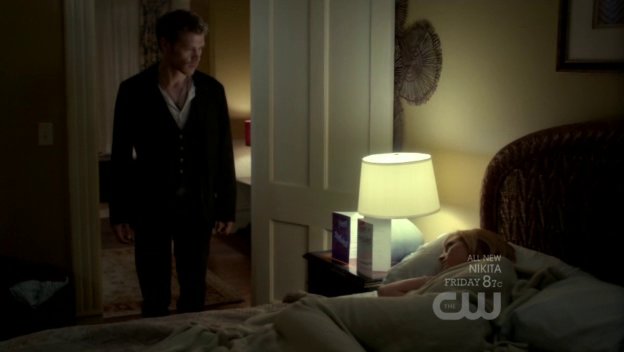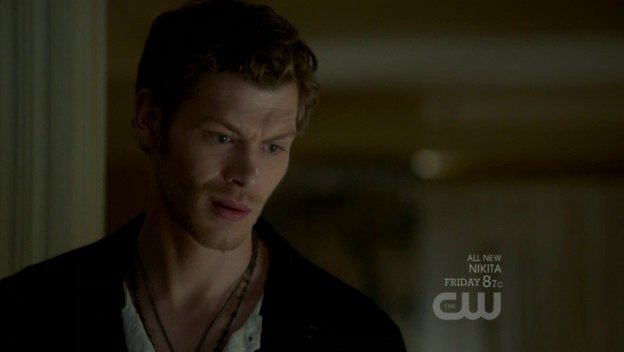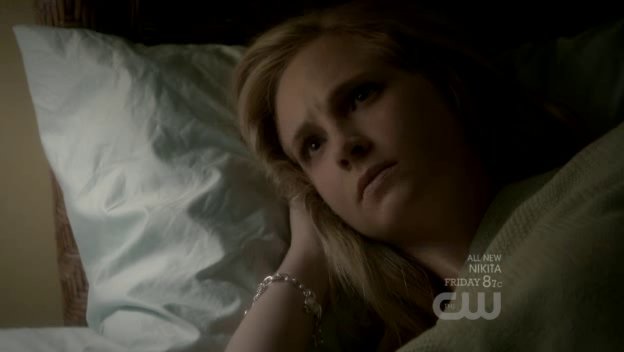 Caroline isn't playing around with the honesty police. "Yes."
"My apologies. You are known as collateral damage. It's nothing personal." Okayy, I apologised. That's nice. Wish he did that AFTER healing her. Strange that he even does. Since when does he even bother?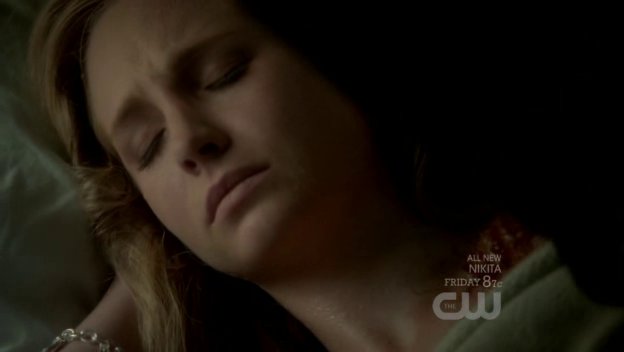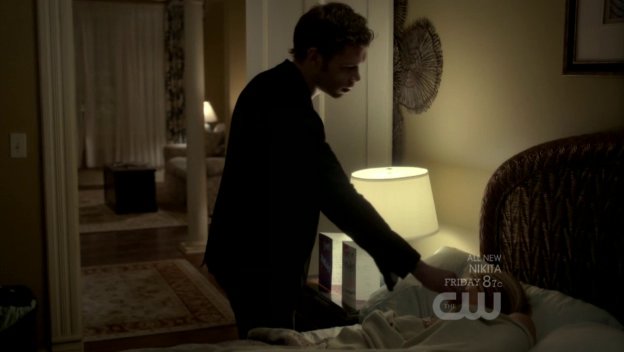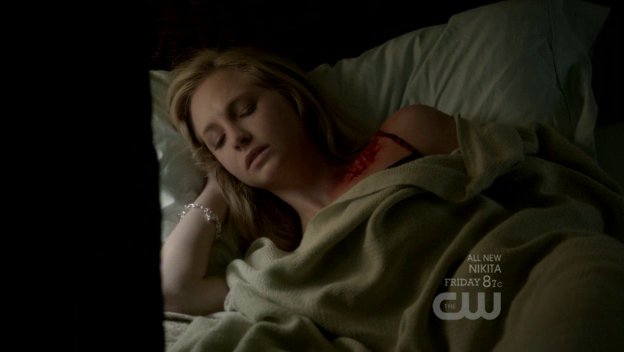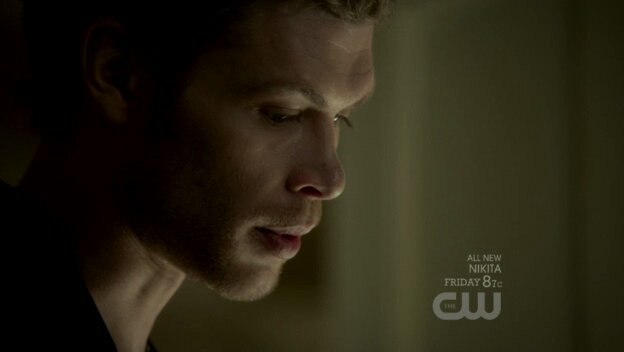 But he is still toying around. Touching her bracelet, telling her he can still let her die if she wants too. She doesnt want to. Heal her now 😩😩
Je is opening up to her a bit. Telling her that he thought of dying, once or twice throughout the centuries. Seriously? That's unexpected. As unexpected as him being a culture lover. Art, music...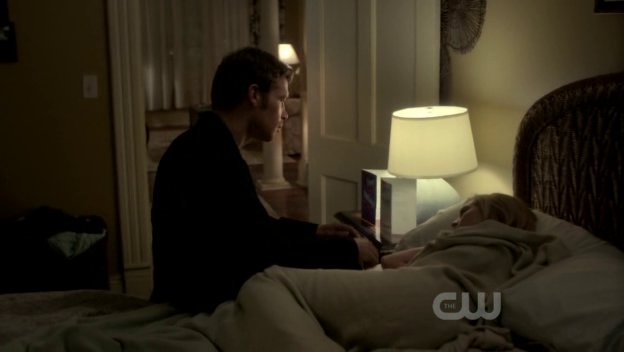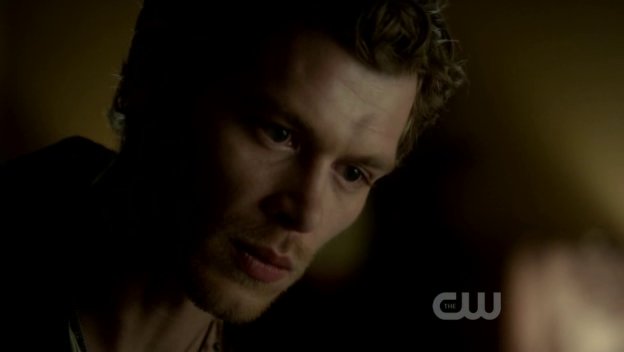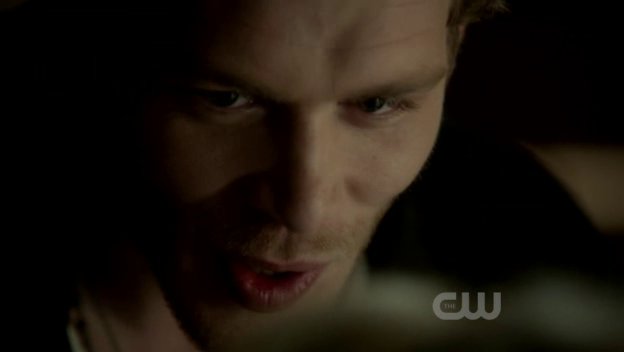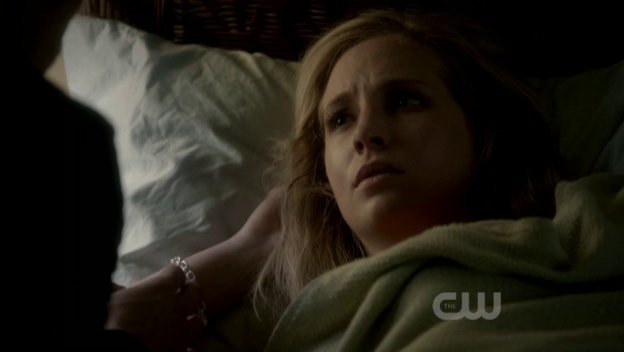 It's funny how she was kinda depressed about being stuck on her birthday, now he is telling her how great it is to truly live.
"You can have a thousand more birthdays. All you need to do, is ask."
Okay quit the powerplay. Life is beautiful. She gets it. Don't make her beg. Heal her
OMG PHEW YASSS
"Happy birthday, Caroline."
His gift to her, was her life back and doing something decent for once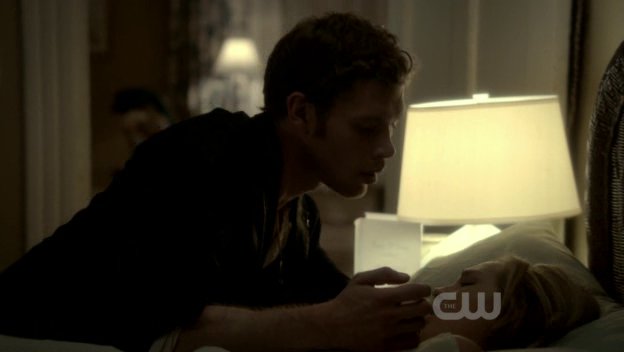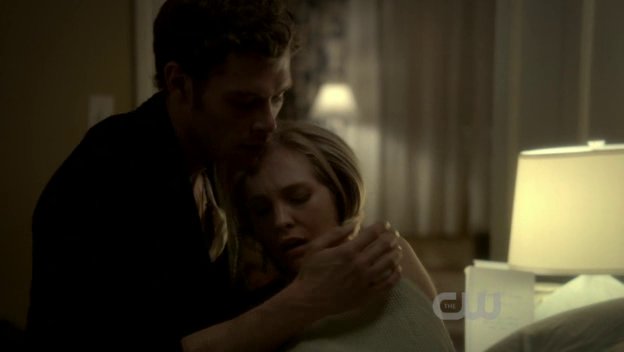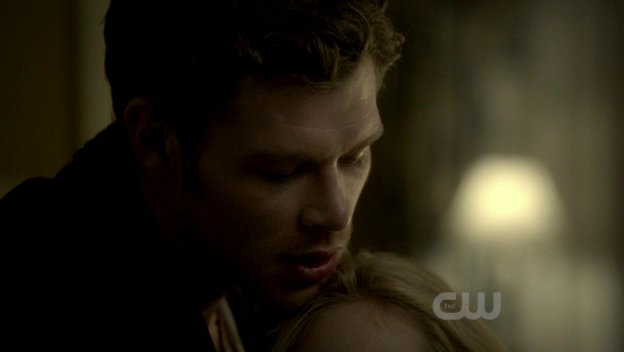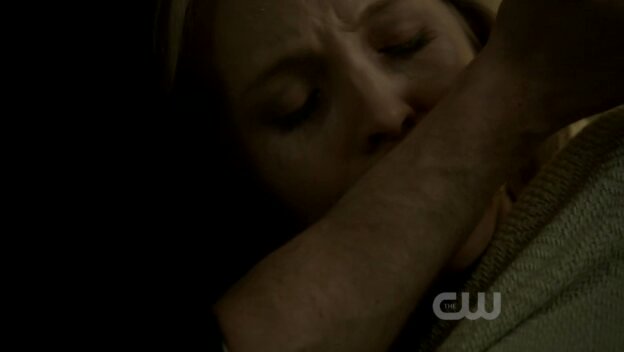 Suprisingly gentle. I have NEVER seen him be gentle. Guess there is a first for everything.
Damon picked Elena up and asks if she is okay. Always to the rescue.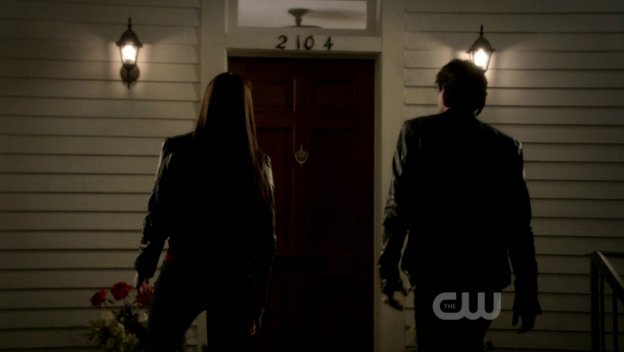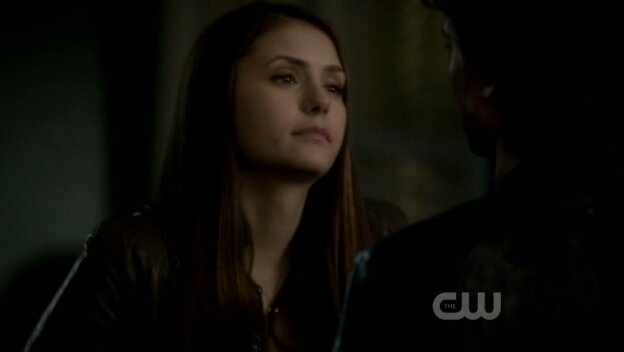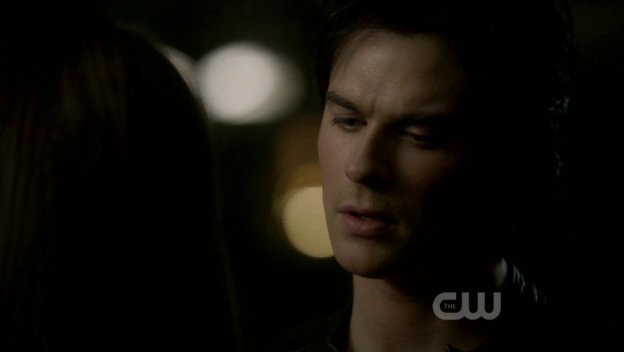 Damon tried so hard to save Stelena. He even tried to point out that Stefan DID get Klaus to back down but Elena turns away. "His methods sucked."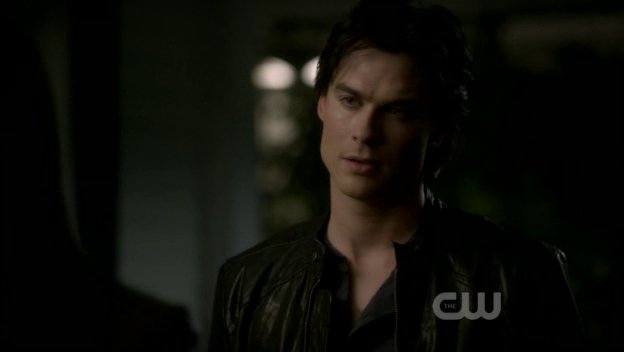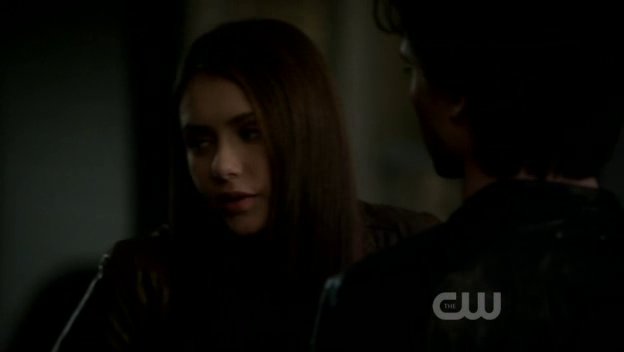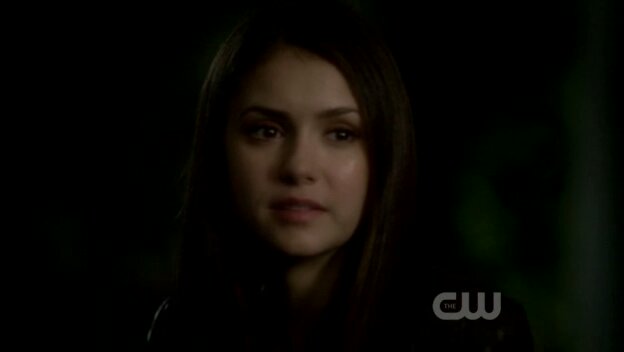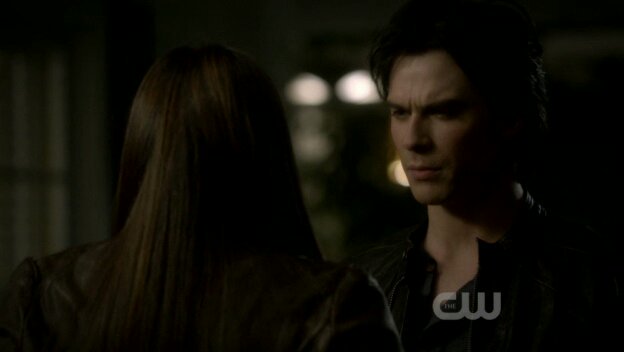 Damon is really out there, cockblocking himself and trying to keep this dead ship alive.
"Really, tell me. Are you going to be okay?" SO SOFTTTT 😢😍
Elena needs some gentleness after Stefan was so rough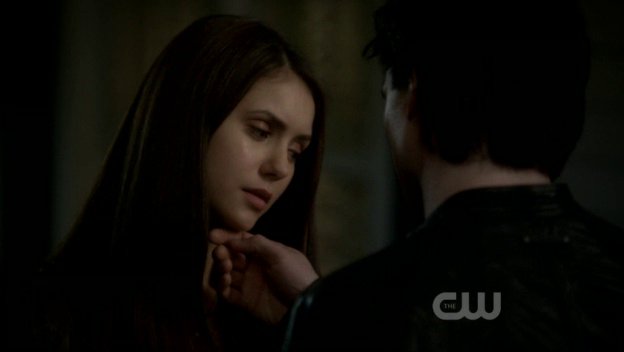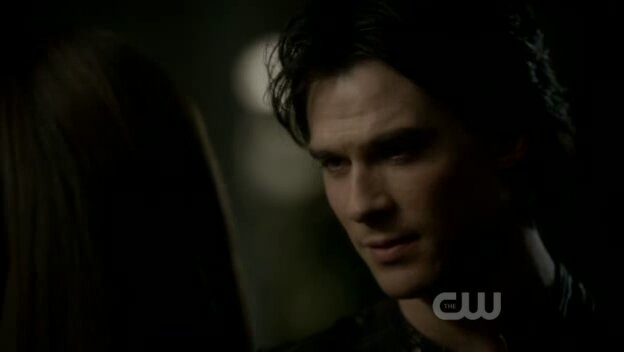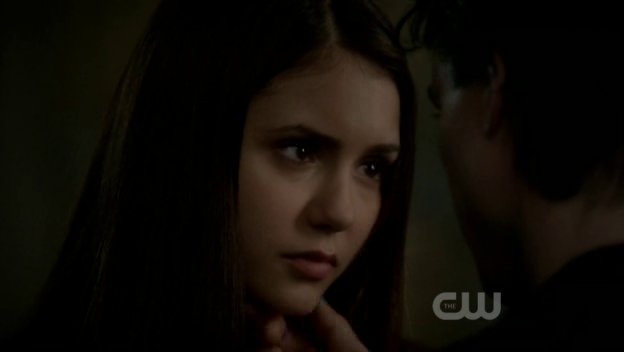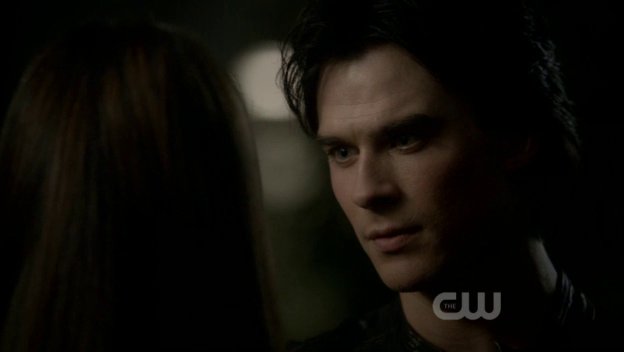 "You cant kiss me again. It's not right." Then why do you look like you are going to cry, Elena? You and Stefan broke up back in 03x03?
"It's right. Its just not right now."
AGSHD TELL HER DAMON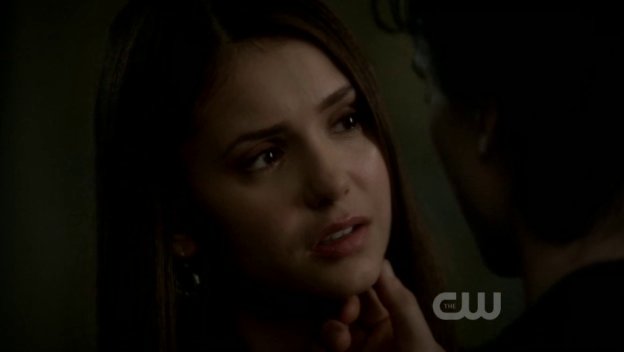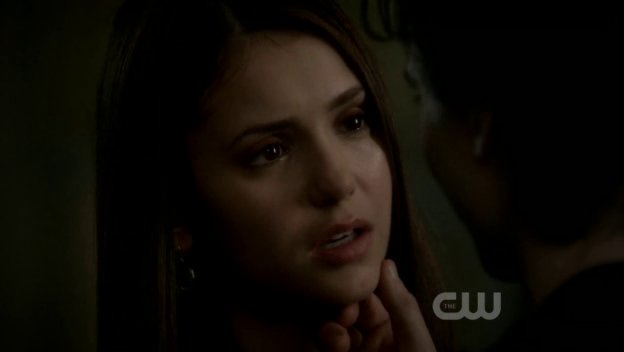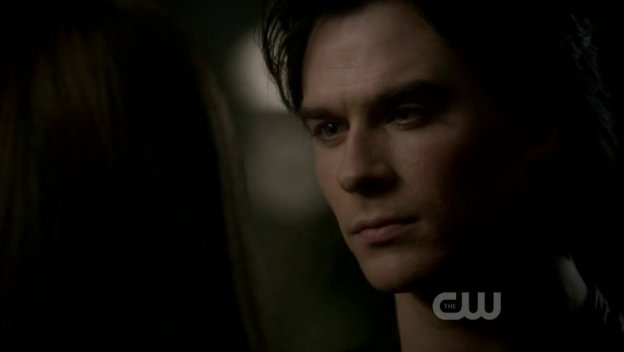 Oh Elena, sweetie... why are you doing this to yourself?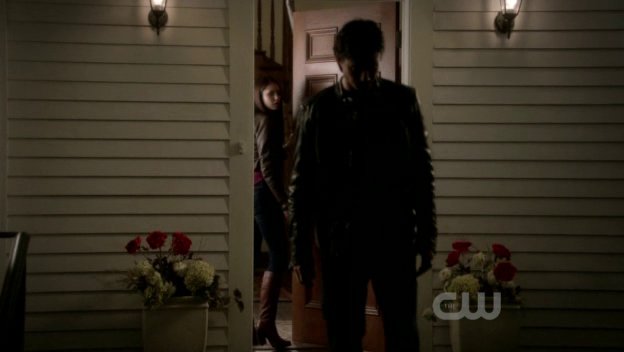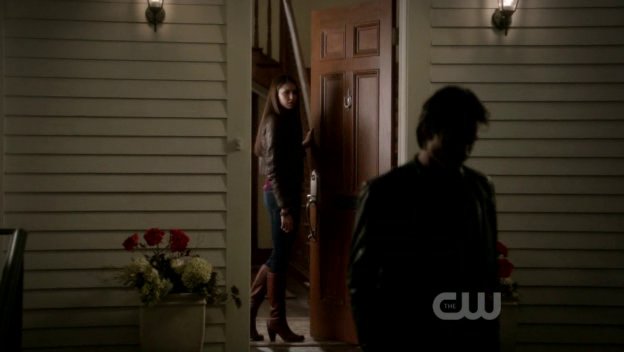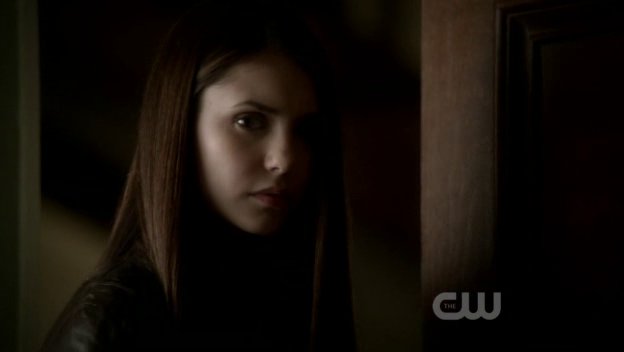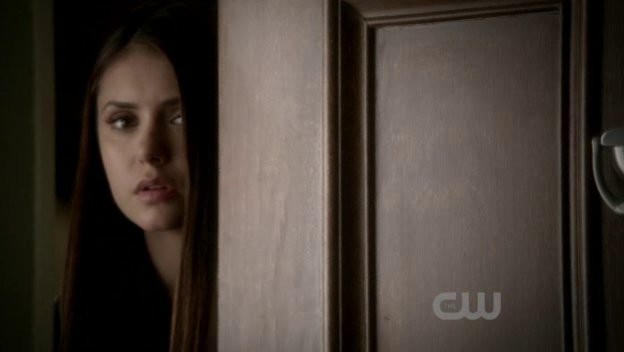 Bonnie shows up to say goodbye to Jeremy. Elena is already having a hard time but she still throws her the stink eye. 😐
Klaus left her a birthday gift to say sorry? This is...unexpected. WTF is going on here? 👀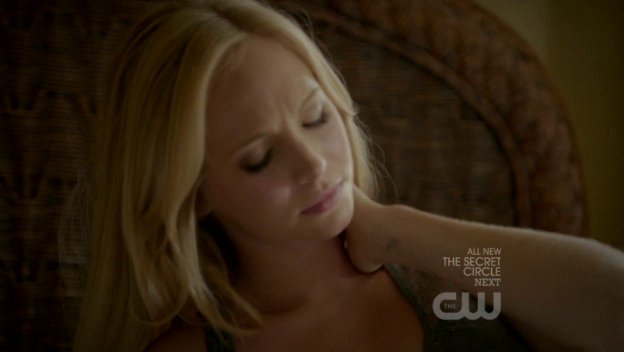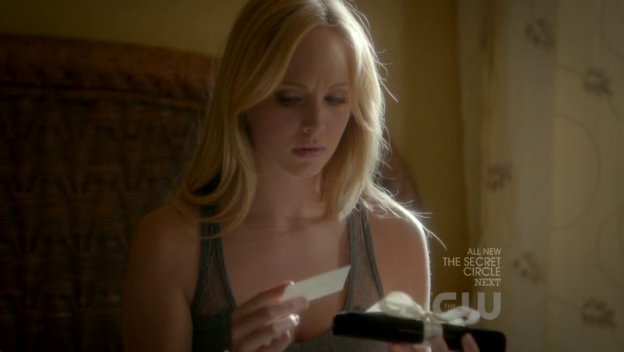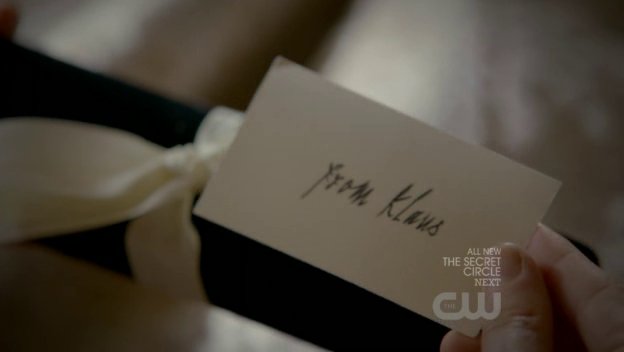 OMGGG he saw the bracelet Tyler gave her and wanted to one up 😂 Is he going to go after Caroline now to piss Tyler off, or what is happening here? Because this is very sudden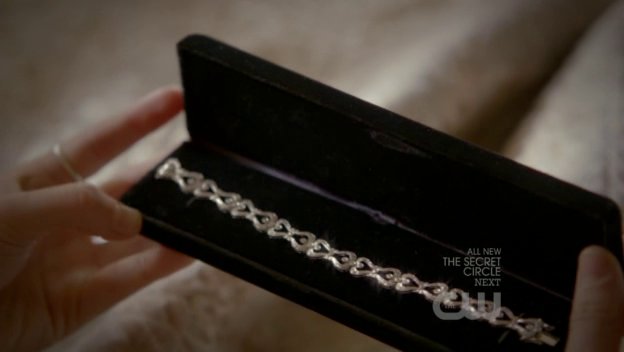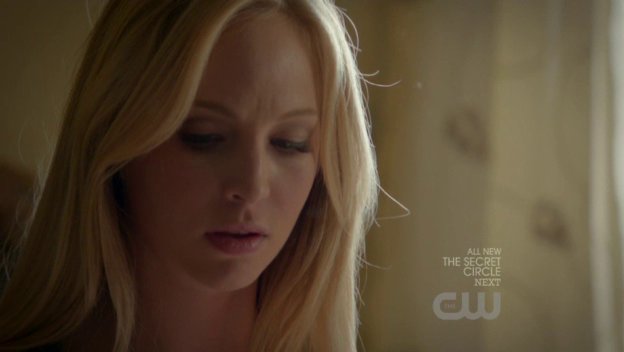 Elena needed closure on this damned bridge too. She feels like an let her parents and he old self down, but she didn't.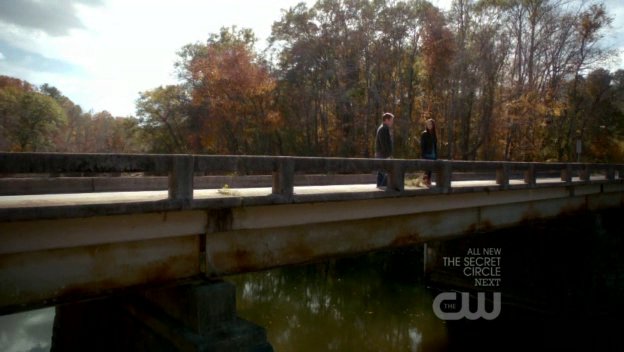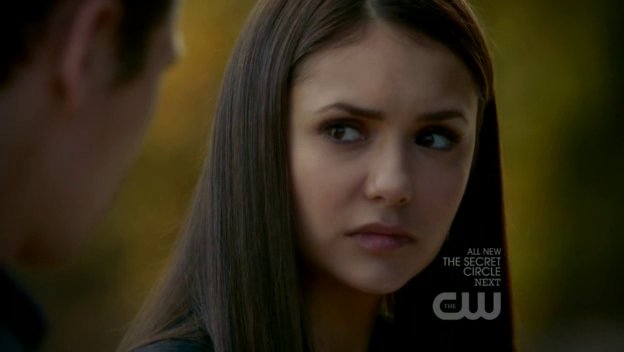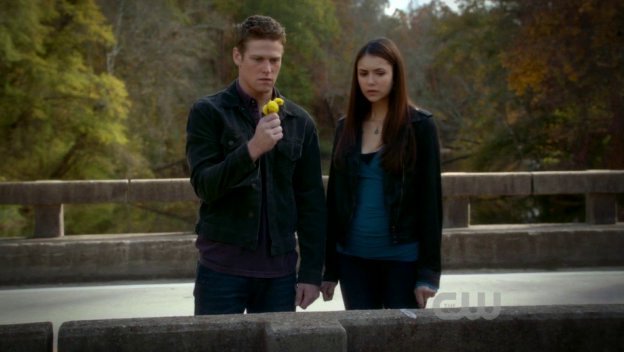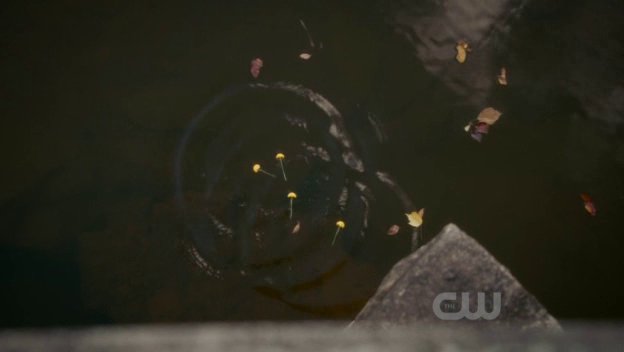 They are totally going to make Alaric and Meredith a thing. 😐
Oh yikes. Touchy guy from before. Watch out Alaric, Dr Fell May just be a killer.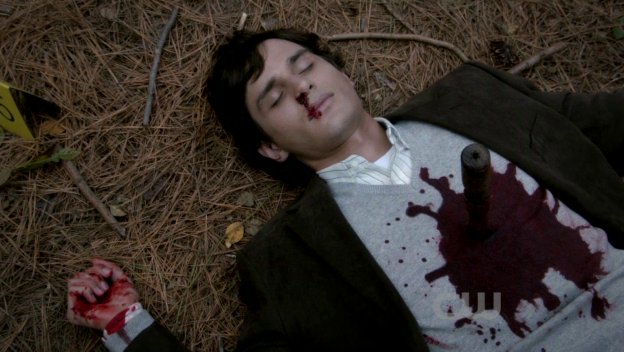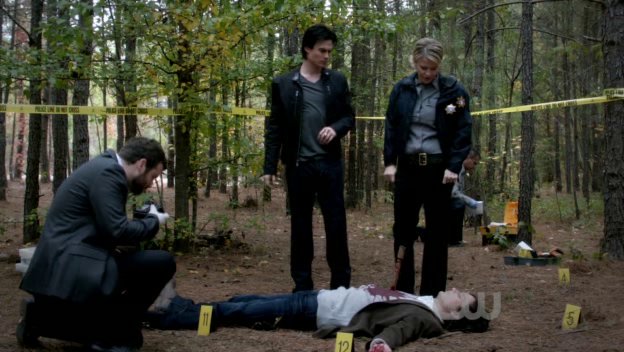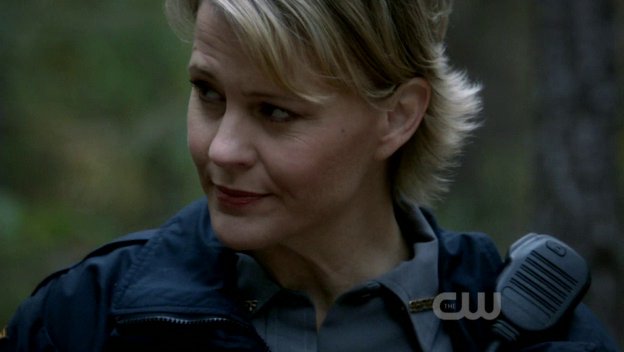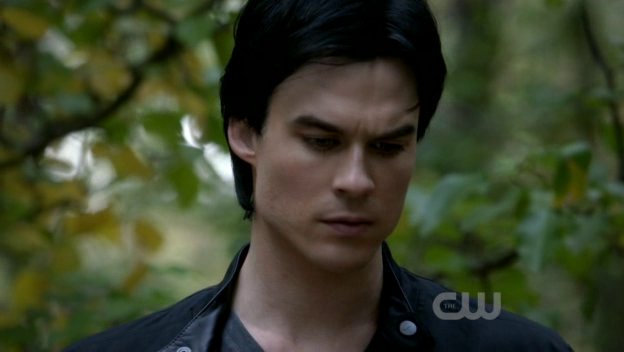 Sjeesh. These episodes keep getting wilder
03x12 "The ties that bind."
Looks like Bonnie is having one of her weird dreams again. She is in the cemetery amongst Bennett graves. If I were this girl, I would kinda fear sleep...
That one coffin that just won't open is there and so is Klaus. Yikes, Bonnie just ecame dream Klaus' food
Dream within a dream....Bonnie is having a real shitty night
Someone opens the coffin for her. Is she going to be the weapon inside the real coffin? Some powerful, age old witch that can undo the spell that created the originals?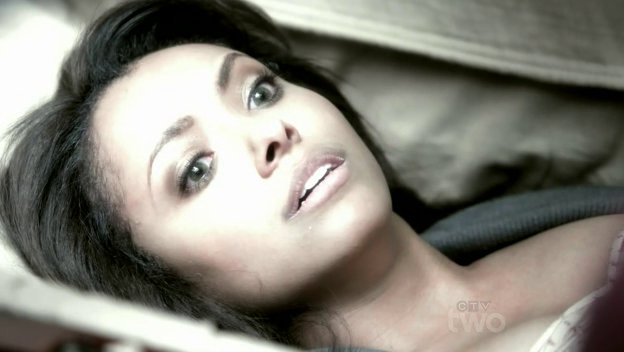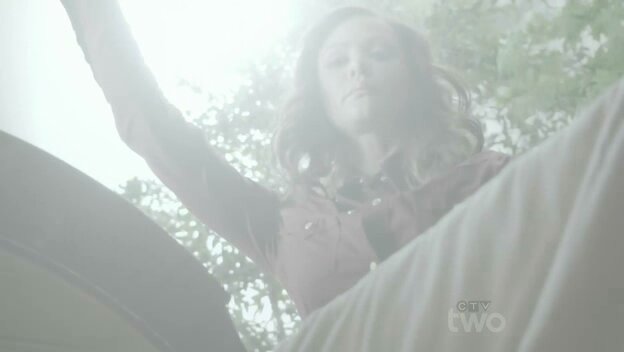 Bonnie shows Elena the coffins and Stefan is pissed.
"So what are you going to do, Stefan? Are you going to kidnap me so I don't tell anyone?"
"Don't tempt me."
......Ass 💀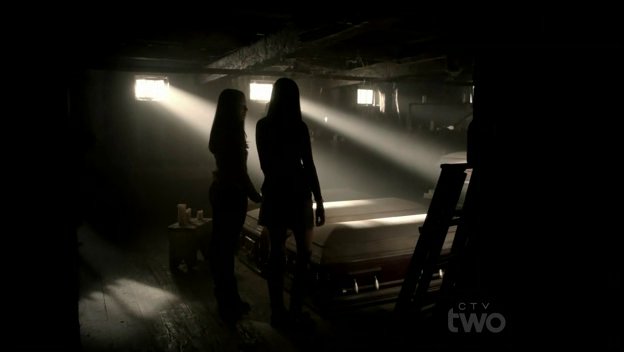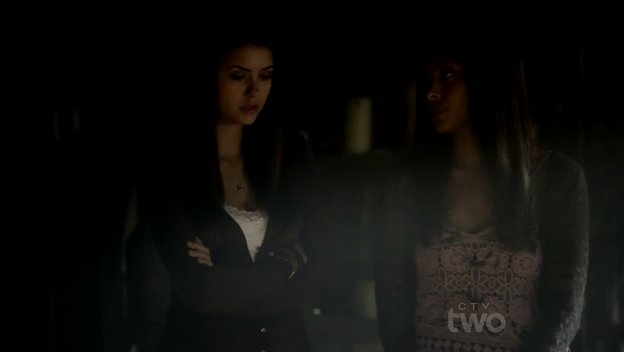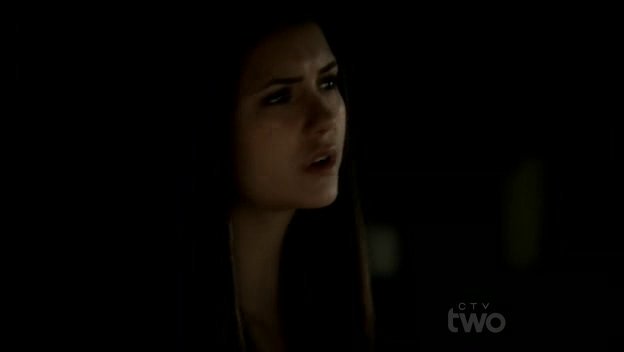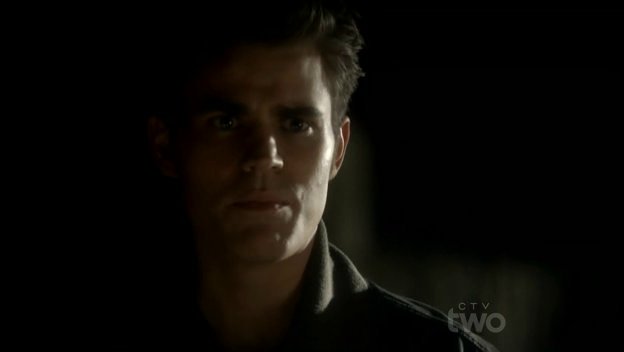 Bonnie's mom. 👀But how is it that Bonnie doesn't know her, if she is still alive?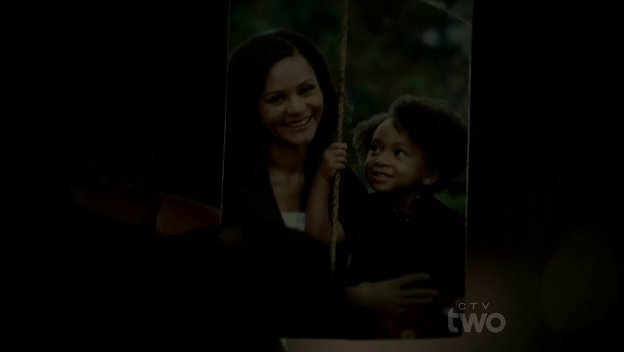 Bonnie thanks Elena for helping her find her mom, despite it still being weird after the whole Jeremy thing. You mean after you acted like a raging bitch at Caroline's party about something that doesn't concern you?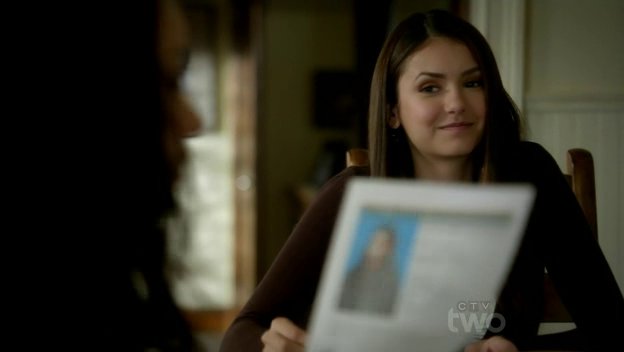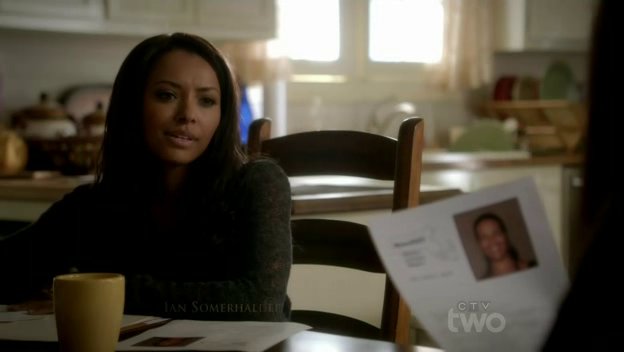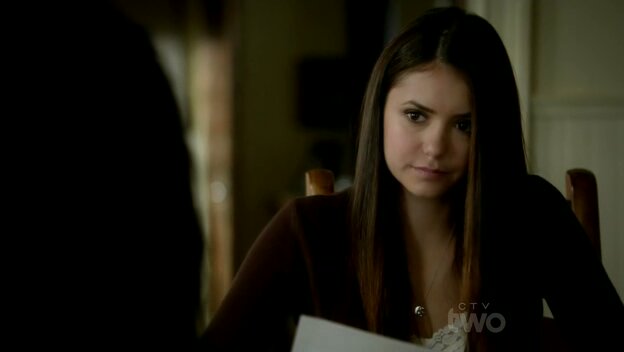 Damon comes through,as usual. He calls shotgun on the roadtrip, but Elena doesn't want him to come.She uses the excuse that Bonnie hasn't seen her mom in 15 years. WTF kinda bad mom is this??
But I think miss Gilbert is still hot and bothered about that kiss.She is way to gittery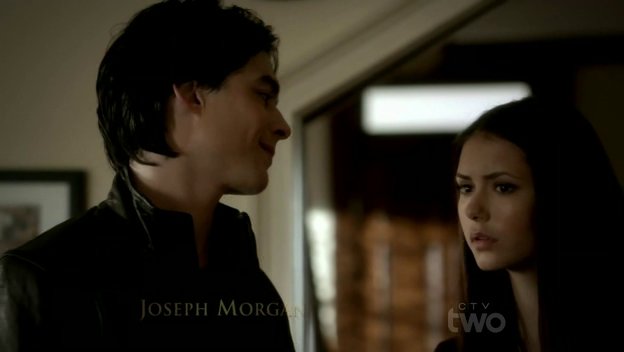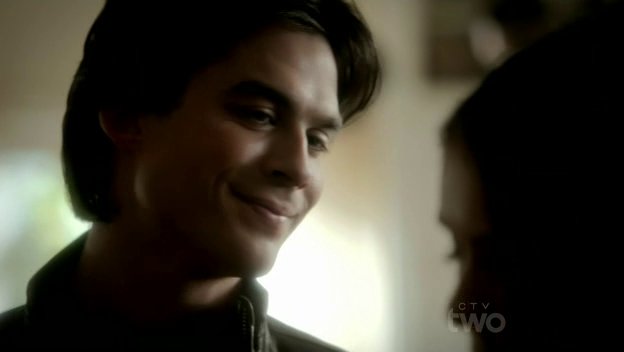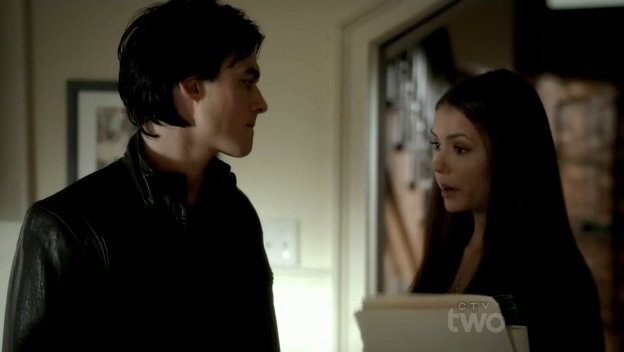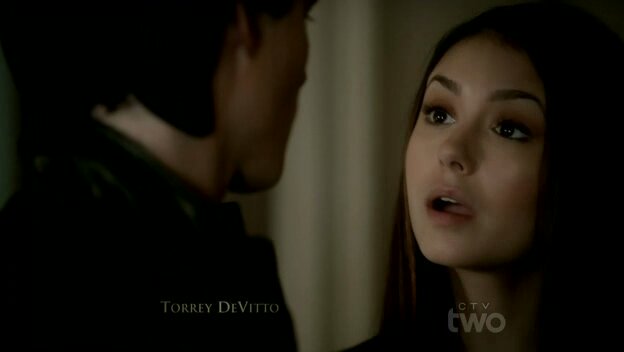 Lmaoooo Damon 😂😂😂 The puppy beg face followed by the cheeky smile. This is so cute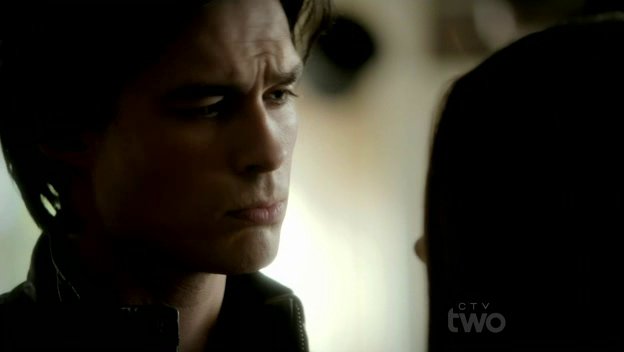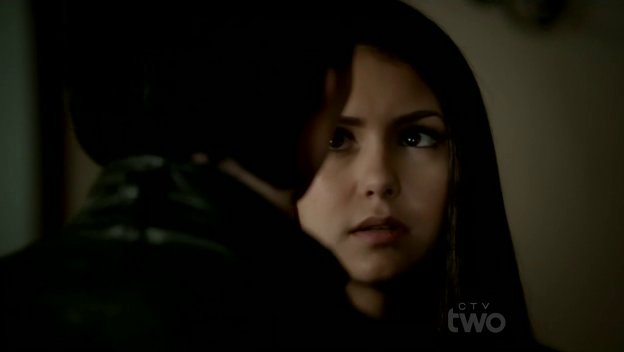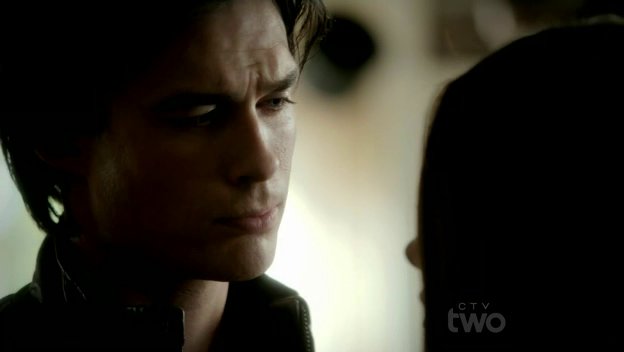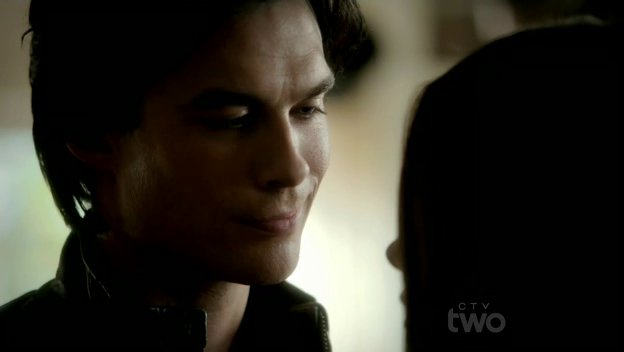 "Whats going on with you two?"
"We kissed. Now its weird."
AHSBS FIRST ALARIC, THEN CAROLINE, NOW BONNIE. They can all see Delena happening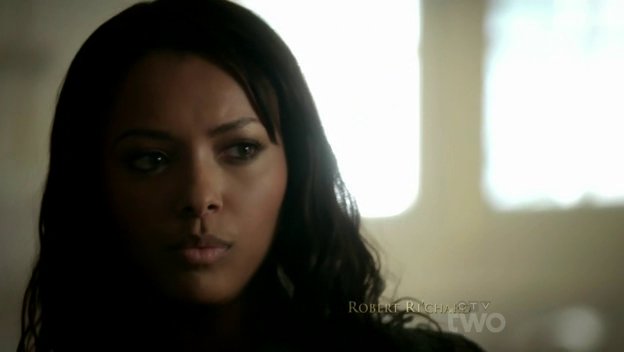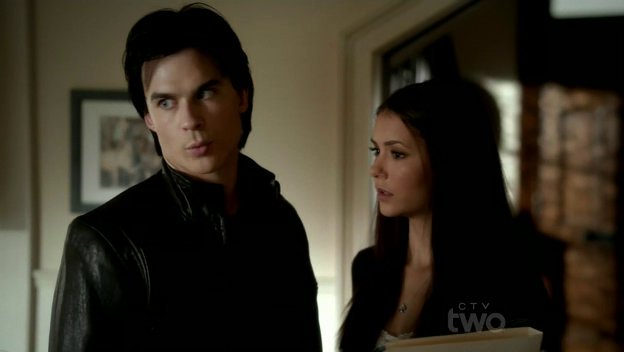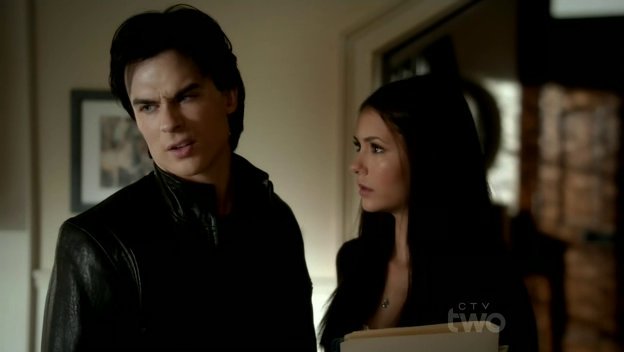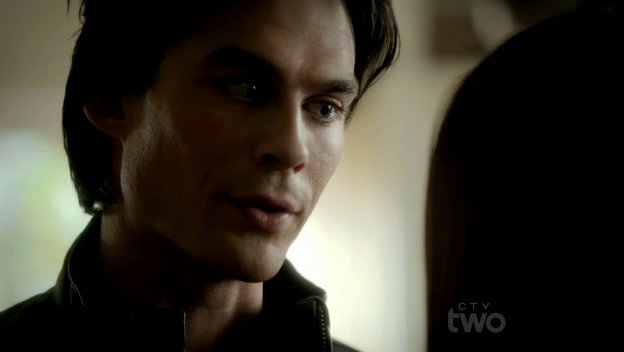 But see this reaction right here? First Caroline now Bonnie. They make her feel guilt and shame. Like having feelings for Damon is some kind of a sin. Like they expect better from her. And my SINGLE baby girl looks guilty as fuck.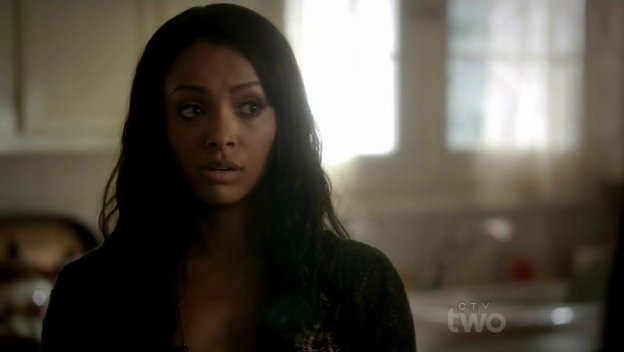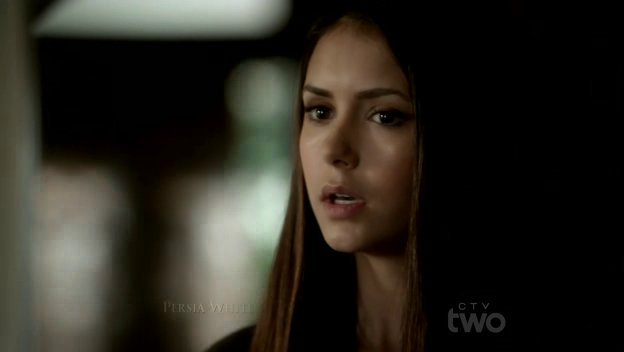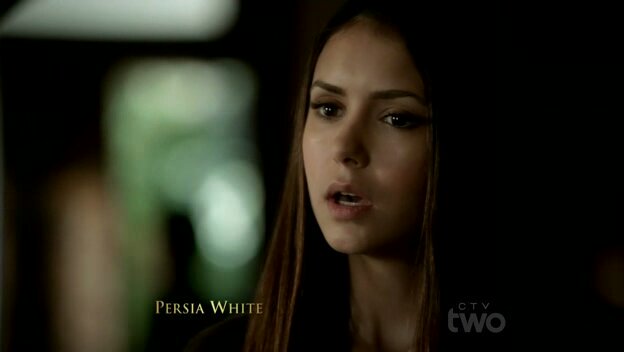 "What are you doing here?"
Yes, what are you doing there? The first chunk of neck flesh wasn't big enough?...I am sorry, I will be good. It's not his fault. Continue, Klaus minion no1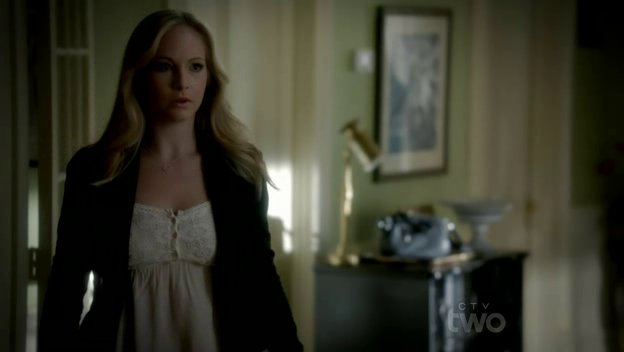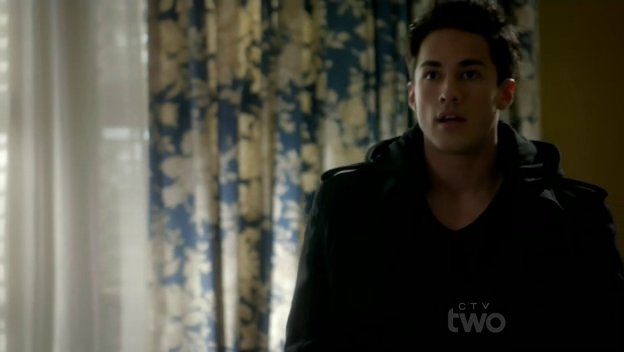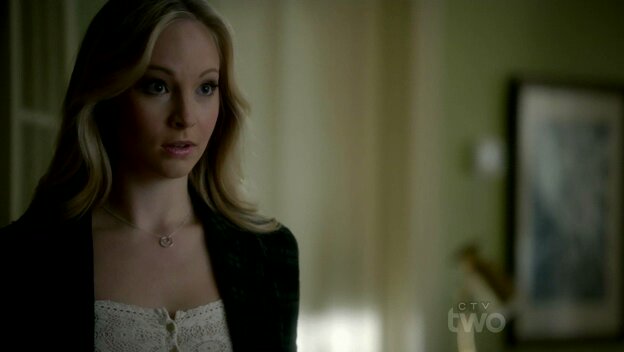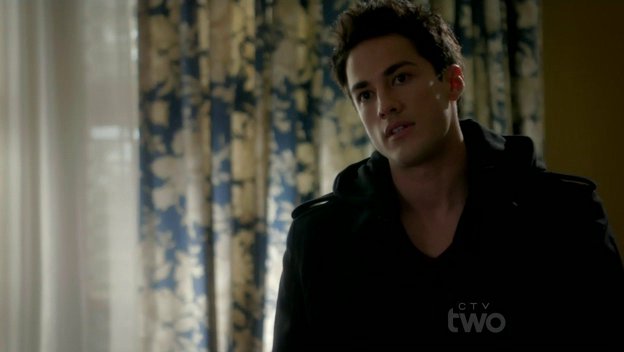 Atleast he acknowledges that he has a problem now. That's good
Oh shit. Caroline' torture happy dad is back 😨
Since he can resist compulsion, Tyler hopes he will be able to help teach him how to resist the sirebond. That's not a bad plan. Except this will probably end in torture . Thanks for making an effort now, Tyler. You are earning points back.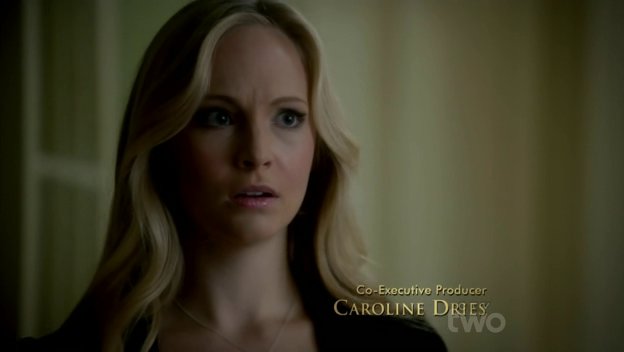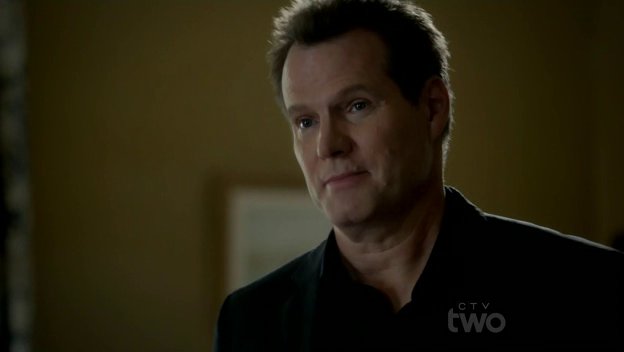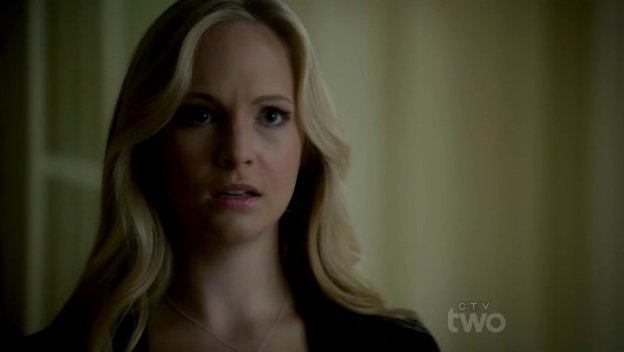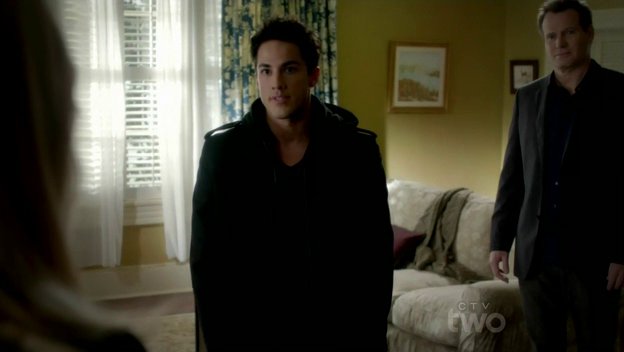 Jenna replacementets drops that she is an angry drunk. Hinting that she is the killer?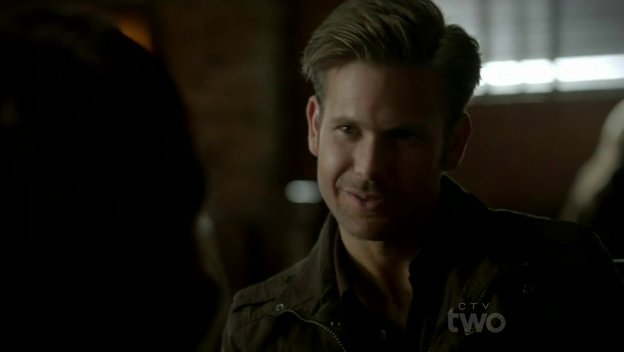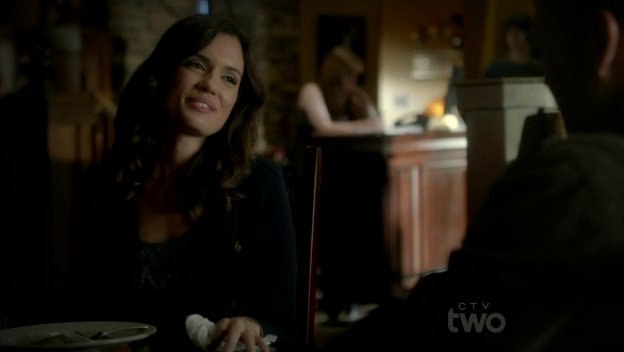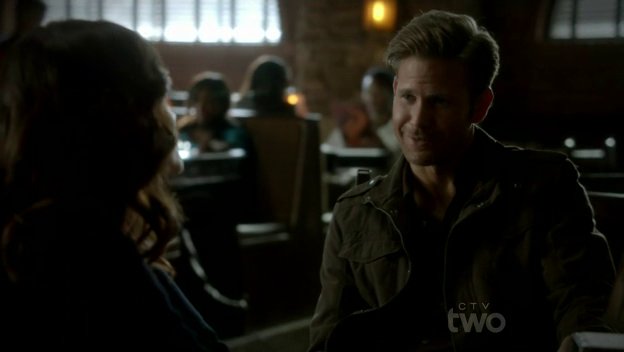 They are dropping wayyy to many hints. Either she is guilty and they are swinging it in front of our noses, or they are trying TO hard to make us think she is guilty, for a big reveal on someone else.
Which one...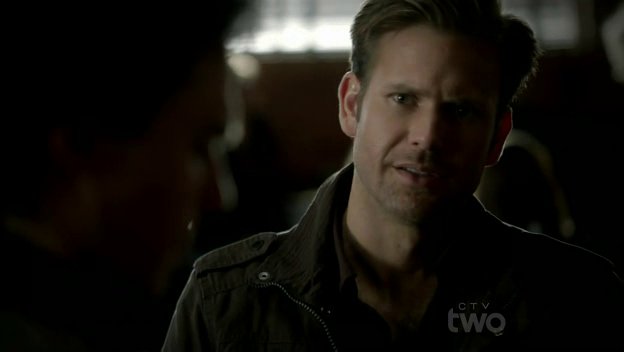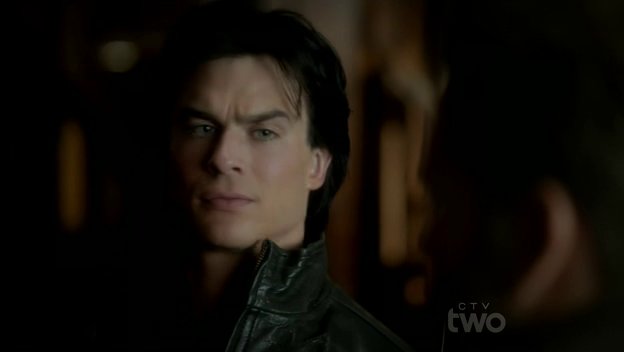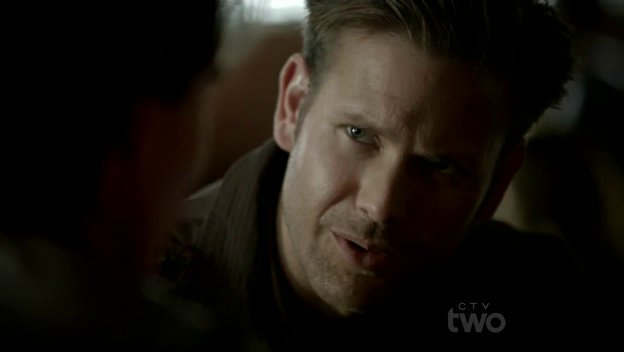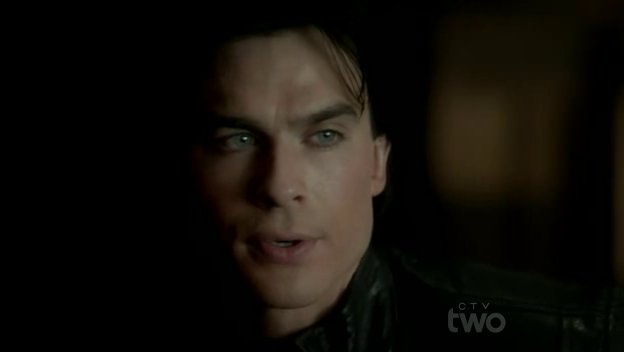 Shit 😨 Klaus is in the Salvatore boarding house
He wants to make a reazonable deal with Stefan, who is enjoying this a little to much and is letting this smidgen of control go to his head.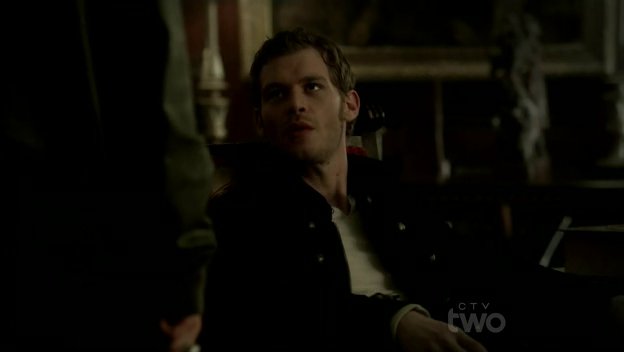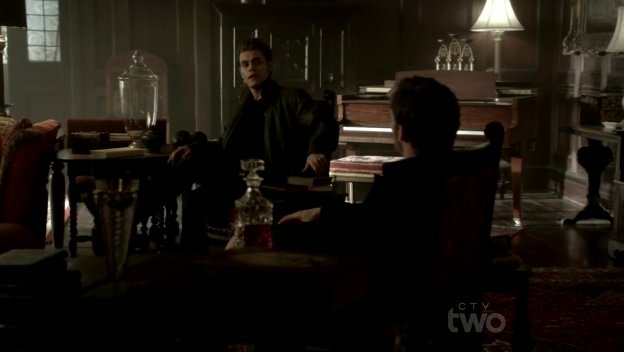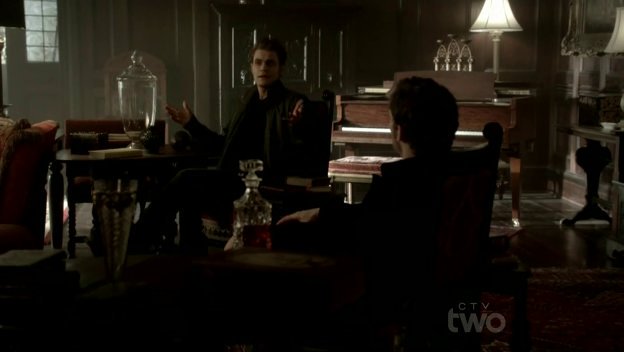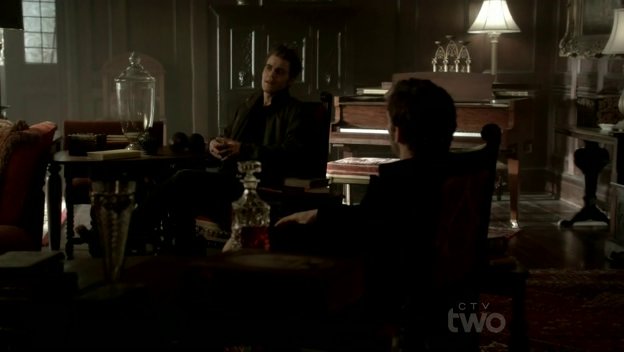 "I am the king I own you know." Lmaoo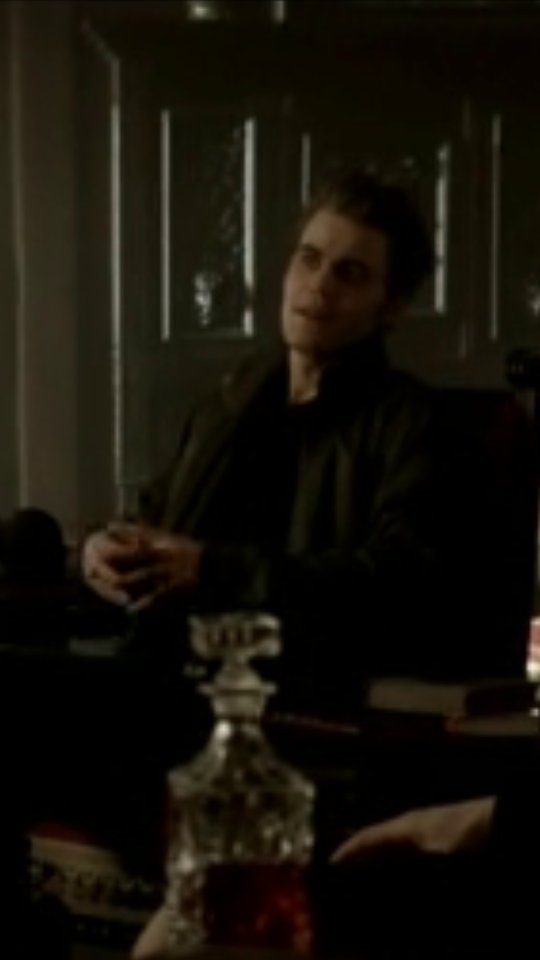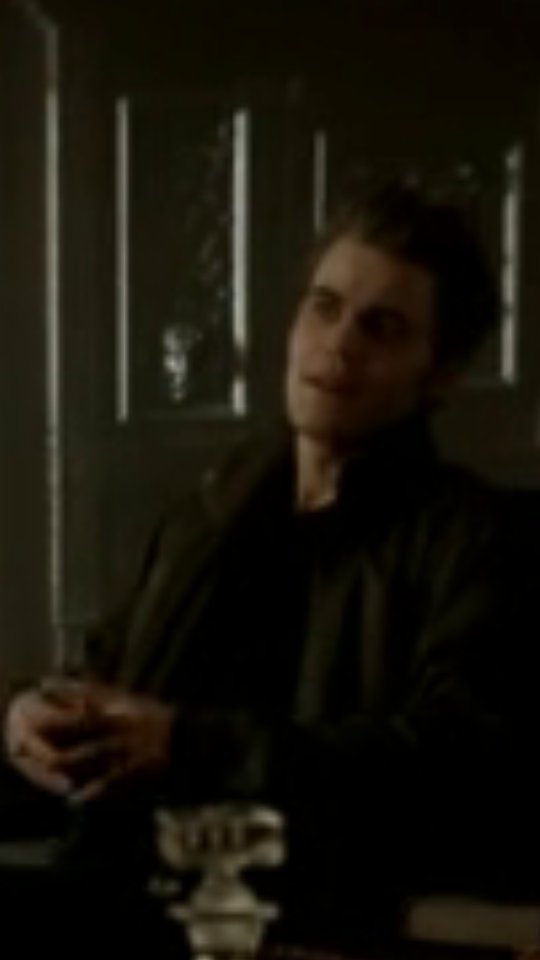 (If we could read his mind in this scene, of course.)
""You make one move and I will..."
"Right. Crazy Stefan. Hmm. How is that working out for you? Any friends left?"
Ouch. But savagely good question.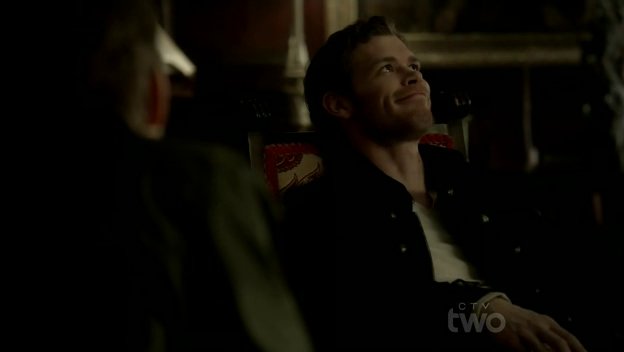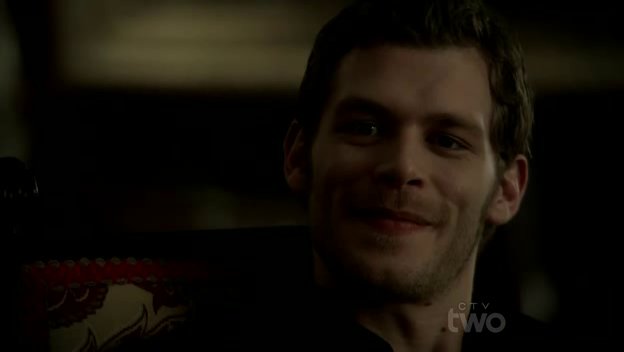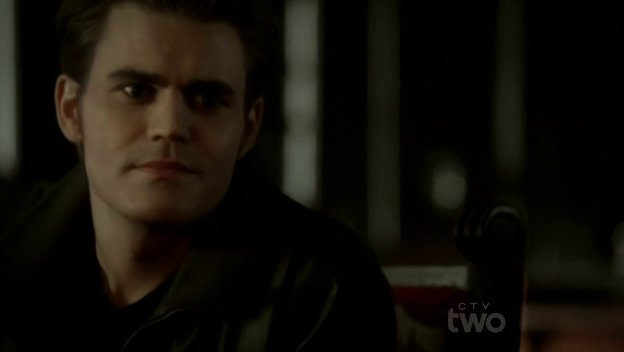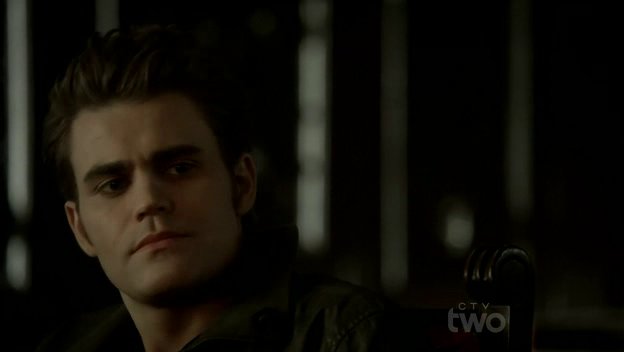 Wow. Bonnie's mom sucks ass. But Bonnie is excited to "meet" her, since she can't remember her. She left, never wrote, never called.
Reminds me of Elena's sucky birth mom, Isobel.
"Can we talk about you and Damon instead?"
Elena looks like she wants to jump out of her skin.
"I am not talking about it....He kissed me. Its not going to happen again."
Bonnie is like...you sure?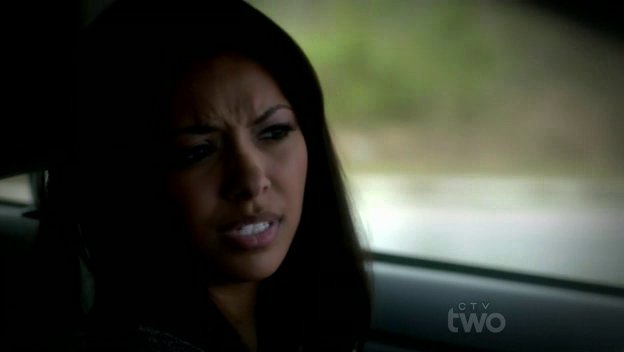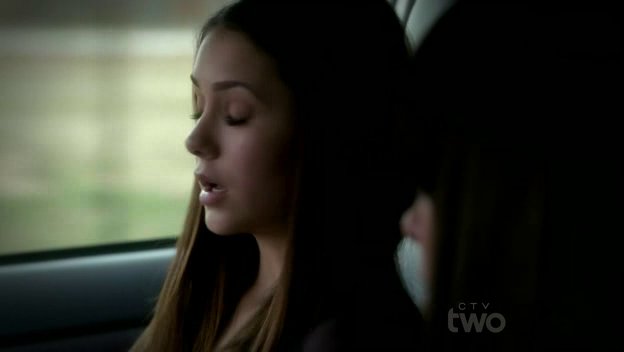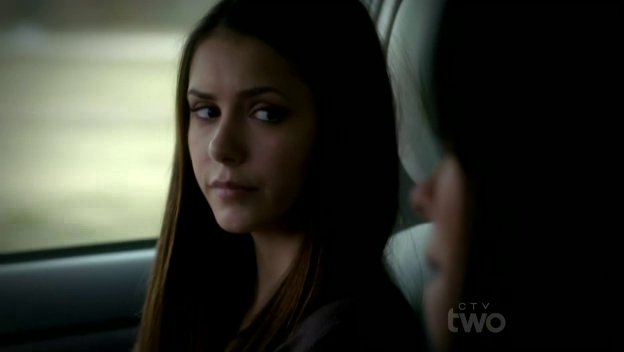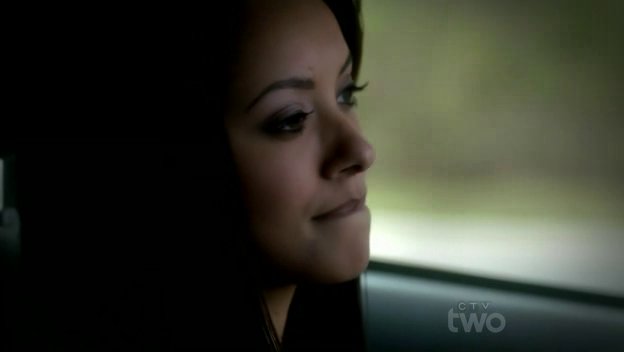 "I mean...was it good?"
You know what Bonnie, you are asking the right questions now. So ask away.
"It doesn't matter."
"That means it was."
Elena sweetie, your face betrays you. And you protest to much and deflect to much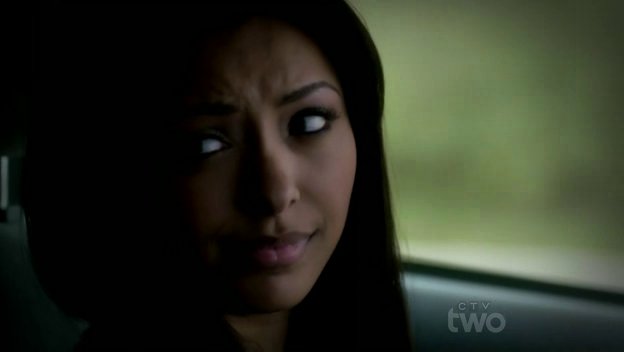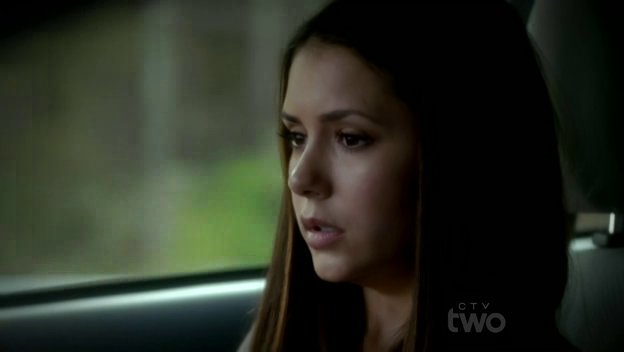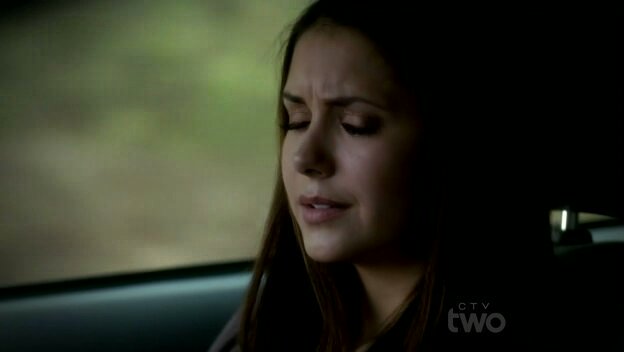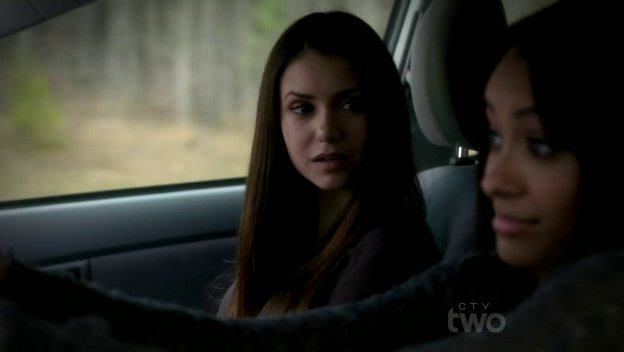 Elena tells Bonnie to ignore Stefan's call, but Bonnie wants him off her back, so Elena picks up and lies to him about where they are going. She is so annoyed and doesn't want him around her and Bonnie.
Damn. ..Stefan found the paper with Bonnie's mom's details. 😩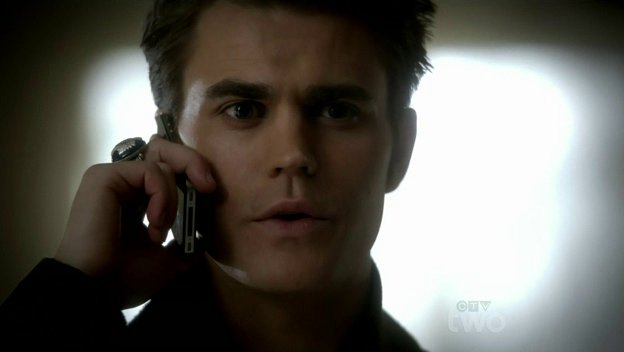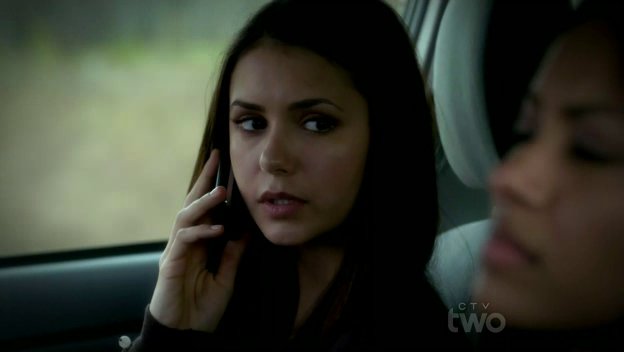 Klaus has a plan...He is on the phone with one of his hybrids...I don't like this...
Fuccckk Klaus. How do you know about Bonnie's mom?
And she is gorgeous btw. Best looking mom on this show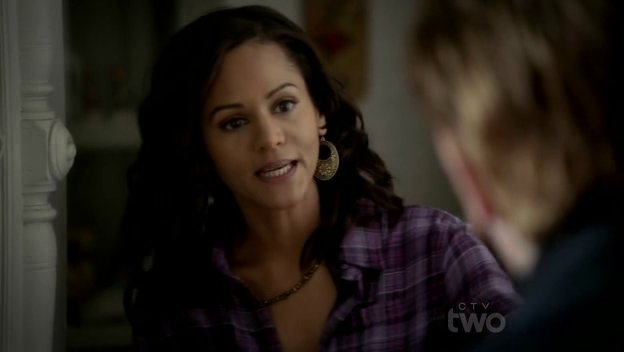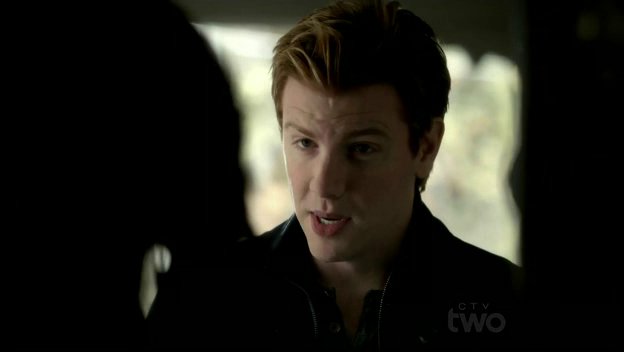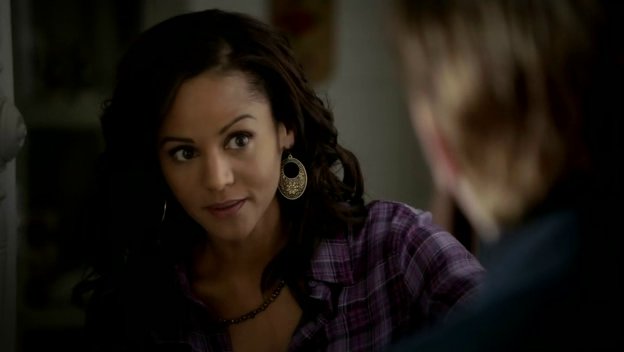 I am guessing this guy, Jamie, is Bonnie's brother. Don't think he I got, Bon. He is probably family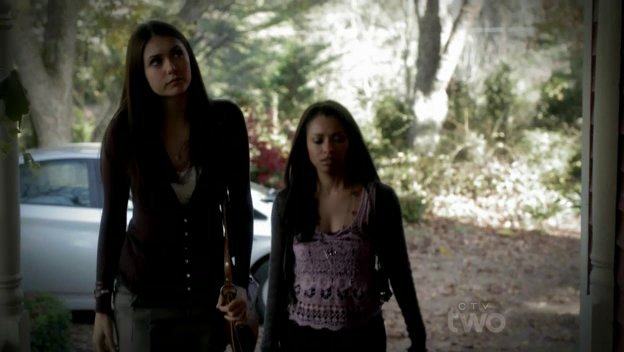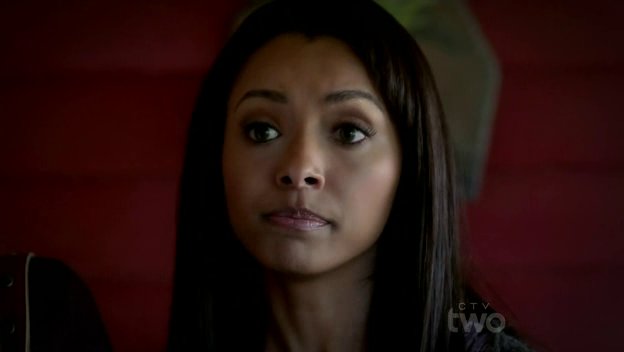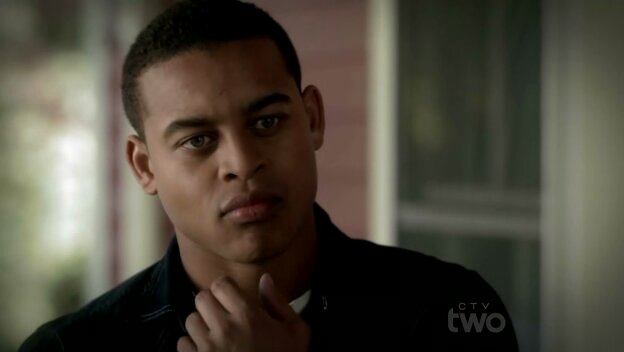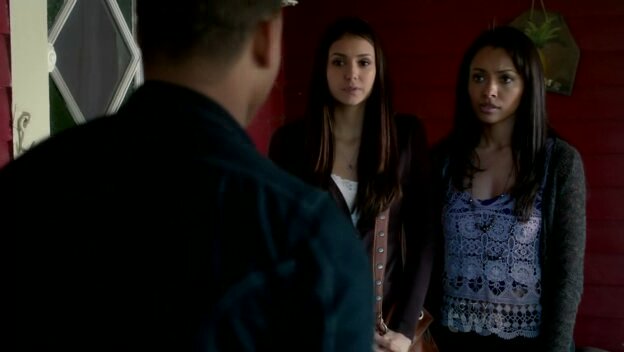 Okay, not brother and sister. Step brother and sister. That's not technically incest, but close enough to make it ikky. This isnt GOT okay. 😜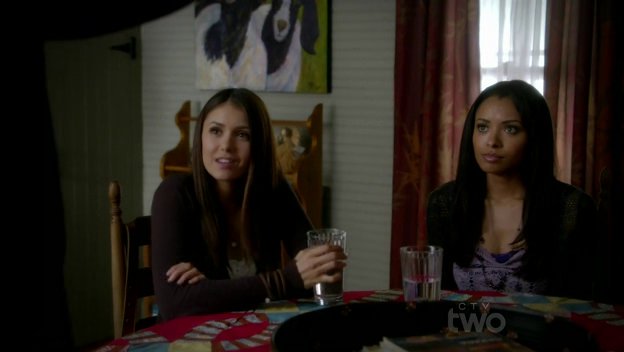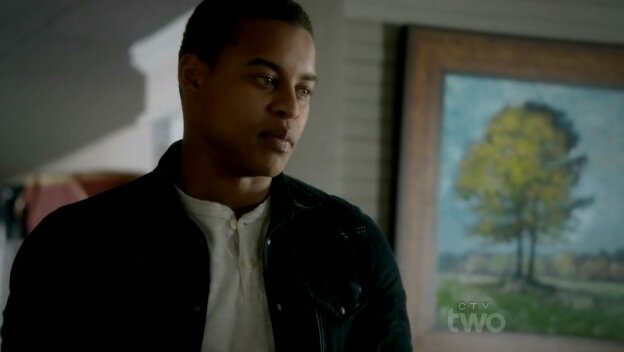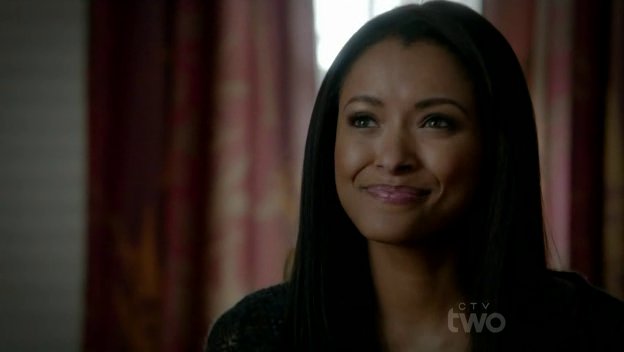 Oh boy. Mom doesn't look pleased to see daughter. WTF is up with that? She ditches her child but cares for another? 😒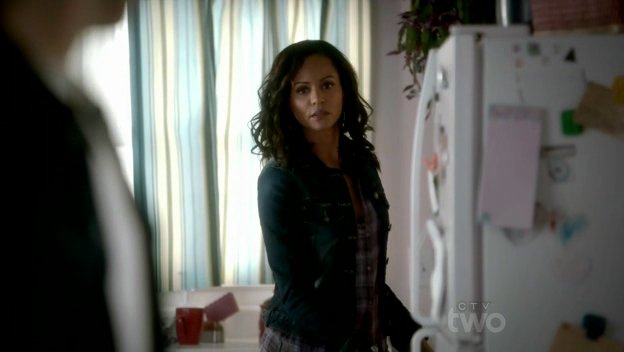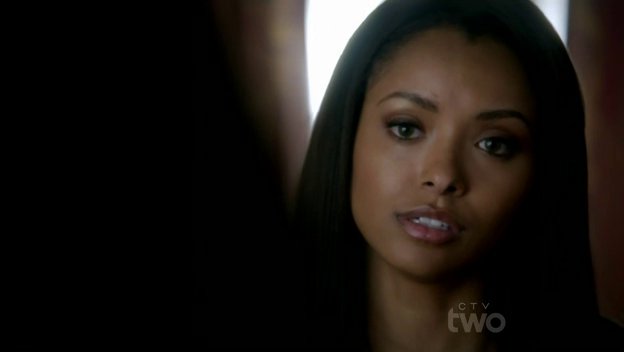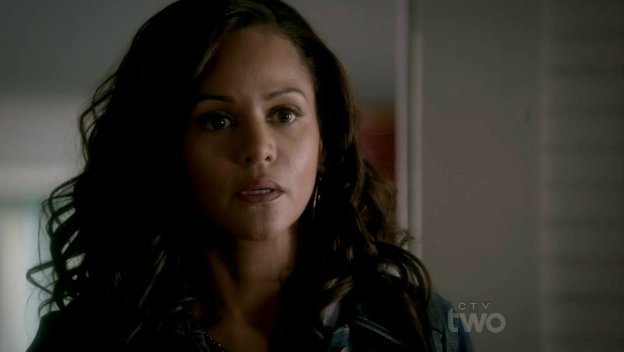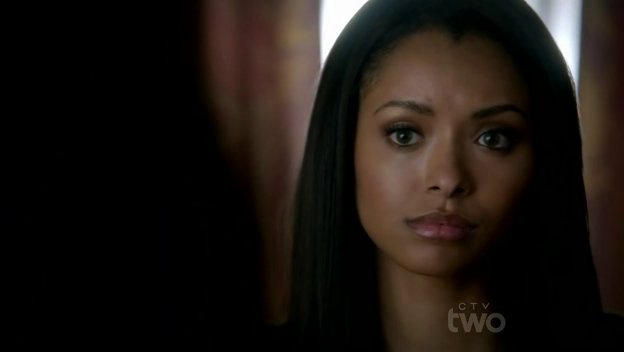 Chains = pain. Here we go.
Bill says that the sirebond is because of gratitude, to be relieved of the pain of having to turn every month.
So now he wants Tyler to turn without a full moon 😨
Isn't that going to remind him how horrible it is and strengthen the gratitude??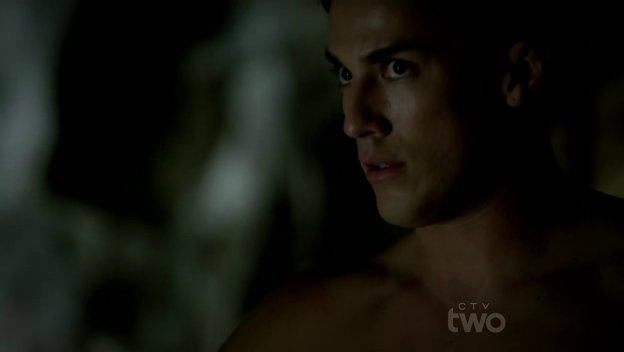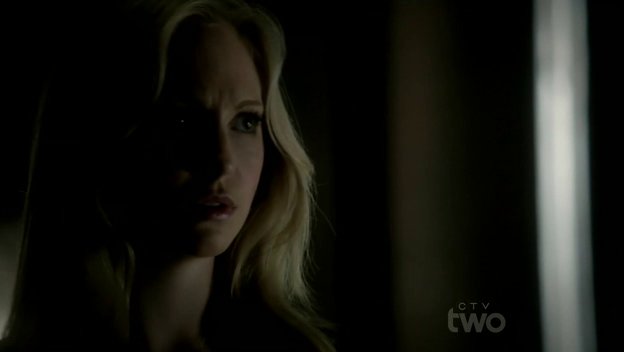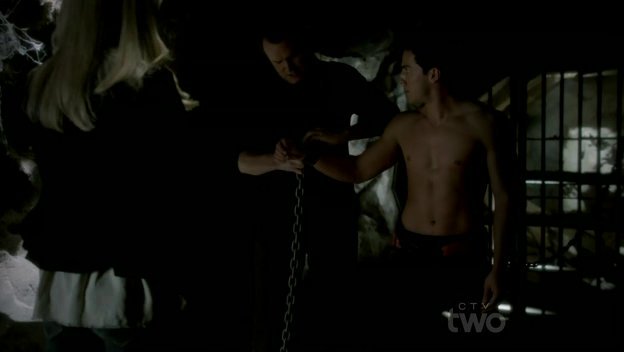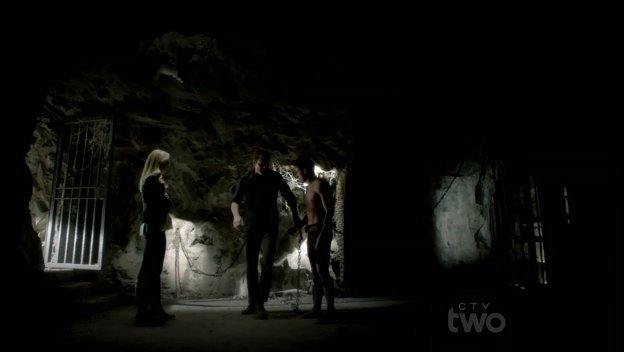 Oh wow. Abbey was best friends with Elena's mom. Mikael came to town, looking for the doppelganger. ( A child at the time??) So Abbey used all her power to bind him in that way in which Katherine found him. Okay but that's still no excuse to leave your daughter. None at all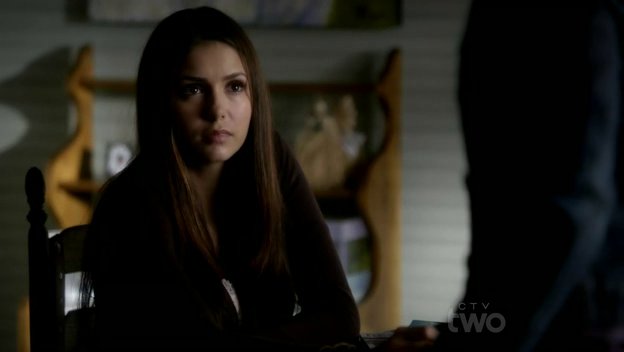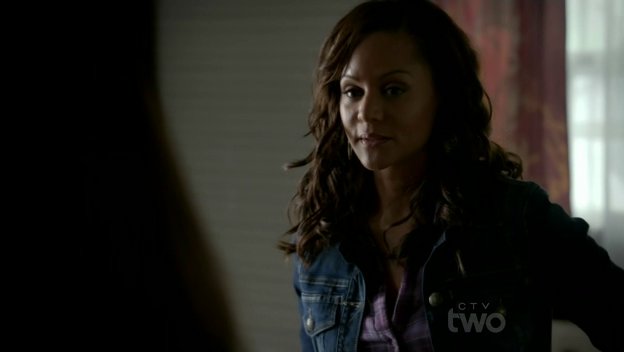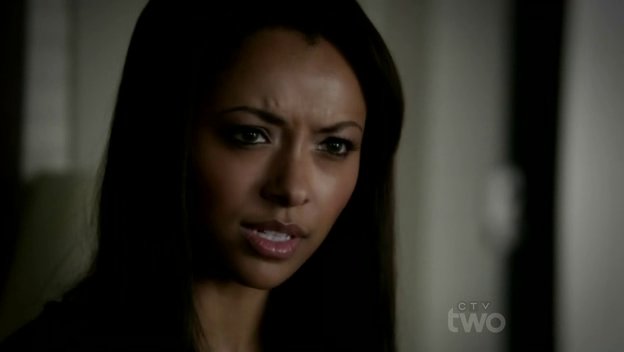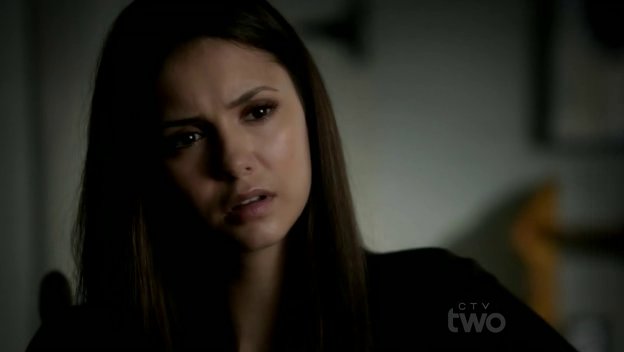 Ah damn. Stefan found them. "Hi Elena. Nice lakehouse."
Yeah she lied to you. So? You nearly drove her off the bridge her parents died on. She doesnt want to be around you right now.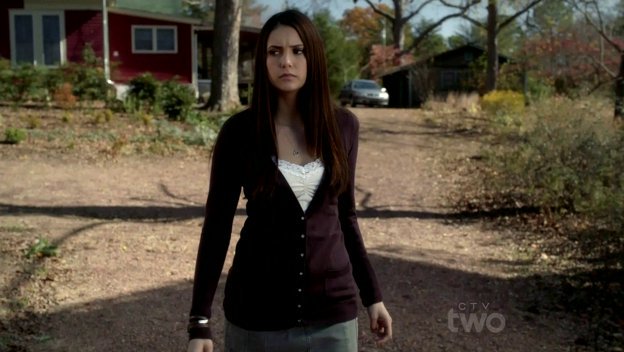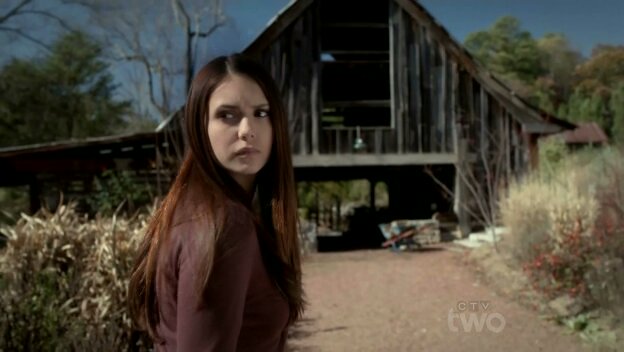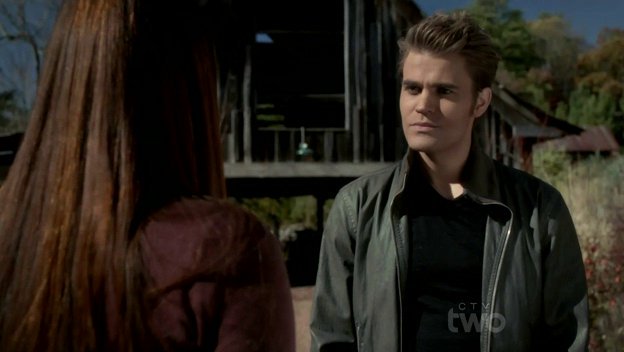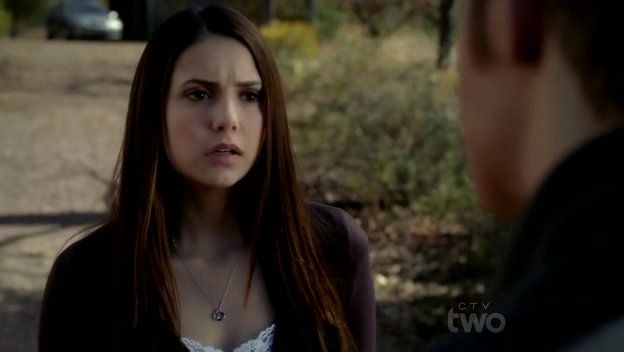 Damon confronts Meredith about her murdered ex boyfriend.
"Why do you even care?"
"Because Rick likes you. And if you are a psychopath, that would really sick for him."
"You think I killed my ex boyfriend?"
"I think psychopaths are INCREADIBLY high maintenance."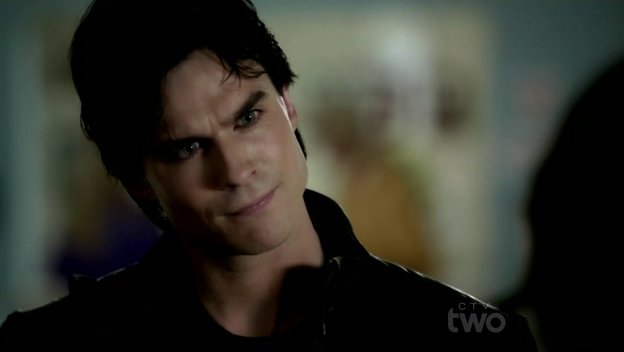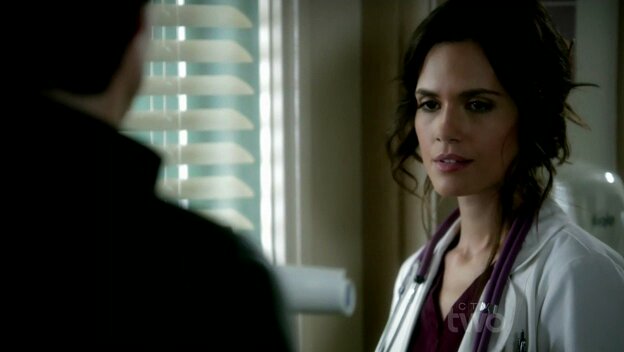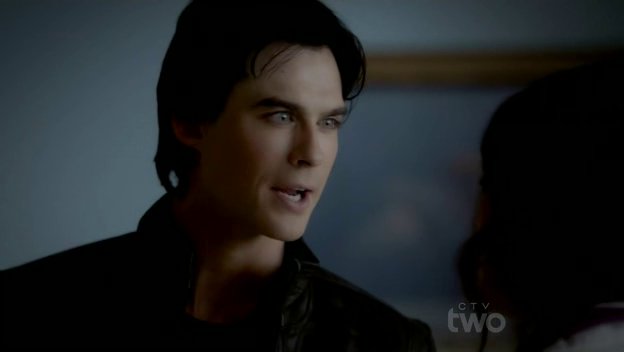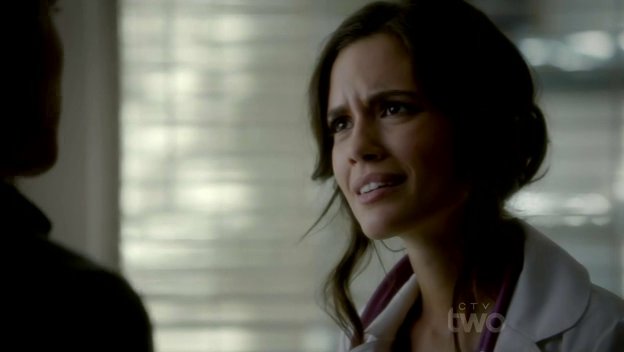 Aww Damon is looking out for Alaric and doesn't want him to get his heart broken by a psychopath.
Love my bromance and so glad it's going strong again.
BITCH WTF? ? She just vervained Damon and bloodjacked him.
Psycho alright. What the hell does she want with his blood??? 💀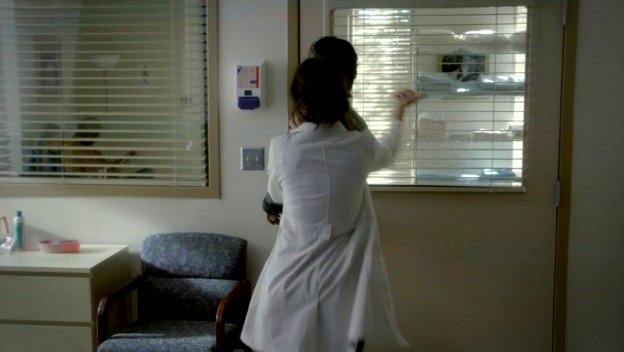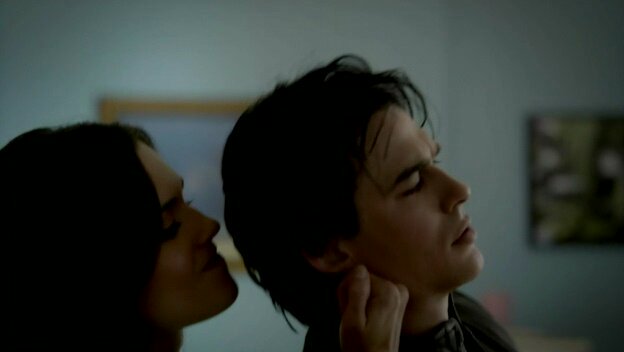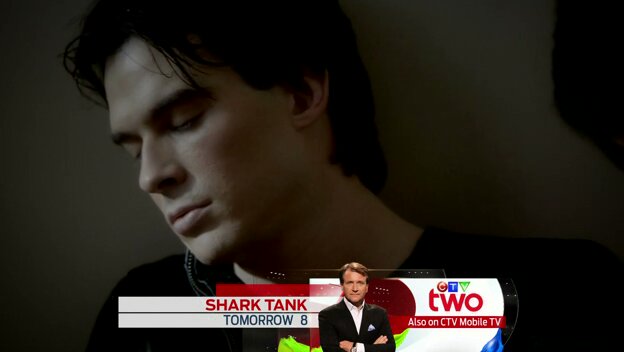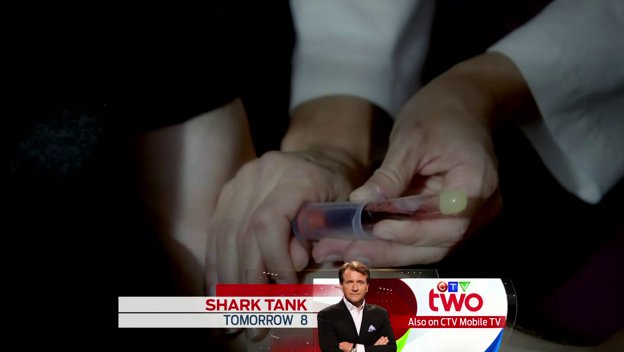 Tyler tells Caroline to leave him alone with her father and the moment she does, he picks up an axe and starts cutting him with it.
"Your bond to Klaus is putting my daughter in danger. Either you turn, or I kill you right here, right now."
Poor Tyler. 😩
Bonnie's mom officially has the shittiest reason I have ever here for abandoning her family. She had no magic and she was in new city, so she realized she had chance to be somebody else. Girrrlll stop talking. 💀 She didn't even know about grams's death.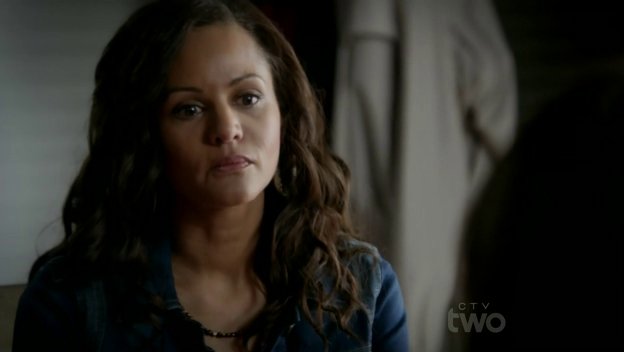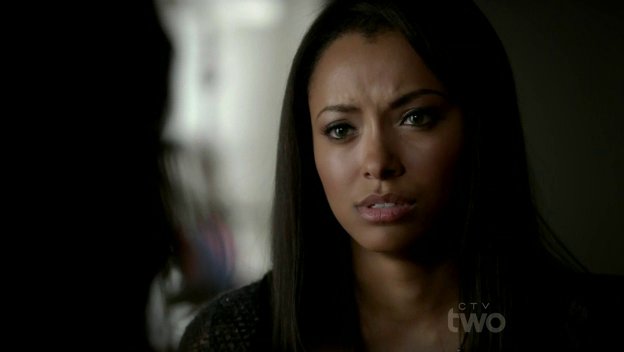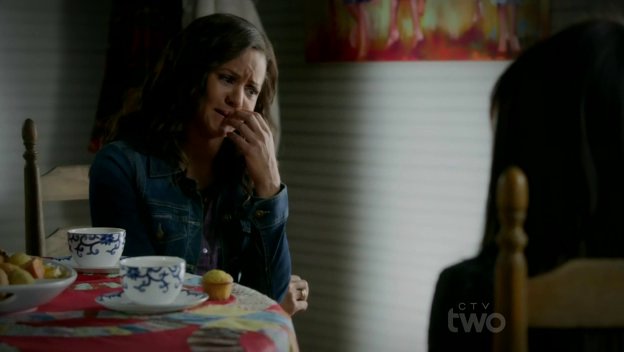 And to top that off, she is acting suspicious too. Klaus' hybrid probably compelled her to do something...
Stefan, kicking things over and being violent scares Elena now. I see he has learned how to be a drama queen from Klaus.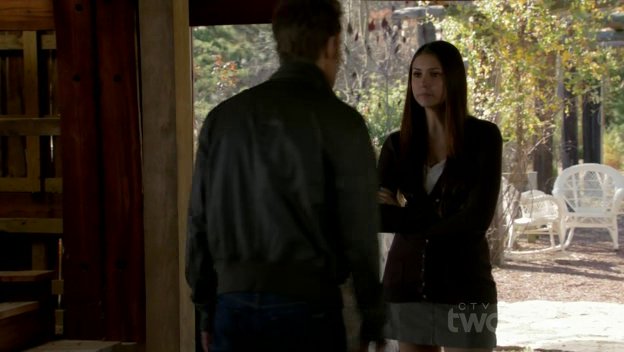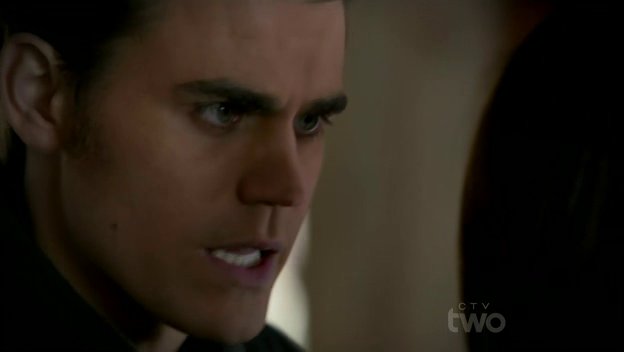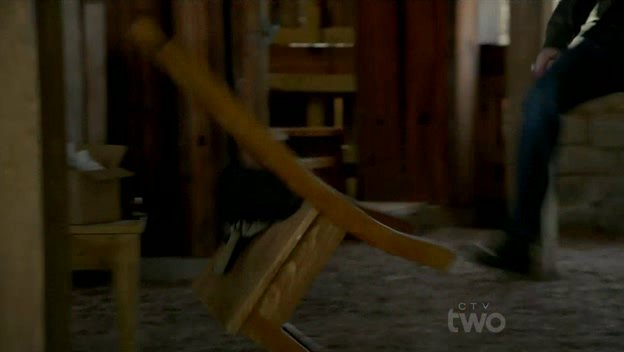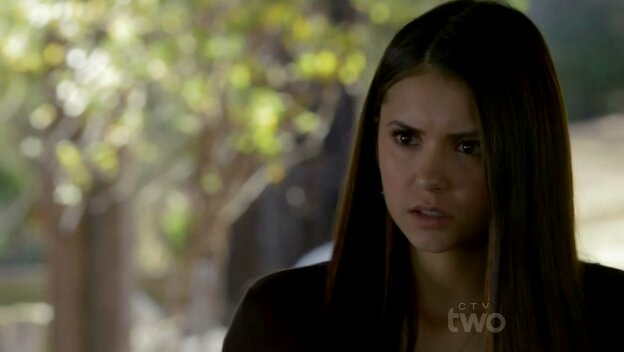 Oh shit. Jamie, don't interfere. Elena warns him to go back inside. She doesn't trust Stefan, but homeboy wants to be brave and doesn't listen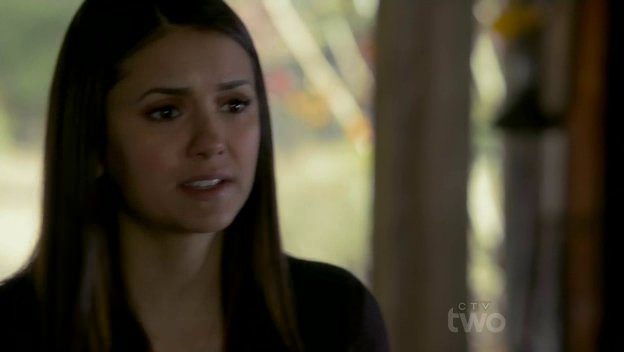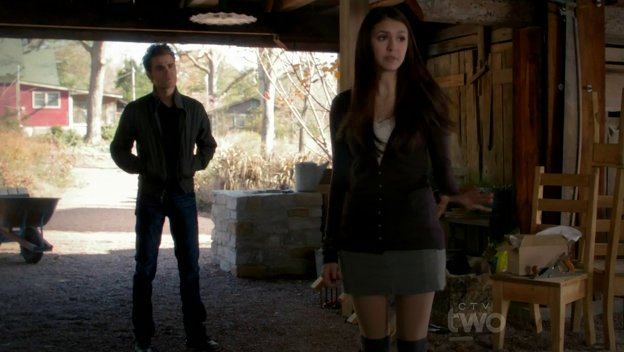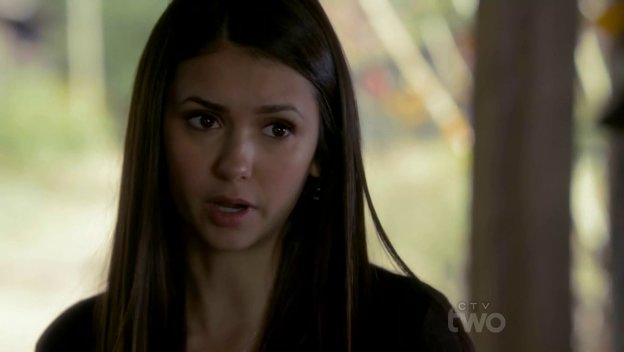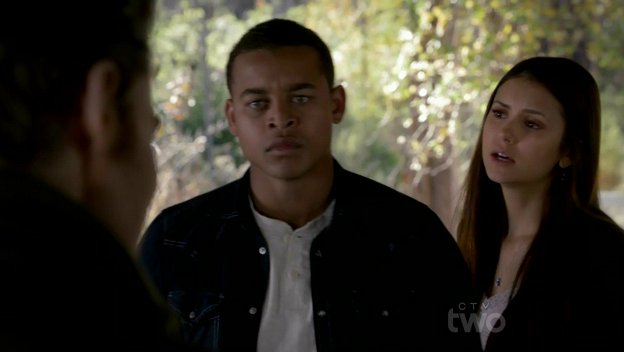 Stefan grabs Jamie by the neck and compels him to go back inside, then discards him roughly. Elena is so done with his shit.
"I don't think you realise how bad you have gotten!"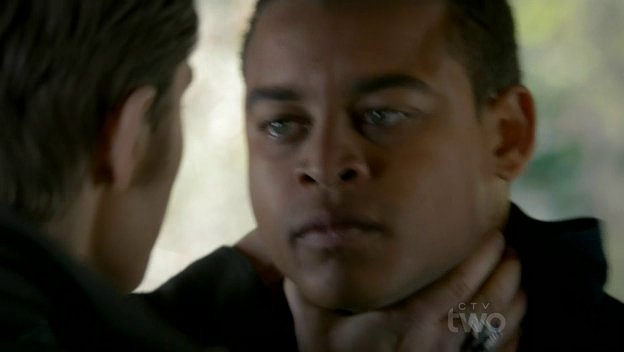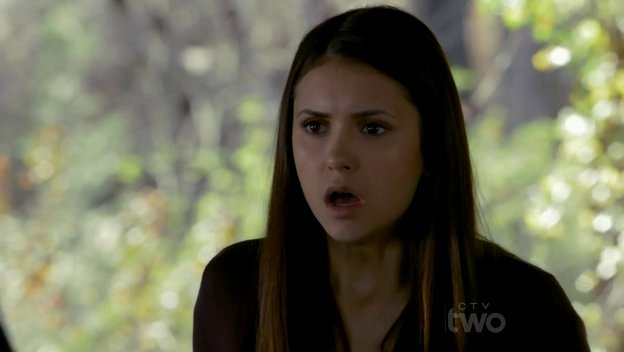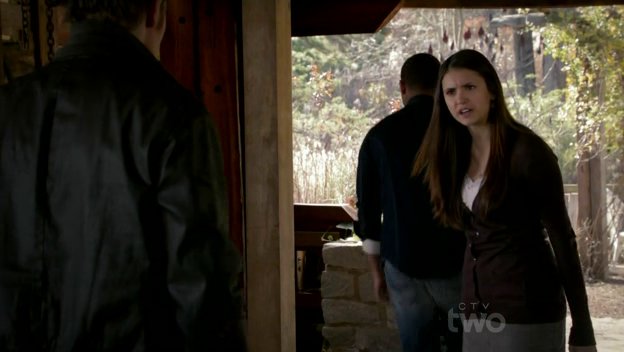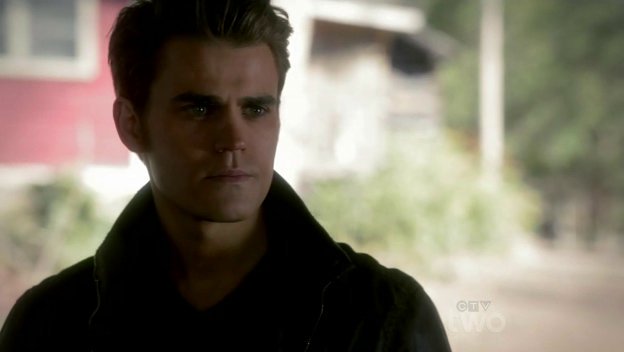 OHH SHITTT Jamie is the one that got compelled by Klaus' hybrid and he comes back and shoots Stefan. Okay he deserved that, but don't kill him. I still want old Stefan back even though I think that guy is gone for good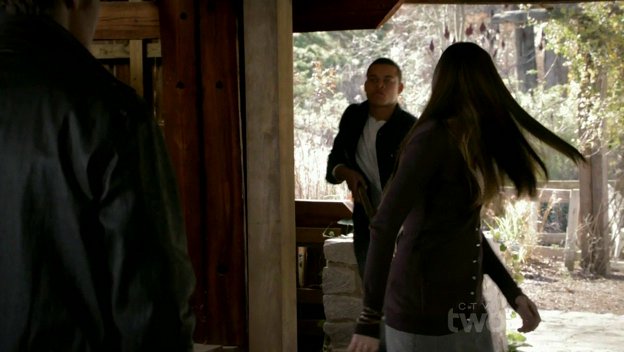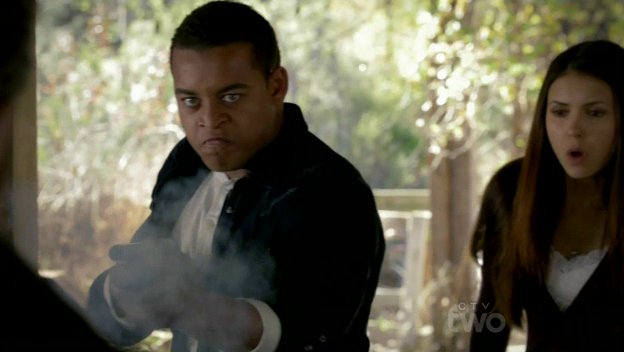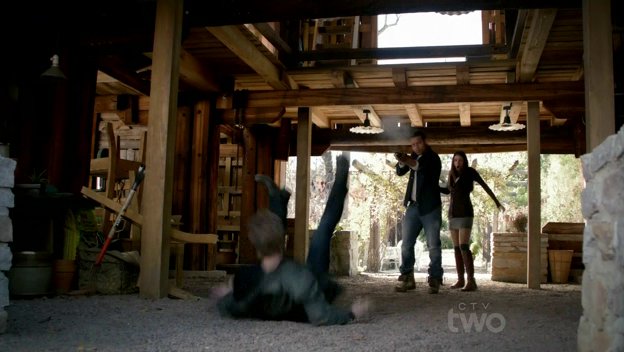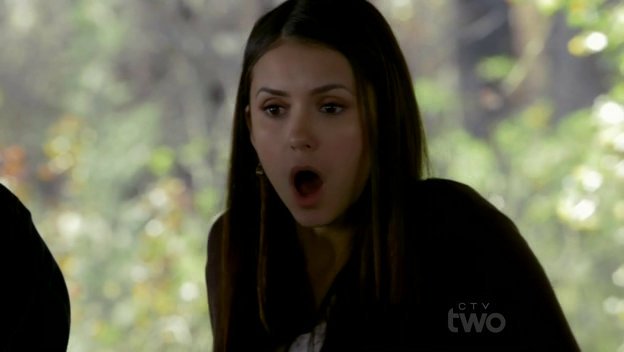 WORST MOTHER EVER, letting her daughter sniff in an unknown substance. 💀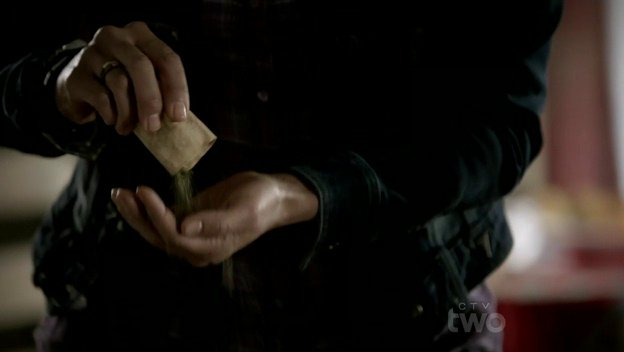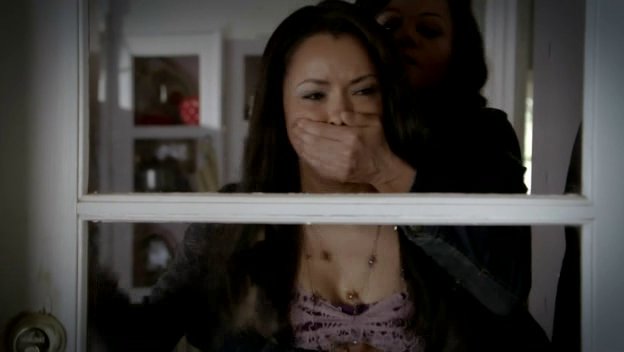 Damon goes over to Alaric's to deliver the verdict. Dr Fell is a nutjob who veevained and bloodjacked him. Alaric is understandably disapointed. He was clearly into her, but I am totally fine with single Alaric until I can move on from Jenna. Thanks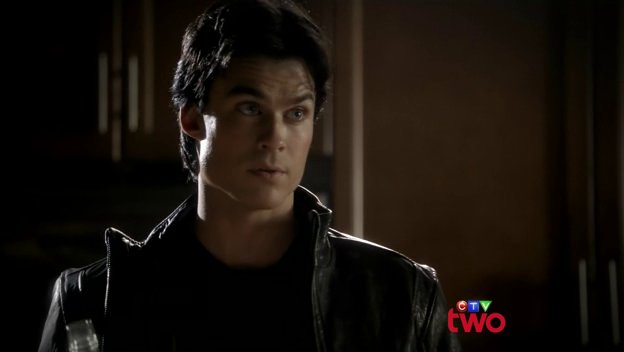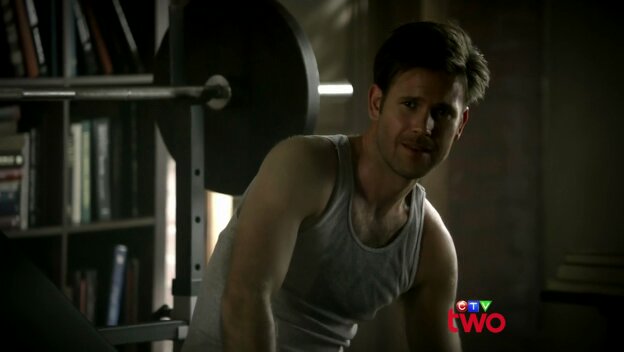 My baby girl just can't catch a break. Why he is tying her up, I don't know. 😣 Atleast Klaus wouldn't have had them compelled to hurt her since he needs her alive. One small perk of being a human bloodbag 💀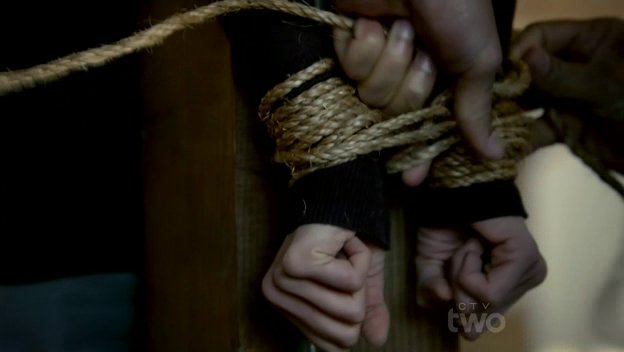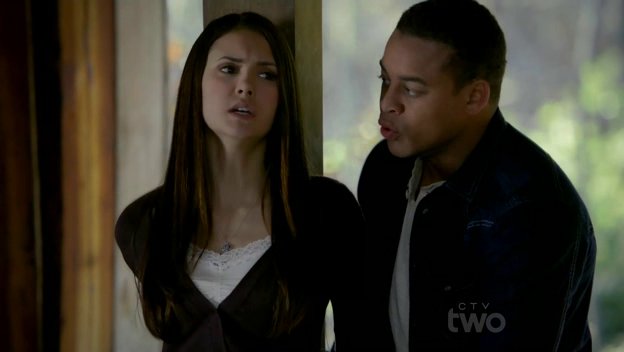 I am pretty sure I have seen a scenario like this in a horor movie before...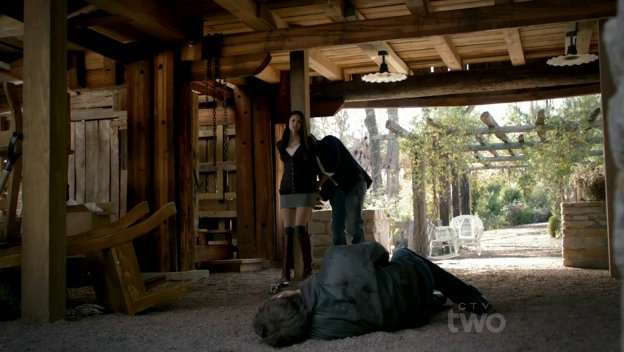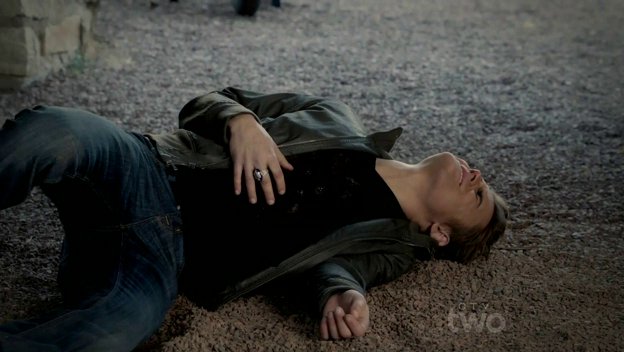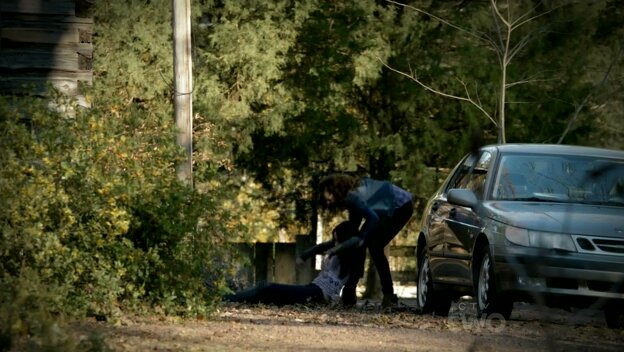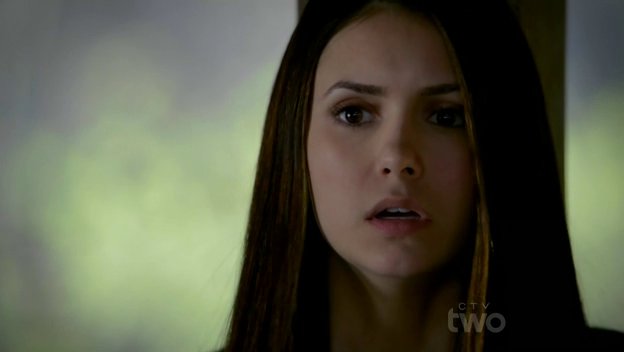 Hoho Tyler snaps the chains out of the wall and Bill gets what he wanted...Tyler to transform. But something tells me this isn't the way he invisioned it. I don't think anyone invisions to get "mauled to death by a werewolf" as cause of death on their death certificate
Abbey takes Bonnie to Klaus' hybrid and begs her to tell her where the coffins are.Jamie was compelled to kill himself and by telling them, Bonnie can save him. Bonnie isn't willing though. "This goes beyond just you and me."And I am guessing mix in some step sibling jealousy too
To be fair, I don't give a rat's ads about Jamie. But I think its time Klaus got the coffins back. It's best for everyone.
Baby girl working in getting her ropes loose while Stefan just lies there in pain.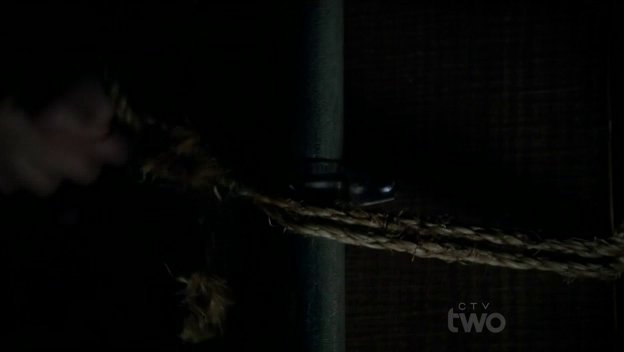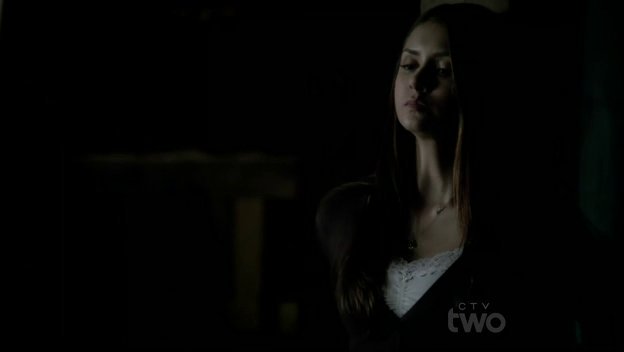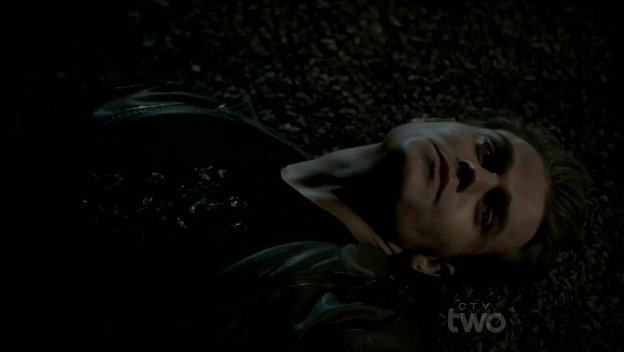 Warrior princess saves herself. Yasss queen. She asks Jamie about the compulsion and what Klaus said about her. He says he isn't suppose to hurt her. So she lies and says the ropes are hurting her, only so he got closer and she grabbed the gun and knocked him out.
#NoDamsel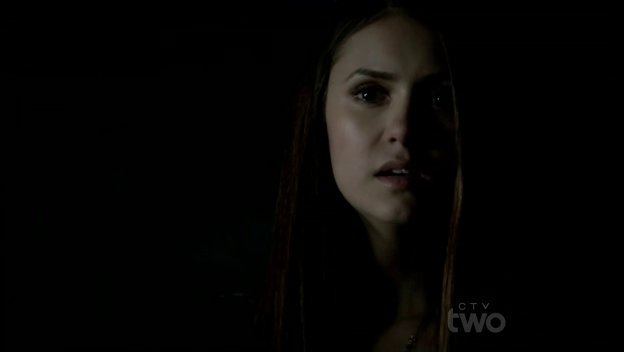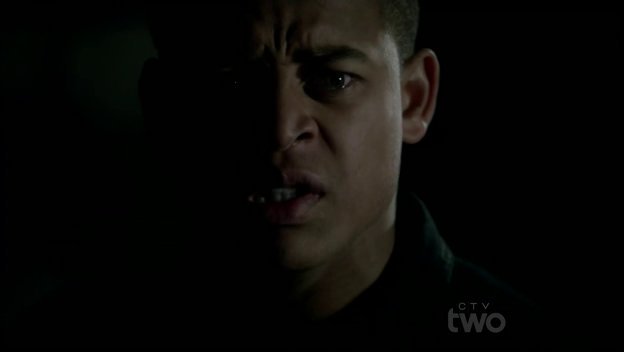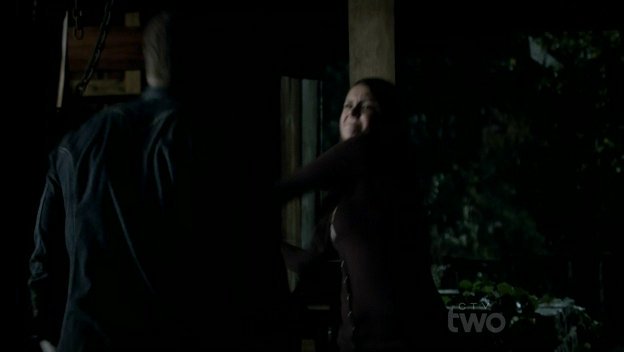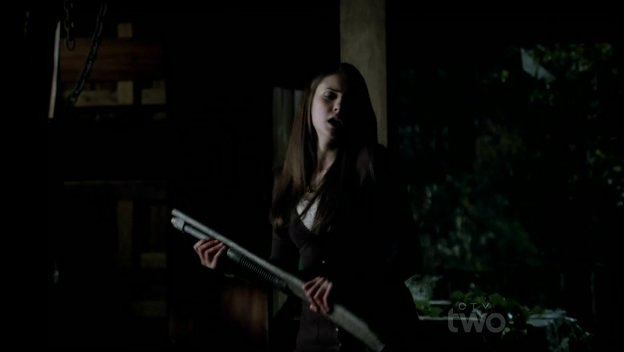 Poor Elena has to pull the wood from Stefan's chest. Gross and bloody 😷
SHIT KLAUS AND DAMON ARE AT THE ABANDONED WITCHE'S PLACE
The witches tear into Klaus and Damon looks hella impressed. Now run pleaseee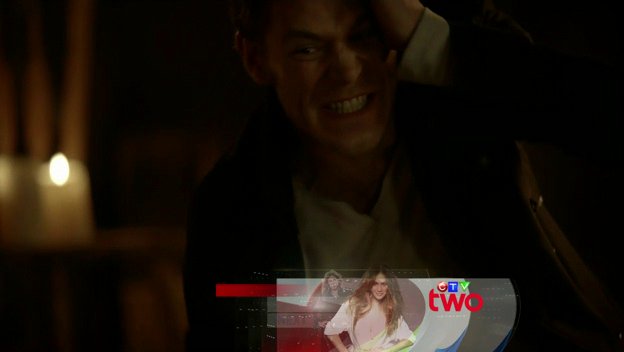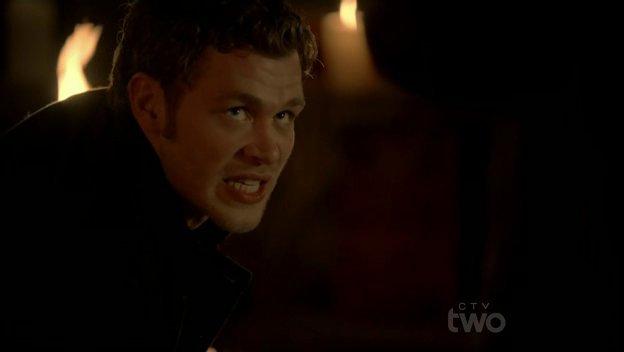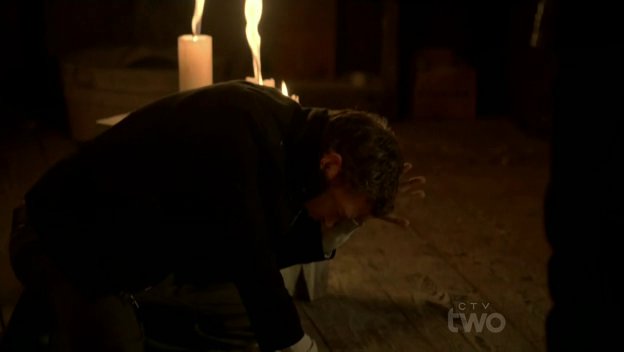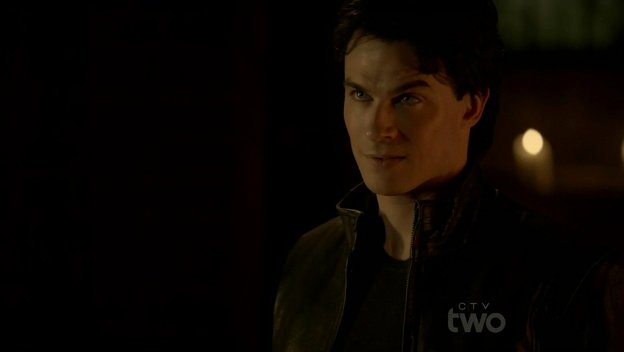 Ugh but Klaus threatens the witches' decendents and says that his hybrid has Bonnie and the witches back down. I am so undecided about this. I want him to get his coffins back so he can undagger his family and stop threatening my favs, but then he does something shitty and (..)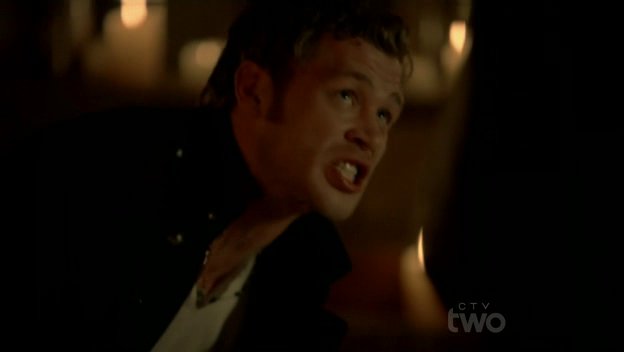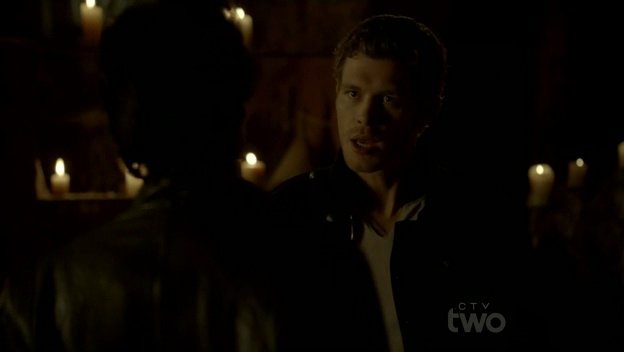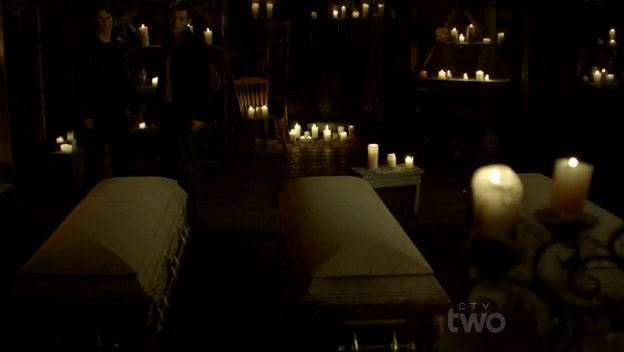 then I am like...you can't win. You cant get everything you want without consequence. Grr it's frustrating 💀
Damon managed to get the fourth coffin out before Klaus arrived and he dramatically threatens him, but Damon is so over it and just smirks. He has leverage. My son has no chill. But I is playing a dangerous game. Klaus may be dramatic as hell, but he is very capable of (..)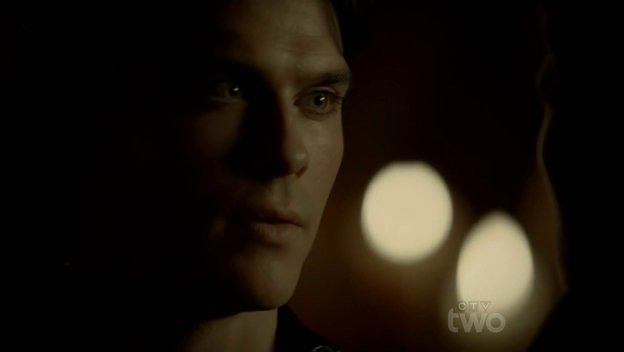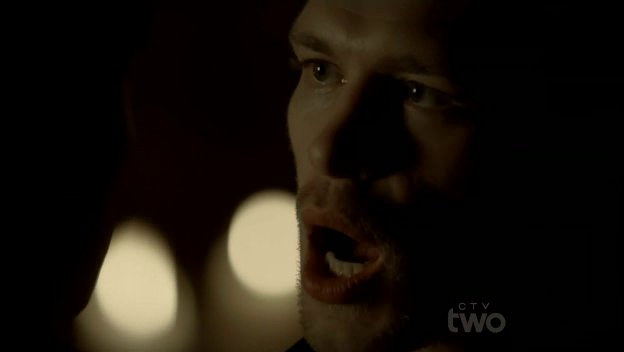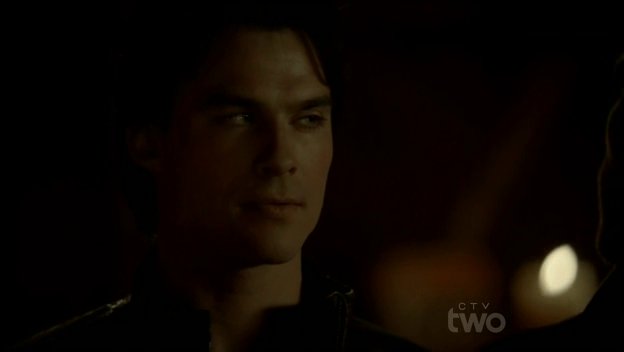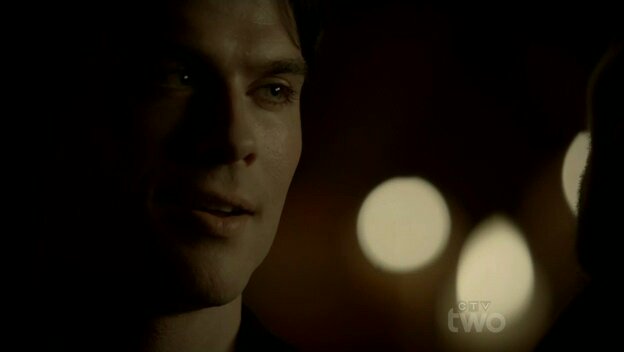 doing every horrible promise he is promising now.
OMGGG LOOK AT WHAT TYLER DID TO BILL. LMAOO sorry, I shouldn't be finding this amusing at all, but the irony 😂
Alaric went to confront Meredith about stealing blood from Damon and she tells him to stick around. She will prove she isn't crazy. Oookayyy then. Convince me too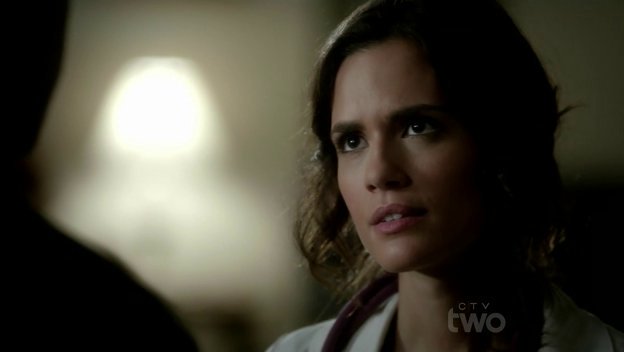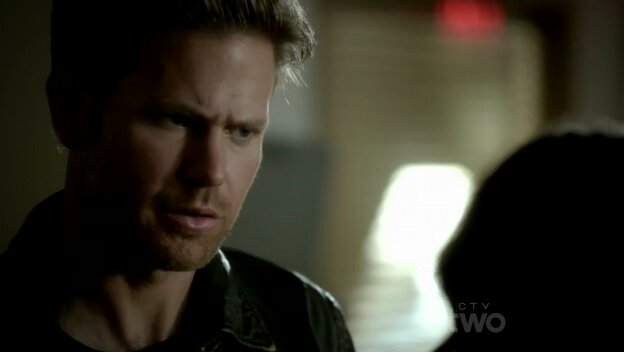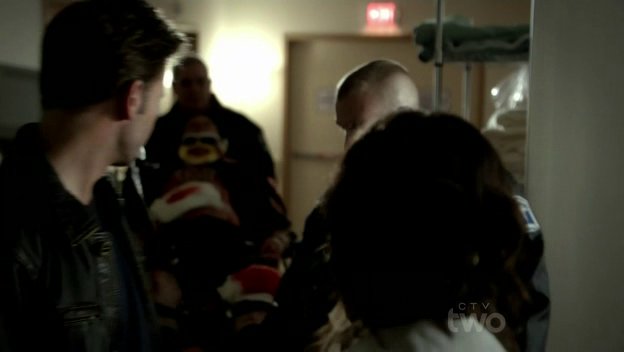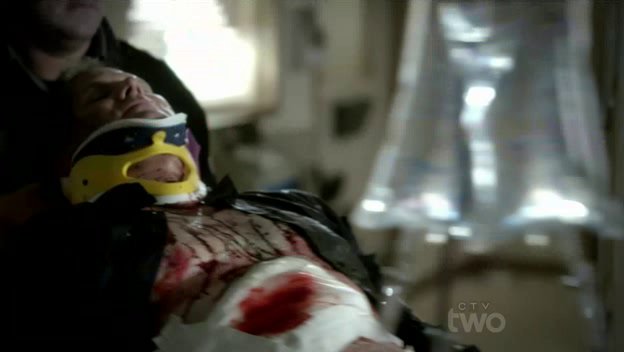 Elena isn't really feeling sorry for Stefan as she pulls the wood out.
"You have changed. Something is different about you. You are stronger. Tougher."
Yes she is and she is over your ass. 😌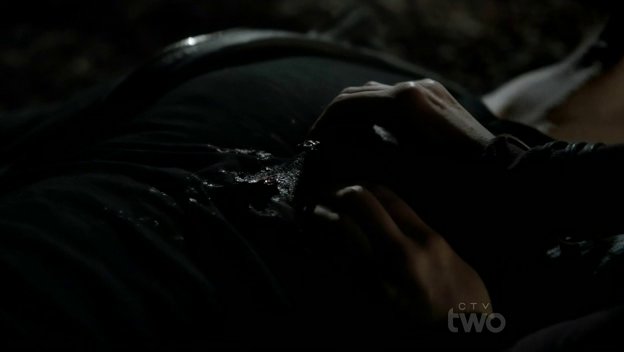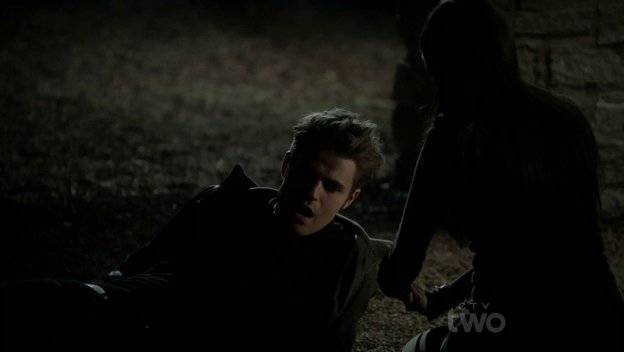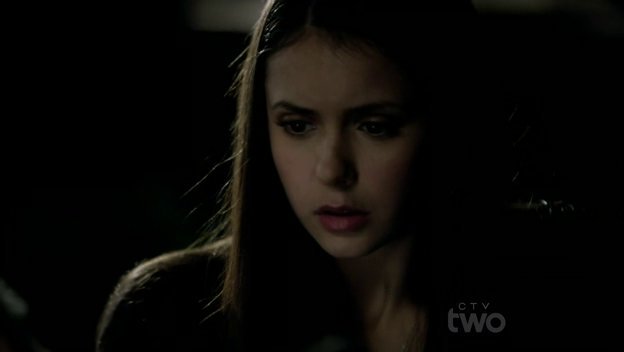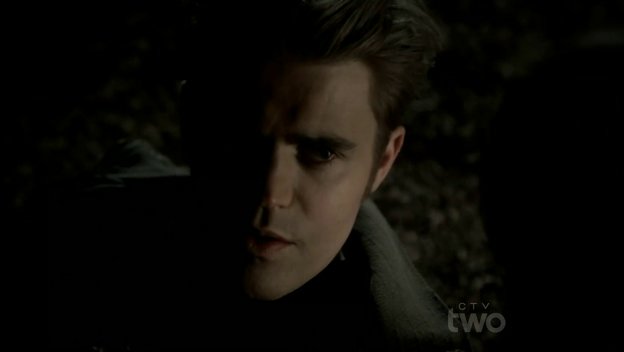 "You are not the only one who changed, Stefan. We all had to."
My humble baby girl. Just take the compliment, Elena.
"It's good though."
Yes it is.
"There is something I have to tell you."
OH SHIIIT. THE KISS
"And its not because I feel guilty that it happened. I just feel guilty that you don't know. I kissed Damon."
YESS you have nothing to feel guilty about and it's good that you are telling him and being open. Not (..)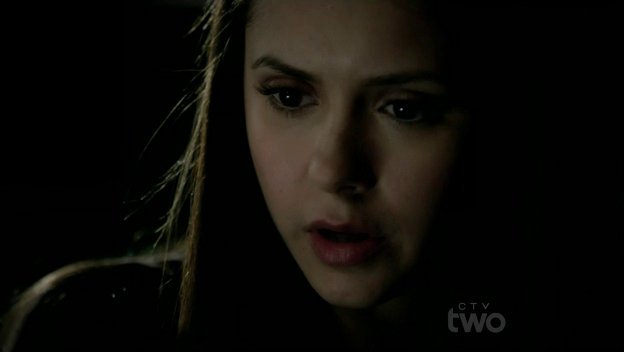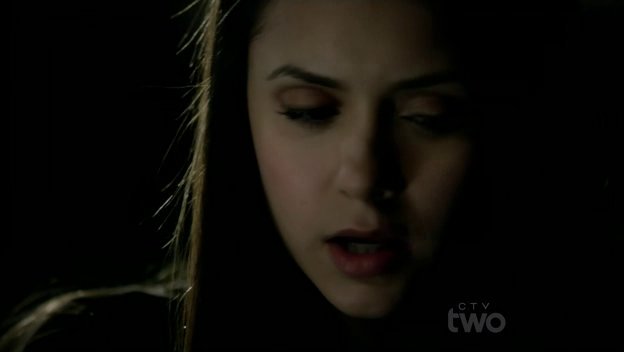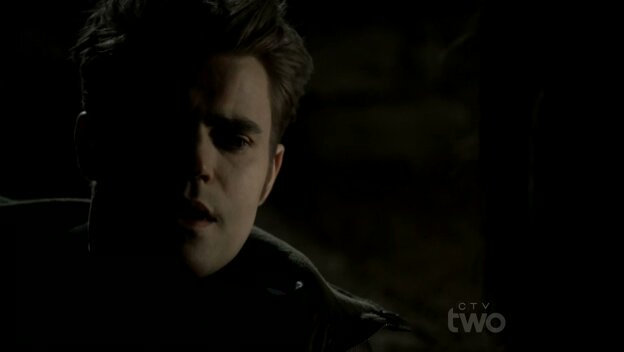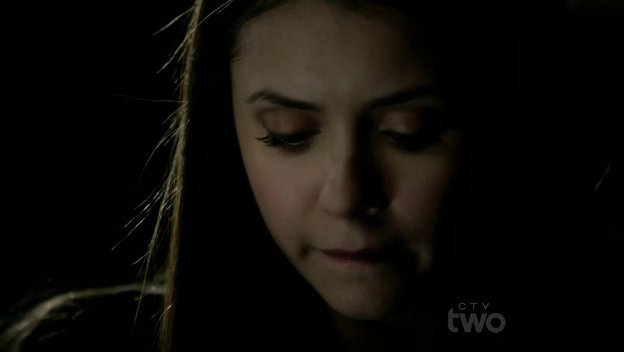 Not you owe him anything at this point, you guys are broken up, but it is the decent thing to do.
And she said SHE kissed Damon. Which means she kissed him back. Hehehe I knew it.
Oh wow. Stefan looks so hurt. He just gets up and leaves. Okayyy I feel a LITTLE sorry for him, but what did he expect? He kept pushing Elena away and treated her horribly even with his humanity on.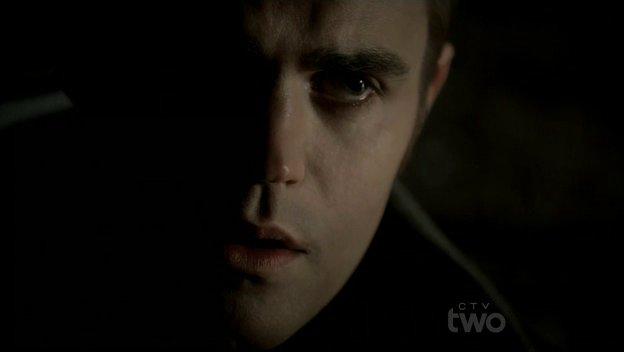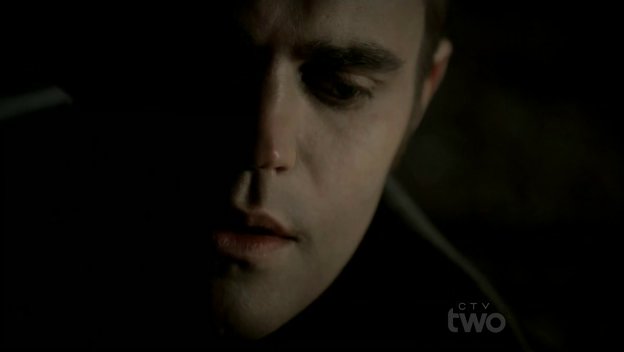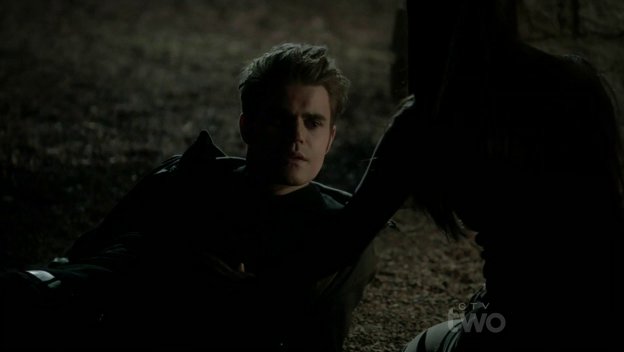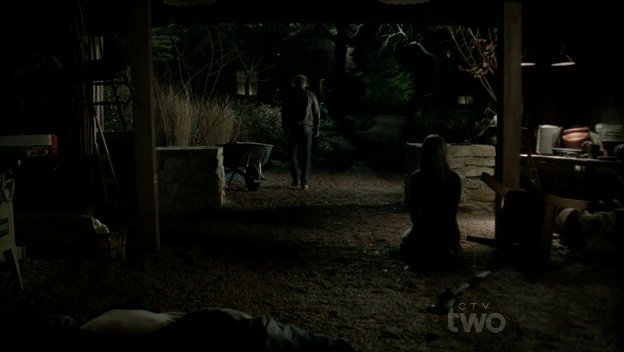 LMAOOO Meredith points out that this was an "ACTUAL animal attack."
Tyler went full out and dragged his body into the woods. He is covered in scratches and bite marks and lost over 3 leters of blood.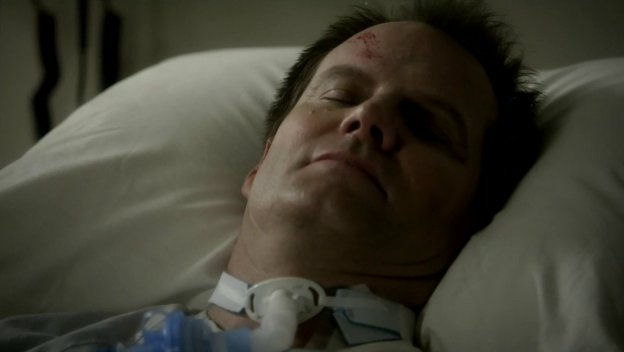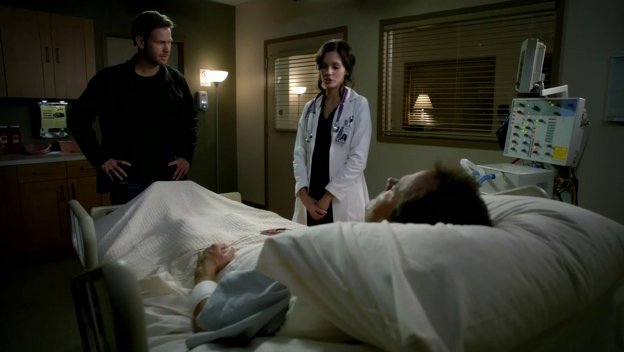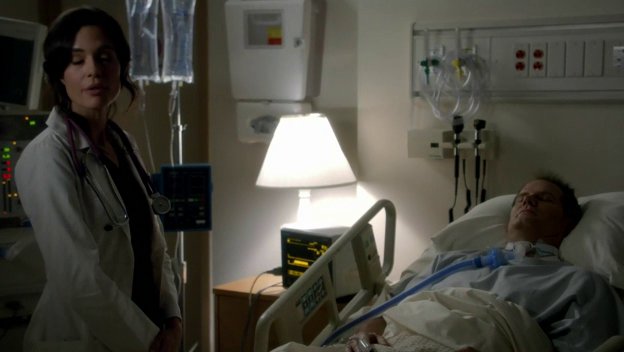 Meredith reveals her dirty little secret. She injects patients with vampire blood because she cheats and hates when people die. Okay. Alaric looks impressed and surprised. Soooo NOT a killer then
Stefan I giving her the silent treatment, but the finaly talks about the bridge.
"Say something. Please?"
"I shouldn't have kidnapped you. Tje car, the bridge, it was too far."
You only realize this now because she told you she kissed Damon?
But thanks for acknowledging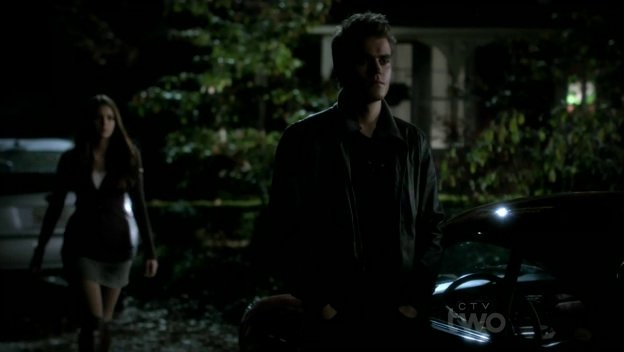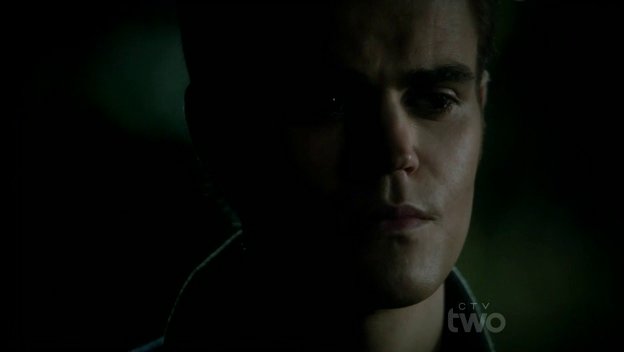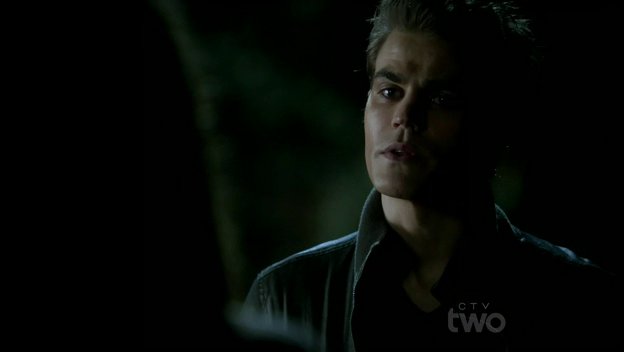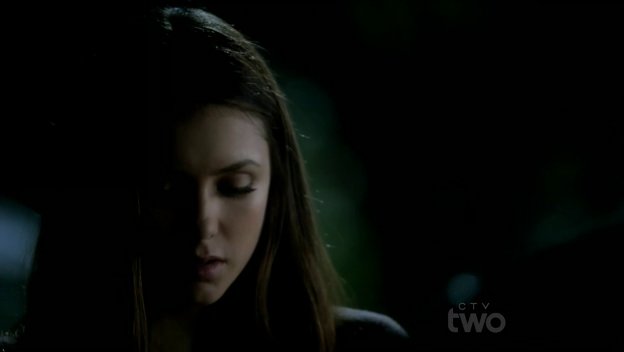 "But you shouldn't have lied to me today."
No there is no butt. That wasn't even an apology. It was an acknowledgement that you fucked up. Now you follow that with a BUT? There is no but.
"I just...I wanted to get Bonnie a moment with her mother, without everything else getting in the way."
"Without me getting in the way."
I think this was just the kick in tbe teeth Stefan needed. He is acting like his old self again. The one who cares.
"I didn't plan on kissing him."
"You are better than him, Elena."
AVSHSJD OH MY GOOOD YOU DID NOT JUST. 💀💀💀
"You are better than both of us."
Speak for yourself. You have NO idea how amazing Damon has been in your absense.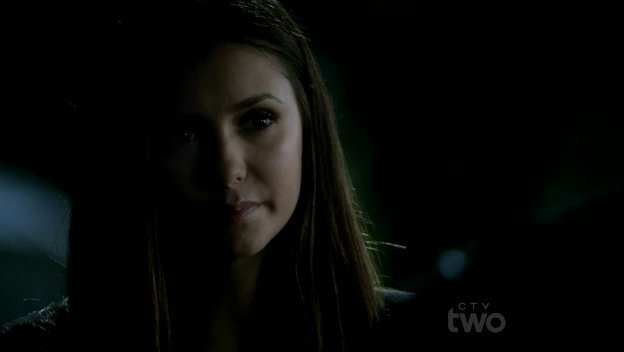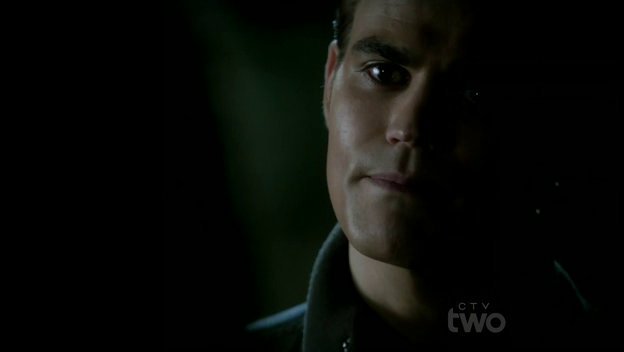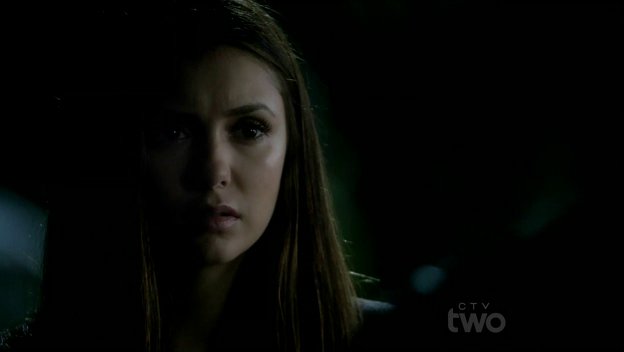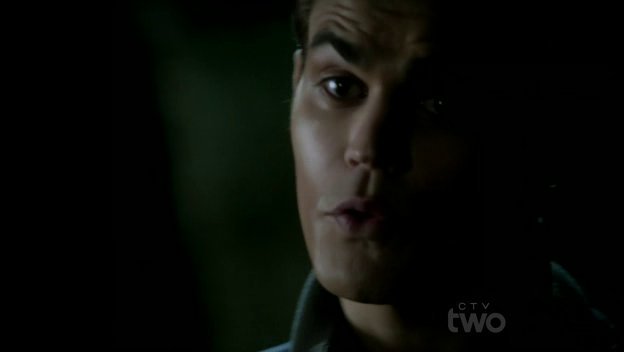 Bonnie is jealous of Jamie and makes a comment about how far Abbey will take things for him and he isn't even family. She says that it may be hard to hear, but he is family. That's such a slap in the face though. I don't like her. She has this pity thing going on but truth (..)
be told, she still abandoned her daughter with no good reason and substituted her by taking in a son. Kf she can take care of a boy, why couldn't an take care of her own girl. This doesn't make any sense. Why abandon one, only to end up taking care of another???
Abbey doesn't want her magic back, but says she will try to get it back, for Bonnie. Honey, that's 15 years guilt coming in now??
Hahha this is awkward. But being ripped to shreds isn't stopping Bill. He wants Tyler to turn again until turning becomes painless. Is that even possible?? Otherwise he won't let Tyler near Caroline. Glad he cares about her now atleast.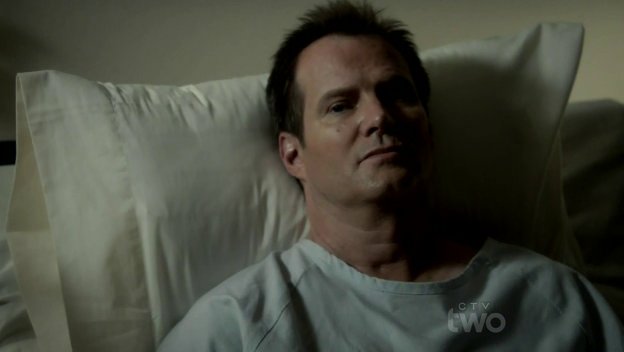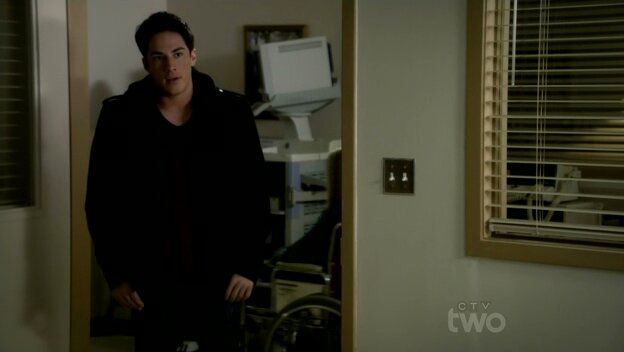 I guess Alaric is serious about this girl. All cards on the table then. He tells her about his ring, him being a hunter.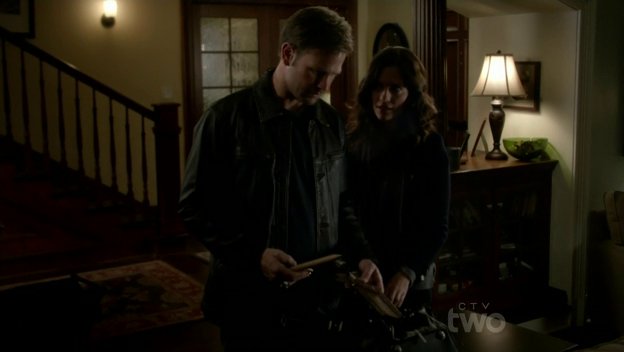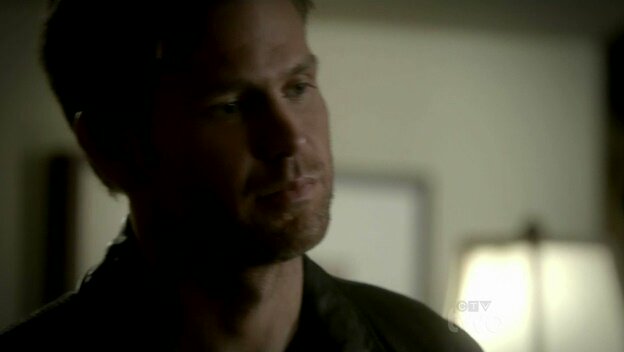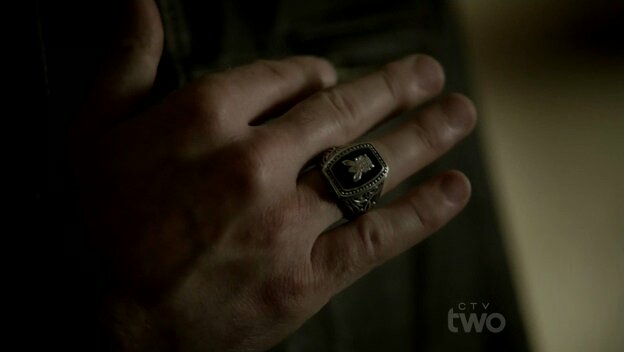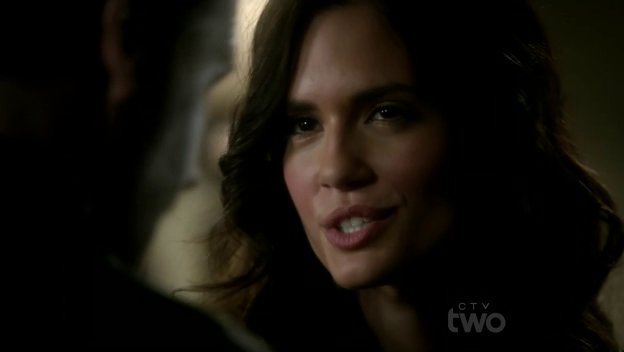 Hahahaha THANKS Elena for accidentally cockblocking that 👌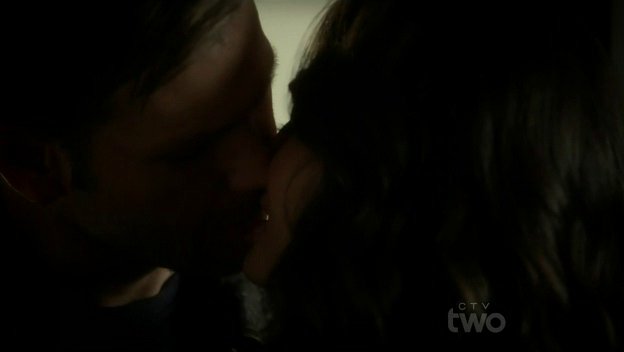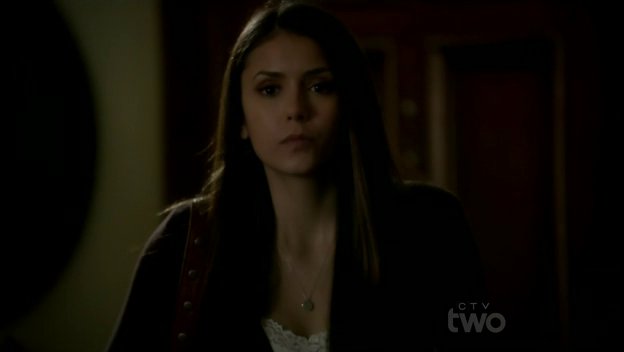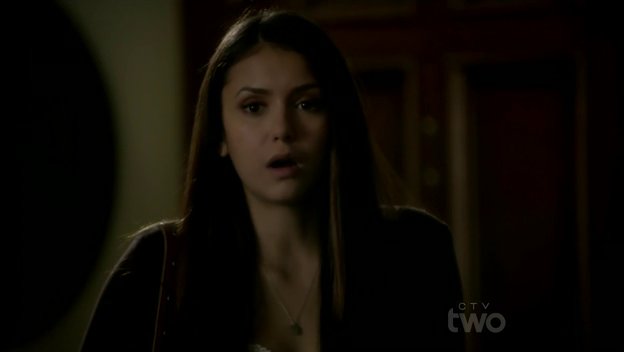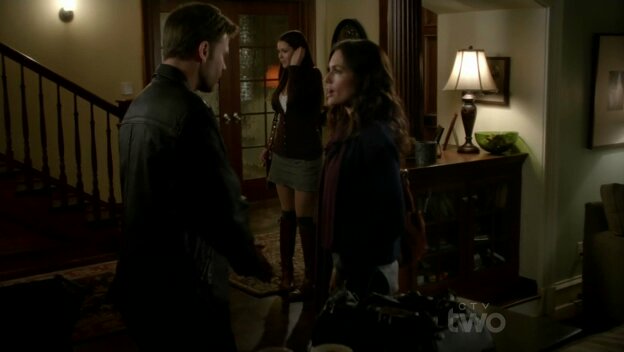 Alaric apologises to Elena. Ugh, she is so understanding.
"The minute that you slept on that couch, it became your place too. We needed you, and you stayed. So thankyou for that. Hey look, I know it's hard. But Jenna is gone. And you are allowed to move on."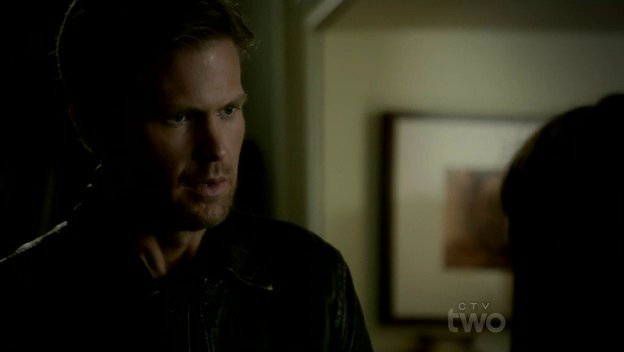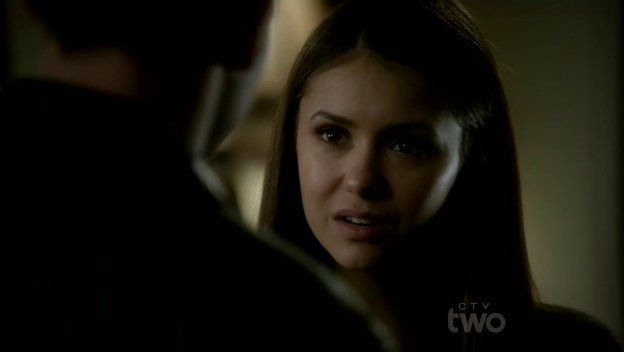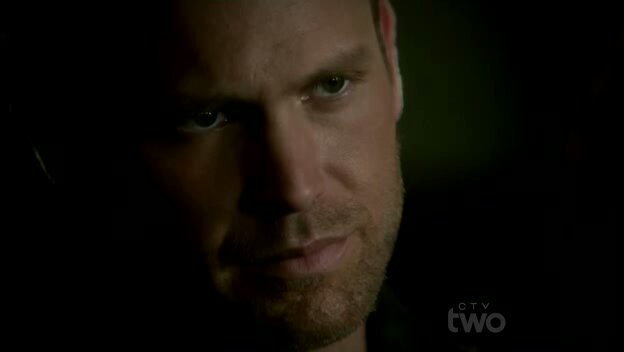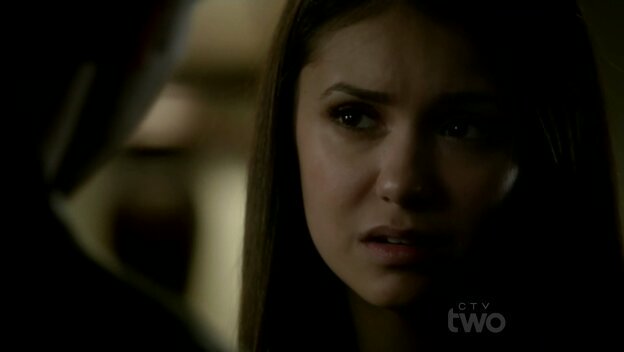 I needed that speech as much as Alaric did. Lol. Elena is so mature. But this woman better be worthy of Alaric then. She will mever match up to Jenna though. But Alaric deserves to be happy. 😩
Oh shiiiittt....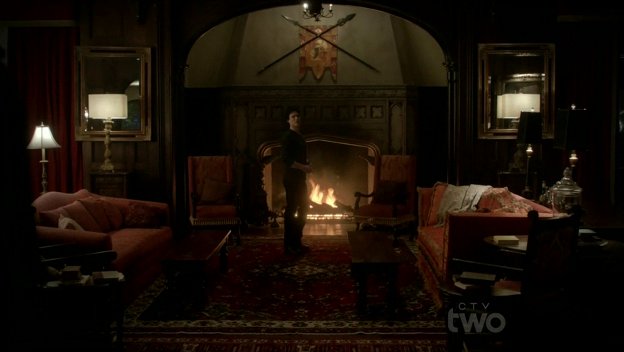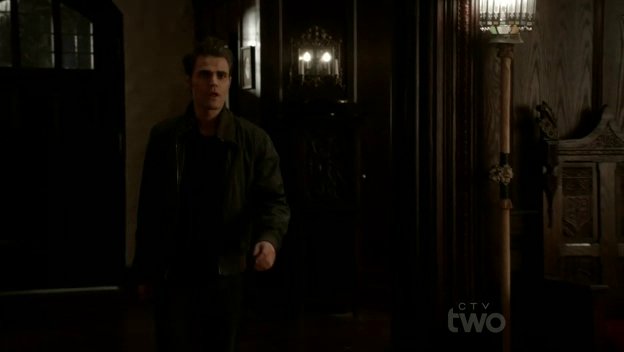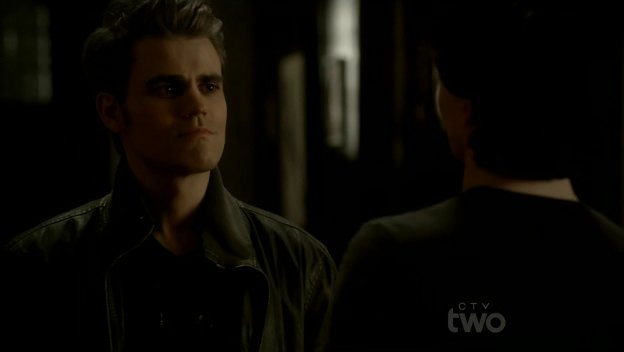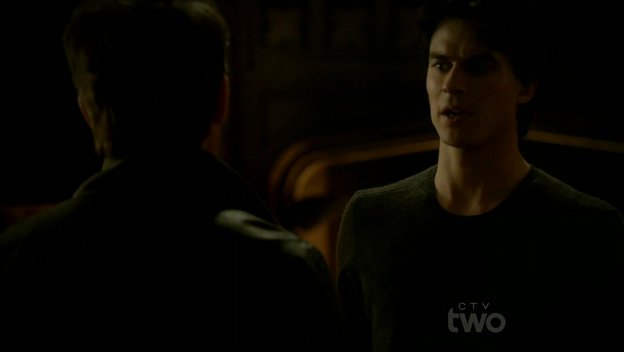 Stefan turns away but Damon asks "Is Elena okay." And he freezes. Drama here we come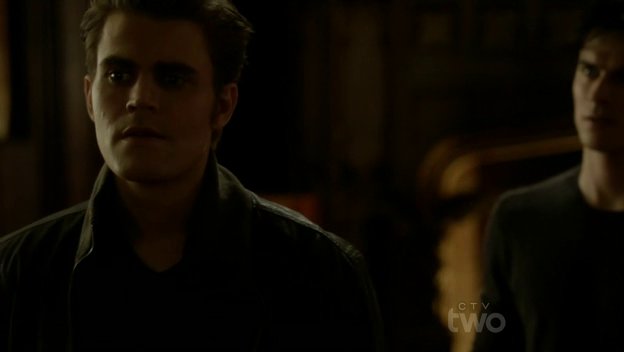 What did I say. 💀 Stefan punches Damon and Damon just lets him. What the fuck?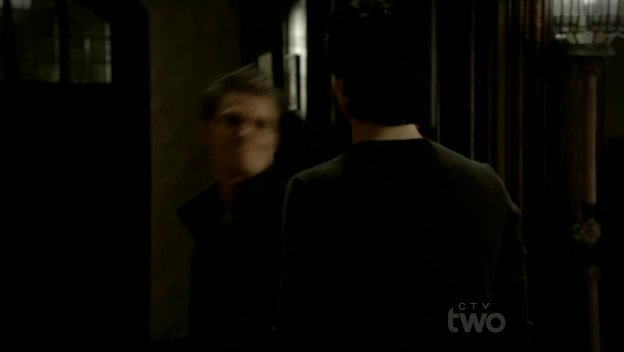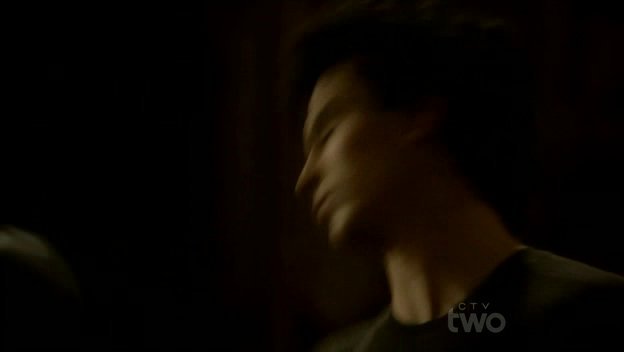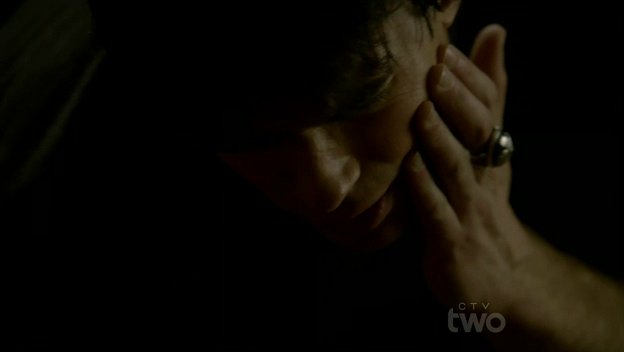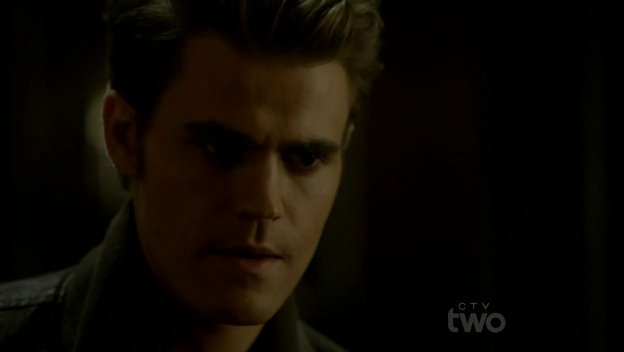 Is that?.... 😱 Did Damon undagger Elijah or another sibling??? My genious son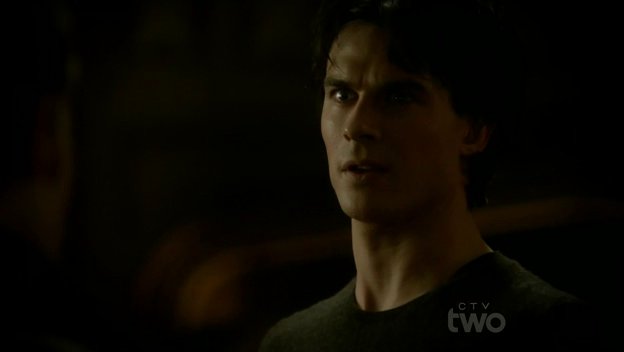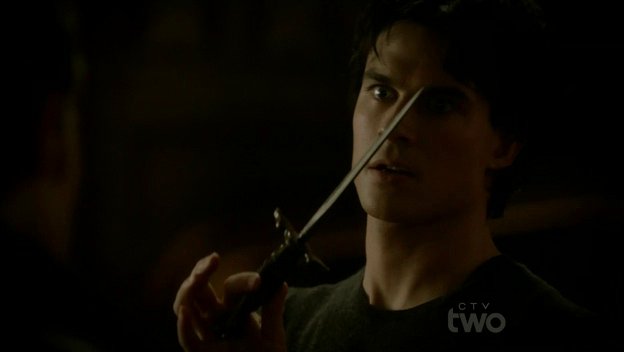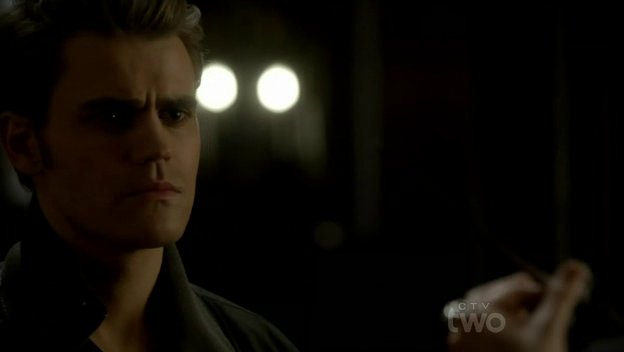 Klaus' hybrid asks him if he will wake I family now and he says not yet. I should have known 💀
Lmaooko Kaus' face. Welcome back Elijah! 😃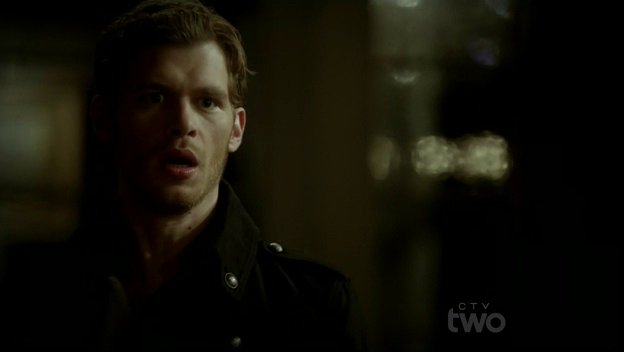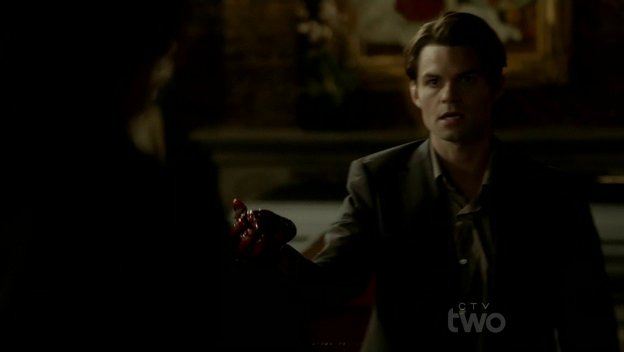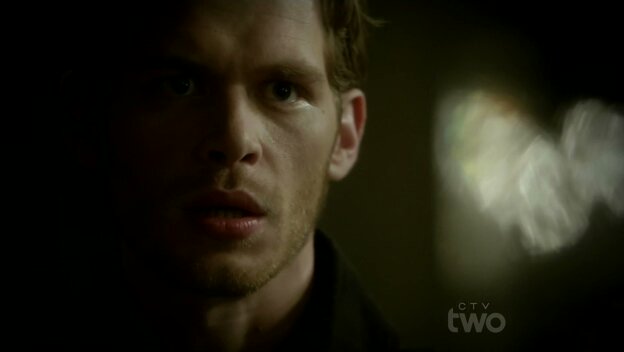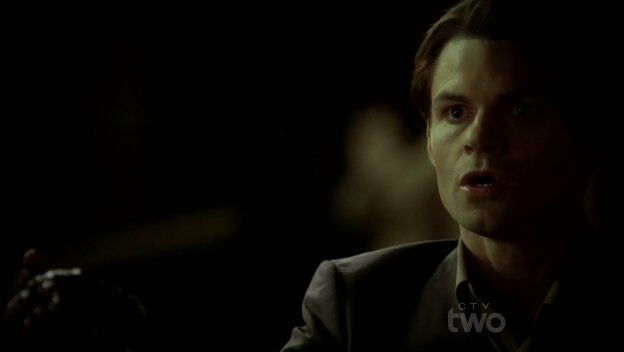 First half of this episode was slow but like always, the second half was fire. 🔥
The 03x13 title excites me. "Bringing out the dead."
Original siblings, here we comeee (hopefully)
Ps, doing this at work again, so...
Elijah notices that Klaus is surprised to see him. Meaning it wasn't him who undaggered him. Ouch. Original fight.
"Easy! I just finished redecorating!"
Ummm...You mean the hybrids who you treat like slaves just finished your house?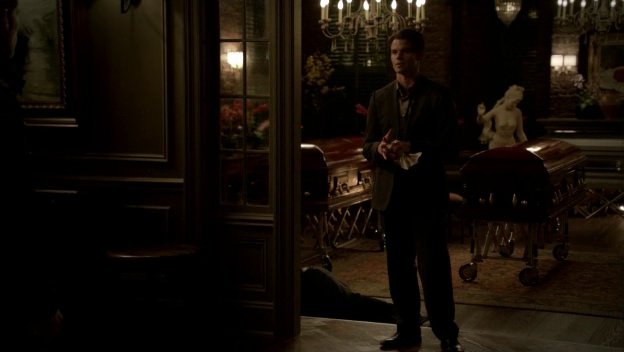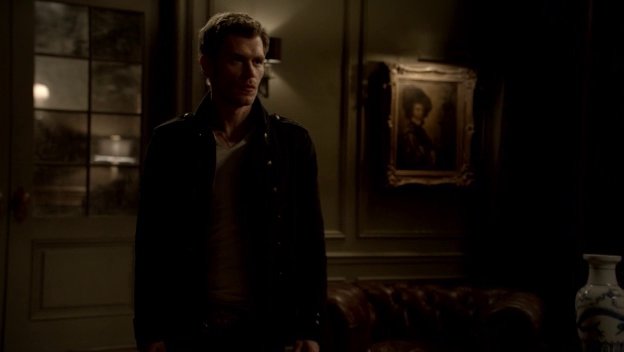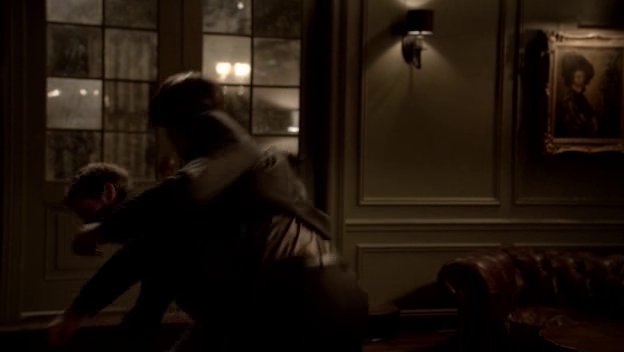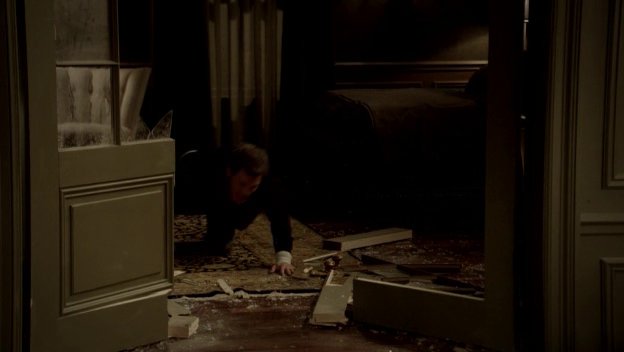 Oooo Original sibling 😱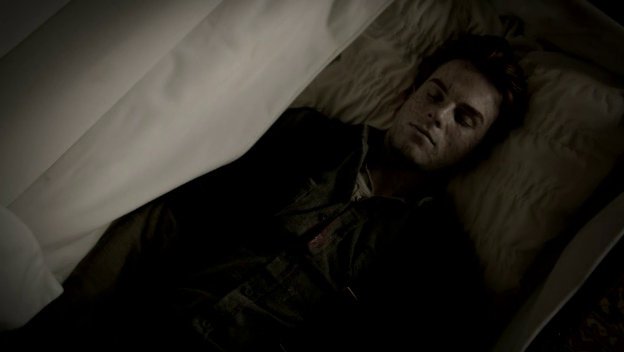 Klaus is short one of those daggers and Elijah dates him to dagger him again because then he will have "Cole" to deal with. Lol, that sounds like a threat. How bad can Cole be? Compared to Klaus?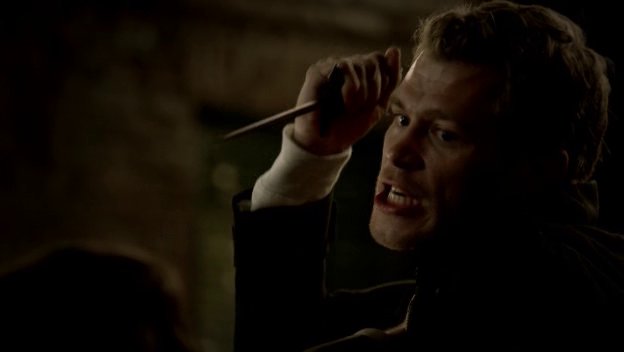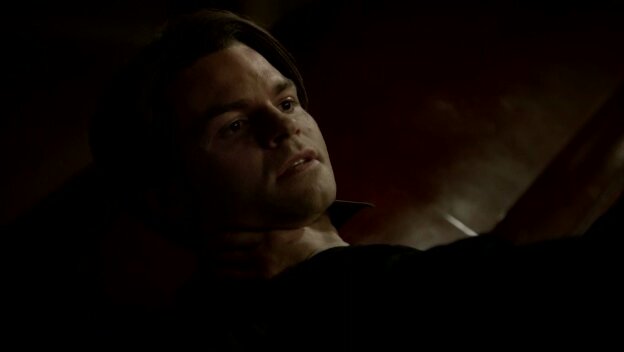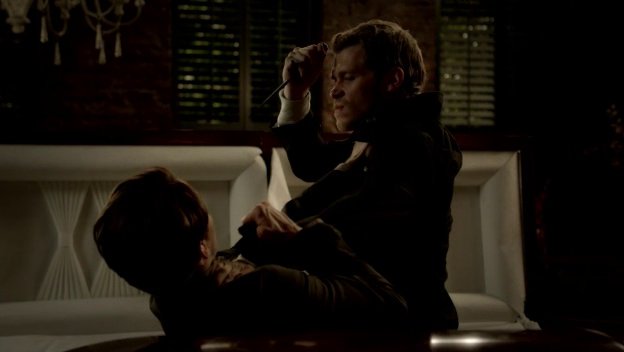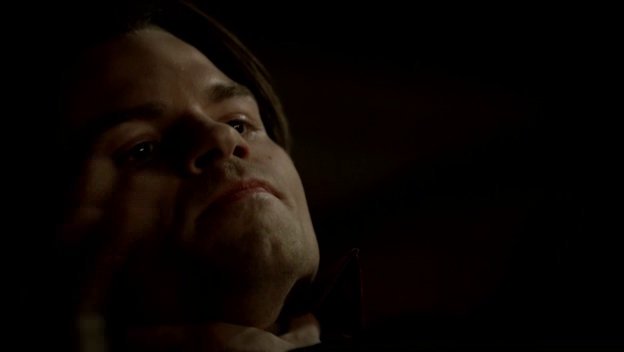 Klaus daggers Cole again. Elijah mentions that he has been in a coffin for over a century and Fin over 900 years. Klaus has stolen so much time from them. It's disgusting.
He tells Elijah to help destroy Stefan, then he will undagger them all. Ooo SHIIIT Stefan...You are fucked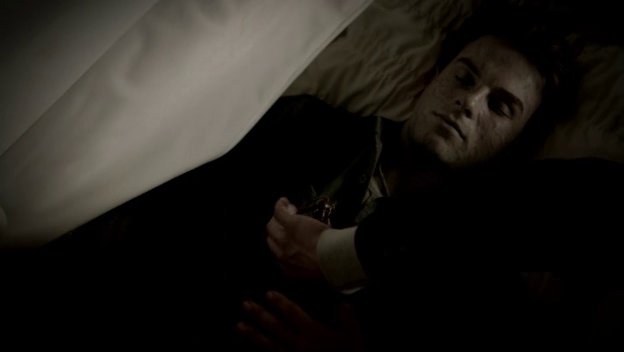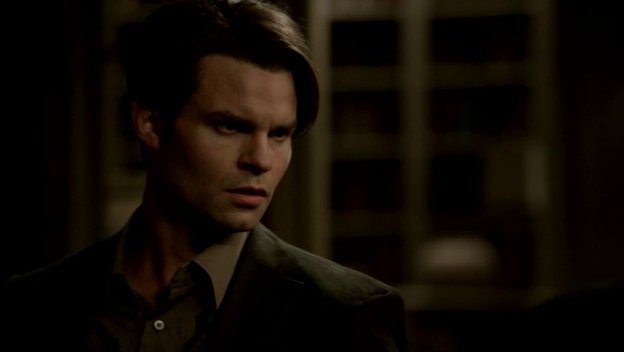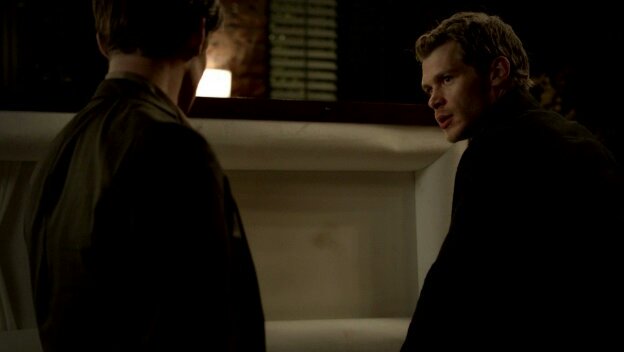 Daddy daughter bonding. Love it. 😜
Alaric tells Elena how he drunk dialed Meredith at 02:00 am. Maybe he needs to cut alcohol out of his daily intake for a while...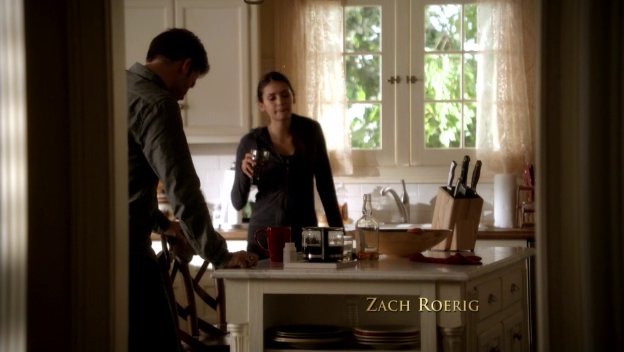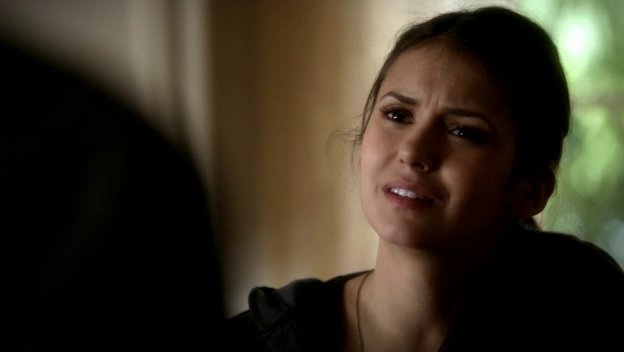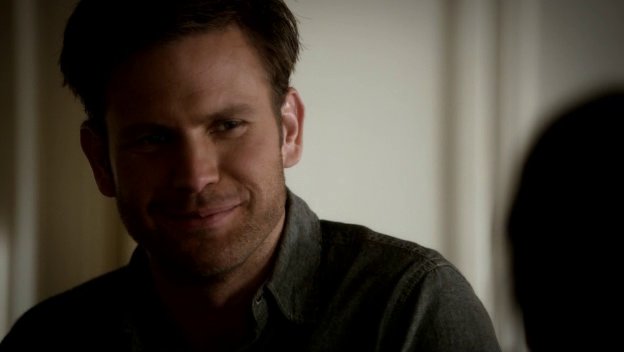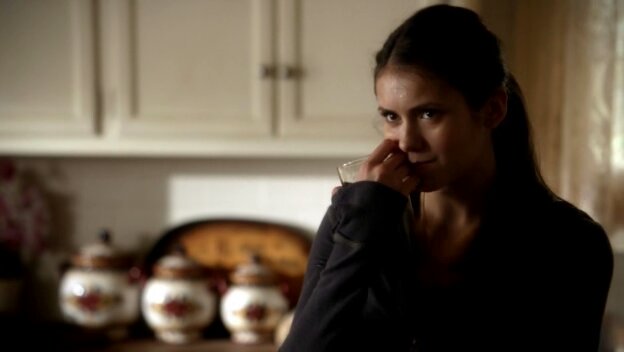 Liz brings them the stake that was used to murder Meredith's ex and it is from their collection at the Lake House and only has Elena'a prints on. WTFFF WHO IS FRAMING MY GIRL?? 😡😡😯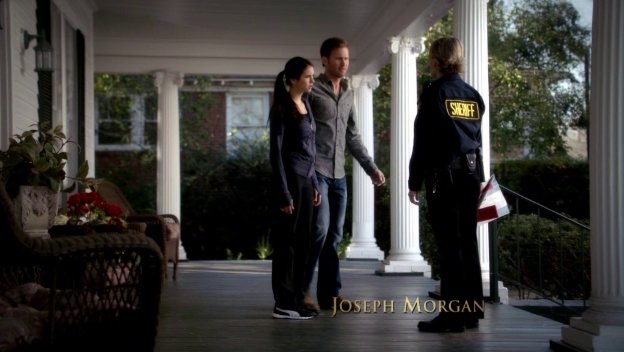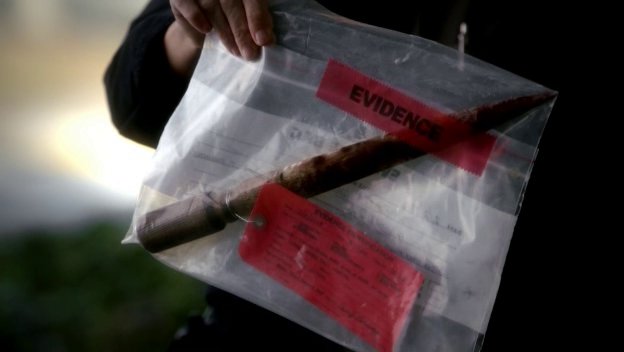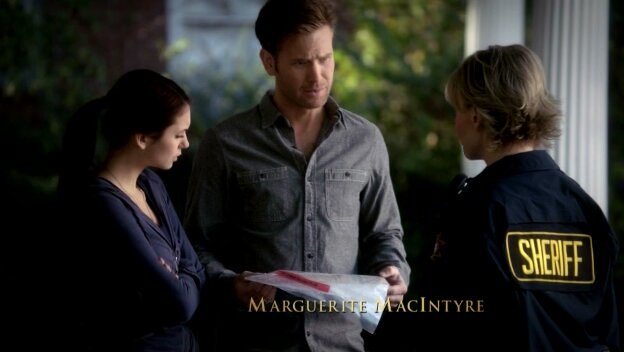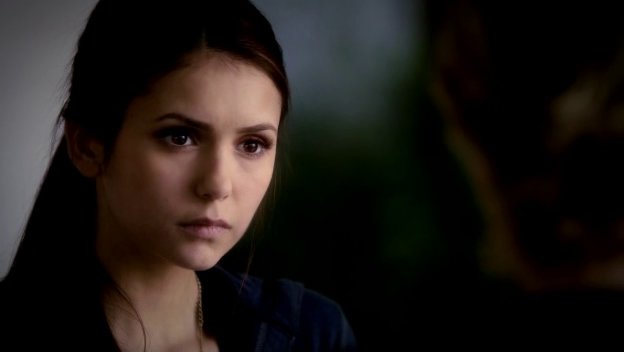 Damon suspects Meredith. "Atleast ask Rick if his dirty little doctor had access to the weapons."
"You are on speaker phone, dick."
Lmaoo.
Elena sides with Rick. "It's not Meredith. I refuse to believe that your luck with women is that tragic."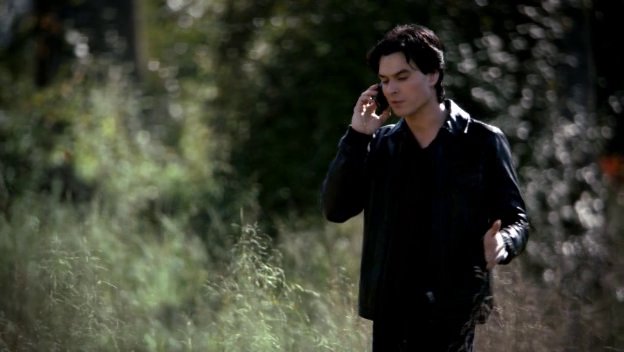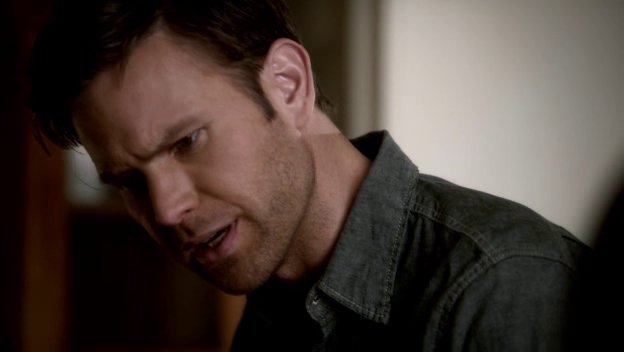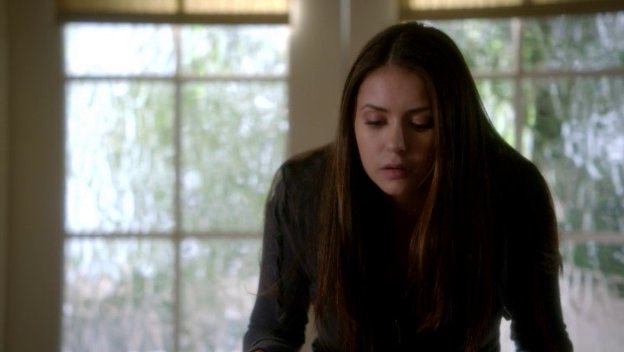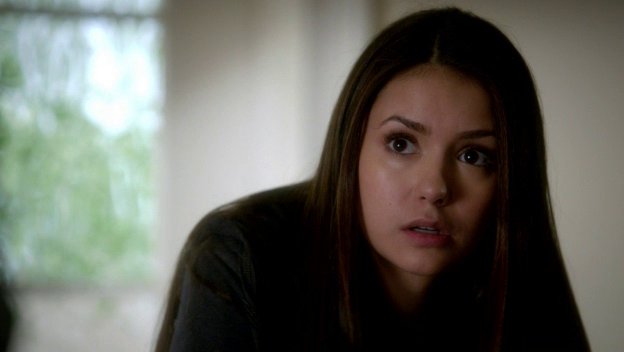 Damon's second suspect is Klaus.
Elena thinks it is Stefan. Wow, how far her trust in Stefan has fallen. Sad for Stefan, but reaaaal good for my ship. 😌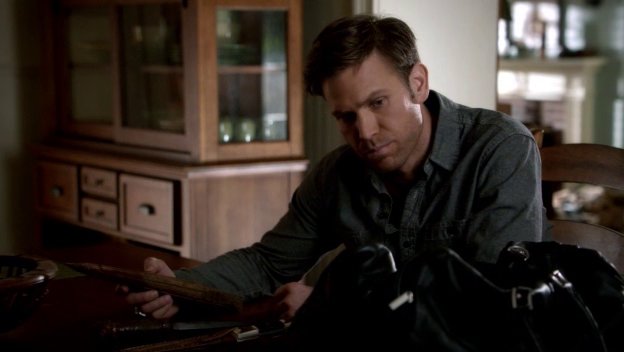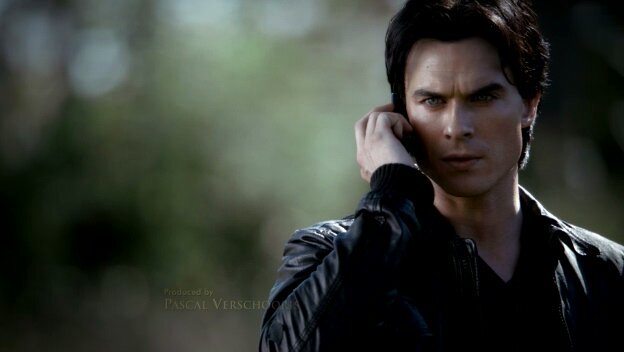 ELIJAH WHAT HAVE THEY DONE TO YOUR BEAUTIFUL HAIR? 😱😭😭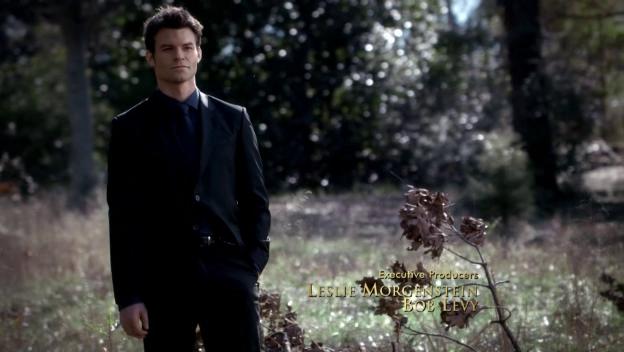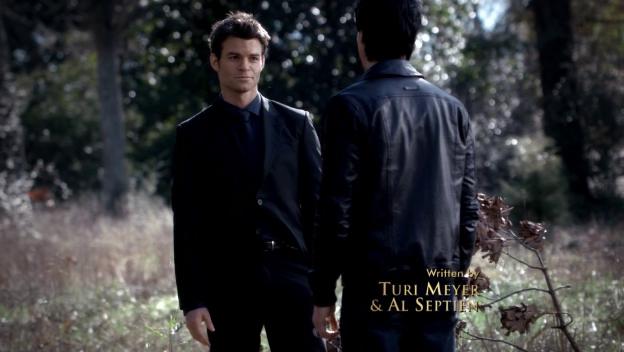 OMG Damon left a note in his pocket, setting up this meeting so they can plot against Klaus. Elijah showed up, which indicates he is willing to play ball.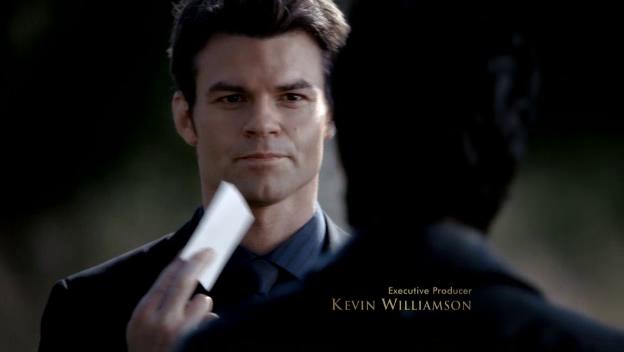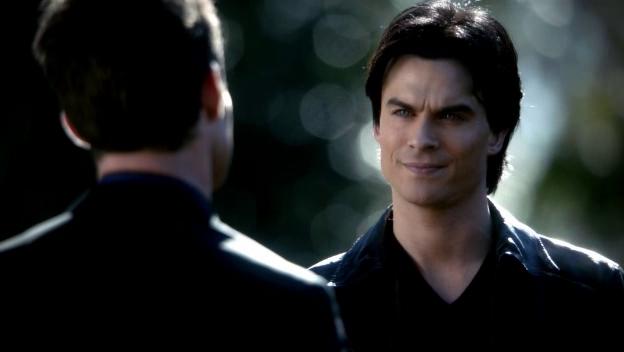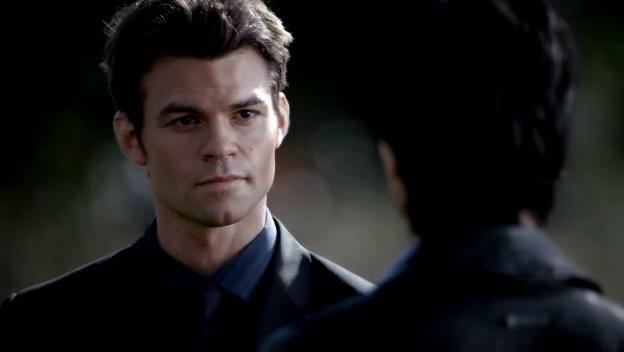 Stefan is being snippy with Bonnie over telling Klaus where to find the coffins. The closed one is safe, in the cave where vampires can't enter. He tells Abbey that she and Bonnie better stay there before Klaus comes after them. Abbey is useless, without her magic though.
Elena asks Stefan I he killed the medical examiner and he turns the conversation on Damon.
"Did you ask Damon if he killed anybody lately?"
NO.Because he doesn't just do that anymore and she trusts him. But what the fuck. Why bring that up? He can't afford to act all offended(..)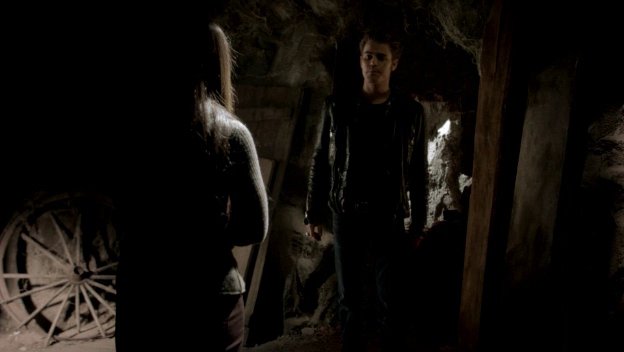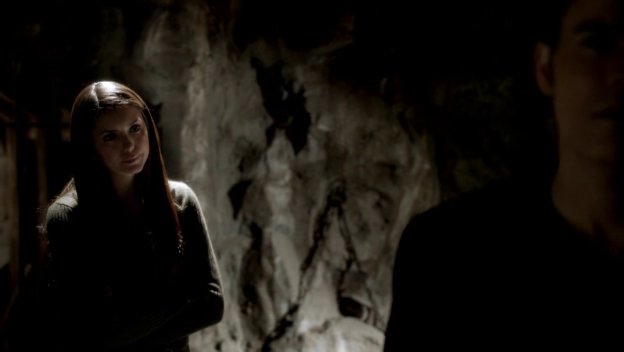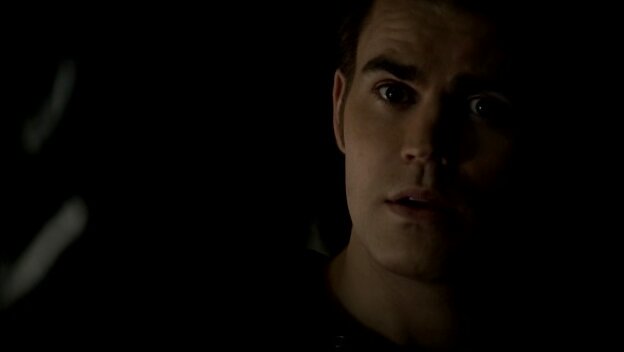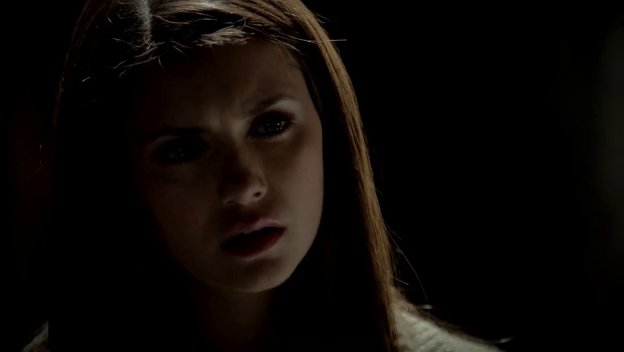 when his bahaviour lately has been so erratic.
Meredith tells Caroline how upset her dad was about being healed with vampire blood and that she had to discharge him to shut him up. She also knows Caroline is a vampire. Careful Care, she might just bloodjack you too.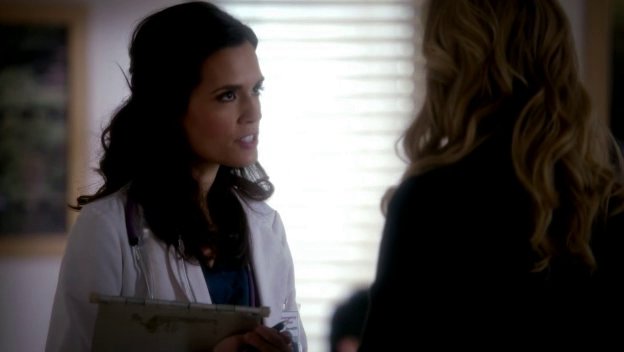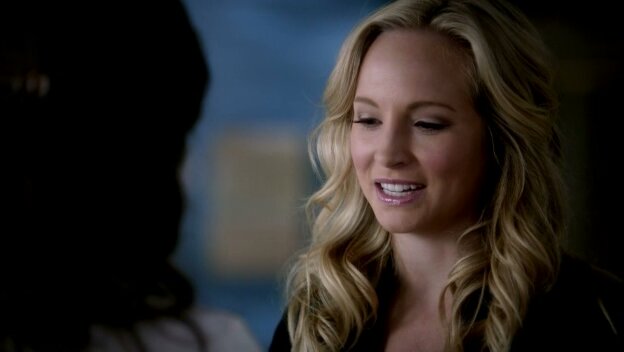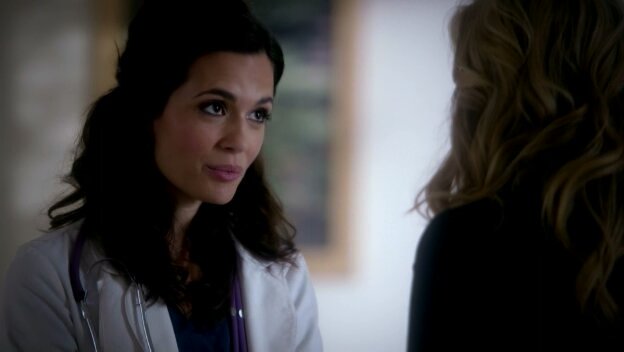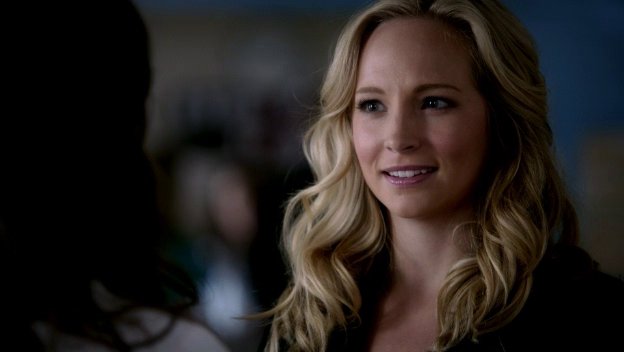 Caroline thinks Meredith is nice enough. A little intense, but nice. Elena wants to make sure, since Rick is family. Awww.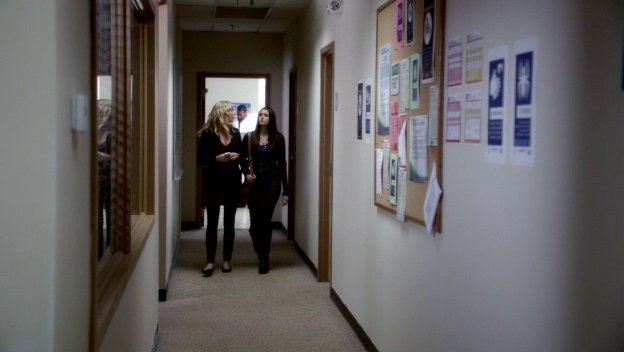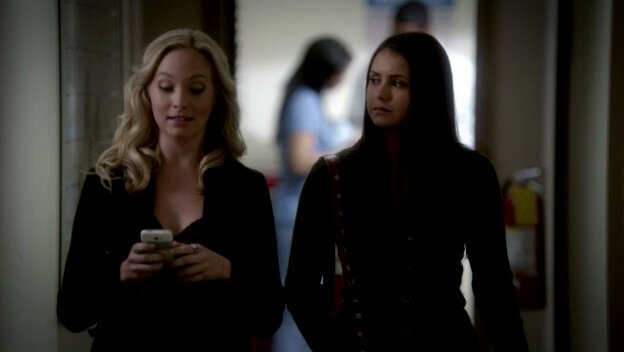 Caroline tries to call her dad and hears his phone ringing. WTFFF someone stabbed him. He is going to be a vampire now 😱 OMG the irony.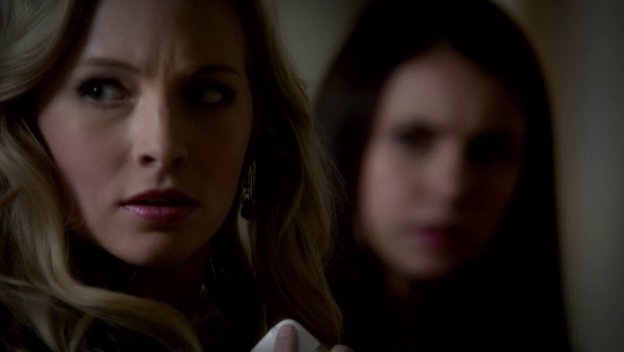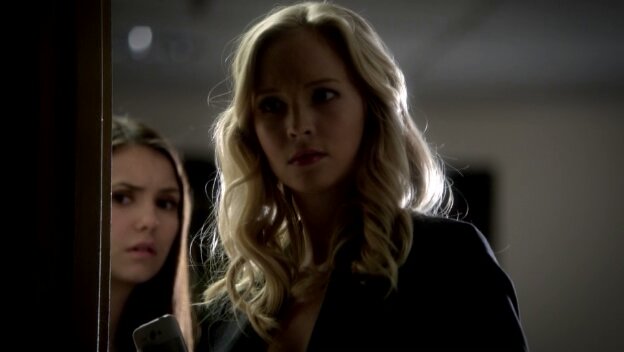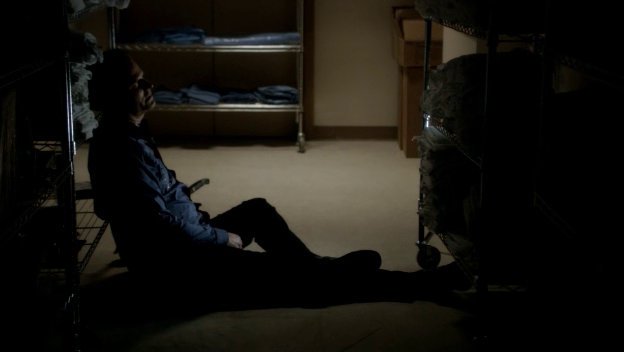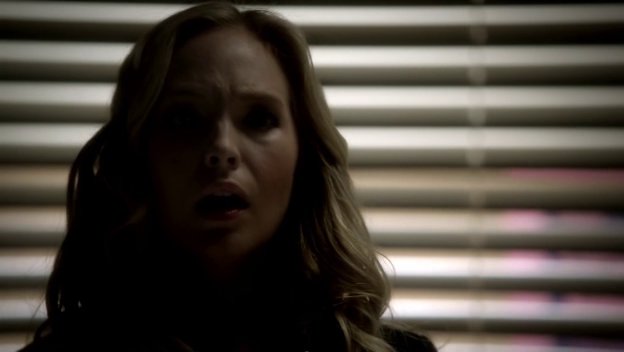 Okay, but it has to be Meredith. Who else? And even if it's not her, injecting patients with vampire blood is bloody irresponsible.
Caroline starts to freak out but Elena reminds her that he has vampire blood in his system. The blood Meredith stole from Damon. She pulls out the knife and he wakes up. OMGGG this is going to be interesting.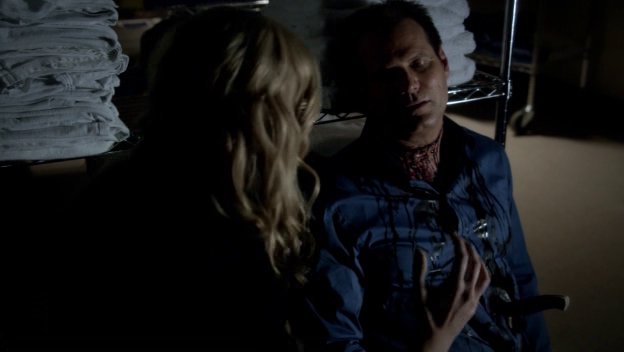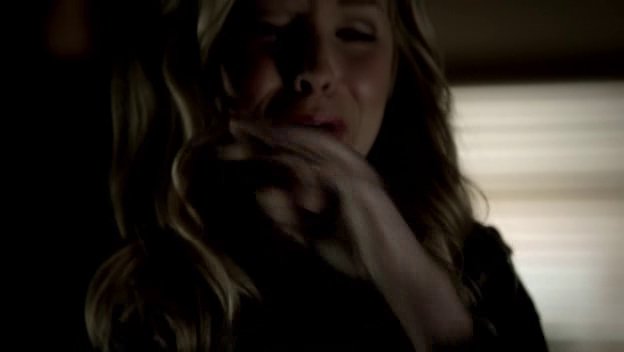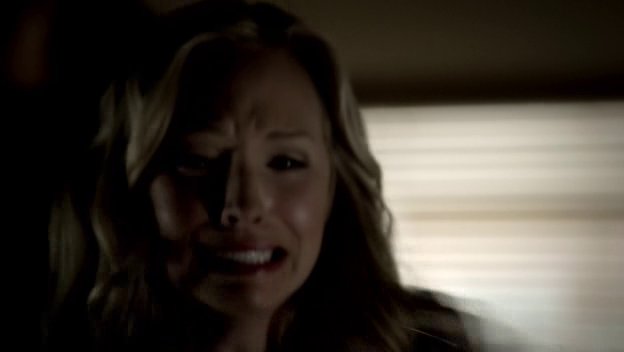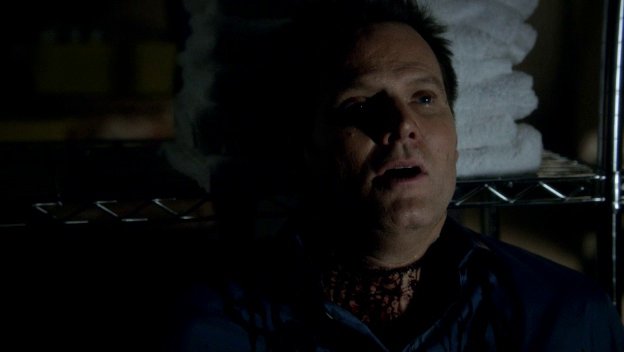 Bonnie tells Abbey about the Original's story. A mother that loves her children so much, she couldn't bare lose them. That's a not so subtle jab but Abbey deserves it. They find a bloodknot symbol. They need 2 generations to undo the spell. Okay Abbey, time to shape up.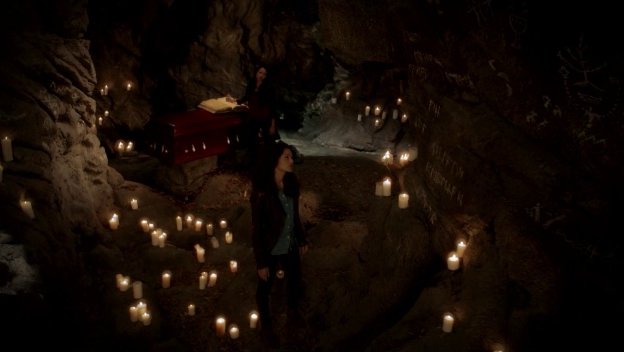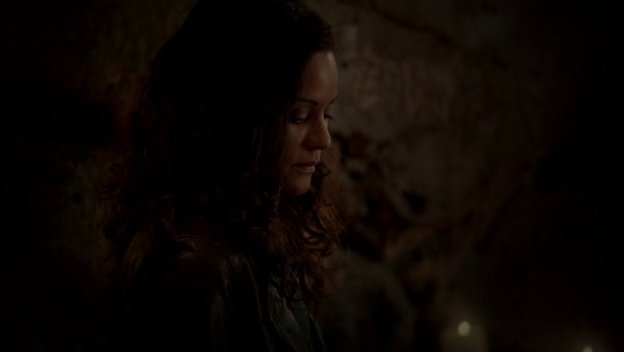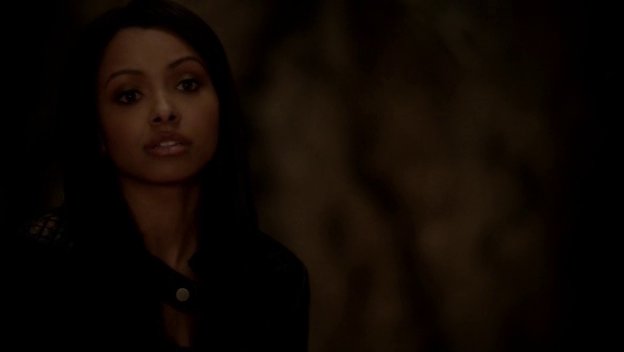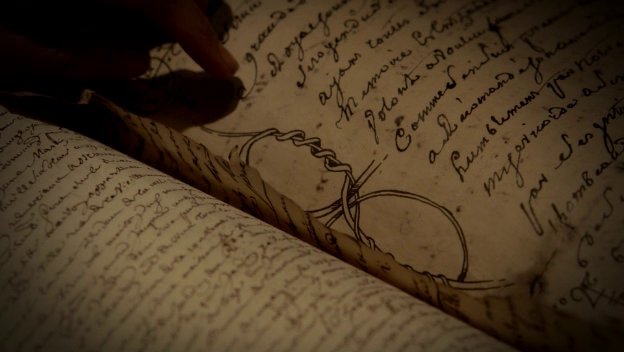 Damon and Elijah want Stefan to meet with Klaus and arrange a fake truce to buy Bonnie and Abbey time to open the coffin. But Stefan is still upset about the kiss between Delena. Damon remind him that if it wasn't for Klaus, he wouldn't have been a dick to Elena and the kiss (..)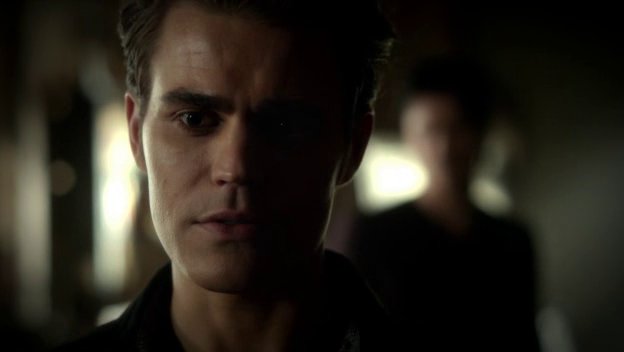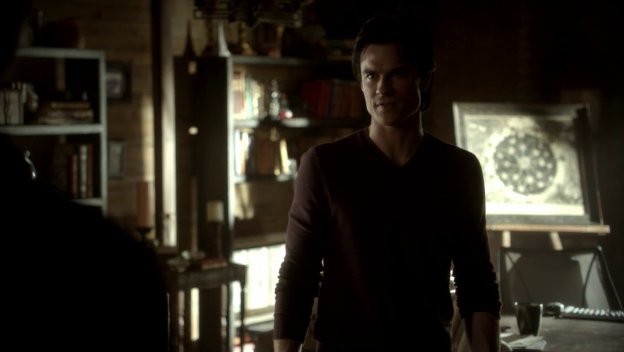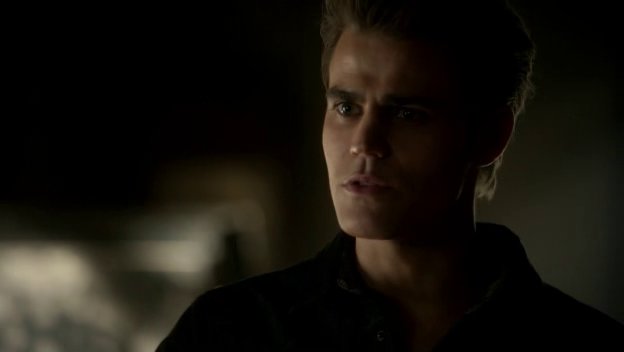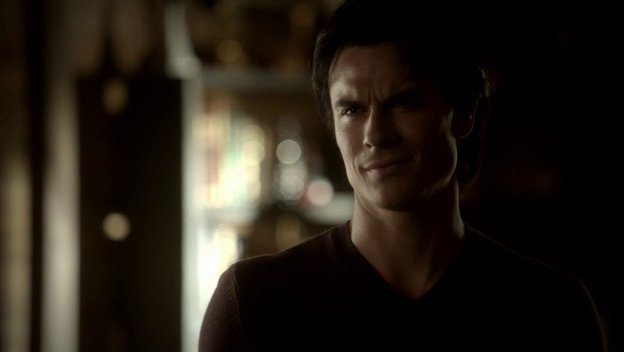 wouldn't have happened. I disagree putting the blame wholly on Klaus though. Stefan had his humanity on when he almost drove Elena off the bridge. Both she and Damon have been denying their feeling for eachother and would have continued doing so. That insident was the final push.
But Damon is taking the blame away from Stefan and placing it all at Klaus' feet. He really does think more of Stefan than he will admit. He even tried to make him sound good infront of Elena.
Caroline I in take action more and wants to get her dad some blood, but he doesn't want to become a vampire. OMG he would rather die. Seriously? I have a daughter. Your bigotry is going to make you choose to abandon her??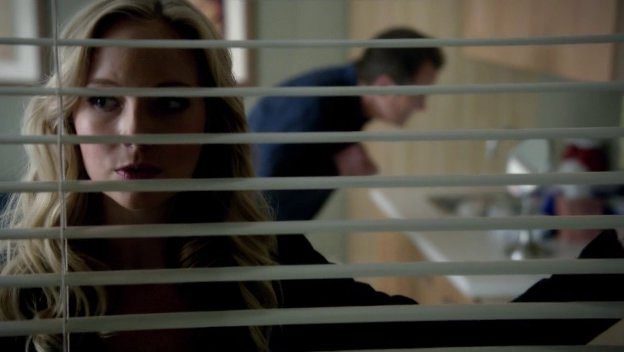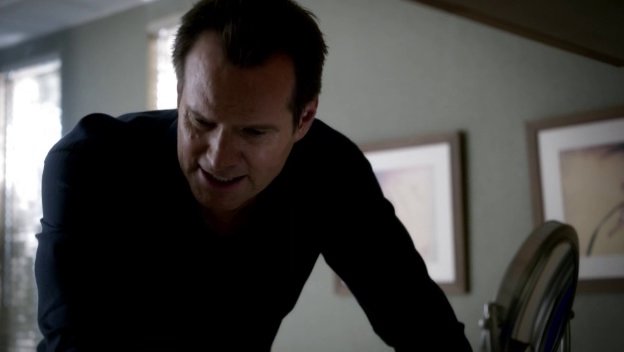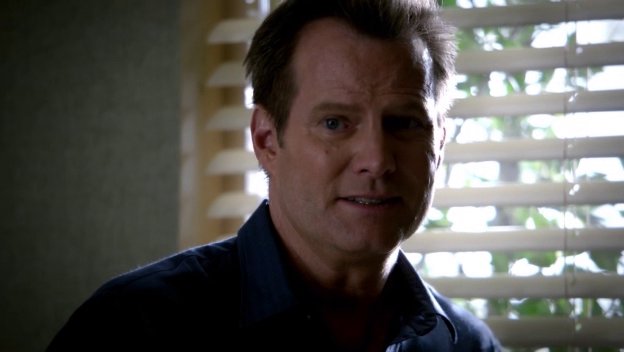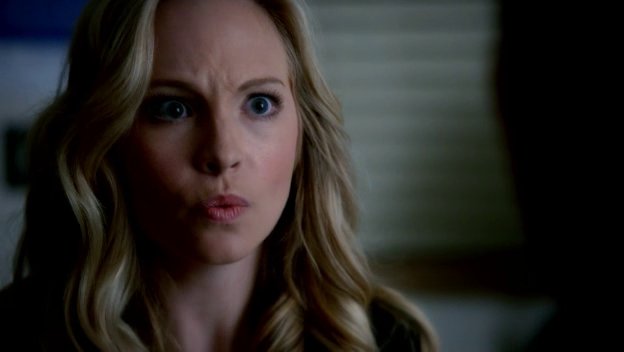 *You have a daughter. Not I. Lol 🙈
Alaric is taking stock of his weapons. Even he is starting to think it is Meredith. She was at all the locations that weapons were stolen from. Shit. Sorry Rick. That really sucks. 😩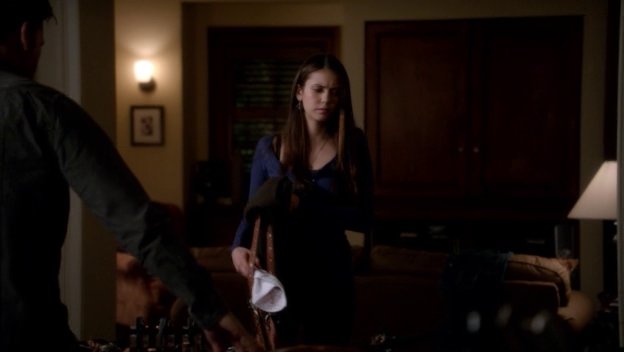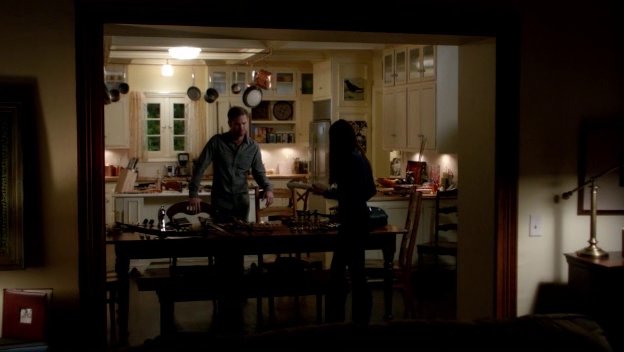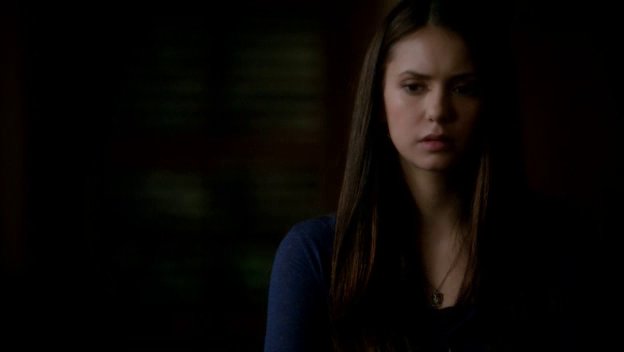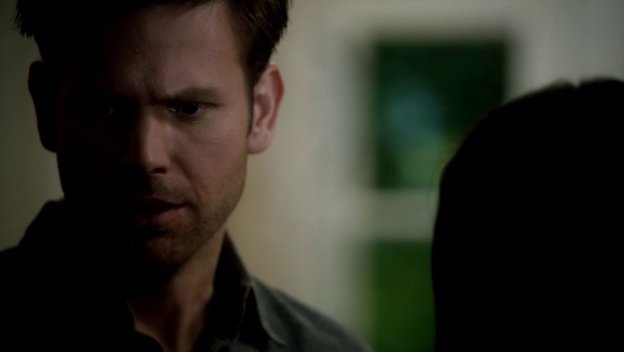 I am still a little torn up about this. It's just to simple. Either it is really her and they don't really care about the mystery element, or she is being pushed in our faces to distract from someone else. But who the fuck??
This dinner is going to be awkward as hell... 😨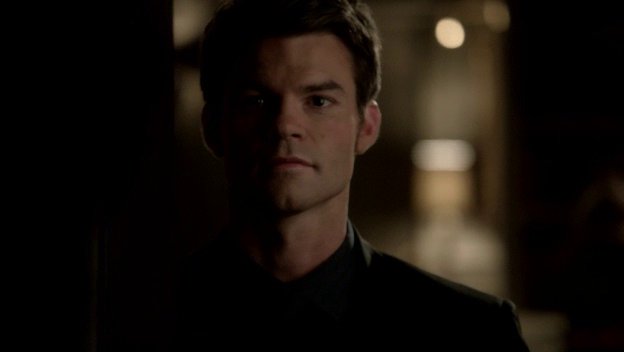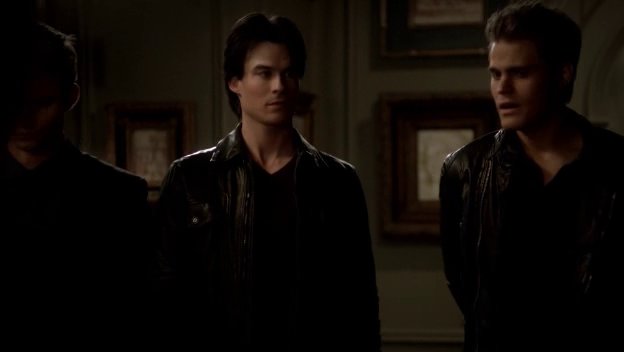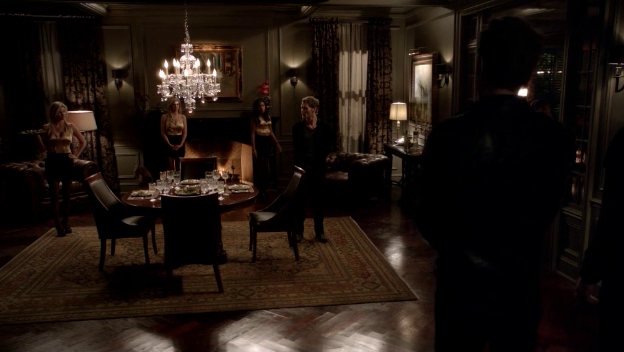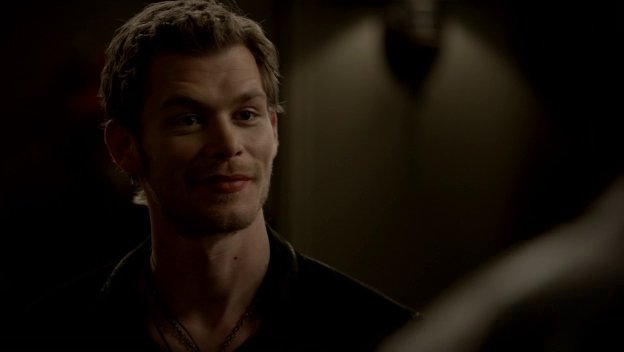 Yeah it's awkward. Stefan pouts like a child that doesn't want to eat his veggies and Damon has to step in.
"I thought we were going to leave grumpy Stefan at home..?"
Stefan keeps goading Klaus and asks where Rebekah is. Klaus says that Elijah already knows that he killed their mother and Damon reminds Stefan that he killed their father.
"Hey Stef. Remember when you killed dad? You might want to dial down the judgement till desert."
Poor Caroline. She and Elena talks about her dad and how she hated him for what he did to her but now she just wants to save his life. She asks Elena if she thinks Tyler could have done it. Since he just vanished and doesn't take her calls. 💀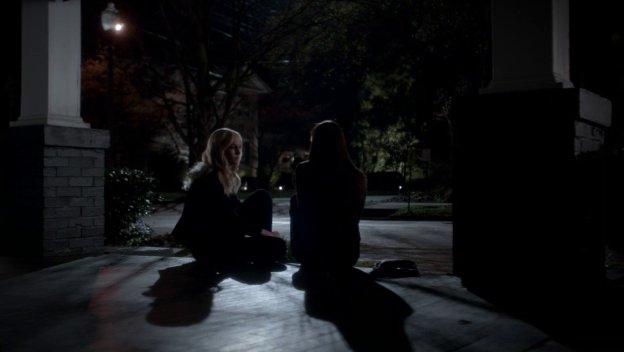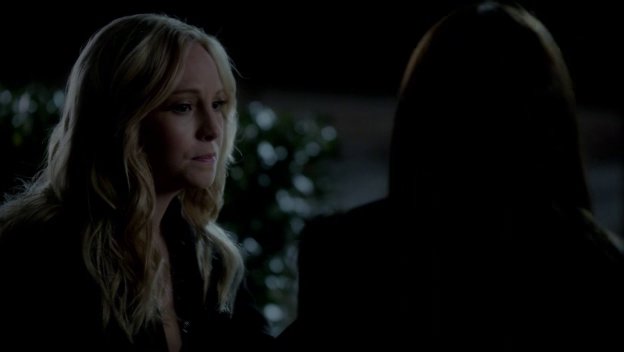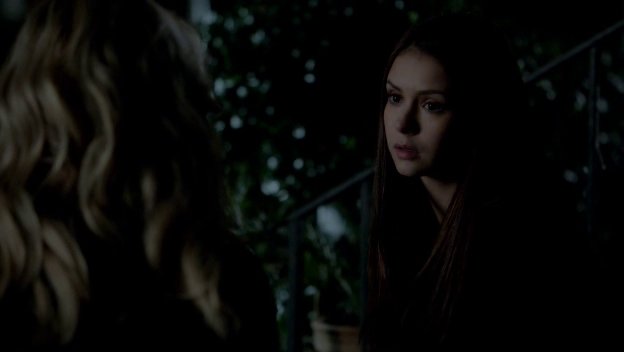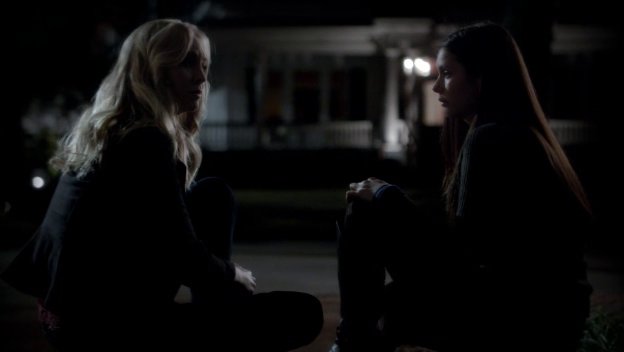 Awww Elena tries to comfort Caroline. I love their friendship and I love them so much. 😢😢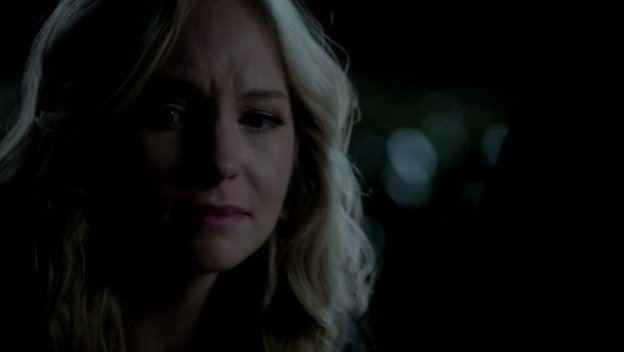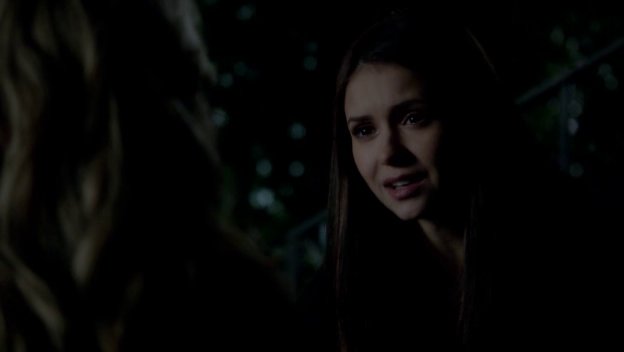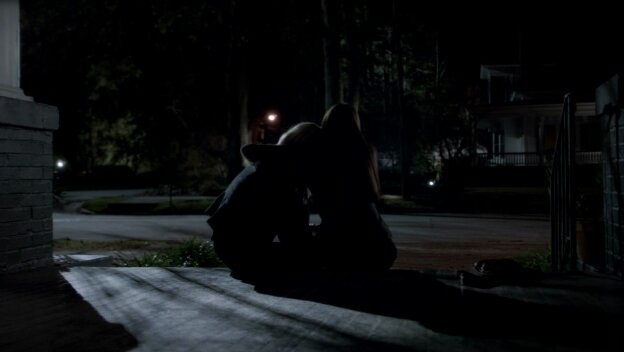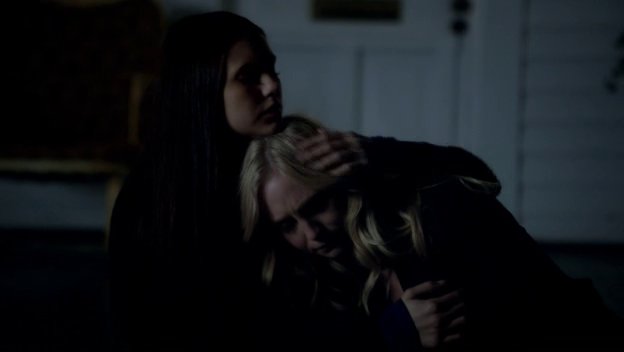 The fuck is Matt doing there? I thought for a mini second it would be Tyler. Please can we NOT revisit this ship. Thanks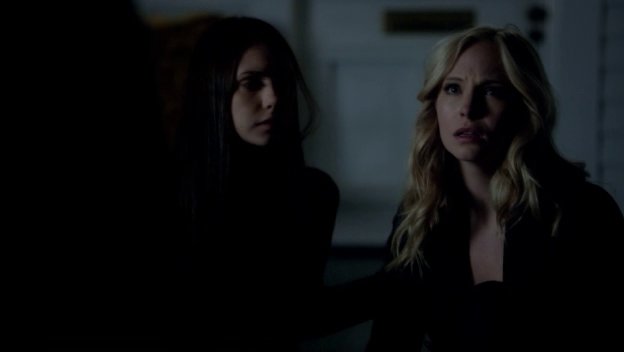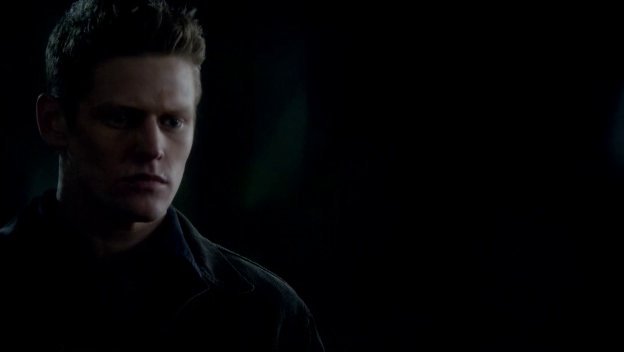 💀 He was still talking shit about her on her birthday/funeral party and called her a meangirl, but okay then.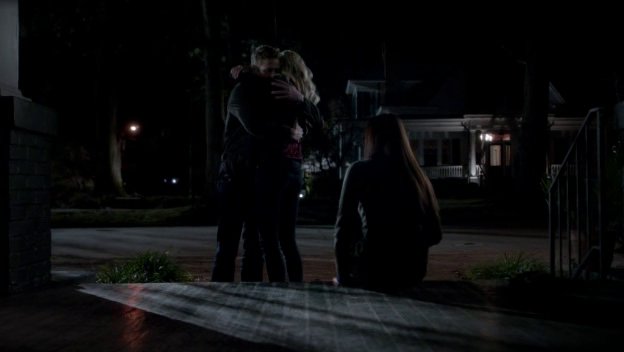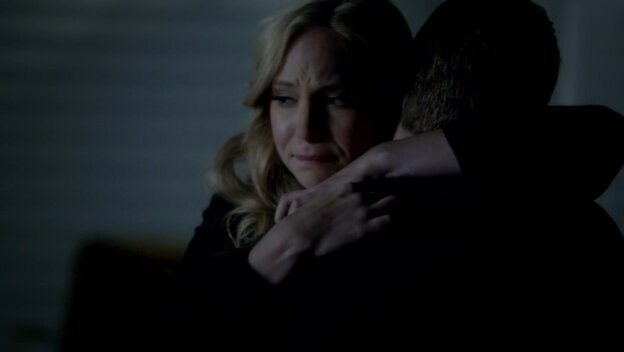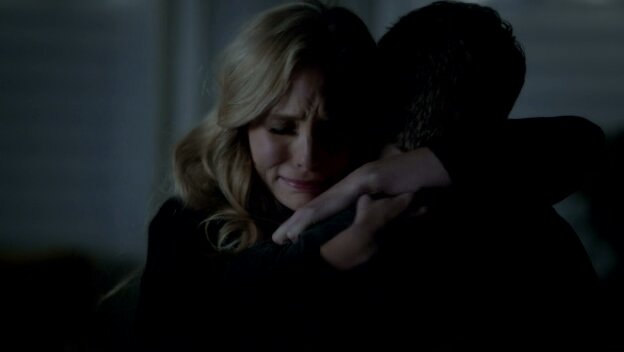 Elijah asks Stefan; "Where is the lovely Elena tonight." And he responds with th most pressed reponse. I don't hope he I going to be a little bitch about this.
"I don't know. Ask Damon."
Klaus thinks this is the funniest shit and Elijah is like...WTF did I say?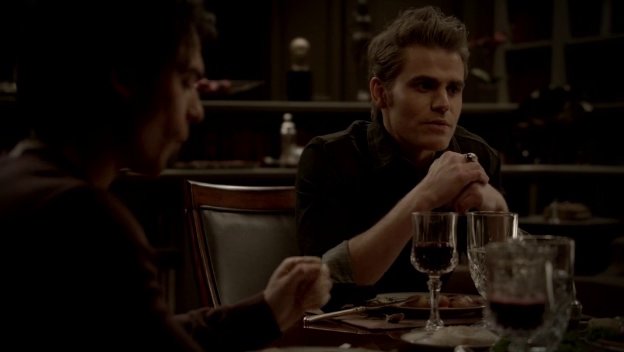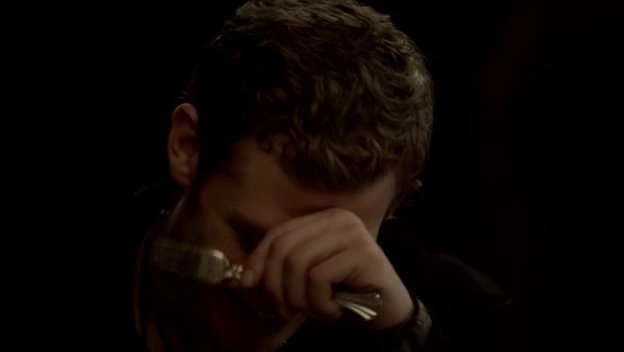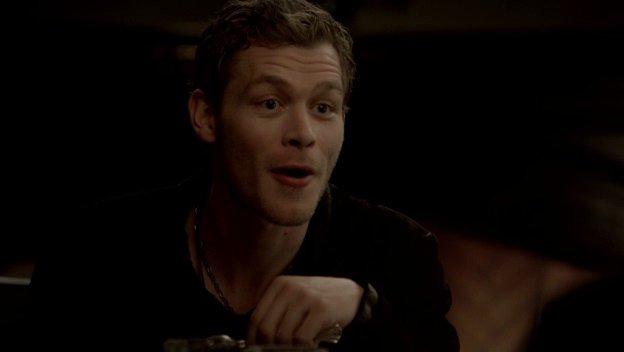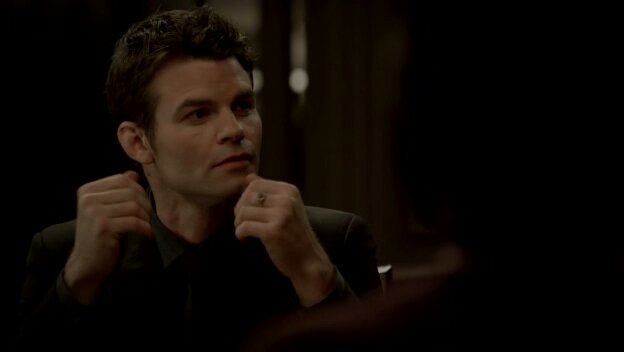 "Trouble in paradise."
"One more word about Elena and this dinner is over."
Klausss OMG 😂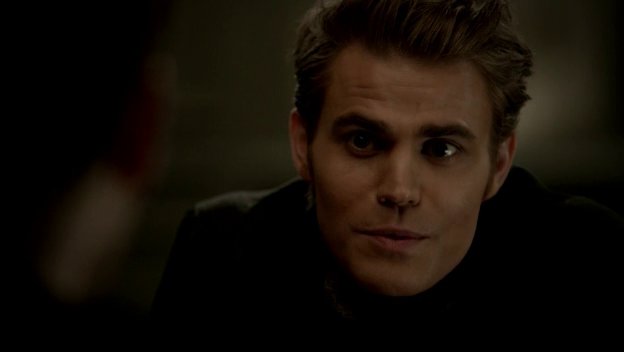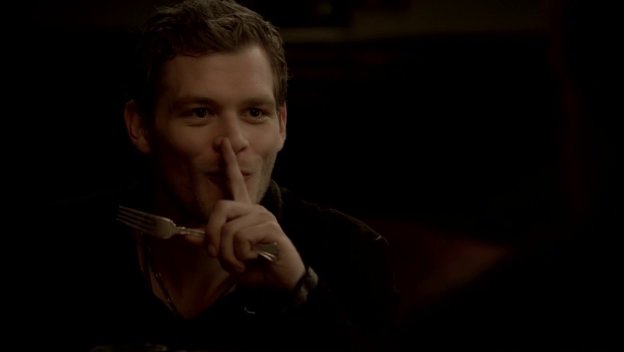 Okay but he is enjoying this to much and just hated Elena to much in the past. He is totally into Stefan. Klaus is bi and Klefan is real. One-sided, but real. Fight me....lmao...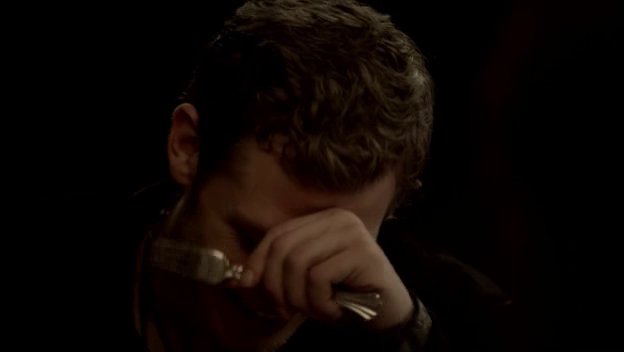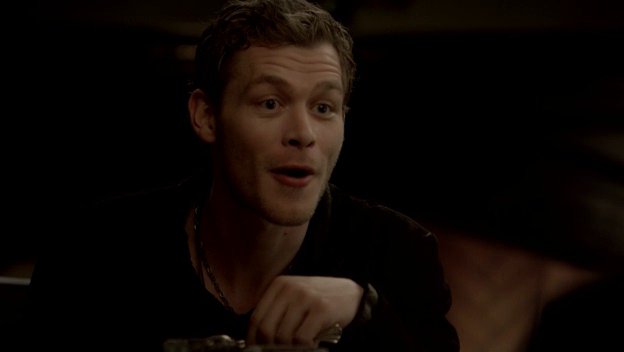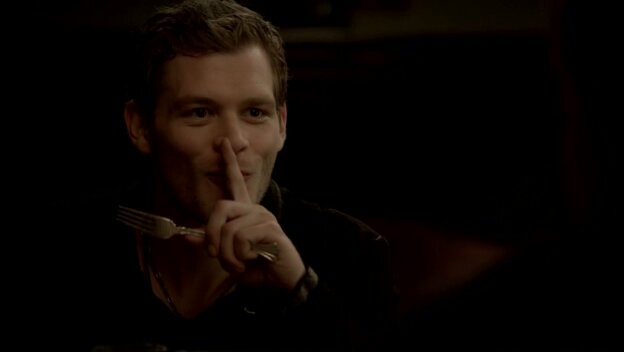 Tatia? Petrova doppelganger. The originator of the line. Now we are getting somewhere.
Lmaooo OMG NO FUCKING WAY. Klaus and Elijah both loved Tatia and like Katherine, she had child out of wedlock.
...Okayyy so witch momma wanted to end the fued anz "took" Tatia. It was her blokd they consumed the night they were turned. Momma Mikaelson would have been the worst monster in law. She and Mikael deserve eachother though. Freaking nutjobs
"Family above all." I hope Stefan remembers that when Elena and Damon become a thing.
The bloodknot. Human edition. Bonnie and Abbey try but Abbey is giving it her all until Bonnie guilts her into it by bringing up that she abandoned her for no good reason. I dont know whats worse; fucking up like Ester or abandoning like Abbey. Get try again and it almost works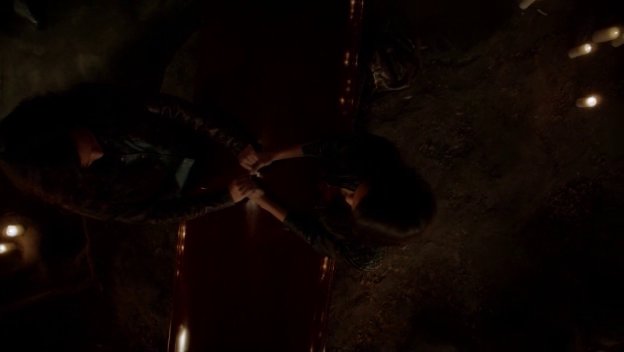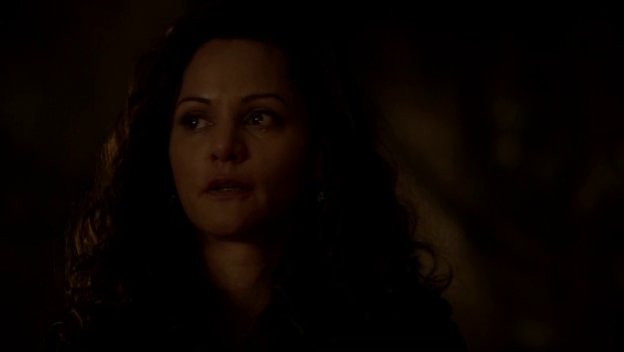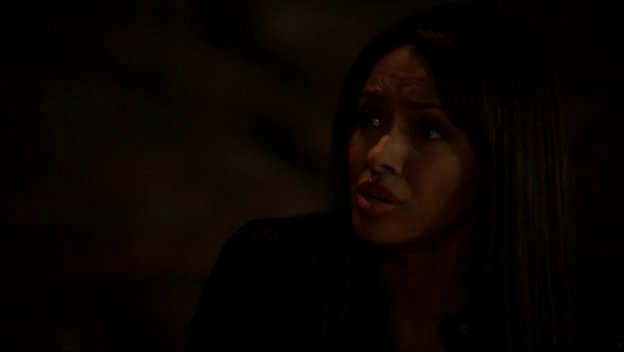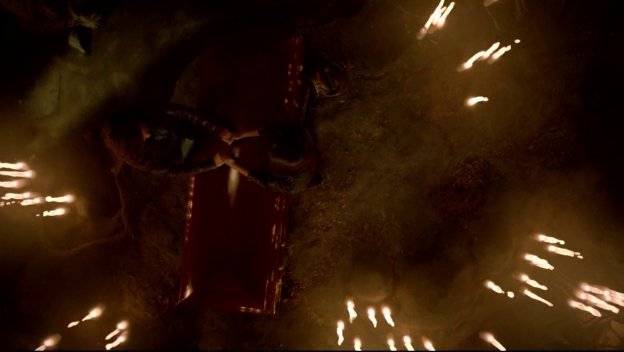 Whyy would you stop and call Damon to let him know it ALMOST worked when you know you are pressed for time? Just continue, Bonnie. 😩
OH FUCKK THAT THING OPENED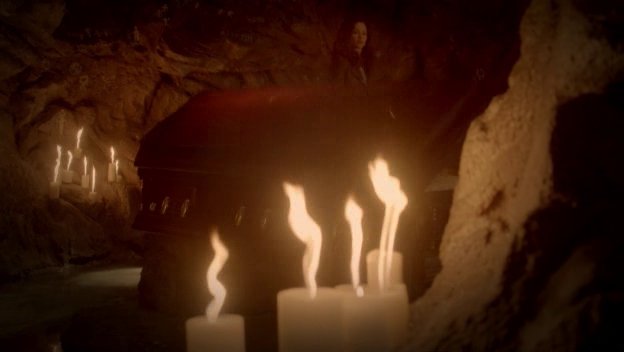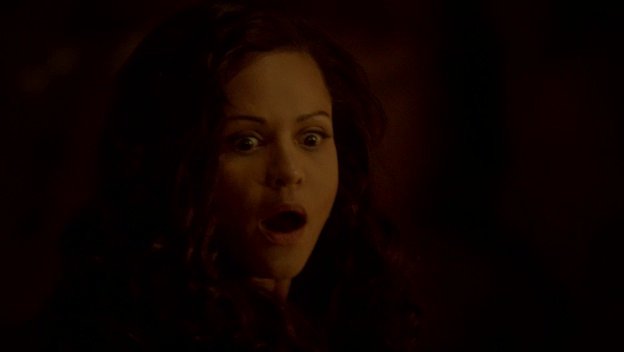 Damon gets the text from Bonnie and the negotiations finaly begins. Stefan wants Klaus to leave Mystic Falls and never bother them again. Elijah thinks that is a good deal, but see...here is where Klaus steps back into the "I don't like you" territory. He refuses to leave (..)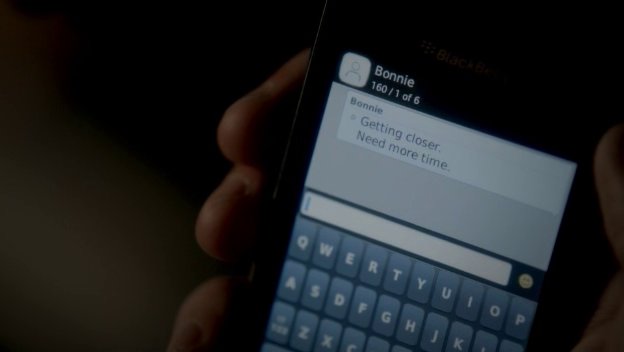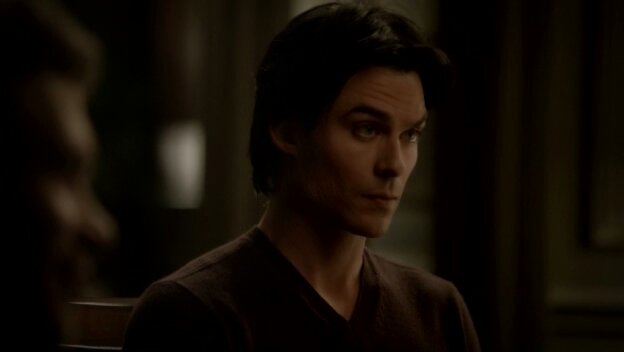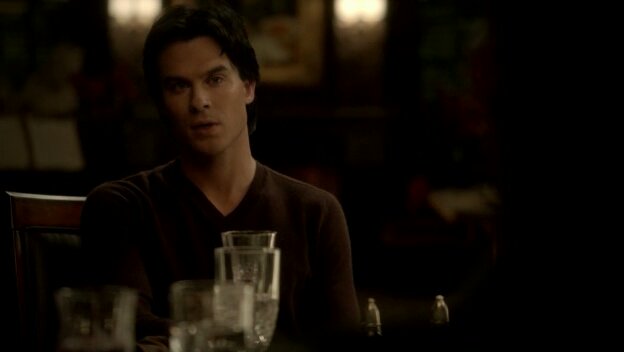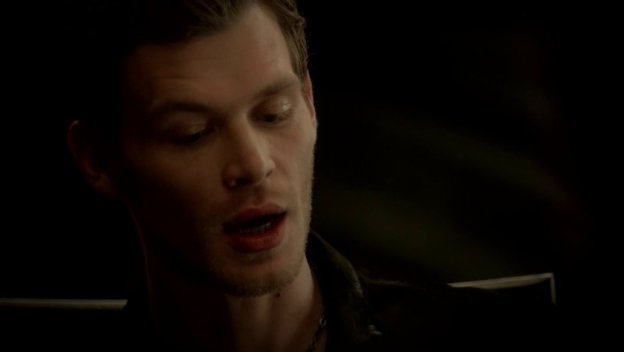 without Elena, because she I his posession and her blokd belongs to him and that rubs me off in all the wrong ways. I was enjoying you a moment ago...way to ruin it. 😐
Then he goes on to say that Elena won't be safe with Defan.
"The worst thing for Elena Gilbert, is the two of you."
THE WORST THING FOR ELENA GILBERT IS YOU, YOU BLOOD SUCKING LEECH. 😐
That's bullshit. In S1, yes. Not anymore. Not Damon.
This gets in Damon's head and he excuses himself. 😩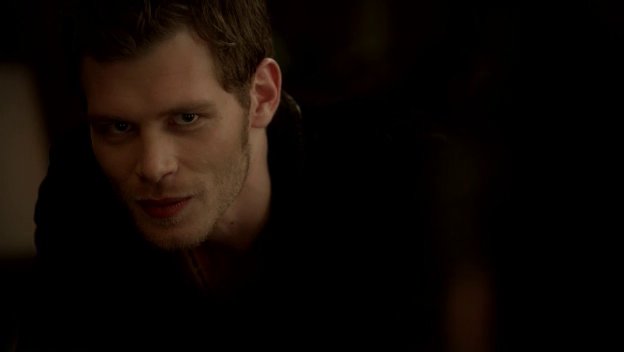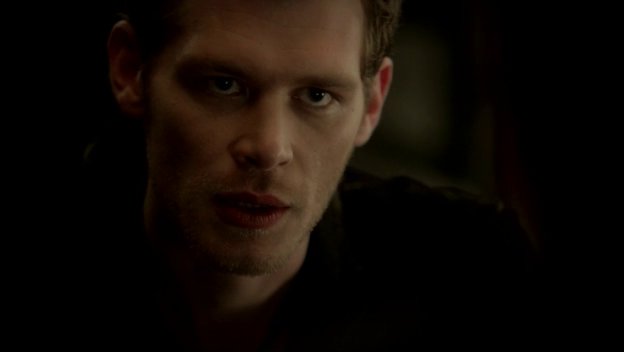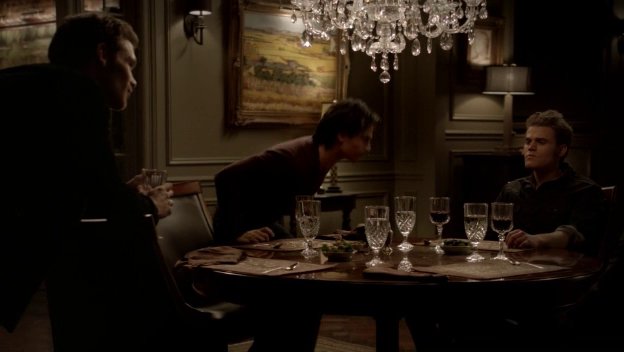 Why is the power off in Elena's house??? 😨😨😨
OMGGG THERE IS BLOOD EVERYWHERE 😱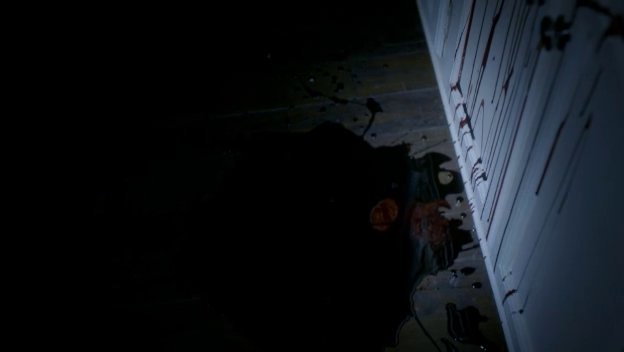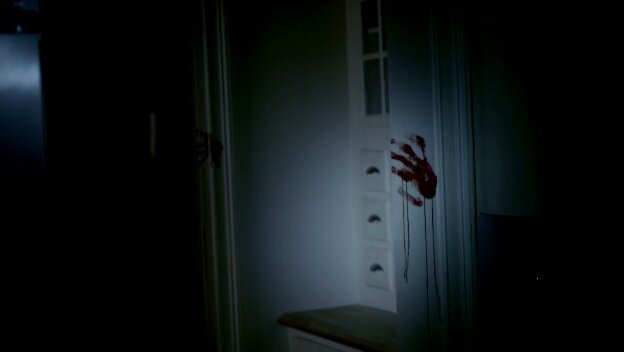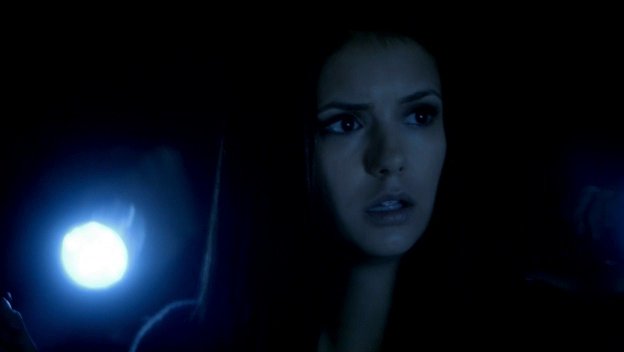 ALARIC WAS STABBED JUST LIKE BILL OMGGG AND THAT BLOODY RING IS UNRELIABLE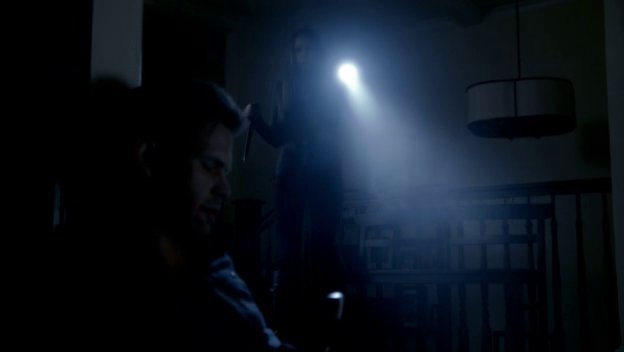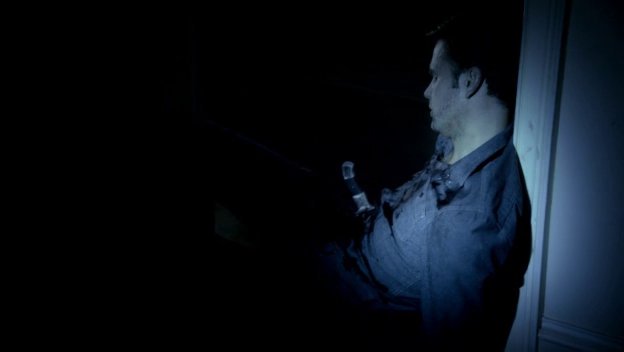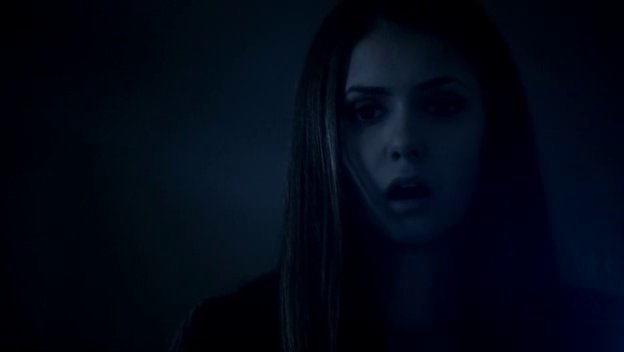 IF THEY KILL OFF ALARIC ISTG 💀
He didn't see who did it but wants Elena to kill him, so that the ring can bring him back healed. BUT THAT THING DOESN'T WORK IT'S SHADY AS HELL
Elam is a doppelganger, which makes her supernatural. She has to kill Rick. OMFGGG THE MESSED UP SHIT POOR ELENA HAS TO GO THROUGH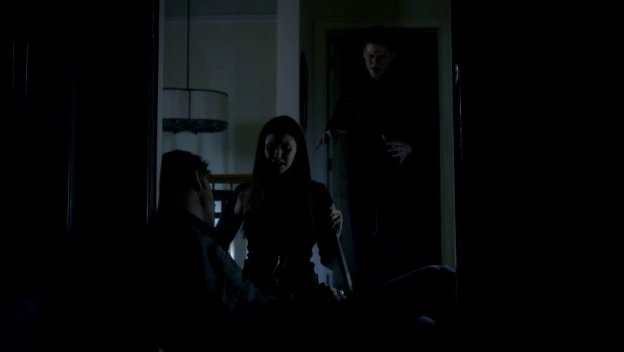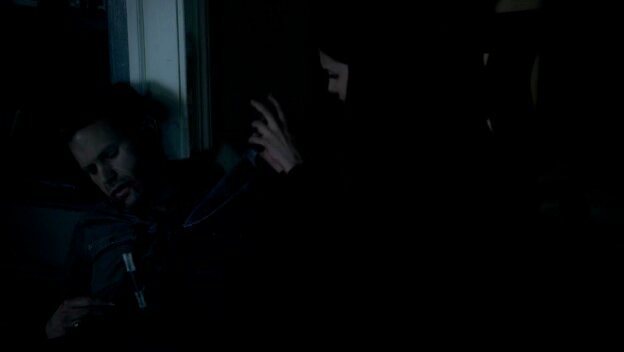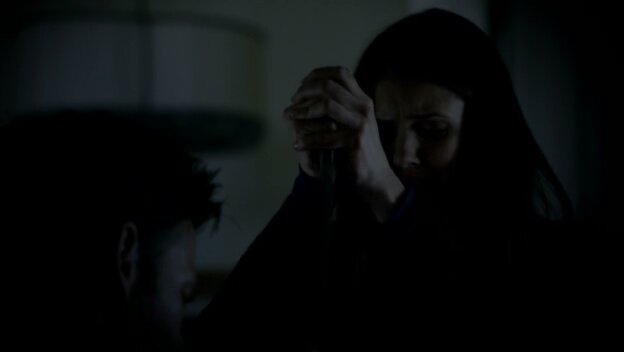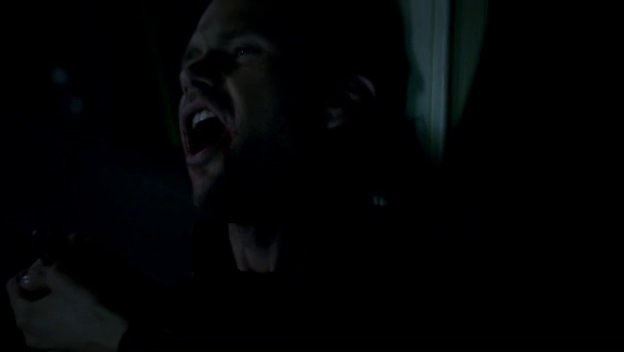 "Delicious. Aged to perfection."
Yeah Klaus, we all know human life means nothing to you. 😣
Clever pun though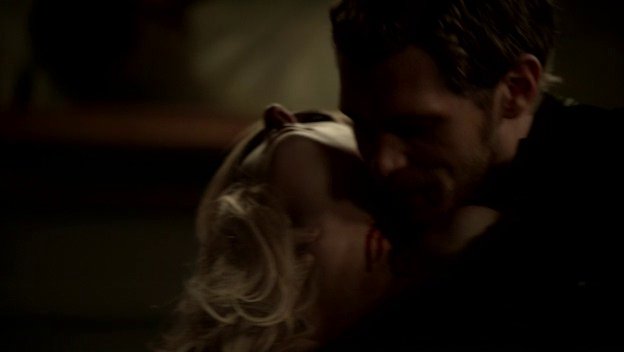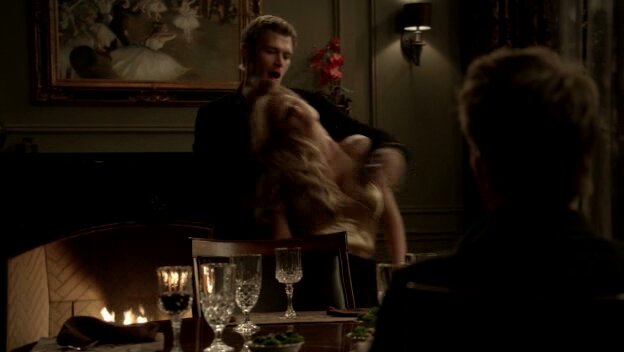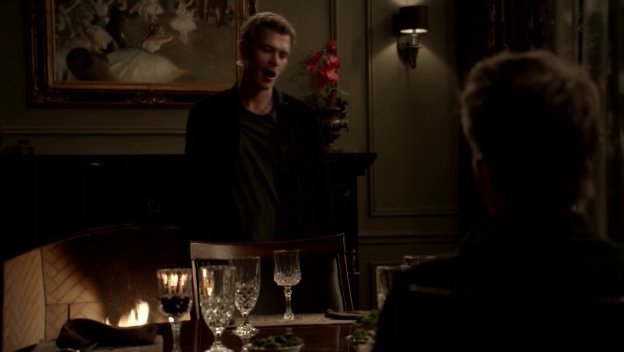 Stefan accuses Klaus of trying to drive a wedge between him and Damon, but he makes it clear that Stefan is doing that fine all by himself. His snarky comments about Delena isn't helping things. It's time to own up and accept responsibility, Stef.
KLAUS WANTS ELENA TO MARRY MATT AND POP OUT A FEW CHILDREN SO HE CAN CONTINUE USING THEIR BLOOD. 💀💀💀
FUCKKK NO. That a disgusting counter. Do better.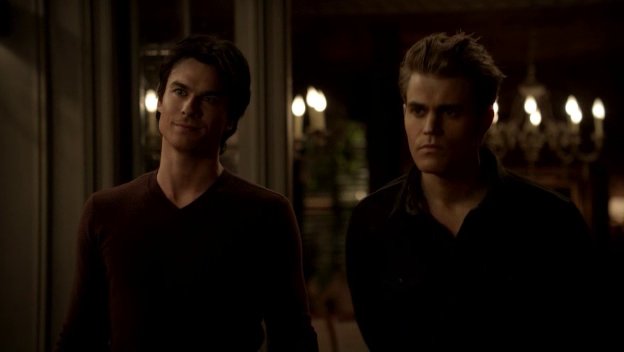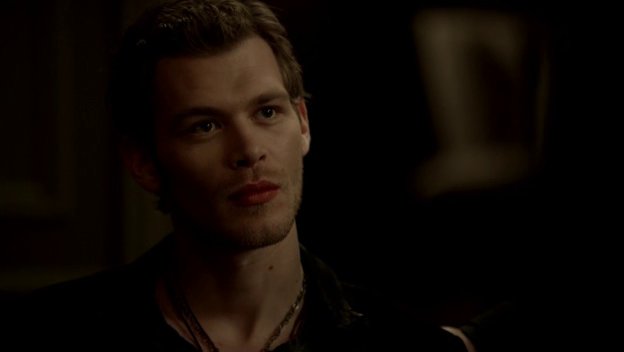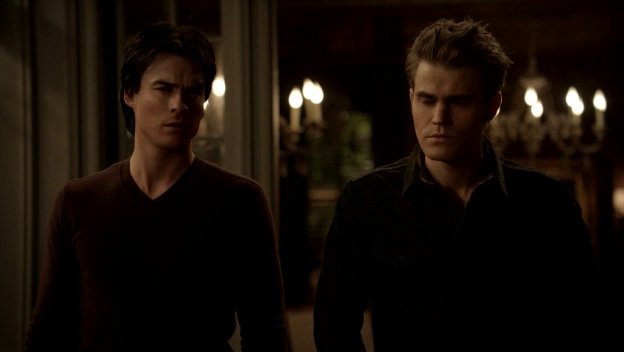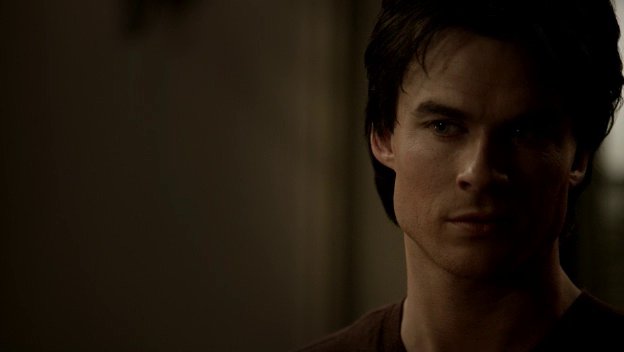 SHIIIIT STEFAN MOCKED KLAUS ONE TO MANY TIMES AND HE HAS HAD ENOUGH. OUCHHHH
NO MORE CONVERSATION. DAMON HAS TO GET THE COFFIN OR HE WILL BURN STEFAN TO DEATH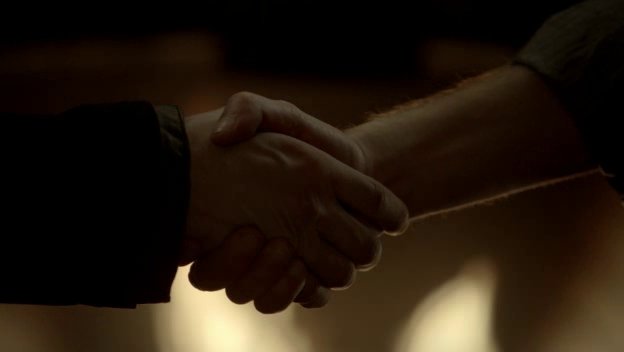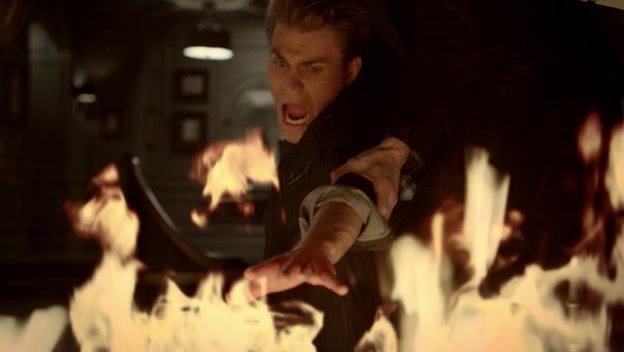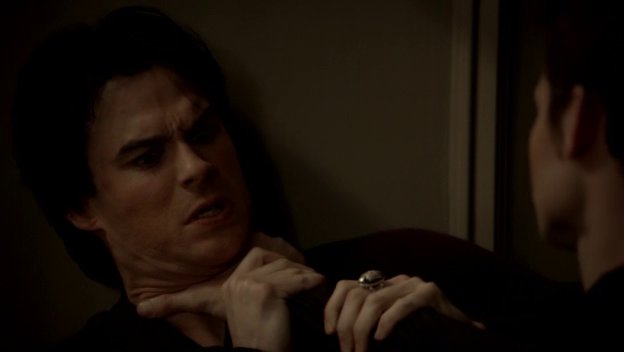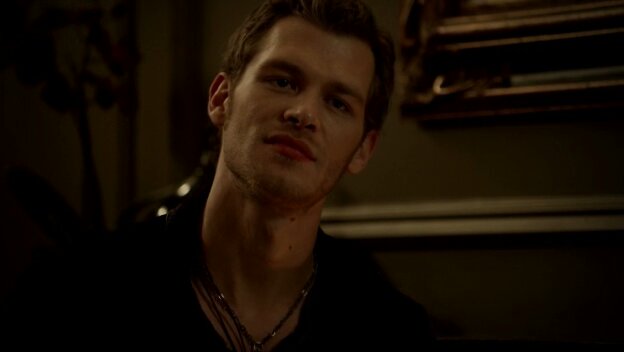 They had the upper hand and blew it. Luckily that coffin sprang open
Poor Caroline. I feel so bad for her. 😢😢 I can't believe he would rather die than suck it up and be there for his daughter. Then he glossed it over by making a speech about beliefs and being human. Just say you are a bigot and die already. 😐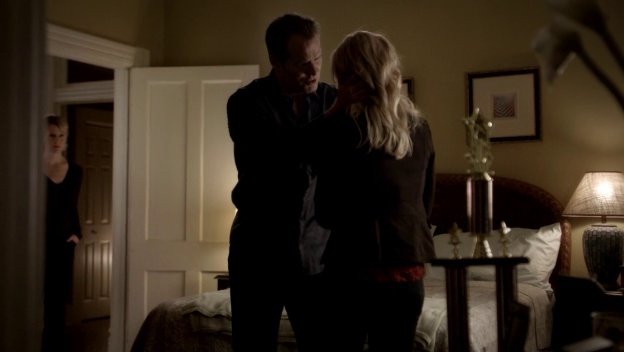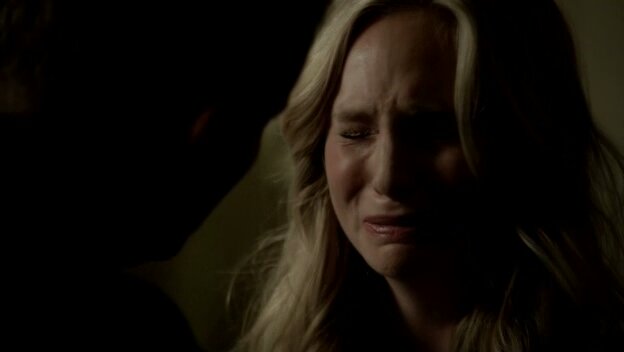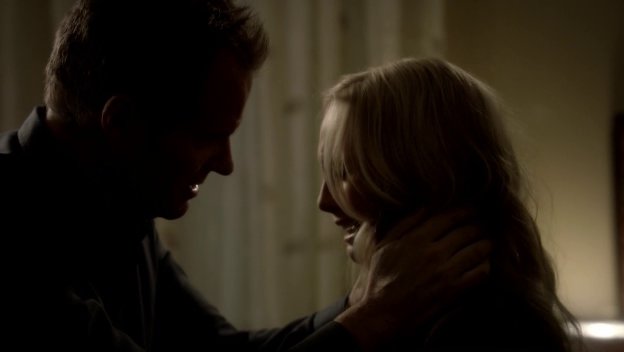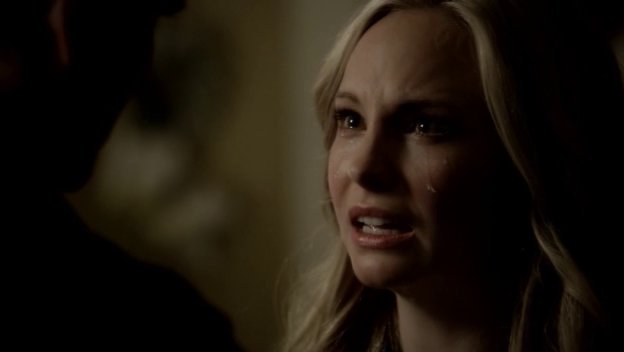 But he does say something nice to her and Liz heard too. "I don't hate you. I love you. You are strong, you are beautiful. You are good. And even after everything that has happened to you, you are exactly who your mother and I hoped you would grow up to be." 😭😭😭😭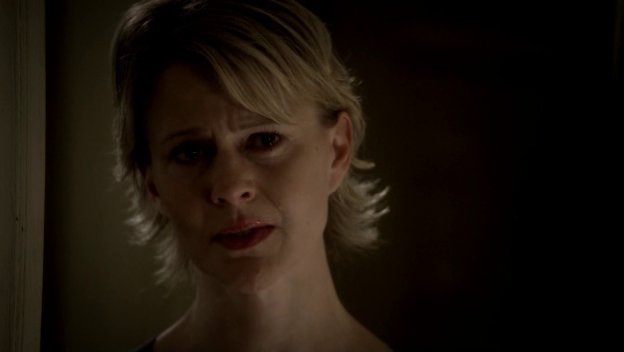 That's another reason I love Caroline and Elena so much. Despite all the fucked up shit that has happened, they remain good.
Klaus getting rough with Stefan. This could have been a ship and it's wasted potential, but moving on.
Stefan tells Klaus to kill him already and Klaus wants to know where his fight has gone. He has given up.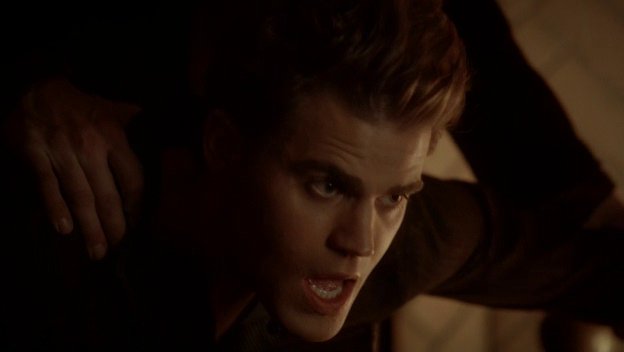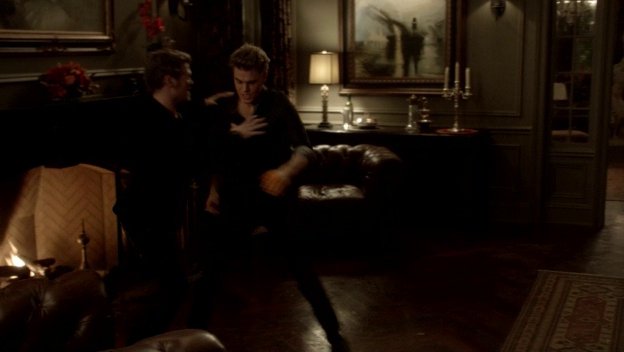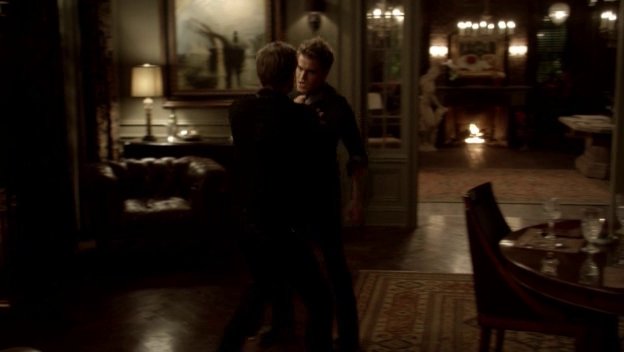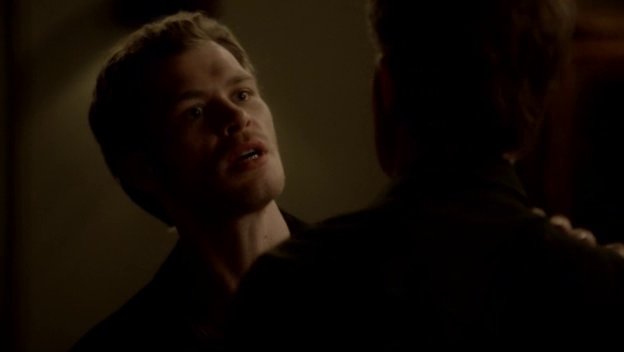 OOOHH SHIIIT ELIJAH UNDAGGERED THE OTHERS. YASSS.
"I have learned not to trust your vulgar promises, Klaus."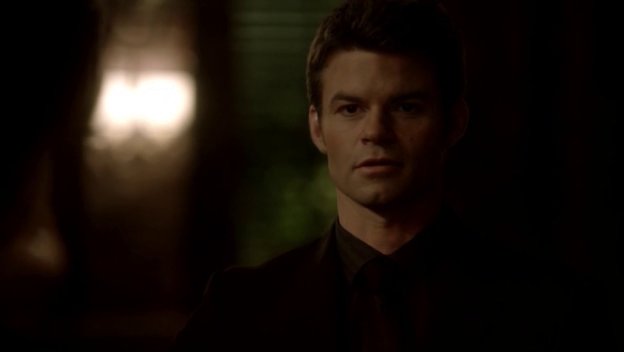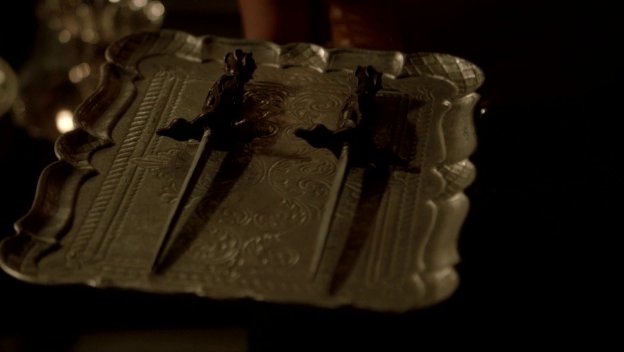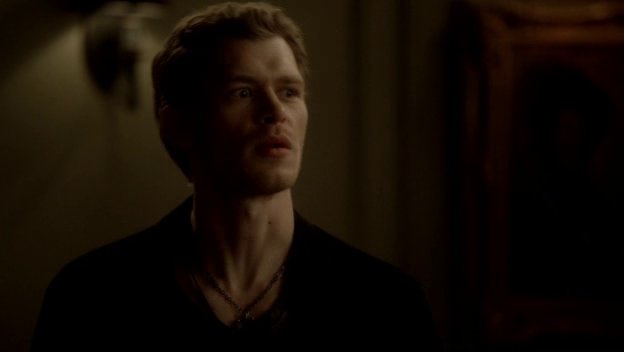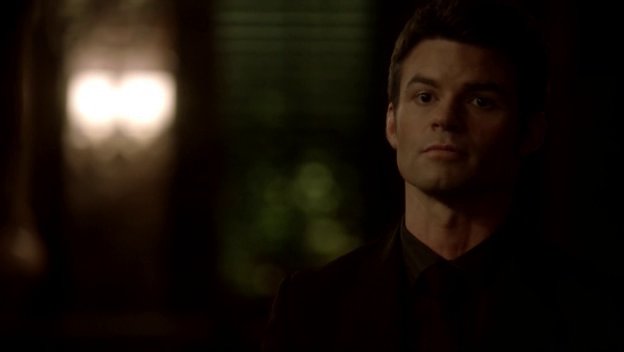 Kol is awake! He is actually damn attractive and looks a bit like Elijah. Why is Klaus so scared of him??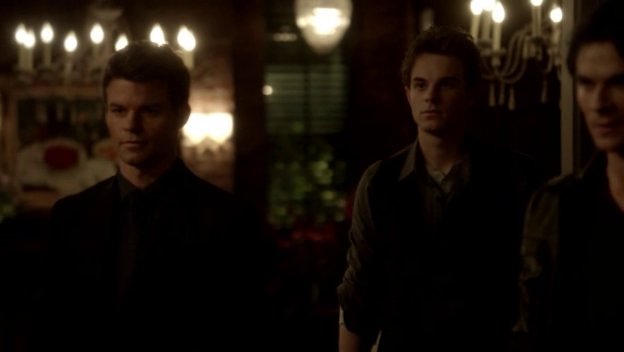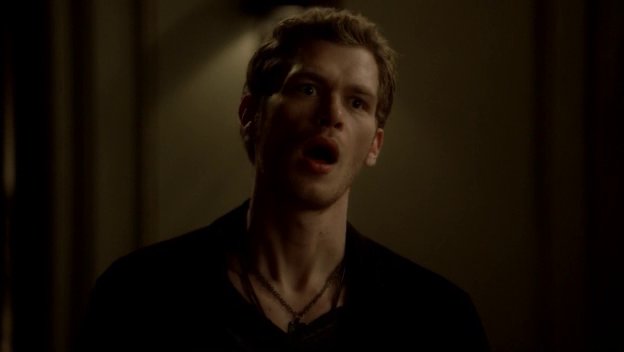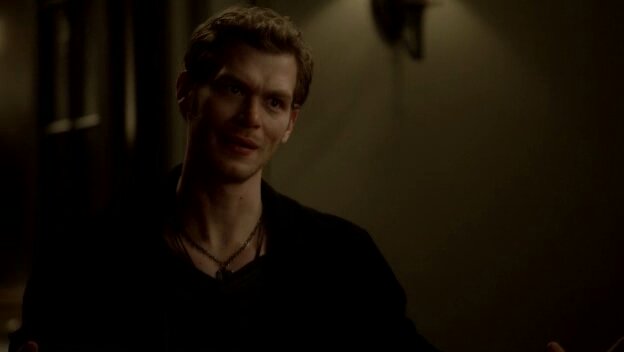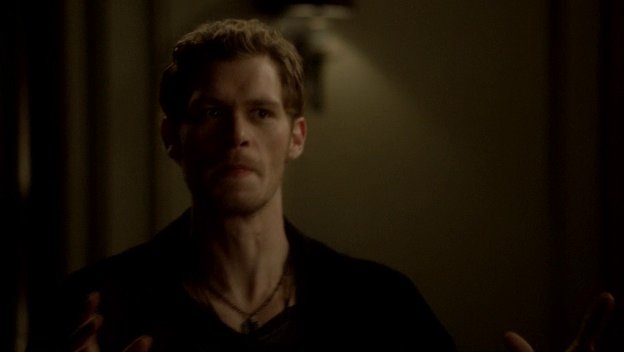 SHIIIT THIS BROTHER LOOKS PSYCHO.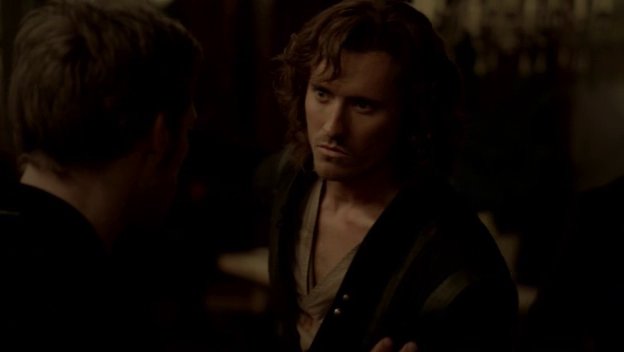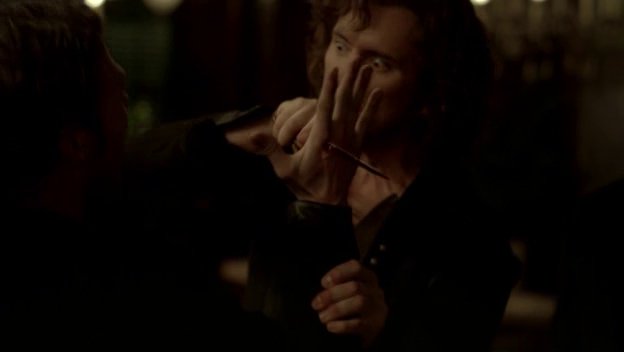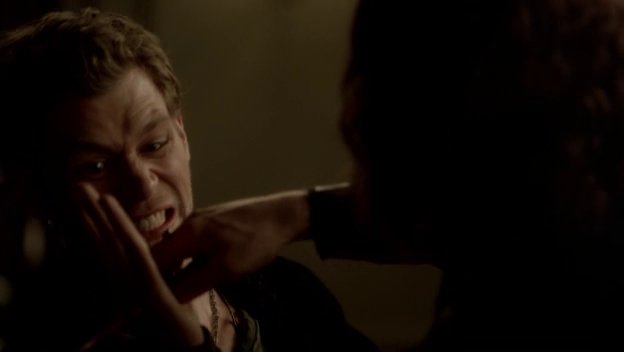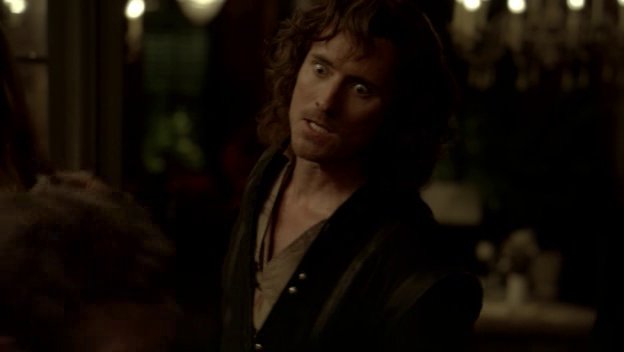 REBEKAH I AM SCREAMING. OMGG SHE GETS A STAB IN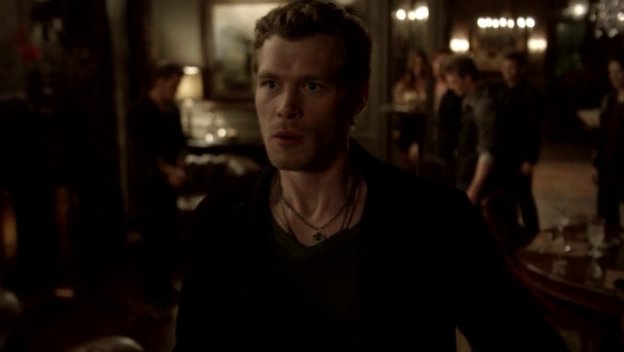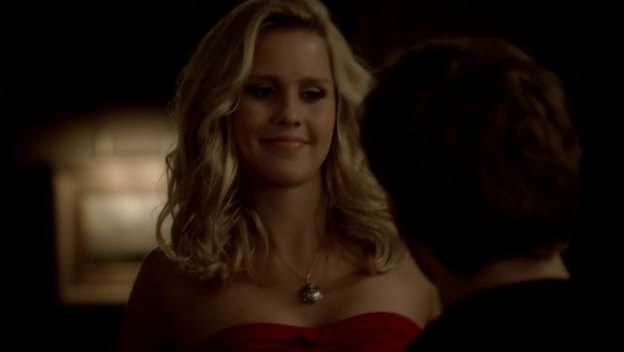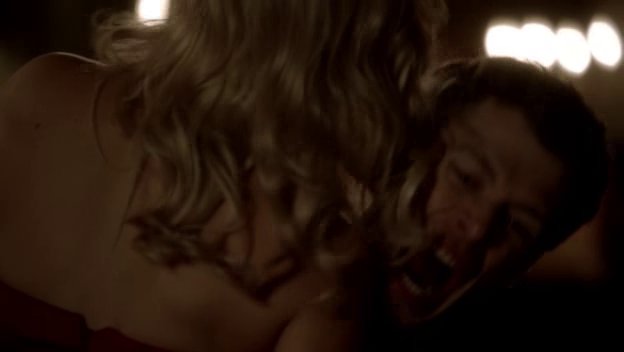 Klaus is a hybrid but this seems like a very unfair fight 😱 They are all pissed AF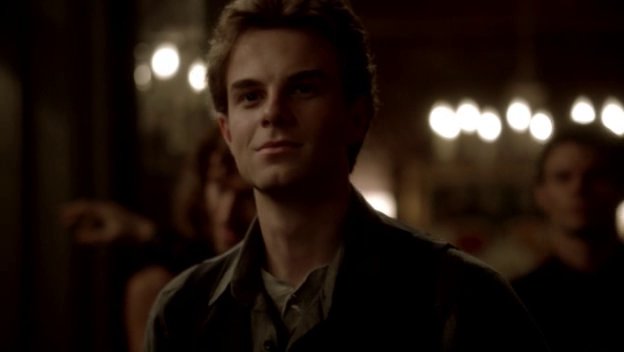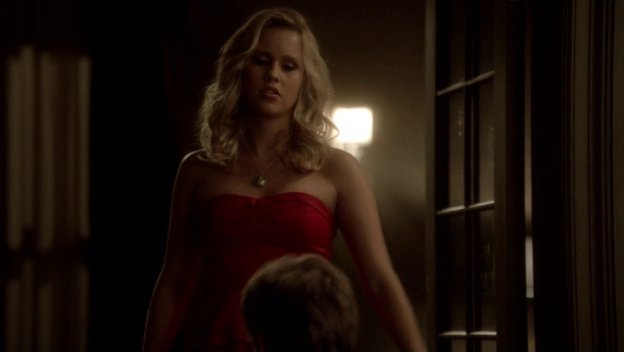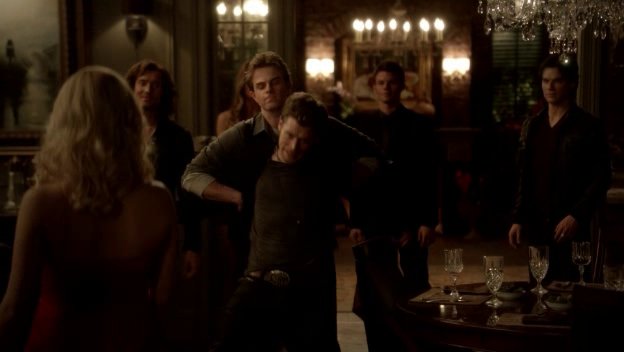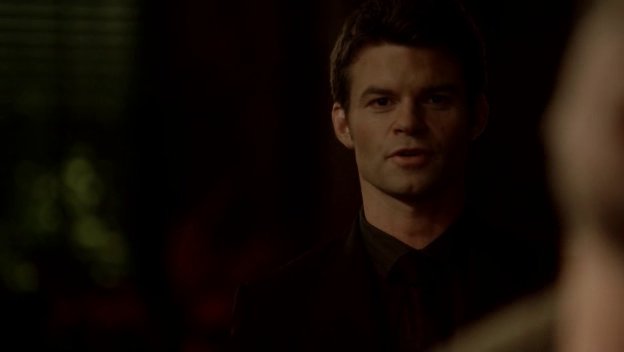 Elijah talks Defan to leave. "This is family business." KLAUS LOOKS LIKE HE IS LOOKING AT THEN FOR HELP. MY BABY REBEKAH LOOKS FIERCE AS HELL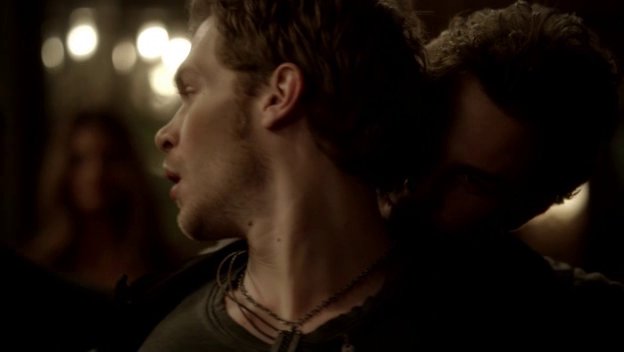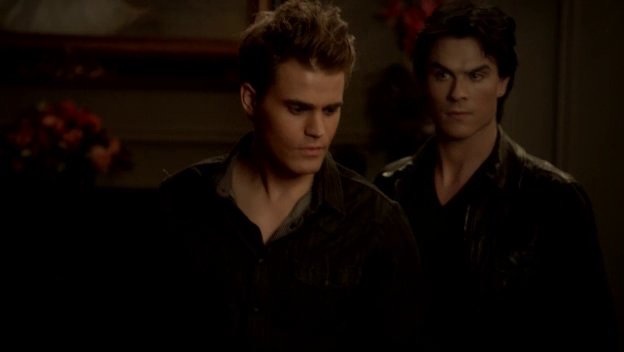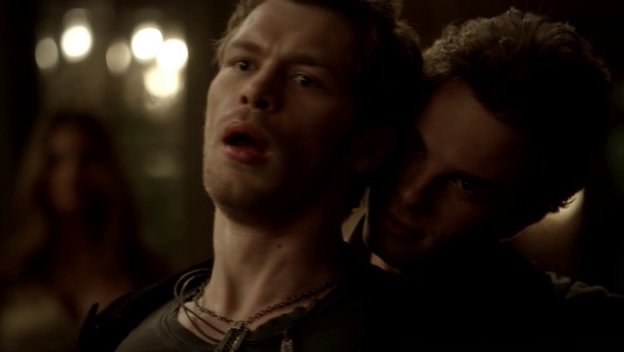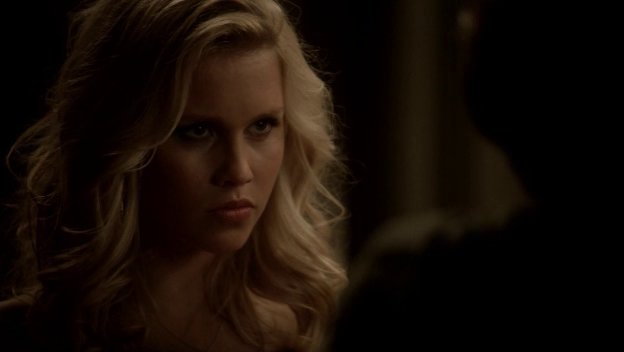 I am feeling such mixed emotions right now. On the one hand, I am enjoying this so much. He had it coming and needed to be knocked down a peg or two, but on the other hand, I am kinda scared for him. OMG talk about your demons coming back to haunt you.
😢😭😭😭Sorry Caroline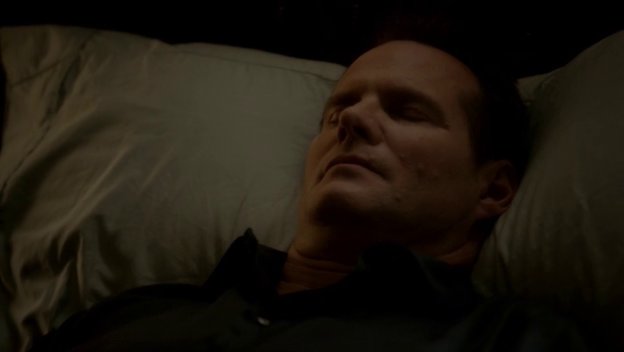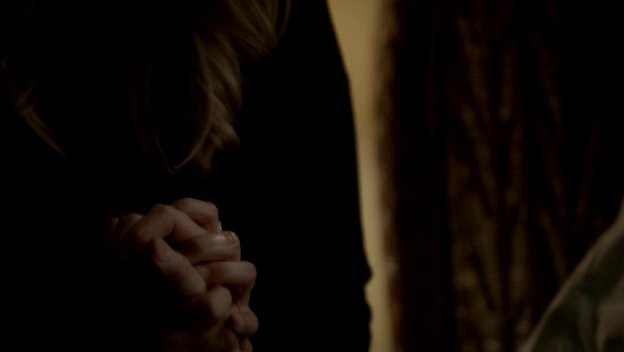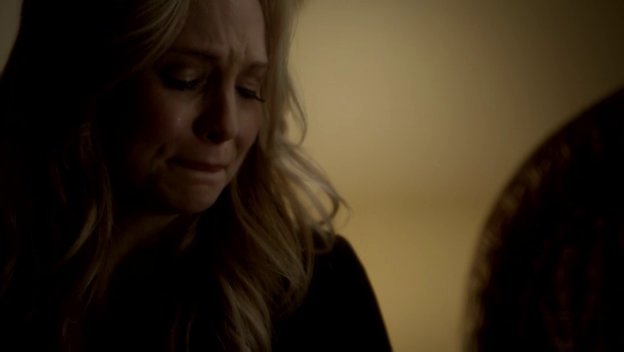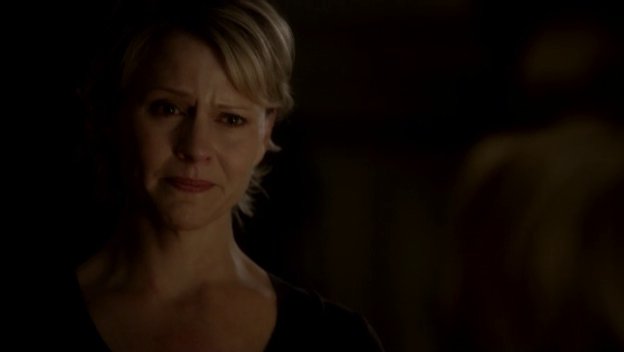 Elena asks Matt to stay with her until Alaric wakes up. "I can't lose anymore family." Awww baby girl. I am okay with him offering her some comfort here. She needs it. 😭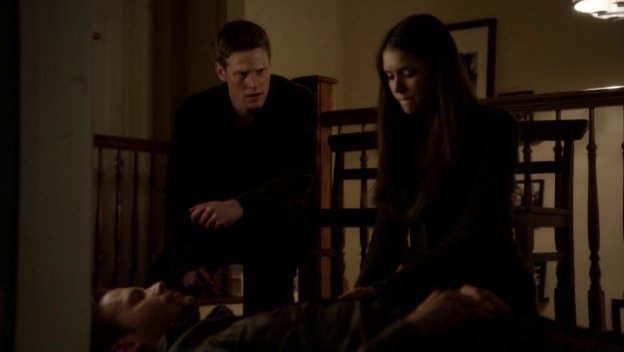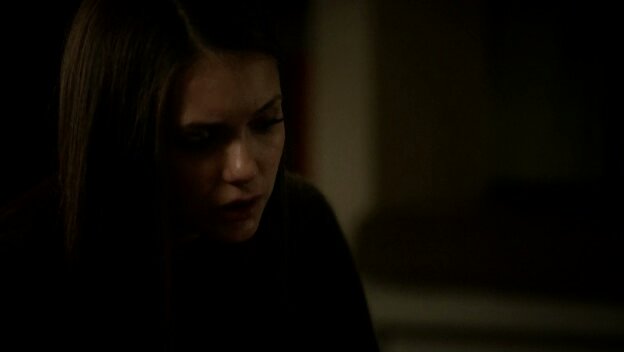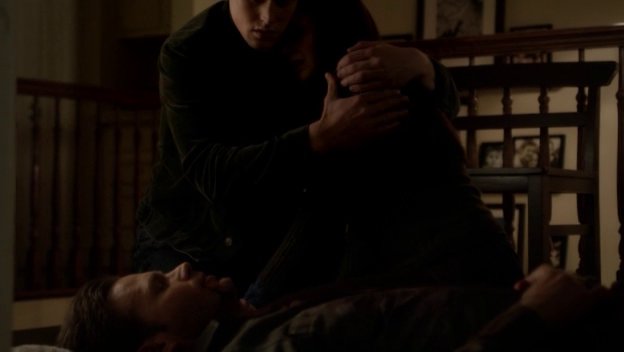 Stefan and Damon have a moment and Stefan thanks Damon for coming back for him. Even though it's a shady thanks. "You could have left me there. Klaus would have killed me, and you would have Elena all to yourself." He actually expected him to do that. 💀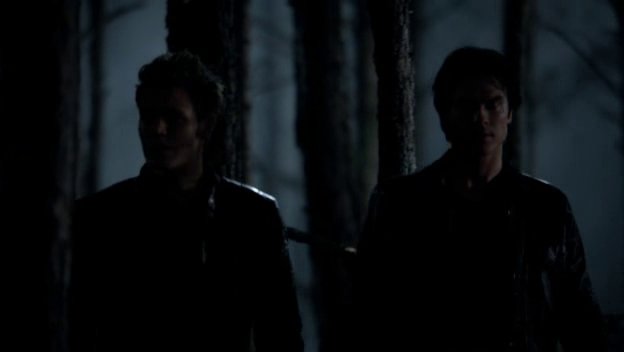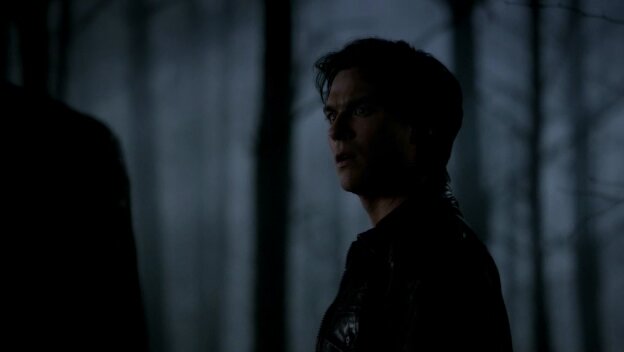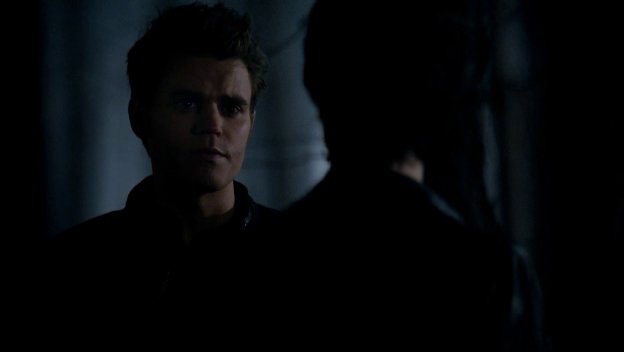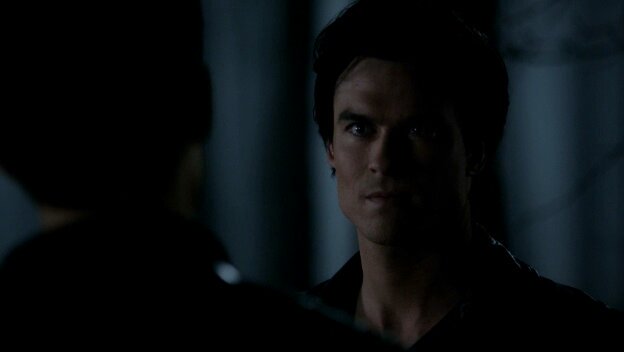 It's so clear though, that Stefan thinks very little of Damon. But Damon thinks so highly of Stefan
And because Stefan has such a low opinion of him, it feeds his self hate even more. 😐 Stefan always talks bad about Damon. Damon talks good about Stefan. Even to Elena.
Nooo Damon rejected the call from Elena. 😢😢😢 He is going to pull that martyr shit from S2 and back off because he believes Stefan deserves her. 💀
"I love her, Damon."
"So do I."
AGSHDND OMGGG LOOK AT DAMON'S FACE. IT'S LIKE HE IS GIVING UP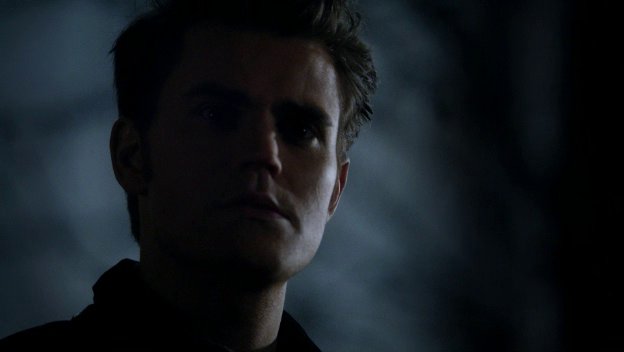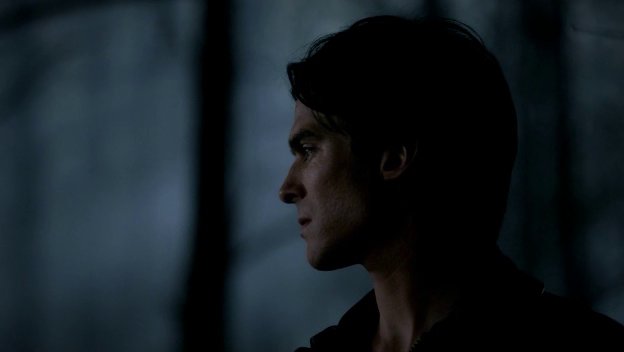 Liz tells Elena that Meredith has an alibi. Okayyy not her then. WHOOOO?? Alaric wakes up. Thank goodness phew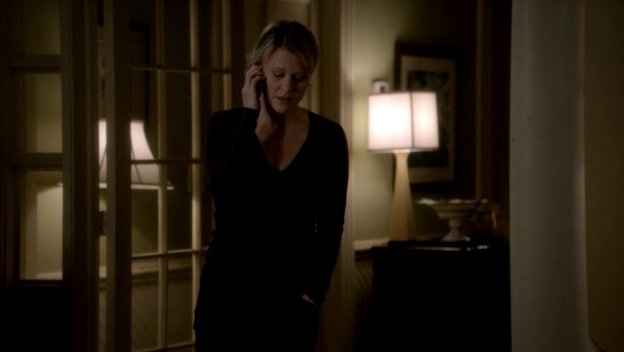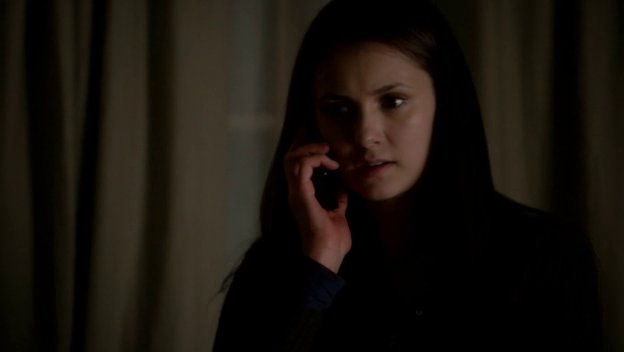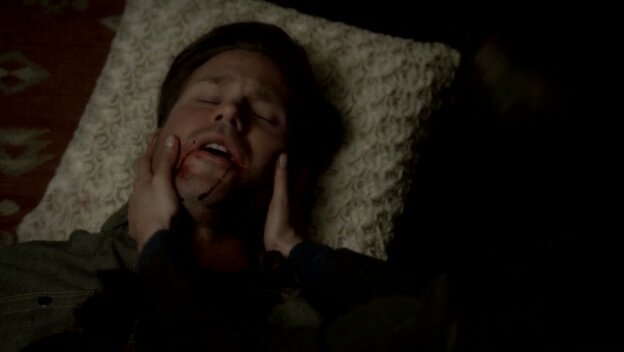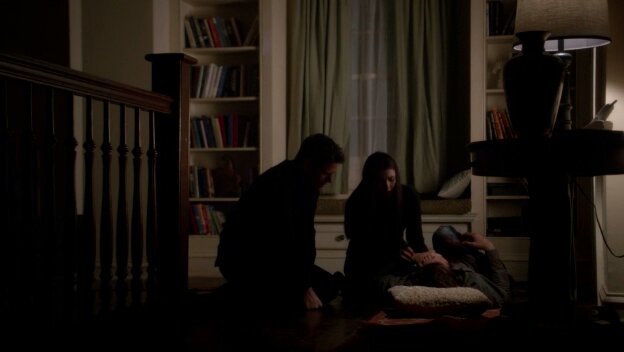 WTFFFF????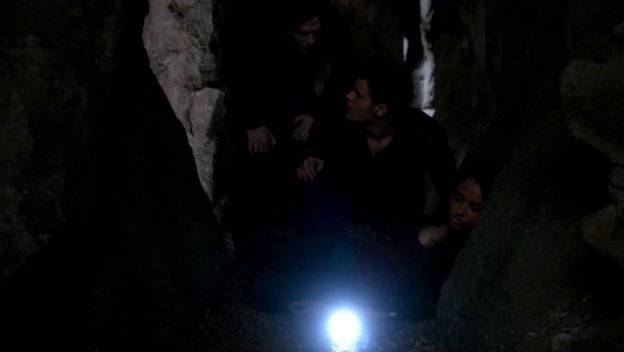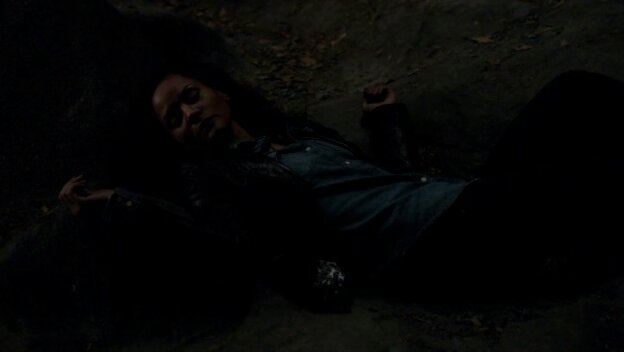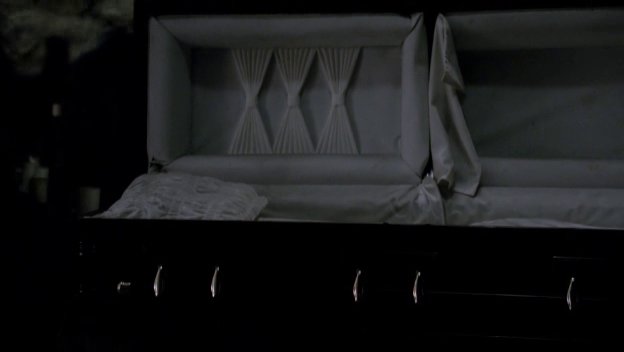 "I like what you have done with the place." Rebekah has no chill. Klaus says it was suppose to be for them all. .....hmmm.
They want to leave him now.
"We are leaving you Nik. Right after I kill that doppelganger witch."
Rebekahhhh nooo damnittt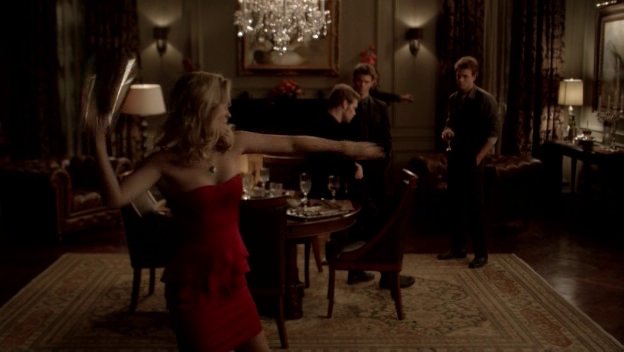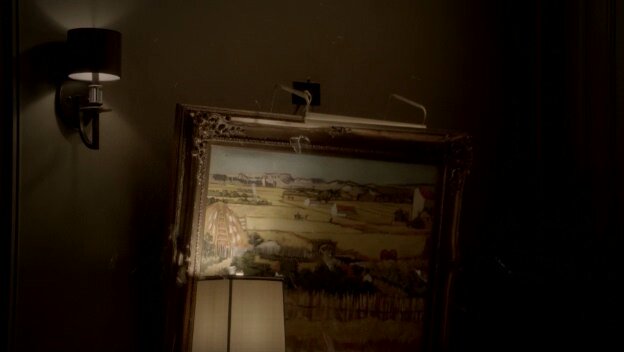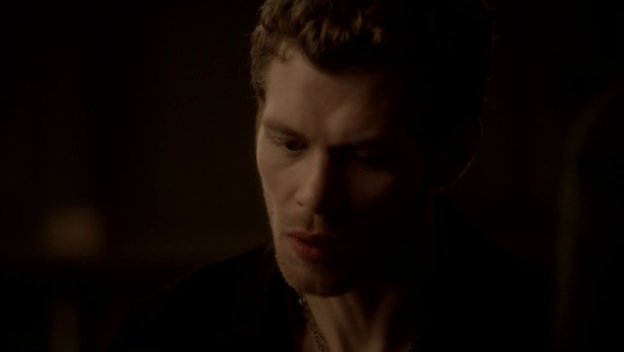 "Then you will be alone. Always and forever."
"If you run, I will hunt all of you down."
"Then you will become everything you hate; our father."
I am the hybrid! I can't be killed. I have nothing to fear from any of you!"
😣 SHIT KLAUS. REALLY? My soft ass was feeling a smidgen +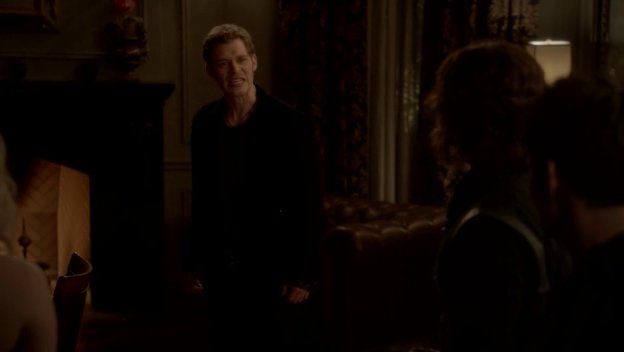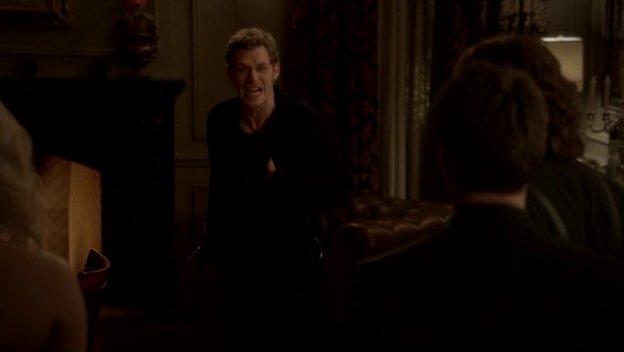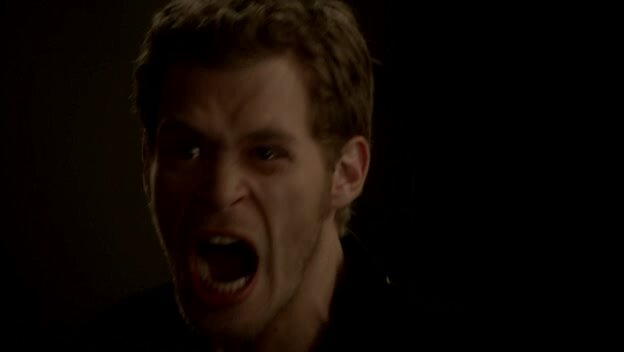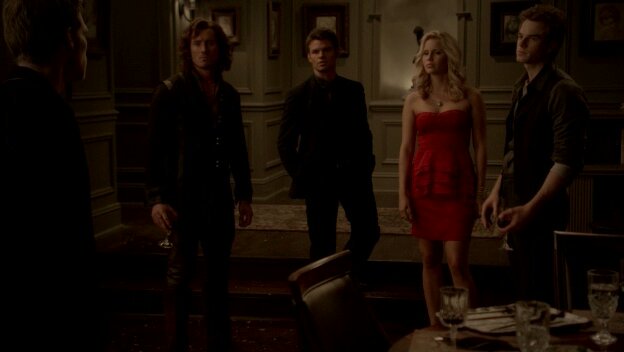 if sympathy for you. I know you fear being alone. But then you utter these words. HUNT your siblings down? Threaten them if they dont want to be with you? YOU CAN'T FORCE PEOPLE TO LOVE YOU.
Maybe try treating people better. Why not give that a try??
OHHH FUCKKK MOMA ORIGINAL WAS IN THE COFFIN. BUT I THOUGHT SHE DIDN'T YURN AND KLAUS KILLED HER. HOW IS THIS HAPPENING??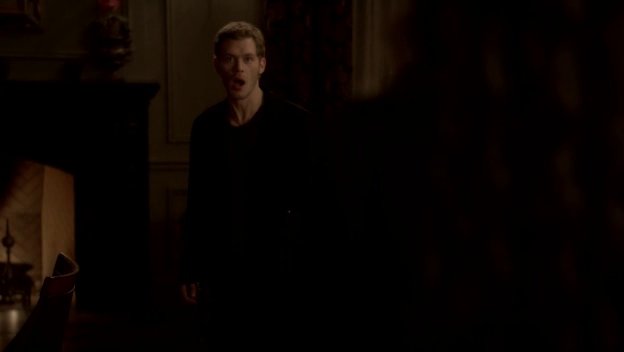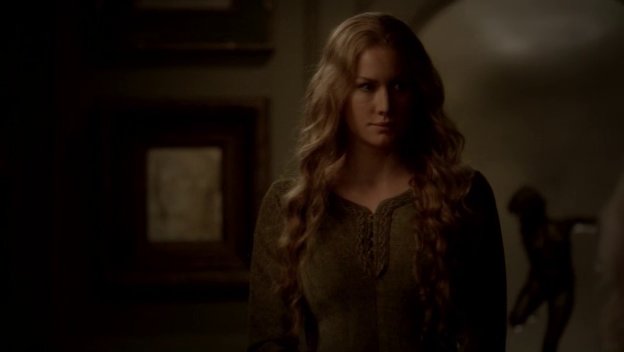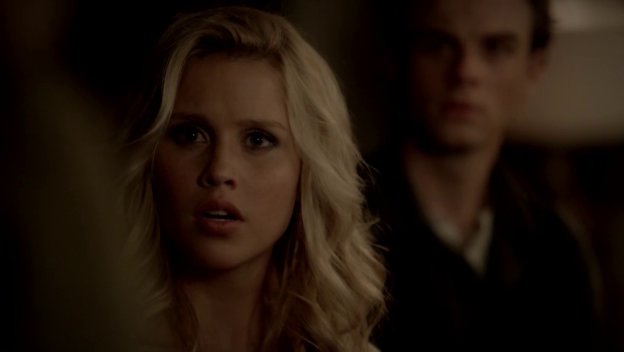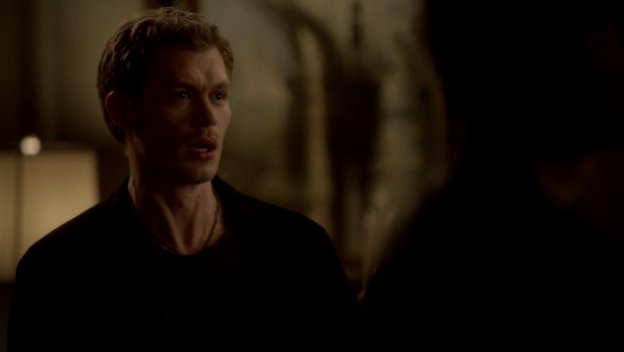 "Look at me! Do you know why I am here?"
"To kill me."
FUCKKK I hate this dance between dislike and pity my soft ass is doing. The actor knows how to make me feel bad for him.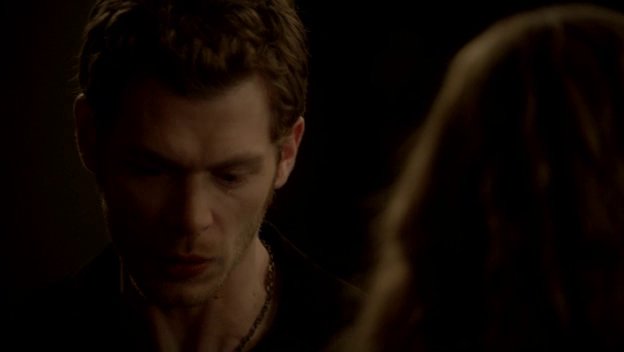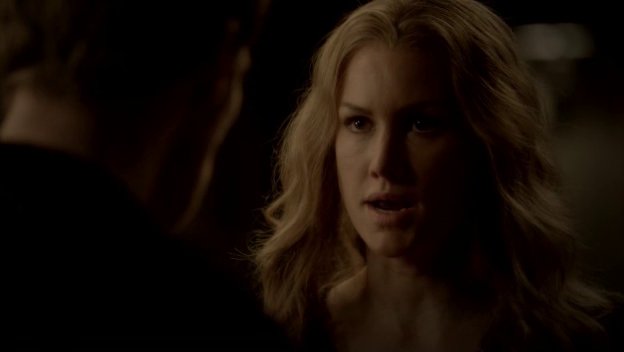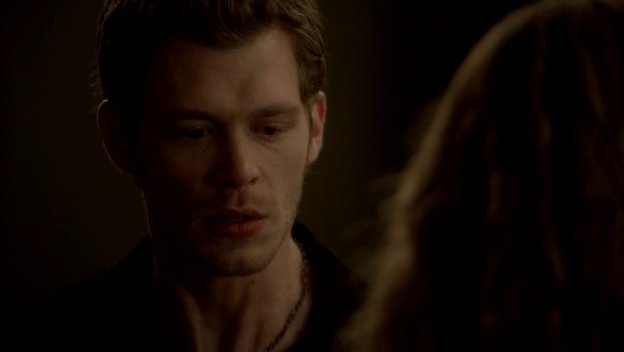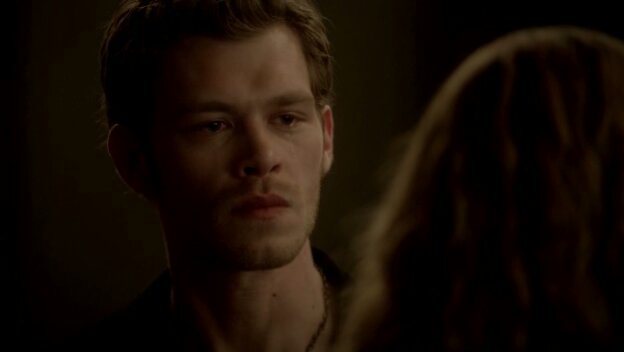 "Niklaus, you are my son. And I am here to forgive you. I want us to be a family again."
......
..........bitch what? ??
You were actively plotting against him from the other side this whole season. This is fuckery happening right here...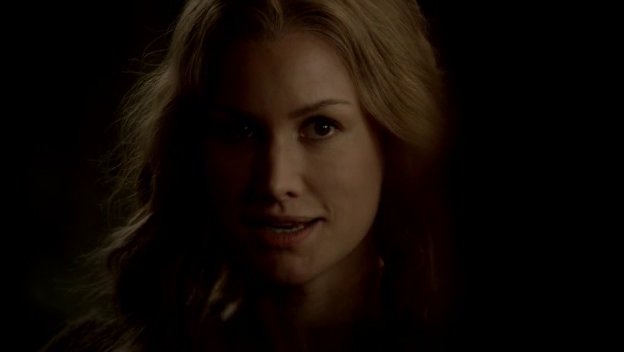 OMGGGGG OMGG
OMG
OMG
03x14 "Dangerous Liaisons" 👀
"I want us to be a family again."
That sounded even more believeable the 2nd time around. NOT
Someone is watching Matt and Elena and it is freaking me out. 😨
They took Alaric to the hospital but I can't even say atleast he is safe there, because look what happened to Bill. I want to knkw who this psycho killer is. NOW 😐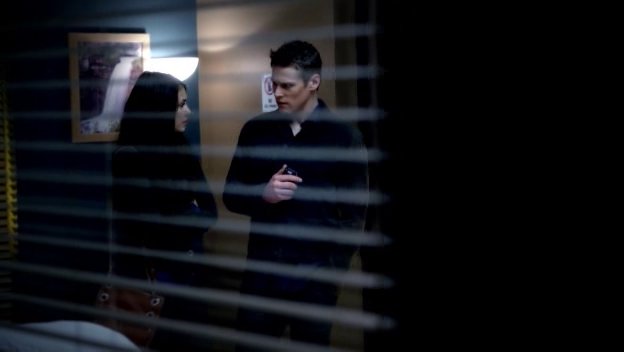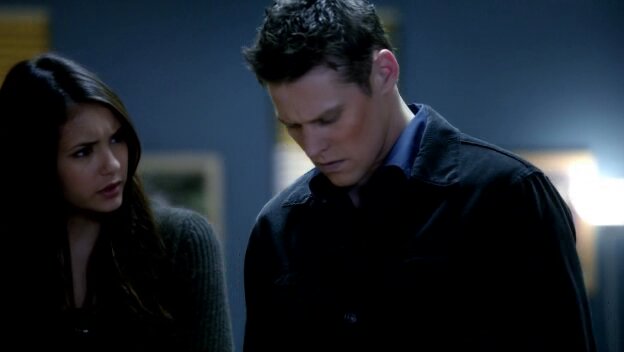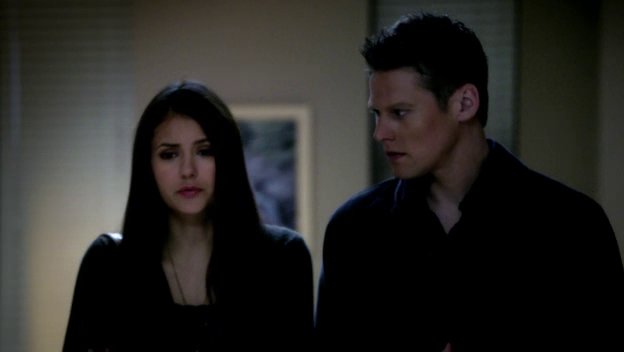 OH SHIT ELENA DROVE OVER SOMETHING. NOOO DON'T GET OUT OF YOU CAR 😭 THE VIBE IS SCARY AF
Nothing...
Matt, you ungentlemanly whale, couldn't you wait to see Elena safely off before driving away???
REBEKAH OH FUCKK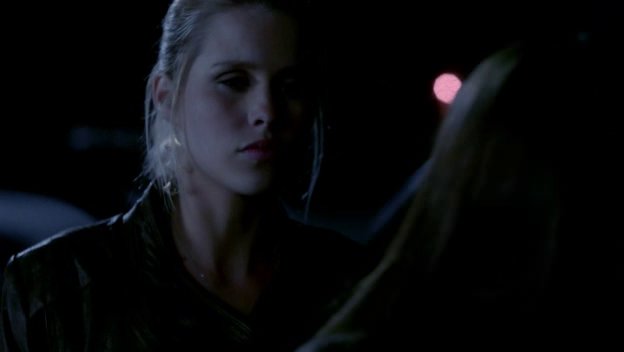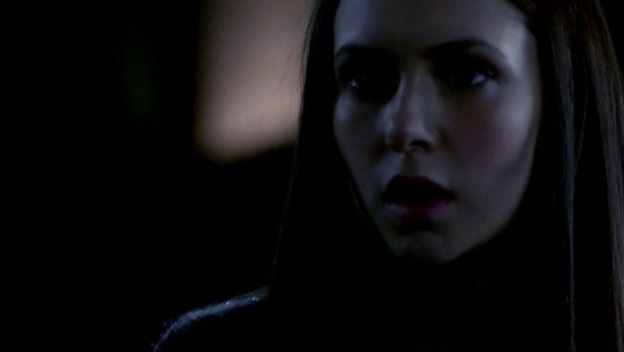 Elijah OMG you have the best timing. He saves Elena from Rebekah. But what if she tries again? Nooo I don't want my girls fighting 😭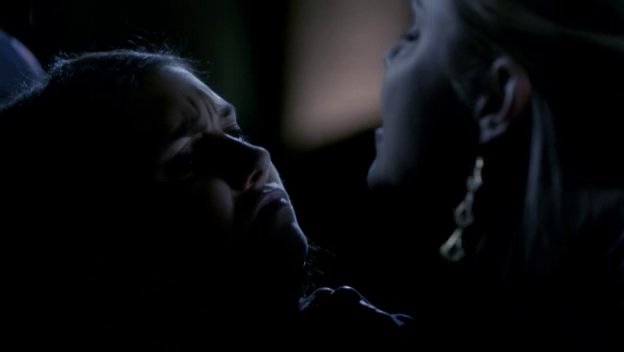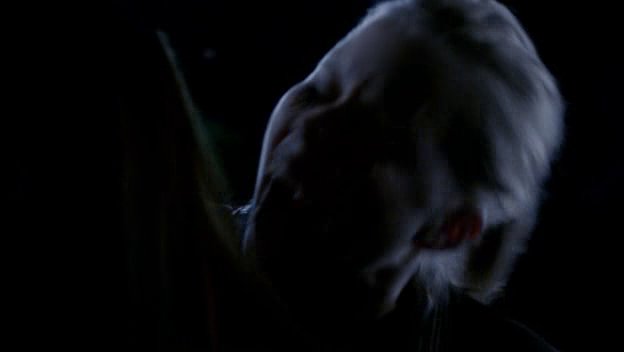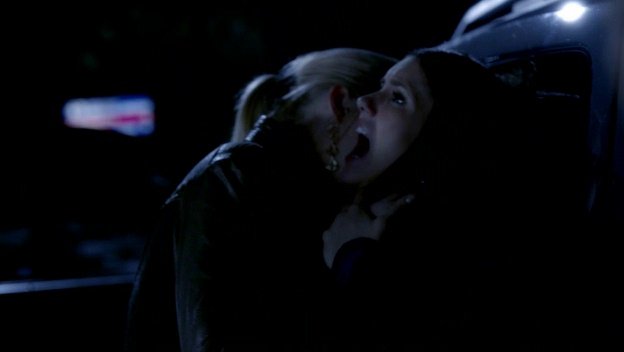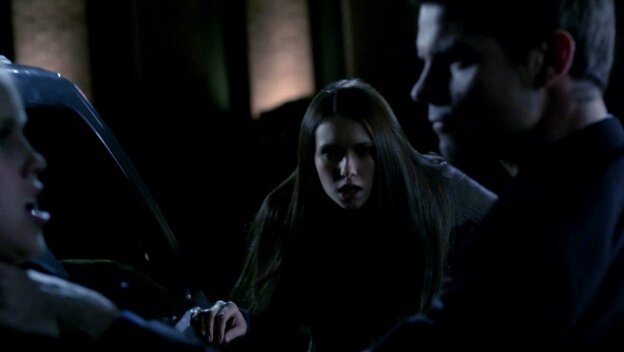 Elena tells Defan that she trusts Elijah and he promised that his family won't hurt any of them. Okay but he can't control them all
24/7
They also don't understand how Ester can be alive (I don't either ) and are bummed that the "weapon" now wants peace. Don't worry guys...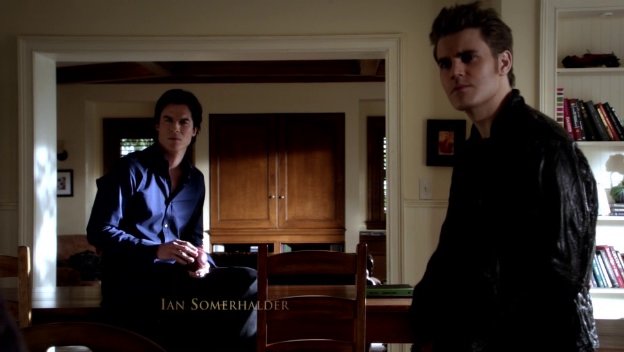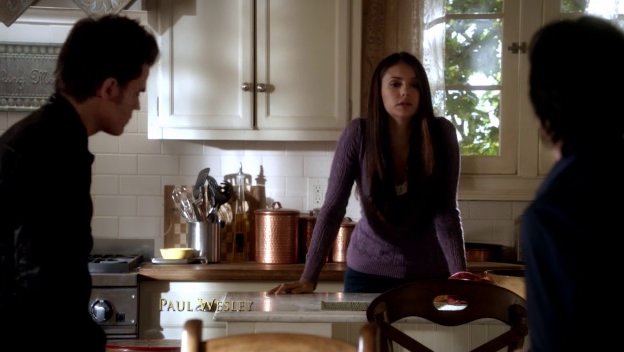 Mysterious, beautifully written note 😍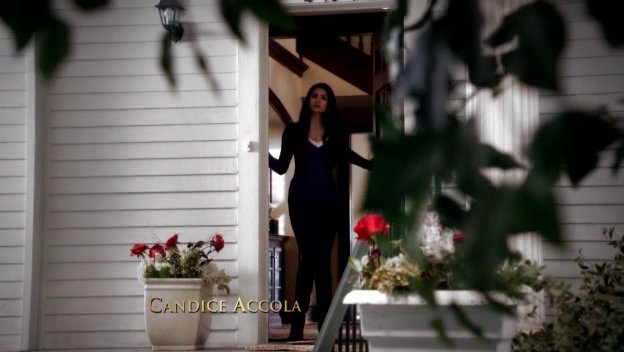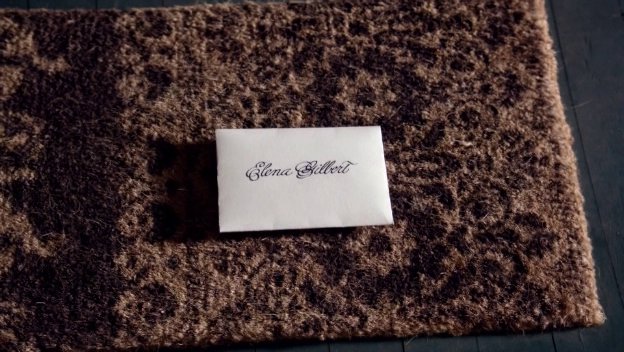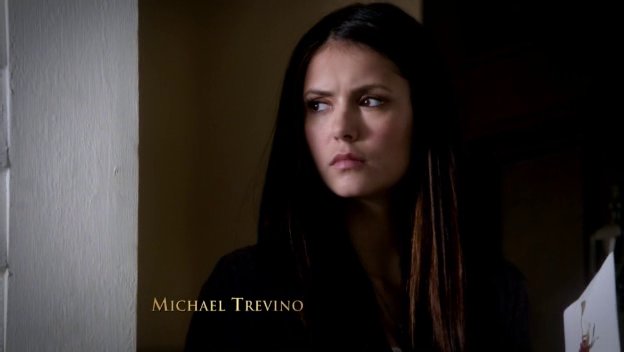 It is an invitation for dancing, cocktails and celebration. Sounds really formal. Like the invitation to an 18th century ball or something. This cocktail is probably going to be more awkward than the last dinner Klaus had with Defan. And Esther wants to meet Elena? Bitch why? 😑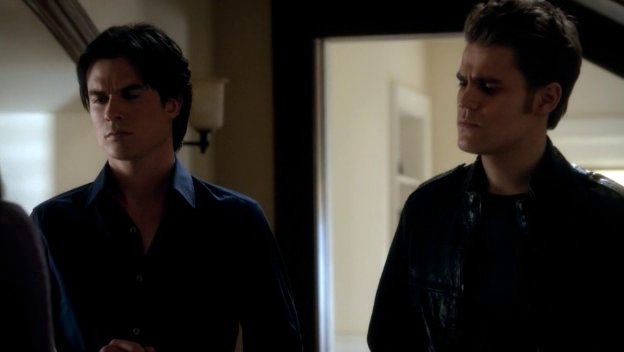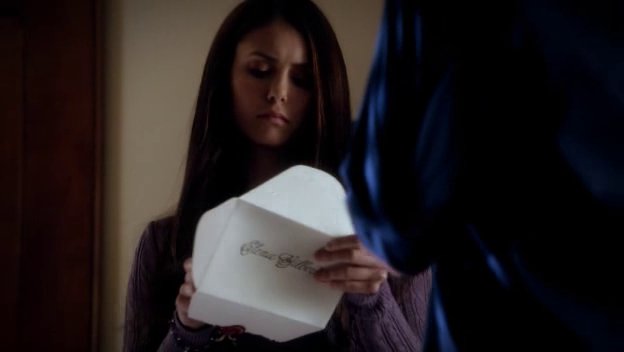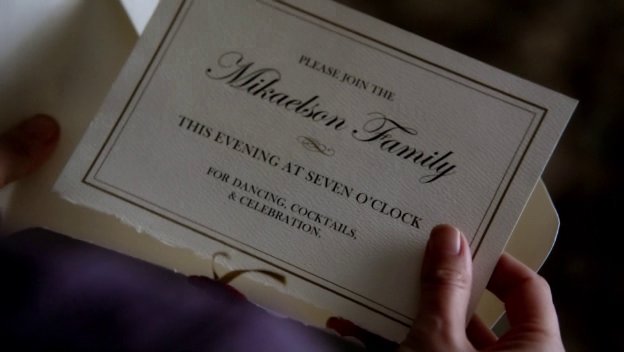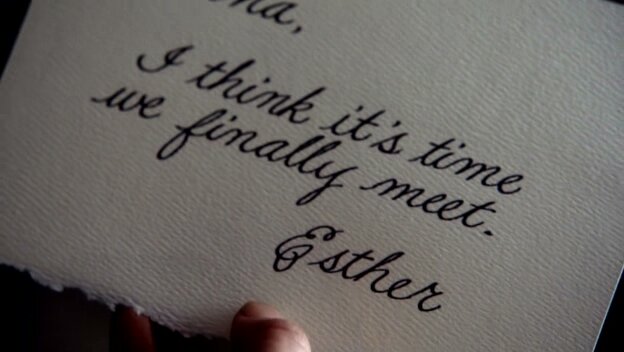 So their last name is Mikaelson now. Mikael son. Nice word play but you would think they would want to change that, given everything.
Can I get hybrids to build me a house like this? Thanks 😍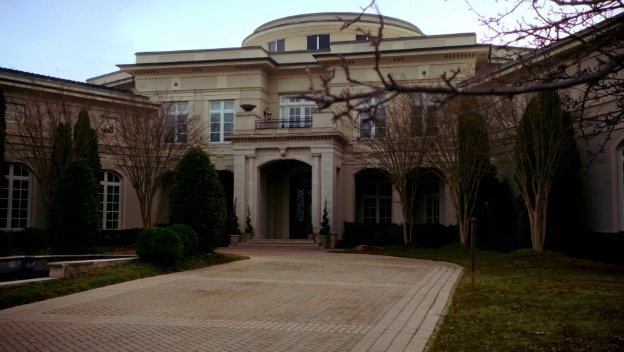 Wow. Everyone is getting ready. This is really going to be REALLY formal. IS THAT THE PIRATE SCARY EYES BROTHER FINN?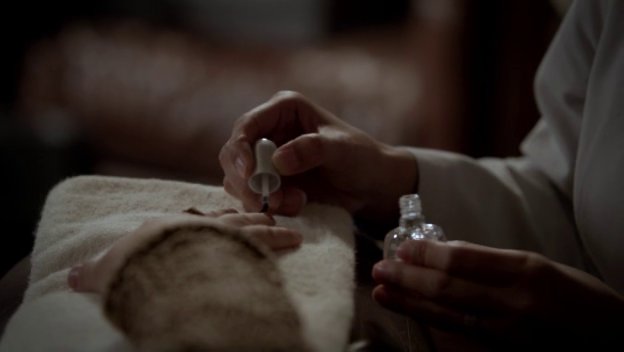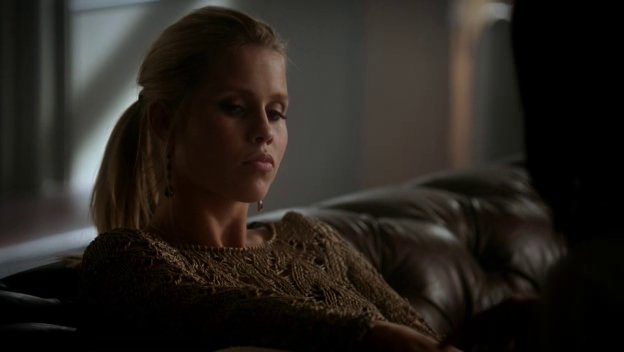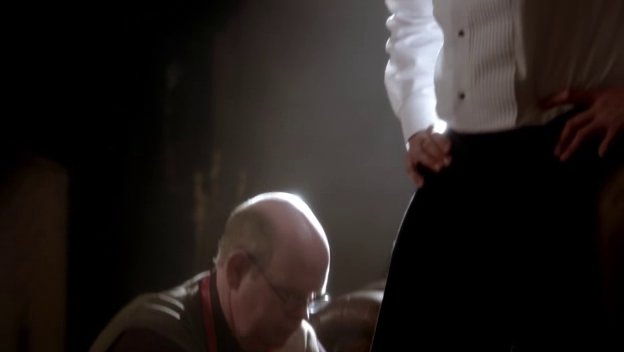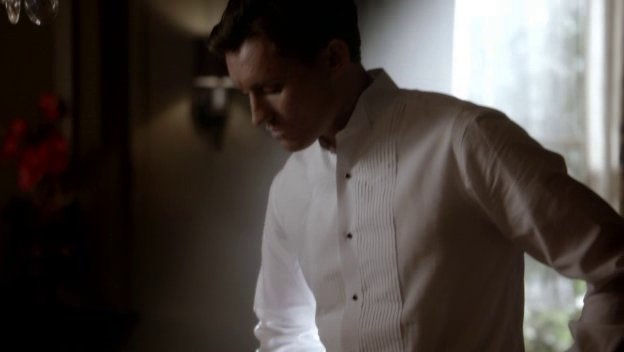 I love that they are all together. They feel like high society from the olden days and I like it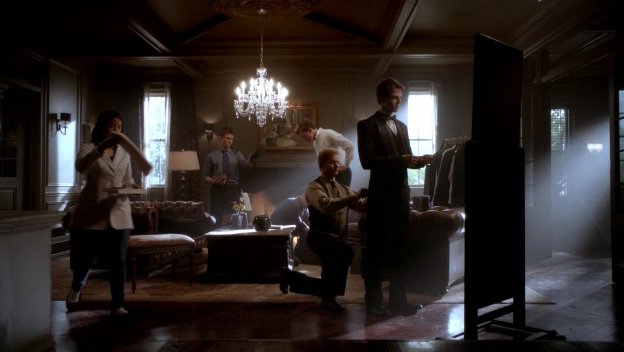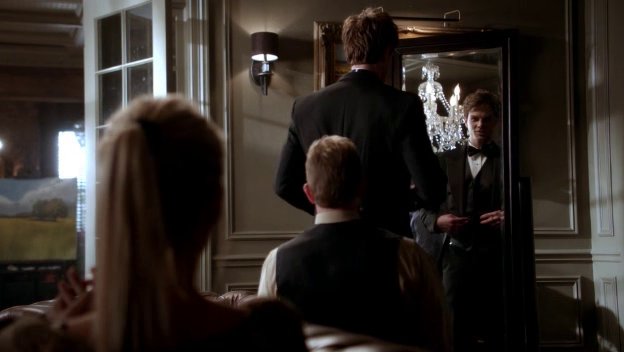 "Rebekah! Tell me how handsome I am."
"Oh Kol, you know I can't be compelled." Lmaoo okay, Kol is the vain brother 😂
Klaus is pissed that Rebekah went after Elena and threatens her with a dagger. Seriously? Has this become a normal thing for them? Kol stands up for her and Klaus isn't pleased. "Go back to stating at yourself."
Jup. ..vain brother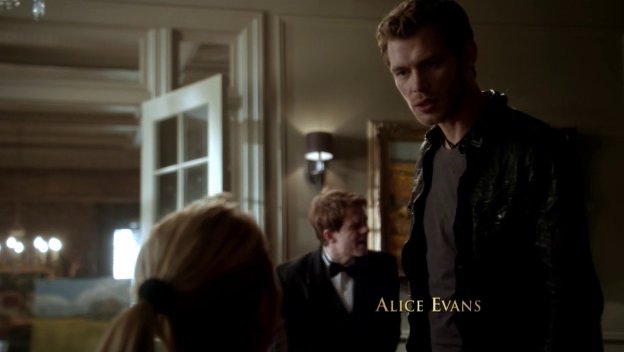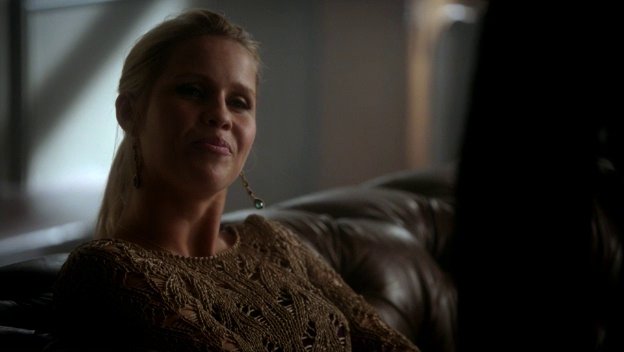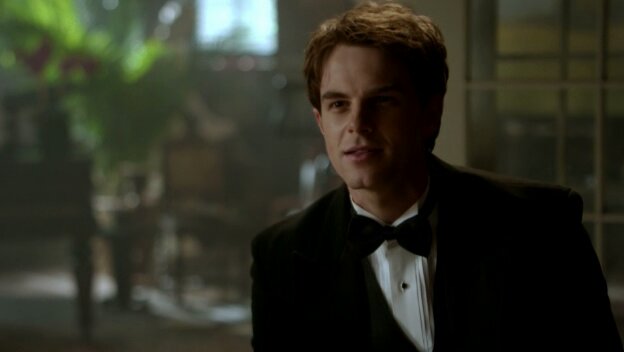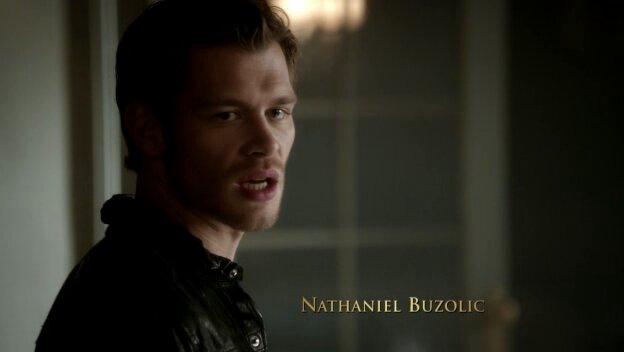 And hothead. He wants to take on Klaus outside. A hybrid...he is not the smart brother though, is he ?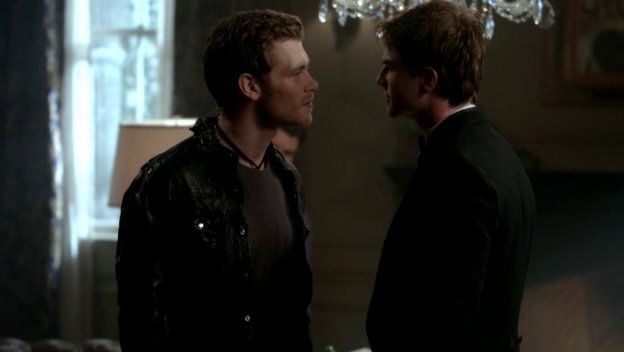 Momma original with her brand new haircut, breaks up the fight and calls Klaus who marks on Rebekah OMG 😂 They really are like children. Dramatic ones. "Rebekah wasn't even out of her box a day before for she tied to ruin my life."
This isn't funny but it's hilarious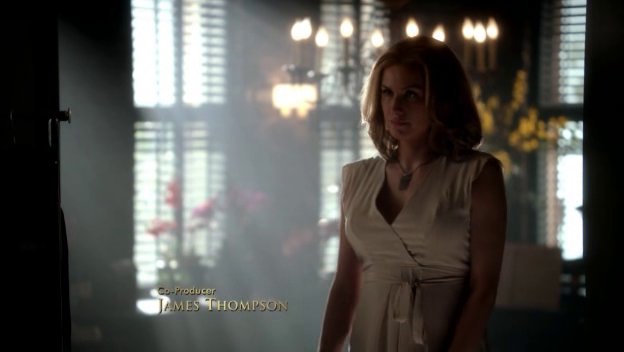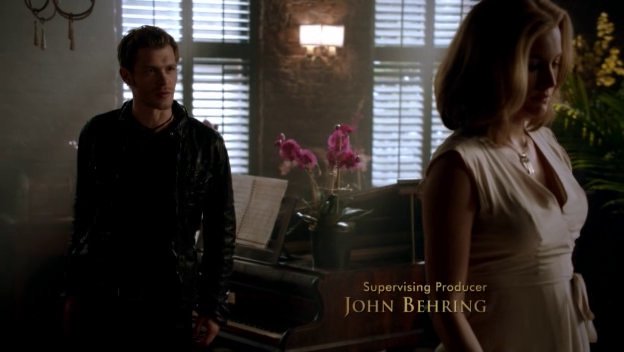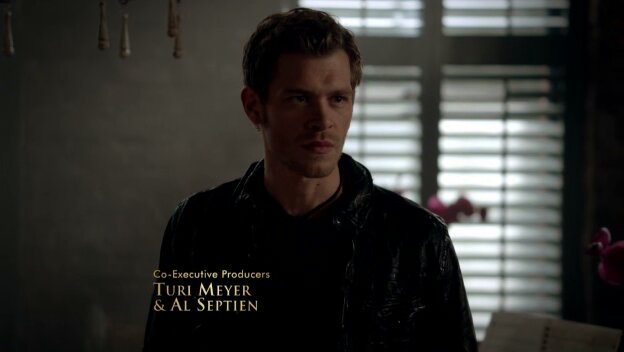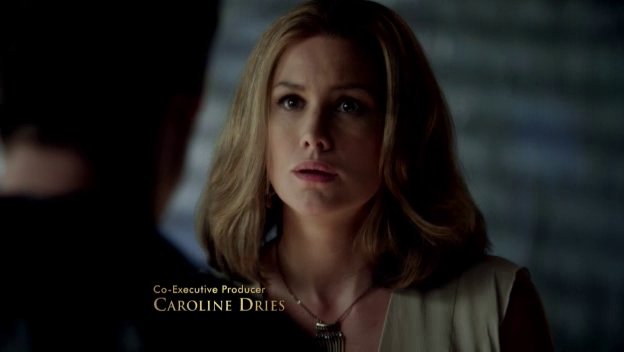 Not being able to create hybrids won't ruin your life. Maybe you should focus on your family and fixing things with them instead.
Klaus wonders how Esther can forgive him but she talks a good game and he believes her. She is smart and asks him who his date to the ball will be, to which he responds like a typical teenager. Laughs shyly and says he doesn't even want to go. He is softer around her. Childlike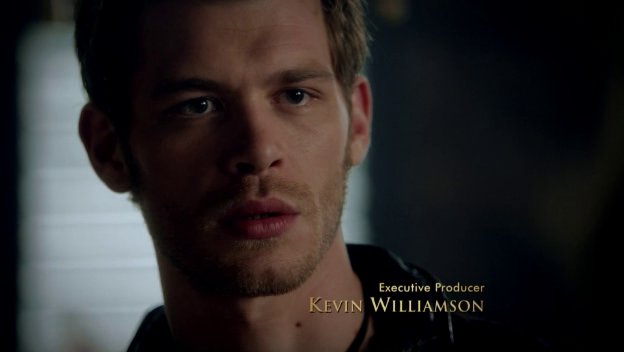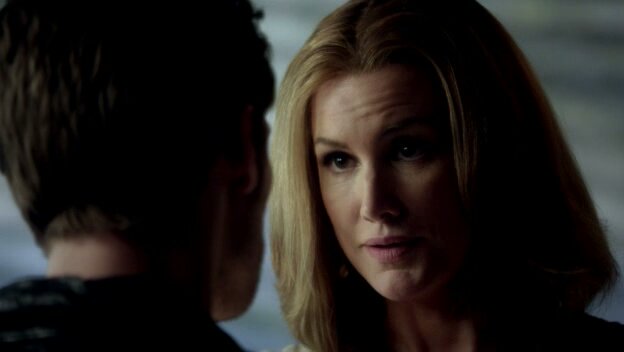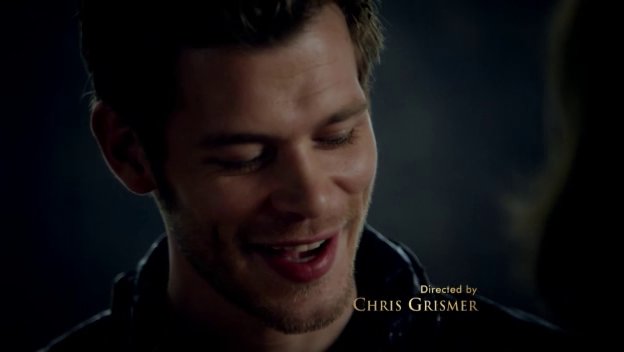 Elena wants to go meet Esther but Damon thinks it is a bad idea. Stefan thinks it is a good idea. Stefan says I loved Elena but I really doesn't give a fuck about her anymore. "Can we go back in time to the old Stefan who cared if Elena lived or died?"
"That's your job now." 💀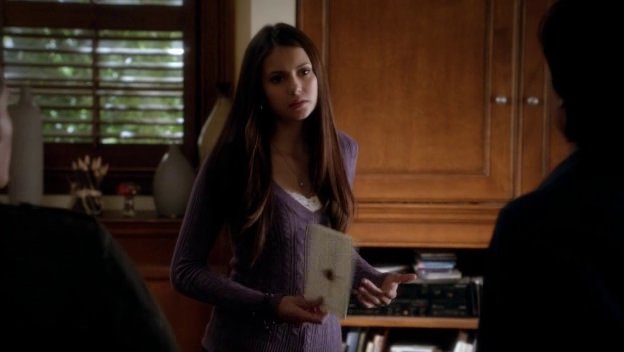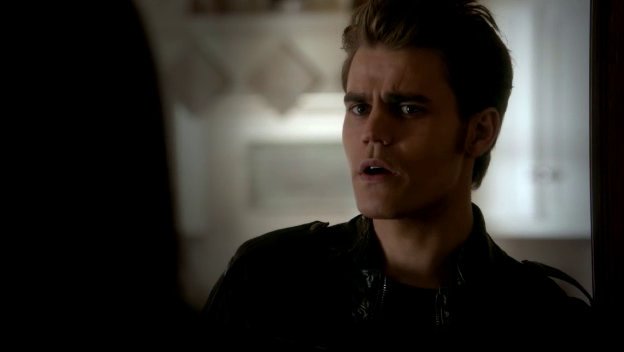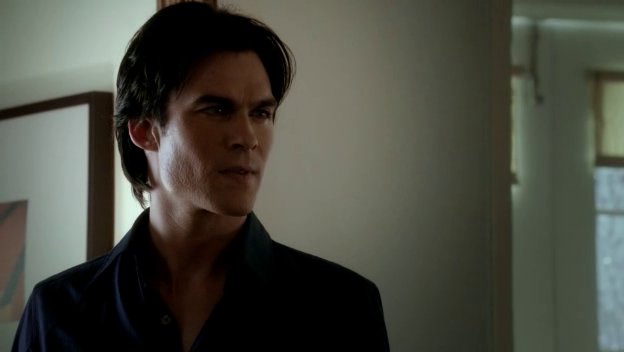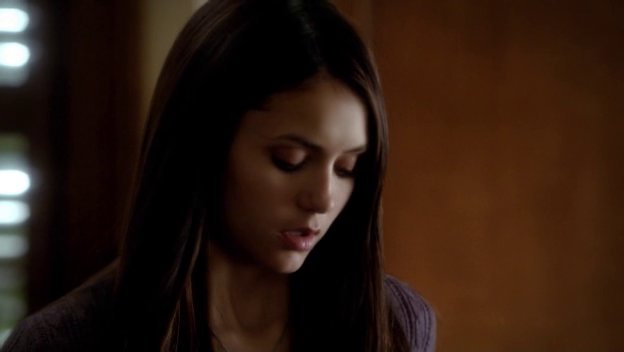 Stefan is pissing me off he is PISSING ME OFFF 💀💀💀💀
"I love her, Damon." In the last episode. YOU DON'T FUCKING ACT LIKE IT. 💀
If Stefan refers to protecting Elena or caring for her as a "job" again, imma bash his face in.
"I will go. End of story." Damon takes the invitation and flashes Stefan a look that can wither the arctic. Atleast Elena knows that he cares. I love how Damon will always be there for her. Even when he thought they would never be together. (Season 2)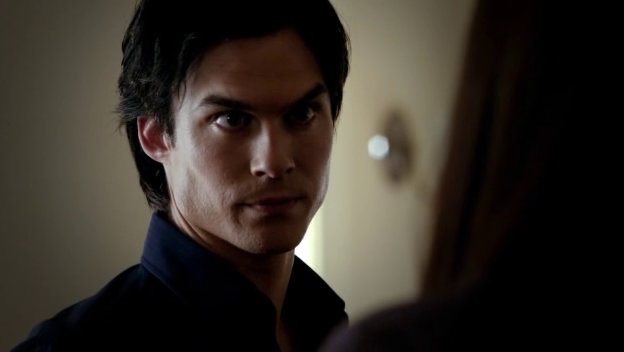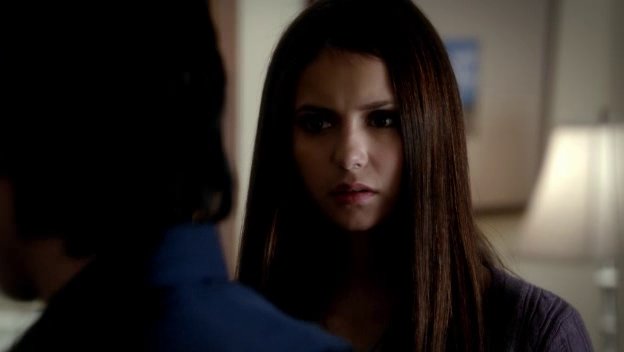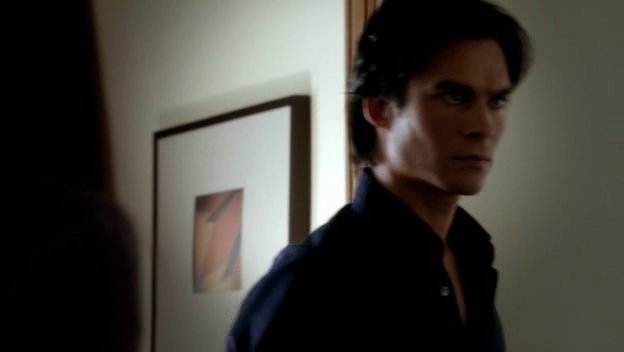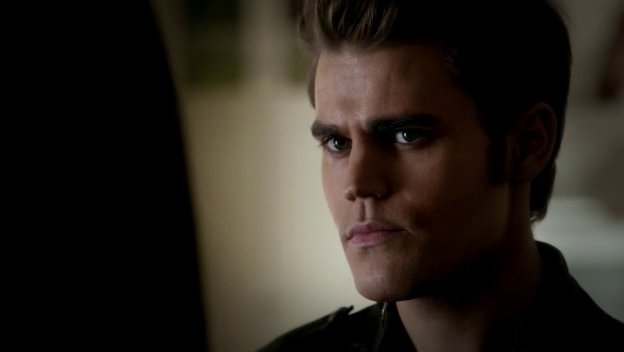 Tyler left Caroline a message saying that he is sorry about her father, and off trying to fix himself. Good luck Ty. I am rooting for you. The sirebond sucks serious ass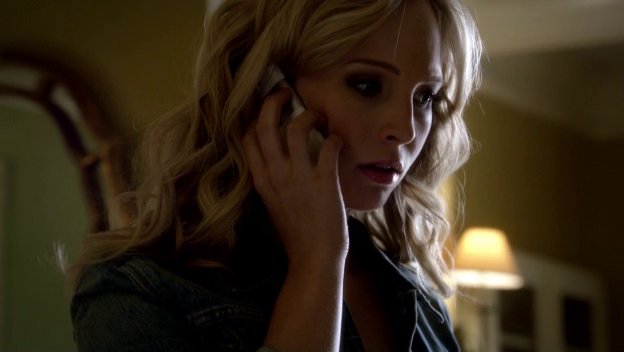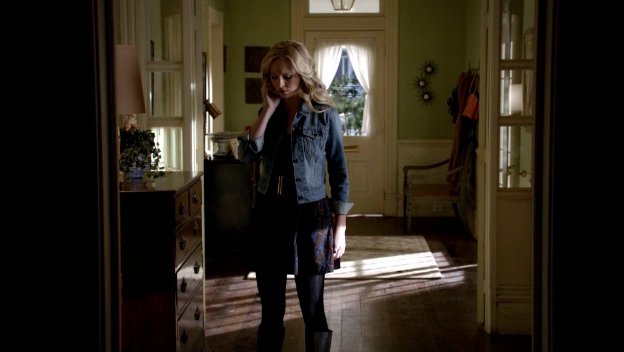 Gift from Tyler? 😍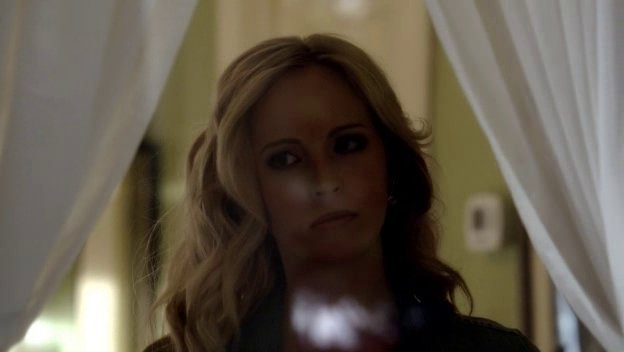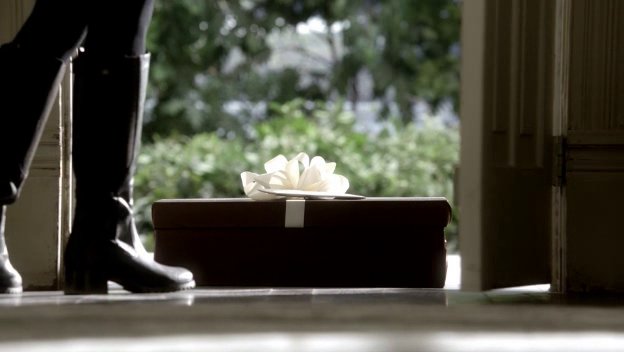 Nope, that fancy handwriting was done by no werewolf. OMGGG I guess Klaus decided who he wanted his date to be 😱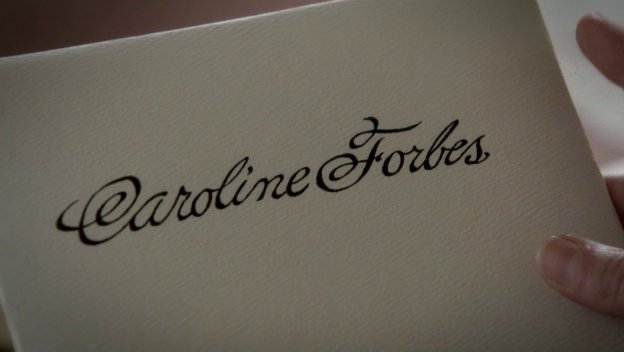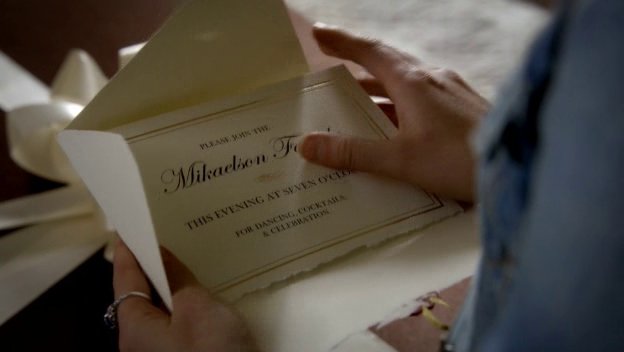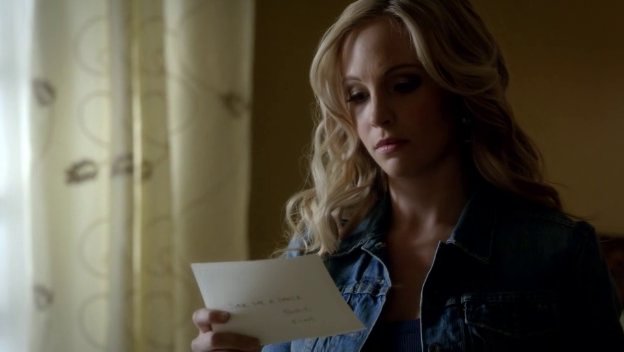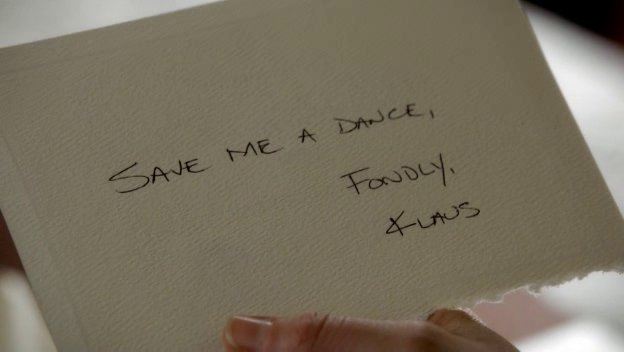 "Save me a dance. Fondly, Klaus." That's kinda cute though. 😊
OHHH MYY GOODD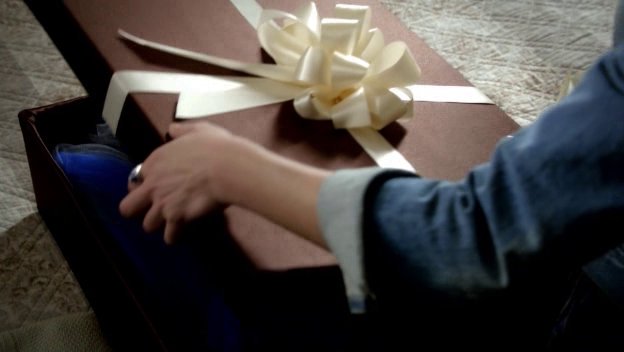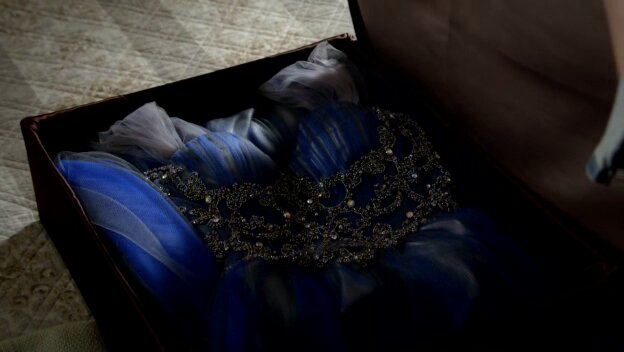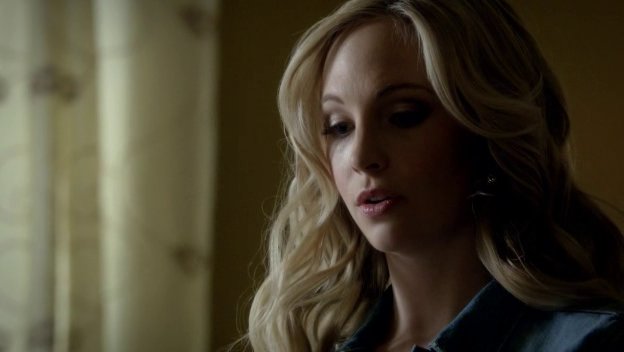 Okay, but that dress will look sooo good on her. I can just tell OMG. But Klaus sent her a fucking dress how does he know her size? 😱
Caroline quickly closes it like she has to snap herself out of this stuper. Don't worry girl, we are both shook and surprised by this.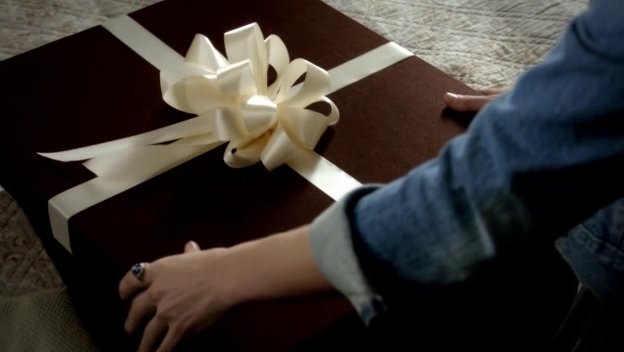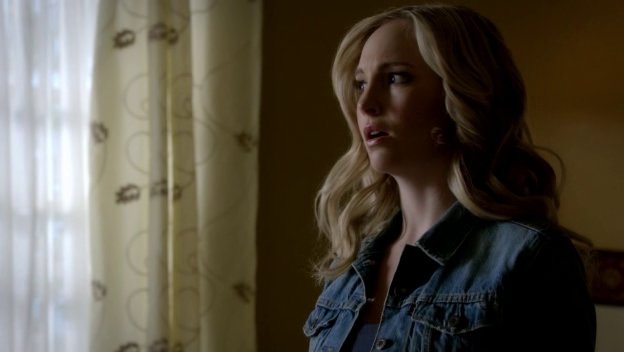 " Its all so weird. The originals are throwing a ball, like.. an actual ball."
"It is some twisted Cinderella fetish."
Lmaoo are you saying this because the dress is blue? 😂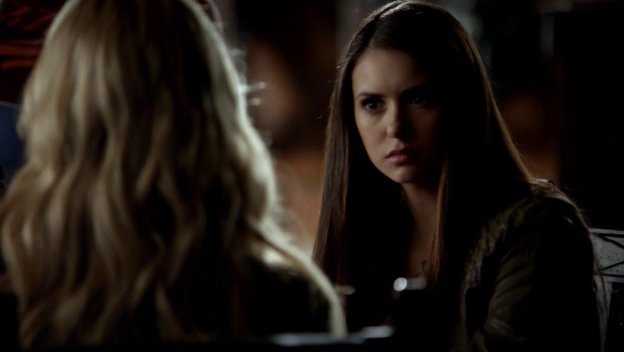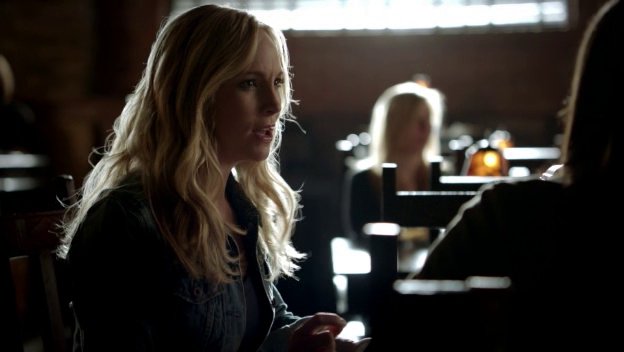 Talking about balls and evil witches. They are trying to make this feel as fantasyish as possible and I LOOVE it.
Elena is going to go. I knew Elena wasn't going to miss out on this one. AHSHSJ I want Delena to dance together while Elena wears a pretty ball dress. Make this happen 🙏🙏🙏
Caroline wants Elena to go with Stefan, but she wants to go with Caroline. Oohh Caroline knows about the Delena kiss. Bonnie told her. Umm, not your story to tell, Bonnie??
Elena says she doesnt know how she feels about it.
I do.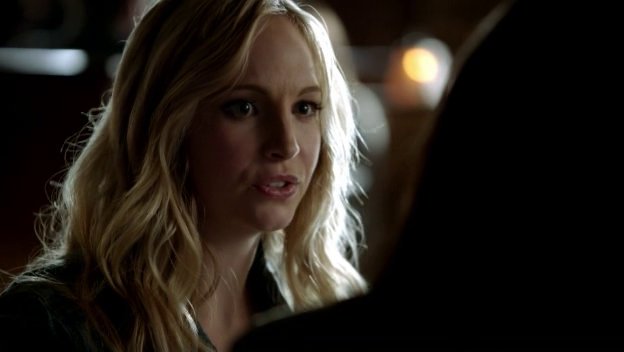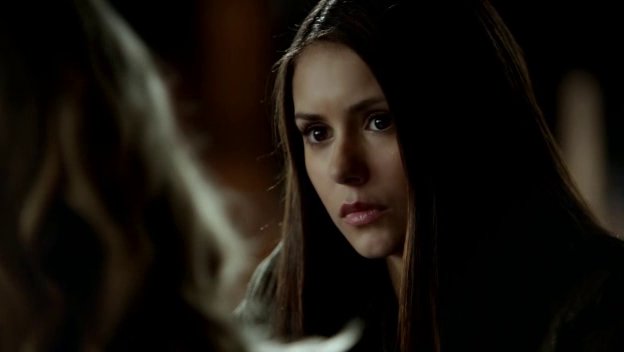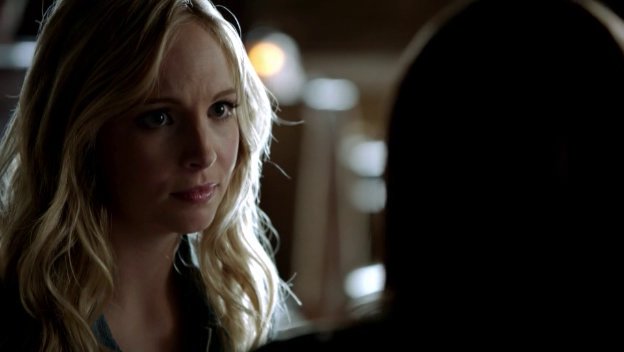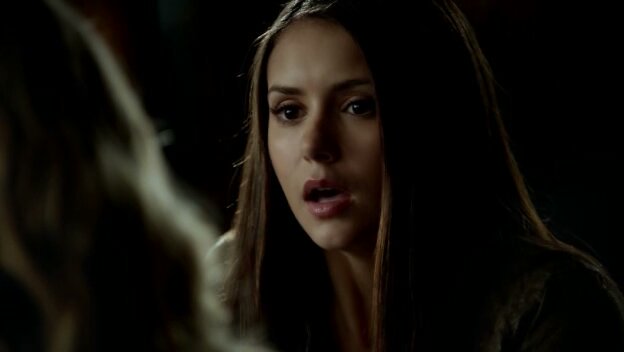 That's how you feel about it. Don't be in denial 😌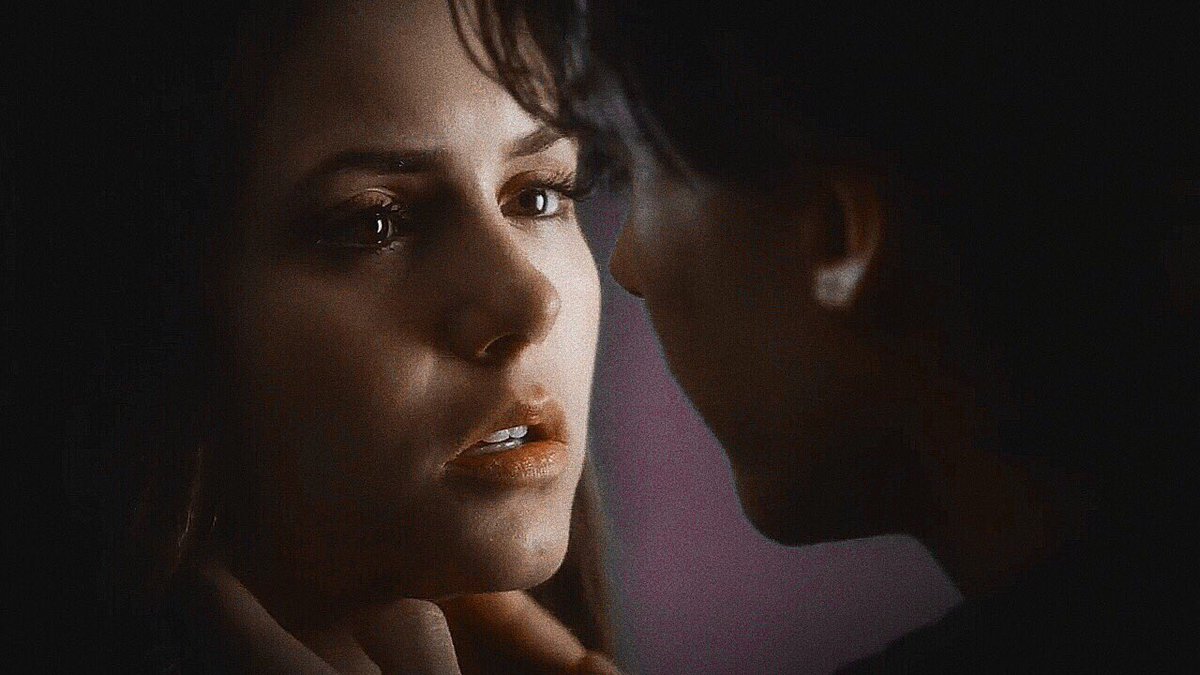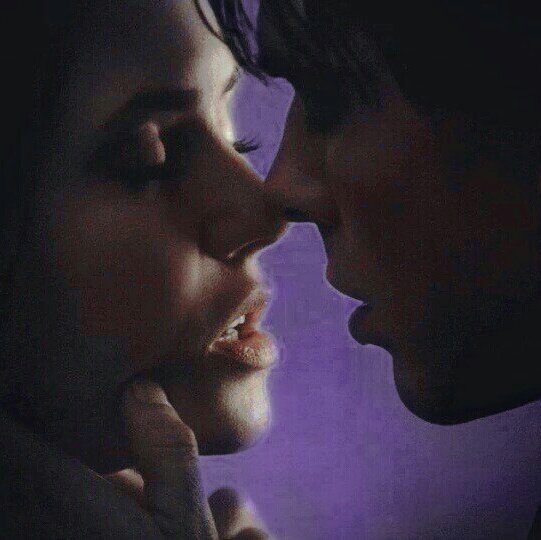 "Careful Caroline. It's all well and good till she stabs you in the back."
She isn't going to let this go, is she?
Crap. Whyyy do they have to hate each other?? 😩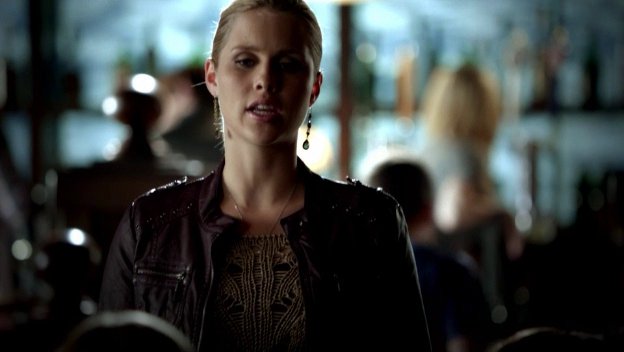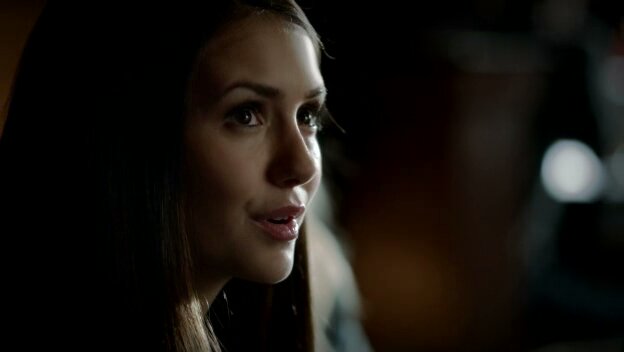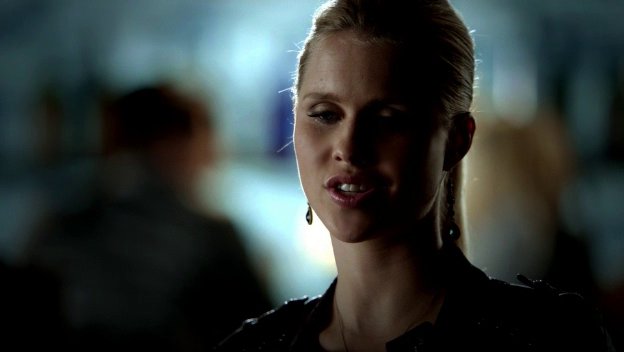 Elena and Caroline wonder whats up. GSHDNF OMGG REBEKAH WHYYY? YOU ARE INVITING VANILLA BOY? GOOOOD WHY?
Caroline is upset as hell and this pushes her to give in and go.
"What time is this stupid dance?"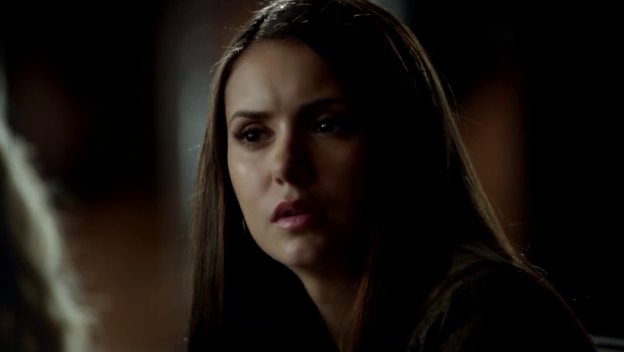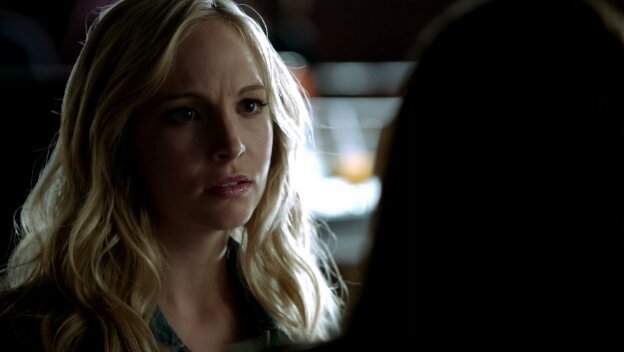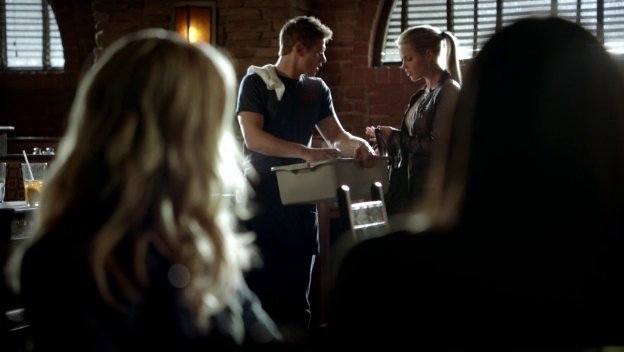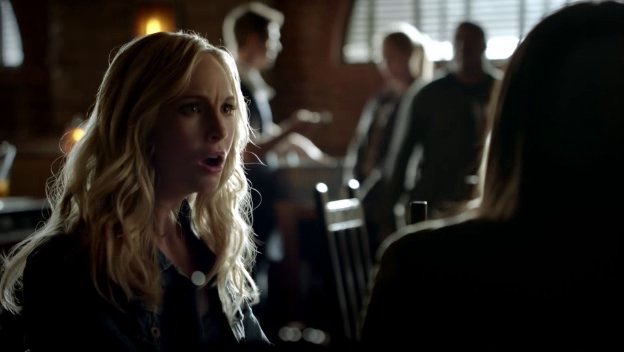 OMGG 😍😍😍 The house and the man in the tux 😍😍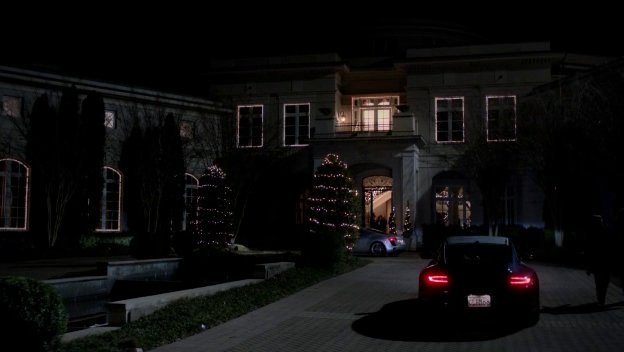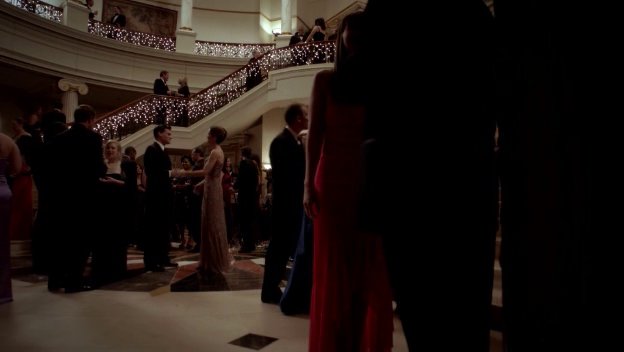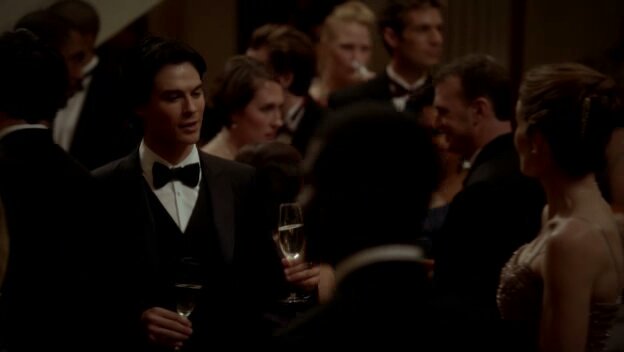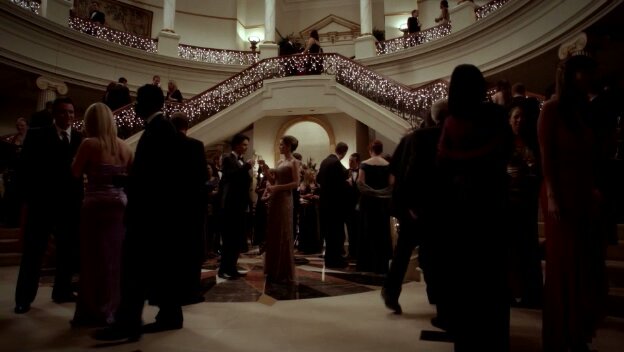 Kol is charming to Carol but not to Damon.
"Have we met? "
"I have met a lot of people. And you don't particulary stand out."
LMAOOO sure. The vain one is jealous of the most attractive man in attendance. It's only fitting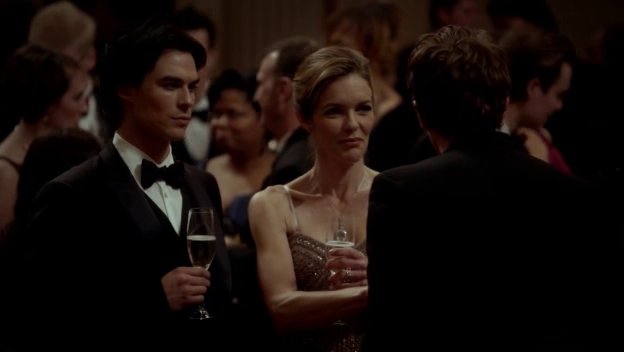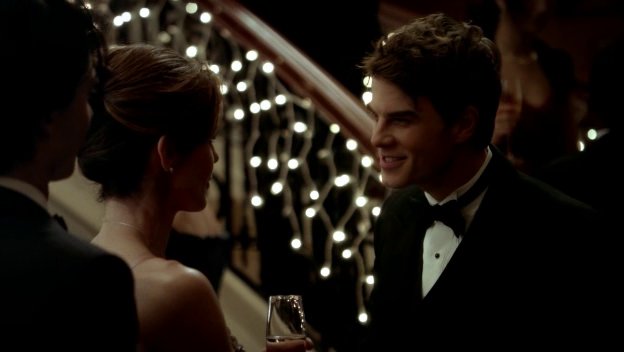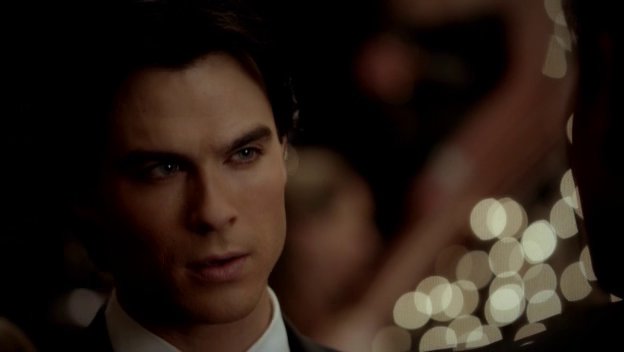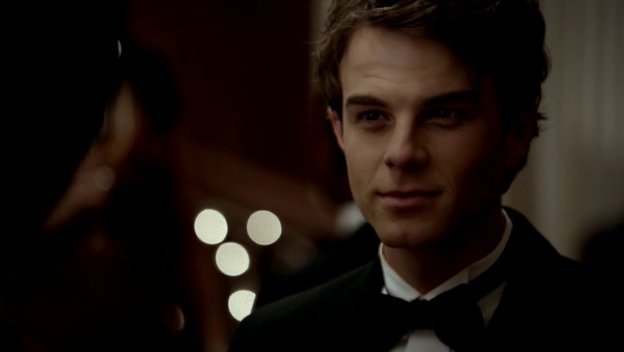 ELENA OMGGG SHE LOOKS GORGEOUS. ABABANSND LOOK AT DAMON OMGGG HE IS IN AWE 😍😍😍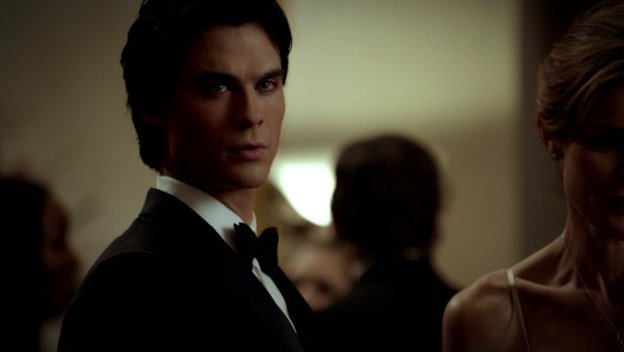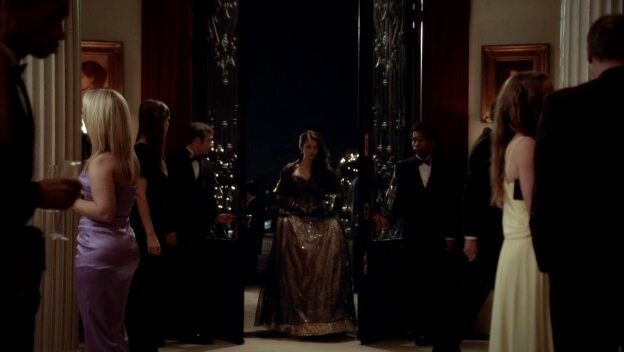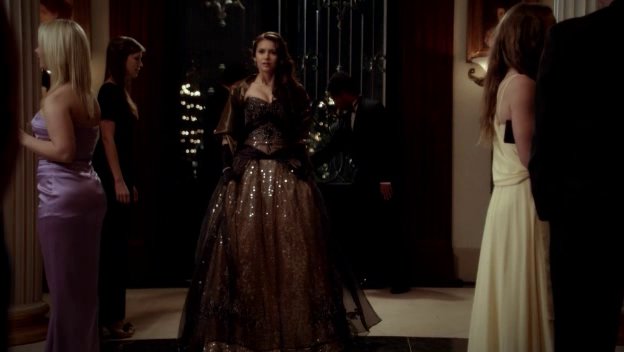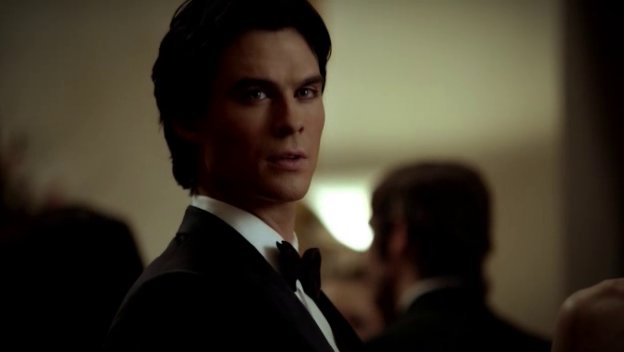 THIS OMGGG THIS. THIS IS A SHIP PHEW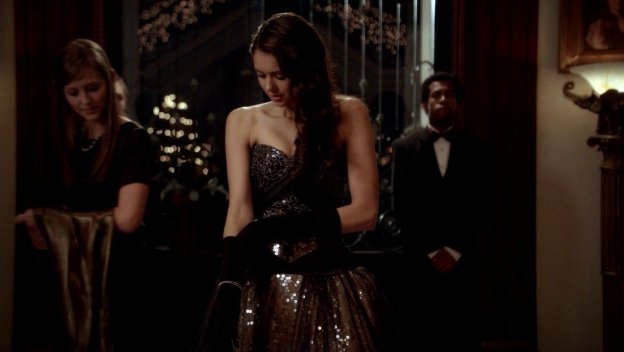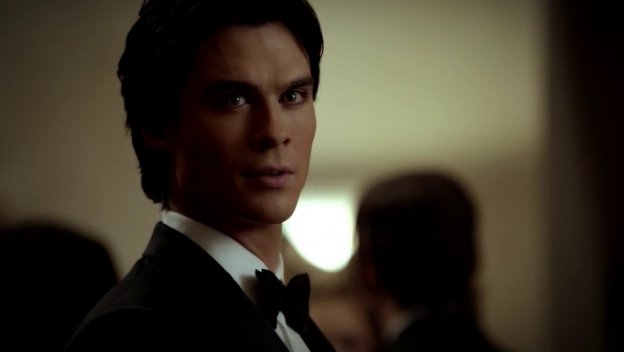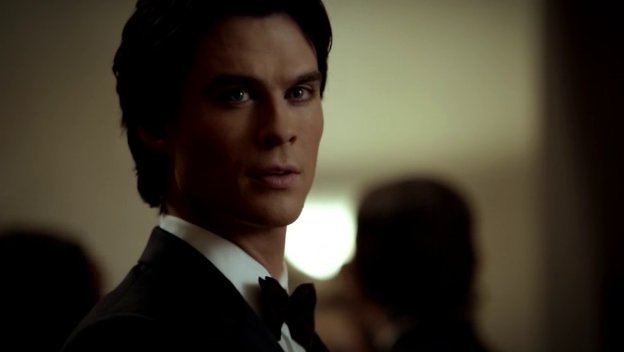 The beautiful people are here peasants lmao
Ughhh noooo stay awayyy. Damon get your butt over here. Elena looks so annoyed with Stefan.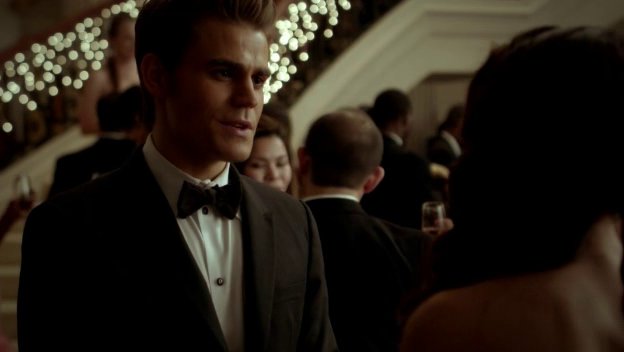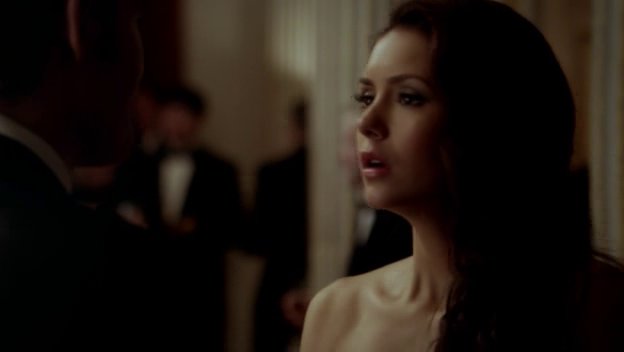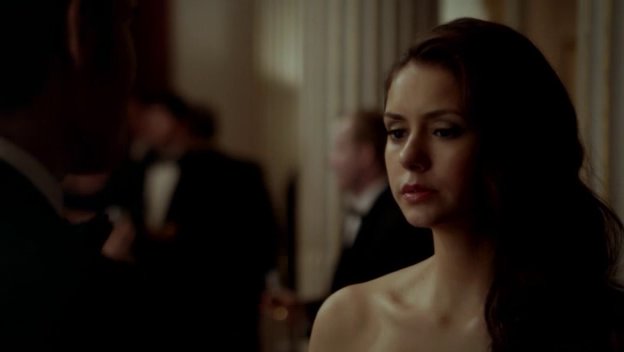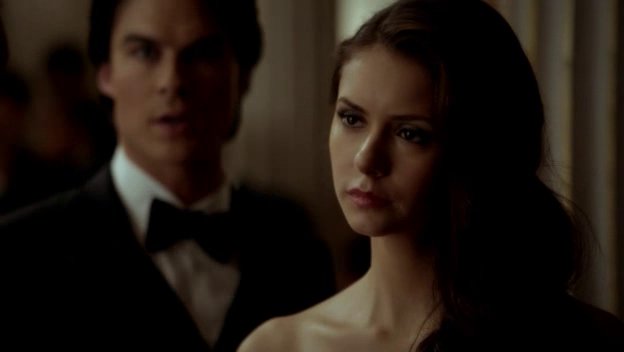 Stefan is like this fucking giant flea in the mix that I just want to slap away. Leave my OTP. Go find Klaus or Rebekah and go have that threesome. You feel like a 3rd wheel to Delena anyway. Bye bye
Damon doesn't like the fact that Elena is there, putting her life in danger. But Stefan doesnt care and offers her his arm. Damnit. But she looks at Damon. The one whose arm she actually wants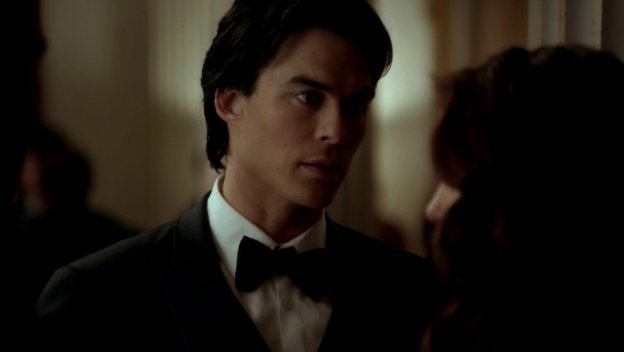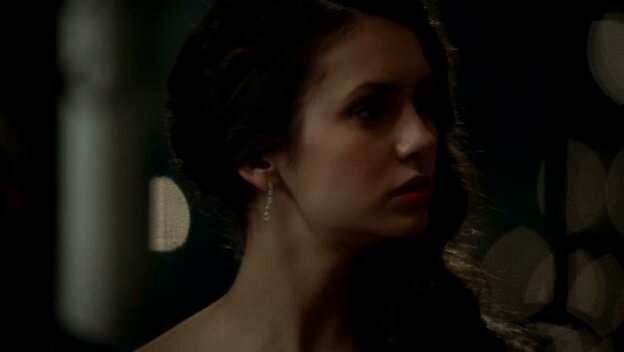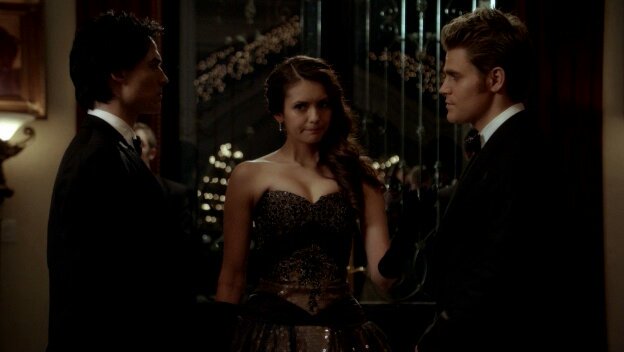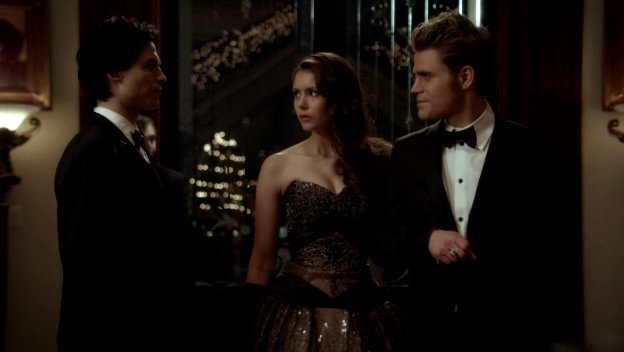 Love triangle. This shot is aesthetically pleasing, but I am pissed that Stefan just HAD to show up like a bad rash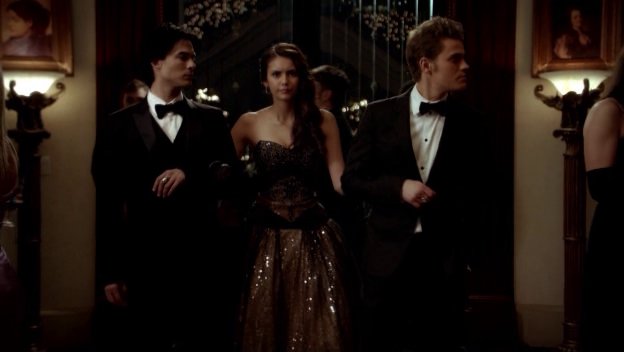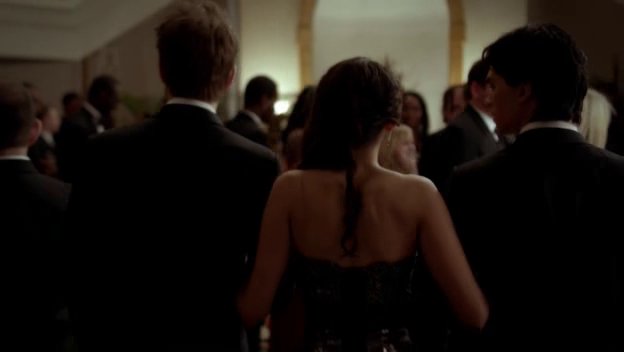 There we go. Much better. 👌❤❤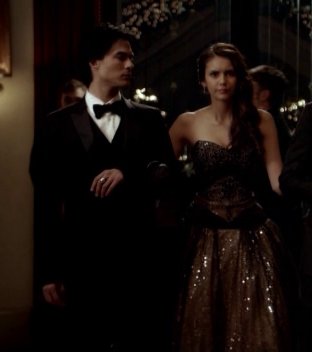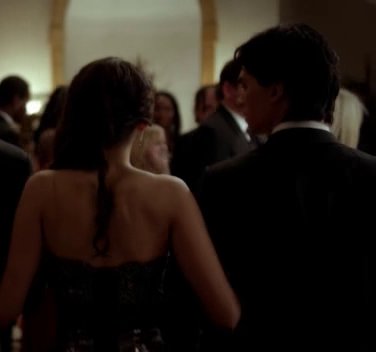 Caroline...seriously??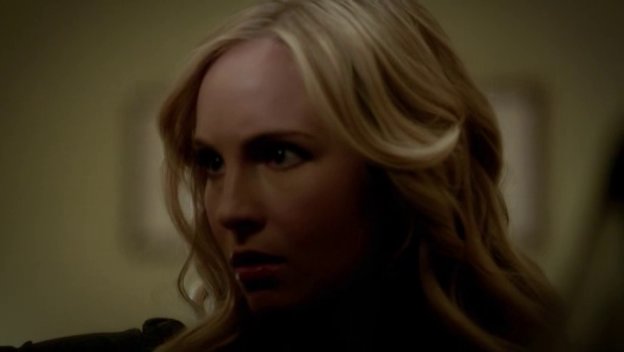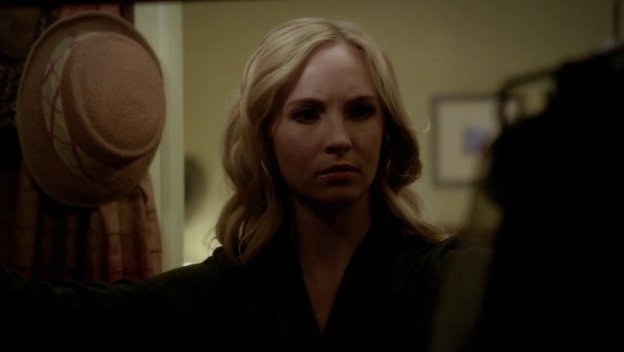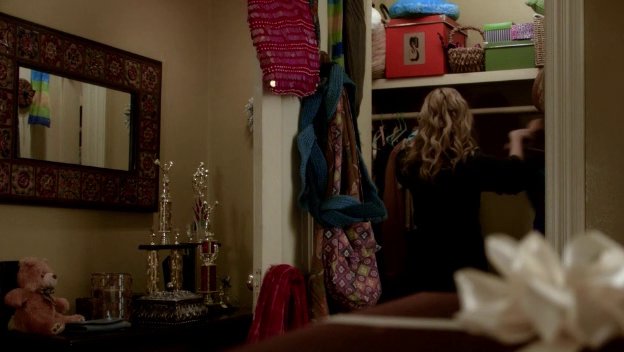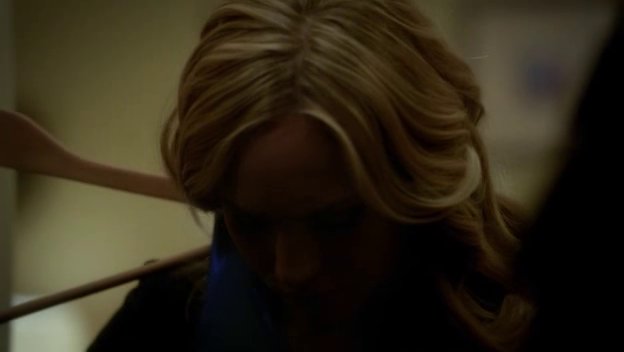 Yesss say yes to the dress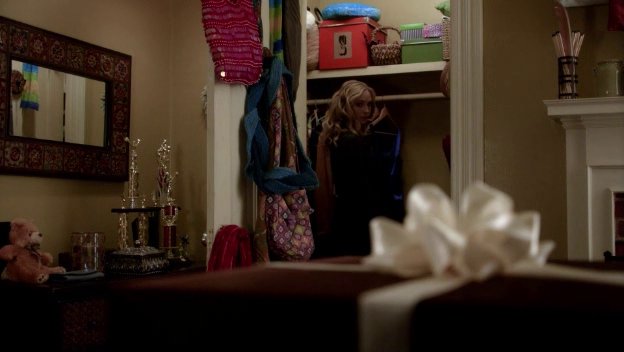 SHE LOOKS LIKE A PRINCESSES OMGGG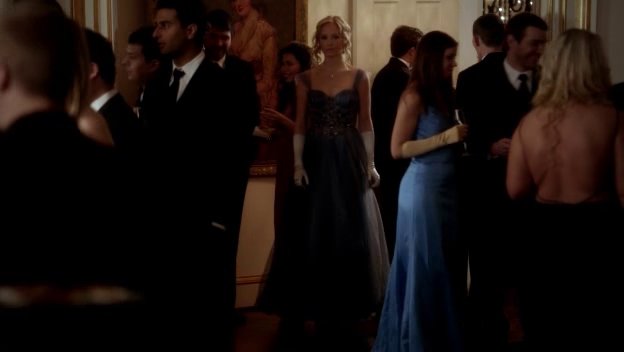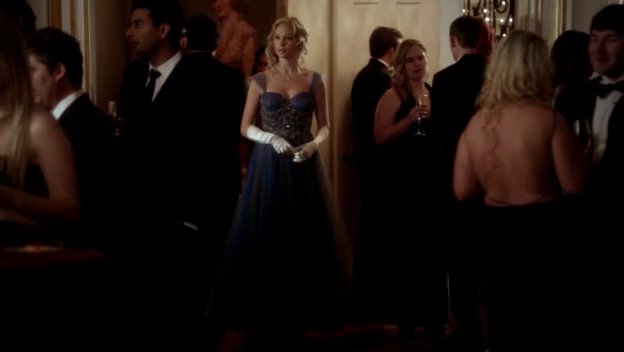 So Klaus has good taste when it comes to dresses. That's one good thing I can say about him. 🙊
WTFFF OMGG DELENA SCENE PARALLEL. He is actually staring at her OMG 😱 He totally has a crush that's not even debatable. Okay has a fucking crush. I need time for this to sink in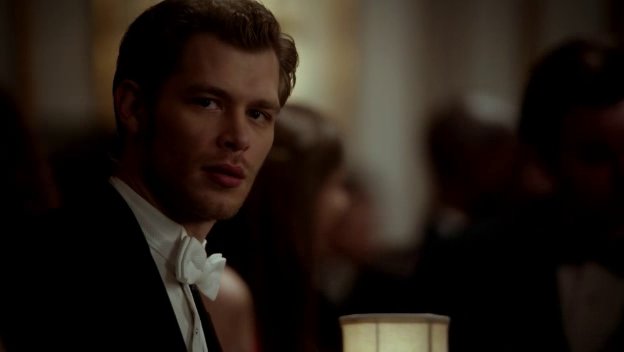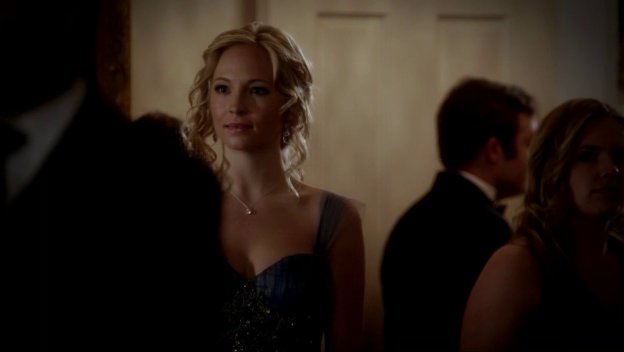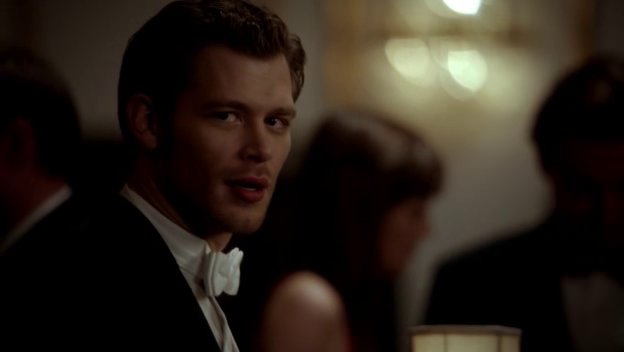 "Good evening."
"I need a drink."
She walks away and he looks...disapointed. WHAT THE ACTUAL FUCK? Where did this come from?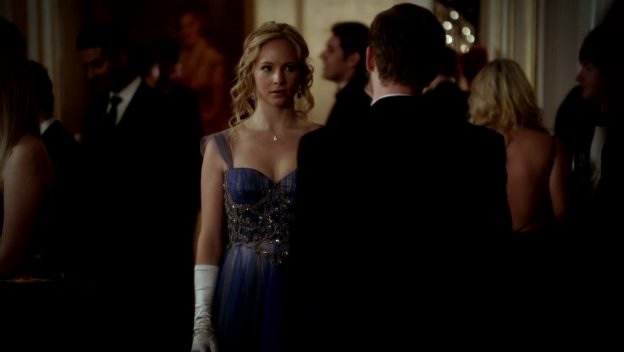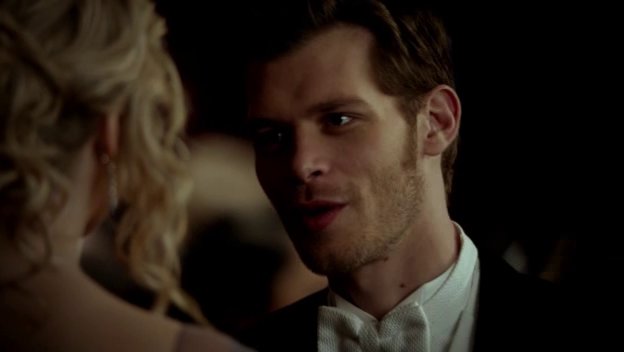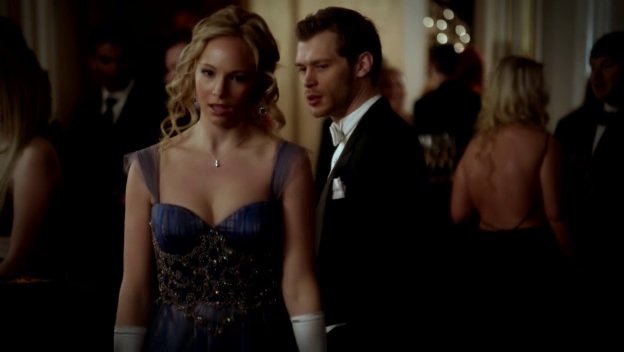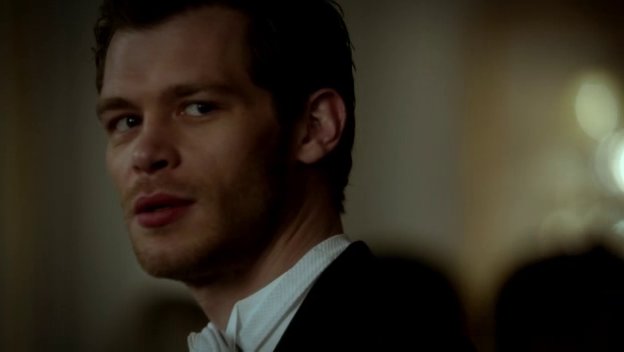 Finn approaches Elena and asks why Damon and Stefan is there. She reminds him that Esther has already tried to kill her once, but Finn insists that she has to be alone if she wants to meet Esther. HELLS TO THE NO. And Esther invited Elena. SHE wants to meet.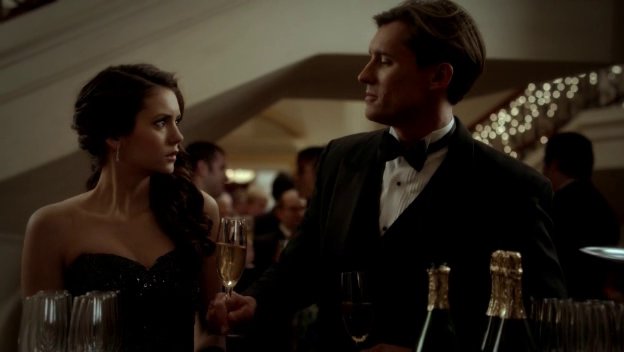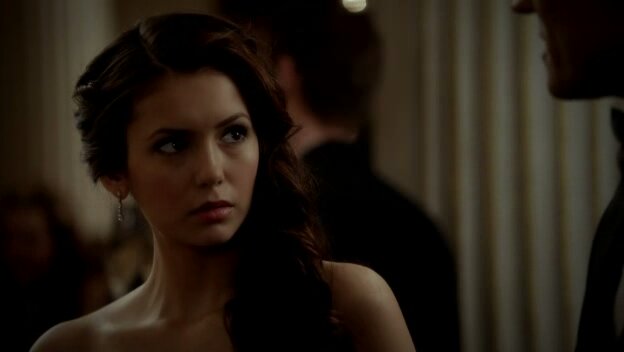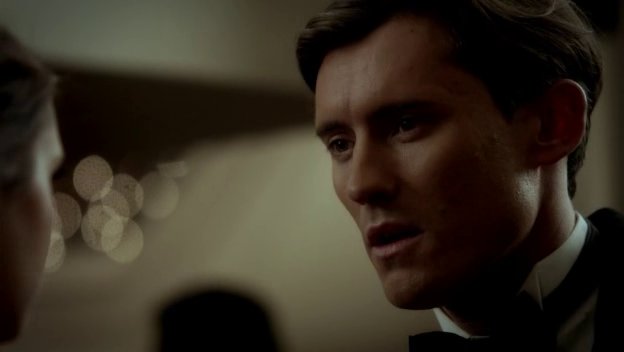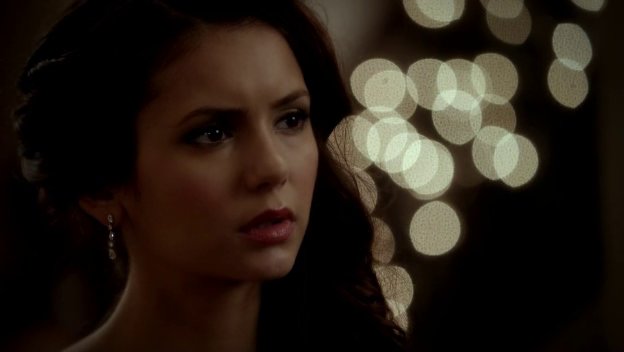 I have to pause here. This episode is taking longer because every scene has so much to talk about!! 😱😍
I just remembered that Esther sent Vicki from the otherside to try and kill Elena. Now this bitch wants to meet? Damon is absolutely right not wanting her anywher near this powerful and crazy old witch.
Going to try and watch from work. Those who have followed me for a while, knows the warning that comes with this. I may suddenly "disappear" offline unexpectedly or have gaps between tweets. 🙈
All the originals on the staircase together looks sooo epic. Elena and Esther spot eachother. Elena don't go anywhere near the wicked witch of the west pleasee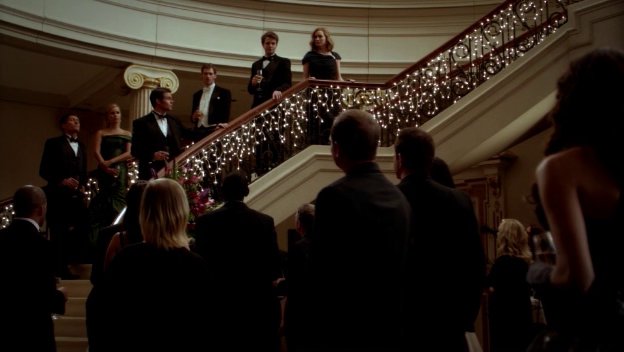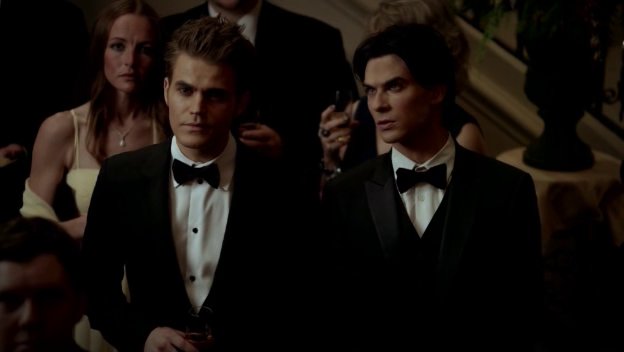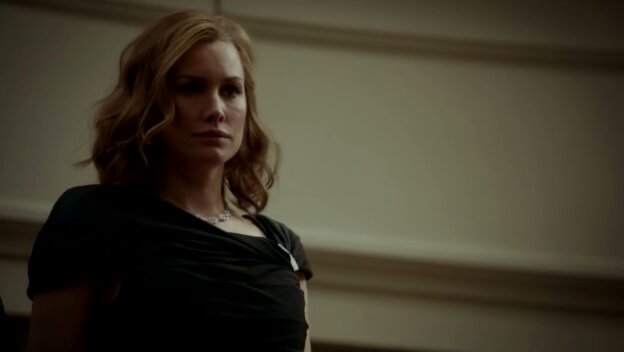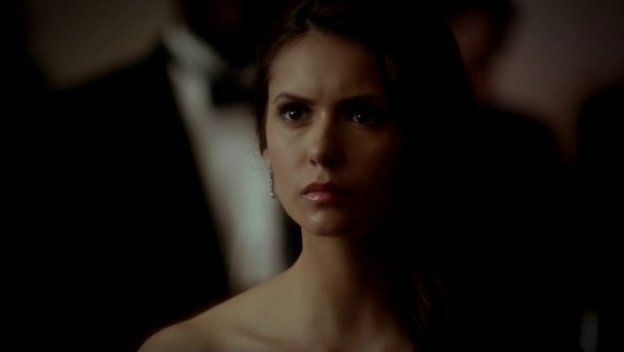 Elijah talks about a waltz in the ballroom and my freaking toes are curling with excitement necaise I LOVE these old-school stuff and want another Delena dance 🙏
Esther goes upstairs as an open invitation for Elena to follow while the others go to the ballroom and Elena is about to do this shit when Damon steps in. Literally. THANKS FOR SAVING HER FROM HERSELF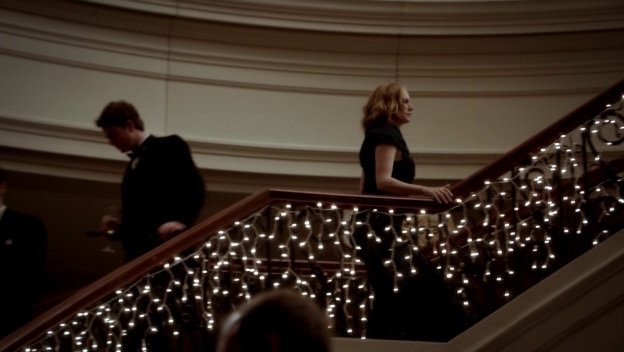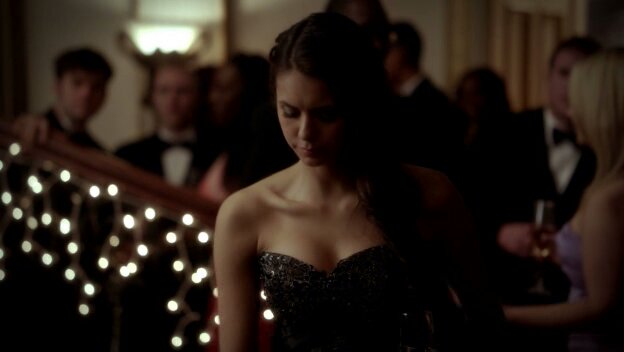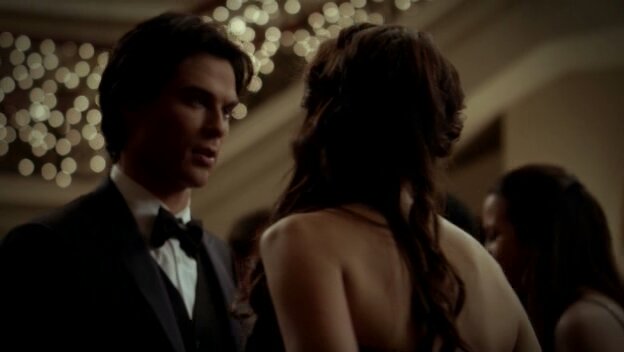 "Don't even think about it."
"He wants to see me alone, Damon."
"Well it sucks to be her then."
Elena looks annoyed with her suicide watcher but she damn well needs one. 😐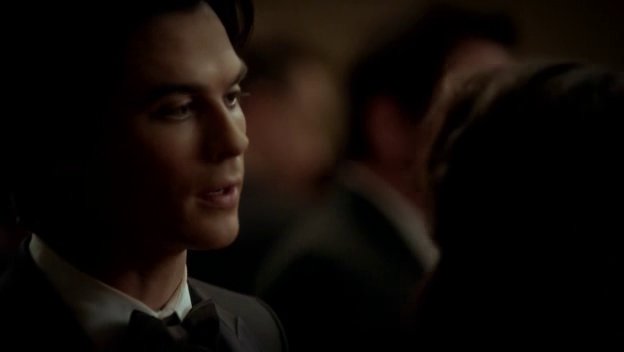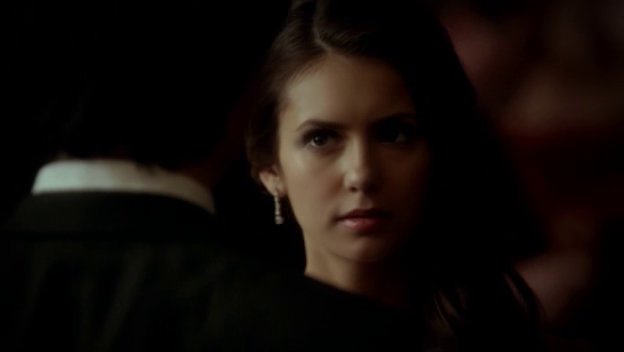 AHSHDHD OMG he offers her his hand. "It would be rude not to dance, you know."
Yes so rude. Look at his smirk. Elena can't stay pissed even if she wants to and tries to hide her smile.
SO CUTE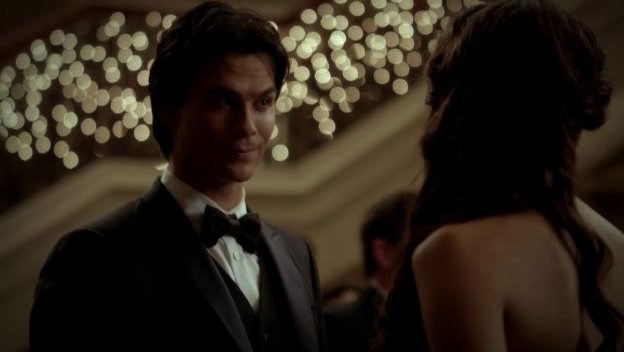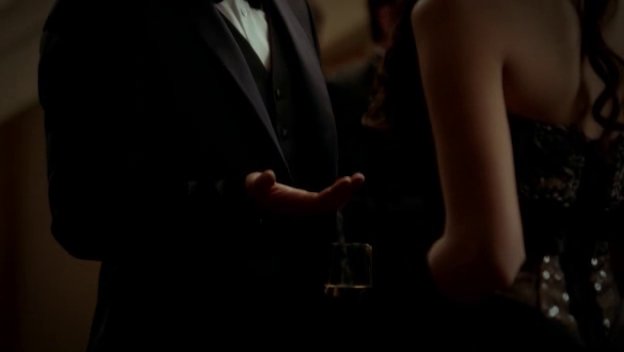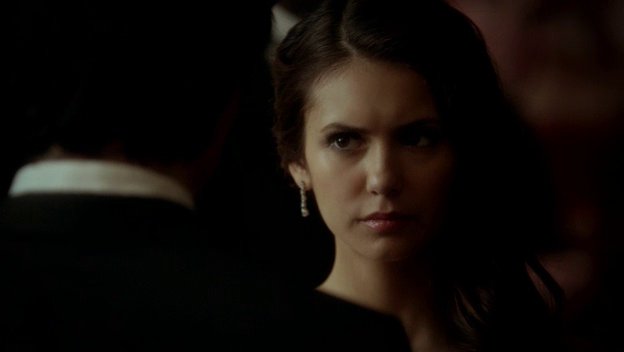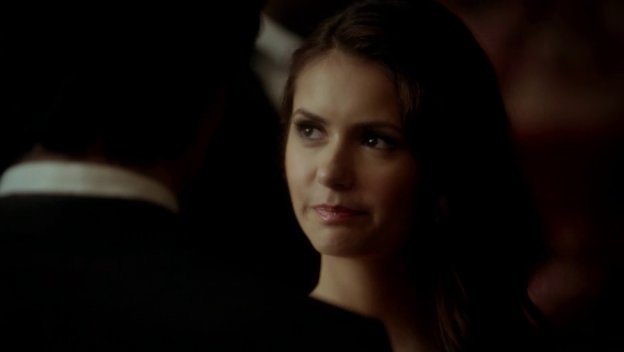 "It is tradition"
HAHSHDHDJNJ YASSS LOOK AT HER SMILE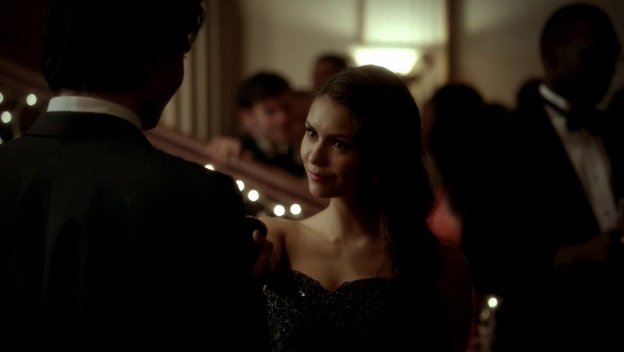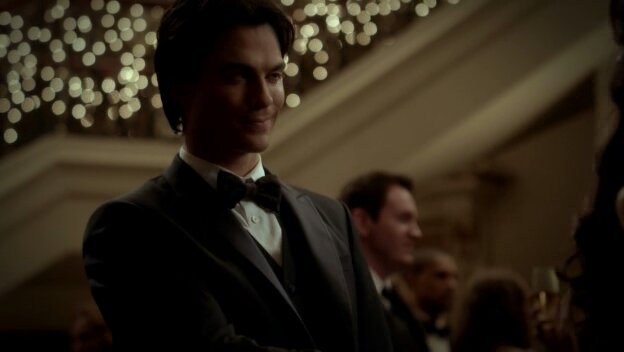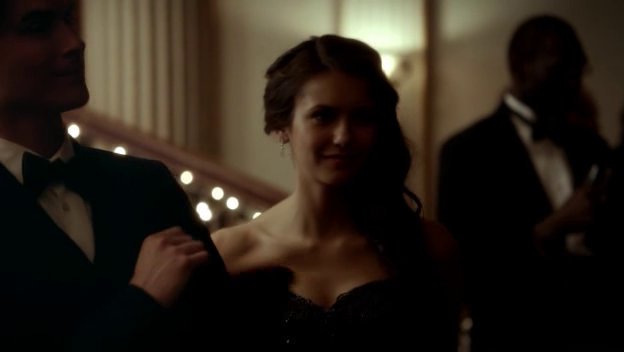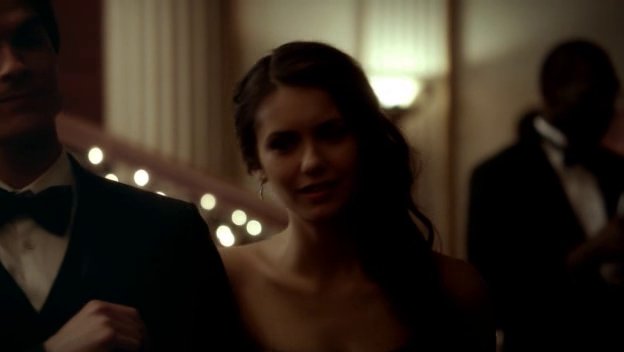 Okay but this though 😂😍😍😍😍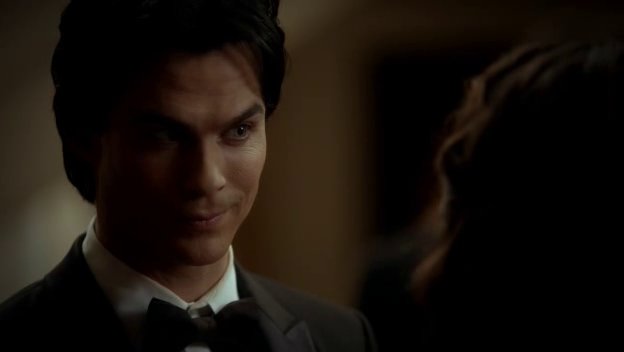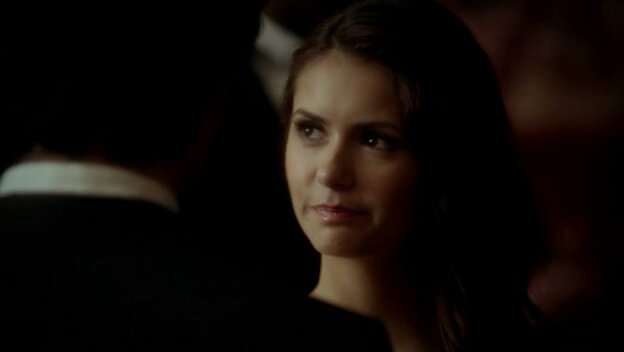 OHH NOOO. YOU ARE NOT GOING TO FUCK THIS UP. YOU STAY RIGHT WHERE YOU ARE LOOKING ALL SAD AND ALL. SORRY STEFAN BUT NOT SORRY.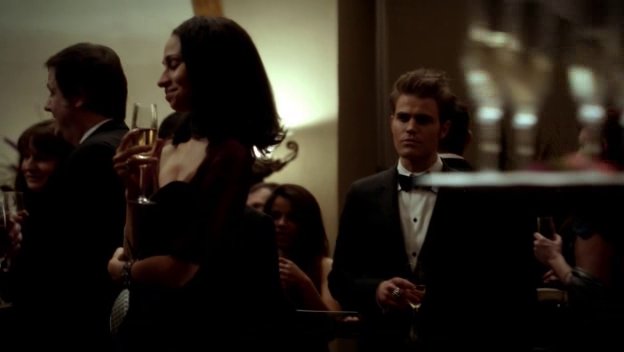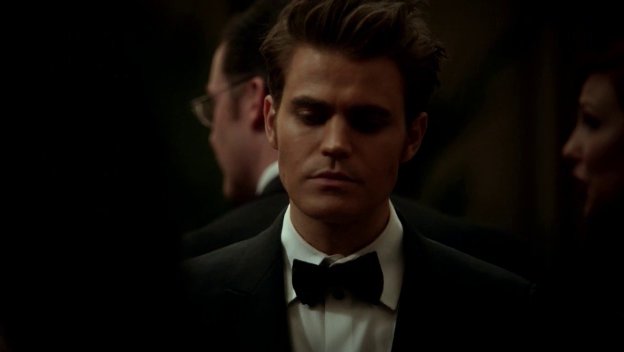 "You look stunning. If it isn't obvious." AVSHSBDBDNDN
ART
ART
I CAN'T BREATHE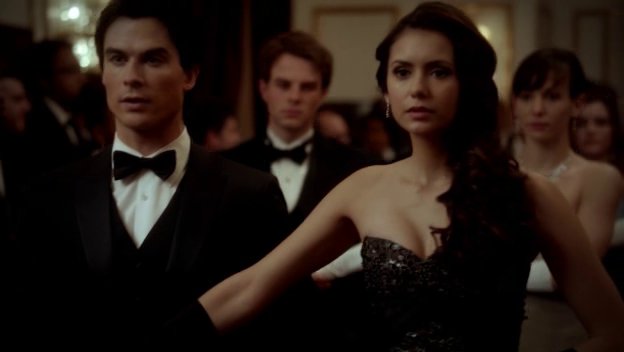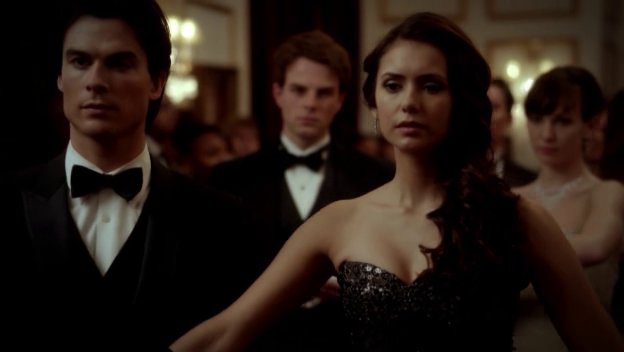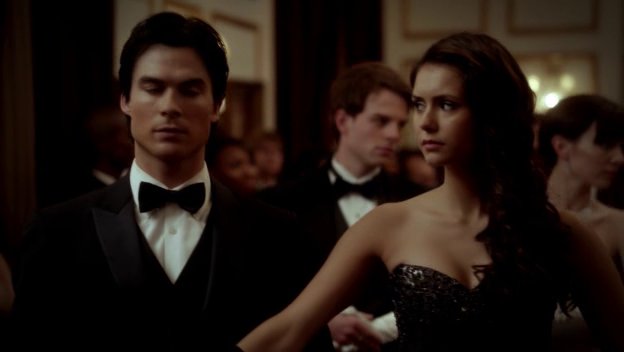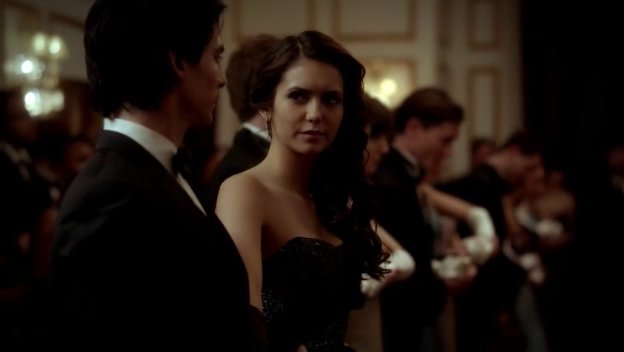 What show is this even? It looks like I have been transported back in time and I looove itt 😍😍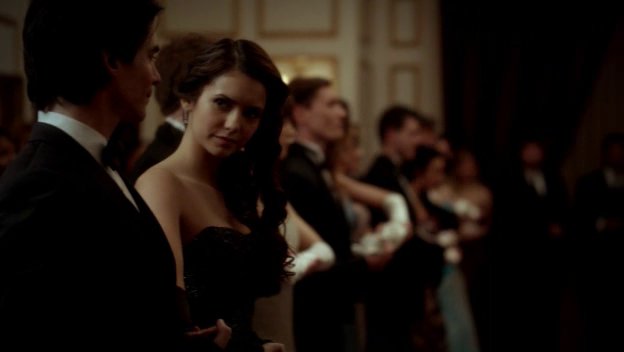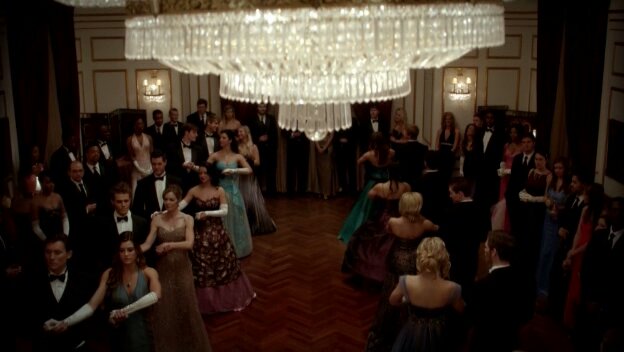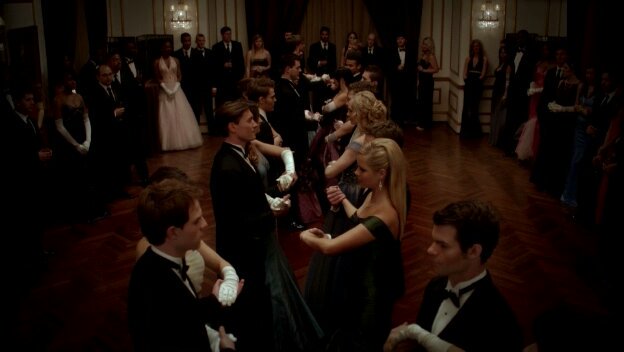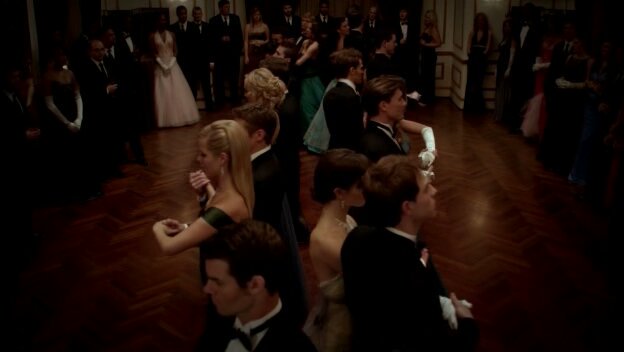 OMGG Klaus and Caroline dancing together and they have chemistry 😱 Look at him look at her.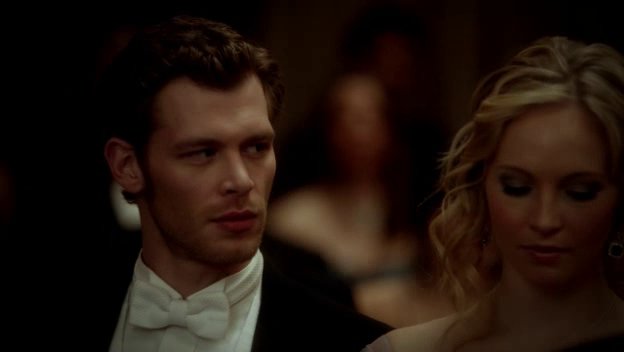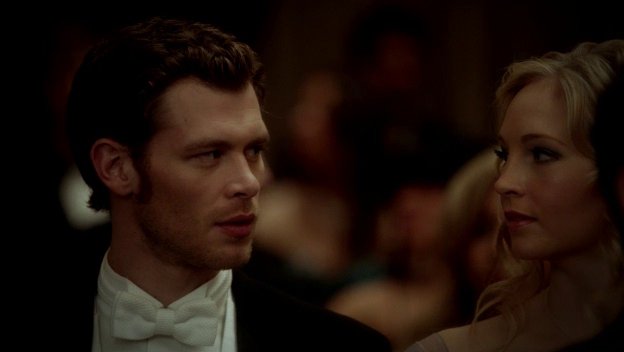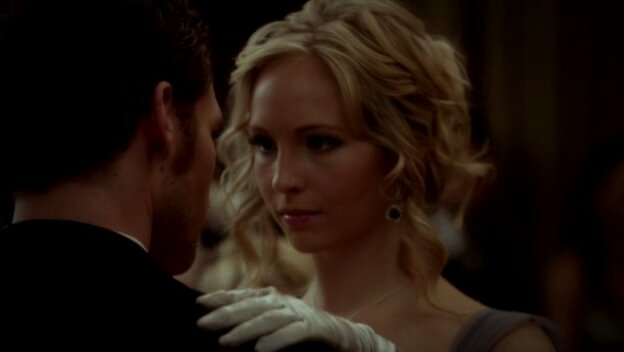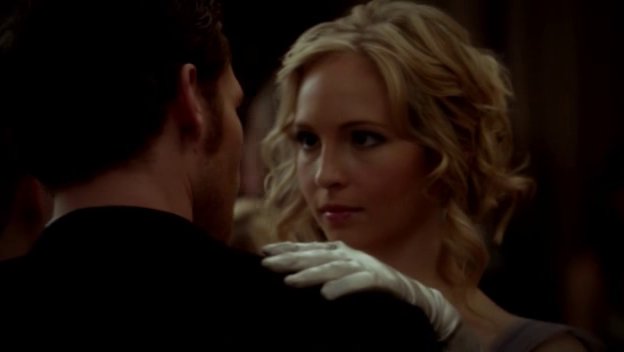 Chemistry with them to as usual. It's electric. OMG this episode is feeding me so well. I am on the floor 😱😍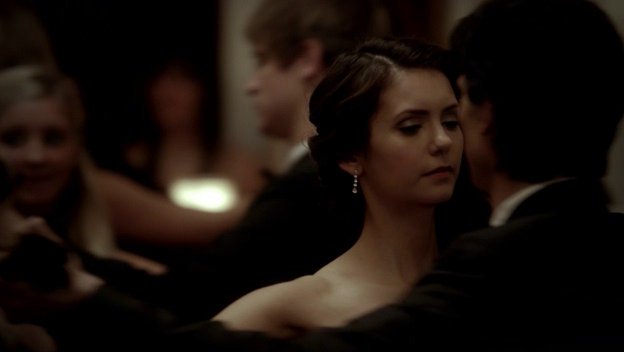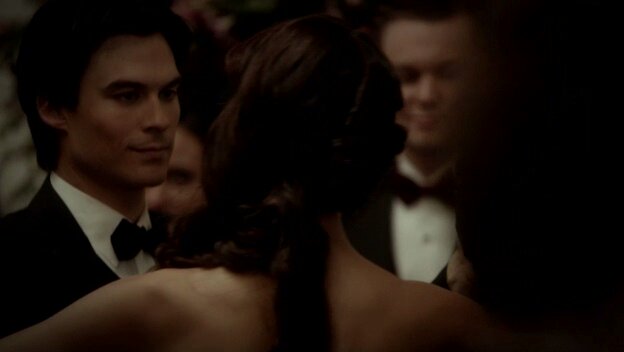 Sparks are flying on the dance floor 💥💥
Caroline is more focussed on Matt. Sis seriously?? I prefer Klaus over Matt. Atleast he is interesting. And Rebekah sweetie... 😣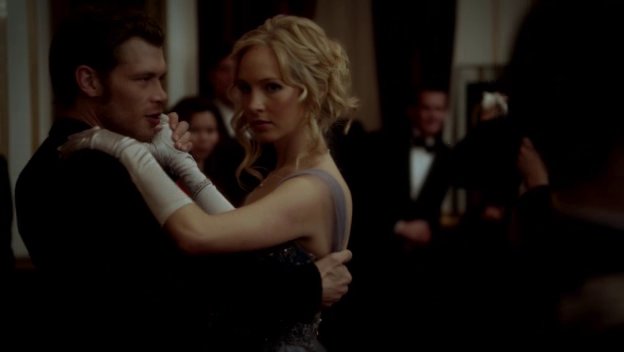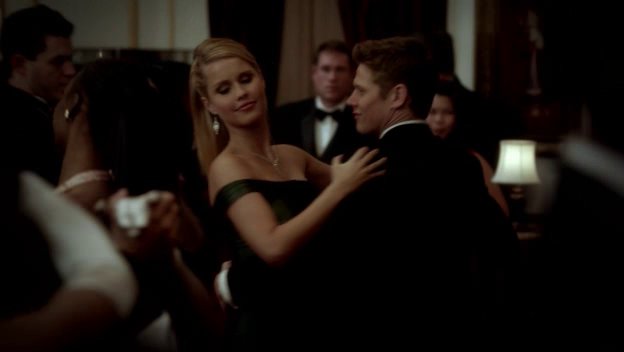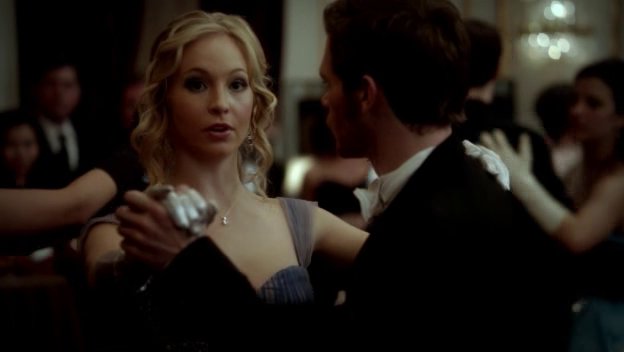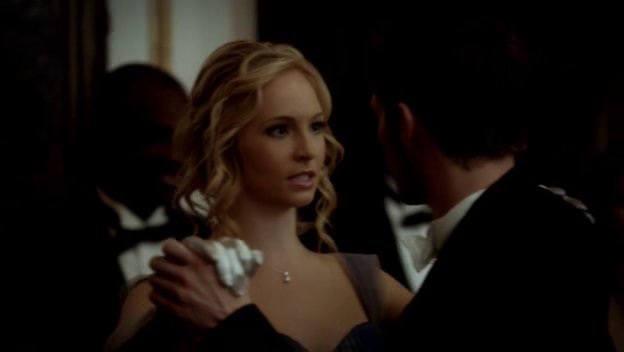 Klaus says he is sorry about her dad but that is not a topic she wants to talk about and quickly lets him know. He distracts her from Matt. Thank fuck. Charming Klaus. Klaus handing out compliments. Now I really I seen everything.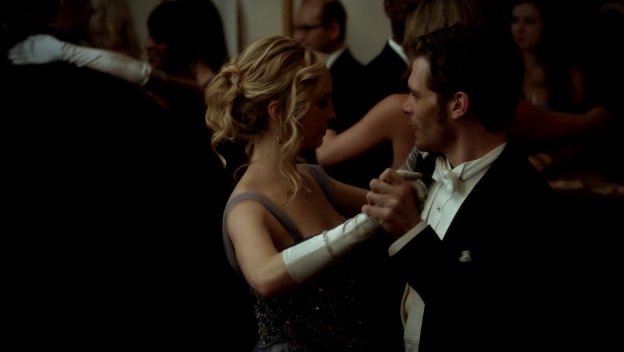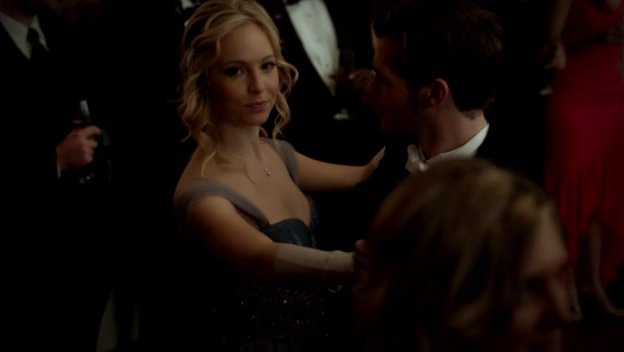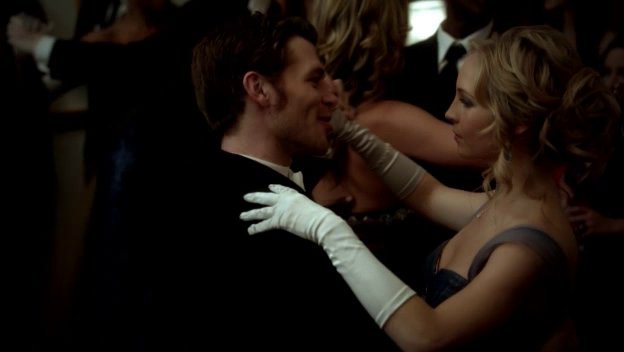 "You are quite the dancer."
"Well, I've had training. I happen to be Miss Mystic Falls."
"I know."
HE KNOWS?? HOW?? Okay this is cute. Sudden, came out of nowhere, but I like it. Ship it? Too soon. I need more first. And development. But chemistry and aesthetics on point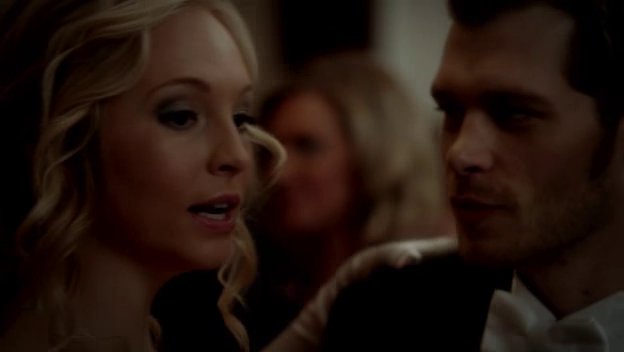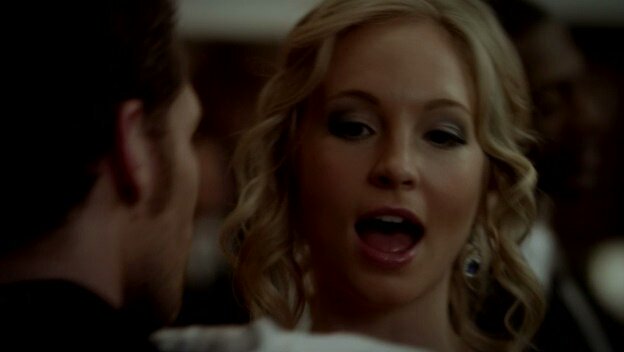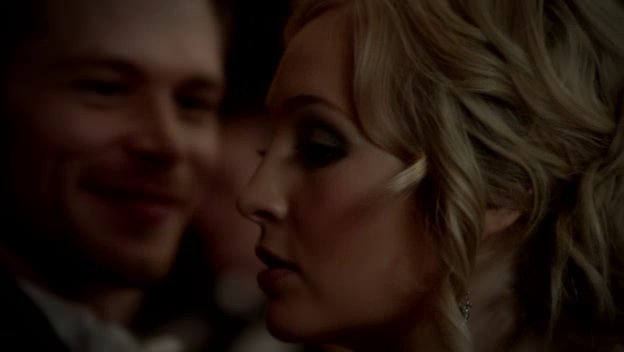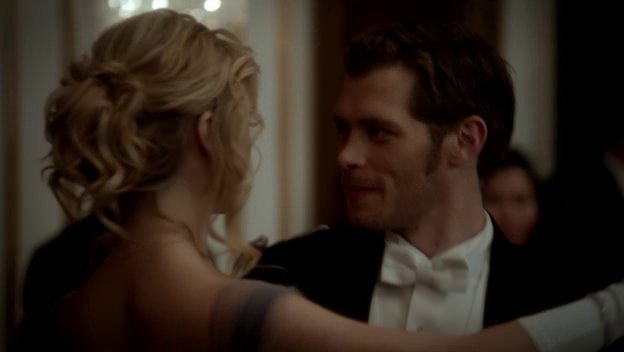 And Klaus needs to grow up. He has a lot of character development that needs to happen. The potential here though 👌
NOOOOOO 💀💀💀💀💀💀💀💀💀💀💀💀💀💀💀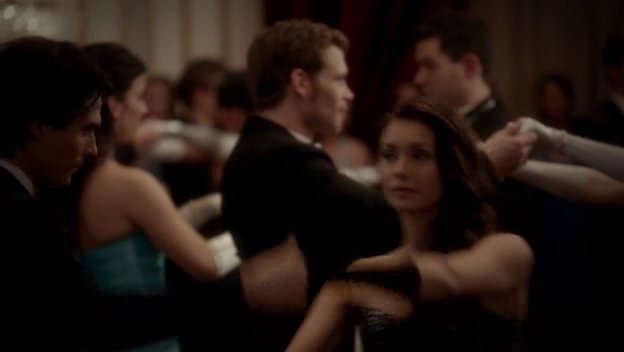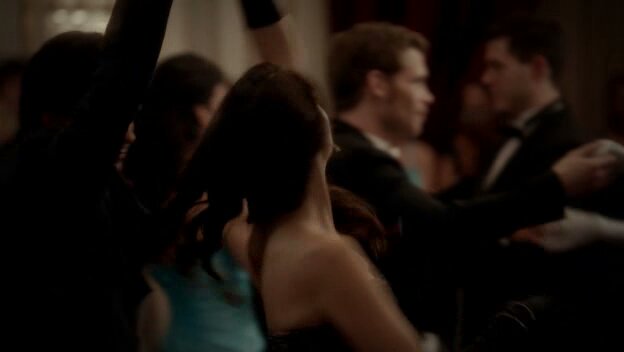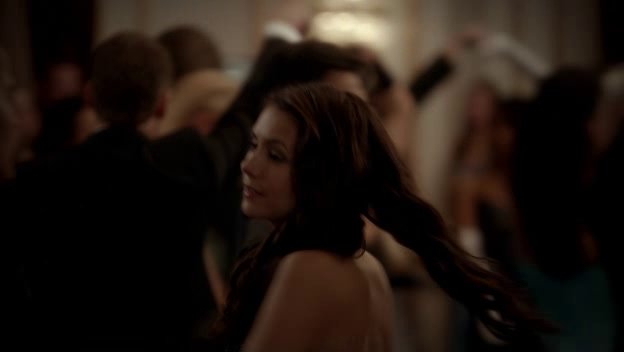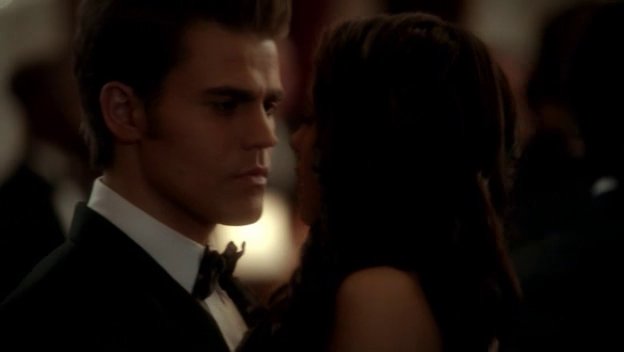 Just dance and get it over with 😣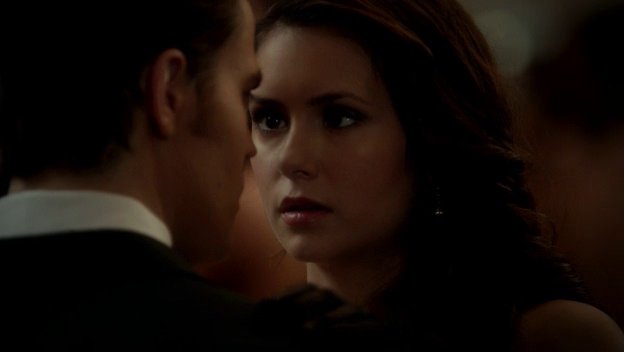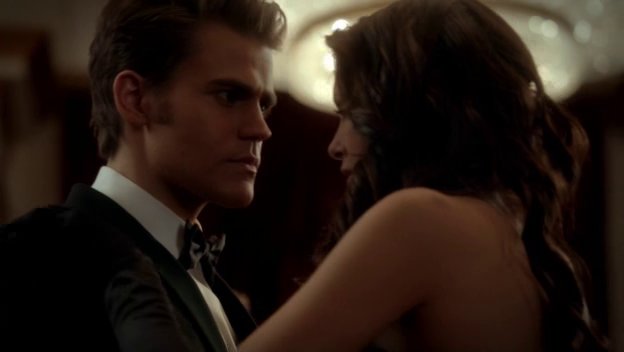 💀💀💀💀💀💀💀😐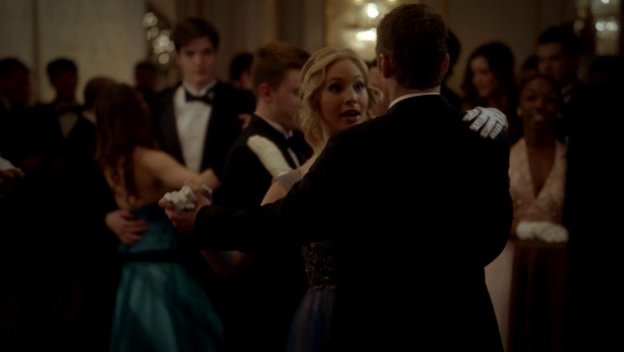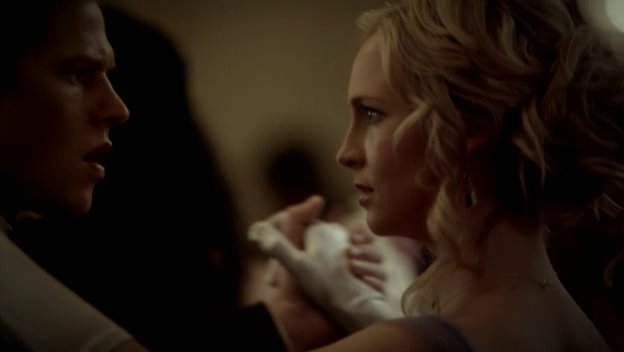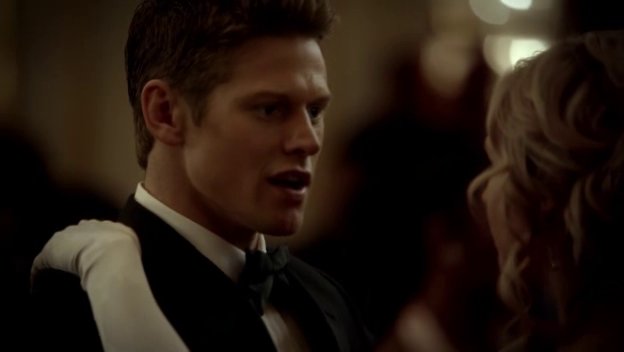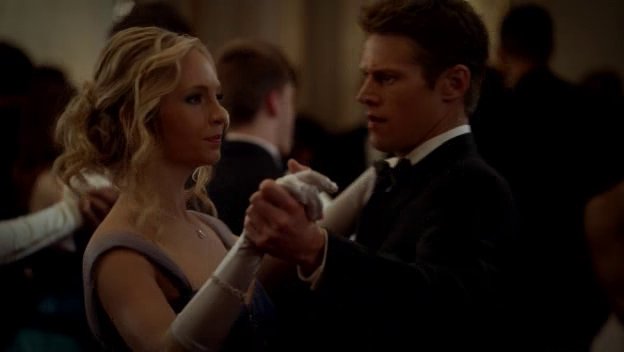 Why is Caroline acting like she is still hung up on Mr vanilla?
This dance just got the biggest downgrade with the NOTPs dancing together. And of course Stefan doesn't waste time to talk shit about Damon. Elena wants to talk to him in private. Ugh whyyy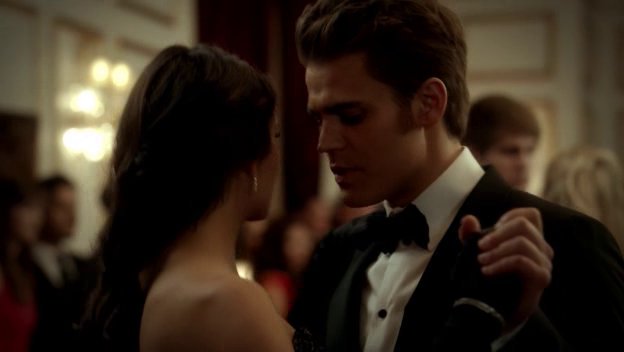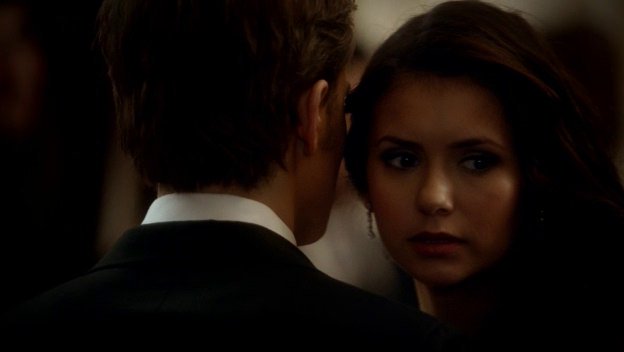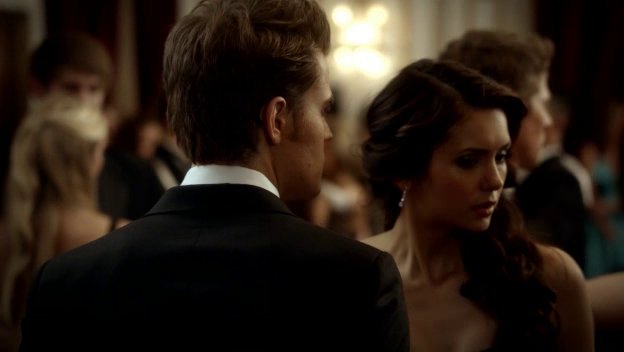 LMAOOO you got to be kidding me. So Rebekah seriously has a thing for Matt now too?? WTF GIRL. You really have no self-esteem. And she is jealous of Caroline. "Of course she looks beautiful. Nik gave her everything she is wearing."
Bex, PLEASE don't go for Matt. OMG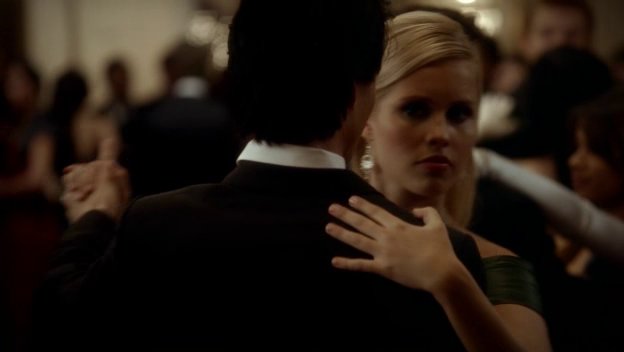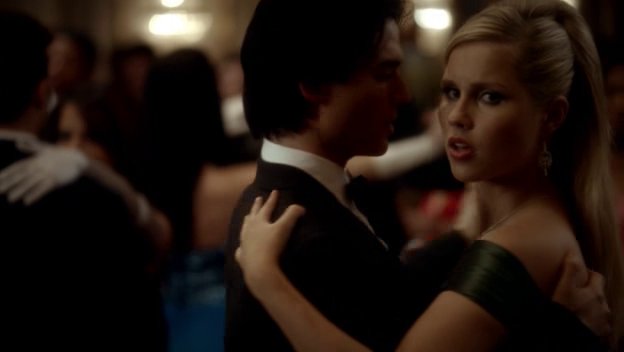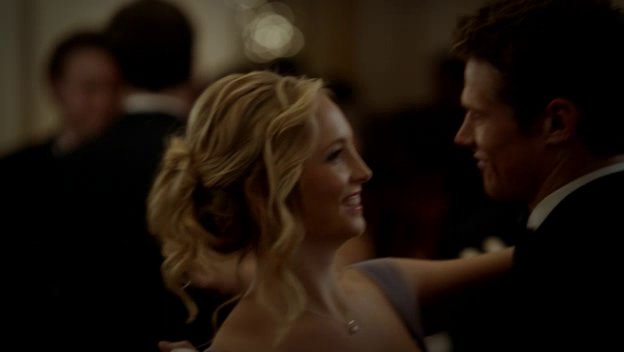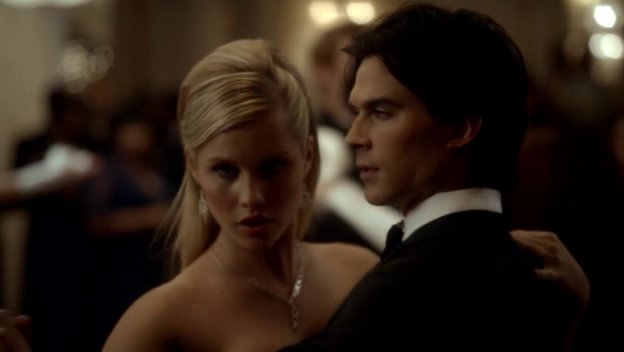 I don't understand why the show is trying to pretend that Matt is such a catch. Caroline, Katherine, Rebekah, it's just not realistic. Only Elena was smart enough to know she preferred flavor.
Damon gives a half ass compliment to Rebekah. "Is that a compliment?"
"You tried to kill Elena last night. You don't get compliments."
"Caveman."
Lmaooo
Damon notices Elena is gone and starts to panic. I love my loyal man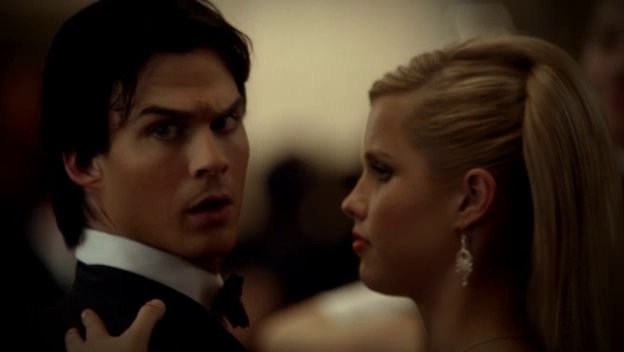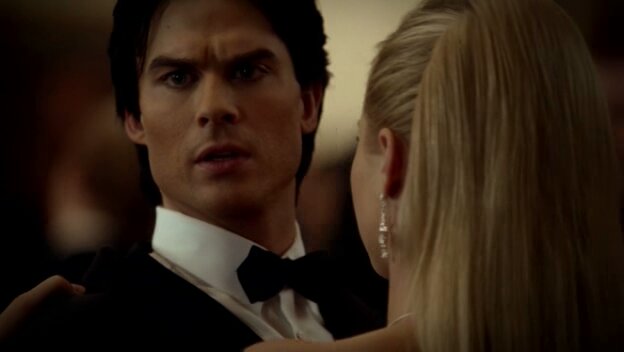 Elena took Stefan out so they can conspire together how to get her to see Esther without Damon protecting her. Elena knows Stefan doesnt give a fuck about her anymore.
"You care about killing Klaus more than you care about anything, so..What? Am I wrong?"
"No, you are not wrong."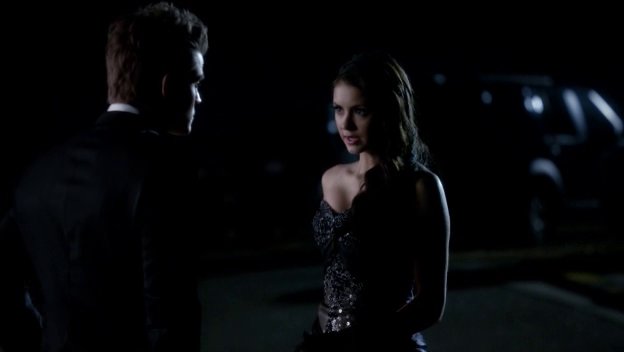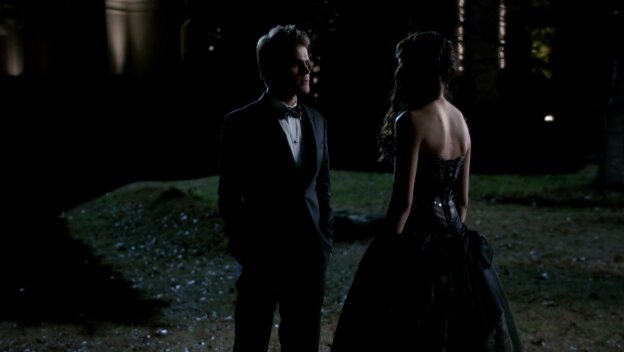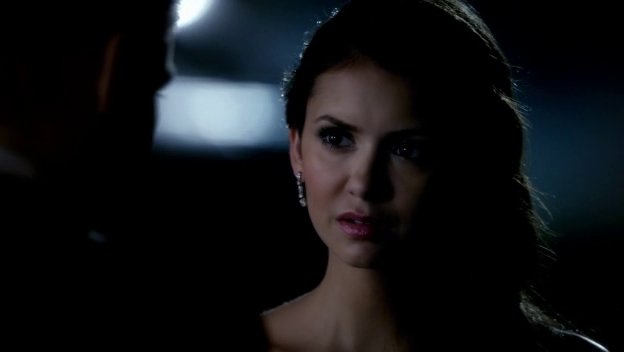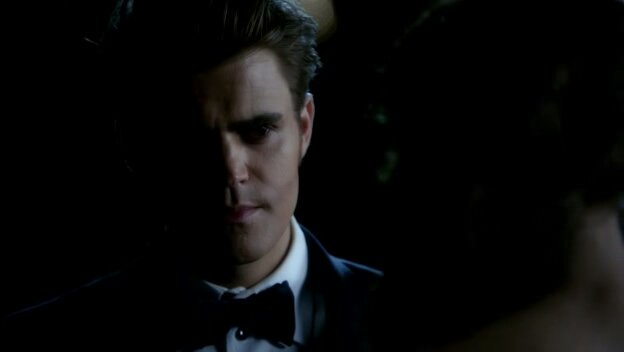 Except, she is wrong now. Stefan is back to caring. Even if he has shitty ways to show it.
"When we were together, you use to let me make my own decisions. You trusted me. After all this, atleast that hasn't changed."
Yes, Stefan still lets you make suicidal, dangerous decisions because he doesn't have the balls to stop you. That's nothing comendable.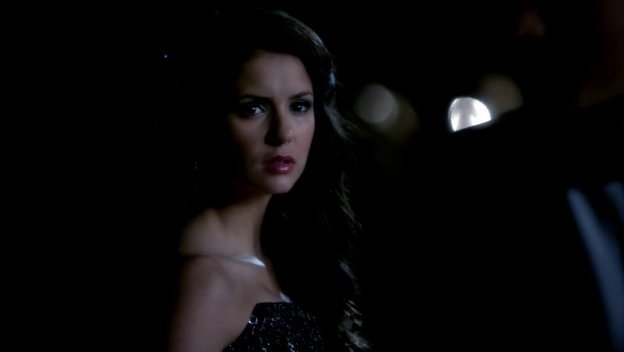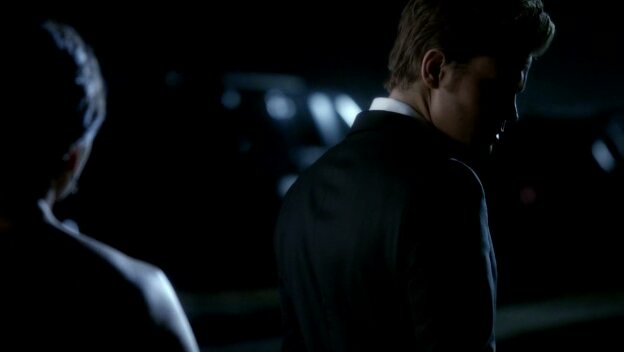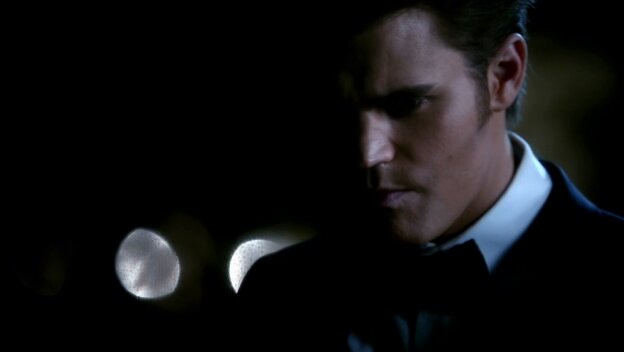 LMAOOO Rebekah brought Matt so she can kill him because he is Elena's friend. That's so bad but I don't care. She asks Kol to help and he is all in. Rule breakers 😈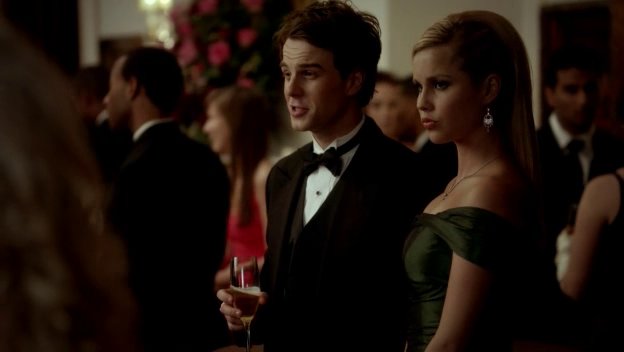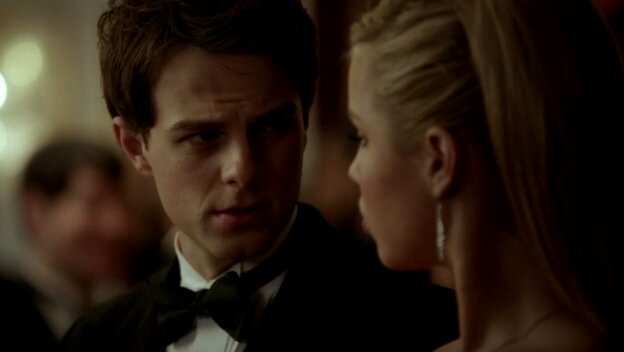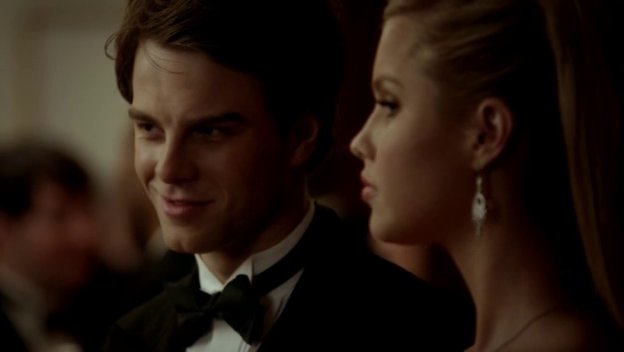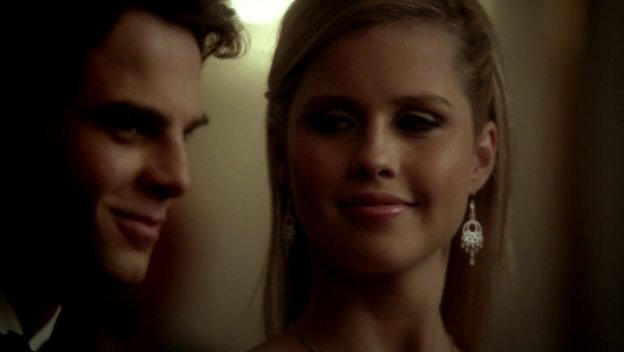 Damon sweetie, its a trap 😢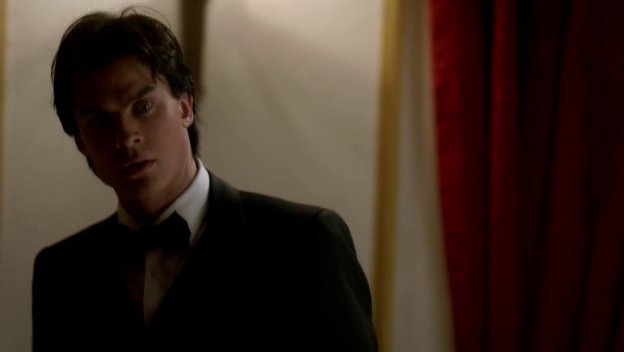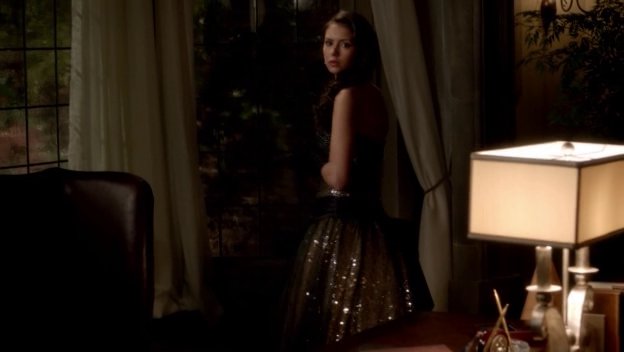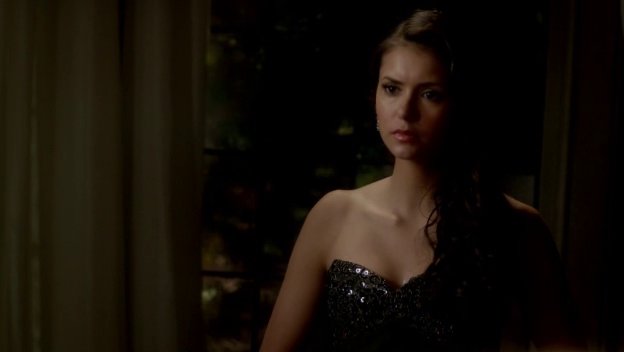 Stefan couldn't just snap his neck. Just let out all that resentment huh? He enjoyed this way to much and Elena looks horrified.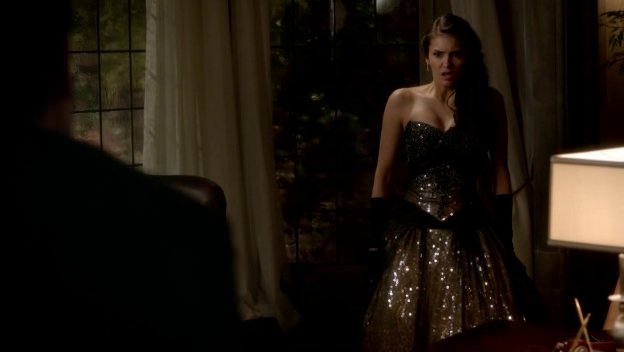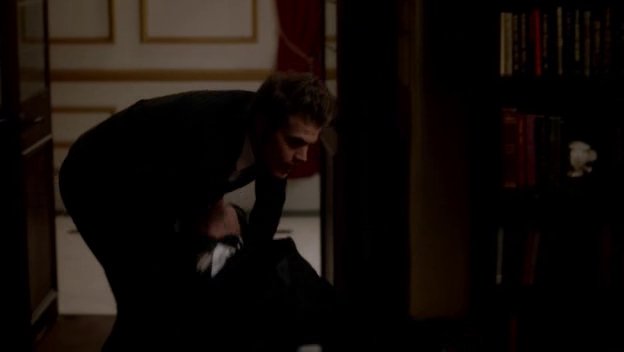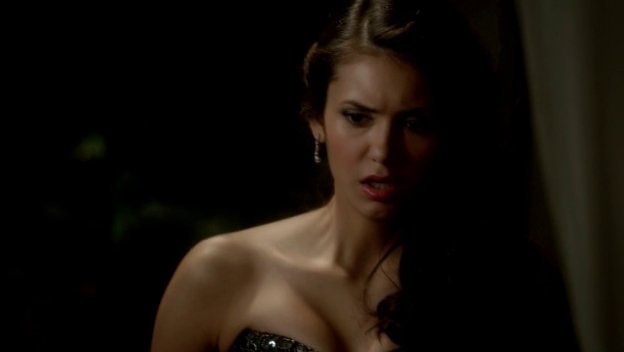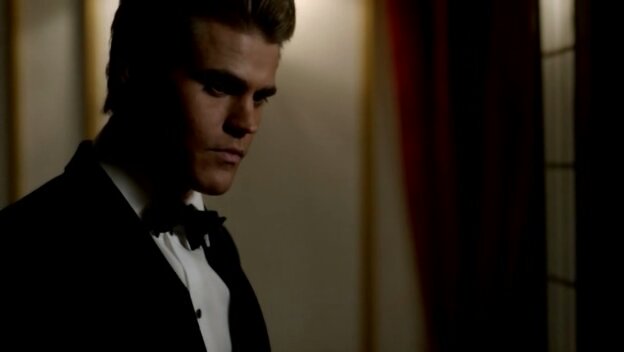 Elena goes but turns back and looks at Damon, feeling guilty as hell. Thanks Stefan. If anything happens to Elena, it's on you. 💀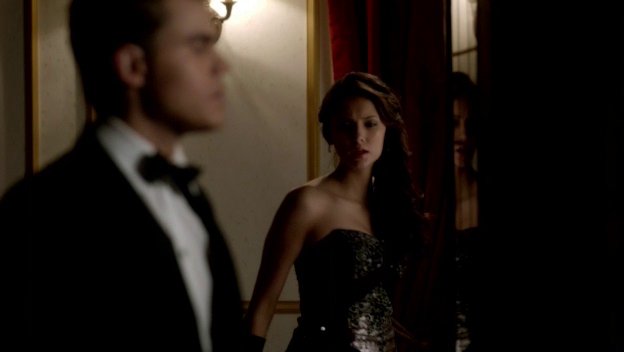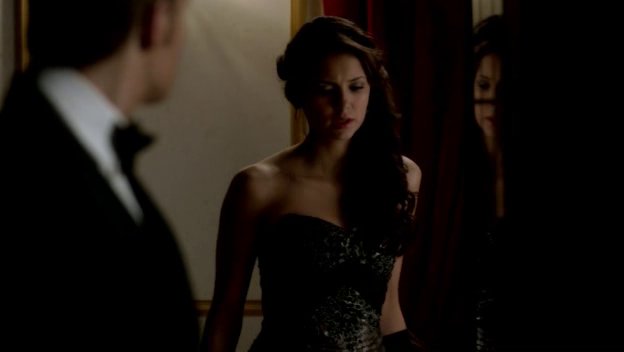 My crackship of Delena didn't exist. He rubbed her arm gently. Elijah has a fondness to her, that's a fact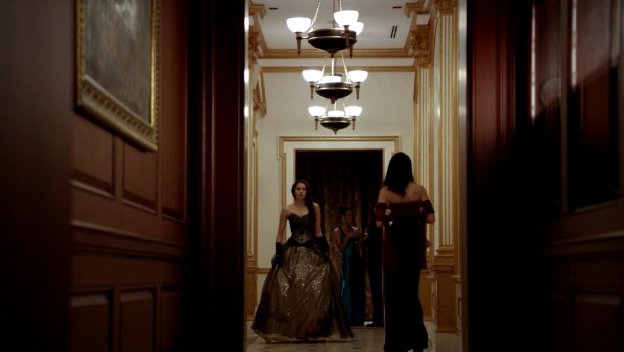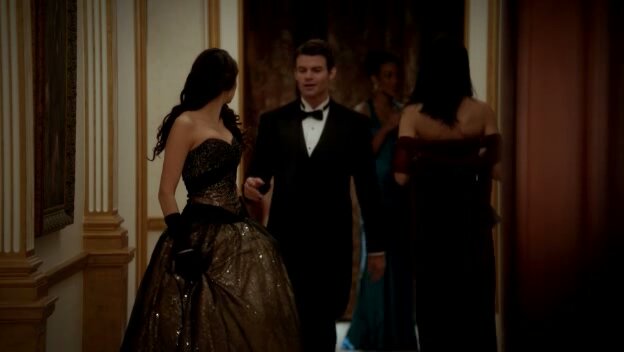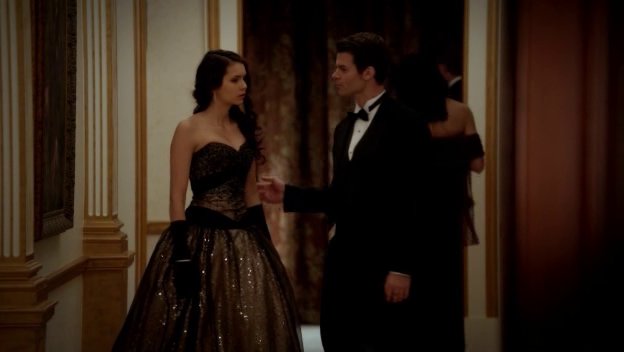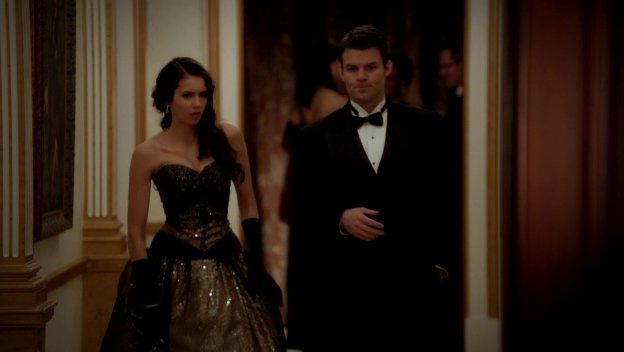 Just saying, lol 😜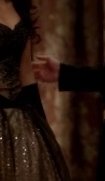 Elijah is smart and he doesn't trust Esther. He asks Elena to tell him what her plans are and Elena says she will find him after her chat with momma original. Good. I like it when Elijah is on their side. As long as he doesn't double cross them again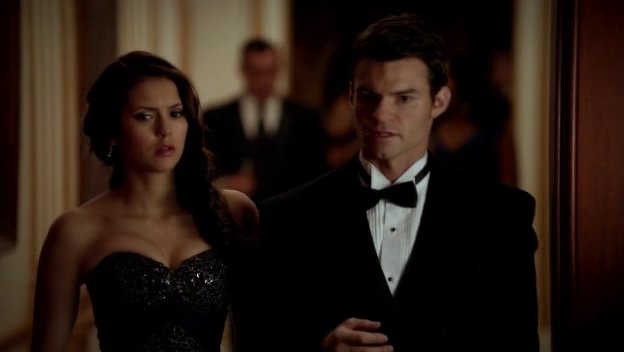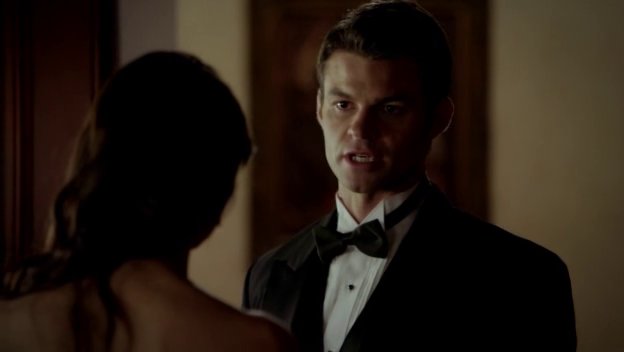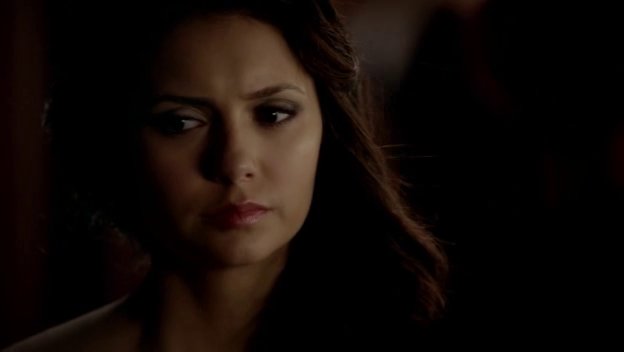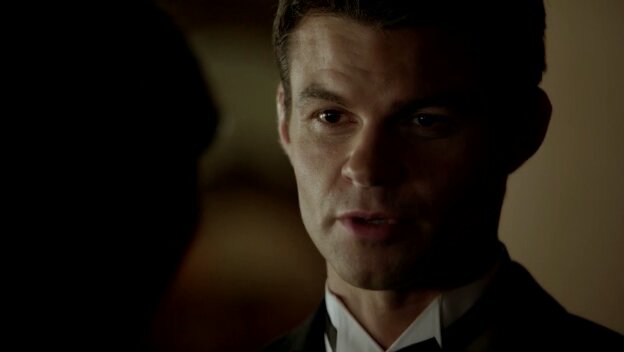 SHIT THIS LOOKS SKETCHY. Finn has a long blade and Esther I doing something hocus pocus.
Stefannn 💀💀
Elena knocks. "That would be the girl."
The girl has a name. You tried to kill her before. Atleast have the decency to call her by her name. 😐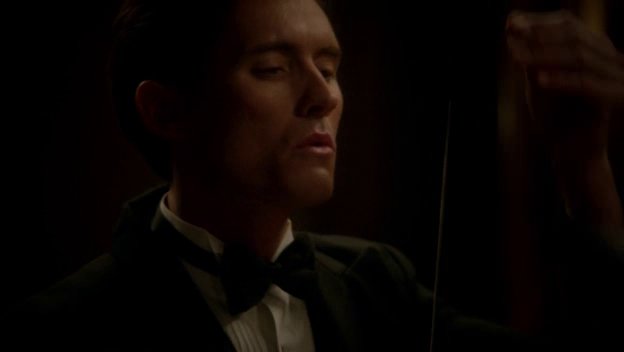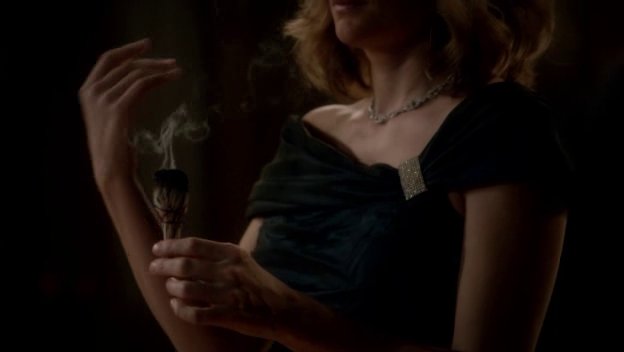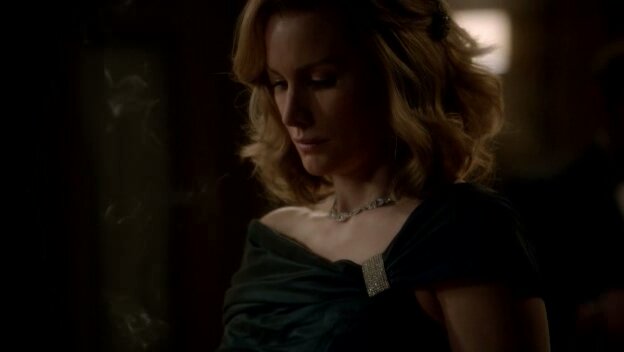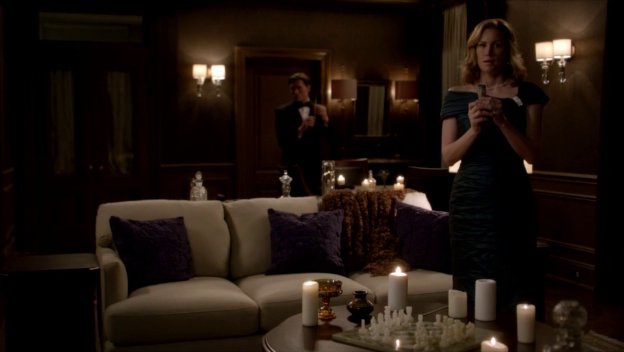 Elena looks at the witchy thing suspiciously and Esther assures her that it is only sage that was spelled so no one can hear them. Now I am even more convinced this is going to be sketchy.💀
So Esther is not a ghost. When she died, Ayana preserved her body with a spell. Ayana is an ancestor of Bonnie. That's why only Bonnie an her mom could open the coffin.
I KNEW THIS BITCH WAS LYING. She wants to undo the evil she has created and she needs Elena's help.
Elena is a human. What can she do in this case?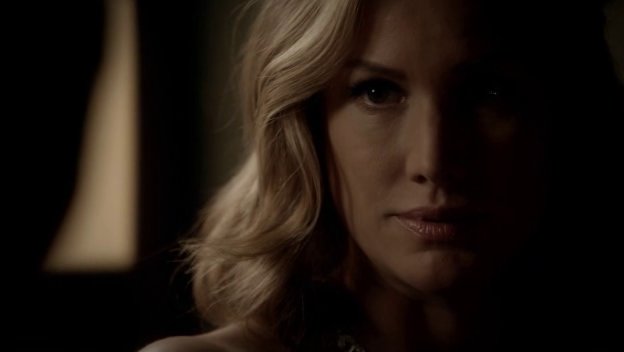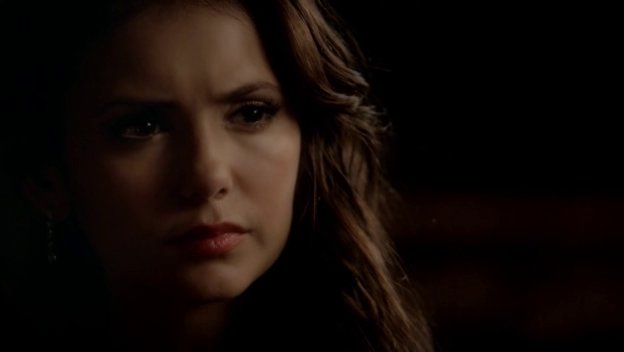 Pretty prettyyy. They are really giving this ship aesthetics 😍
"Do you like horses?"
"I am not talking to you until you tell me why you invited me here."
"I fancy you."
OH MYYY GOOOD HE JUST WENT STRAIGHT FOR IT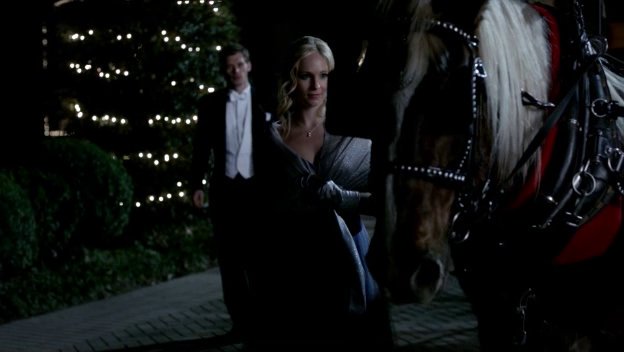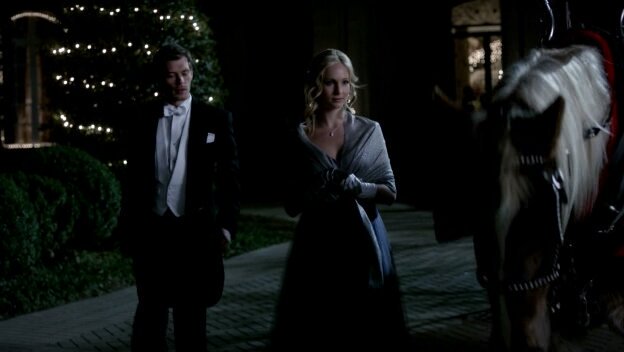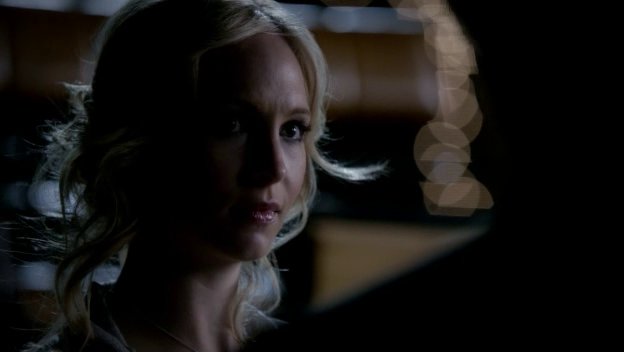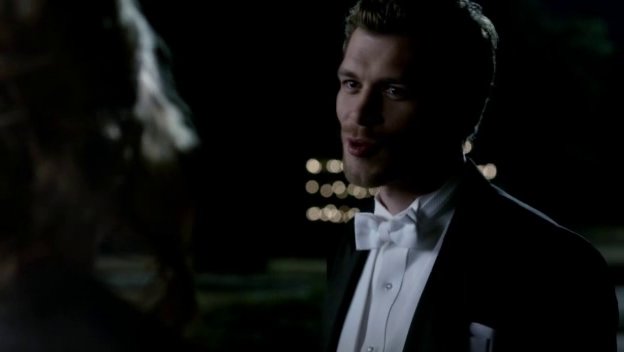 "Is that so hard to believe?"
"Yes."
"Why? You are beautiful. You are strong, you are full of light. I enjoy you."
AHSHDN THOSE ARE GOOD REASONS KLAUS. Color me impressed
Klaus opens up about his father and tells her how he severed his favourite horse's head.He really was a monster.
Care shows him little sympathy though and tells him that she likes horses AND people and they like her,so she will be inside.She isn't going to make this easy,is she?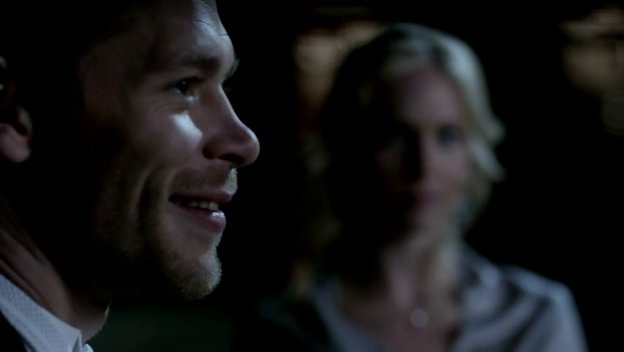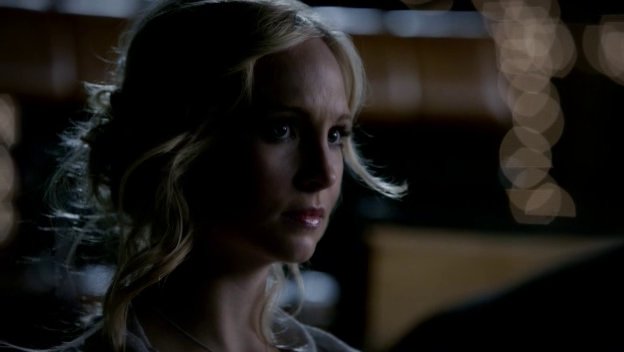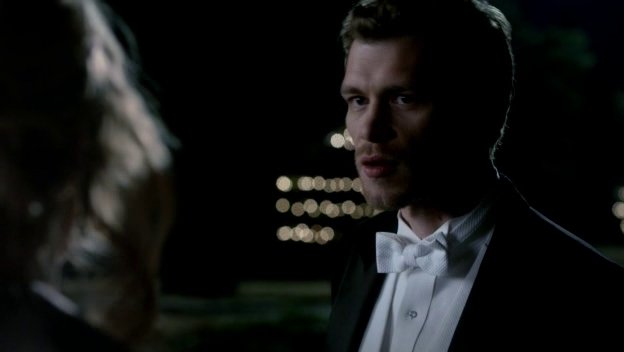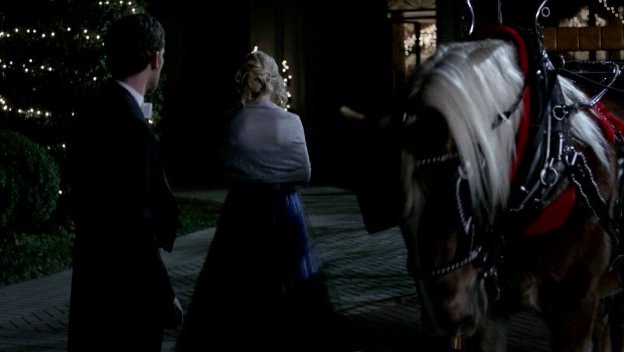 Esther has gathered all her chikdren together to perform a ritual. OHH HELLS NOOO. Step 1 recuites the blood of the doppelganger.
Elena run. Giving a witch your blood is NOT smart.
Only a drop atleast. It's essence will be in the champagne. Esther is very bossy. She just assumes Elena will do it. She doesn't even really ask her, but tells her. 💀
Poor Elena. Everyone is always after her blood like leeches 😐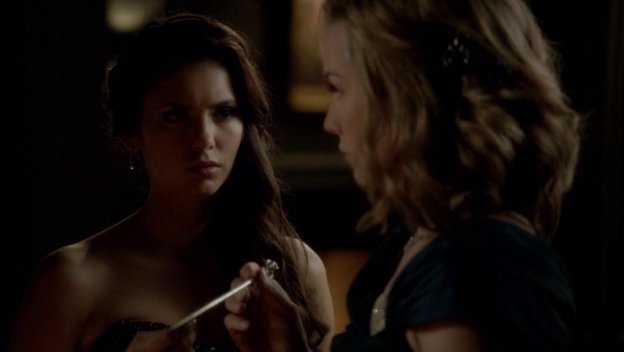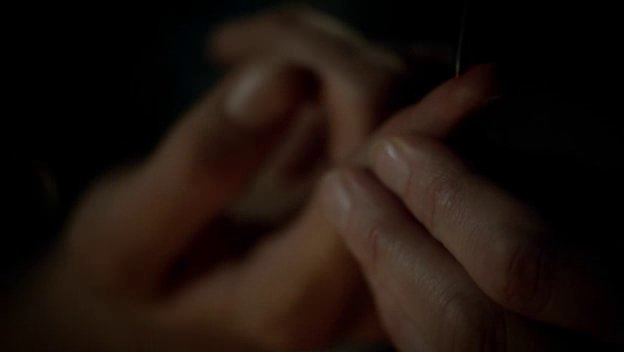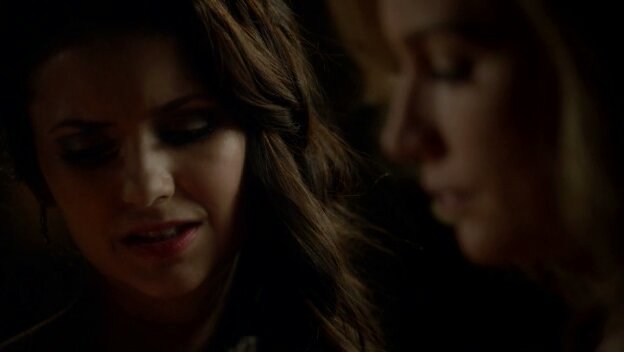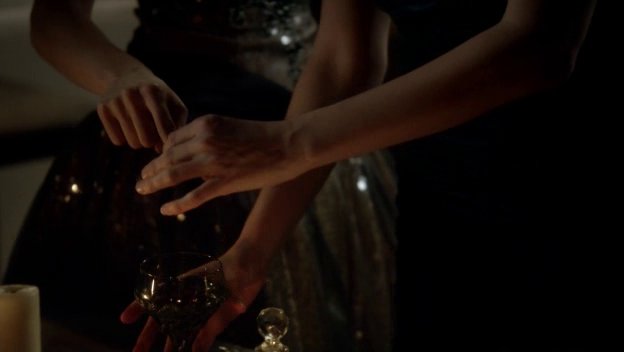 OMGGG THIS BITCH. NOW SHE EXPLAINS AFTER GETTING WHAT SHE NEEDED. IT IS A LINKING SPELL. SHE WANTS TO KILL ALL OF THEM. IF ONE GOES, THEY ALL DO. BUT ELIJAH AND REBEKAH 😱😱 FUCKK ELIJAH DOESN'T DESERVE THIS. WHAT DID HE DO WRONG?
"They are an abomination." Well no shit. You knew they would be when you decided to make them vampires a thousand years ago. 😐
Your kids aren't just mistakes you can wipe out FFS 💀
Wow ...Kol is really eager to kill Matt. He wants to make a spectacle of it too. ...is he a little crazy? He seems a little crazy
Damon is panicked and pissed off and wiped that smile of Stefan's face. "WHERE IS ELENA? WHAT DID YOU DO?"
PHEW I AM WEAK.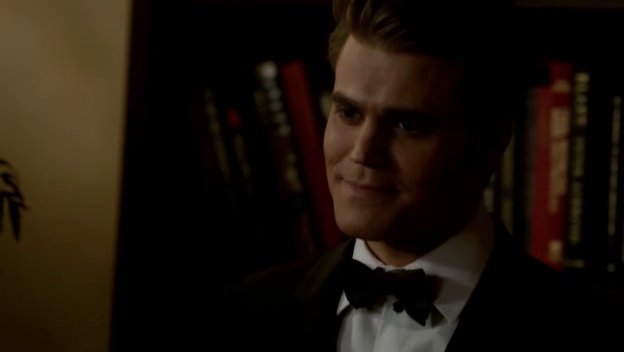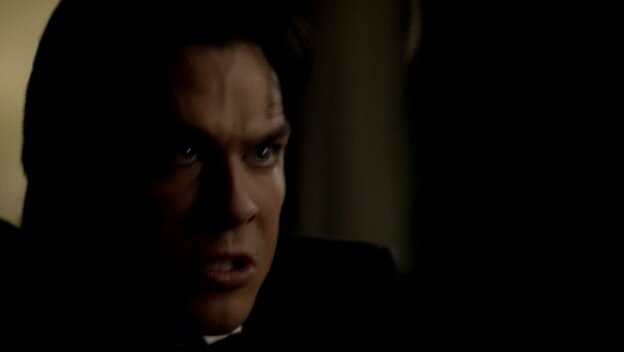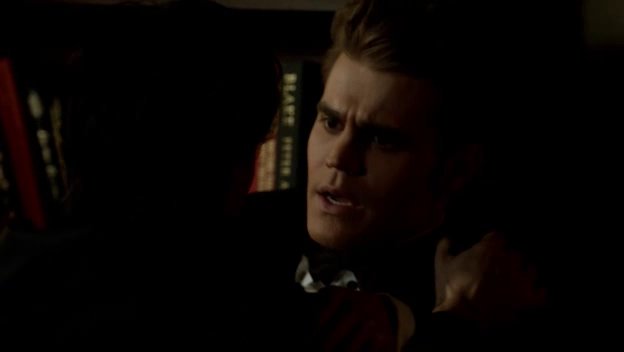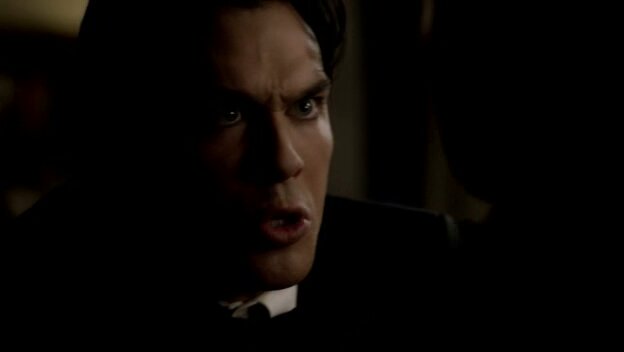 Stefan accuses Damon that his emotions are getting in the way of the plan and he is shook. "MY emotions? How is this even happening right now?"
"Maybe because you care to damn much."
It's calls character growth, Damon. And I love you for it. Sooo damn much.And Stef hates you 4 it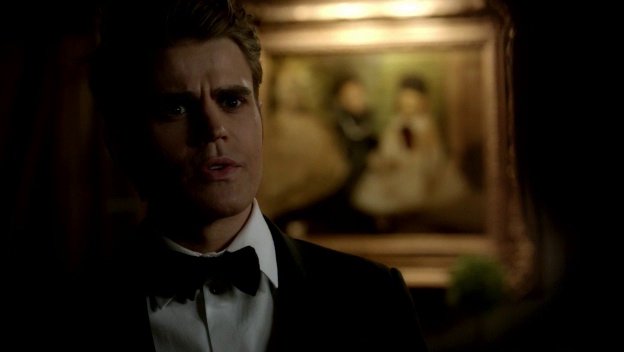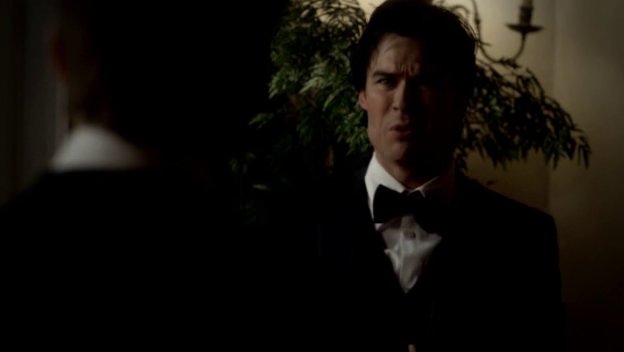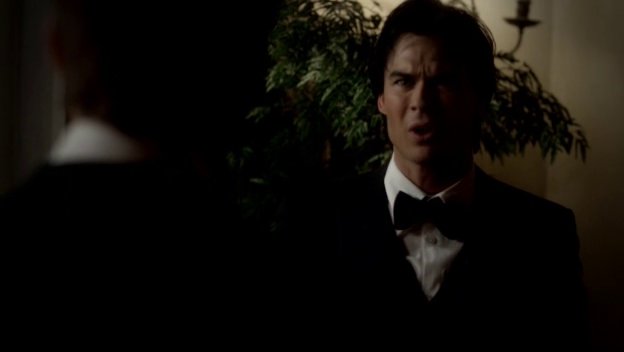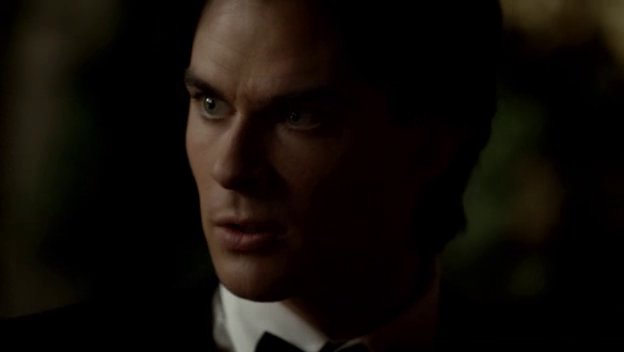 This reminds me of something Katherine said in S2. "The brother that loved me to much, and the one who didn't love me enough."
That's happening again.
I love the all consuming way in which Damon loves. That's his thing.
Rebekah luring Matt outside to the parking lot lmaooo
Matt does something decent and gives Rebekah his jacket against the cold and she completely melts and changes her mind about killing him. She is such a ball of emotion. Show her the tiniest bit of kindness and she is in the palm of your hand. My girl is starved for kindness 😢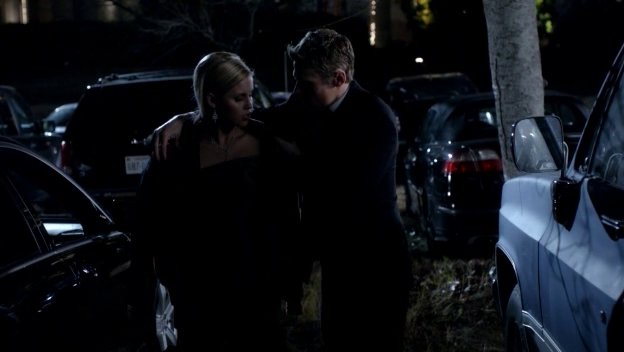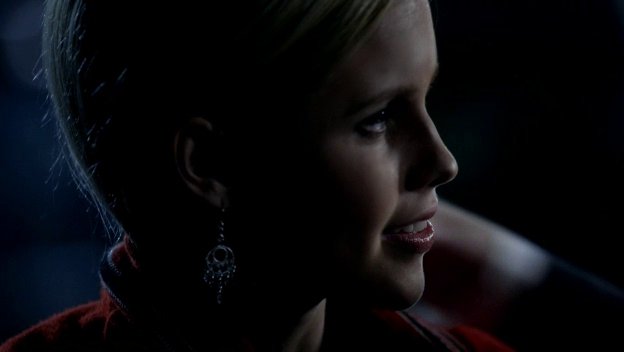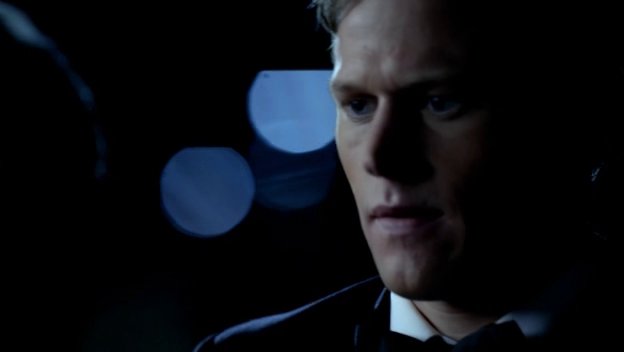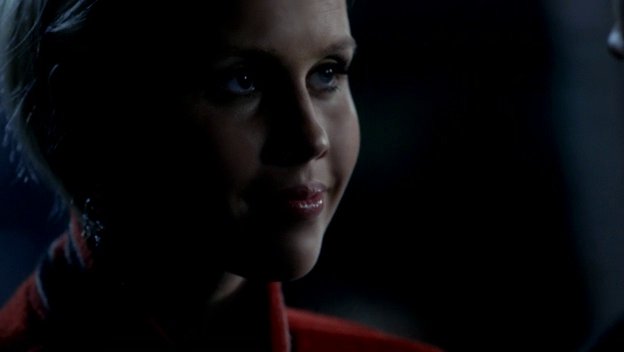 Boss is coming. Have to pause 😢😐
Will finish the ep tonight. This one is taking forever but all the scenes have like, a million things to them that I want to talk about. 🙊 It really is a great episode
Kol doesn't look pleased at all about Rebekah going back on their plan. I am and I am not. Damn, Matt gets to live, but it's good for her character and shows her heart.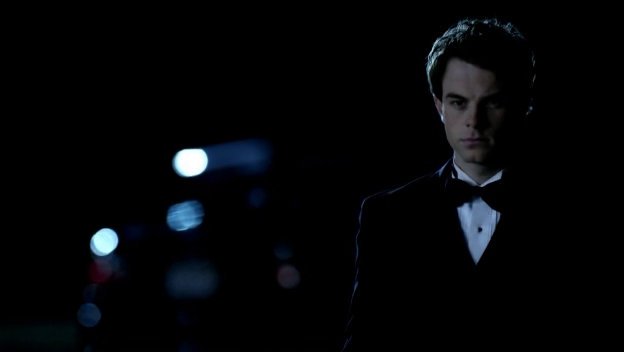 ELIJAH HAS THE CHAMPAGNE 😱😭 He asks Elena about Esther's intentions. Tell him Elena. NOOO WHYYY. Sweetie you suck at lying. I think he knows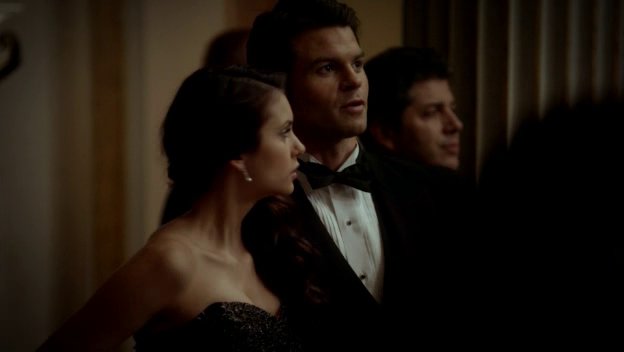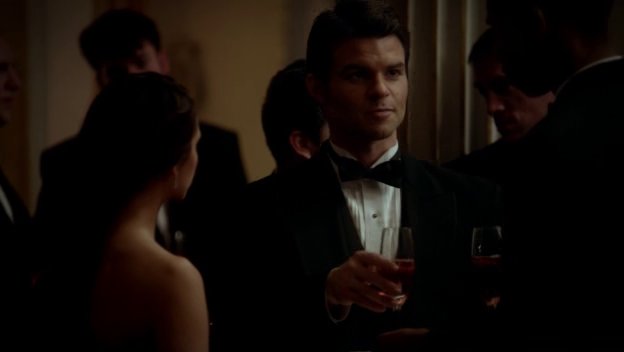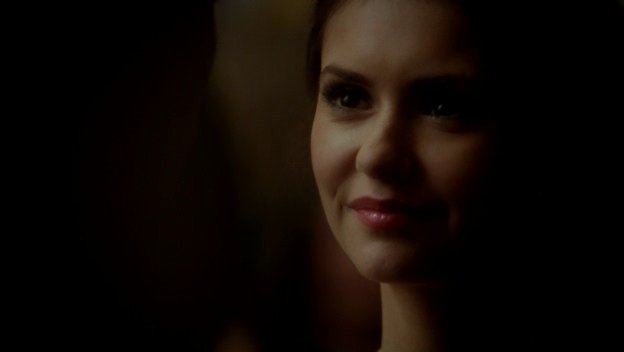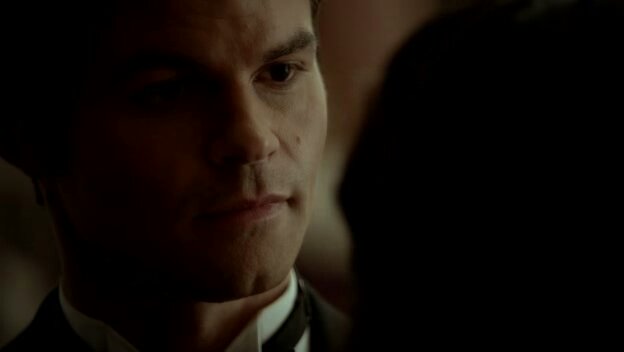 Klaus takes it too and gives one to Caroline, who really does seem to be his date for the night since they are together the whole time. Elena feels nervous and guilty since deception isn't in her nature OMG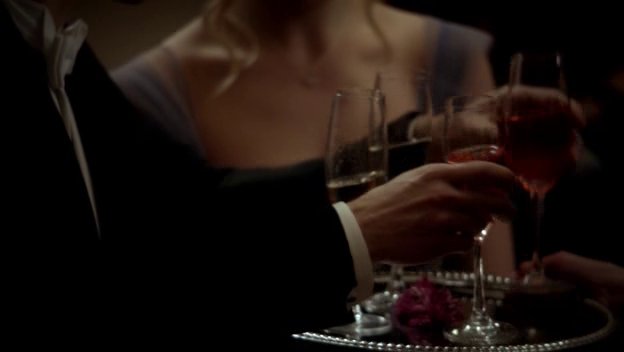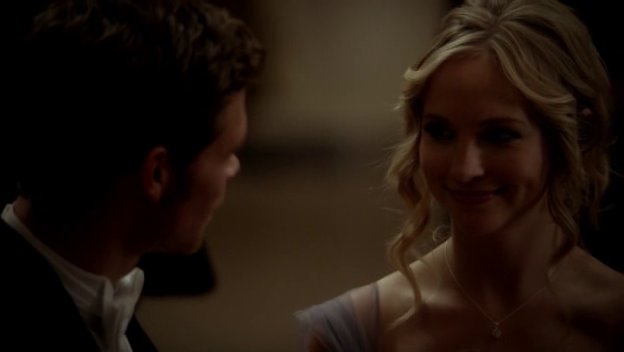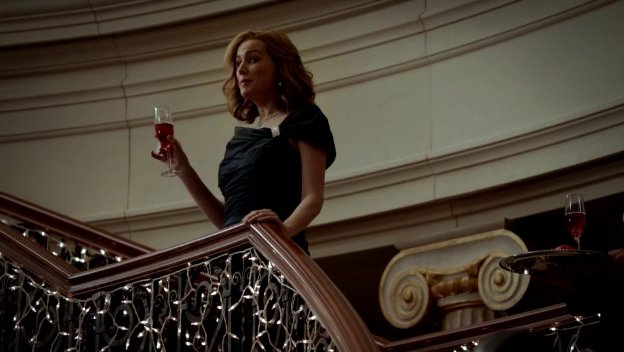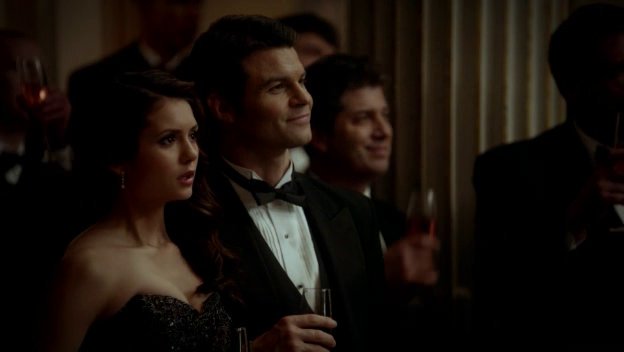 OMGGG they are all drinking it. Kol, Rebekah, Finn, Klaus.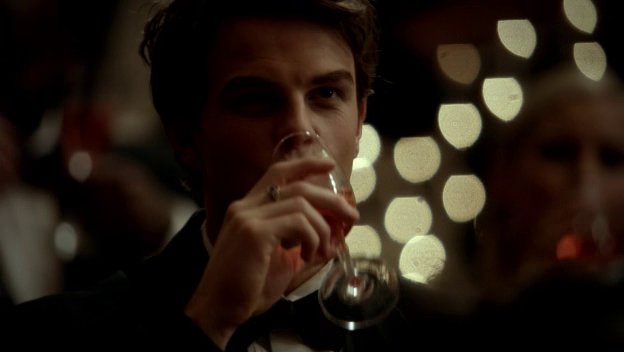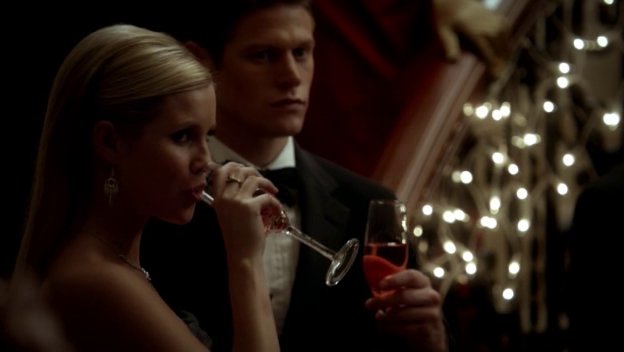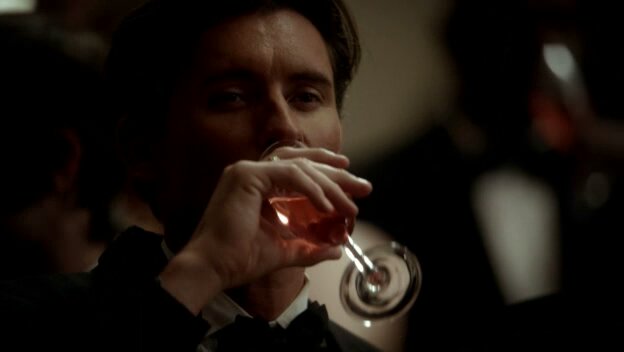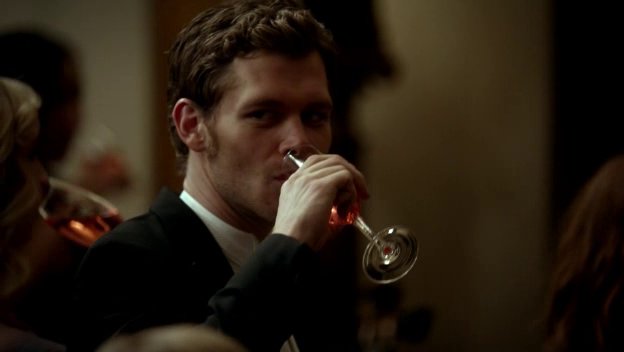 ELENAAA she looks like she may want to stop Elijah but she doesn't. I hate this 😭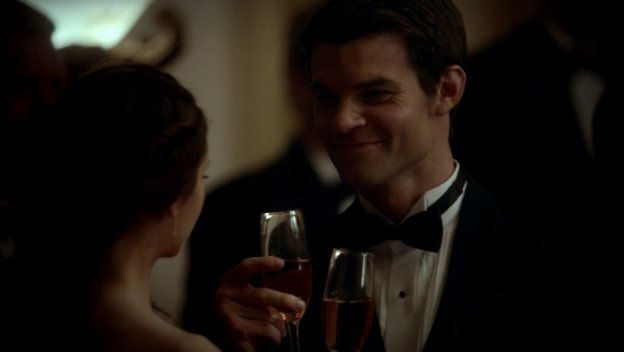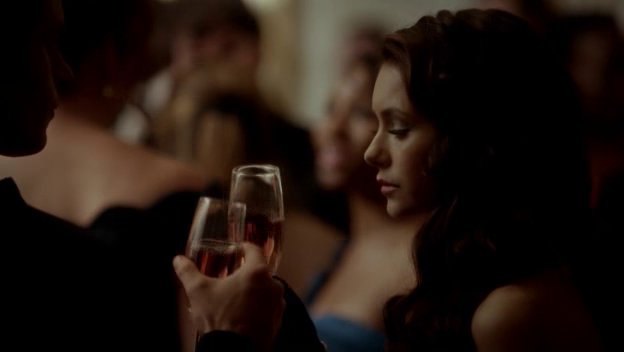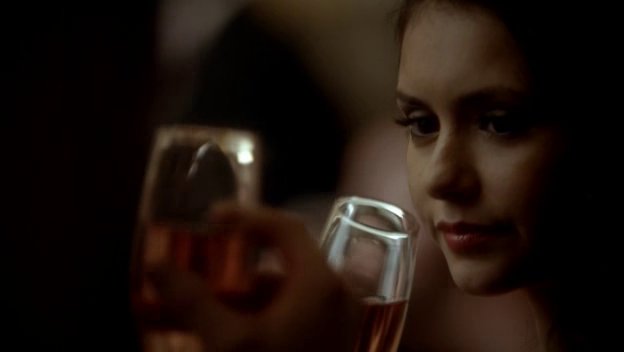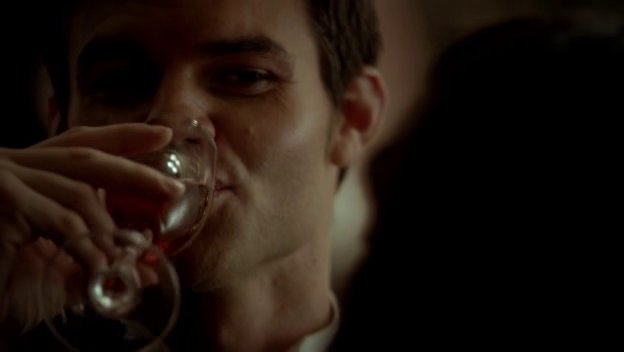 Still hanging out together. Caroline sewma slightly nervous. She is doing the nervous twitching with her gloves. Klaus shows her art. This episode is being very helpful to his character. It's good to see he isn't all blood and violence, but can appreciate the finer things.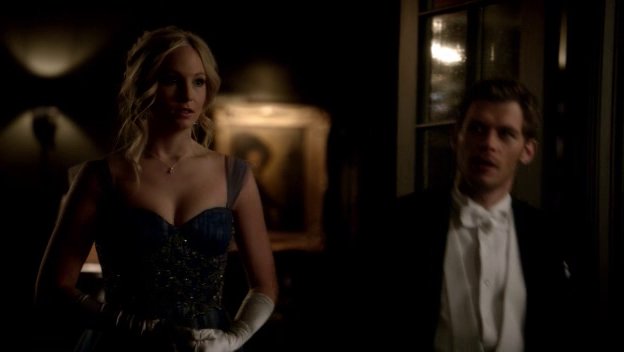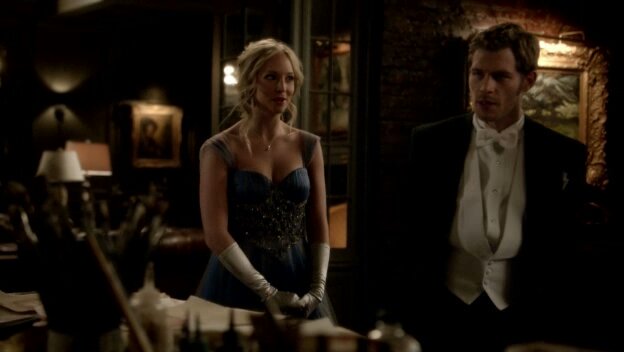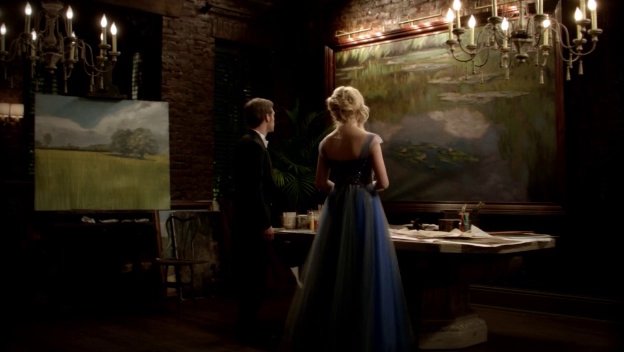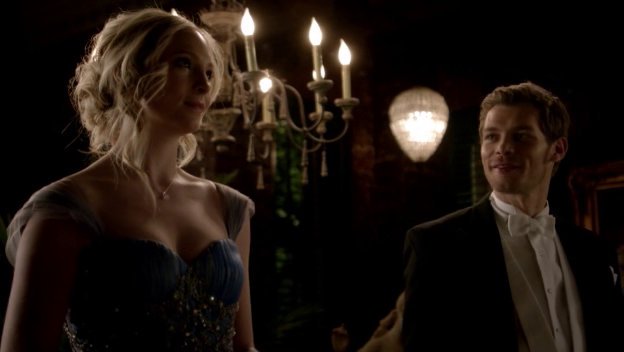 Ouch. She asks him where he stole the bracelet from and he assured her it was worn by princess "almost as beautiful as she is."
That over the top cheesy line doesn't work on her and she rolls her eyes and Klaus takes the blow.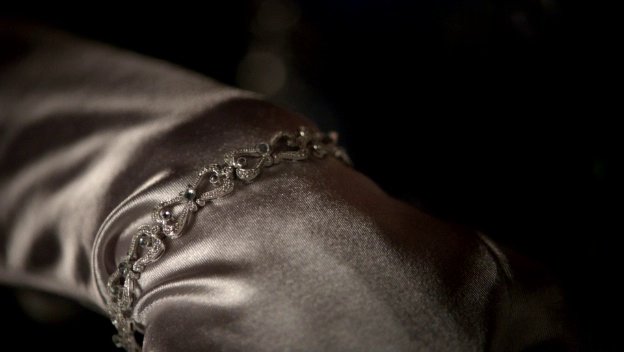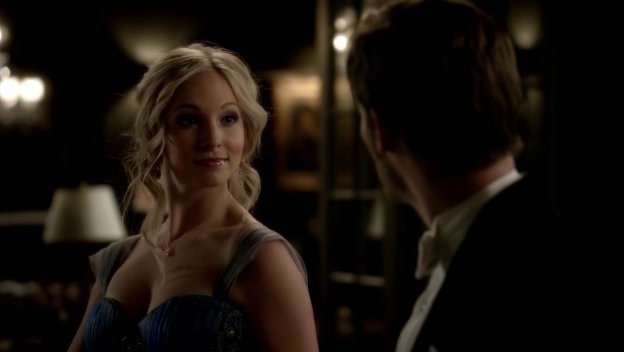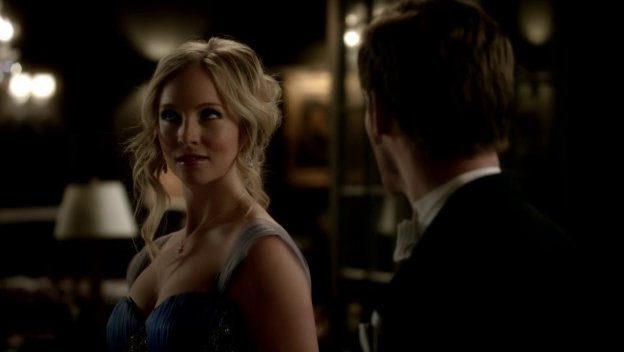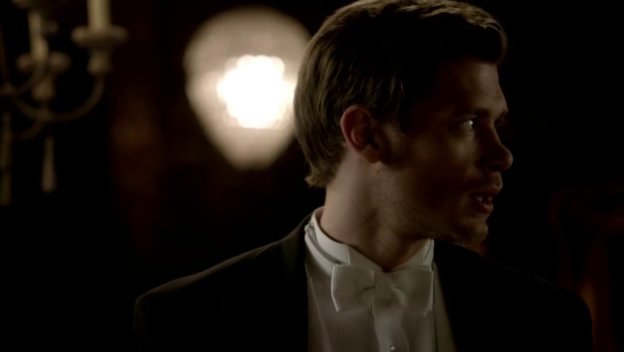 He is trying REALLY hard though. Perhaps a bit too hard 🙊
He draws really well too and I find a man that can draw really sexy (in real life. It's one of my turn ons 🙈)
Caroline is impressed and he turns all shy. I love how this 17 year old can turn this "monster" into a blushing bag of jello.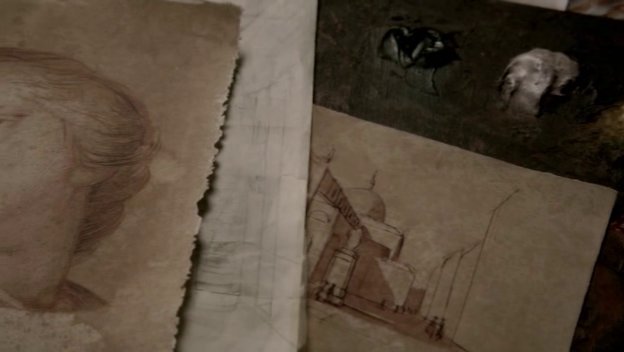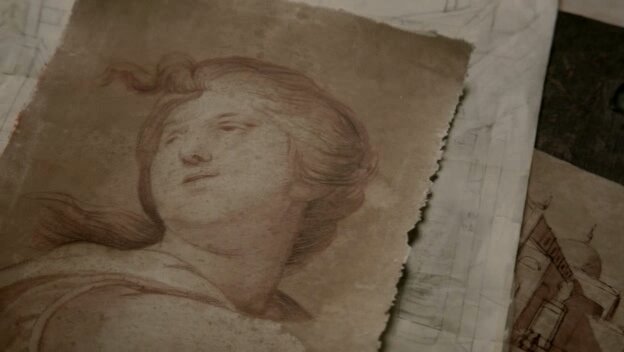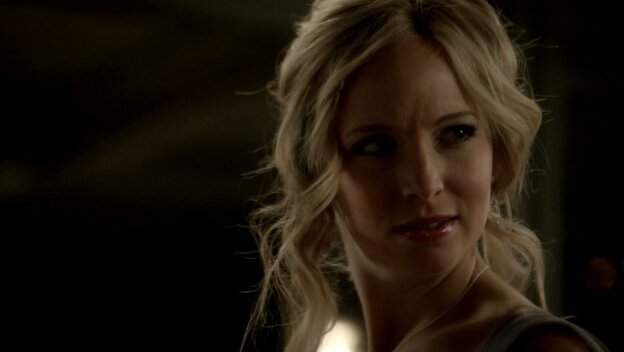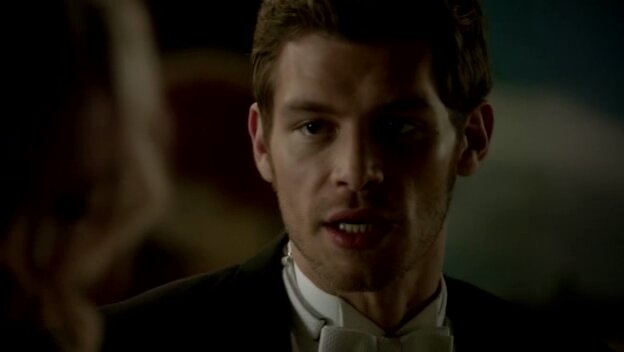 Caroline says she hasnt really been anywhere. He is coming on a little strong again, offering to take her to Rome, Paris, Tokyo. 🙈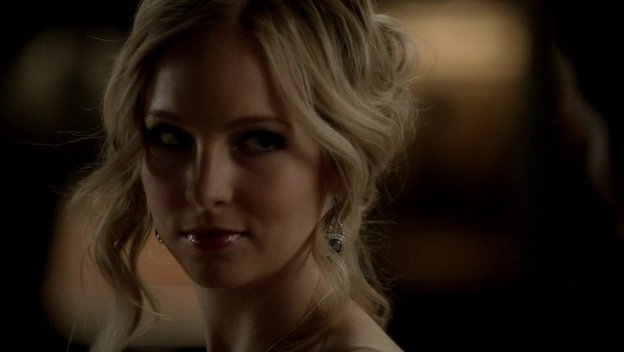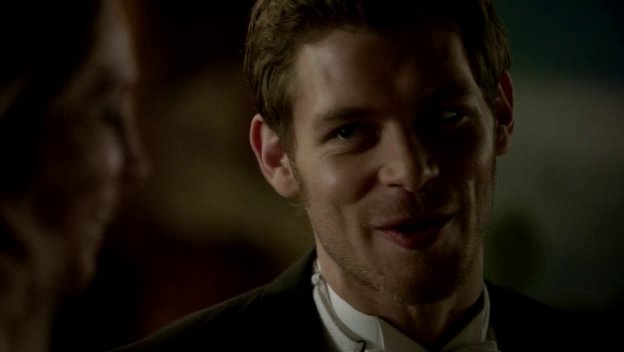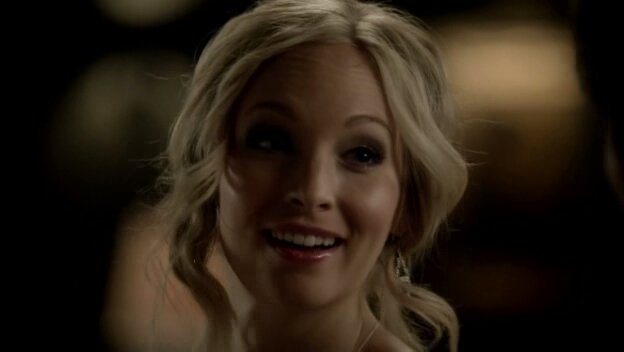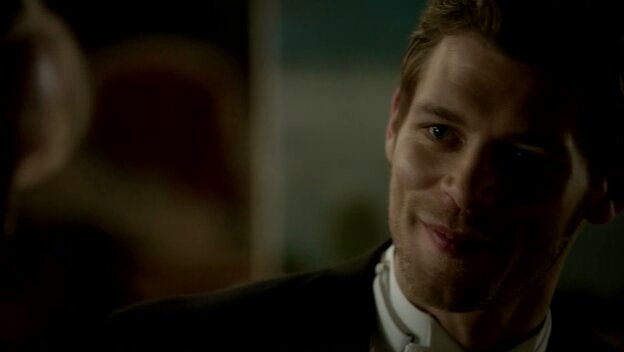 Oh shit. Caroline has taken it a bit far. She insults him about hybrids and asks him why he needs Tyler and doesn't just let him go. "It has been a fun evening. But I think it is time for you to leave."
Caroline, just go okay. He is out of soft mood and back in scary mood.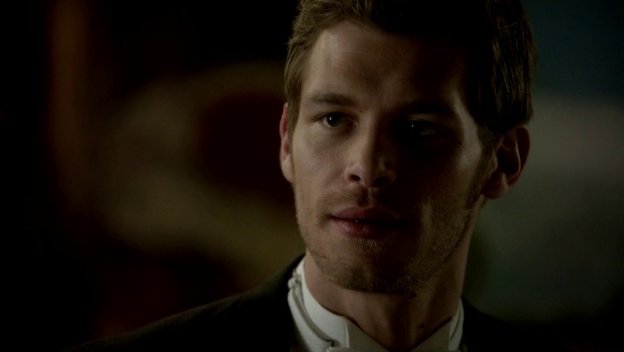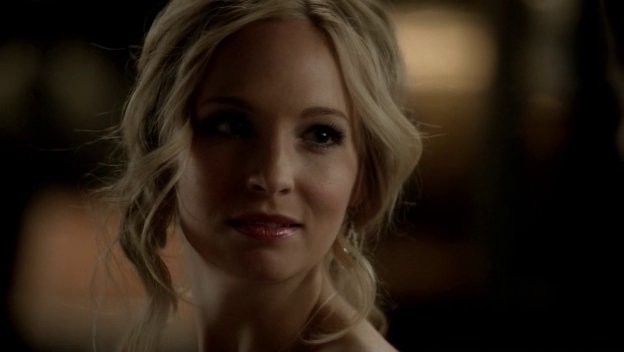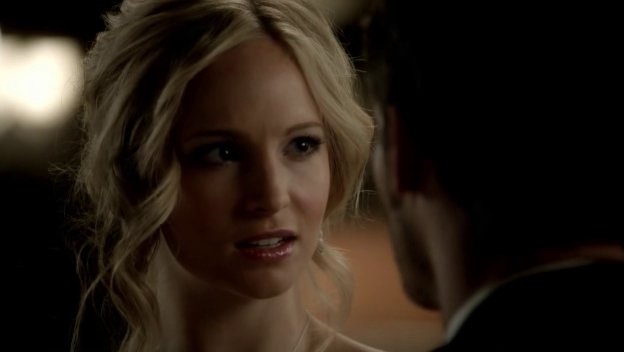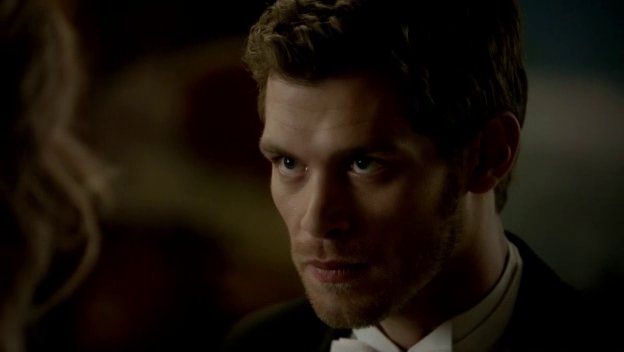 Miss Forbes snapped. "Your father didn't love you, so you assume that no one else will either. That's why you compel people, or you sire them, or you try to buy them off, but that's not how it works. You don't connect with people, because you don't even try to understand them."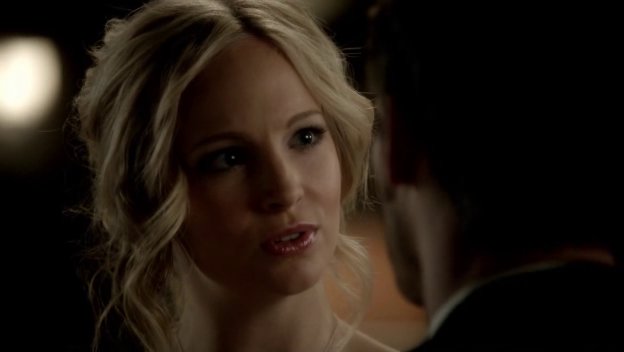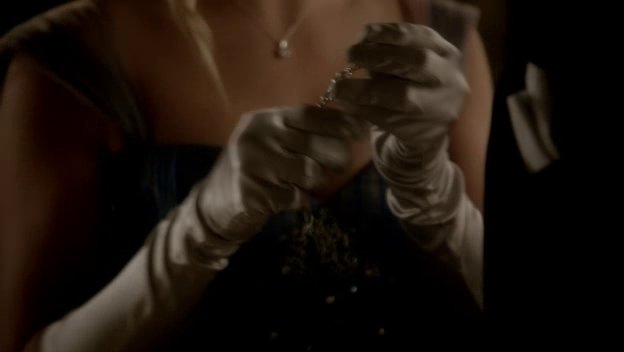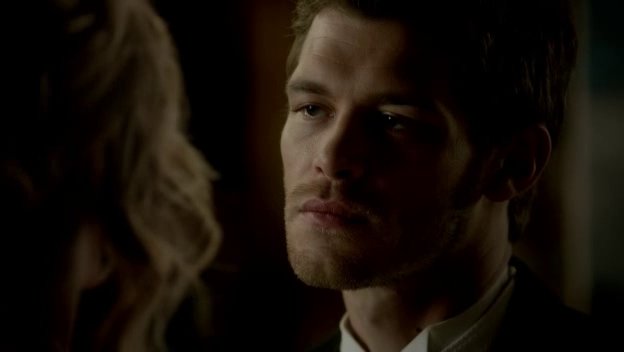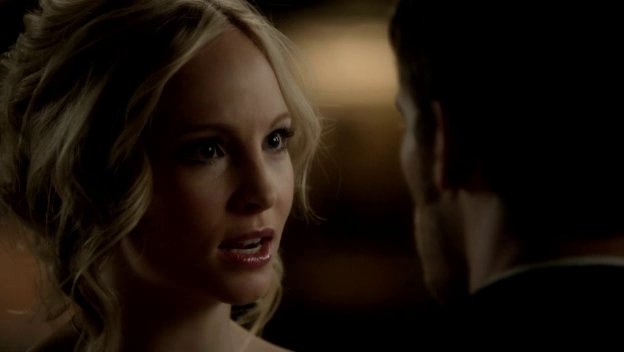 Caroline has amazing insight and she is very right. But to be fair, in this one night, he did try damn hard to connect to her by opening himself up.
Kol confronts Rebekah about Matt but she said she changed her mind. Sjeesh Kol, no need to be a little bitch about it. "Don't tell me you like this boy? What did he do? He gave you 5 seconds of his attention?"
💀💀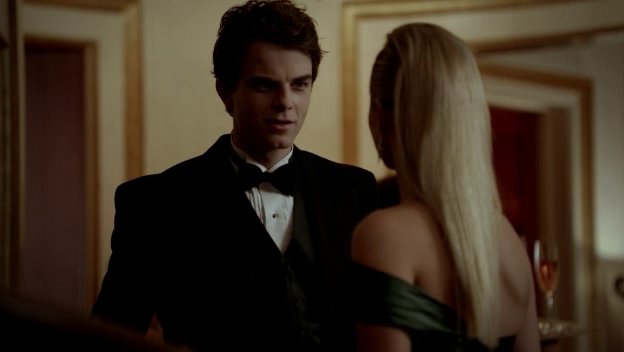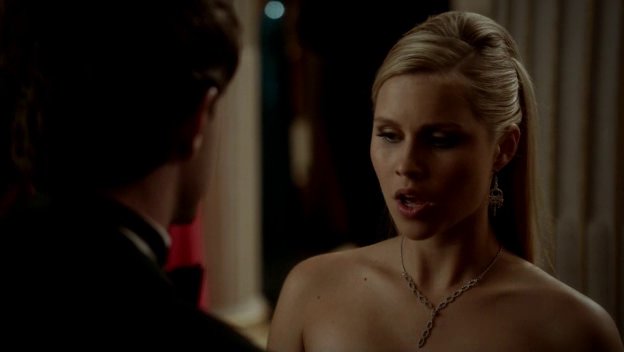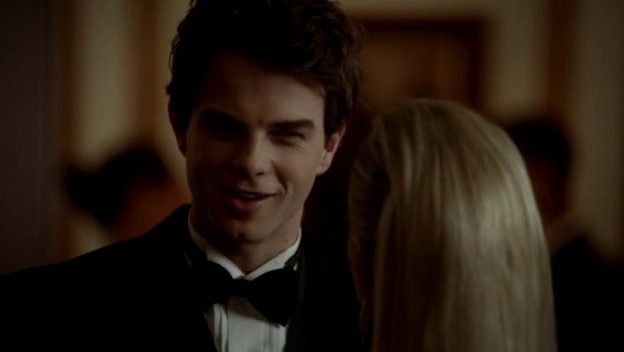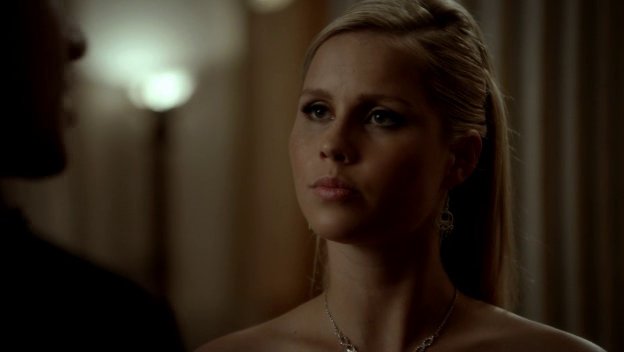 Kol is not going to leave him be...
Damon finds Elena and gives her her wrap. He wants to leave but she refuses. Why Elena? You already talked to Esther. Aww she apologises for cutting him out of the plan and says that she doesn't like going behind his back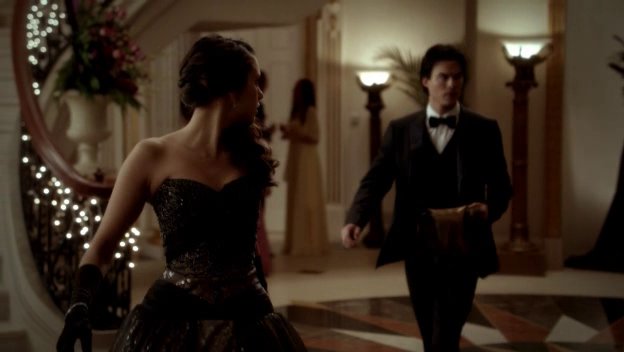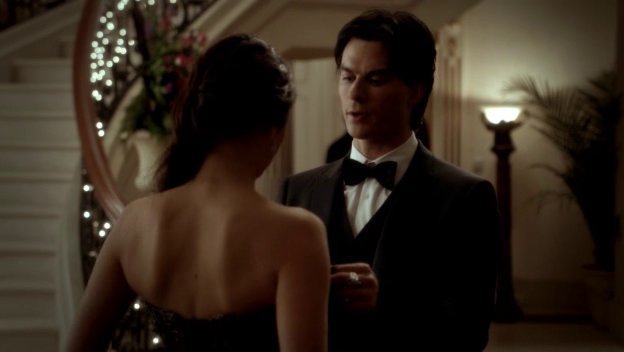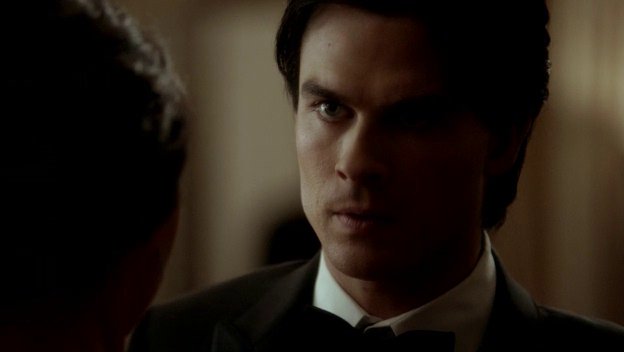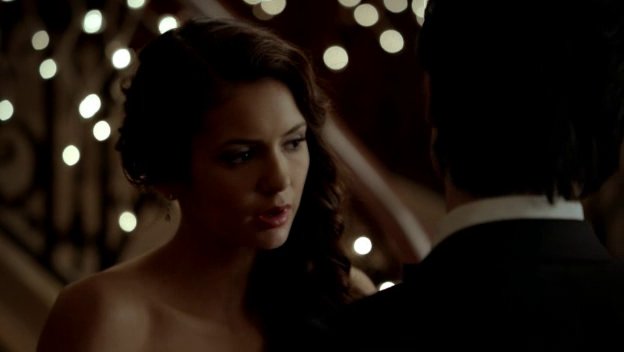 "But if I hadn't asked Stefan for help, you would have tried being the hero and ruined everything."
That's not very nice. You shouldn't have conspired with momma original at all. He was trying to keep you safe. He has been your hero even in late S1
"Sorry for trying to keep you alive. Clearly Stefan doesn't give a crap anymore."
No, he cares, but not enough to do anything other than agree with everything Elena wants...
"Now you are mad at me for including Stefan?"
"I am mad at you because I love you." AHSHDHDN OHH MYY GOOODD FINALLY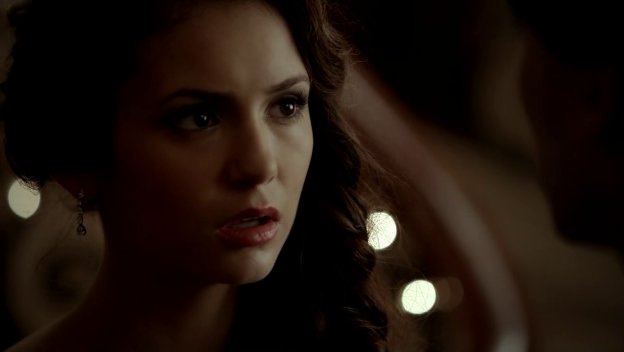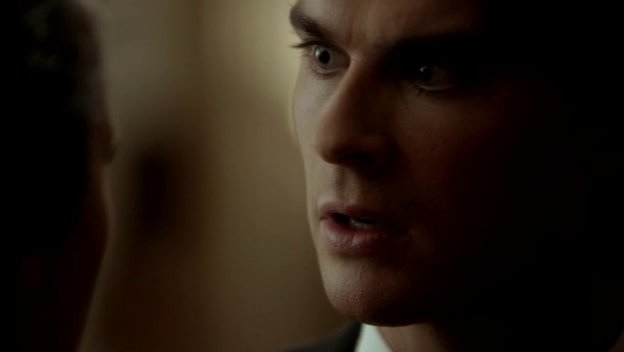 "Well maybe that's the problem."
WHATTT? ELENA WHYYY?? WTFFF HOW CAN YOU SAY THAT??
She regrets it the moment she said it though. "No, that's not what I.."
"No I got it, Elena. I care to much. I am a liability. How ironic is that?"
SHE HURT HIM SO BAD 😭😭😭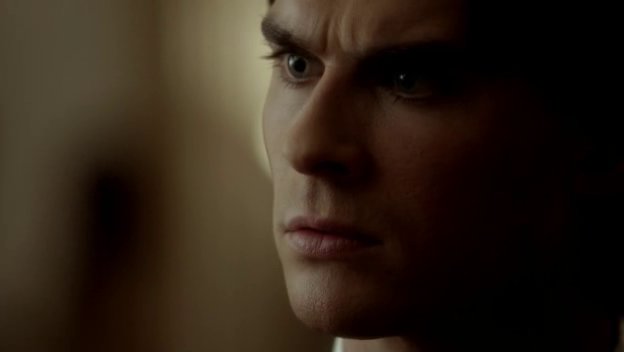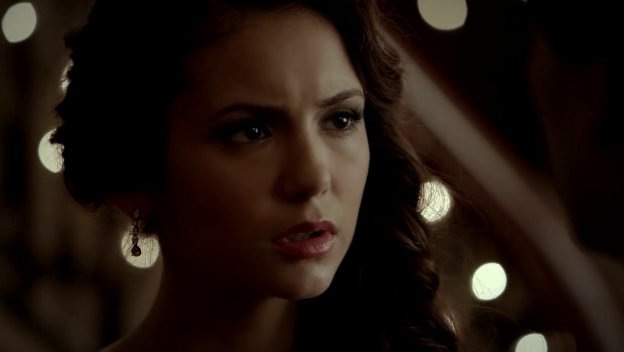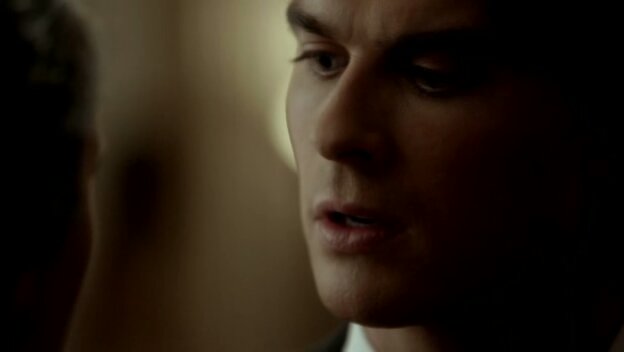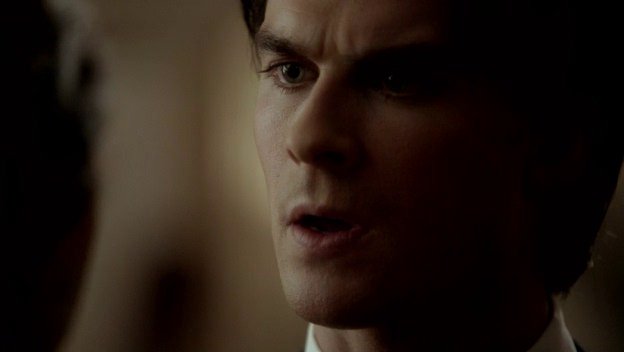 "Have you guys seen Matt?"
Not now, Caroline 😢😢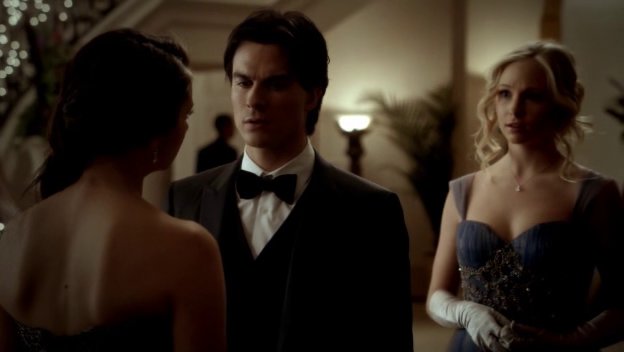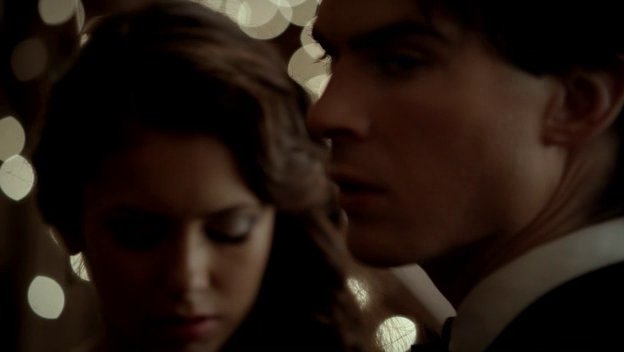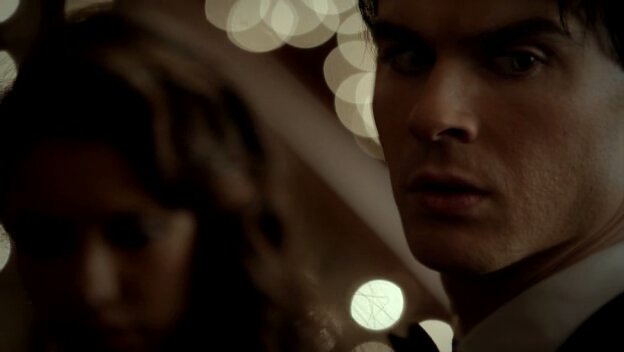 Kol is going to throw Matt off that balcony...
Or just break the bones in his hand. That works for me 😜😌
Damon walks in on Matt's hand being broken and Kol fucking snarls at him. The guy is Cray cray alright. Damon saved Matt and throws Kol off the balcony and starts hitting him. OMGGG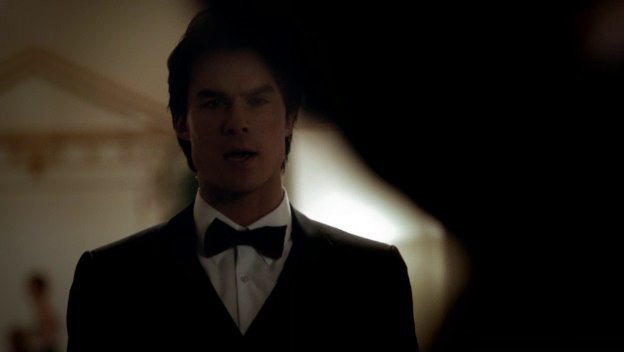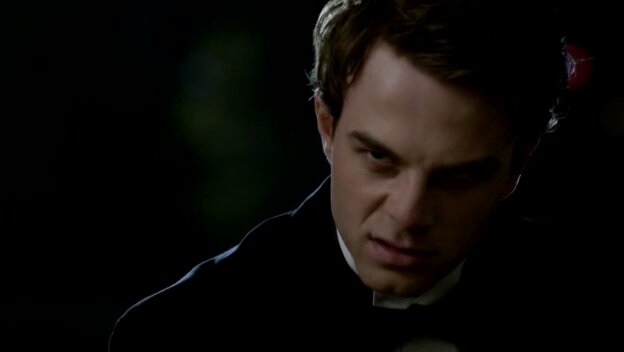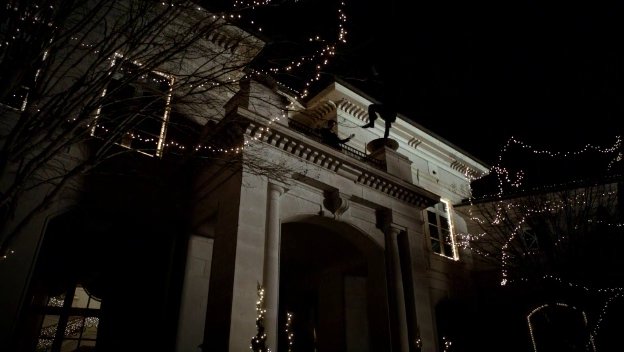 Oh noooooo FUCKKK SHITT. UGHH FACEPALM.
This looks bad and of course everyone is staring him down judgingly. "Are you crazy?" Shutup Stefan, he just saved vanilla boy's life.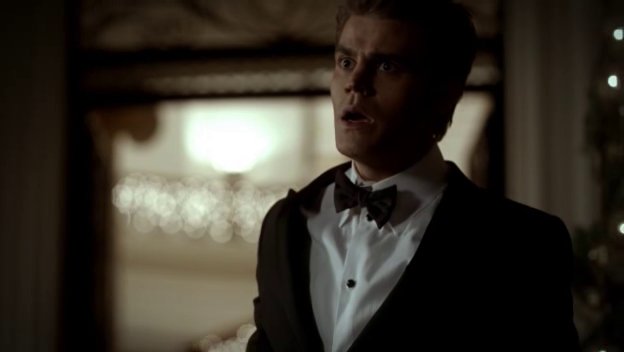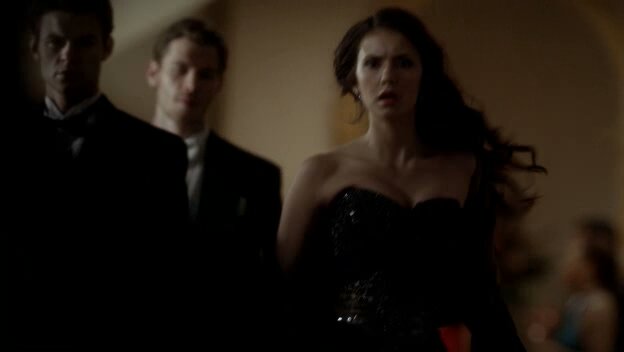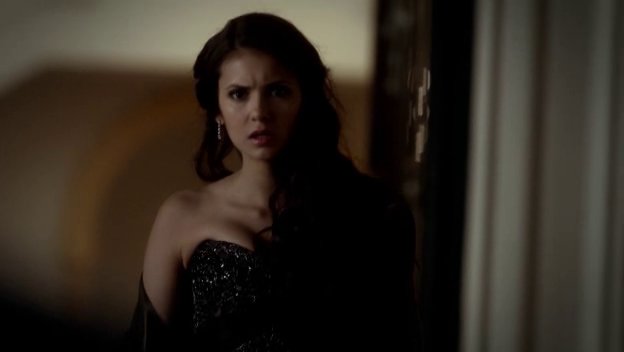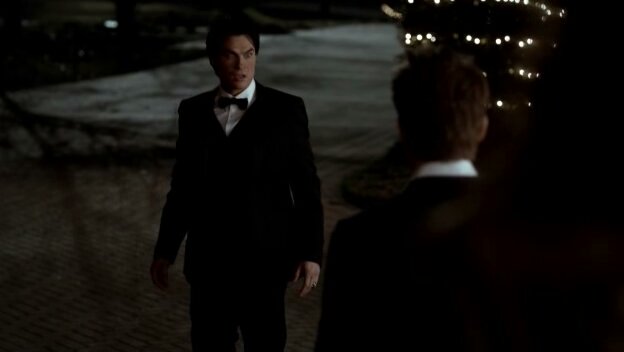 "Far be it for me to cause a problem."
Elena hurt his feelings and now he is spiralling again and not caring that they think the worst of him, so he just lets them asume he went wild and walks away without telling them that he saved Matt's dumb ass. 💀💀💀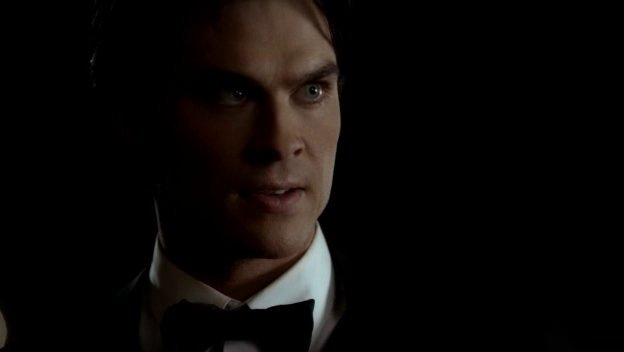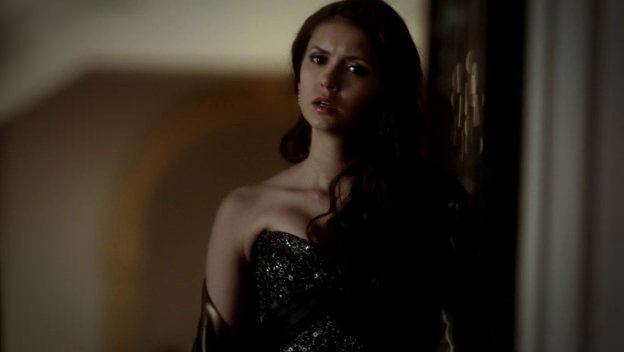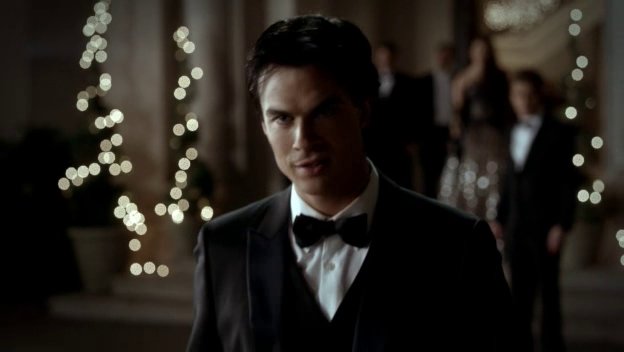 Caroline arrives home and calls Tyler to tell him she missed him and wishes he was there, when she spots another gift on her bed. Kaus. ..too much. She can't be bought. Didn't you hear what she said? 😔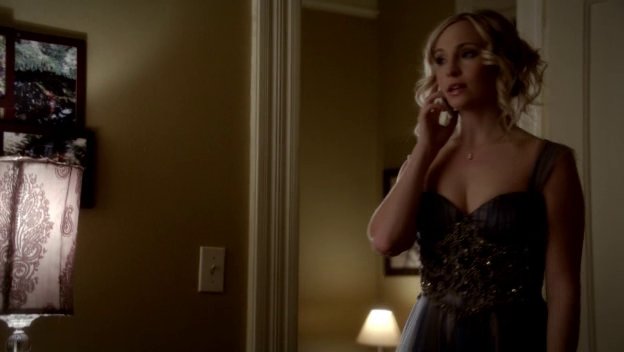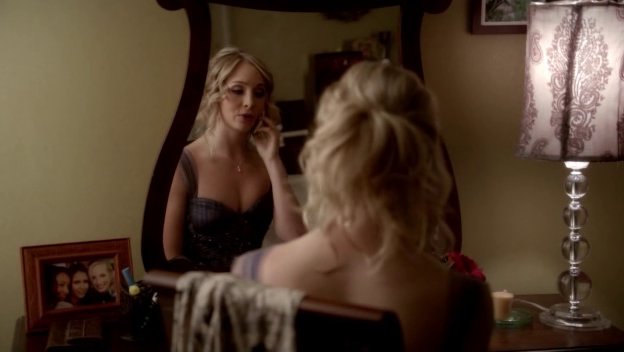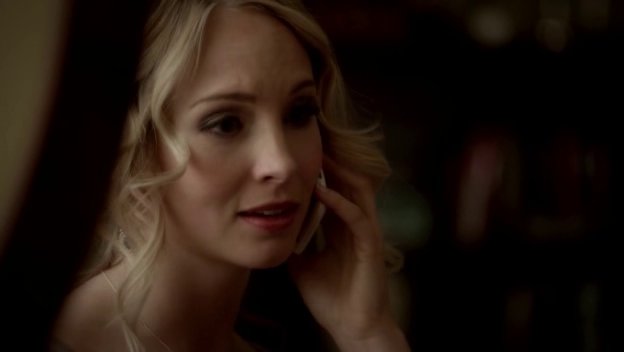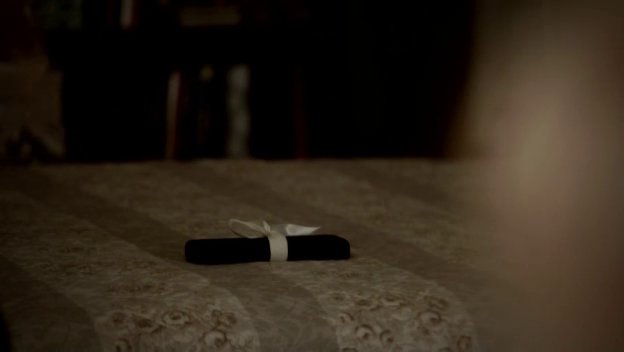 "Seriously? Just give ip already."
It's not jewelry. It's a note?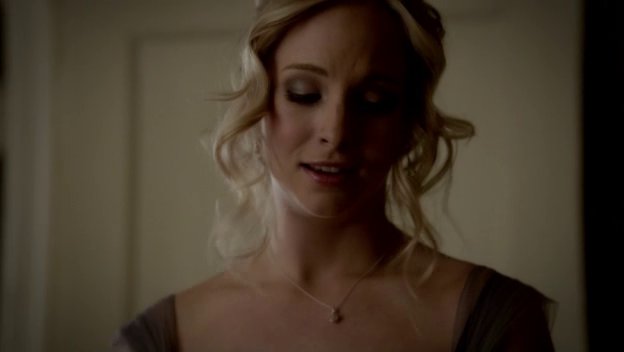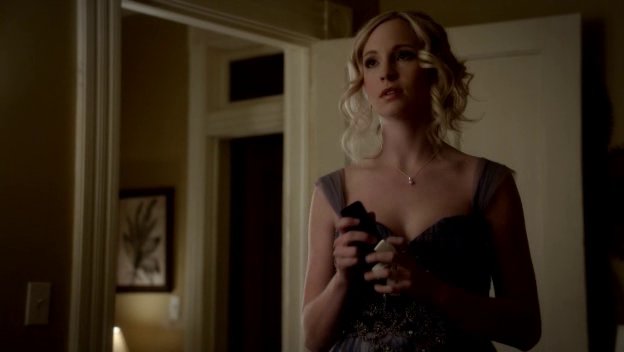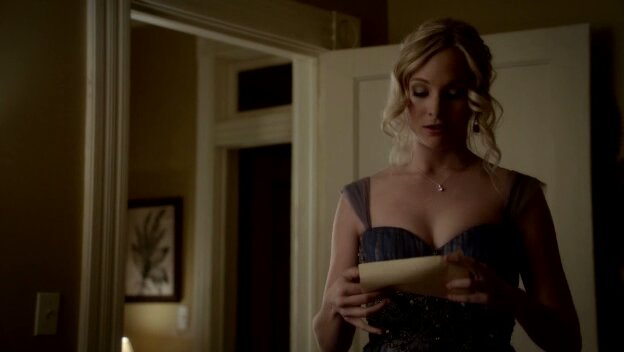 OMFFGGG HE DREW HER WITH THE HORSE OMGGG I LOVE IT HE IS SO TALENTED. THIS WILL WORK ON ME IN REAL LIFE, IF IT WASN'T A MURDETOUS VAMPIRE BUT OMGGGG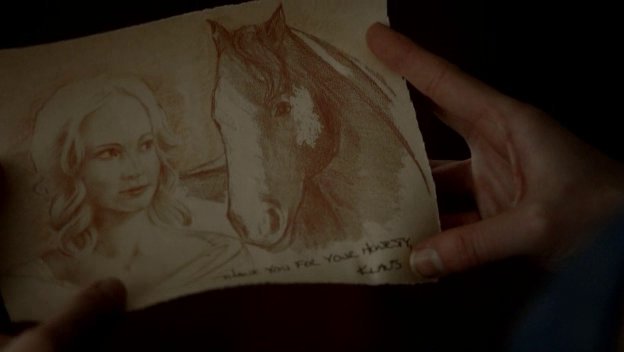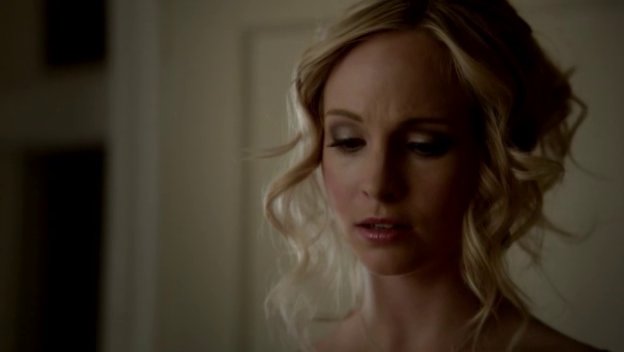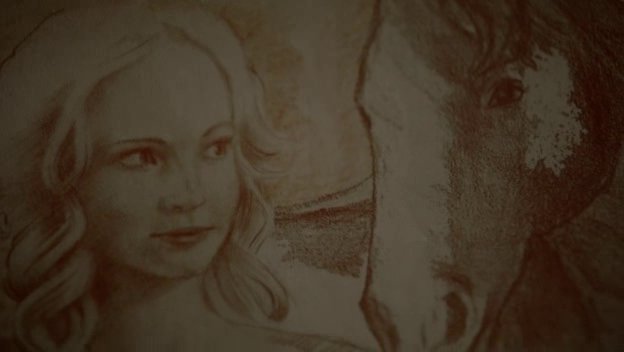 "Thankyou for your honestly. Klaus."
I am shook and so is Caroline 😱😍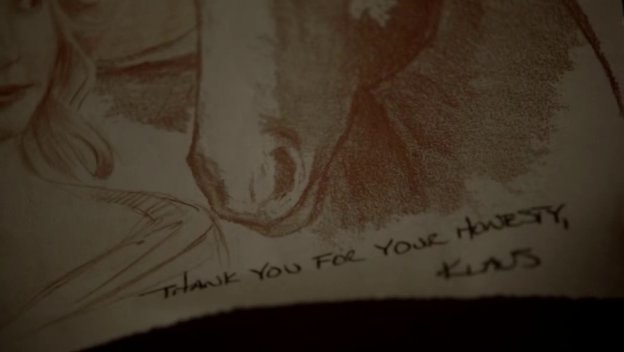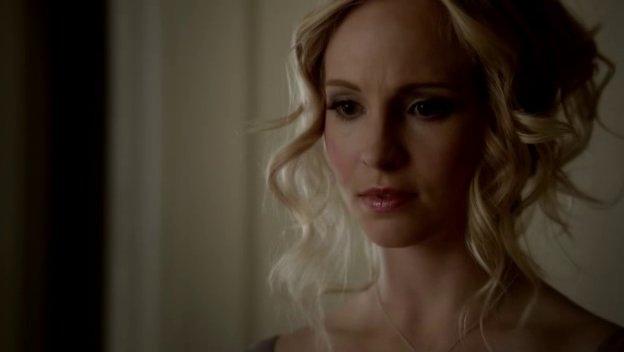 I am into art and culture and traveling. I am telling you, if this was real life and the guy wasn't a vampire...Oh honey. This is the way to woo me
And horses. I don't have any but I love them and have always wanted. 🙈
Momma original is going off and Elijah says he will handle things. GET YOUR HANDS OFF HIM YOU WITCH. 💀 She wished the others were more like him, but she wants to kill him anyway? 2+2=7?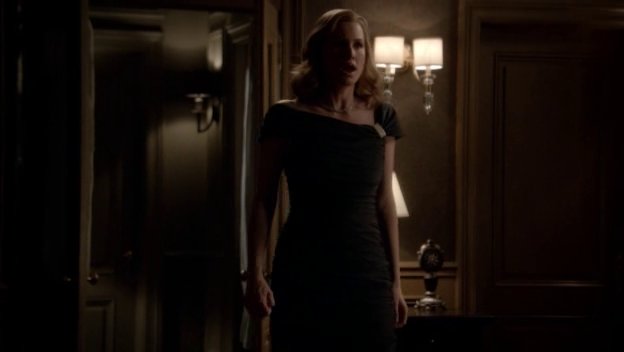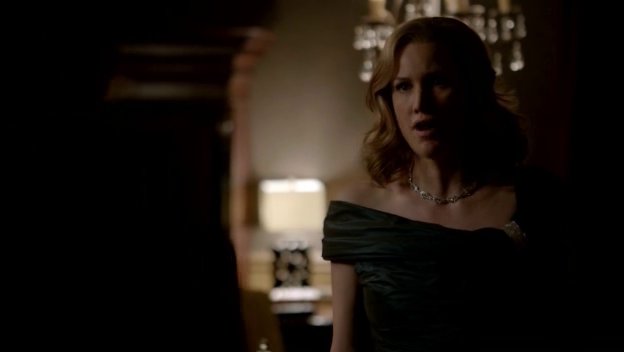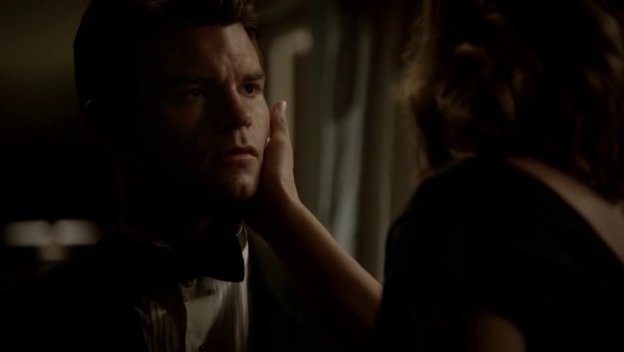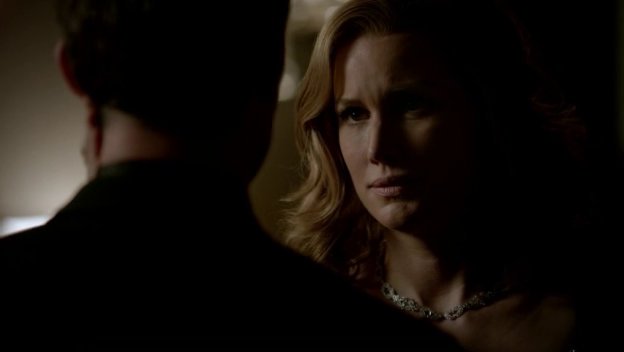 Finn knows about the plan. He urges her to continue even though she feels bad about Elijah. What's his deal? Why does he have a death wish?? Viking script. SHIIIT don't 😭😭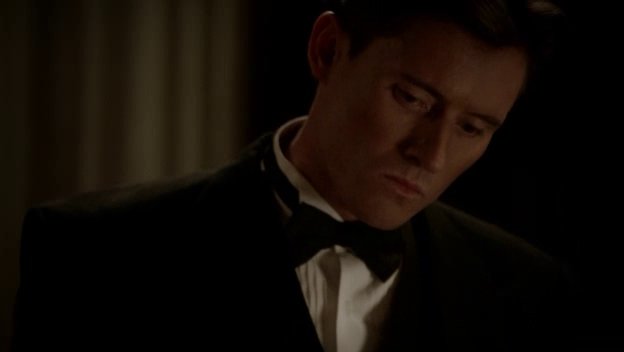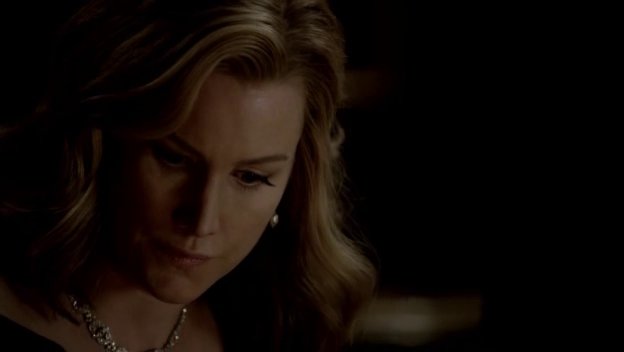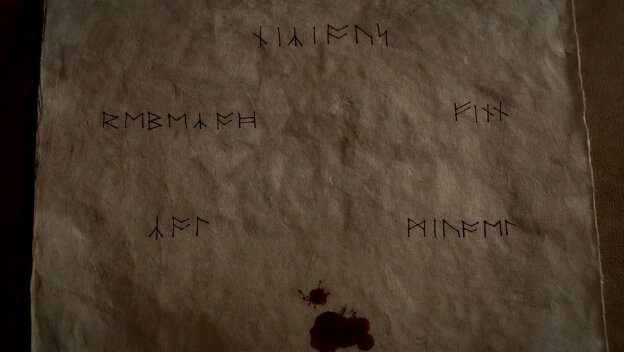 Why does every spell start with "ves matos? "
SHIIIITTT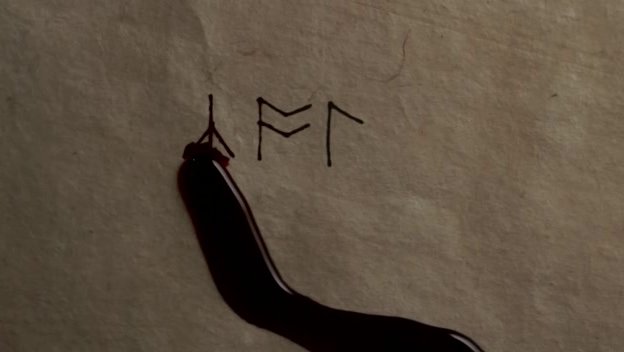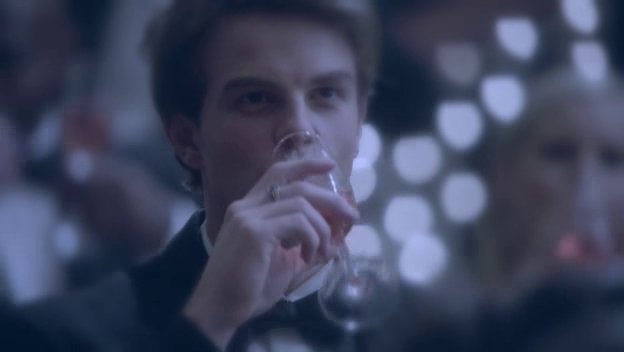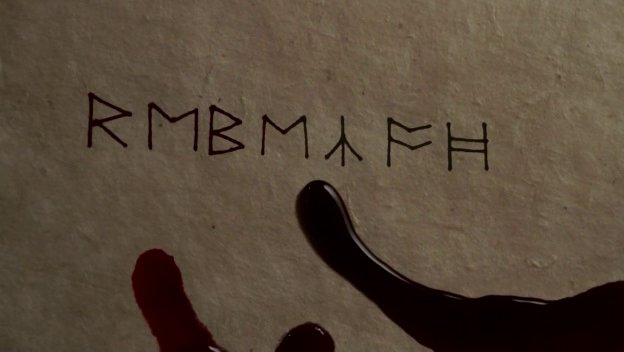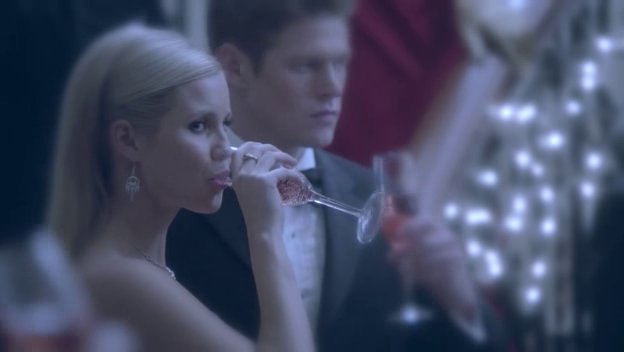 NOOOO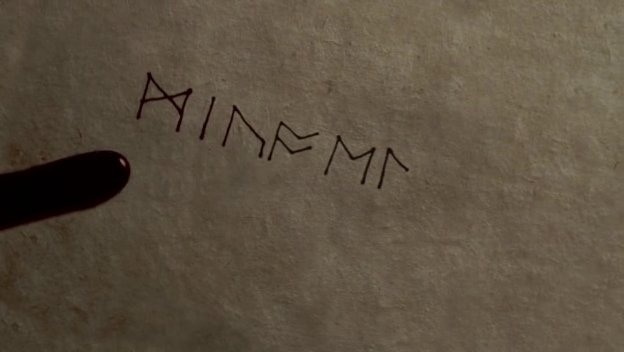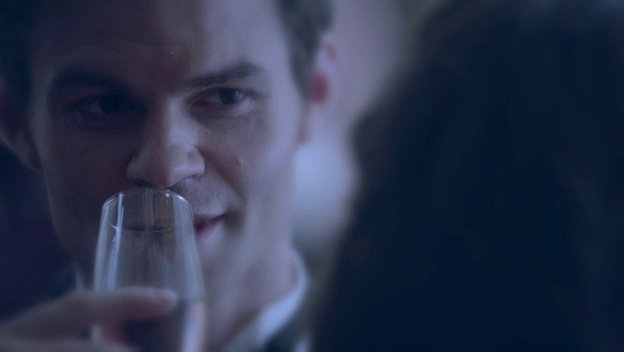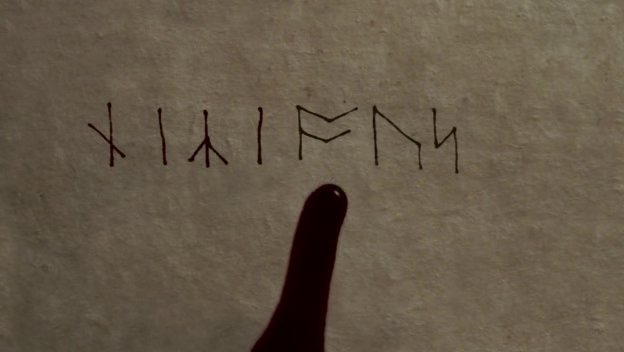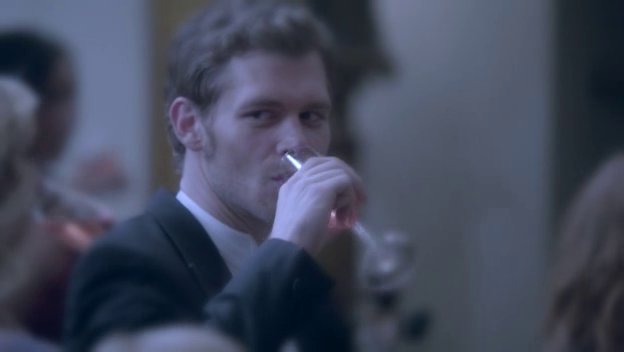 OMGG its a blood tree. The white oak gave them life, the blood tree binds them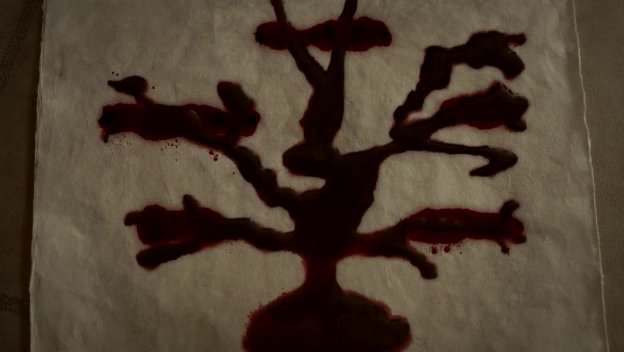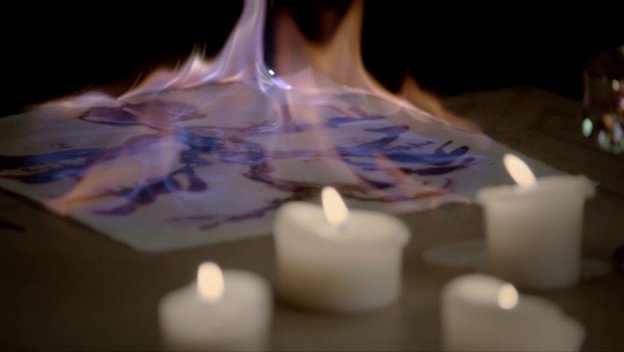 Stefan takes Elena home but she is still visibly upset about her fight with Damon.
Also about lying to Elijah. Stefan Kant bothered about any of them and won't be sorry to see them go. Didn't you love Rebekah once??
Can Stefan stop talking about Damon for a second?
"So ah..where is Damon? I would think that he would want to know you got home safely."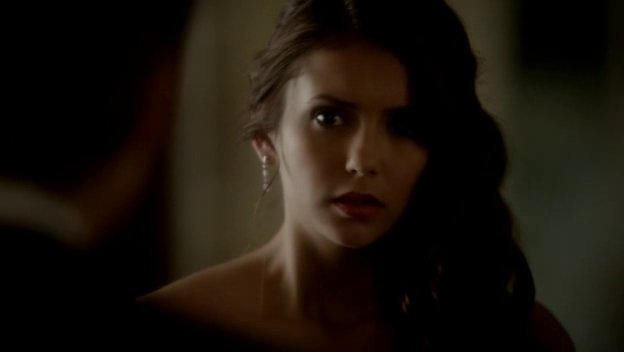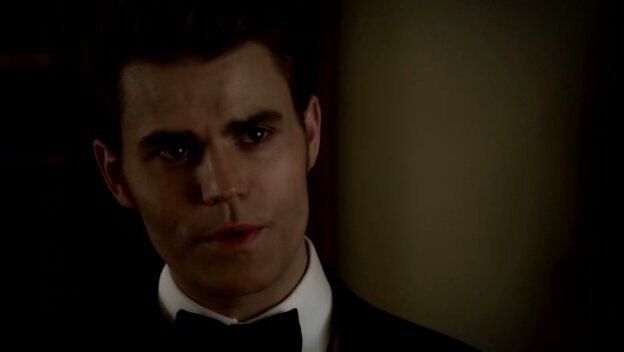 Atefan aaks why Damon went after Kol.
"Damon being self destructive. I said something I didn't mean."
Yeah but he didn't go after Kol because of that. He was being self distructive by not telling you the real reason, and let you think bad about him. 😐
Okay Stefan stop lingering and go home please
SHIT 😐 Elena calls Stefan back and wants to know how he does it. Pretends not to care. Because she feels eveything. Isn't she over him yet?? 😒😩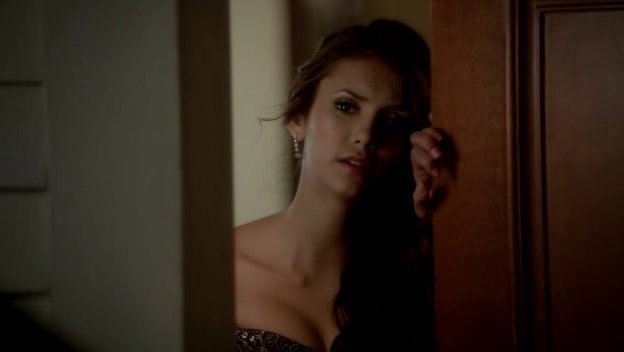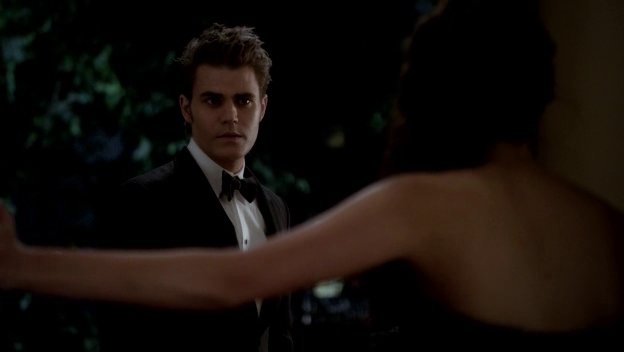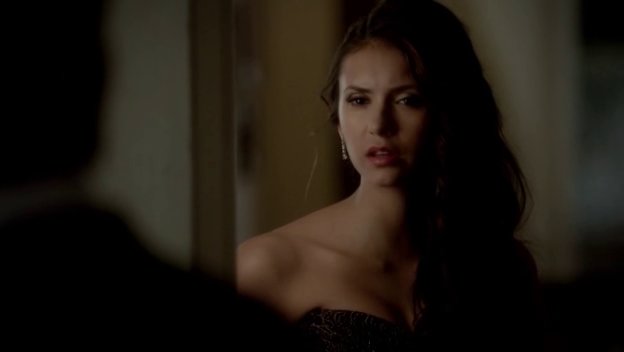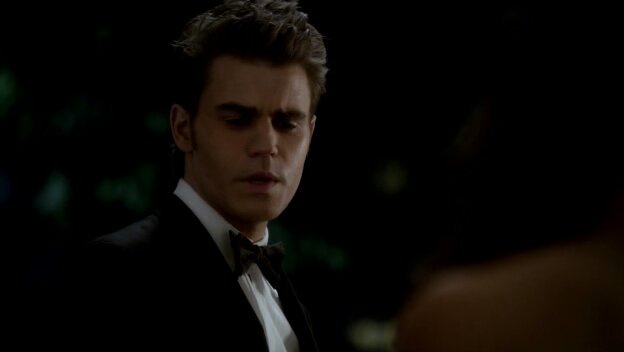 Elena is still out here, fighting for Stefan. Can I just cry out of frustration now? Stefan feels to guilty to be with her and takes her hands off him. He doesn't want to be with her but he doesn't want Damon to be? So I can't have you, no one can? 😐😐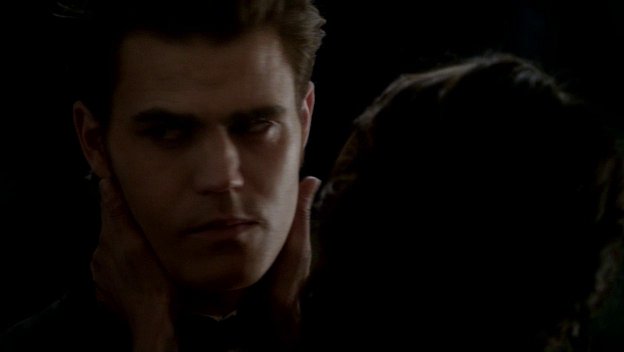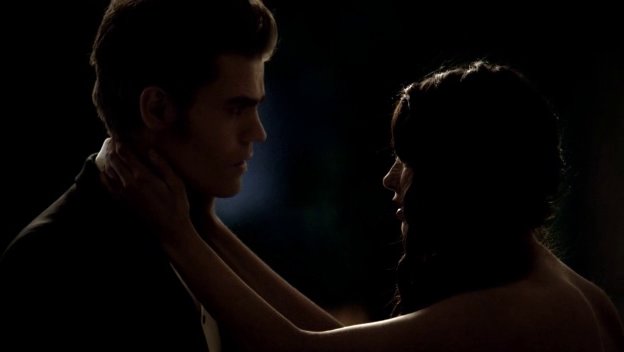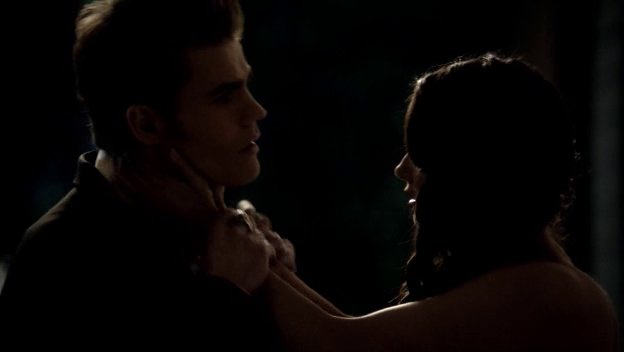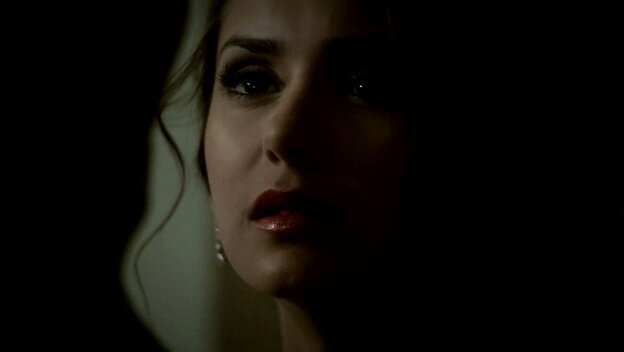 "If I let myself care, all I feel is pain."
This stirs conflicted emotions in me. If he wasn't the fly between my OTP, I would feel sorry for him. But right now, he is becoming a pest who is preventing me to get what I want.
Rebekah is hurt when Matt rejects her. Sweetie...facepalm
Damon and Rebekah bond a bit in their misery. Damon also thinks Matt isn't right for her.
"You would have broken him in a second."
"Are you sugesting I can't be gentle?"
Lmaoo no Bex, but Matt would have broken. Because he can't handle you
Oh no...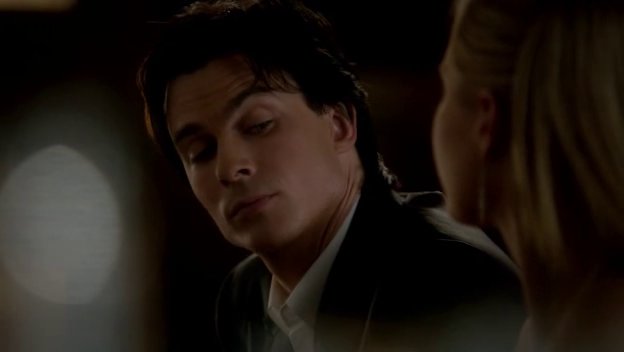 OH MY GOOOD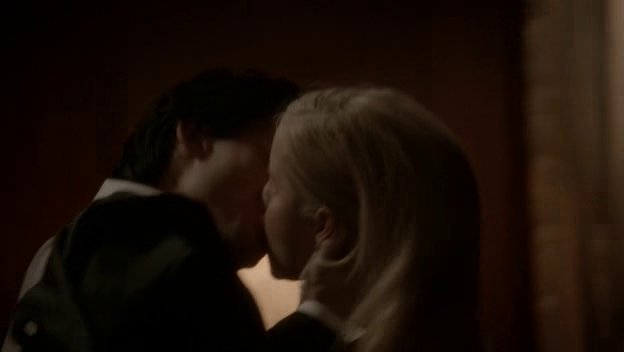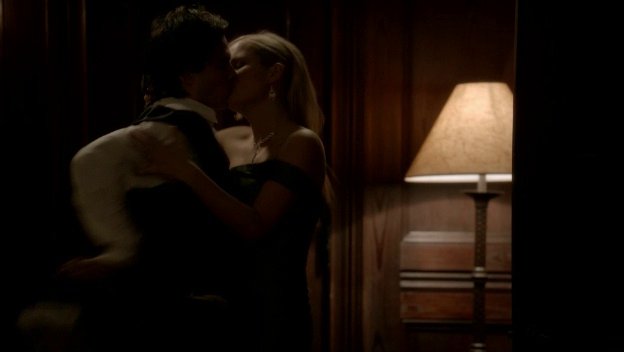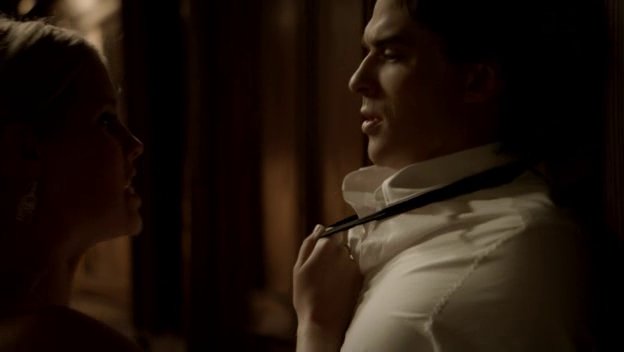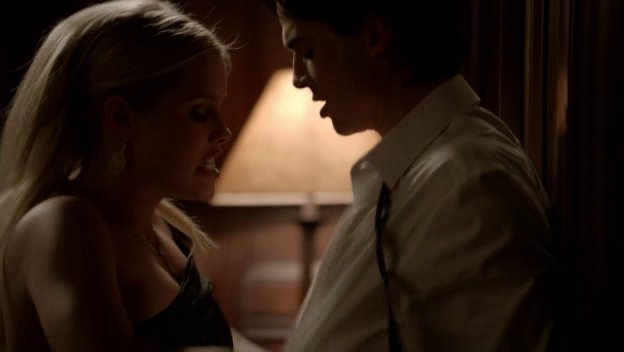 I feel traumatized. This image will probably pop up in my nightmares. These two people are extremely hot, but this is awkaward and over the top as hell and I could have lived happily had I not seen it. 😐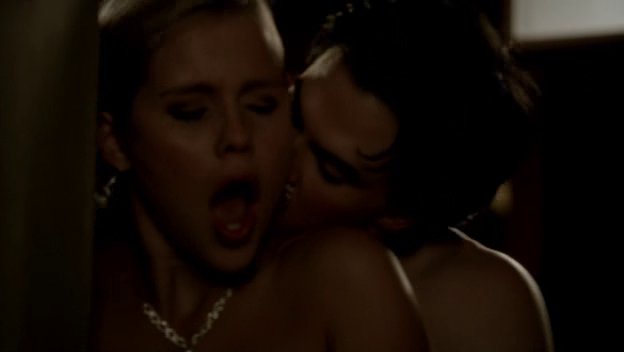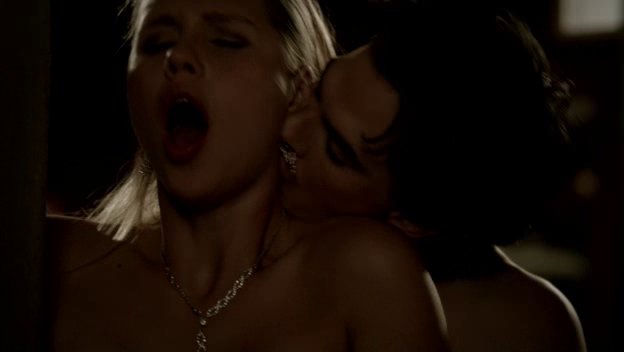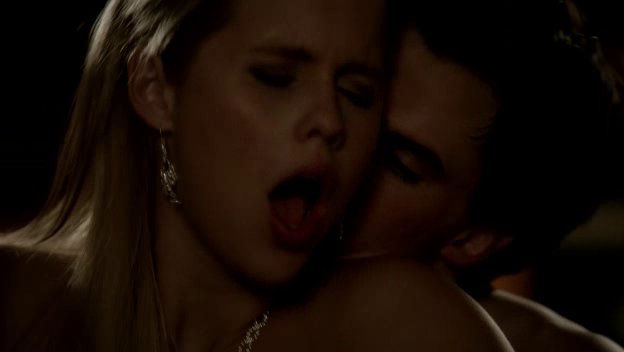 03x15 "All My Children"....are NOT gonna die?
Poor Elena can't sleep and feels conflicted and guilty. Her sleeping with a teddy is so cute though. Yes, call Damon and make things right please. 🙏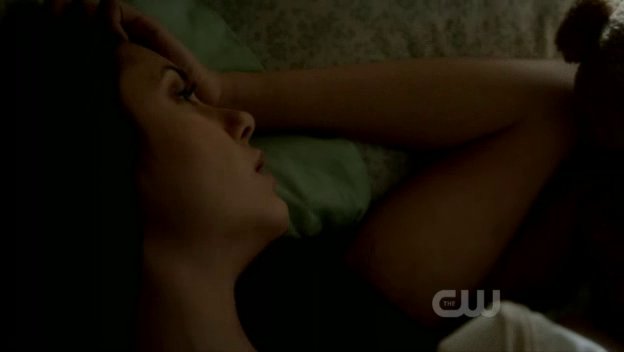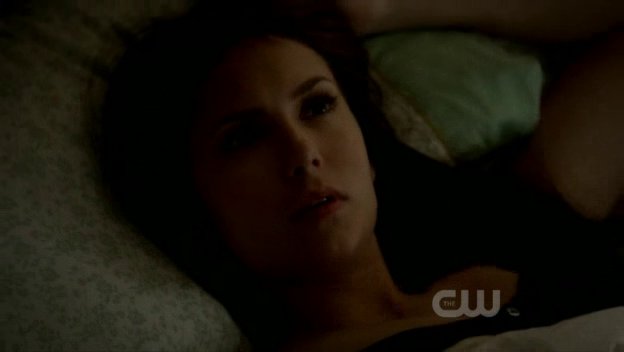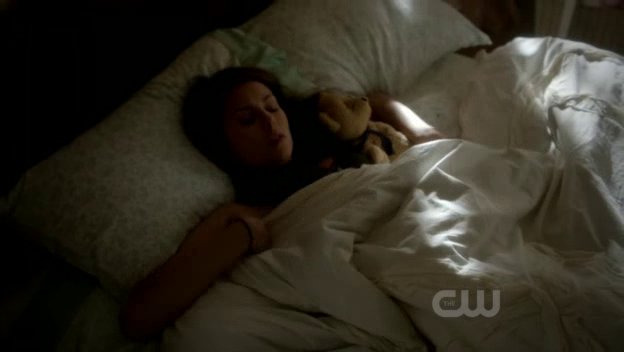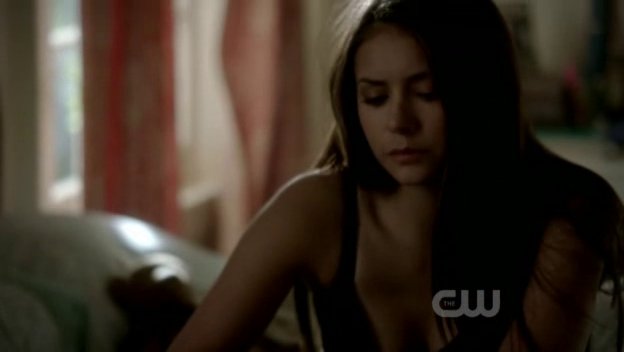 Ugh she called Stefan. 💀 Who is just writing in his journal and declined her call. Thank goodness
Asshole for declining, but good for me.
Damon picks up. Ugh the better man here. She hurt him the previous night but he doesn't decline her call, despite being pissed.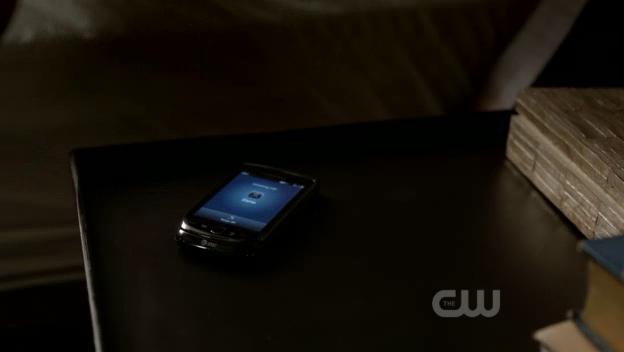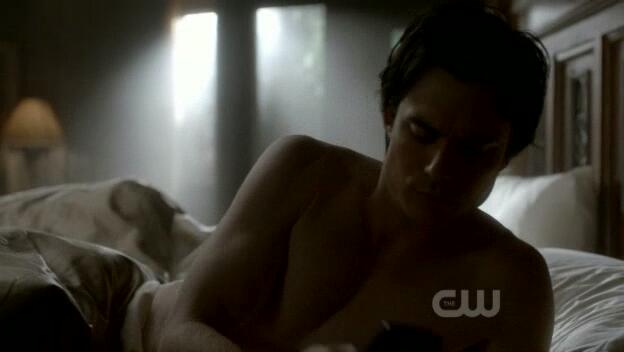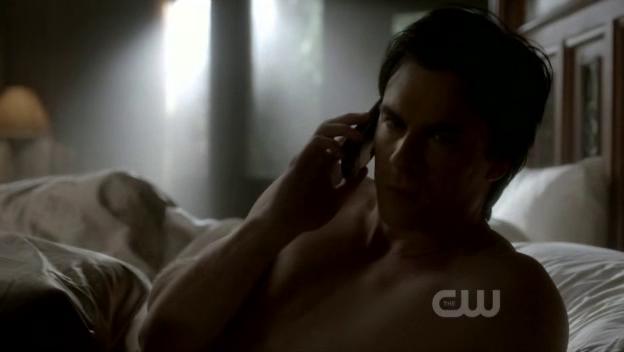 SGSHDJ she felt so bad, she called him 10 times that night. She tells him to get over it and he says he is over it but he isn't. He really isn't. 😢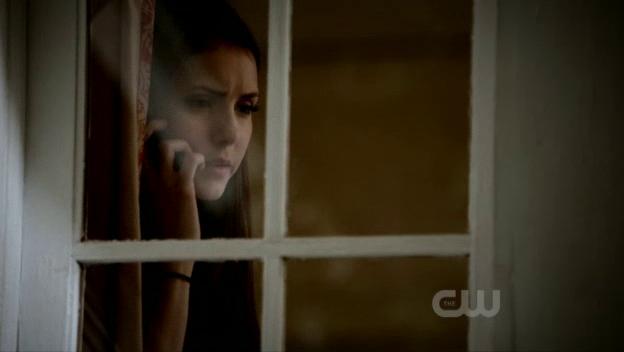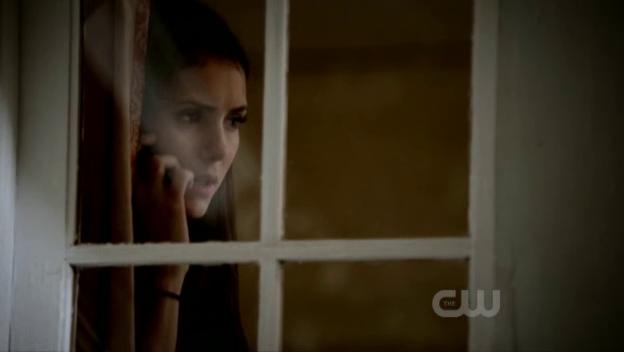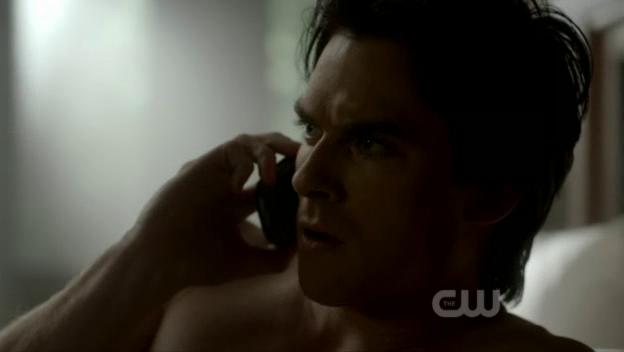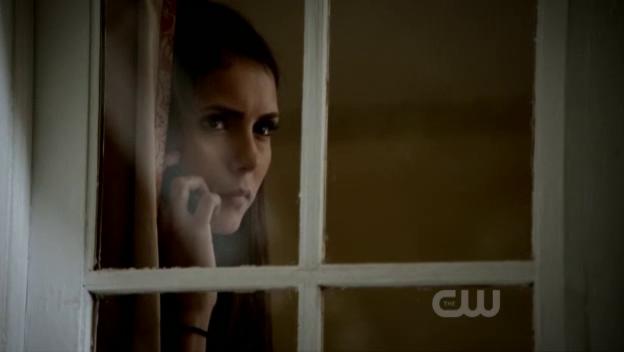 FUCKK 💀💀💀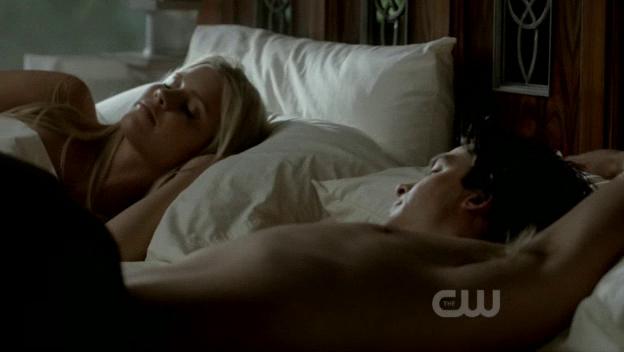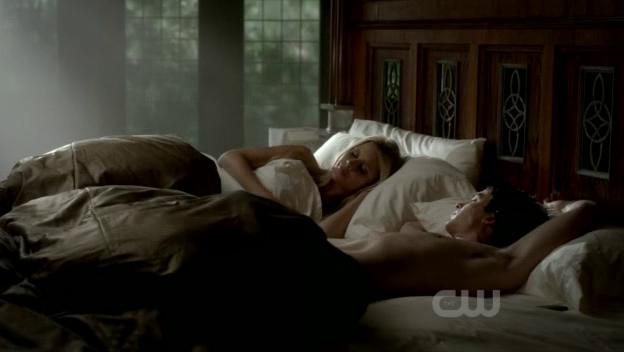 They look fine as hell, but that should have been Elena. 😭
Elena is handling this wrong though. She can't just cut him like that and then tell him he "needs" to get over it 😣
NAKED TORSOOO 😍😍 Rebekah thinks Damon will come calling soon, but he makes it clear it was only a one night stand. Yes, let's all be VERY clear on that. Thanks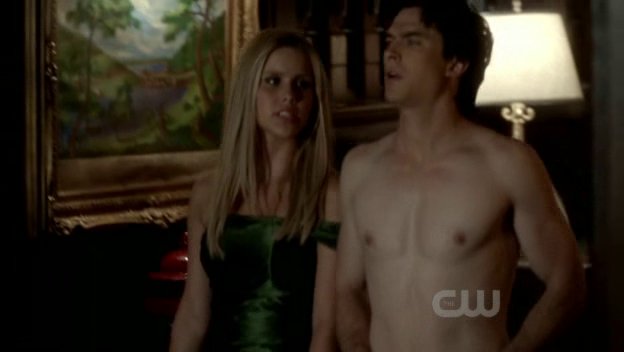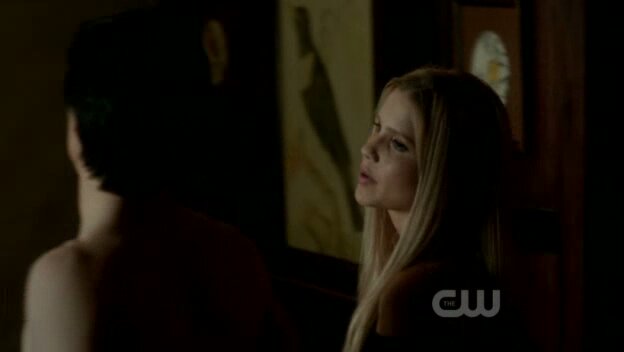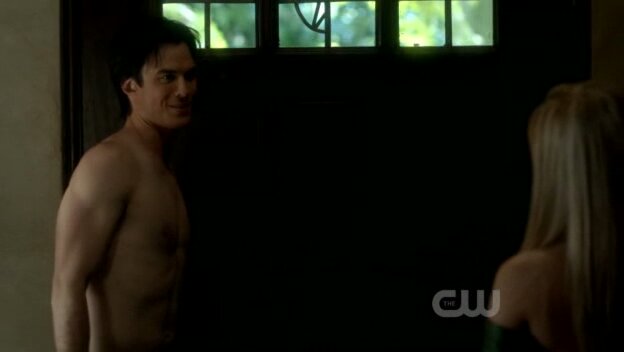 OHH SHIIIT. Rebekah couldn't be more pleased and Elena looks like she can tear her to ribbons, then looks at Damon with surprised betrayal in her face. THIS IS HAPPENING. I AM REALLY GOING TO GET JEALOUS ELENA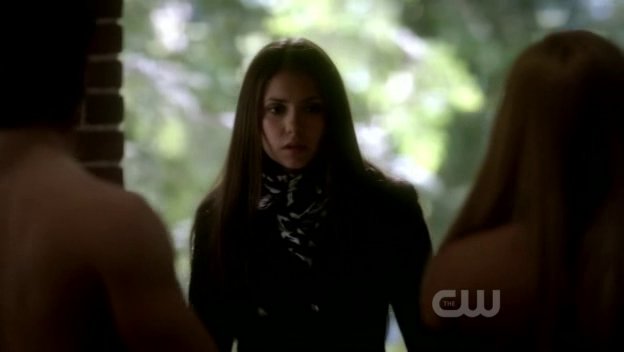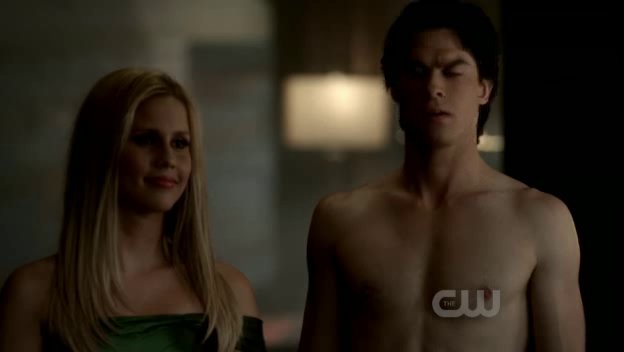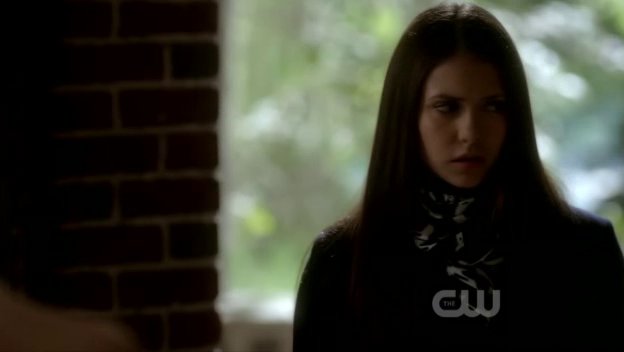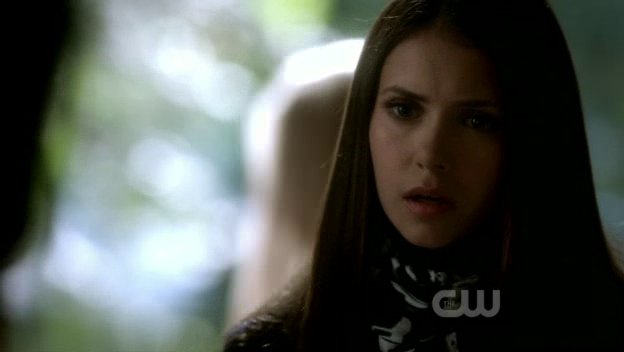 I think Elena has started to take Damon for granted a bit and this may be just what she needed. 😌
"Did you stop taking vervain?" Lmaoooo Elena thinks Rebekah compelled him but he says no. Then she asks how he could sleep with her when she tried to kill her less than 48 hours ago. She is so jealous she can die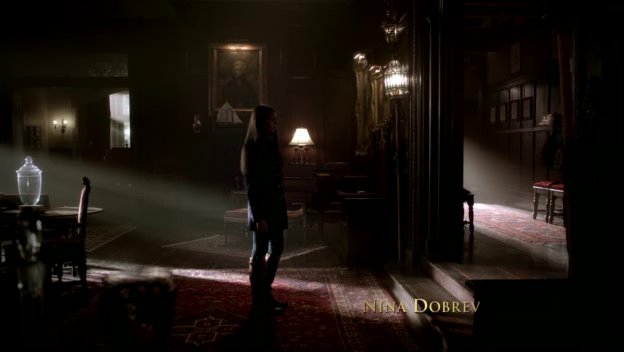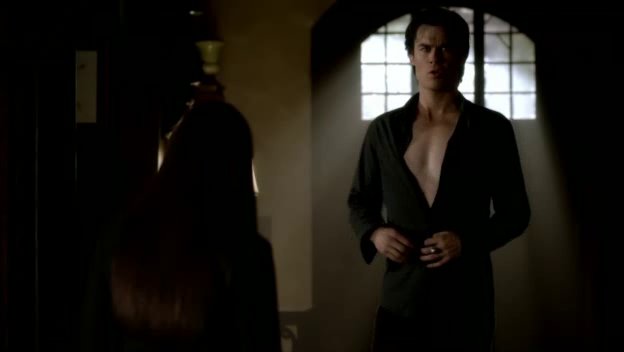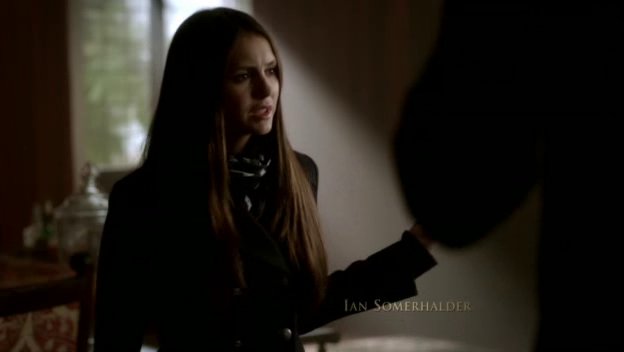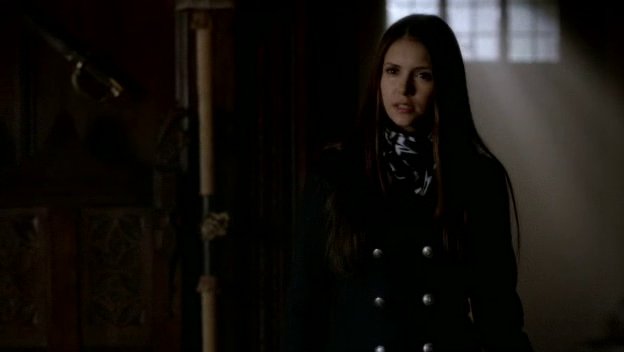 "Is that how it's going to be now? I hurt your feelings and this is how you last out at me?"
"Maybe for once, something I did, had nothing to do with you."
HAHAHA WANNA TRY THAT AGAIN DAMON??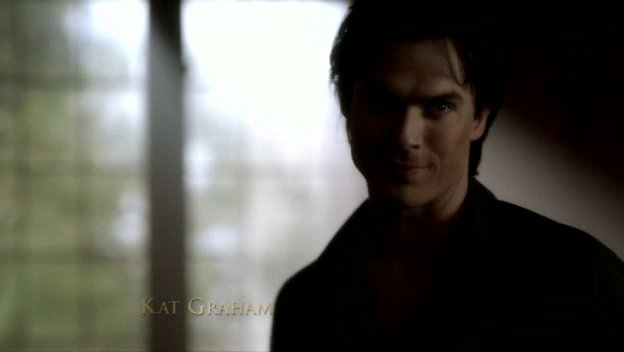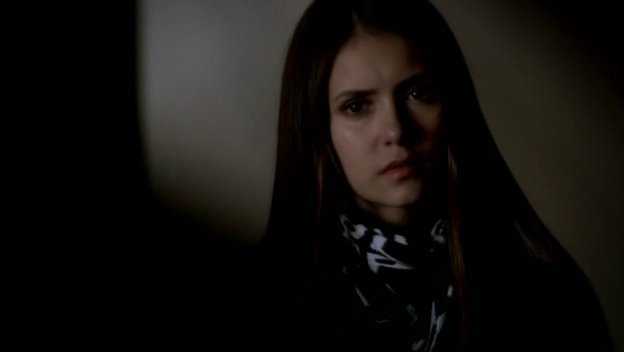 Elena tells Damon about Esther's plan and he is fine with it, but she isn't. She says that Elijah doesn't deserve this and she couldn't be more right.
Damon doesn't care about Rebekah or Elijah dying and neither does Stefan. "Klaus has to die. They all do."
Elena is pissed and bumps into Damon on purpose to make him spill his drink as she leaves. She cares that Elijah will die. Didn't Stefan love Bex once??? Shouldn't he care?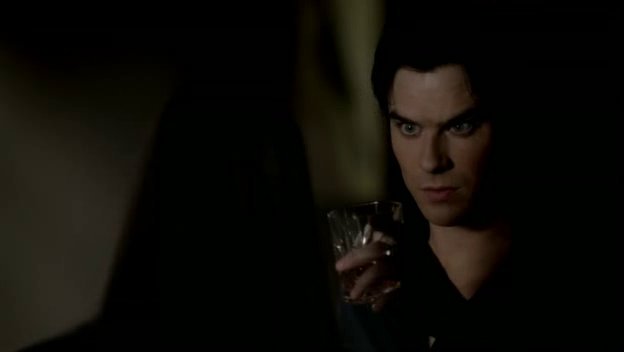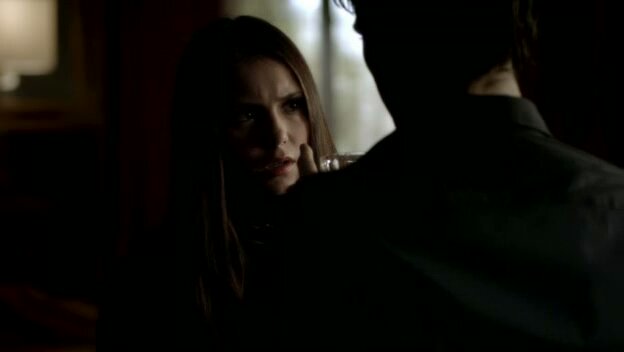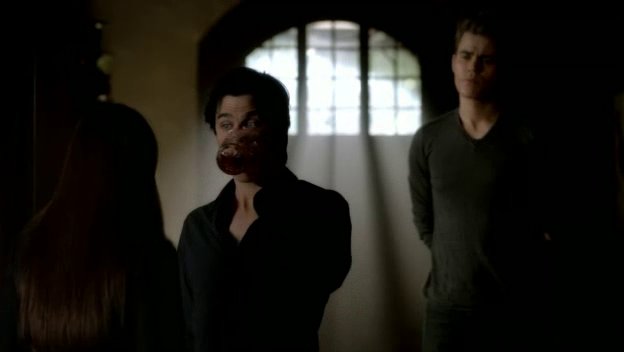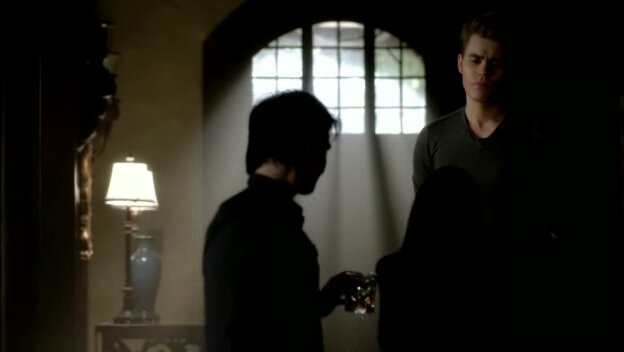 Elijah found the sage....
Kol is slutshaming Rebekah. 😐
"Here is our girl!"
"Get out of my way Kol."
"Out all night. What a scandal. I trust you did better than that commoner, Matt, was it?"
Well, yes she did do wayyyyyy better and this isn't the 18 century. No slutshaming allowed.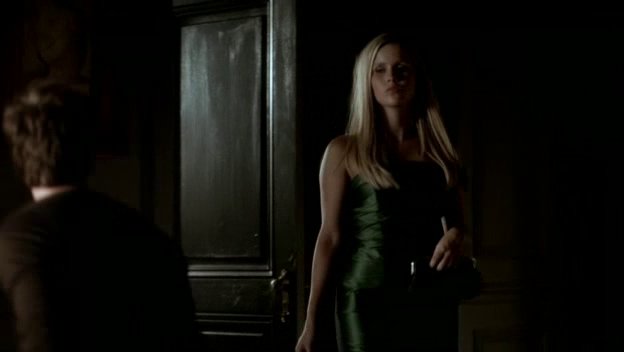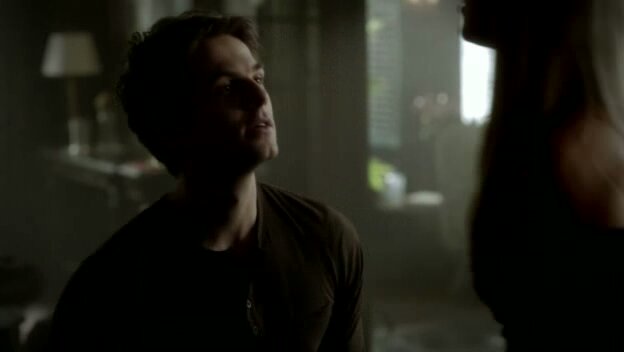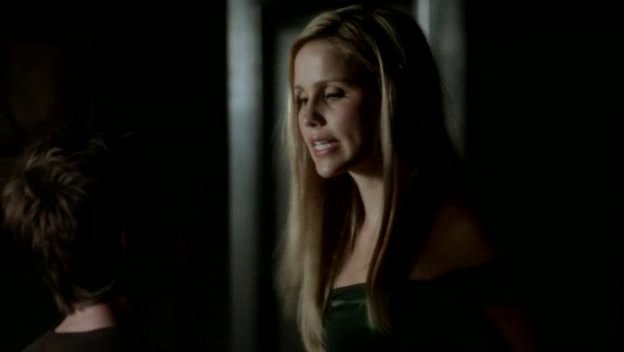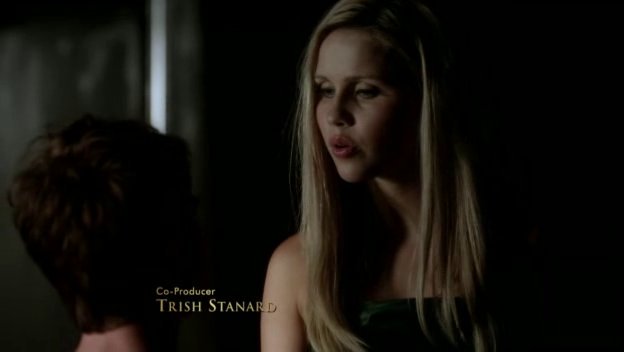 "Don't start, Nik."
"I didn't say anything." No, but your giant smirk did all the talking.
"I am bored. Our sister is a strumpet, but atleast she is having fun." Sjeesh Kol 😐 I hope he means this teasingly.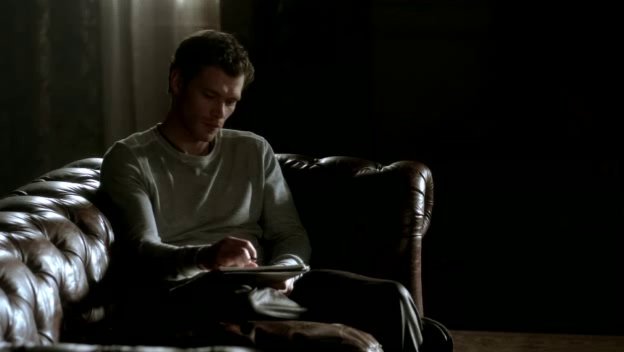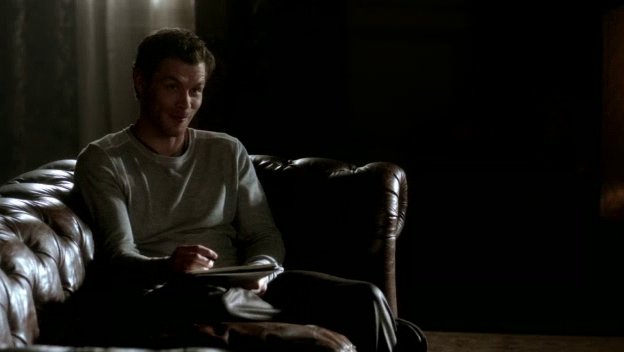 "Yes please go. This house has enough men rolling around in it."
"Just like you, Bekah."
Lmaoo she threw her shoe at him. She doesnt look to upset. I think it was meant in a teasing way and not a malicious one.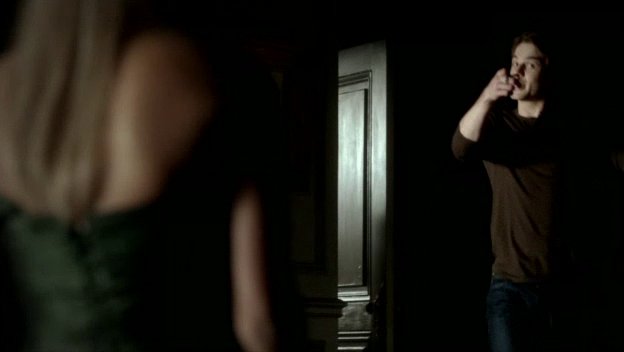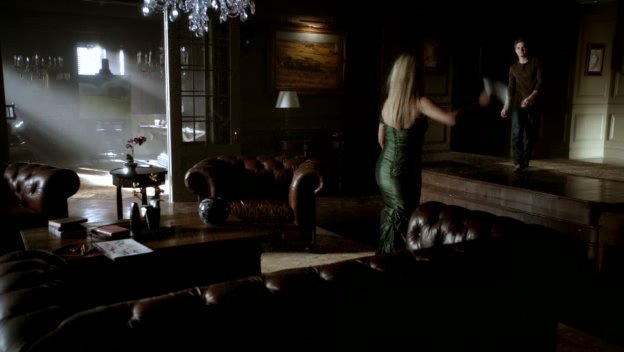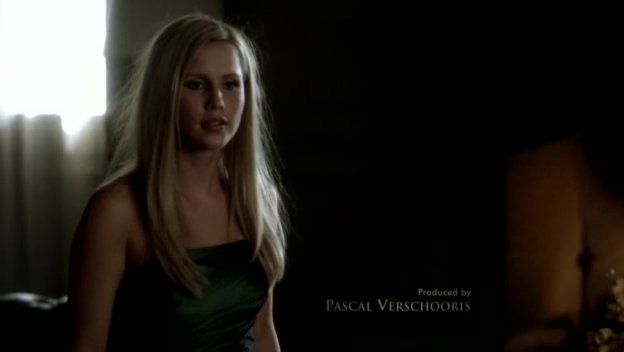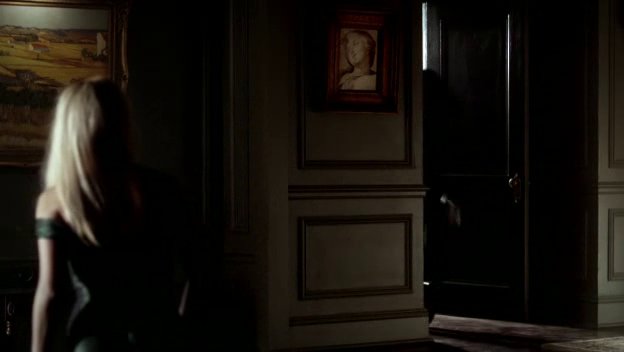 Elijah shows Rebekah the burnt sage but she is unconcerned and blindly believed her mother's yarns of peace and family. She is going to be so hurt by this. 😢 I hope Elijah figures out what is happening, if Elena doesn't tell him.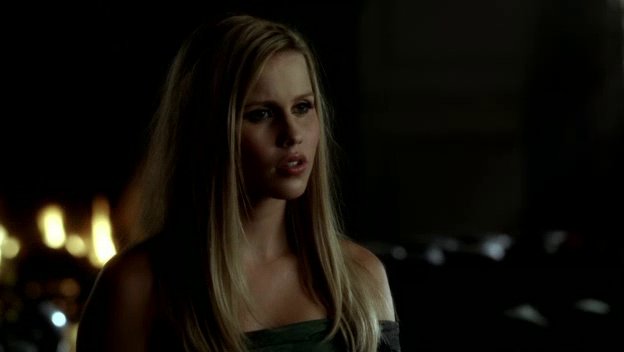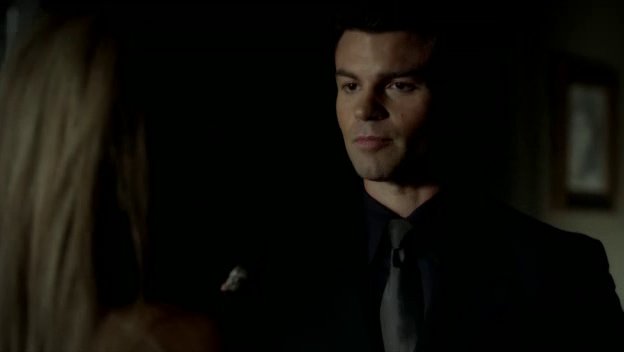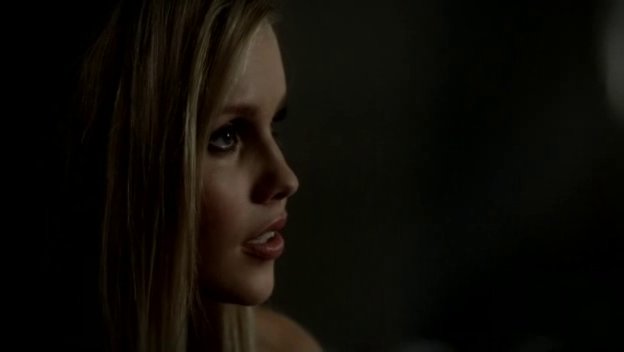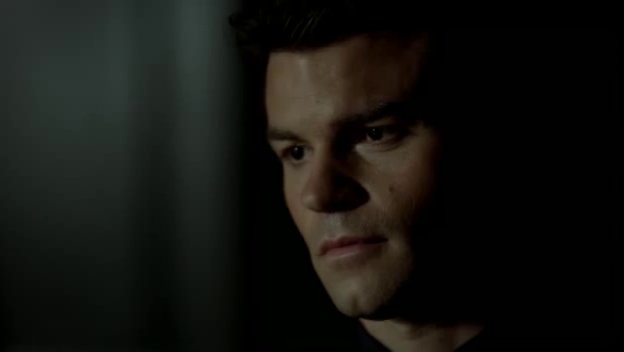 OHH MYY GOODD Elena is going off about Damon to Bonnie 😂😂 Bonnie's face suggests this has been going on for a while. "He was gloating. Actual gloat. Like he was proud of himself for sleeping with her." My baby girl is so pressed 😂😂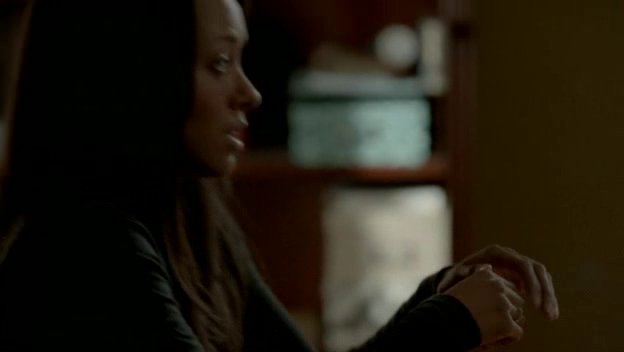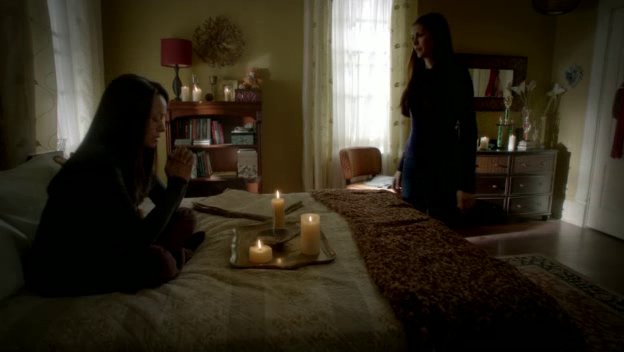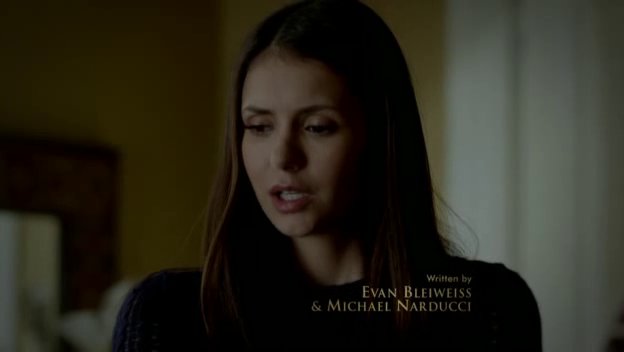 "Is it working?"
"It's not working. I can hear every word you are saying about Damon the vampire jigalo."
LMFAOOO OMG 😂😂 They are trying to recreate Esther's spell.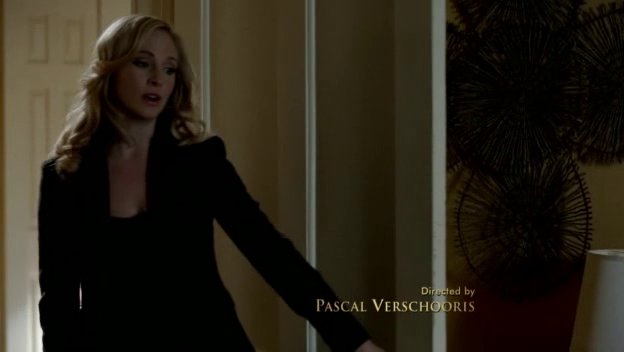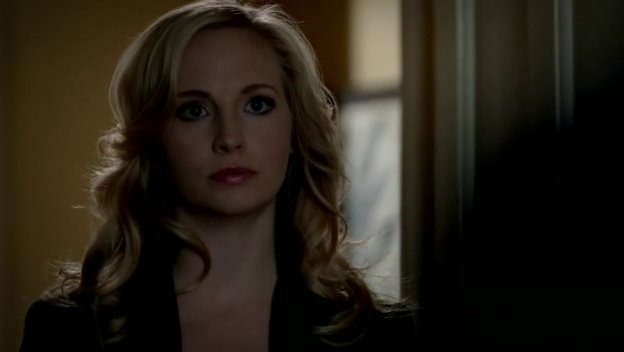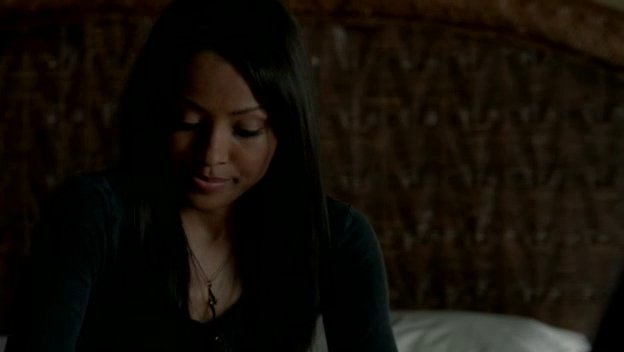 Bonnie tells Elena that Esther can to see her and Abbey. "And all this time, you let me vent about Damon?" Just how long was this rant? 😂😂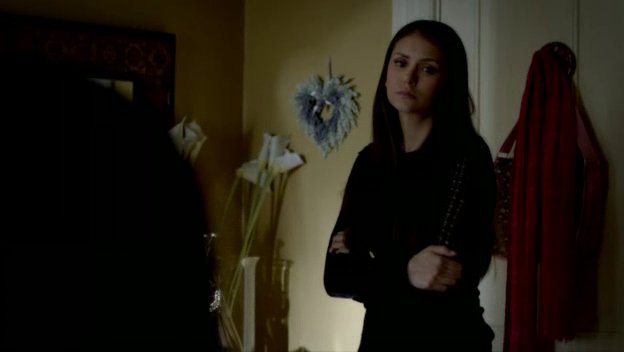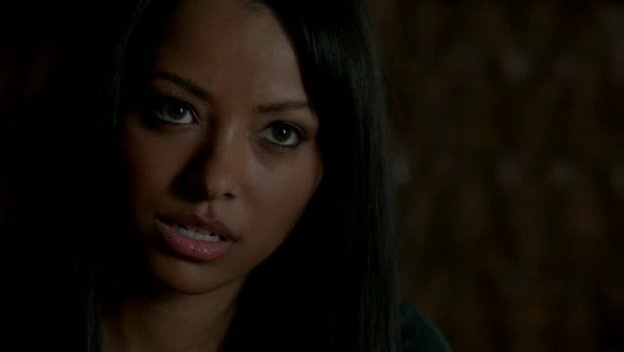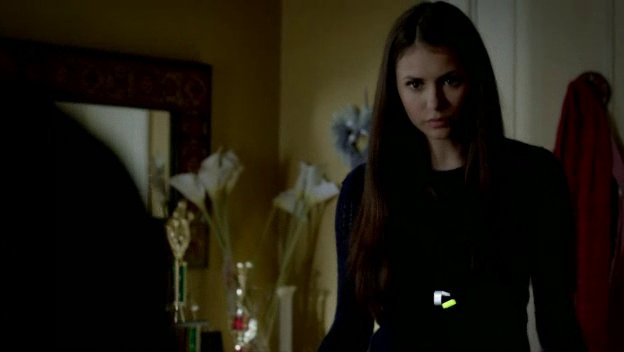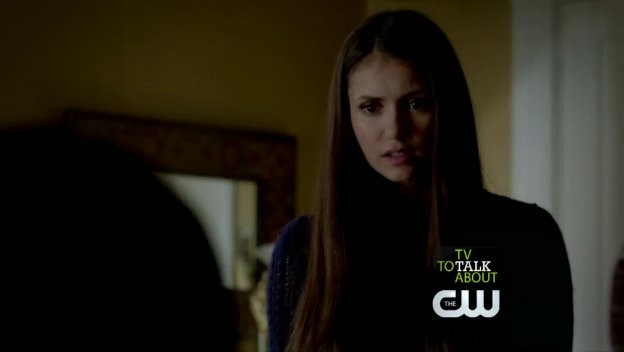 Bonnie didnt want ti eorry Elena, but Esther is channeling their entire ancestral bloidline for power. Elena wants to know if there was a way to stop Esther. She wants to help Elijah.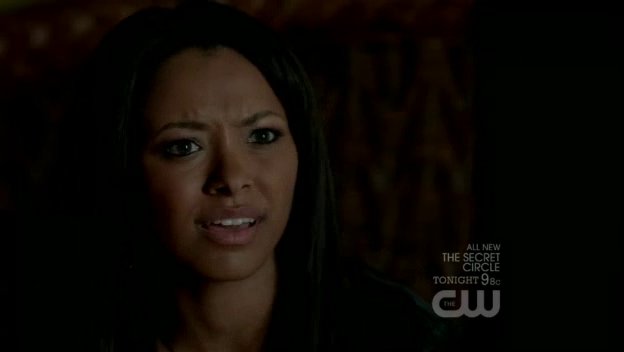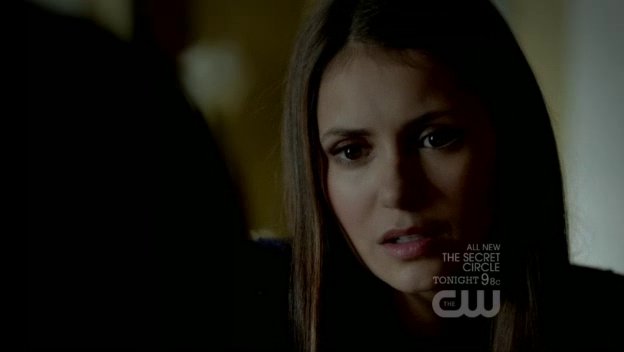 "I just keep thinking. Be for the sun and the moon ritual, Elijah found a way to keep me alive. And now, I am in the exact same position. And I am just going to let him die? It just doesn't feel right."
My baby girl with the big heart. You are right. This is bullshit. But also
...that way that Elijah found to keep you alive, probably wouldn't have worked. Or worked in some half ass way with terrible consequences. But that's not the point. I agree. Help Elijah. Bonnie and Caroline are against it and Bonnie says this is happening that night. 😱😱😐😐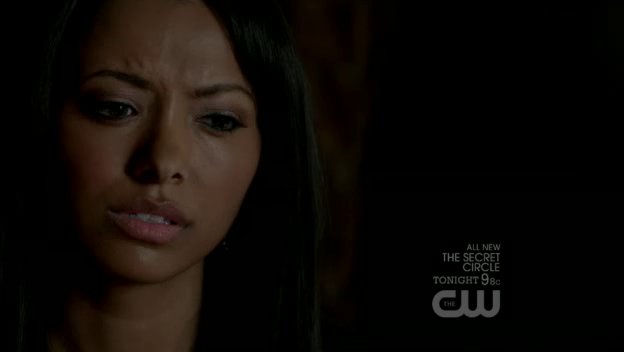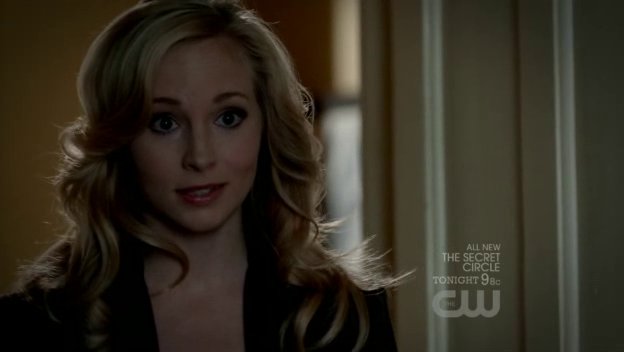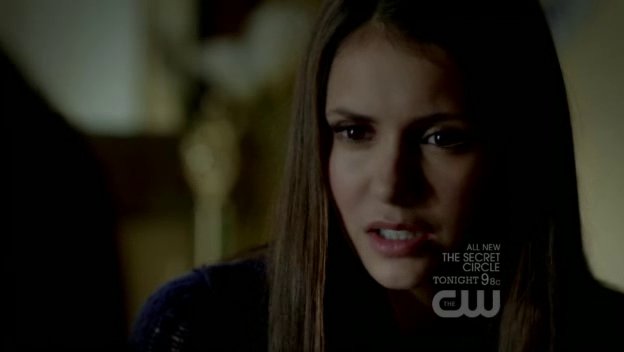 Esther needs a celestial event. 😐 Wow, this bitch really can't wait to off her children. She could atleast have given them a month to actually enjoy living for a change. But that's expecting to much from this cold fish. 💀
Stefan is extra broody. He saw how jealous Elena was.
"She is not going to listen to anything I say."
"Is it because of your little sleepover?"
"Its not my fault she decided to get jealous."
"Wow. Given who you chose to sleep with, I would say it's 100 % your fault." (..)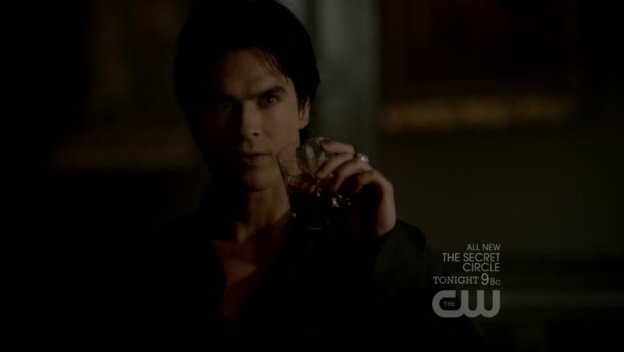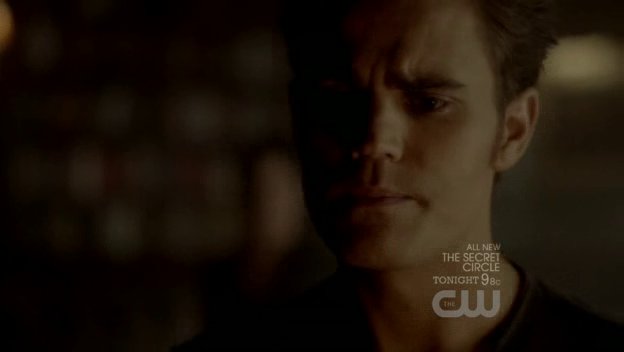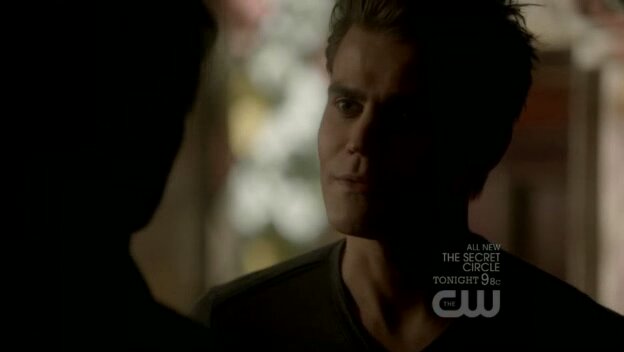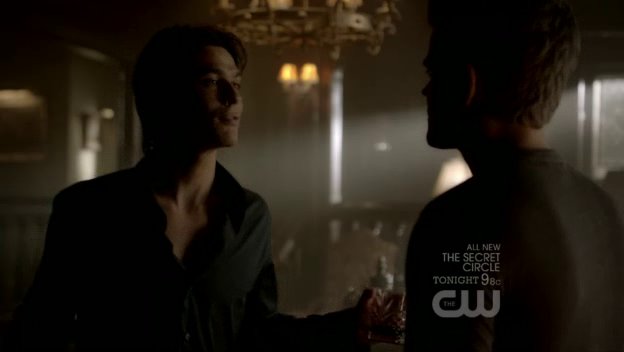 I actually agree with Stefan here. Damon knew what he was doing. Yes, Bekah was available and convenient at the time, but he is smart and knows the news would have come out, even if Elena hasn't showed up that morning. 😜
"Whatever. I did you a favor. Now you can come in and sweep her off her feet."
Damon. 💀 Stop quitting and bowing down to Stefan, who now suddenly claims not to want her?
"Nahh, she is better off without me. Sure as hell better off without you."
NOW HOLD ON A SECOND YOU ASS 💀
Stefan insults Damon smugly and he gets inside his head. He played on his insecurity and you can see on Damon's face, the hurt, but he thinks Stefan is right.I think Stefan is playing Damon and is pretending to back off,so Damon will,and he can sneak in and try to get Elena back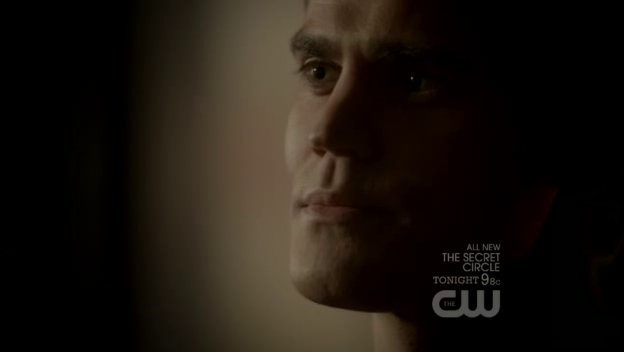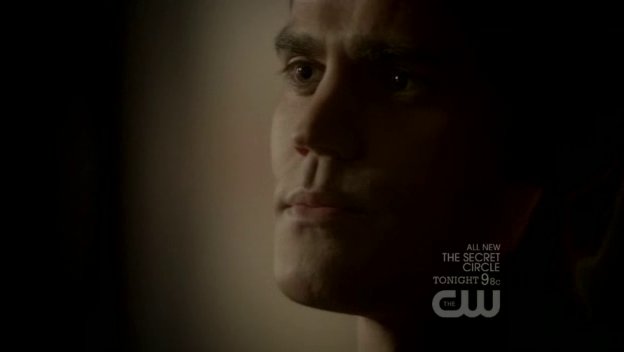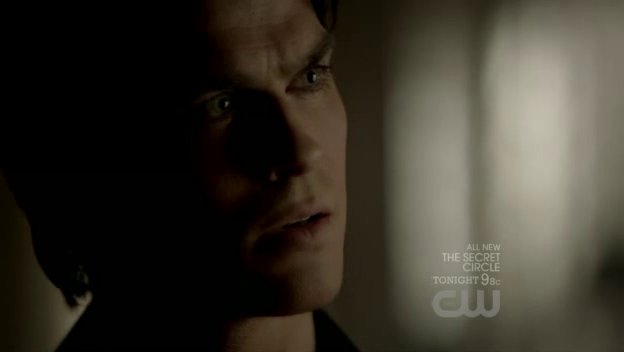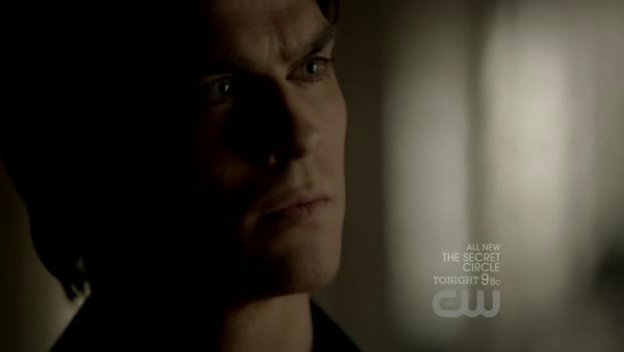 Sneaky, manipulative fuck. 💀
OHHH SHIIIT Elijah knows something is up and Elena can't lie to save her life.
"Elena."
"Elijah."
He wants her to come with him and show her something....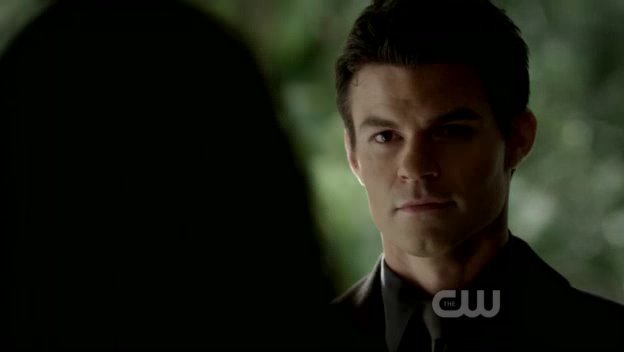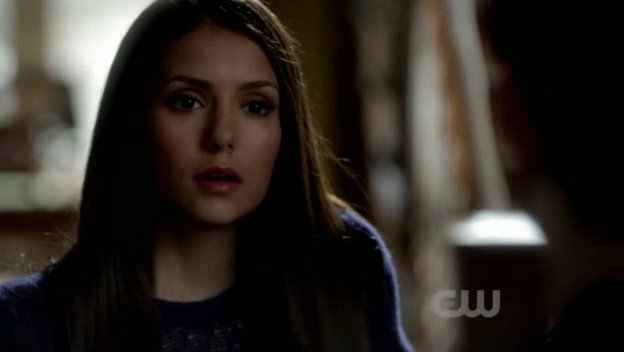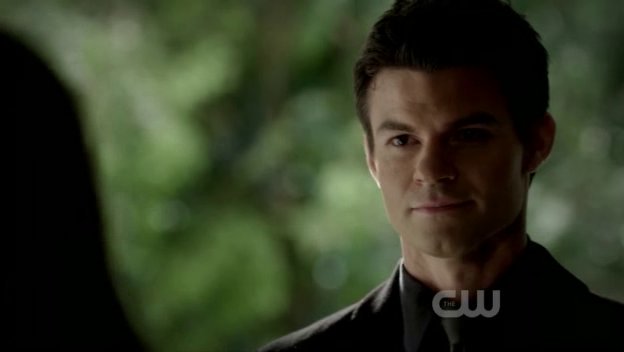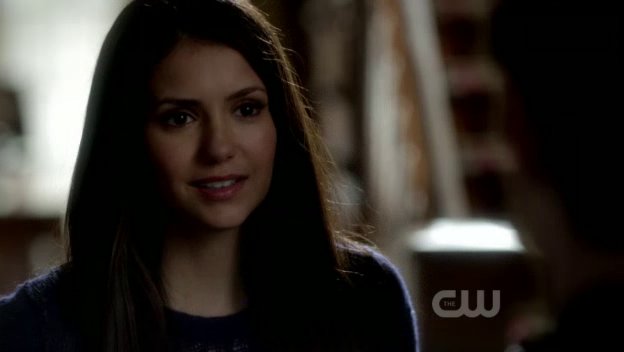 Continuing from work. Let's go 😎
Elijah is making polite chit chat about the landscape but we all know the reason he came to talk to Elena, isn't about the freaking landscape. He knowsss
SHIT WHAT DID I SAY. He is calling her out about lying to him and she sucks soooo bad at trying to cover it up, it's painful to watch.
"I admire you, Elena. You remind me of qualities I valued long before my mother turned us. It's not in your nature to be deceitful and yet when +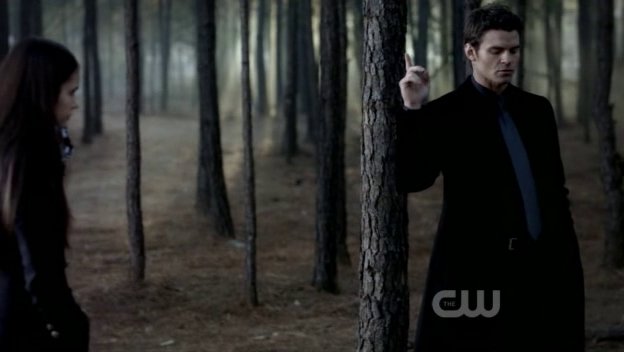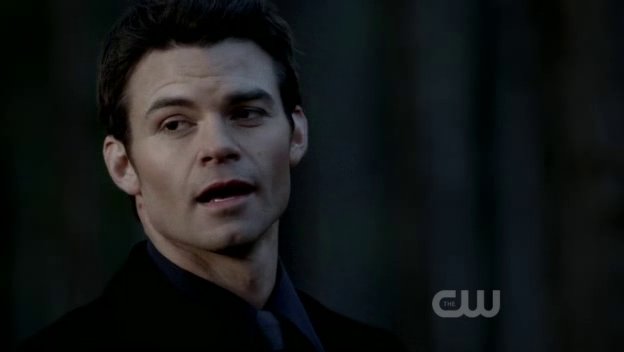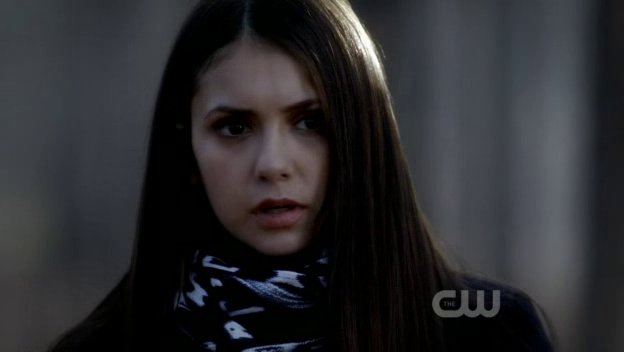 I asked you about your meeting with my mother the other night, you lied to my face."
😣😣😣 Elena tell him
YESS SHE IS TELLING HIM. Thank fulfil maybe there is a way to unlink him and Rebekah from the others.
"I am so sorry Elijah, I wish there was something I could do to help."
Get Bonnie to break them from the link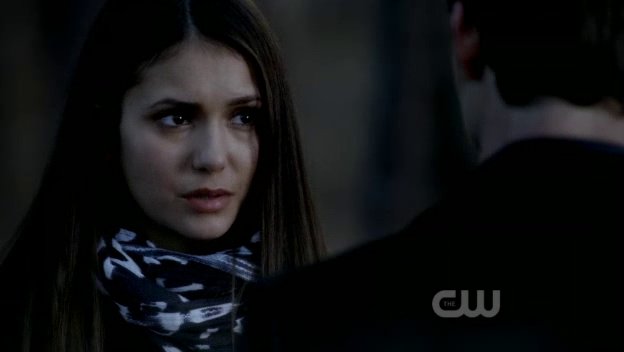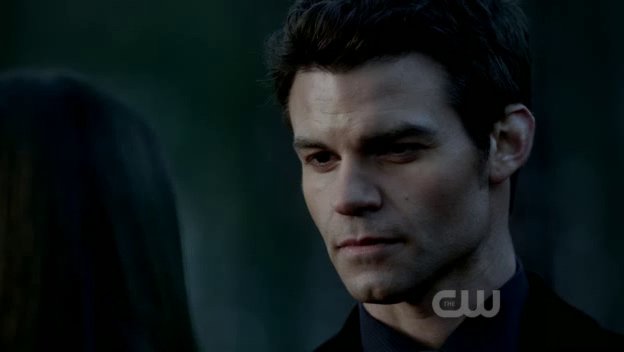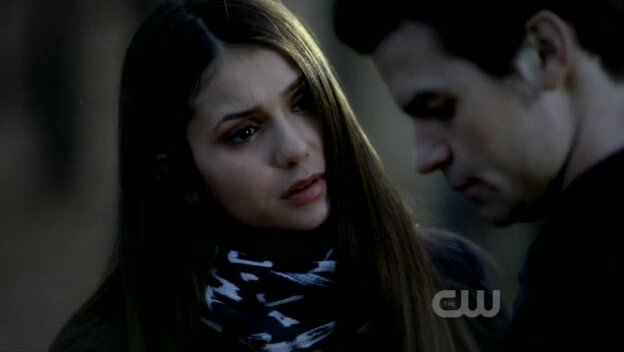 Not that Bonnie is the greatest witch out there, no offense. Her nose bleeds when she does a simple tracking spell and she can't even use sage right and calls it a complicated spell. She was only strong when she had the ancestors backing her. OMFG they are doomed
OMFG ELIJAH WHAT IS THIS?? "Be careful what you wish for?" She just risked a lot by telling you, because she cares what happens to you...WTF is this??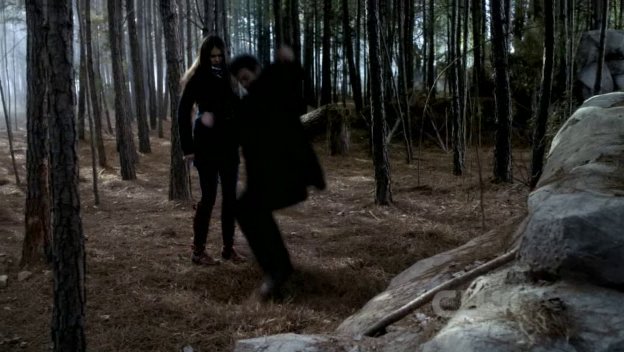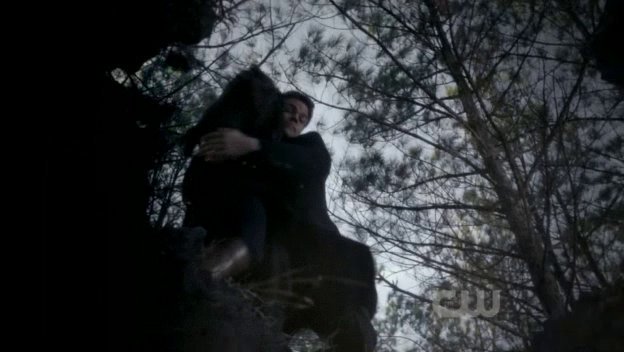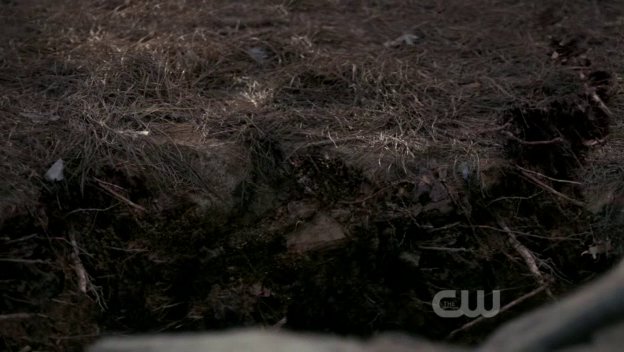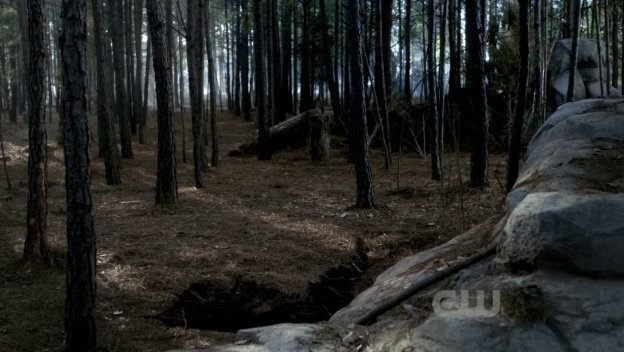 He ditched her in the cavern? WTF? 😒 And of course there will be no reception. I have gotten to comfortable around Elijah, thinking he wouldn't harm Elena. I am disappointed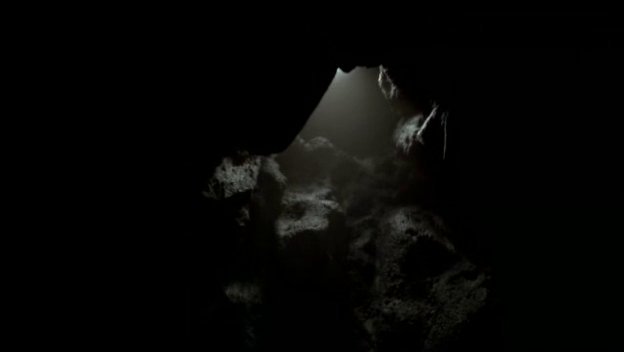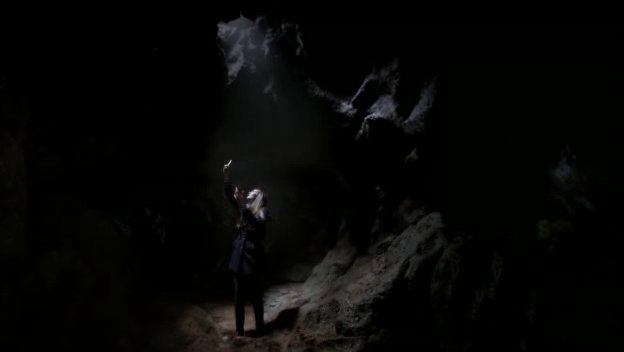 Damon called Rick to hear if he knows where Elena is, since she isn't answering her phone. Damon's Elena senses are so fucking accurate. It's like they have this psychic bond and he just KNOWS when she is in danger.
LMAOOO OMGG Elena told Rick about Damon sleeping with Rebekah. She really went on a jealous tirade and went off about it to everyone. I can't breathe 😂
"I am surprise you had time to call, with all the original sex you have been having."
"She told YOU?"
"Oh, she told me..."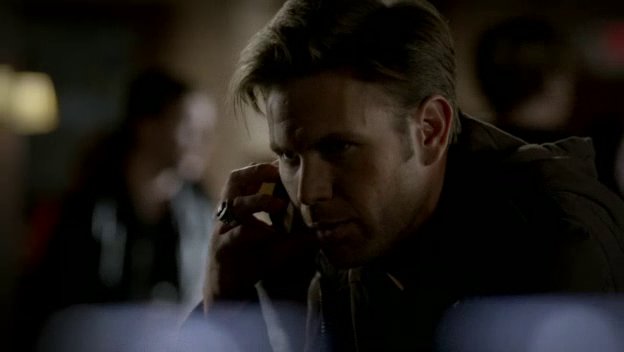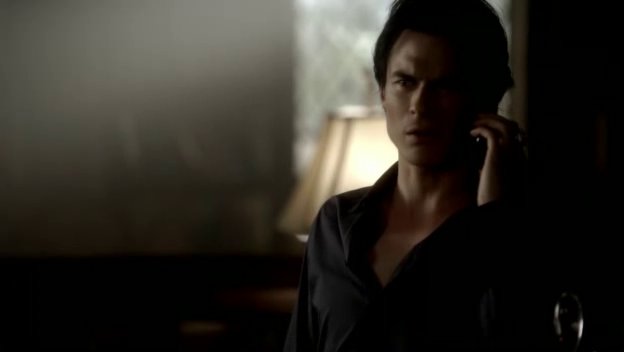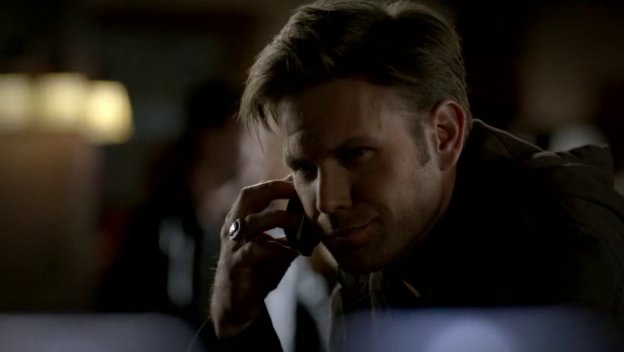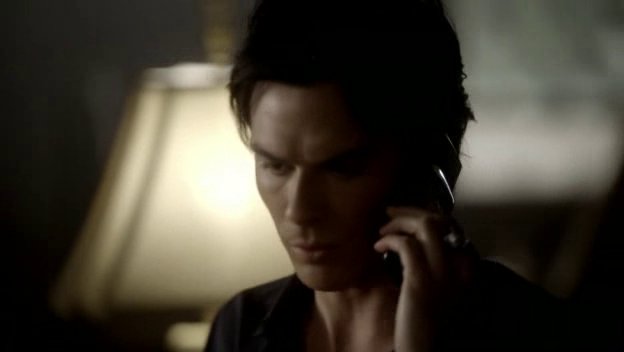 "Are you with the sexy psycho doctor?"
"Goodbye Damon."
Spot on, Damon.
Meredith thinks it is a vampire who attacked Alaric and Klaus butts in on the convo, claiming his family's innocence. I actually believe him. Originals don't use knives..
Kol is such a creep, making Meredith feel all sorts of uncomfortable. Didn't your mother ever tell you that staring down a girl like she is your next meal, is rude?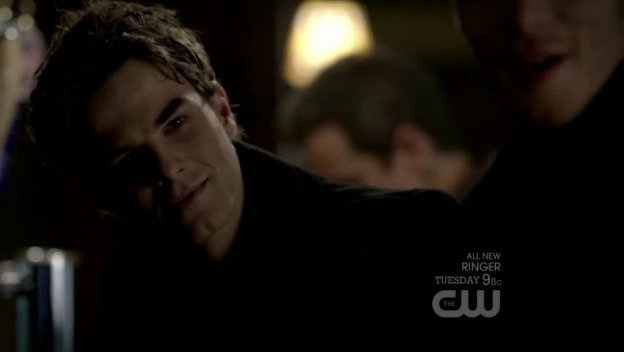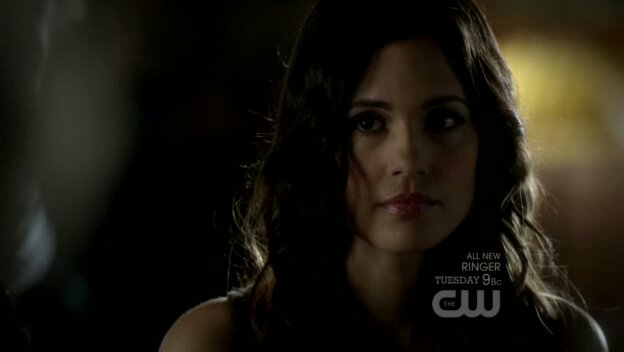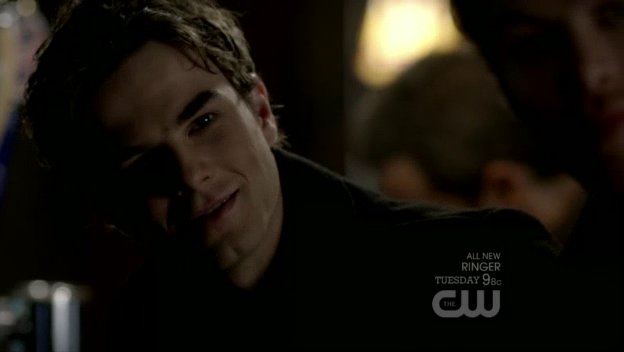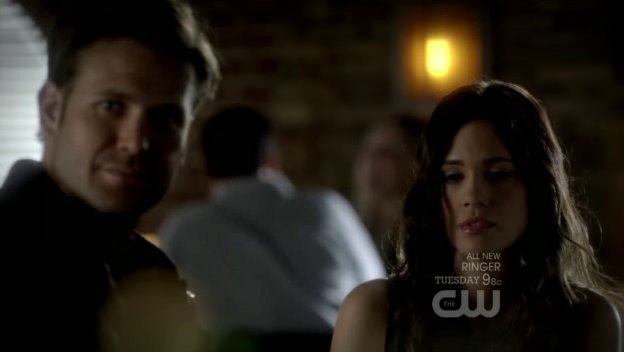 Esther thanks Bonnie and Abbey and explains how they are the bloodline manifested and will help her maintain the great power she draws from their entire line. This all still sounds super sketchy to me. So Esther is leeching power from Bonnie and magicless Abbey?
Elijah left Elena with Rebekah?? Seriously? Does he really think that's a good judgement call? OMG.
So Elena is a hostage and if she tries to run, Rebekah will kill her. Nice Elijah. How will this help??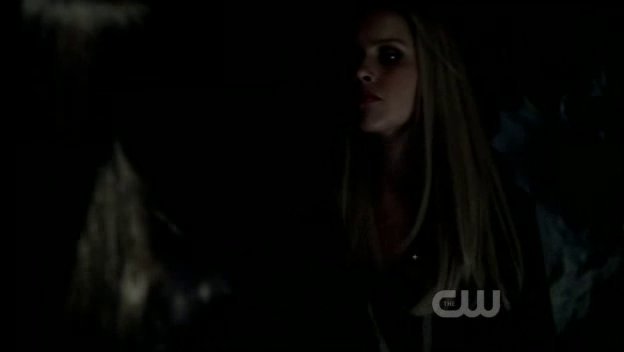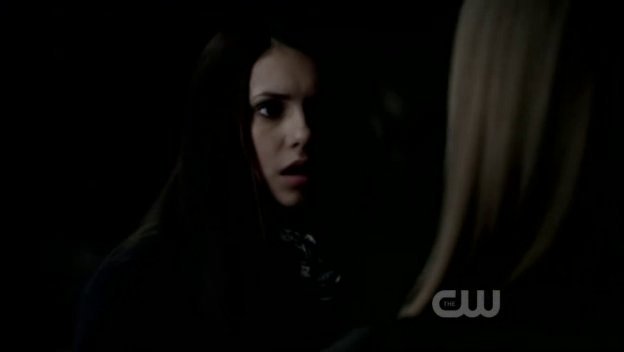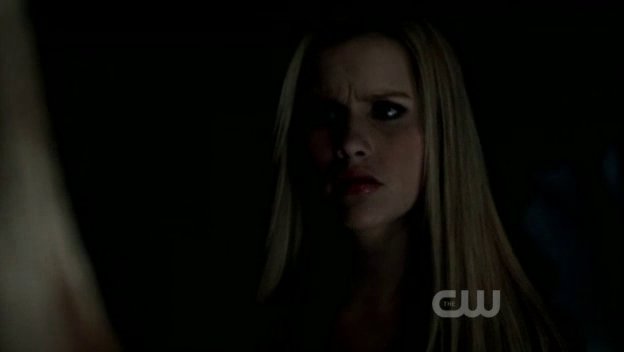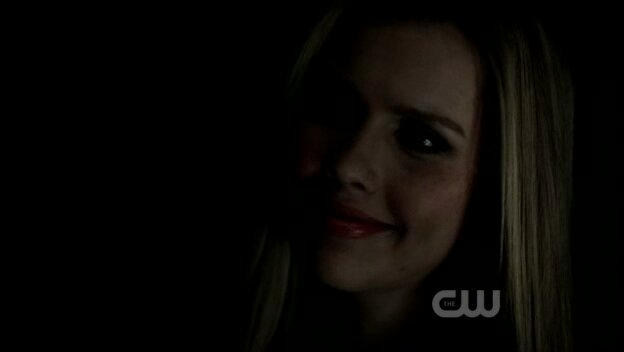 Elijah sitting in that chair like a boss. But an evil boss right now. 😐 He expects Damon and Stefan to kill Bonnie and/or her mom or Rebekah will kill Elena.
Okay but kill both or just one?
OKAY PLASEEE DON'T MAKE DAMON KILL BONNIE. ELENA WILL NEVER FORGIVE HIM. 😣😣😣 FUCKKK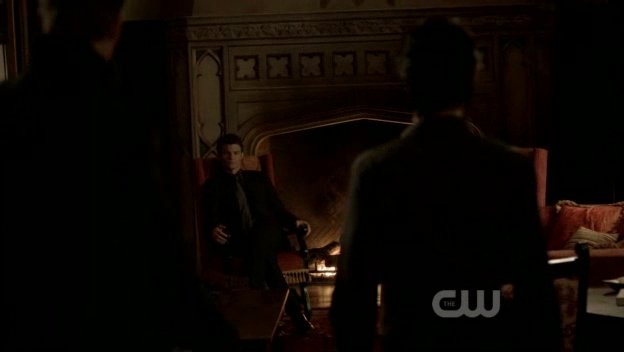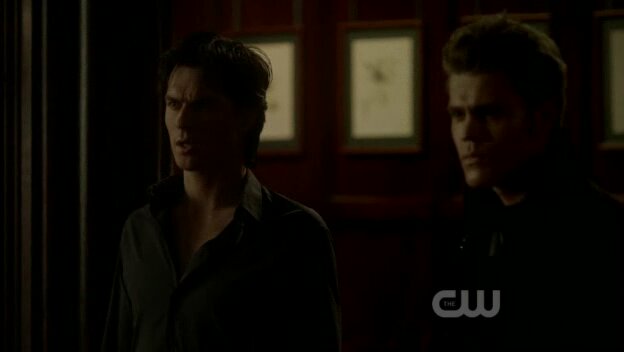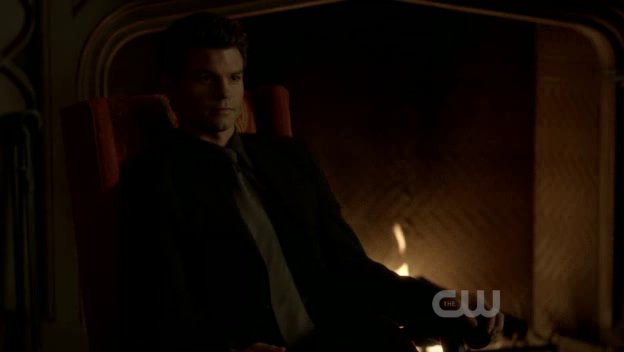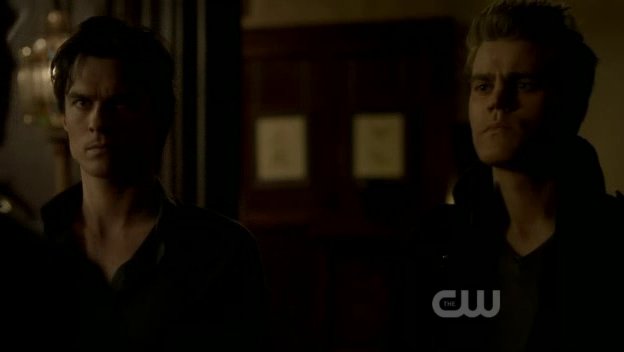 Really Rebekah? She claims to be making a hostage video as incentive for Elena's "boyfriends" but I think she is just enjoying herself. An is so pissed about the dagger still. I don't blame her, but wanting to rip soneone's head off is a bit over the top 😐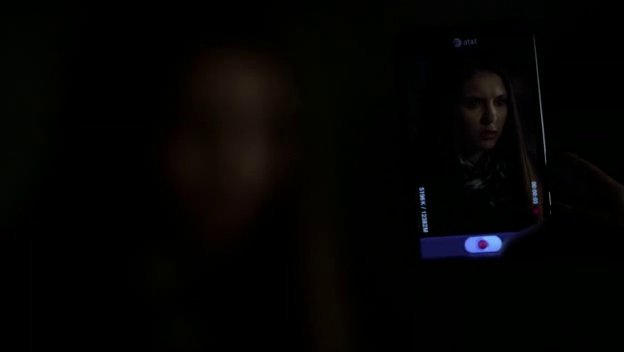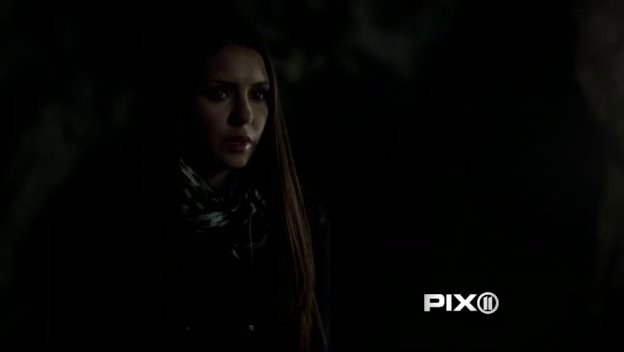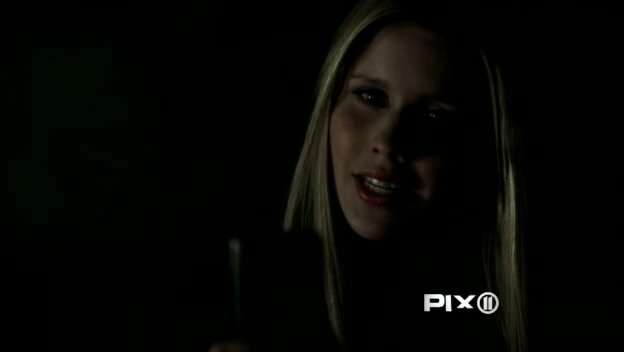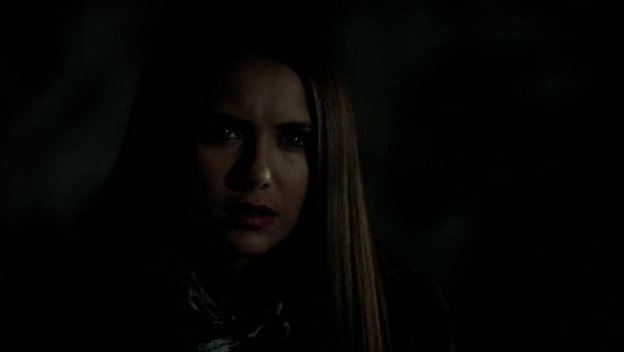 "But for some reason, everybody seems to want to bend over backwards to save your life which is increadibly annoying but makes you the perfect hostage."
Elena can't help it though. She isn't asking anyone to love her and do this for her. She is going to blame herself if Bonnie +
or Abbey does and I am going to be increadibly pissed off if they don't find an alternative solution.
Yass Damon is coming through with a better plan. No wait.. I don't want Elijah daggered...but I don't want Bonnie to die...kill Abbey? I am okay with them killing Abbey. I don't know her character long and she abandoned Bonnie so...karma
I love how once again, Damon thinks of a way to save Bonnie's life, for Elena's sake.
Stefan is still worried about Klaus. 😐😑 FORGET REVENGE FOR A SECOND PLEASE
"We don't know if that will affect Klaus."
"Ironically Klaus isn't our current problem." Thanks Damon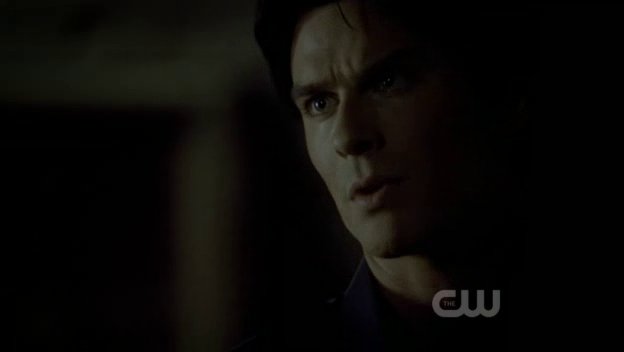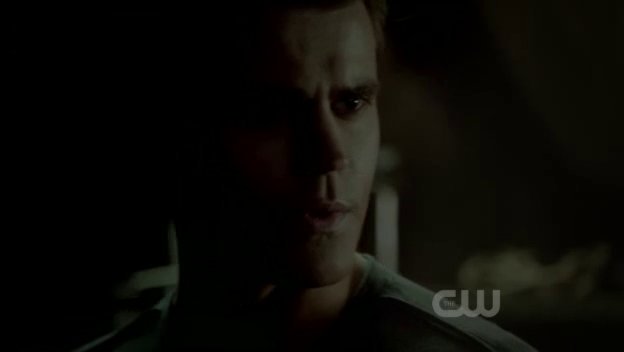 Damon calls Rick and they hatch a plan. Using Caroline as a distraction 👀
So Caroline is still firmly okay with Klaus dying?
In comes the blonde distraction, looking amazing. Caroline on a mission.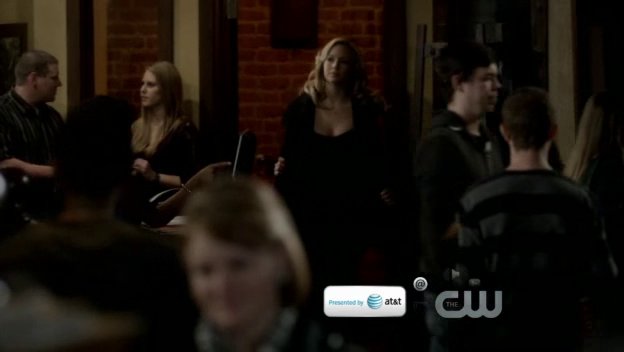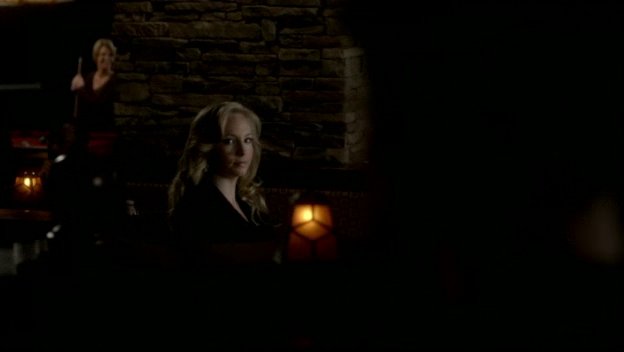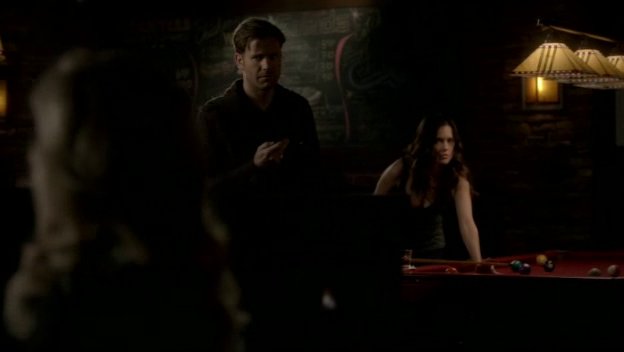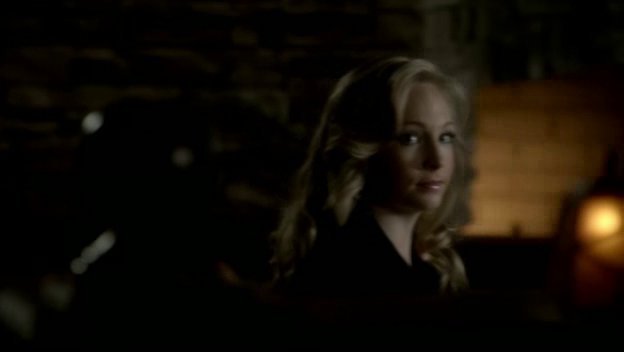 "I remember her from last night. She looks like a tasty little thing."
"Say another word and I will tear out your liver."
As long as he doesn't tear out Caroline's when he finds out her part in all this 😣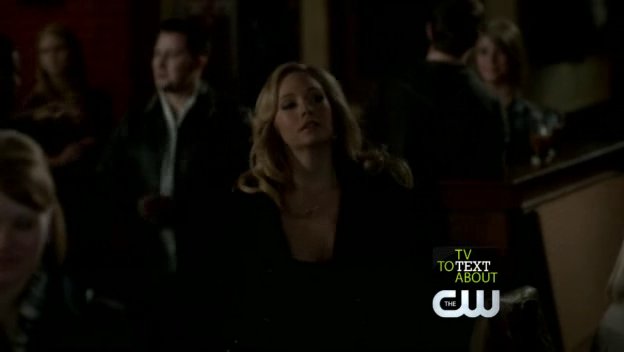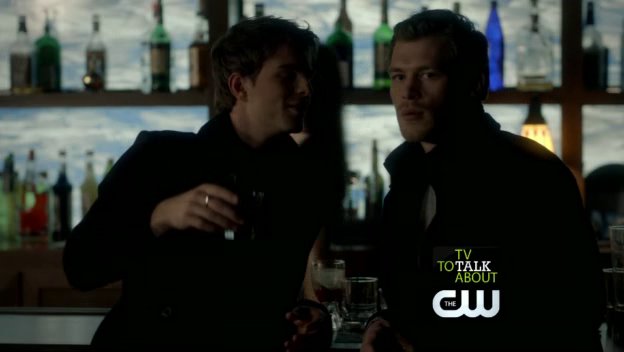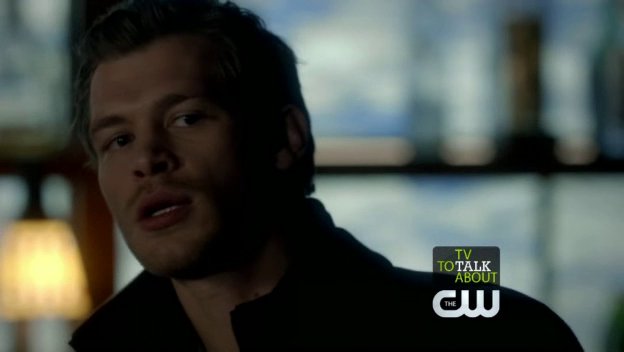 Klaus invites Caroline for a drink but she shoots him down and he thinks it is the most amusing thing ever. Caroline is savage and I love it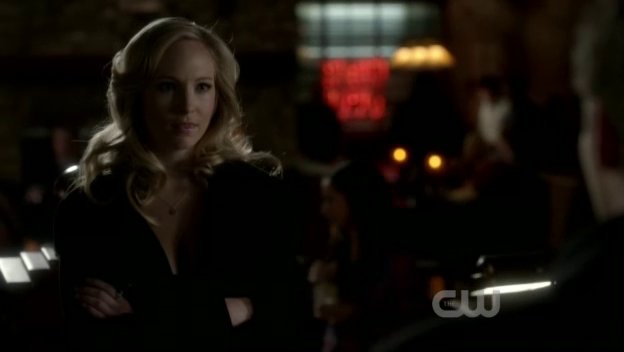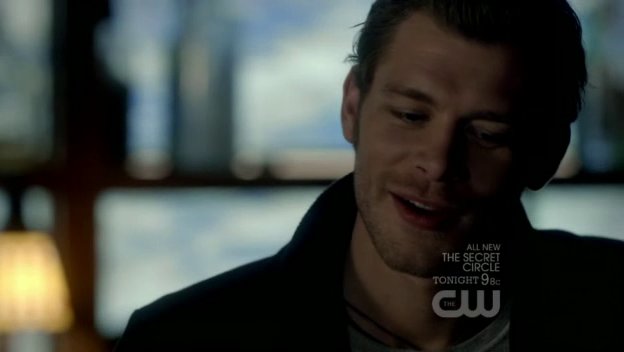 "Isn't she stunning?"
"She certainly looks good walking away from you."
"I will take that as a challenge."
Lmaooo challenge accepted. I love how she knew he would follow.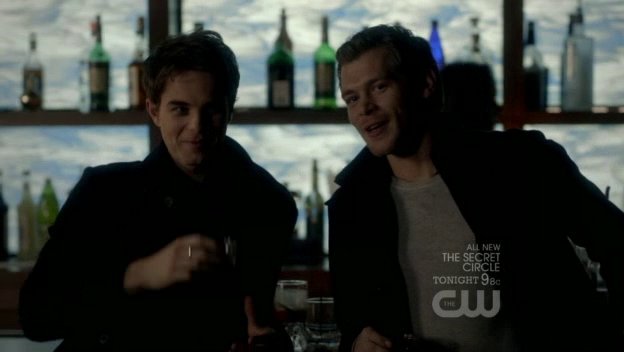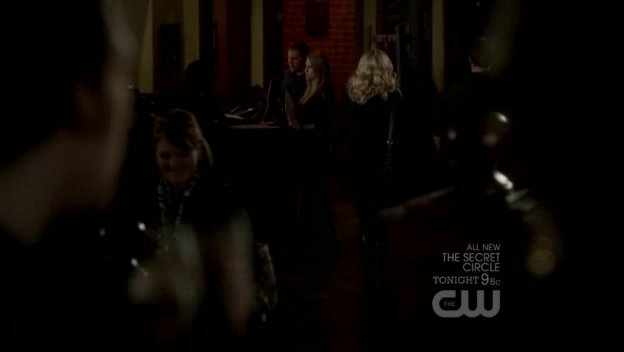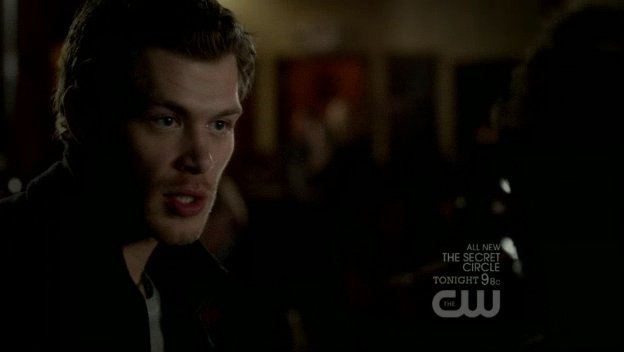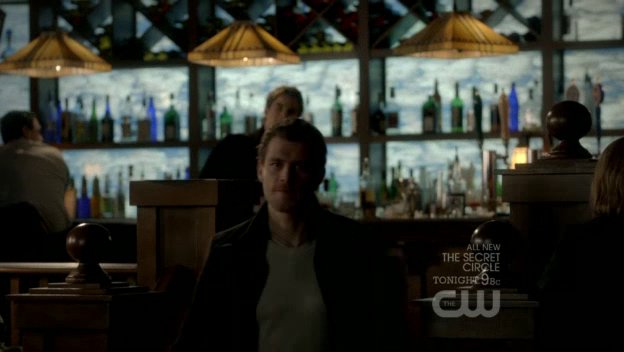 LMAOOO Klaus is either very drunk or very drunk on love because he almost got himself run over by a damn car 😂😂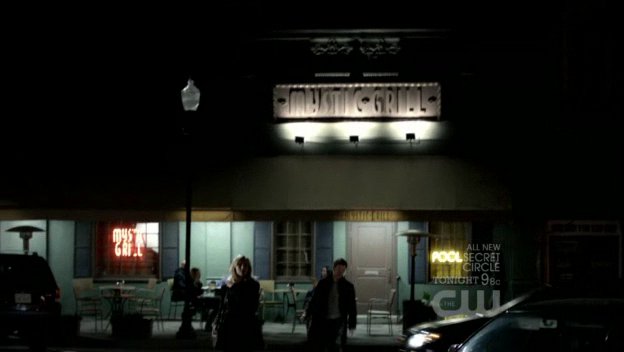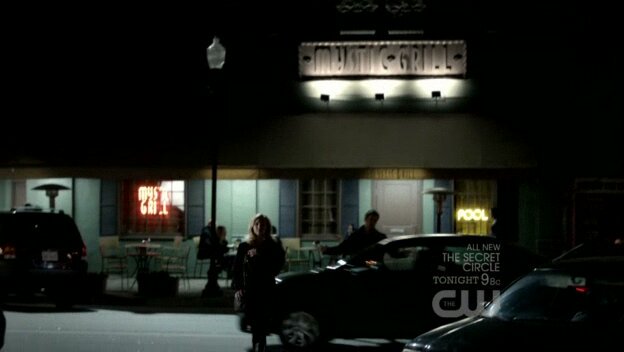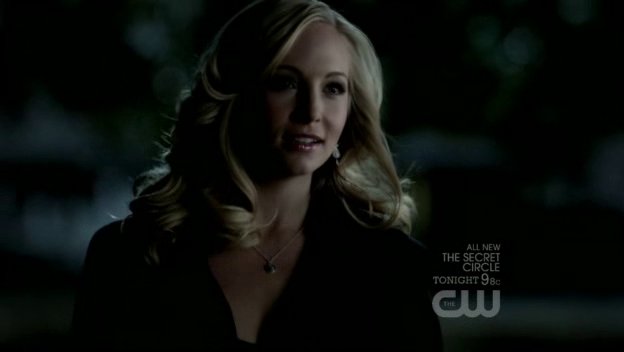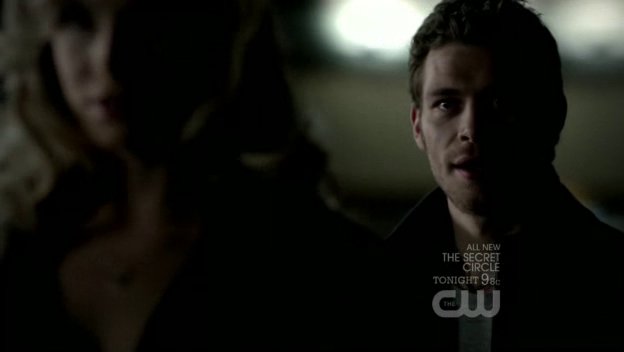 Klaus wants her to give him a chance and to get to know him. Well, their first meeting went pretty shit and you know what they say about first impressions and all... Goodluck changing her mind.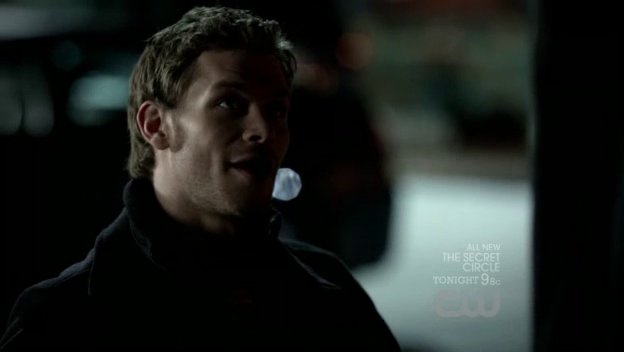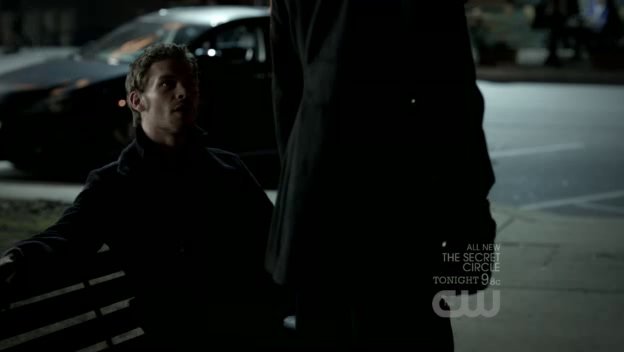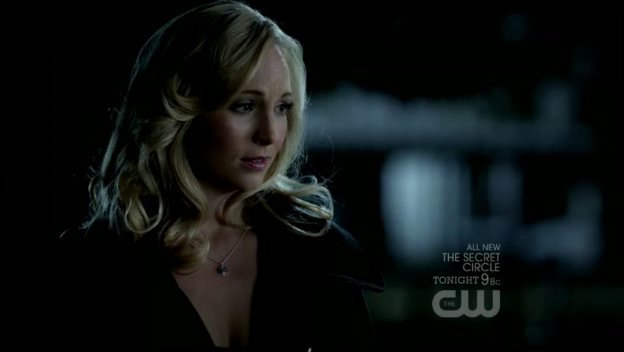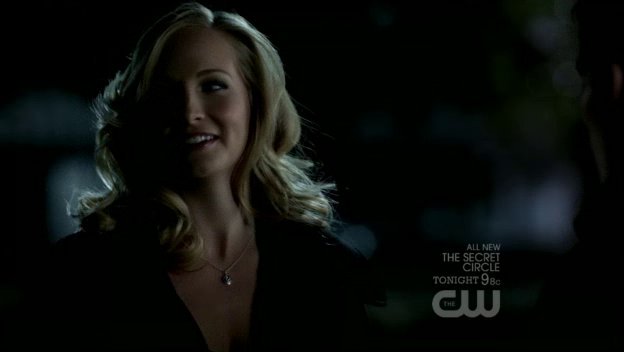 "So what do you want to talk about?"
"I want to talk about you." I thought you wanted her to get to know YOU better? Lol.
"Your hopes, your dreams. Everything you want in life."
"Just to be clear ..I am to smart to be seduced by you."
Snap miss Forbes 👑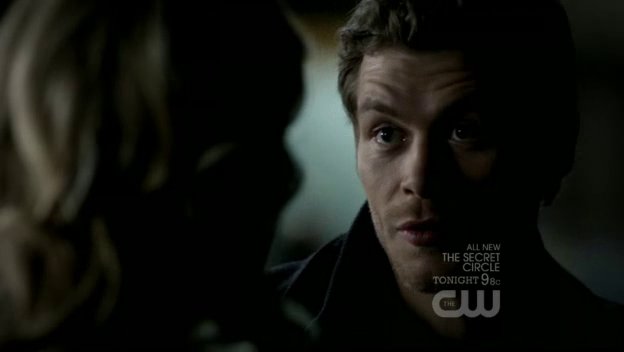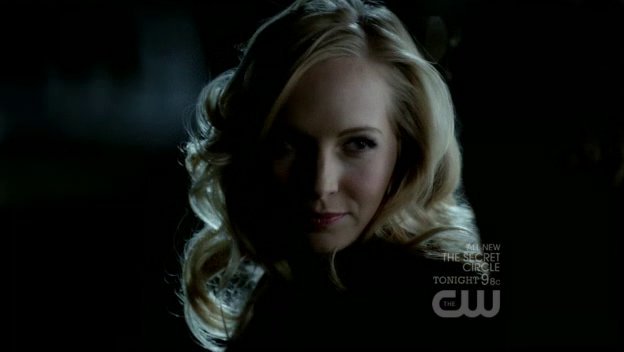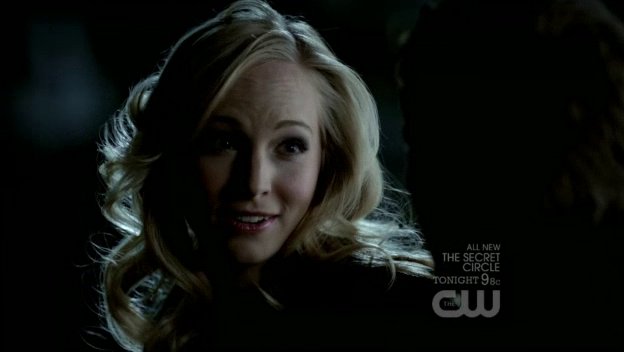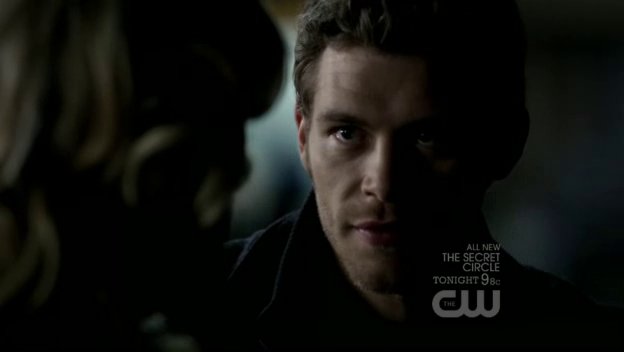 "That's why I like you."
I think a part of Caroline is really enjoying flirting her ass off, despite the fact that she is distracting him and part of mission kill all originals.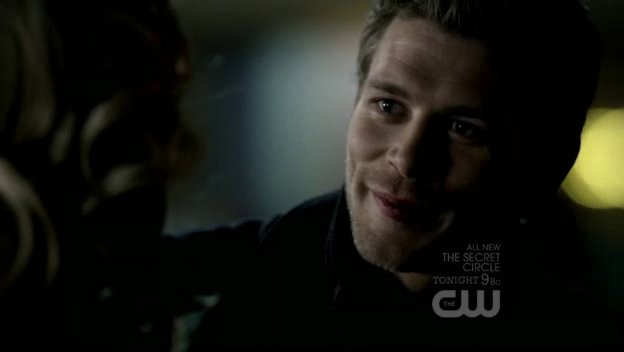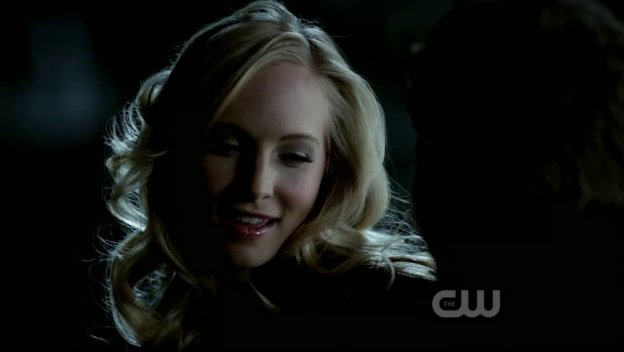 Come on, it will stroke any girl's ego to have a guy so clearly into her, even if she doesn't want him.
The wicked witch of the west is prepping to kill her children. Her plan is to reverse the spell that made them vampires and make them human. Then she will kill Finn and they all will die. Okay but hold the fuck up. If she can reverse vampirism, why kill them after??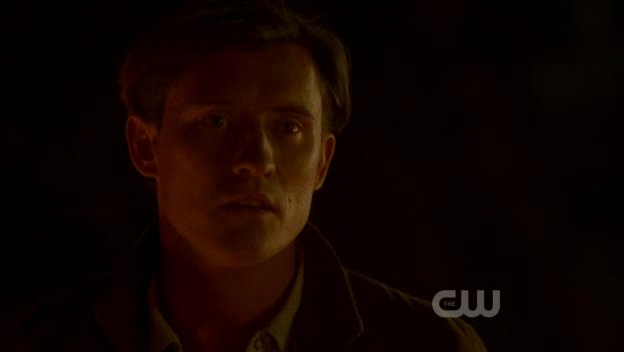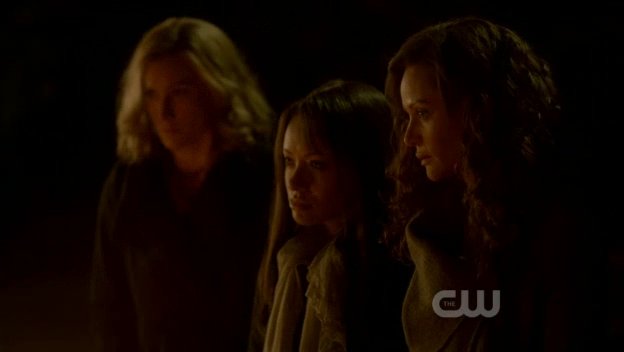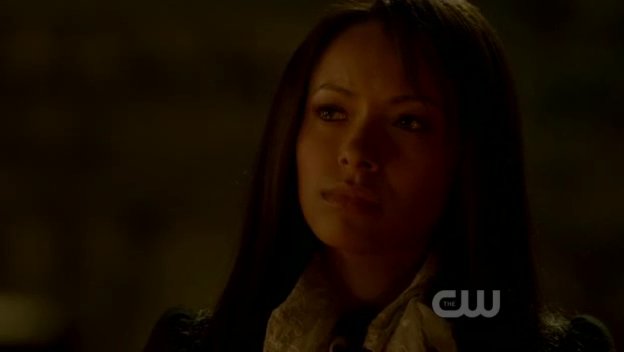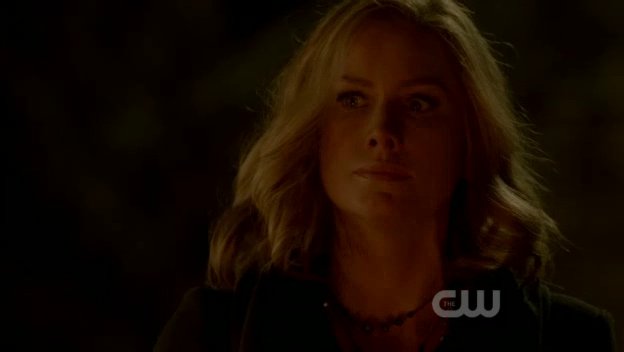 Why not leave them to live out human lives? And I can't decide if Finn is really noble, or an increadibly bland momma's boy with a stick up his ass.
Kol I flirting with Meredith and not taking no for an answer. He is very pushy and she slaps away his hand when he touches her face. Alaric has to step in. "I am pretty sure she told you to get lost."
"Pretty sure I don't care."
That's not the way to go after a woman, mate. 😐
OH SHIT ALARIC STABBED KOL 👀
Rebekah collapsed. Run Elena! 😱
Klaus grabs for his chest but he is fine. That werewolf side is really coming in handy now, isn't it?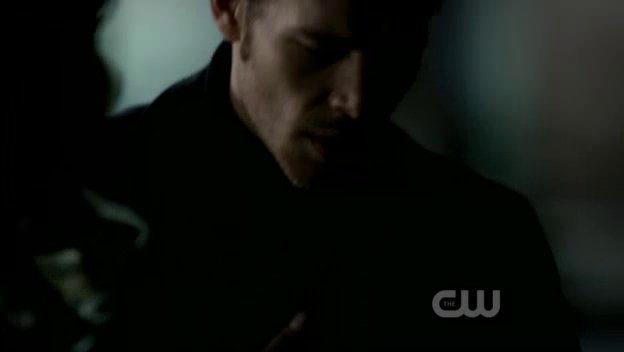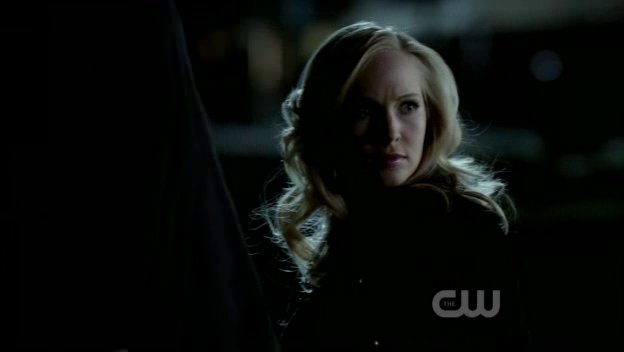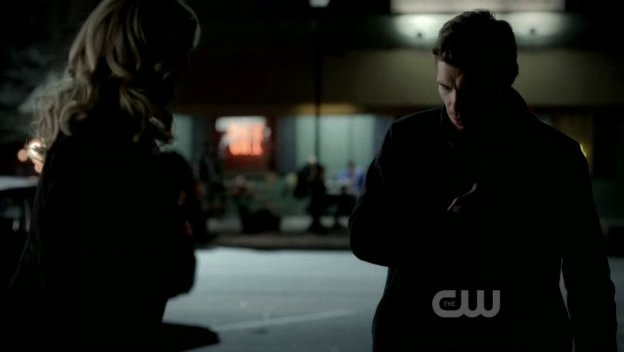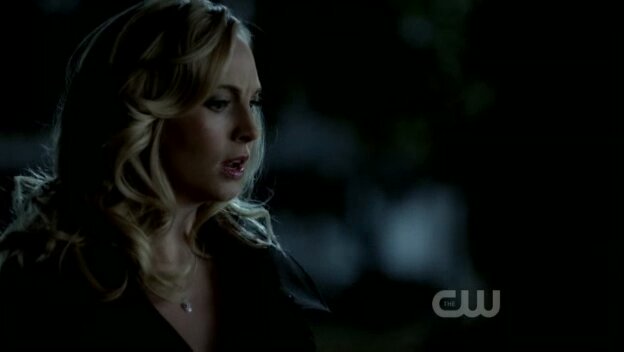 SHIT KLAUS. SHE DIDN'T DO ANYTHING. WHY ARE YOU GETTING VIOLENT WITH HER? SHE IS WITH YOU. WHAT COULD SHE DO?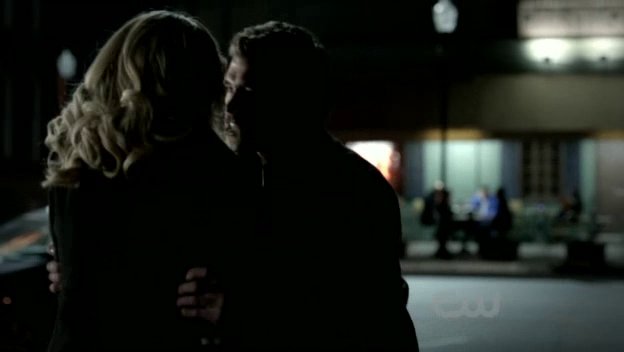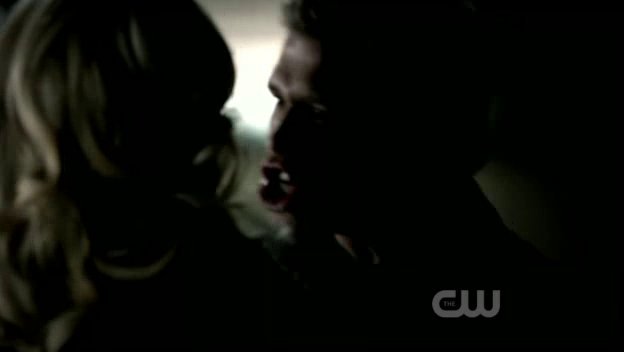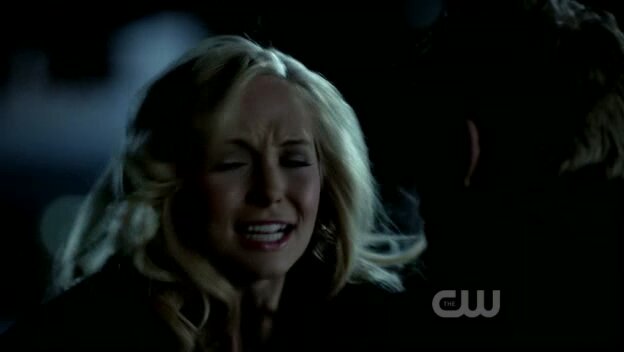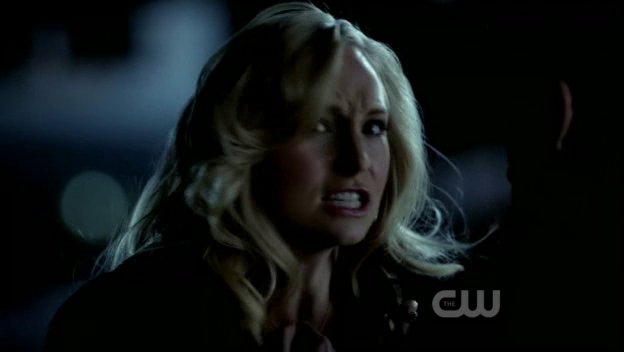 Atleast he believes her now and let's her to. Being Klaus bait is to dangerous. It's like petting a feral dog. You don't know when it will turn around and bite you.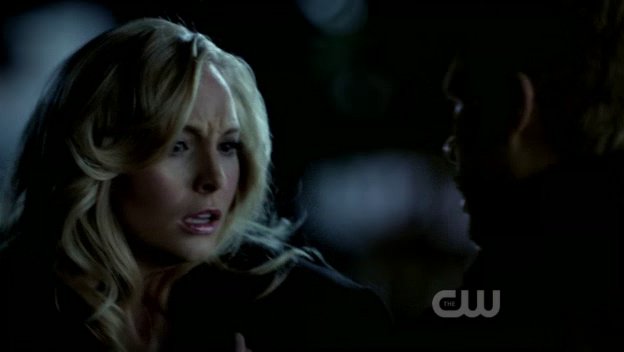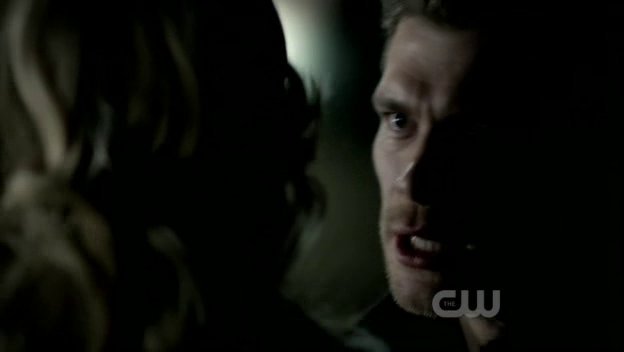 Klaus flings Stefan and Alaric away and undaggers Kol. Crap, why is Rebekah waking up so soon? Usually it takes much longer 😱
Damon should stop taunting Klaus. He was about to kill him but Elijah showed up. He is getting paniced now and threatens to call Rebekah early. That's playing dirty, oh moral one 😐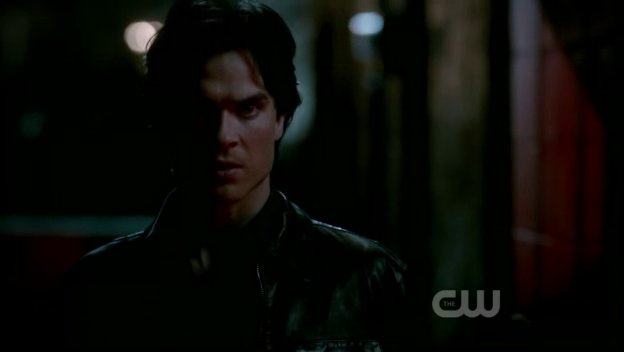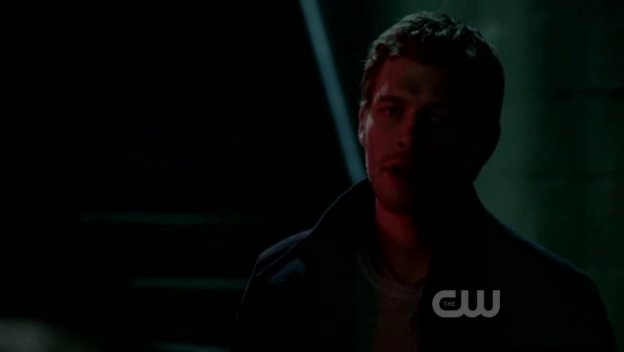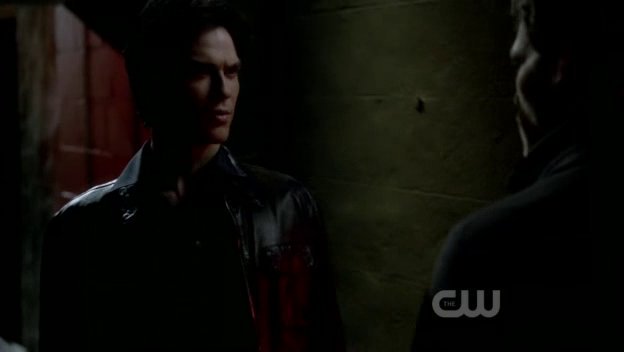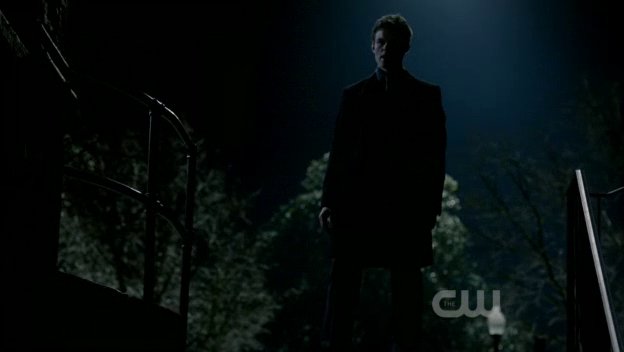 Elena fell ouch. 😣 Run baby girl. Ugh Rebekah is chasing after her like a bloodhound
YES OMG the part of the cave where vampires can't enter
"Boo!" Rebekah grand Elena before she can get to the no vampire part but my girl is a warrior princess and slams her head into Rebekah who lets her go.
"You little bitch."
Shiiiiiiitttt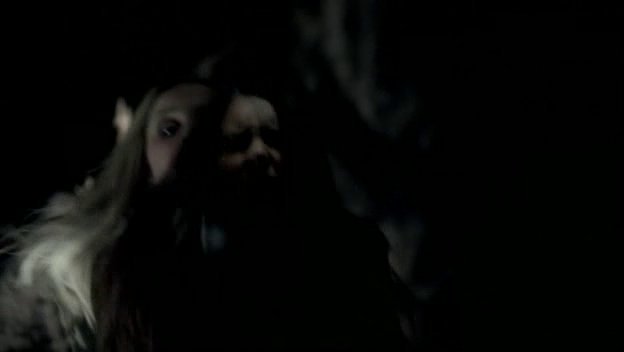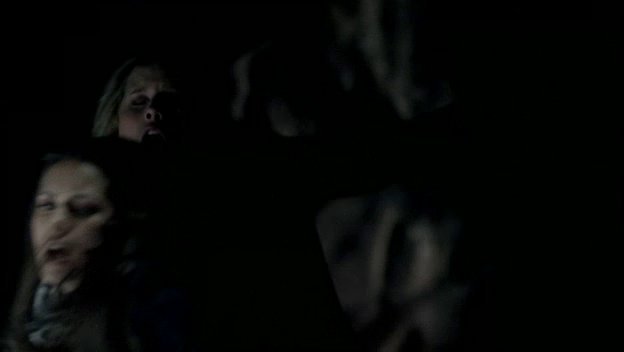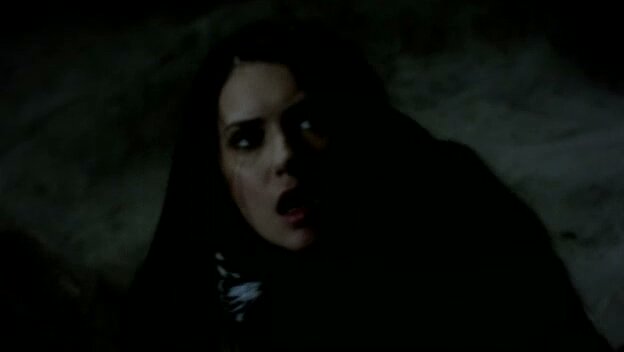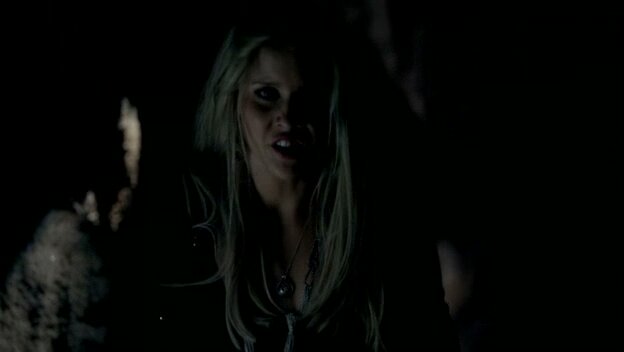 A small part of me hoped they could stilk someday become friends...yeah..that ain't ever happening. 😣
Meredith is nursing Alaric, who might have a broken rib and a concussion, but he wants to go look for Elena. Aww, daddy Alaric. I love that
I don't actively dislike Meredith anymore. She is kinda okay.
Defan are legit going to flip a coin to decide who gets to kill Bonnie and/or Abbey because they know whoever does it, will be hated by Elena.They discuss what Elena's choice would be. "She will sacrifice herself to save a friend." And they know this will wreck her.
OOHHHH FUCKK+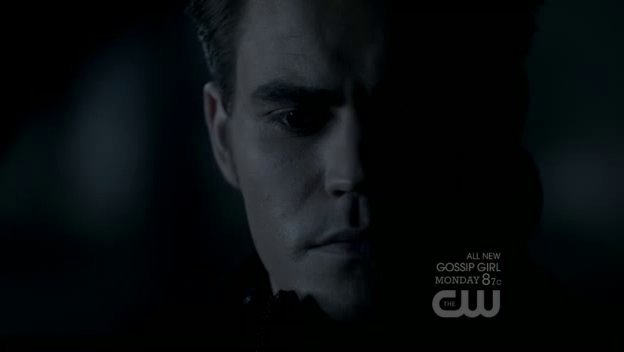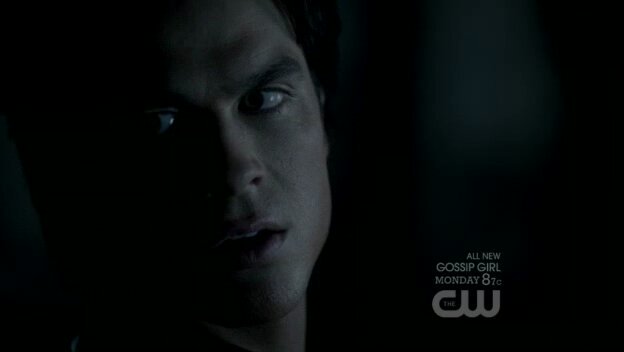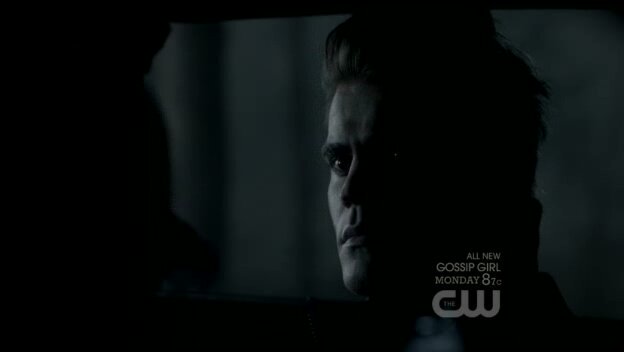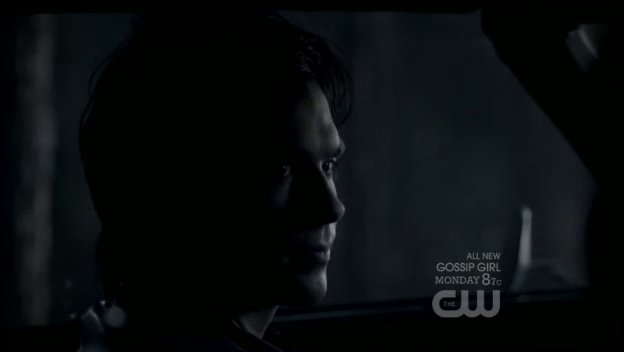 PLEASE DON'T LET IT BE DAMON. HE ACTUALLY TRIED TO GET AN ALTERNATIVE PLAN BEFORE. PLEASE IT WILL BE SO UNFAIR
Stefan is seriously not doing anything. He is just going along for the ride while Damon makes all the plans and effort. It will be so fucked up if Damon has to take this punch too and Stefan gets off with clean hands. They are BOTH doing this. 💀
Elena you stay right where you are. Rebekah is still there don't you doubt that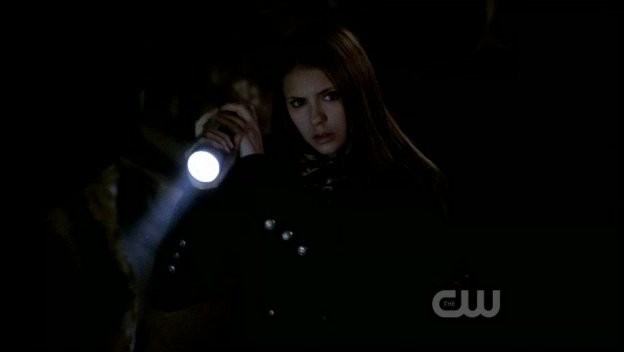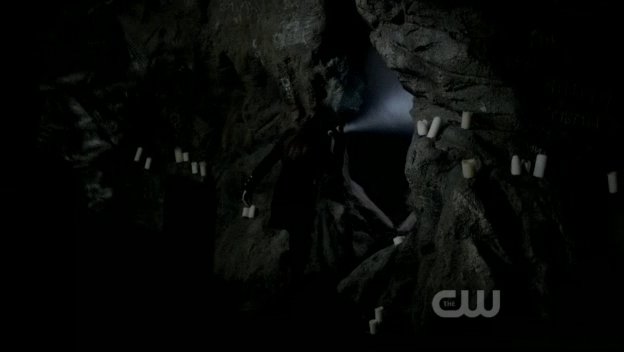 FUCKK REBEKAH ARE YOU NUTS?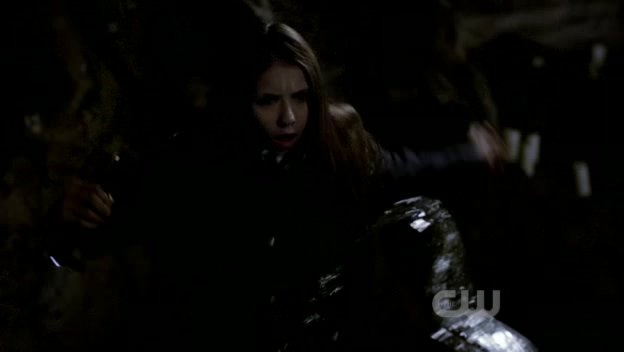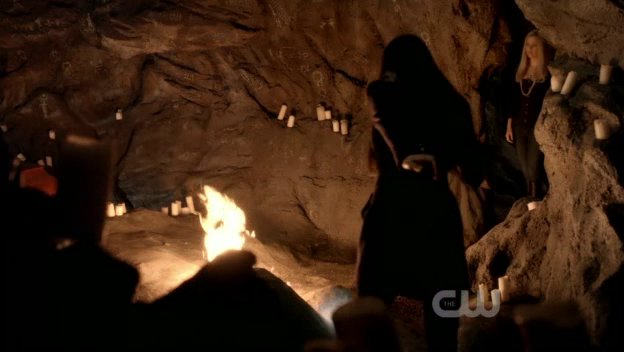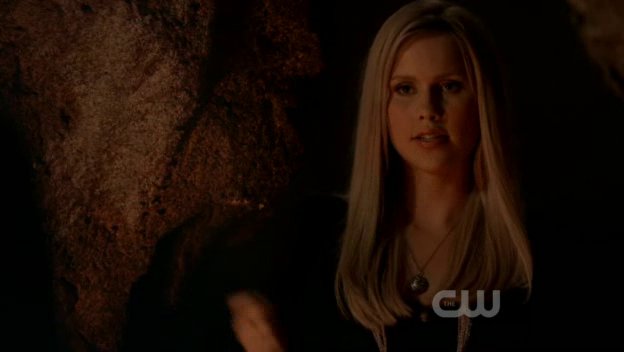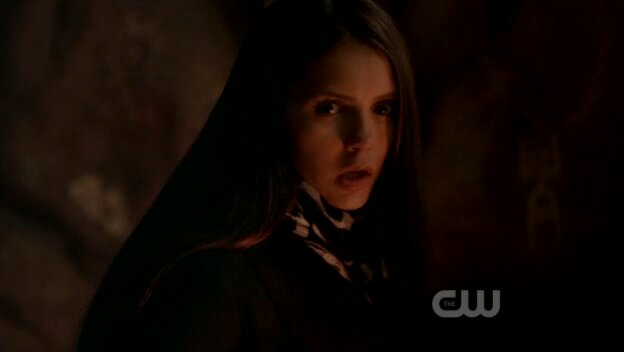 Girl, you have some serious growing up to do. Trying to set someone on fire because they hurt your feelings?
My Original children are letting me down in this episode. 😢😐
Elena points out that Rebekah is still wearing Esther's necklace and she takes it off and throws it in the cave. Elena is being smart and trying to manipulate her. Phew it seems to be working. She is psycho analysing Rebekah perfectly.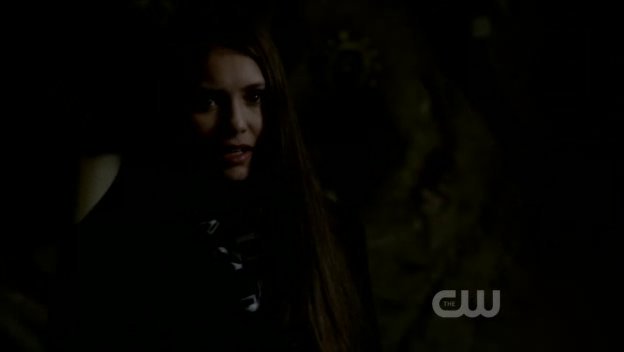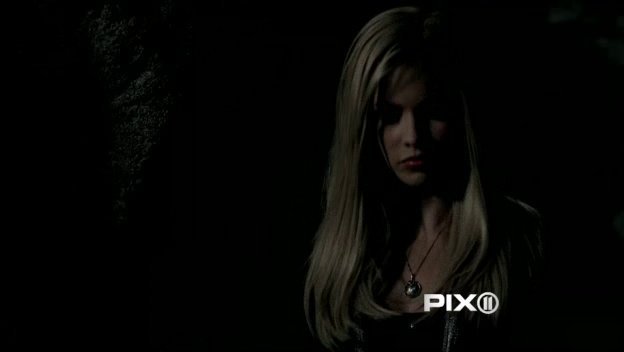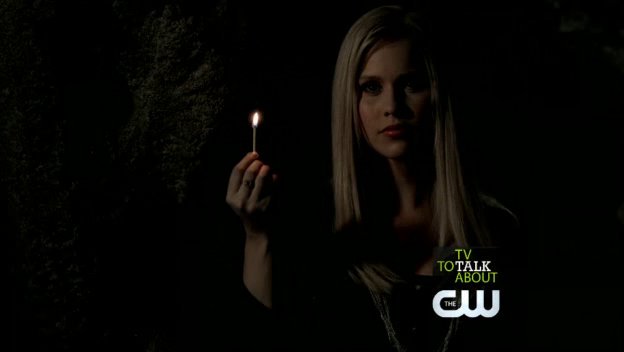 Lmaoo back to Rebekah sleeping with Damon. 😂
"That's why you slept with Damon, isn't it? That's why you are tormenting me. Because I hurt your feelings."
Another woman having sex with Damon torments Elena. We been knew 😌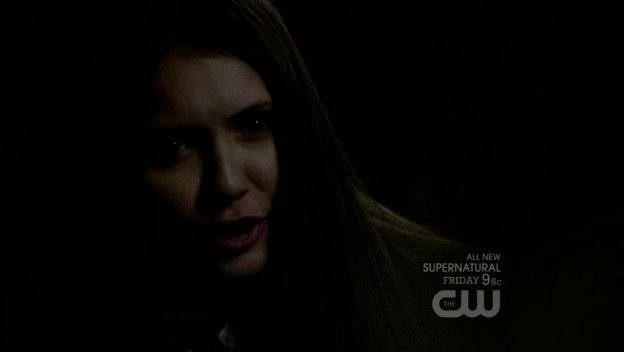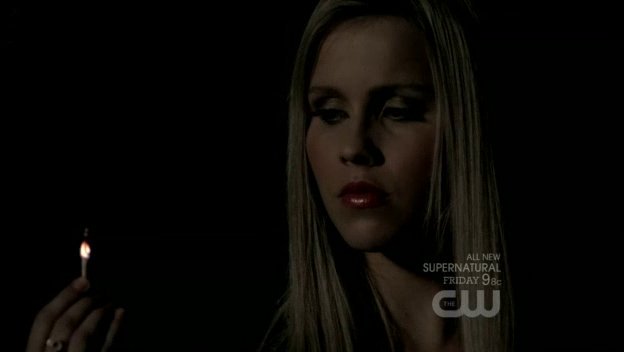 Klaus, Elijah and Kol arrive. Esther talks about how every victim has pained her. How she watched as they shed blood and calls them a curse on the earth. Elijah I no different, even with his claim to nobility. I HATE Esther but she kinda has a point. Regardless, IDGAF and I dont+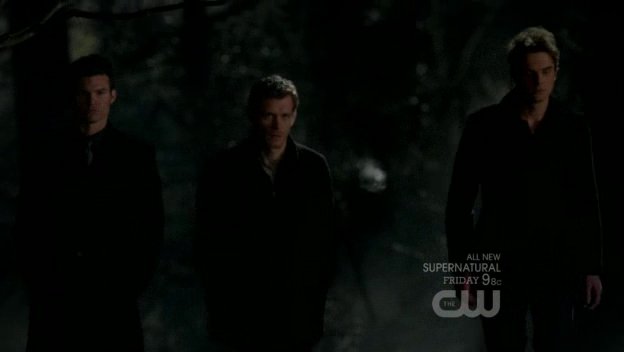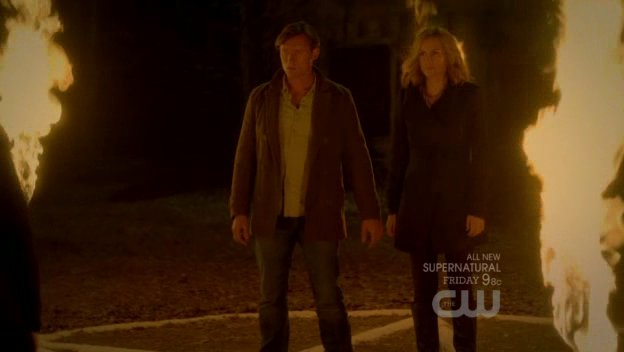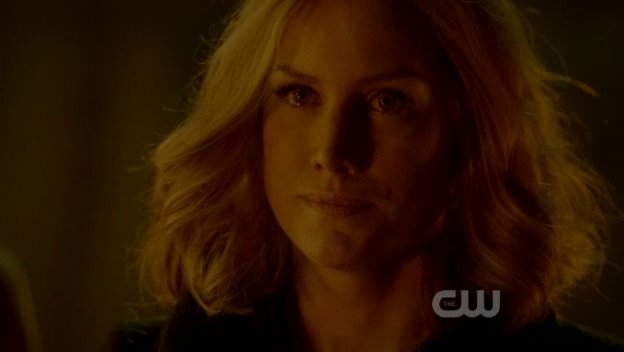 want them to die. I still blame her for this whole mess. Her and Mikael. Maybe if she was a better mother, she could have helped them into the right path, vampires or not.
Bonnie and Abbey alone in the dark house...
Looks like Stefan picked the wrong side of the coin. Oh crap. Esther draws from living AND dead witches. One of them have to stop being a witch. STEFAN IS GOING TO TURN BONNIE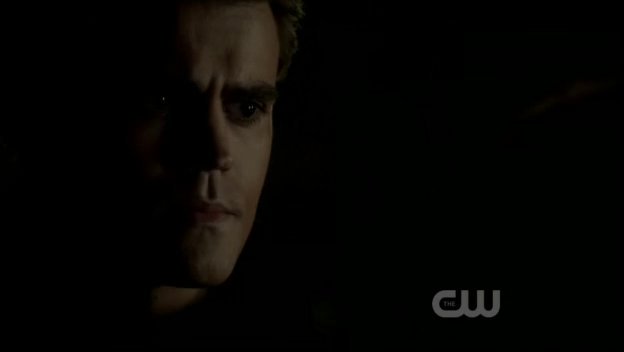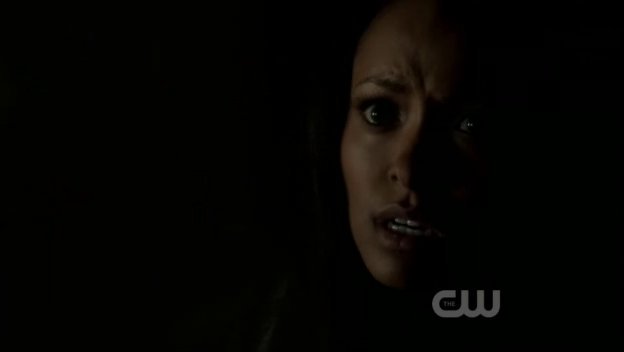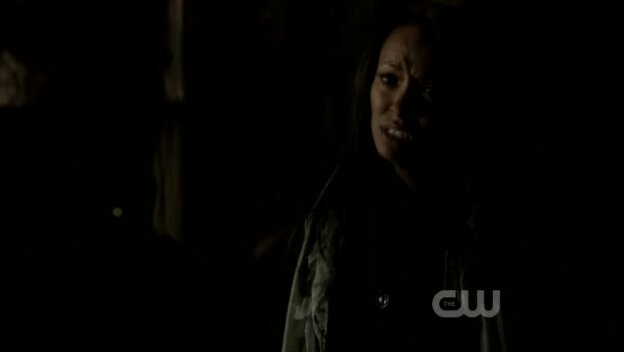 NOOOO DAMON GOT THE WRONG SIDE FUCKK I KNEW IT SHIT THIS IS BULLSHIT 💀💀💀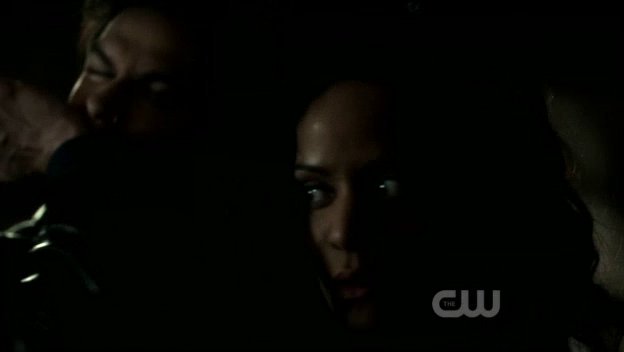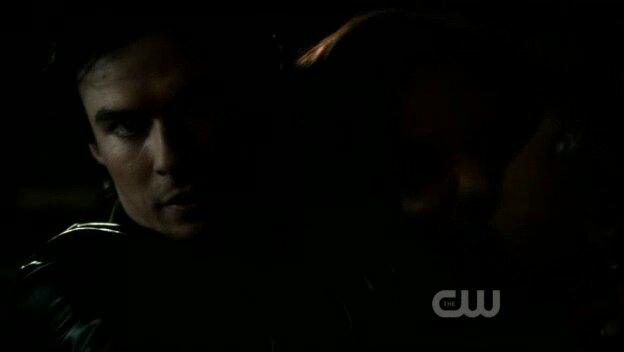 Atleast it's Abbey and atleast she will be alive but Elena is going to be pissed. Ugh why do they keep throwing roadblocks at my ship? ? 😣😣
Abbey turned her back on witchcraft and her daughter so she had it coming. I don't feel sorry about this at all.
Where did Esther and Finn disappear to?
"Damon turned your witch friend's mother into a vampire."
"What?"
AGSHDHF COULDN'T WAIT TO TELL HER ABOUT DAMON. OMFG BUT STEFAN WAS PART OF IT UGH I AM GOING TO THROW SOMETHING AT MY FUCKING SCREEN. HERE WE GO. DAMON GETS BLAMED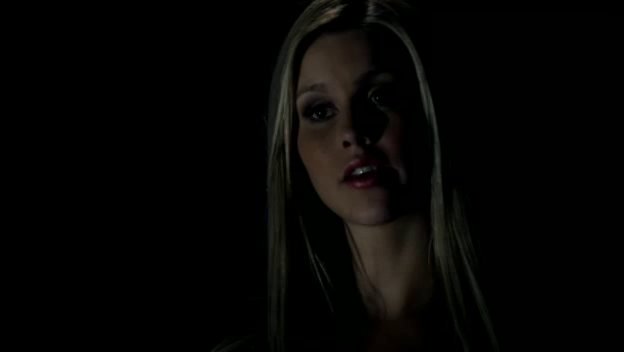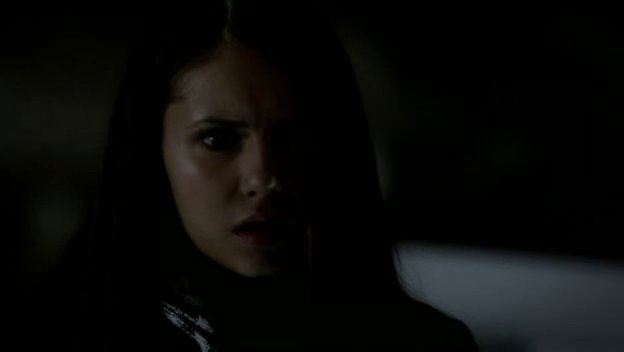 BITH WE'RE GONNA DO IT. THEY FLIPPED A FUCKING COIN.
And Elena looks guilty as hell over something that wasn't even her fault. I am sick of that bullshit too
Chill out Bonnie. She isn't dead and she left you for 15 years and got herself another kid. It's not like you were besties.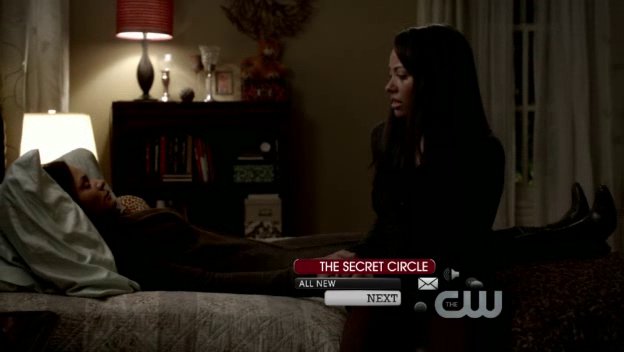 Bonnie is being a bitch about this and doesn't want to see Elena. If it weren't for Elena, you wouldn't even have found your mom to begin with. She isn't even dead. "Somehow she is always the one getting hurt."
Exfuckingcuse me? What hurt has Bonnie had other than grams? And +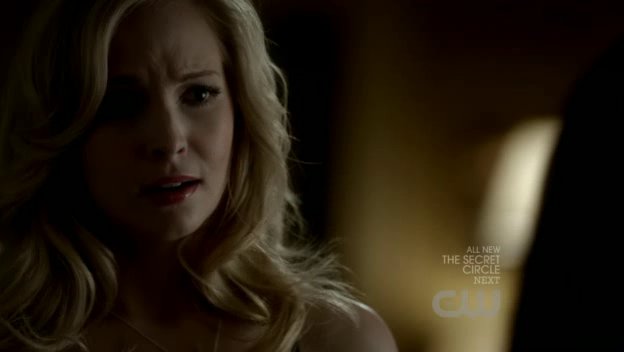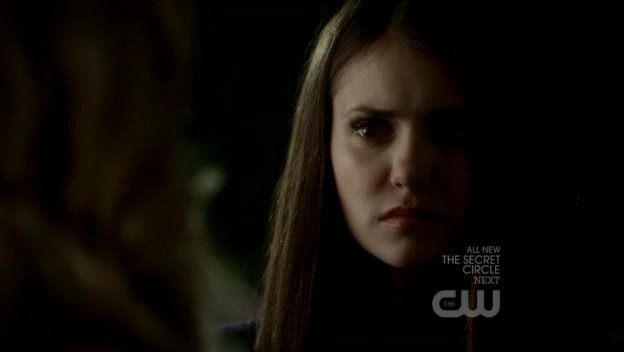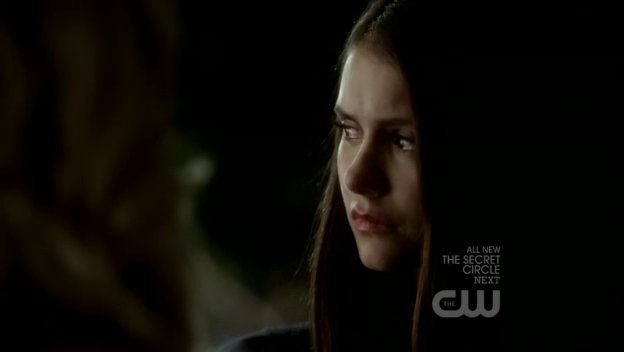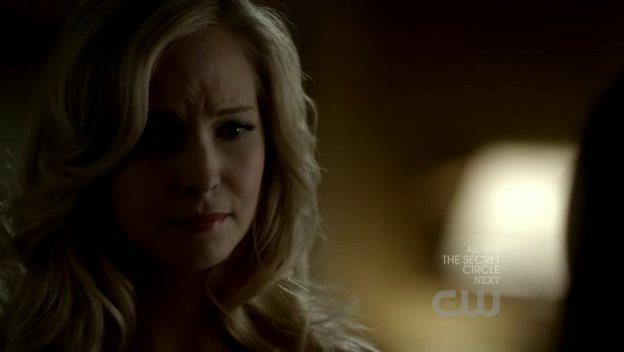 that wasn't Elena's fault either even though Bonnie blamed her too and also acted like a little bitch. The other hurt Bonnie has suffered, was because of Jeremy. Elena has never caused her pain. Elena is the one always getting hurt by circumstances. And Caroline. They have both +
been through so much more shot than Bonnie. But she is the one that always gets hurt? Way to go to make Elena feel like even bigger shit. She had no day in this entire situation but just pile it at her feet.💀
*shit and *say
I am so mad I can't type
STEFAN LOST THE COINTOSS. HE SHOULD HAVE BEEN THE ONE WHO TURNED ABBEY. BUT DAMON PLAYED THE MARTYR BECAUSE HE NOTICED STEFAN WAS DOING BETTER. I CAN'T OMGGG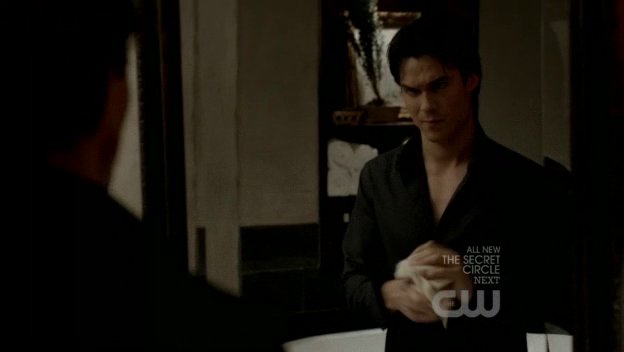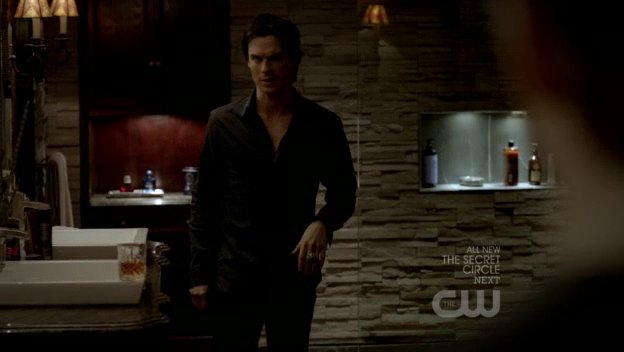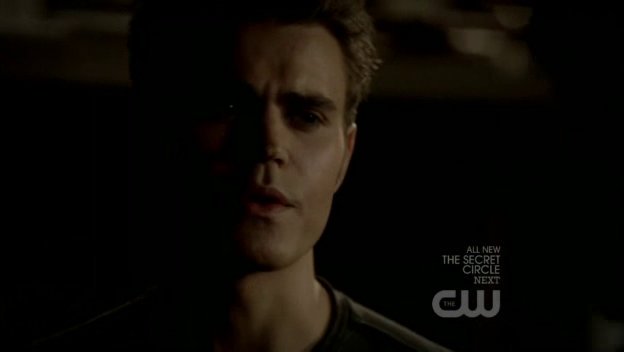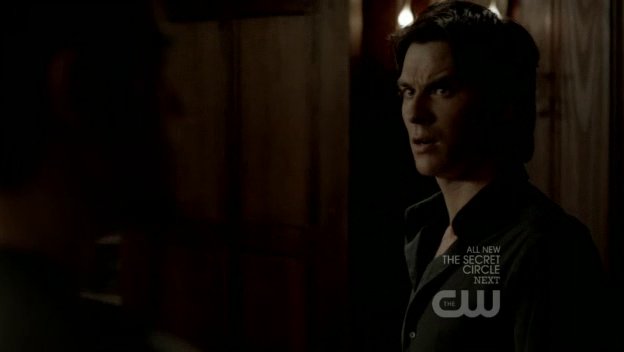 CAN DAMON CHOOSE OTHER MOMENTS TO BE SELFLESS? MOMENTS THAT WONT FUCK UP MY SHIP??
Me at the writers right now for fucking with Damon and Elena this episode
"You still love her, Damon."
"I do. I thought I could win her from you fair and square. She didn't want me. Its for the best. I am better at being the bad guy anyway."
AGSHDJFJ CAN THIS EPISODE END BEFORE I GET A HEART ATTACK?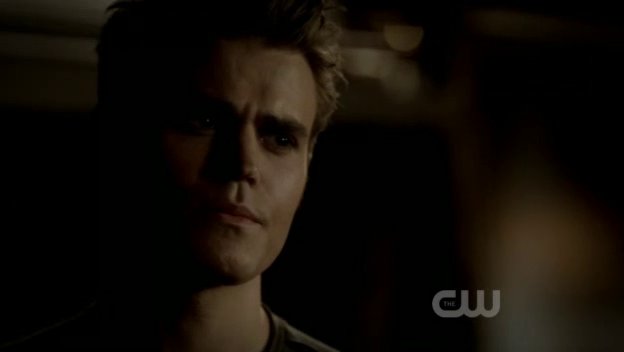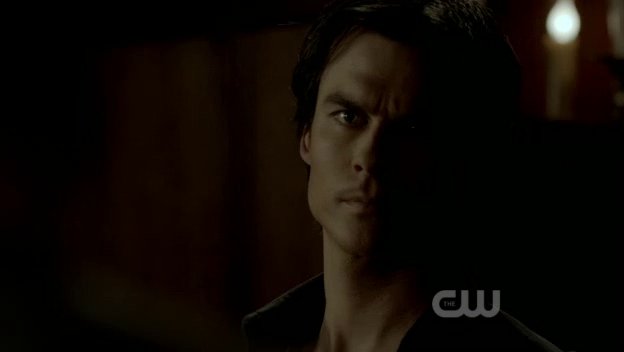 Elijah wrote an apology letter to Elena. 😢
"Elena, today I did things I abhore to protect the one thing I value most; my family. If anyone can understand that, it's you. Your compassion is a gift, Elena. Carry it with you. As I will carry my regret."
THANKS ELIJAH FOR SEEING HER VALUE AND WORTH 😢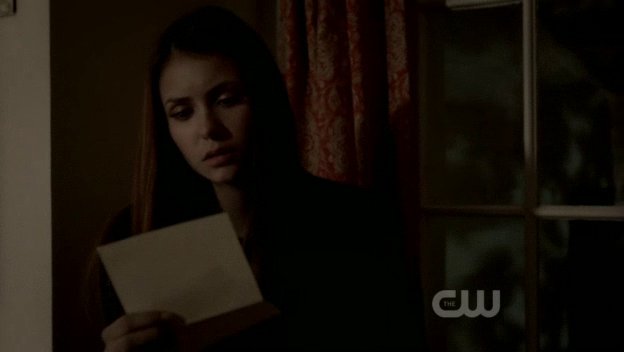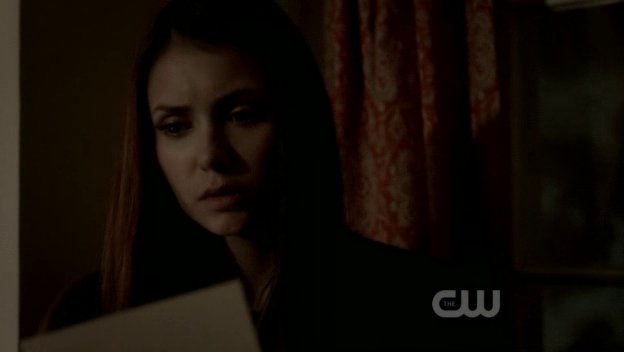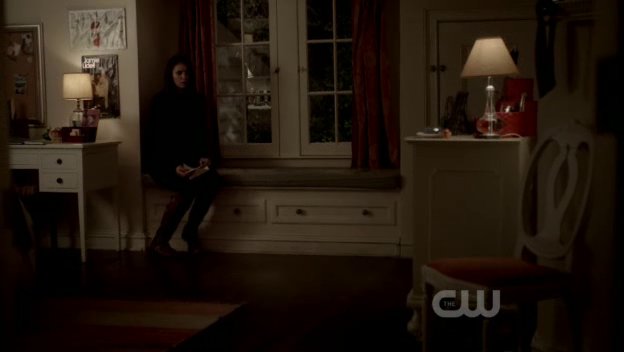 "Mother made us vampires. She didn't make us monsters. We did that ourselves." Poor Elijah. 😢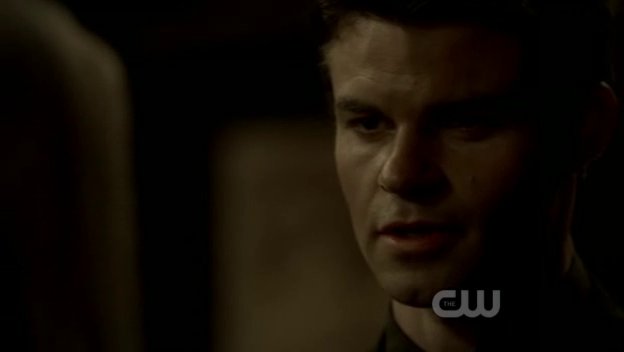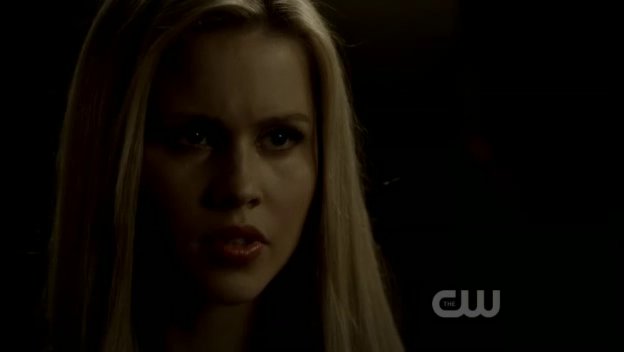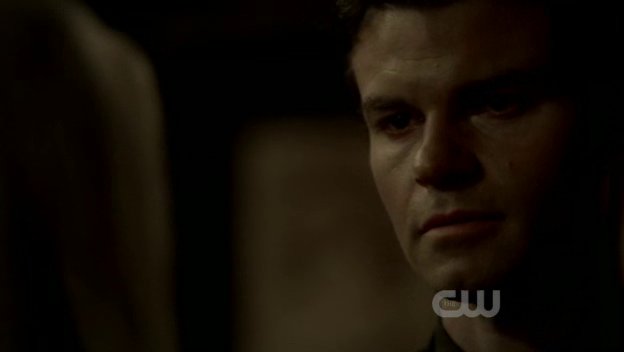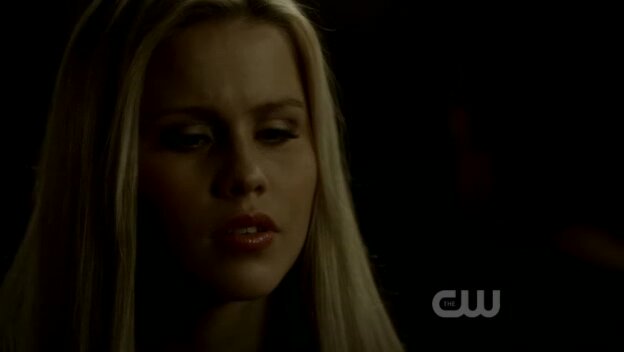 Klaus is burning the pictures he drew of Caroline. WHYYY? Why does he think she had anything to do with it? She was just sitting there, talking to him. Why is this his reaction? Is he closing himself off now even more after Esther's betrayal?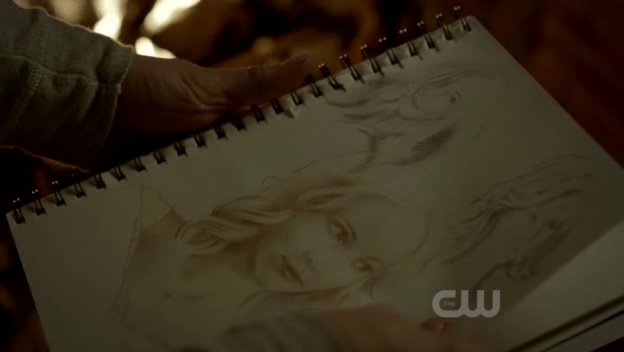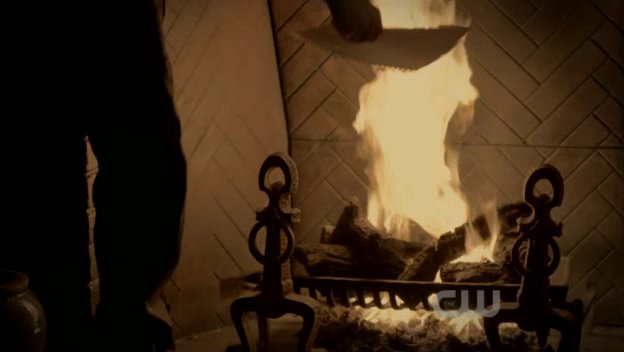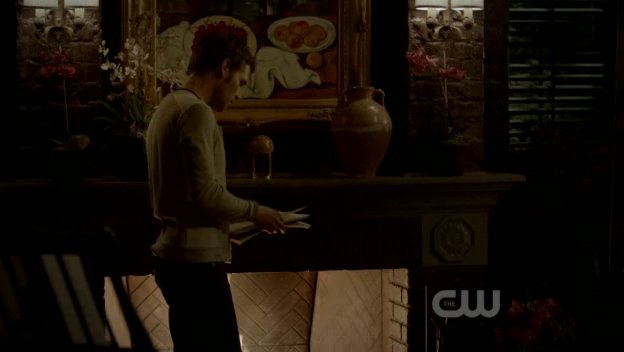 So all the others fled and just these two remain. Always and forever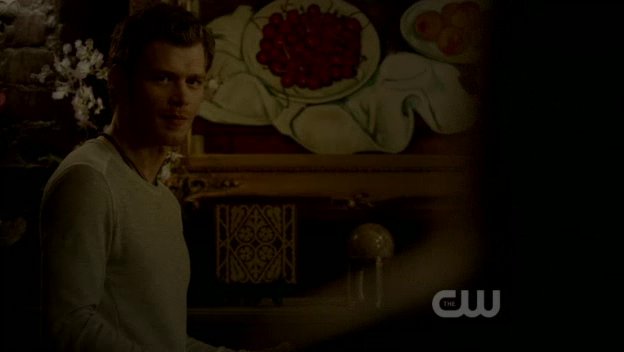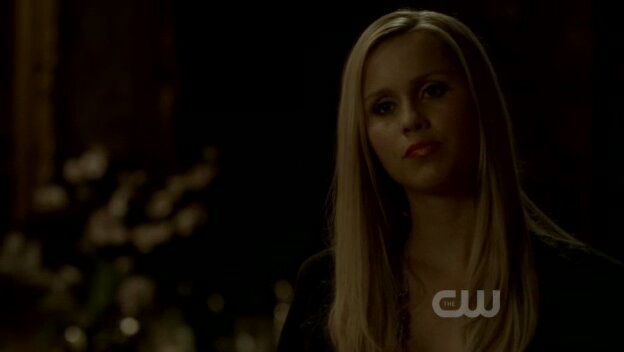 OIHH SHIIIT Rebekah shows Klaus the mrkings on the wall. There was another white oak tree after they left. They can still be killed. Sjeesh, they are the most powerful beings in the earth that is suppose to be unkillable, yet a new way pops up every second episode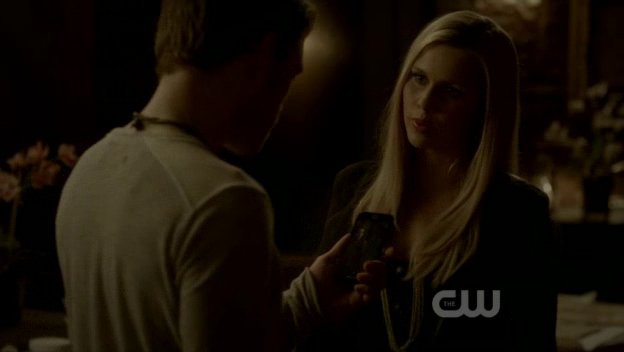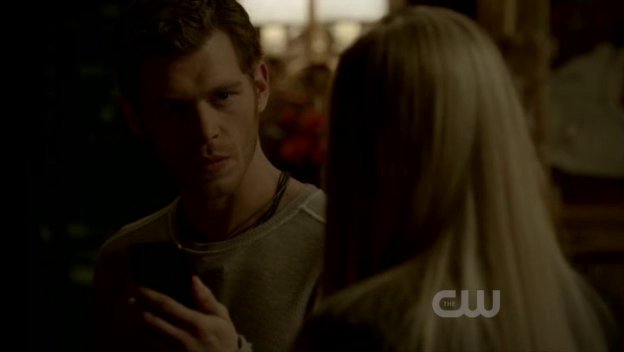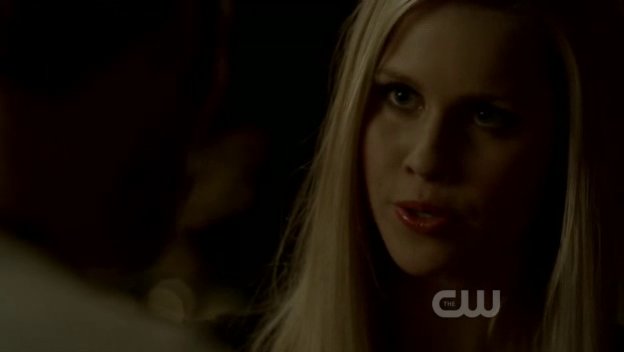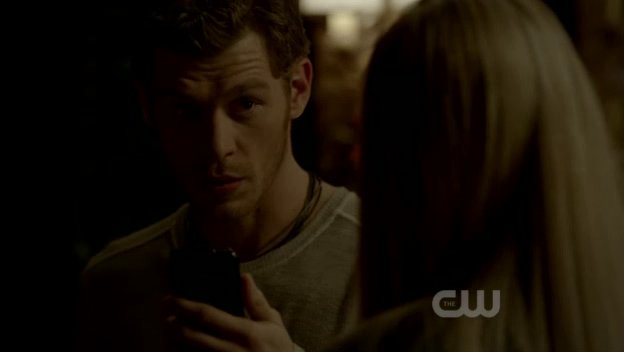 Alaric snoops and finds a knife and case files in Meredith's house. OMFG I was JUST starting to be okay with her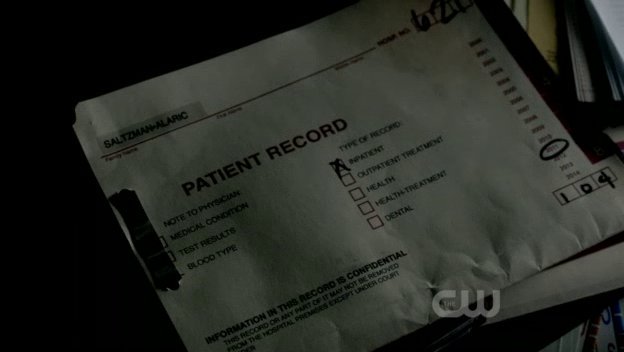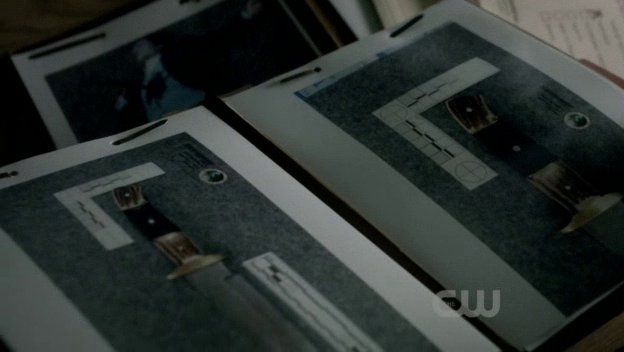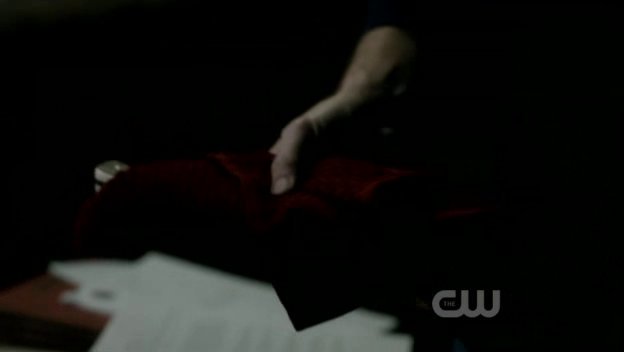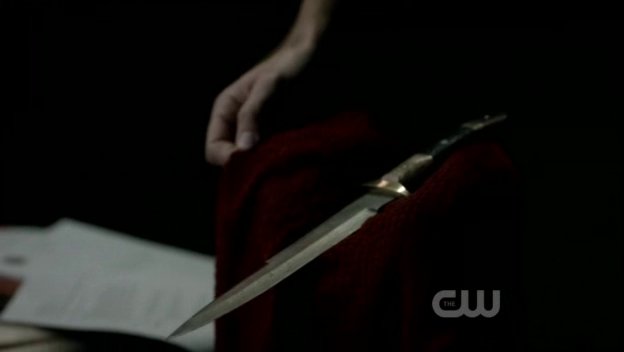 FUCKKKK MEREDITH SHOT ALARIC OMG BITCH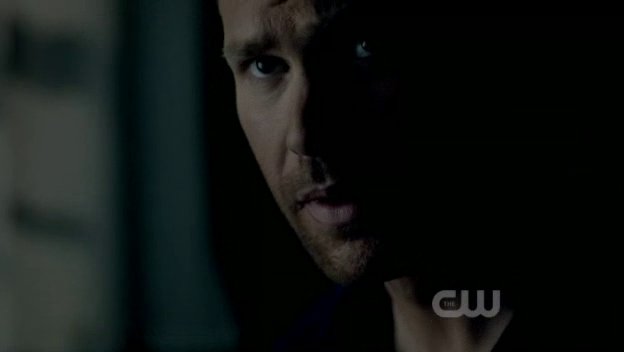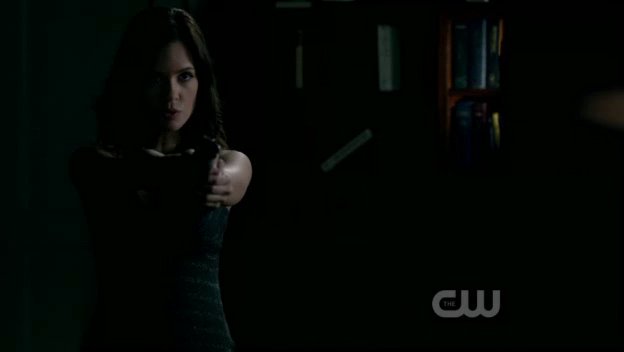 "You weren't suppose to see that?"
IT WAS LYING OPEN FOR THE WORLD TO SEE ON YOUR KITCHEN TABLE
Glad this episode is over. It was giving me rage issues 😡😡
Going to start 03x16 "1912" soon. Sounds like it's going to be a flashback episode 😍
Flashbaccckkk 🎶🎵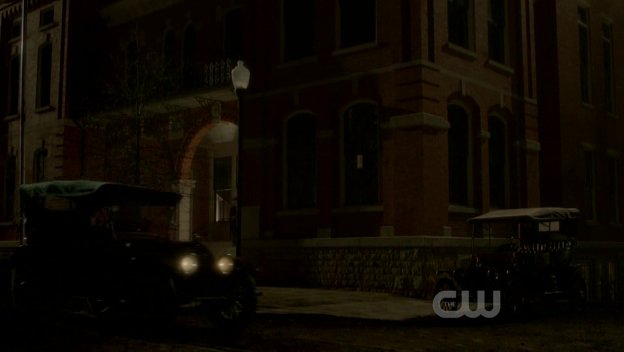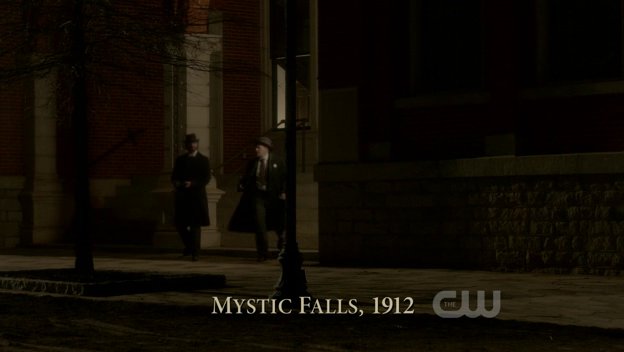 "Mr Salvatore" and "Sheriff Forbes"
Wow that feels so wrong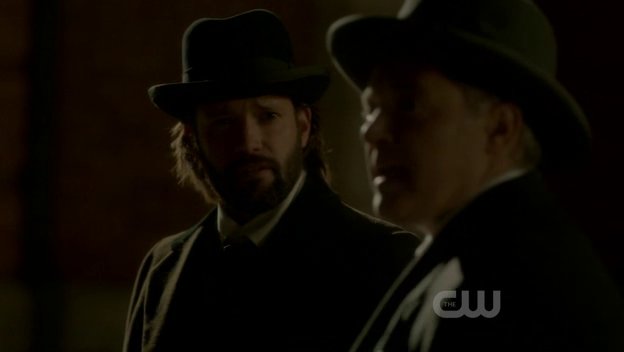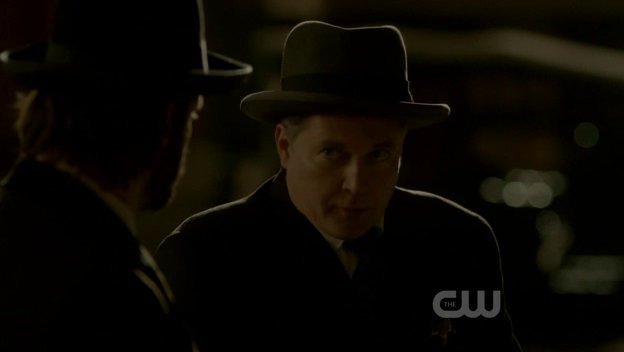 Mr Salvatore about to become vamp food?
Okay, stabbed. Old fashioned murder
This transition was hella cool though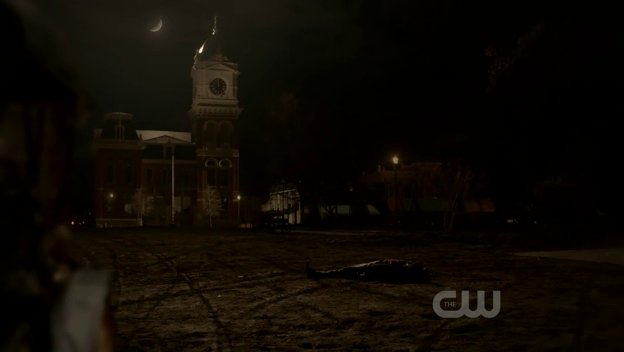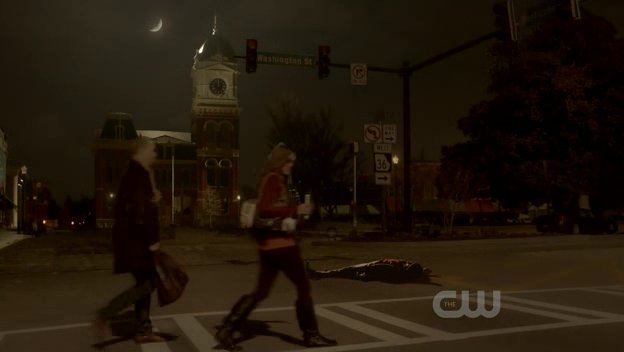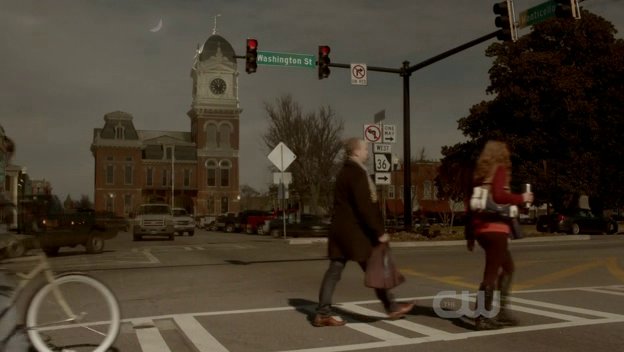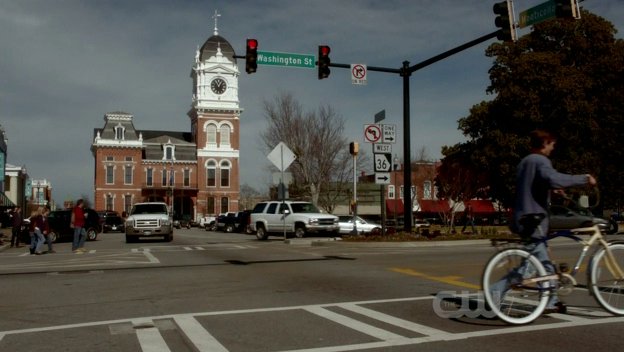 "The mystery is not going to get solved any faster with you yelling at me, Carol."
Tyler's mom is such a bitch. I really don't like how she treats Liz. 💀
WHAT THE ACTUAL FUCK?? WHY IS HE IN PRISON?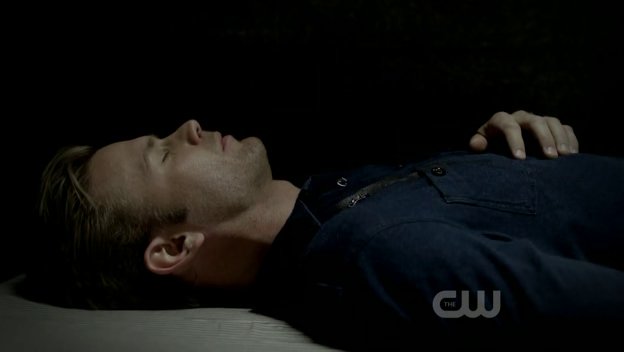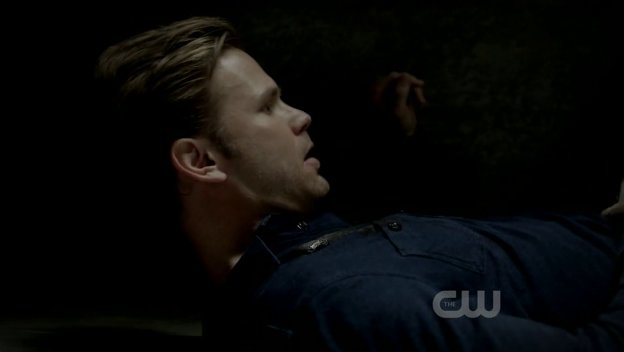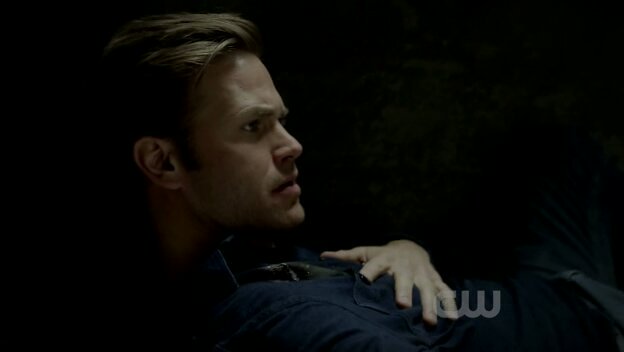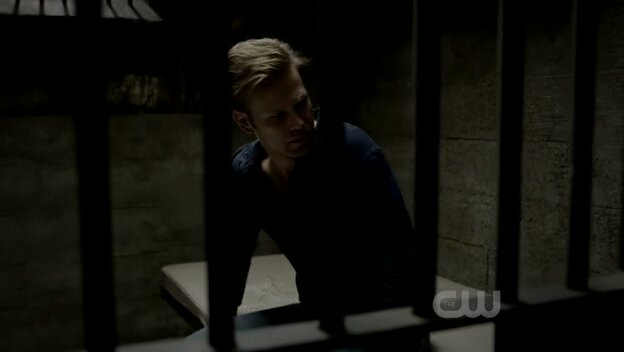 That Meredith bitch is framing Alaric and Damon is trying to stick up for him, but Meredith is a "respected member of the founding families" so her word carries weight? She SHOT Alaric when he found the weapon hidden in HER home OMG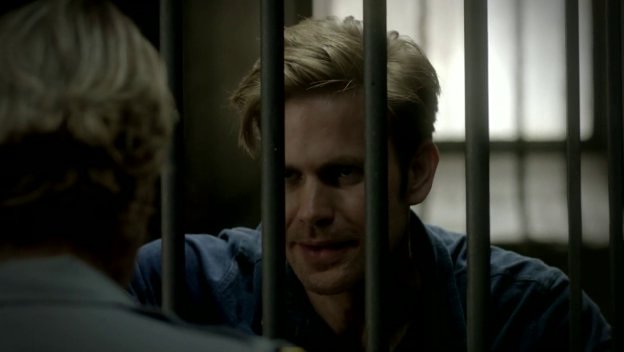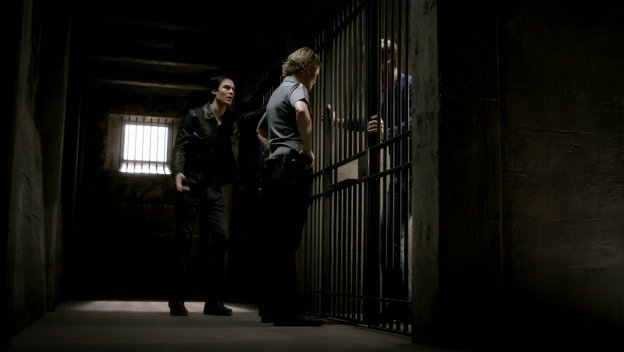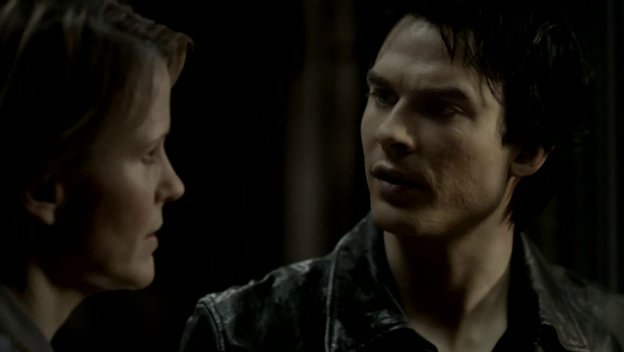 "No. Just stay out of this Damon. You getting involved is only going to make matters worse."
"Listen, Liz.."
"Don't make me put you in that cell with him."
It's actually cute that she thinks she can do that.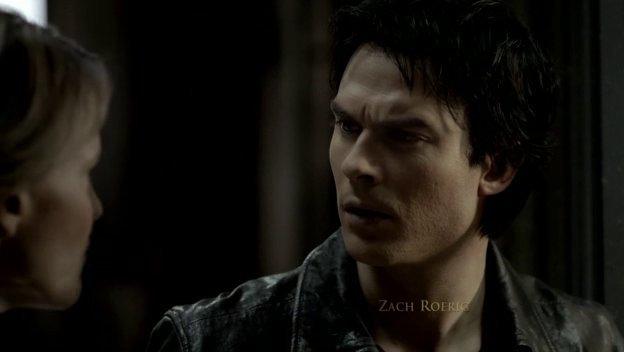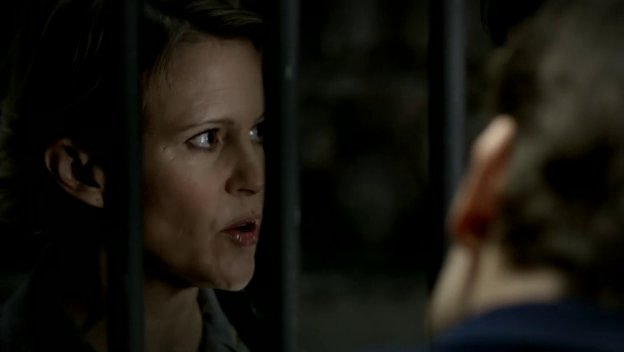 A visual representation of Matt chasing after Elena for 2 and a half seasons...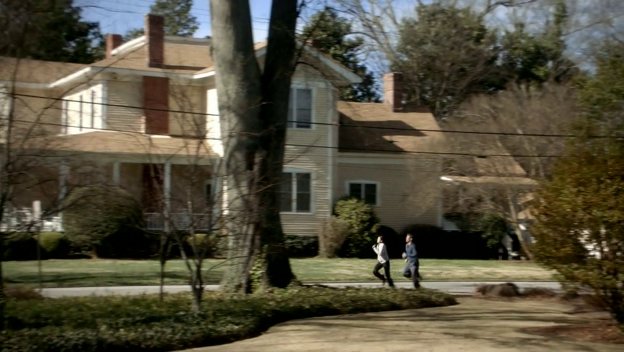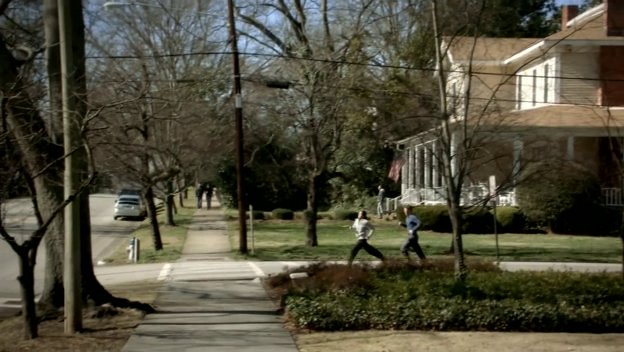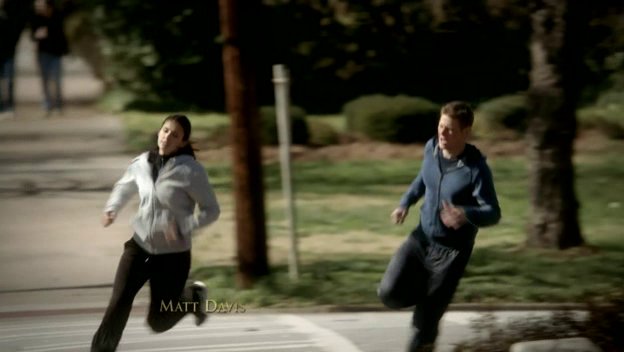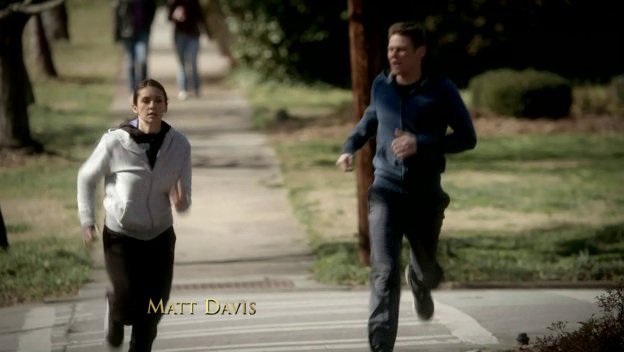 So Bonnie talked to MATT but she wouldn't talk to her best friend Elena? Abbey is going to complete the transition and Caroline is going to help her with control.
"Did Bonnie say...is there anything I can do?" Yes. Ignore your bitch friend until she gets over herself.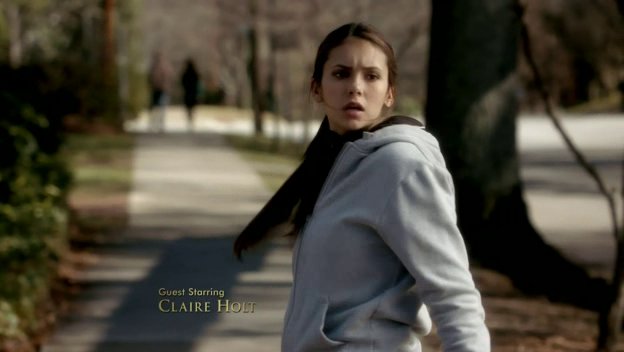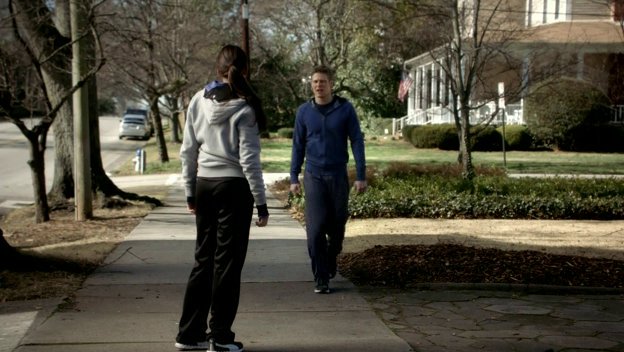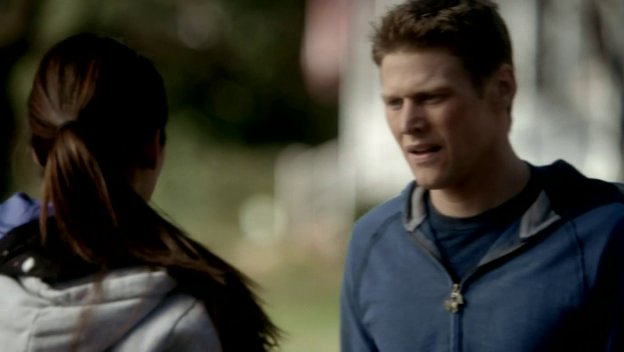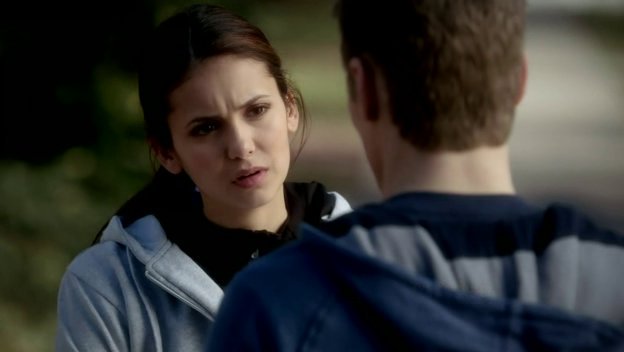 "She knows its not your fault, Elena. She is just...upset."
Well she doesn't act like she knows.
"Damon turned her mom into a vampire to save my life. It is absolutely my fault."
I can't believe she has been so conditioned to take blame for everything upon herself. 💀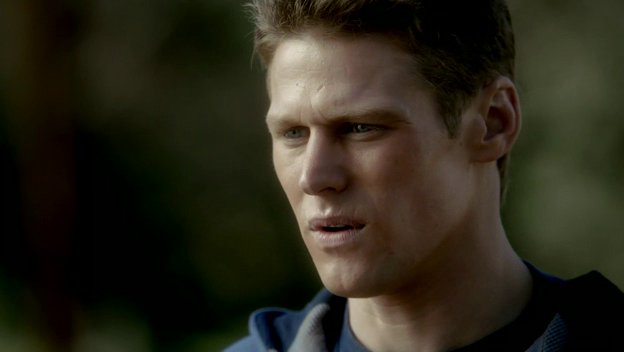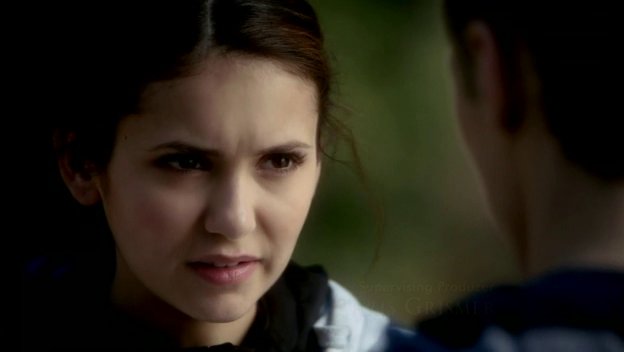 And that sentence should have been: Damon AND Stefan killed Bonnie's mom 💀💀
I mean, at one point, they must have had the discussion and Damon said "Hey bro, let me take the fall for you even though you lost the coin toss. Let's keep your hands clean so you can swoop in and get Elena."
Stefan : "Ok."
He shouldn't have accepted. I am pissed at him too
Sorry, eventually I will get over the pile of salt 03x15 left in my mouth about this
Elena is annoyed with Damon. Of course she is. She asks him if he is going to help Rick and he says it will be better if he stays out of it because he will rip out Dr false accusations' throat. He is being glib about Bonnie's mom too.Its like he wants to fig himself a larger hole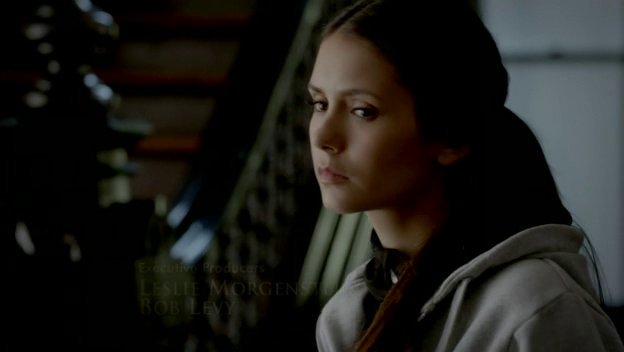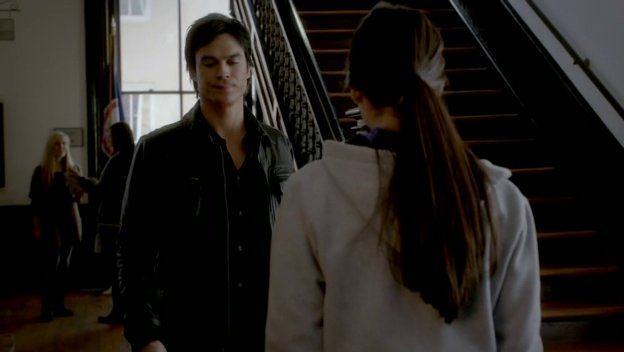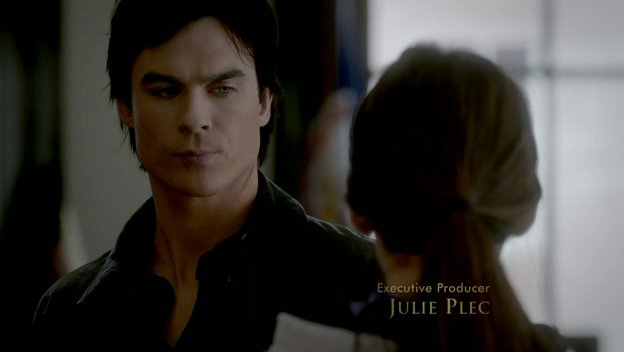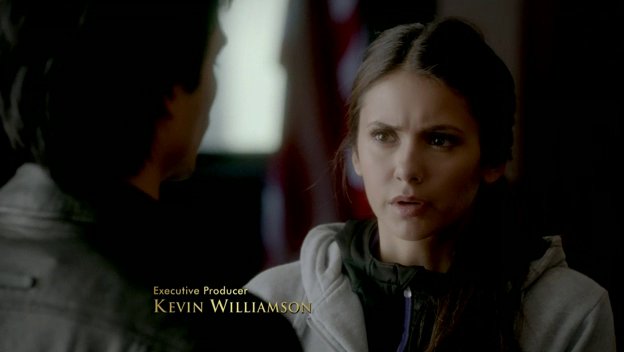 "Okay now you are just being mean."
"I am mean,you hate me, the world is back on its axes."
You mean you are self sabotaging so your brother stands a better chance to get Elena back.
"You know,if you keep pushing people away, you are going to end up alone."
Elena sees him though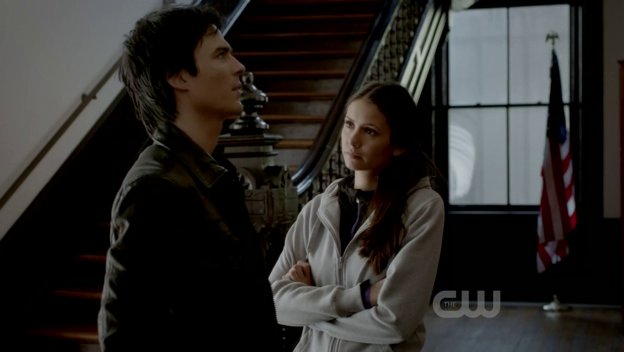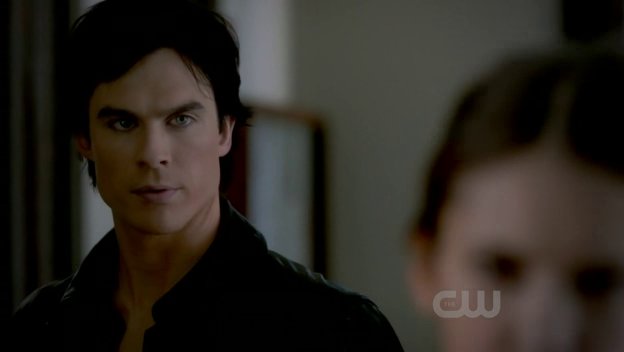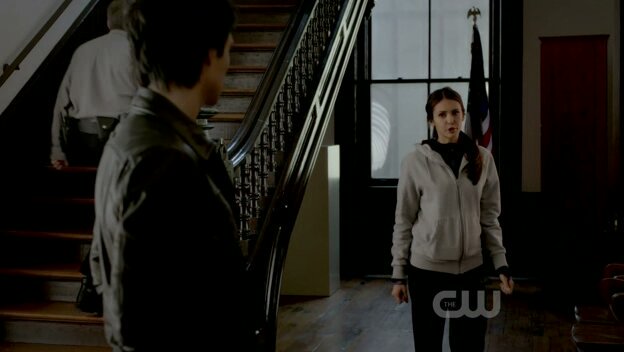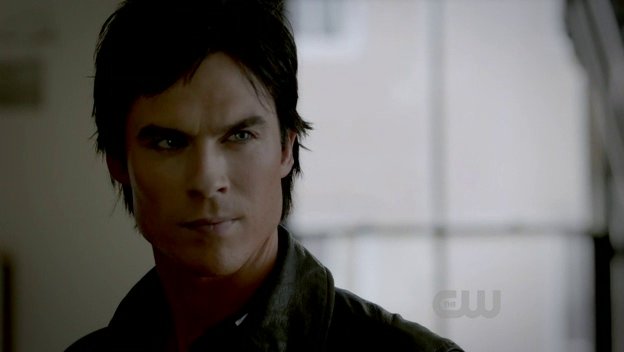 "Dear diary, a chipmunk asked me my name today. I told him it was Joe. That lie will haunt me forever."
LMAOOO WTF DAMON 😂😂
Stefan was tense and he tried to lighten the mood.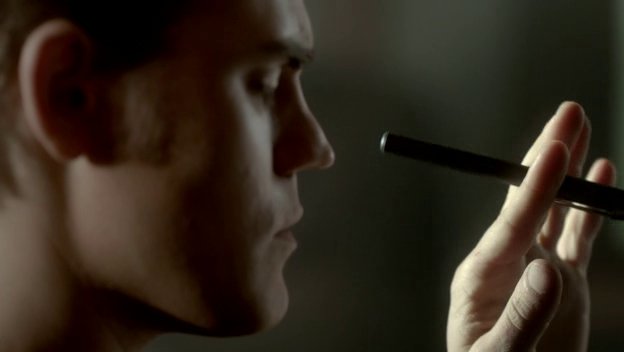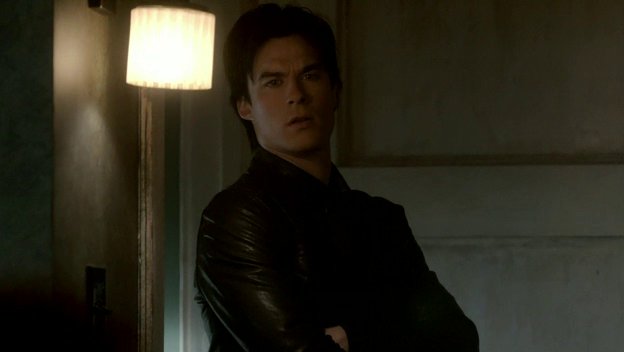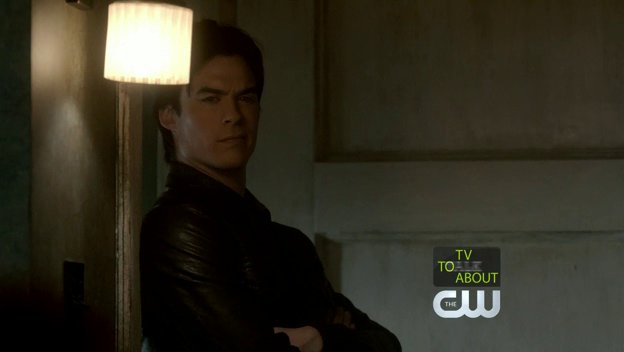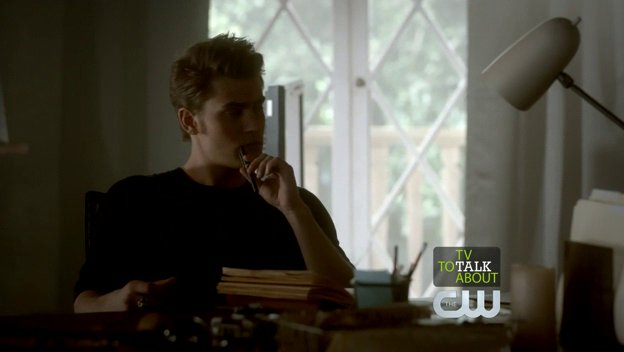 Damon wants Stefan to help him clear Rick's name. Not staying out of it afterall, Damon? 😜
1912 was the last time Mystic Falls has a serial killer. Hahaha okay. What do you call the vampires then?
Stefan is like a human dictionary with all his diaries. You wanna know something about a past event, dig up the diary in which year it happened. Stefan documented everything. I wonder if he documented what flavor toothpaste he uses too
Stefan meets Marianna Lockwood and Samantha Gilbert. They warn him that it's not a good time to be a founding family member in this town.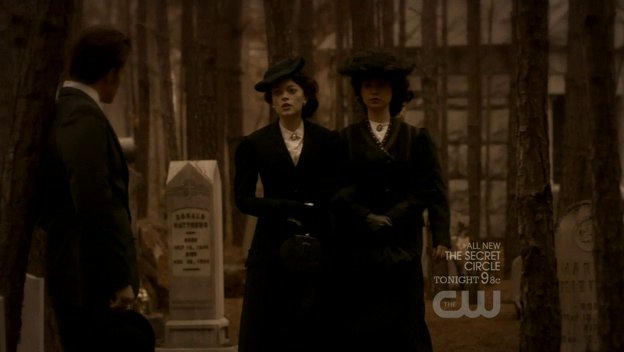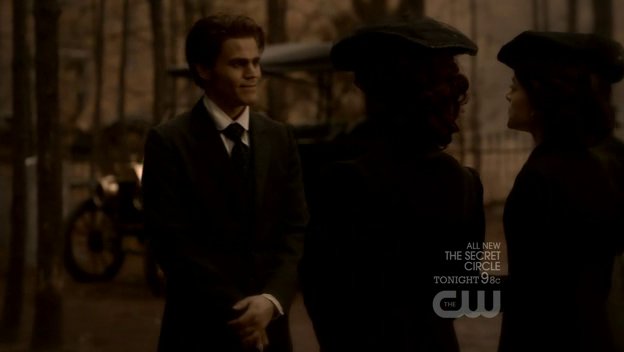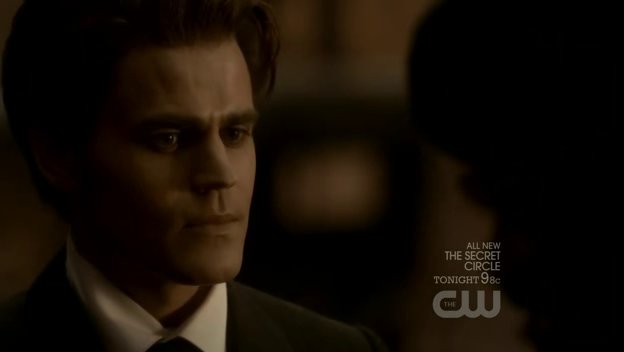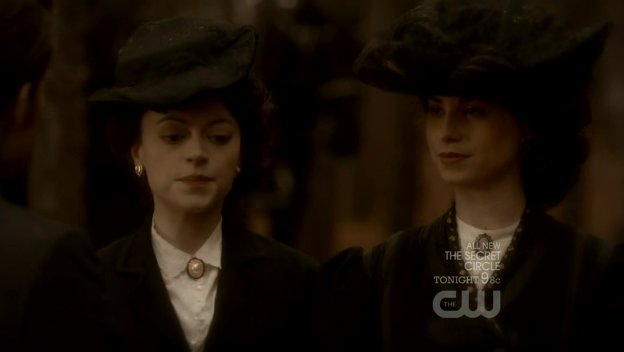 The crow! I just knew Damon was going to pop up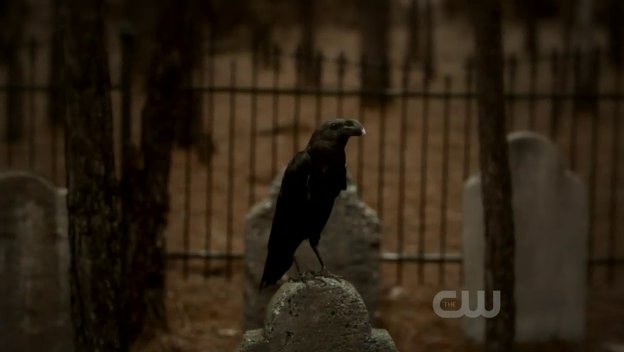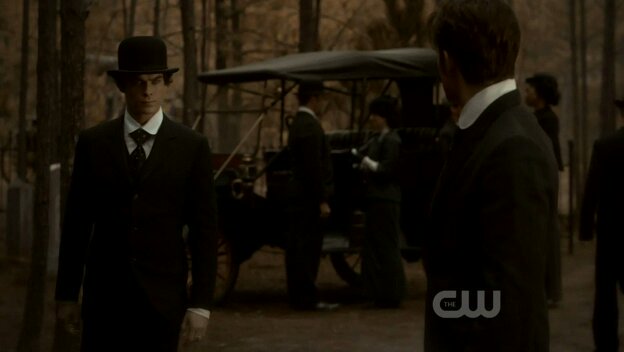 Wow. Defan haven't seen eachother in 50 years. This I their first meeting after Katherine turned them and they parted ways. Damon is still pissed and wants nothing to do with Stefan but Stefan wants to go grab a drink.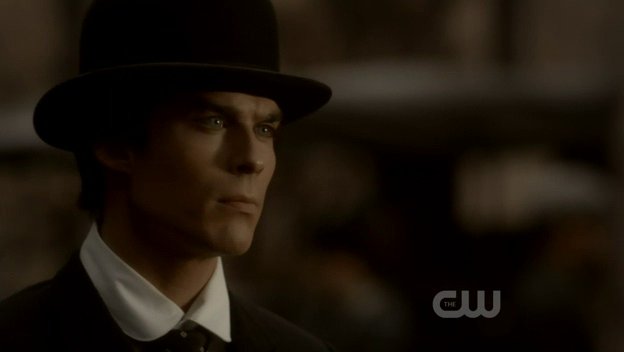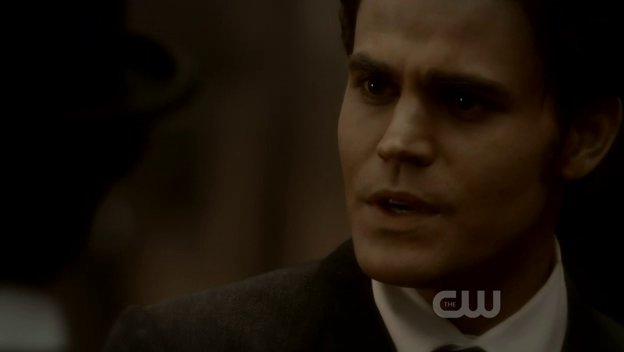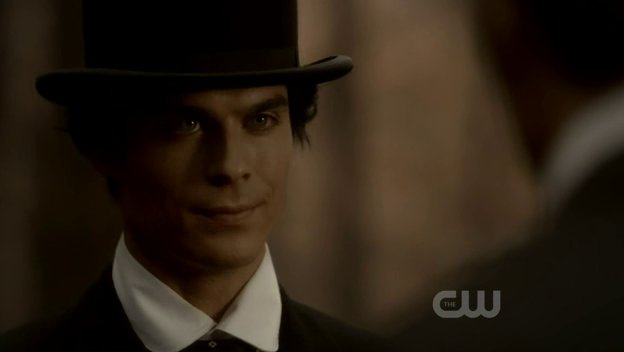 "I see you are still mad at me."
"Why would I be mad at you,Stefan? You made me become a vampire. Now I walk the world alone,drinking other people's blood."
"Any chance you took it out on our nephew Zachariah?"
"If I am not mistaken,YOU are the one who killed our familymembers."
Damon pre vampire was so different. So sweet and fluffy and insecure. Damon as a vampire in 1912, is so reserved and and depressed, also a hell of a lot different from current Damon, who is all those things hidden behind a wall of snark and glib remarks.
Rebekah is the head of the preservation society now? LMAOO. She asks Carol about the oldest trees, aka the White oak tree.
Defan arrive and okayyy can this stop? This is a no. Not only I this potential for Bex to get hurt emotionally, but for Damon physically.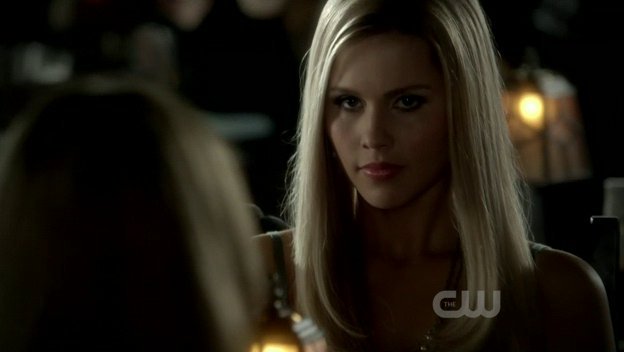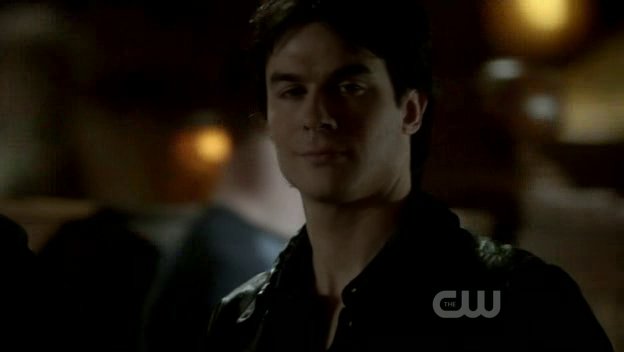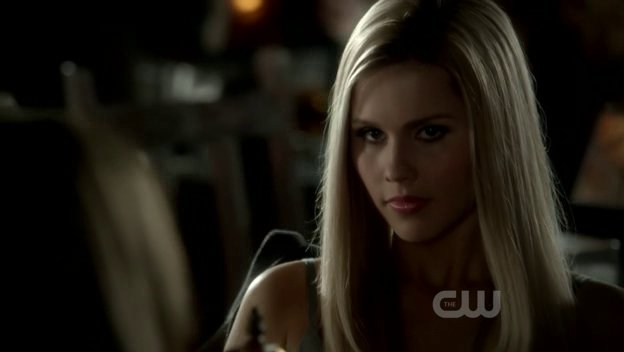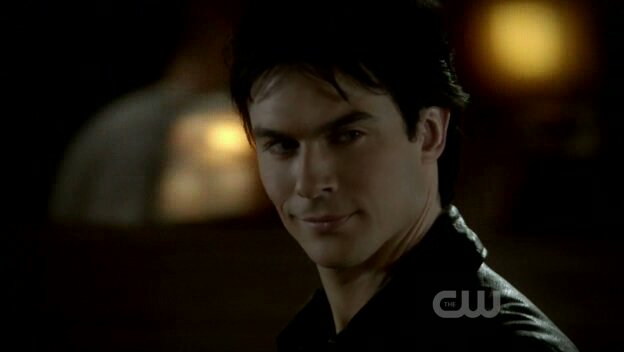 The logging mills were owned by the Salvatores. So that will be Rebekah's next step. Get close to Damon to try and find it. *Facepalm
Looks like being a founding family, meant that you were like a fucking celebrity in the town and owned everything important.
Stefan is DOING that nervous tick again with his ring, which is annoying as hell and Damon tells him to stop it.
"Quitting blood cold turkey after a ripper binge is not the best approach. Every time you play that all or nothing game, you eventually leave a trail of bodies so +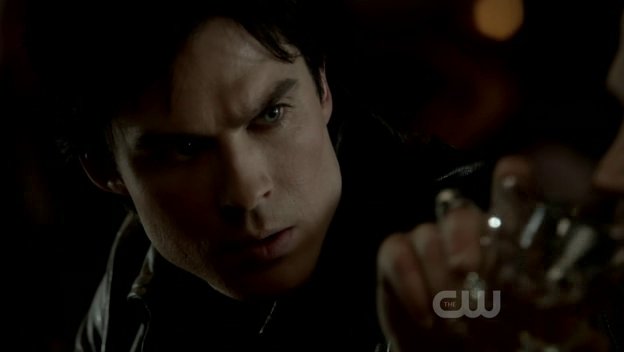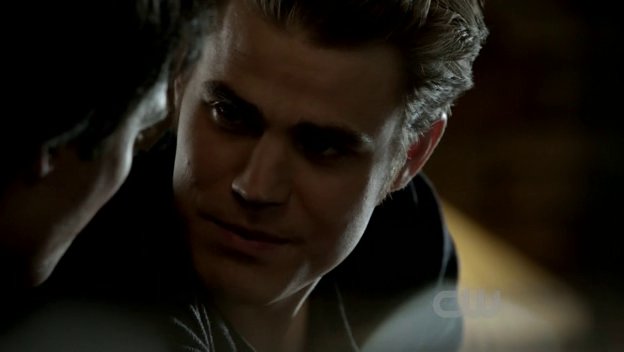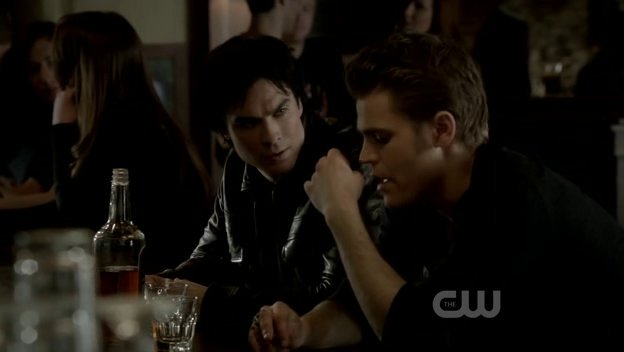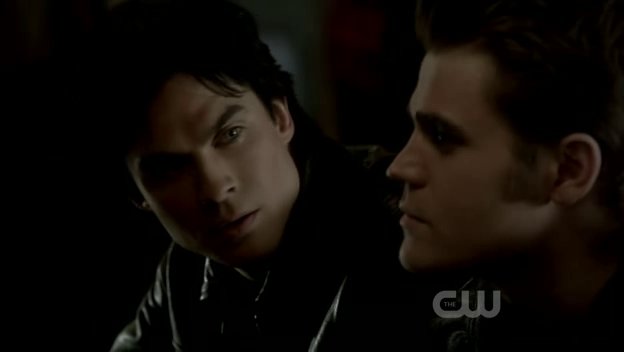 " I am thinking, now is good time to pay out old friend moderation a visit." He is right though. For over a century, Stefan has fallen on and off the wagon. All or nothing doesn't work. Now is the perfect time to learn moderation and control.
Its just amazing that 2 and a half seasons into this show, Stefan still has the same issue he had in the pilot, yet still thinks old methods will work.
Jip. Like a fly to honey. Rebekah shows up.
Alaric tells Liz that he has no motive but she is responding with a lot of sentences starting off with "She said.." 💀
Okay, so Alaric was drunk one night and can't remember a phone conversation. That bitch is setting him up to cover her ass. 💀💀
Rebekah wants to know about the Salvatore family history and Damon obliges, explaining that their father knocked up a maid during the civil war and that's how the family name lived on, since both he and Stefan were "dead."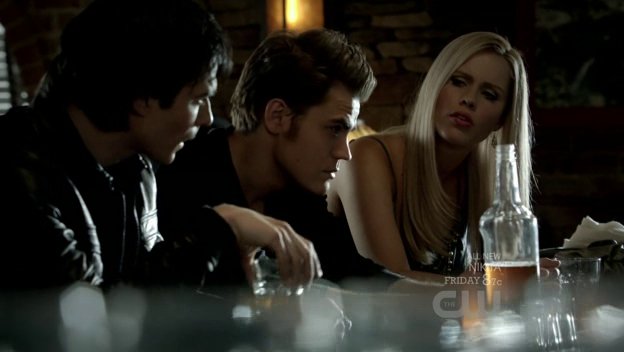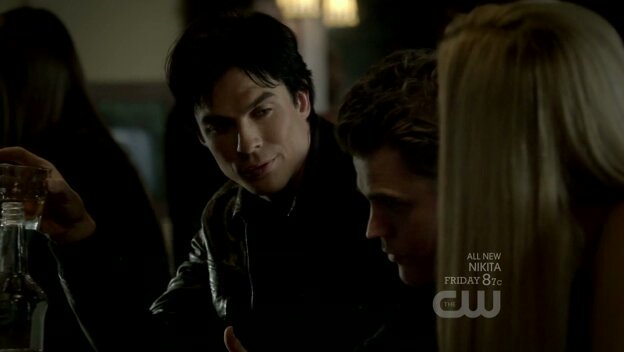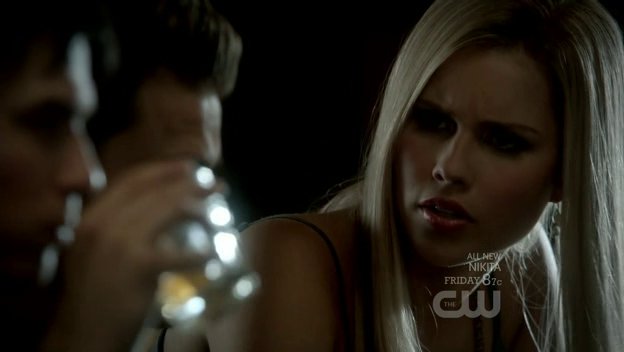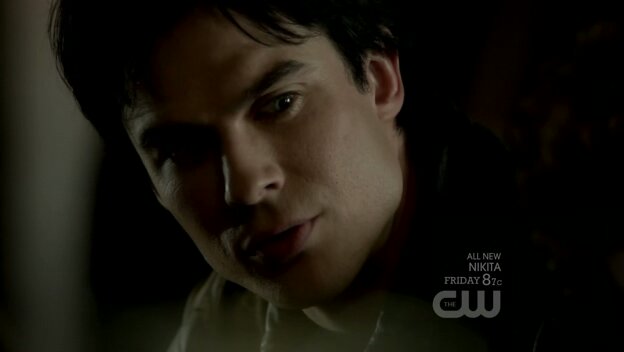 "You are fulk of a looot of questions."
"I am just researching town history. I grew up here, afterall."
"You don't have to disguise your true motives, bloody Bex. If you want more sex, just ask for it."
"Not enough liquor in the world."
"Aww come on. It was to good for you to +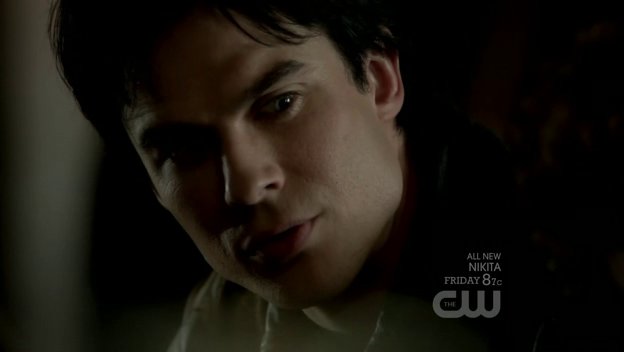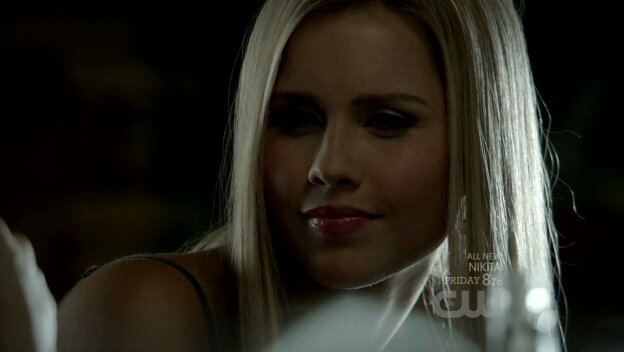 "...be this hostile."
Stefan is me. I am Stefan.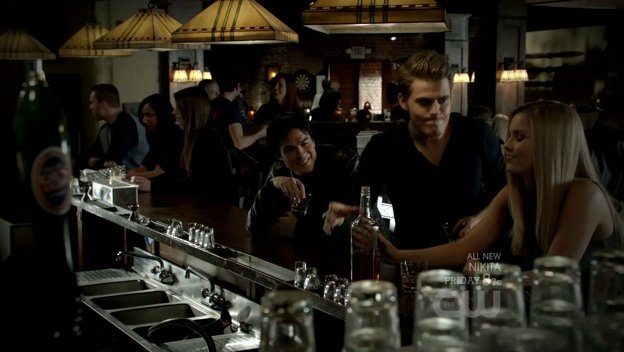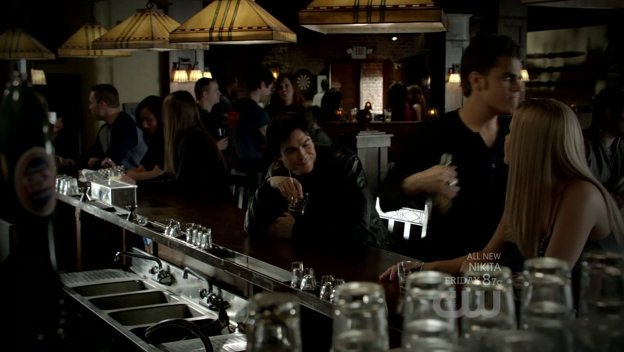 Sage. Stefan reminds Damon of another vampire back then named Sage.
"Speaking of great sex."
Can they stop this now?? I am not Elena and I am getting jealous. No more females near Damon with sex okay. Make it stop
Female boxing? In 1912? I am guessing that is Sage, using her vampirism to extort a quick buck.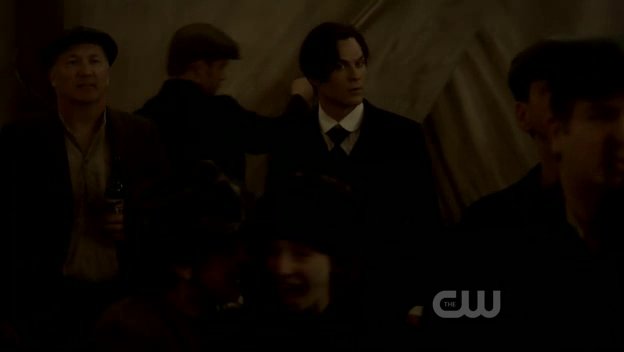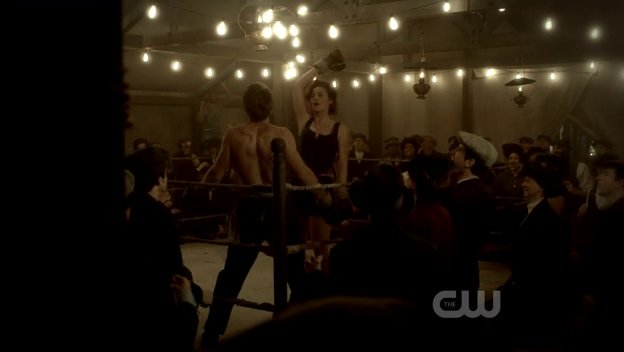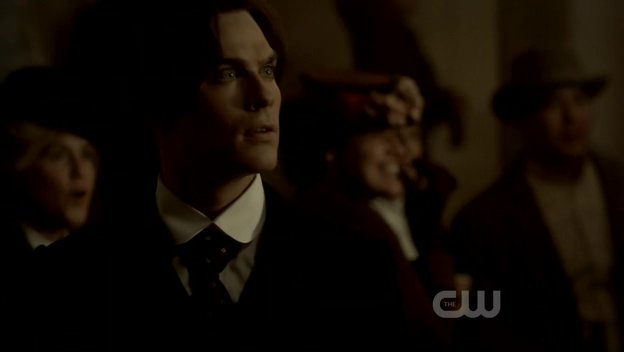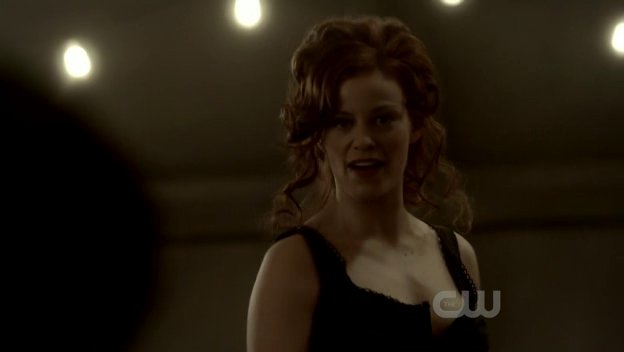 What does she want with Damon? He says he is not interested in whatever she wants to offer and she puts money in his pants. She certainly is ....brazen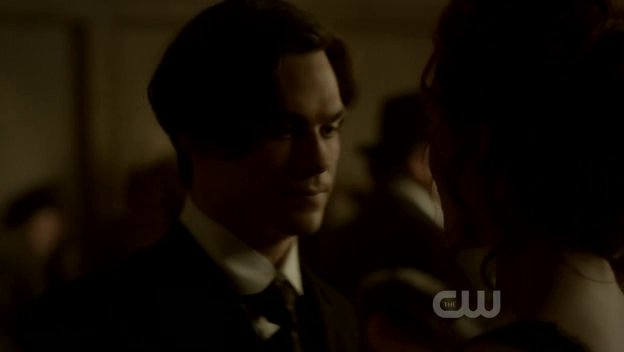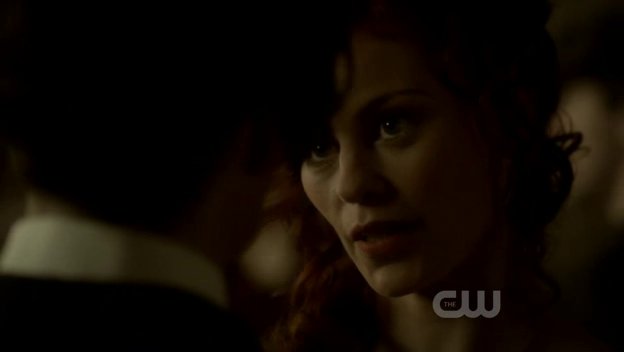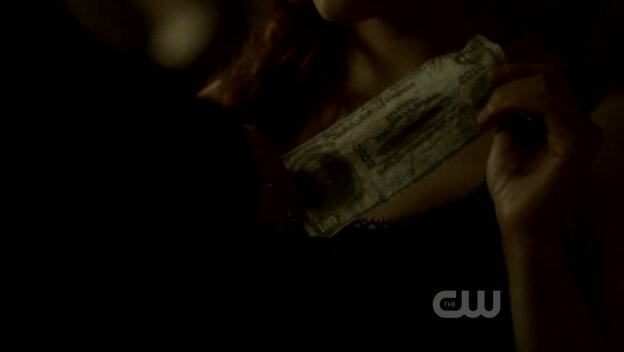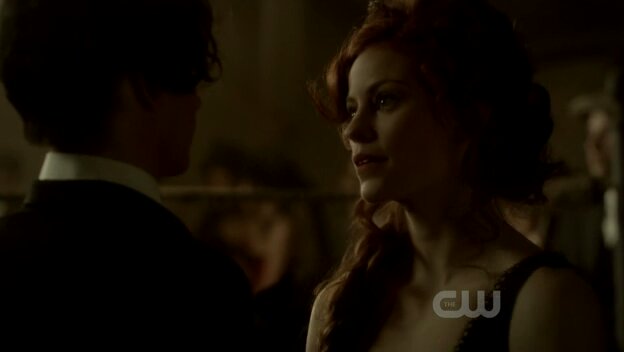 Well, my guess is that Sage could be the killer then. Because it sure as hell isn't Alaric. But Meredith is at the top of my list. Shady bitch. 😐
She literally had the same knife in her house. Why is no one detaining her and asking her where the hell she got that from? Oh, I forgot. Founding family member and Alaric is not. 😐
Yesss Elena go get that bitch. Just look at her face. I just want to rip her hair out. She is making ridiculous claims about Rick, saying he was arrested for fighting 4 times before he was 21 and Isobel filed a restraining order against him twice before marrying him. That's such+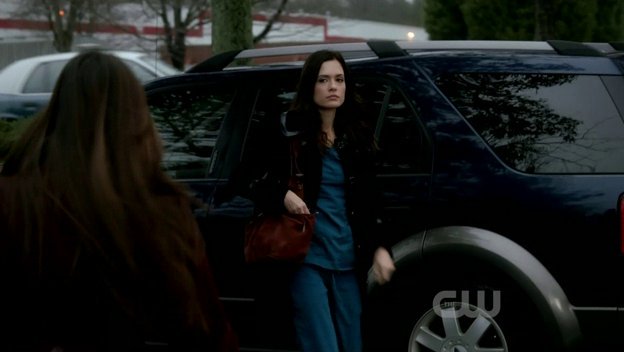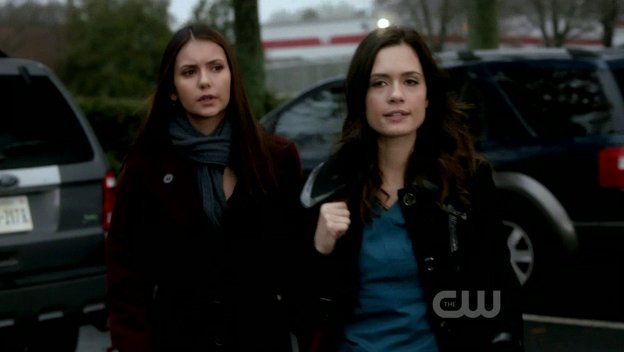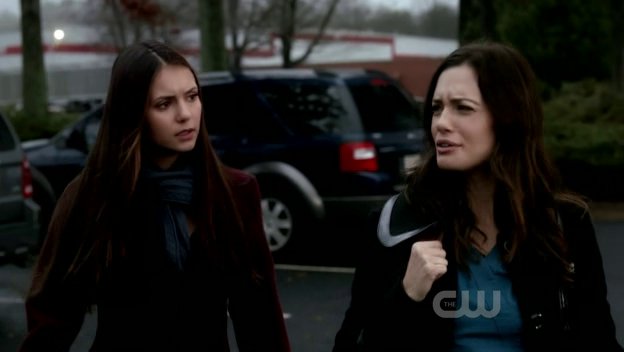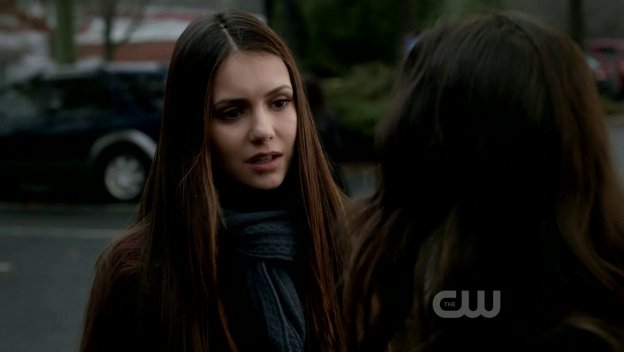 bullshit. And even if it wasnt; there were probably good reasons for that. And how the fuck does she know all this? She is a doctor not a cop. This just shows she did her research on who to frame.
"How could you do this to him? He didn't kill anyone and you know it."
"You date vampires, Elena. It shouldn't come as a shock to learn that your guardian is a murderer."
BITCH SHUT THE FUCK UP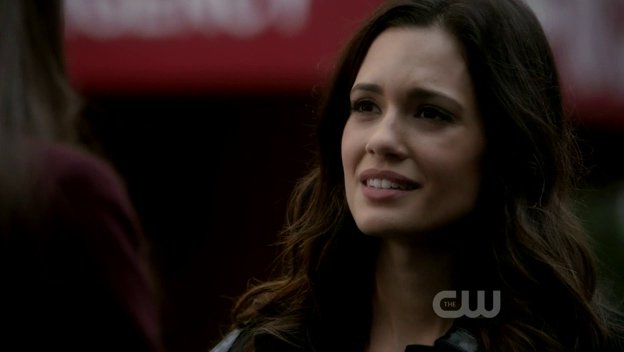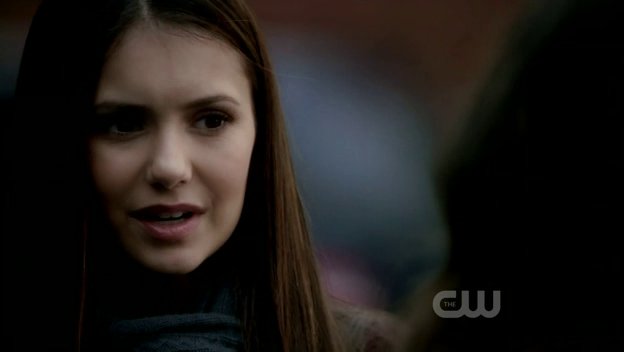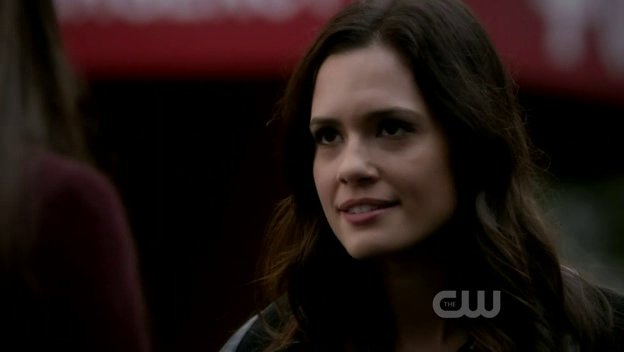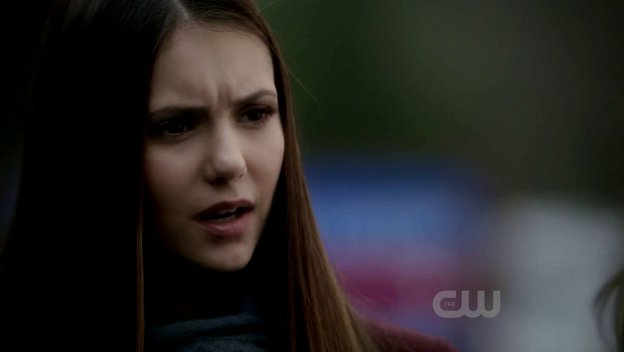 Yeah, she dates them and you steal their blood. How is this related to you framing Alaric?
AGAHSHDB OMG Elena and Matt are breaking into Meredith's apartment
Elena is so smart. She finds the secret hiding spot. "Skeletons in the closet."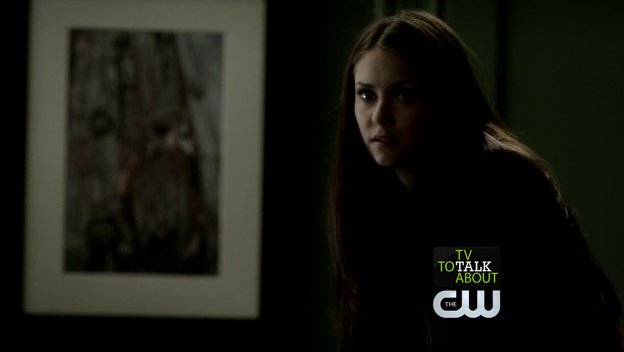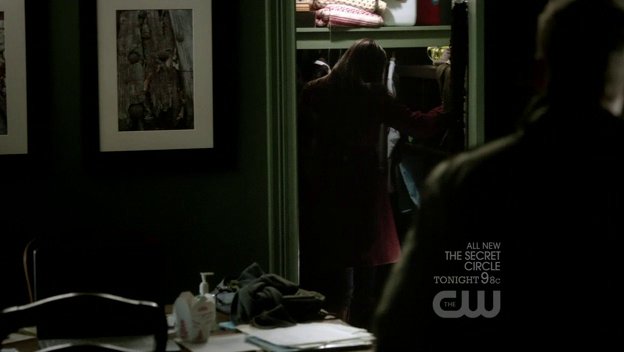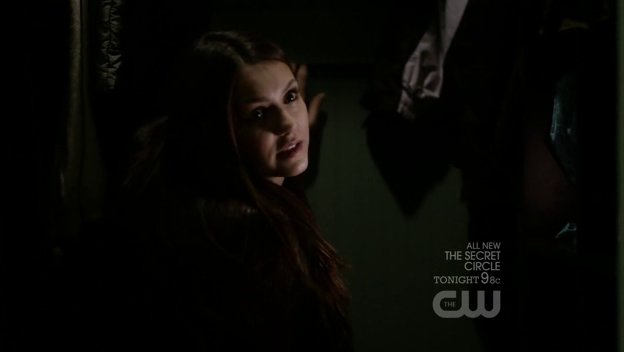 ?? More files on the case? Where did you get them, Dr Sketchy? Brian Walters, Bill Forbes and Alaric.
Damon is really good at this, Stefan is really depressed while detoxing and Rebekah is really persistent.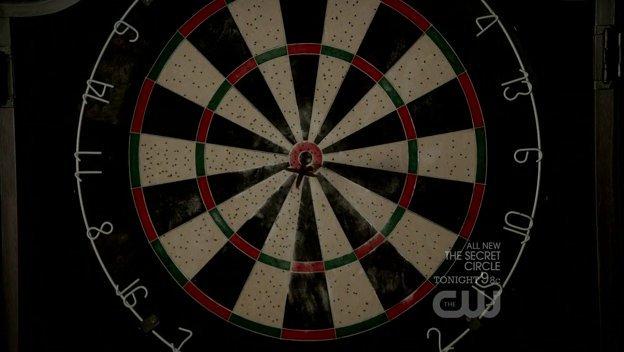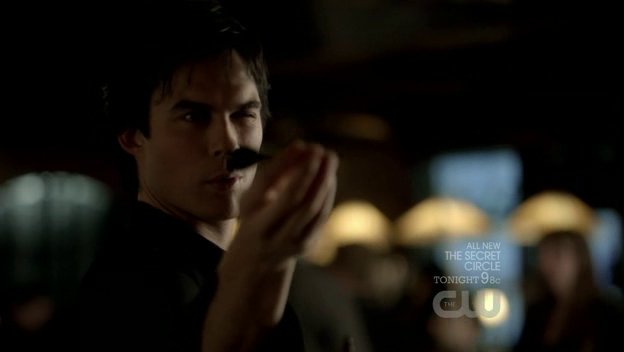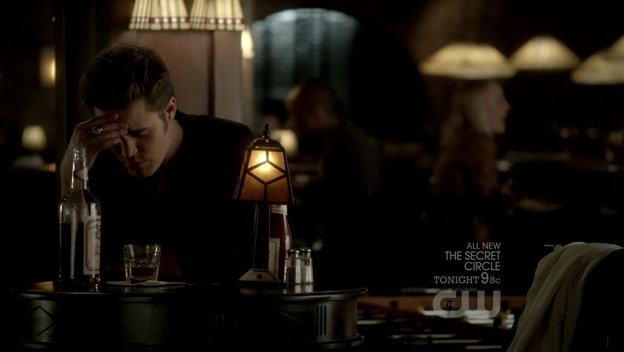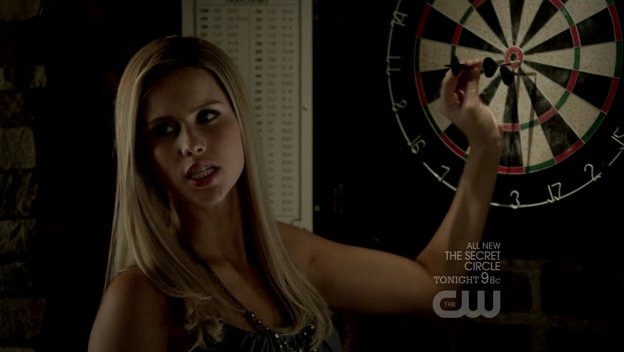 Damon and Rebekah teaming up and reading from Stefan's diary would have been hilarious, if Stefan didn't write as much shit about Damon back then as he talks about him these days.
"He is nothing but blackness and bile." OMFG. Stick to describing your daily routine please.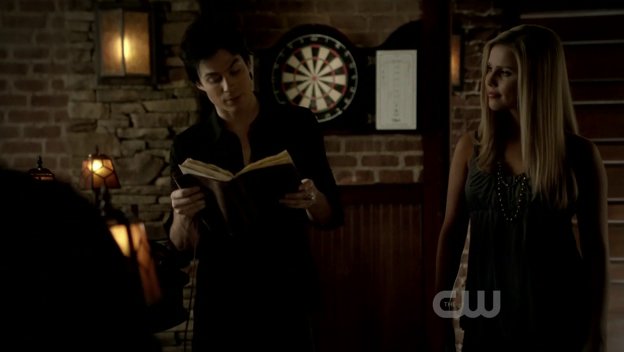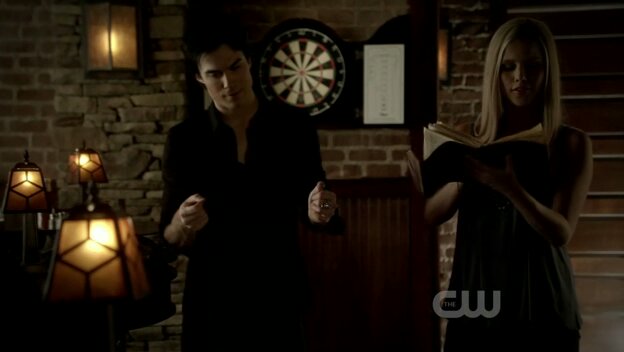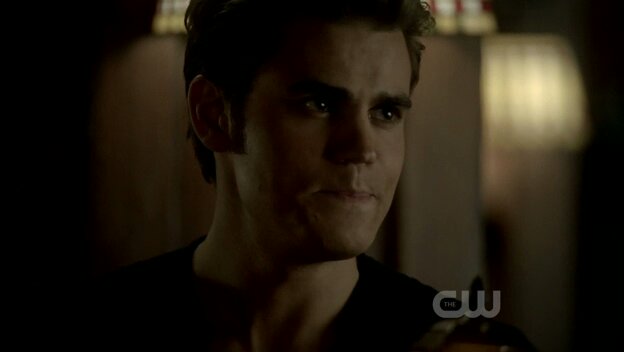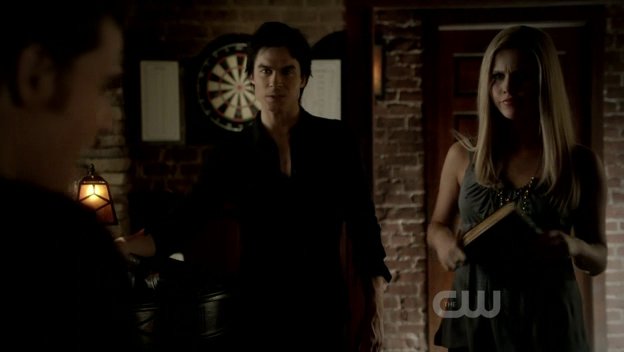 I wonder, if you were to tear out all the pages in all his journals that has the word "Damon" in them, how many journals will be actually have left?
Sage watches as Damon feeds and decides to offer comentary. "How sad. You are doing it all wrong. Bad vampire."
"I was hungry. Now I am not hungry."
"A woman isn't just for food. She is for pleasure."
"I don't need a woman for pleasure. I am spoken for." AWWWW HE IS SO LOYAL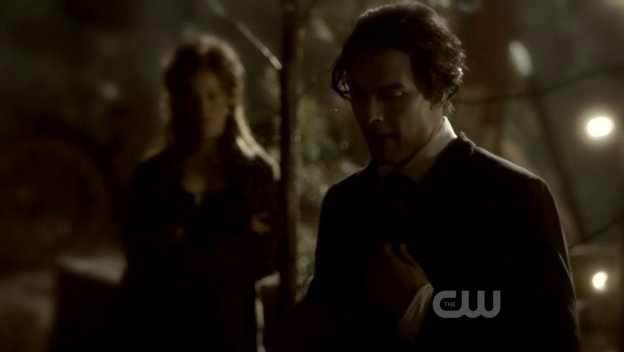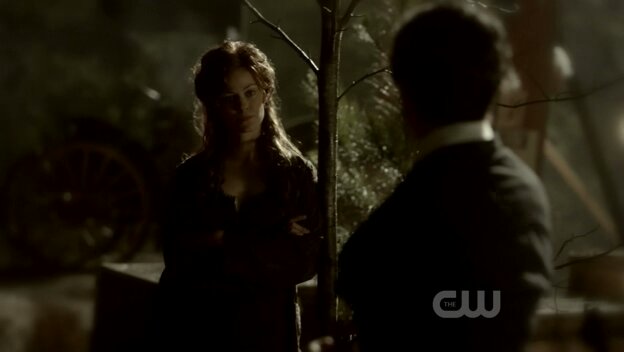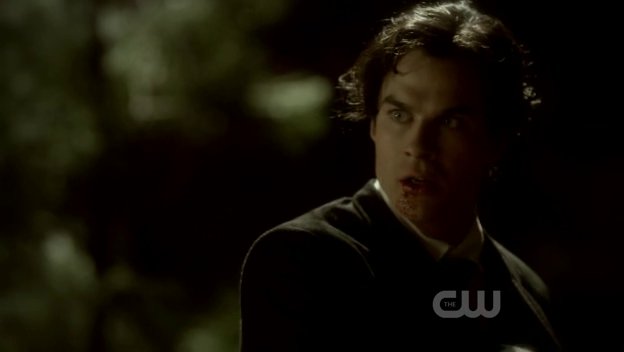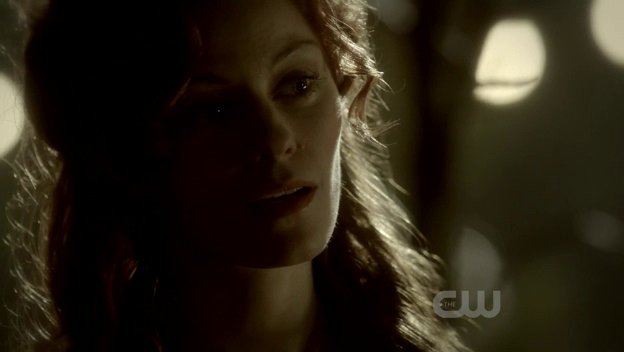 For 50 years so far, Damon has been loyal to Katherine. What a man. Phew. Is Sage going to be his Lexi? Teaching him the "pleasures" of vampirism?
If so, great paralel between the brothers. One was out of control and a woman has to help him. The other was in control but had no enjoyment and a woman had to teach him.
But I get the nasty feeling Sage is not going to be a good influence at all.
"Look at the women. They are beautiful, aren't they? Not them, they are to hungry for attention. You want the ones who button themselves up. Those are the women who secretly crave seduction. They will put up a good fight,but the game is winning them over, making them beg for it"+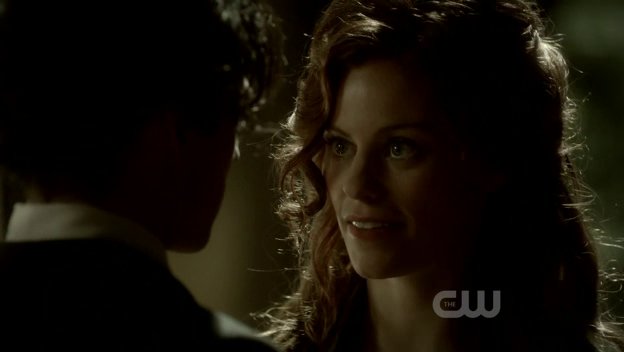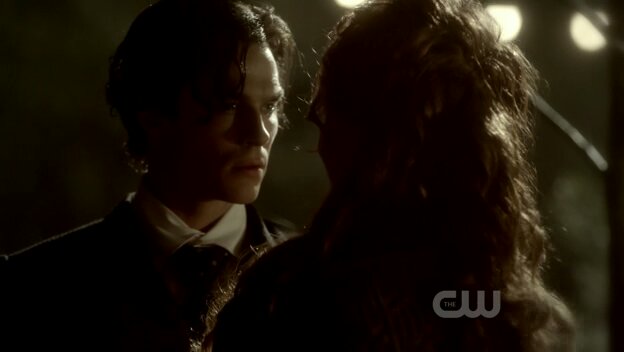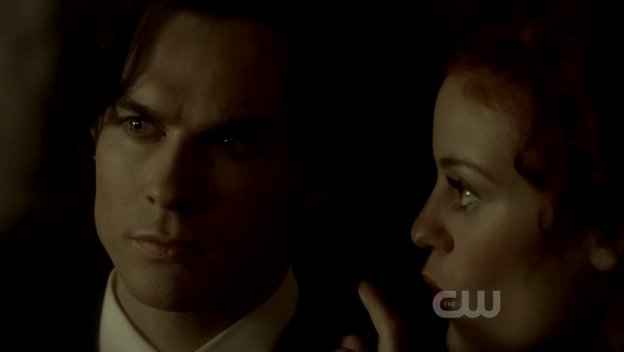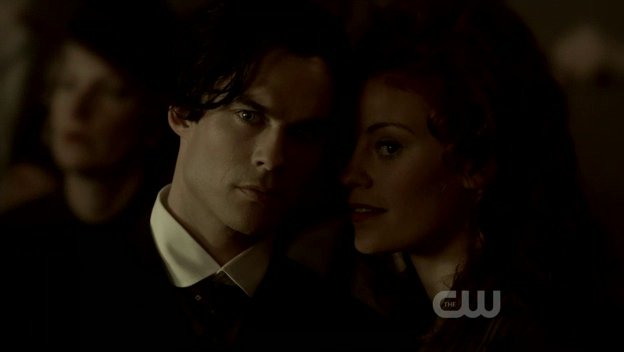 "What if they don't?"
"You are a vampire. You take it."
I don't like Sage. And Damon just picked out the Gilbert girl from before. Samantha. Ugh why did Stefan meet Lexi and Damon met Sage? Angel VS devil much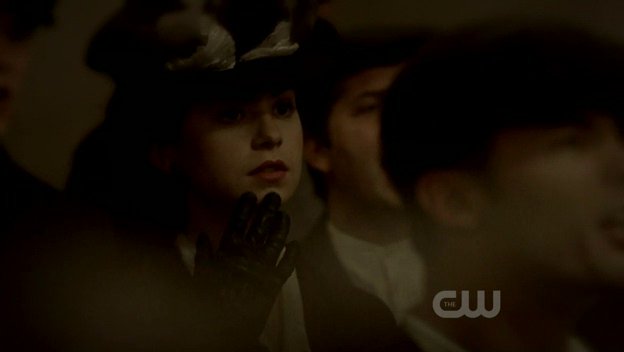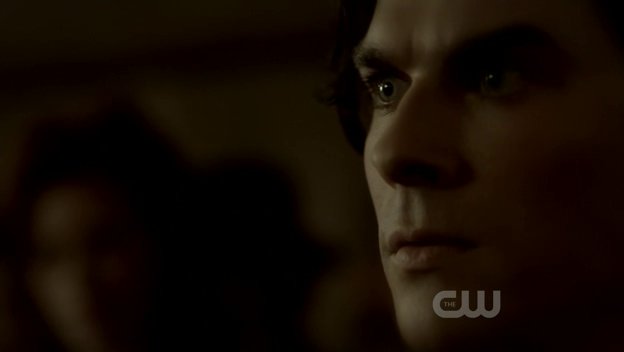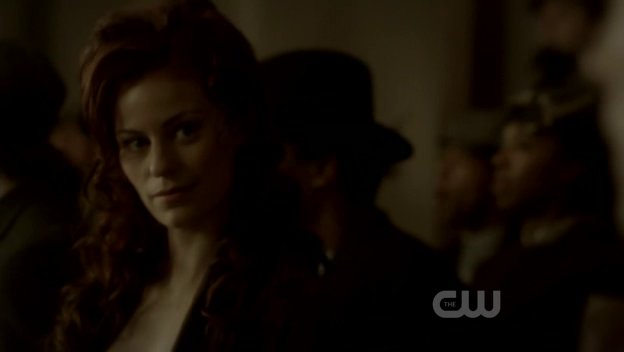 Rebekah tells Damon that Sage was obsessed with Finn. Really? The Matt Donovan of the Original family? They don't seem like a match...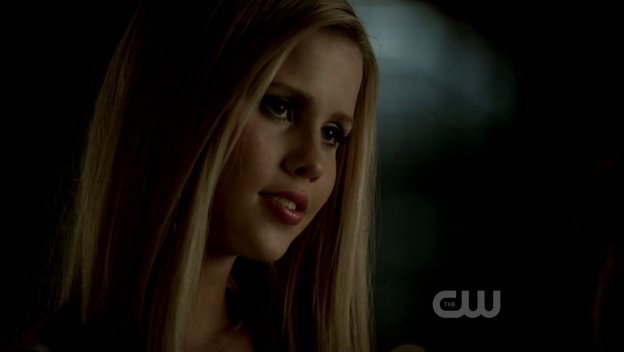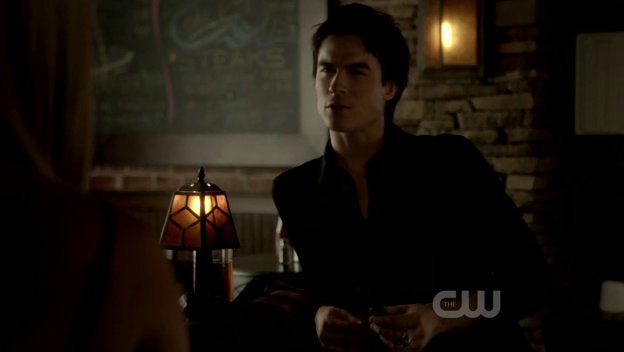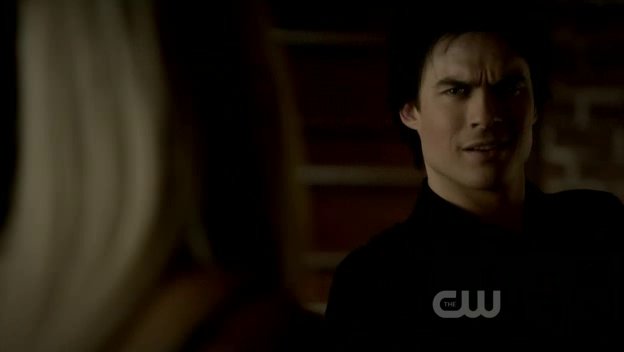 Stefan needs to leave. He says he is freaking out and wants to eat the entire wait staff. That's why working in a public setting can be hazardous. "Hello sir, can I take your order?"
"Yeah. You on a plate."
Meredith has a Gilbert journal in her closet. This girl is just getting more sketchy by the minute. How did she even get that?
OH SHIT MEREDITH CAME HOME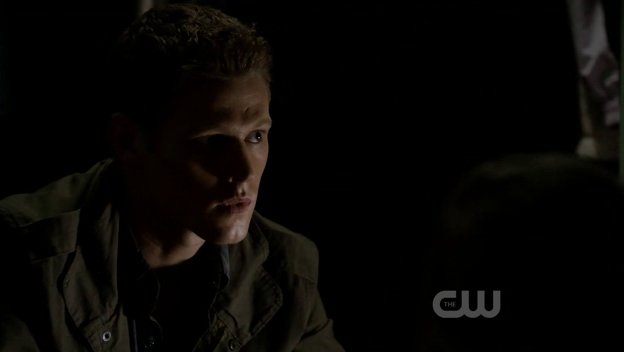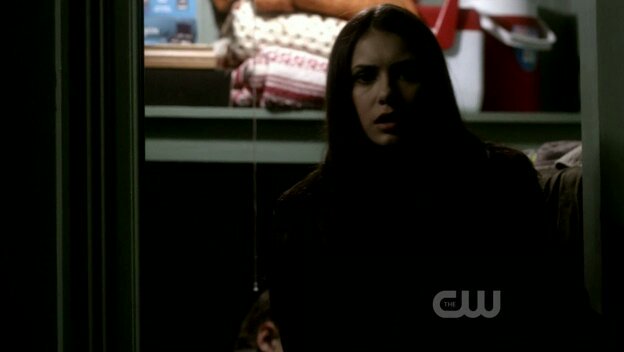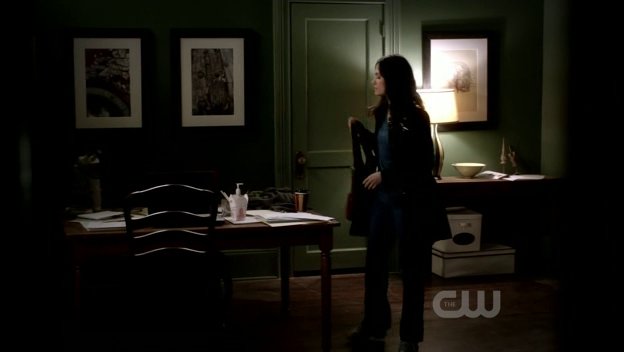 Matt stuck in stuck in small closet close to Elena? He just got his biggest dream handed to him. Meredith is leaving. Move your asses guys and get out of there.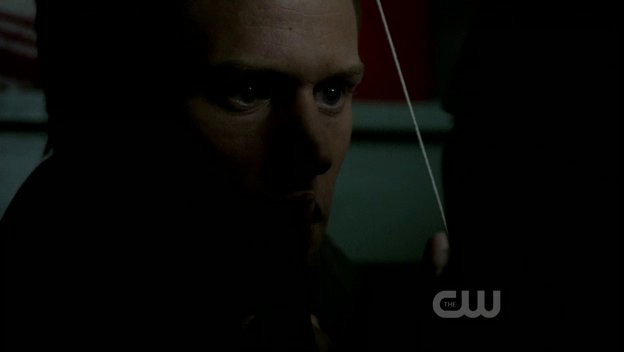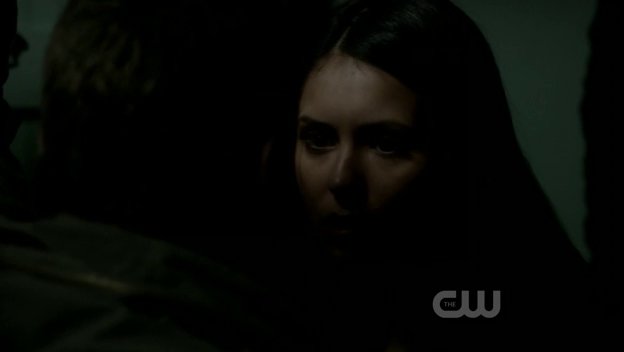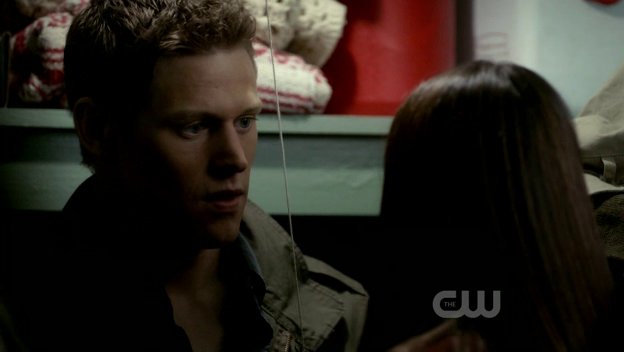 OH FUCK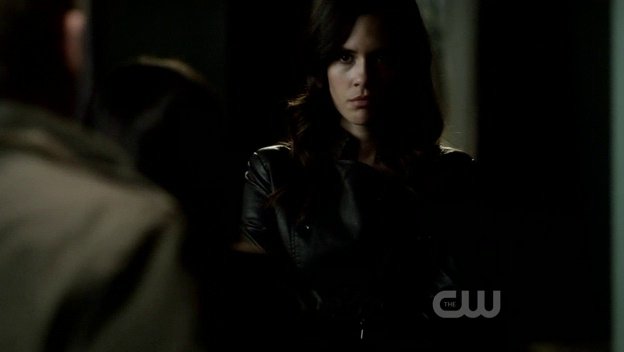 Liz is NOT happy with them. Luckily she is protecting them and sending them home without filing charges. Apparently Meredith already let her know that Alaric has an allibi and apologised for accusing him. When did she do all that? Wasn't she in surgery after Elena talked to her?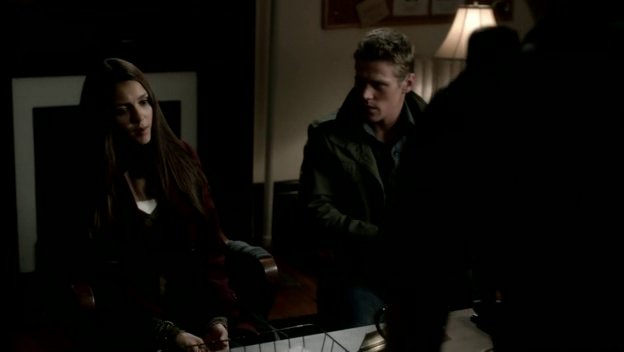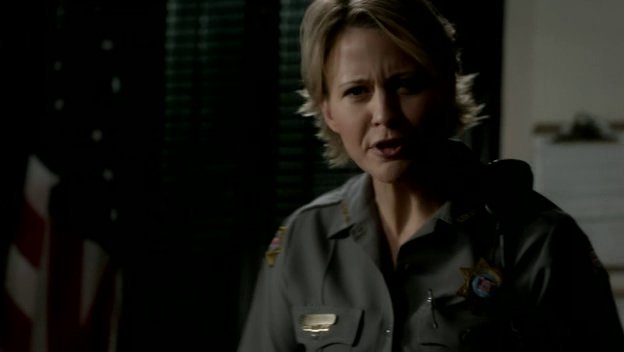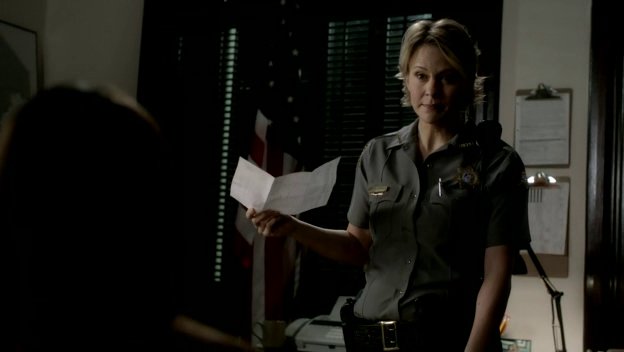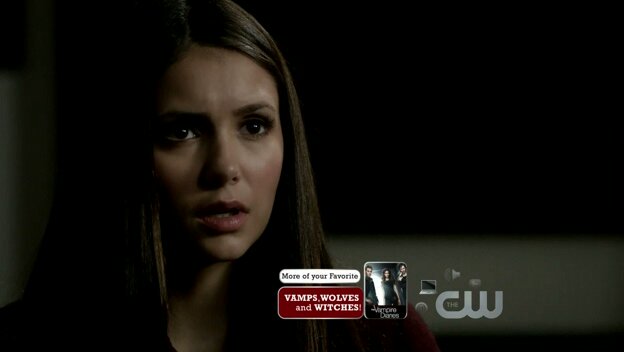 And she can appoligize till she gets blue in the face. Apology not accepted.
"When I knew him in the 20s he had no concience at all." Well, Rebekah, he did. He just ignored it. Damon and Rebekah teaming up scares me, but Stefan seems to think he can survive without feeding. Um. ..dessication is a thing?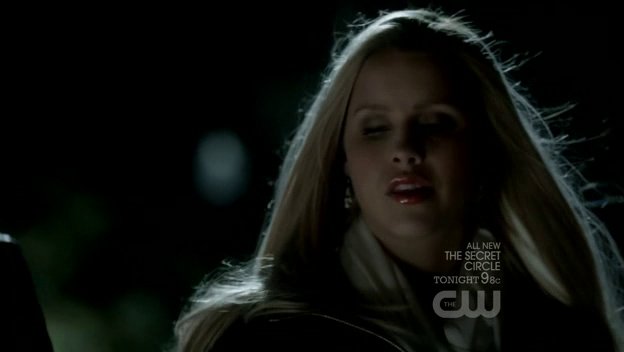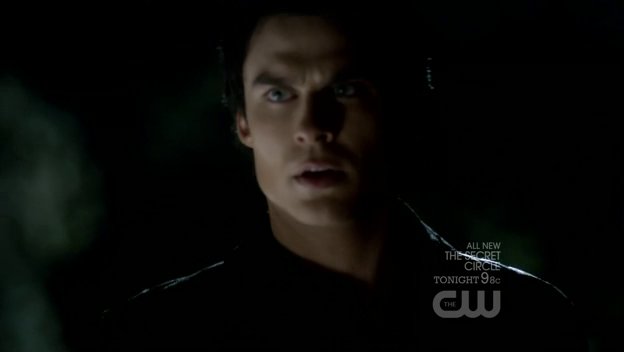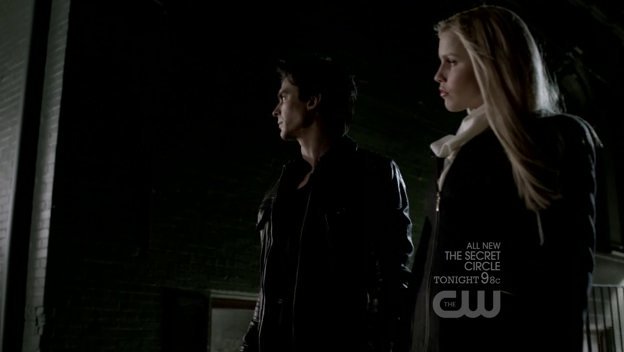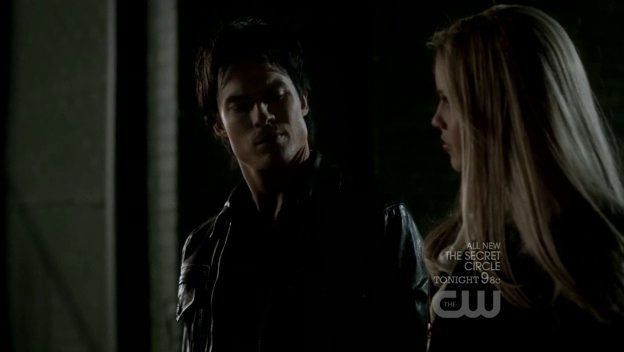 Is it bad that I am attracted to his vamp face too? 🙈🙈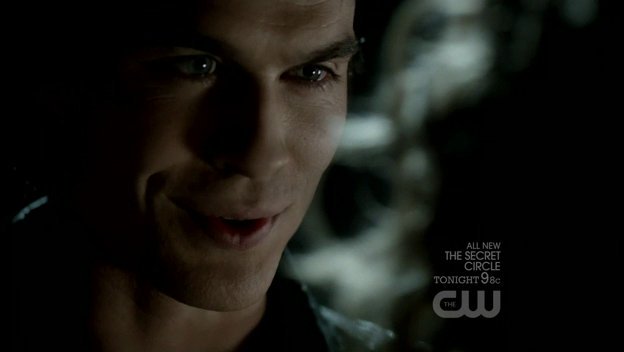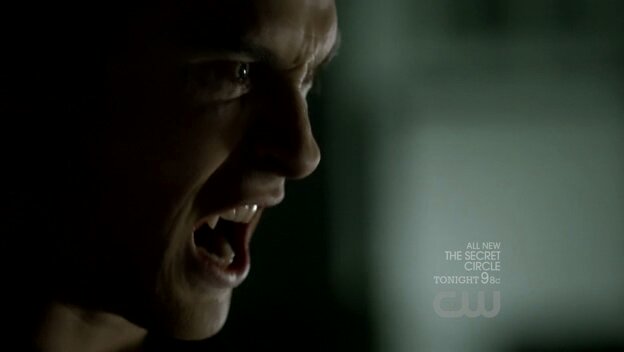 Damon has a good plan. He wants Stefan to feed from the girl, and he will stoo him before he can kill her and he will even heal her. Snatch, eat and erase. All Stefan has to do, is eat.Damon will take care of the rest. Its honestly the only way I see Stefan ever getting over this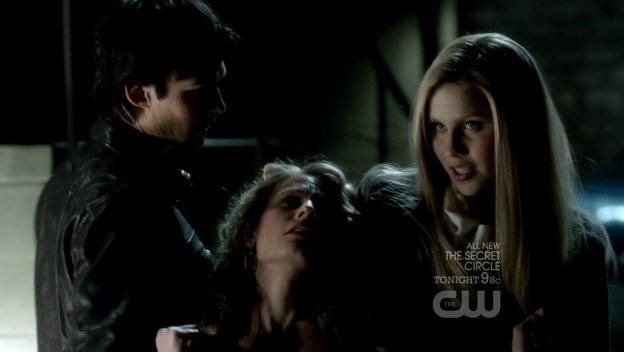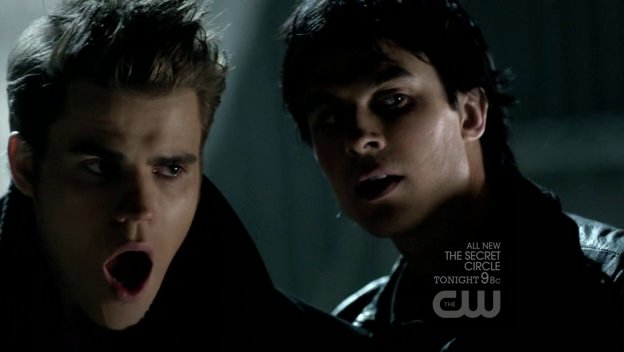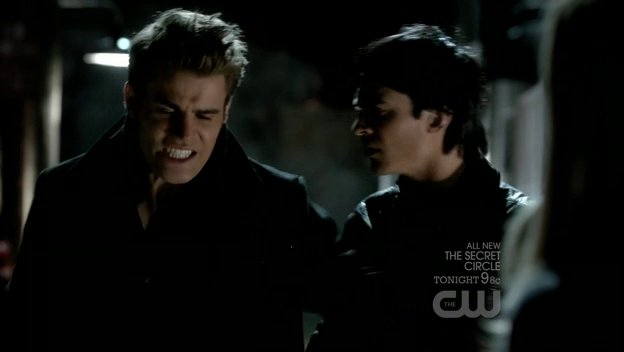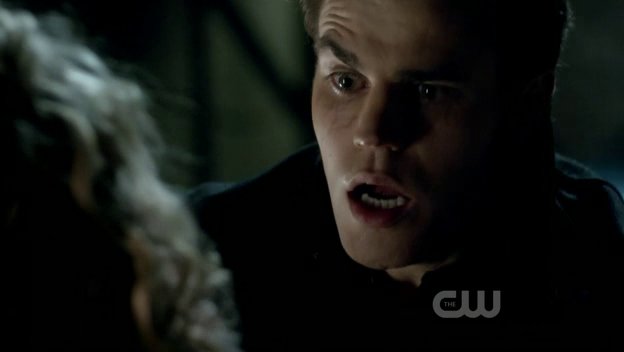 Stefan doesnt want ti stop and Damon has to pull him off the girl. He lunges again but Damon stops him and heals her. "I said thats enough! Hey do you want to fight hunger, or do you want to fight me?"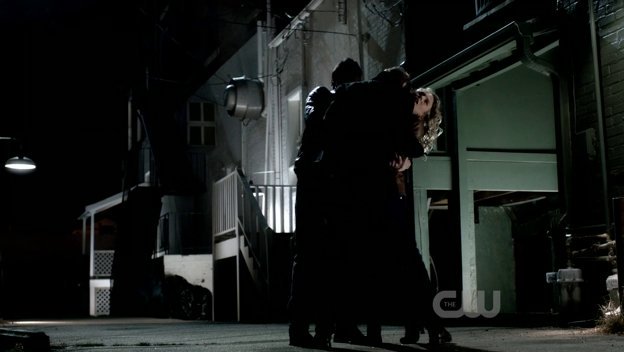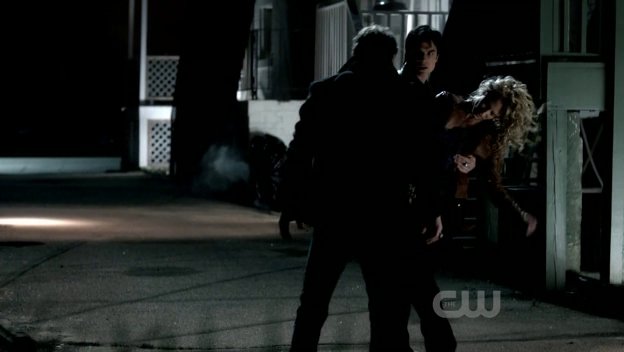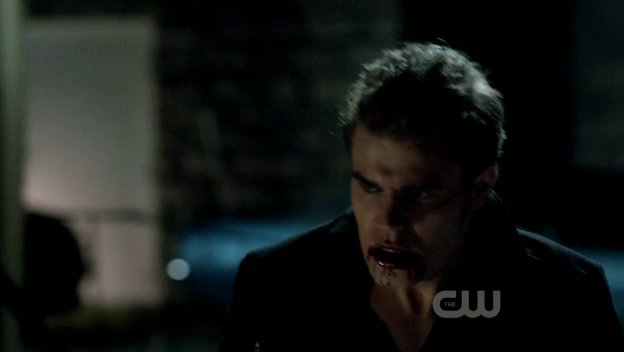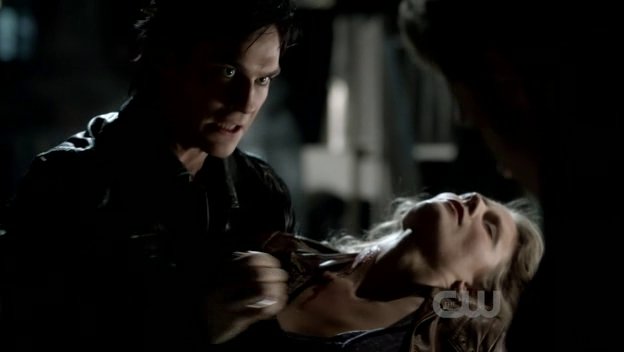 ELENA AND MATT ARRIVED HAHAHA THIS LOOKS BAD EVEN THOUGH IT ISN'T HAHA
It's about time that the tables turned and some shit hit Stefan for something that isn't his fault. Can't just keep happening to Damon and Elena.
Damon didn't mean for Elena to see, but I don't know why they are making such a big deal out of this. Elena didn't even know he was obstaning again.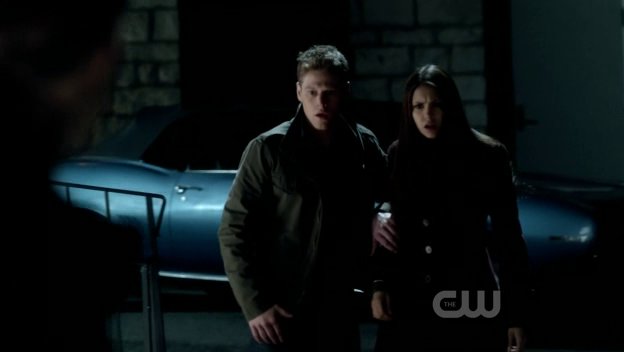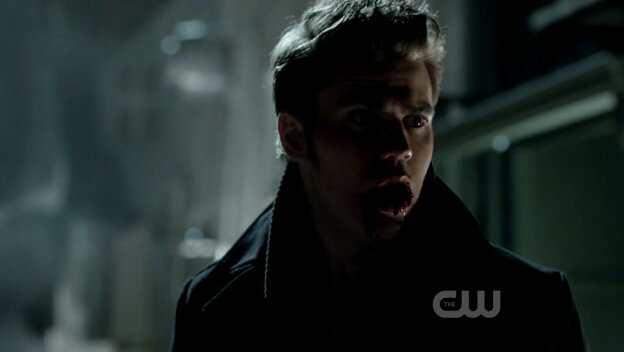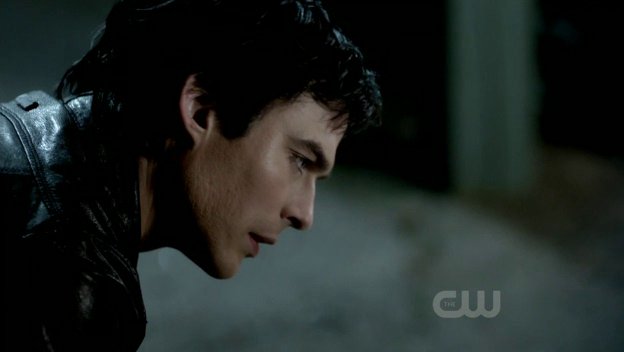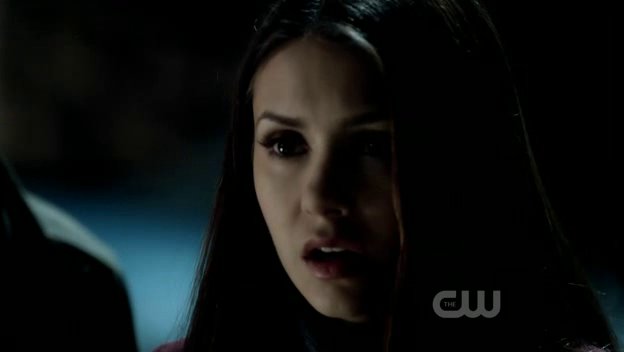 I love that it's Stefan at the end of this look that Damon was at the end of in 03x14. Damon tries to explain and tells Elena it's not a big deal but she leaves with Matt.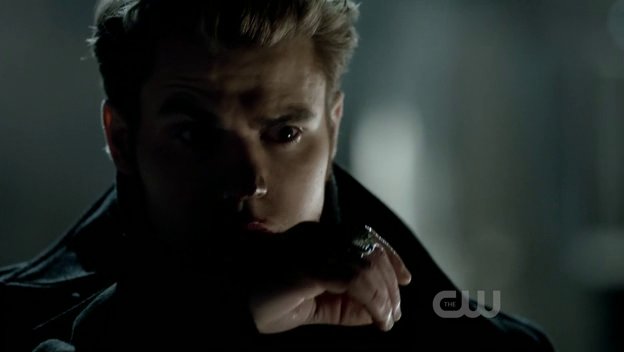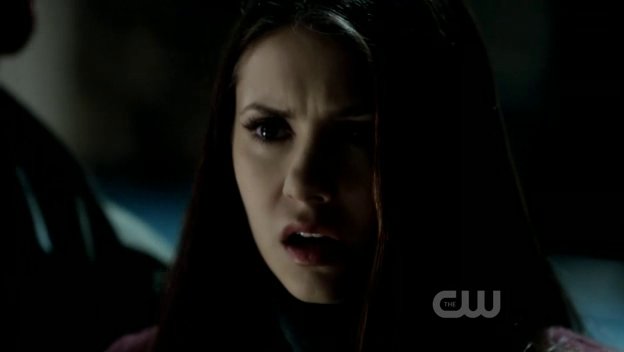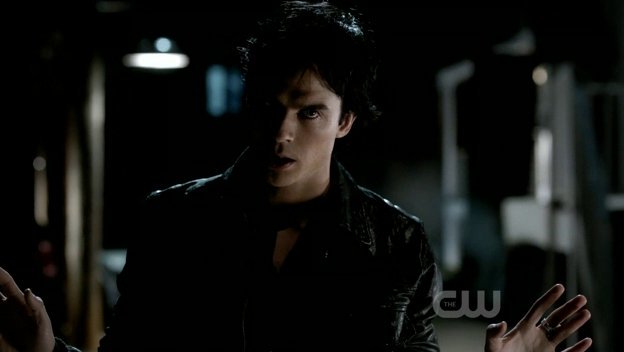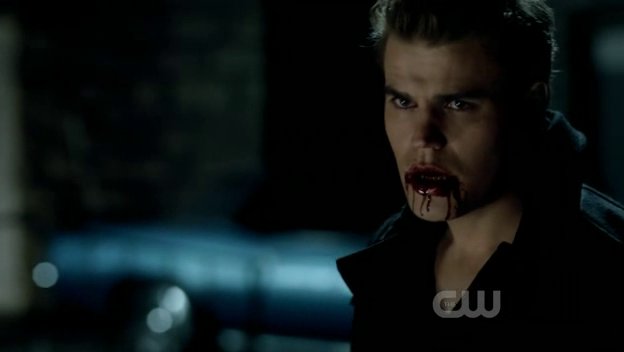 Okay fine. I will begrudgingly admit that Matt is being a really good friend to Elena in this episode.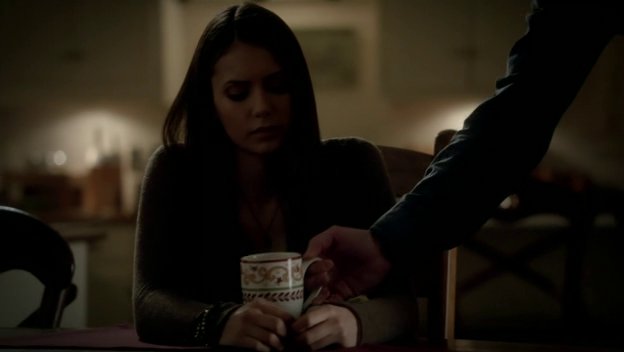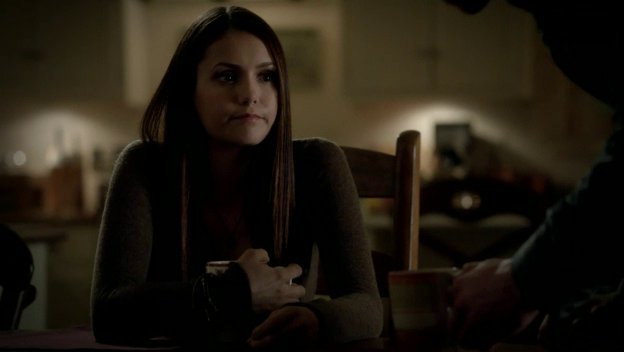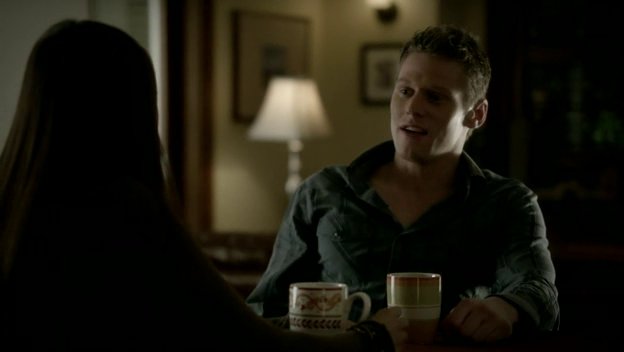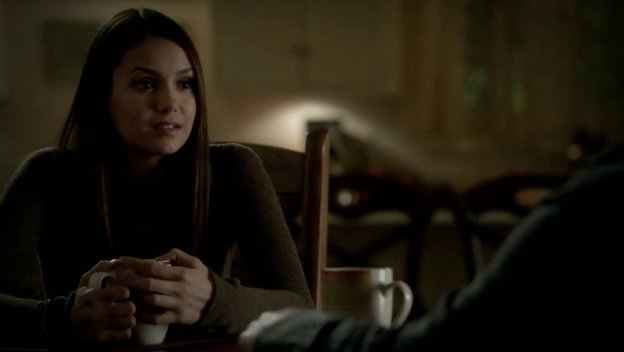 OMG Elena just admitted to Matt why she was with Stefan. He made her feel safe (girl if only you knew how UNSAFE you were) It felt like he would never stop loving her and would never die, unlike her parents. Did I not call this in S1??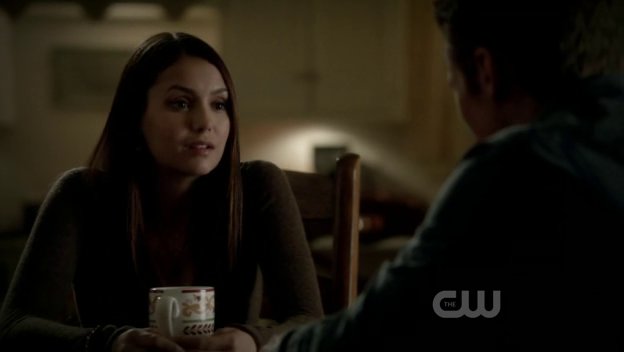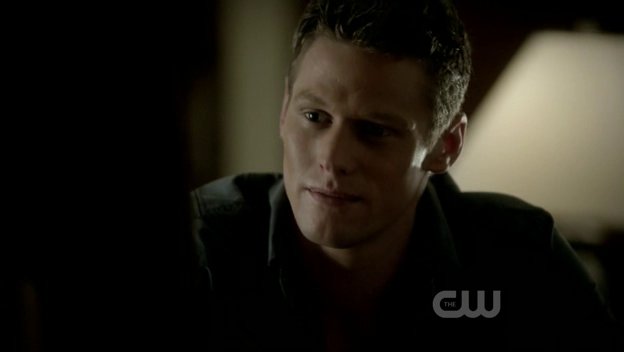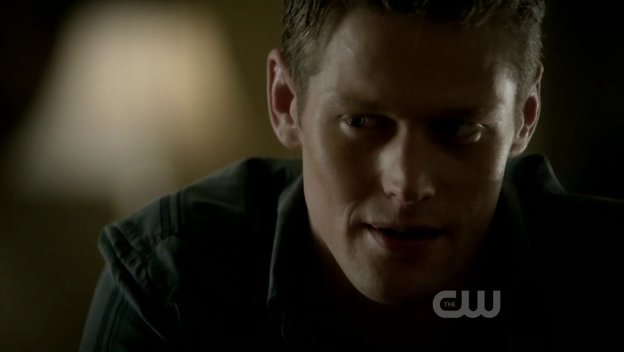 "And Damon?"
"Damon just sort of snuck up on me. He got under my skin and no matter what I do, I just can't shake him."
THAT'S TRUE LOVE OMGGG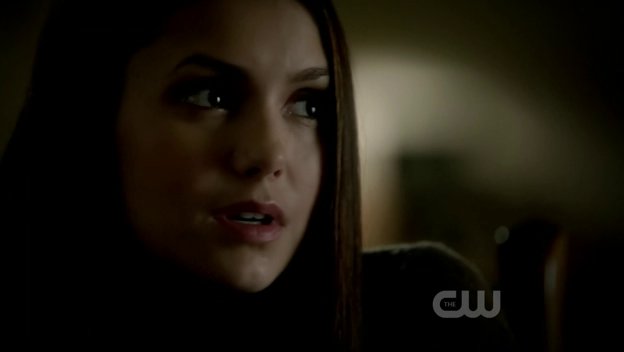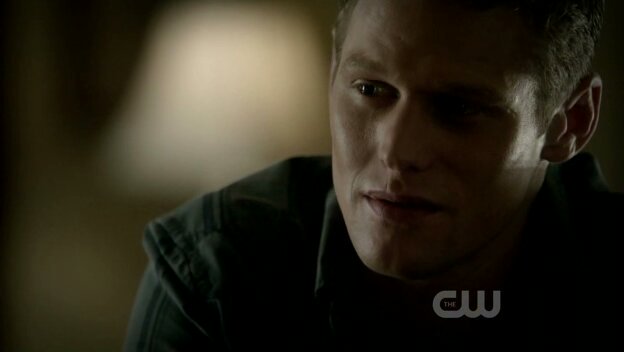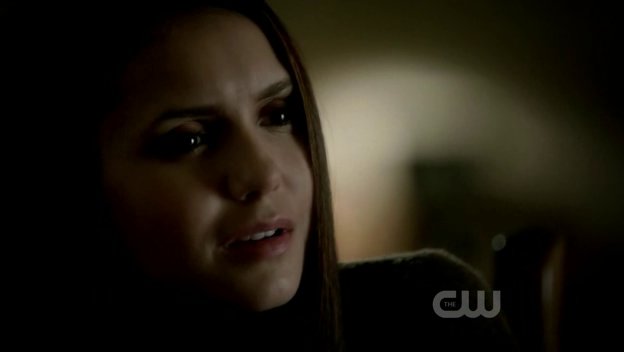 That's love bitch
"Once you fall in love with someone, I don't know if you can ever shake them." MATT KNOWS ELENA IS IN LOVE WITH DAMON AND SHE KNOWS IT TOO.
Also, Matt is still in love with Elena. Issa fact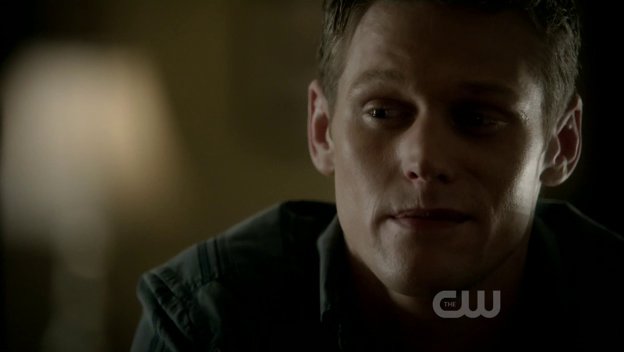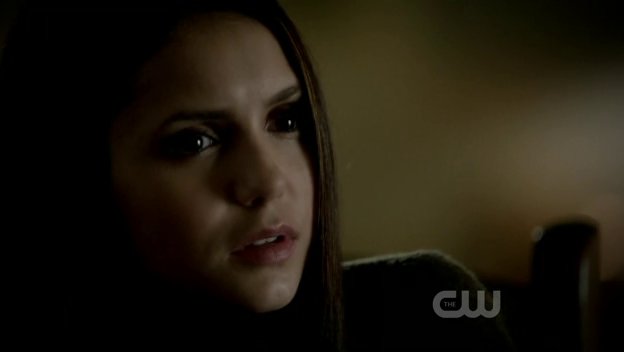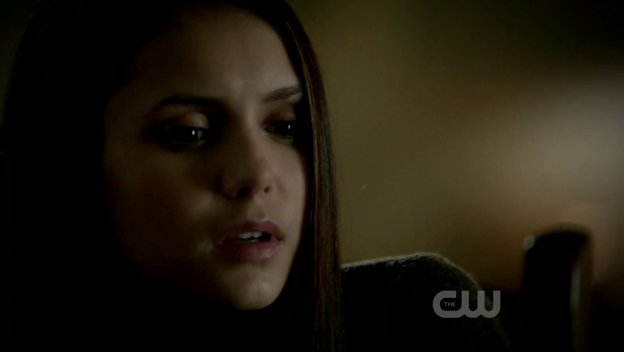 So Alaric knows, Caroline knows, Bonnie knows and Matt knows that Elena is in love with Damon. I love this song. Now I need Stefan to know and Damon and ELENA to know and admit it.
Elena asks Matt of it's weird to talk to him about all this and he says no, he is cool with it. Elena has friendzoned him so hard. If a girl talks to you about these things, you are her bff.
Matt stole the Gilbert journal and gave it to Elena. If only he treated his actual girlfriends the way he treats Elena, I wouldn't have a problem with him.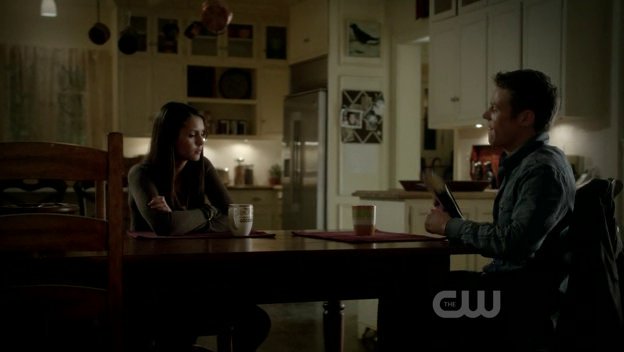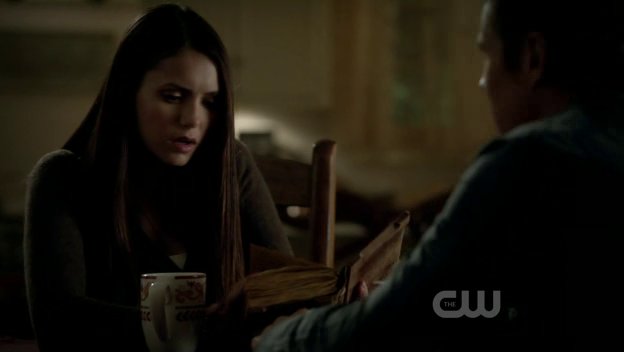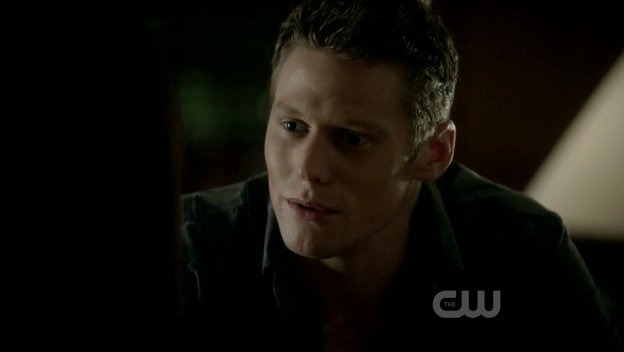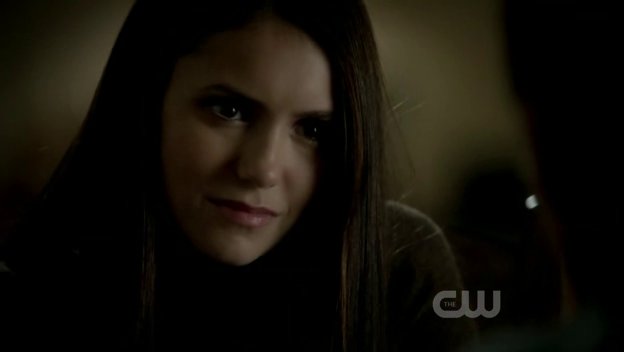 Alaric is home and awww I love their father daughter dynamic so much 😢😢😍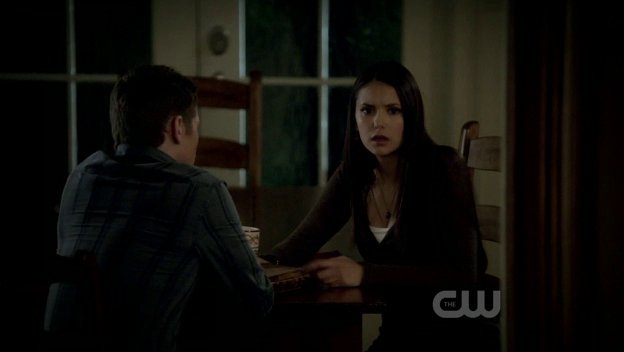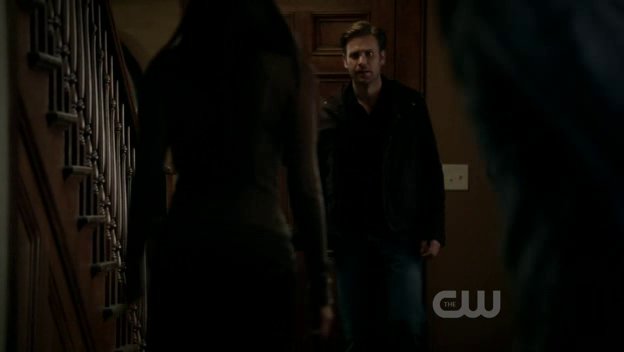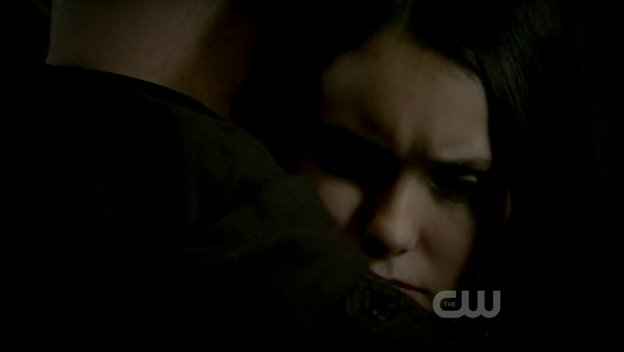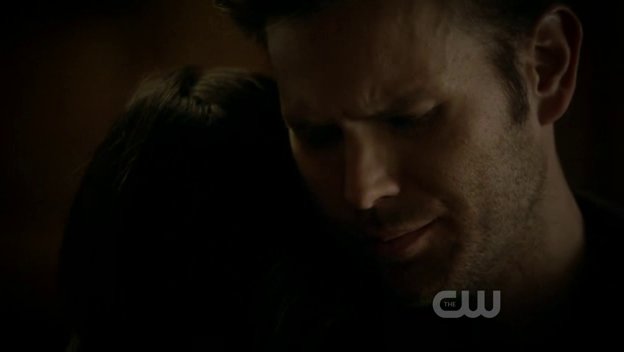 Stefan sulking in front of the fireplace. OMG they really have to fix his character. I am sick of ripper Stefan, I am sick of no humanity Stefan and I am sick of sulky broody Stefan.
Damon is really being a good brother here. "I know it may not seem like it, but you did really well tonight."
Um. ..He didn't, but that's what he needs to hear. Atleast he didn't go after someone else and went him instead, so in a way, yeah okay. He did well. "Before you know+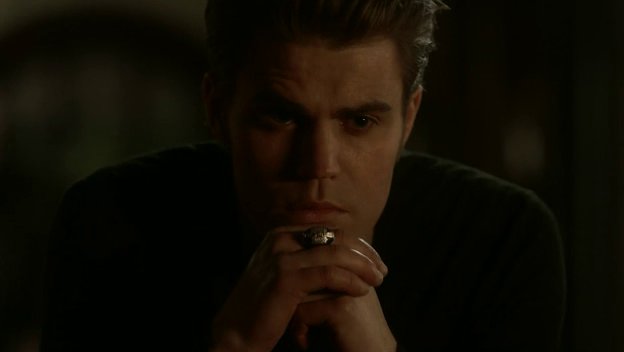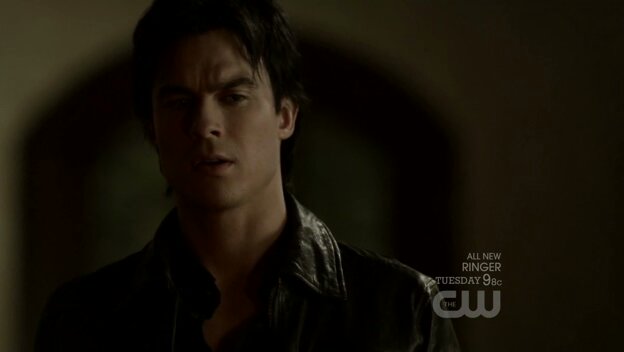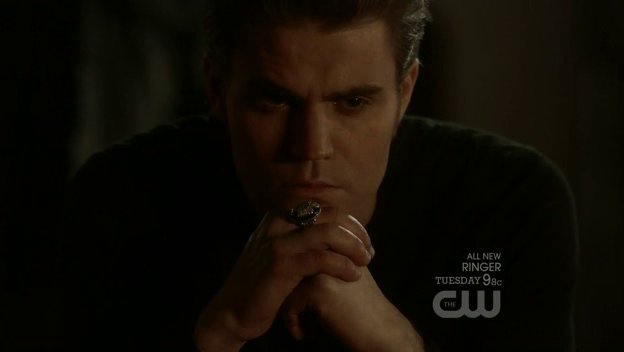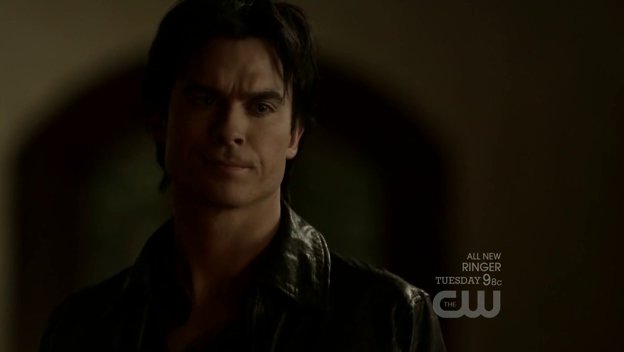 it, you will be the king of moderation....Elena will understand."
"It doesn't really matter what Elena thinks."
"Uh uh none of that. No more no humanity Stefan. That is a road called recovery and we are on it."
"Why do you even care, huh? The whole brother bonding thing? Getting Elena to hate you? You feel guilty because you kissed her? Is that it, Damon?"
ASSHOLE 💀
Stefan says he doesnt need Damin's help. You know what, PLEASE don't take it. You will be doing Damon, me and my ship a favor.
Damon feels better after Sage talked to him and reminded him that vampirism can be fun. He is willing to teach Stefan and forgive him and tells him to have a drink with him. With the Lockwood ancester...👀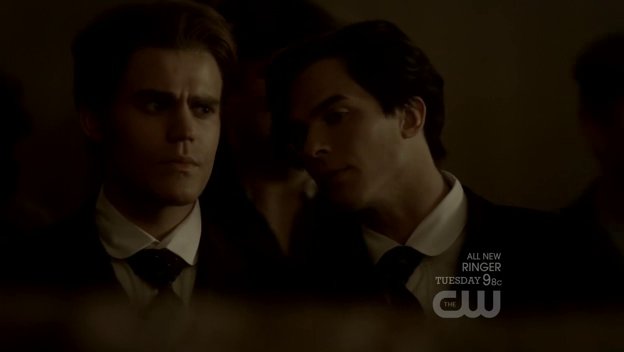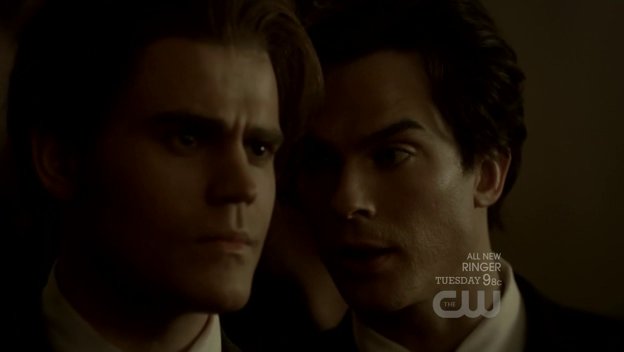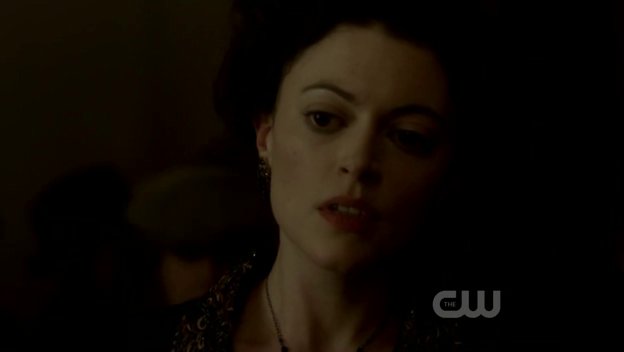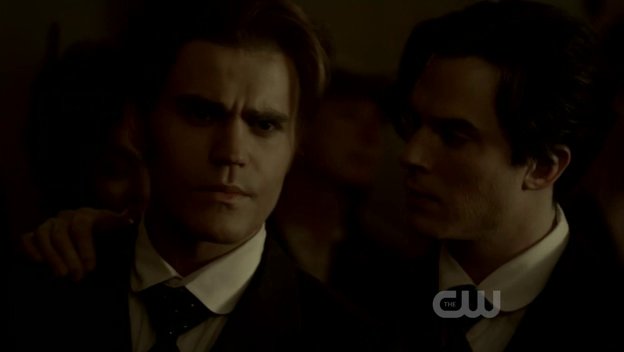 Stefan doesn't want to stop. Damon tries to stop him but he pushes him away. 👀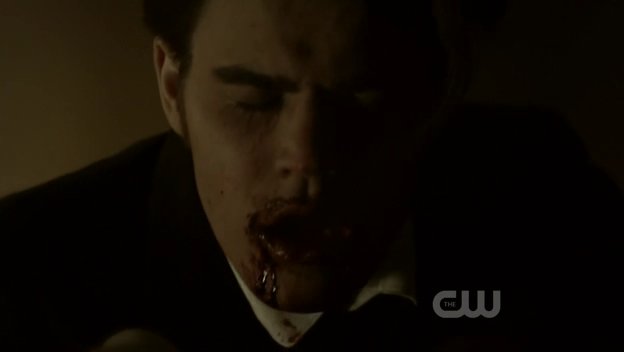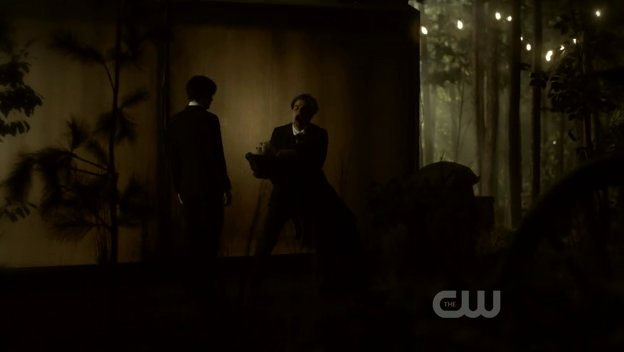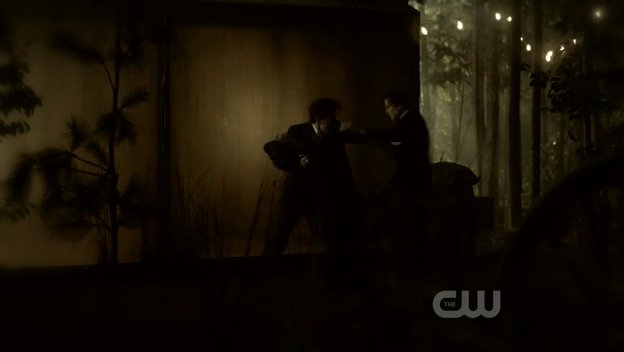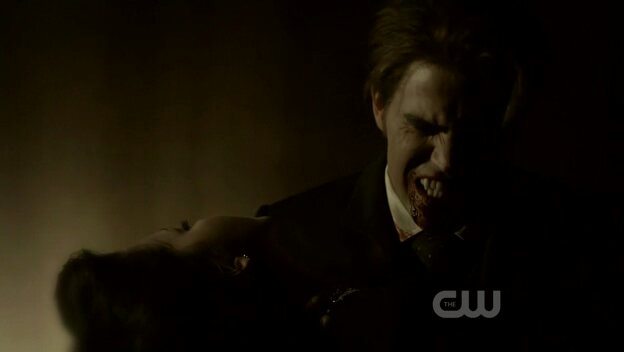 OH FUCKK HER HEAD CAME OFF. DAMON IS SHOOK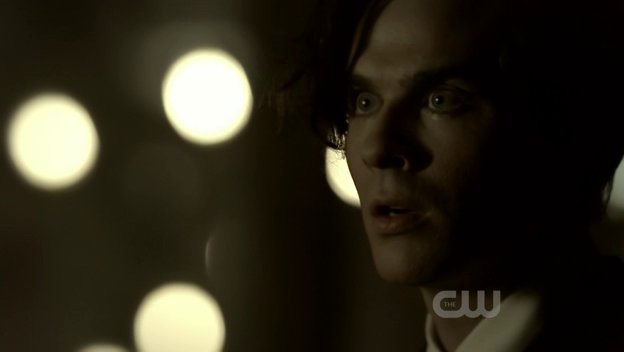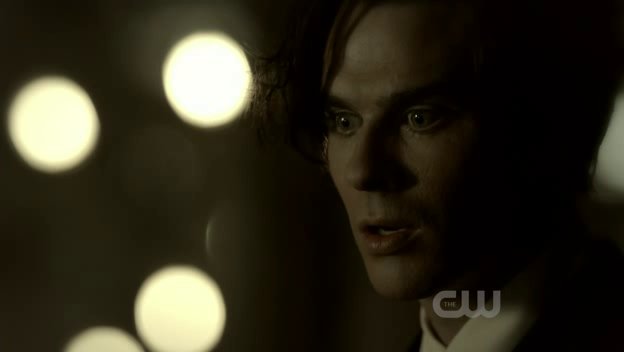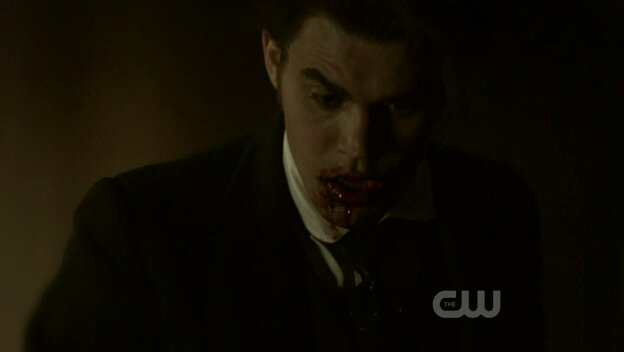 Stefan takes the head and true to put it back together and Damon looks like he is about yo pass out.
"WHAT DID YOU DO TO ME?"
Nothing. You did this yourself. He is trying to help you do this doesn't happen again.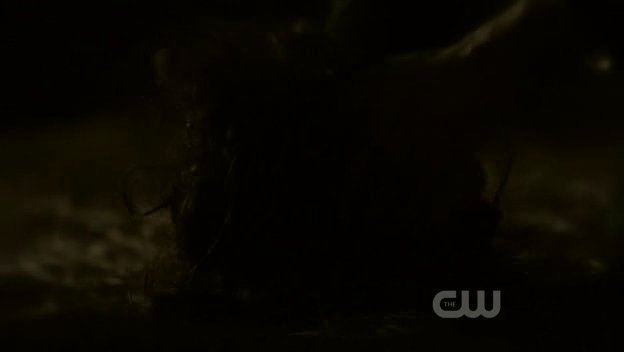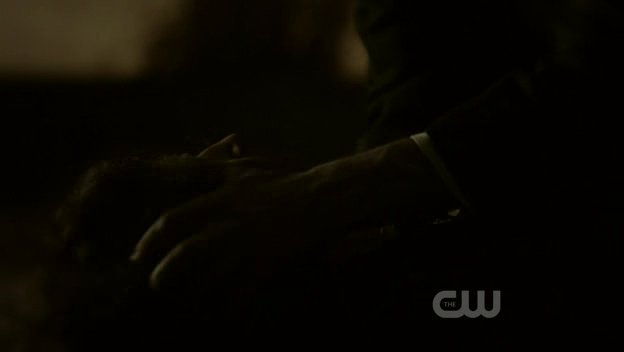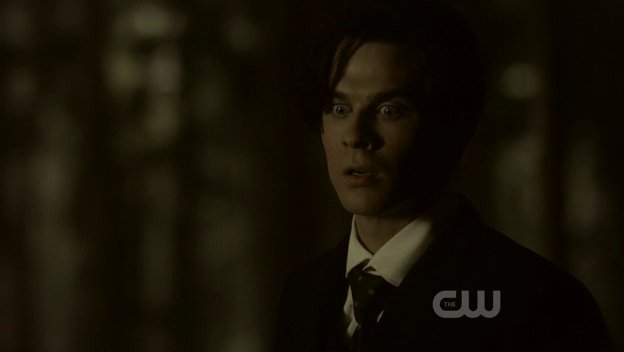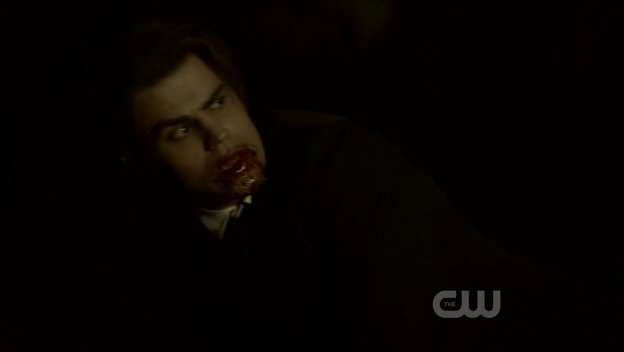 Damon still wants to help Stefan but he refuses and runs away. ARE YOU TELLING ME THAT IF STEFAN HAD ACCEPTED HIS HELP, HE WOULDN'T HAVE HAD THIS RIPPER ISSUE ALL THIS TIME?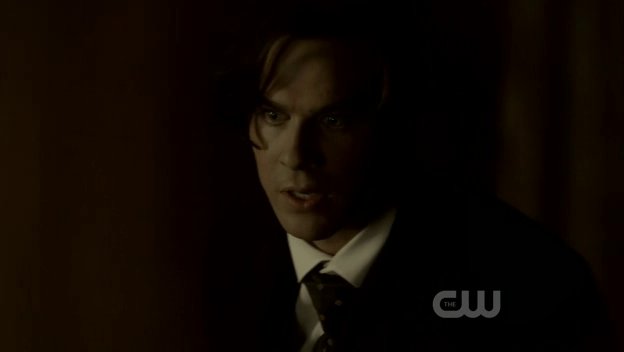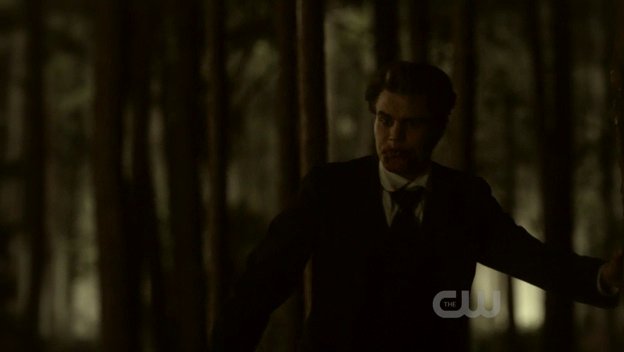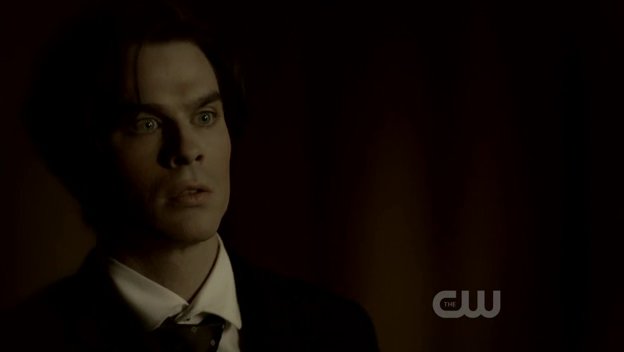 Damon wants to help Stefan now. now feels guilty for letting him go back then but he won't now.
"Whenever you go to far, I will be there to pull you back. Every second. Every day. Till you don't need me."
"Why?"
"Because right now you are all I've got." 😢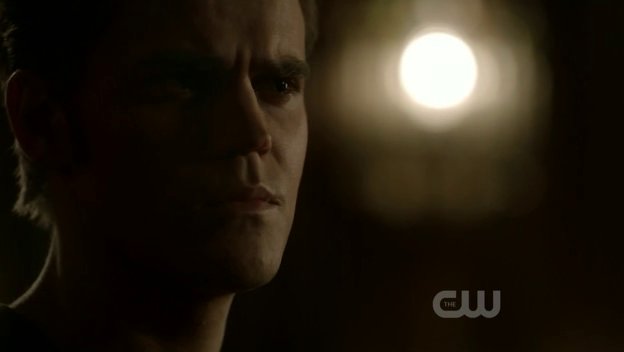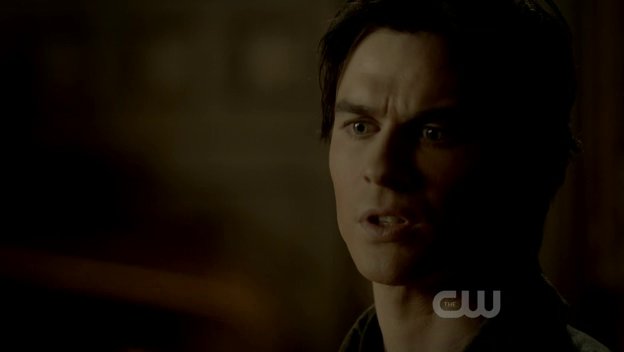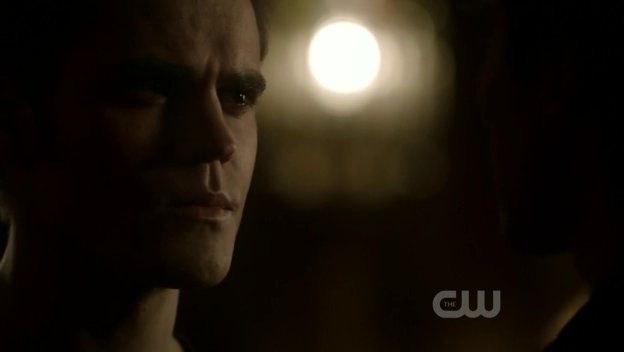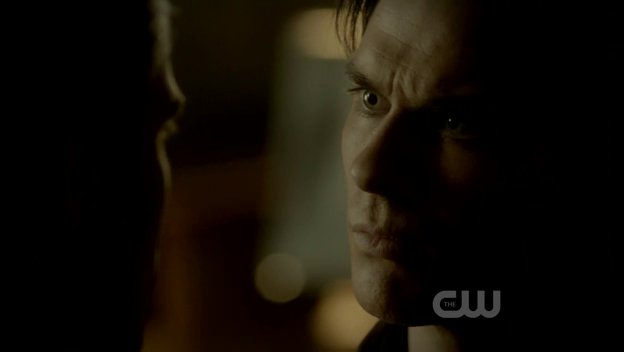 They do really love eachother. 😢
And I love Damon, for being the bigger man here and helping his brother even at the risk of losing the women he loves.
"The sheriff told me about everything that you did today and...while I appreciate it, I don't want you getting in trouble because of me, okay?"
"If not for you, then who?"
"Still. I am suppose to be the 1 who looks after you, even if I suck at it."
"Okay well, how about we just+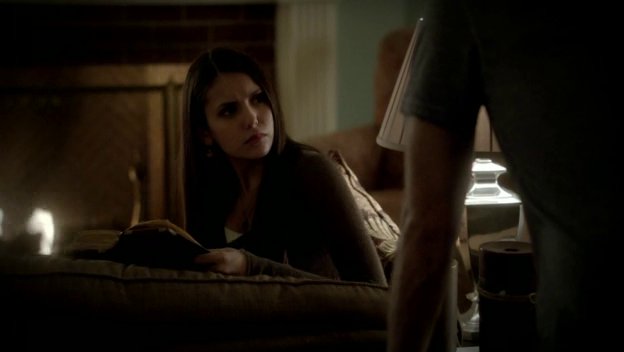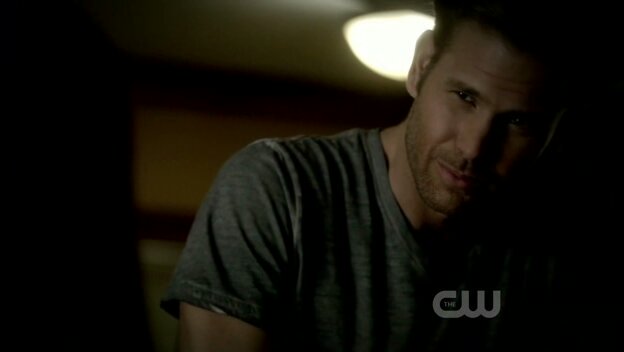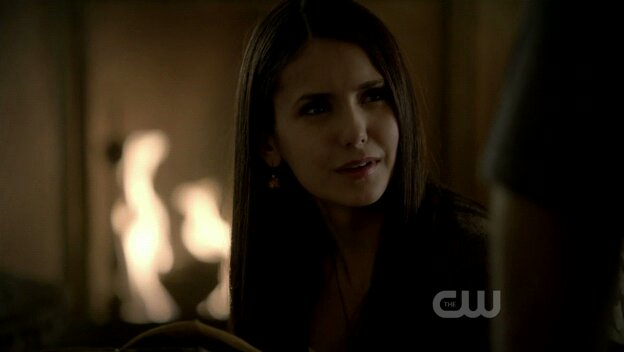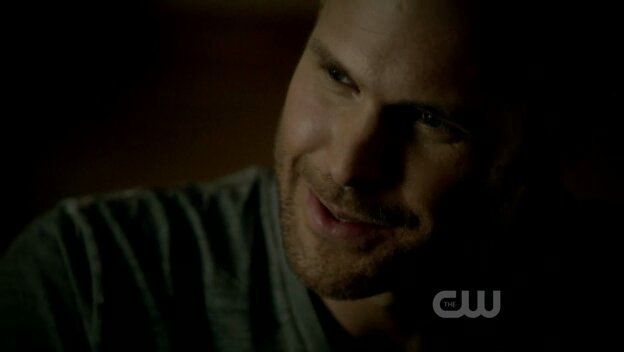 agree to take care of eachother then?"
"Deal."
AGSHDHD I AM CRYING THIS IS SO PURE
Jonathan Gilbert's granddaughter went just as crazy as he did. The Gilberts weren't lucky in life, were they?
DAMON PLAYS PIANO 😍😍😢😢 Such a sad tune. I am in love with this man.
Anyway, Stefan decided to stop sulking and be useful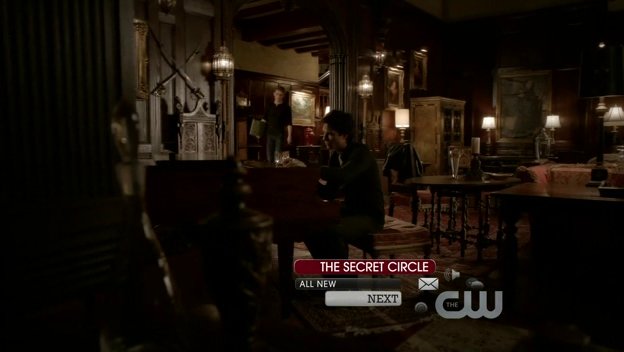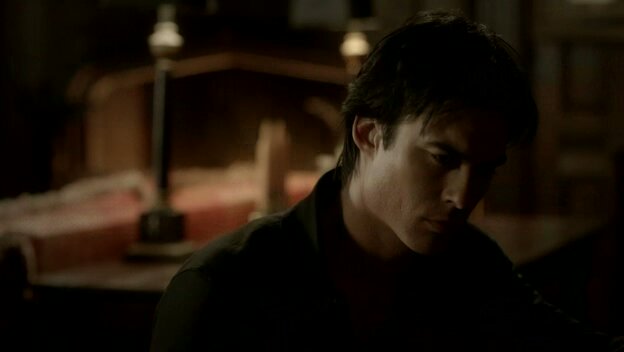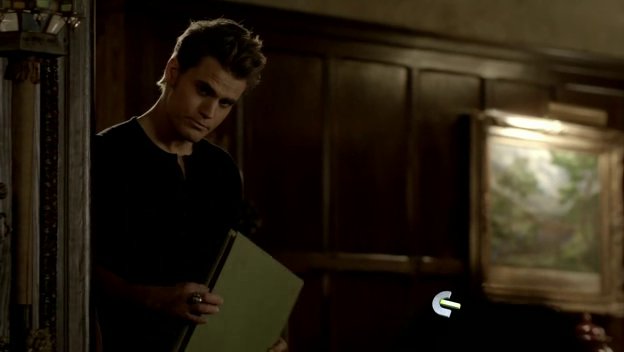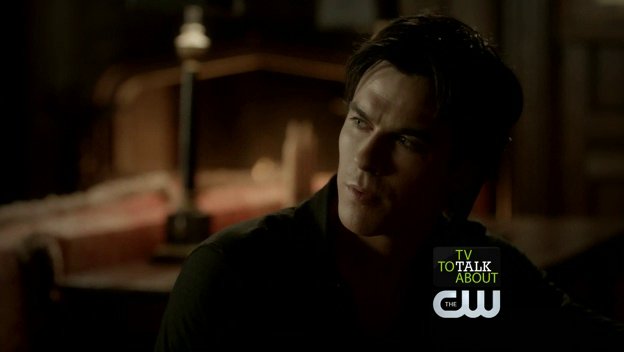 Samantha Gilbert was the killer back then? WTF?
But Damon had killed her??
😐😐😐💀💀 She wants him to trust her? What is going on? She acts like she did him some favor because now the cops won't look his way again.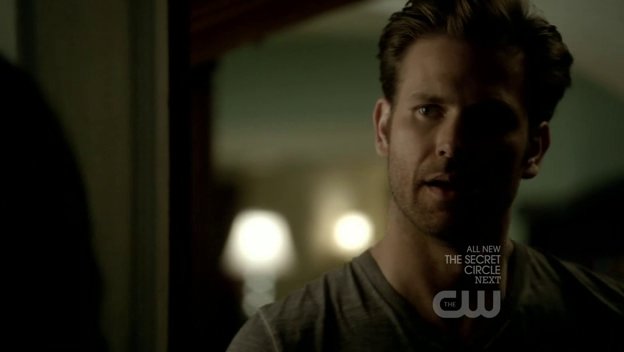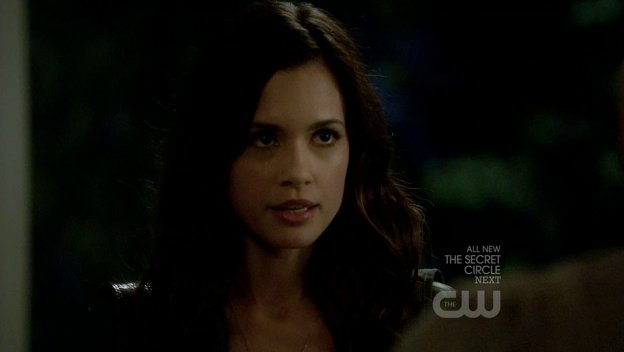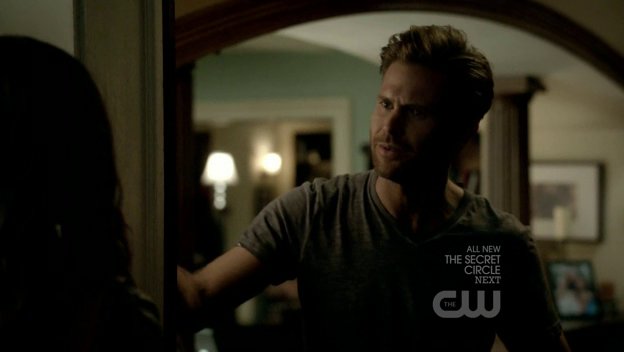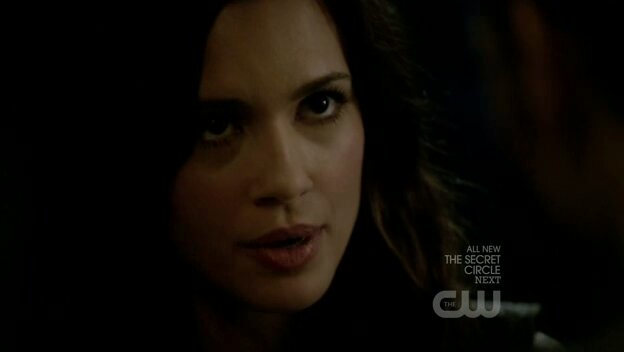 I don't know how the fuck Elena can read those scribbles. But Samantha Gilbert didn't feel like herself and she was loosing time. Okay so she knew she was going crazy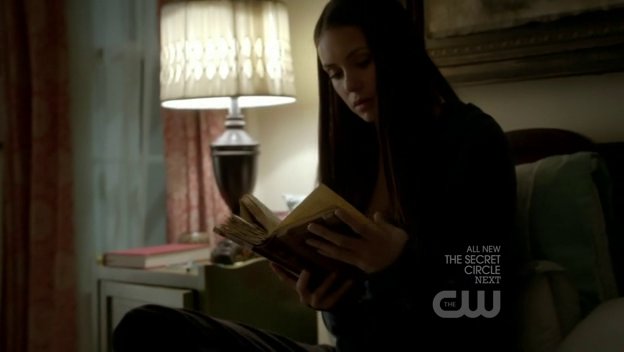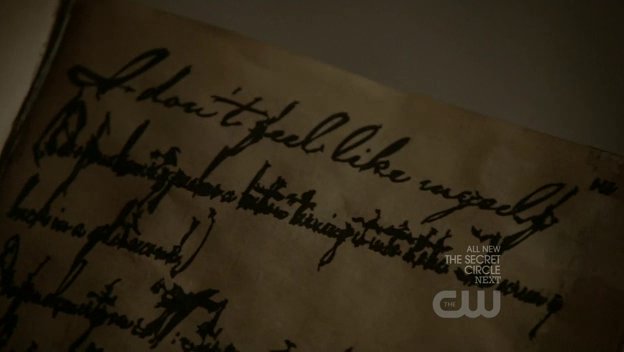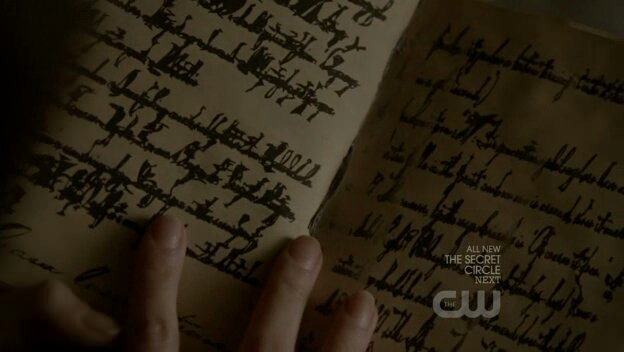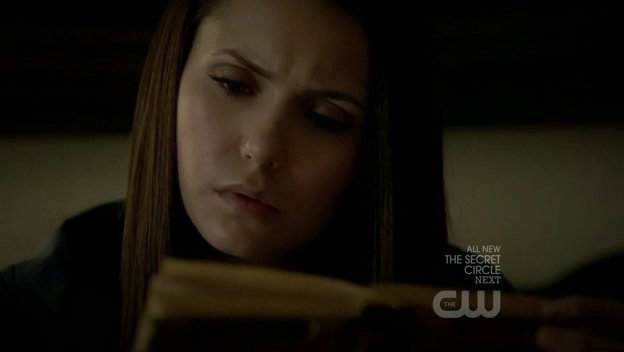 She had a ring? Those were passed on through generations. But she would be to old to be running around town killing people. This is getting more bizarre by the second
"You wear a ring that let's you cheat death Rick. How many times can you for before it changes you?"
I
DO
NOT
LIKE
WHERE
THEY
ARE
HEADING
WITH
THIS
💀
"Rick, I think she is right."
THIS IS BULLSHIT. THEY ARE GOING TO MAKE ALARIC CRAZY??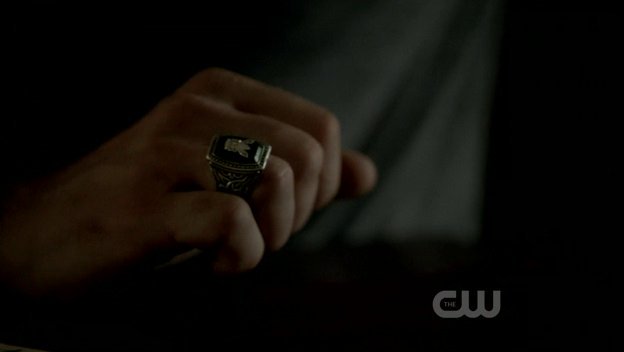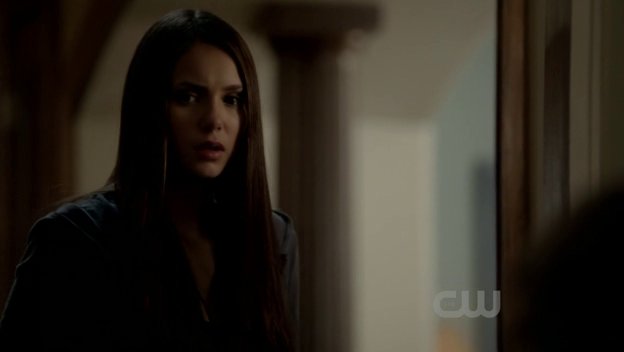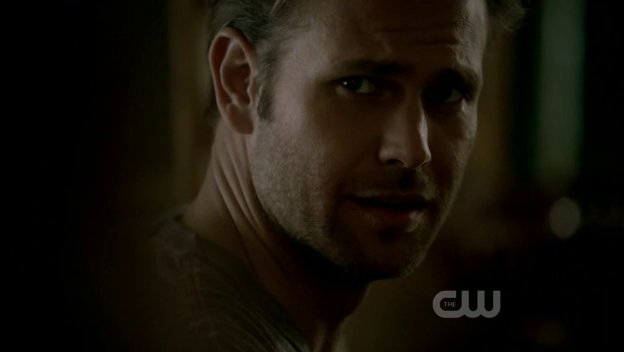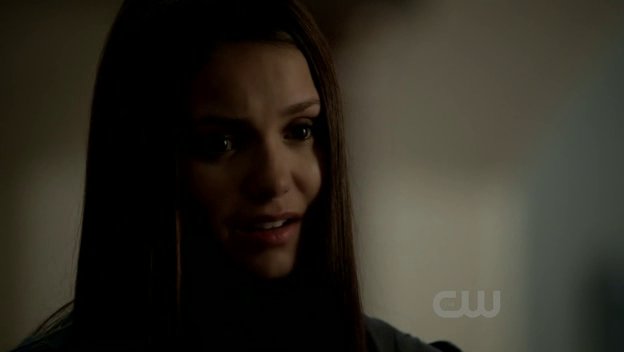 IT'S THE FUCKING RING OMG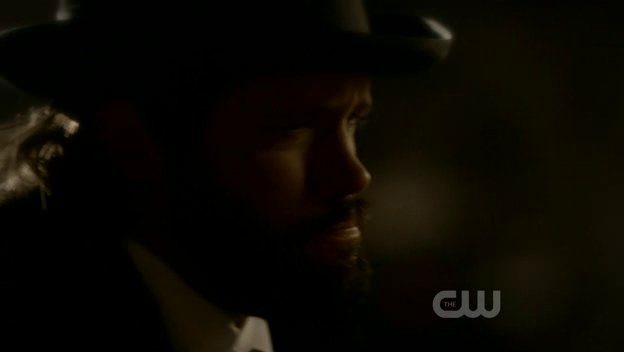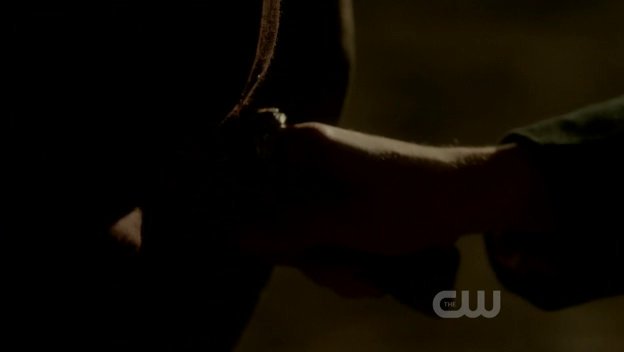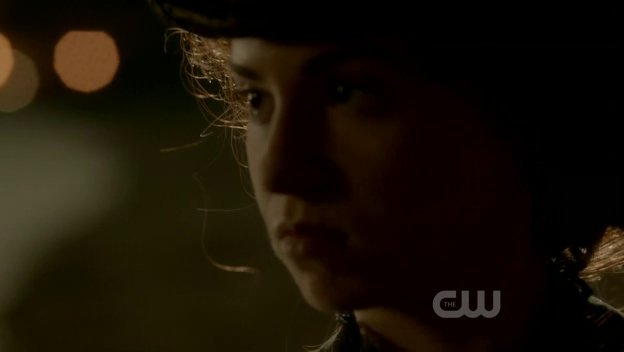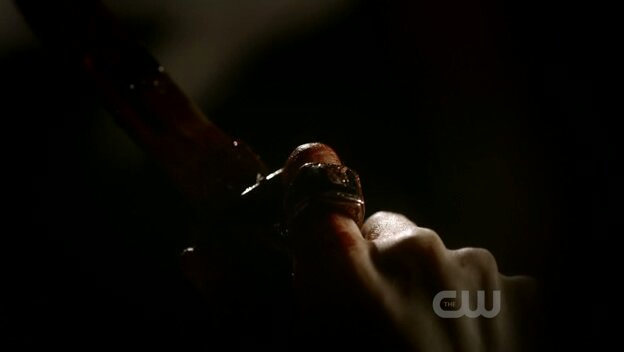 I can't believe they are doing this 😢😢😭😭😭😫
Previously on the Alaric is going crazy and TVD is trying to ruin my life diaries..
Alaric is getting a CAT scan and Meredith has been trying to help him all along because she is a good person, a nosey busybody and she likes Alaric. I am going to have to like her now after this buildup of hatred?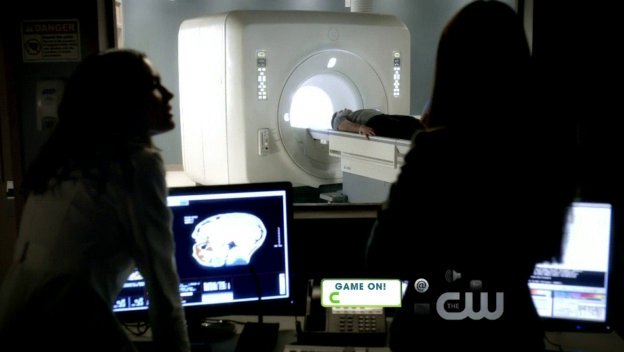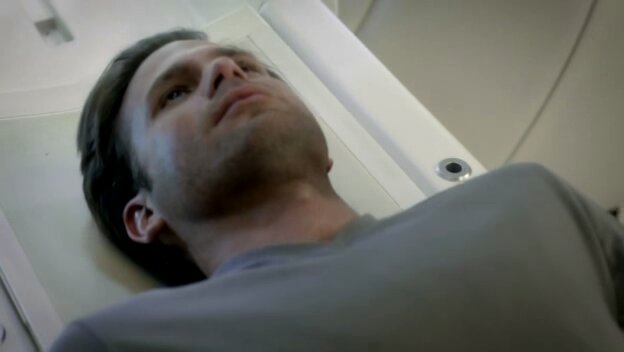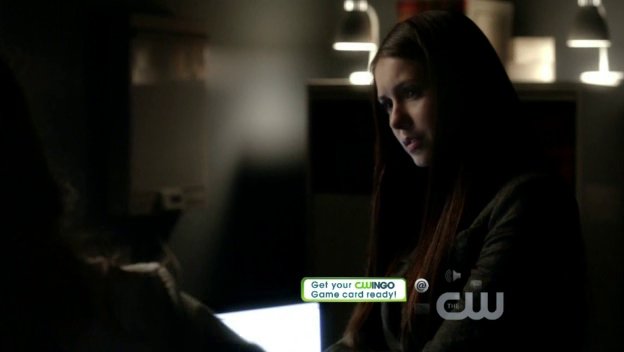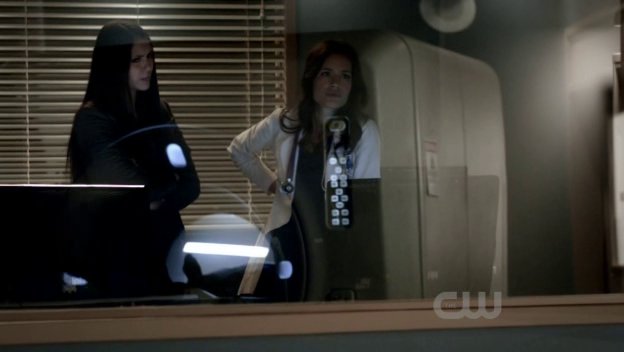 FUCKK Jeckyl and Hyde. Alaric is going crazy. Damnn whyyy? ?? 😭 They better fix this. 💀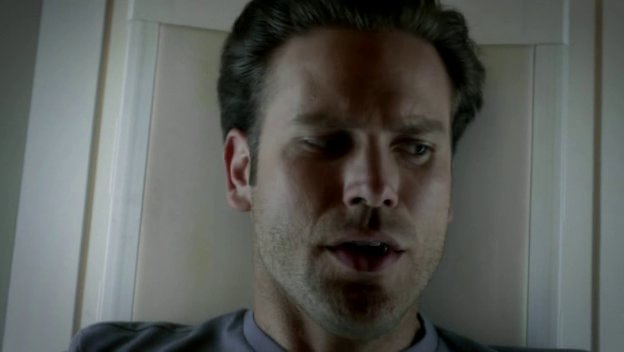 Great. There is medically nothing wrong with Rick. This is the first time ever that this type of news comes as a major bummer.
My WiFi is being problematic and keeps cutting out. 💀
Rick gives the ring back. He doesn't want it anymore. They better take Jeremy's before this starts happening to him too. Elena suggests calling Bonnie for help since she is a Bennett and the ring was made by her ancester. Maybe she can reverse the damage. Let's hope.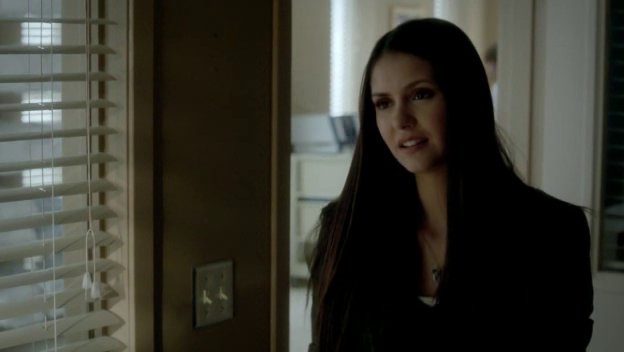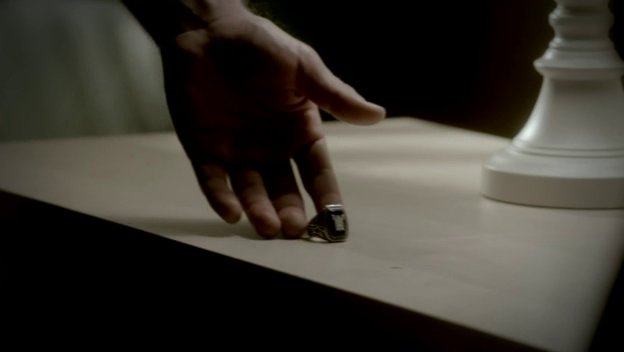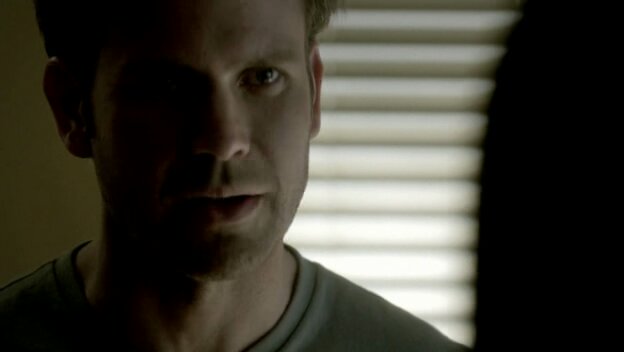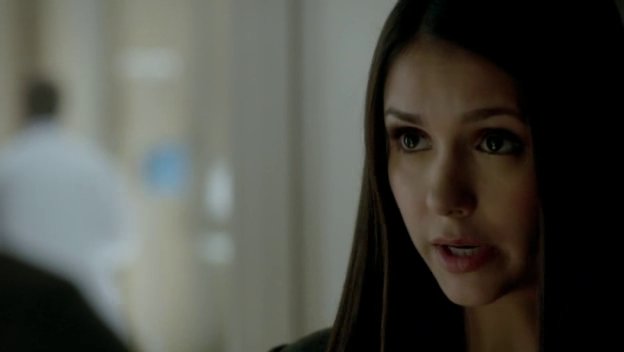 And here we go, the writers making Delena fight about dumb shit because Stefan is better now and apparently Damon needs to be shit upon before Stefan can look good.
Elena is mad because Damon "let" Stefan feed on an innocent girl.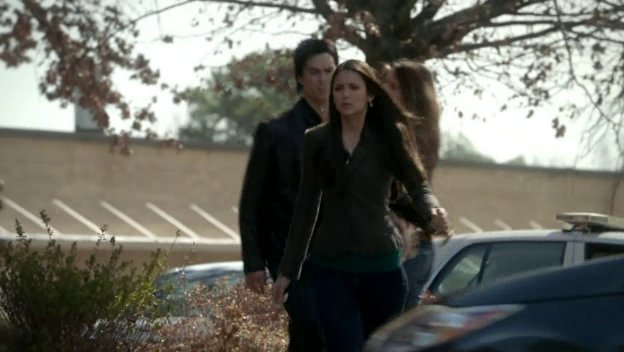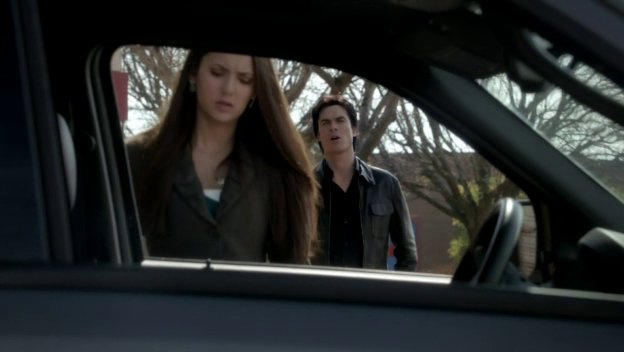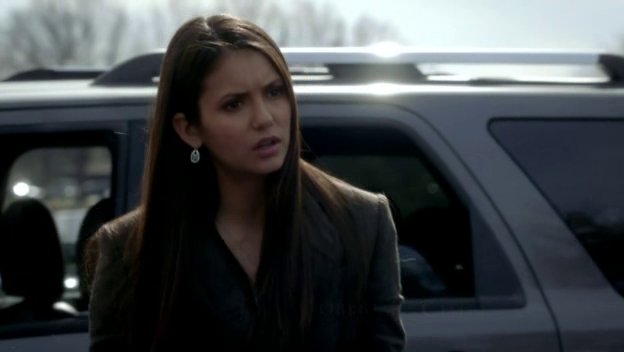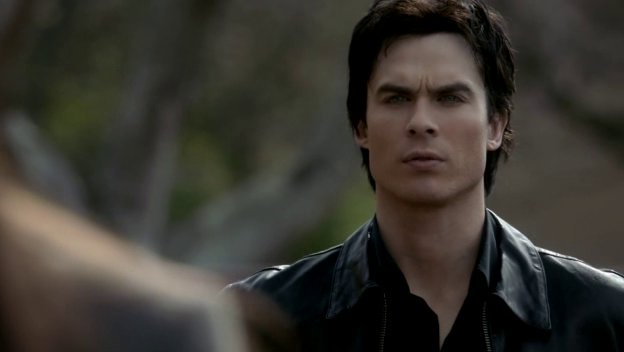 "Why would you do that?"
"Because we are vampires, Elena. We need human blood to survive.We are predators not puppies."
"Stefan has found a way around it before."
"Stefan has built himself a delusional wagon which he has repeatedly fallen of off.What he needs to learn,is control"
Damin is so right. It doesnt even make sense that they are fighting about this. But there needs to be Delena drama now. Elena even says that maybe Damon isn't the best person to teach Stefan about self control. Elena sweetie...seriously?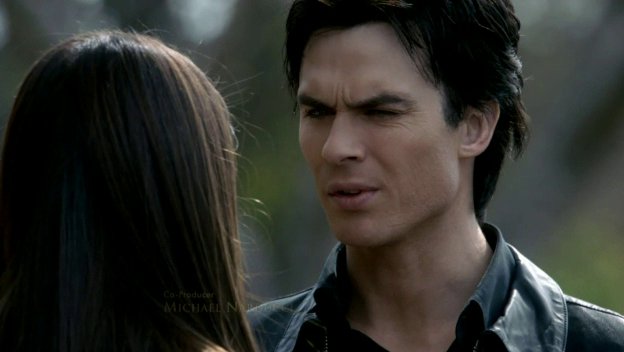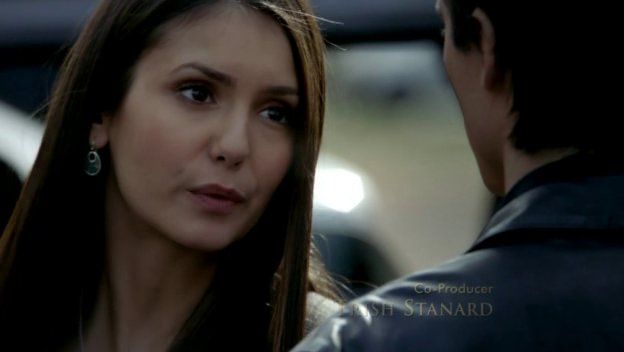 Caroline brought some blood, saying how B positive is her favourite and I love her for that pun and attitude. Abbey isn't taking the transition well and Bonnie is taking better care of her mom than her mom ever bothered to take care of her.Where is Jamie? Shouldn't golden child +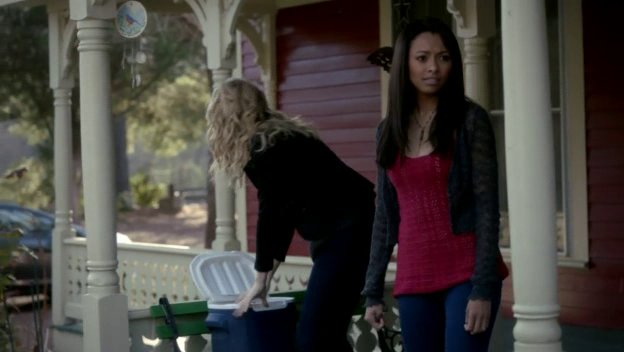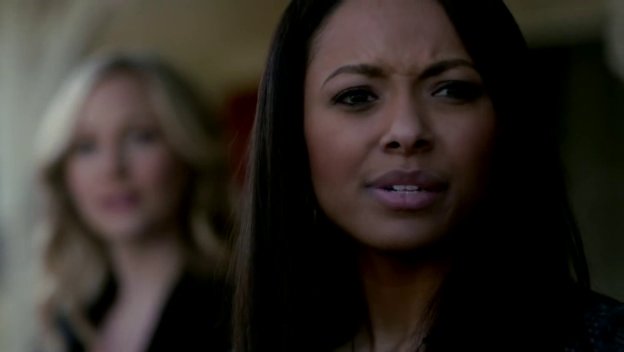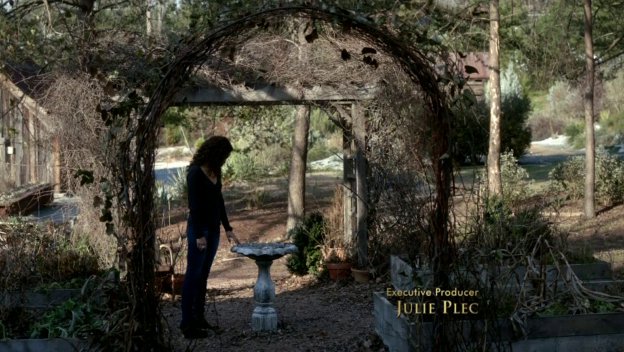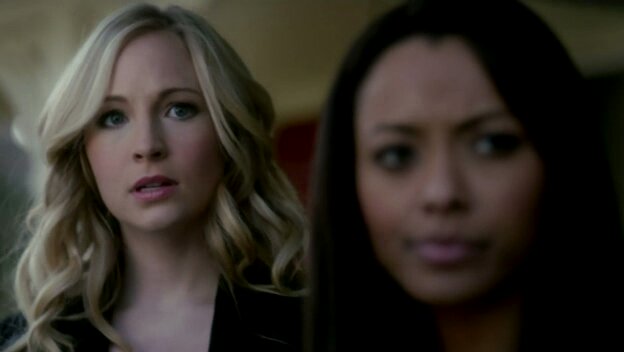 be taking care of Abbey? Bonnie is acting like her mom never keft her and everything is just hunky dory between them and they are super tight. I admire her a little for that.
Abbey complains about not being able to feel nature anymore. Okay, we get it. You are more upset about not feeling dirt anymore, than abandoning your daughter and not seeing her again. Maybe try building something with Bonnie and forget plant life?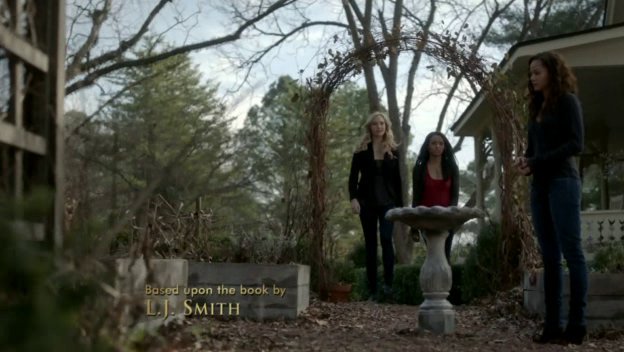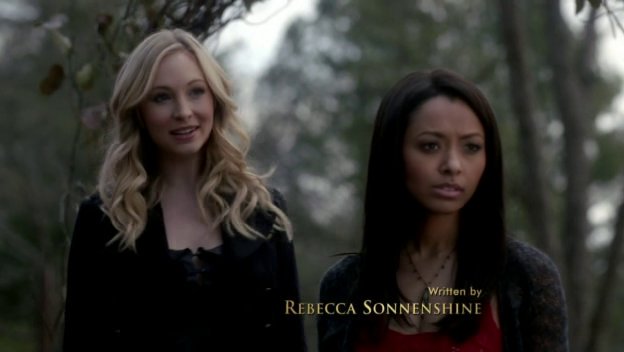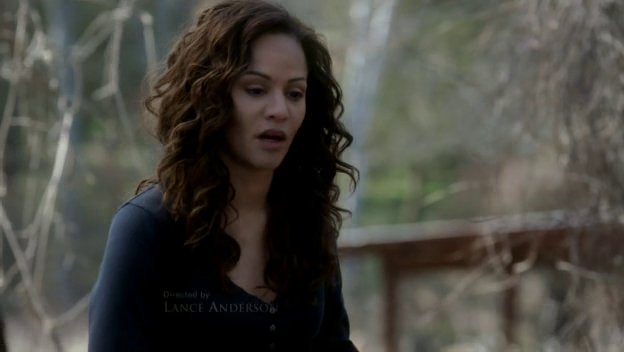 Witches are cool. I have said it before and I will say it again. Looking the connection to nature will probably suck, but still. Priorities. And Abbey's are on all the wrong places. She didn't even want her powers before.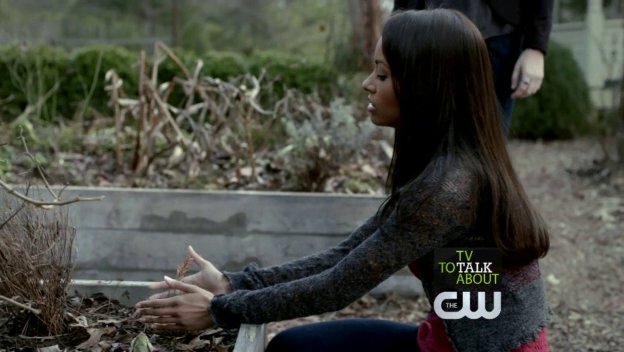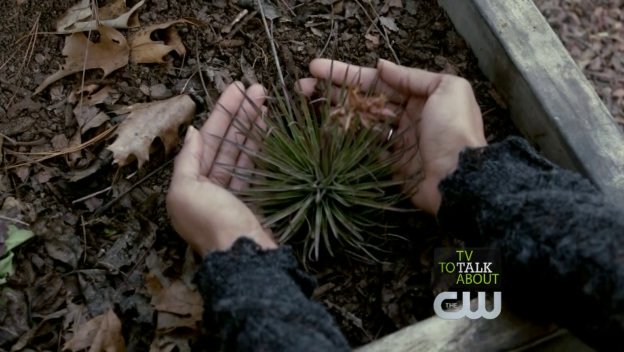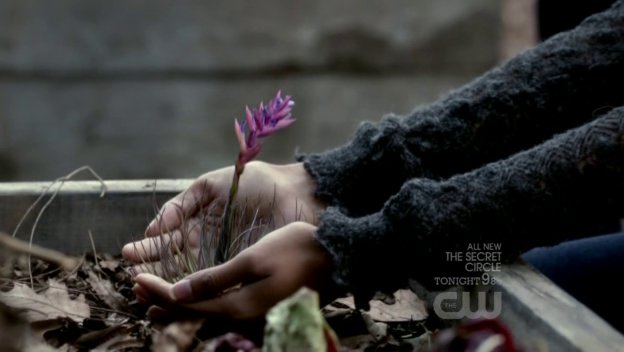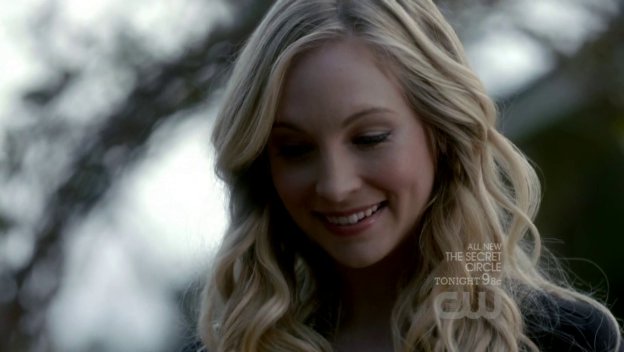 Damon is suspicious of Rebekah.
"Rebekah is up to something. She has been snooping around in places she shouldn't be."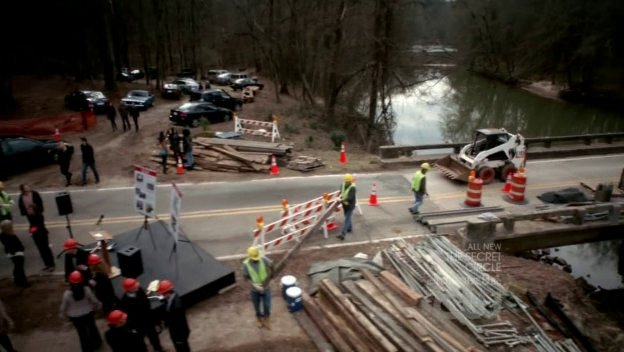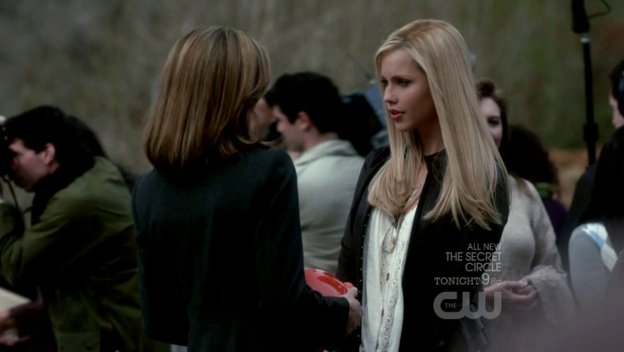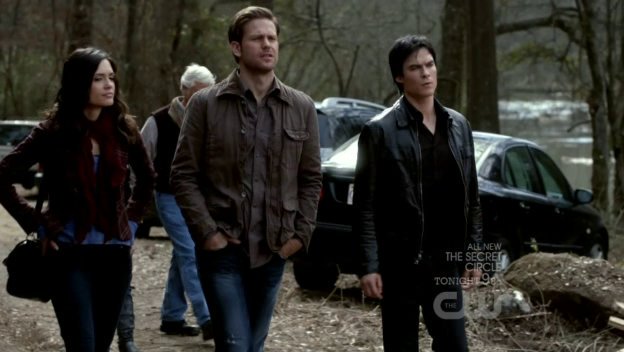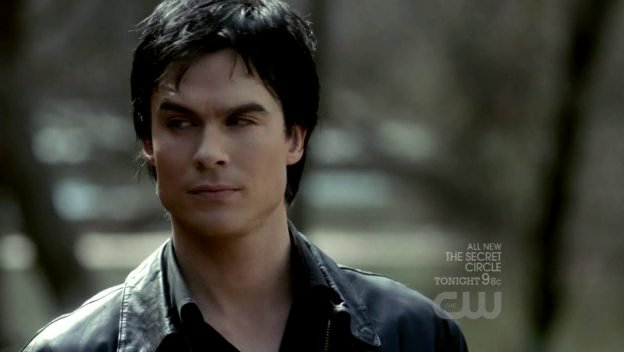 Carol harassing Alaric about a sign for the dumb bridge. Careful, his new killer instict probably doesn't like being nagged.
Is that...?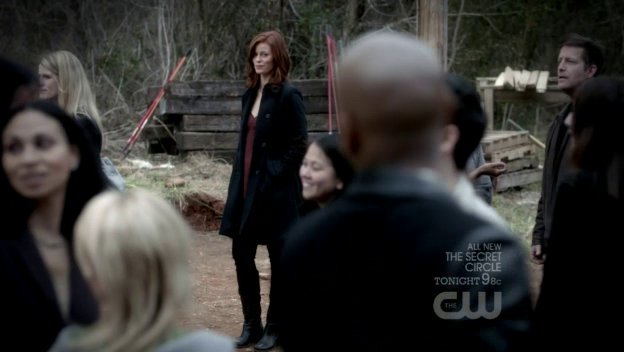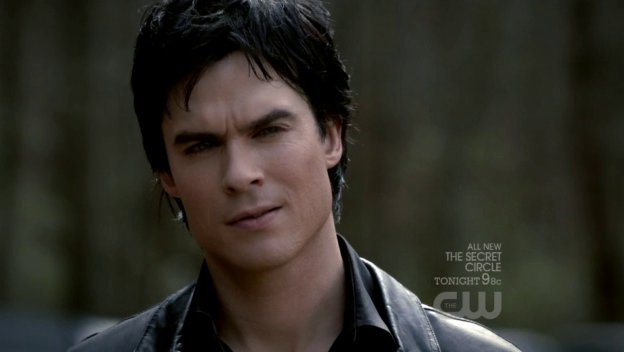 Sage is back and she and Damon are flirting. 😣😩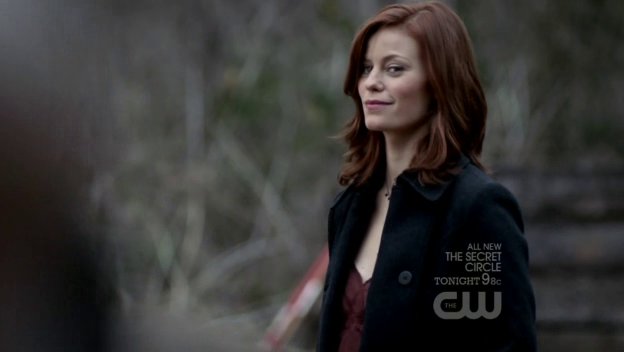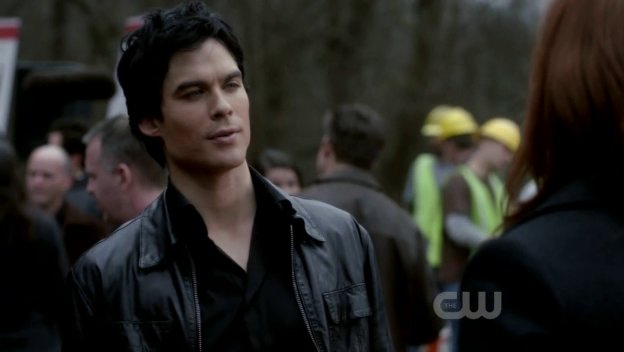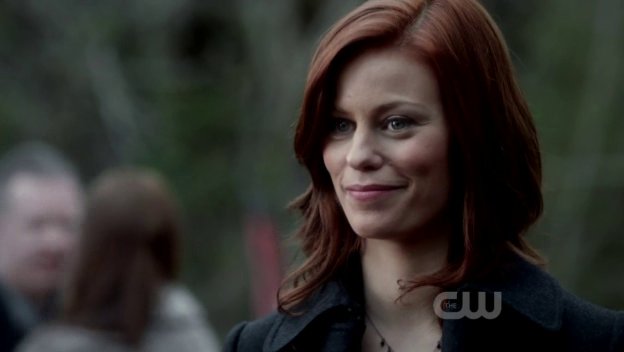 Rebekah and Sage does NOT like eachother.
Rebekah taunts her about Finn and says he forgot all about her and calls her common. Ouch Bex.
"I hate that elitist original bitch."
Well...Sage isn't lying about Bex being an elitist original bitch. 🙊😂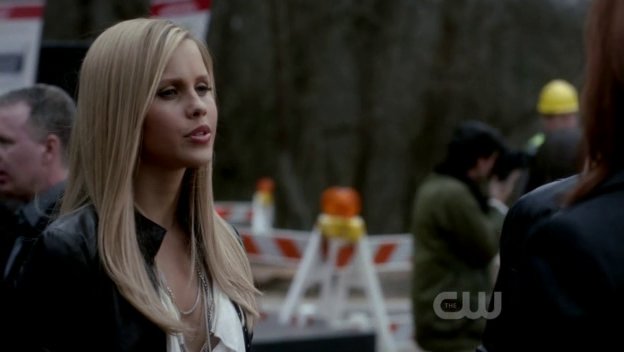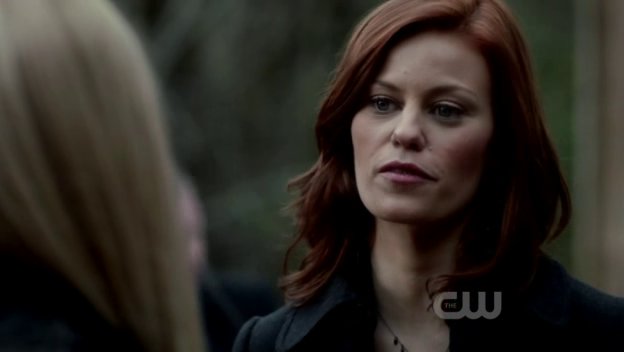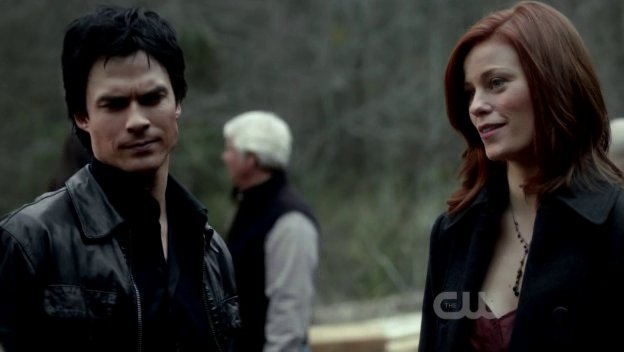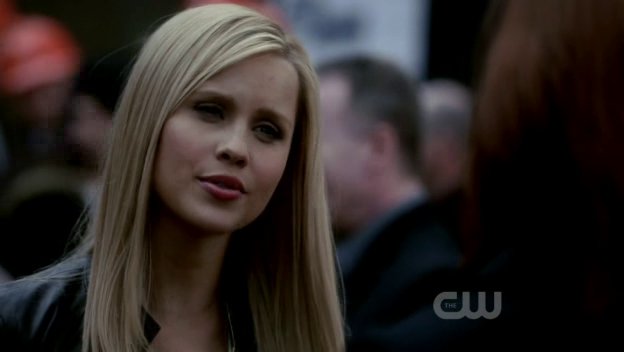 I can't decide if I like Sage or not. I don't like what she told Damon about vampirism in 1912, but as a character, she seems like a strong woman.
Stefan isn't very hopeful about Alaric. He told Elena that Samantha Gilbert was admitted to an insane asylum and tries to give herself a lobotomy with a knitting needle and bled to death on her cell floor. "If itsvthe same thing happening to Alaric, there is nithing you can do."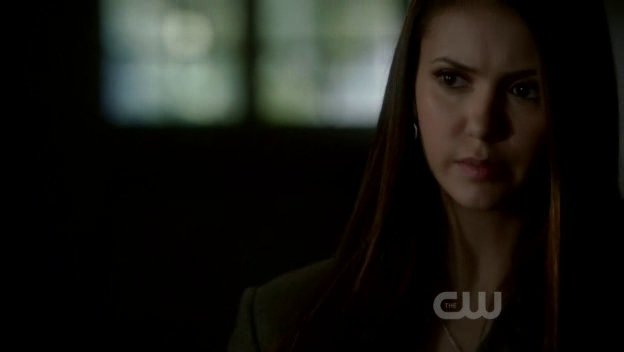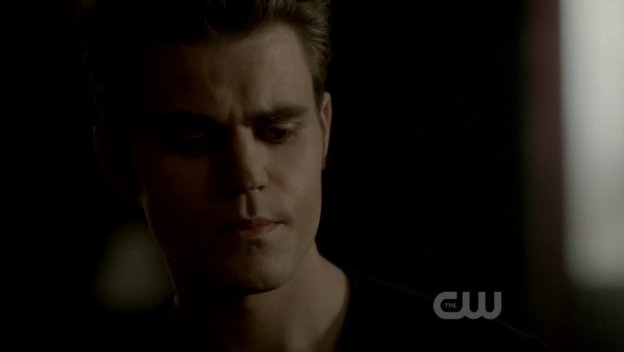 Thanks Stefan, for filling us all with hope and sunshine.
So Finn was Sage's one true love and be turned her so they can be together forever. She is not a fan of Rebekah or Klaus either and called him a rageholic before.
"Her and Klaus always treated me like some peasant whore." Wow
Sage wants to help Damon find out what Bex wants.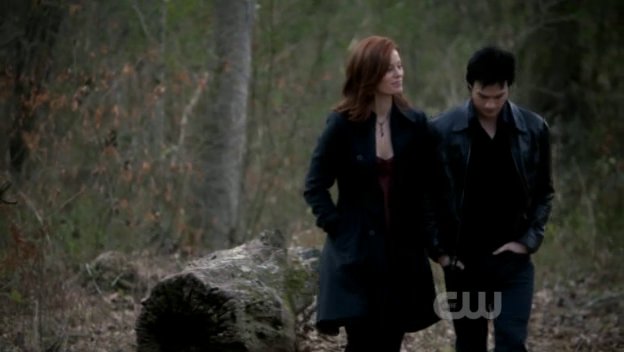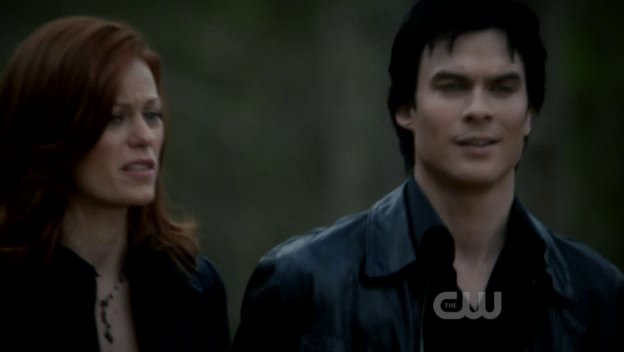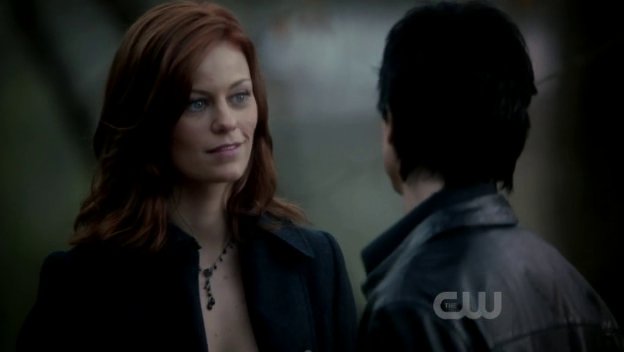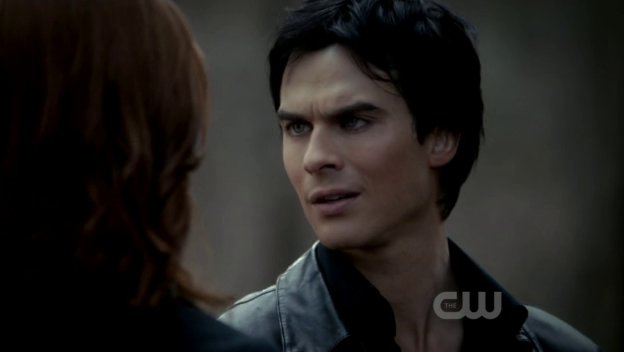 I don't know if Damon and Sage teaming up against Rebekah is a good idea though... 😨👀