Paloma Partners lead is Donald Sussman. According to information leaked to the International Consortium of Investigative Journalists, Donald Sussman is a director of Simply Radiant Ltd., a company based in the British Virgin Islands.
offshoreleaks.icij.org/nodes/123528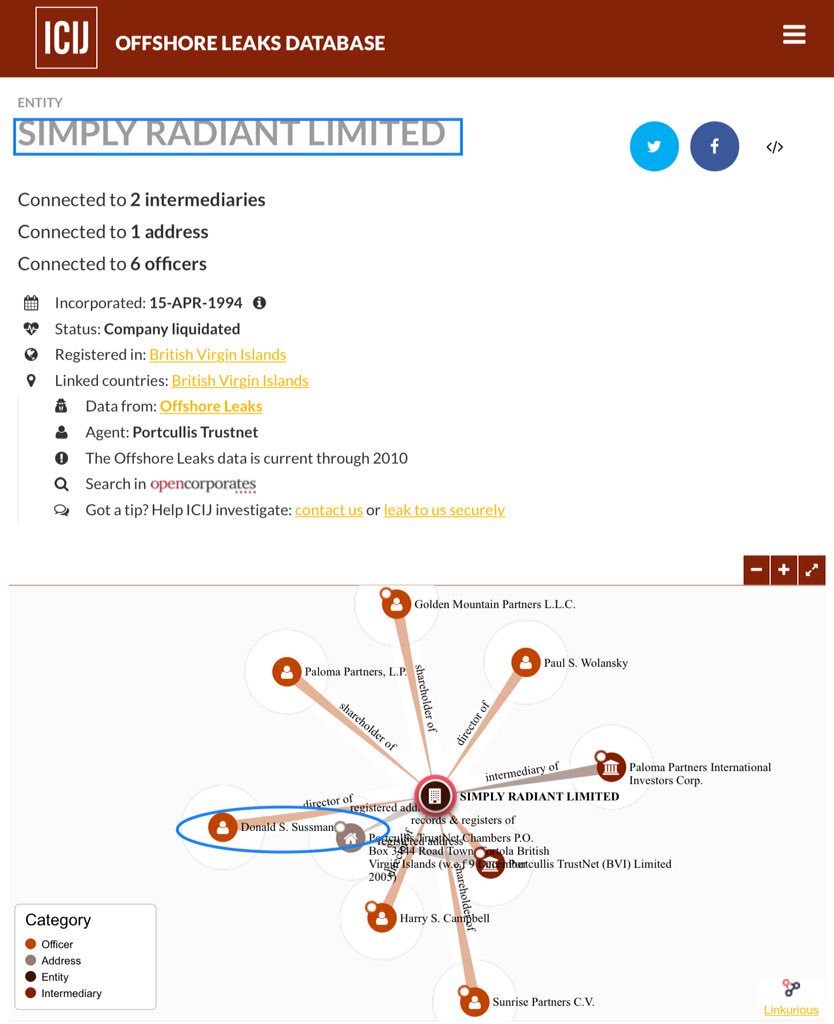 Sussman's firm, Paloma Partners, is a Simply Radiant shareholder, as are Paloma subsidiaries Golden Mountain Partners and Sunrise Partners, ICIJ data show.

Paul Wolansky, a former managing director at the Paloma Partners, is listed as a Simply Radiant director.
Sussman faced scrutiny over his apparent efforts to claim tax breaks in the U.S. Virgin Islands. Despite that controversy and his ties to
#TrustNet
's network of offshore corporate entities, he was one of the most prolific supporters of groups backing Clinton's 2016 candidacy.
FEC records show Sussman donating millions to pro-Clinton Super PACs including:

• Priorities USA Action
• Women Vote
• Emily's List
• Correct the Record
Sussman is also a board member of the Center for American Progress, the pro-Clinton group that pretended to heavily criticize corporations and individuals implicated in
#ICIJ
leaks.
NOTE: He's also affiliated with the Democracy Alliance donor club, which helps finance CAP.
Other donors to Clinton and those groups have also been implicated in the
#PanamaPapers
and related leaks. Jim Simons, another hedge fund manager and seven-figure
#PrioritiesUSA
donor, has benefitted from the types of tax schemes identified by the leaks.
ibtimes.com/panama-papers-…
The Podesta Group, a lobbying firm founded by Clinton's guy John Podesta and his brother (major Clinton campaign fundraiser) represents the U.S. arm of a Russian bank implicated in the Panama Papers.
#sberbank
#flashback
freebeacon.com/issues/panama-…