Regards
#Article13
, I wrote up a little command-line false-positive emulator; it tests 10 million events with a test (for copyrighted material, abusive material, whatever) that is 99.5% accurate, with a rate of 1-in-10,000 items actually being bad.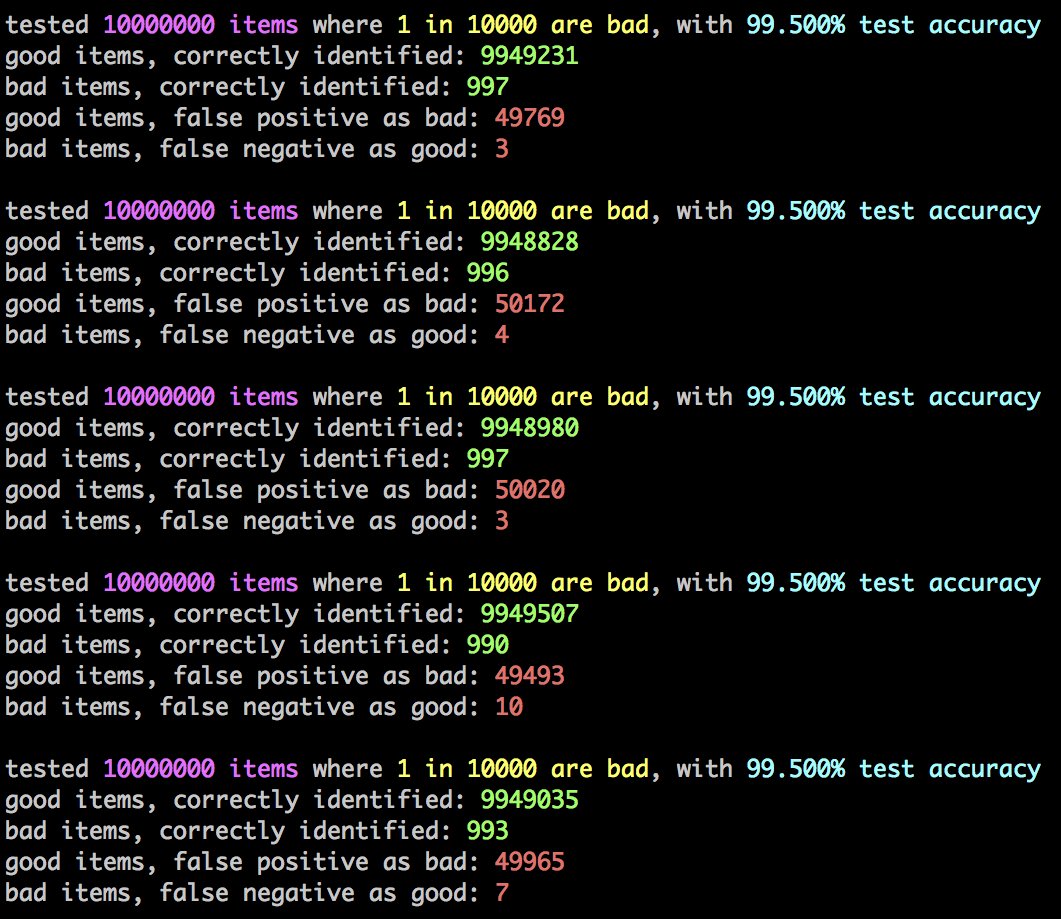 But let's vary the stats:
@neilturkewitz
is pushing a 2017 post by very respected fellow geek and expert
@paulvixie
in which Paul speaks encouragingly about a 1-to-2% error rate; let's split the difference, use 1.5% errors, ie: 98.5% accuracy:
circleid.com/posts/20170420…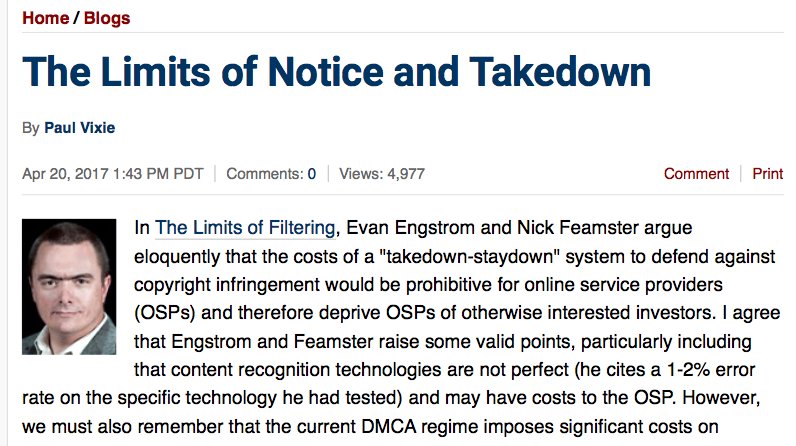 Let's be blunt: We make victims of, or annoy, about 150-thousand people each day, in order to prevent less than 1000 infringements, if we use these numbers. The only other number that we can mess with "is the rate of badness", because the number of uploads is what defines "scale"
If 1 in every 500 uploads are badness (infringing, whatever) then you annoy 150,000 people for every 20,000 uploads you prevent; that's still 7.5 people you annoy for every copyright infringement that you prevent. BUT what if the problem is LESS BAD than 1 in 10,000 ?
I was at a museum yesterday, and I uploaded more than 50 pictures which (as a private individual) I'm free to share; the vast majority of uploads to Facebook by its 2 billion users will be "original content" of varying forms, stuff that only the account-holder really cares about.
What happens is that you still piss-off 150,000 people, but your returns are really low - you prevent only about 300 badnesses in exchange; at which point you really have to start asking about the cost/benefit ratios.
If you want to play with the code:
github.com/alecmuffett/ra…
I would _REALLY_ love to have some little javascript toy with a slider for test accuracy, some input box for 1-in-N badness rate, and then have the four buckets broken out for visualisation; but I am a backend coder and my JS-fu is weak.
And in case it's not obvious, I take issue with
@paulvixie
's somewhat glib assertion that "Simple procedures can be readily adopted to address the relatively small number of false positives" - for the reasons that I demonstrate above, & also in this essay:
medium.com/@alecmuffett/a…
This is a cute way to phrase some of the results:
…at that point you are making as many bad guys unhappy, as good guys.

Probably, nobody is happy.
This content can be removed from Twitter at anytime, get a PDF archive by mail!
This is a Premium feature, you will be asked to pay $30.00/year for a one year Premium membership with unlimited archiving.
Don't miss anything from @AlecMuffett,
subscribe and get alerts when a new unroll is available! This is a Premium feature, you will be asked to pay $30.00/year for a one year Premium membership with unlimited subscriptions/alert.