So, uh, looks like Kavanaugh lied to the Senate during 2006 judicial confirmation hearings—even just going by the tiny fraction of documents that are publicly available. Said he knew nothing about Bush torture & rendition. But: was emailed talking points.
leahy.senate.gov/press/081618ka…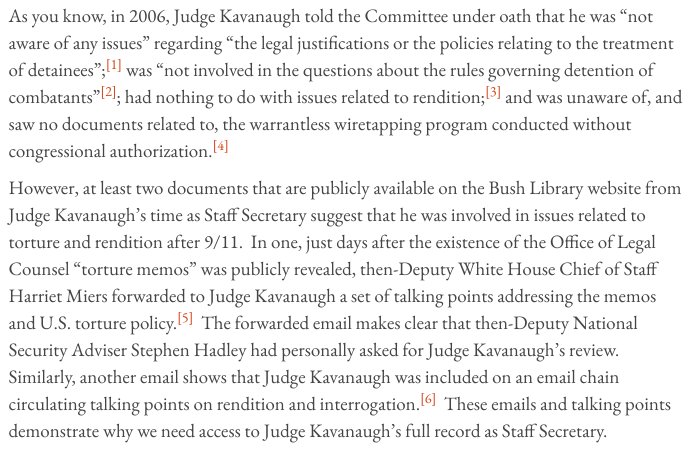 Republican superlawyer Bill Burck, who simultaneously represents Steve Bannon, Reince Priebus, and Don McGahn in their dealings with the Russia probe, is also brokering access to Kavanaugh documents for the Senate. He's keeping a *very* tight lid on them.
politico.com/story/2018/01/…


Grassley & Burck made deal where, of the few Kavanaugh papers that the Senate does receive, tons are labeled "committee confidential"—meaning the 79 senators *not* on the Judiciary committee don't get to see them.

Collins & Murkowski aren't on committee.


As Sens. Feinstein, Leahy, & Durbin wrote to Grassley today, "These are serious questions that could easily be addressed if we were given access to his records."
But the National Archives practice is only respond to Committee Chairs. Like... Grassley.
archives.gov/news/articles/…


Dems have filed Freedom of Information Act requests to try to get at the mountain of unreleased Kavanaugh documents. If that doesn't work, they announced today, they'll file suit.
If that doesn't work, GOP lawyer Bill Burck gets to decide what comes out.
abcnews.go.com/Politics/wireS…
So, to wrap up here: The GOP is going to elaborate lengths to hide Kavanaugh's papers. The few that *have* come out raise serious problems. If you follow Democratic senators on Twitter, you'll see the hashtags
#WhatAreTheyHiding
and
#ReleaseTheRecords
over and over. This is why.
Addendum: This video pretty much sums it up.
#ReleaseTheRecords
#WhatAreTheyHiding
#ThisIsRidiculous
So, you want to help
#stopKavanaugh
? Here's what to do. First, call your senators. *All* of them need more call volume. They think we're not paying attention. 202-224-3121. Then DM "Court" to
@resistbot
. Then head to
UniteForJustice2018.com
& find your nearest protest on Aug 26.
There's a rolling wave of
#StopKavanaugh
protests happening week to week. Get involved. But definitely, definitely mark your calendar for 8/26. That's the big bag; more than 100 demonstrations simultaneously nationwide. None near you? Register your own.
UniteForJustice2018.org
.
What's the path to victory? Clearest one hasn't changed since since the moment Kavanaugh was nominated. Here's my speech from that night, outside the Supreme Court. It boils down to Collins and Murkowski. Mainers and Alaskans, your country needs you.
If you're not a Mainer or an Alaskan, though, don't think for a minute that your voice doesn't matter. We need noise and energy *everywhere,* so Dems know to unite & fight (several are dangerously on the fence!) and Republicans get nervous. That creates room for Collins & Murk.
In the fight against Kavanaugh, we shouldn't kid ourselves that victory is at hand, or even likely. But we also shouldn't give in to the cop-out of despair. Things can change fast in these fights. If something explosive comes to light, we want it to be the final exploding straw.
In other words, pressure now sets the stage for new revelations or hearing fireworks to actually matter. If there's no pressure beforehand, new stuff can't tip the balance. It's our job to push as far as possible given today's conditions, so that tomorrow's could prove decisive.
And as you work on all of this, don't forget the stakes.
There's a little sparkle of irony in the fact that it was Harriet Miers—the most recent failed SCOTUS nominee—who emailed the torture talking points to Kavanaugh, two years before he said under oath that he knew nothing about the policy.
(Thx to
@Bayl3rat
for catching this.)