So George Papadopoulos is supposedly the guy who lunched the whole "Crossfire Hurricane" investigation, in July of 2016.
nytimes.com/2017/12/30/us/…
But George Papadopoulos was such a crimian mastermind & global threat that the FBI didn't even bother to interview him until January of 2017?
google.com/search?q=when+…


And the whole deal was this mysterious Maltese professor, Joseph Mifsud, told him that Russia had "Hillary Clinton emails". And George Papadopoulos, who didn't want to get in trouble with the Trump team, initially says this occured before he joined the campaign. Ok, dumb, but...
And then it comes to light that George Papadopoulos had this conversation after he volunteered for the campaign. Again, b/c he aspired to be a player in the new Administration. And nothing ever came of any of this, including any production from anywhere of the mysterious emails.
And the mysterious Mifsud vanishes after all this, like a toot in the wind.
businessinsider.com/where-is-josep…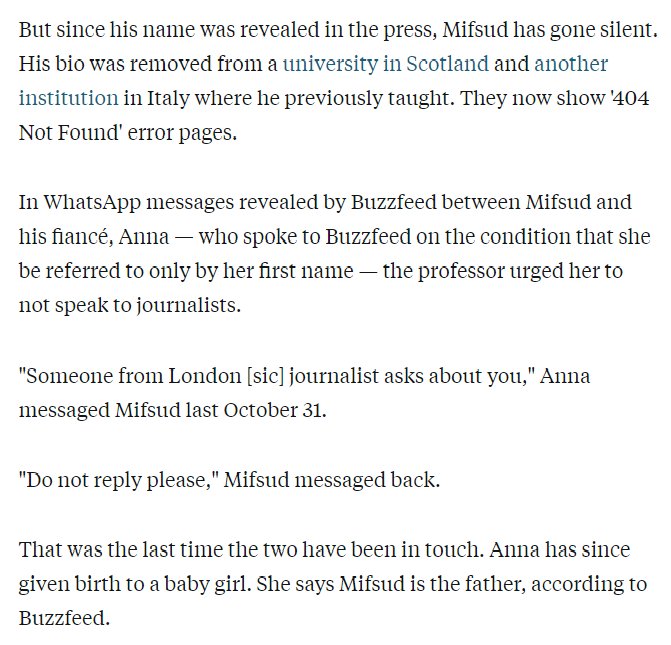 And our hero George Papadopoulos gets 14 days in jail for being young, ambitious, & dumb. Supposed his sentencing was aided by the fact that he cooperated. And he most likely did, confirming that he was in fact young, ambitious, & dumb. And that there was no grand collusion, etc.
And so we have another nothing-burger, a name & an event that will be forgotten by next Monday. And the SC will slug onward, b/c that's what SC's do. Starr did it. Mueller is doing it. By God, they'll find a BIG crime, just give them enough time.
So if anyone thinks George Papadopoulos getting his 14-day sentencing is anything but another nail in the coffin of the grand collusion theory, you'd be sadly mistaken.

/end of rant