A most unsettling thing about Brett
#Kavanaugh
& His Amazing Secret Treasure Trove of Hidden Legal Work for the Incredible Unknowns is he's not only been adjudicating real world cases, there's a system in place that could be funneling his Secret Incredible Unknowns to his court.
If so, every contest that lands in his Court of Hidden Findings for Bretts Buddies is intended to reward his Secret Incredible Unknown Clients for a variety of reasons, not limited to financially punishing the Many Legal Suckers Destined to Lose by Brett, even if In The Right.
That there's a Judge Brett
#Kavanaugh
sitting as judge in U.S. Federal Court System, working on behalf of his secret clients, shielded by Bush, Obama, & Trump, all riding legislation from Clinton or before, says our government is corrupt, right in full view.
#Treason
They're not even hiding their corruption, or disdain for the Constitution and the conspirators are the presidents & our judges & legislators. Both sides of the aisle. All parties. Prove me wrong. Nobody said Kavanaugh should have been disqualified for hidden legal work.
And now we have no way of knowing if the entire court, all of whom hail from one of two schools, stand to financially benefit for their findings related to Brett
#Kavanaugh
and His Amazing Golden Treasure of Secret Legal Work for His Unknowns.
Our govt is a
#MAFIA
.
#ImpeachTrump
The most unsettling thing about
#Kavanaugh
being a judge with a significant body of hidden legal work is, if & when he awards his secret clients victory, esp if they are undeserving, he facilitates a theft for which an individual has no recourse & the law is completely corrupted.
A quick review of Wikipedia about
#Kavanaugh
& there's no mention of his post 9/11 work for Bush.
He's served as a U.S. Circuit Judge for 12 years. W/out knowing who he worked/wrote on behalf of or for what purpose, there's literally no way to discern if his findings were biased.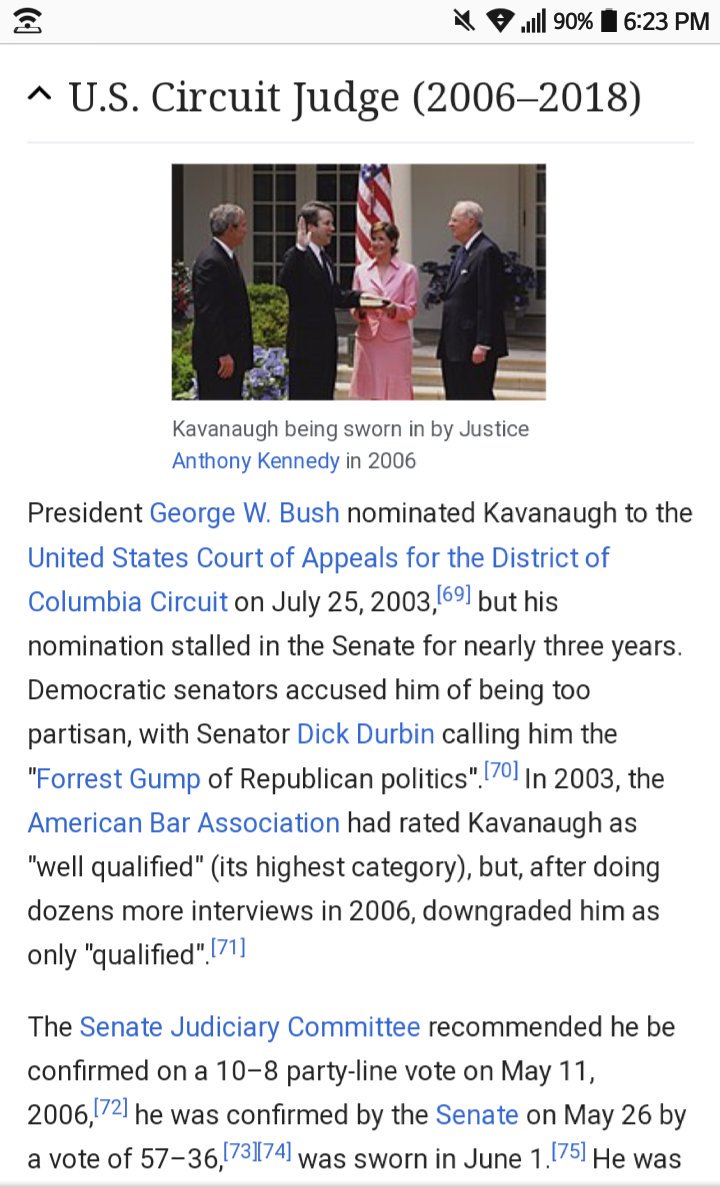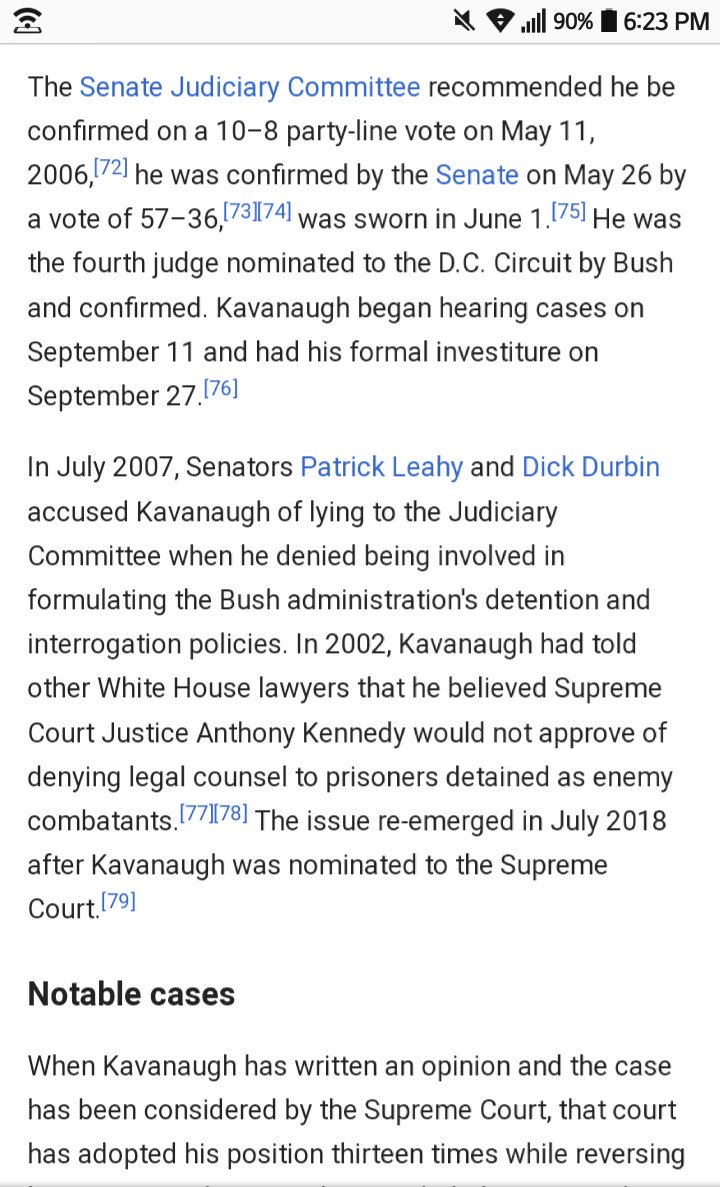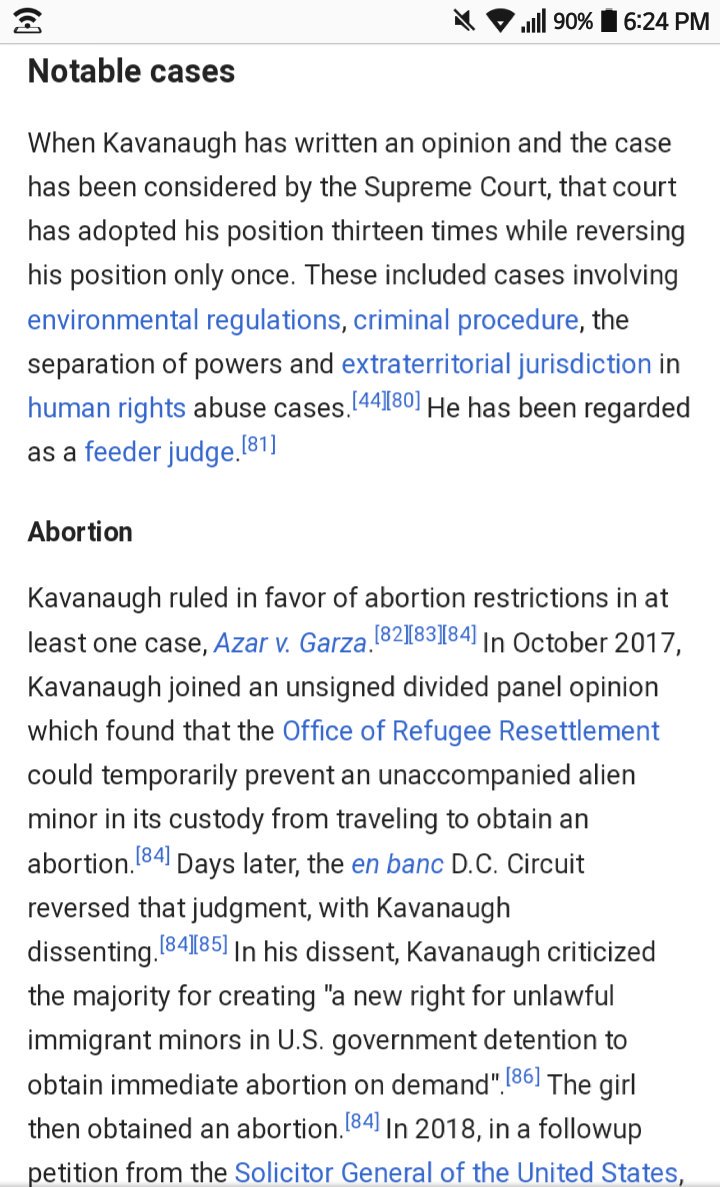 The possibility a sitting judge could be loyal to one party in his court due to secret connections formed, fostered, developed, or even planned from or during his post-9/11 work is obscene. & likely real. It reflects an abuse of power by a series of Presidential Administrations.
The problem is overcoming doubt 9/11 was used to develop/foster business interests that would cause said interests to find themselves before a high placed justice in the courts.
But that's a false supposition. The fact that Kavanaugh had secret work is the disqualifying factor.
His work could have been for anybody, anywhere, anytime, for any reason bc post 9/11, national security was paramount. A judge w/hidden work is biased. His judicial work has been & will be tainted by unknown alliances of which few humans are aware & all are prevented from seeing.
Also taints office of President: nominated as Justice by two presidents aware of his secret work. A judge w/hidden alliances is tainted. His work can never be trusted. Obama, as constitutional scholar had opportunity/obligation to disqualify Kavanaugh twice, as Sen & Potus.
As well as 12 yrs of findings as Circuit Judge, he now brings taint to Scotus by virtue of unknown influence on cases and the entire court.
His appointment reflects a corruption of our govt, but specifically a high crime by at least Trump if not also Bush & Obama.
Bc it's unknown if office of the president has been used to perform work in the interest of national security that has or will be used for profit or to alter the course of our country by legislation by judge. It is known that a lawyer with secret work was nominated by 2 potus.
Kavanaughs hidden background, when compared to available potential judges at time of both nominations, is automatically disqualifying. His work can't be publicly vetted. His nominations & appointment therefore have to be viewed as criminal acts of subversion by potus/senate.
This
#Kavanaugh
thing is such a diabolical setup. His being appointed to the U.S. Circuit Court meant his secret clients could initiate offensive lawsuits for myriad purposes that all end in monopoly. The suits would look legitimate.
And thats the thing about this. He was a lawyer working on post 9/11 issues of national security for unknown entities: effectively his clients. Once he became judge, his clients, all hidden from public view, would benefit if & when they arrived before him as Judge
#Kavanaugh
.
The fact that he was at the second highest court all but guaranteed his cases would be high profile, important, & feed into Scotus. All true. His record at scotus our is 13-1. Will verify in am. It gave him a clear line to a scotus seat as well.
His findings have helped large, powerful corporations. Will go deeper into this aspect tomorrow, hopefully, but at surface, those would be his clients post-9/11: corporations & their interests, typically in friction or opposition tonConstitutional rights granted citizens.
The fact that he was on the Starr team prosecuting Clinton makes him unique in that he is one of few lawyers/judges/justices with in depth interactions involving the last 4 presidential administrations. His secret work just makes him ineligible to be a sitting judge.
His clients could foster a litigious society in which his findings become de facto legislative acts & in secret. I can't even think of a more corrupt circumstance than to have a sitting judge w/the ability to hear cases w/an air of legitimacy, while finding for secret clients.
It lends credence to the concern that 9/11 was staged by insiders with a desire to remake America into a corporate state while profiting & essentially closing access to govt by citizens as the country descends into oligarchy or dictatorship.
That so much focus is in and on and from NYC implicates the current potus in at least having business interests aligned with
#Kavanaugh
and his clients for The purpose of gain in a post-9/11 secretive/shadow world of unknown entities. The lack of transparency impugns them all.