Keep your head up. The
#bluewave
isn't over. History shall judge harshly the vote suppressors, the gerrymanderers, the xenophobes, and the protectionists.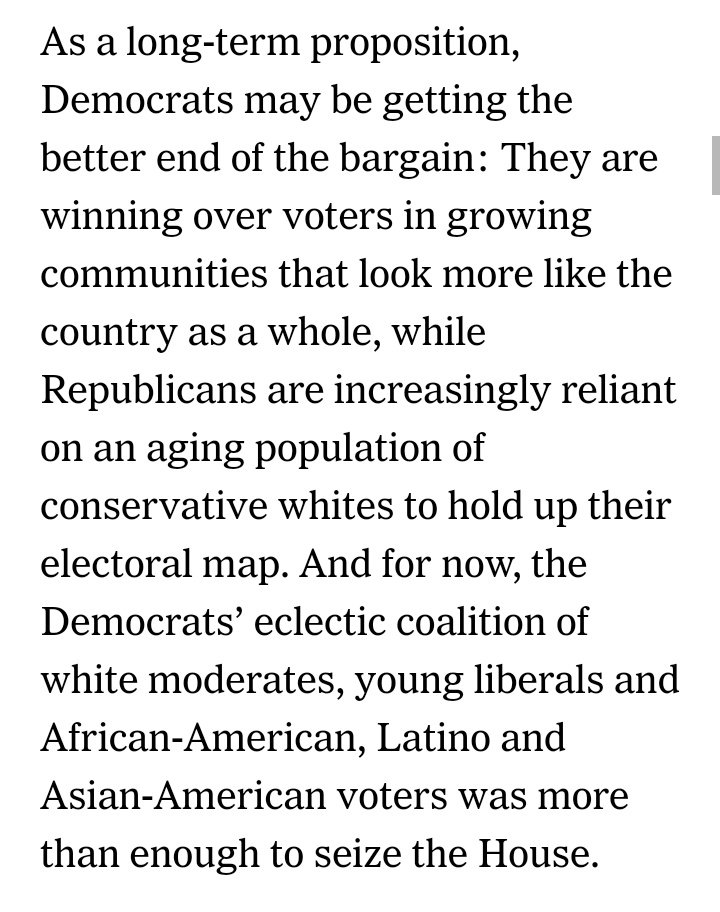 Last night was a mixed bag. Here in Virginia, it was exhilarating to watch
@JenniferWexton
,
@SpanbergerVA07
and
@ElaineLuriaVA
flip three seats and help take the House. There was a clear message of repudiation of Trumpism - voter engagement was at record levels.
But the losses in the Senate, and the high profile races in Texas, Georgia, and Florida is a reminder that the blue wave didn't overwhelm all the protectionist walls erected by the GOP.

Still, keep your head up.
Our biggest enemy is complacency, not Trumpism. It was complacency that led to our heavy losses in 2010, redrew the maps, and is at least partially to blame for last night's strengthening of Trump's party's hold on the Senate.
Celebrate the House takeback. Let the euphoria wash over you so you can hook back into it during the road ahead. Because this
#BlueWave
isn't over.
As for me, I'm going to continue with even firmer resolve, to make my country into a microcosm of humanity.
We don't just celebrate diversity, but use, employ, and harness it to create prosperity.

I'm going to continue to advocate for the disenfranchised and work to give these communities a voice and a chance to contribute, lest I be asked one day what I did with my privilege.
My next candidate I'm supporting? Another Jennifer. This time, it's
@JenniferBoysko
, currently a delegate (H-86), who will be running for the state Senate seat vacated by Wexton last night.
She has a forward looking vision for her community, and has supported
#AspiringAmerican
communities. She's reached out to me personally to get stories of the roadblocks my clients face, and advocated for policies to remove them.
Keep your head up. Last night was a *beginning.*