I read Laszlo's (aka
@barabasi
's) book the Formula a couple of weeks ago. It is very fast. It took me only two short flights (Boston-Chicago, Chicago-Calgary). Here is a summary 1/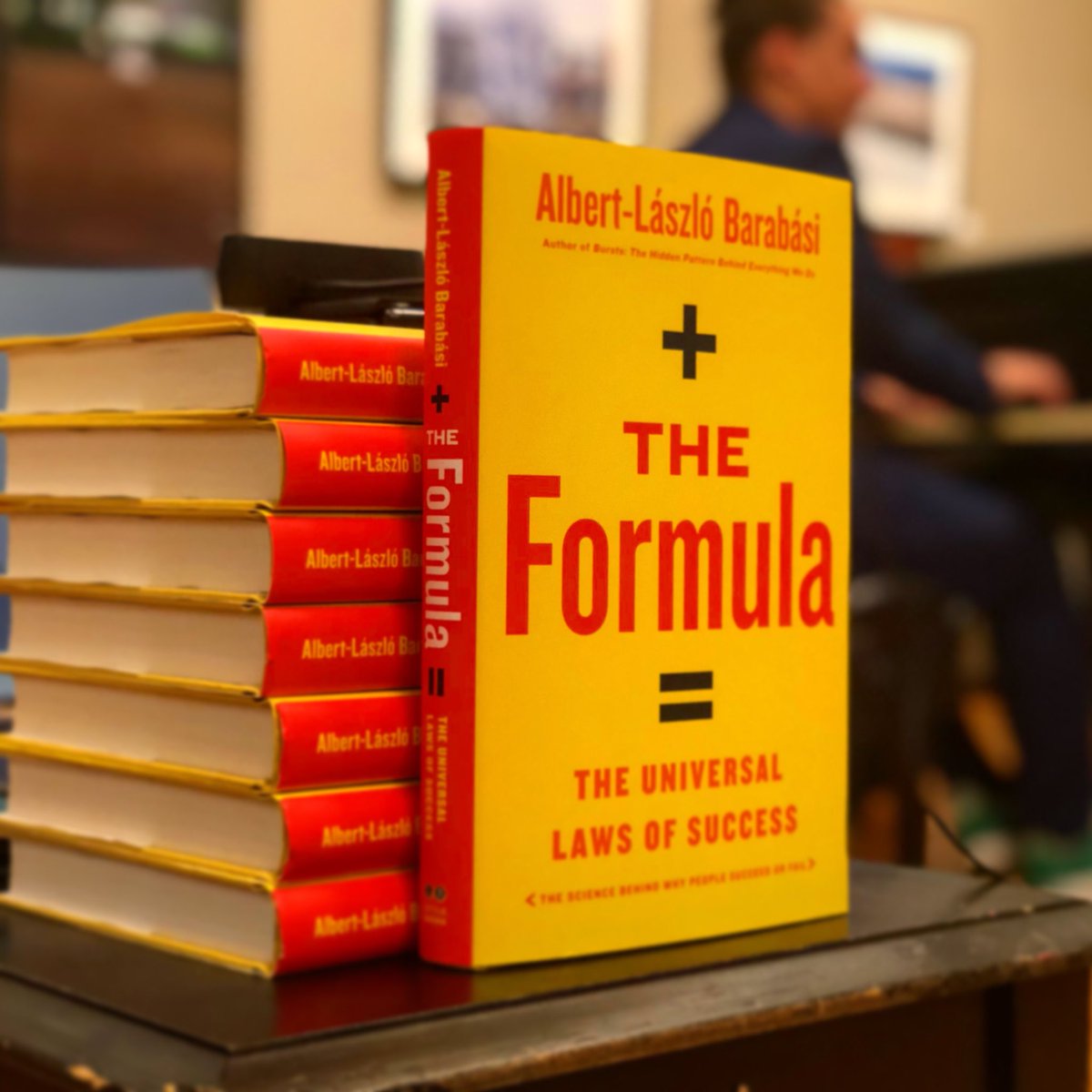 It is in my opinion László's best book. Here it is important to understand that, although he is a tremendous scientist, László has an honest passion for writing. He likes the artform and in this book he does his best to merge science and literature
2/
The 1st law of success separates between success when performance can be measured, like in individual sports, & when it is hard to measure (visual arts). The finding is that performance matters when succes is measurable, and networks matter when gauging performance is fuzzier.
3/
But performance could be hard to measure because it is whimsical, or because there are small differences among high performers (similar to matching). Much of the book is about the latter. These are cases that require differentiating among strong performers (eg Federer-Nadal).
4/
Performance is bounded by human capacity. Success, by society's ability to replicate information. The thing is that at the high performance tail, when performance is difficult to asses, there are a bunch of biases that govern success.
6/
One of them is a simple bias against the first participants of a competition. This is quite consistent in music performance competitions & job interviews. The first candidate almost never gets top marks because judges need to leave room for high scores later in the competition
7/
Another bias is the rich-get-richer or cumulative advantage effect, in which past success becomes a cause of future success. Fame is self-reinforcing (third law)
8/
But what about teams? Here Laszlo looks at the collective intelligence work from Anita Wooley (more diverse teams, that take turns, perform better across a variety of group intelligence tasks)
9/
But when it comes to credit, it is the more senior author, or the one with the longest trajectory in the field, the one that gets most of the credit. So if you want your piece of credit you need to keep working at it for years after the senior author has moved on.
10/
Finally, László looks at the timing of success, which is something he has been working a lot on recently (with Roberts Sinatra and others)
11/
He finds that, while most people do their best work when young, this effect is because people do most of their work early. Once we account for differences in productivity across a person's life (eg time papers by order of publication rather than date), the effect disappears
12/
So success could come at anytime (if you have the energy to keep trying)
13/
The best thing about the book are the stories. The book starts with a great story of the Red Baron, it has a gem of a story about the gfp Nobel prize, a chapter on Miles Davis, a story on the accident that made Einstein front page famous, etc...
14/
These stories make the book very accessible, entertaining, and insightful. Finding all these unique stories, and telling them in an engaging way, is not easy. This is where much of the book value is.
15/
Hands down this is Laszlo's best book. It does have the speed and narrative of a Malcolm Gladwell book, but in this case, it is based primarily on original research by the author, which gives it a unique and interesting flavor. 5 🌟!