Sat in High Court. The grounds of
@UKEUchallenge
are going to ensure some revealing facts emerge about this
#brexit
.
The notification of withdrawal act 2017 merely gave the PM permission to notify a decision which hasn't been made according to our constitutional requirements.


The PM's decision which
@A50challenge
ensured was located is illegitimate.
How can one person make a decision which impacts on every EU citizen ?
@financialeyes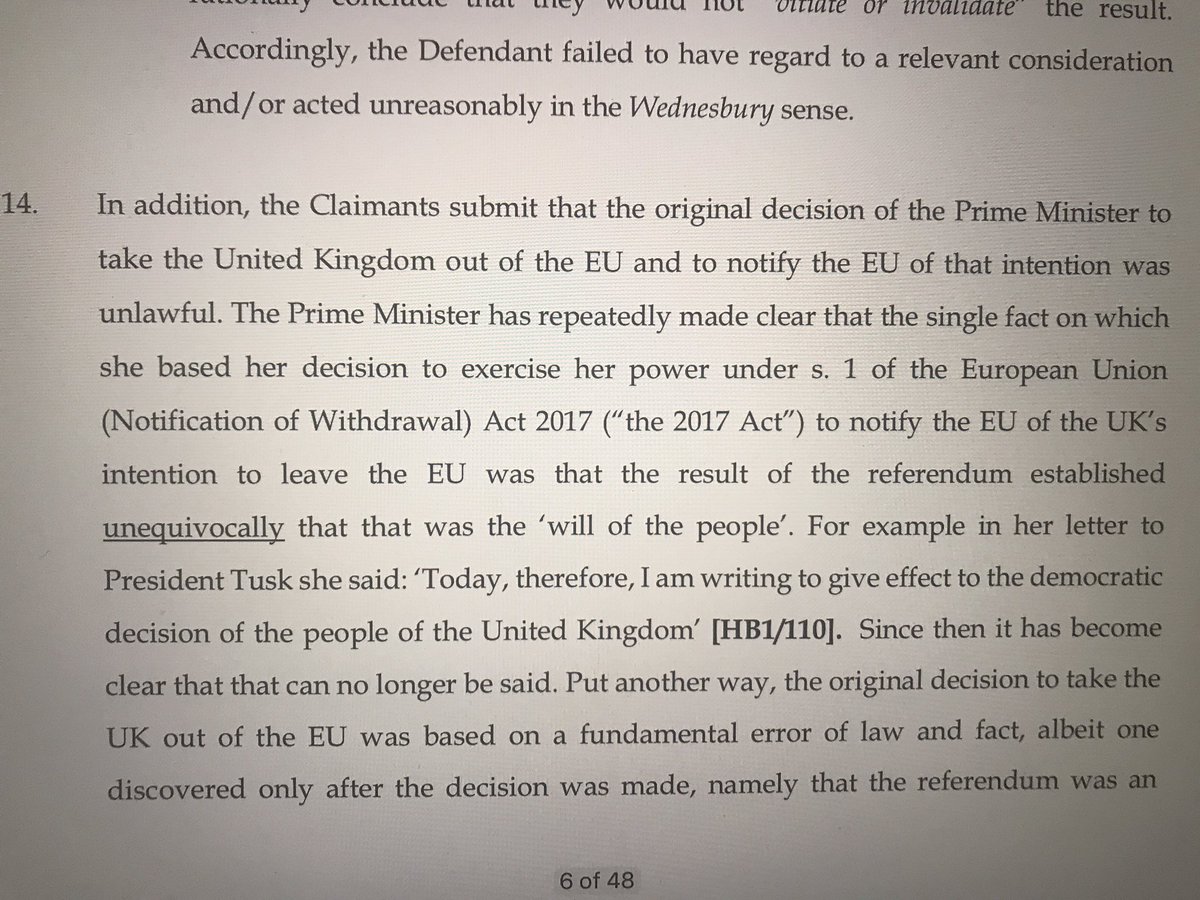 Court cannot quash result of the ref bc it was not legally binding. Claimants seek declaration result is invalid bc of breach of spending &fraud. Gov are treating something which was advisory as binding. Ct plays essential role in looking at process which led to this result.
Decisions being challenged are the letter sent to Mr Tusk and the gov's decisions to disregard findings of the electoral commission on the result of the referendum.
Judge suggests that A50 wouldn't need to be revoked because it was never valid!!!!
Our constitutional requirements were not met. Crucial to the whole process is the vitiating of the result of the referendum.

Defendant is reliant on the challenge only relating to the notice dated 29/3/17. Which is incorrect.

Defendant refused to take any account of EC finding
(Imv defendant is hoping to continue to shelter behind the time bar)
Do not shy away from the executive decision of PM to take the U.K. out of EU.

Now dealing with the timeline of the findings of Electoral Commission.
Judge: because there are appeals by vote leave on EC findings.

Simor: answers: 1) what is test for court declaring result unlawful? 2) The law must be looked at in its current state. 3) If vote leave were to succeed on appeal on facts position is there is still an overspend.
Judge: it suggests that there are no of strands -political: gov negotiating, electoral regulators who decide if offences have been committed. What's not decided is the interconnection between the process. What you're seeking is to break a connection.

Simor we are in common law.
Apply common law test. PM acted unreasonably by having disregard of the offences.

The common law can always intervene.

The right to vote according to system provided by parliament.

Going through authorities.
Simor: it's fundamental that if a vote in a referendum has the major effect of changing our constitution, the court has to have regard to irregularities to hold up the rule of law.
Claimants Summing up authorities for illegality in elections.

A large scale of wrongdoing across the piste or the referendum.

On any view it is alarming when material is raised in these circumstances whether or not to have regard the referendum.
No statute available for the fact Eldon insurance offered discounts to leave voters. 🤔 fairly large scale unconventional offences found by the electoral commission which would have voided an election.
Defendant starts refers to the time of the decision being beyond the 3 month time limit.

Arguing against extension of time : damages good administration.

We are into the end game of all of this. It's plain the claimant didn't bring it within time.
There were press reports around concerns vote leave funding Mr Grimes from aug 2016 and early 2017 more allegations. Sequencing dates of various public statements of vote irregularities.

No magic in the findings of the EC it's clear from March 18 these issues were public.
Judge: proceedings couldn't be brought until the report.

Defendant: just saying claimants failed to get on with bringing claim and shouldn't have waited for the EC report.

No magic in the finding.
Judge: what other strand to the continuing duty further allegations come to light, DCMS data protection & Russian money. Do you accept that as things are unravelling things get worse from point of view of time, it's continual. How does it fall out of the time?
Defendant: claimant should bring claim promptly and add the events as they arise. Failure to comply with the time limits.

Judge saying there comes a point when claimant is in time with many events. And the PM is carrying on.
Defendant: couldn't be clearer case to argue for good administration and time because of the negotiations.

There was 2015 ref act, then Miller, then further act of Parliament single provision, and then notice was provided.
Judge: it seems odd you can unseat an MP elected but you can't unseat referendum by bribery.
Defendant: everyone knows including PM of the extensive irregularities and illegalities in the referendum. Matters of public knowledge and are secondary, bc the effect of events is uncertain on the result.
No certainty can be drawn from police investigations because it's in early stages.

Judge: discussing ref has effect forever whereas USA president is only for years. And the Russian foreign interference shouldn't it be resolved?
Judge points out the PM isn't waiting for certainty of findings from NCA.

Defendants say because findings won't be in time.

PM has full knowledge the ref was advisory so the illegalities are not relevant.

Everyone gasps!
Judgment won't be until Monday at 2pm or Tuesday.