Hello on this cold and gray morning from the DC federal courthouse, where the cameras are assembling for Roger Stone, who is due at 11am for his arraignment. Previously:
buzzfeednews.com/article/chrisg…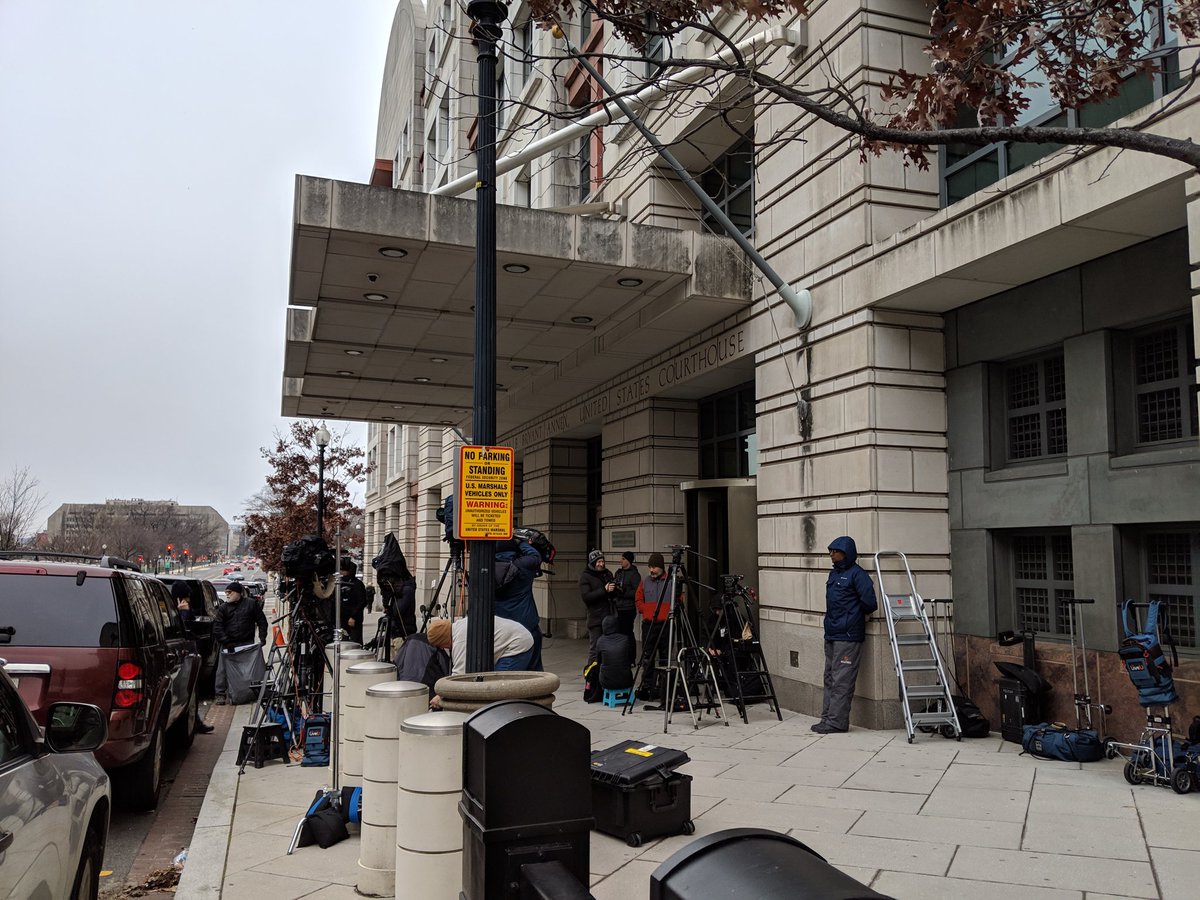 A small line has formed outside the courtroom for Stone's 11am arraignment. Among those waiting: Jerome Corsi's lawyer Larry Klayman, who says he's there to observe and get a feel for the dynamics
Last night, the magistrate judge handling Roger Stone's case noted the 9am deadline for Stone's lawyers to comply with rules re: getting permission to appear in a court where they don't belong to the bar. It's almost 10am, and nothing new is on the docket
Roger Stone is seated in the courtroom with his lawyers (I'm in the media room, where we have a video feed) — he's wearing a navy suit, dark blue tie, light shirt (can't tell if it's white or light blue), and a light blue pocket square
Roger Stone's arraignment is underway. He's appearing before US Magistrate Judge Deborah Robinson
The goverment has requested no change in release conditions for Stone - he'll be released on the $250K bond. He's due back in court on Feb. 1 at 1:30pm. Special counsel prosecutor Jeannie Rhee noted they're handling the case jointly with the DC US attorney's office
Per the conditions of release that will remain in place, Stone will be barred from contacting witnesses in his case, and will not be allowed to have a passport
buzzfeednews.com/article/zoetil…
Prosecutor Michael Mirando (from the US attorney's office in DC) tells the judge the govt and the defense agreed to designate the case as a "complex" matter, which means they agree it'll take longer to get to a trial. They've also already agreed on a protective order for evidence
And 14 minutes after it began, Roger Stone's arraignment is finished. He spoke little, letting his lawyer do the talking. He now has to go to check in with the US Marshals Service, and then we'll see if he talks to reporters outside. Story so far:
buzzfeednews.com/article/zoetil…
Correction: The prosecutor from DC who spoke at the arraignment is Michael Marando (earlier tweet misspelled his last name)
Roger Stone just left the courthouse, and to say it was a madhouse would be an understatement. Protesters and reporters swarmed the street around the black SUV picking him up (he didn't talk), a couple guys waved Russian flags, and there was music. It was a *scene*
Just a casual Tuesday with the Russian National Anthem blasting outside the federal courthouse (story :
buzzfeednews.com/article/zoetil…
)
He did it again, in case you were wondering
Roger Stone appeared in court today and pleaded not guilty. What happens now?
- He's released on bond
- He's due back in court on Feb. 1 at 2pm
- He can travel around parts of NY/FL/DC/VA
- He can't directly contact witnesses
- He can't have a passport
buzzfeednews.com/article/zoetil…