Today may be a day to celebrate love, but
#VDay
will forever be stained with the blood of 17 kids shot to death at
#StonemanDouglas
one year ago today.
The
#Parkland
students didn't ask to become the mouthpiece for calling out the
@NRA
and its decades old fraud. But they did.
Fraud? Yes.
Those are the words of former Chief Justice of the Supreme Court Warren Burger (1969-1986.)
Let me state it clearly:
NO COURT HAS EVER RULED THERE IS AN INDIVIDUAL CONSTITUTIONAL RIGHT TO BEAR ARMS.
That is not, that is never, what the
#2ndAmendment
has said.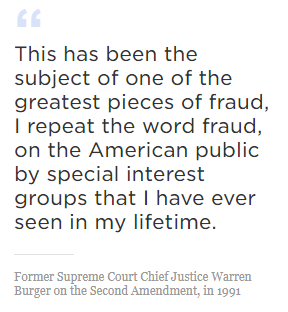 Watch for words like "school safety" and "God-given right" and "patriotic." The
@NRA
has spent lifetimes of money creating this narrative.
In my home state of Virginia, the Safe VA Initiative released policy recommendations for the 2019 term:
vahousedems.org/wp-content/upl…
Our state House is still in GOP control. House speaker
@SpeakerCox
(the man who has stopped the
#ERA
and make equality for women part of the constitution) followed the
@NRA
playbook to the T:


It's like playing basketball when you're only allowed to shoot from one corner of the court.

That's not remotely bipartisan. That's classic GOP. Same technique used in immigration, healthcare - anything that takes away rights from someone else.
What's wrong with these recommendations?
1.
Prevent suicide by creating an Extreme Risk Protective Order.
2.
Mandate reporting of lost/stolen firearms
3.
Reinstate "1 handgun a month" in VA
4.
Take away guns from DV abusers
5.
Universal background checks
...
6.
Repeal "video training" for concealed handgun permits
7.
Enact child access prevention laws and promote safe storage of firearms
Answer: Nothing. They're common sense. But the Overton window has moved so far toward the
@NRA
they seem extreme.
They're not.
Reclaim it. Don't be afraid.
Another former Supreme Court Justice, John Paul Stevens, penned an op-ed in the
@NYTimes
last March, urging advocates to ask for a repeal of the 2nd Amendment.
Yeah. He said it.
nytimes.com/2018/03/27/opi…
So. Let's talk about it. Should the Second Amendment should be repealed?

The NRA called Justice Stevens' oped a "disgrace to America."

Yet kids keep getting shot in schools, people in houses of worship, or just walking down the street.

The NRA is a disgrace to America.
Our policies must be guided by compassion, for compassion is strength.
No one said it would be easy, but
#ParklandStrong
lives it every day.
Stand on the right side of history.
@NoRA4USA