DRESS is a life-threatening drug reaction that, as the name implies, can cause systemic/end-organ damage. Although less flashy than SJS/TEN, it's much more common, occurring 10x more frequently! With a mortality estimated to be up to 10%, admission is usually recommended.
2/
Clinically, the name DRESS can be misleading. Let's try a quick poll:

Which of the following features is REQUIRED for the diagnosis to be made?

3/
Amazingly, you don't need any of these to make the diagnosis! That's why some advocate calling this syndrome DIHS (Drug Induced Hypersensitivity Syndrome) instead. Since most people still call it DRESS, that's what I'm doing here. But let's talk about what we usually see:
4/
But how are you going to tell the difference between a garden variety drug rash and DRESS? The clinical findings that should raise alarm bells for DRESS include:
- High fever (very common)
- Facial edema
- Skin pain
- Hypotension
- A "sick" patient
6/
If you suspect DRESS, blood work is in order. Some advocate for checking a battery of tests, but my personal approach is to go step-wise to avoid unnecessary testing. I start with
CBC/diff
LFTs/BUN/Cr (or CMP)
Cardiac enzymes IF there's chest pain, hypotension, arrhythmia, etc
7/
So how do you actually diagnose it? Literature time!
A proposed scoring system (Regiscar) was published here:
amjmed.com/article/S0002-…
It was validated here:
onlinelibrary.wiley.com/doi/full/10.11…
I find this scoring system a little clunky, but helpful mainly in borderline cases.
8/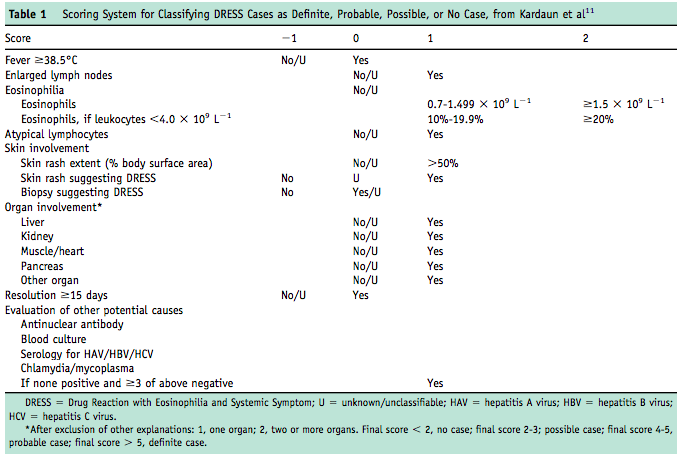 Personally, I always feel the patient's clinical picture trumps any score I can calculate.

Now that you've diagnosed DRESS, you need to identify the drug trigger! You can always call derm for help. But let's try a poll:

How long after drug initiation might DRESS occur?
9/
Interestingly, DRESS's time course is much later than other drug eruptions! The common culprits we think of for DRESS include anti-epileptics, antibiotics, allopurinol, antipsychotics, and anti-retrovirals (think of the As!). Dose increases of old drugs can cause DRESS too!
10/
Treatment starts with stopping the offending agent. Other than supportive care, systemic steroids are the usual treatment of choice. Definitely call your
@dermhospitalist
for help with management, as other immunosuppressive agents can be used in refractory cases.

11/
Daily DRESS labs should be trended for improvement on therapy. Patients get into trouble with severe liver and cardiac involvement, and further management is individualized. Steroid tapers for DRESS can be long, and thyroid disease can be a late sequelae.
12/
There's more that can be said, so another reminder that I'll be discussing these topics at the
@SHMlive
meeting! If anything, I hope everyone has a newfound respect for DRESS, and will see us in dermatology as partners in treating this disease!
#dermtwitter
#medtwitter
#MedEd

13/
And as a clear novice on this platform, I can't believe I left off the answer to the second poll! DRESS usually manifests 3-6 weeks after drug initiation! Phew! Sorry about the omission, but hope this
#FOAMed
tweetorial was still helpful!
#medtwitter
#dermtwitter
#dermatología