The basis for
#SwearEngine
is that malware developers are developers too. The catharses in their malware code manifest in a multitude of coarse expressions. Thus we can use the presence of swear words as a "weak signal" to surface interesting files.
#threathunting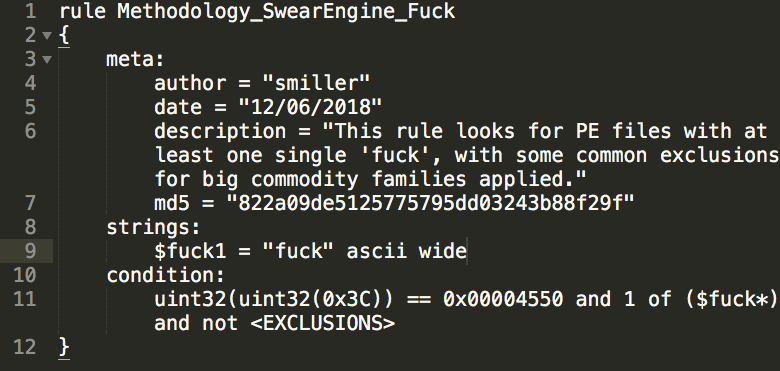 You may balk at
#SwearEngine
for being
#basic
but consider that this rule, looking for PEs with one single "fuck", detects malware samples used by APT5, APT10, APT18, APT22, APT26, Turla, FIN groups, dozens of UNC espionage clusters. Too many to list.
At least one single "fuck" is present in some samples of the following malware families: AGENTBTZ, ASCENTOR, ZXSHELL, SOGU, TRICKBOT, GHOST, VIPER, WANNACRY, WARP, NETWIRE, COREBOT, REMCOS, VIPER, ORCUSRAT, PONY, etc. I can't even name the coolest ones. There are hundreds.
Global Prevalence, you ask? The first
#SwearEngine
rule, looking for PEs with one single "fuck" brings <200 unique PEs per day across all of
@FireEye
globally. It may be a weak signal, but fairly quiet and reasonable threat density (SNR). Highly recommend.


If you want to run Yara looking for "fucks" I recommend you commit time to excluding broad commodity families (ex: PONY), file infectors (ex: NESHTA) and AV update PEs. I recommend treading carefully when expanding to other swear words. Stick to the top five or ten.
I'm all for doing more less naïve, more resilient and comprehensive detections based on adversary methods, but if this helps me 1) add context to files and 2) surface interesting files that may otherwise go unnoticed, then I think this is a fine way to hedge my bets. Also, fun :)