Cohen hearing kicks off. Meadows throws sand in the gears early, motioning to postpone it due to lack of time to view the testimony. Chairman Cummings refuses. Jordan complains that CNN had the testimony earlier. Meadows demands a recorded vote on his motion.

And so it begins.
.
@RepCummings
: "Some will certainly ask: If Mr. Cohen was lying then, why should we believe him now?"
He says it's a legitimate question.
"We are in search of the truth."
"We will all have to make our evaluations of the evidence and Mr. Cohen's credibility,"
@RepCummings
says, threatening to refer Cohen to DOJ if he lies to Congress again.
"He does have a lot to lose if he lies."
Chairman Cummings doesn't mask his view of Republicans, saying that under his watch the days of the Oversight Committee "protecting the president at all costs are over."
Ranking Republican
@Jim_Jordan
goes straight at Cummings in his opening statement: "Your chairmanship will always be identified with this hearing."
"A convicted perjurer has been brought back to be a star witness at a hearing," Jordan says.
Jim Jordan claims that this hearing is about Democrats hunting for something to "try to remove the president from office — as
@TomSteyer
told them to."
As Michael Cohen looks on...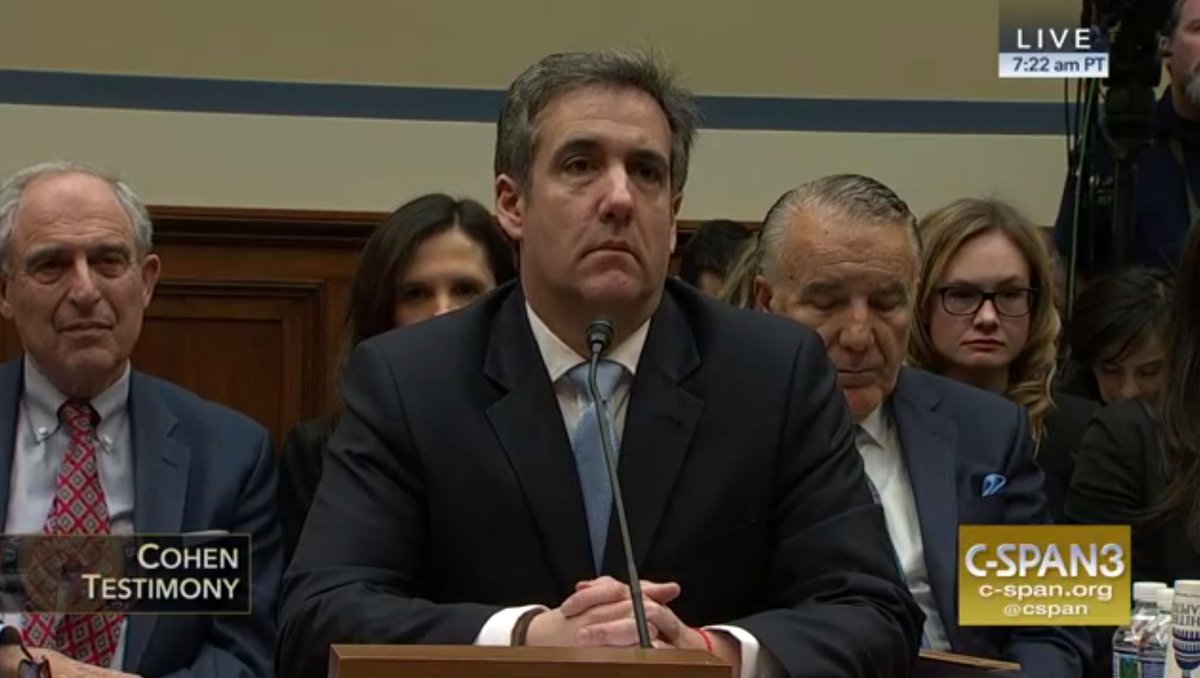 Michael Cohen: "For the record, Individual #1 is President Donald J. Trump."
Michael Cohen on Trump: "He never expected to win the primary. He never expected to win the general election. The campaign for him was always a marketing opportunity."
Michael Cohen: "Mr. Trump is a racist. The country has seen Mr. Trump court white supremacists and bigots."

"He once asked me if I could name a country run by a black person that wasn't a shithole… He told me black people would never vote for him because they were too stupid."
"He's a fake witness, and his presence here is a travesty," says Rep. Mark Green, a first-term Republican from Tennessee.
Michael Cohen says he has spoken to the special counsel's office SEVEN times.
"Shame on you, Mr. Jordan," Michael Cohen tells the Republican ranking member of the committee after he suggests he isn't taking responsibility for his actions.
Jim Jordan has never been a ranking member (or chairman) of a committee before. He has a knack for impassioned questioning but drawing blood from a witness in a setting like this is a different thing.
Mark Meadows, raising his voice, demands proof from Michael Cohen about President Trump saying racist things. Meadows says he's talked to the president countless times and "not heard one time a racist comment."
This is wild.

The president's former lawyer/fixer just told Congress under oath that the president once gave Deutche Bank false documentation inflating his assets to get a loan in the hope of making a bid on the Buffalo Bills.
PAUL GOSAR: "You're a pathological liar. You don't know truth from falsehood."

MICHAEL COHEN (interrupting him with a grin): "I'm sorry, are you referring to me or the president?"
Michael Cohen tells Rep. Paul Gosar (R-AZ): "I'm responsible for your silliness because I did the same thing that you're doing now, for 10 years. I protected Mr. Trump for 10 years."
I get that he's supposedly a changed man and all that stuff, but to hear Michael Cohen lament the "destruction of our civility" is whiplash-inducing.
Democrat
@GerryConnolly
explains the thinking behind the Michael Cohen hearing: "This Congress has historically relied on all kinds of shady figures who've turned."
Michael Cohen:

"Mr. Trump doesn't have email."

"Mr. Trump doesn't text message."
Michael Cohen on the
@StormyDaniels
payment: "Not only did I lie to the American people, I lied to the First Lady, when the president called me and I was sitting in a car with a friend of mine and he had me speak to her and explain to the First Lady."
!! Democrat Stacey Plaskett: "There should be a referral to the Ethics Committee of witness intimidation or tampering under USC § 1512 of my colleague
@MattGaetz
, and maybe, possibly, him being referred for criminal prosecution."
Here's the statute Rep. Plaskett just cited when referring
@MattGaetz
for potential criminal prosecution:
law.cornell.edu/uscode/text/18…
Here's his tweet that she appears to be referring to, which is now deleted, plus Gaetz's explanation/apology.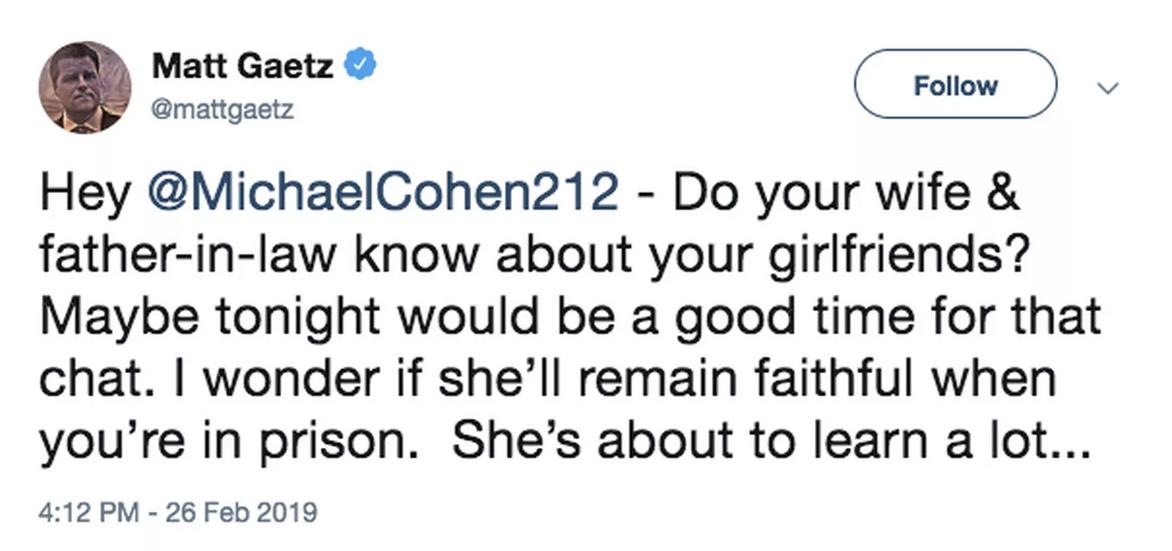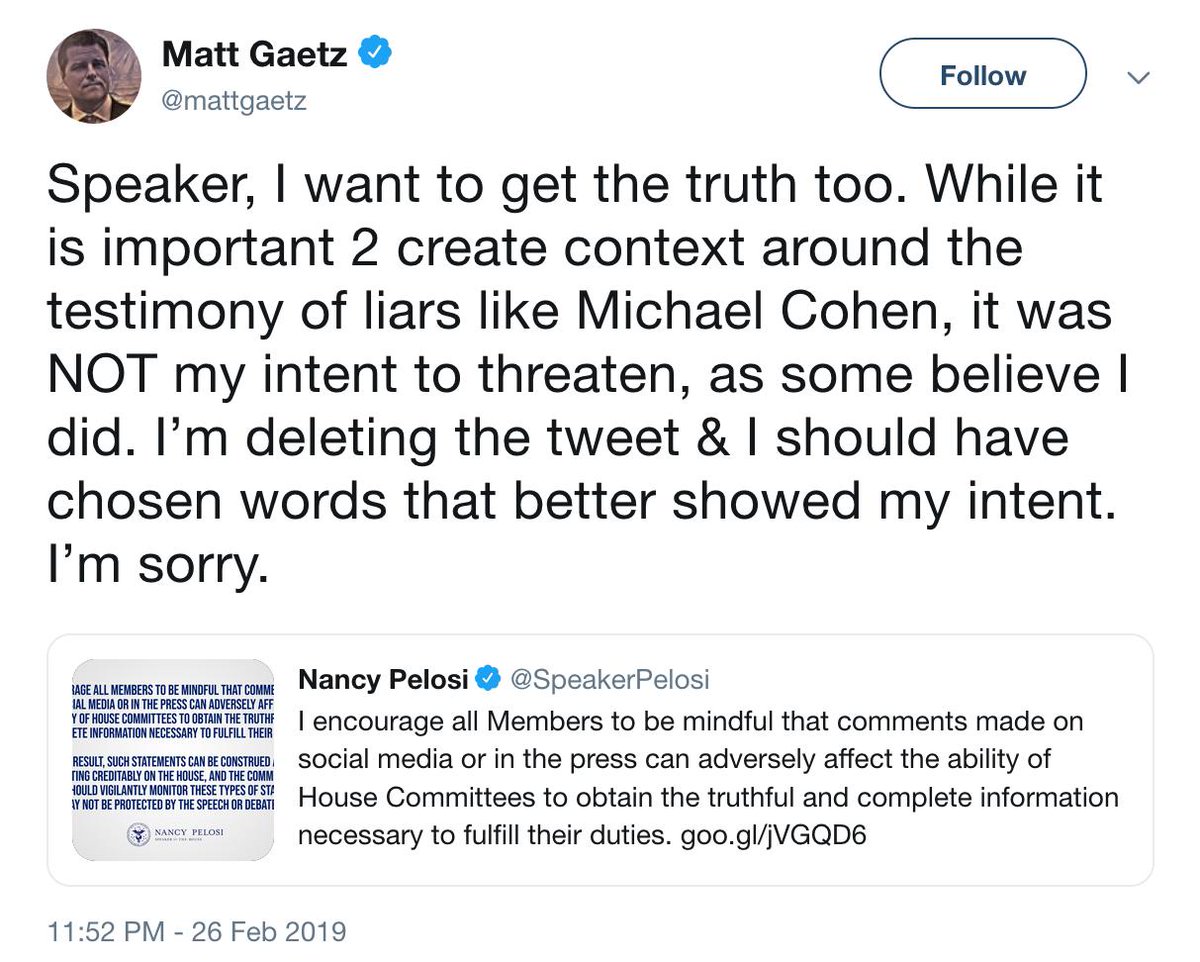 Trump's 2020 campaign spokeswoman
@kayleighmcenany
responds to Michael Cohen's testimony before Congress today.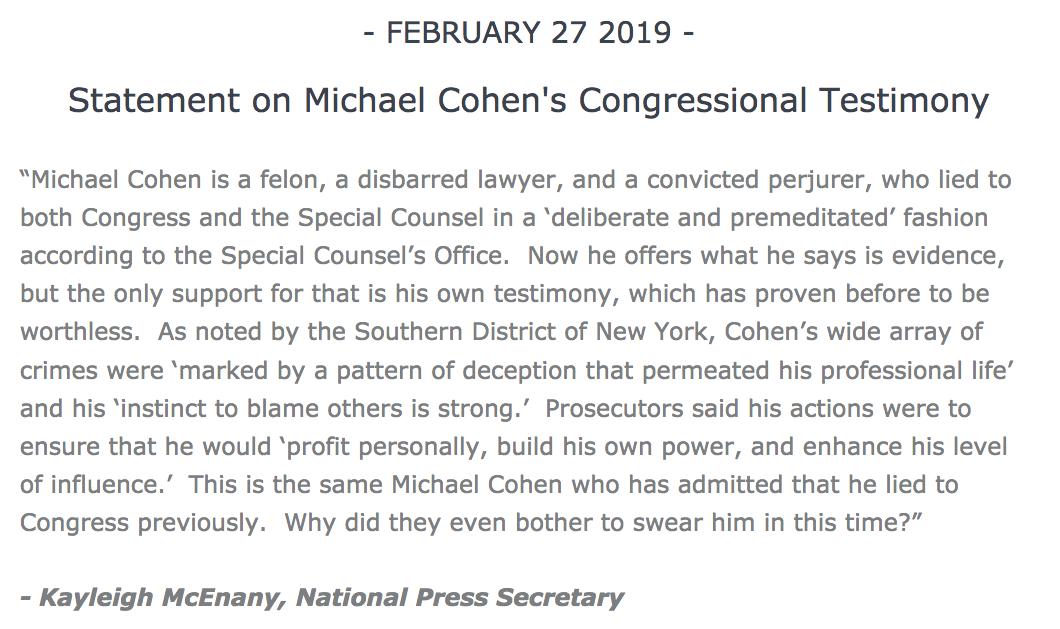 .
@AOC
: "To your knowledge, did the president ever provide inflated assets to an insurance company?"
MICHAEL COHEN: "Yes."
AOC: "Who else knows that the president did this?"
MICHAEL COHEN: "Allen Weisselberg, Ron Lieberman and Matthew Calamari."
AOC gets Michael Cohen to say the Oversight Committee needs to view Trump's financial statements and tax returns to get more info on his alleged inflation of assets to an insurance company.
.
@AyannaPressley
asks Michael Cohen if he agrees that someone could lead the birther movement, refer to "shithole countries," talk about white supremacists as "fine people," have a black friend, and still be racist?
"I agree," Cohen says.
Michael Cohen says in his closing statement: "I fear that if (President Trump) loses the election in 2020, that there will never be a peaceful transition of power."