THIS
@ClarkeMicah
is spot on
A passionate eurosceptic for years who understands that being 'half in/half out' by remaining in the Single Market was the sensible option.
Yet people who never used to be bothered or advocated soft Brexit have become hardliners.
THREAD
All of them, Boris Johnson, Michael Gove, Owen Paterson, Liam Fox, even Arron Banks, Nadine Dorries and Nigel Farage have previously either held this position or argued for its merits! Now it's betrayal and BRINO!


Here's Owen Paterson making the Liberal Leave pro-Single Market case in 2015. He held this position for some time & actively worked with campaigners for it. He abandoned this position post-ref....
How can you hold a position one then refuse to even acknowledge its merits?
Little wonder, then, that
@DanielJHannan
has expressed exasperation. The EEA option was mainstream Brexiteer opinion for years, probably the dominant form of post-Maastricht euroscepticism.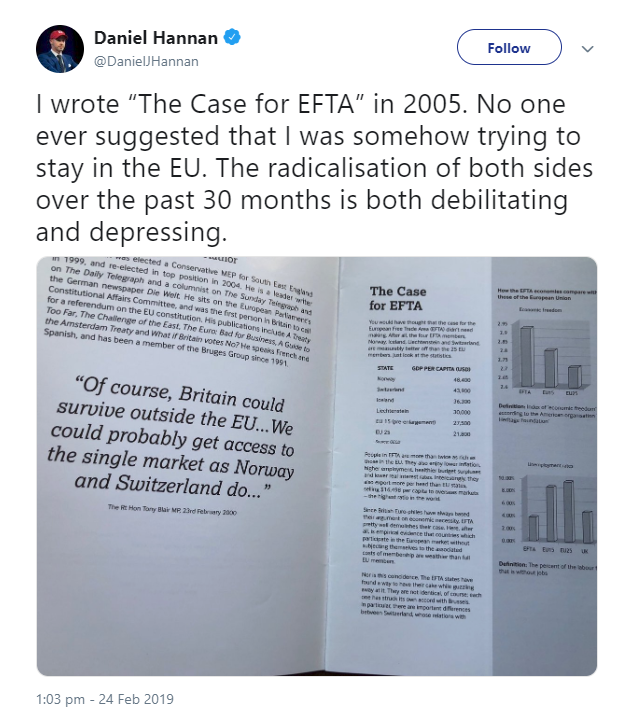 Anyway, i've been over this over and over. Wrote about it. It's indisputable. Brexiteers radicalised, and this has made Brexit more painful than it needed to be, and caused prolonged economic uncertainty, political instability, bad blood, a fudged deal.
reaction.life/arch-brexiteer…
I mean, really, they complain about potential delays to Brexit, they have risked it being totally derailed.. we could have been well on our way by now! I argued for an EEA Brexit because it'd simplify the process it & warned we could end up with a worse deal otherwise.

Well.
23/07/2018
@YouGov
polls show the two2 priorities of the public: 'allowing British companies to trade with the EU without tariffs or restrictions' and 'allowing Britain to make its own trade deals'
The top three priorities here were achievable while remaining in Single Market.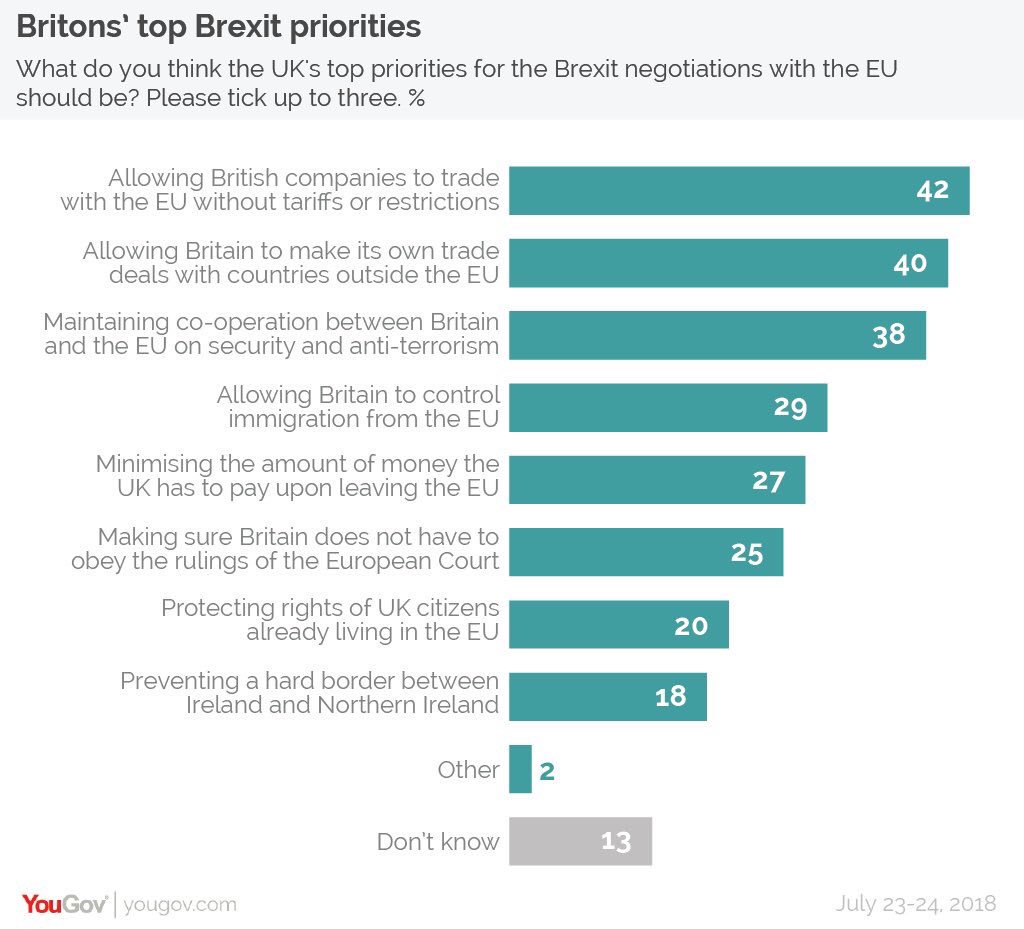 The Single Market is a remarkable achievement. It is a Liberal triumph pushed for by Thatcher and the Conservatives. Now, just 4 years after a manifesto pledge to keep us at the heart of it, we're abandoning the market. For what?
It's pointless. Should have saved ourselves the energy and economic uncertainty.
This is not all down to ERG and hardline Brexiteers.

Brexit hit a major snag when Theresa May won the Conservative leadership, and we've gone from there.

The Withdrawal Agreement needs to be signed and she has to go.