1.
Everything that is wrong in the Single Market debate was on display when Stella Creasy debated Frank Field on the
@daily_politics
recently.
2.
Frank claimed that everyone knew we were leaving the Single Market.
3.
Here is Frank on September 15, 2016 asking if the UK's trade surplus could be leveraged to give us membership, or access, to the Single Market. Apparently, he didn't know.
4.
This is entirely consistent with the interview Frank gave during the referendum on May 20, 2016 where he refused to accept that we would not have the same access to the Single Market
5.
He actually went further and said it would matter to him if controlling immigration meant we didn't have our current access to the Single Market.
6.
Frank isn't the only Labour Leave MP with a memory problem. Take, for example, Kate Hoey here on January 31, 2017 claiming that of course we have to leave the Single Market, everyone knew, and it's patronising to suggest otherwise.
7.
On October 12, 2016 Kate was suggesting that it was important now to "straightforwardly" say that we cannot be members of the Single Market if we are to stop free movement.
8.
Just days before the vote on June 20, 2016 Kate could only argue we'd have no Single Market because we didn't 'need' it.
9.
And on May, 26 2016 Kate was actually tweeting articles about the Norway option.

10.
Frank and Kate are not alone. Take Graham Simpson, who claimed on August 29, 2017 on Radio 4 that Labour could not honour the decision of the referendum if we remain in the customs union and the Single Market.

11.
This is inconsistent with what he said at the Hammersmith Leave rally on May 31, 2016. When asked about the trading model he said we weren't voting for a particular model, but voting for the freedom to decide what we want to do.
12.
And since we're here, why not complete the set by including Gisela Stuart who argued that if we don't leave the Single Market we have not left the EU. (Airbrushing out at least 15 years of Eurosceptic theory)
13.
Yet, she made no such claims in an article she wrote in 2014 exploring the Norway as an option. There have been no developments which would change the viability of the option in this context.

14.
If the media was holding them to account, like it is supposed to in a democracy, they wouldn't get away with this, but it would be inconvenient for the
@daily_politics
15.
Because at the end of October 2016 they began showing a number of clips to argue everyone was clear on the Single Market, some of which looking very similar to the ones tweeted by this Pepe the Frog account as early as July 11, 2016.
16.
Before tweeting roughly 113 times between July and October, to people like Tim Montgomerie, Douglas Carswell, Andrew Neil, Andrew Neil, Andrew Neil, and Andrew Neil.


17.
And the clip of George Osborne does indeed say we'll be out of the Single Market, but omits the fact George Osborne said "I think we'd end up signing up to Free Movement of People".
18.
Freedom of Movement is one of the Four Freedoms, and guess what? They are indivisible! What George Osborne actually said was: "I think we'll sign up to the Single Market"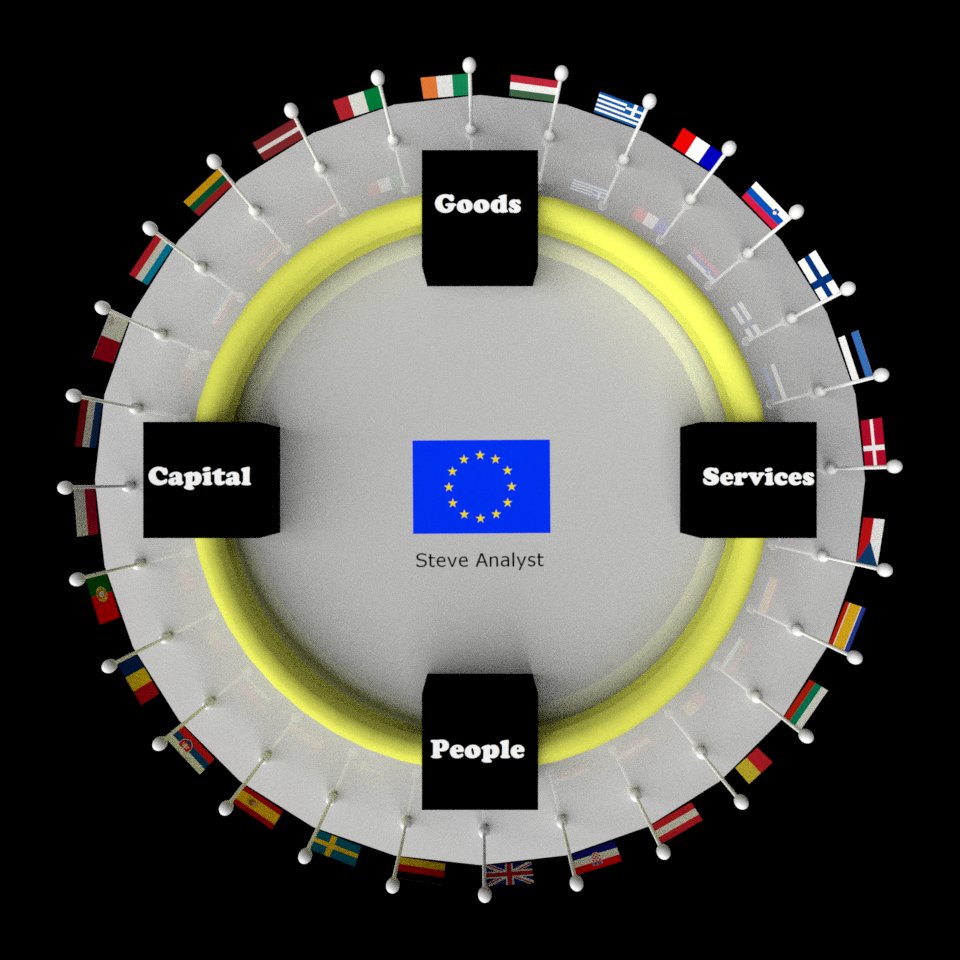 19.
He goes on to say it explicitly, arguing that there is a situation where we'll be begging to get back into the Single Market to protect our businesses.
20.
And while the
@daily_politics
has argued everyone knew what was on the ballot paper based on cherry picking what George Osborne said about the Single Market, the programme also argued that people voted for something George Osborne explicitly said wasn't.
21.
Although it doesn't matter what George Osborne, or anyone else said, and to understand why that is, we need to look at Section 7 of the Referendum Act 2015 which explicitly required certain documents to be published to provide information to accompany the act.

22.
Section 7 (1)(b) required the government to provide a list of possible countries that were outside the EU, and their various trade-offs. This resulted in a document detailing things like the Norwegian, the Swiss, and the WTO models.


23.
Significantly, both in the introduction and the conclusion of that document, it is specified that these trade-offs will be decided by the government AFTER a vote to leave.


24.
And here George Osborne explaining precisely this in the House of Commons on June 29, 2016
25.
Indeed, both the Treasury documents lay out the EEA model, and the official leaflet indicated a vote to leave could lead to Freedom of Movement. Those being the last official statements before the country entered Purdah on May 27, as per the Referendum Act 2015.



26.
There is one very good reason for this: Democracy! In normal elections, the people decide from a range of options, but in a referendum they can only vote for the designated campaign.

27.
Hypothetically speaking, let's just say that one of the campaigns that were applying for designation was putting forward a future arrangement involving a Norwegian model with no Freedom of Movement.
28.
If the campaign is allowed to determine the future policy with the EU, then the unelected electoral committee make the decision on our future relationship without parliamentary scrutiny or strategic direction from elected candidates.

29.
And the worst part is, this decision is based on the merits of the campaign group, not based on a detailed understanding of the merits of the policy for the country.

30.
Therefore, to ensure the government is not required to deliver the impossible, it must both make the decision and be held accountable for it. Only the government can decide on how we implement a referendum if the country is to retain democratic integrity.
31.
And to argue the Vote Leave campaign dictated policy is not only is a denial of the official guidance, but it is arguing for a massive subversion of UK democracy.
32.
This being the case, a number of politicians are lying to corrupt the democratic integrity of the United Kingdom, and the
@daily_politics
is aiding them through either lazy journalism, at best, or political corruption, at worst.
33.
If anything our political parties should be standing up to their members and explaining that the reason that dishonesty is a derivative of dishonour is, because when their members lie, they dishonour themselves, their party, and everyone associated with it.
34.
They should ensure that a national broadcaster that claims its values are to provide services that inform, educate and entertain, do not show political programmes that cherry pick interviews in the same manner as propaganda from a Pepe the Frog Twitter account.
35.
And politicians like Stella Creasy can put forward a brilliant argument, but if they are debating with someone who is playing with a loaded dice, they must be prepared to call that dishonesty out, or concede an inevitable loss to a charlatan at the offset.
36.
Because, in the words of Don Miguel Ruiz, "People like to say that the conflict is between good and evil. The real conflict is between truth and lies"
37.
Red on red, blue on blue, yellow on yellow, it shouldn't matter. In a world where our democracy is under attack from lies from hostile external forces, we should be extra vigilant to the lies from forces within.
theguardian.com/world/2018/jan…
38.
Until this is accepted, our politicians are letting us down, our parties are letting us down, and the people who are supposed to hold them accountable…the media…are letting us down.
39.
As for our Prime Minister who keeps telling us to come together, she needs to realise that nobody is going to come together while one side, having won a vote with lies, continues to lie to our face while trying to move the goal posts.
40.
The United Kingdom will continue to be divided while we have to continually watch politicians try to steal our democracy, in the very way that I've described, using their dishonesty and their deceit.
41.
If the media is only too happy to hand the pen to the victors so they can rewrite history in front of the electorate's eyes...
42.
And if politicians cannot mobilise and unite to expel this blatant fraudulent behaviour, then the democracy of the United Kingdom is surely not assured.
43.
Although I believe the young will not yield to obsolete dogmas and outworn slogans, and not fear the difficult truths that lay before them, instead choosing to strike out against the foundation of lies that today we build our country upon…
44.
That future is yet unknown, and it is vitally important that those who do represent us today respect the things they said in the referendum.
45.
Things like, we voted on the freedom to decide what we want to do.
46.
If we don't need the Single Market, we won't have it, but equally, if we need it to solve problems like the Irish border, then we will have it.
47.
And we should always prioritise someone's ability to feed their family over their anti-immigration sentiments.
48.
Most importantly of all, our representatives need to step up to what is going on in this country, to recognise the enemy within, and to know their quarry.
/End