Welcome to
#FallacyFridays
, the day we explore logical fallacies in hopes of making better arguments & having sound logic. Today's logical fallacy is the straw man fallacy. This one is quite popular, so don't hesitate to let your followers learn more about it by retweeting. 😁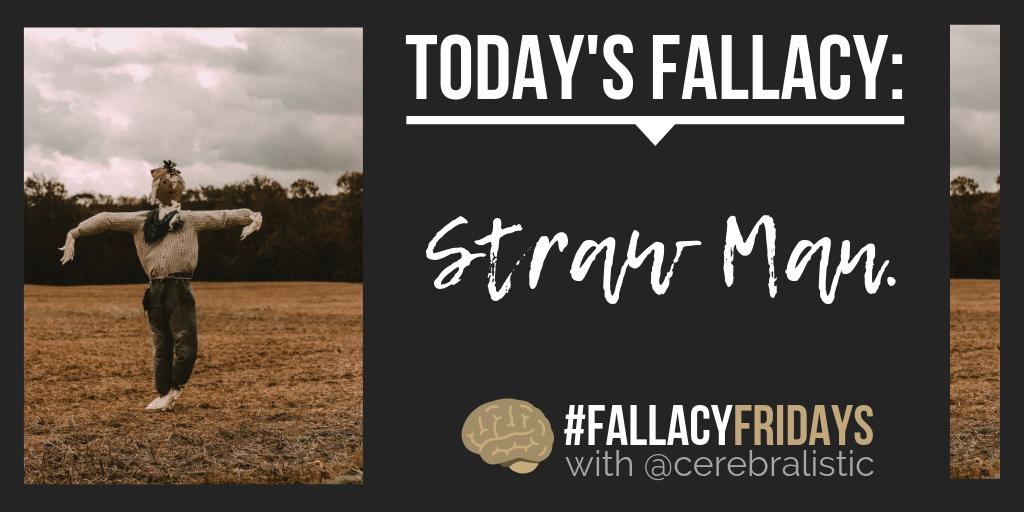 In order to explain how the straw man fallacy works, let's talk about this tweet I made last week.
As responses were pouring in, I found that most people understood the content of my tweet and folks answered the question to the best of their ability.
But what I found interesting was how some responses echoed the false idea that I have issues with older people being respected. ("Why is respecting the elderly so hard?" "When you get old, I pray you remember this question" "No need to question why elders deserve respect.")
I said quite a number of times, "I didn't ask if older people should be respected. I asked why being older is a valid reason for respect beyond tradition and if there is any trait exclusive to the elderly that is deserving of respect besides age."
I was asking "why elderliness" (the trait), not "why respect the elders" (the person). After all, there are reasons one can respect anyone of any age, including elders, thus making "why respect elders" not at all what I was asking.
It's easier to attack "why respect elders" but more difficult to grapple with "beyond tradition, why elderliness?"
The responses "Why is respecting the elderly so hard" and "No need to question why elders deserve respect" all refute a distorted, exaggerated version of my argument. In other words, they're refuting an argument I never made.
And that's why those are straw man fallacies. This fallacy occurs when one person makes an argument and the other person responds with the impression that they have refuted or engaged with the argument made when they have only responded to a distortion of it.
Think of a literal straw man (for example, a scarecrow). It is easier to knock it down than it is to knock down a living, breathing, able-bodied individual. This is how I remember how the straw man fallacy works.
Whether or not you think Person 1's initial observation is valid, Person 2's response ("So you're equating the christian belief in the existence of God to rape. Wow! The hoops you had to jump to arrive there. Bravo!") is a straw man, regardless.
Person 1 states their observation of how evidence is demanded in one scenario by Nigerian Christians but not in another. Person 2 responds accusing Person 1 of making a statement of equality when Person 1 did not. Notice how Person 1 had to restate their argument.
Pro-Tip #1: If someone has to restate what their argument was, the person they are responding to may have committed a straw man fallacy.
Pro-Tip #2: When in doubt, ask for clarification on the argument of interest. For example, if Person 2 had asked, "Are you saying that the Christian belief in the existence of God is the same as rape," they would not have committed the fallacy.
Now for the quiz! I have listed 4 conversations in the next four tweets. Only one of them has a straw man fallacy at play. Select which one contains the straw man fallacy.
A.

Person A: I think this whole trend of sexual liberation is just for attention and clout-chasing.

Person B: And I think you should receive several brain cell transplants to make up for your abysmal lack of critical thought and engagement. Good luck finding a willing donor.
B.

Person A: I just don't understand why you believe in God's existence when there are many contradictions in your holy scripture.

Person B: You know, most times, I think you're smart. But here, you're not. The fool says in his heart there is no God. You're being foolish.
C.

Person A: There's this rumor going around about me that isn't tru-

Person B: So you got a kick out of beating your wife, huh? You liked it, hmm??

Person A: Wait, you think it's true?? You're really accusing me of domestic violence???
D. Person A: I wish more men showed interest in the issues that affect them instead of asking, "Where are the feminists," all day.
Person B: Lol your "feminism" is comical. Typical hypocritical feminist who claims
#equality
but doesn't give a rat's ass about men's issues.
Which one of the following conversations contains the straw man fallacy?
Thanks for joining me on this week's
#FallacyFridays
. Next week, I will be showing you the logical fallacy that is my personal weakness. Yup, you read that right. I'm putting my own fallacious thinking on blast. See you then! 😁