1/20
For this week's
#MedEd
#tweetorial
, I'm going to share one evidence-based learning principle we can use to improve our teaching (and learning) by helping our students (and us) retain information (and do well on those pesky board exams).
Let's get started.
3/20

Tests force us to retrieve information from our brain. This process of retrieval builds connections making it easier to access the info again.

Think of it as pulling a file out of a file cabinet; the more you do it, the more easily you remember the info & where to find it.
4/20
This concept of learning via testing is called "retrieval practice" (psychology literature) or the "testing effect" (education literature).
Here's an article summarizing research on how it enhances learning + evidence on other techniques:
doi.org/10.1177/152910…
5/20

Basically, think of retrieval practice like exercise for our brains.

Anytime we ask ourselves a question and force ourselves to pull the information from our memory, we are using retrieval practice.
6/20
So how can we use retrieval practice in our teaching?
I think we can use it in two primary ways:
1.
Use questions during class to reinforce teaching
2.
Tell our students to study using questions (e.g. question banks, flashcards, etc.)
7/
We should ask our students questions in class – this engages them more + uses retrieval practice.
The study shown below demonstrated that adding in questions (via an audience response system) improved student learning.
dx.doi.org/10.1136/postgr…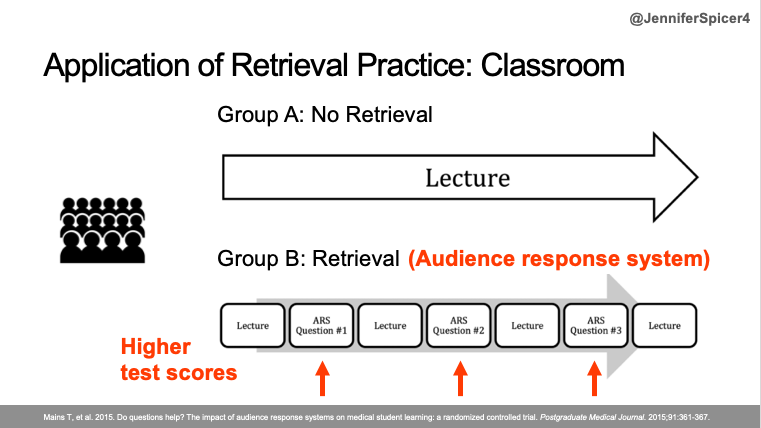 9/20
I like to use audience response systems b/c of:
1.
Anonymity (for those who are shy or worried about peer judgement)
2.
Representativeness (not just those who "know it" answer)
3.
Versatility (many different ? types)
4.
Competition (if you want to spice up your class)
11/

See this tweet for examples of audience response systems that people recommended.
Personally, I enjoy PollEverywhere.


12/20
To encourage retrieval practice outside of class, we can tell our students to do practice questions using:
1.
Question banks
2.
Flashcards
Many computer-based programs also incorporate spaced practice, another evidence-based learning practice.
13/20
Here is one of MANY studies that demonstrated that reviewing material by answering questions (i.e. retrieval practice) was better than studying/re-reading information.
doi.org/10.1111/j.1365…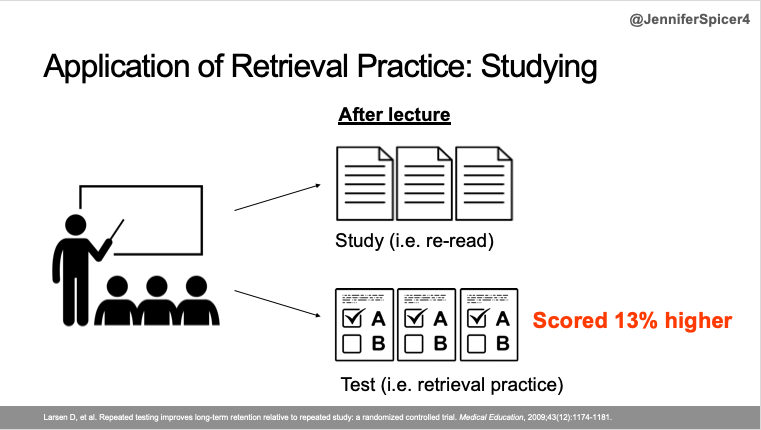 15/20

In summary, we should encourage our students (& ourselves) to use retrieval practice (ie. answering ?s from memory) as a method of STUDYING, not just "self-testing"

Evidence shows retrieval practice is more effective than re-reading, highlighting, or even summarizing.
16/20
Some people think retrieval practice just helps w/ memorization, but it can actually do so much more. It is completely dependent on what type of question you ask. Aim for higher levels on Bloom's taxonomy
cft.vanderbilt.edu/guides-sub-pag…
17/20
We should incorporate retrieval practice into our teaching by:
1.
Asking students questions in class (using audience response systems, think-pair-share, etc)
2.
Encouraging them to study by answering questions (FROM MEMORY)
And use the same tips to study for our boards!
18/20
In case you want to read more, here are some books about the science of learning:
1.
Make It Stick by PC Brown, HL Roediger, & MA McDaniel
2.
How Learning Works by SA Ambrose et al
3.
Small Teaching by JM Lang
19/20
And this article applies the science of learning directly to health professions education:
doi.org/10.1080/014215…
Would like to add that
@HollyGoodMD
, author of the above article, has done a number of studies looking at the science of learning.
Interestingly, medical students currently don't tend to use evidence-based learning techniques:
doi.org/10.1080/014215…
Is this changing with Anki?
Somehow my last Tweet in this thread got disconnected, but here it is: