Welcome to the 13th edition of
#LegoMyVote
! Today, we're looking at Canada's 2019 federal election. We'll start with the popular vote. Here's how Canadians actually voted at the ballot box: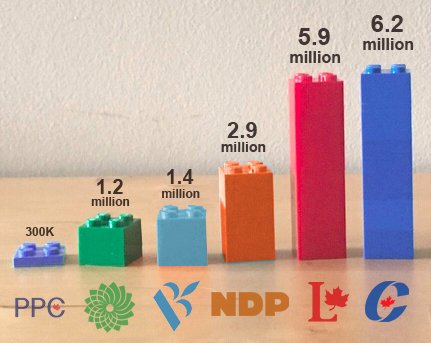 Of course, all these numbers are based on the votes cast under our current system. If we had a modern voting system (like most Western democracies), everything would change - not just the math on election night.
We'd have more parties. Candidates would campaign differently. We'd likely have different leaders. We'd all be able to vote with our heart. And we'd end up with stable coalition governments that actually represent what voters asked for.
And today,
@ElizabethMay
wouldn't be stepping down as leader of a party with only 3 seats. With 22+ seats in the House and holding the balance of power in a coalition government, she'd likely be getting ready for her new job as Minister of the Environment. Where she belongs.
@ElizabethMay
And if you wanna learn more about how our democracy is broken - and how we can fix it - check out my lil' recipe book for a new democracy:
teardown.build