Another day on service and you are starting with answering a page from PACU. "Hi this is nephrology fellow returning your page". "Great! This is Ortho, and our patient post op has low potassium here; I believe you call it HYPOkalemia"
#Loveourorthopods
#Tweetorial
#medthread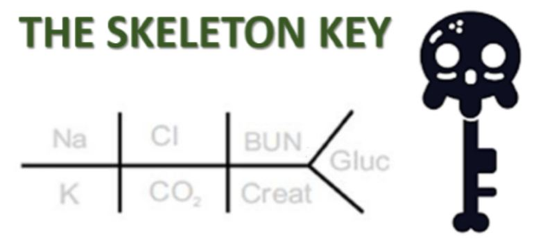 Join us for our electrolyte abnormality du jour and learn how to break it down!
#nephtwitter
#medtwitter
#FOAMED
See our full post
@RenalFellowNtwk
>
renalfellow.org/2019/11/14/the…
You're dealing with an unexplained HYPOkalemia, at this point what do you calculate?
Well, you don't want to calculate TTKG since this paper came out in 2011!
ncbi.nlm.nih.gov/pubmed/21788894
FeK:
#knowlimitations
: Fraction excretion means calculating the percentage of filtered K ending up in the urine. All the filtered K gets reabsorbed in the proximal tubule and loop of henle. K gets secreted into the urine in DCT and MCD. SO, Fek does not sound perfect either!
Urine potassium-to-creatinine ratio (K/Cr): This is more reliable. Normal range <1.5 mmol/mmol (13 mEq/g). So, I would check urine K/urine Cr in this setting.
What is going on here? Hypokalemia got worse despite receiving K repletion and starting a diet. Wait phos, mag, are dropping as well? Are we dealing with refeeding syndrome (RFS)?
History check: RFS was first described in prisoners of war after the second world war when they started eating after a long time.
Does our patient have risk factors for developing RFS? √ Cachectic elderly patient with hx of prolonged low energy diet and then high stress unfed for at least 4 days Let's see how RFS happens.
Prolonged fasting > Initial muscle breakdown followed by preservation of muscle protein by, ↓ Liver gluconeogenesis + ↑ Ketogenesis > ketonemia > stimulating brain and tissues to use ketones as main energy source
#physiology
What happens to electrolytes during prolonged fasting? Intracellularly depleted as shifting happens; however, serum concentrations can remain normal for two reasons: shifting from ICF and decrease in kidney excretion.
Malnourished patient starts eating> ↑ insulin and ↓ glucagon secretion > glycogen, fat and protein synthesis stimulated + Intracellular shifting of K (via NA/K ATPase), Mg & phos > ↓↓ serum levels (K, Mg & phos)
Hypophosphatemia is the hallmark of RFS. Phosphorus is needed to generate adenosine triphosphate from adenosine diphosphate and adenosine monophosphate
Summary: • RFS is preventable in the setting of early detection and management • Identify high risk patients; check K, Ca, P, & Mg • Serum electrolyte levels may be normal prior to refeeding; BEWARE! Total body and intracellular depletion have occurred.