Misogyny and patriarchy aren't just a figment of women's imaginations. News at 11, y'all. 😒
The whole reason we're even stuck with a treasonous sociopath sexual predator in the WH is b/c too many millions of Americans were too hateful and stupid to vote for a qualified WOMAN.
So please spare us with your fake ass shock and awe that men with power and privilege abuse it. Wake the fuck up already and join us in reality.
Stop basing your leadership decisions solely on who has a dick then feigning outrage when they think with it exclusively.
Stop enabling misogyny and patriarchy.
And that goes for women too. Stop intentionally opposing ambitious women who seek power just because it makes you feel insecure. Stop enabling your own abuse and subjugation at the hands of men.
To be even more specific, I'm talking to White women in particular because it still makes no good fucking sense that 53% of them voted for a self proclaimed sexual predator. Stop it.
How the FUCK are you voting for Jane Crow every single election then pretending to be outraged that the dirty old men you elected are pussy grabbers and/or enablers of such?
For instance, I just saw Mika lamenting our toxic sexist culture and lack of meaningful change and while I got her point I also couldn't stop remembering she did this: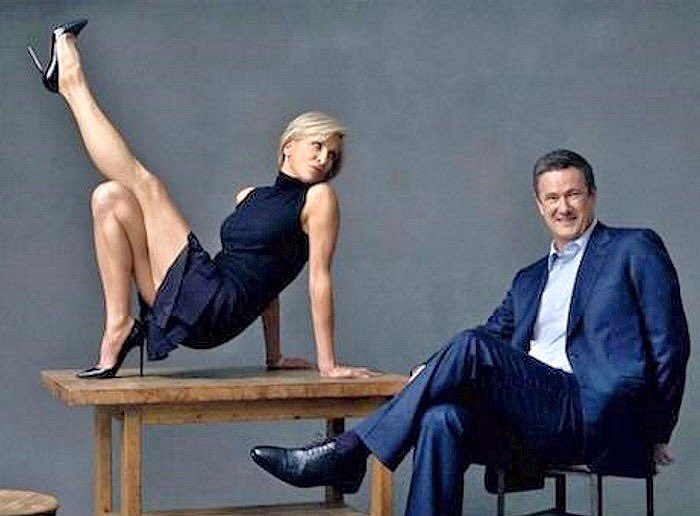 Which also reminded me of Joe Scarborough's past in regards to female interns and how convenient it is that he isn't on today's panel, but I digress (sorta)....
Conservatives sexualize and objectify women all the time, it's preposterous for them to pretend they don't create a climate ripe for sex crimes. Just look at Fox "News".
I mean does anybody else remember Sarah Palin and how the men in the Republican Party did nothing but sexualize her until she ceased being useful to them?
Basically all Bible Spice did was wink, wave, prance around in short skirts and regurgitate folksy GOP talking points, and they only pretended she was competent b/c she aroused them.
Ultimately, a lot of these conservative men only really tolerate women they can sexualize, objectify and/or subjugate. It's evident in both their private and professional lives.
This is how they're capable of fervently supporting Palin for VP while having the unmitigated gall to say HRC wasn't qualified to be POTUS. They mean she doesn't arouse them and emasculates them instead.
This is why the
@GOP
persists in excluding women from Congressional deliberations on healthcare and reproductive choice. They don't even want us at the table unless we're on the menu.
This is also why the
@GOP
does nothing but disrespect the seasoned, professional older women who are the backbone of the Democratic Party. They're there to work, not be objectified or ignored.
This is also why the few Republican women left in the Senate keep voting against their male colleagues on women's issues and why
@SenateMajLdr
"needs" sleazeball reinforcements like Roy Moore.
I don't know how many more times I have to keep shouting that none of this antiquated, oppressive, inhumane bullshit is gonna change until we stop sending all these uncivilized men to DC.
And don't think for one second the Bros on the left are any better because they still don't wanna deal with Bernie's rape fantasy essay in the slightest, let alone this Al Franken revelation.
Bottom line is men in general don't fully want to own up to how pervasively sleazy they are as a gender because it requires meaningful change in their behavior and loss of power and privilege.
I had this conversation with my husband last night and basically he's ashamed of all the men who are pretending to be shocked at how gross men are and have always been. I agreed. 💅🏾
And don't even come in here with some
#notallmen
bullshit today because it's not gonna solve any problems and I'm not here for it...
I literally grew and gave birth to TWO penises so I take this seriously. I will NOT raise piece of shit men and I take full responsibility for TEACHING them not to be sexual predators. You're welcome.
Also I'm a behavioral scientist, so I understand testosterone and libidinous desires. Impulse control must be taught and it's incumbent upon men AND women to teach it. Period.
Whether folk want to get it through their thick skulls or not, the process of rehabilitating toxic masculinity *starts* with accepting and respecting feminine power.
If you can't a fathom a woman possessing equal capability to lead or govern, you must necessarily think her incapable of deciding what's best for her own body, children, and future.
If you're only willing to give a woman the floor so you can gawk at and sexualize her in your mind while she's speaking, that's not respect or equality, it's voyeurism.
If you're a woman who can't take women who take themselves seriously seriously, you need to explore what it is you dislike about yourself so much that you don't.
America needs to take responsibility for perpetuating misogyny/patriarchy to the extent that competent female leadership was more "risky" than governance by sexual predators and their enablers.
I don't give a FUCK and I'm also here to call out all these White women in the MSM who aided and abetted the sexist witch hunt against HRC and her Black women voters but are shocked and awed today. GTFOH, Becky.
Y'all heard Trump talking about Megyn Kelly bleeding from wherever, but couldn't be bothered to warn people he was a fucking sociopath because you were busy making shit up about Hillary's emails.
Y'all went on and on about how community acquired pneumonia was a disqualifying affliction as if pussy grabbing without consent was just small fucking potatoes.
We saw you.
Who the fuck do you think you're kidding? 🤔
Women who respect ourselves and the men who respect us too already told y'all this shit was going to be a disaster for morality and human rights, with receipts and HRC.
Y'all didn't listen.
When you elect dirty old men, this is what you get. Why do you insist on doing it then pretending to be shocked and dismayed that it's as scandalous as they told you it would be?