1/
James Carse's Finite and Infinite Game is one of the best books I've ever read. Each time I reread I am struck by how grateful I am that he wrote it.
amzn.to/2DGbUrg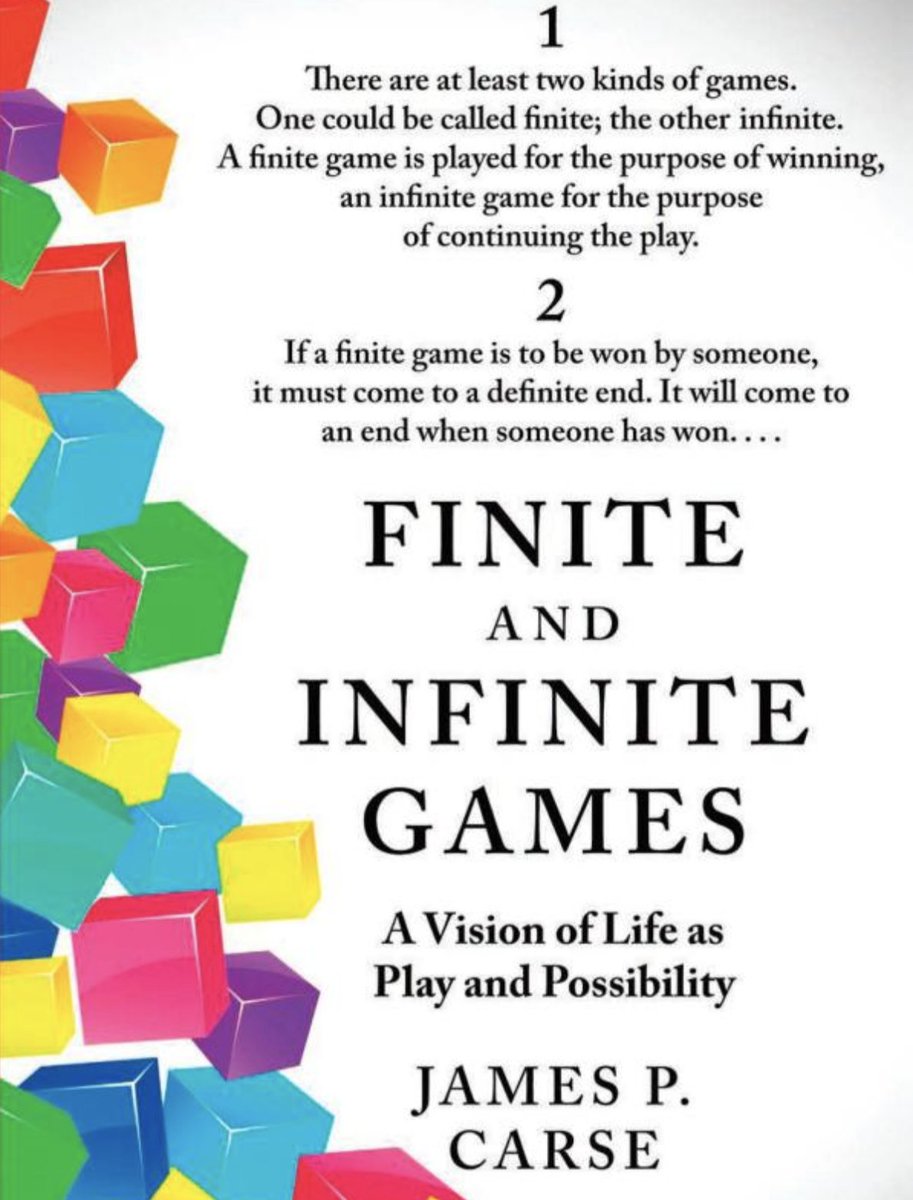 2/
This is my attempt to summarize/paraphrase the main idea in the hope I can convince a few more people to pick it up.
3/
"There are at least two kinds of games. One could be called finite, the other infinite."
4/
"A finite game is played for the purpose of winning, an infinite game for the purpose of continuing the play."
5/
There is a persistent illusion in our society that boundaries and rules exist outside of ourselves, but they do not.
6/
"There is no finite game unless the players freely choose to play it. No one can play who is forced to play."
7/
"Rules are not valid because the Senate passed them, or because heroes once played by them, or because God pronounced them through Moses or Muhammad."
8/
"There are no rules that require us to obey rules. If there were, there would have to be a rule for those rules, and so on."
9/
All rules, therefore, are self-imposed, even if they seem absolutely universal..
10/
"It may appear that the prizes for winning are indispensable, that without them life is meaningless, perhaps even impossible."
11/
"While no one is forced to remain a lawyer or a rodeo performer or a kundalini yogi after being selected for these roles, each role is nonetheless surrounded both by ruled restraints and expectations on the part of others….
12/
One senses a compulsion to maintain a certain level of performance, because permission to play in these games can be canceled...
13/
We cannot do whatever we please and remain lawyers or yogis— and yet we could not be either unless we pleased."
14/
"The constant attentiveness of finite players to the progress of the competition can lead them to believe that every move they make they must make."
15/
But players do not HAVE to make any move. "Whoever plays, plays freely. Whoever MUST play cannot PLAY." This is true no matter how high the stakes, even life and death.
16/
"In slavery, for example, or severe political oppression, the refusal to play the demanded role may be paid for with terrible suffering or death…
17/
[Yet] Whoever takes up the commanded role does so by choice. Certainly the price for refusing it is high, but that there is a price at all points to the fact that oppressors themselves acknowledge that even the weakest of their subjects must agree to be oppressed."
18/
"Fields of play simply do not impose themselves on us. Therefore, all the limitations of finite play are self-limitations."
19/
To play the infinite game is to choose to play WITH these limitations rather than WITHIN these limitations.
20/
"Finite players play WITHIN boundaries; infinite players play WITH boundaries."
21/
"The rules of an infinite game must change in the course of play. The rules are changed when the players of an infinite game agree that the play is imperiled by a finite outcome— that is, by the victory of some players and the defeat of others.
22/
The purpose of finite play is to bring the game to a conclusion. it is competing for a ranking or status: to be the best lawyer or the best yogi.
23/
The purpose of infinite play is to allow the game to go on and bring as many other people as possible into the game.
24/
The gap between ACTUAL FREEDOM and the EXPERIENCED NECESSITY to stay in the struggle of a finite game is the result of self-veiling. Finite players must forget the inherently voluntary nature of their play or their competitive effort will desert them.
25/
"The issue here is not whether self-veiling can be avoided, or even should be avoided….
26/
Indeed, no finite play is possible without it. The issue is whether we are ever willing to drop the veil and openly acknowledge, if only to ourselves, that we have freely chosen to face the world through a mask."
27/
"When do we confront the fact that we live one life and perform another?"
28/
The point however is not to abandon our roles, but to realize they are roles.
29/
"Since finite games can be played within an infinite game, infinite players do not eschew the performed roles of finite play.
30/
On the contrary, they enter into finite games with all the appropriate energy and self-veiling, but they do so without the seriousness of finite players.
31/
They embrace the abstractness of finite games as abstractness, and therefore take them up not seriously, but playfully."
32/
"To be serious is to press for a specified conclusion. To be playful is to allow for possibility whatever the cost to oneself."
33/
Finite games are scripted and theatrical moving towards a known conclusion. Infinite games are improvisational and dramatic, playfully moving into a space of increasing possibility.
34/
"A finite player is trained not only to anticipate every future possibility, but to control the future, to prevent it from altering the past."
35/
Infinite players, on the other hand, continue their play in the expectation of being surprised. If surprise is no longer possible, all play ceases.
36/
"Surprise causes finite play to end; it is the reason for infinite play to continue."
37/
"To be prepared against surprise is to be trained. To be prepared for surprise is to be educated."
38/
"The joyfulness of infinite play, its laughter, lies in learning to start something we cannot finish."