1.
Since people are being willfully obtuse in interpreting this tweet, I'm going to delete and spell out, slowly, why North Korean charm offensive is surprisingly successful.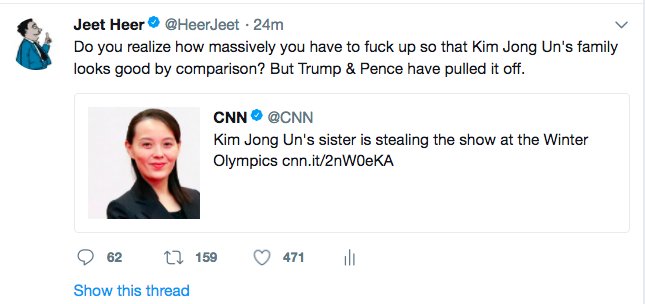 2.
South Korea is unusually close ally to USA. More than an ally: they owe their very national survival to USA. Yet a rift has opened up between USA & South Korea. Why?
3.
If USA is South Korea's most important ally, North Korea has been an existential threat for 7 decades. Yet during Olympics North's "charm offensive" is gaining real traction.
4.
Is North Korea a Stalinist hell-hole & threat to world? Sure. You know who knows that more than anyone? The South Koreans. They're more likely to be killed by North than anyone, have had citizens kidnapped, etc.
5.
Yet if the South Koreans know Kim Jong Un's regime is vile & USA is key to their national survival, why is , Kim Yo Jong receiving a warm welcome even as SK gov't opening a rift with Trump administration?
6.
Obvious problem is Trump's nuclear bluster ("fire & fury" Rocketman on a suicide mission). But the problem goes beyond that. Trump administration explicit policy is devaluing South Korean lives.
7.
CIA director Mike Pompeo told Fox News that "this administration is prepared to do what it takes to ensure that people in Los Angeles and Denver and New York aren't held at risk from Kim Jong-un having a nuclear weapon"
8.
What Pompeo is saying is that the "risk" that USA lives as risk is so intolerable USA is willing to launch a war that will almost certainly kill tens of thousands of South Koreans (and Japanese).
9.
In the words of Victor Cha, originally on track to be Trump's ambassador to South: "Some have argued the risks are still worth taking because it's better that people die 'over there' than 'over here.'"
10.
Trump's policy is very much an American First one: American lives worth more than Korean ones. Morality aside, why would South Koreans accept that logic?
11.
Aside from nuclear bluster, there's the behavior of Mike Pence, refusing to stand for Korean team.
12.
This is hard for nationalists to understand but other nation's have their pride. The Olympics is a big deal in South Korea. It's a chance to showcase their nation. And Pence refused to honor that.
13.
What's interesting here is how much in denial Americans are about the rift with South Korea. Not just Trumpists but centrists and liberals. Even though the evidence is in front of us:
washingtonpost.com/news/josh-rogi…
14.
In short: America is alienating an important ally & a Stalinist hellhole is winning a propaganda victory. But Americans (including centrists & liberals) don't understand this because they can't imagine viewing world from South Korean eyes.
16.
What's interesting about this whole discussion is how many people are in denial about the way Trump/Pence bluster is shaping perceptions in allied countries like South Korea.