My paper on Naloxone access and opioid abuse (joint work with
@anita_mukherjee
) is now online:
"The Moral Hazard of Lifesaving Innovations: Naloxone Access, Opioid Abuse, and Crime"
papers.ssrn.com/sol3/papers.cf…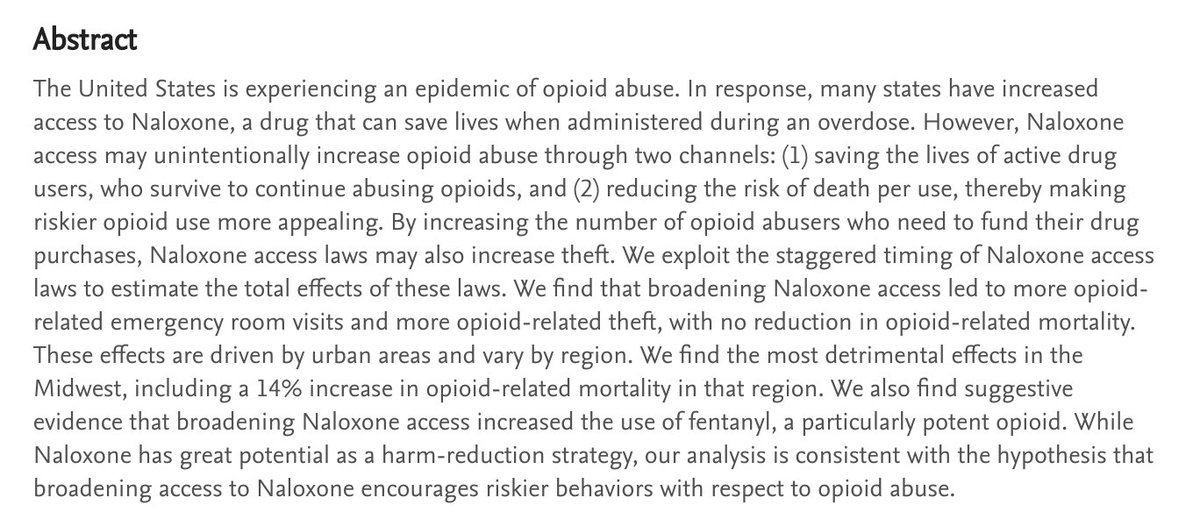 Naloxone is a drug that can save someone's life if administered during an opioid overdose. It therefore has potential as a harm-reduction strategy to fight the opioid epidemic.
Every state has passed laws expanding access to Naloxone; many places now have standing orders allowing anyone to purchase it without a prescription. For many, the goal is to get Naloxone into everyone's medicine cabinet.
Saving lives is good. But the potential downside of easy access to Naloxone is that reducing the risk associated with abusing opioids could increase opioid abuse.
If the risk of death from opioid consumption falls, but the number or potency of uses increases, the net effect on mortality is ambiguous.
We use the gradual rollout of Naloxone access laws as a natural experiment to measure the effect of broadening Naloxone access on a variety of outcomes related to opioid abuse.
We find that broadening Naloxone access increases opioid-related crime and ER visits, and reduces interest in drug treatment. It has no net effect on mortality.



However, that average mortality effect masks substantial heterogeneity by region.
Most striking, we find that expanding Naloxone access *increased* opioid-related mortality in the Midwest by 14%, and fentanyl-related mortality by 84%.


We run a bunch of robustness checks and placebo tests that support these main results. We find no evidence that pre-existing trends or other policies implemented at the same time explain these effects.
Overall, our findings are consistent with the moral hazard hypothesis that broadening access to Naloxone
encourages riskier behaviors with respect to opioid abuse.
This is all super depressing, so I'll end on a glimmer of hope: We find suggestive evidence that greater access to local drug treatment could help mitigate these effects.
Given other evidence that increasing access to drug treatment reduces crime, this is one more reason to increase drug treatment availability in local communities.
brookings.edu/blog/up-front/…